Distance: 113km
Time: A bum-numbing 5 hours 22 minutes
Average speed: 21.3kph
Total distance: 349.5km
Total time: 16 hours 39 minutes
Wordle scores: Captain 2, Stoker an annoying 6 after a very promising start!
After yesterday's magical afternoon on the island, we were pretty tired. That may have been more to do with the morning's excitement, of course, but whatever the cause, a good shower in our lovely friendly hotel revived us both. When we arrived we'd been given a token for a locally-produced drink on the house, and we both picked the cranberry wijn option, taken on the hotel's sunny terrace next to its bike park.
Aside: spot the tandem…
The cranberry wijn was lovely, a light, garnet coloured liqueur, served in a glass with a profile of the island on it: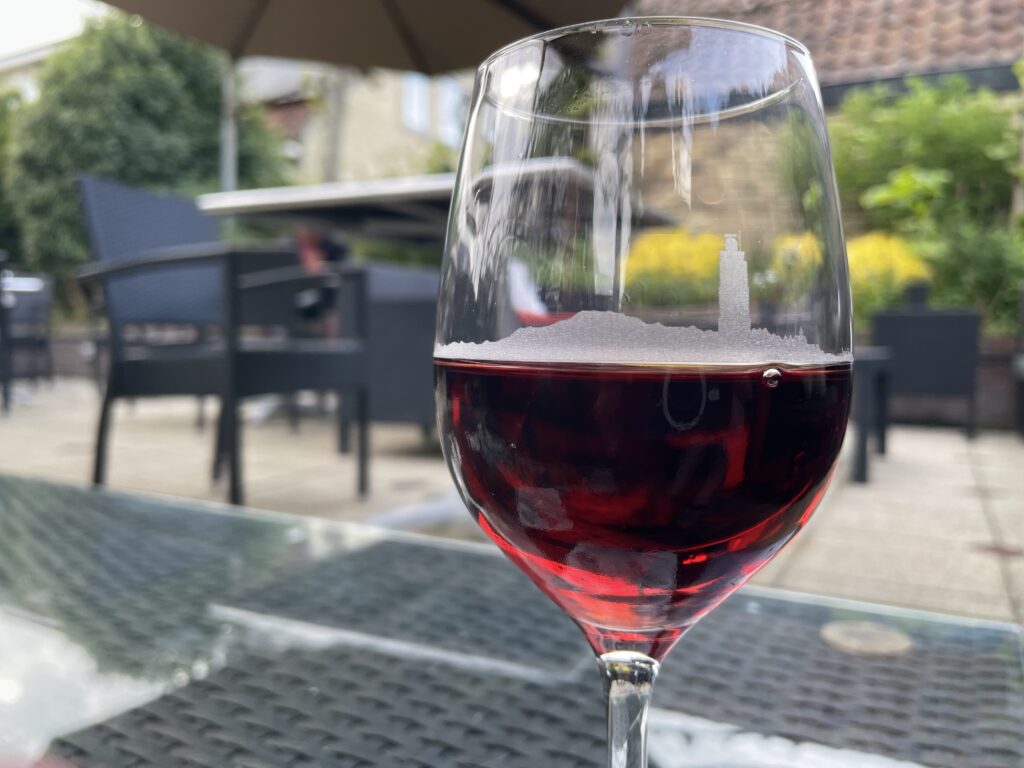 You can see the comms tower (the tallest thing on the island by quite some margin), and even the ferry! Cranberries are a big thing on Terschelling, not cultivated as such, 70% of the island is undeveloped, but they grow in the heathland parts and are enthusiastically foraged for jam, juice and of course wijn.
After the aperitivo, we wandered out to the Hecksenketel restaurant ("Witch's Cauldron"!), where we sat outside and enjoyed Terschelling shrimps, followed by liver for the Captain and local sea bass for the Stoker. Delicious.
Up betimes again this morning for the 7:25 ferry, and no drama this time, as the harbour was only two minutes ride from our hotel. We'd really enjoyed our time on Terschelling, a beautiful place with friendly locals who are rightly proud of their lovely island and all they do to maintain its heritage and individuality. The tide was lower on our exit, with huge sand banks visible where yesterday there had been sea, and so it was more obvious today why the ferry takes a strange curvy route between the island and the mainland. We had breakfast on the ferry, courtesy of a magic laminated token the hotel had given us in lieu of breakfast, since their service didn't start until 8am.
And so to the main business of the day, the small matter of 100km to Groningen. Including one more ferry, carefully researched this time for its opening hours!
Most of our first hour was retracing our steps from yesterday's frantic dash to the ferry port. It was much more relaxing, of course, with the ferry from Terschelling safely negotiated, and no particular time pressures today. We could look at the scenery, enjoy the sunshine, and count the windmills, of which there were loads.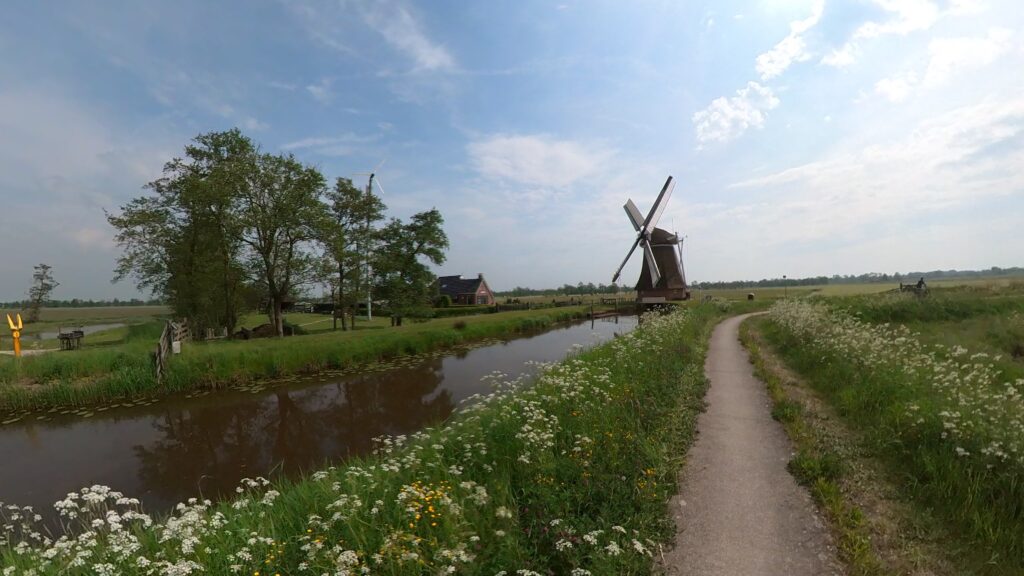 We went back over the bikes-only bridge where we we regained our route yesterday after the non-running ferry, and were into new territory at last. We were making good time, the tandem running smoothly and both of us feeling that 100km was well within our capabilities. We bowled along, making silly jokes about what cuckoos are really saying, baa-ing at sheep, and generally enjoying how well it was all going.
Ah, the over-confidence of the day before a rest day….
With about three kilometres to go before the carefully-researched ferry we started to see fighter jets in pairs in the sky. There must be a military airport or something near Leeuwarden, there seemed to be loads of them. We started to wonder whether there'd been some sort of international incident we didn't know about. It reminded me of Ronald Reagan announcing that he was bombing Libya in 1986, whilst I was revising for my B.Sc Part One exams at Bath Uni. We could hear the fighter jets taking off all day from some American airbase nearby and it felt like the world was ending. Anyway, today I think they were just practising circuits and bumps. Phew.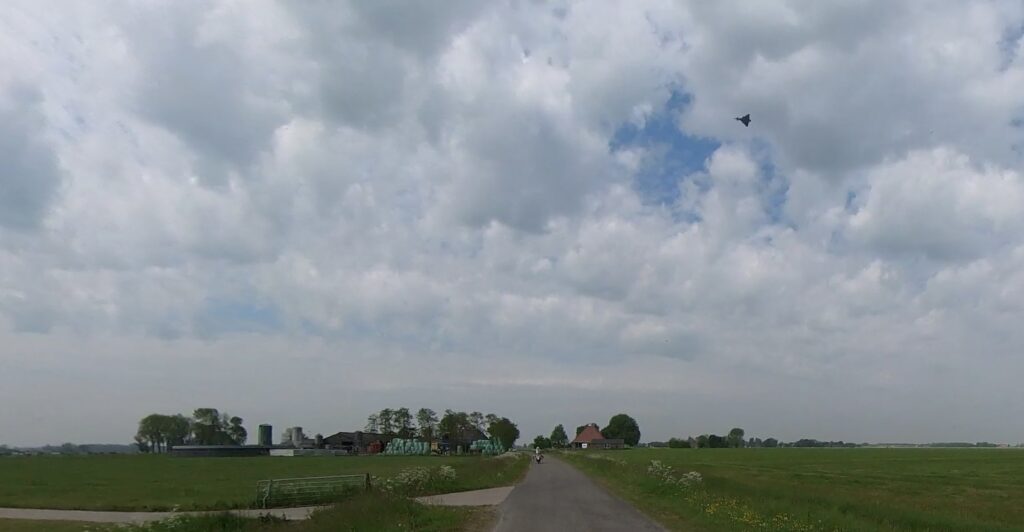 So we landed at the node next to the little ferry, and there it was, just over the water, with a little intercom to call it.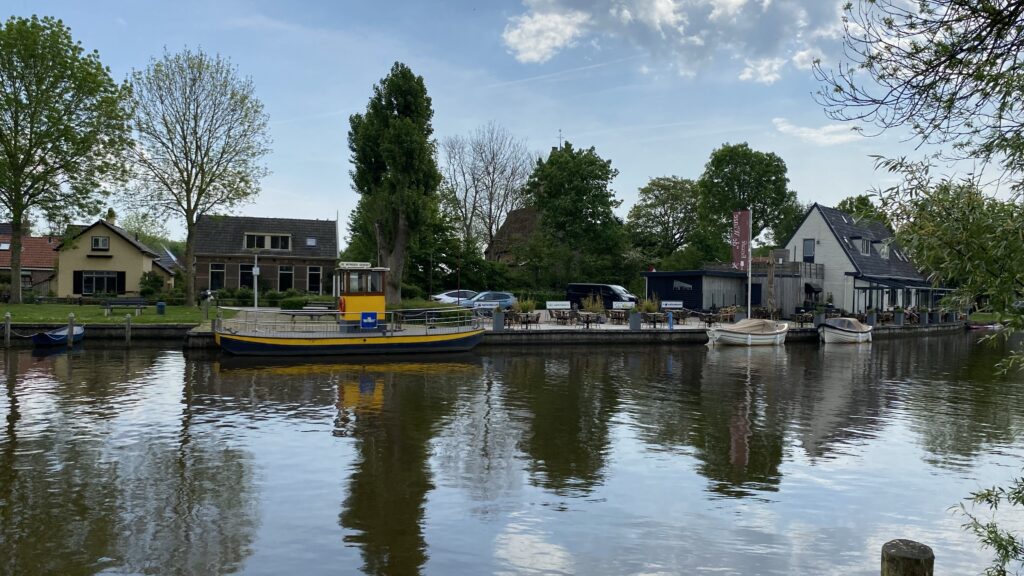 No answer.
Surely not, this couldn't be happening again, could it? A more careful reading of the sign indicated that it did run during the week, but only from 1:30pm! Oh no! It was only 11:30, we couldn't wait two hours.
A quick consultation of the node map indicated that there wasn't another crossing point for about 7km in a direction we didn't really want to be going in, but there was nothing for it, so off we set in that direction. There were a few bridges crossing side canals which you couldn't ride over, there were steep ramps on either side with a channel for bicycle wheels in the middle and an instruction to 'afstappen' to cross.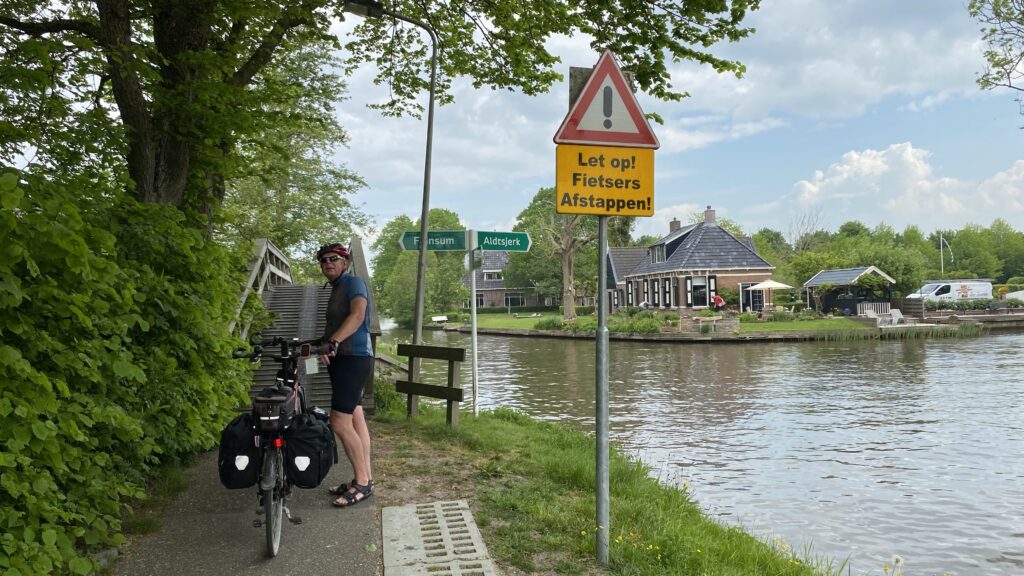 We stapped af as instructed at each bridge, hauled the heavy tandem over and stapped back an again.
We soon found the bridge crossing over the main canal, and sat for a moment plotting a route back to our original route, and munching a cereal bar to keep us going until lunch. All sorted. Until the Captain pointed out that the road we'd just decided was our best bet had heavy lorries on it and a sign that looked very much as though it indicated that bicycles were not allowed.
It was turning into one of those days!
It looked like there was a cycle path running parallel to the 'no fietsers' road, so we set off along that (after a false start during which we startled a goat), and managed to cut off a bit of a corner back to our planned route.
We were both pretty chilled about the whole thing actually, I must say, it didn't compare to the possibility of missing the ferry yesterday, the weather was lovely, we had a tailwind, and we were still enjoying ourselves, there was lots to see. We passed a huge installation of very tall greenhouses at one point – it looked like it might be one of the Netherlands' famous vertical farms.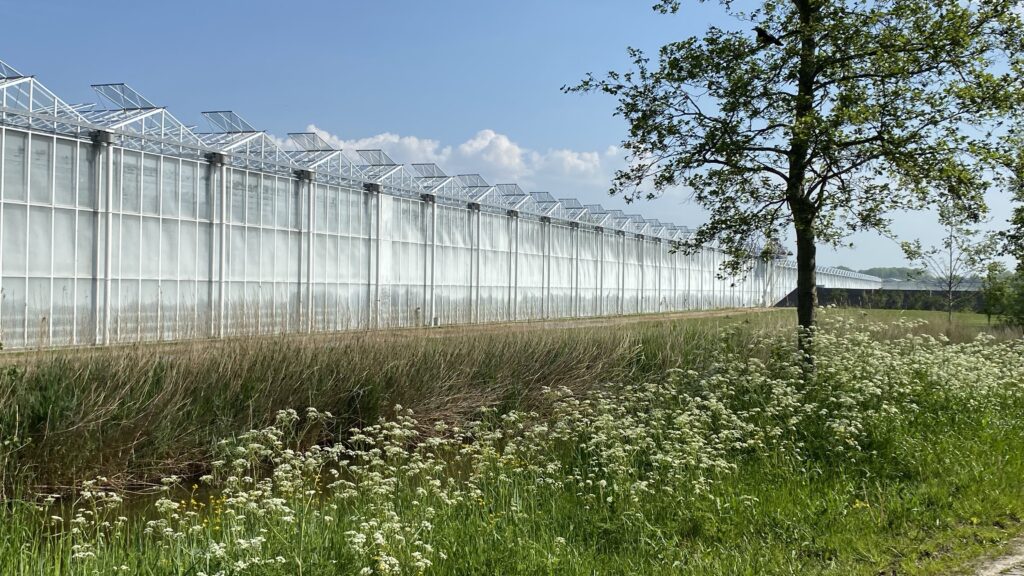 There were quite a few other cyclists out today, and we reckon we've pretty much nailed the official greetings now. When there are hordes out, no one says anything because you'd just be greeting people all the time. But on a weekday, there are fewer cyclists about, and everyone greets you thus:
"Hallo"
"Hey" (spelled 'hé, I believe)
Or "Hoi", which is my favourite.
Research indicates that of the three, 'hoi' is the most informal, followed by 'hé', then 'hallo'.
With more than 70km complete we stopped for lunch in Buitenpost, a tosti with ham and kaas for the Stoker and a lamb shawarma pitta for the Captain. Excellent refuelling. Jack the Garmin started feebly bleating that he would also quite like to be refuelled please, and the friendly lady behind the bar plugged him in for a bit while we ate.
Just 30-odd kilometres remaining now, and we were confident of making our agreed time at tonight's AirBnB in Groningen. We climbed back onto the tandem and pedalled off down the road. What could possibly go wrong?
Oh the over-confidence of the day before a rest-day!
They were resurfacing the cycle path. RESURFACING THE CYCLE PATH!
There was no way we could get through, the asphalt was still hot and a little roller thing was running up and down it. Back to the node map, then, and a new route to Groningen. The Captain had the brilliant idea of letting the node map app thing determine our newest route, which simplified the routing, but did mean that the Stoker had to navigate using her phone held in one hand, which seemed a bit prone to accidents! It all worked out fine though (finally!) and we arrived in Groningen in the rush-hour, bicycles everywhere, no-one complaining that we were cycling the wrong way down a one-way cycle path, and then there we were, outside our AirBnB, our host waving to us from the window.
It's lovely, I'm writing this on the roof terrace with a glass of wine in front of me and the sun going down behind the tower of the Martinikerk, which we shall visit properly tomorrow. We've both had a long bath to ease our weary limbs, and the our horrid cycling kit is gently returning to pristinity in the washing machine.
It's been quite a day, one of our longest ever, but you know, we absolutely bossed it!
No blog tomorrow, as it's our rest day. After that, we'll be crossing into Germany. Was Spaß!
Here's today's route and a short video.