Distance: 73.7 km
Time: 3 hours 48 minutes
Average speed: 19.4 kph
Total distance: 236.1 km
Total time: 11 hours 18 minutes
Wordle scores: Captain 5, Stoker 5
Before we settled in to the Post Plaza hotel in Leeuwarden we pedalled off on a brief diversion to Halfords, and bought ourselves an approved "single-ding" type Dutch bell! Here it is: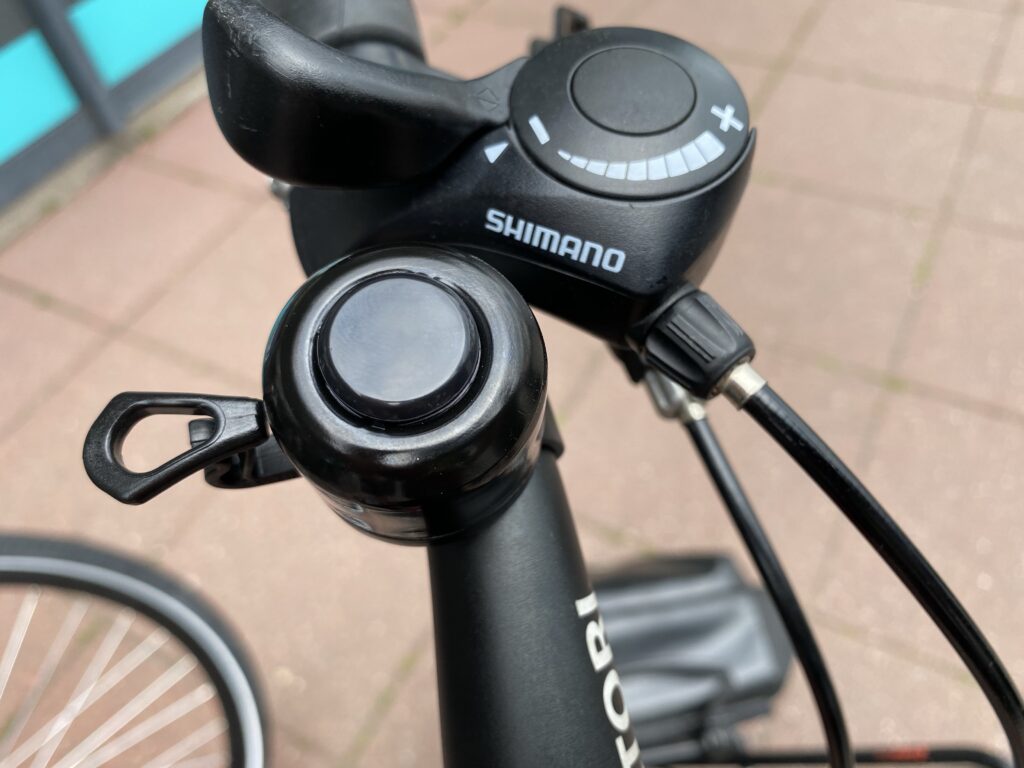 We haven't yet had to use it. Though we have had a practice! Anyway, when we returned to it the Post Plaza hotel proved to be just as good as we remembered. The restaurant is situated in a beautiful old sorting room, or similar, with a handsome beamed roof. Dinner was excellent, and, after all the exercise we've had, it soon provoked sleep. We did manage to wait until we'd got back to the room, though.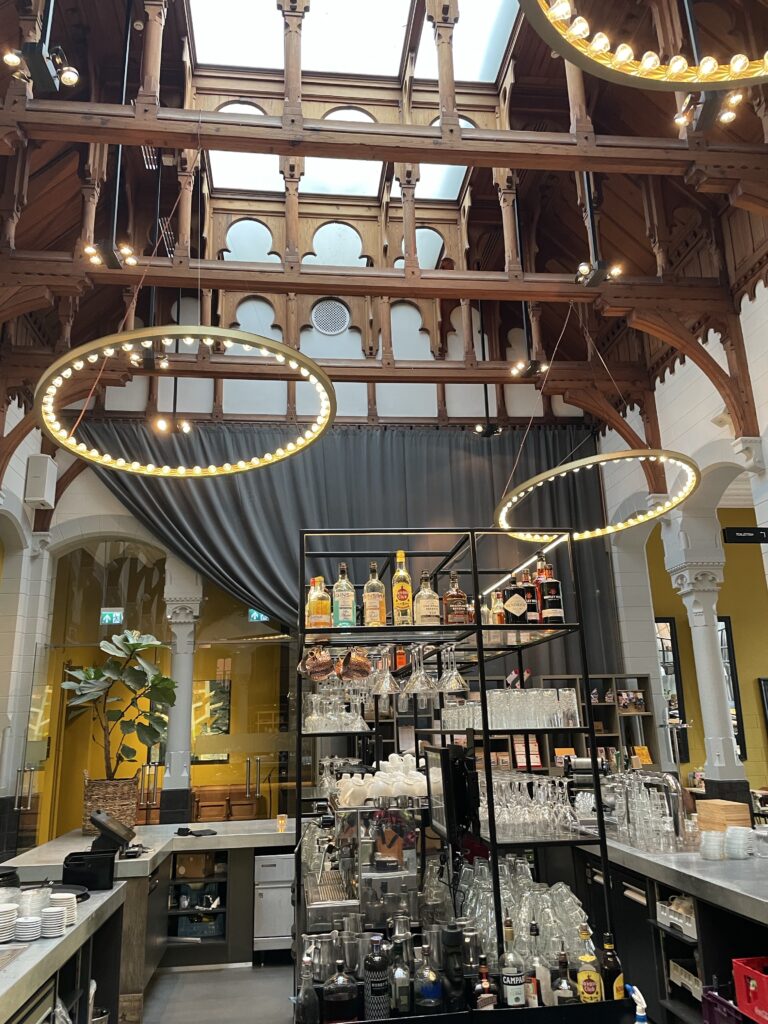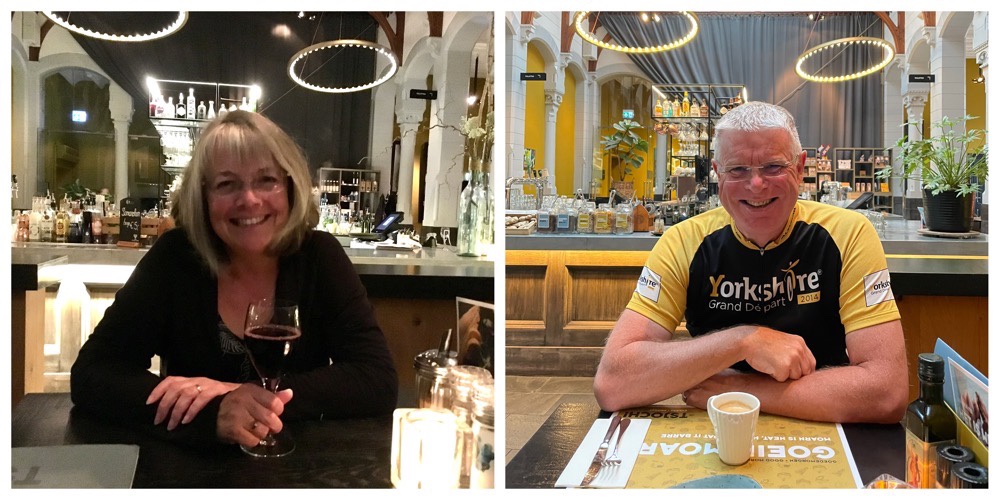 We're not very good at early starts. Nevertheless we set our alarm for 6:30, aware that we'd have to rush breakfast and hit the road early in order to reach Harlingen in time for the 10:05 ferry. So prompt were we for breakfast that the waitress looked quite alarmed, as all the pastries hadn't quite arrived yet. They soon did, though, and we had a swift but good meal before retrieving the tandem from its underground lair and hitting the road.
Our exit from Leeuwarden proved remarkably easy. There was quite a chill in the air still when we departed, and for the entire journey we were going to have to cycle into a block headwind. It wasn't too fierce, at about 10 miles per hour, but it did slow us down. We pushed hard though, as we knew time was tight.
Inevitably, we hit a snag. Near the village of Dronryp, with only about sixteen kilometres remaining, the cycle path came to an abrupt end at a canal.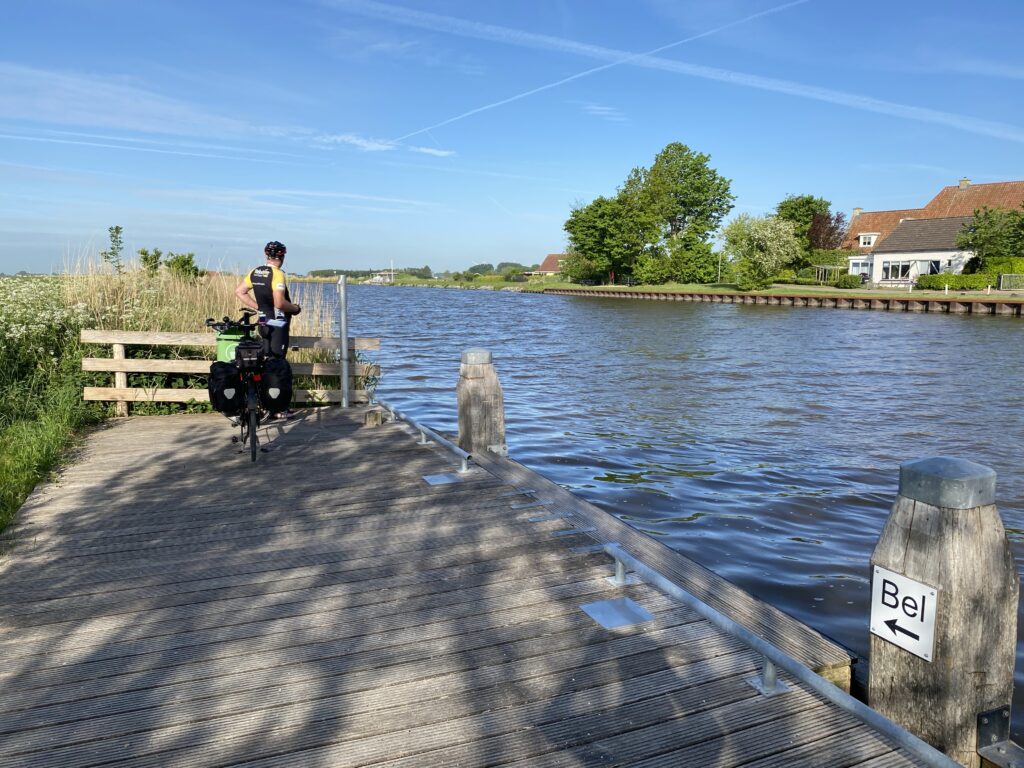 We could just see a small ferry, on the other side of the canal, and there was a button to press at our small wharf in order to summon it. We pressed the button, but there was no response. Pushing our English reserve aside we pressed it ever more repeatedly over the next few minutes, but there was no sign of life on the opposite bank. Later research indicated that the ferry didn't start operating 'til 10am. Poor preparation on our part!
Time was getting tight, so we got out our node maps and figured out a diversion. It only added about 5 kilometres, but the path was narrow and difficult to navigate on a tandem. After about twenty minutes we managed to rejoin our original route, but there was a palpable tension in the air! We sped through the centre of Harlingen – it looked inviting, but we had no time to stop and admire it!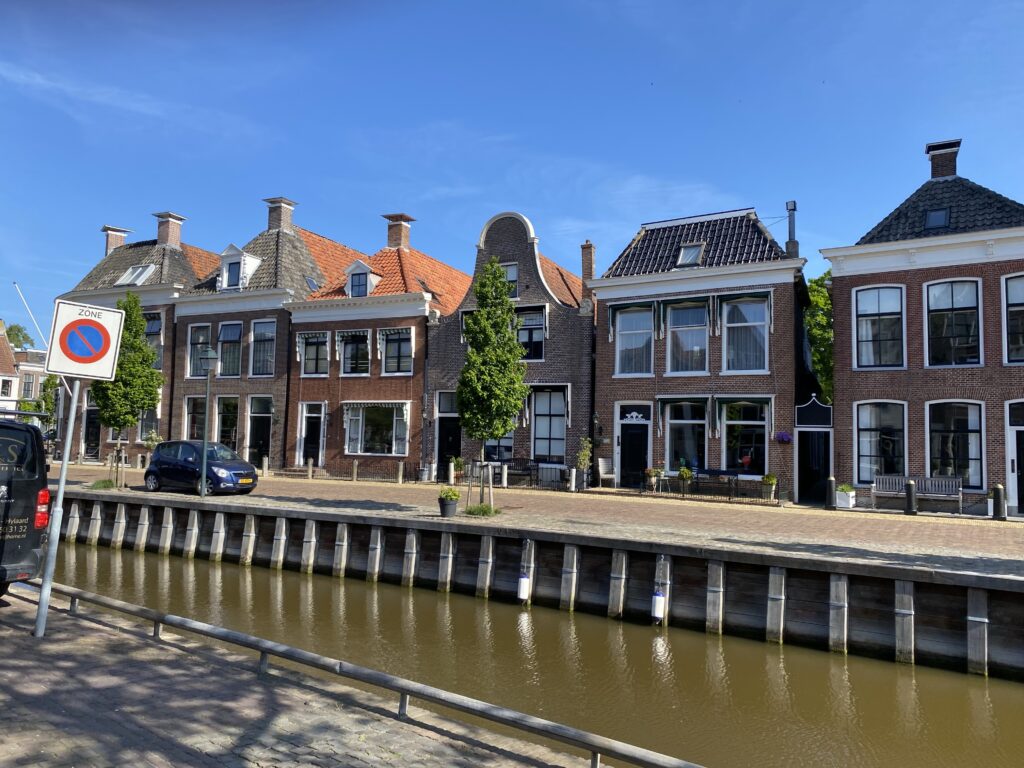 It looked as though we were going to arrive with about twenty minutes to spare. At least it did until we reached the harbour and found not a single sign to the ferry port! We headed west, initially, and found a roll-on roll-off ferry with "Terschelling" written on it. Hurrah! Except that there was nobody on the ferry. Not a single soul!
Eventually we managed to obtain directions to the mooring from a helpful local. A smiling ticket inspector guided us onto the ferry and, after parking the tandem we climbed the stairs to the salon deck and sat down to watch the departure. We had made it with just five minutes to spare. What a relief – the next available ferry would've been at about 3pm, which would have meant we'd have had very little time for exploring Terschelling.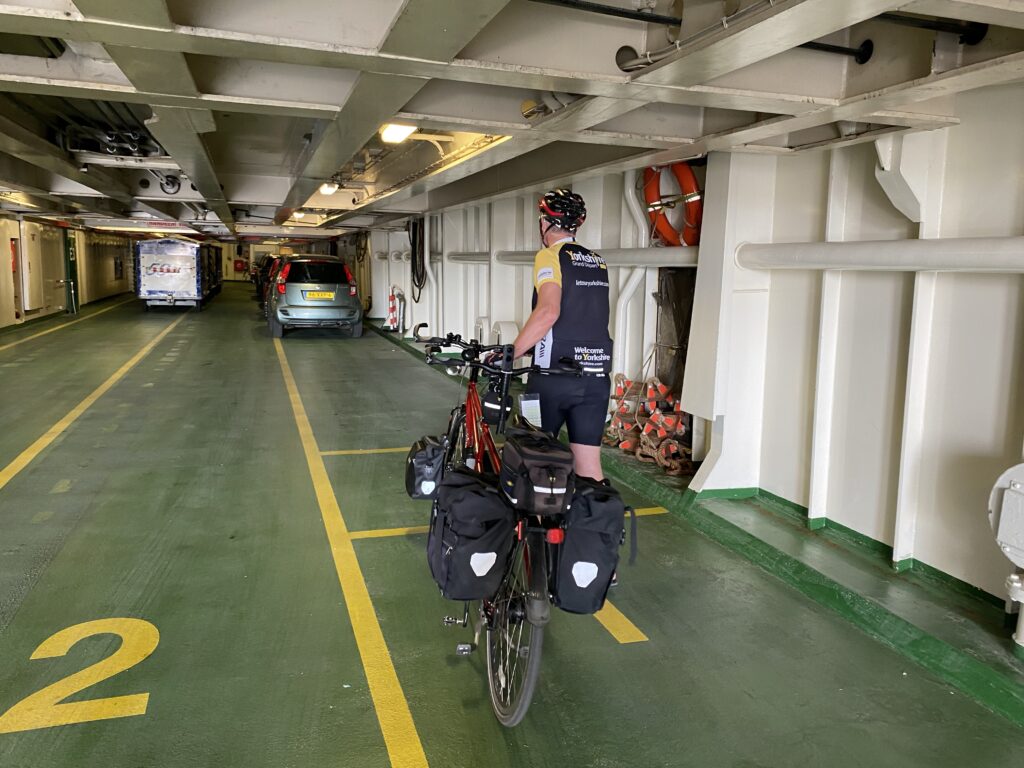 The ferry journey of two hours seemed to pass very quickly, and we soon docked at the pretty harbour of West Terschelling. The disgorgement of the ferry turned the town into a bustling metropolis, briefly, and we weaved our way carefully through the attractive town to find our hotel.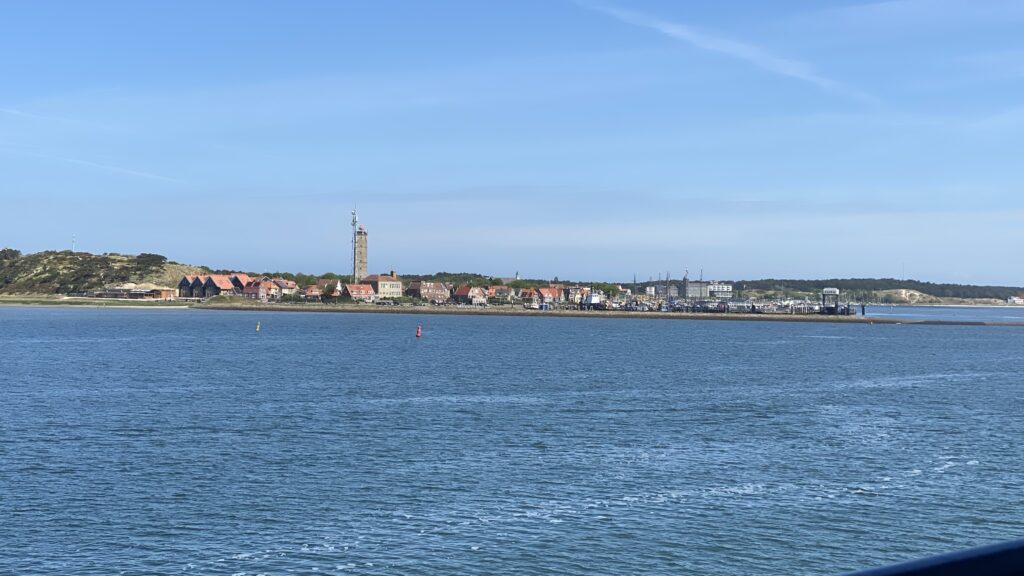 Our room was already available, fortunately, and we took the opportunity to leave the panniers in there before heading off to find lunch. The stoker had been very excited to spot a pannenkoekenhuis on the way through town, and we really enjoyed some "caprese" pancakes before setting off on a tandem tour of the island.
If the morning had been tense and difficult the afternoon proved to be the polar opposite. I can barely remember a more serene afternoon's cycling. We set off along the south coast on well-surfaced cycle paths, with a protective dike to our left, behind which were green fields and the occasional windmill. The pedalling was easy and relaxing.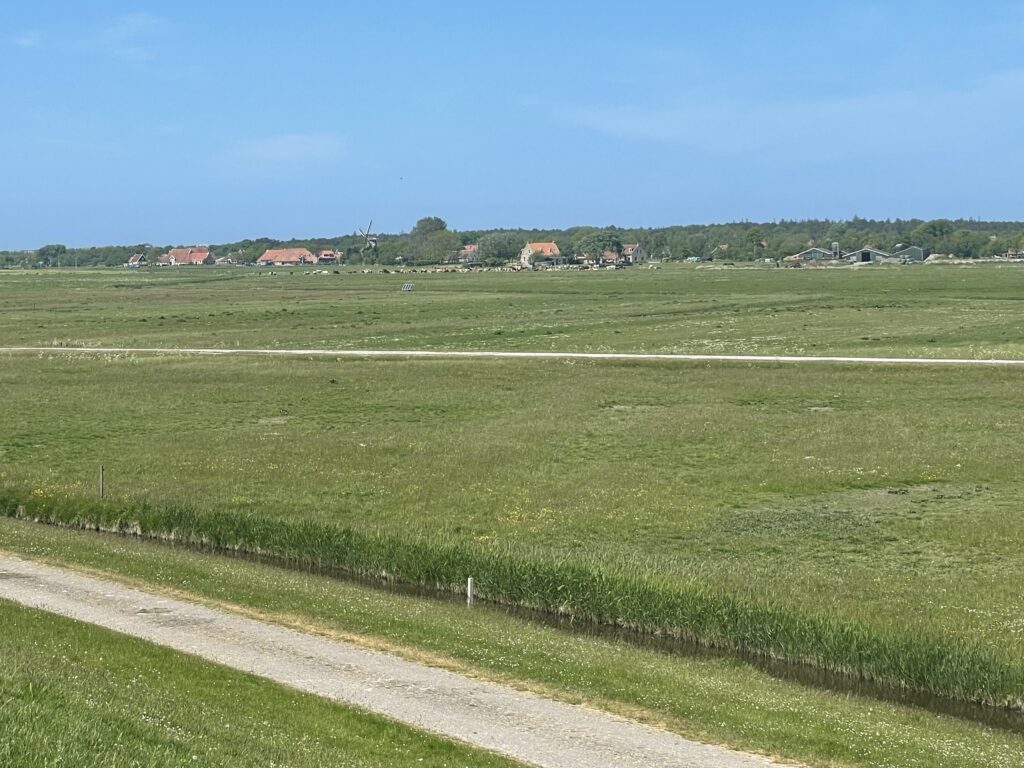 Almost immediately we came across huge numbers of wading birds, ducks and geese. There were oyster-catchers in large numbers. At one point a huge skein of what we think were greylag geese took off directly over our heads – a most impressive sight.
We were far from alone in following this tour of the island – the bike rental shops of West Terschelling must make a fortune! Still, it gave me plenty of opportunity to test out the new bell, which worked well.
The Wadden islands didn't exist in their present state until the year 1296, when a violent storm broke up the sand banks along the Dutch coast, creating the string of islands which now exist. Terschelling seems to be a real wildlife haven, as well as providing grazing for many sheep.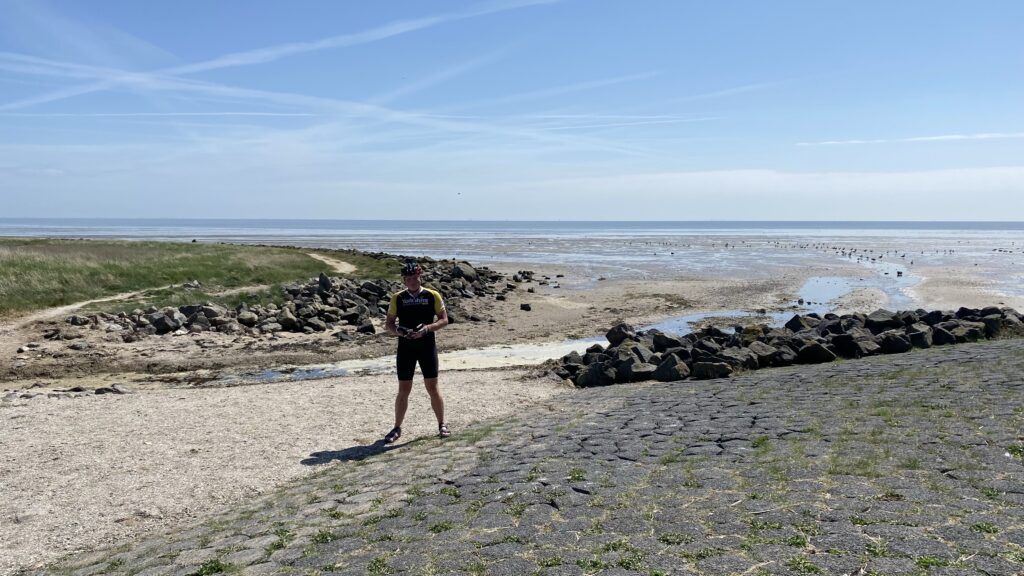 As we reached Oosterend the road petered out, so we headed north towards the island's North Sea coast. The landscape changed completely; we were now weaving our way through sand dunes and woodland, with fragrant broom filling the air. At Midsland aan Zee we climbed a hill (a rare thing so far on this trip) over to a magnificent beach made up of some of the finest white sand I've ever seen. It was well worth the (admittedly quite short) climb!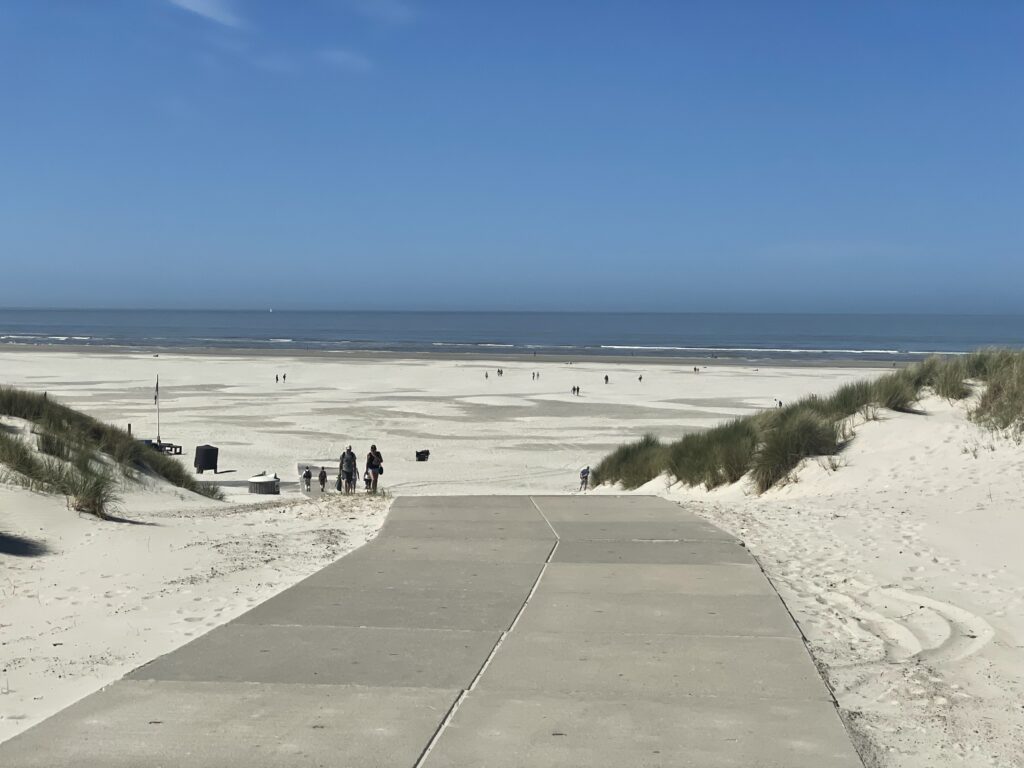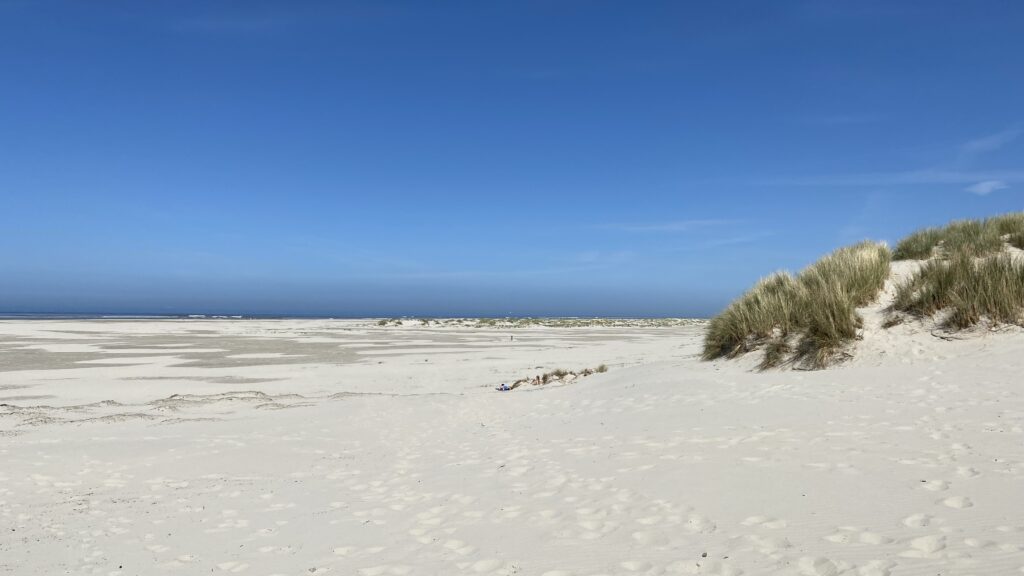 Finally we returned to our hotel along fine grained gravel paths, which left the tandem covered in fine white dust. It had been a perfect afternoon's cycling.
We've another early start tomorrow, to catch the first ferry back to Harlingen. Then we'll set off to Groningen, on what will be our longest day so far. Fortunately a rest day is looming.
Here's today's route and a short video.