A day of quiet roads and gloomy skies.
On arriving at our Chambres d'Hôtes in Bayeux yesterday we researched our restaurant options, as usual, with TripAdvisor. One restaurant stood out: Au Ptit Bistrot, which had received stellar reviews. Like many French restaurants it seemed to have no website or online booking, so we plucked up the courage to ring and book. Inevitably we ended up speaking to an answering machine, and while the start of my message was in reasonably coherent French I had forgotten to anticipate that I would have to leave my mobile number. Cue a long awkward pause and then a stumbling recitation of numbers in schoolboy French! How embarrassing. It seemed to work, though, as we received a call back later on, confirming our reservation.
We strolled through the picturesque streets of Bayeux, past the impressive cathedral, for an aperitif at a road-side bar, then headed for the restaurant. It was small, full, and excellent – only a short menu but all the options were tempting. So we lingered over a very good meal with a bottle of Hautes Côtes de Nuits, following that up with a delicious glass of Calvados. By now we had become embroiled in conversation with a couple at the next table – he a cardiologist, she a JP. They were having an animated conversation about "Brexit": having been abroad for a month (and having voted "remain" by postal vote) they were unsure of the nature of the country to which they were returning. We too are somewhat dreading a return to the new normality of an isolationist "Little England". So we put the world (or at least the country) to rights over another glass of Calvados, in a most enjoyable exchange.
We had been anticipating finishing off our meal with an ice-cream – sadly, though, we had lingered too long over Calvados and all the shops had shut. The stoker will have to wait at least another day for another cone of "Caramel au beurre salé"!
We opened the curtains to a gloomy vista this morning – steady rain, which was forecast to continue for much of the day. After a good breakfast we saddled up, put on our rain jackets and set off. It was a sort of "on-off" day, as the rain was intermittent, and it doesn't do to leave the rain jackets on all the time, as they quickly result in a "boil-in-the-bag" effect, especially where the Captain is concerned. Quite soon the rain stopped, however, and we were able to stow the jackets away for the rest of the day. It remained gloomy, though, with only one small patch of blue sky.
Today we were largely away from scenes of wartime history, though the occasional village had poignant memorials to those involved in the Resistance. We cycled on very quiet roads through a succession of small villages – to be honest it is difficult to recall individual ones, but the overwhelming impression was of a bucolic, scenic area, devoid of the half-timbered villages we encountered to the north, but still very easy on the eye.
Today too was the day that our fitness seemed to kick in, aided perhaps by a light tail-wind. We were motoring along on some very good roads, and so arrived at our planned lunch stop way too early to contemplate eating. In fact by the time we were hungry enough to stop for something to eat we only had nine kilometres left to complete. So we settled for a beer and a sandwich in a roadside café (lovely fresh bread, ham and Emmenthal) before hopping back on the saddle for the remainder of the journey.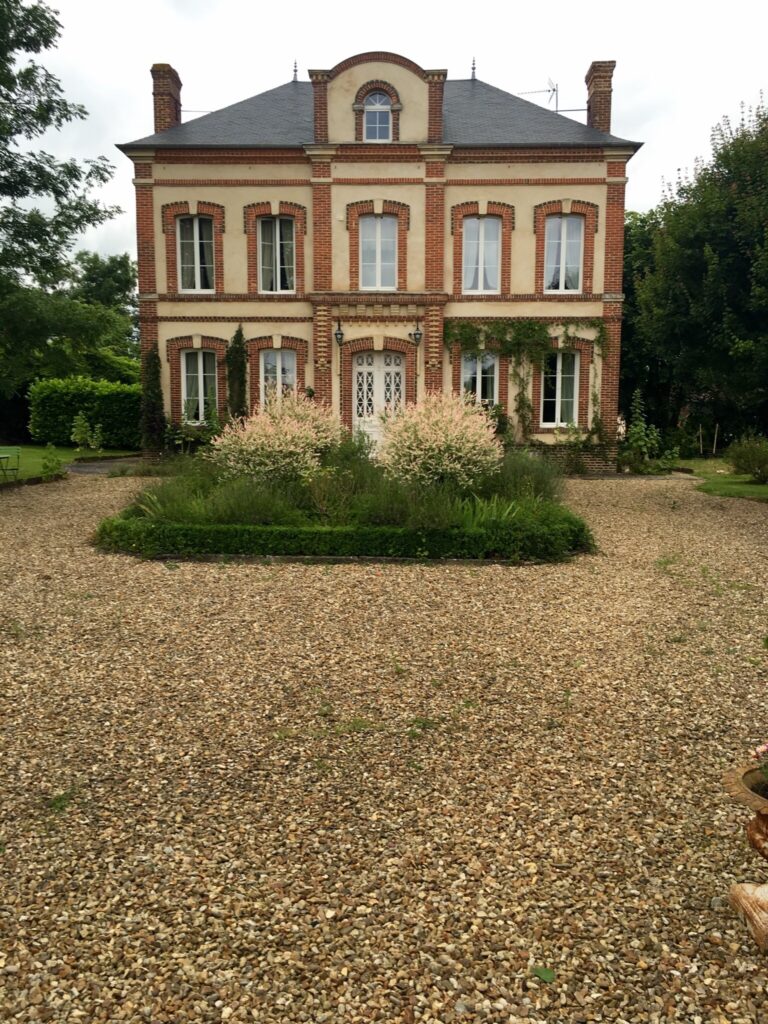 Here we are, then, in the tiny village of Saint-Loup-de-Fribois, in an utterly beautiful Chambres d'Hôtes. A few hundred metres away are a couple of restaurants, so all our requirements will be fulfilled!
Tomorrow will be our longest and hilliest day, to Le Neuborg.
Click here to see our track from today.