Distance: 63.8 km
Time: 3 hours 17 minutes
Speed: 19.4 km/h
Ascent: 323 metres
Total distance: 2254.8 km
Total time: 120 hours 2 minutes
Wordle scores: Captain 4, Stoker 4
Word of the day: "uva" (ooh-vah) – grape
The Stoker writes:
We went out for a pre-dinner wander last night, passing by our chosen restaurant first to bag a table for later. We walked along to the port…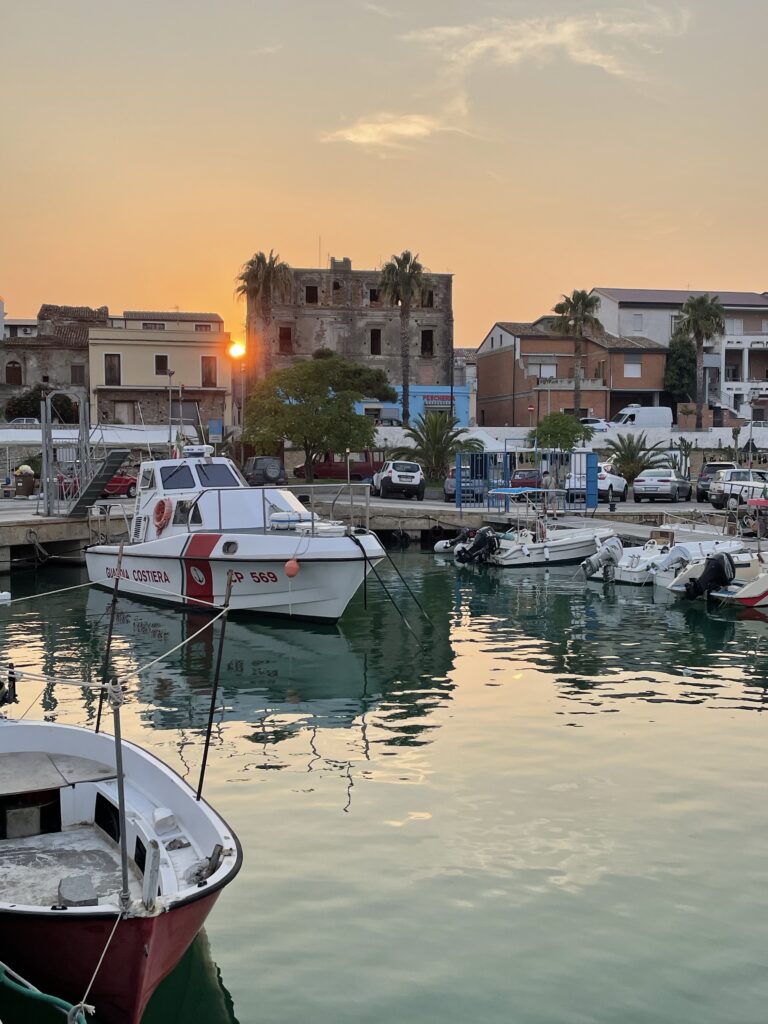 … and then along the sea-front, where there were still hordes of people on the beach and in the sea. There were also lots of collections of 'shouty men', as we christened them on our last Italy tour. It's a strange phenomenon, usually on the older side, they like to collect together and argue loudly with each other, in bars, on benches, in the corner of a piazza, wherever two or three are gathered they will be hugely enjoying a good robust discussion of the topic of the day. From a distance it seems initially quite intimidating, but if you have to interrupt them to get by, or even just walk past looking interesting, their faces break out into enormous warm smiles and they 'buongiorno' you, and engage you in conversation. It's rather lovely, actually, it's clearly an incredibly social thing. Here are some in action:
At the restaurant we claimed our table and perused the menus. There was no wine on the menu. The waiter reassured us, though, that they had LOADS of wine, and it was all from Cirò, because Cirò is the 'città del vino'. He took the Captain off to see the selection and to make us a recommendation. We had a very tasty dinner, and the recommended wine was excellent too.
Neither of us slept particularly well, our room seemed really hot, and it transpired that the air-conditioning, which was a little mobile unit, was definitely kicking out cold air from one side, but, conservation of energy being what it is, it was simultaneously kicking out hugely warm air from the top. "Ye cannae change the laws of physics, Jim"… In the middle of the night we switched it off and opened the windows, which let some slightly cooler air in. A sticky night all round, and we both felt quite jaded when we left.
Breakfast was to be taken in a nearby bar, where a local chatted to us while we ate. He'd spent some time in the UK in the 1960s, and must have been something of a muso, he'd seen the Beatles (in Liverpool!), Genesis and Pink Floyd. He'd travelled the world extensively, but said he was too old now, and he just liked being by the sea. He thought we were bonkers cycling in the heat of the summer, but did gesture rather proudly to his own rather ancient bike as he pedalled off, wishing us 'buon viagg' in a very Calabrian style.
We pedalled off on our own much less ancient steed, and almost immediately we were in the vineyards.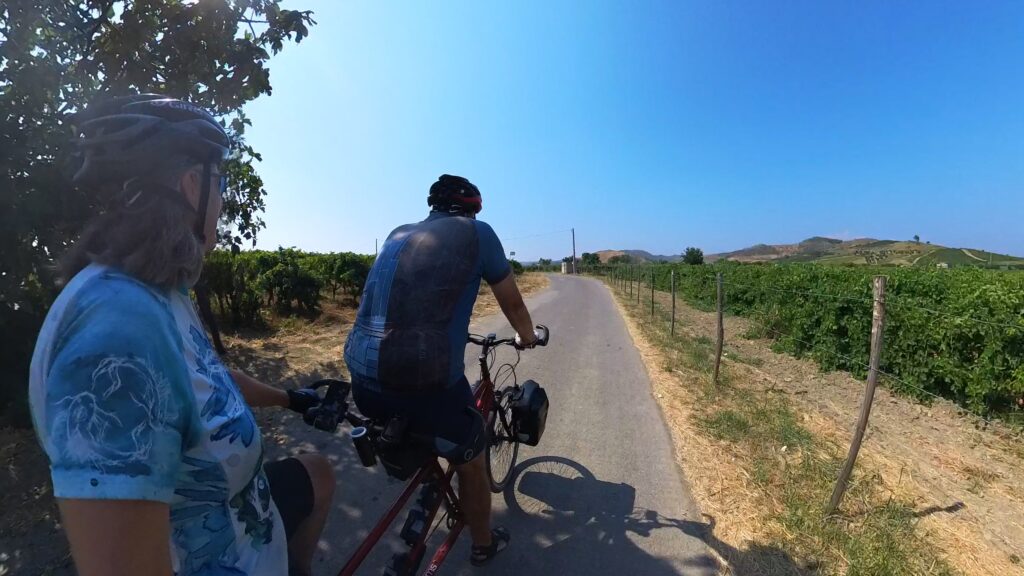 We recognised the names of some of the cantinas we'd seen advertised last night, and stopped to inspect the grapes.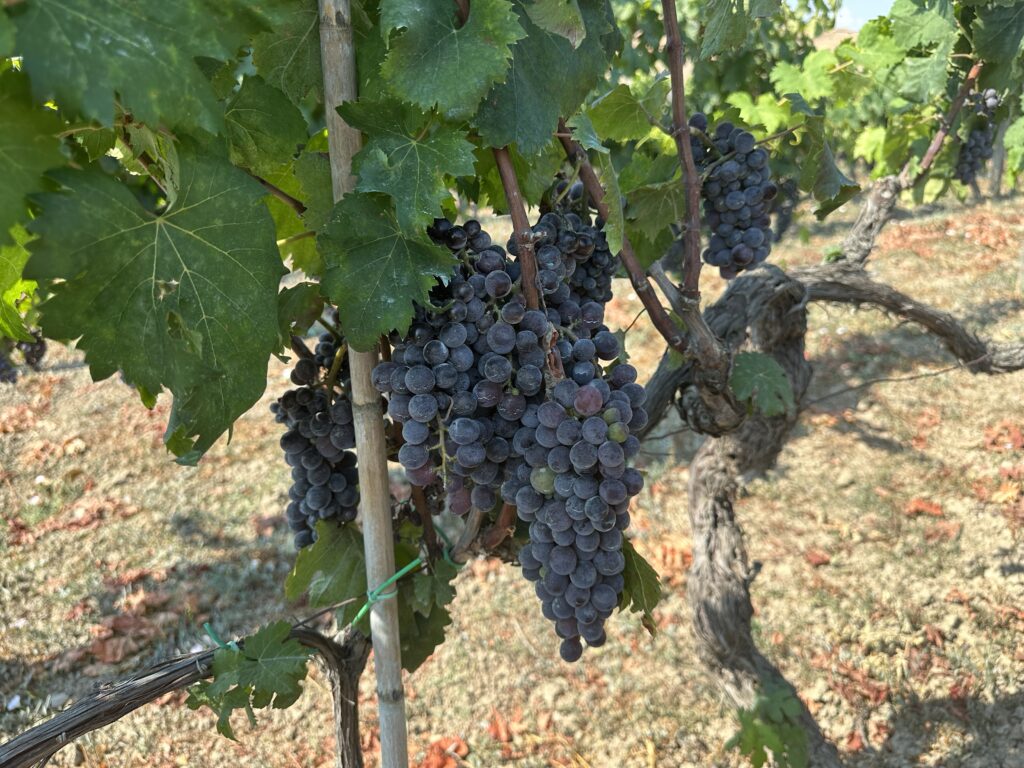 We tried a couple, quite small, a bit 'pippy', but a lovely sweet flavour. It can't be that long before the harvest now, we did see a tractor yesterday bearing boxes of bunches of grapes.
After a few kilometres we hit the SS106 Jonica, still just one lane in either direction and fairly quiet. Jonica is a strange name for it, given that 'J' is not an official letter in the Italian alphabet except in foreign words. They pronounce it 'ee-on-ick-ah', though, which makes sense as it runs along the Ionian coast.
We were fast on the good, flat surface, and soon found ourselves turning off for an alternative few kilometres through Marina di Strongoli.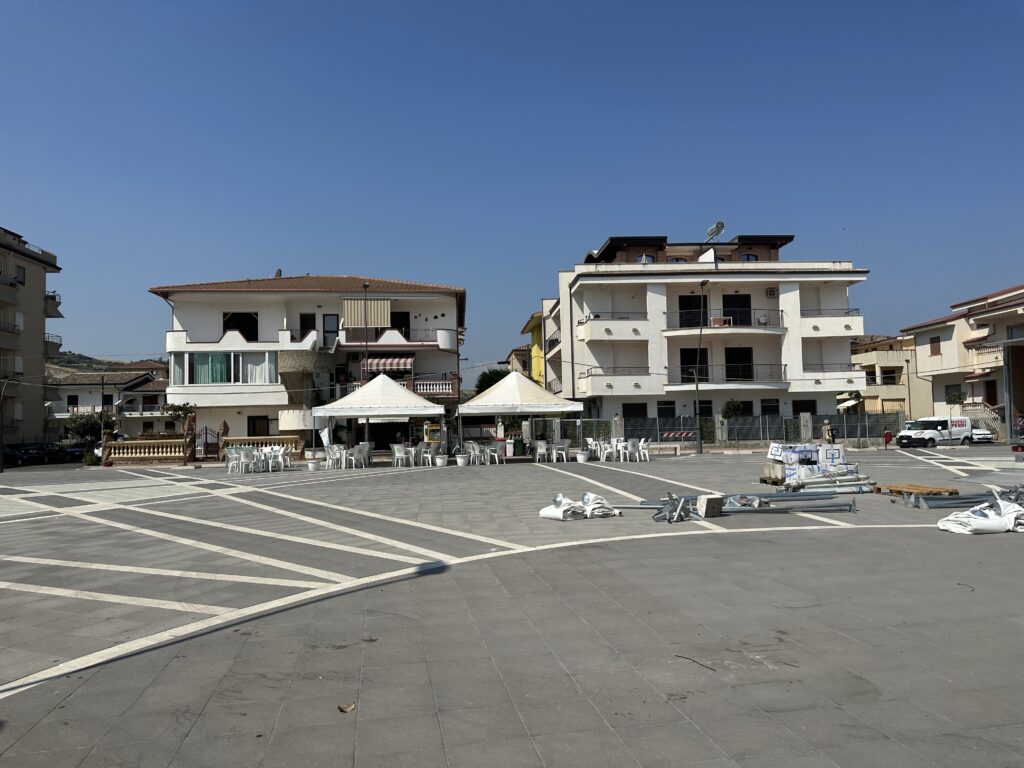 When our route brought us back to the Jonica, there was a huge traffic jam.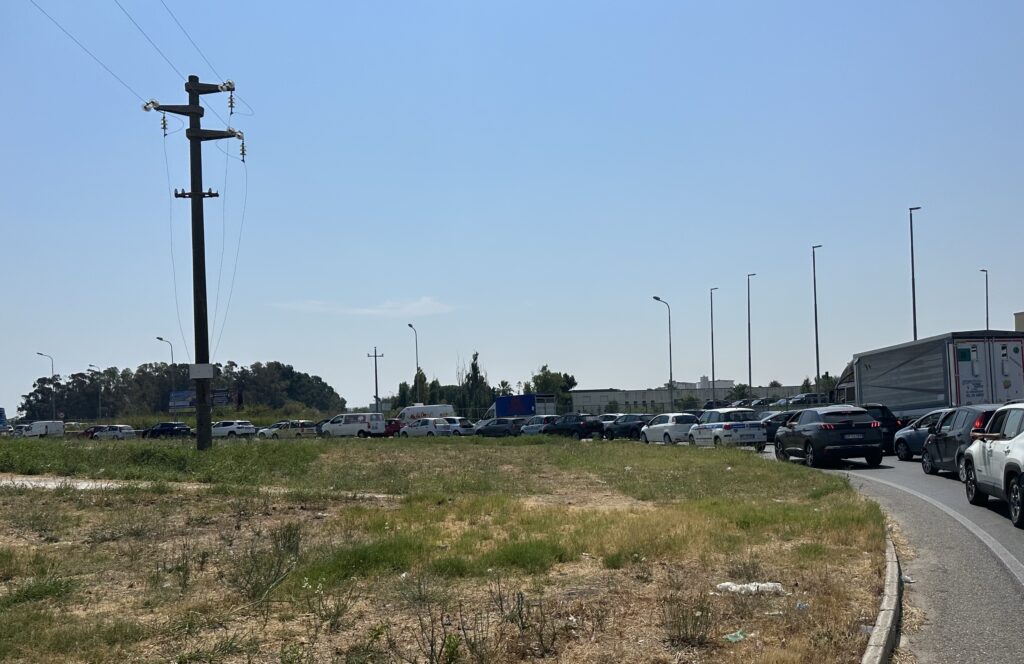 A combination of three lanes filtering in to one, and the police attending a little bump further down had made everything grind to a halt, but we were able to sneak past it all down the margin, which was very satisfying!
We turned off again for Crotone, where we'd picked out a route past the castle and a café for lunch. As we rode towards it the Captain spotted a sign saying it was the city of Pythagoras, which was a surprise. Crotone, or Kroton as the Greeks called it, was in the oldest part of Magna Grecia, the huge region at the bottom of Italy comprising Calabria, Puglia, Basilicata, Campania and Sicily, where lots of Greeks settled. Pythagoras was one of them, and founded a school of philosophy in Crotone, although from what I've read, scholars doubt whether he actually was responsible for the contributions to mathematics we all remember from school.
We rode round the castle a bit, but couldn't really see it properly…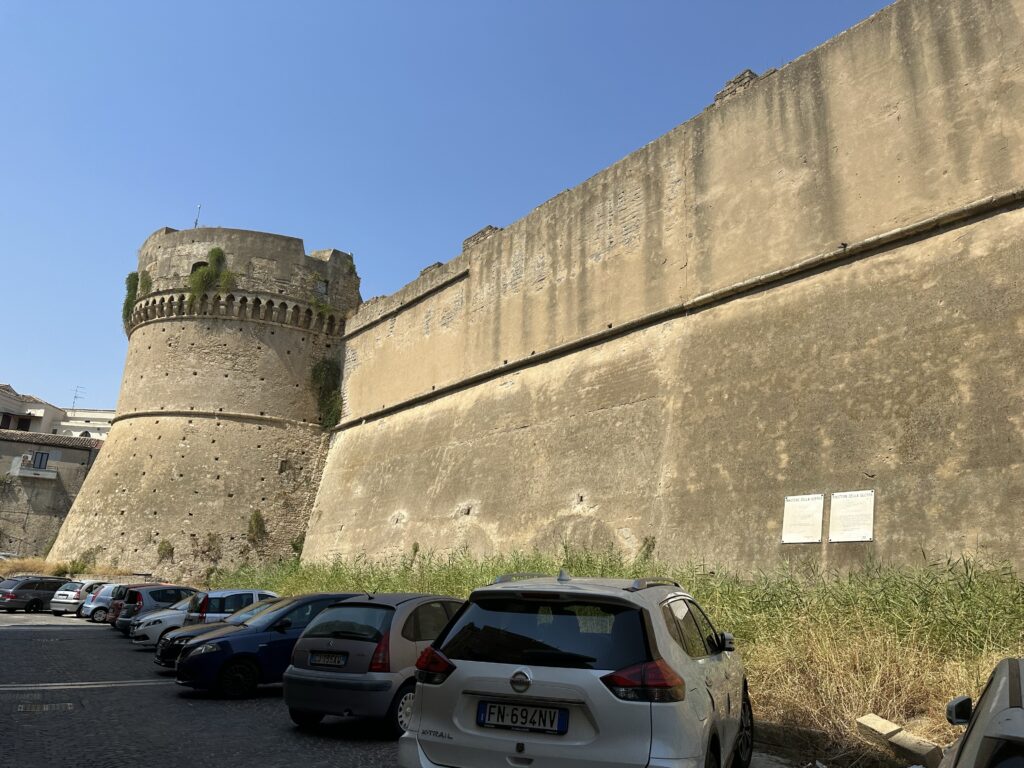 … and then passed through the sea-front part of town, looking for the café we'd picked out.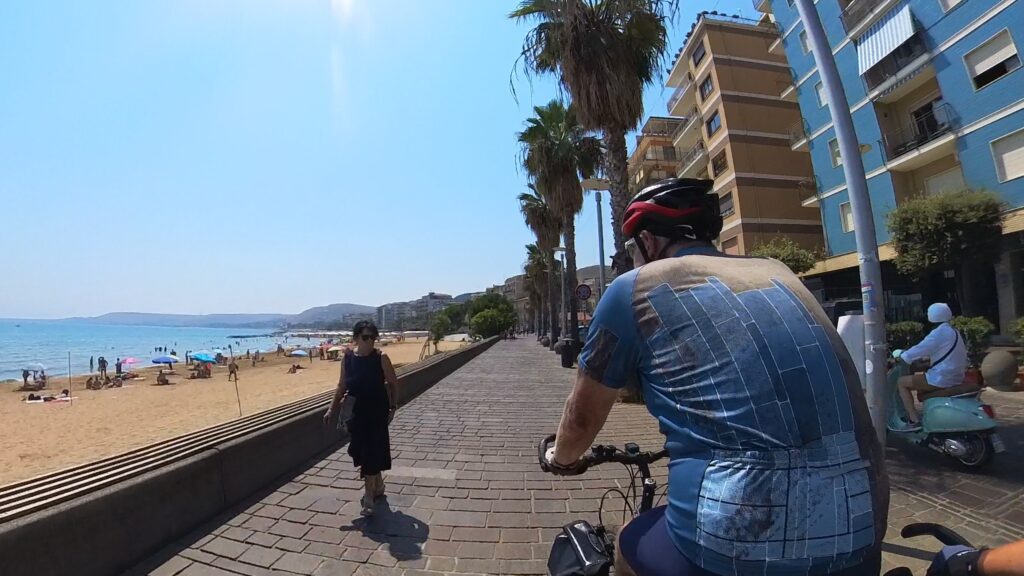 A combination of not enough breakfast for me and a Komoot failure then resulted in us sailing right past it with me wailing "but I don't know where anything is, I can't navigate anywhere" in an overly dramatic fashion. We did find it eventually, and several bottles of cold fizzy water, some patatine fritte, and a complete Komoot reboot later, normal navigation was restored. Phew!
After lunch we headed off into the arid scrub, and up a climb onto the plateau.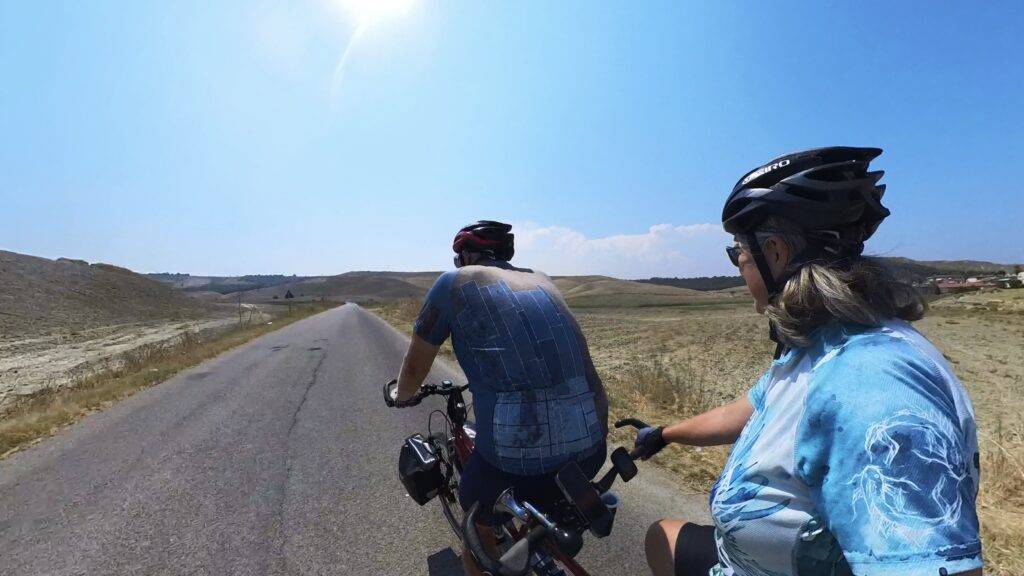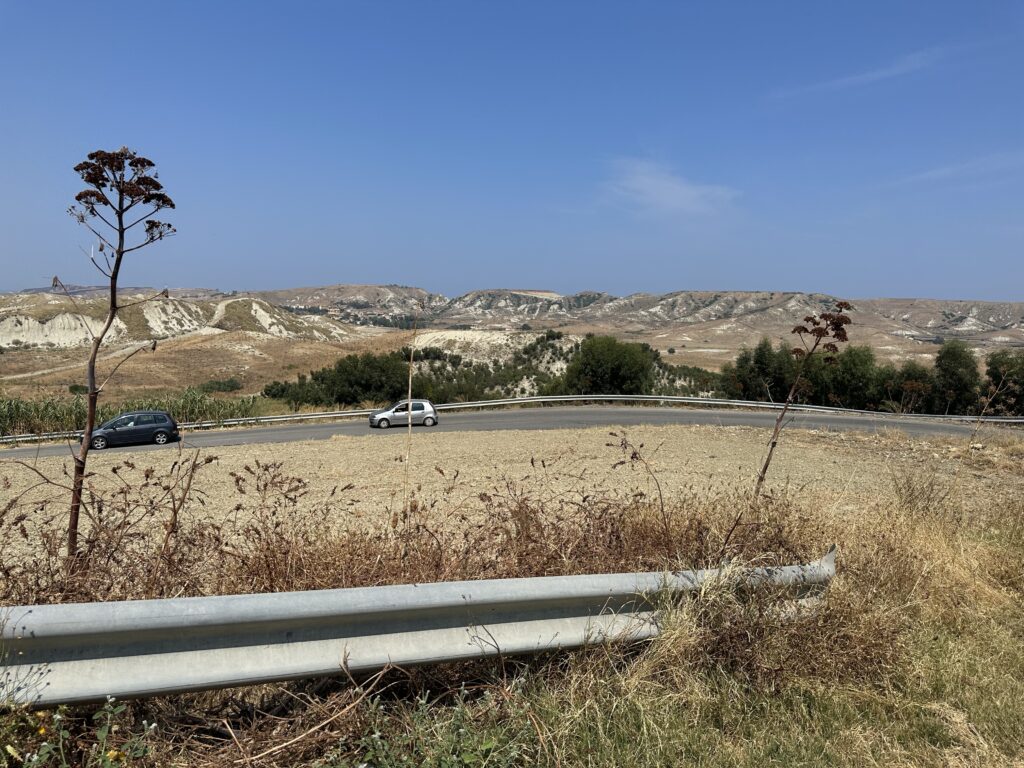 We could see Capo Rizzuto from the top, just eight kilometres away.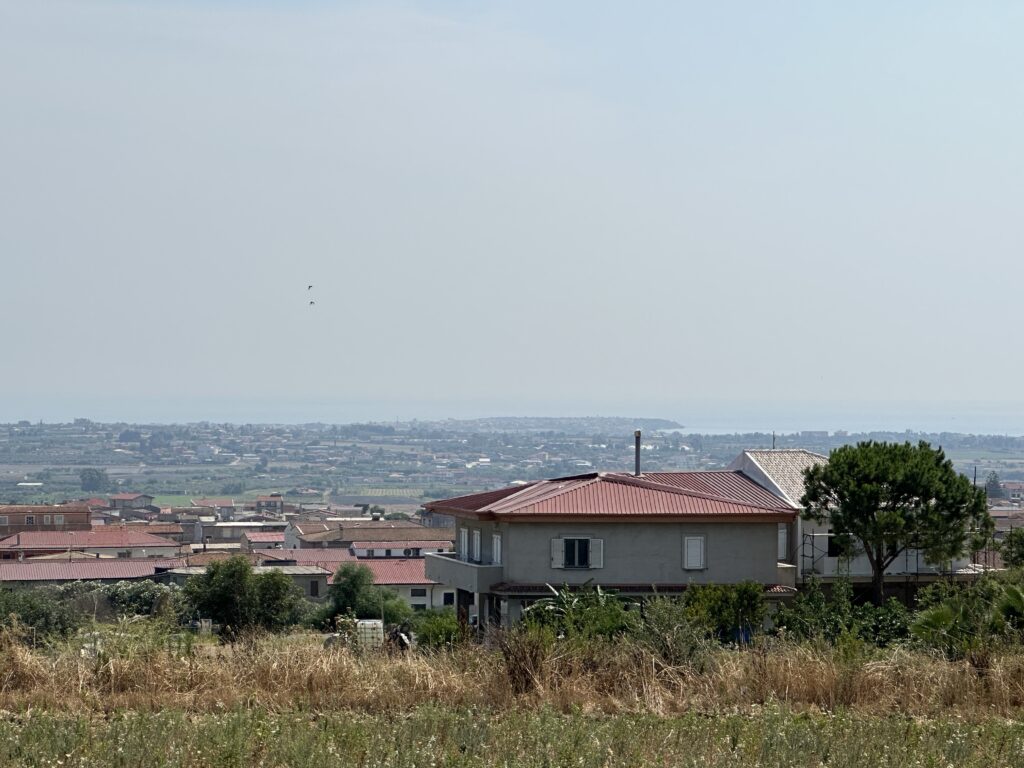 It was all downhill, which was lovely, and before long we were crunching up the gravel into our lodgings, in a hotel set within a farm.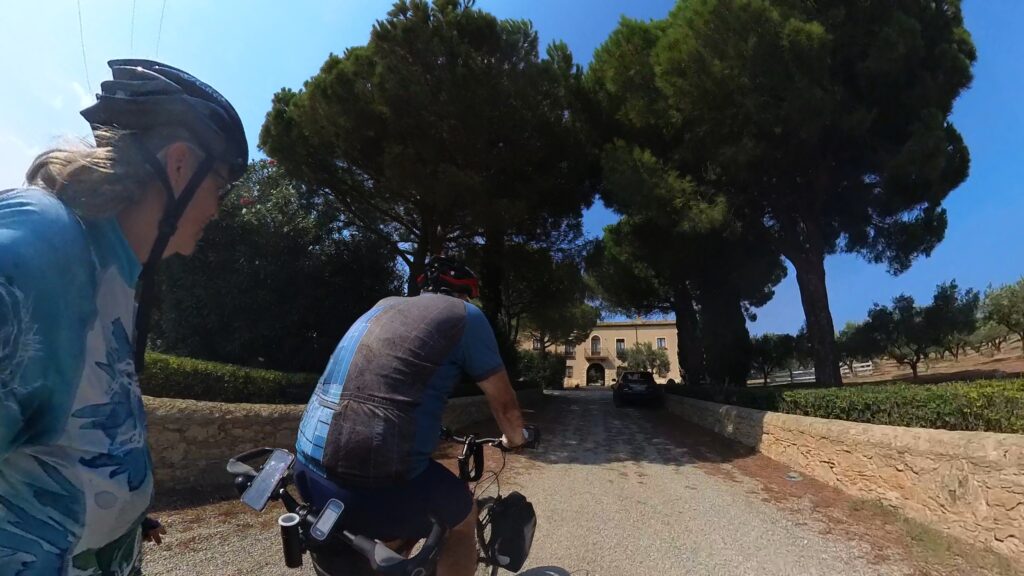 The garden is fabulous, and I'm writing this under a tree by the pool, in which we've already had an extensive float. We'll veg here for two rest days, and at their beach, a last chance to swim in the Ionian sea.
On which subject, we've pretty much finalised our plans for the end of this trip now. All being well we will cross from Catanzaro Lido to the Tyrrhenian coast, then ride on familiar roads via Tropea down to Scilla, cross to Messina on the ferry, and then ride on to Catania via a little break in Taormina. From Catania we'll fly home, probably on the 10th of September. We had originally wondered if we could manage a circumnavigation of Etna between Taormina and Catania, but a combination of the heat, the dearth of accommodation and the activity of Etna has made that impractical. Roads have been closed with very little notice, especially to cyclists, and the risk of getting stuck somewhere seems a bit high.
It feels really weird knowing how the end is planned, given the relish with which we've twisted and turned on the way to suit our whims.
On a long tour like this there are always three very definite sections:
You start, not knowing how long you'll be going for, whether you'll be thwarted by illness, mechanical issues or a need to go home for personal or work reasons. You've forgotten how to do everything, and it takes a while to get into the rhythm, perfect your daily routines, learn (again!) what works and what doesn't.
After a while, you realise you're in the 'golden' period, where everything feels very natural and efficient, you've made good progress but there are weeks of time left and kilometres of interesting places still to visit.
As the end looms, there's a feeling of satisfaction that you've come so far, but you know you will get to the end soon, and that feels sort of sad. And that's where we currently are, I'd say.
Here's today's route and a short video