Distance: 65.4 km
Time: 3 hours 18 minutes
Average speed: 19.8 kph
Ascent: 217 m
Descent: 224 m
Total distance: 1,340 km
Total time: 71 hours 6 minutes
Overall average 18.85 kph
We had a brief walk into Rouans to buy provisions for dinner, and then enjoyed a relaxing evening in our apartment next to the church, hearing the bells calling the hour and housemartins tweeting in the surrounding fields.
Rather surprisingly we awoke this morning to discover it was raining. Raining! Quite something after the heatwave and the hot weather we've experienced in the last three weeks. By the time we'd breakfasted, packed and loaded the tandem it had stopped, but there was a cool feeling to the air, which was rather nice. We both had a bit of 'last day' nerves – not wanting to make any silly mistakes in the excitement of the culmination of the trip. They soon melted away as we pedalled off, and we were quickly at Buzay and the Canal de la Martinière. It looked very serene in the morning light.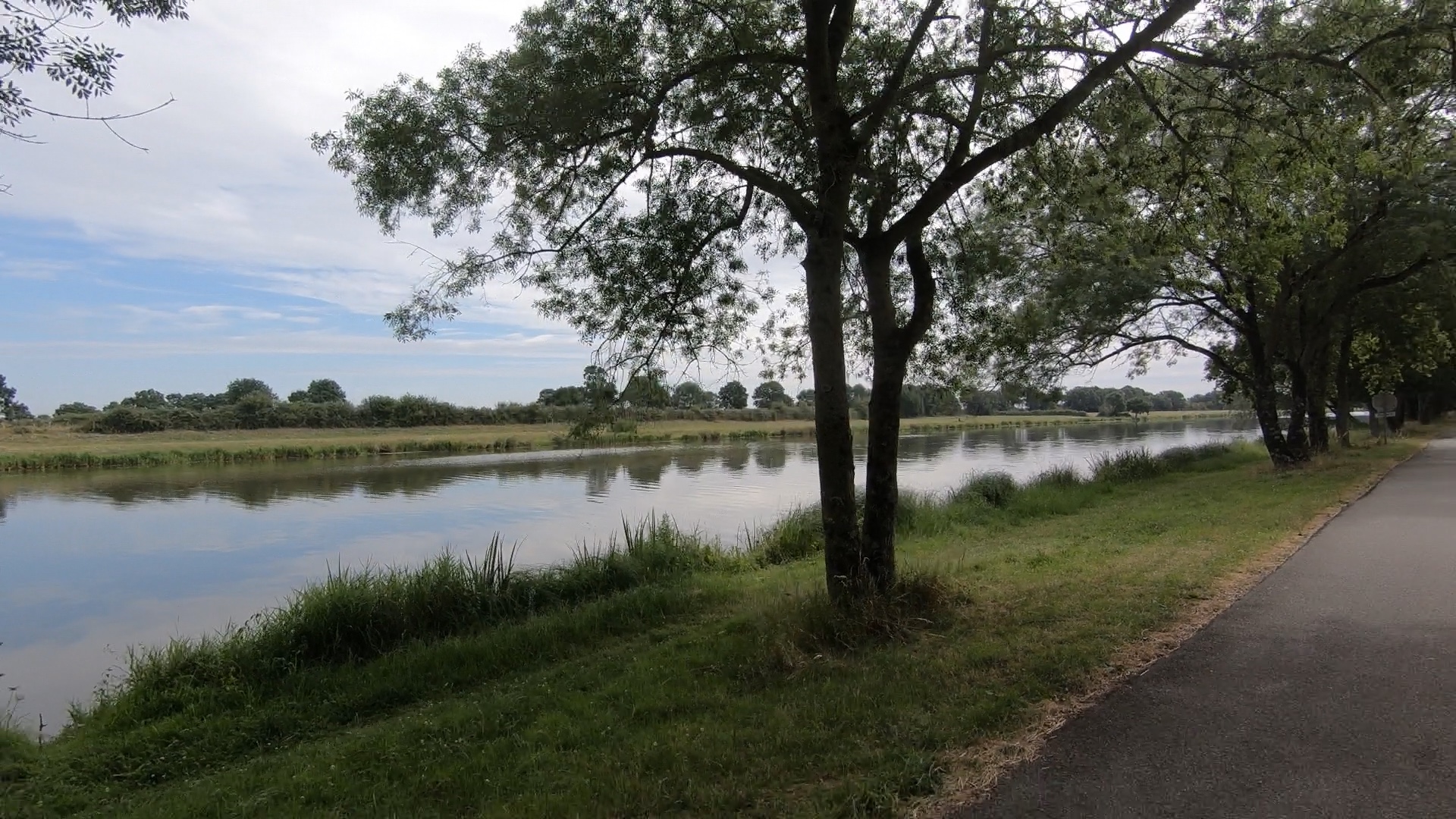 We pounded along it for ten kilometres, making good time on a smooth surface. After the end of the canal we rode through the countryside for a while, making our way back to the banks of the Loire for the last time. A huge stork flew slowly over our heads, and shortly afterwards we spotted several of them standing in a field.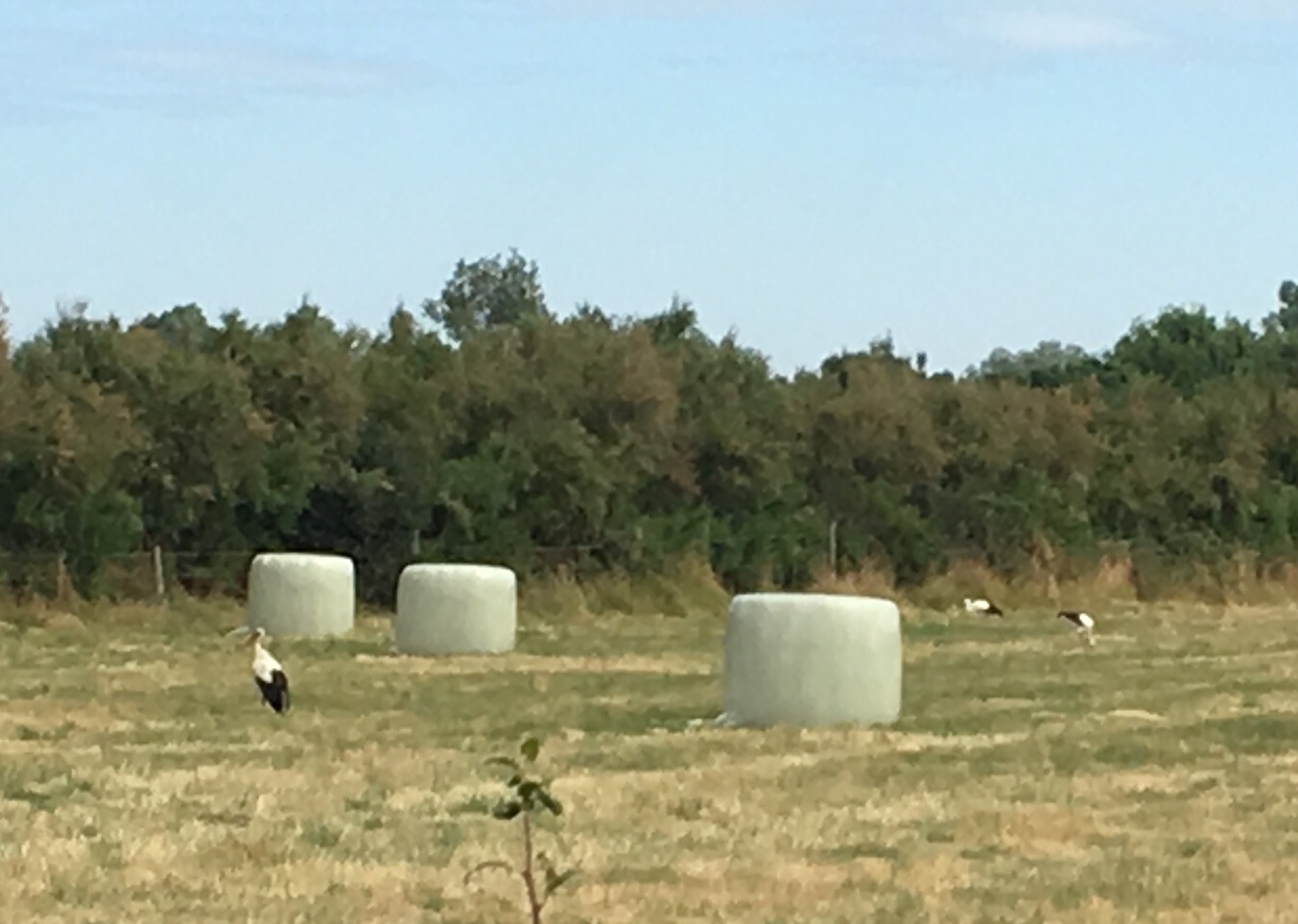 Just before Paimboeuf, there it was, the Loire, huge now after absorbing the Maine and the Erdres in our last couple of days.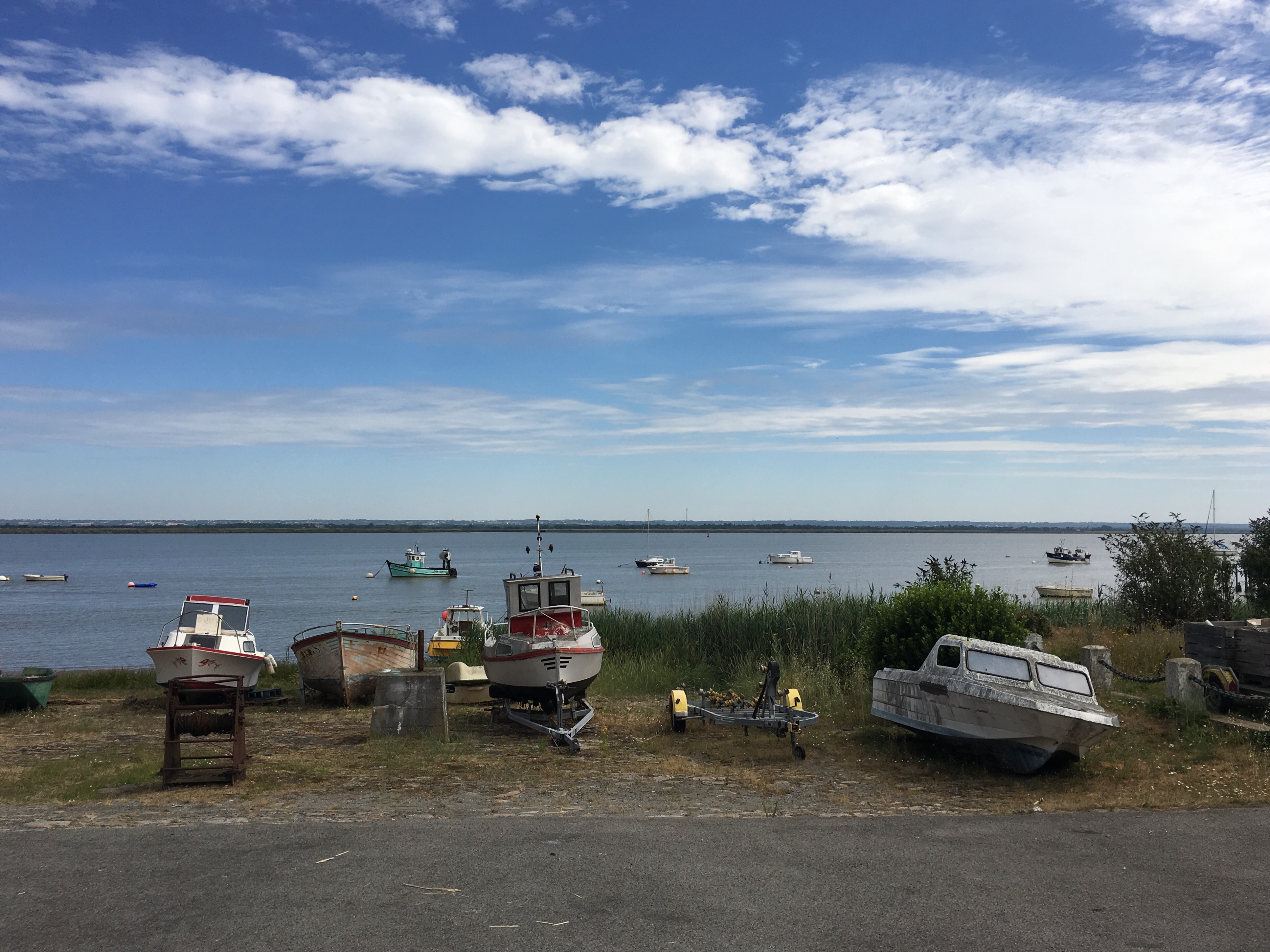 It looked properly full, none of its previous shallows and sandbank building behaviour. In France they call it their 'last wild river' because of its way of changing the landscape, making sandbanks, washing them away, building them again. Here, though, it was clearly deep, properly mature and rushing to the sea.
Just ten kilometres to the sea for us too now, and we came round a corner to see the enormous Saint-Nazaire bridge, much feared by cyclists. It's more than three kilometres long, connecting Saint-Nazaire to Saint-Brevin-les-Pins, and the centre span is extremely high, meaning that wind conditions can cause closures and traffic restrictions.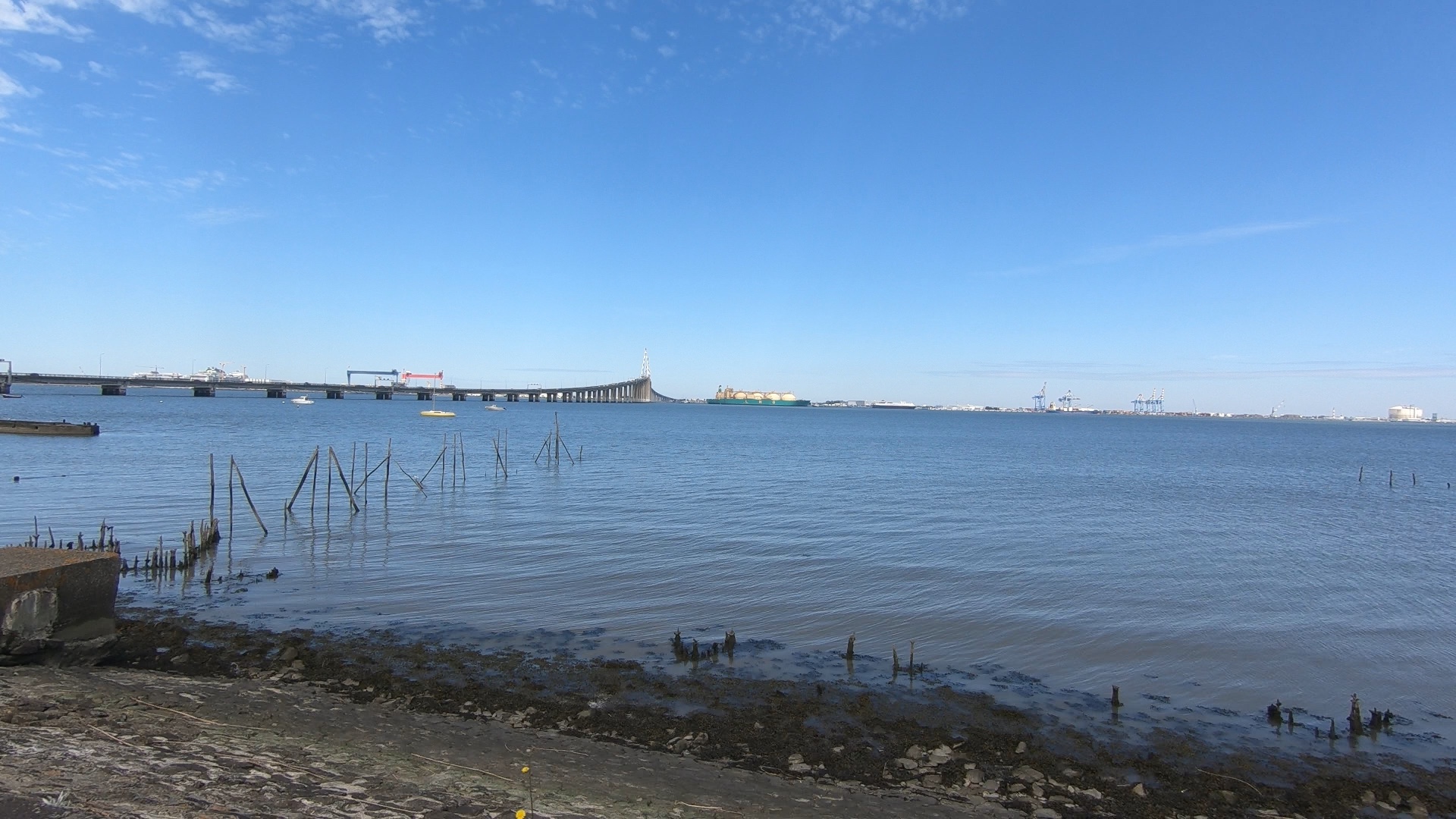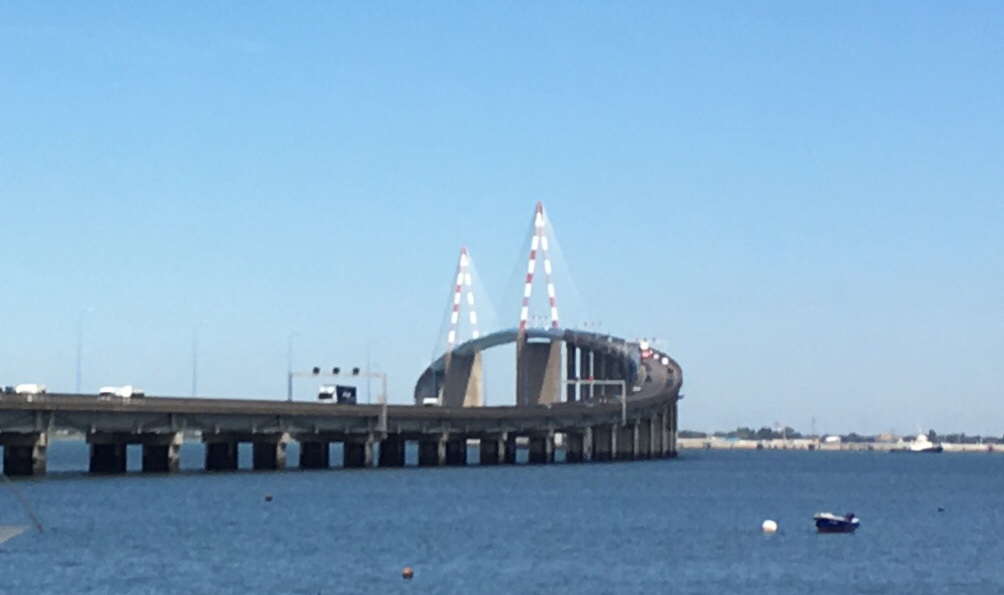 It looked terribly exposed, and we recalled that our friends Emma and Rob, on their own French trip by tandem some years ago, made a huge detour from their route south, going east along the Loire and back for some kilometres to avoid it. The couple we'd met at the aqueduct at Digoin told us there's a free bus which transports cyclists across, although they don't have space for tandems, apparently.
The cycle path took us all the way to Saint-Brevin-les-Pins, and we'd sort of expected something like the 'Kilometre Zero' at Cuffy where the official Loire à Vélo Route begins, but there was only the sea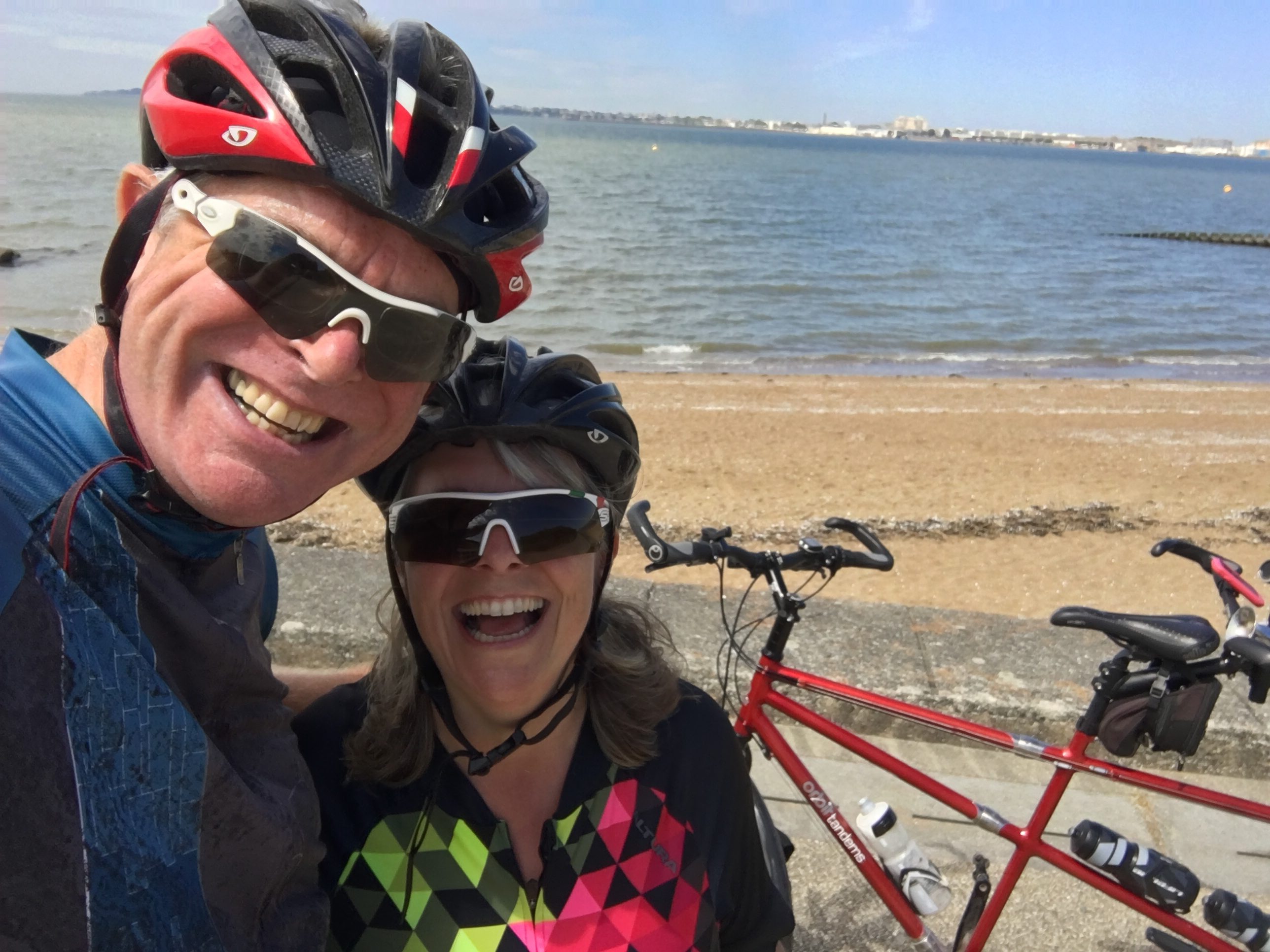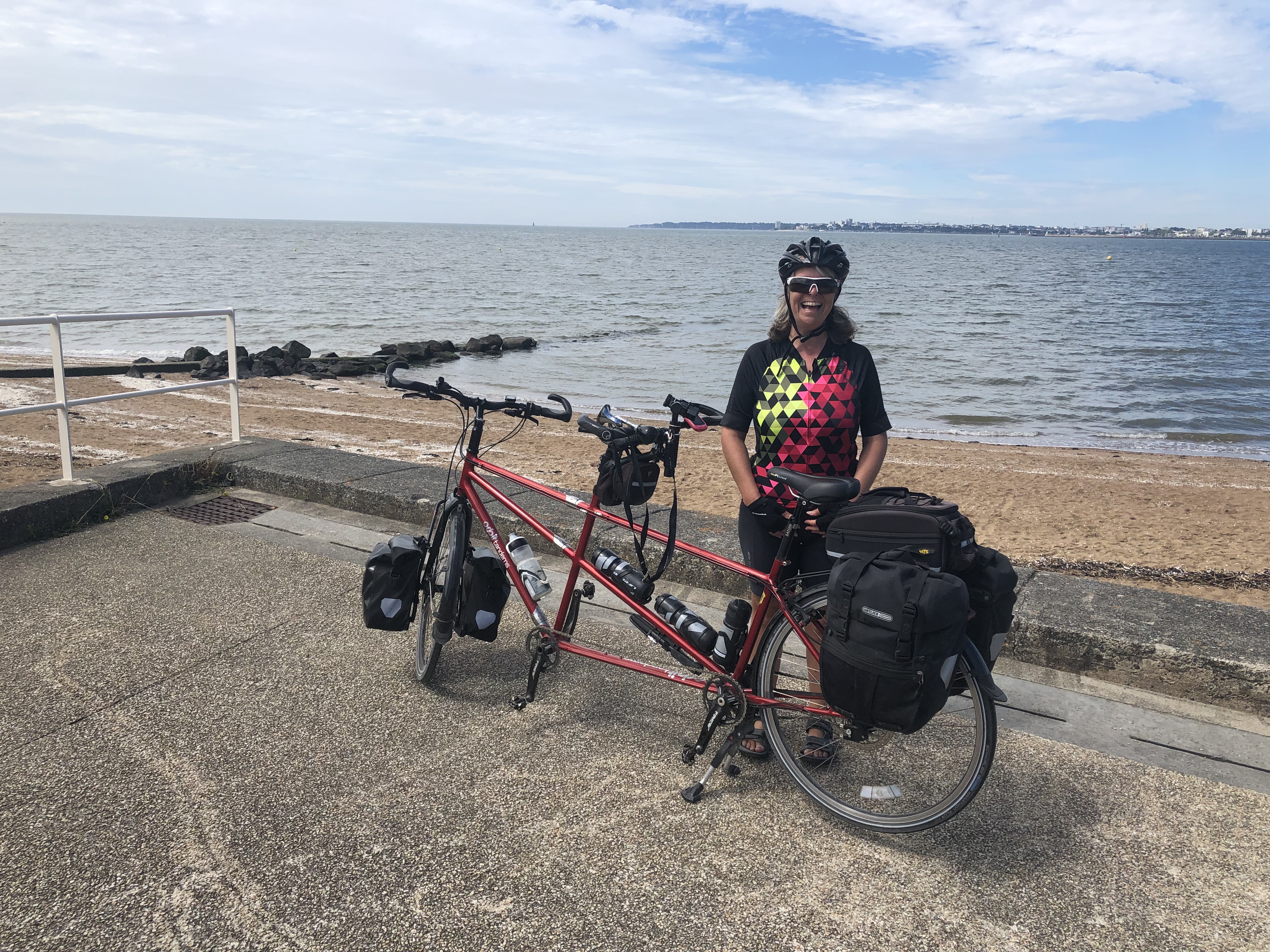 and this sign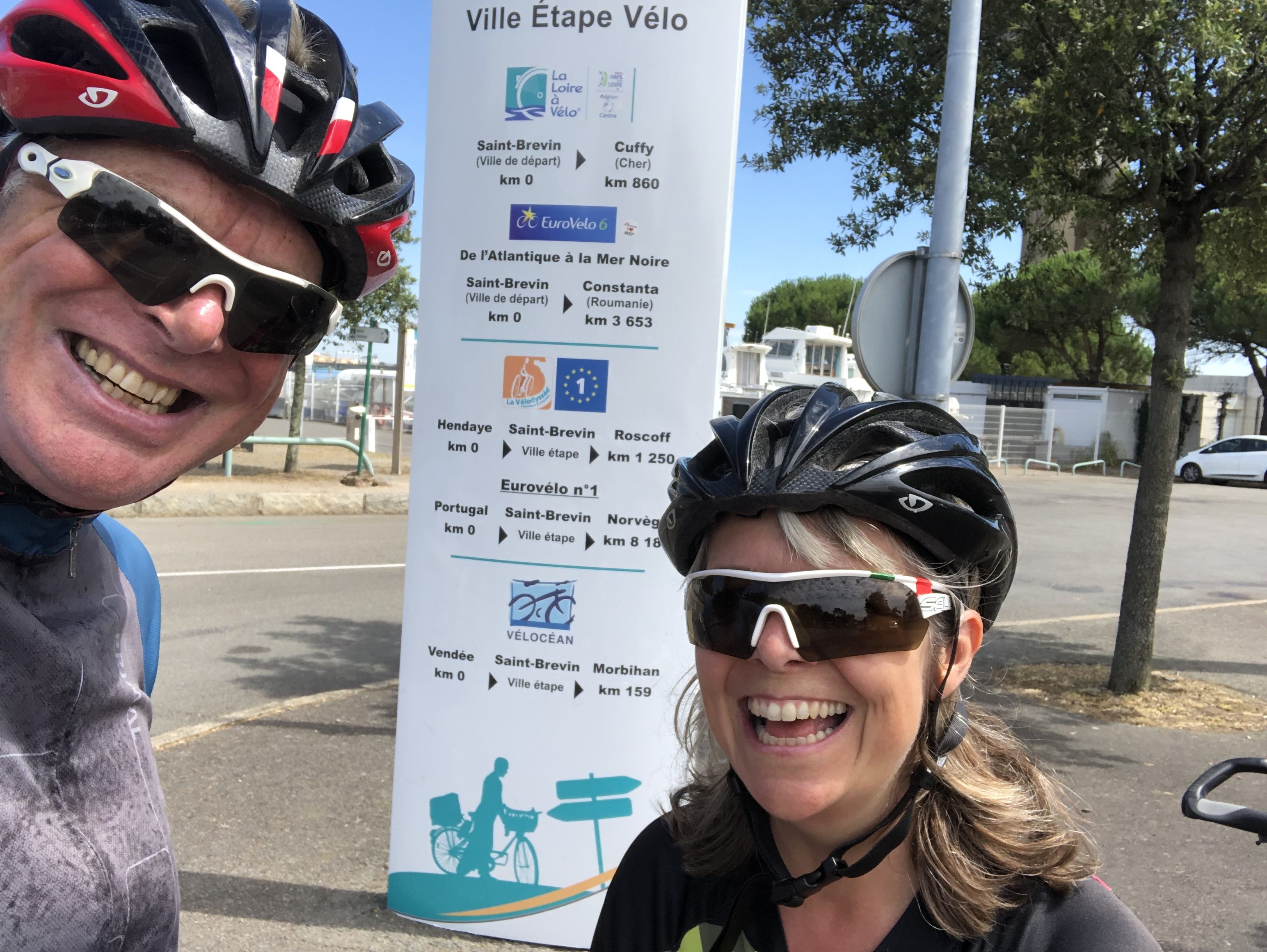 so we took our official arrival selfies there! There were lots of cyclists, most of whom were clearly setting off rather than arriving, but there were a few seasoned-looking travellers like us, with dusty panniers and tanned limbs. The Atlantic Coast cycle route starts here too (or finishes, depending on your direction), so it wasn't possible to tell where people were going or from where they had travelled, but there was a general sense of significance in departures and arrivals, and we could very much identify with that!
So there it was at last, the Atlantic Ocean, the ultimate destination of that little trickle of water we'd seen rising at Le Gerbier de Jonc, and which we'd followed reasonably faithfully as it grew and wended its way north and then west. Saint Nazaire looked immensely far away, and it was difficult to pinpoint the spot where river became sea, but this view just about captures both (and a car park…!)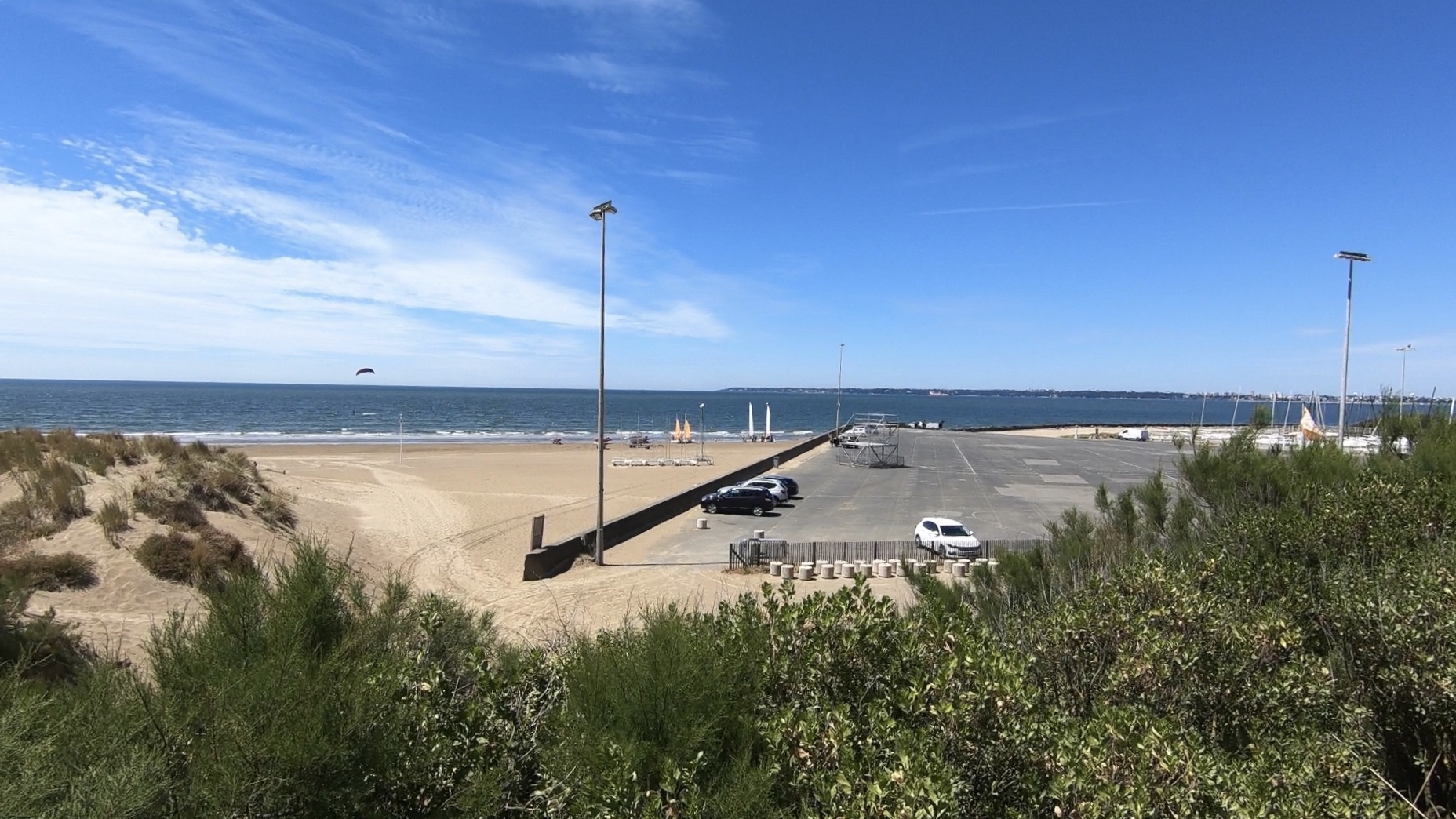 After a quick lunch in Saint-Brevin-les-Pins we set off again for Pornic, and enjoyed the road along the coast, marvelling at water with actual waves in it!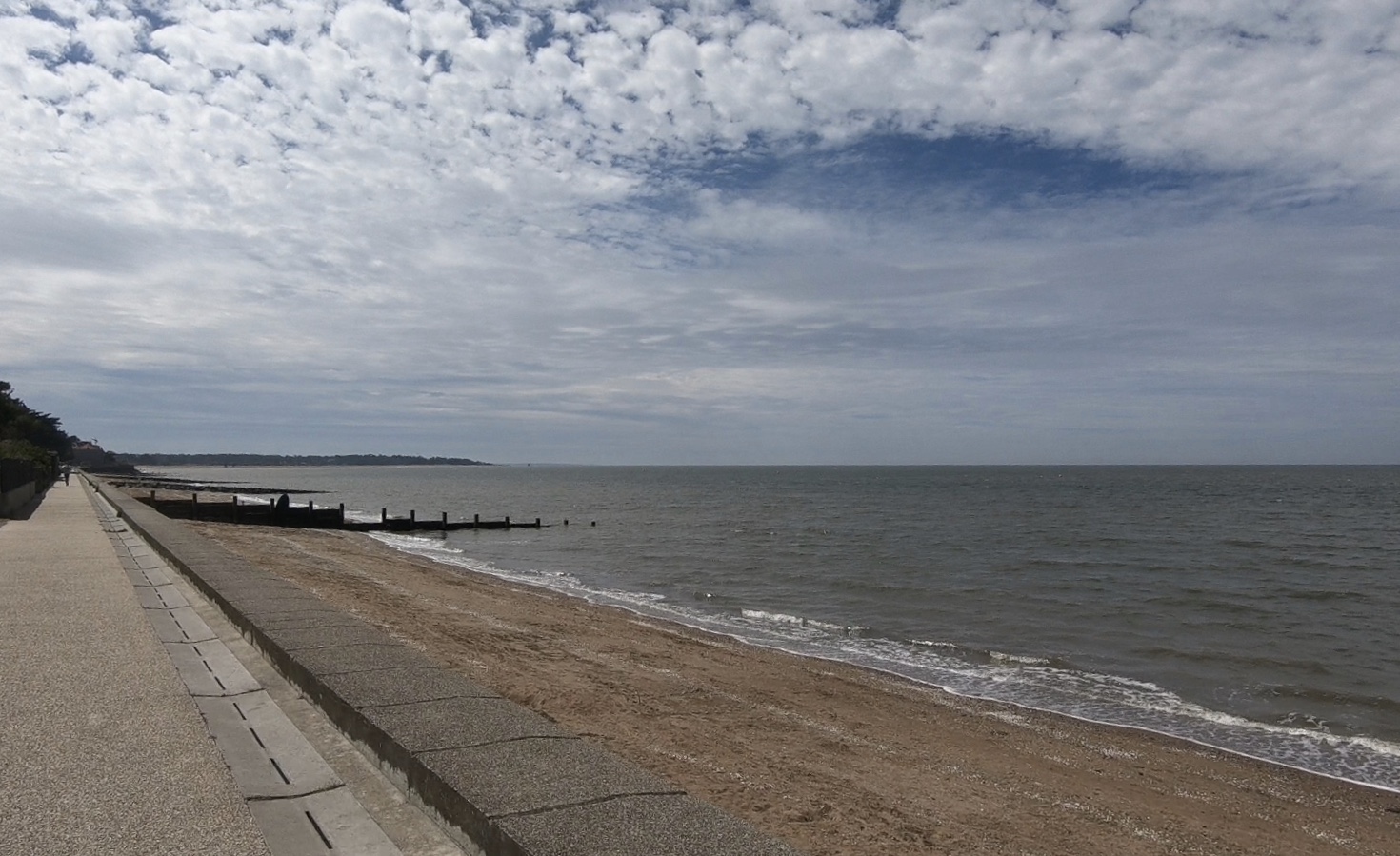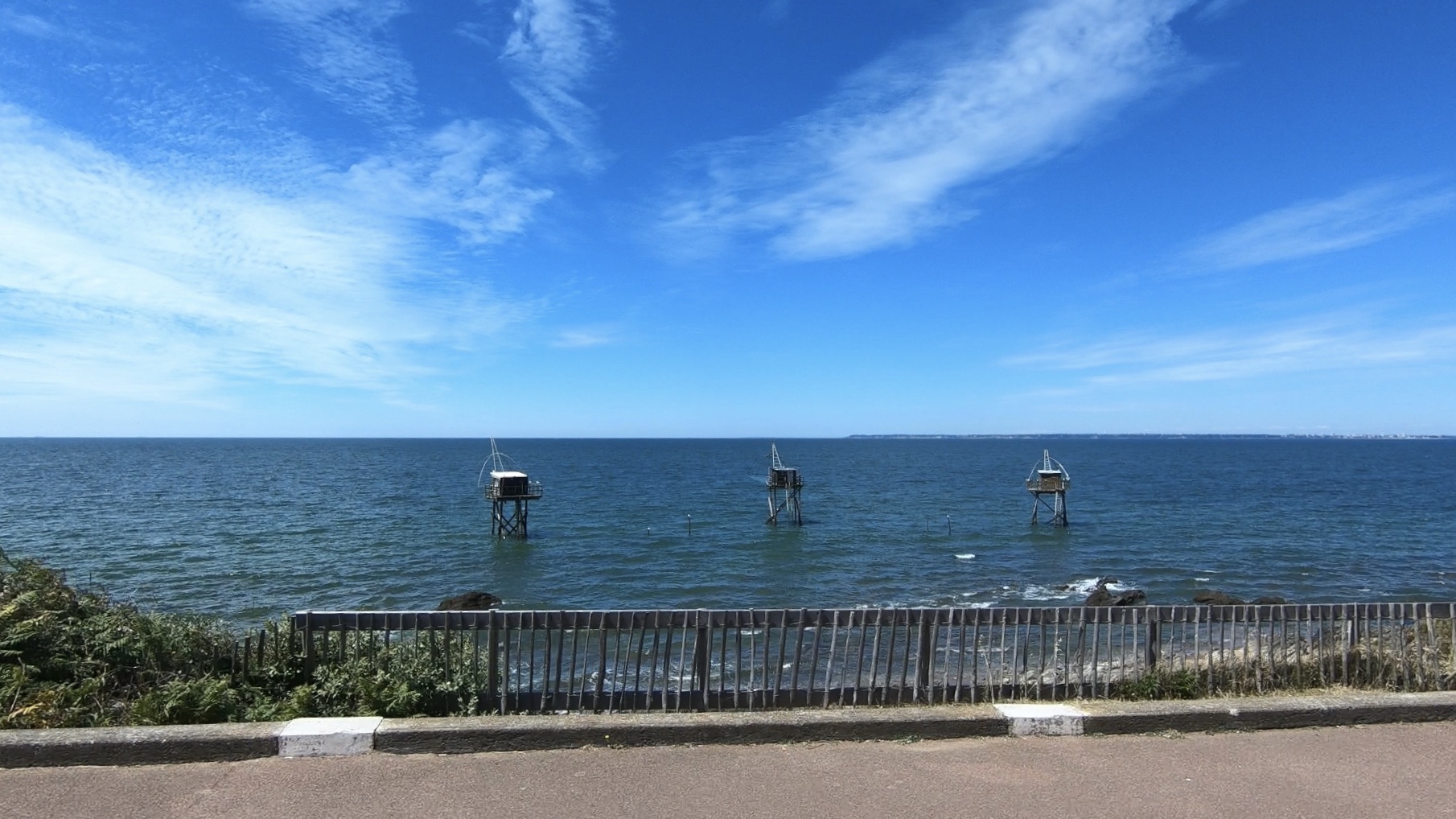 You could smell the saltiness, and there were lots of fine-looking beaches where holiday-makers were enjoying the now sunny day.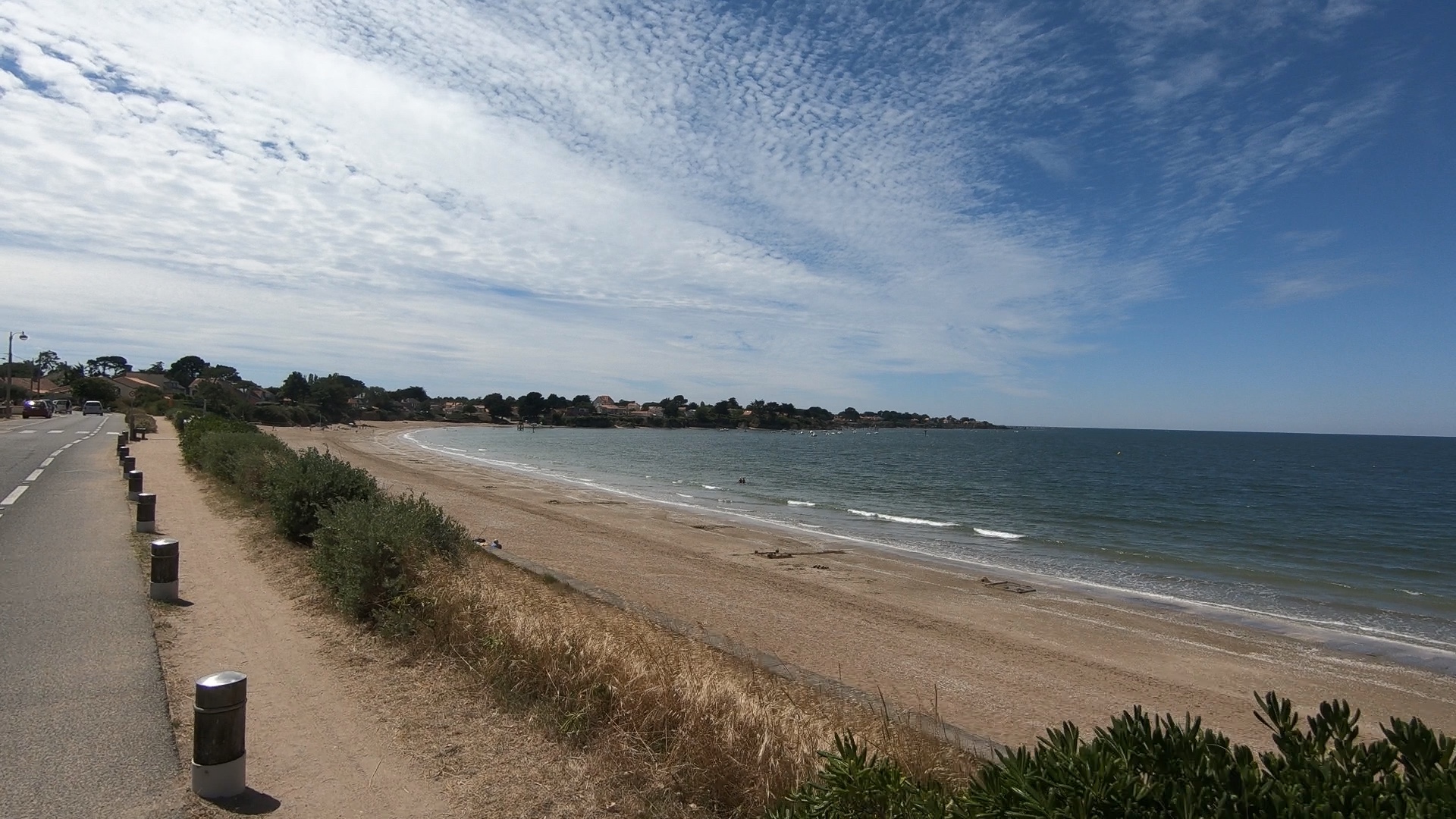 We had to turn inland to reach Pornic, and it went a bit briefly pear-shaped, seemingly a choice between an unrideable track and a dangerously busy road, but we were saved by the third of the official cycle routes of this area, the Vélocéan, which popped up to offer a route to Pornic, which we gratefully accepted.
No further drama to Pornic, then, and we arrived at our hotel just up from the harbour, switched off the Garmins, shut down the GoPro, and shook hands, infection control protocol still being in place following the Stoker's recent malaise. We'll spend a couple of nights here, acquiring a hire car and packing up the tandem in whatever the French for 'bubble wrap' is, for our trip back to Avignon to pick up our car, and then home.
We're not going to rush, though. There's a few vineyards we're thinking of popping into on the way back…
Here's a video of today's route and today's track.