Distance: 50.8 km
Time: 2 hours 58 minutes
Speed: 17.1 km/h
Ascent: 445 metres
Total distance: 2409.8 km
Total time: 129 hours 23 minutes
Wordle scores: Captain 4 Stoker 4
Word of the day: "familiare" (fa-meel-ee-ah-ray) – familiar
The Captain writes:
Last night we dined on pasta with Calabrian sausage, chicken and mushrooms on the table outside our lodgings, tried not to feed the cat and kitten attending on our every move too much, and with quite a lot of effort we also managed to stick to our resolve about having an alcohol-free day. When your hosts leave wine and chilled limoncello for you it's difficult!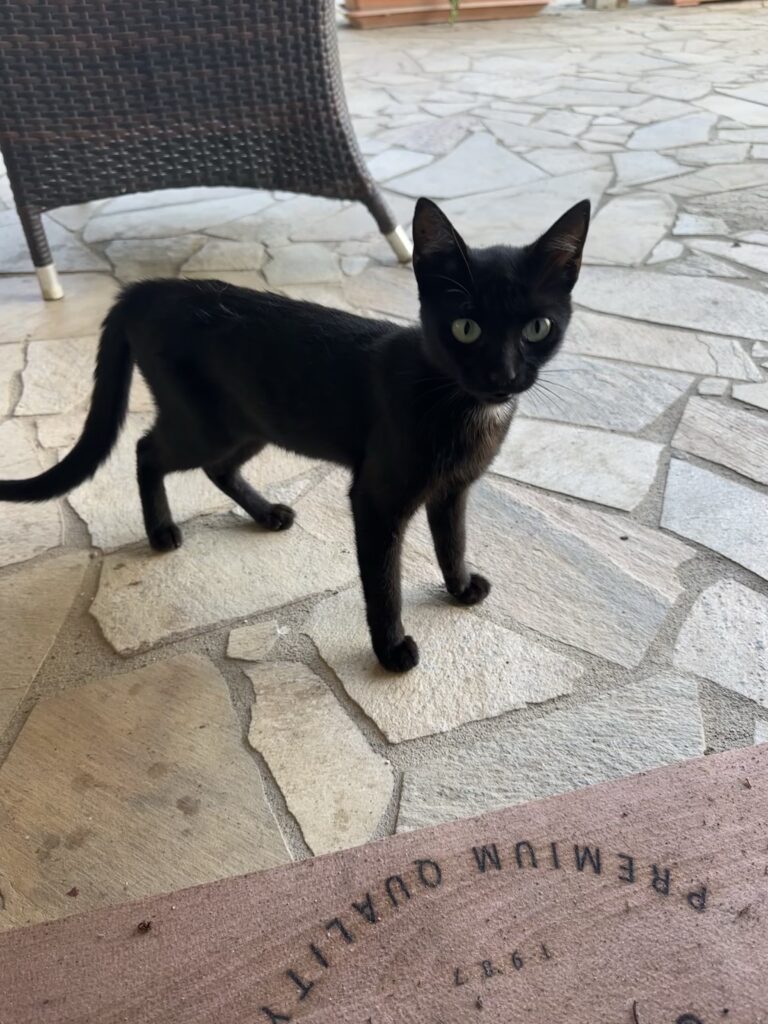 We had resolved to have a lie-in this morning, but woke fairly early anyway, allowing us time for two cups of tea before rising. Luxury! Once again we'd been very fortunate with our choice of lodgings, Innocenza and Pasquale could not have been more generous and helpful. Even as we left, Pasquale accompanied us to the end of the drive on his scooter, to ensure that we made a safe entry onto the main road.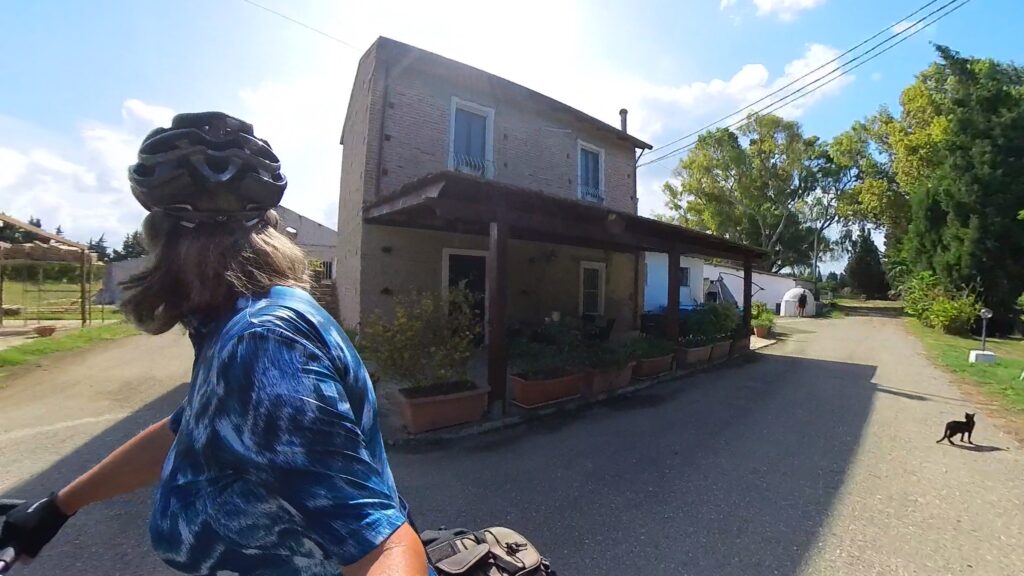 It was a strange feeling to be more-or-less repeating a stage from our previous trip. It hadn't been our intention to do this when we set off, but once we'd decided the roads around the southern part of Calabria weren't viable for cycling it was the logical choice to cross the Apennines and follow the Tyrrhenian coast towards Sicily.
It also meant that, for the first time on this trip, the sea was to our right. Not that we could see it for the first ten kilometres or so, as we were running parallel to the coast, about two kilometres inland. Once we turned to the west, following the coast round, the Tyrrhenian was revealed, and it looked angry! The high winds we've encountered since leaving Capo Rizzuto still prevailed, and the waves and white horses were spectacular.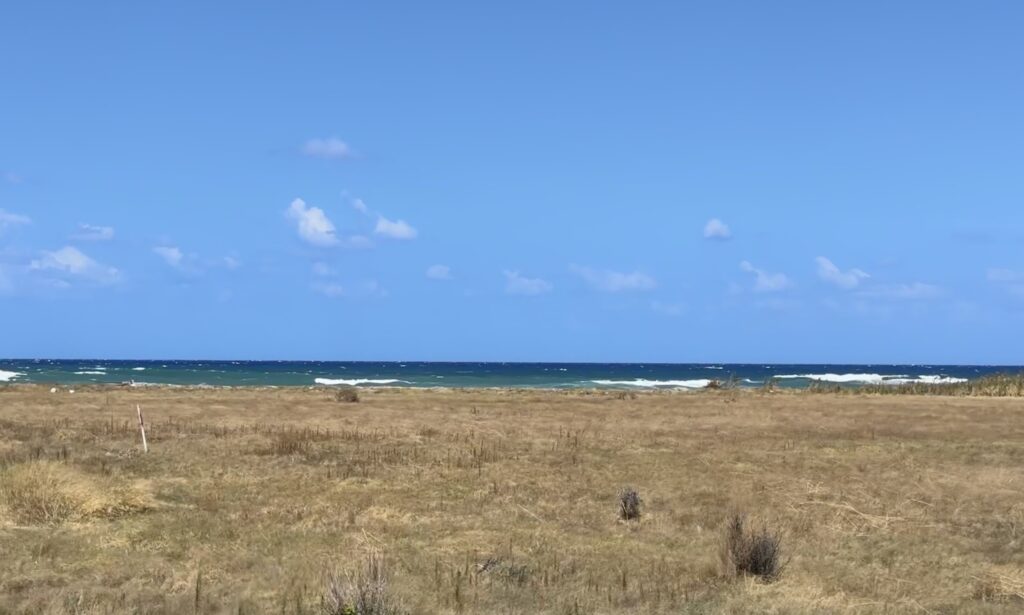 We moved from the fairly busy SS18 onto the much more comfortable SS522, passing under an enormous bridge carrying the A2 autostrada.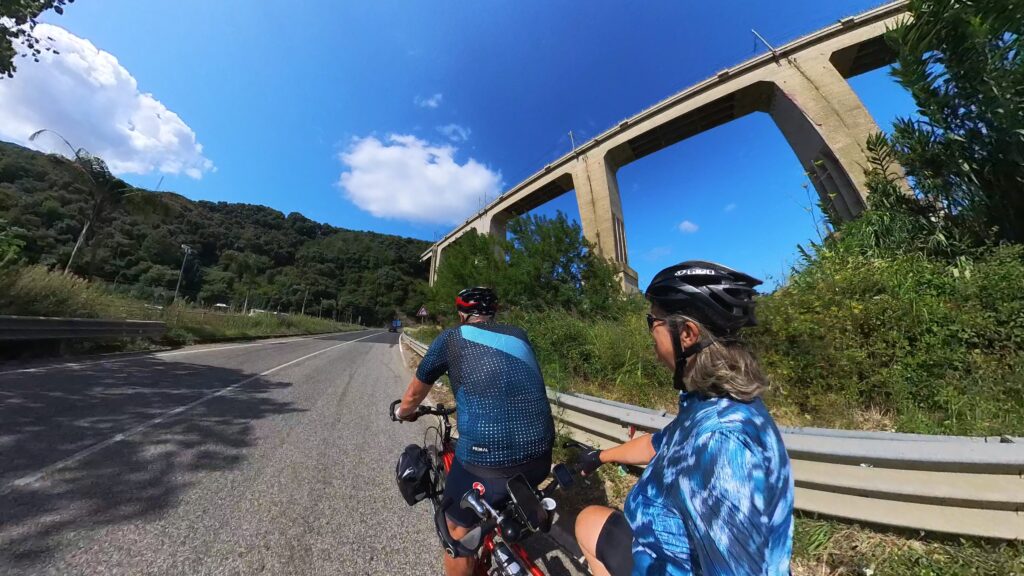 While the headwinds were still a problem the traffic on the smaller road was much easier to deal with. After an hour, seeking water, we climbed up to the main square of Pizzò, home of the tartufo gelato. It was far too early in the day for gelato, but we enjoyed sitting in the shade, and later we walked around to reacquaint ourselves with familiar views. All the while the tandem, sitting outside the café, was attracting huge amounts of attention from passers-by.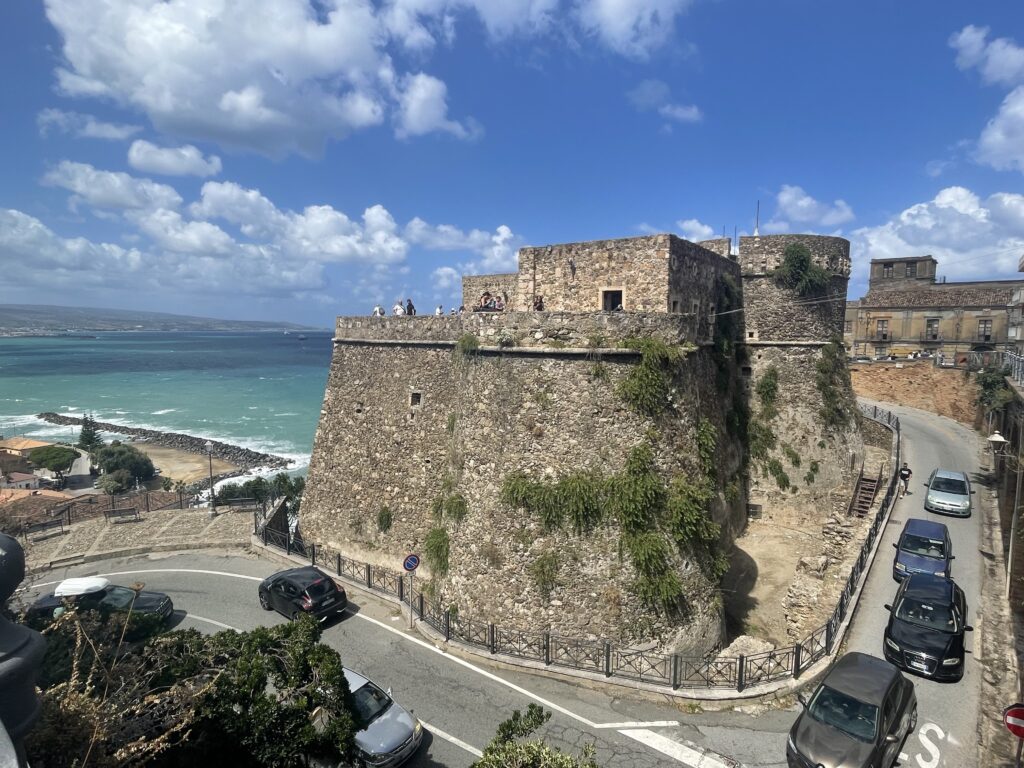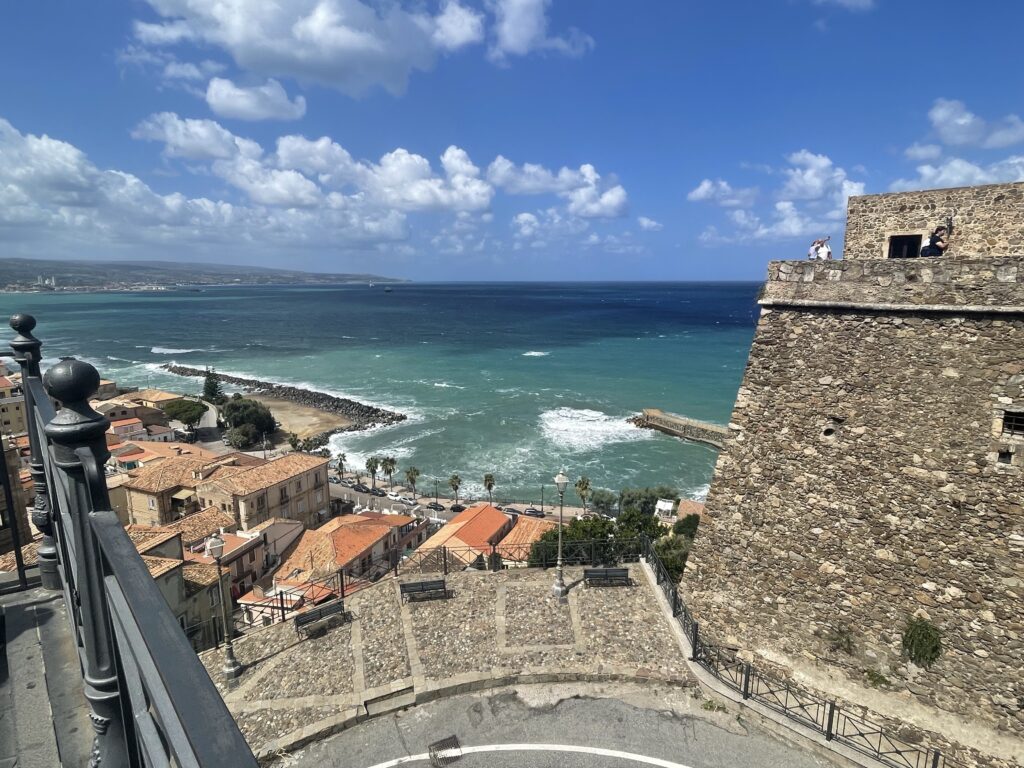 A steep descent past the castle started the second phase of the day, featuring rolling hills and strong winds, and marvellous sea views to the north.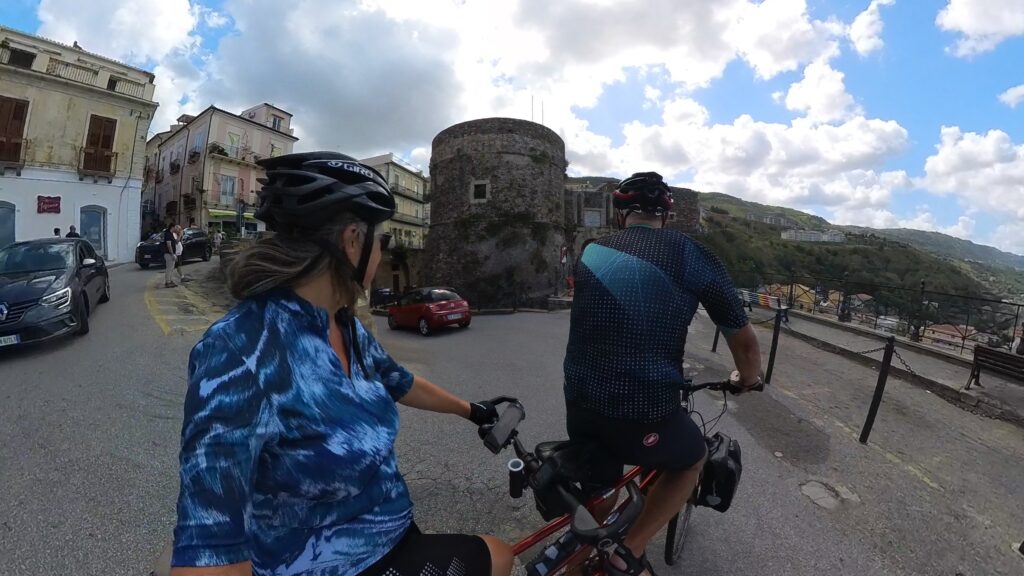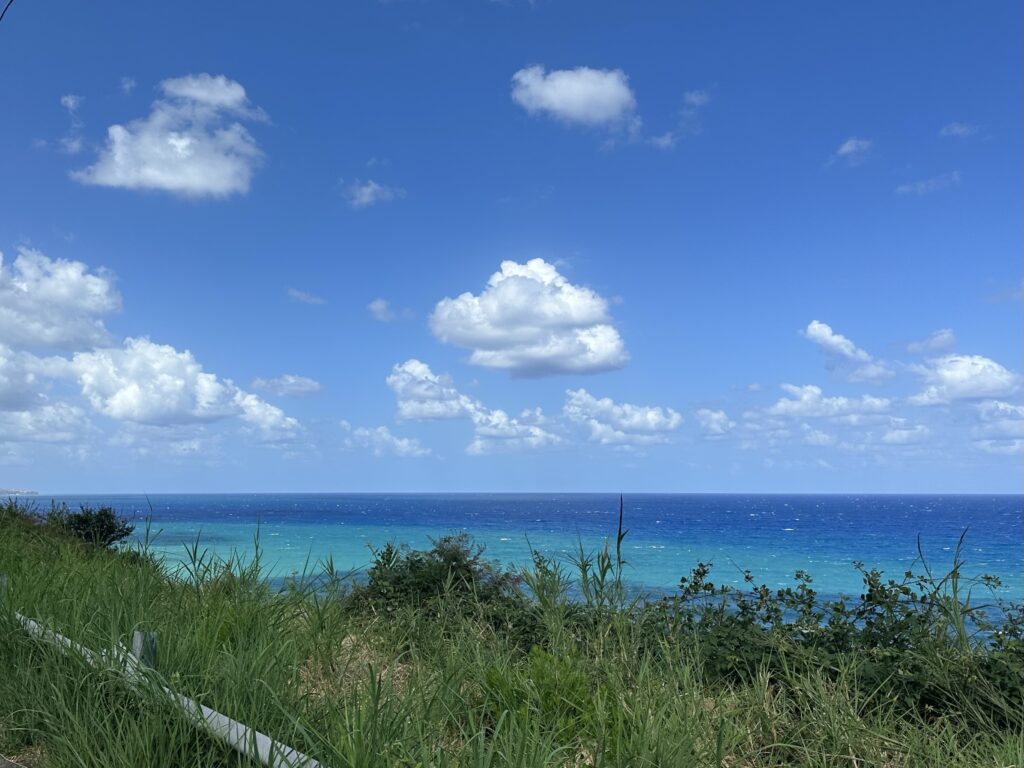 It was quite hard work, but we soon found ourselves descending into Briatico for lunch. On the beach there we found Antonio's Kebabberia! All of a sudden a doner kebab seemed like an excellent idea, and we enjoyed them very much, although it has to be said that they were a very Italian take on the art of the doner kebab! If you look hard at the picture below you may be able to spot a fine ruined tower in the background.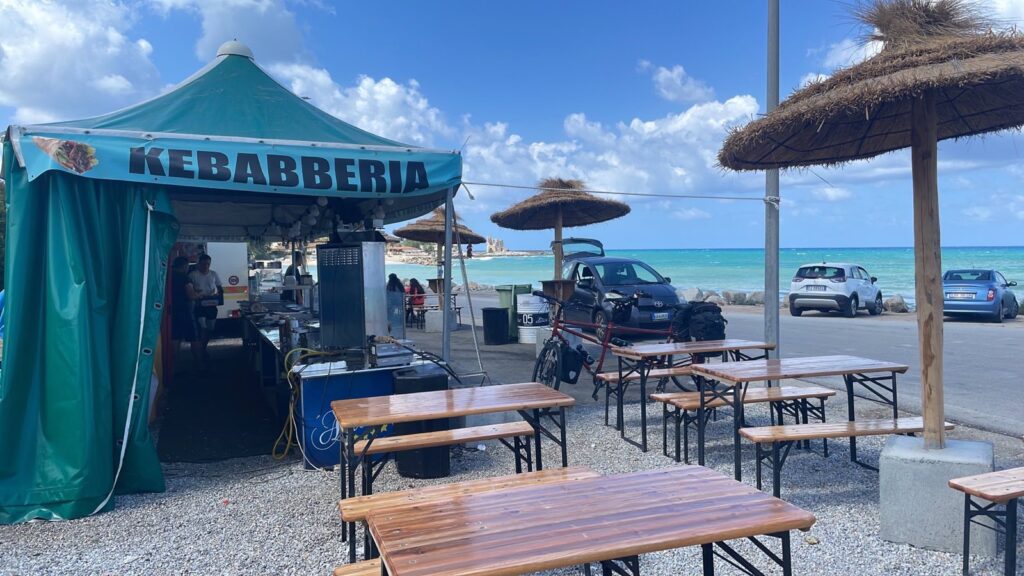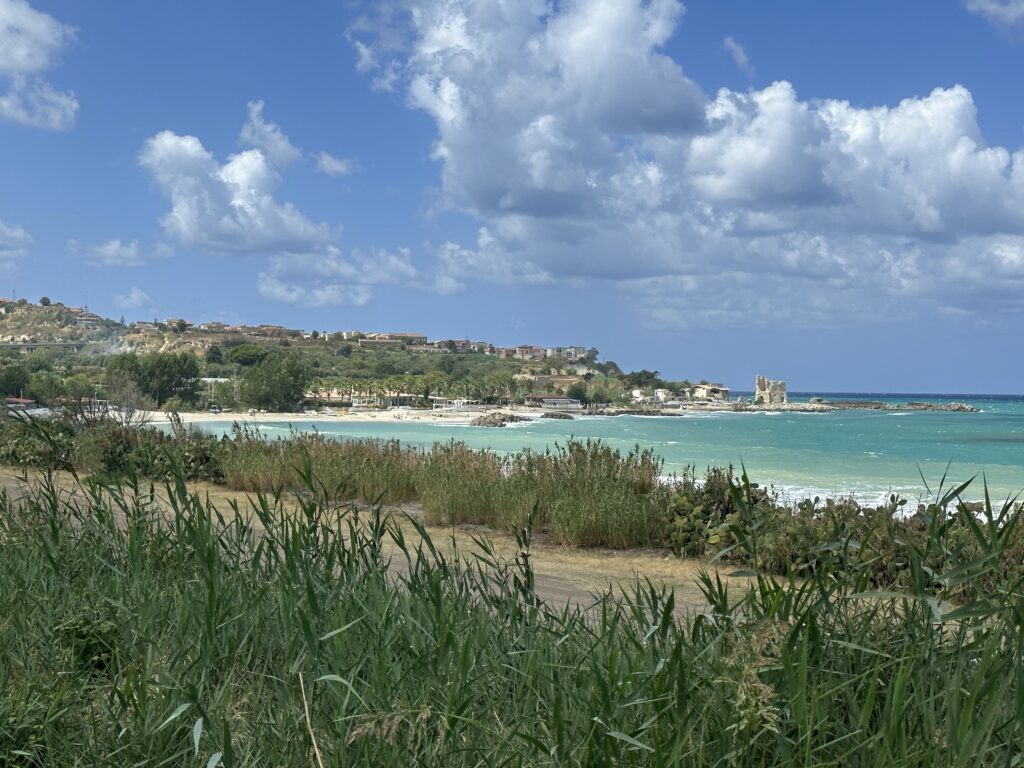 I'd noticed while we were riding that the tandem chains felt a bit 'grindy' this morning, presumably as a result of the torrential rain yesterday, so after lunch I wiped them down and re-lubricated them before we set off, removing considerable quantities of fine grit in the process. The tandem felt much better for this attention, and we climbed smoothly out of Briatico back to the main road.
We remembered that a feature of this road was the frequent roadside stalls selling fresh vegetables, and we were not disappointed. Their main product is the Tropea red onion, famed throughout Italy for its flavour, though they were also selling garlic and fiery red Calabrian chillies.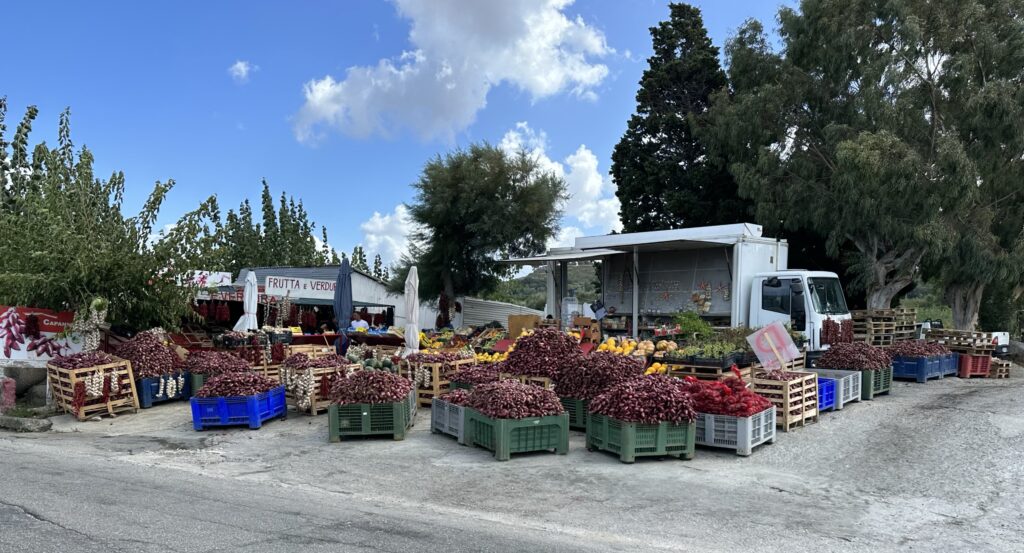 Passing a succession of promontories we pedalled on until Tropea appeared in the distance, with three smaller headlands between us and the town.
Soon we found ourselves at the outskirts of town, where we followed an intricate route through the Zona Traffico Limitato (as usual, not very limitato at all!) and found the gates of our lodgings.
Here we have a delightful garden, with a barbecue ideal for the grilling of Calabrian sausages, and a visiting cat to keep us entertained. We're just outside the historical centre of the town, so couldn't be more ideally positioned for restaurants, bars and beaches.
So we're resting here for two days. If all goes according to plan we have four days cycling remaining. The first two of those days involve the biggest climbs of our entire trip, so we intend to be fully rested before we attempt them!
Here's a map of our progress so far…
…and here's today's route and a short video.