Distance: 33.43 km
Time: 2 hours 17 minutes
Speed: 14.6 km/h
Ascent: 583 metres
Total distance: 1561.1 km
Total time: 84 hours 9 minutes
Wordle scores: Captain 5, 3, 3 Stoker 6, 5, 6
Word of the day: "ragazzi" (rah-gat-tzee) – kids
The Captain writes:
Our lodgings in Polignano were on the cliff-top, with a balcony overlooking the Adriatic, giving us the opportunity to study the ever-changing moods of the sea, and to watch countless small boats ferrying people to look at the caves and the cliffs, some of which were directly beneath our window. Our hosts had provided a bottle of Prosecco – how thoughtful!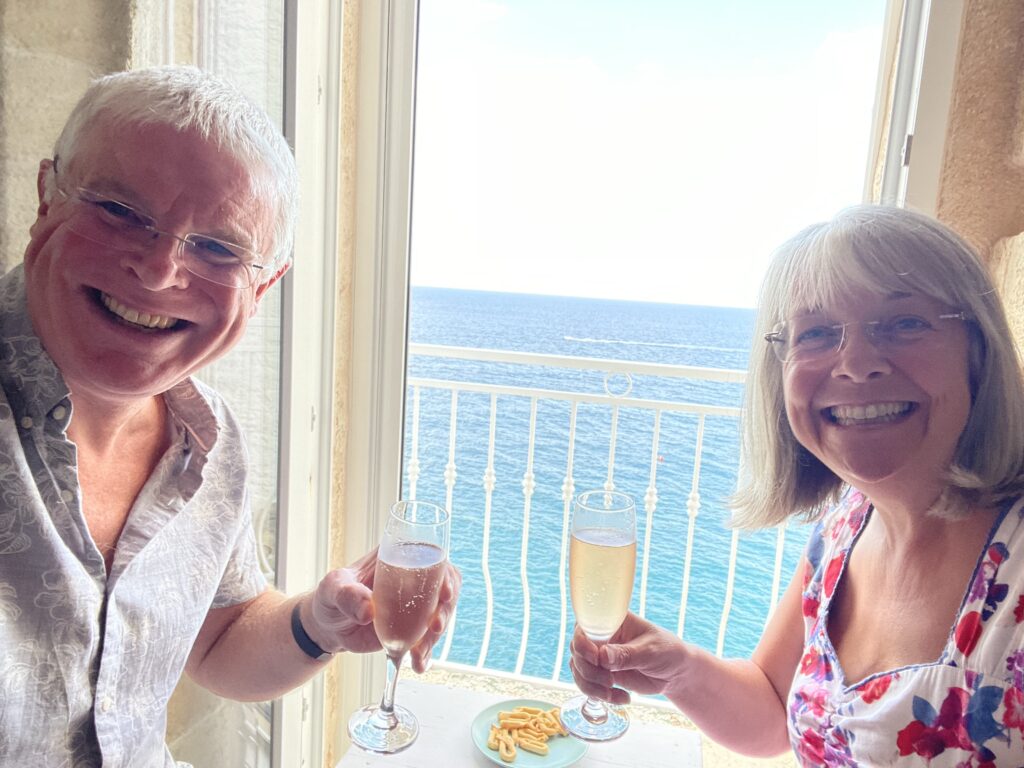 We tried to organise a boat trip for ourselves, but sadly the winds were too high for the day we chose, and no boats put to sea.
Polignano's a vibrant, lively place – teeming with visitors from all over the world. Tiny narrow alleyways lead to cafés and restaurants, or to viewpoints over the spectacular coves, cliffs and caves.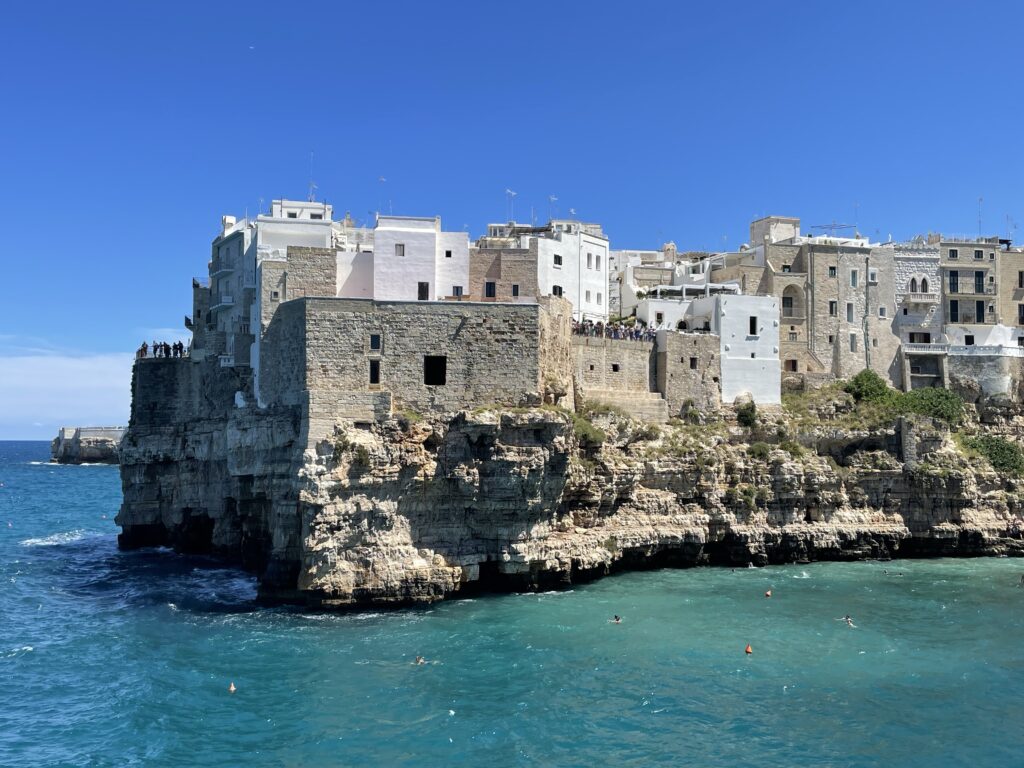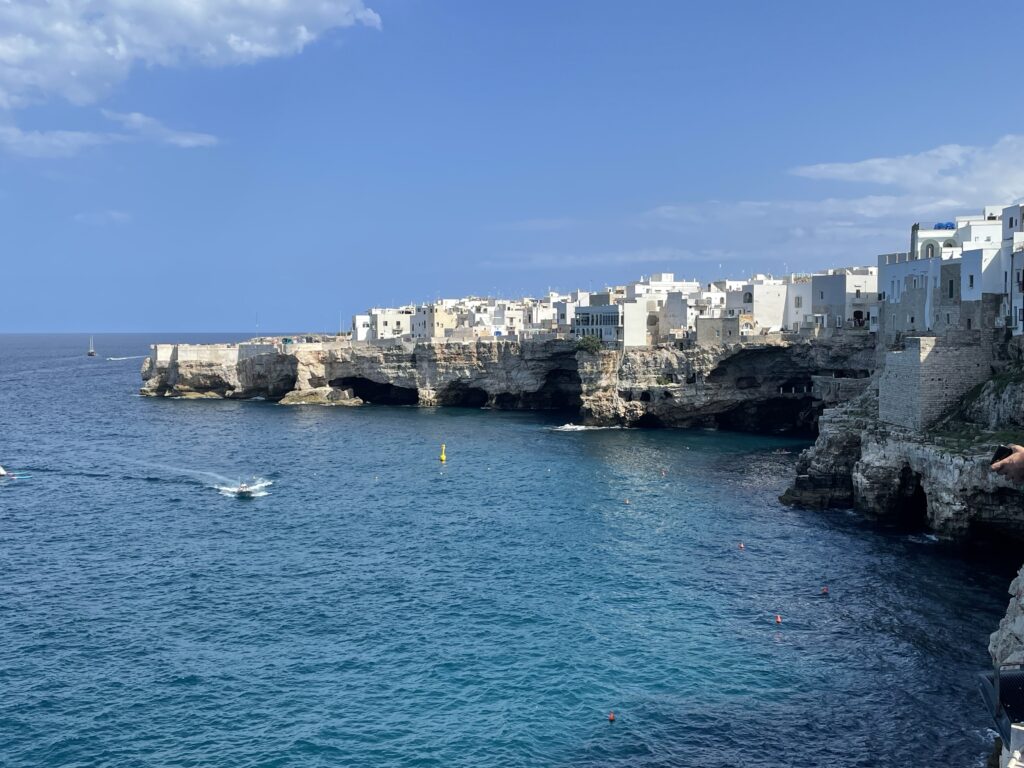 Directly outside our apartment was a delightful and fairly calm piazza.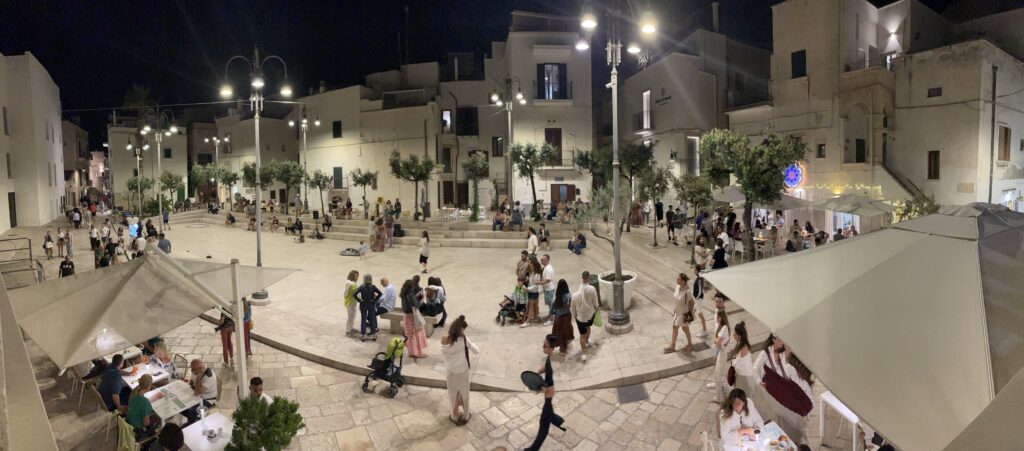 A short distance away we found the cathedral in the (much livelier) Piazza Vittoria Emanuele II. From there an archway led out of the old town walls towards a bridge which gave fine views over Lama Monachile, the rocky beach which seems to feature in most pictures of the town.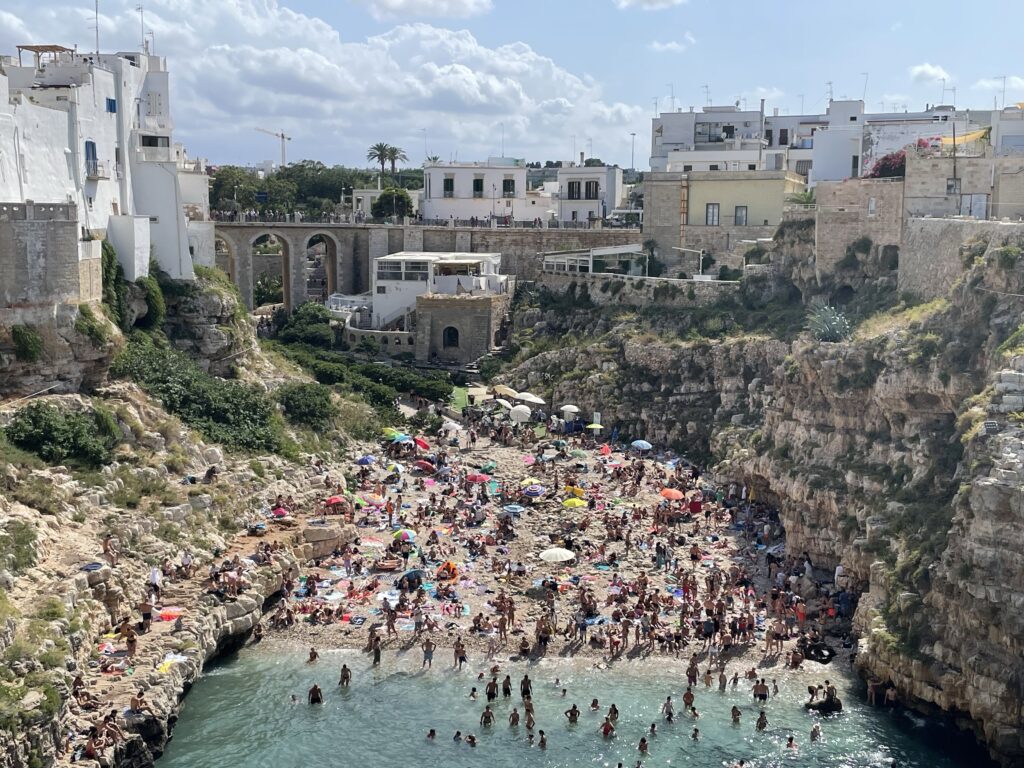 We took the opportunity to explore, but also to relax, recharge our batteries and perform some of the more mundane tasks necessary to our continuing trip – washing, ironing, getting a haircut!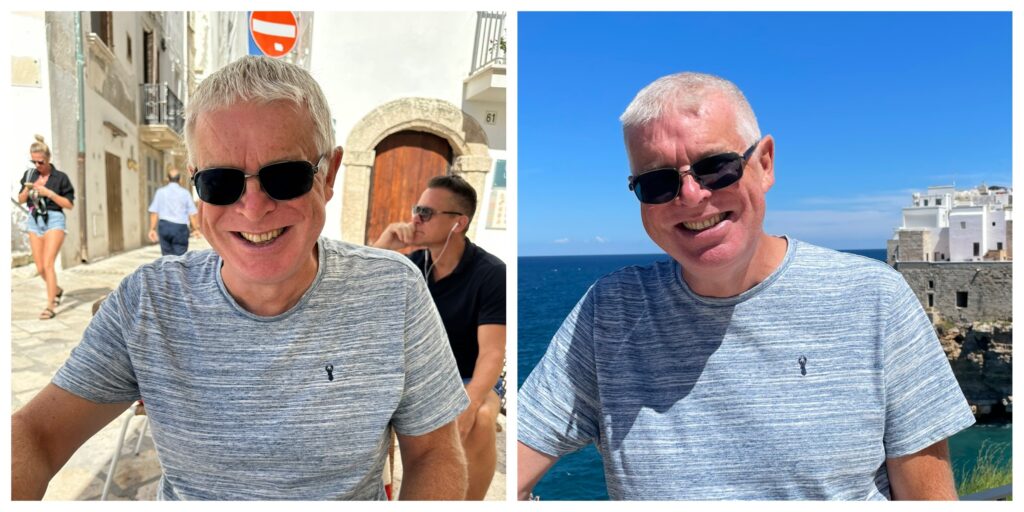 Knowing that we couldn't check into today's lodgings until after 3pm we awarded ourselves a lazy start, drinking tea while listening to the waves below, then a leisurely breakfast in the cafè below. Then, with startling efficiency the golf buggy arrived and whisked us through the narrow streets to the garage, where we retrieved the tandem, checked it over and headed off.
Our first mission was to find the town of Monopoli. This we did without passing "Go" or collecting 200 euros. We were looking for a newly installed statue, about which the Stoker had read in The Guardian. The statue is of a mermaid, but is not popular with the locals on account of the size of her bum! Since reading about this, the Stoker has been determined that we should visit the "big bum mermaid statue" and check it out for ourselves.
The bum, undeniably, is big. Other features also stand out. What was most surprising to us was the size of the statue itself – we were expecting it to be very large, but it was, in most respects, human-sized.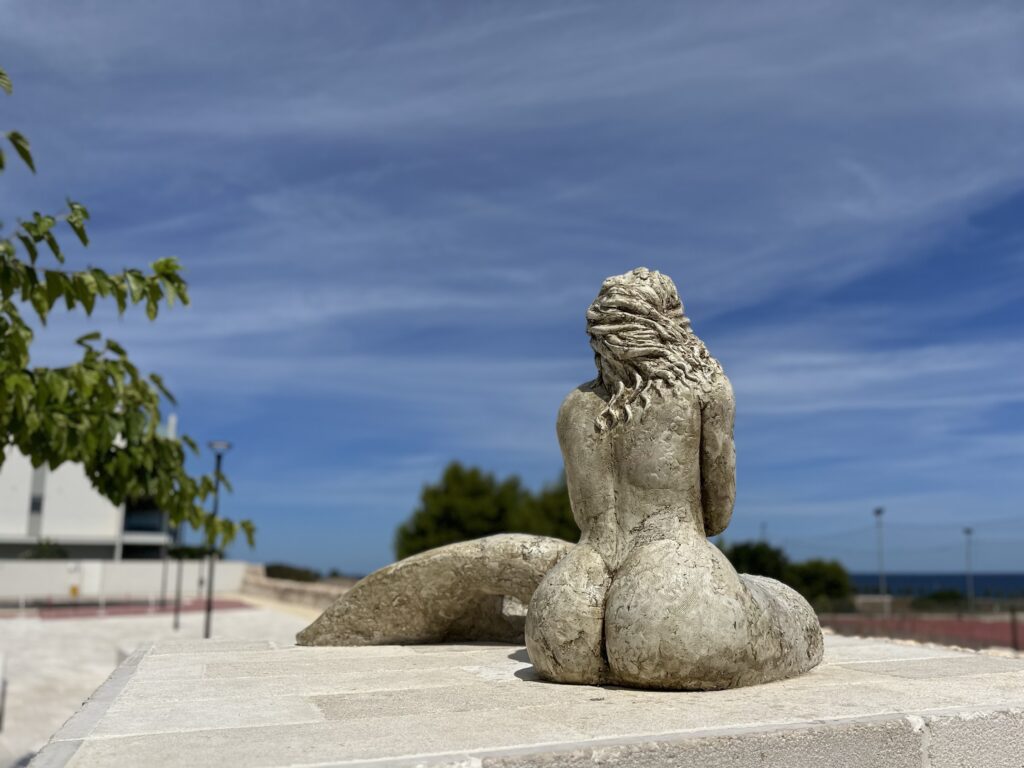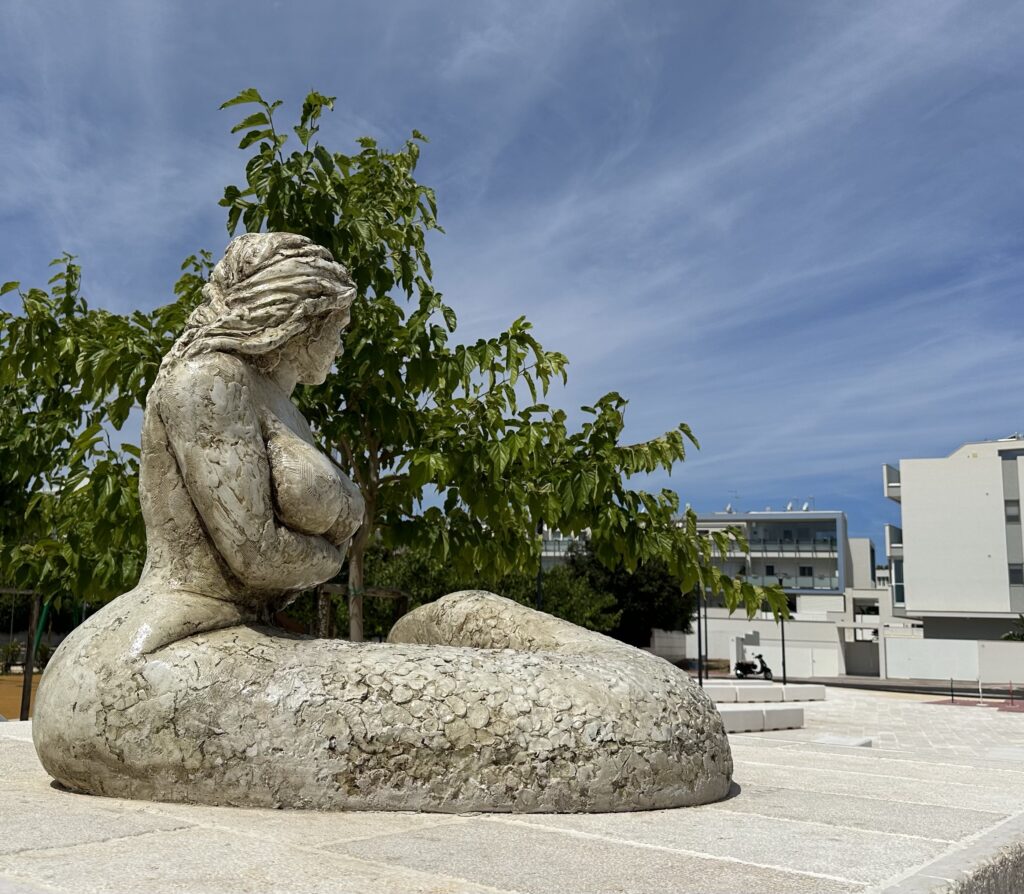 Curiosity satisfied, we moved on. We'd read that the old town part of Monopoli was well worth a visit, so we dismounted and walked the tandem through the streets adjacent to the sea. There was some fantastic architecture, lovely churches, a castle, a bastion fully equipped with (rather rusty) cannons, pointing out to sea. It was also very popular with tourists, and sported a couple of well-populated beaches.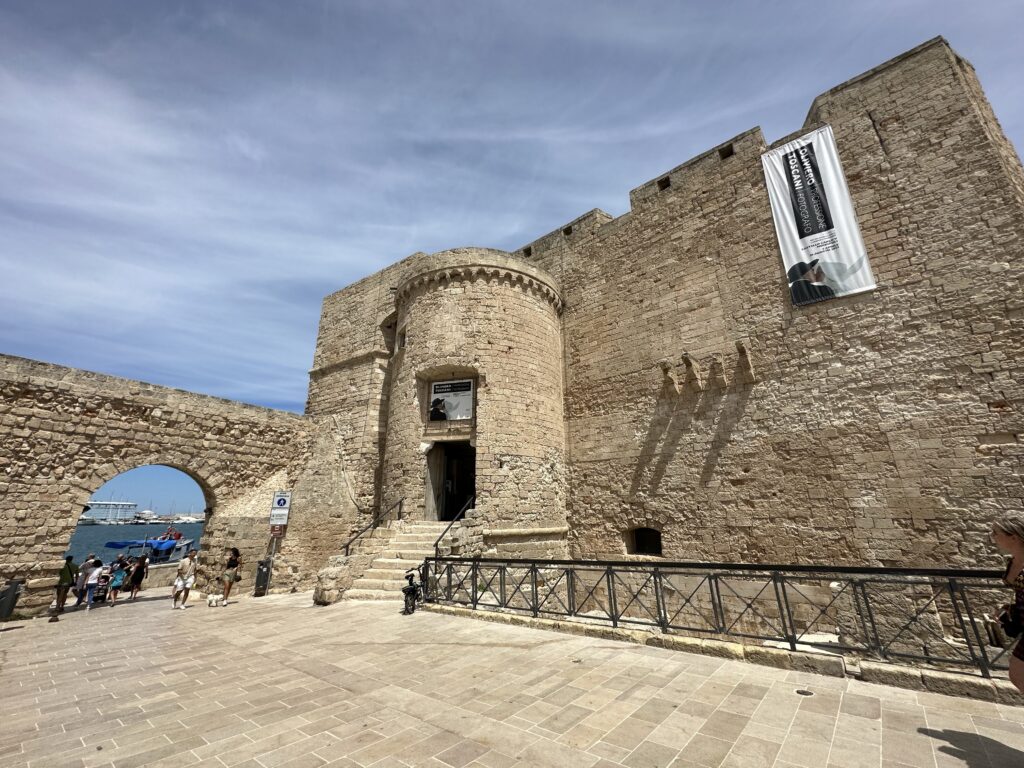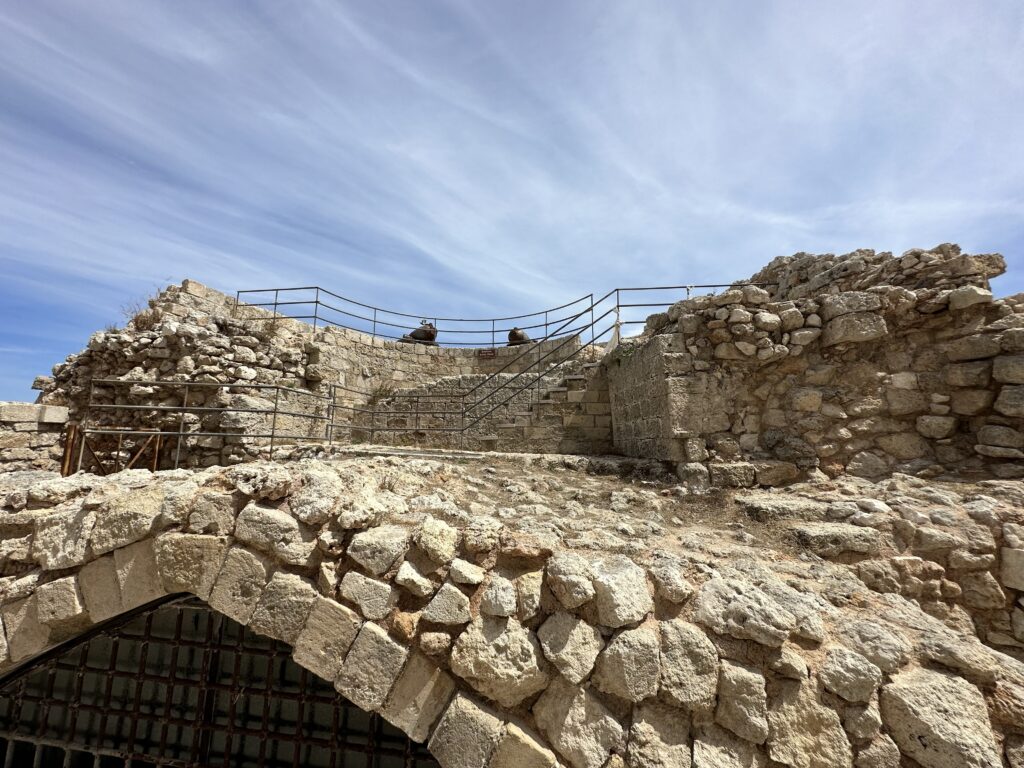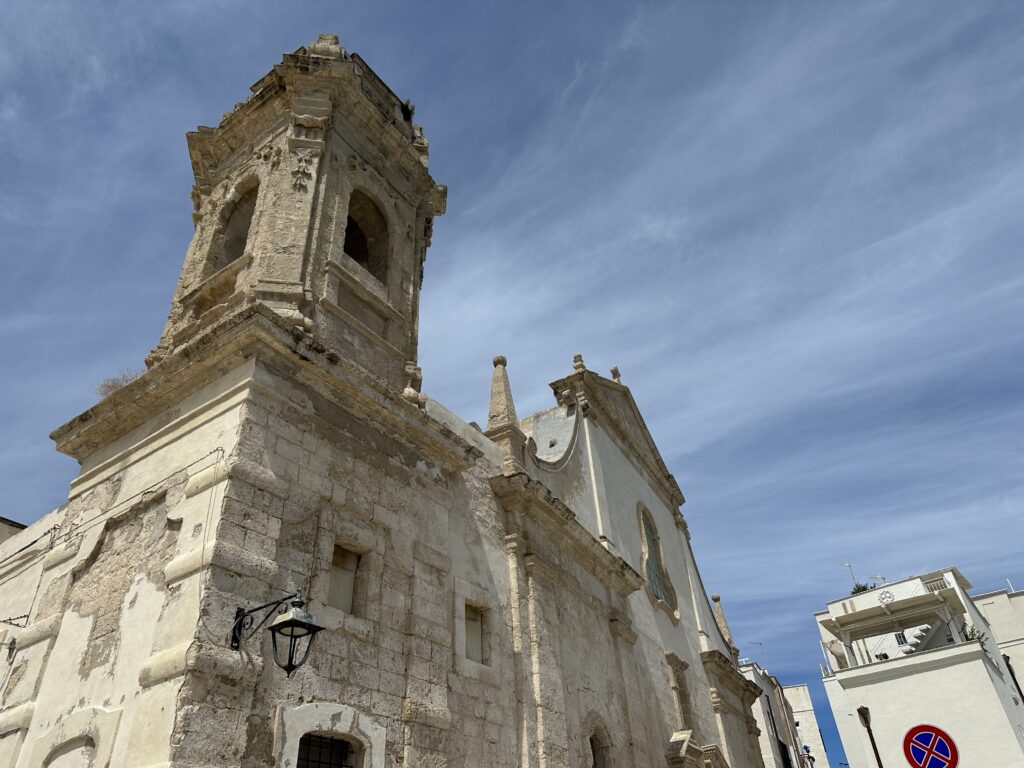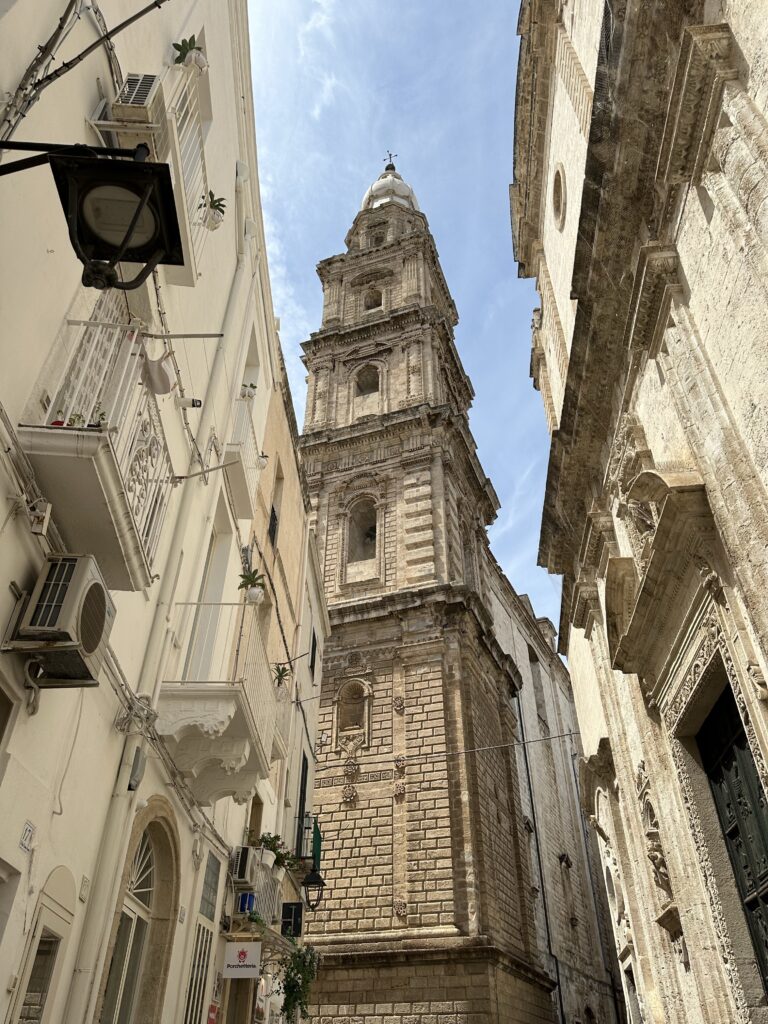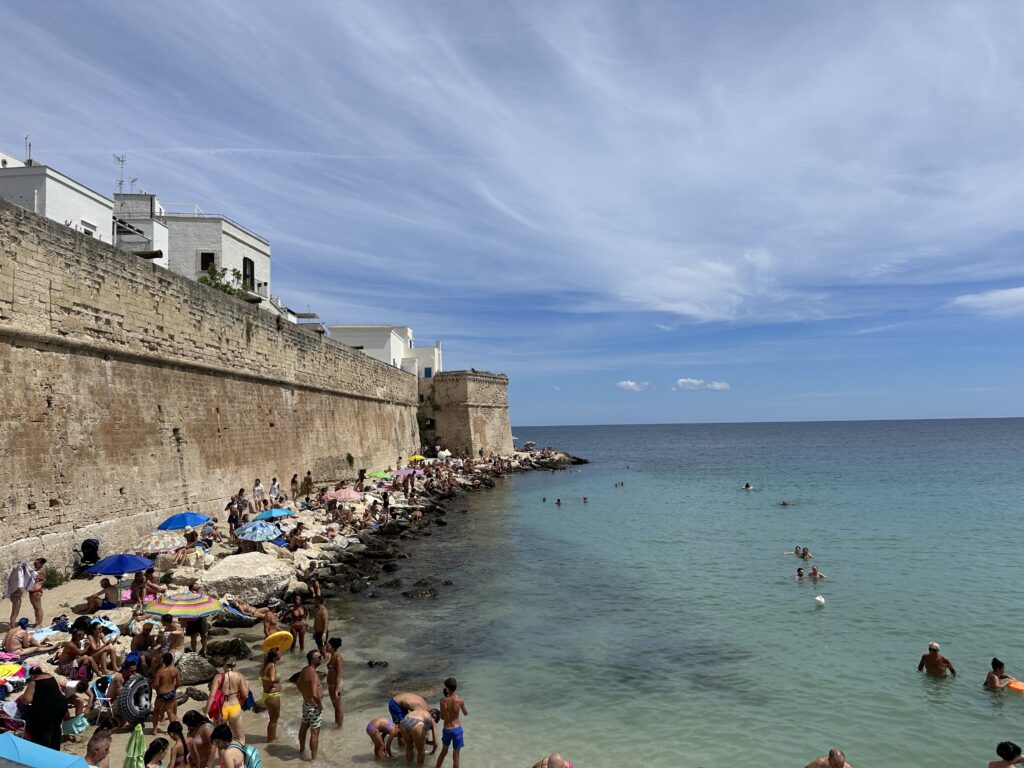 With only ten kilometres under our belts it was time to move on inland. Ahead of us we could see a high wooded ridge between us and our destination. We knew that we had quite a lot of climbing to achieve today, and before long it started.
The gradient gradually increased until a long section of about ten percent. The road was also unshaded, which meant that the climb was hot hard work. The steep section didn't last for too long though, perhaps a kilometre, after which the gradient slackened somewhat, and we turned gratefully into the car park of a pizzeria. Time for lunch!
We were greeted by a local cyclist, who wanted to know all about our trip. Rather charmingly he referred to us as "ragazzi", meaning "kids", and laughed when we pointed out that we are "pensionati", meaning "retired"! He also said that our description of our journey gave him "pelle d'oca". This we recognised from a similar encounter on our last Italy trip, it means "goose pimples"!
Some slices of pizza and fizzy water restored our fuel levels and we headed towards Alberobello, knowing that, while there was still quite a lot of climbing left, it was in small manageable sections. Of course there was plenty to look at by the side of the road. The characteristic "trulli" of the area featured regularly. Unlike the ancient ones we saw further north, these had white walls, a grey conical roof and a white or grey chimney on top. There were some beautiful examples, and we knew we'd see many many more when we reached Alberobello.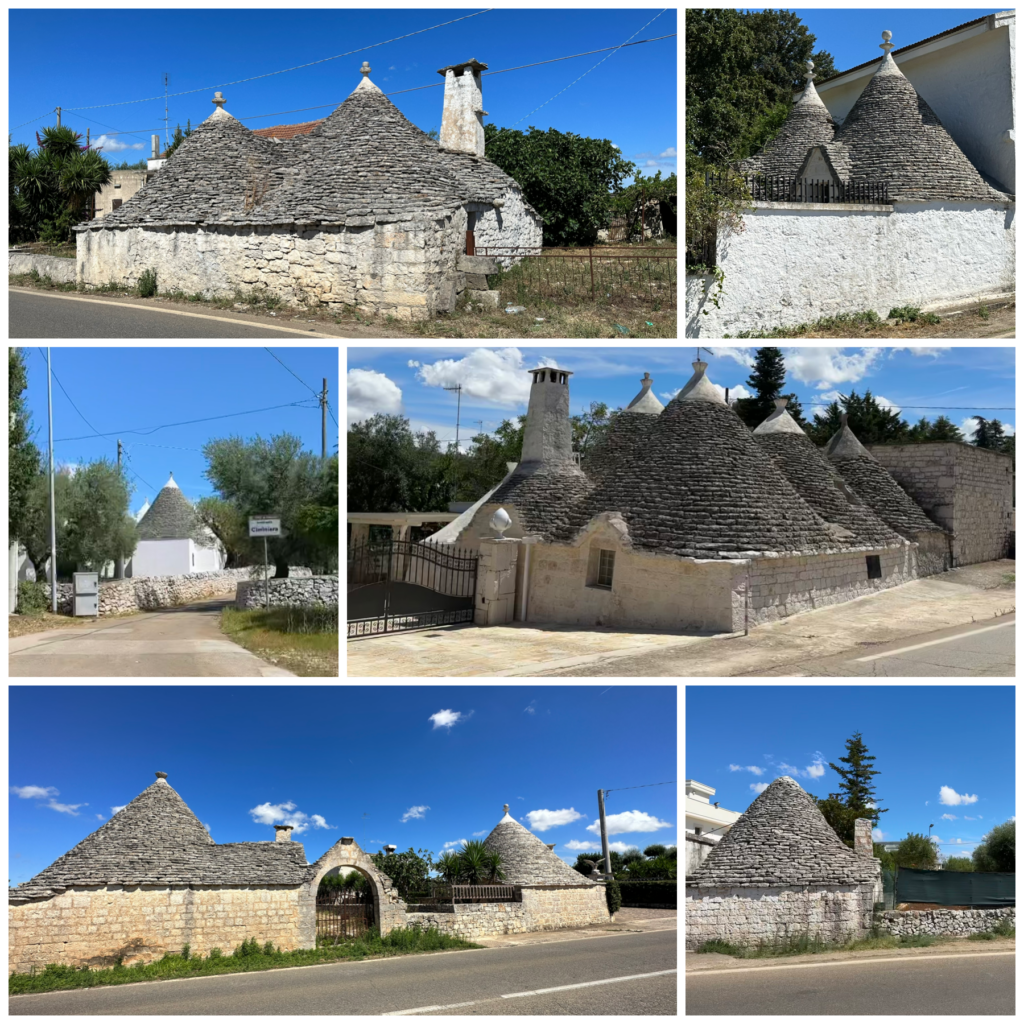 One final long draggy climb brought us into the streets of the town, and before long we parked the tandem in front of the trullo we've rented for the night. It's a recently renovated one, small but perfectly formed – inside there is a small bedroom, a small sitting area, a small kitchen/dining area and a very small bathroom. Oh, and the inside of the conical roof was visitable via a thoughtfully-provided ladder.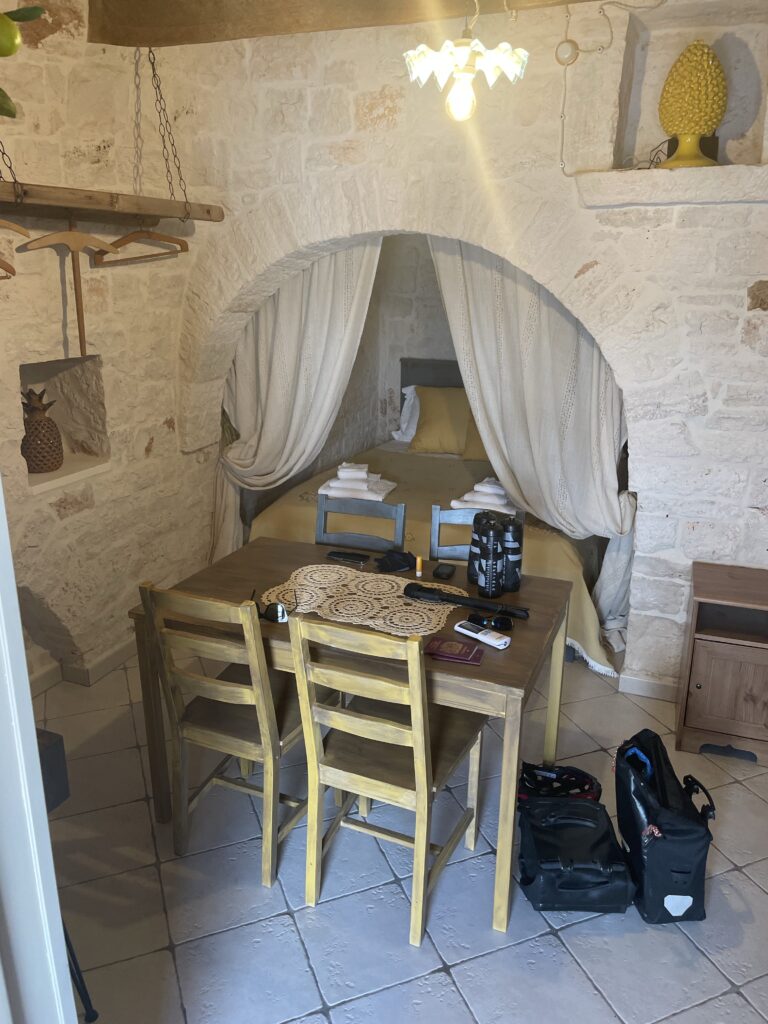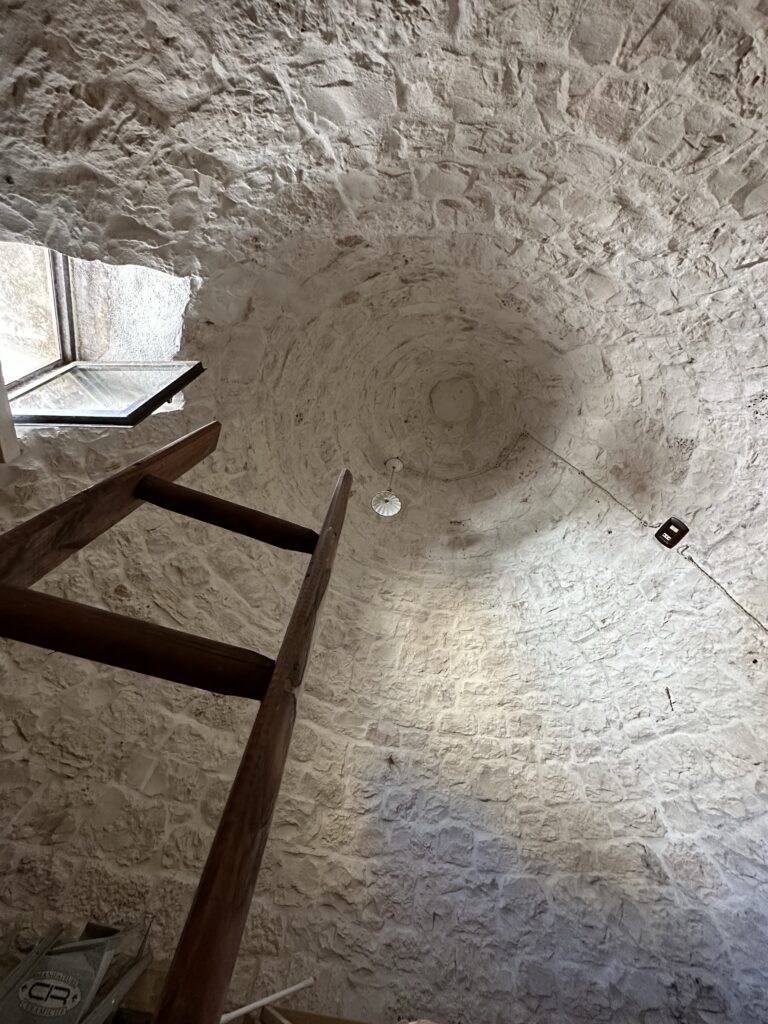 We established that there was just room to store the tandem in the small sitting area, where it sits directly in front of me as I write this.
After showering we went to explore Alberobello – see tomorrow's post for details!
Here's today's route and a short video