Distance: 41.2 km
Time: 1 hour 55 minutes
Average speed: 21.5 kph
Cumulative distance: 243.87 km
Cumulative time: 11 hours 30 minutes
Phrase of the day: 'Pelle d'oca' (pell-ay d'ock-ah) – goose bumps
The Captain made a beautiful risotto for dinner last night, which was followed by the cakes we'd bought at lunch. After dinner there was a huge thunderstorm, it seemed to be right overhead. Rain fell into the internal courtyard of our building, but it did clear the air, it had felt quite humid.
This morning after a breakfast of 'toast' (sort of!), we packed up and left the bags with the tandem whilst we visited the duomo. Very ornate inside, the ceiling a vibrant blue. Back at the apartment, the father of our very helpful host unlocked the door so we could get the tandem out, and asked us about our trip. When we told him we were headed ultimately for Sicily, he looked like he thought he'd misheard. And then when we confirmed, he looked horrified, then impressed. "Ho pelle d'oca!", he said (see the phrase of the day).
We left Pinerolo (eventually… one of these days it'll be a flawless exit), and struck out for Saluzzo, an early climb to loosen the legs and then a fast run pretty much due south. We're still in the foothills of the Alps here, they have been a constant presence at the right shoulder for the last couple of days. Today we had views of snowy tops, shrouded still in cloud, and then a brief but remarkable view of a distant 'proper' mountain.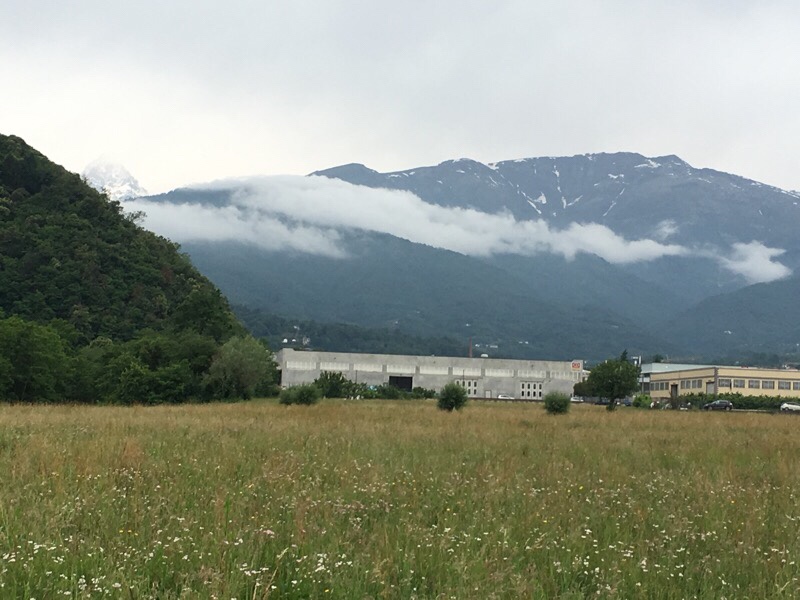 The local industry seemed to be mainly rock-based, there were any number of huge yards full of enormous lumps of grey rock, alongside tidy piles of the small grey cobblestones they were destined to be worked into.
We spotted Saluzzo from about 10 km out, terracotta roof tiles, spires, looking lovely. Tonight's apartment was located in the old town, we knew, so it wasn't a surprise when we were turned off up a rather vertiginous cobbled street to get to it. It got worse, though, an even steeper street, 1 in 3 perhaps, large round stones, a completely unrideable surface. We got off and pushed.
The young postman passed us on his moped, which seemed ambitious! He stopped and left it on its stand whilst he ran about delivering post. We tortoised up on foot, and then watched him struggle to get the moped off its stand to get going on upwards. He yelled for assistance, which the Captain duly provided, and then he disappeared up the street and around the steep bend.
There was a loud crash, and a feeble 'parp' as the moped failed to handle the gradient, crashed and fell over onto its horn. When we rounded the corner, the postman was on his feet, unhurt but cross. Maybe his first day on this round?
After a bit more tandem-wrangling around a closed section we found the road where tonight's apartment is located, complete with a nice-looking osteria, so we parked up and enjoyed a small but gorgeous lunch.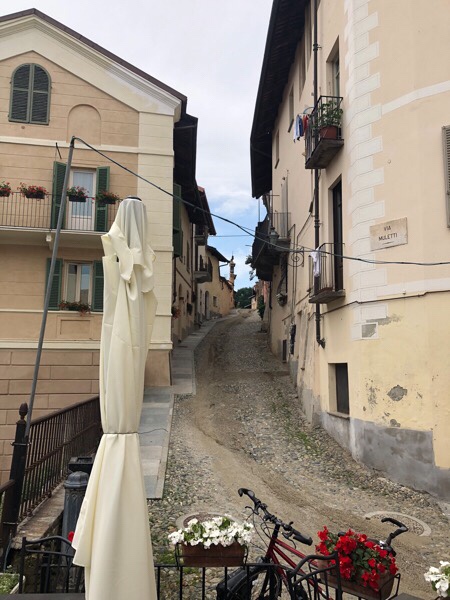 Silvio arrived and let us into the apartment, and we wheeled the tandem down to his own garage for the night. A quick shower and change into 'civvies', and we headed out to 'La Castiglia', once the seat of the Marquesi di Saluzzo, and then a prison until surprisingly recently. One of the cells was set up to show life as it was for the inhabitants during the seventies.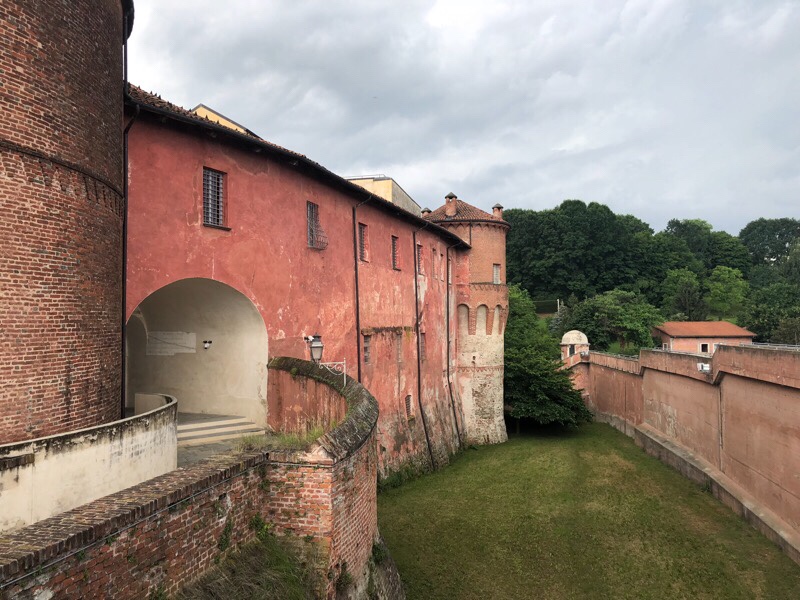 One of the ladies in the ticket office told us to come back after we'd finished looking around so she could take us up to the viewpoint – it was spectacular, even though she said the clouds were preventing us from seeing all the way to Turin. She suggested a visit to Vicoforte when we are in the vicinity of Mondovì tomorrow or Saturday, so we'll build that in to our plans.
Saluzzo is just impossibly lovely, up here where our apartment is located are little tiny streets, incredible views, a feeling of times past, and then just down below is a more modern town, still pretty, but quite a contrast.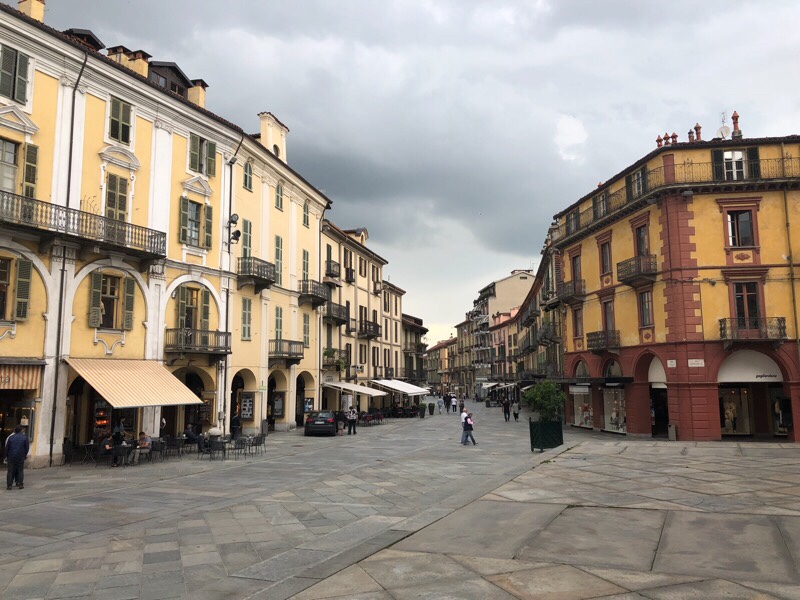 Well worth pushing the tandem up those cobbles.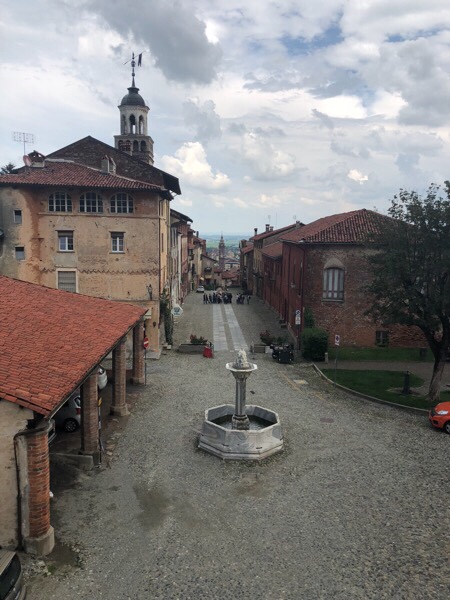 Here's today's track.