Distance: 72.2 km
Time: 3 hours 3 minutes
Speed: 23.7 km/h
Ascent: 139 metres
Total distance: 1666.4 km
Total time: 88 hours 55 minutes
Wordle scores: Captain 4 Stoker 4
Word of the day: "barocco" (ba-rok-ko) – baroque.
The Captain writes:
We walked out yesterday evening into the centro storico of Ostuni, inevitably the highest part of town. Passing a huge column bearing a statue of Ostuni's patron saint, Sant'Oronzo, we skirted around the eastern side of the hill, with the high white city walls to our left.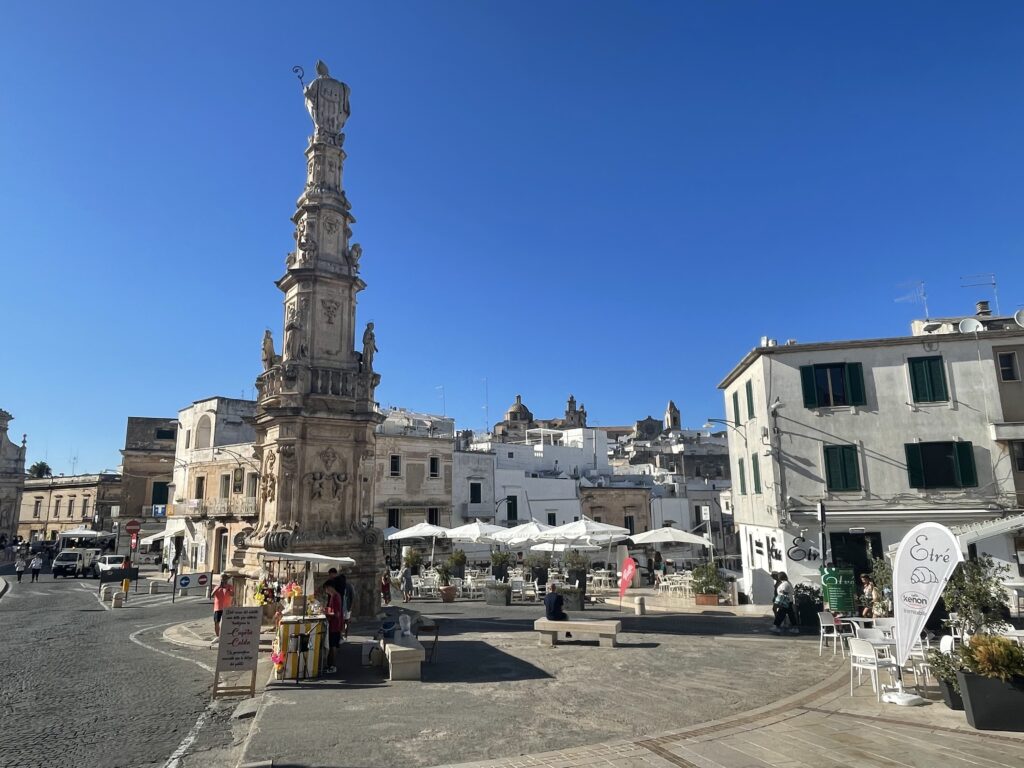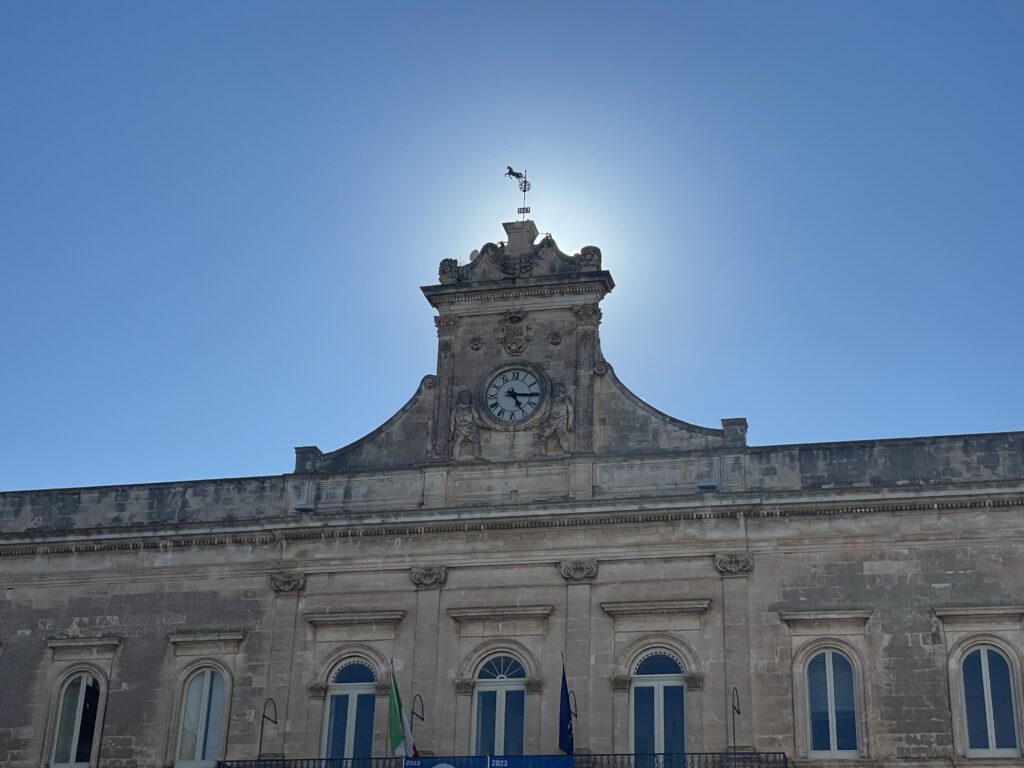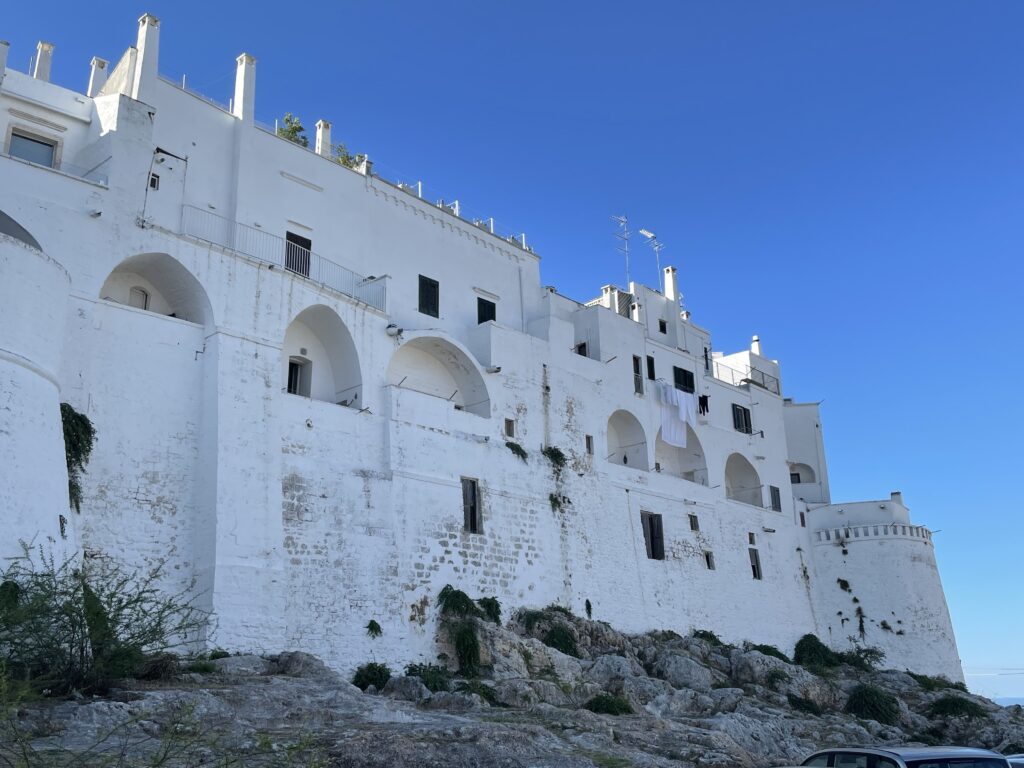 To our right was the Adriatic, and, in front of it, mega-hectares of olives.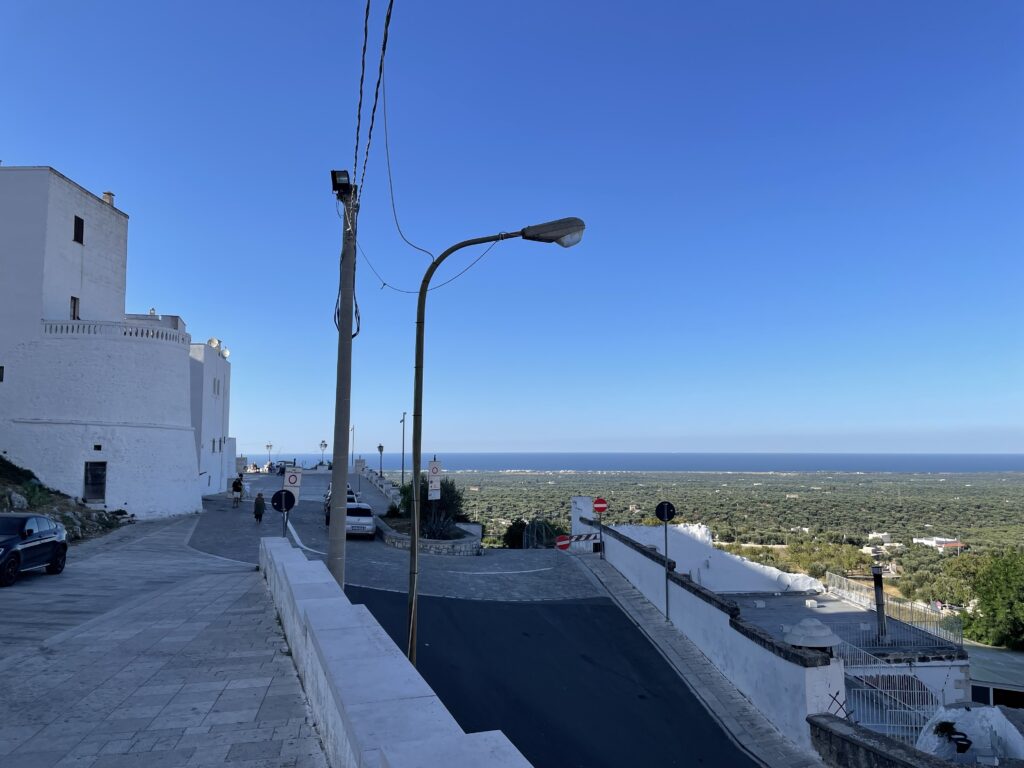 On turning left into the city we entered a labyrinthine set of narrow alleyways, rising steeply towards the Cathedral Santa Maria Assunta. White was certainly the predominant colour, though there was an attractive stone "bridge of sighs", the Arco Scoppa, protecting the entrance to the main piazza.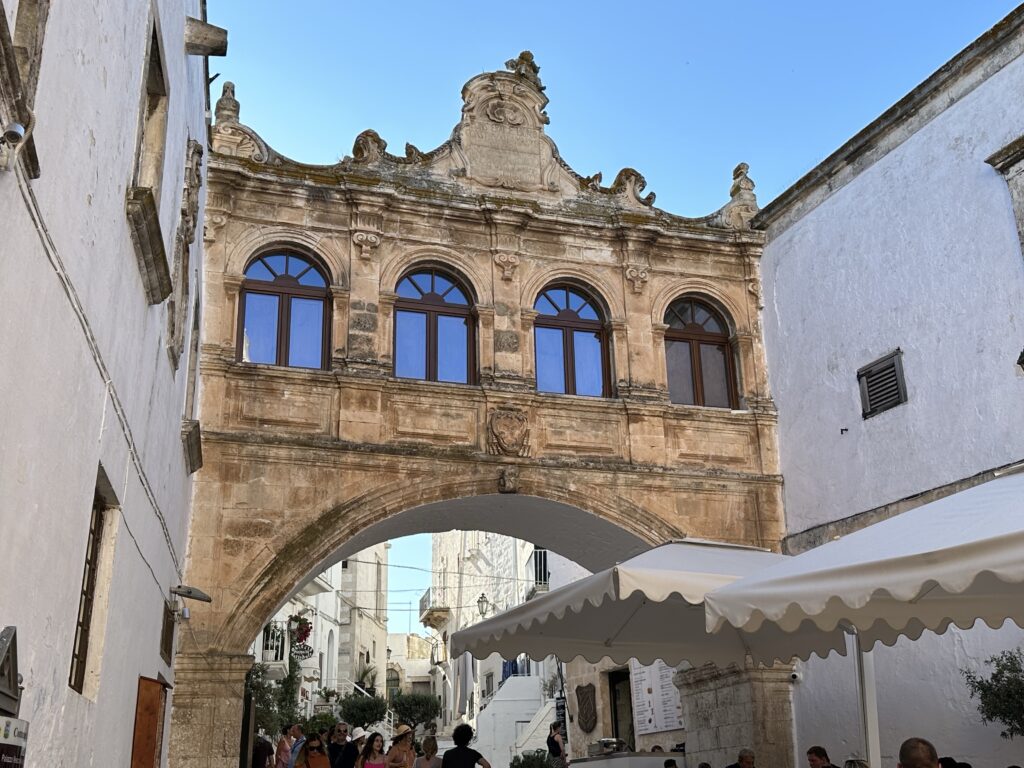 Occasional excursions down alleyways gave us fine sea views to the east. The architecture here is certainly tending towards the baroque, something we fully expected as we approached Lecce, which is well-known as a centre of baroque architecture.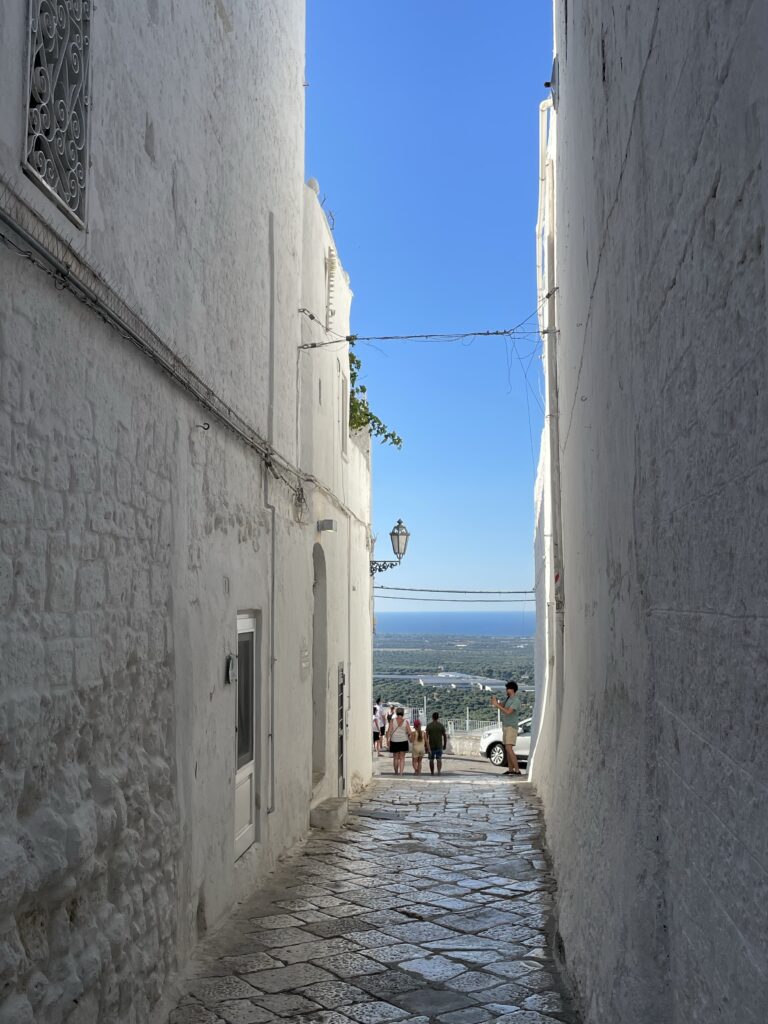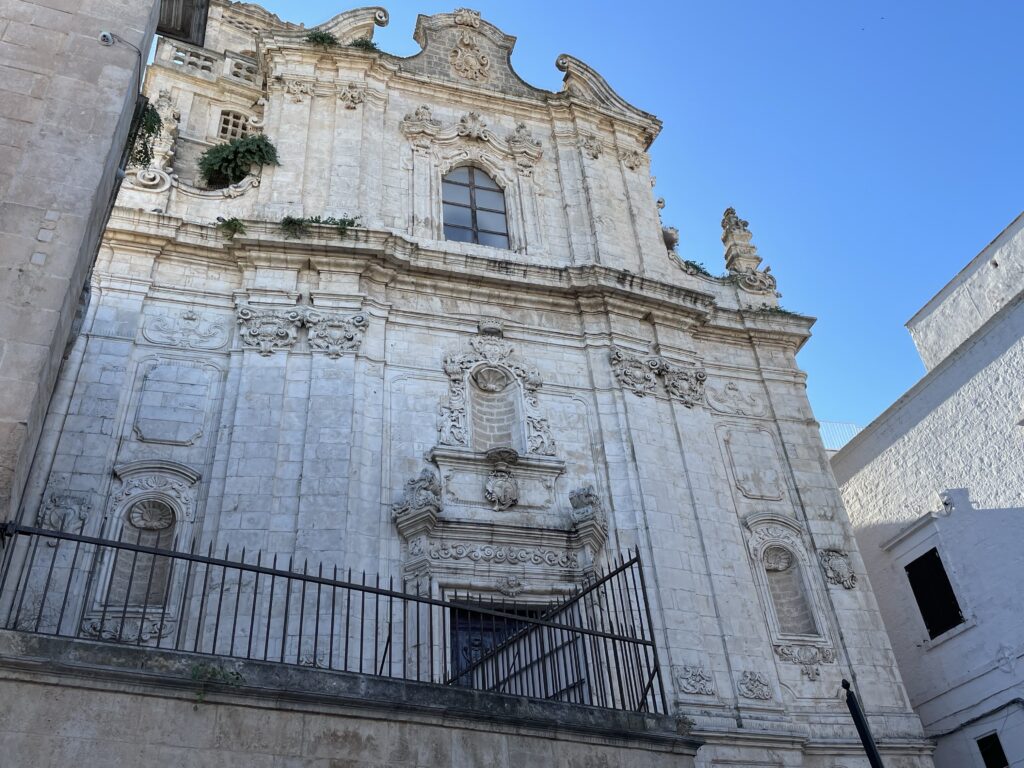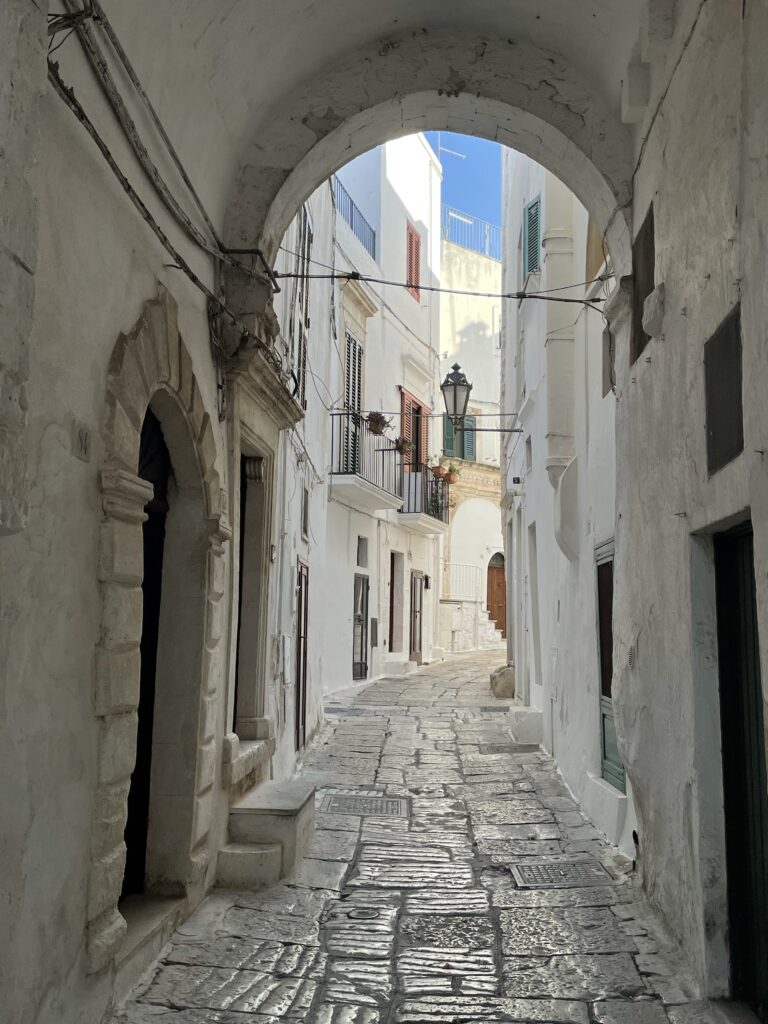 I've read two conflicting accounts describing why Ostuni has whitewashed walls. One indicates that it was to intended to dazzle any potential assailants coming from the sea, with the helpful side-effect of making it easier to navigate the city's narrow streets at night. The other claims that it had accidentally been discovered that the lime wash had antibacterial properties which gave some degree of immunity from the plague, so all the inhabitants were encouraged to use the lime on their houses. Apparently, to this day, the city subsidises the cost of repainting the houses in the centro storico (but only in white!).
Whatever the reason it was a fascinating walk, which ended (as it often does on these trips) with us descending from the scenic parts of town in the direction of the nearest decent supermarket, this time to obtain the ingredients for risotto. And some wine, of course.
Sleep was elusive last night (at least for me) as we were in a fairly noisy part of town, with motorbikes going past at regular intervals until long after midnight. After another early alarm call we got up, packed, breakfasted nearby and pedalled off. Not for long, though, as after only a couple of kilometres we made a planned stop at a piazza to see this spectacular view of Ostuni's centro storico.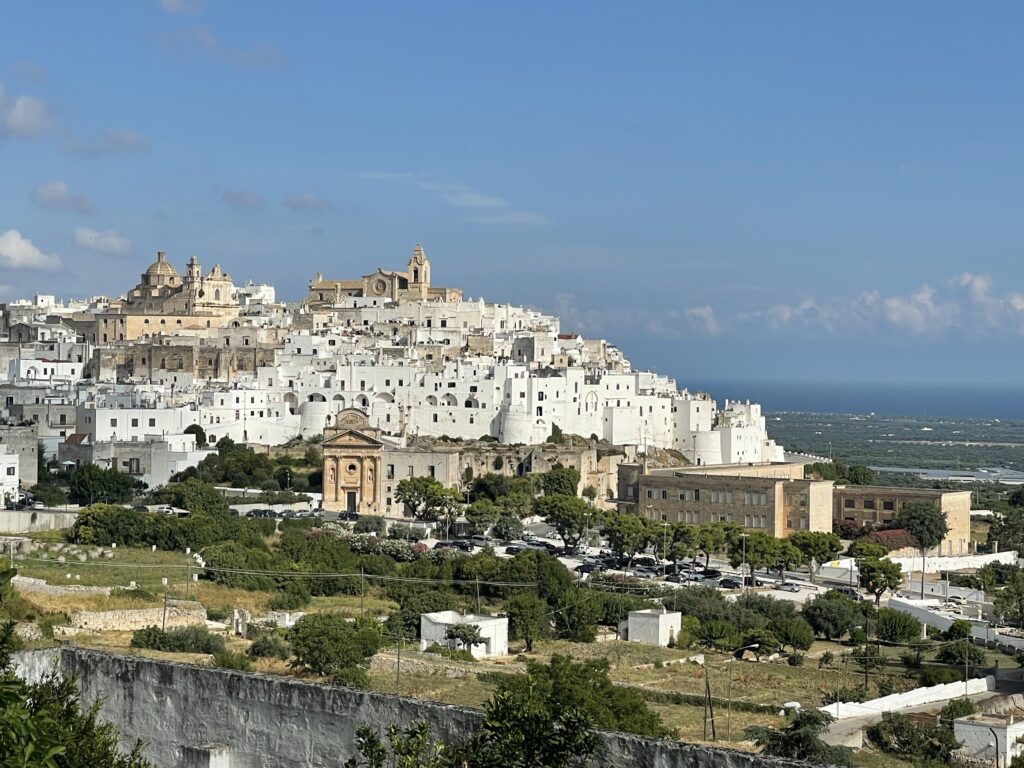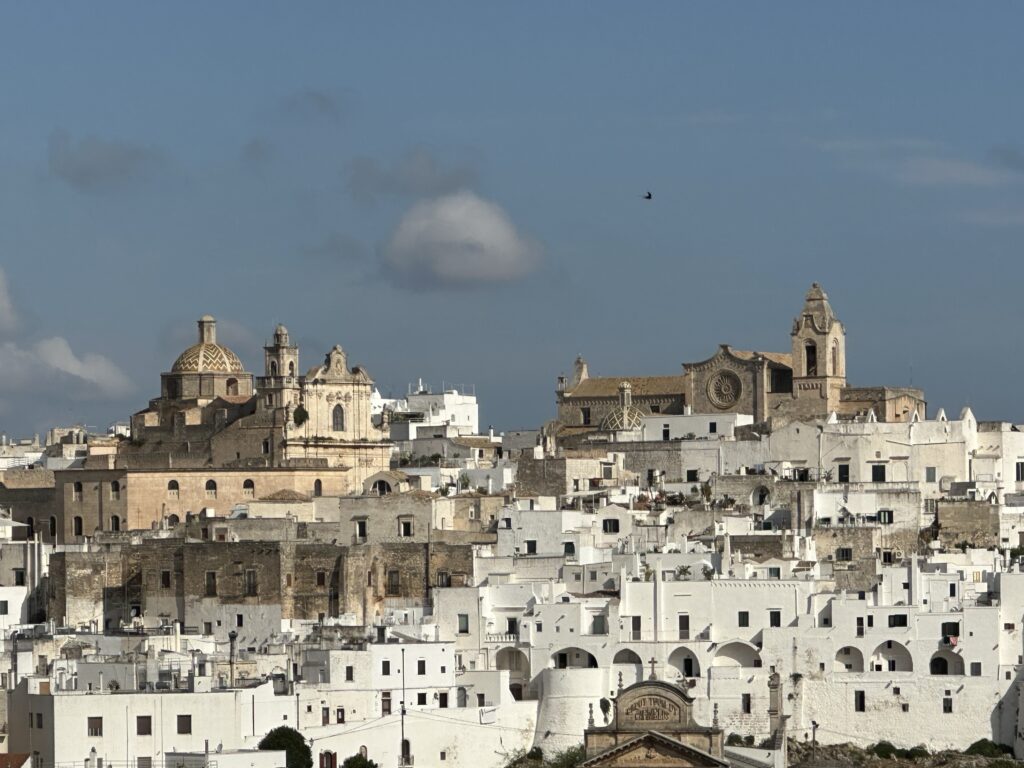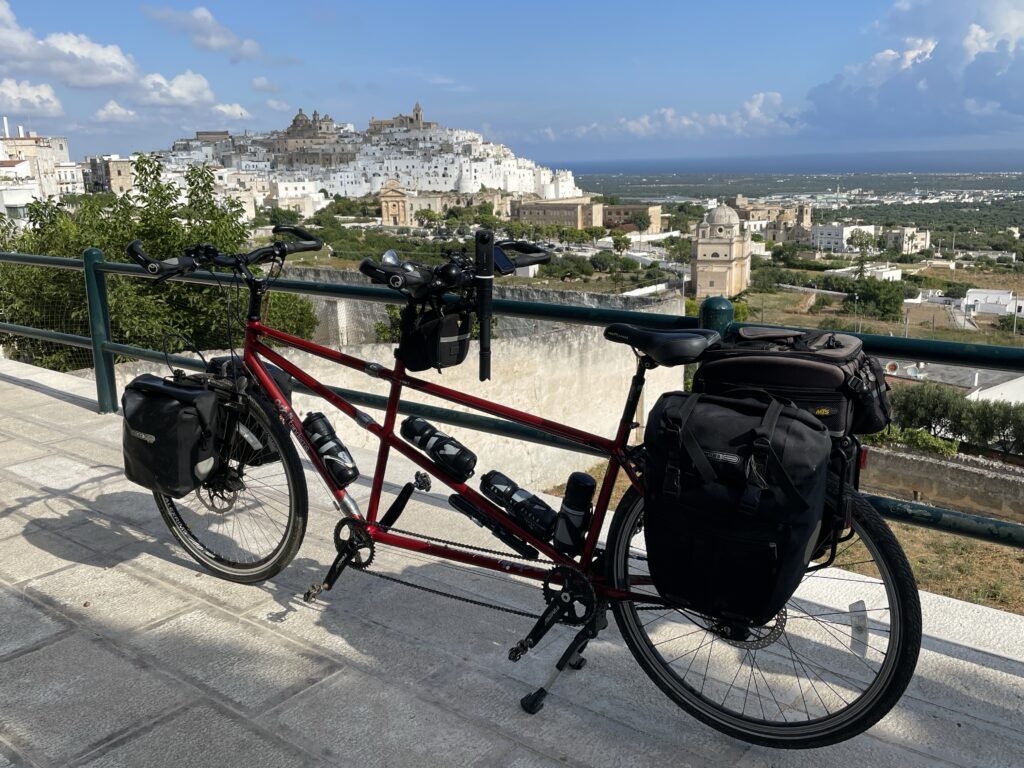 For the first part of today's journey we became re-acquainted with our heretofore nemesis, the SS16. It had largely been de-fanged by now though, it now consisted of one lane in each direction, and the volume of traffic was much reduced. We still had to exercise some care of course, and the Stoker provided essential warnings about the approaching traffic as we navigated south.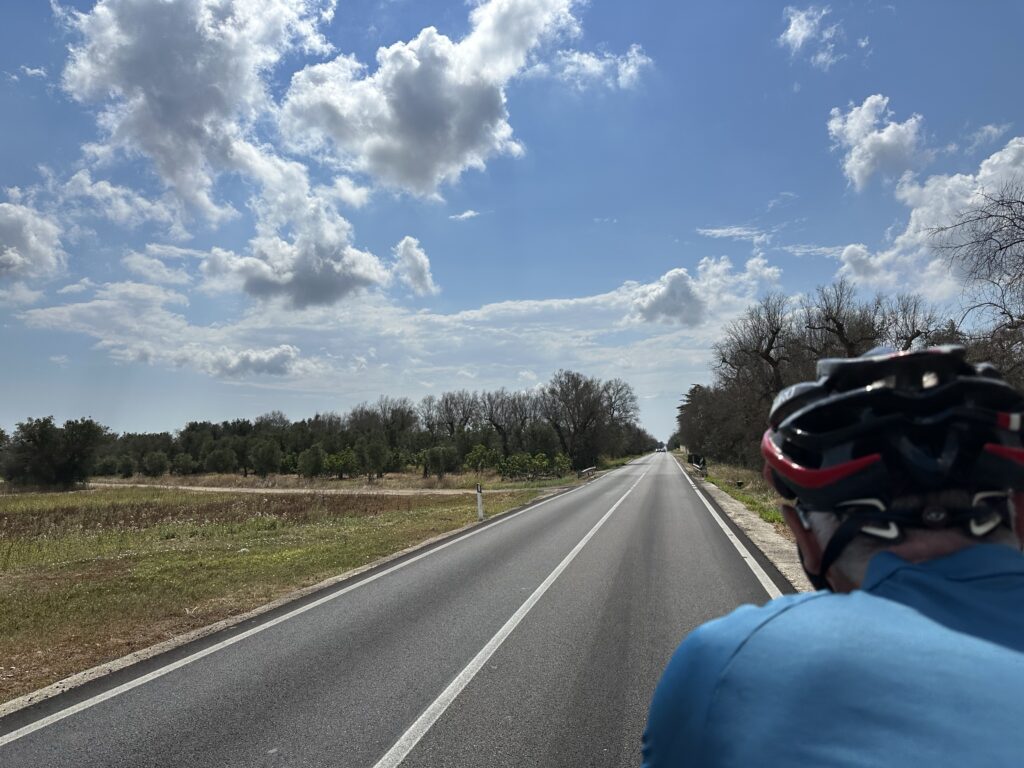 After a while the SS16 upped and left for Brindisi, and that's the last we will see of it for this trip. We carried straight on onto a lower-grade SS road which continued, arrow-straight, for many kilometres, through the towns of San Vito dei Normanni and Mesagne, where we stopped in the shade at a very pleasant park just outside the city walls, for drinks and a rest.
After our break we went into the town, through an elegant archway, and enjoyed a few minutes of meandering before returning to the very straight road.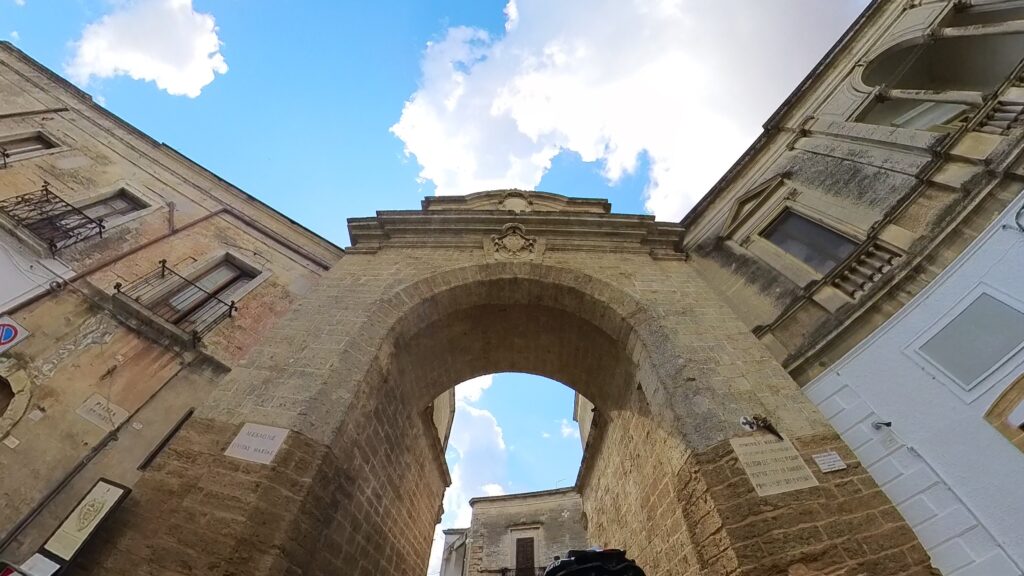 In terms of scenery, well, there were olives, and some tomatoes. Oh, and grapes, probably Primitivo grapes, already forming large purple clusters on the vines. The relative lack of scenery was compensated for by our speed – in the first hour we cycled 26 kilometres, aided by the gentlest of downhill gradients.
We knew that the long straight road would finish at San Donaci, so it seemed like a good place to stop and seek refreshments. It's clearly a 'wine town', dedicated to turning grapes into bottles of Primitivo and Negroamaro. Our focus was more on cold bottles of fizzy water, and we stopped at a place called Puccia House, which we thought initially was closed. A local told us to go right in. I'm not sure he warned the proprietors of this, as all the lights were off. It was still well before lunchtime, but we did need some fuel for the last hour's cycling.
Once we'd removed our sunglasses we spotted an elderly lady who, after some initial questions, offered focaccia. A few minutes later she emerged from the kitchen with an amazing selection of filled bread products for our selection. We chose to share a sort of crispy piadina, stuffed with who knows what (but it did include spicy salami). It was fantastic, as was the fizzy water.
At this point her son emerged from the back room. We told him of our journey and a lengthy conversation ensued, during which he showed us about 300 pictures of himself, when younger, dressed up in finery for the Venice carnevale! He was very proud of his various costumes, some of which had been photographed for newspapers and magazines. At one point the Stoker very gently teased him that his beard was much more brown in the photographs (rather than the grey we could see!) and his mother let out a huge cackle of laughter at his expense!
We could put off our exit no longer – it had been a very entertaining interlude. We set off towards Lecce on a gently winding road, into a strong headwind, and the traffic gradually grew in volume as we cycled towards the city.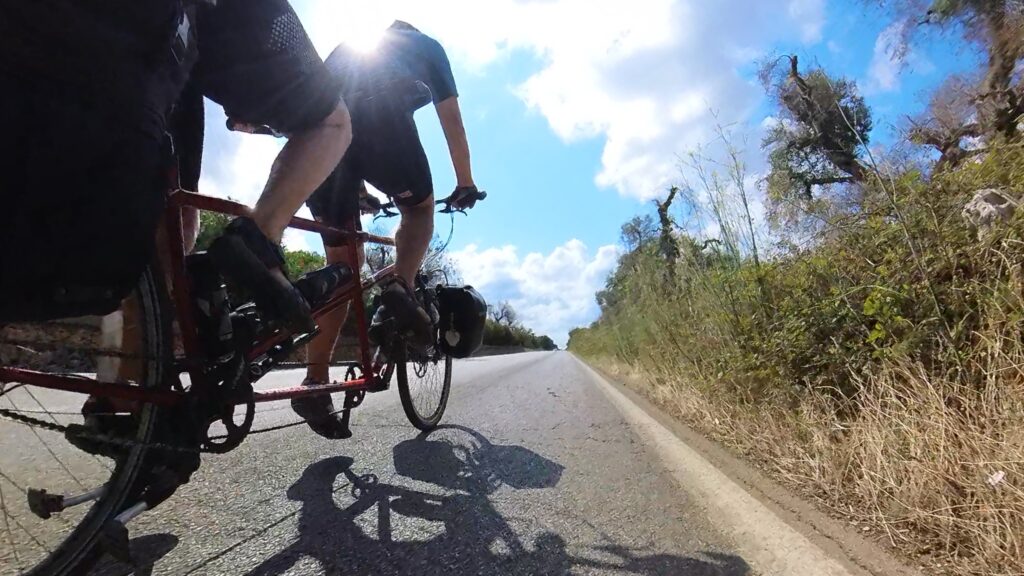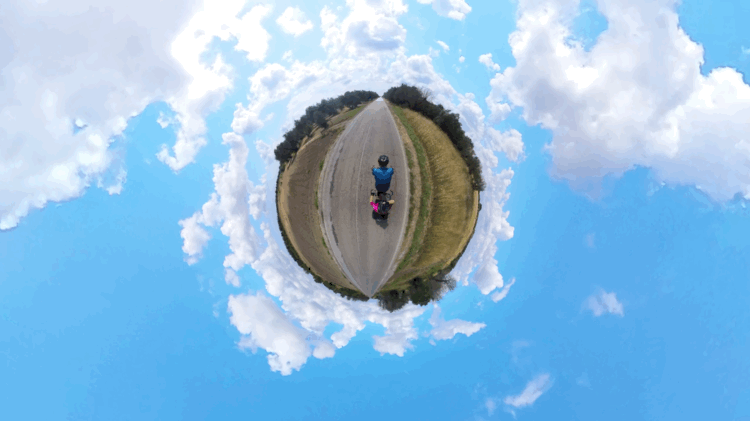 There then followed some intricate navigation during which time we barely had time to admire the baroque architecture.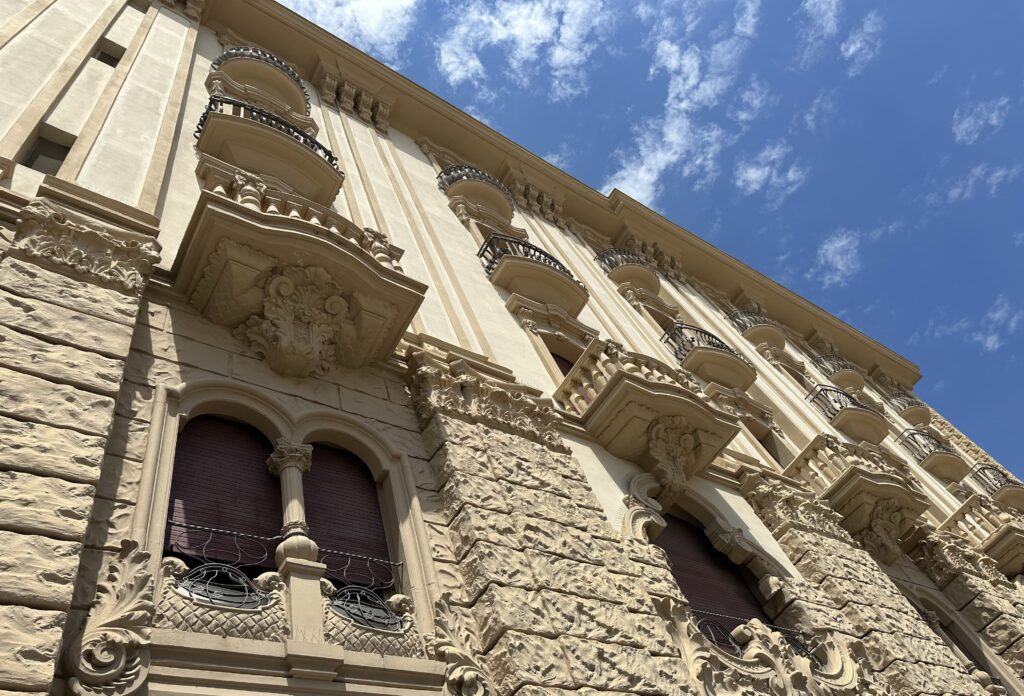 We parked the bike in a garage, went up to our (very elegant) apartment, showered and then walked out for a gelato. I reckon we earned it, today. We've now reached the 1,000 mile mark, and climbed the height of Everest!
This evening we intend to reacquaint ourselves with the baroque splendours of Lecce, which we last saw in 2003, then tomorrow we're aiming for the coast again, to the town of Otranto.
Here's today's route and a short video