Distance: 47.12 miles
Time: 4 hours 05 minutes
Average speed: 11.4 m.p.h.
Distance from Lands End: 445.75 miles
Distance to John o'Groats: 574.25 miles
Number of bike shops visited: 1
Number of bike shops which had the part we needed: 1
Number of rest days after today: 1
Unsolicited donations from the good people at the Grosvenor Place Guest House: £10.00
After a fairly late arrival yesterday we settled into the Grosvenor Place Guest House, before heading out for dinner. We travelled the vast distance of 150 yards to a very pleasant tapas bar, where good food and beer/wine was had in moderate quantities, before we flaked out…
We awoke to a bright sunny day, definitely the warmest so far. After breakfast we pushed the tandem through the pedestrianised area of Chester towards The Edge Cycle Works, feeling slightly apprehensive that they might be unable to fix our transmission problem. We should not have worried, they did indeed have the new chain ring, and we left the tandem with them for an hour so that they could fit it.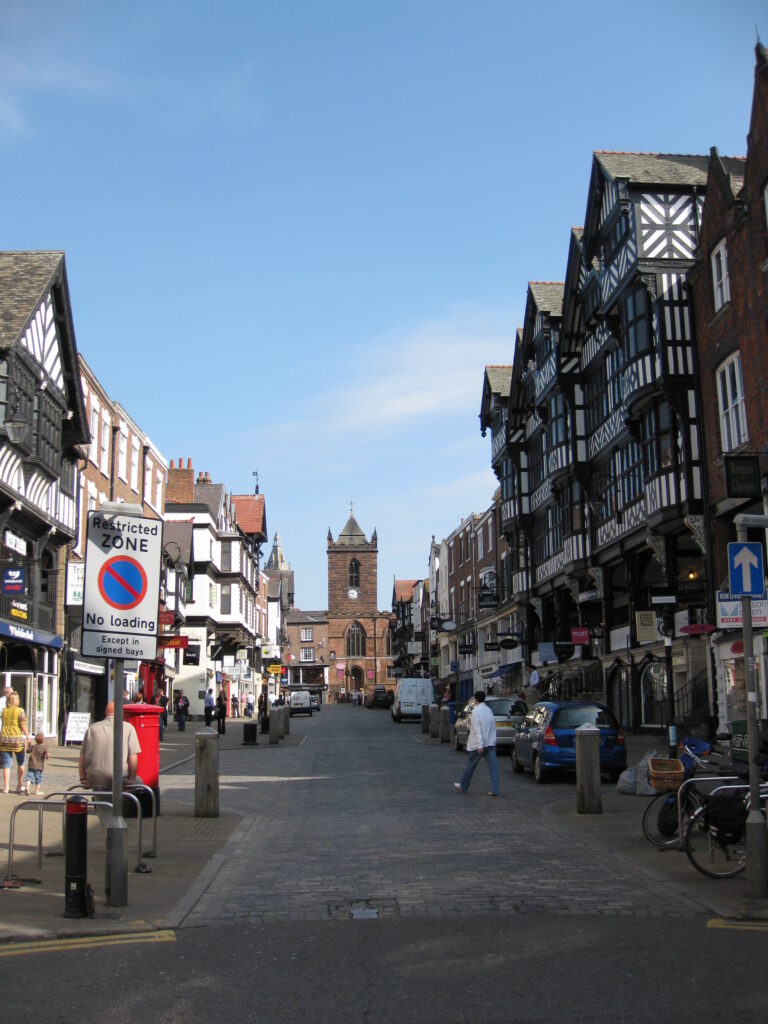 That gave us time for a pleasant wander through the streets of Chester, and a coffee. The galleried rows of shops on Northgate Street were most impressive, and before long the hour was up and we returned to the bike shop. Fantastic – we were restored to a full range of 27 gears, to our immense relief. We're grateful to the guys at the bike shop, who despite being busy moving to new premises, found time to get us back on the road again.
By now it was already 11 a.m., a very late start, and getting very warm. We weaved our way onto the Frodsham road – an 'A' road all the way to Runcorn, but as it was next to a motorway, it was relatively quiet. We made good time, and before long were turning onto the streets of a suburban housing estate in Runcorn. No, this wasn't a mistake on the part of Gary the Garmin, it was part of our planned route intended to avoid the "Expressway" around Runcorn, which sounded to us like cycling purgatory. So avoid it we did, cycling circuitously around Runcorn, until we arrived at the Runcorn Bridge.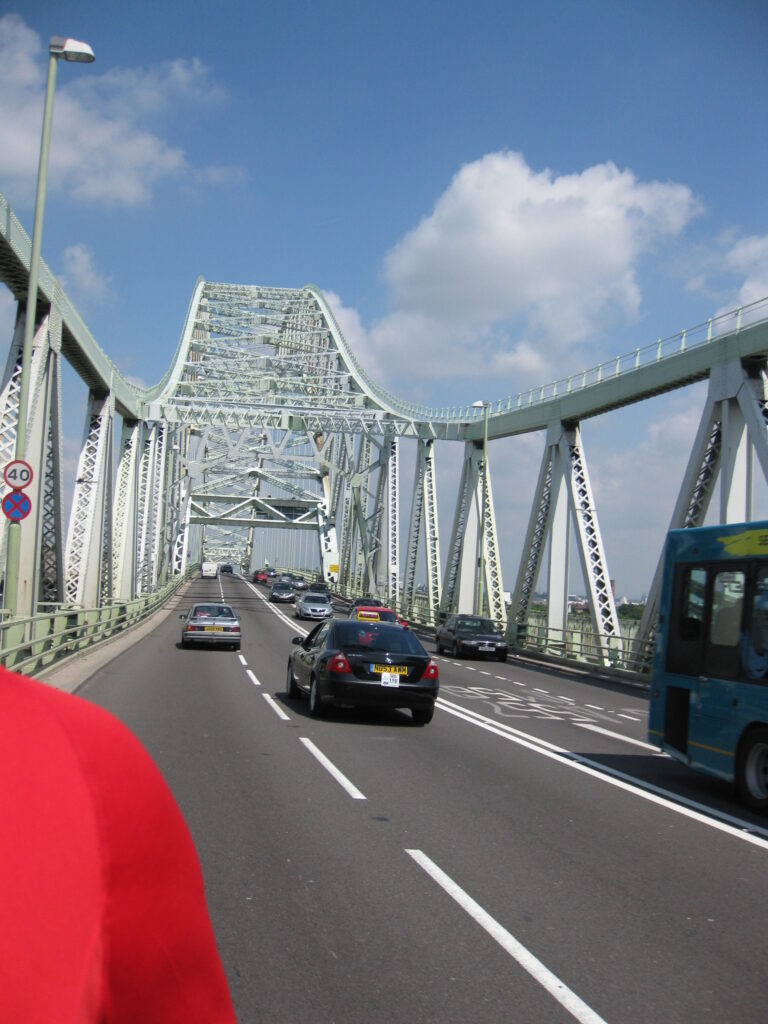 We'd been slightly dreading the bridge, but it was great! Good views in both directions, and some cheery encouragement was shouted from a passing white van … Gary, having behaved well up to this point, threw in the towel and navigated us onto a fairly unpleasant route through Widnes, all major roads and industrial estates.
We soon stopped for lunch – not the greatest of pubs so it will remain unnamed. Suffice to say that we felt forced to keep a close eye on the tandem while eating in the beer garden, and soon set off on our way again. By now the temperature was really high, and we were drinking a lot of water. Continuing across the M62 and on to Rainhill we were getting a few strange noises from the bike, which was worrying – in particular a rhythmic creaking noise gave cause for concern. It remained with us as we climbed to Up Holland, dropped down to the Leeds and Liverpool Canal and then climbed again up to Appley Bridge. On reaching the top we knew that the remaining two or three miles to our destination was downhill – a lovely, swooping descent to Bispham Green.
Here we're staying with Jonathan's (other) brother, Phil, and family. Phil knew exactly what was needed and his son John poured us large glasses of water as we set about giving the tandem a little tender loving care. Whilst cleaning the chain Jonathan found the reason for the strange creaking noise – a small piece of wire had become entangled in one of the chain links. Once removed, all was well again, thankfully. The tandem, now in pristine state (thanks, Phil!) has been consigned to the shed, where it will remain for a whole day, as we have a rest day planned for tomorrow.
So after a day at leisure tomorrow, we will be aiming for Windermere, the half-way point of our journey, on Monday. All being well, Wednesday will bring us to the Scottish border – then we'll really feel we're making progress.