We left New Zealand reluctantly, but with a feeling that we'd done it full justice. We had both enjoyed it enormously, learned a lot about the country and its people, seen some fabulous scenery, and enjoyed its food and wine enormously.
A short evening flight had us arriving in Tahiti, but the day before we left! We had gone back across the International Date Line, switching from 13 hours ahead of the UK to 10 hours behind at a stroke.
We arrived very late, so it seemed hardly any time at all before the alarm was going off, now set to the lovely burbling of the Tui bird. We had breakfast overlooking the incredible blues of the South Pacific.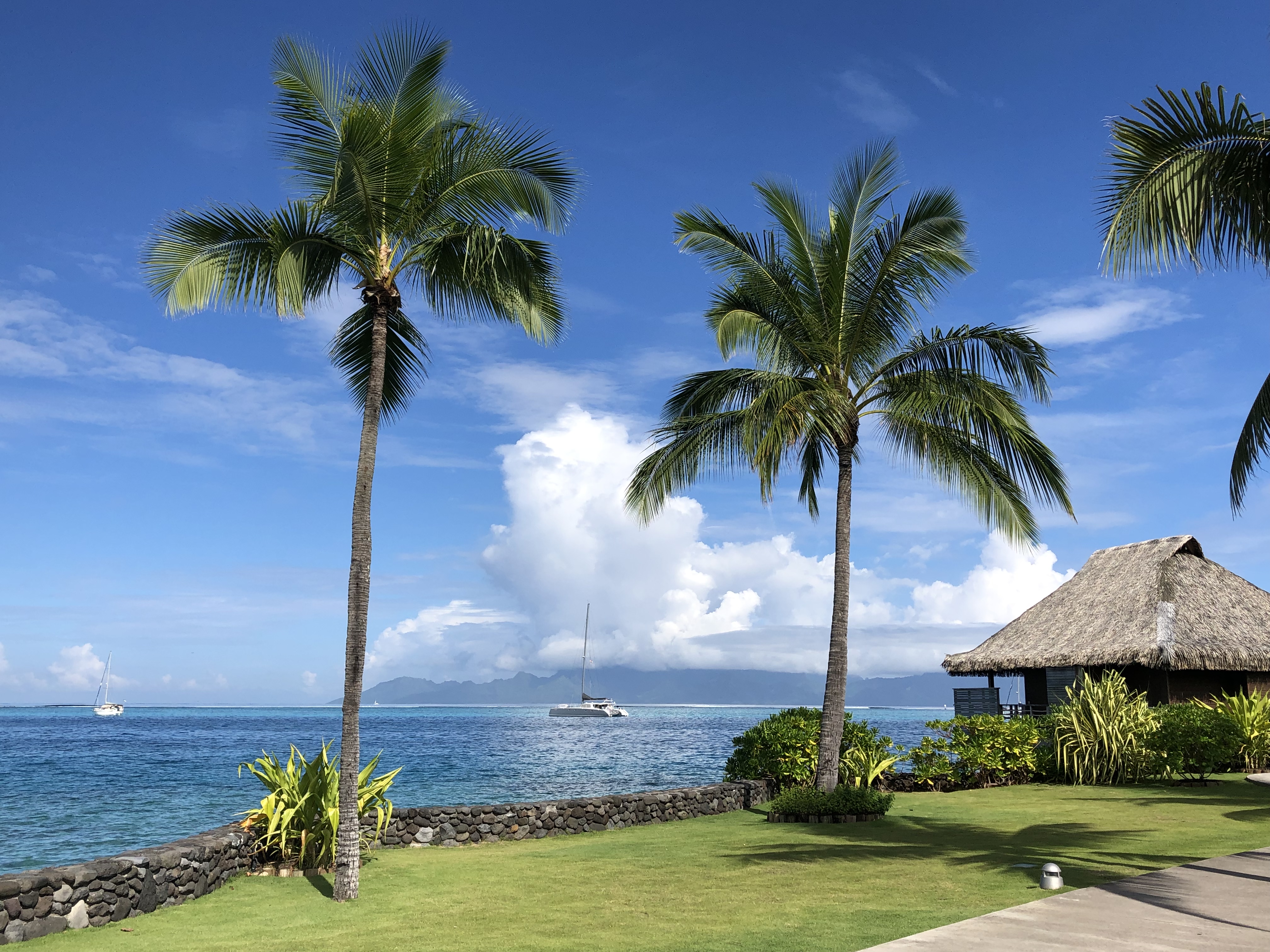 For people of a certain age, this conjures mental images of the 1958 musical film, and then inevitable further mental images of Morecambe and Wise performing "There is nothing like a dame" with a cast of BBC newsreaders and sports commentators including Michael Aspel, Eddie Waring, Frank Bough and Richard Baker. Funny to think they were doing that stuff way before Comic Relief made serious BBC types doing silly things an unremarkable thing. At the time it was as if you'd just seen The Queen limbo-dancing or Daniel Barenboim playing 'Chopsticks'.
By 11:30 we were on the plane for our short transfer to Bora Bora.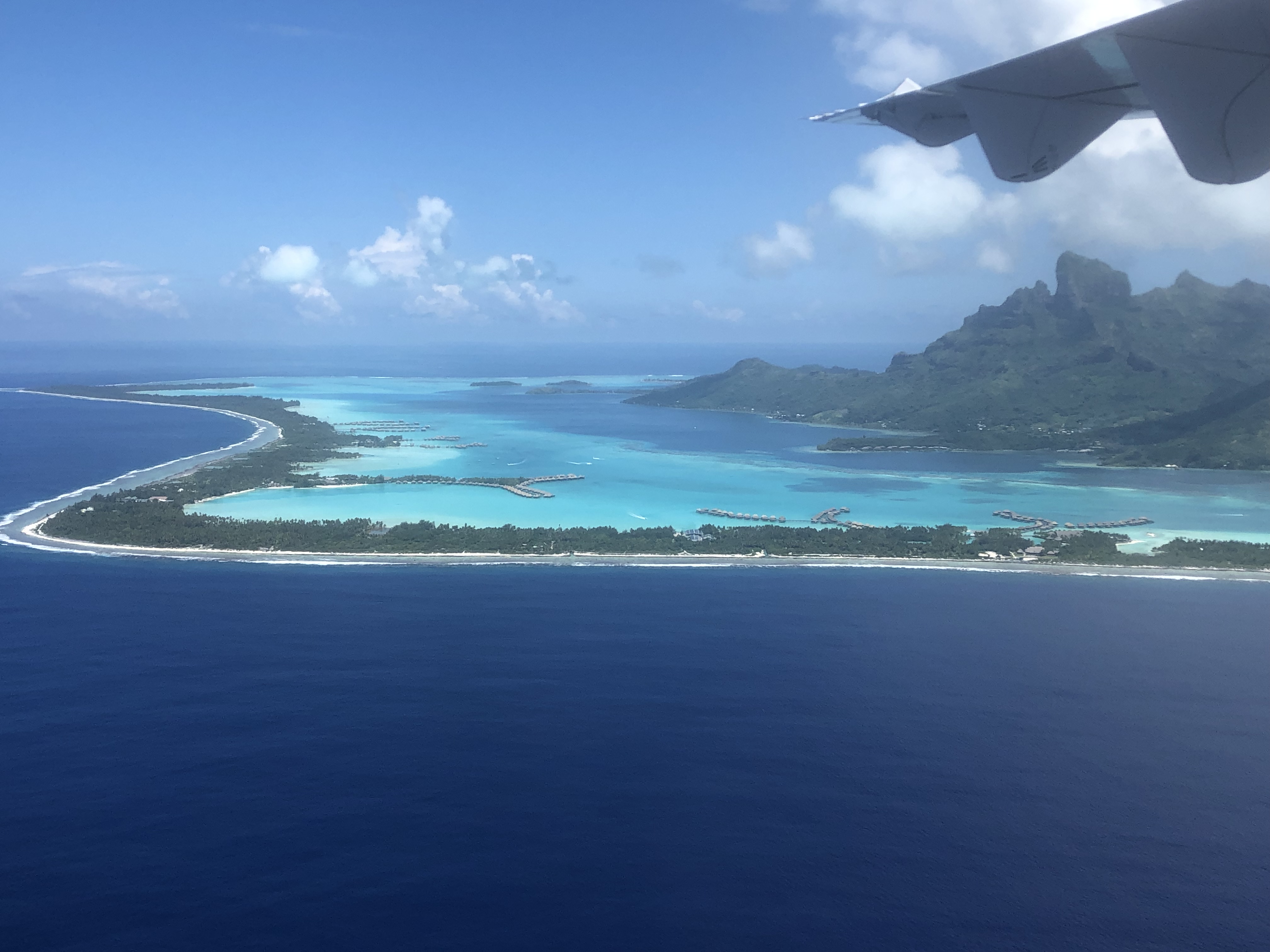 Here we were booked in for a week relaxing in the sun, swimming in the sea, snorkelling, lazing about and generally recharging the batteries for the next leg of the trip. Our accommodation was to be one of those amazing bungalows over the water, where the gentle sound of the water lulls you to sleep, and you can go straight off a little platform out the back into the sea. Gorgeous.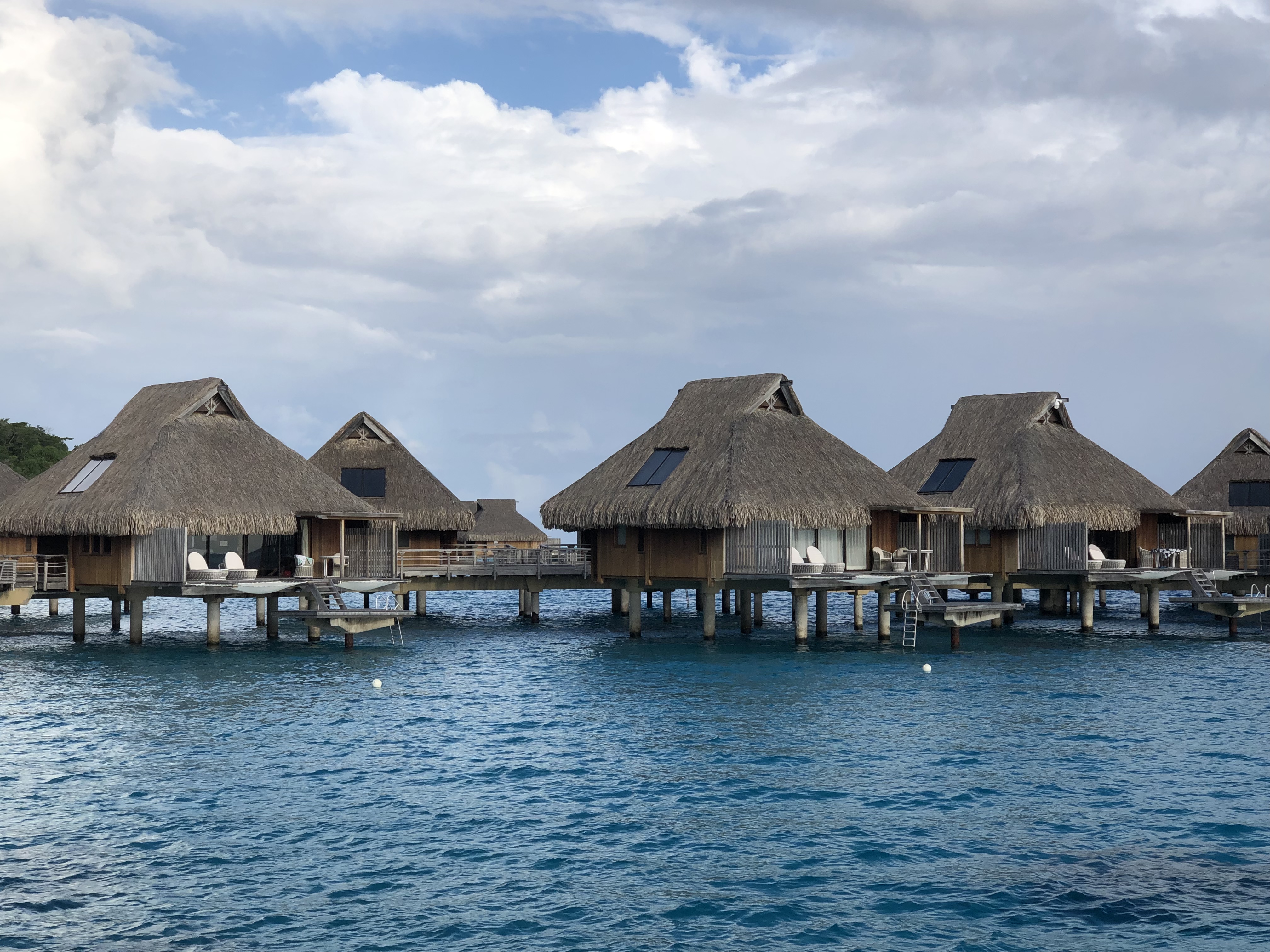 The first night's sunset included an enormous thunderhead, which made the colours even more spectacular as the sun went down behind it.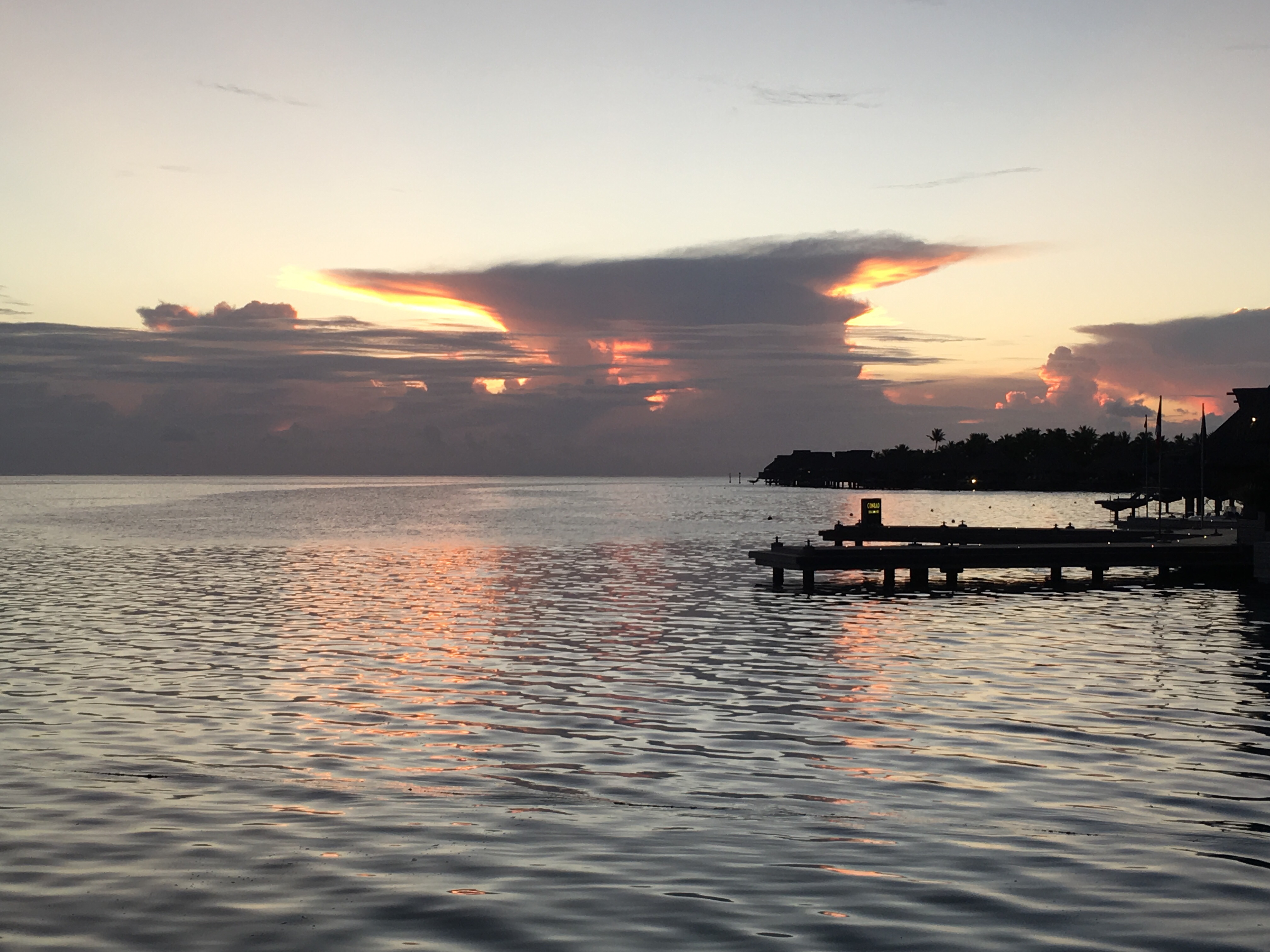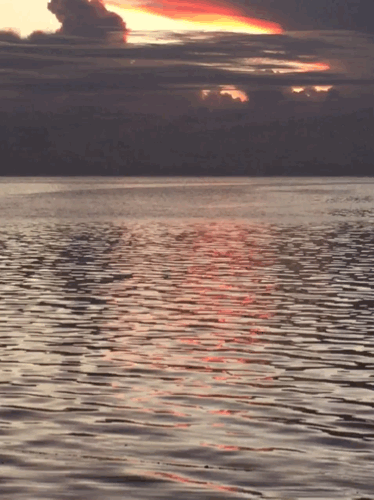 We had dinner in the beach grill, where it was Polynesian Fire Dancing night. Once a week there is a display of Polynesian dancing, including a lot of firebrands.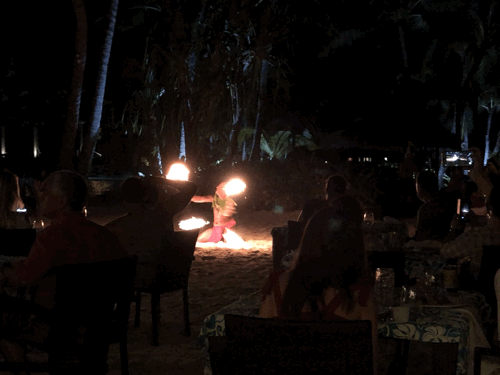 There were also grass skirts, an awful lot of bum-wiggling, and it was quite clear what the dances between the men and women were all about! It was all performed with much enthusiasm. Rather excruciatingly, at the end there was an audience participation section, and a few brave souls got up to take part. Each one was assigned a local partner and then had to perform with their partner, on their own, in the middle of the performing area ???? You will not be surprised to read that we did not volunteer…!
In the next few days we did very little, as we'd planned. It was lovely just lazing about, and dipping into the sea for a swim or a snorkel whenever we felt like it. Under the water bungalow and in various spots very close to our swimming platform there were tiny coral reefs, each with attendant fish. There were butterflyfish, picasso triggerfish, wrasse, little black and white stripy humbug dascyllus, shoals of tiny electric blue damselfish, bream, schools of long spindly needlefish. In places we saw beautiful large clams with bright blue lips.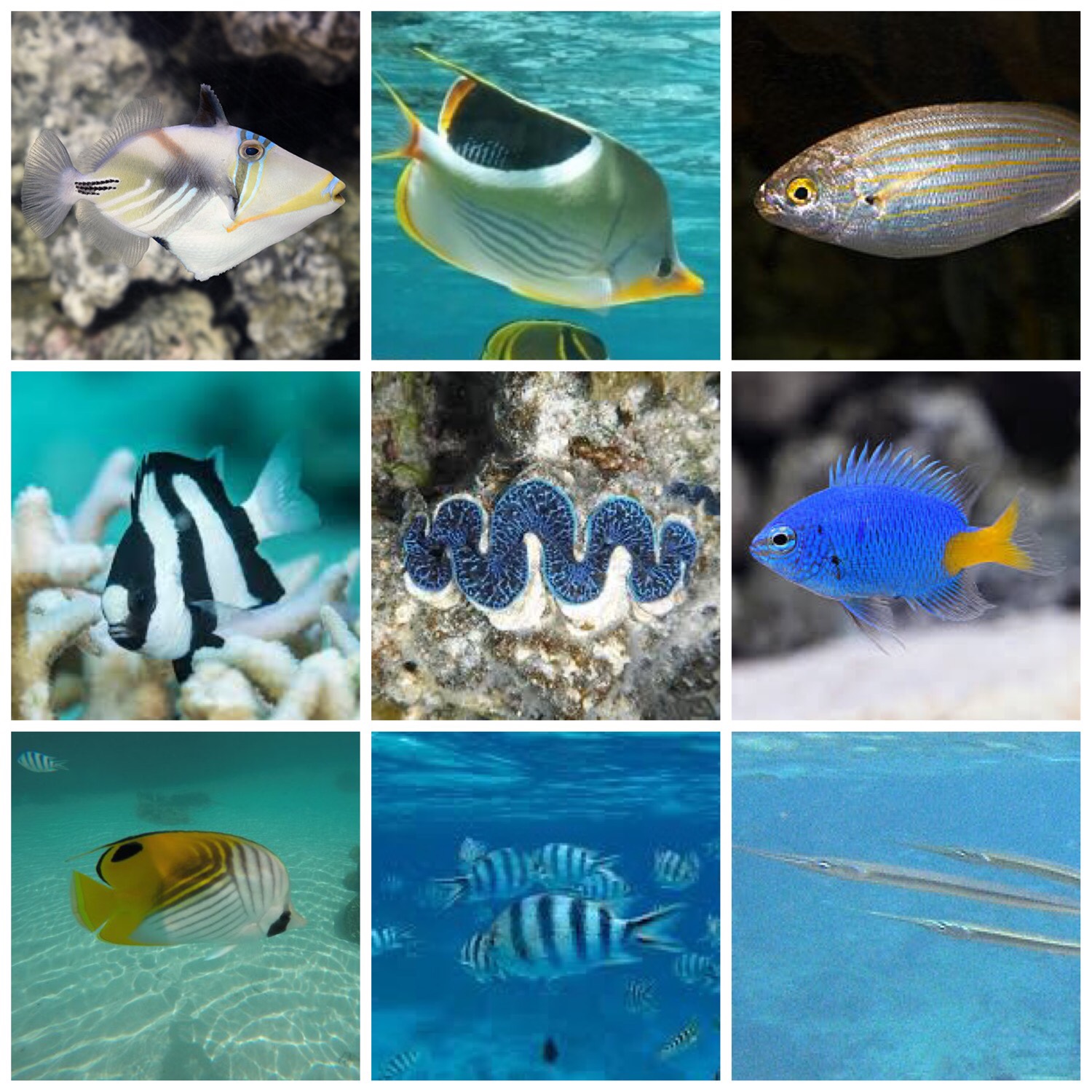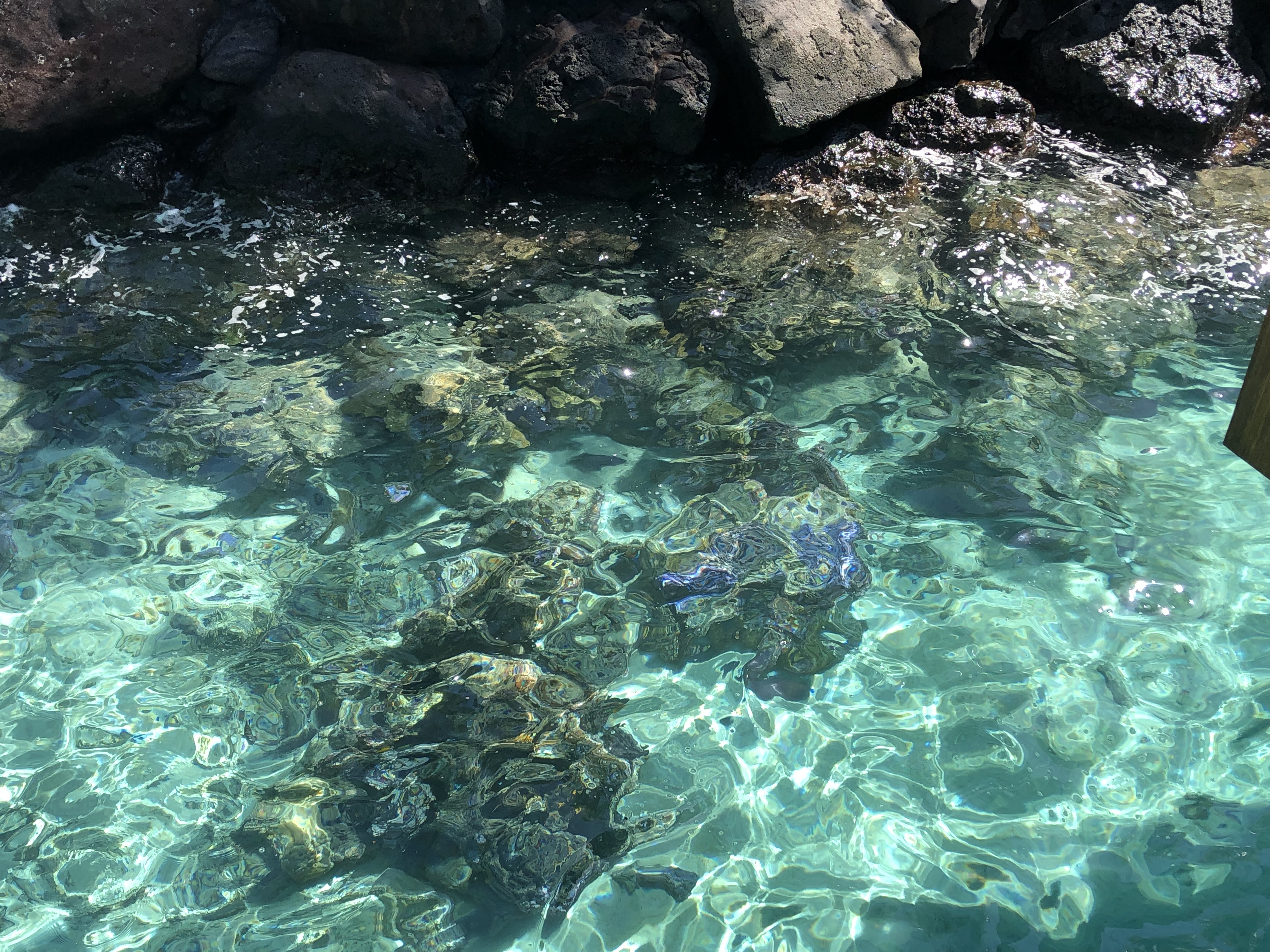 The butterflyfish were really curious and would swim right up to your face and look you in the eye if you kept still. Some of the reefs are natural, and the coral has also been encouraged to colonise small metal structures placed in the water, through which a very low voltage electric current is run to trigger mineral crystallisation. These reefs are gorgeous, with lots of different corals, from tree-like structures, to 'brain' coral and some which look almost like trumpets.
The water was so incredibly clear, and very warm. Near to us it was a turquoise blue in the shallower waters, but it gradually became darker further out as the water got deeper. Just before the horizon there was a band of bright turquoise, and then waves crashing on the reef in the far distance. This all makes sense when you see an aerial view.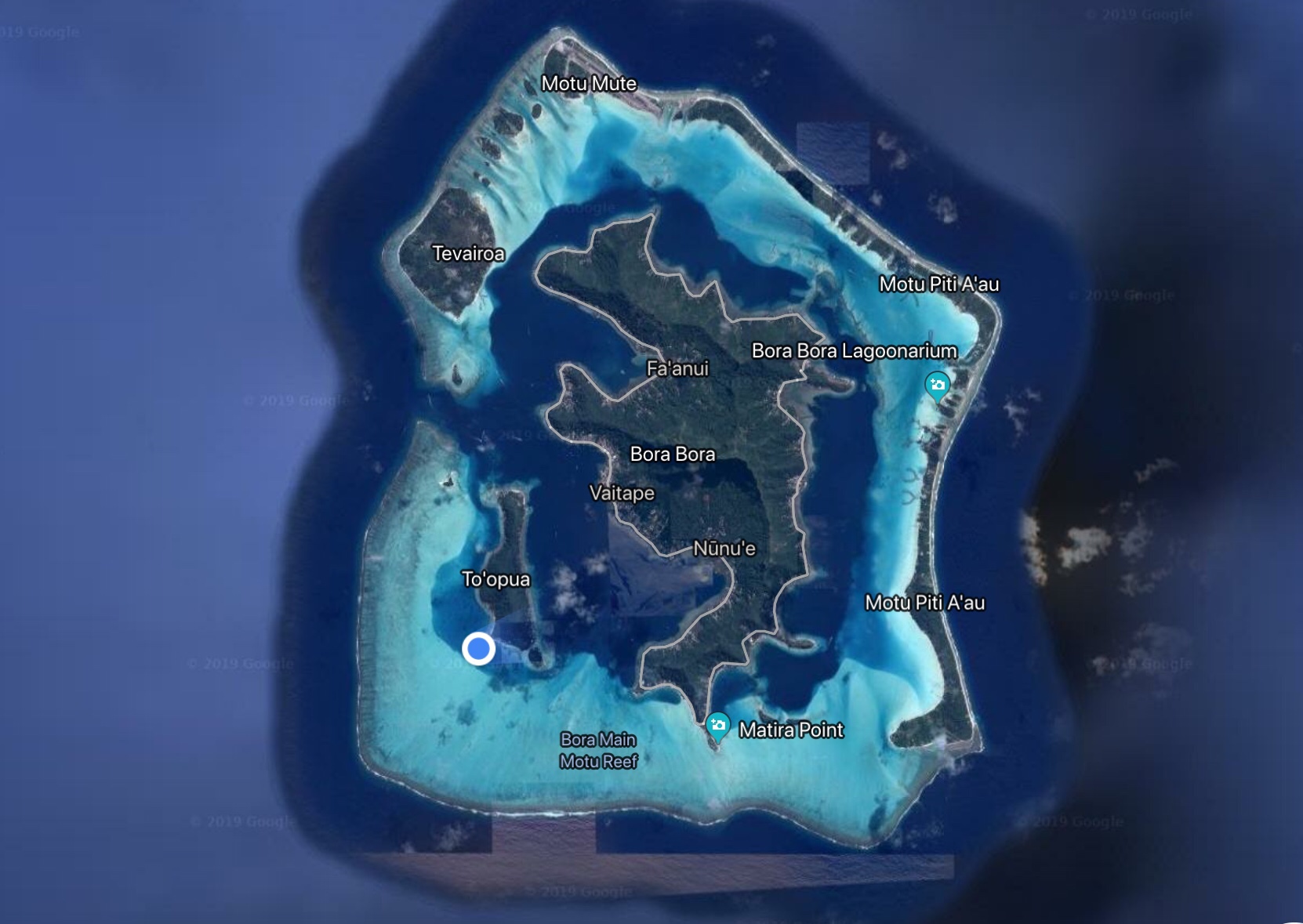 We went on a short trip to Vaitape on the hotel's little shuttle boat, and saw some of Bora Bora's green hills and cliffs. One night we ordered 'in-villa dining' and our dinner was delivered to our outside terrace, where we ate watching the stars appear and listening to the water lapping at the shore behind the bungalow. The sky was incredibly clear that night, and we had a spectacular view of the Milky Way. Orion is visible here, too, but the constellation is on its side, as opposed to its upside-down position in New Zealand. It was only a couple of nights after the official 'worm supermoon', and when the moon rose above the distant hills of Vaitape it looked huge. It was also very bright, which put paid to further Milky Way viewing!
At breakfast we were quite often accompanied by warring zebra doves, competing to scavenge crumbs. These tiny birds were really pretty, striped with a peach-coloured breast, and quite grumpy with each other if they got too close. They'd have a loud argument whilst raising their tail feathers at each other.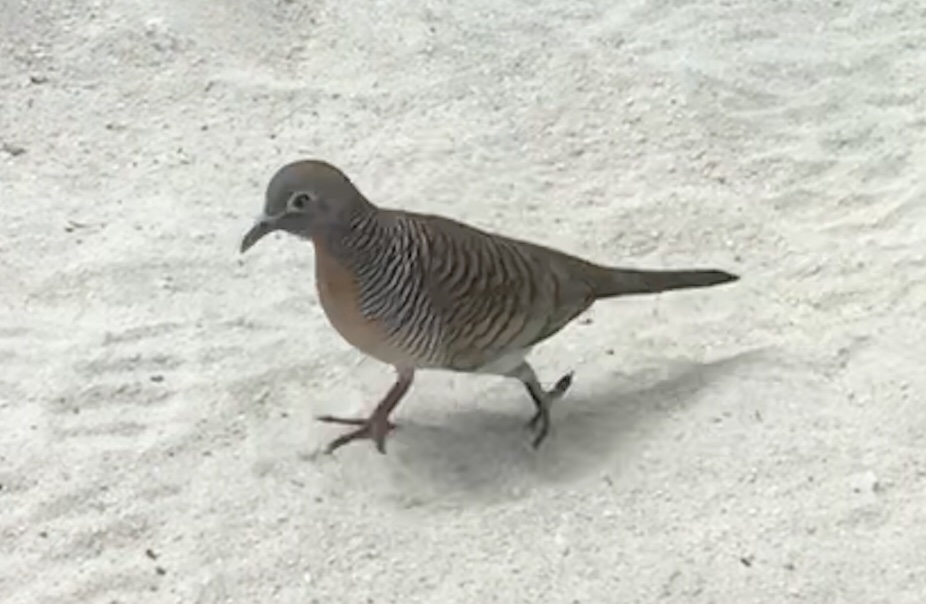 We walked up to the viewpoint on our last afternoon, and looked back over the hotel's grounds, the lagoon and over towards Vaitape.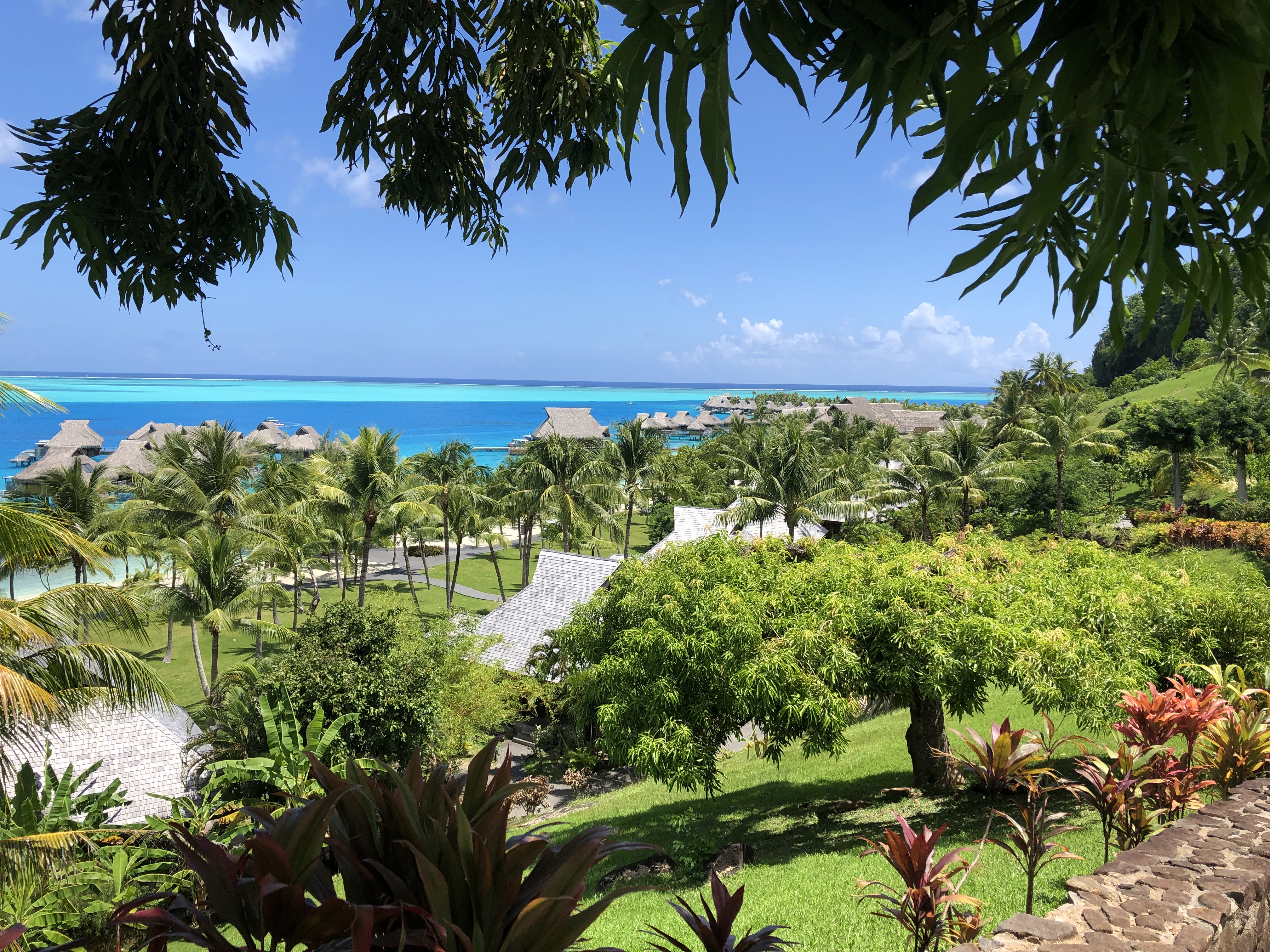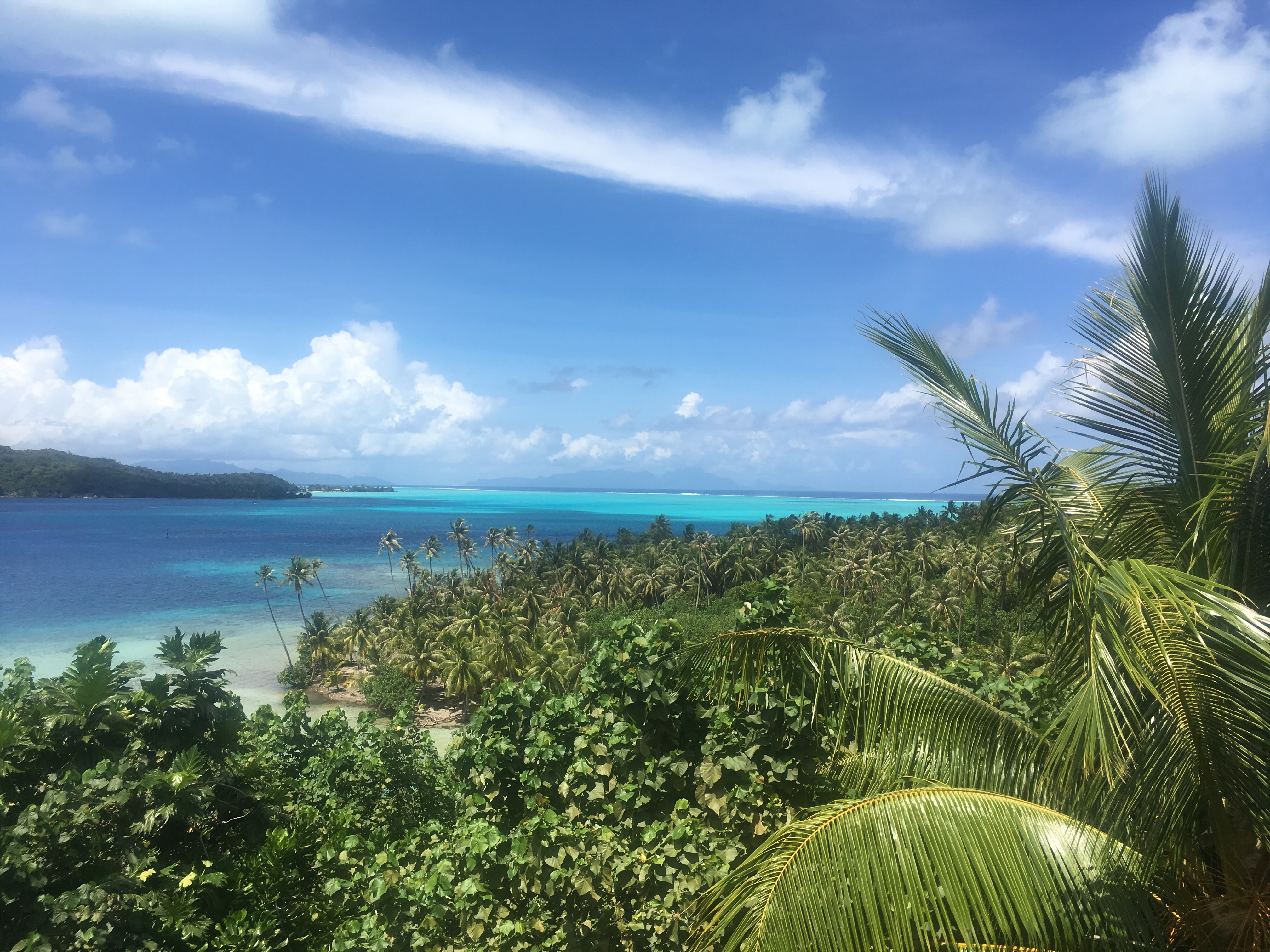 It seemed quite unreal, this sort of landscape – so blue, and so turquoise, and so 'other', and consequently it felt much further from home than New Zealand had.
After six idyllic days, we packed our bags and checked out. No need to feel glum, as the next stop is Rapa Nui, Easter Island. The bad news is that our flight leaves at 3am, and we lose five hours as we enter Chilean time. It's going to feel like a very short night.