Distance: 52.9 km
Time: 2 hours 28 minutes
Speed: 21.5 km/h
Ascent: 123 metres
Total distance: 2146.4 km
Total time: 114 hours 43 minutes
Wordle scores: Captain 3, Stoker 5
Word of the day: "piana" (pee-ah-nah) – flat, level ground
The Stoker writes:
Trebisacce was a cheerful little place, spread out along the sea front, which was full of little beaches and bars. We headed out for dinner at our usual 7pm, thinking to eat in the restaurant of our hotel, which already had its pizza oven lit and ready.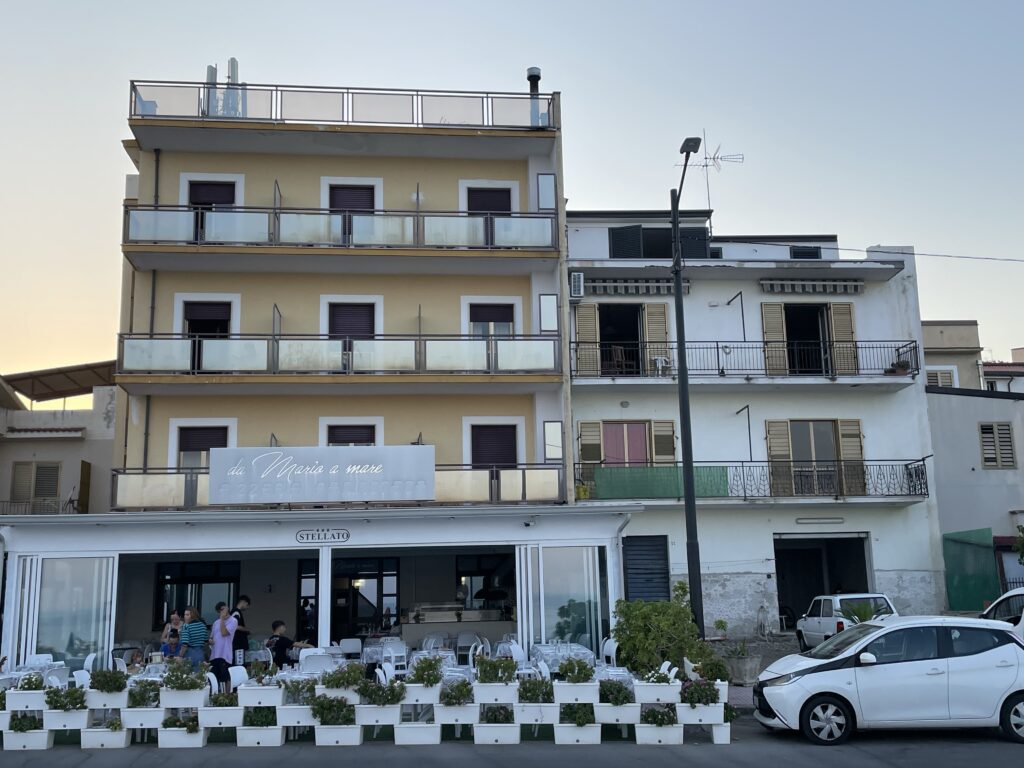 Or so we thought – not open until 8pm, they said, but we could sit and have a drink until then. The Captain ordered a beer, and I asked for prosecco. No prosecco. Which seemed slightly odd. Not only that, on further interrogation there was no wine, of any colour. NO WINE!! In a restaurant in Italy! After alcohol-free day yesterday, that was not going to work, so we headed into town to find a restaurant which did have wine 😁. We located a nice-looking candidate, and asked the lady sweeping the outside terrace if we could have a table. Too early there too – evidently no-one eats before eight in Trebisacce! A drink in a beach-side bar later, it was definitely past eight, and we returned, to be well fed, and to enjoy a bottle of Calabrian wine, made from the Gaglioppo grape.
The proprietor of the restaurant was an exponent of the quirky Italian method of storing your (usually reading) glasses when you don't need them. They do it like this: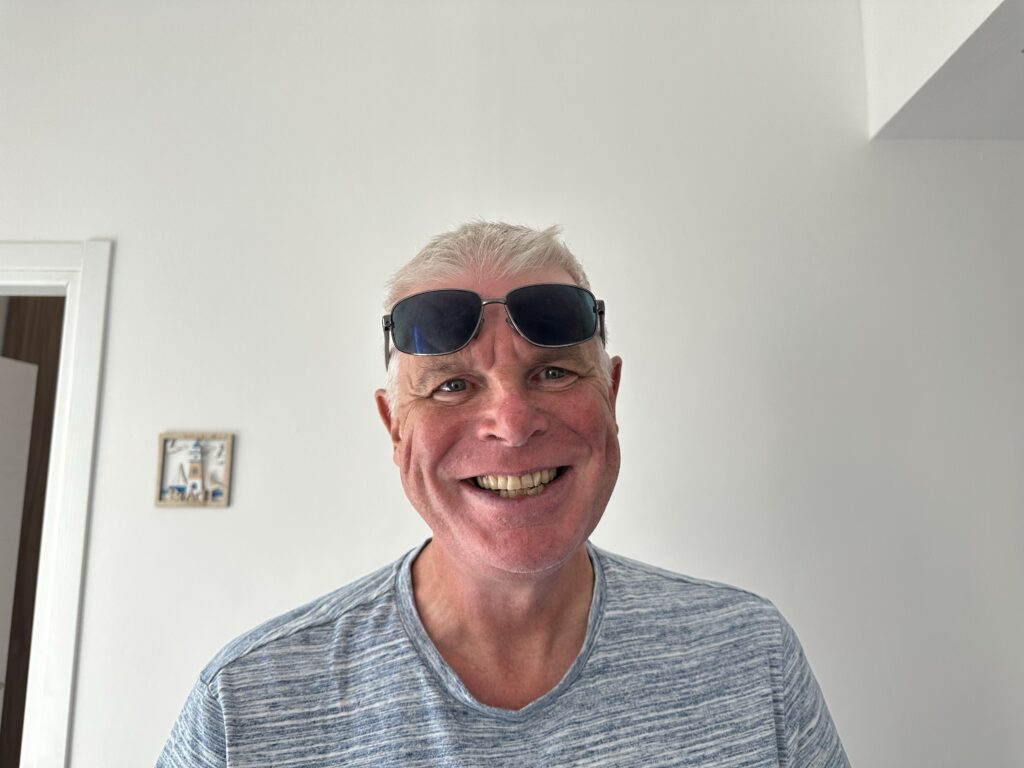 On their eyebrows! We were made aware of this phenomenon by Ned Boulting and Matt Stephens in the excellent "Never Strays Far" cycling podcast, when they were covering the Giro d'Italia cycle race in May this year. They talked about the 'Italian man with glasses on eyebrows' trend, and sure enough, I saw my first example at Trieste airport, and many more since. It's surprisingly difficult, I can't seem to do it, and it's way less prevalent amongst the women.
Anyway, I digress!
This morning dawned fine and clear, as we have come to expect, and we took breakfast in the hotel, entertained hugely by a full-volume shouty argument in the kitchen between the husband and wife who owned it! Italians seem very happy to conduct all their business in the public eye, we tried not to be all British and embarrassed by it, no-one else was!
We were on the road by 10am, initially along the lungomare, the road next to the sea, and then turning inland slightly to pick up the lesser of the two SS106 roads. Ours must have been the old road, before the new one was built further inland still, and we were squeezed in between the railway and what must have been its own previous track. There were a few old bridges going nowhere.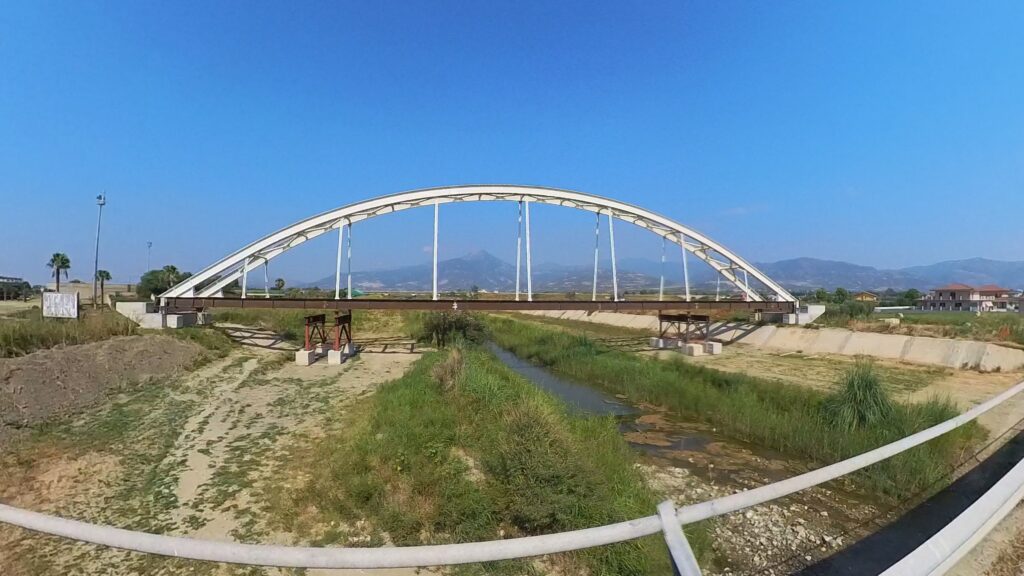 At Trebisacce we'd been hemmed in by mountains, and able to see them curving round the next bay towards today's destination of Mirto Crosia. They were a constant presence on our right today, but we knew our route was completely flat, staying well within their curving embrace.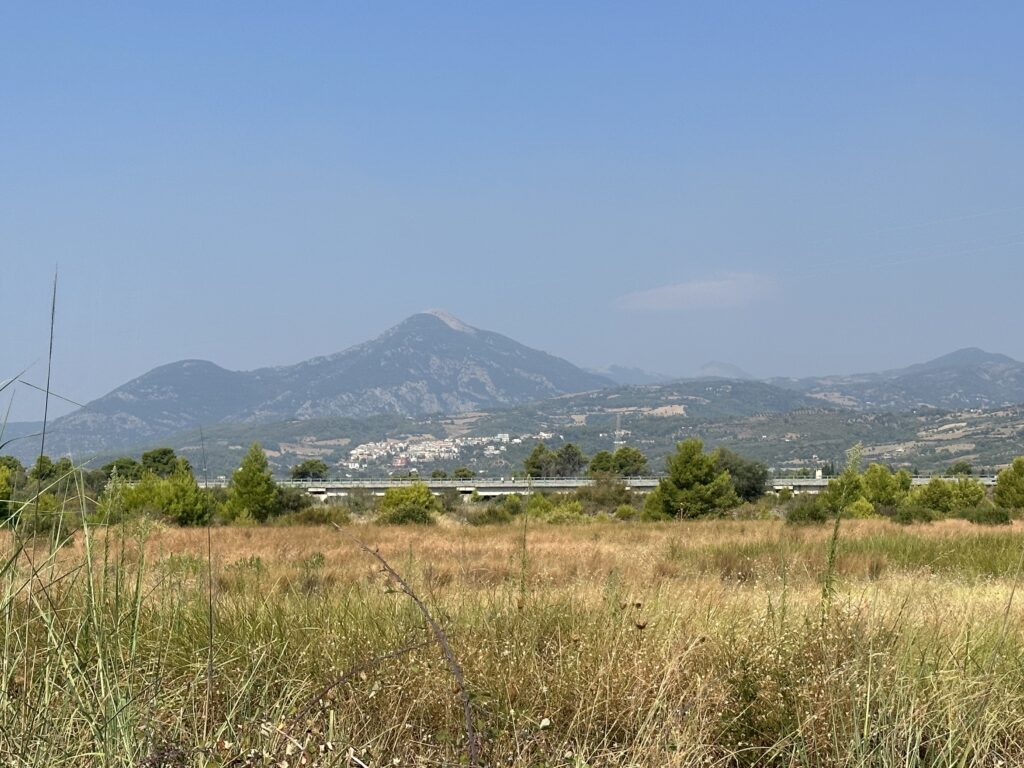 As we pedalled along, the Captain noticed two familiar figures up ahead. "Good morning Switzerland", he called out as we passed them – it was our friends from yesterday. They must have been up early today, as they were stopping for the night yesterday at the place where we all had a water stop, which was at least thirty kilometres from Trebisacce. They looked very cheerful. I wondered how they'd coped with the closed road, as they were also using Komoot to navigate.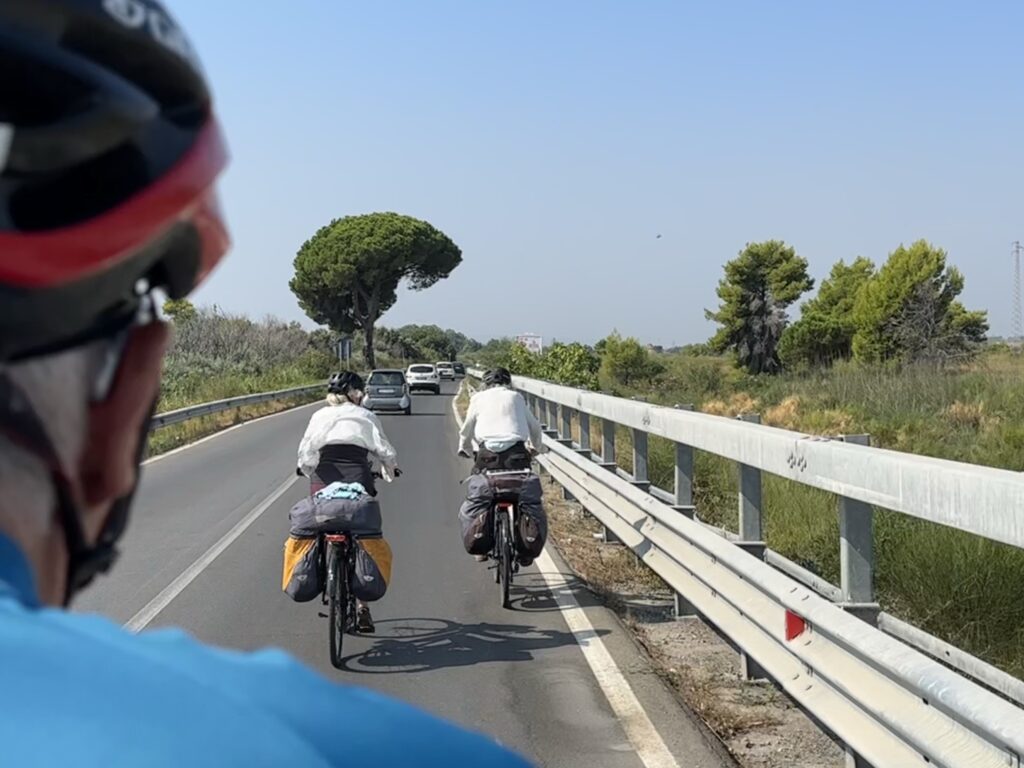 We passed a tower…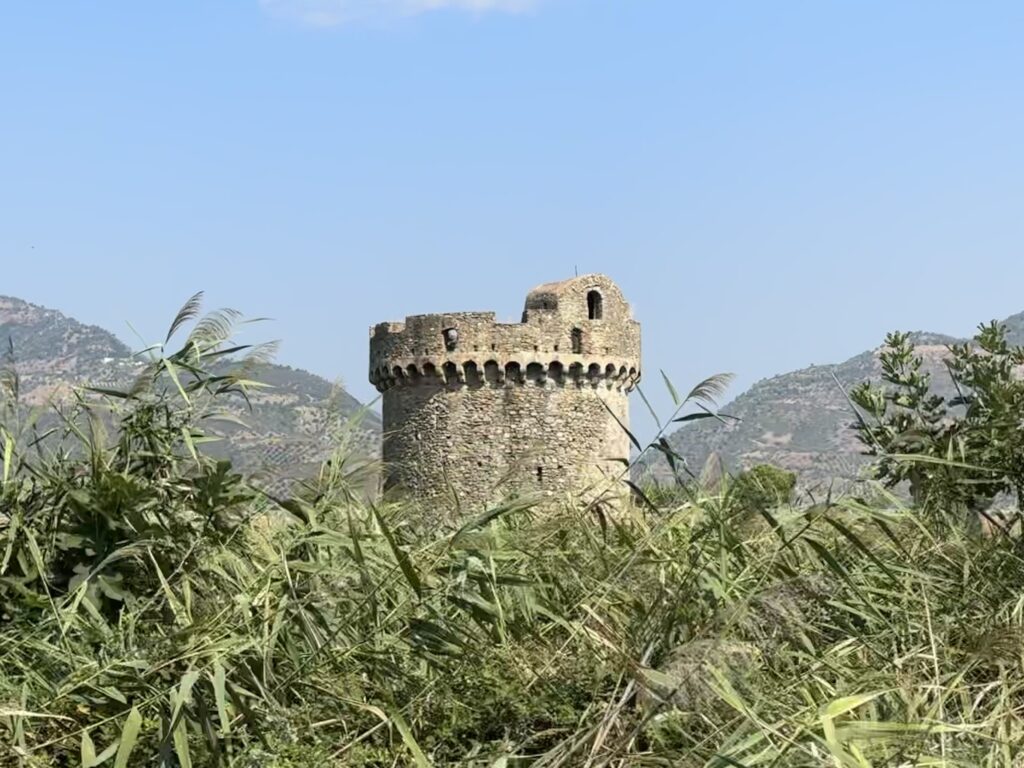 … and some palm trees…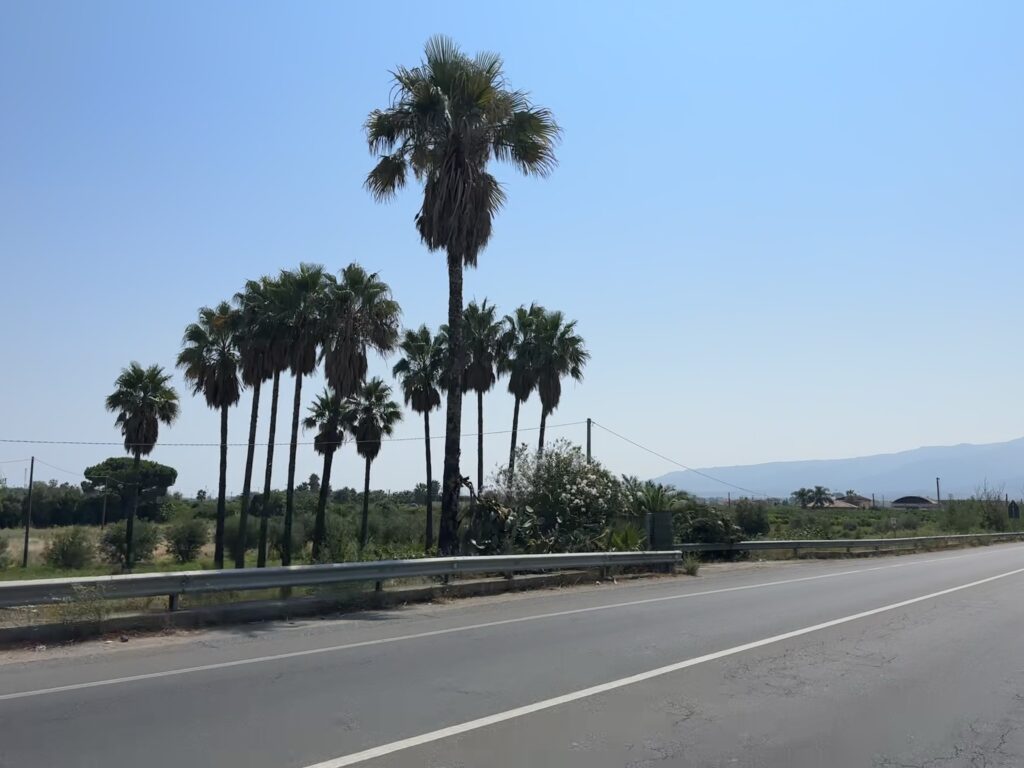 … but to be honest it was not a great day for scenery. We rode through a long section of industrial zones, and there was no shade really in which we could stop and take the first hour drink. A little shopping area hoved into view, with a MacDonalds. Needs must, so we pulled in, and drank them out of fizzy water. Literally. We had to have one 'naturale'!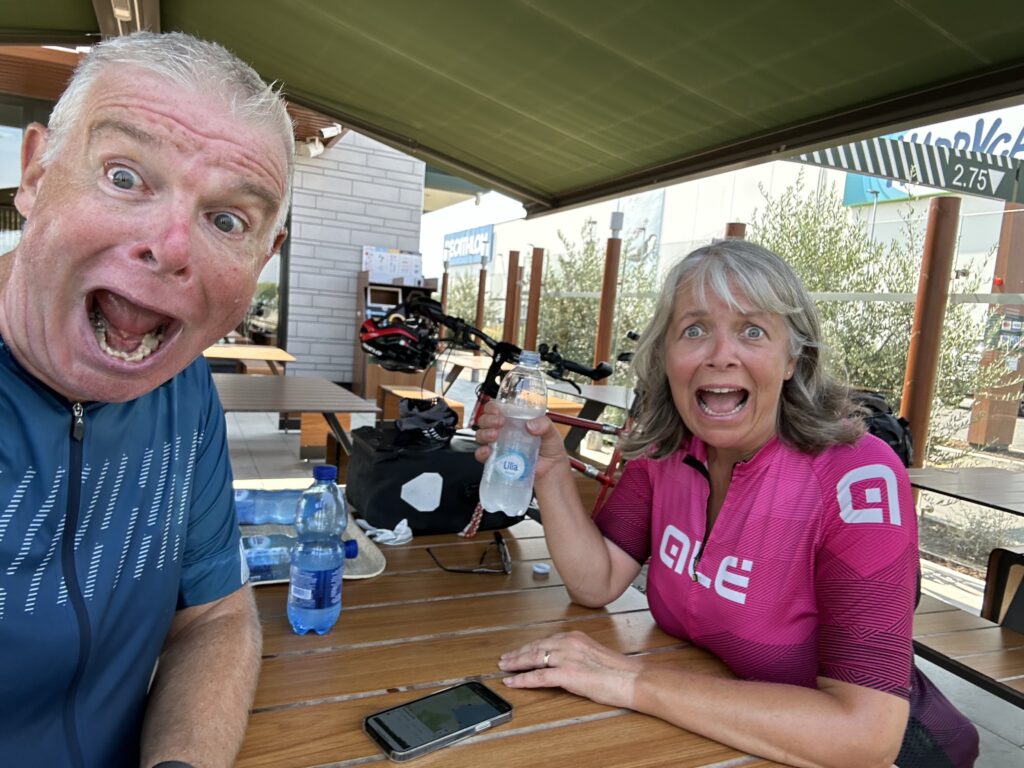 Back on the road, and we sweated on along the SS106 radd (no idea what the 'radd' part means), riding in a wide margin on the right just like a cycle path.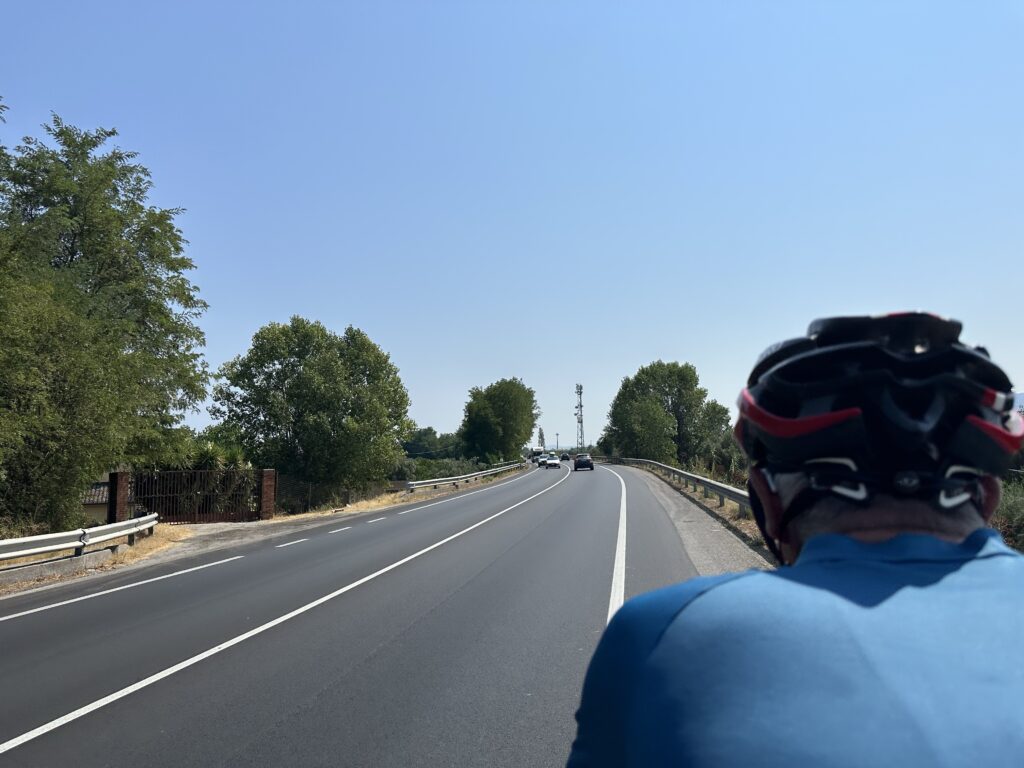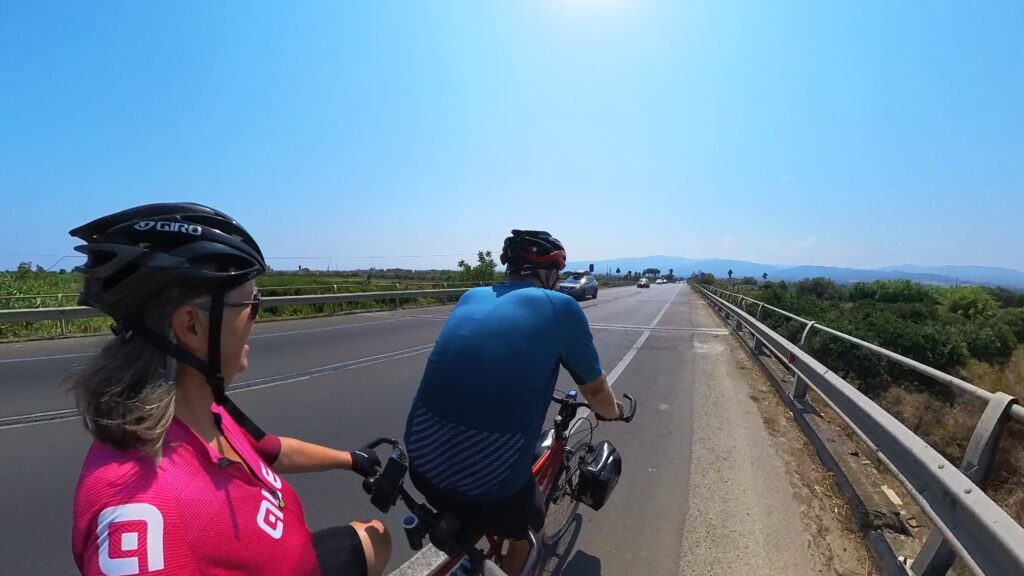 We were making good time, and our host in Mirto Crosia had told us we could be in the apartment any time after noon, which was very generous. We arrived ten minutes early, and sat in the shade to wait for him. He arrived all smiles with his two sons, and asked to take our picture outside the building. As often with the more southerly parts of Italy he was very happy that we could conduct our check-in in Italian!
He explained that the apartment was new, he had only opened the building in mid-July this year, having renovated it from an old flour mill to host an initial four apartments. It's absolutely gorgeous, beautifully decorated, cool, and quiet despite being by the side of the SS106! There was a bottle of prosecco, some milk and water in the fridge, and he'd picked some figs from his tree that morning for us. They were a lovely family, so charming and welcoming. One of the sons is a lifeguard at the beach, and our host is going to pick us up tomorrow to take us there so we don't have to ride there on the tandem. What a star – we've been very lucky in our hosts.
He also took some photos of us with his sons, who were very tolerant of our sweaty state!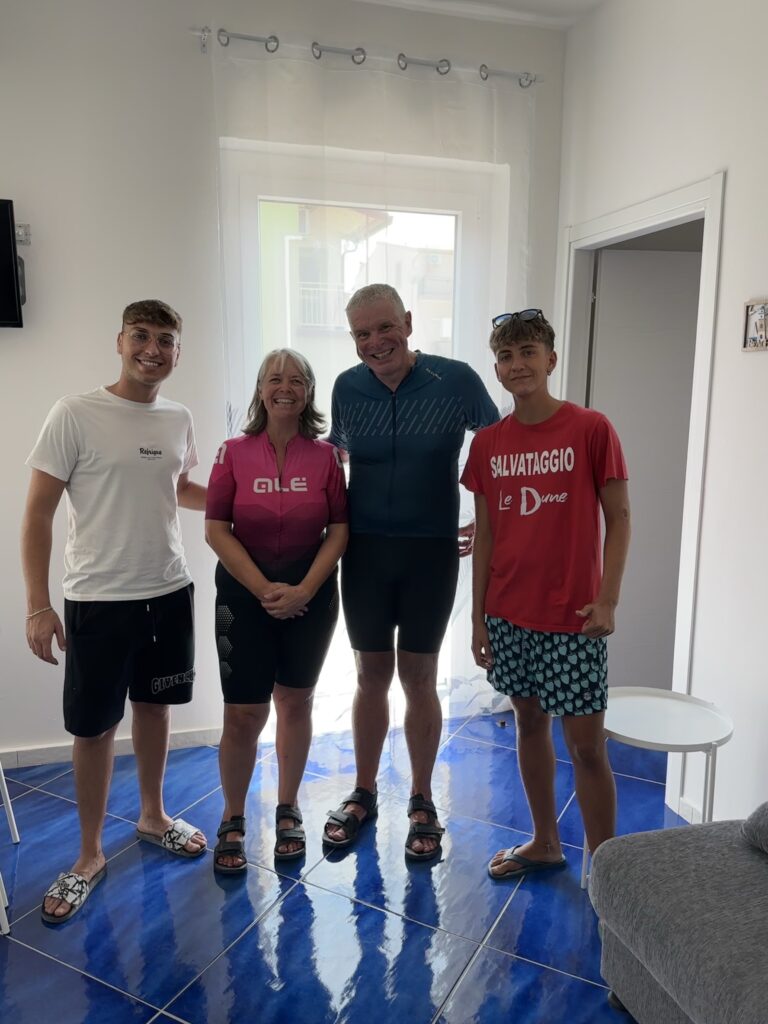 We're taking a rest day tomorrow, after a quite gruelling block of six days since Gallipoli. Everything is lining up well for our crossing to the Tyrrhenian coast in a few days, when we get to the thinnest part of Italy's foot.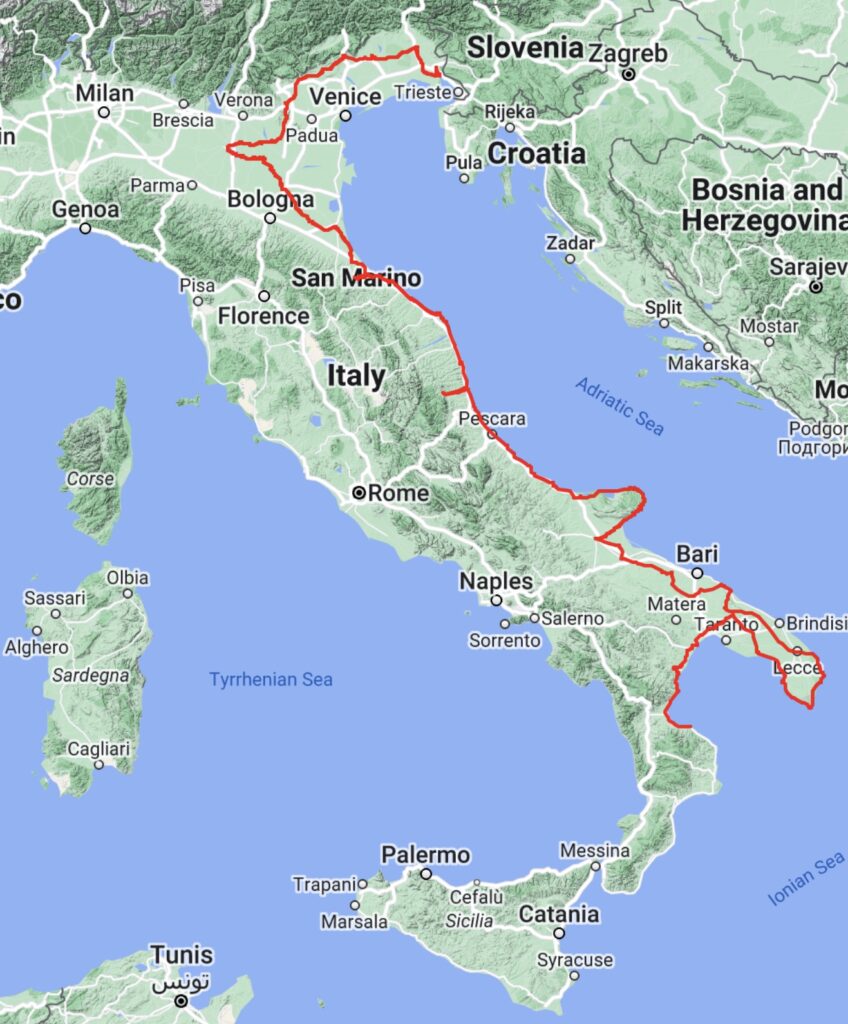 Here's today's route and a short video