Distance: 107.2 km
Time: 5 hours 17 minutes
Average speed: 20.2 kph
Total distance: 456.7km
Total time: 21 hours 57 minutes
Wordle scores: Captain 6, Stoker X
We both woke early today, after the "sleep of the just after" (just after cycling a very long distance, that is!). Yesterday's journey was the longest we've done since 2008, so we earned that sleep! After breakfast we planned the next part of our route, booked an hotel and worked out what sightseeing we wanted to achieve in Groningen.
To start with, our day off was bright and sunny. We popped into the friendly bike shop next door (they came out to admire our tandem yesterday!) and bought a bracket to mount one of our phones on the handlebars. This was for two reasons:
We're switching from the Netherlands node map to the German one, and the latter is best followed on the phone rather than on our GPS device
Apparently one can be fined €140 for using a mobile phone on a bicycle in the Netherlands. 😳
That done, we headed into town, took a tour of the Martinikerk, shopped for tonight's meal and then went through the Grote Markt in search of lunch.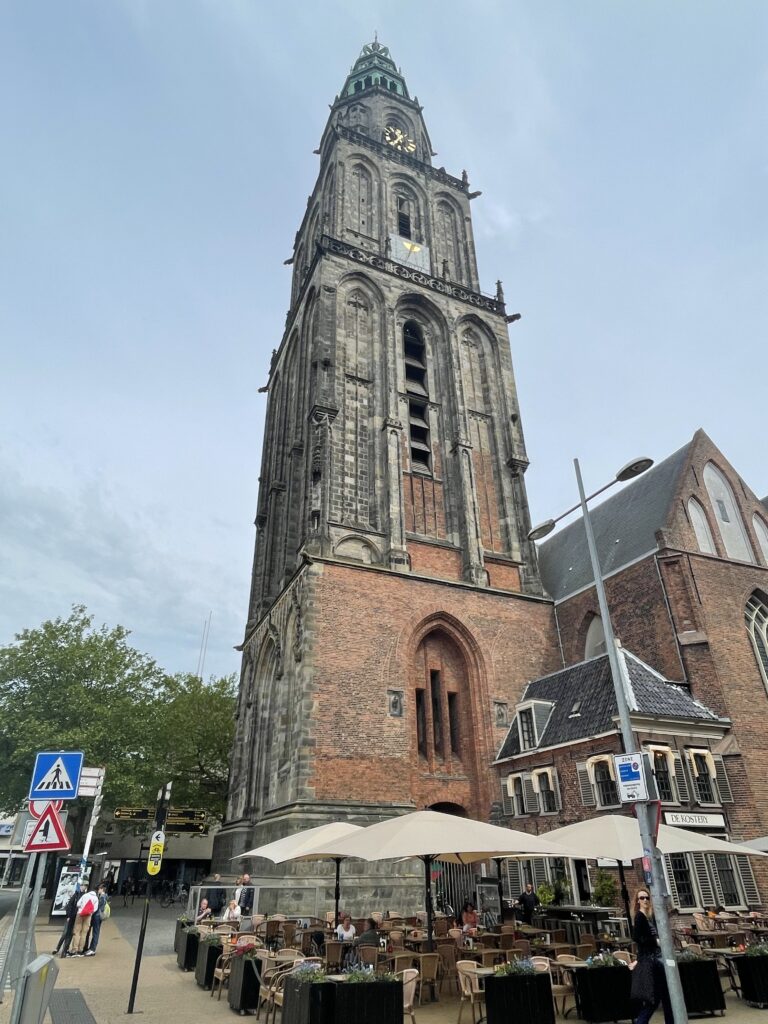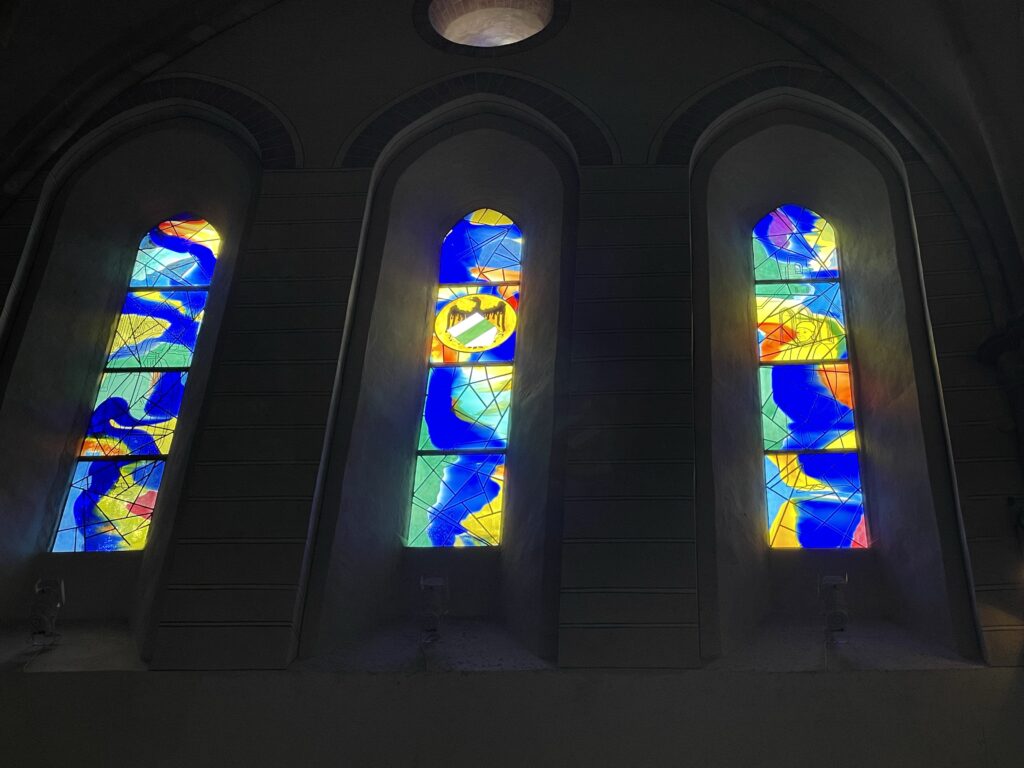 The Grote Markt is on an impressive scale, but we couldn't really see much of it as it is presently hosting a giant funfair. The same applied to the neighbouring Vismarkt.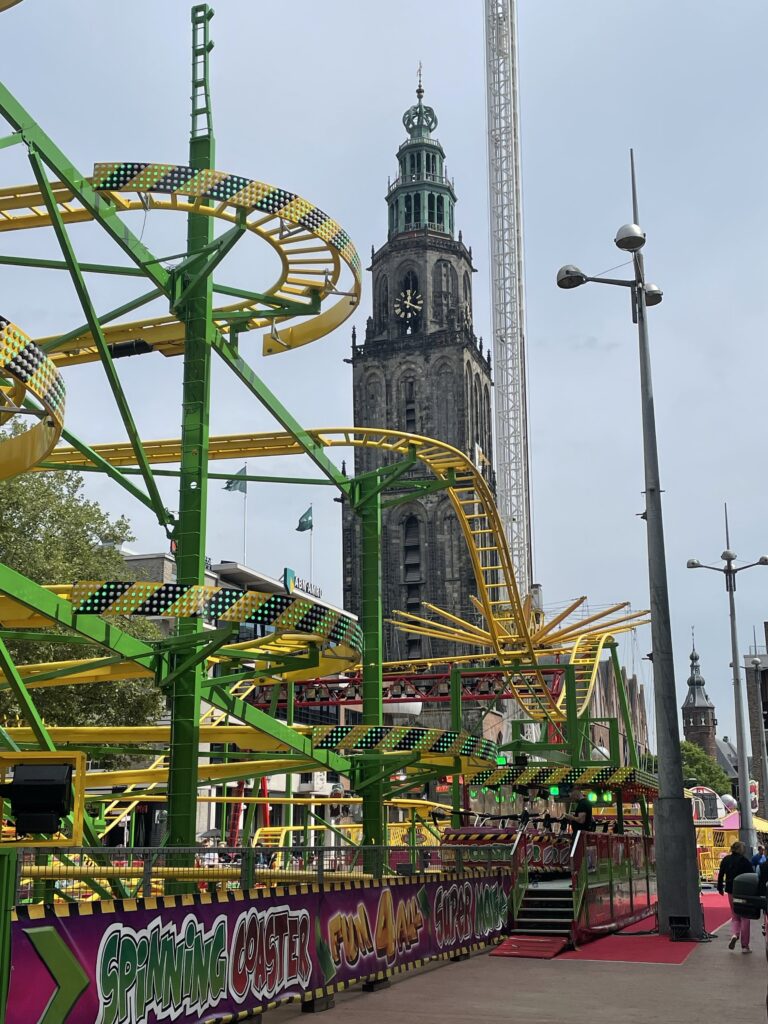 It seems a shame to hide such lovely architecture behind ghost trains, waltzers and the like, but perhaps we're just too old to appreciate the delights on offer. And all the consequent screaming!
We did sneak behind the rides in order to see what the unoccupied squares had to offer. And it was worth it: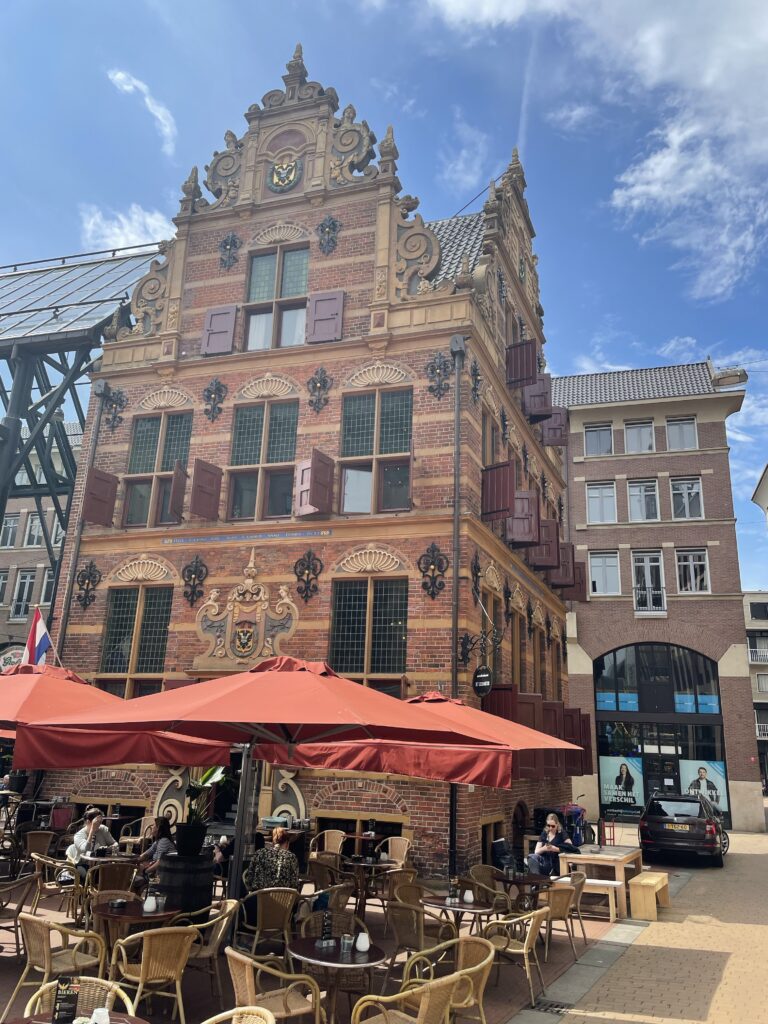 The rest of our afternoon was spent on the 'ring canal', on a tourist boat which circumnavigated the city centre, accompanied by a cheerful crew and a recorded commentary in Dutch, German and English. Oh, and there was beer, for me at least – the Stoker opted for tea!
It was a pleasant and relaxing way to while away an hour or so. As we approached the end of the trip, though, the heavens opened! The crew closed the sliding roof so we all remained dry, although afterwards we had to scuttle back through town in our fashionable cycling rain jackets.
Just as we were settling down to eat dinner in the airy dining room of our AirBnB we heard the sound of distant drums (to coin a phrase!). There seemed to be quite a few people at the side of the road waiting for something, so we went to the window to take a look. What we saw was a seemingly endless procession of rival brass bands, each accompanied by numerous schoolchildren. We weren't entirely sure what was going on, but it was very entertaining.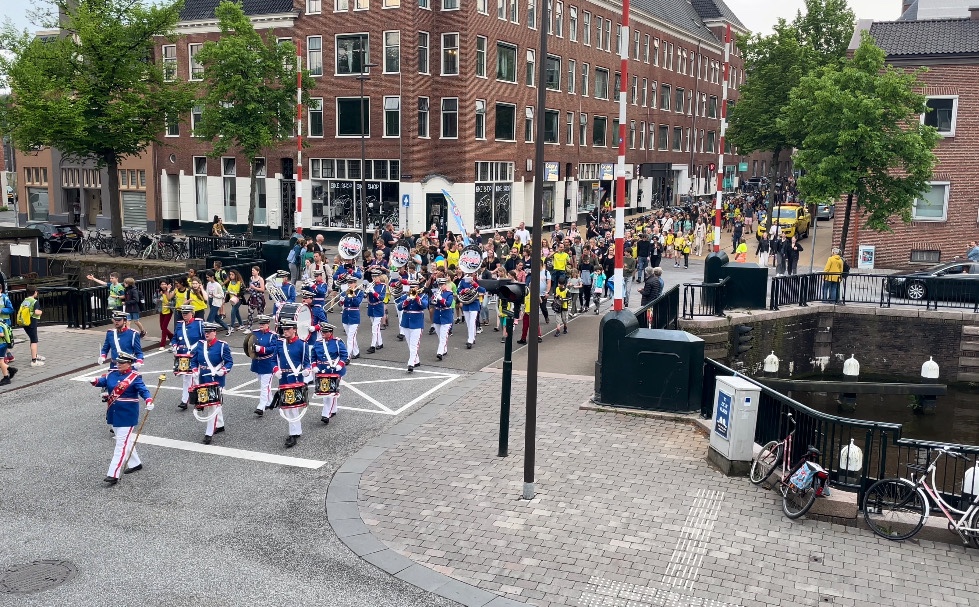 And so to today. Our departure from Groningen was uncharacteristically seamless, on a slightly gloomier morning. Throughout the day a steady easterly headwind hindered our progress to some extent, but it was only a minor irritation in the grand scheme of things.
The Stoker's console of navigation and photographic devices has now been augmented to include a holster for the phone, so that we can use it to follow the nodes on the German cycling network (we can't transfer these to the Garmin, for some reason). Here's what it all looks like now, please forgive the unflattering picture of the Captain's bum!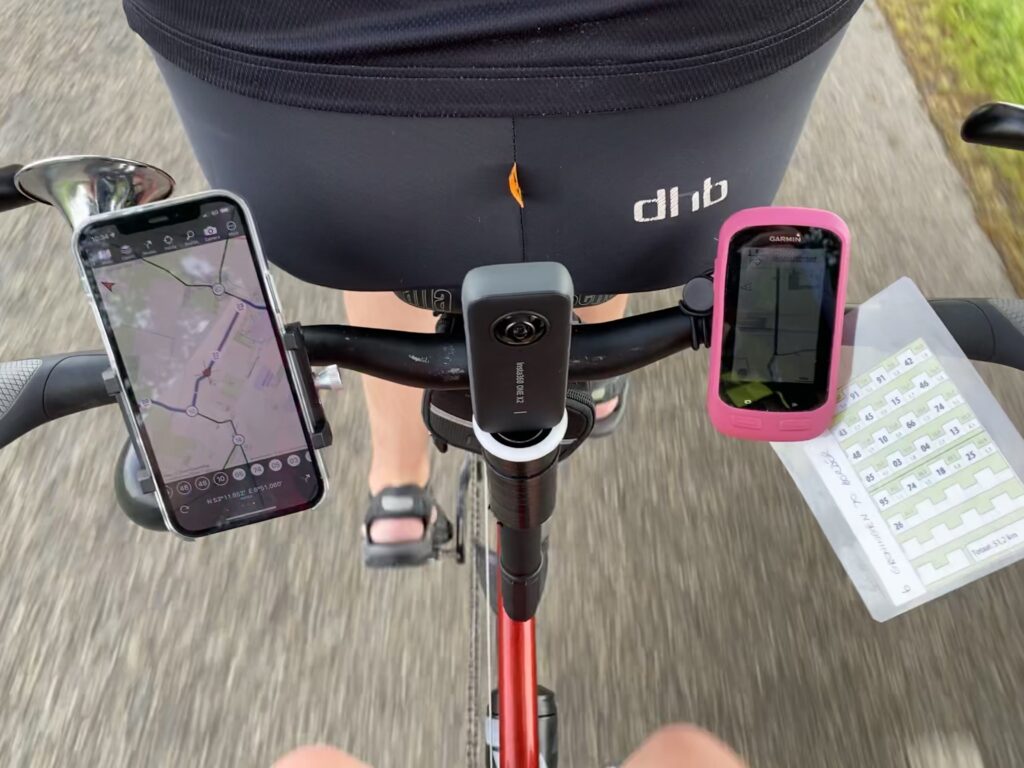 We've mentioned the noisy frogs on a number of occasions, but never been able to record them – they seem extraordinarily sensitive to movement, and the stealthiest of approaches have been fruitless…
…until today, that is! The stoker managed to activate super-stealth mode and record this video. Turn the volume up!
We made steady progress across the vasty fields of Groningen province towards the German border. Once there, we were expecting flags, a welcome from the mayor and bouquets of flowers at the very least. In fact there wasn't even a sign – the border was marked by a narrow canal! It looked like this (cyclists for scale):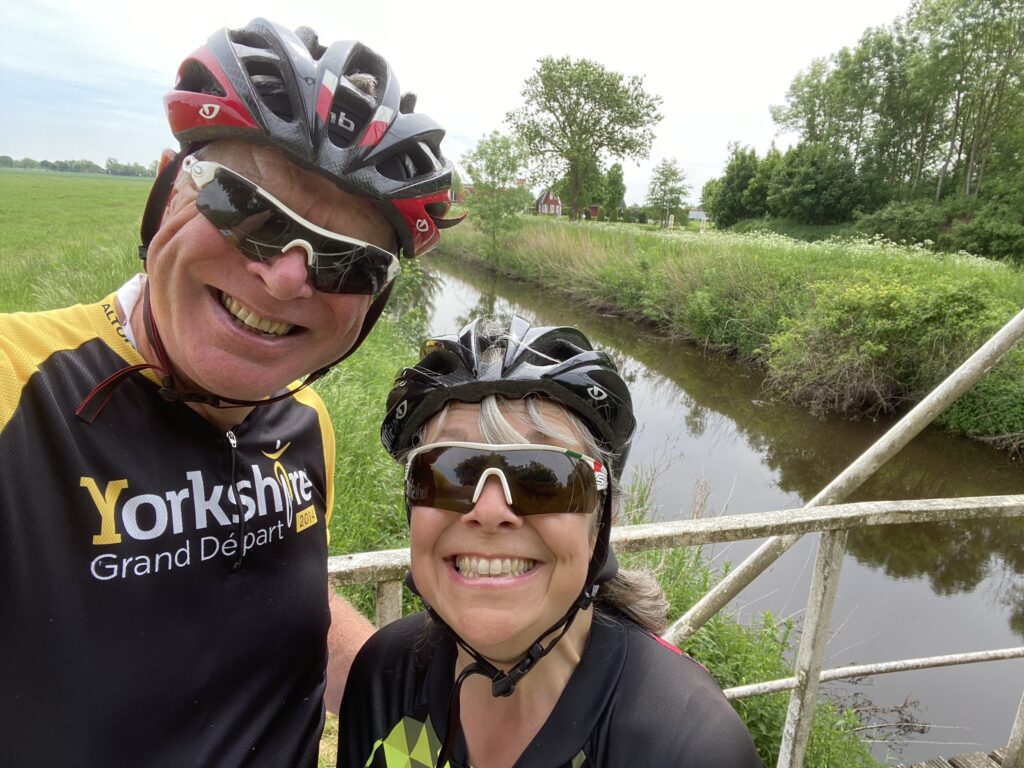 Once in Germany we stopped for lunch in the charmingly named town of Weener (first Currywurst of the trip!) before cycling through Leer, where we had originally intended to stay tonight. It would have made a suitable stop, but we wanted to get more kilometres under our belt before the next two long days.
South of Leer we were beginning to anticipate the end of a long-ish day, when we came across this: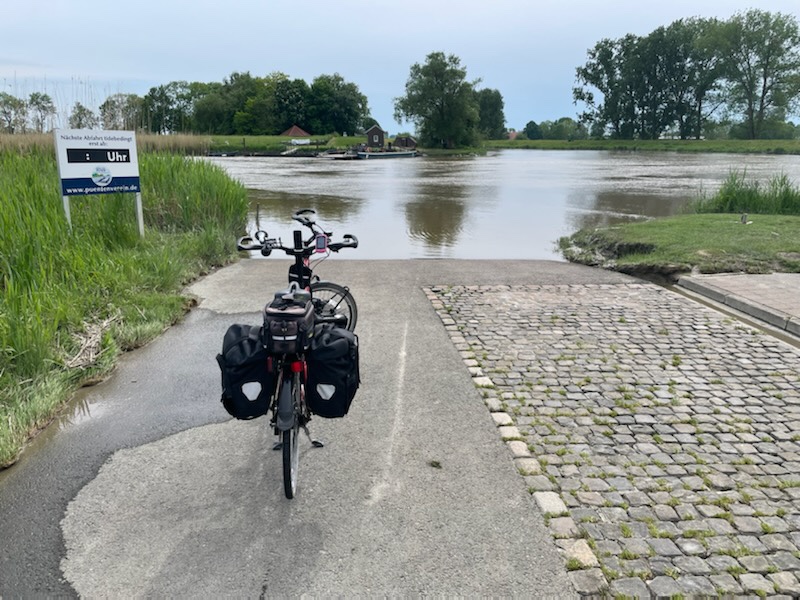 Oh no, another ferry! We feared the worst, and started to plan a workaround, but then two ferrymen turned up and started to pull the chain ferry over to our side of the fast-flowing river. In fact it is claimed to be the oldest working hand-pulled ferry route in Europe, having started in 1562.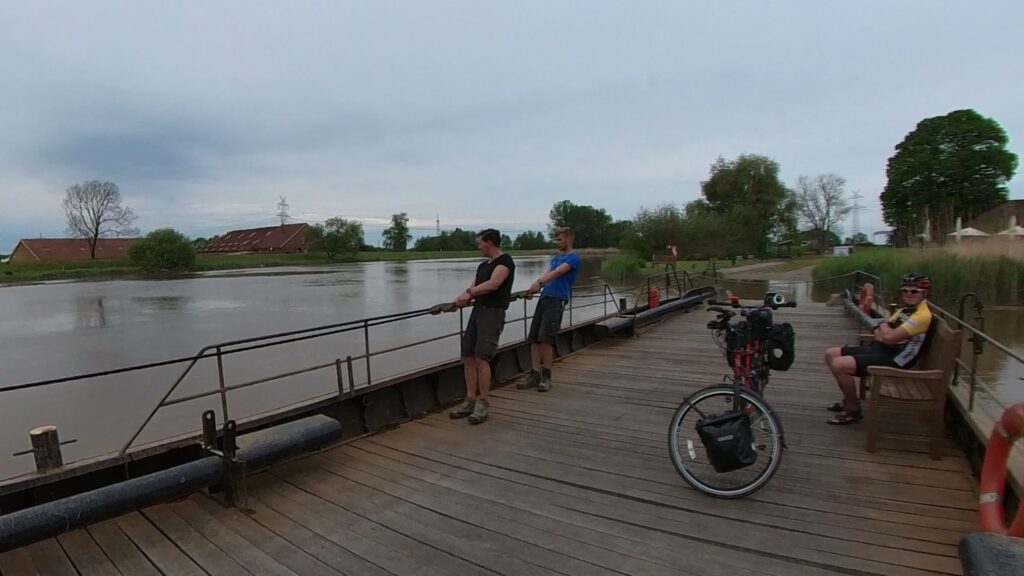 Our list of fauna today was considerable – frogs of course, but also alpacas, goats, hens, a peacock, a hare, two deer standing in a field, and a stork (which the stoker stalked for a picture)!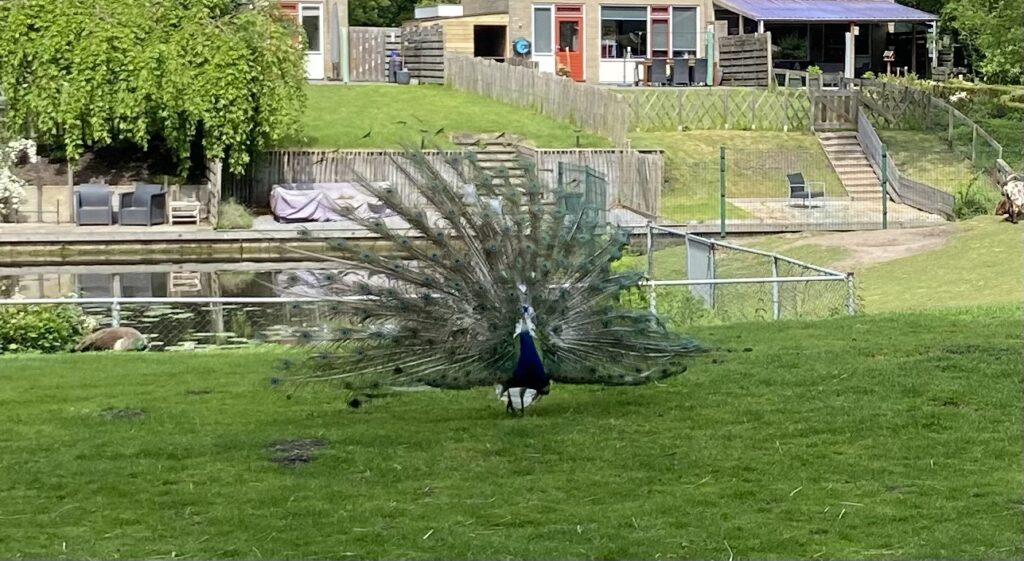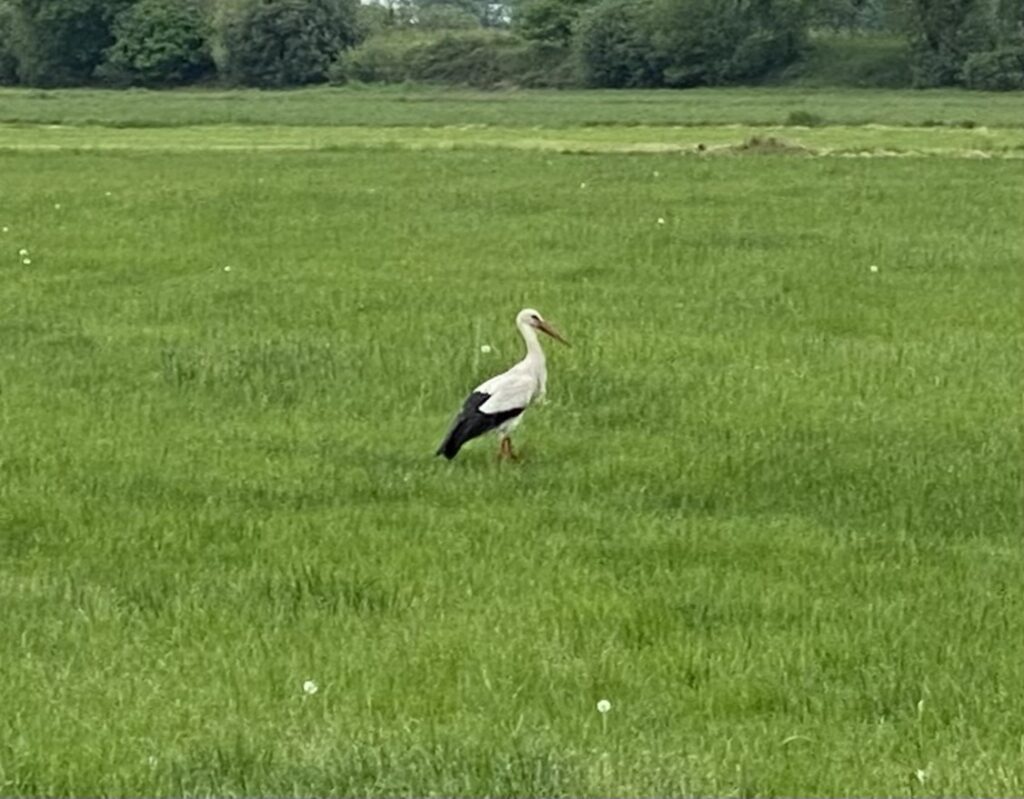 The final excitement for the day was provided by a looming thunderstorm, a rumble having been heard as the stoker was taking the above picture. Knowing that only about ten kilometres remained we pedalled as hard as we could in light rain, making it to our hotel in Barßel just before the heavens opened.
Here's today's route and a short video.