Distance: 33.2 km
Time: 1 hour 43 minutes
Speed: 19.3 km/h
Ascent: 274 metres
Total distance: 1594.2 km
Total time: 85 hours 52 minutes
Wordle scores: Captain 3, Stoker 4
Word of the day: "bianca" (bee-ankh-ah) – white
The Stoker writes:
In all our planning, it had been a milestone of this trip to get to Alberobello and spend a night in a trullo. And we did it! It was a fabulous little apartment, newly renovated and perfectly set up, very true to the spirit of the ancient trulli, most of which were built between the 16th and 18th centuries.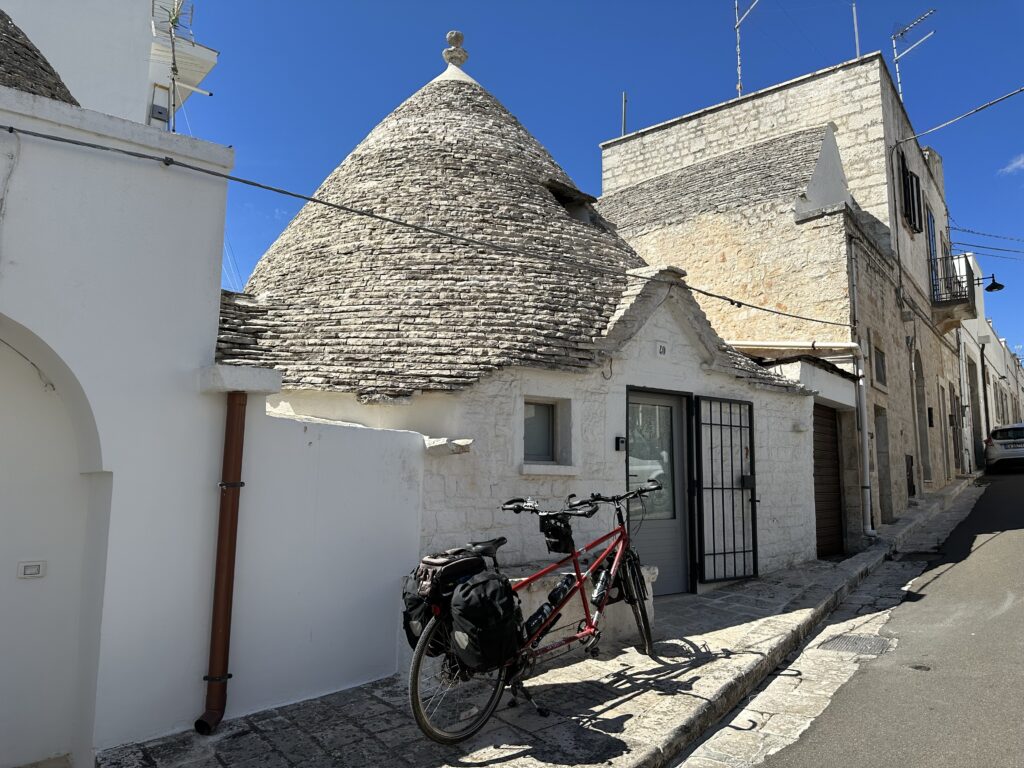 We wandered straight out for a look around the town, past the big church…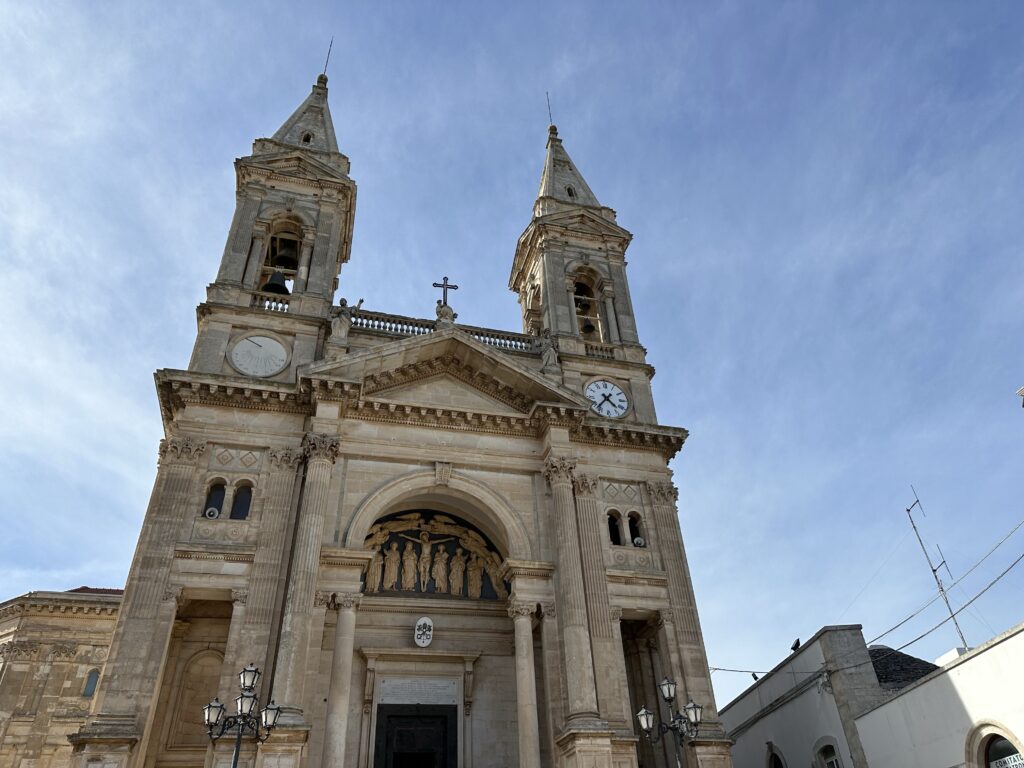 … and were soon amongst the oldest quarters of the town, where building began.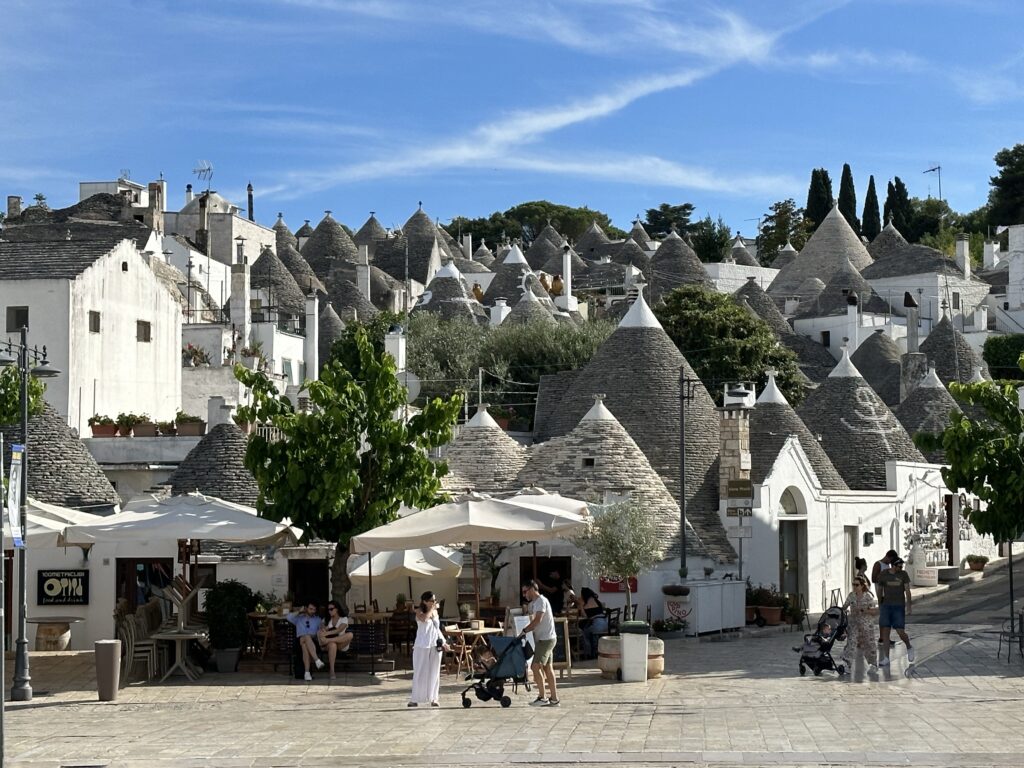 The trulli are built using dry-stone techniques, often square at the base, with a conical roof made up of small flat limestone tiles called chianche or chiancarelle. The roof cone often has a white pinnacle which is said to ward off evil and bad luck. Sometimes there's a mythological or religious symbol painted in white on the cone.
There are over 1600 trulli in the old town, most in use as shops, accommodation or restaurants. Originally they were used in the countryside as storehouses or temporary field accommodation, but in town they were proper dwellings, with a fireplaces and a water collection system.
They are very beautiful, so unusual and well preserved, thanks to Alberobello's UNESCO World Heritage Site designation. We wandered the streets for a good while, enjoying the spectacle.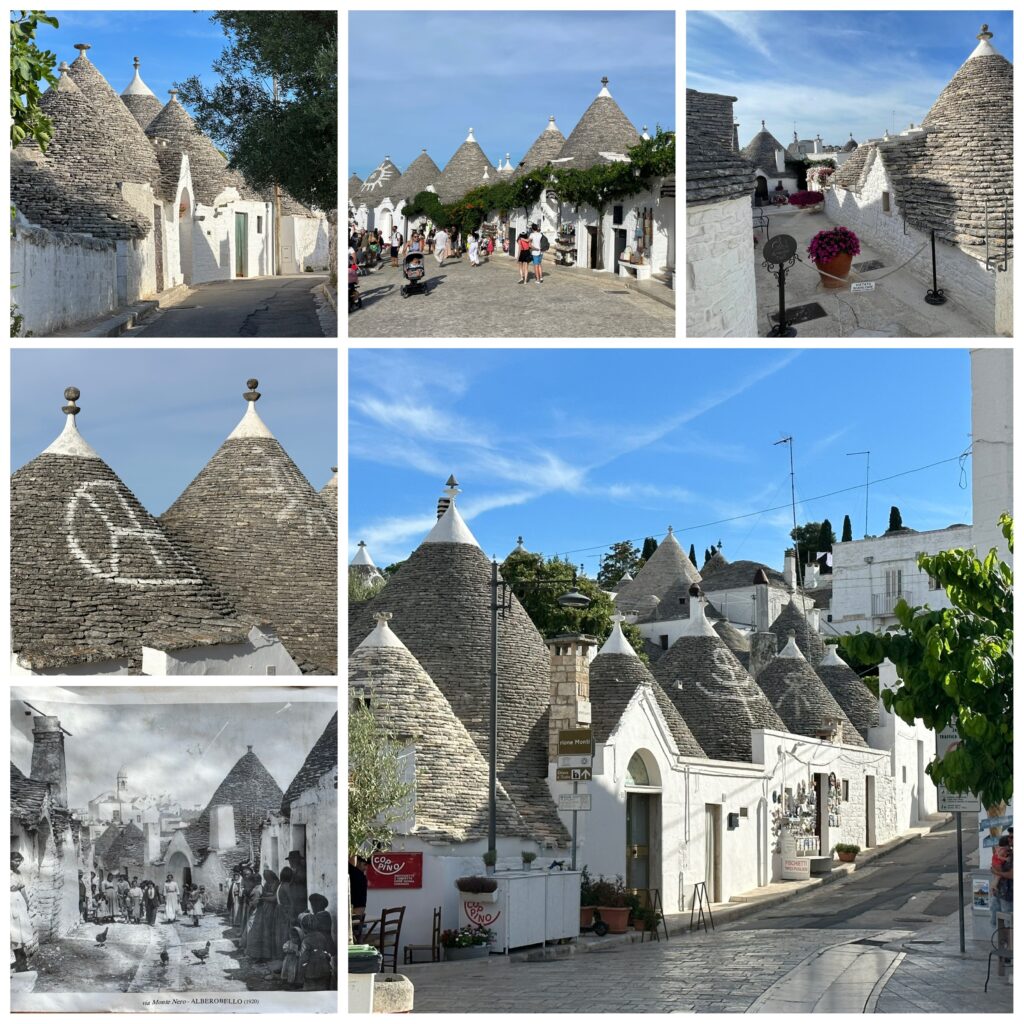 A slightly less captivating trip to Carrefour on the way back furnished us with the makings of dinner, spagghi today, it seems like ages since we first had that in Montagnana!
After dinner we decided to take a second walk out, to see the trulli at night. It was still extraordinarily busy, but atmospheric in the dark.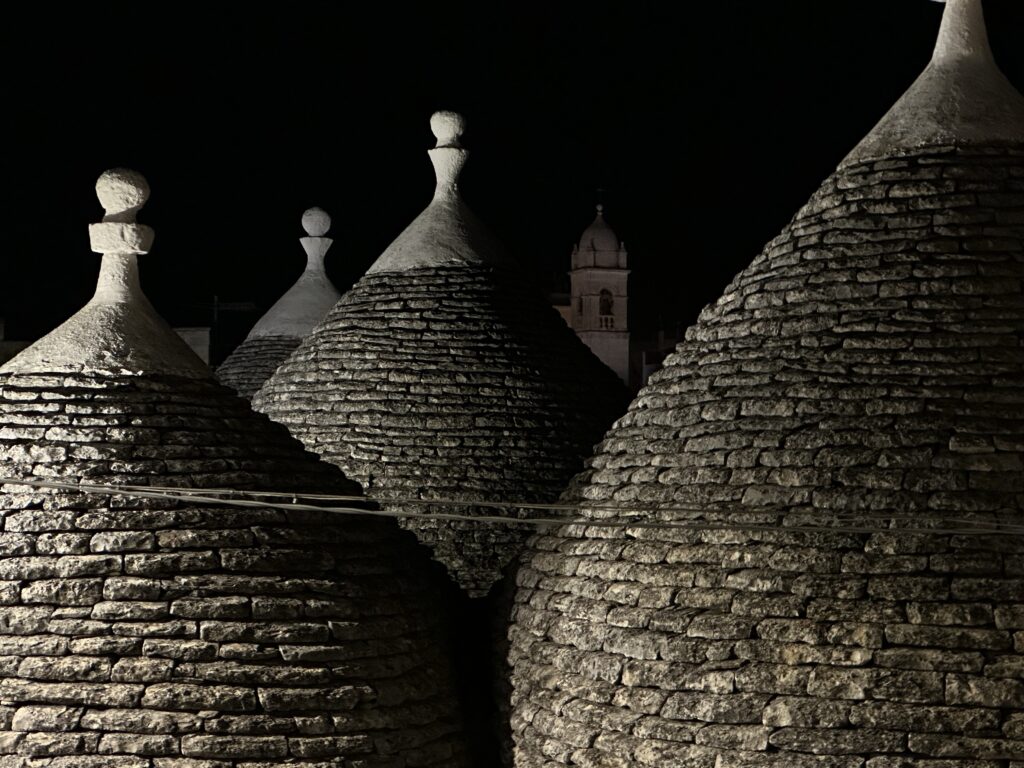 A good night's sleep, and once again we could award ourselves a later start this morning. The ride to Ostuni would be under 35km, with no real climbing to speak of, and we knew we couldn't get into our accommodation until 3pm. We breakfasted around 11, and then pedalled off out of town.
It was a good ride, quiet roads, the usual views of olive groves and countryside trulli.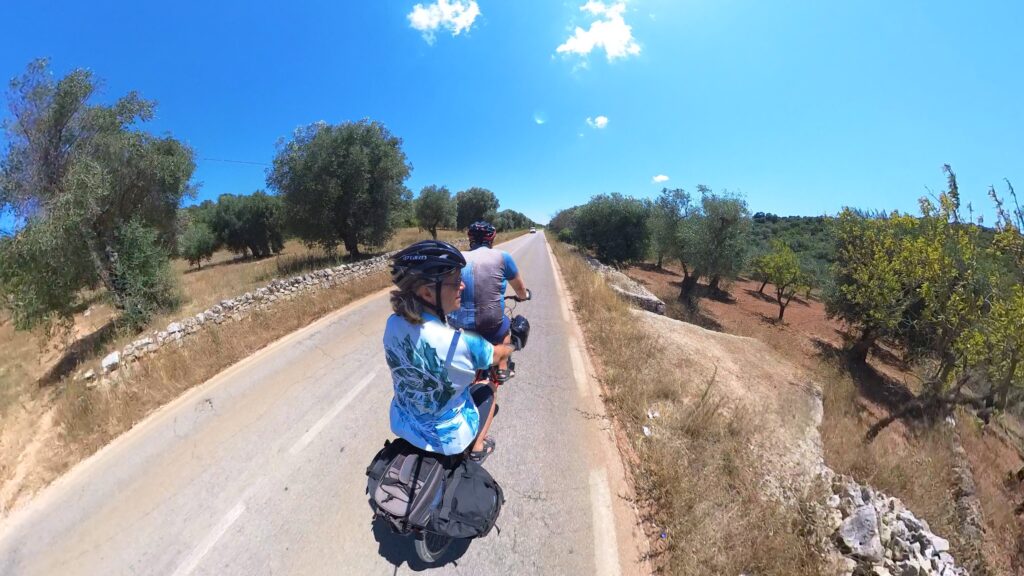 Out of town there are still many trulli to be seen, and often they have a huge modern house attached now! We speculated as we rode that you probably couldn't build a new trullo to adorn your lovely new house, rather you could restore an old trullo and then build your new house adjacent or even around it. Whatever the rules, it felt like a very prosperous area, with lots of mansions and estates.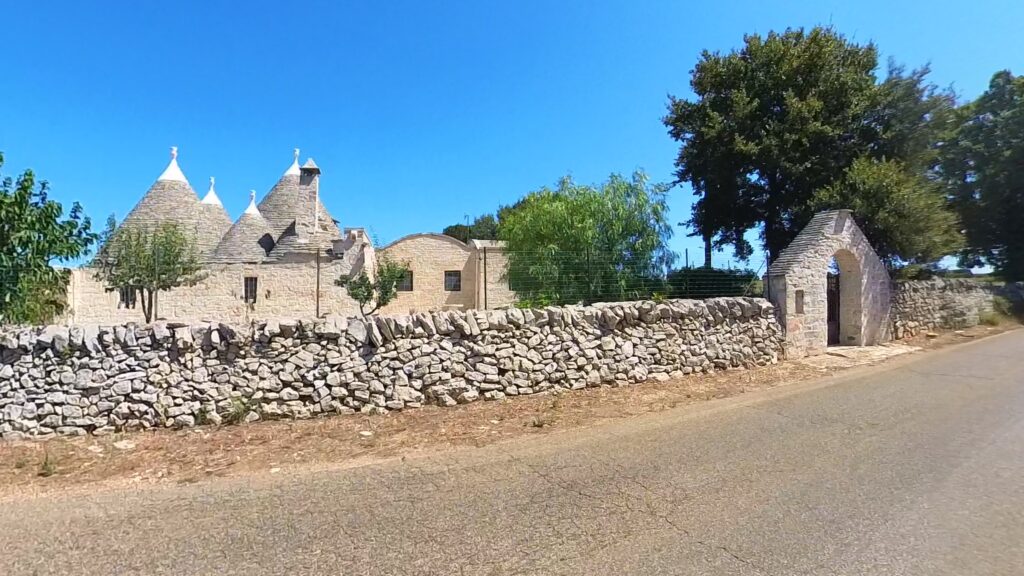 At Locorotondo we stopped at a bike shop to borrow the track pump, and resupply some cycling consumables. They were very dubious at the Captain's requested tyre pressure, pointing out the advised pressure on the tyre wall. A tandem is different, though, especially a fully-laden one, and we pretty much convinced them to go with our usual pressure.
They asked lots of questions about our trip, and it's become noticeable, now that we are almost a thousand miles into our trip, that people are way less impressed now that we are aiming for Catania than they are by our having ridden all the way from Trieste!
Back on the road then, and a lovely section on an official cycling itinerary up into Cisternino. We stopped at a viewpoint at the highest point of the town, which looked out over the plain. You could see trulli dotted about all over the place, and the distant spire of the church at Locorotondo.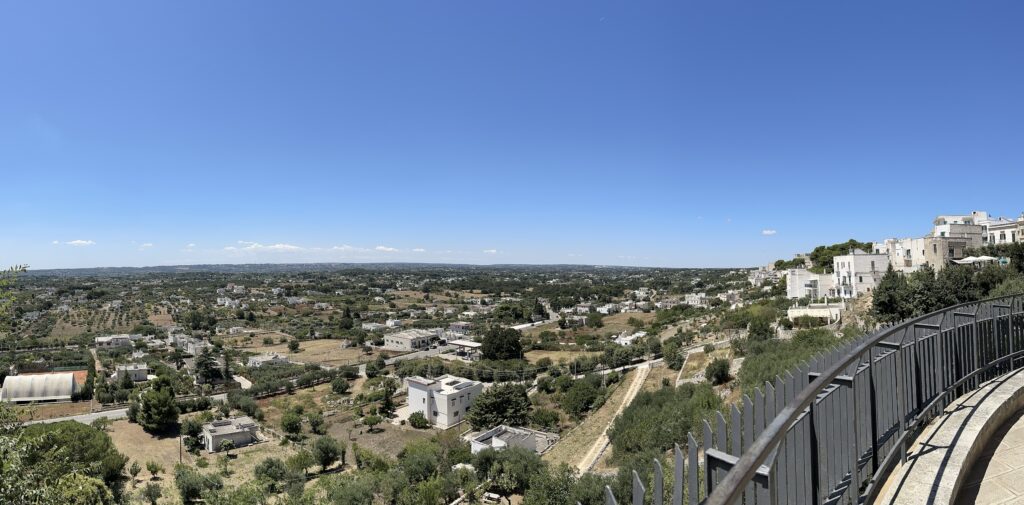 Only twelve kilometres remaining, and mostly downhill, we made short work of it, and soon could see Ostuni appearing on the horizon. It calls itself the 'White City', and certainly in the historic centre it very much is. We're off to see it properly imminently, having lunched and taken possession of our lodgings just on the outskirts of the old town.
Tomorrow we head directly to Lecce, in a departure from our original plan to go via a night in Brindisi. As with Bari, accounts of Brindisi don't massively recommend it. It was the end of the Appian Way, and as we discovered, the later Trajan Way, but now it's mainly a big, busy port city, and we've decided it is better missed!
Here's today's route and a short video