Madrid – Day One
It was our last overnight flight, from Rio to Madrid. The plane was lovely and comfortable, and we were given a good dinner, but neither of us slept very much. Apart from anything else, it was incredibly warm, which seemed to preclude sleep. Still, we landed in Madrid on time, and Ubered wearily into the centre to find our hotel.
As we got closer, Madrid somehow worked magic on both of us and we were pretty much instantly captivated by it. It's a beautiful city, the centre largely unblighted by very modern buildings, and with a style which is consistently handsome. Our hotel was right on the corner of Plaza Santa Ana, and our room, as it turned out, right on the corner of the hotel, with a large terrace which even contained a tiny pool! Dipping my fingers in later, I realised there was no likelihood that the swimming togs would be making a reappearance from the depths of the suitcase, it was freezing!
We were a bit early to check-in, though, so we dropped the bags and headed into the square for a coffee, and to do some of the 're-entry tasks' we still had remaining, to fire up the heating at home, book the car in for its MOT, that sort of thing. It was rather surreal hearing broad Yorkshire tones at the garage from the sunny square.
After a little wander about we found a small restaurant and had some lunch, tapas of course. Then it was back to the hotel, a quick shower, and a few hours kip before waking up properly. We didn't attempt any sight-seeing, just a simple dinner in the square, and an early night.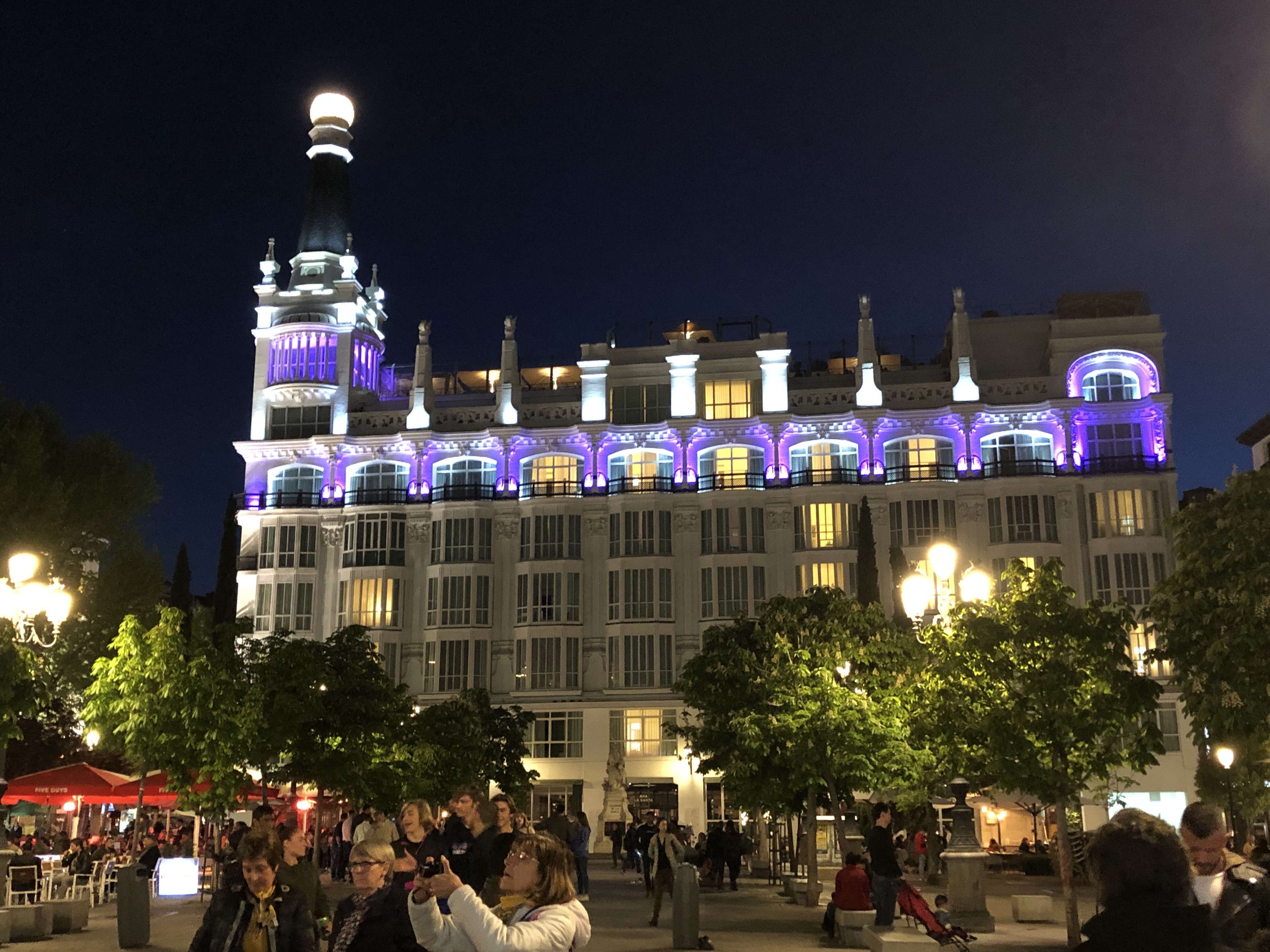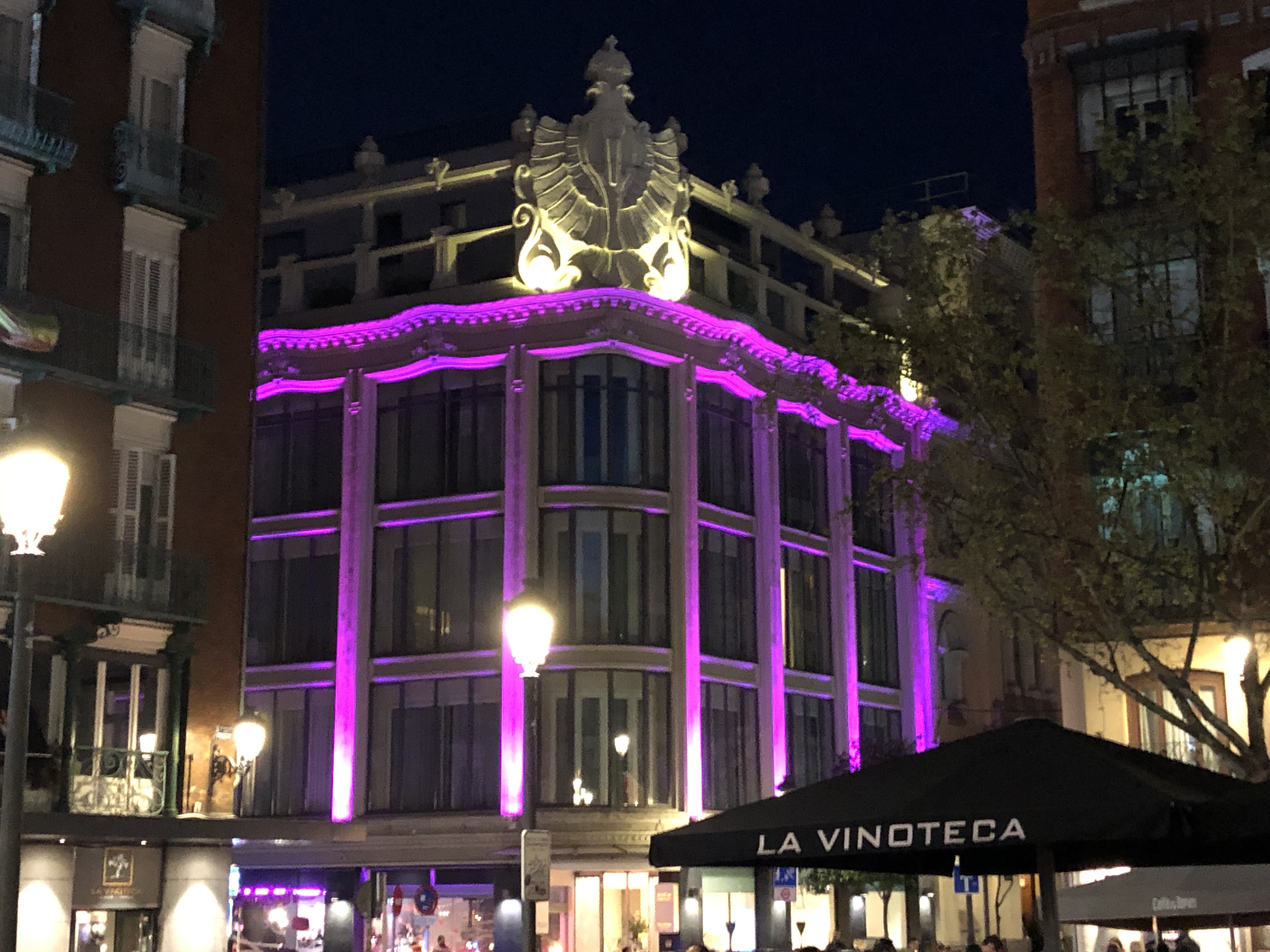 Madrid – Day Two
After a good night's sleep we headed out further into the centre of Madrid for a bit of 'walking' sightseeing. First we found Puerta del Sol, a lovely semi-circular place with roads radiating off like the rays of the sun.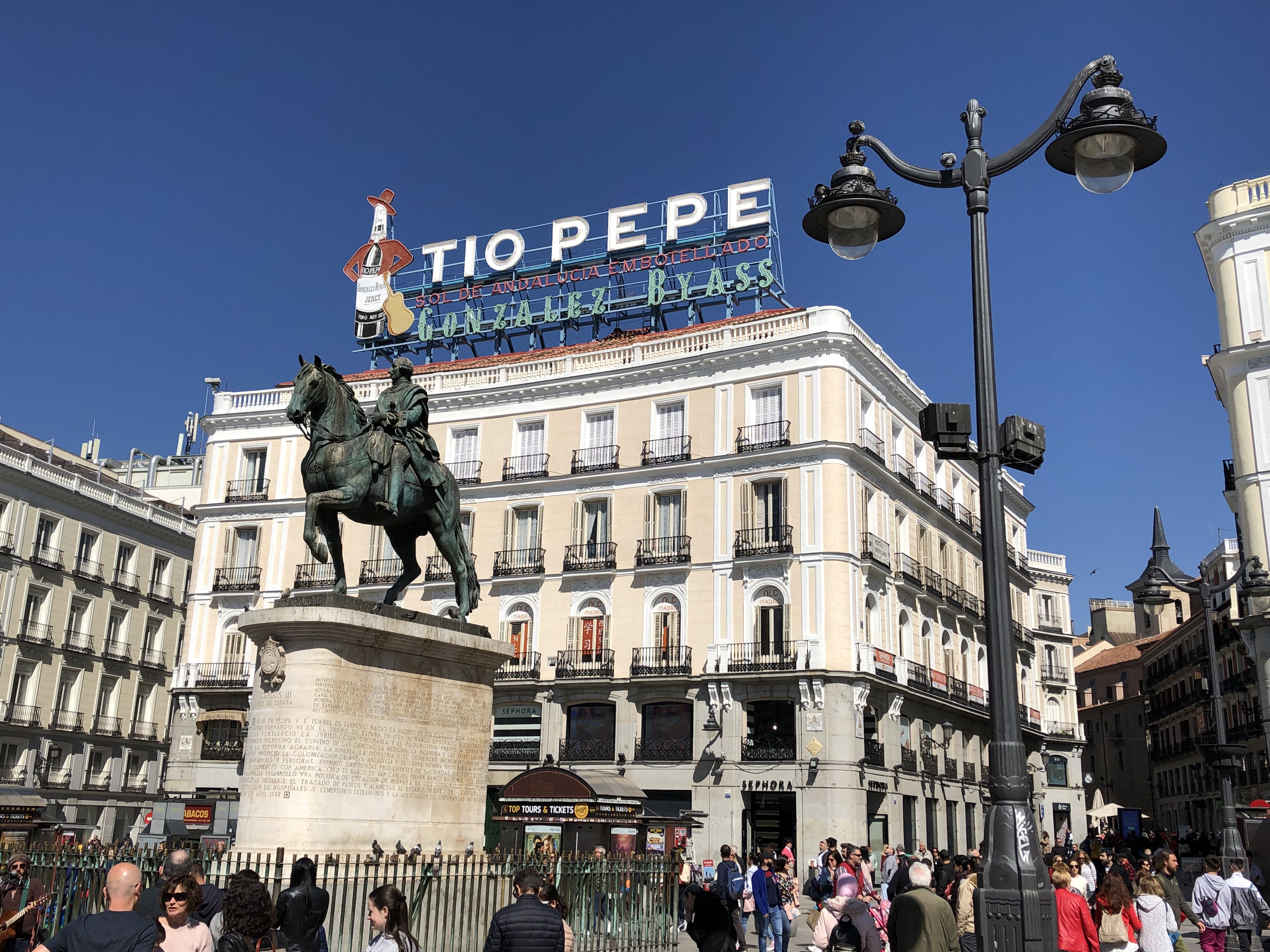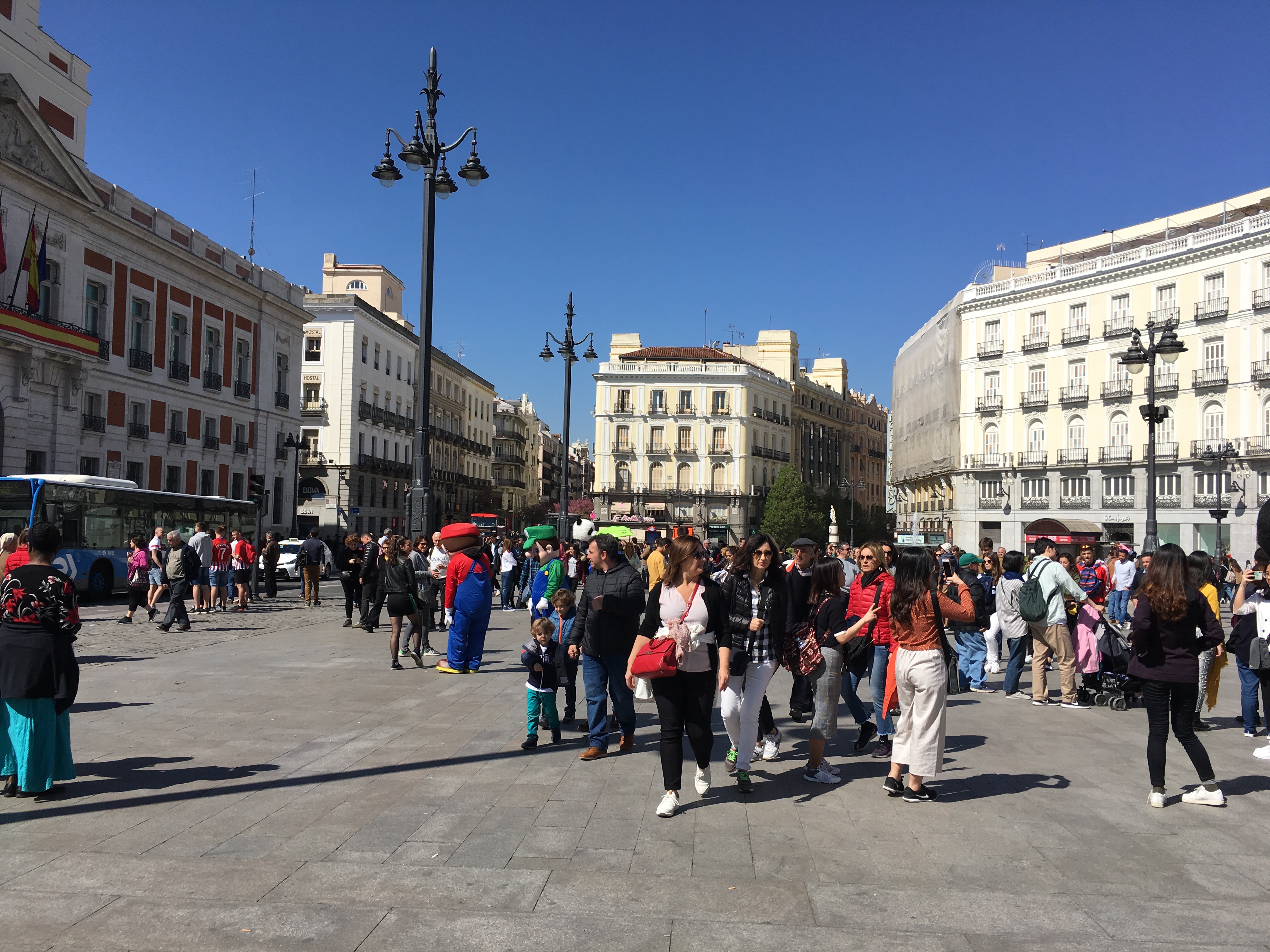 There were lots of people enjoying the weekend sunshine. There were also lots of cartoon characters wandering around trying to persuade people to pay to have their photos taken with them. I spotted Peppa Pig, SuperMario and a Minion. There weren't many takers for those, although the giant panda was quite popular.
Also in Puerta del Sol was the 'Kilometre Zero' marker, which denotes the geographical centre of Spain and the point from which distances on the six major Spanish roads are measured. There was a polite queue of people waiting to photograph it.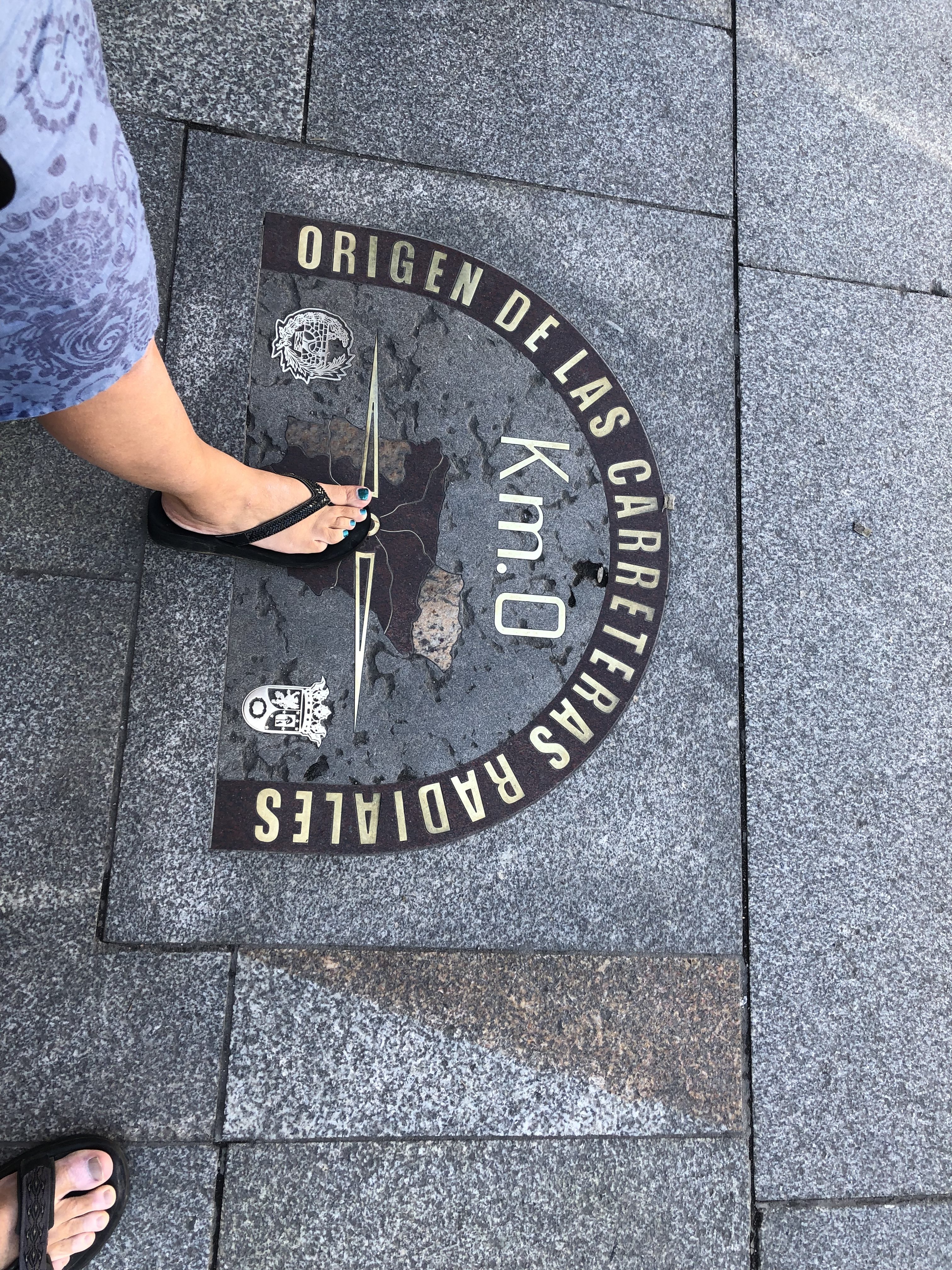 Not far from Puerta del Sol is Plaza Mayor, the largest square in Madrid. It was lovely, with identical red buildings around most of the outside except for one grey stone building on one of the long sides (so actually it was a rectangle, not a square…!), with frescoes between the windows.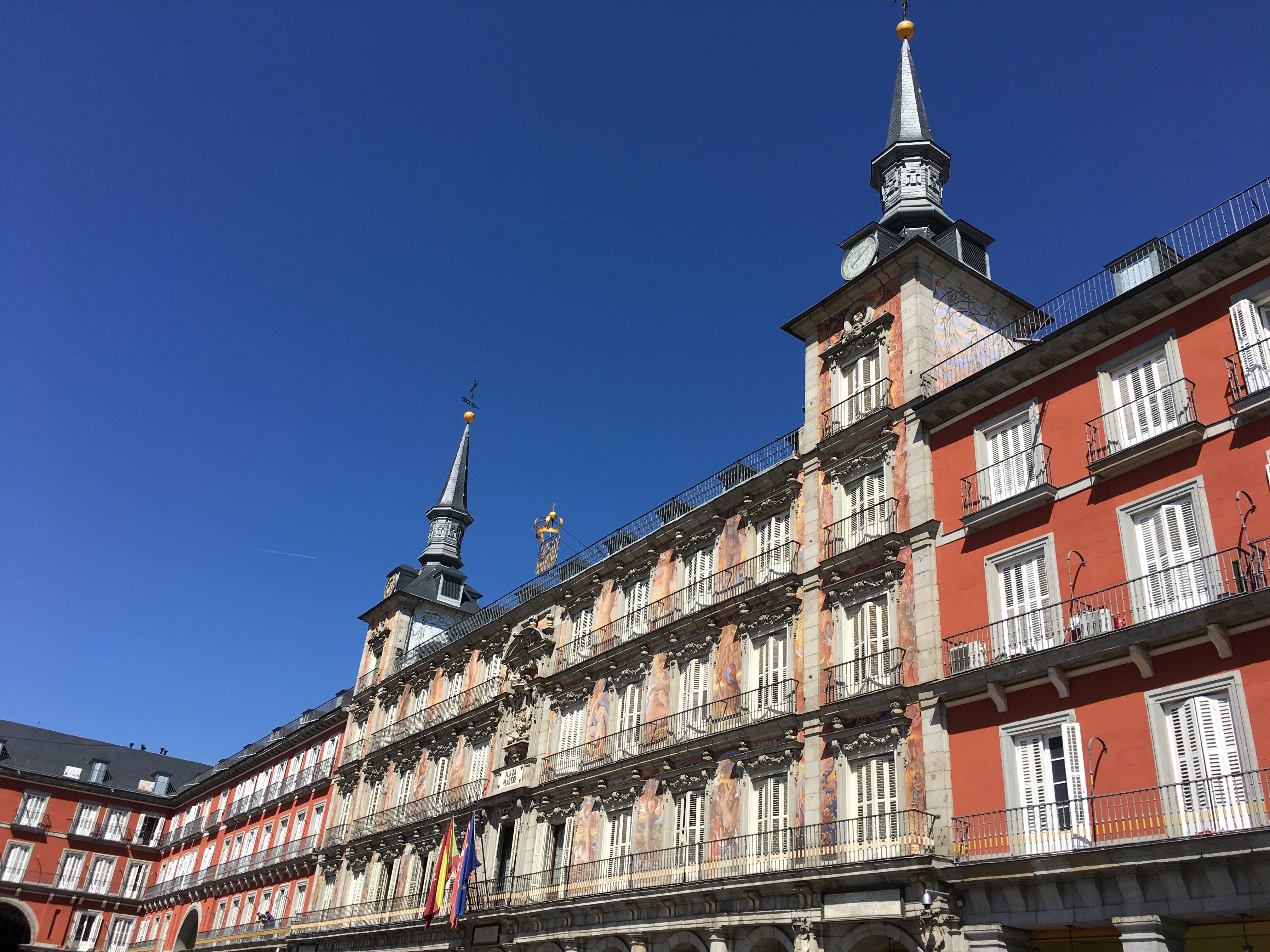 There were restaurants dotted around the edge, and in the centre a big statue of Felipe III.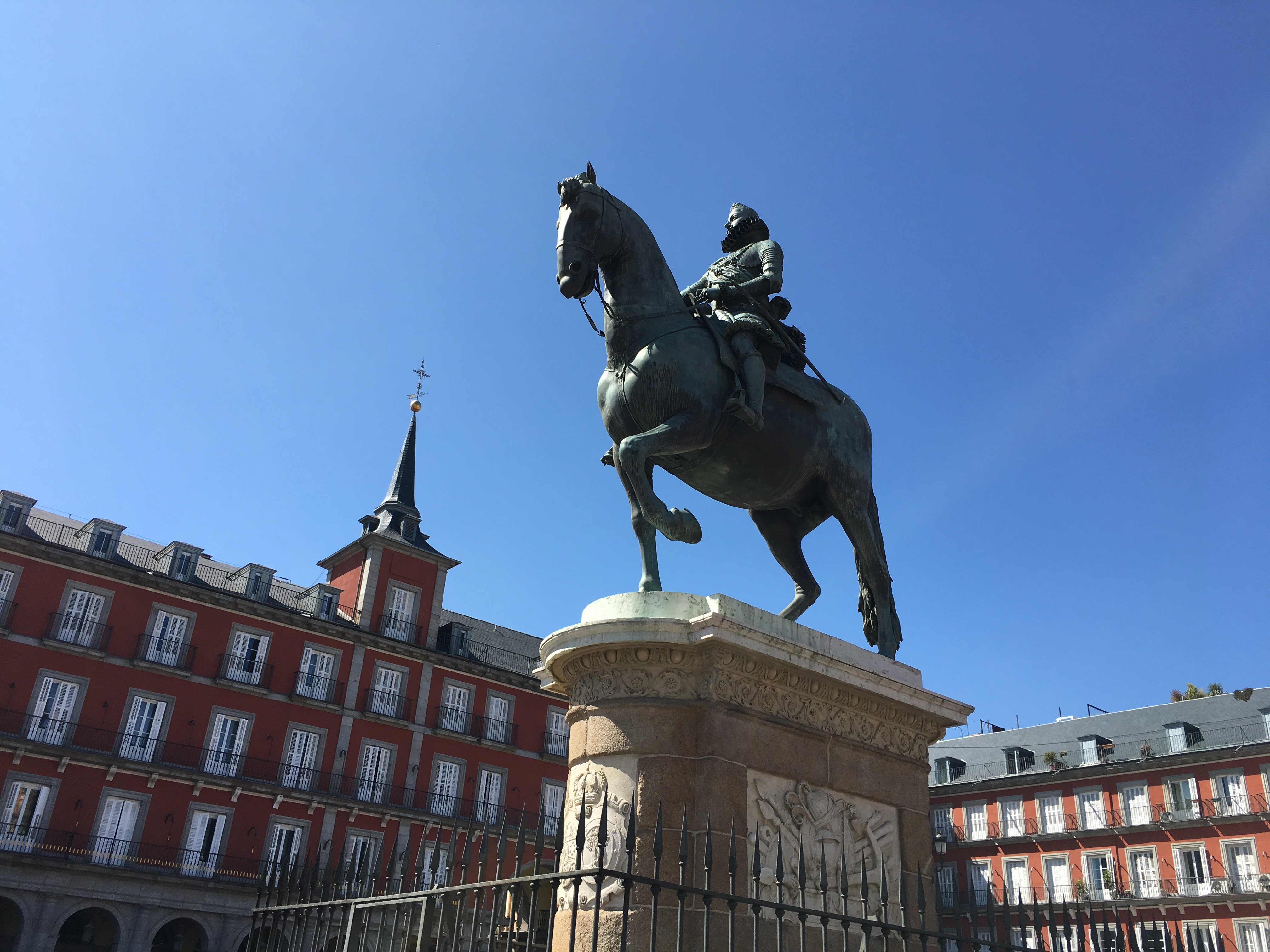 We had a good wander around, and had thought to have lunch, but the restaurants all seemed a bit touristy, with white dinner-jacketed waiters brandishing pictures of the food outside and trying to persuade you to go in. We decided to apply the Venice 'at least one street away from the square' principle, and found a small but sunny bar in a street just outside. The waitress didn't speak any English, but we discovered between us that she could pretty much understand our Italian and we could pretty much understand her Spanish, so that worked somehow!
After lunch we hopped onto one of the hop-on hop-off bus tours, and pootled around the city listening to the commentary. It was great, far further than we would have been able to go on foot, and gave us a couple of ideas for the following day.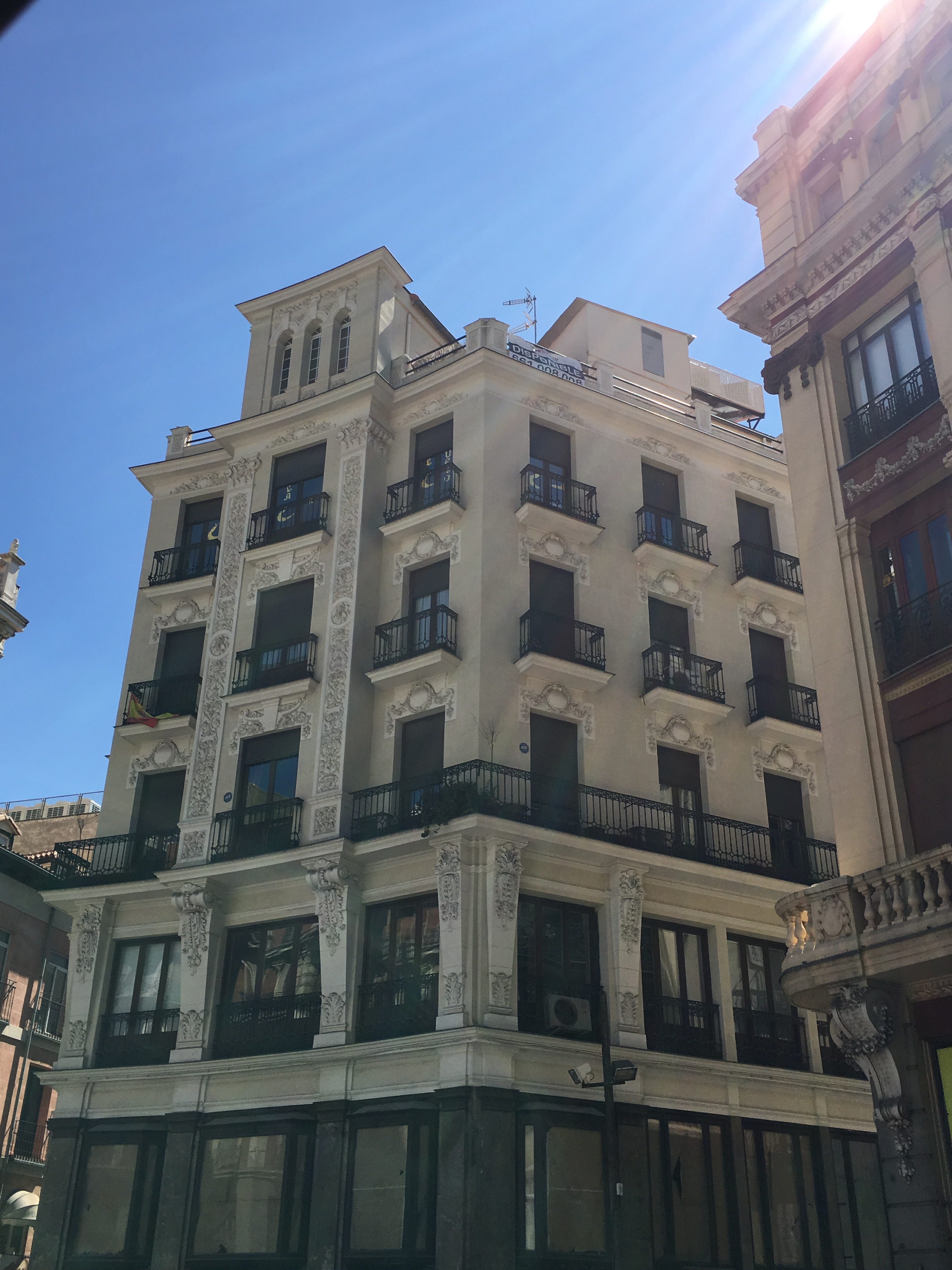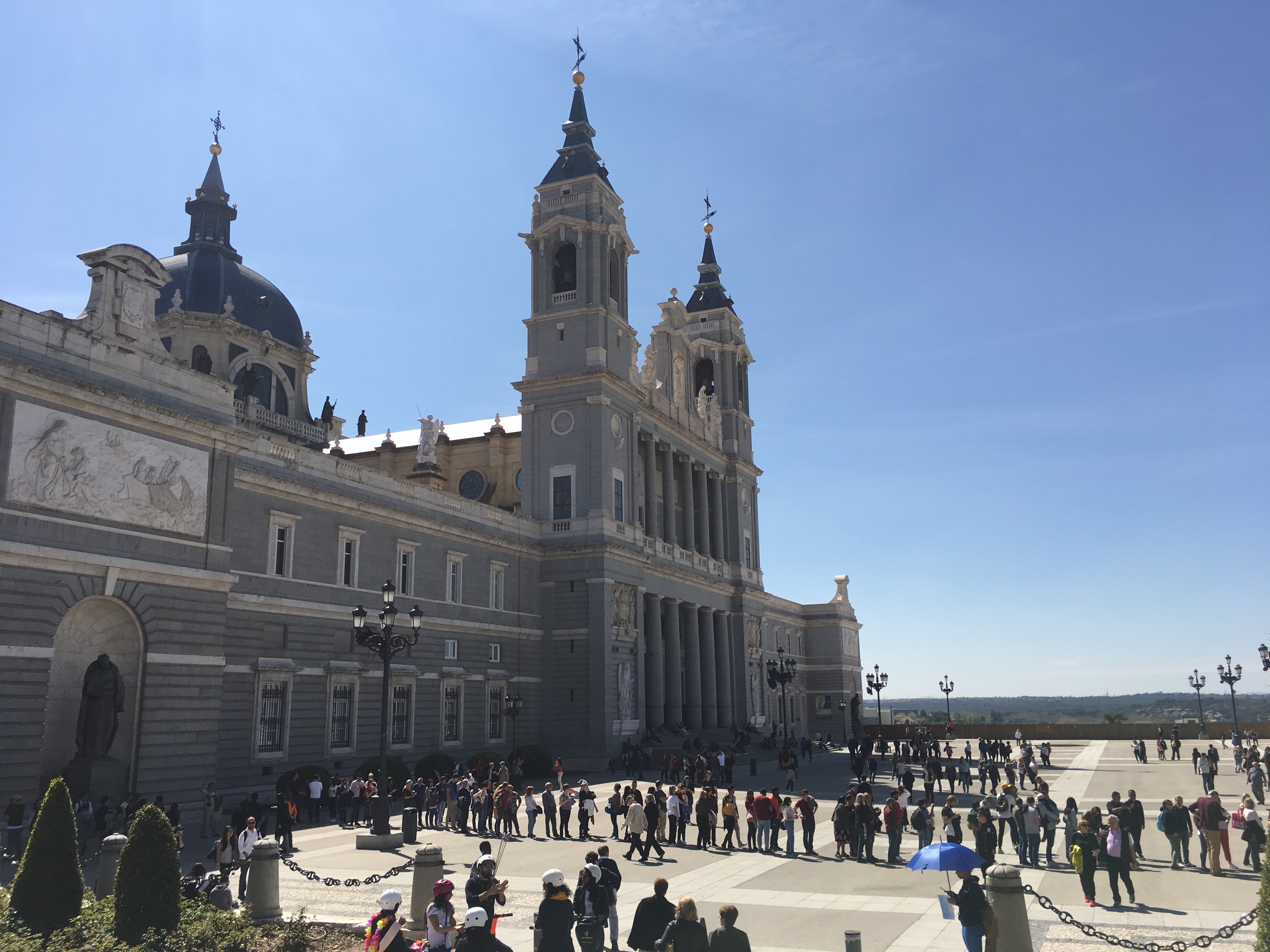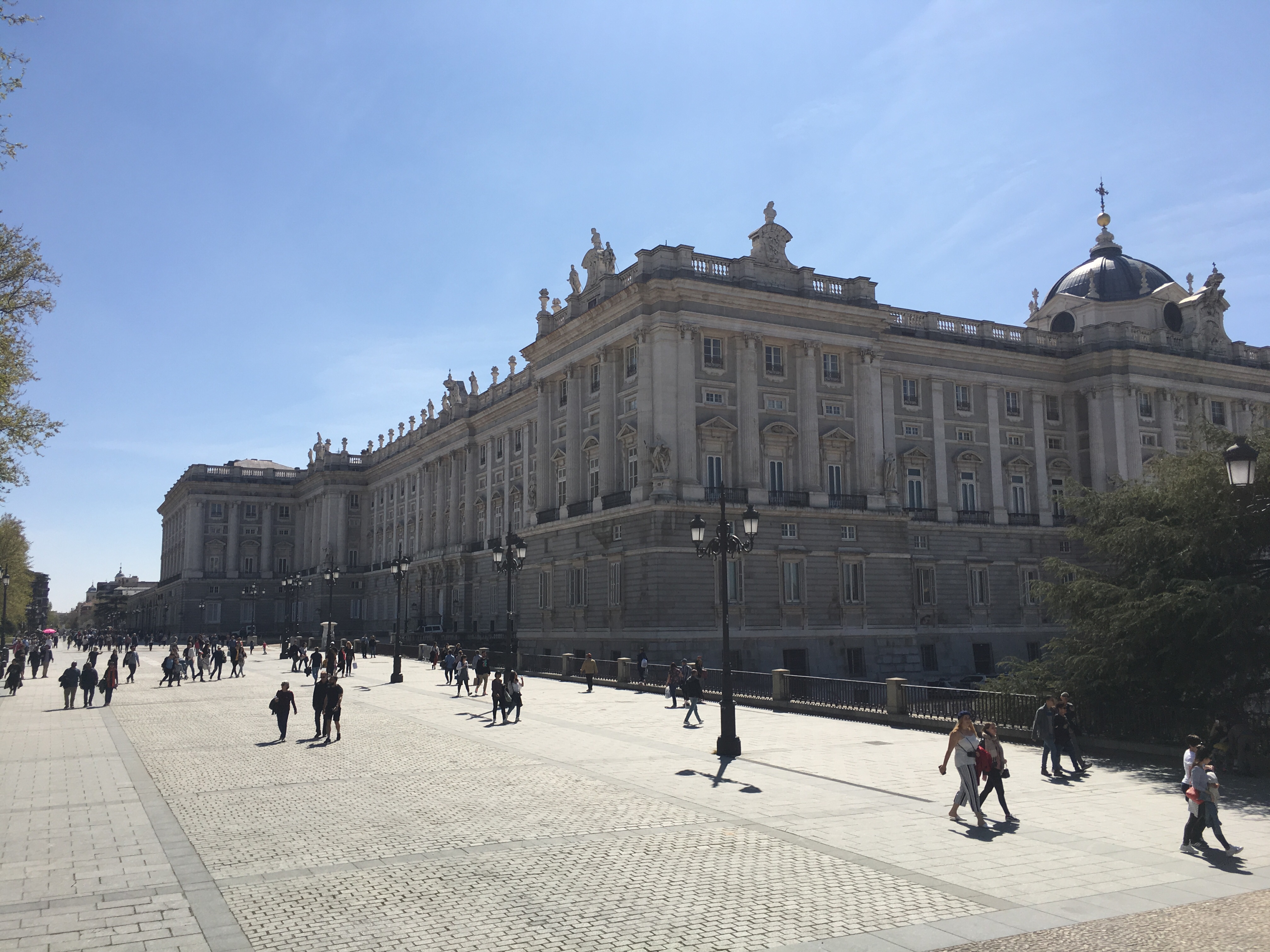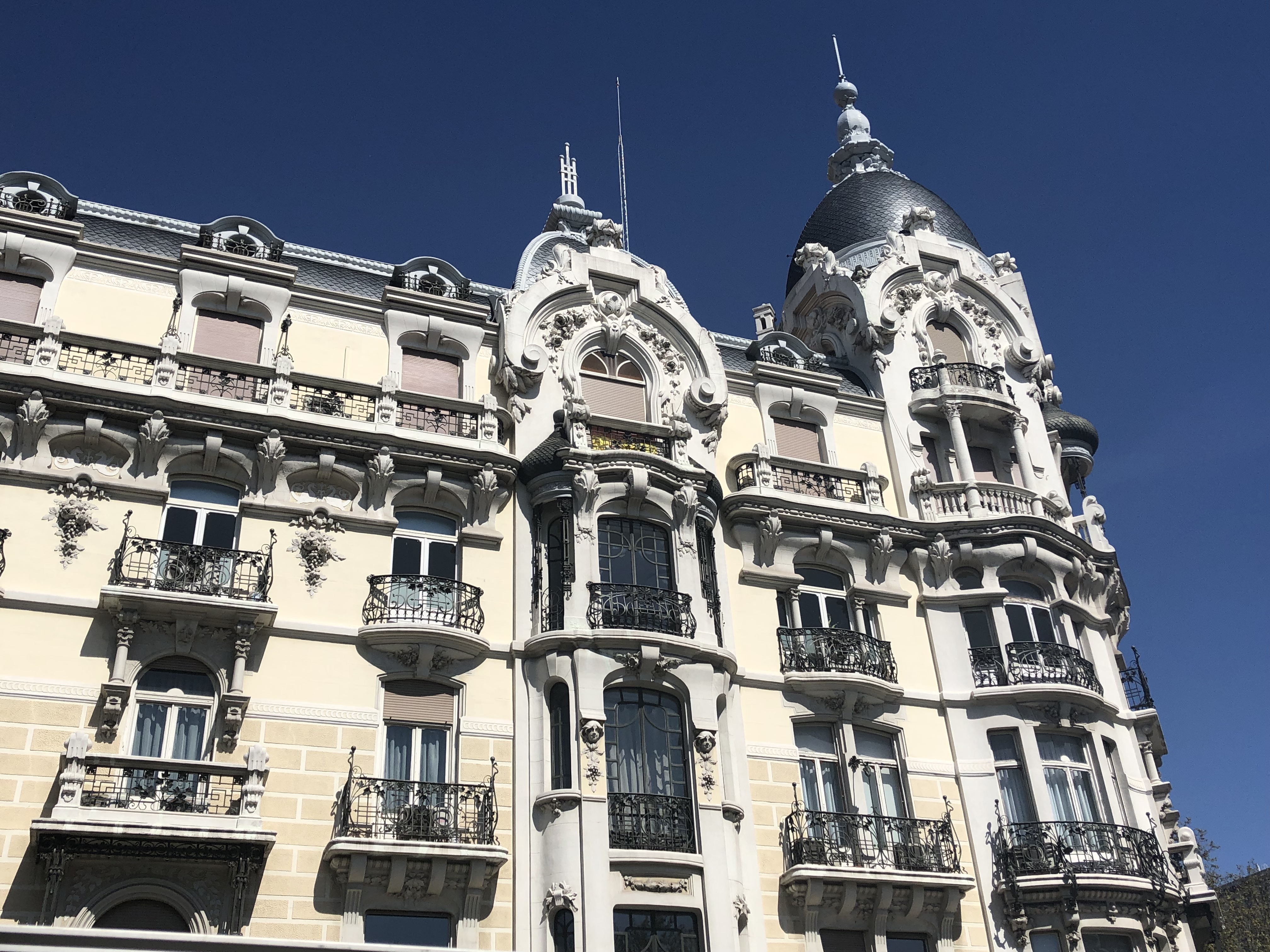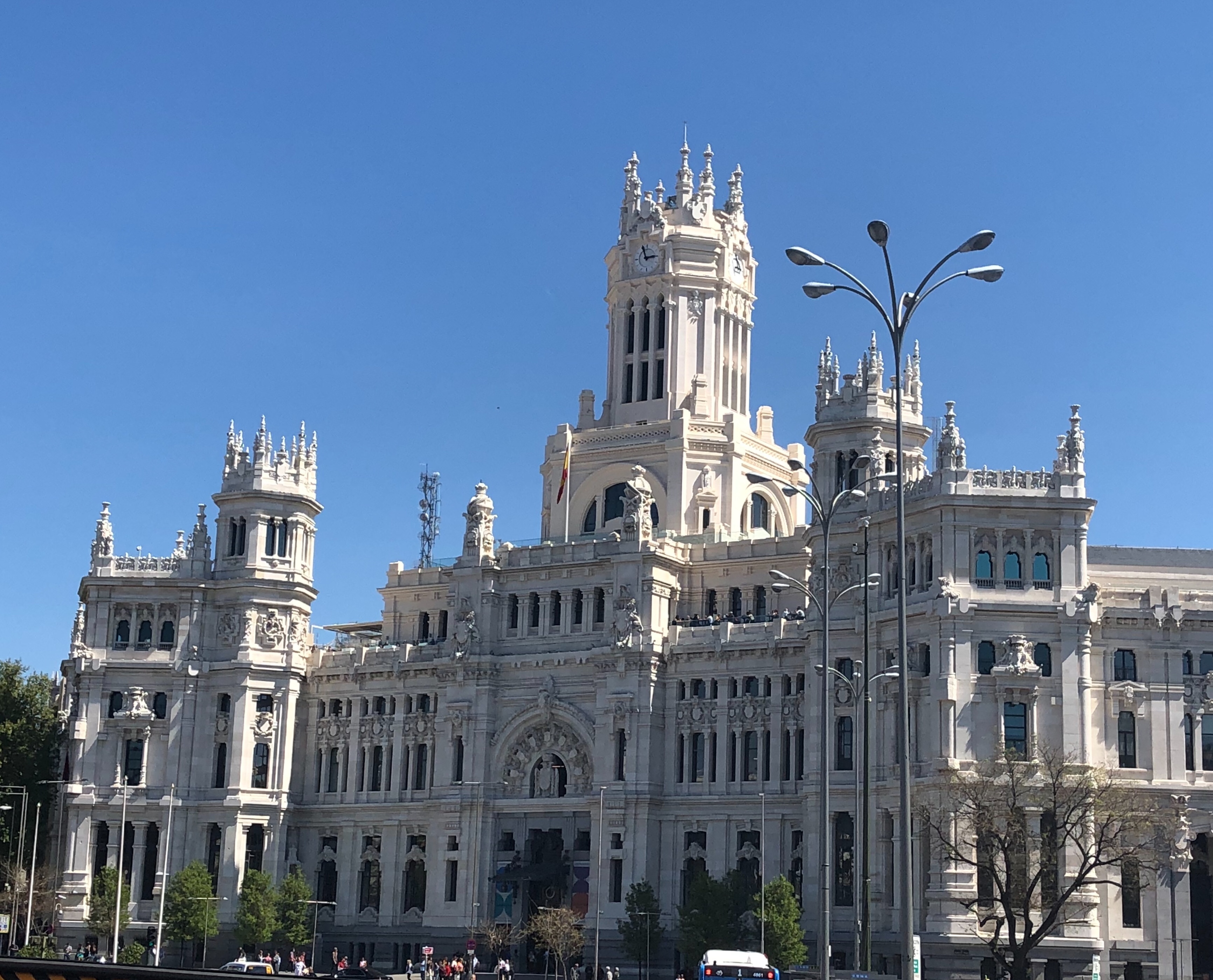 One thing which struck us, riding the bus down streets lined with trees full of new leaves and fresh blossom, was that it's Spring! Of course it is. We've missed winter!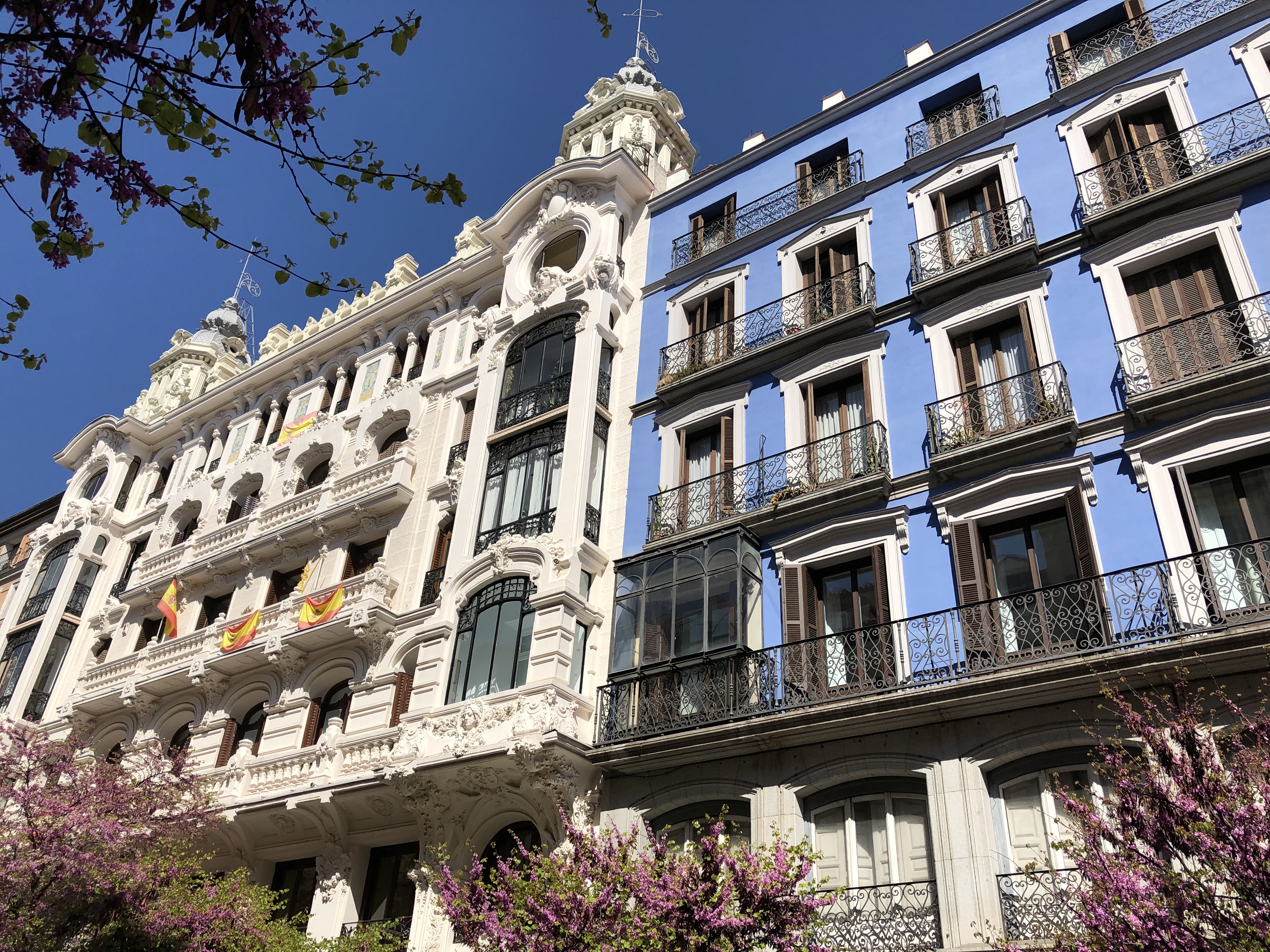 After a full tour on the bus we hopped off again, and returned to the hotel. A restorative bath, and a bit of mooching about, and then it was time for dinner, tapas again, but very unusual dishes. We even had space for an ice-cream on the way home. Remarkably, we have been almost all the way around the world, and it was only our second ice-cream of the trip. Amateurs…
Madrid – Day Three
One of the famous attractions in Madrid is the Prado museum and art gallery, and it was on our list of things not to miss. First, though, a trip up to the rooftop of the Circulo de Bellas Artes, something the bus tour had recommended as a good way to get a high-level view of the city. There was a restaurant up there too, so we made sure we arrived just in time for lunch.
Getting there proved a little difficult. It wasn't far or a complicated route, but at seemingly every turn the way was blocked by closed off roads. The lady at the tourist information yesterday had said not to leave the bus tour to today, as there was a long demonstration planned, and it seemed that the route cut right between us and the rooftop terrace!
Eventually we circled round to the Circulo, and it was well worth the effort, fantastic views over the city, and we could recognise some of the sights now after the bus tour and its commentary yesterday.
We had a bit of lunch and some delicious cava, and enjoyed the view, which even included some unexpected snow-capped mountains!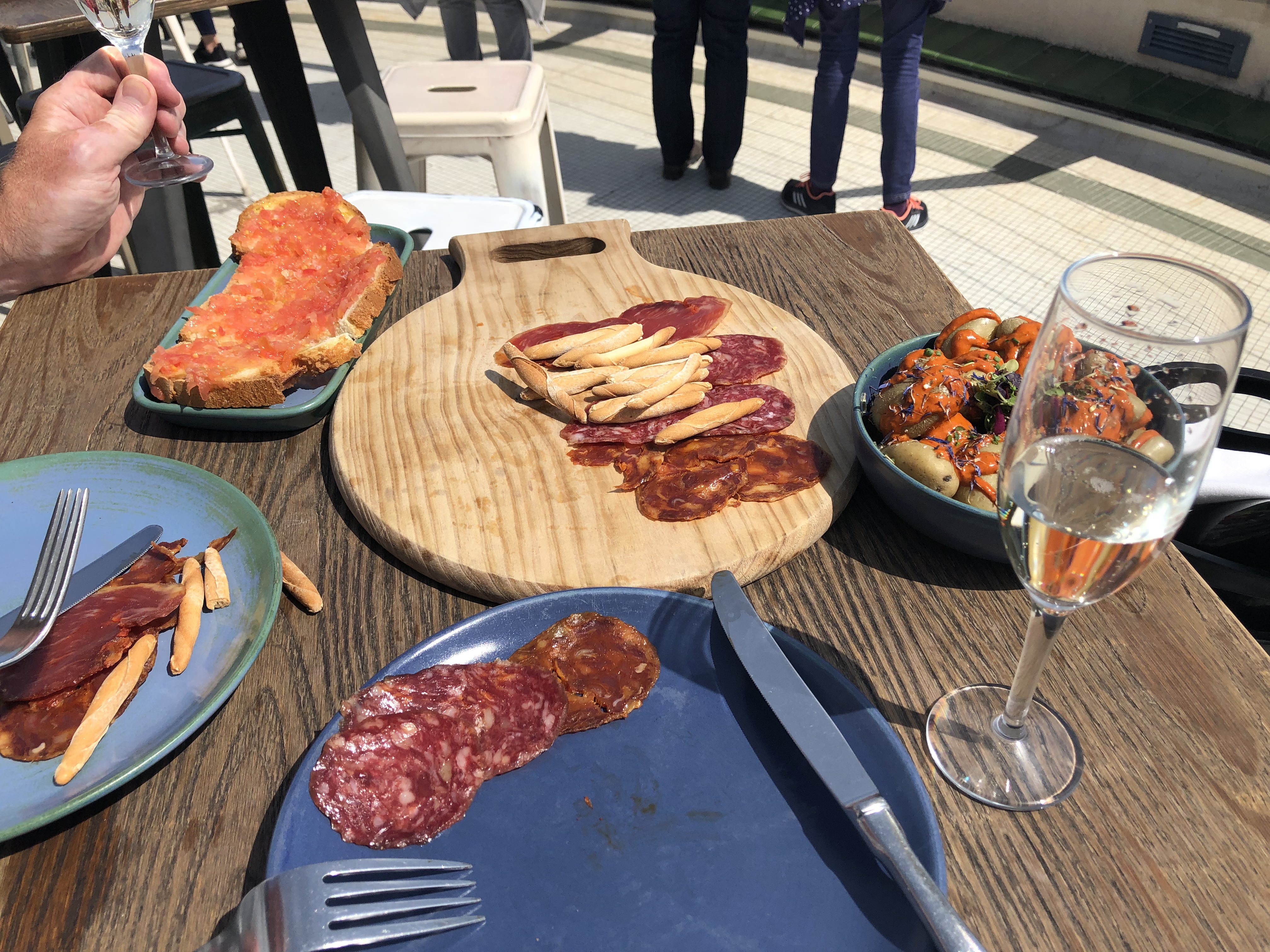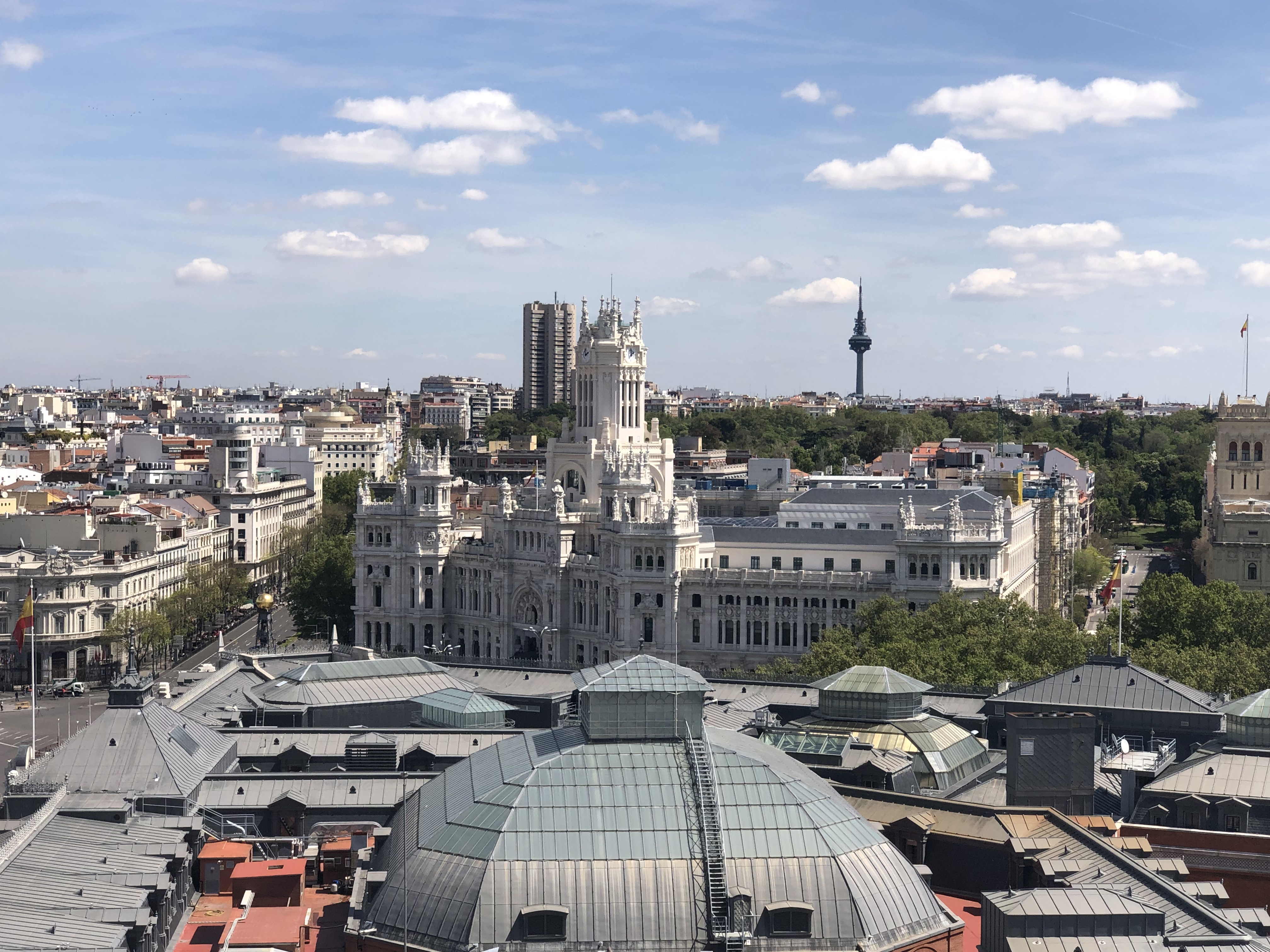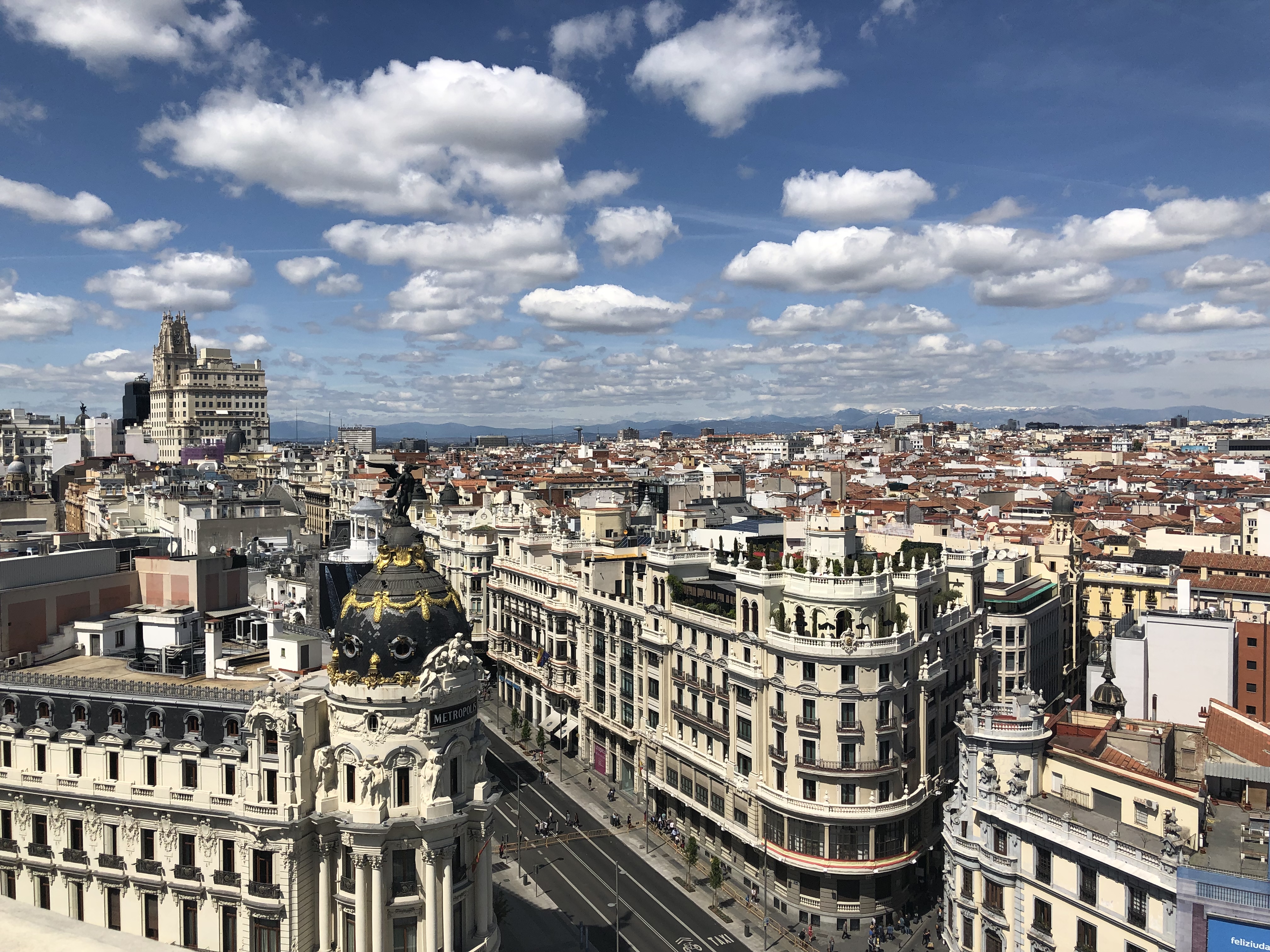 After lunch, we walked to the Prado museum.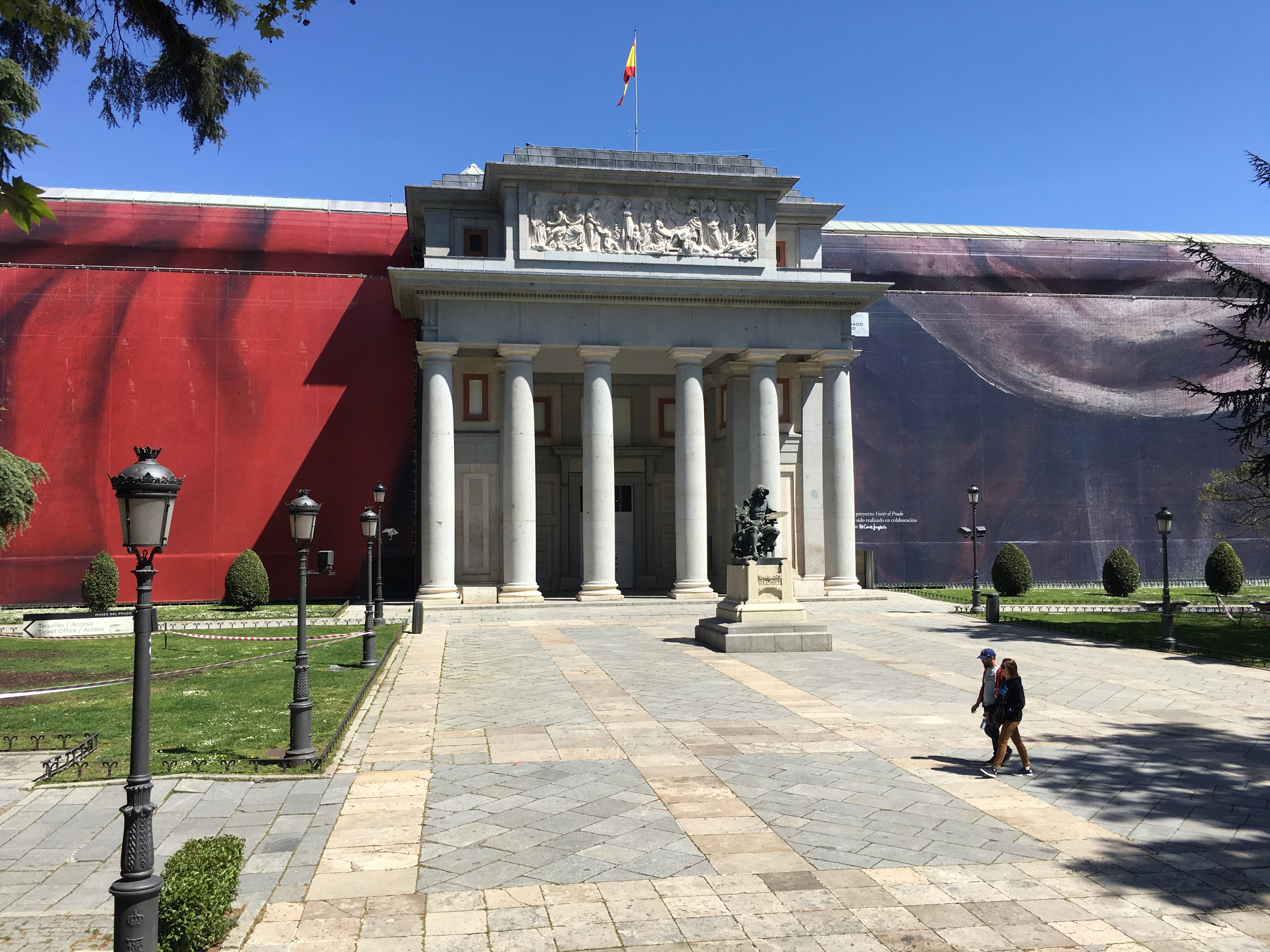 It's absolutely huge, so we'd downloaded a guide to seeing the best of it in under two hours. It was a great way to do it, and we saw some fantastic paintings, including Heronimus Bosch's "Garden of Earthly Delights" (weird, fascinating, and horrifying), Rubens' "The Three Graces" (luminous, gorgeous, and with beautifully rendered pearls) and Velasquez' "Las Meninas" (featuring the artist painting himself painting the painting *head explodes*). There was also an amazing presentation of a huge picture of Adam and Eve by Titian next to a later copy of it by Rubens. The Rubens was much better, we thought. He hadn't sold the painting during his lifetime, and one one of many copies he'd made, apparently. Titian had copied his from some Rafael frescos, so fair game, I suppose.
Anyway, it was all rather lovely, except the Goya 'black paintings' at the end which were horribly grotesque. Photography was not allowed, which meant that people were actually looking at the art rather than doing 'me not looking at "The Three Graces" selfies, which was good.
We strolled back to the hotel, and didn't emerge again until it was time for dinner. We'd picked a restaurant just off (we thought) Plaza Mayor, although when we arrived we were offered a table outside in the square, which we gladly accepted – it was a pleasantly warm evening, and it would have been a shame not to enjoy it outside. The food was good, and we enjoyed one last bottle of Rioja. Oh, and another ice-cream, bringing our grand total to three!

Madrid to Skyreholme
An early start this morning for our very last flight. It was just a short hop, up through Spain, across the Brittany peninsula and into UK airspace. Before we knew it were on the ground at Manchester, and then meeting our driver for the road trip back to Skyreholme.
There are signs of Spring everywhere – it's quite sunny, and the fields are full of bouncy lambs. The trees are in leaf, the fields are greening up nicely, and we get to have summer all over again!
It feels quite surreal to be home after more than three months away. Last time we were here we were taking down the Christmas tree! We're returning with so many wonderful memories, a very small selection of souvenirs, and thousands of photographs. It's great to be home though, and we'll be really happy to reconnect with everyone we've missed, and to bore them to tears with all the photographs, of course. You have been warned!