Distance: 40.1 km
Time: 1 hour 45 minutes
Speed: 22.9 km/h
Ascent: 125 metres
Total distance: 1527.6 km
Total time: 81 hours 52 minutes
Wordle scores: Captain 3, Stoker 3
Word of the day: "famosi" (fam-oh-zee) – famous!
The Stoker writes:
Our room in Acquaviva delle Fonti was amazing, spacious and cool, and with its own spa bath, adorned with silk flowers and twinkly lights. We had a lovely soak in it (once we'd showered off the road grot!) and enjoyed the massage effect of the jets on our weary muscles.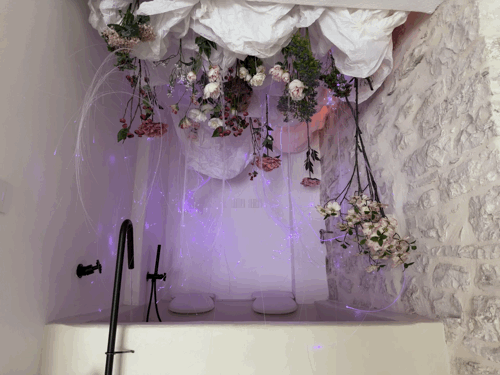 There was a brief but spectacular panic, during which I convinced myself I had left one full set each of evening clothes in Terlizzi, and threw everything out of all the panniers like a cartoon character. The Captain remained immensely calm ("they're only clothes… we can buy clothes…"), and then I spotted them on the side, where I had already unpacked them earlier. Phew!
We headed out for an aperitivo, through the little streets and into Piazza dei Martiri, a lovely square containing the cathedral and a clock tower, renovated quite recently and looking very fine. No light installations here either, much better for seeing the beautiful architecture.
We walked through the Palazzo de Mari, now in use as the town hall.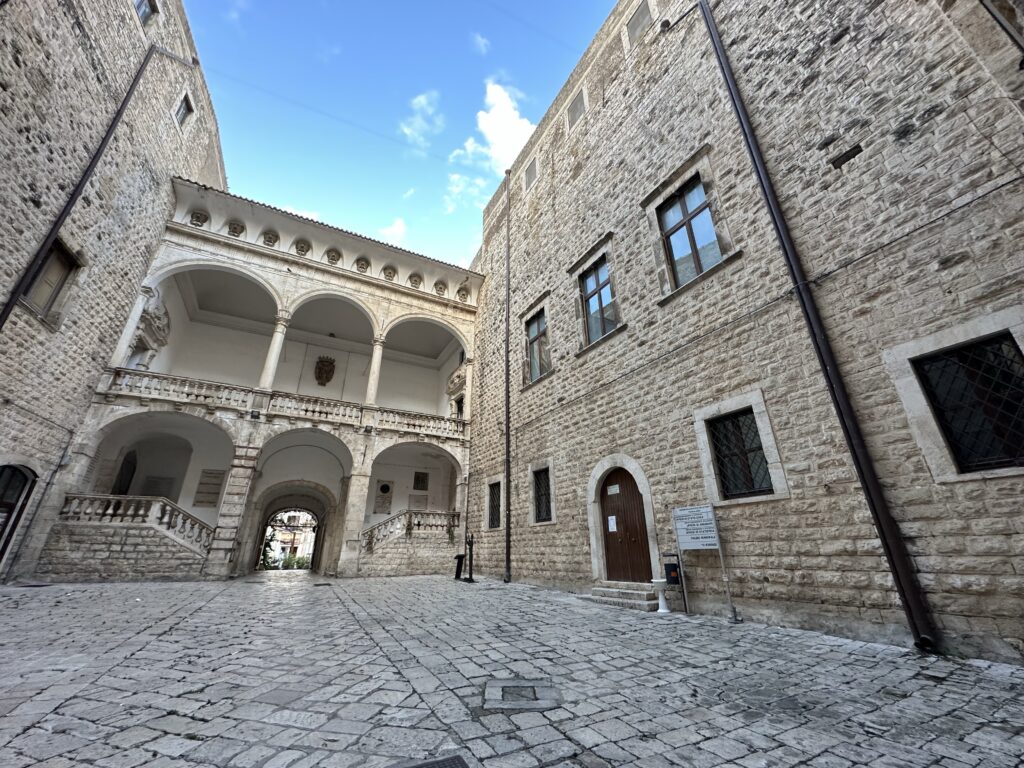 After the Captain had enjoyed a glass of prosecco, and I had indulged my new found appreciation of Aperol Spritz, we found our way to our chosen restaurant. Once again, all the tables were empty, though decorated with a paper indicating a reservation, but we were seated anyway, and by the time we left the place was completely full, with an air of practised panic emanating from all the staff.
One last picture in the piazza, and so to bed.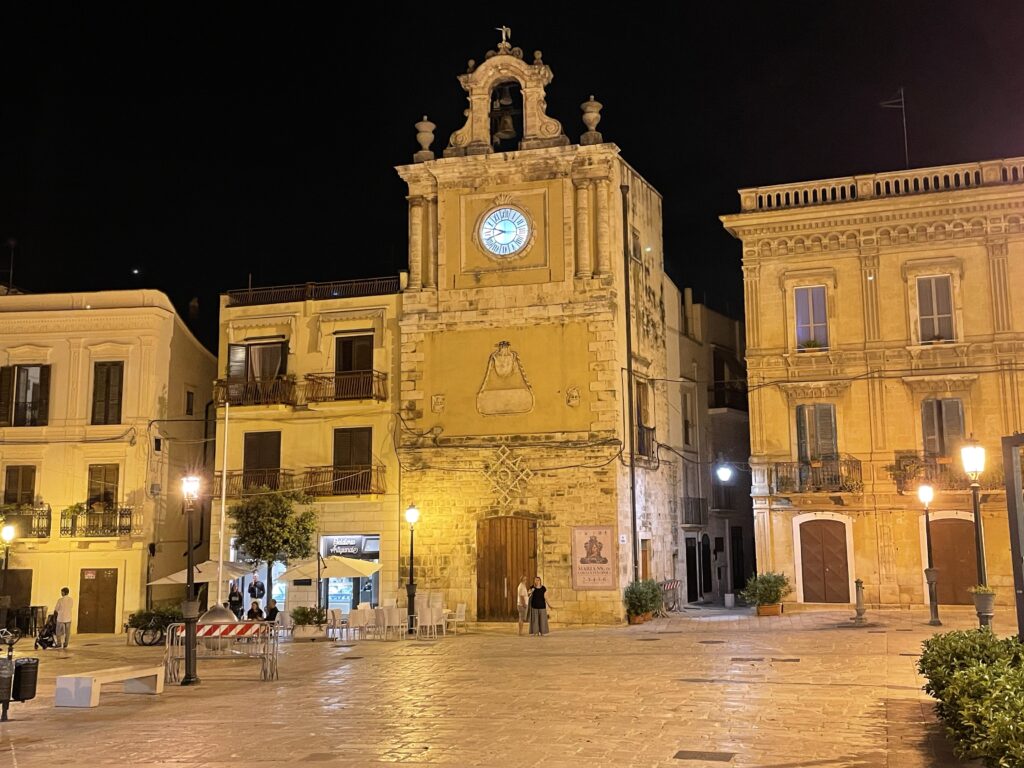 We'd been given little tokens for breakfast in a café in the piazza, which we duly presented this morning, although the lady serving seemed to know who we were already, strangely. The pain au white chocolate with raspberry jam were particularly good, and the tea exemplary, arriving with a little egg timer to ensure its correct brewing! As we left, the two ladies wished us a good onward journey, and explained that they'd seen us on our host's Instagram already – we're famous! Isabella had asked us if she could write about us, her post is here.
We hit the road around eleven o'clock, with around 40km to ride, mostly downhill, towards the sea. We hardly needed to pedal for most of it!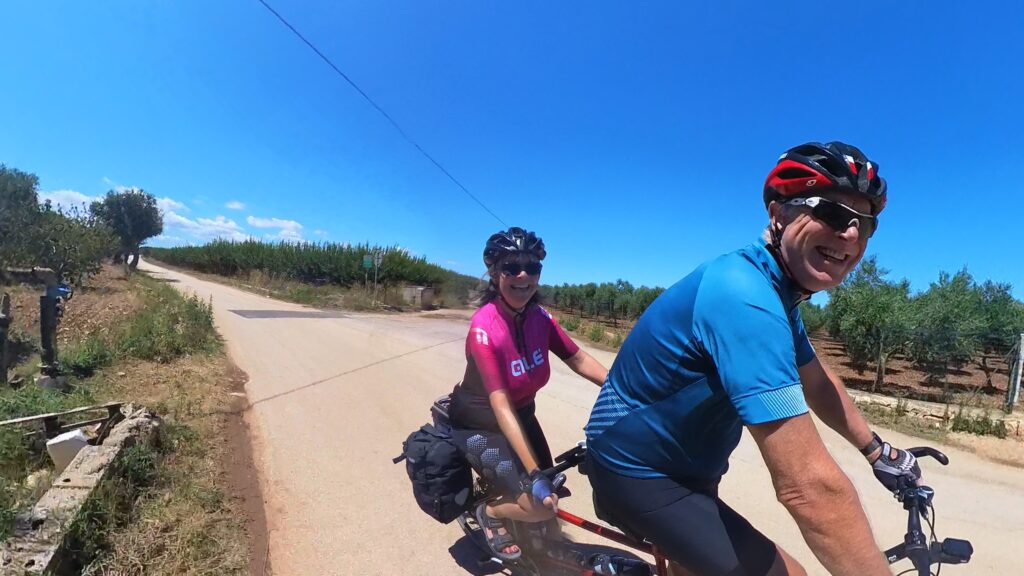 I've been quite struck by how this part of Puglia is like our part of Yorkshire – the dry stone walls are uncannily alike, especially when they are built of a similar grey limestone, here of the Alta Murgia ridge, the Captain tells me. The construction technique seems just the same – a wide base, large stones on two outside walls, filled in with smaller stones for strength, and a pride in achieving a flat surface on either side purely by the choice and placement of the stones.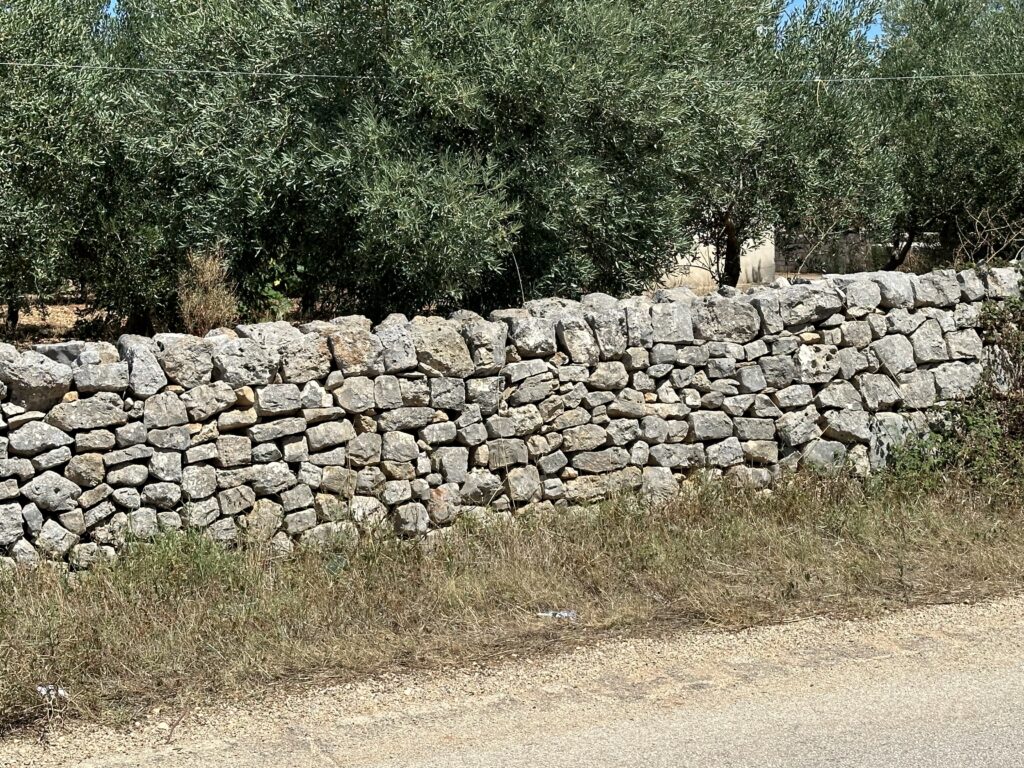 Not so many olive trees in the Dales, though… 😊
We sailed on through a couple of small towns, and what seemed to be more industrial vine cultivation. There was an awful lot of plastic.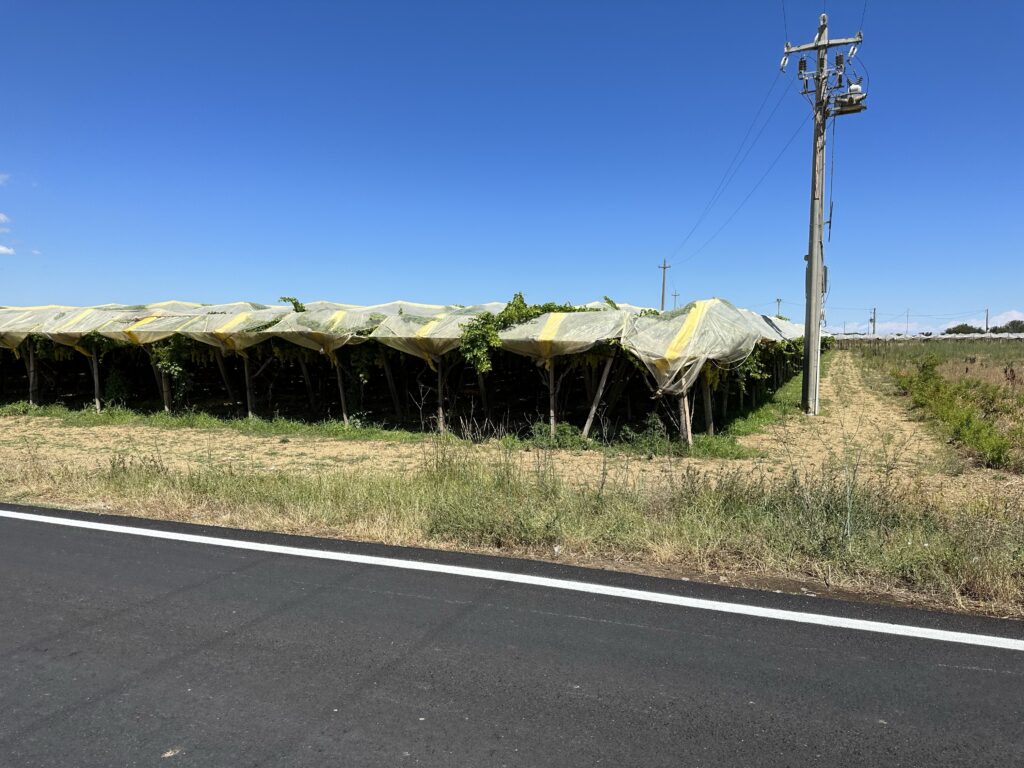 One steeper section of descent successfully tackled, and there it was, the sea! We were both quite excited to see it again, after nearly a week.
Before long we were alongside the harbour at San Vito. Isabella had recommended coming this way into Polignano, and it was a good tip – there was even a cycle path to take us in. There were lots of people enjoying little bays in the rocky coastline.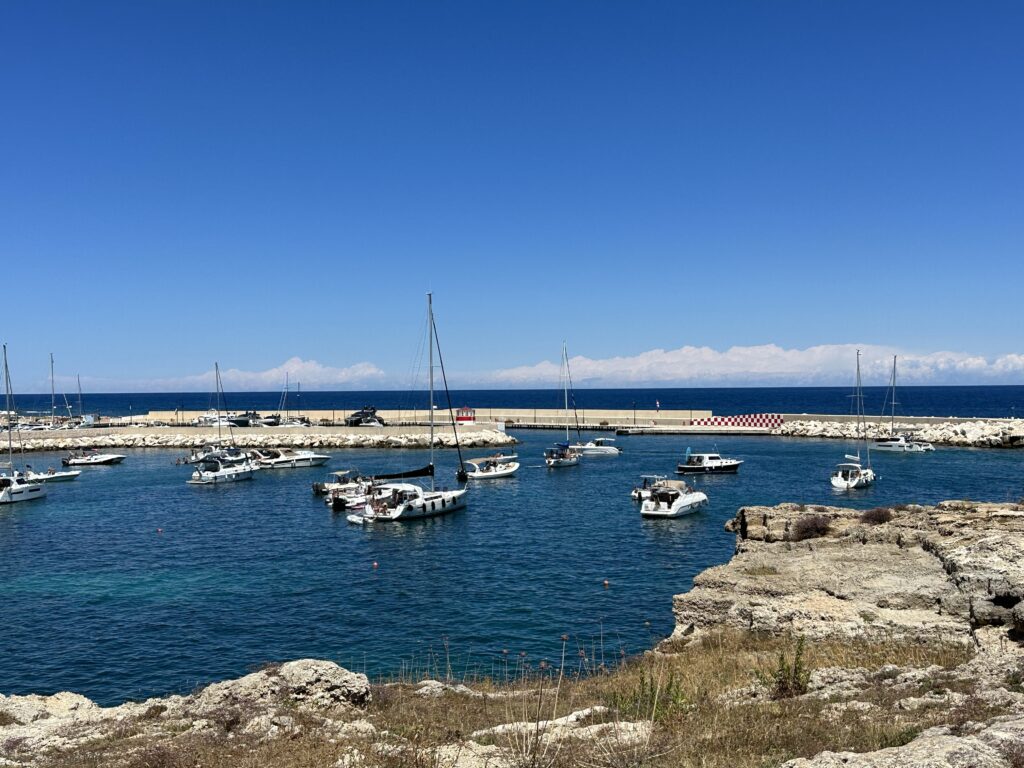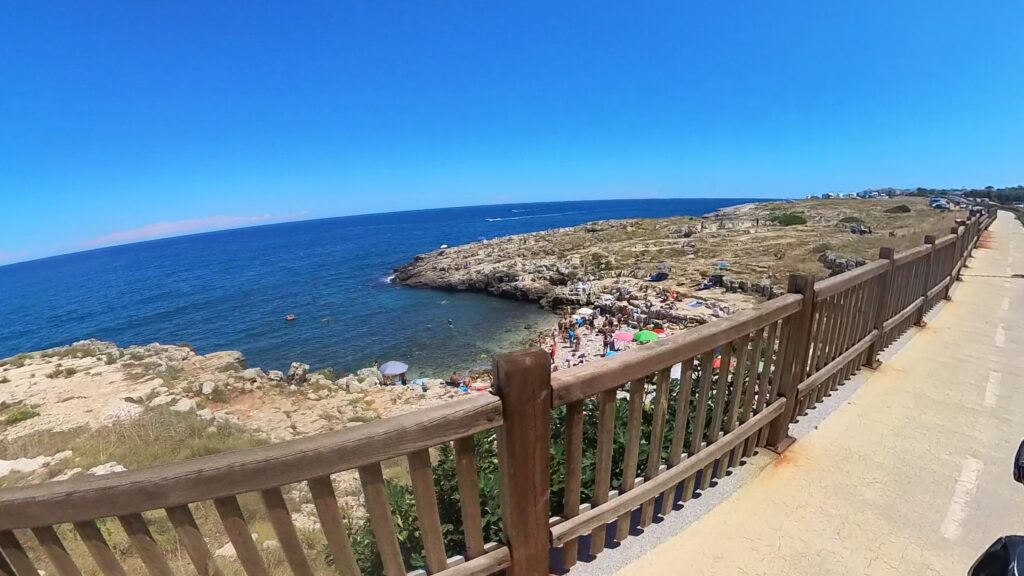 We stopped for a quick lunch in the outskirts of town, and messaged our host for tonight, to set up our mysterious assignation in a car park. They'd reassured us they could find somewhere for the tandem to stay, and all we knew was the coordinates of the car park! It all worked out fine, though – a little golf buggy turned up at the appointed spot, and the tandem was offered a safe garage space, where it will snooze for the next couple of days. We were whisked through town in the golf buggy to our lodgings.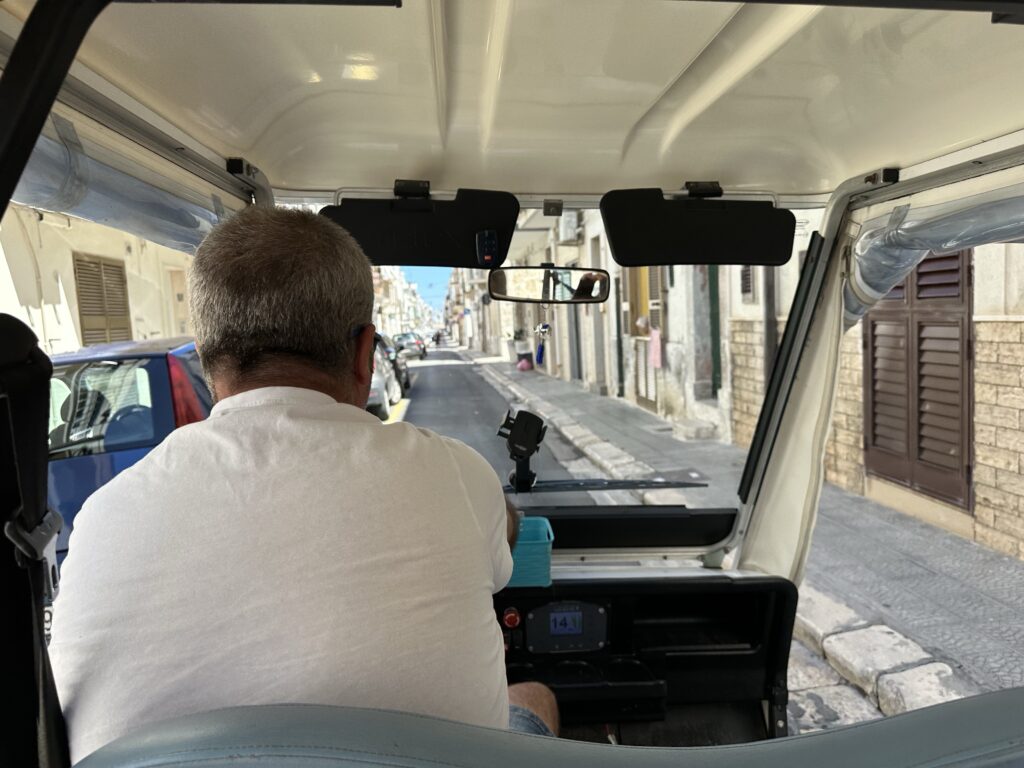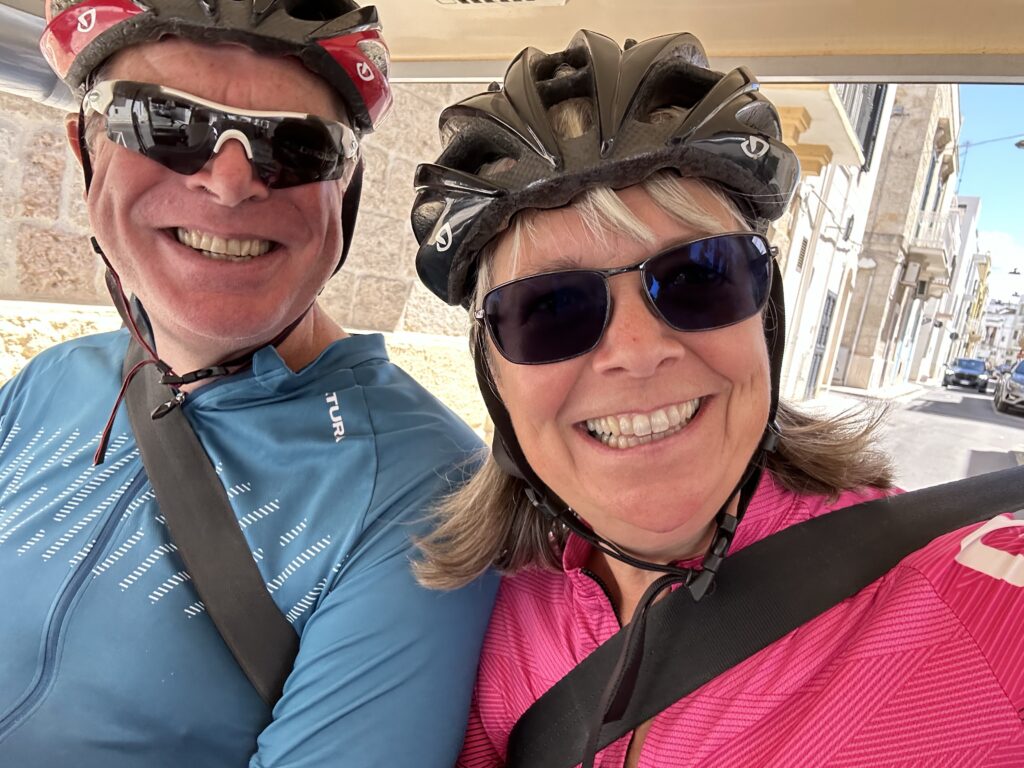 The town looks beautiful, we'll enjoy exploring it, and hope to get out onto the water to see the caves below, if we can.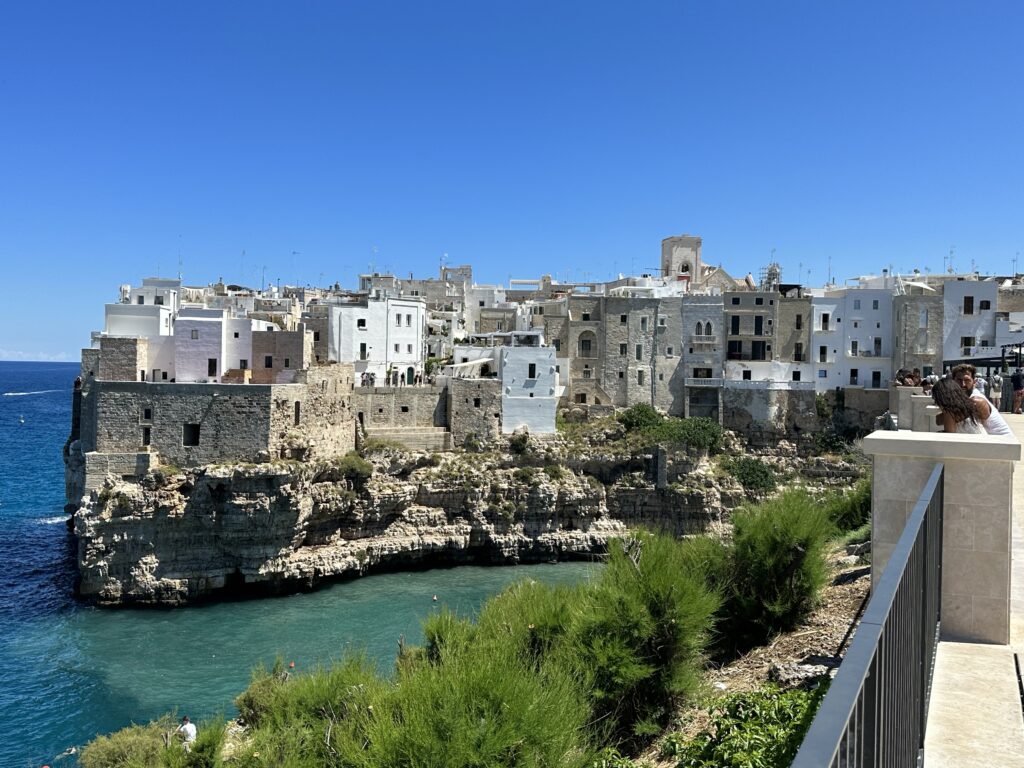 This has been a long block of riding days, six since Baia delle Zagare, 272km and 1691 vertical metres of climbing, all inland. It's been a lovely diversion, some great rides through the olive groves, and some gorgeous towns. It's very good to see that blue, blue ocean again, though.
Here's today's route and a short video