Distance: 48.55 km
Time: 2 hours 33 minutes
Speed: 19.1 km/h
Ascent: 322 metres
Total distance: 1487.6 km
Total time: 80 hours 7 minutes
Wordle scores: Captain 5 Stoker 4
Word of the day: "sereno" (seh-ray-no) – serene
The Captain writes:
As soon as we pedalled into Terlizzi I had a good feeling about the town. There were handsome buildings constructed out of a biscuit-coloured limestone, set in a maze of narrow streets, and a busy, cheerful main square, Piazza Cavour, with a clock-tower counting the hours in a rather more traditional and accurate manner than the one we encountered in Ruvo di Puglia yesterday.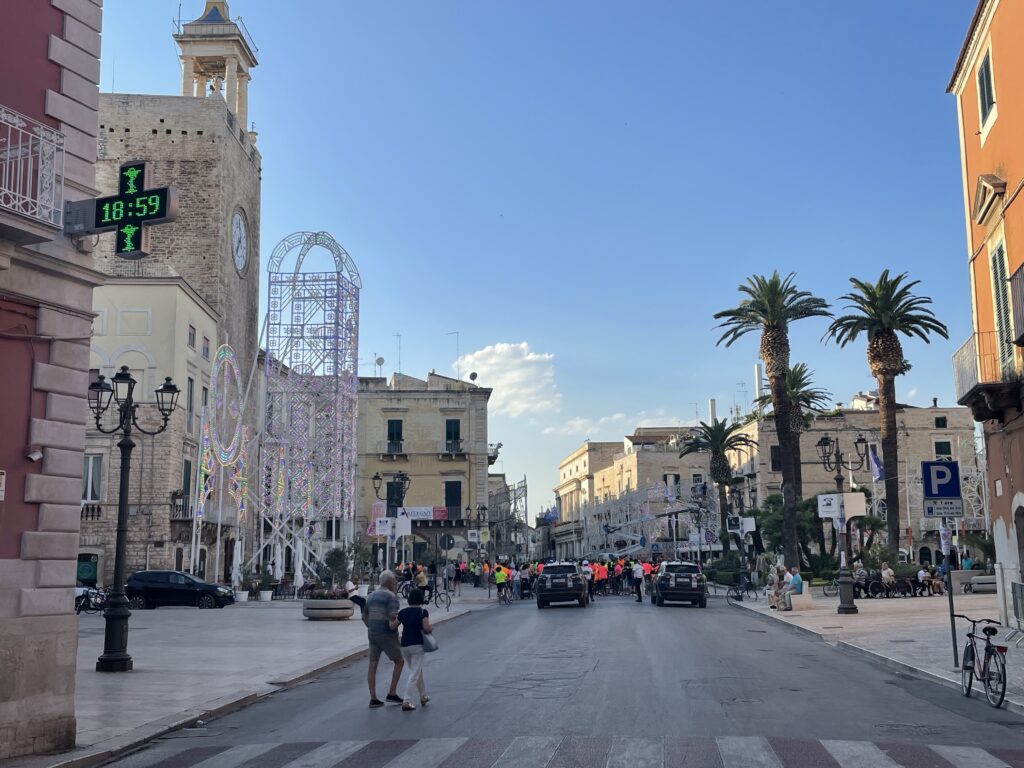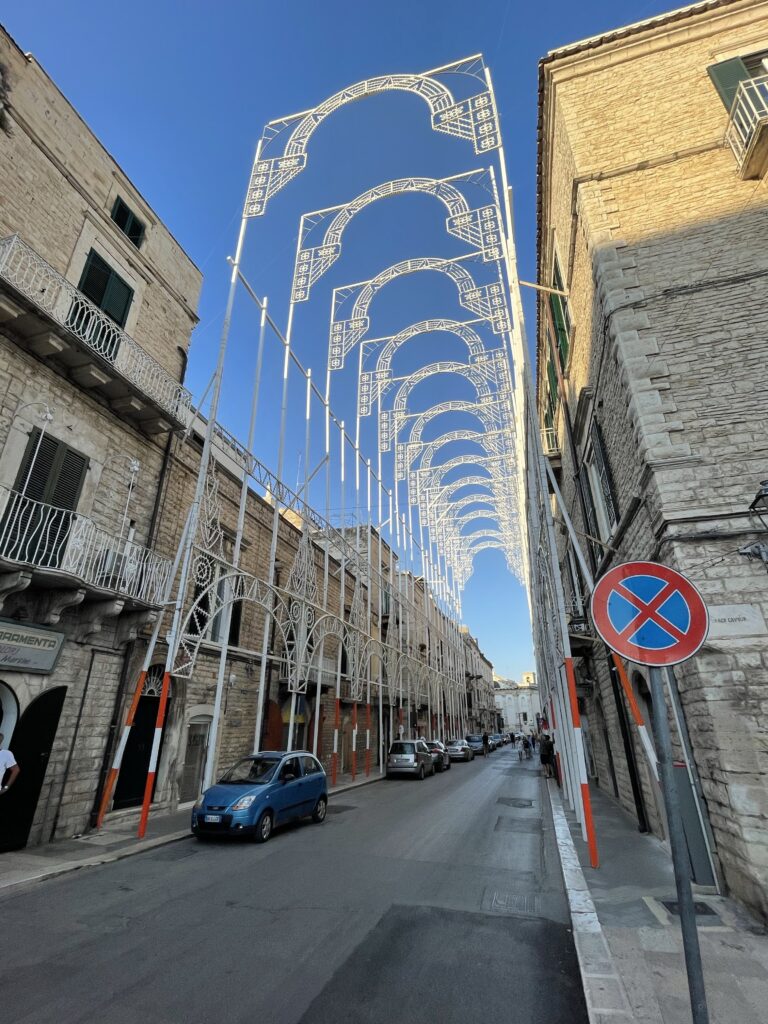 Our lodgings, set in a tiny vicolo (alley) just behind the piazza, were wonderful too. The two-room apartment had a barrel-vault ceiling, a huge fireplace (we weren't going to be needing that) and had recently been well decorated and refurbished; it was perfect for our short stay.
In the evening we wandered back into Piazza Cavour, to find a cycling event taking place. Perhaps two hundred cyclists, brightly clad in green, orange and pink t-shirts, were awaiting the signal to start. The T-shirts bore the slogan "Pedalando sulle vie del Carrò", which means "Cycling on the streets passable by vehicles". It was an ecological celebration, meant to send a message to those "who don't love the environment and don't love the beauty of Terlizzi". We watched the start of the event, and then headed off to find our chosen restaurant for the evening.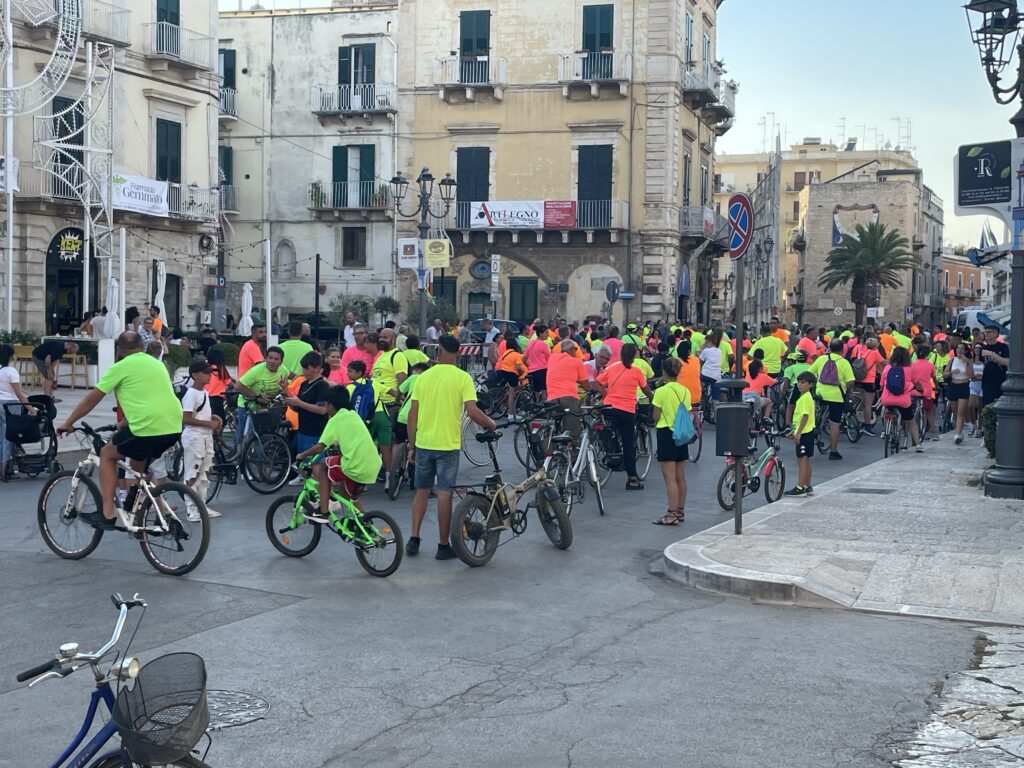 We'd opted for Pizzeria da Marchino, a highly-rated place a few hundred metres away from the square. When we asked for a table for two they looked fairly bewildered, and we noticed that all of the tables had labels on indicating that they were booked for the evening! As we were early, though, they let us have a table, gambling (correctly) that we'd be finished well before the arrival of the intended occupants.
It was a fabulous meal. We had simple but delicious bruschette, and a plate of some superb salumi and cheeses, all of a very high quality. Then we shared a pizza topped with mozzarella di bufala and several different kinds of mushrooms. Simple, but perfectly executed. All of this was washed down with a half litre of local red, served in earthenware mugs!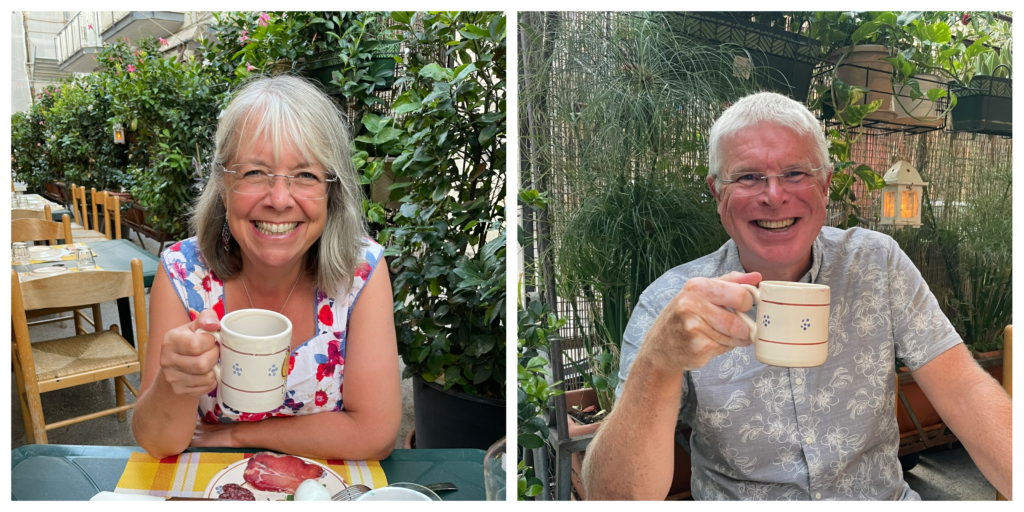 When we walked back to Piazza Cavour the illuminations had been switched on. These seem to be very popular in this area, and while during the day they are something of an inhibitor to anyone wanting to photograph the fine buildings, at night they are undoubtedly atmospheric.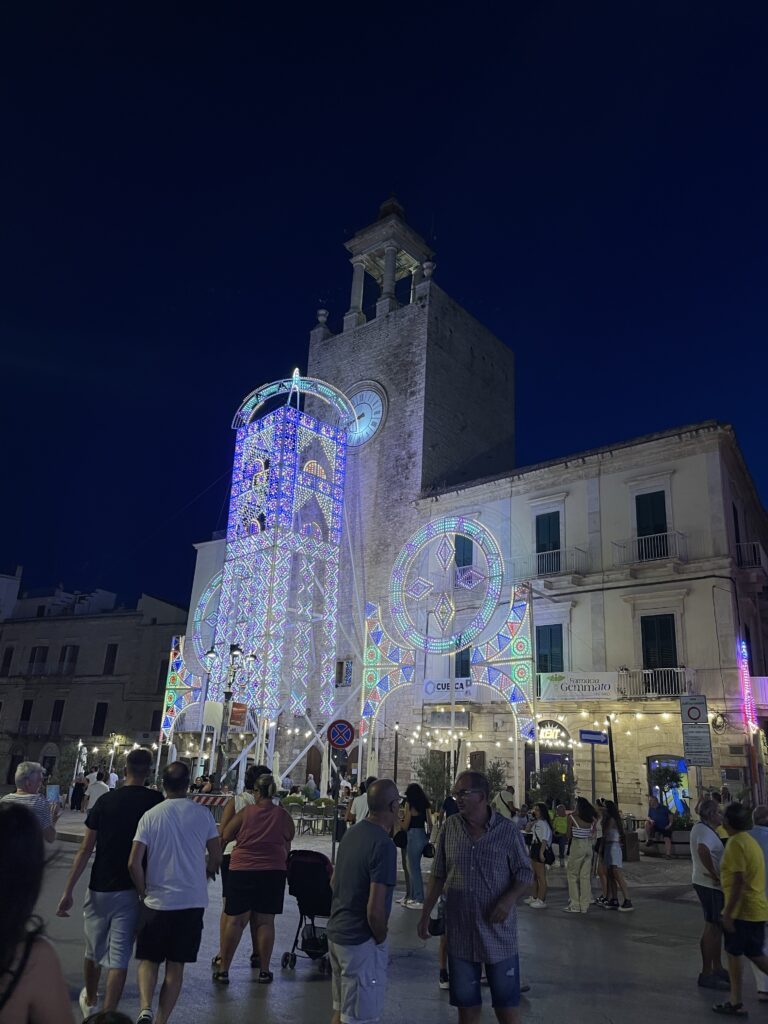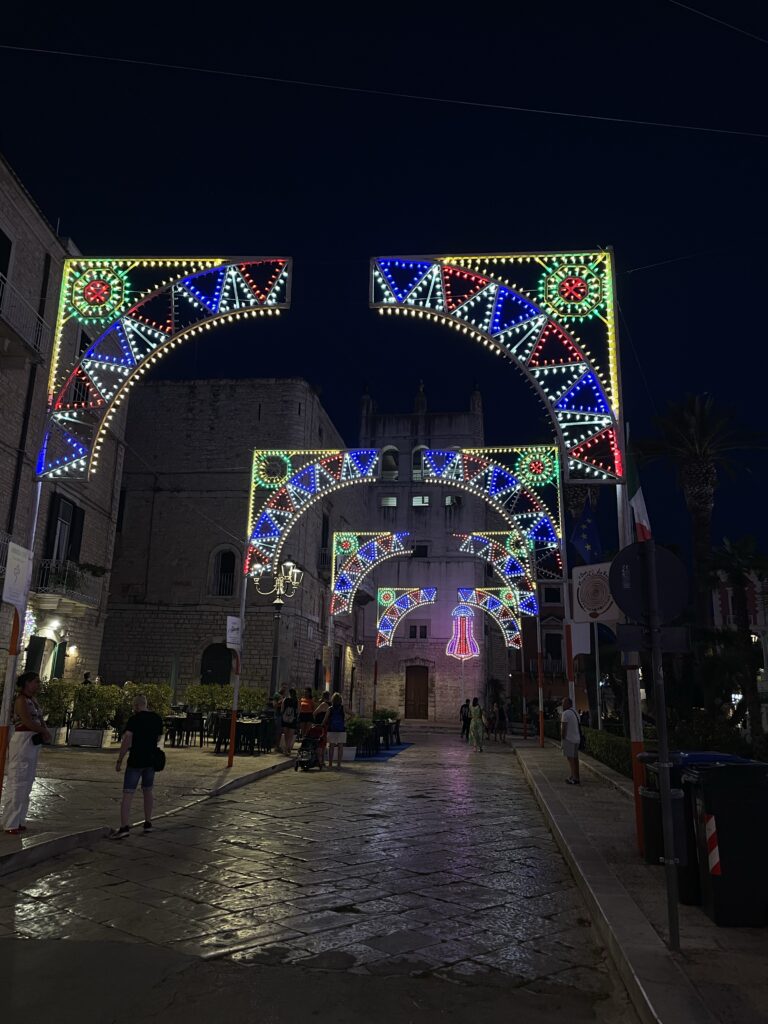 We set a late alarm for this morning, as the forecast temperatures were several degrees lower, meaning that we wouldn't have to worry about cycling in the heat. Overnight there were some loud rumblings of thunder and it rained. By the time we headed out for breakfast it was a very comfortable 24°C, and there were some fluffy things in the sky that we haven't seen for some considerable time!
When I was checking through our intended route last night I decided that a better one was available, avoiding the towns to the south-east of Terlizzi and instead heading towards the Parco Nazionale dell'Alta Murgia, a range of hills running north-west to south-east parallel to the coast. Once we'd cleared the town streets we started on a gentle climb up onto a plateau adjoining the Alta Murgia.
Almost immediately we diverted, as the Stoker had also been doing her research last night and had spotted that we would be crossing the ancient Via Traiana. This was built under Emperor Trajan to connect the main Roman road from the capital (the Via Appia) to the Puglian coast in a more efficient manner. We cycled a few hundred metres along it, finding it to be a comfortable route on the tandem, except that it had a sequence of sleeping policemen laid across it. Who knew that the Romans used such advanced technologies to curb speeding drivers? 😜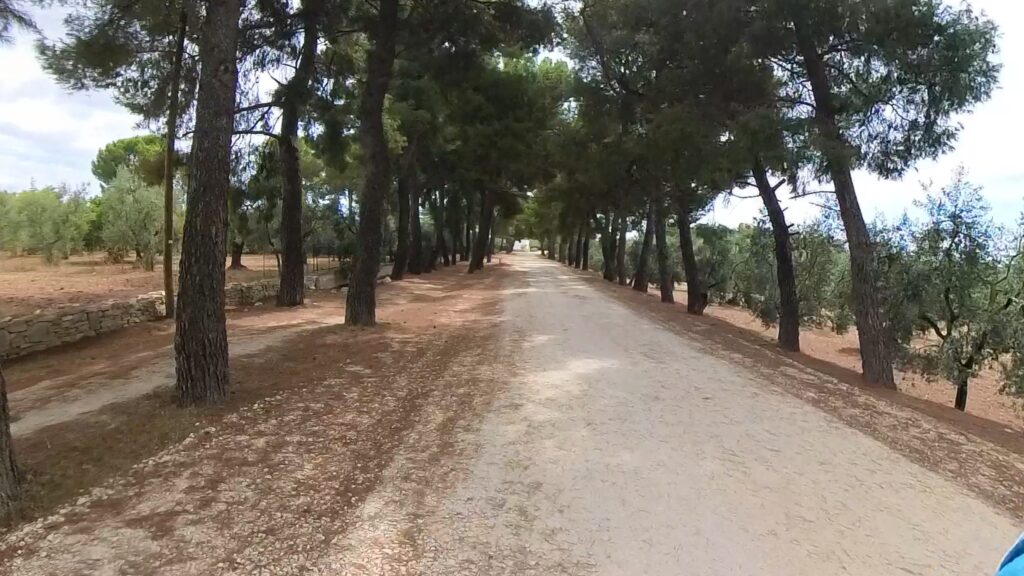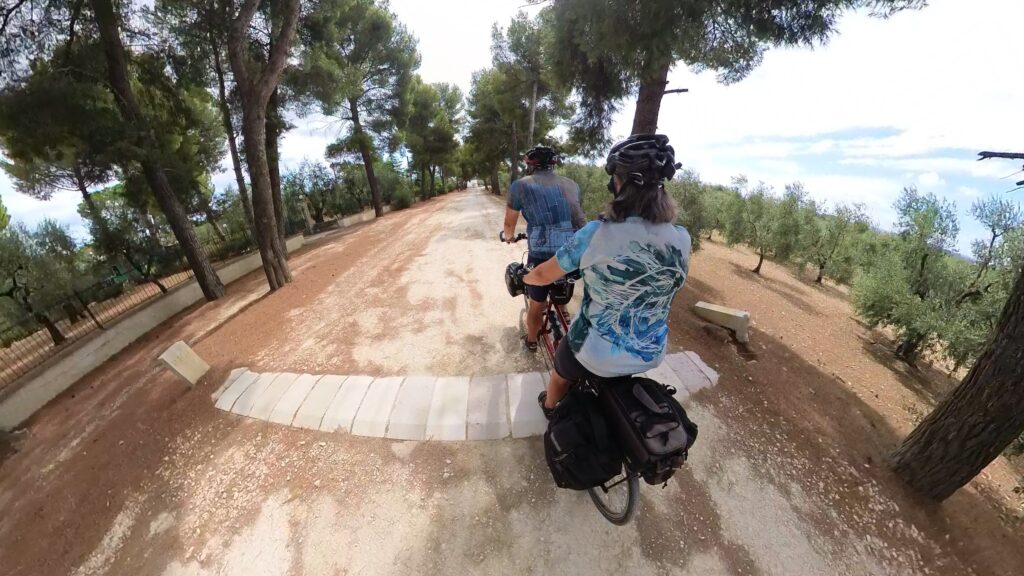 Back onto the main road, then, and the climbing continued for the first hour, bringing us to the top of the plateau, with the hills of the Alta Murgia to our right. It was serene cycling, amid olive and almond groves, on quiet rural roads in comfortable temperatures. Bliss.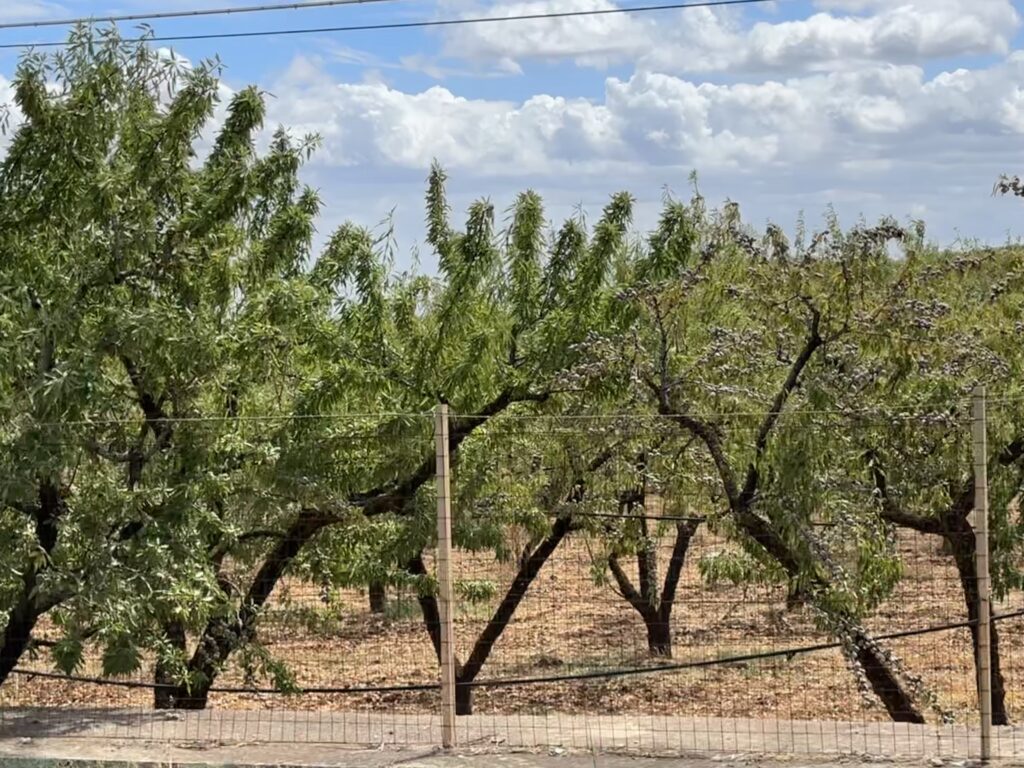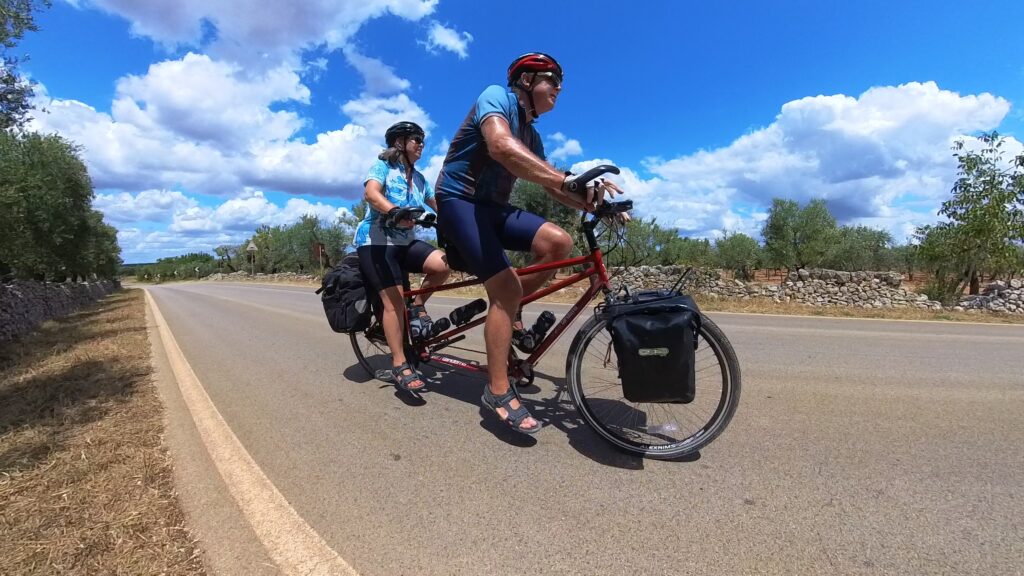 We were also starting to see ancient trulli at the side of the road. I'd seen one marked on the map when researching this section, and we diverted again and walked across a field to see a fine example.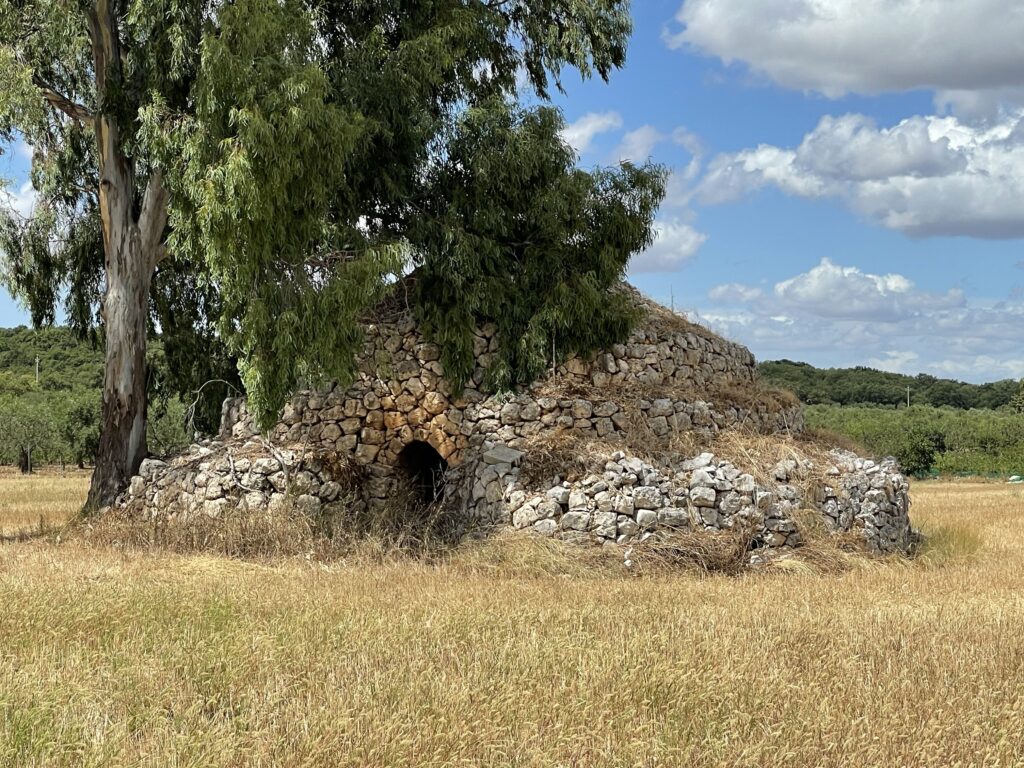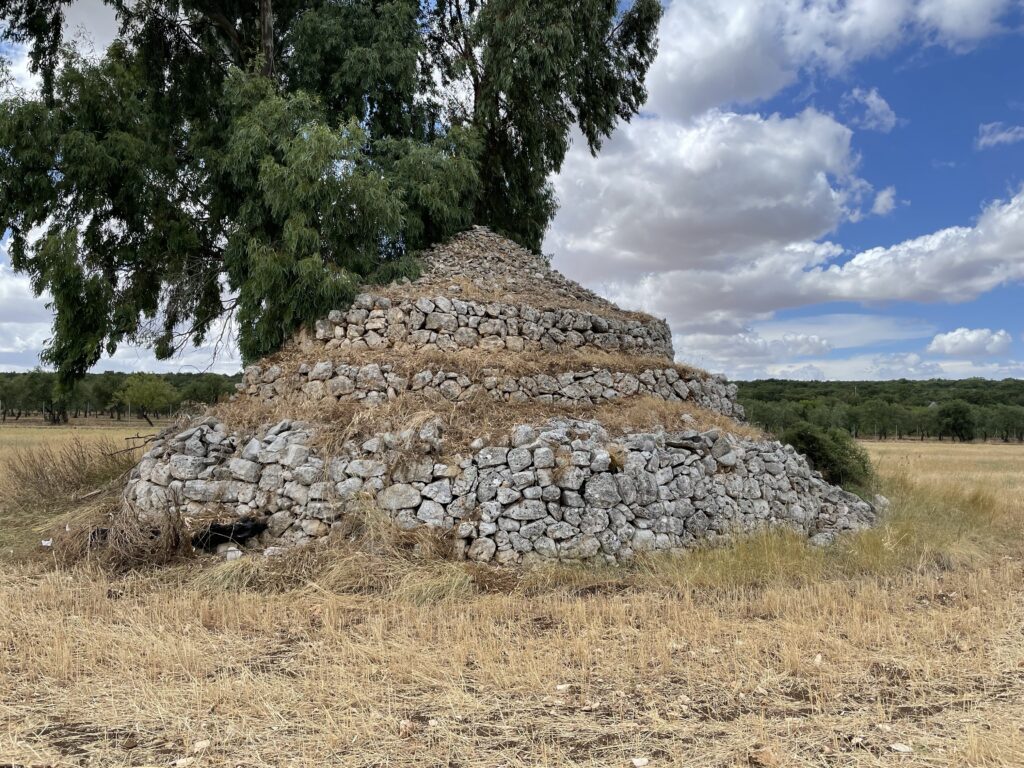 We saw several more examples over the next few kilometres, some more ruined than others. In the next few days, if all goes according to plan, we will see more modern examples in Alberobello.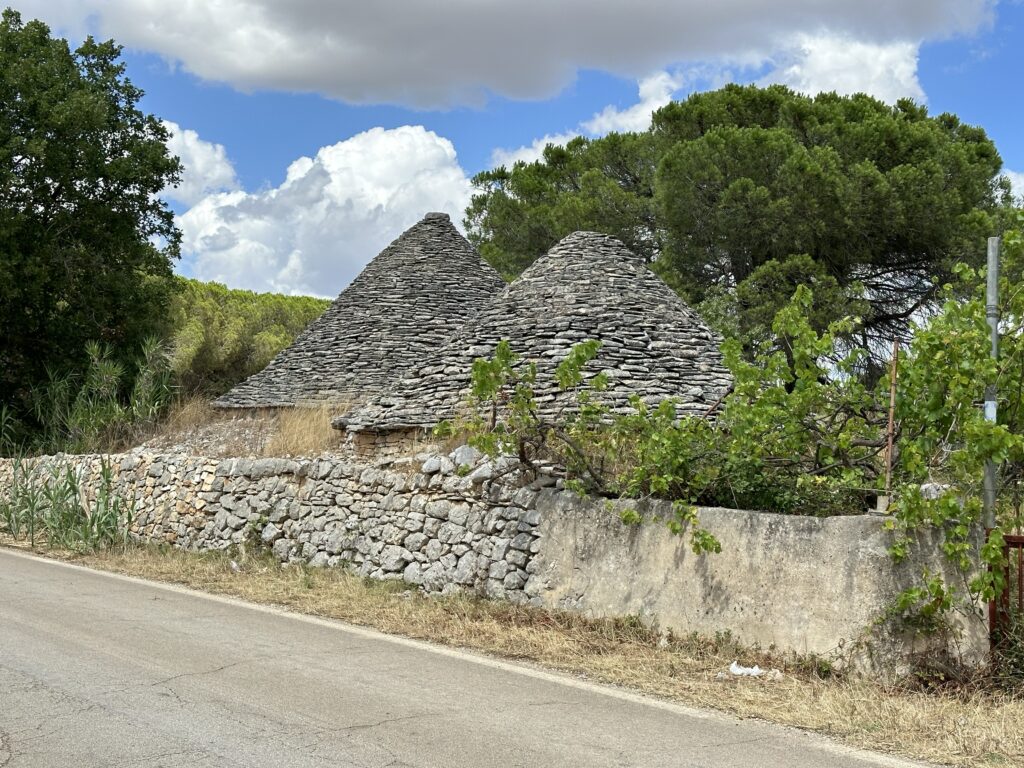 There were also fairly frequent warning signs by the side of the road for cinghiali – wild boars – but despite keeping our eyes peeled we failed to see any.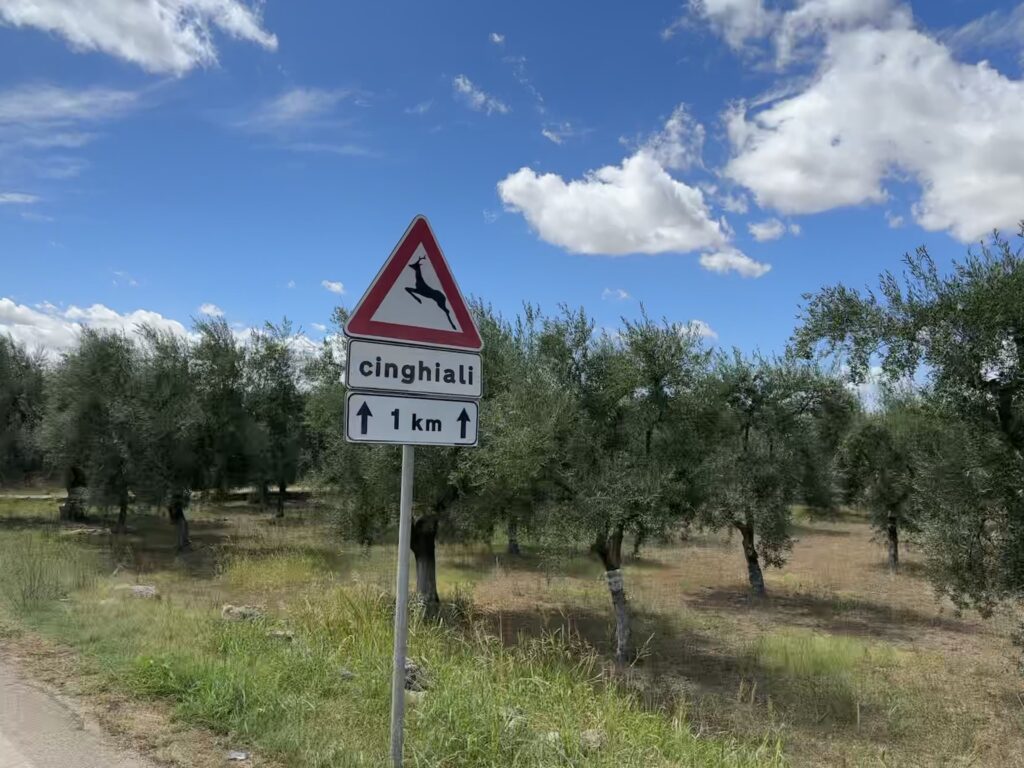 After a while we started to descend from the plateau, and soon found ourselves in the town of Cassano delle Murge. Although this was only a short distance from our final destination we were both in need of fuel, so we stopped for a lunch of bruschette and spaghettoni with pistachios, red prawns and tomatoes. This restored us both and we soon achieved the remaining kilometres and arrived at Acquaviva delle Fonti, a town named for an aquifer which supplied water even when all the surrounding towns had none.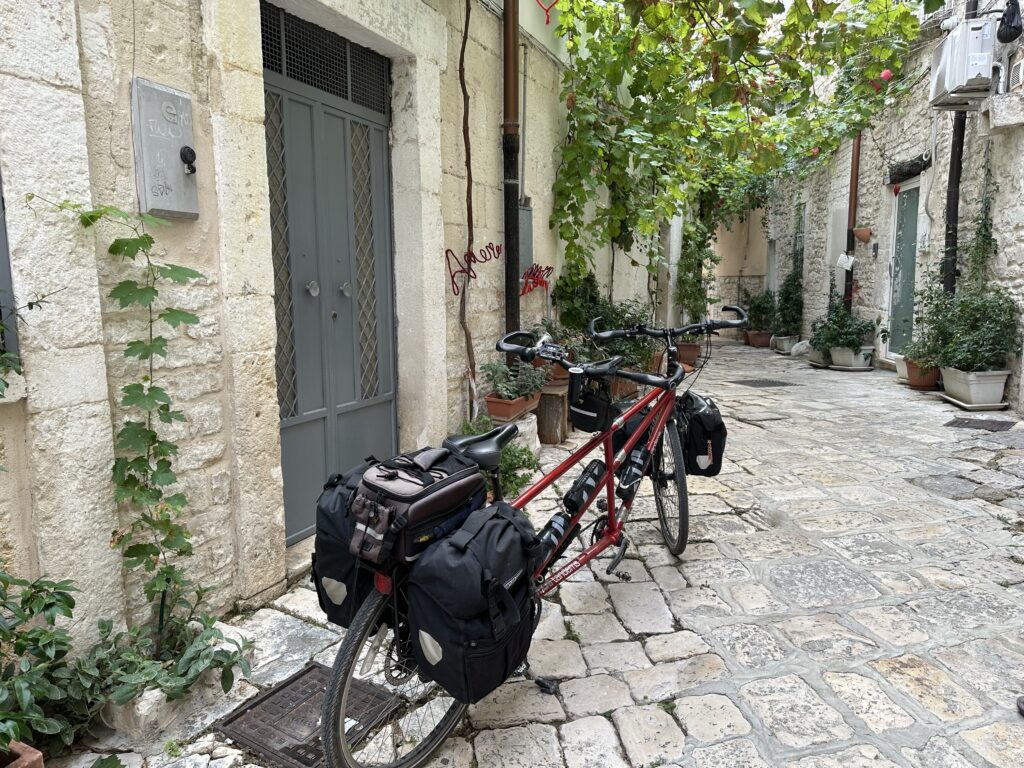 Our host, Isabella, asked to take our photographs for her Instagram – here we are looking slightly bewildered and very thirsty!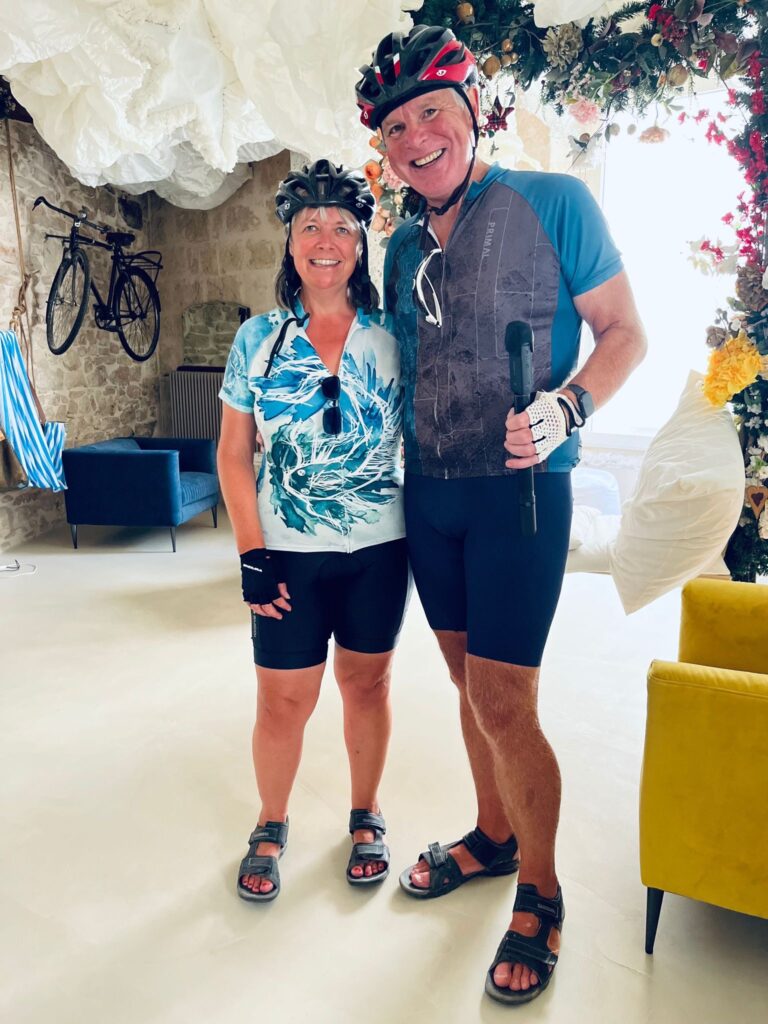 Tomorrow we cycle back to the coast (downhill all the way!) at Polignano a Mare for a rest!
Here's today's route and a short video