Distance: 35.47 km
Time: 2 hours 36 minutes
Average speed: 13.7 kph
Cumulative distance: 1567.06 km
Cumulative time: 76 hours 58 minutes
Phrase of the day: 'Cani pazzi ed uomini inglesi vanno fuori al sole di mezzogiorno' (cah-ni pat-zi edd oo-omm-ee-nee een-glay-zee van-no foo-oar-ee al sow-lay dee metz-oh-jaw-noh) – Mad dogs and Englishmen go out in the midday sun!
(With apologies to Noël Coward!)
We hadn't originally planned to stay in San Casciano – the balance of our journey would have worked better had we stayed in Mercatale, a few kilometres further on. We're so glad that we changed our minds though. In particular we loved the apartment, which was undoubtedly the best in which we have stayed so far (Grazie mille, Eleonora e famiglia!) .
After resting and showering yesterday we strolled around for a while, enjoying the atmosphere. At the other side of Piazza Della Republica was the Torre del Chianti – it took us some time to work out how to gain entry, but when we did, it was excellent.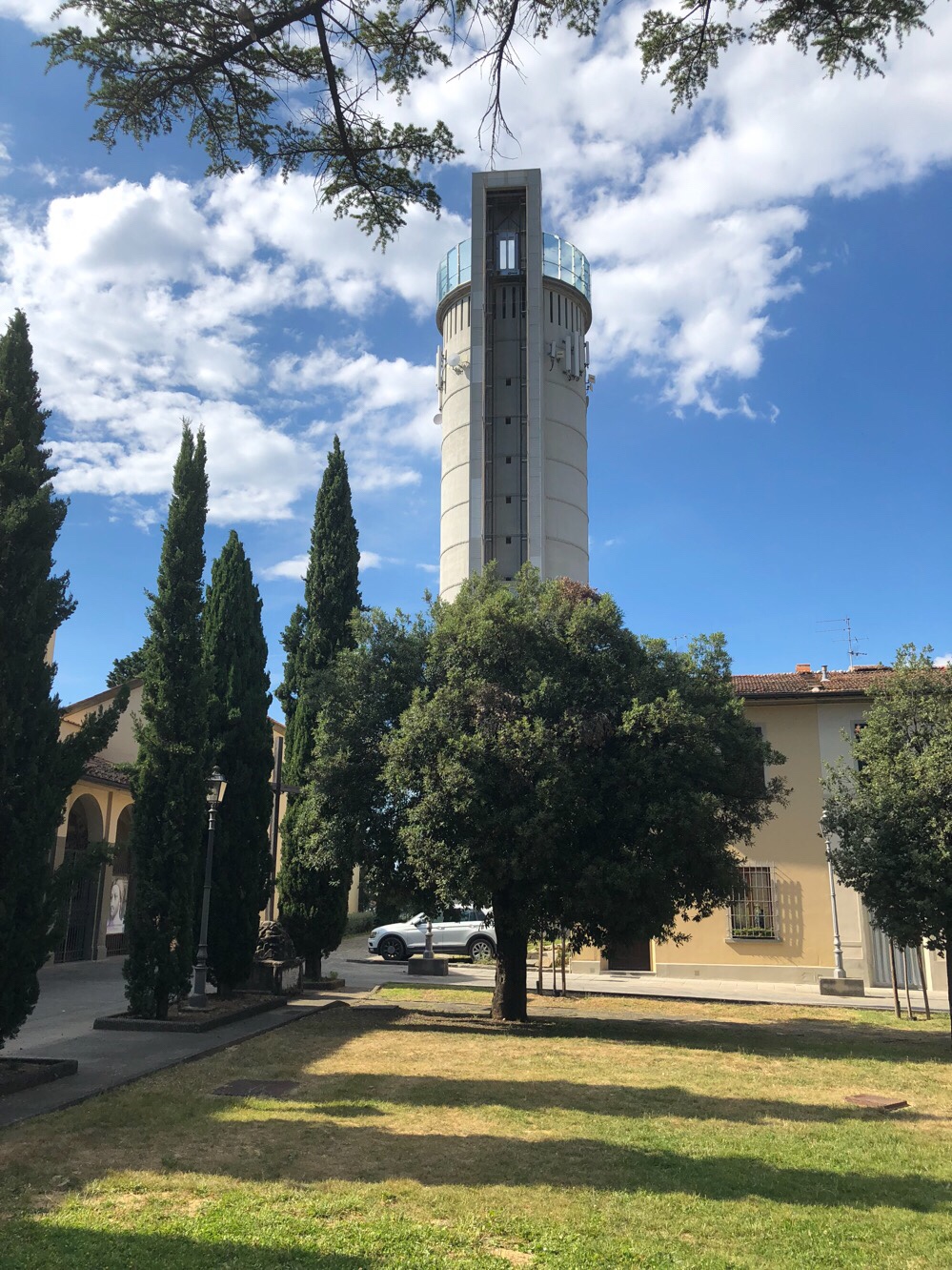 It's a modern construction, and offers three hundred and sixty degree views from the top. It enabled us to look over the town and get our bearings.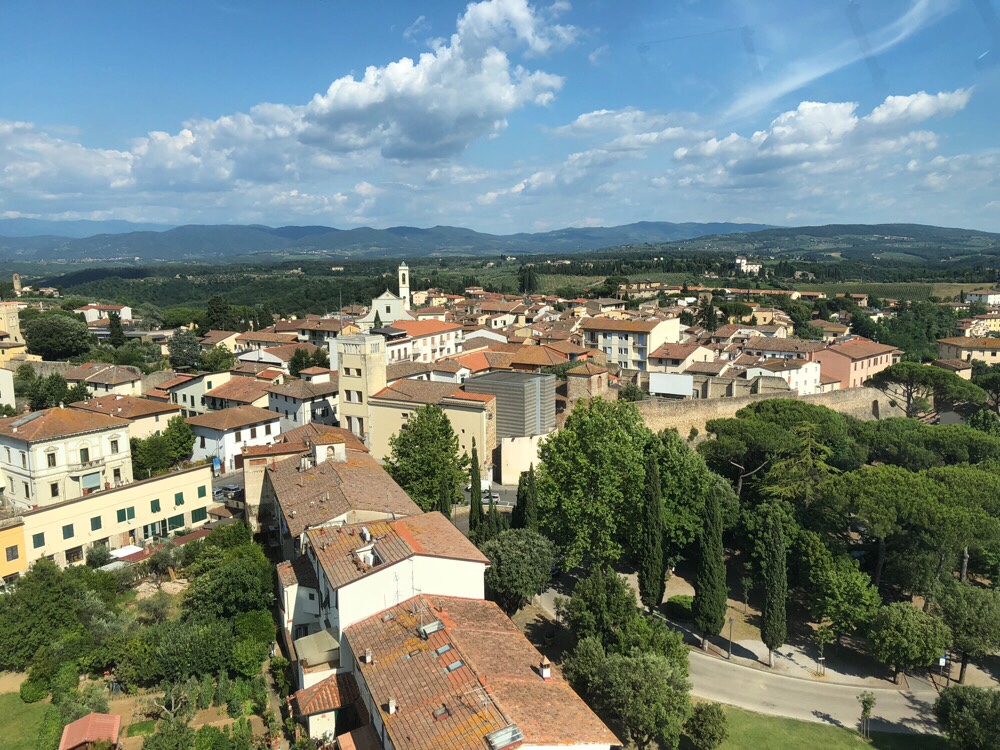 When we looked to the north, we could see the Duomo in Florence. It's a week since we were there, but it still looked very close, on account of our somewhat circuitous route.
Last night we enjoyed a beautifully cooked meal while the evening passeggiata took place along Via Niccolò Machiavelli.
Today's journey, we knew, would be tough. It involved two big climbs and a number of smaller ones, and the weather forecast indicated it would be very hot. The mileage wasn't high, but the conditions would make it difficult. Still, the prospect of a day off in Radda was an excellent incentive.
Off we pedalled, then, out of the village into a lush green landscape of vines and olive trees. All of our journey today took place in the Chianti Classico area, and the views throughout the day were memorable. They were mainly seen, though, through a film of sweat! Cyclists like to describe this sort of day, with characteristic understatement, as 'lumpy'! The first eight or so kilometres out of San Casciano were more-or-less level, but then the gradient kicked up sharply. At home, in the cooler climate, this sort of gradient would be much easier to handle. Here, though, with a temperature approaching thirty-five degrees Celsius, it was a different proposition. Before long we were both drenched, and we had to stop to take on water.
Whilst climbing the first hill there was an opportunity to look back towards San Casciano. Any excuse to stop for a breather!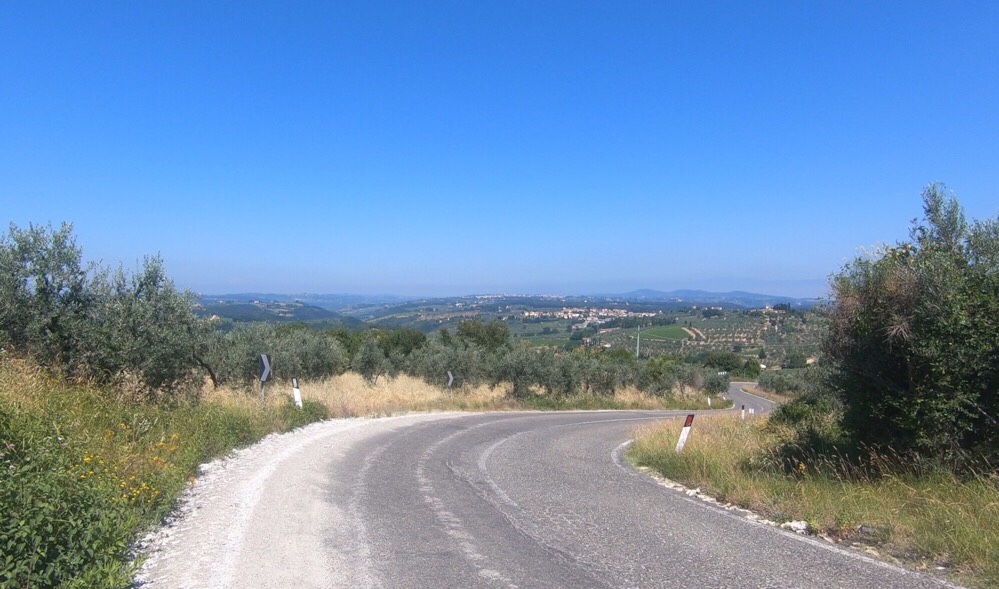 Two false summits followed, until at last, legs screaming, we achieved the summit and began our descent towards Panzano. This was our only sensible opportunity for lunch today, so we diverted into town and found a café with a terrace overlooking the surrounding countryside. Here we had panini and acqua gassata. Oh, and then the Stoker spotted chocolate milk shakes on the menu. These sounded like perfect fuel for our second climb, so we ordered one of those each as well. They were delicious!
After Panzano we continued our descent for a few delightful kilometres, surrounded by vineyards.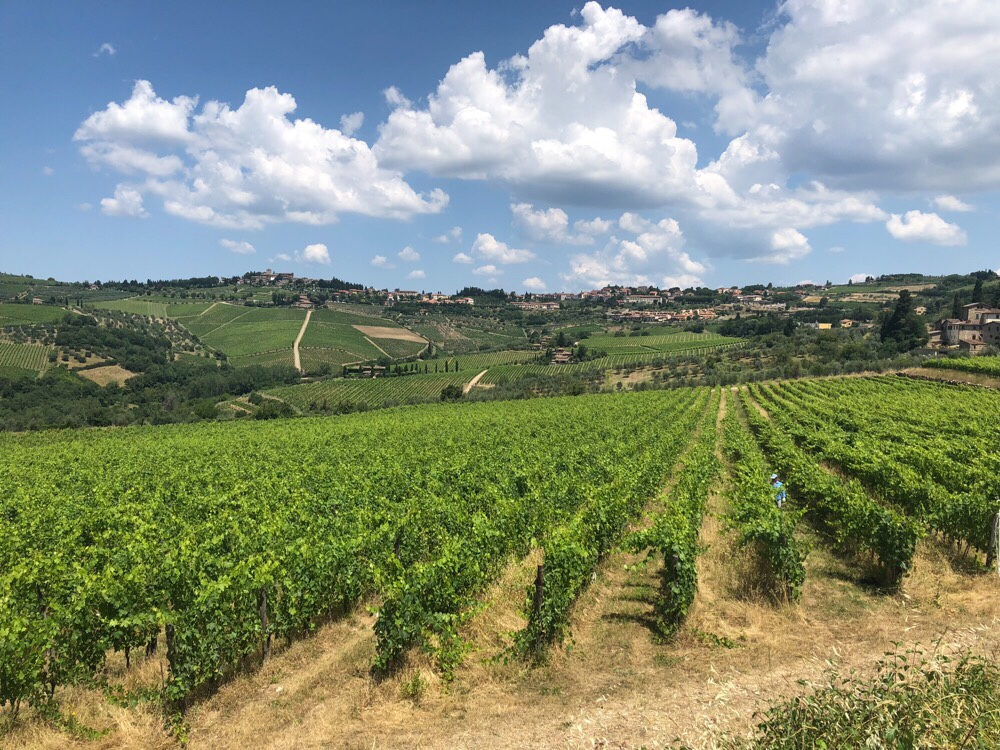 Radda was only a short distance away, but at the top of a hill. The climb, though, was gentler than this morning's effort, at least to start with, and our lunch had certainly helped. Our speed even picked up a little when tantalising glimpses of the town began to appear.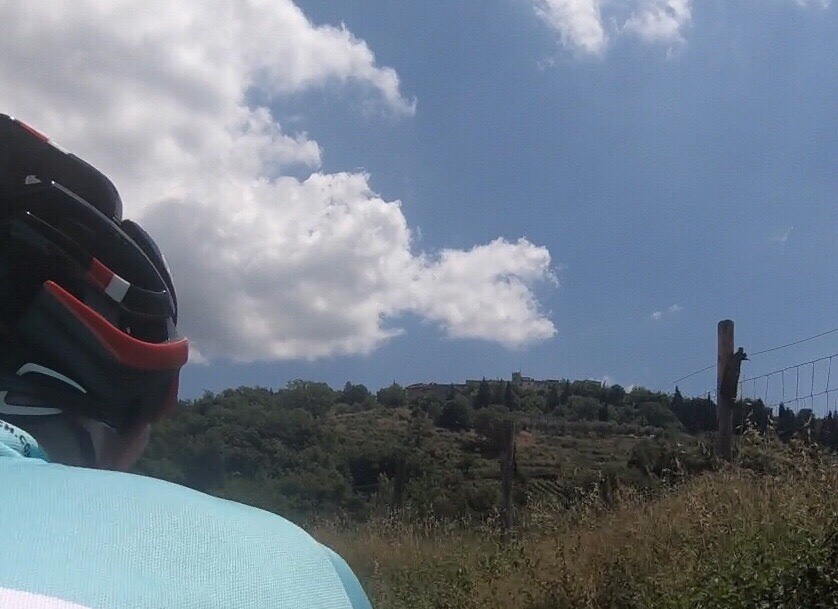 It was only in the final kilometre that we had to increase our effort. The sound of our ragged breathing must have alarmed those going about their peaceful business in Radda! Still, before long we were pulling up at our hotel. Here's the Stoker, looking a little pink after a hard day's work: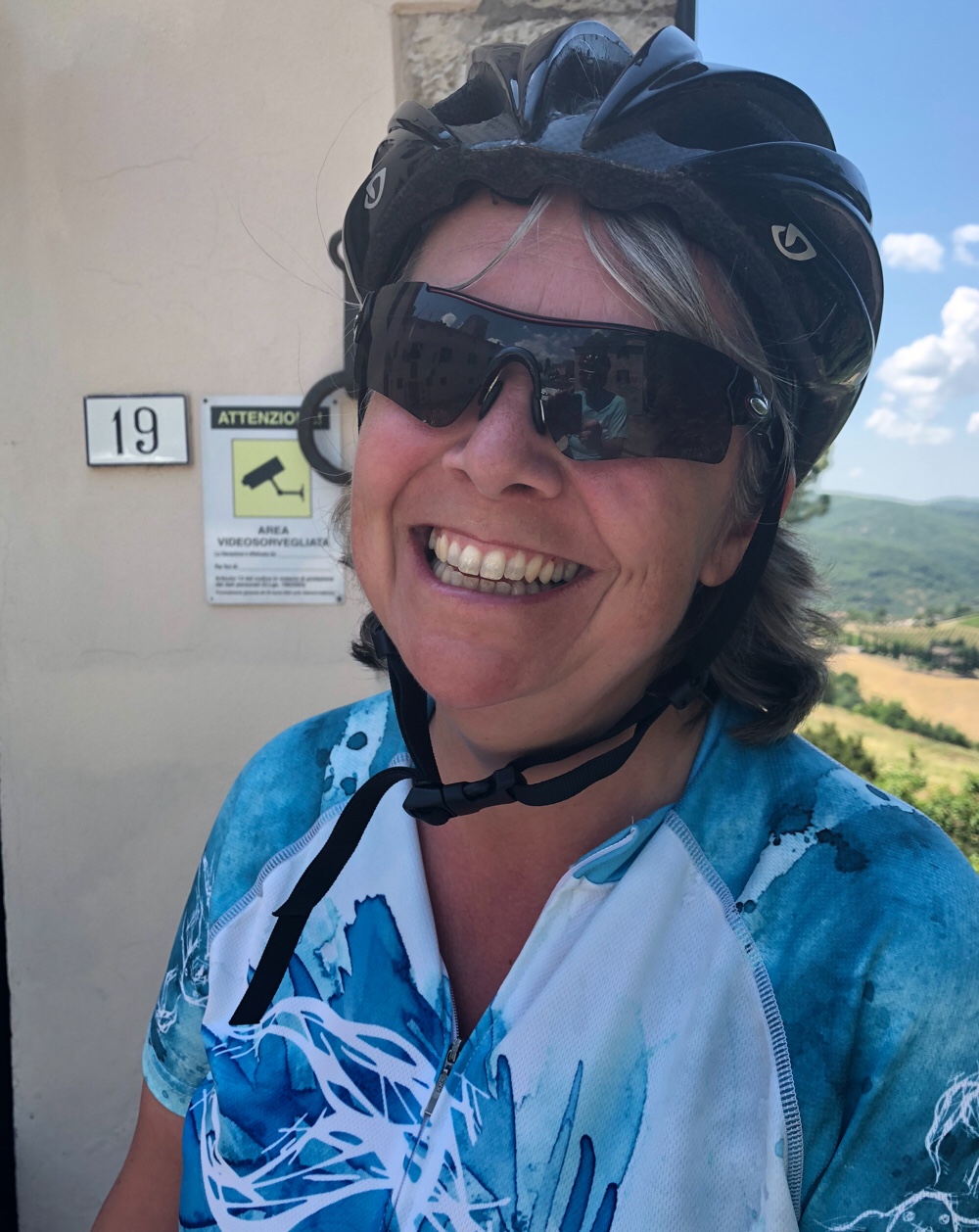 We're staying here for two nights, so no blog post tomorrow, when we shall be eating out at La Botte di Bacco, a restaurant recommended to us by Peter and Sally.
Our next destination, on Monday, will be Arezzo. After that we intend to visit Lake Trasimeno, before climbing up to Assisi.
Here's today's track.