Distance: 46.9km
Time: 2 hours 26 minutes
Average speed: 19.3 kph
Total distance: 937 km
Total time: 49 hours 16 minutes
Overall average speed: 20 kph
Wordle scores: Captain 3, Stoker 3
Average Wordle scores: Captain 4.0 (100% success rate), Stoker 4.1 (92% success rate)
After a really hard day yesterday, it was wonderful that the hotel restaurant in Ruurlo was firmly at the sublime end of the 'sublime to ridiculous' scale. The chef-owner, Harald, had greeted us at the door, already in his whites, and given us a little tour. As requested, we were washed, dressed and down to the lounge by 6:30pm for an aperitivo, and into the lovely conservatory dining room at 7pm. Well, the washing and dressing wasn't specifically requested, but we like to make an effort and I think we scrubbed up pretty well after five and a half hours on the road!
Harald had told us that they had all forgotten how to speak English and German during the pandemic, because pretty much the only guests they'd had during that time had been domestic travellers. It was an interesting glimpse into how another country had coped with its own closed borders. Dutch people, famous for their global travelling ("we're never at home!") had used the time to explore their own country much as people in the U.K. had done, including us.
Sure enough, during the meal, servers would approach our table and unleash a stream of Dutch, before catching sight of our uncomprehending faces and remembering we were English! Our young sommelier was particularly sweet, pausing and gazing into space as he sought exactly the right English words to describe the wines which accompanied each course. One lady confessed that she was Googling in the kitchen to find words she couldn't quite remember, and at one point I thought we were told that a dish contained a 'squirrel egg', which seemed unlikely! I realised slightly later that it was 'quail', not 'squirrel'. Phew!
We'd elected to have the four course surprise menu, and it was all delicious, beautifully presented, lovely flavours, and we both managed to stay awake long enough to eat it all.
This morning we went back to the conservatory for an excellent breakfast, and then packed the panniers for the last time, retrieved the tandem from the garage and after a personal goodbye from Harald, we were ready to leave. It had been a great visit, Harald is very passionate about his food, service and his personal attention to all his guests. We wish him every success, he and the team certainly deserve it.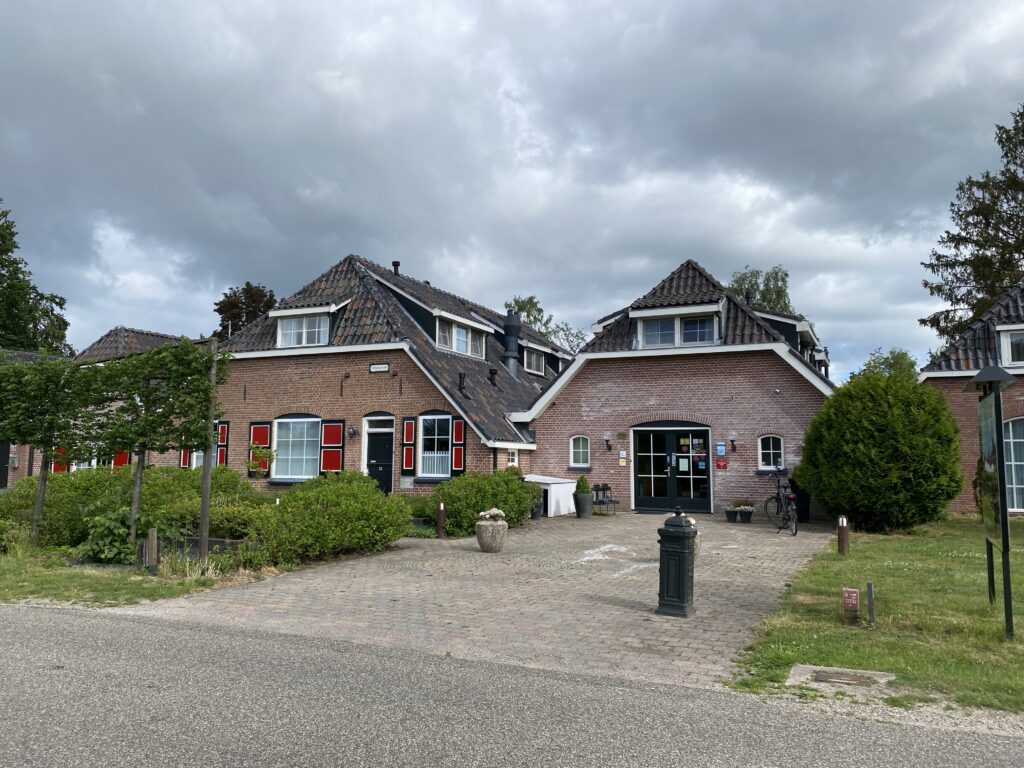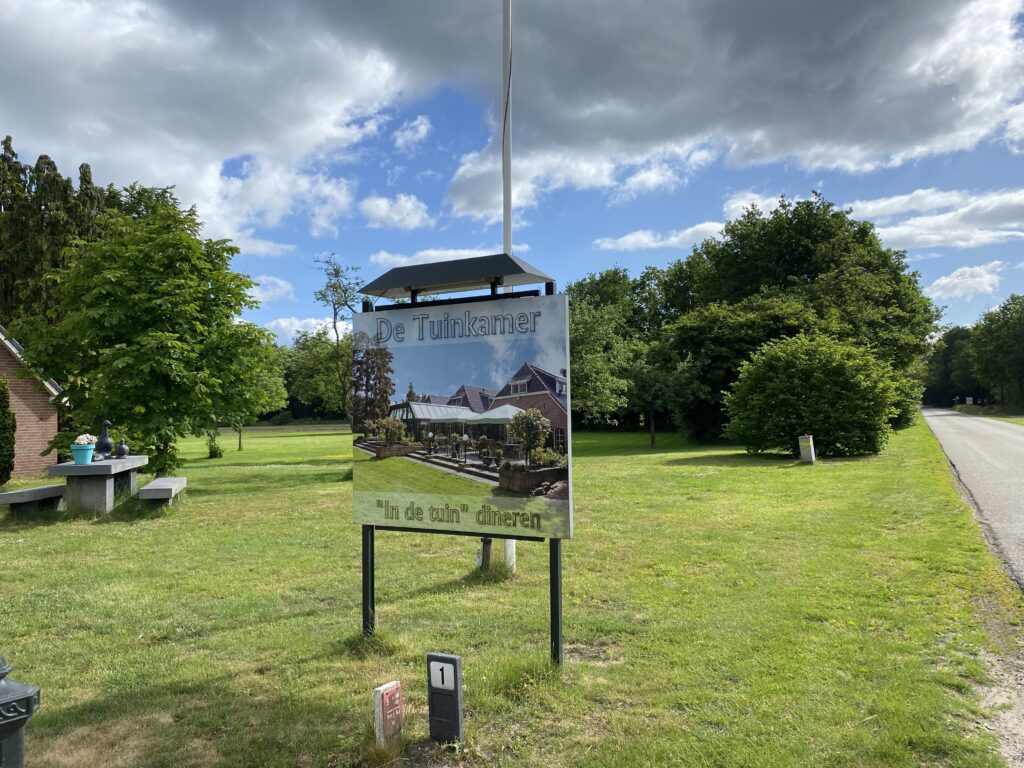 Just 46 kilometres to Apeldoorn then, to close the loop of our journey. It was a little nippy as we pedalled off down the road, and that pesky headwind was still very much in evidence. There were many grunts and groans from both motive units during the first couple of kilometres as our weary bodies got back up to speed.
Almost straightaway we encountered our first windmill since returning from Germany. It was going round and everything!
The route was varied to start with, some forest, some pastoral (some historical, tragical, comical etc etc)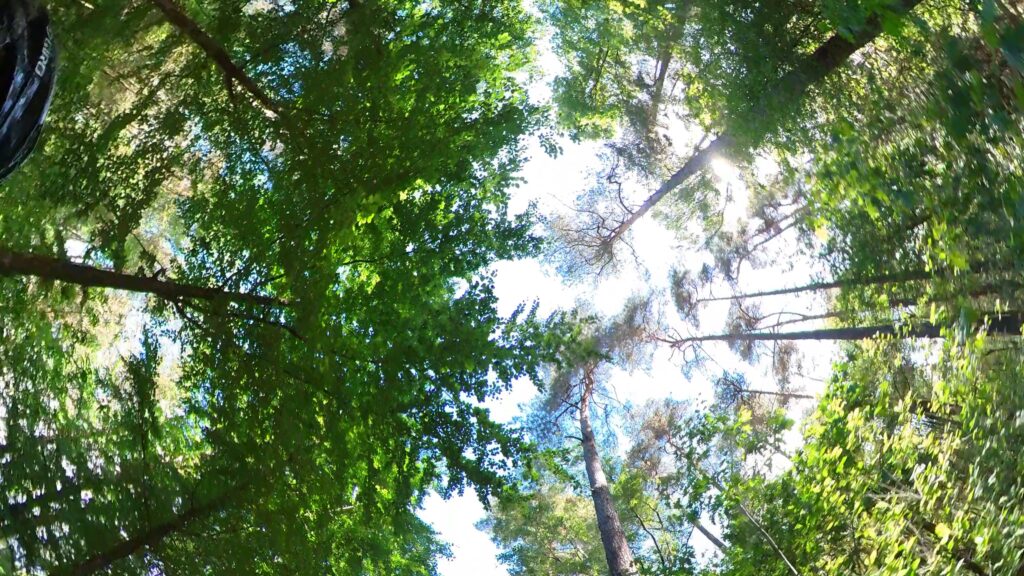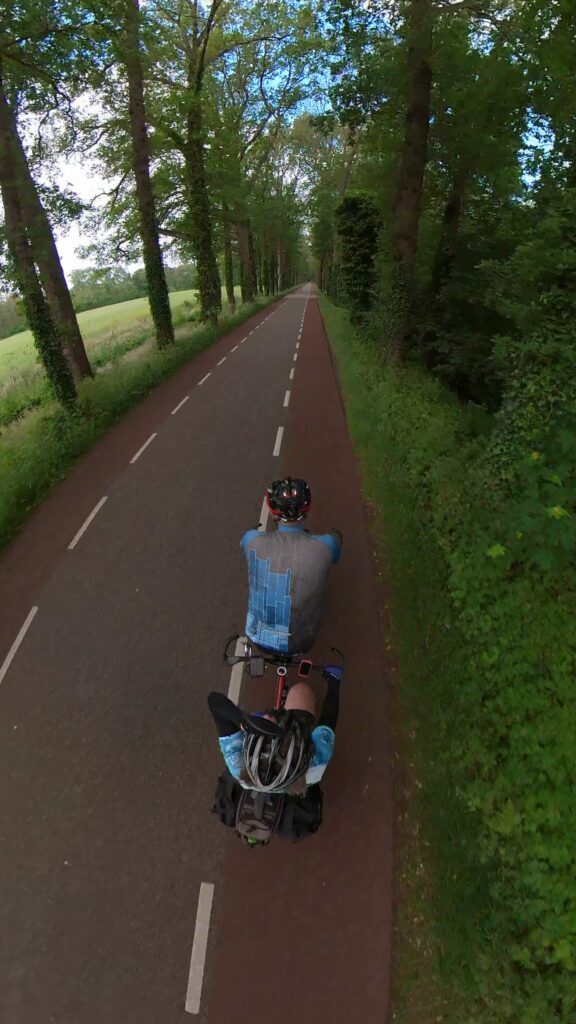 Today there were a few more little foals to 'ahhh' over – we've seen an enormous number of horses on this trip and it's evidently prime foal time of the year.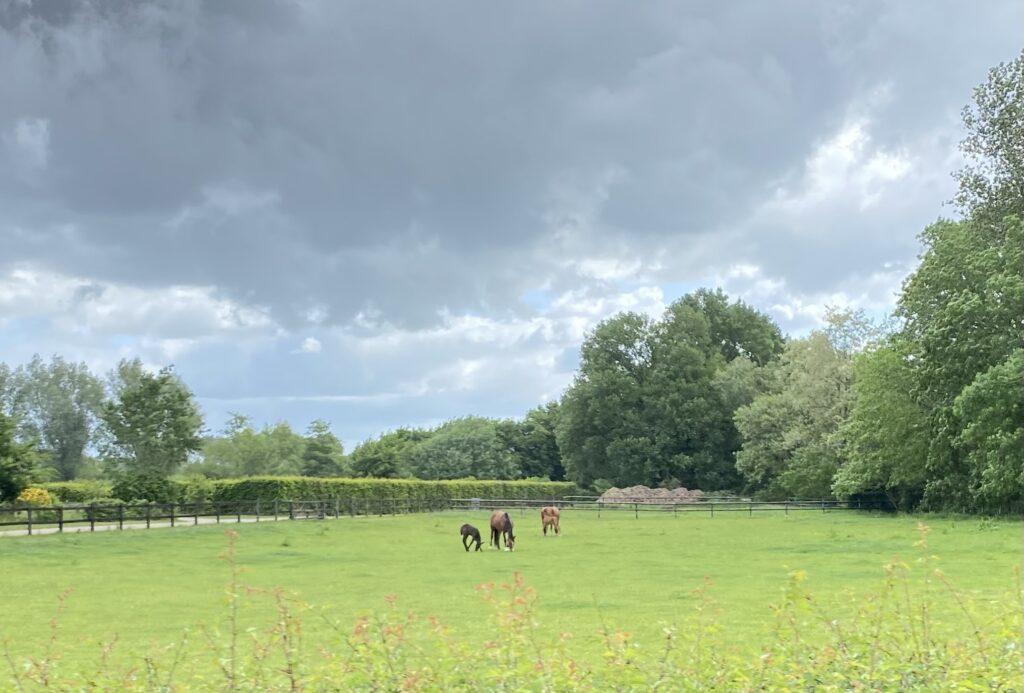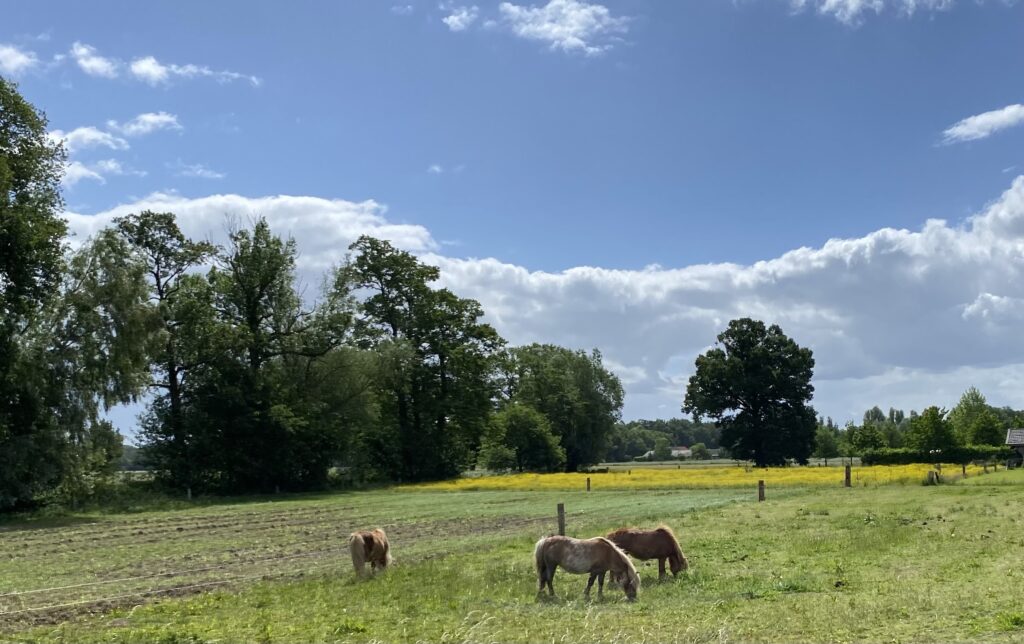 As we crossed the IJssel it was just spotting rain a little. We had decided to defer putting on rain jackets until it got heavier, but this chap had clearly decided not to take any chances.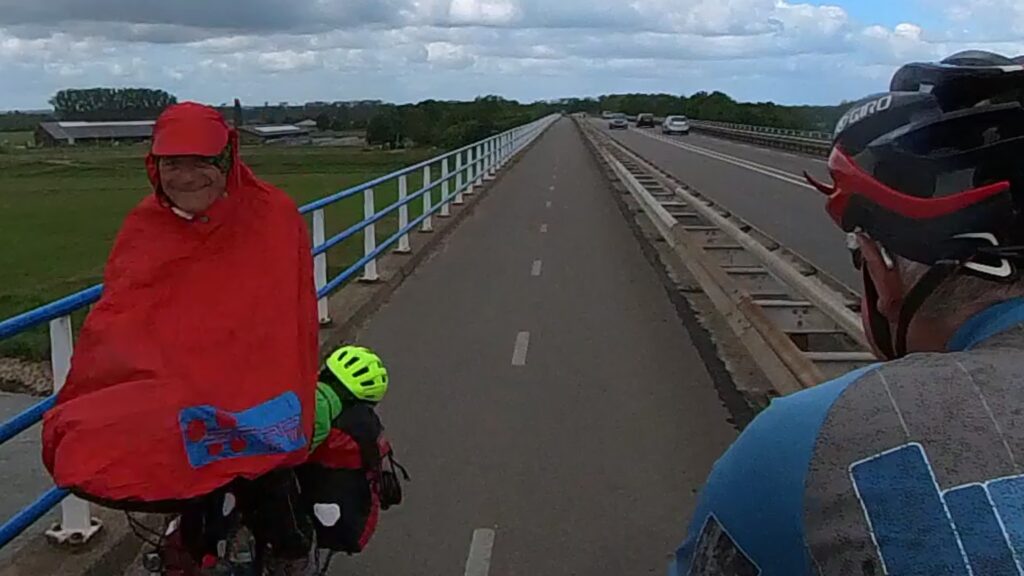 The clouds blew over (of course they did, in that wind they didn't stand a chance!) and we pushed on towards Apeldoorn, calling out the milestones in kilometres and miles: twenty kilometres, ten miles, ten kilometres, five miles, and finally the flamme rouge – one kilometre to go in any bike race, always marked by a red triangular pennant.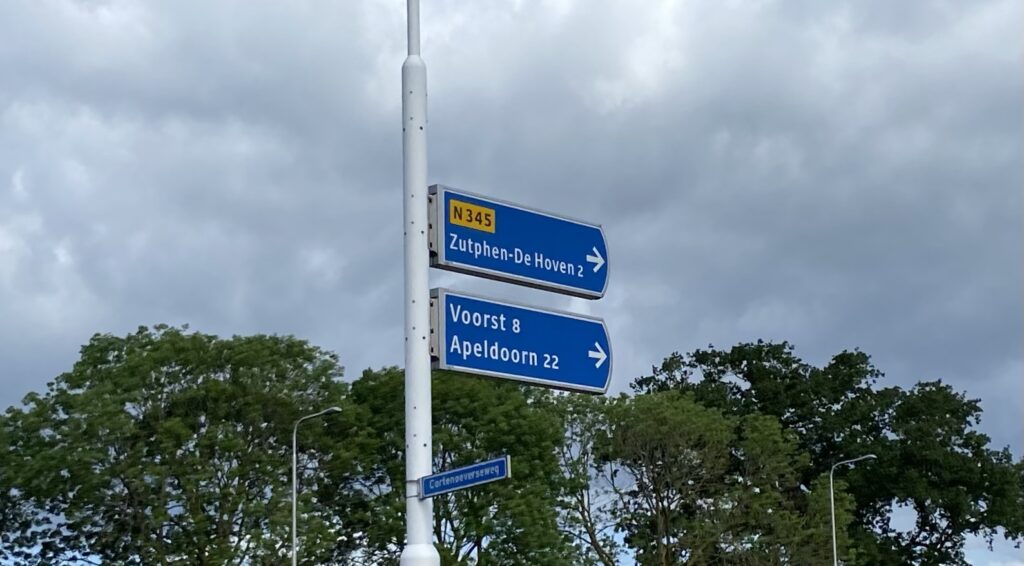 Just before Apeldoorn we were treated to a ride through a little park, canals, bridges, trees, an oasis in the city.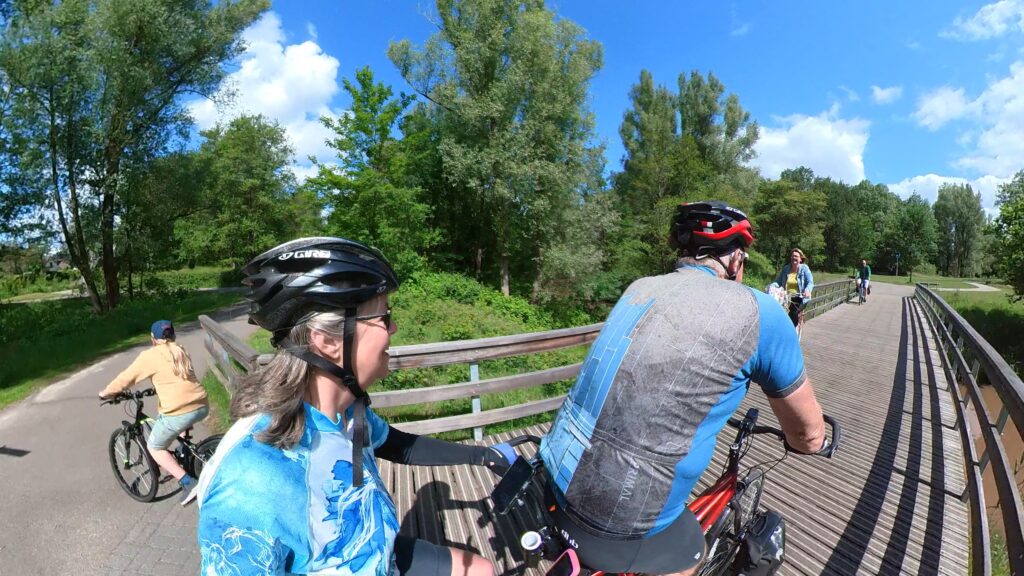 Then we were into the pedestrian zone, afstapping as required and wheeling the bike into the car park where the car was waiting, covered in cobwebs.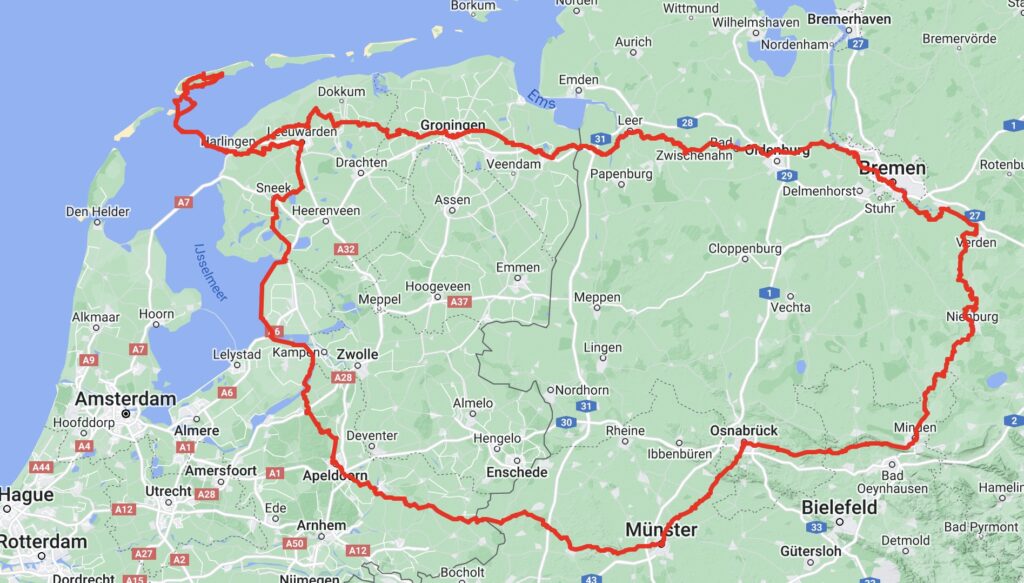 A quick change into civvies, the bike into the car, and we're off to Middelburg now to decompress for a couple of nights before heading home. It's been a fabulous trip, full of friendly people, safe and varied cycling, lovely scenery and great bread. Oh the bread…!
And although there's been a lot of wind (!), there's also been a lot of sunshine. We have ridiculous sun tans. Just look at our silly feet!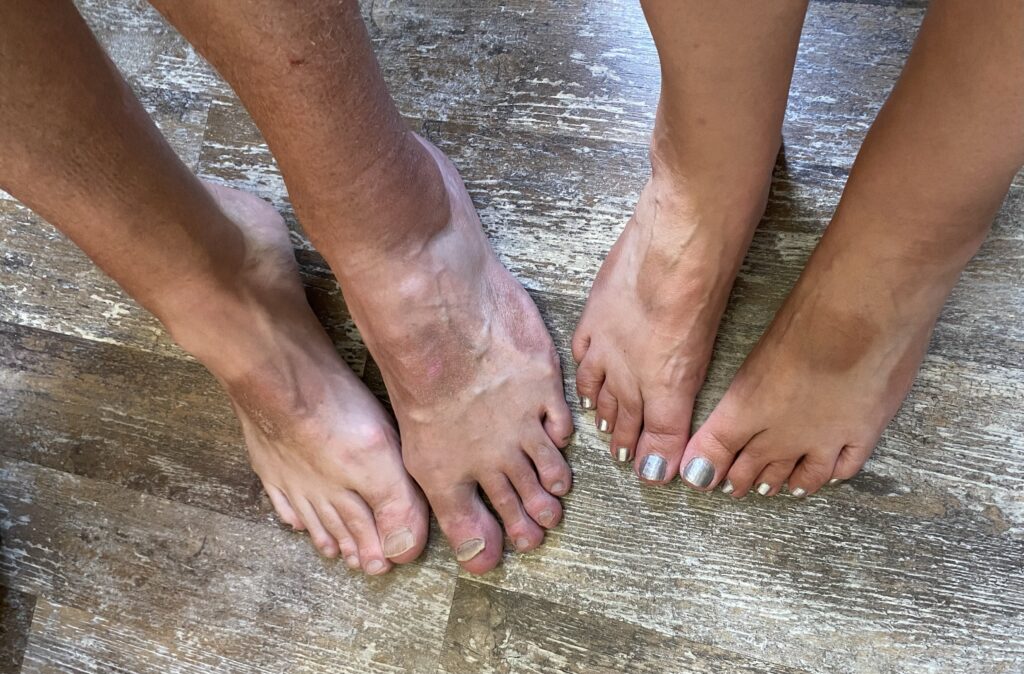 Here's today's route and a short video.