Distance: 37.6 km
Time: 2 hours 2 minutes
Speed: 18.5 km/h
Ascent: 171 metres
Total distance: 171.4 km
Total time: 8 hours 48 minutes
Wordle scores: Captain 2 Stoker 3
Word of the day: "Storico" (stoh-ree-co) – historical
The Captain writes:
Shortly after arriving at the idyllic farmhouse in the middle of a vineyard we decided to go to Lidl! Not the most romantic of journeys, perhaps, but for the first time on this trip we were cooking for ourselves. This doesn't usually involve laboriously complicated recipes when we're cycling, we're more likely to have pasta, or risotto perhaps. So we acquired tagliatelle, funghi, salsa alla salsiccia and perhaps the cheapest bottle of Brunello di Montalcino we've ever bought and cycled back to the AirBnB. We ate it all on an ancient trestle table, all the while being watched by a trio of inquisitive chickens and a hot-looking dog. And so to bed.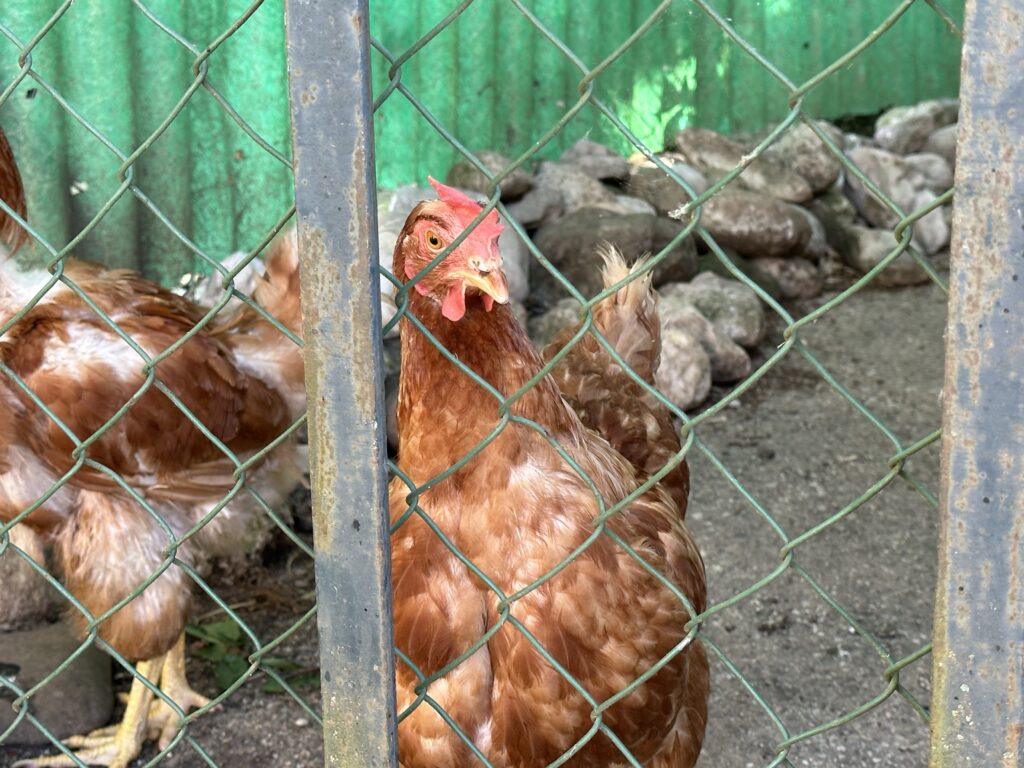 Today was a short day, primarily because we wanted to line up tomorrow's journey to Bassano del Grappa, but also because this trip is meant to involve seeing the places we stay in, rather than just accumulating kilometres of cycling. We rose early (by our standards at least) and began our day by cycling into the centre of Pordenone in search of breakfast. We chose a sunny spot in front of Palazzo Richieri.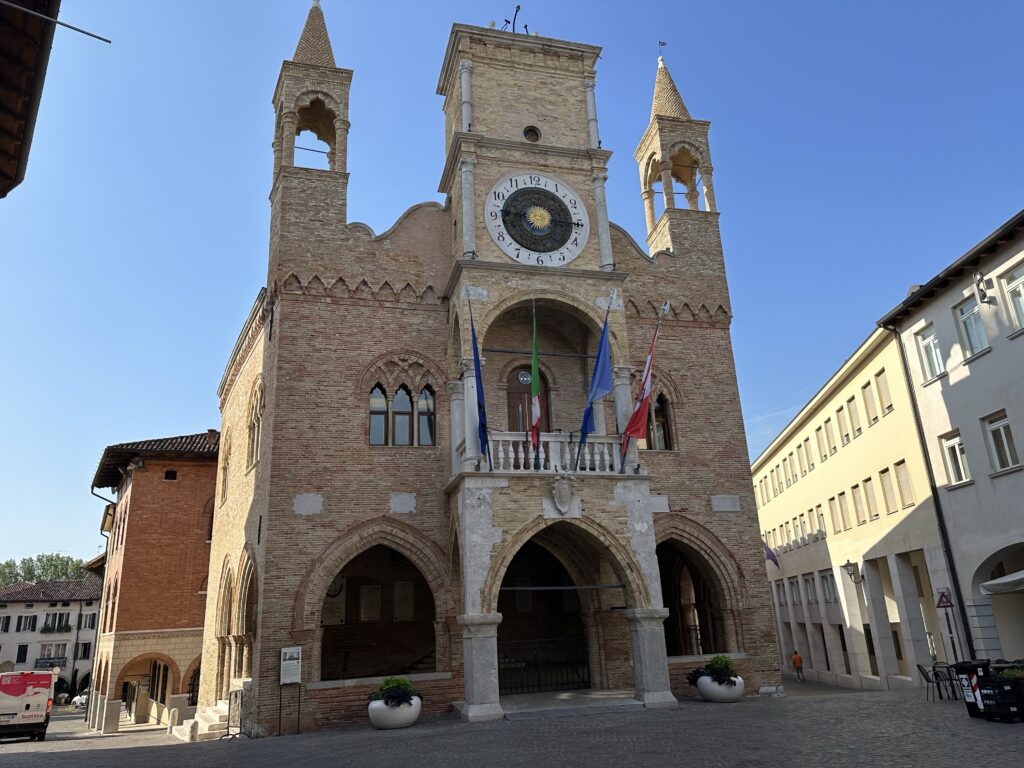 After yesterday's over-consumption we opted for just the one cornetto each, before setting off for Vittorio Veneto.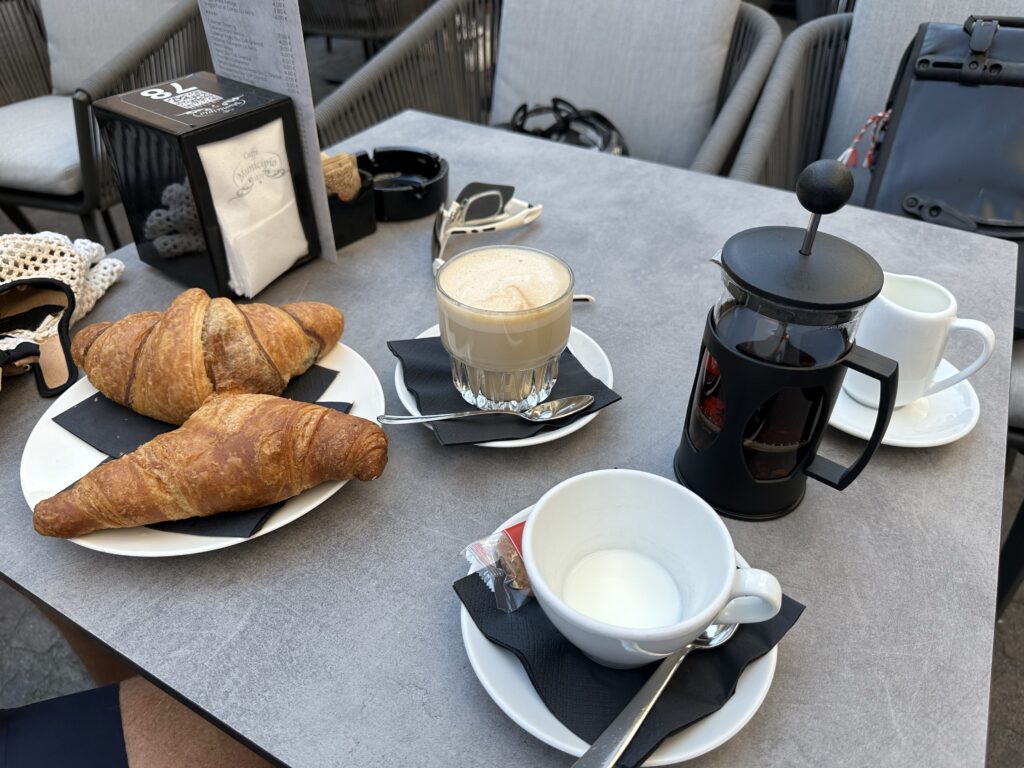 After long kilometres on the SS13 yesterday we had gone over every aspect of today's route in order to exclude busy roads. We did a pretty good job, I think, on reflection. We did have to dismount early on to walk through a street market – a local, spotting our tandem, engaged us in conversation, and was quick to warn us that we couldn't ride through the market, or we might face a €40 fine from the polizia locale. As we need to save our money for Prosecco and grappa we decided to err on the side of caution.
The morning was largely spent on quiet rural roads, with some cycle paths. Looming ever closer were the foothills of the Alps – soon we were able to pick out individual features on the hillsides, and the road signs began to include directions for familiar ski resorts. "Cortina – 90km" being an example.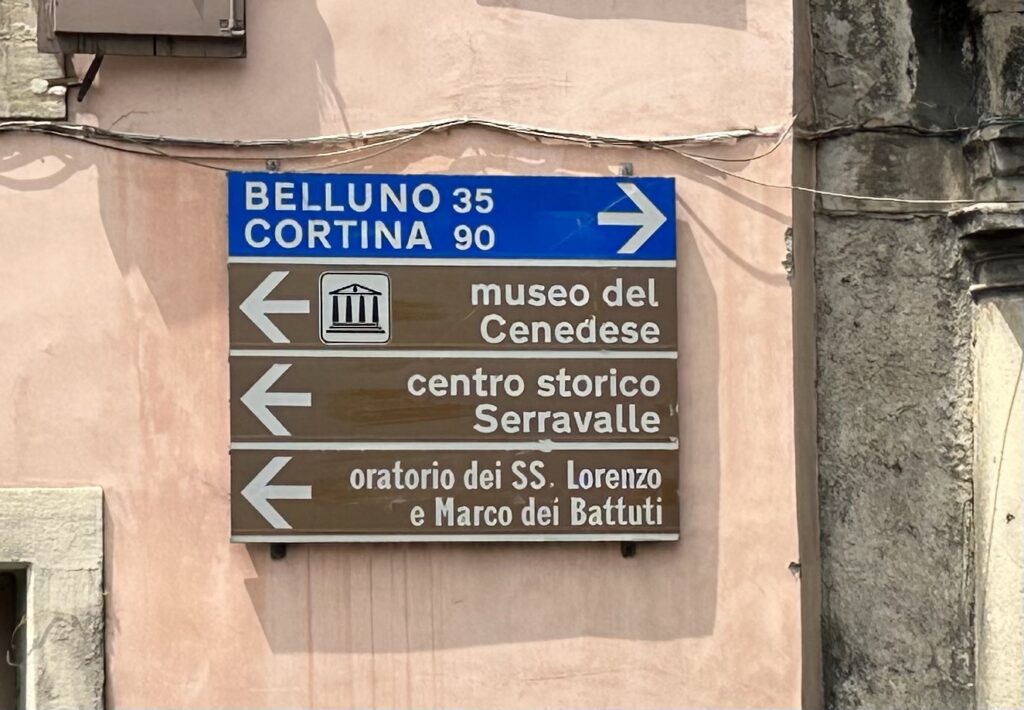 We knew that, despite our best efforts, we still had to negotiate a couple of kilometres of the dreaded SS13 when we reached the town of Sacile. Thankfully at least half of that distance was spent in a wide cycle lane, and the traffic for the other half was benign by yesterday's standards. Then, shortly after leaving the region of Friuli-Venezia Giulia and entering the Veneto we turned off onto a quiet SP road (Strada Provinciale) and began a shallow but steady climb to our destination. Shortly afterwards we spotted a roadside sign commemorating Ottavio Bottecchia, the first Italian winner of the Tour de France (in 1924), and the first ever rider to wear the maillot jaune throughout the race.
In this part of Italy there are three alternative greetings offered by fellow cyclists on the road. They might say Buongiorno (good morning), or Ciao (hello). Often they choose Salve (Greetings), which we particularly like, as it dates back to Roman times. One thing we can usually guarantee though, is that whichever of these three greetings we offer, they will reply with a different one! Here's an example:
As we approached Vittorio Veneto the scenery became ever more spectacular and the architecture more grand. We were greeted at our AirBnB by Ines, who showed us round a beautiful apartment on the fourth floor, with glorious views from the two balconies. It's so delightful that we would stay more nights if we were able, but we've already booked tomorrow's accommodation.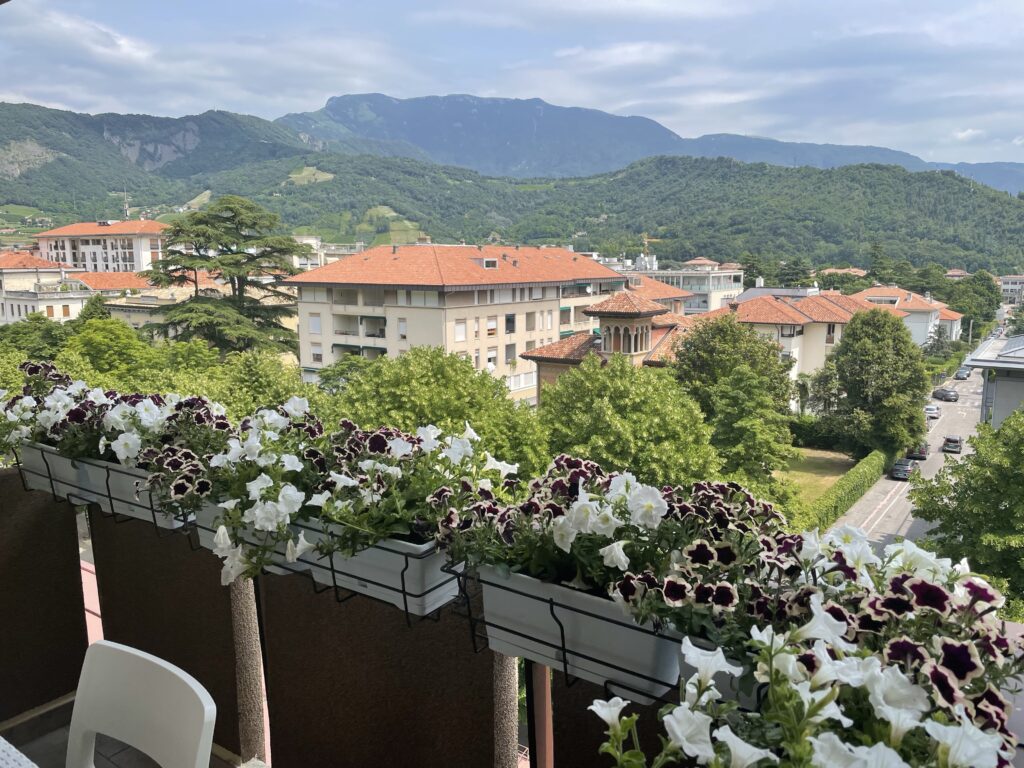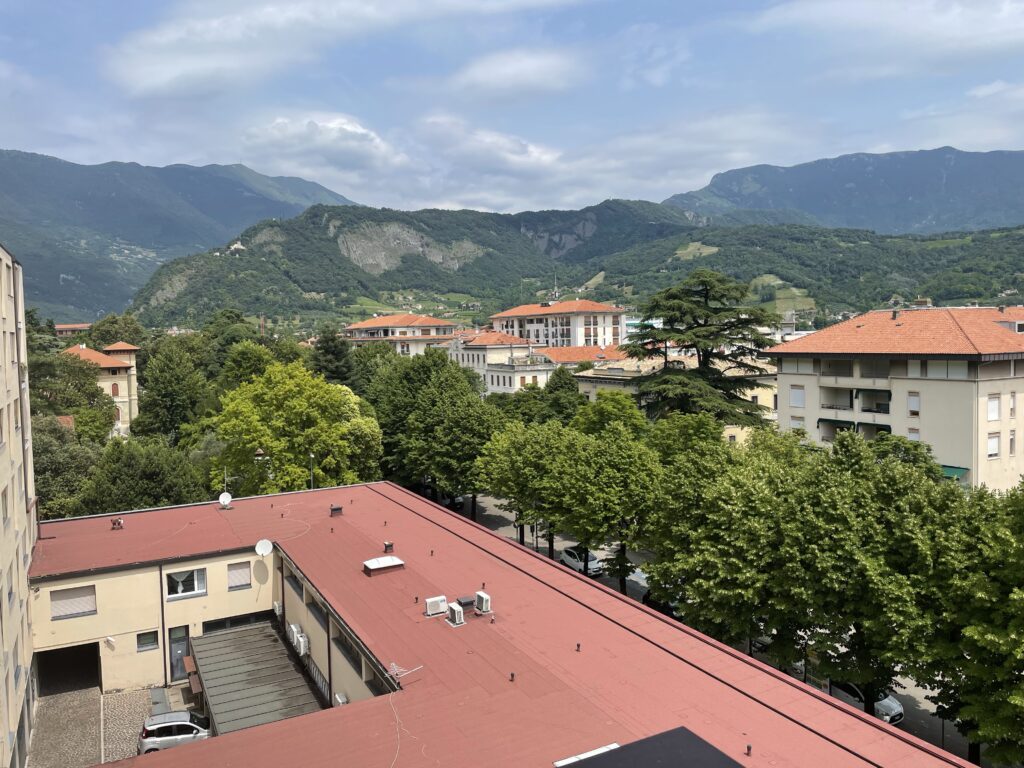 After checking in we climbed back onto the tandem and rode a few kilometres to the town of Serravalle for lunch. We'd been tipped off by Ines that this was a good choice, and so it proved. It's situated in a notch of the mountains, an important strategic location since Roman times. We climbed off the tandem in the beautiful Piazza Flaminio and ate pasta and salad while enjoying the unspoilt atmosphere of this small town.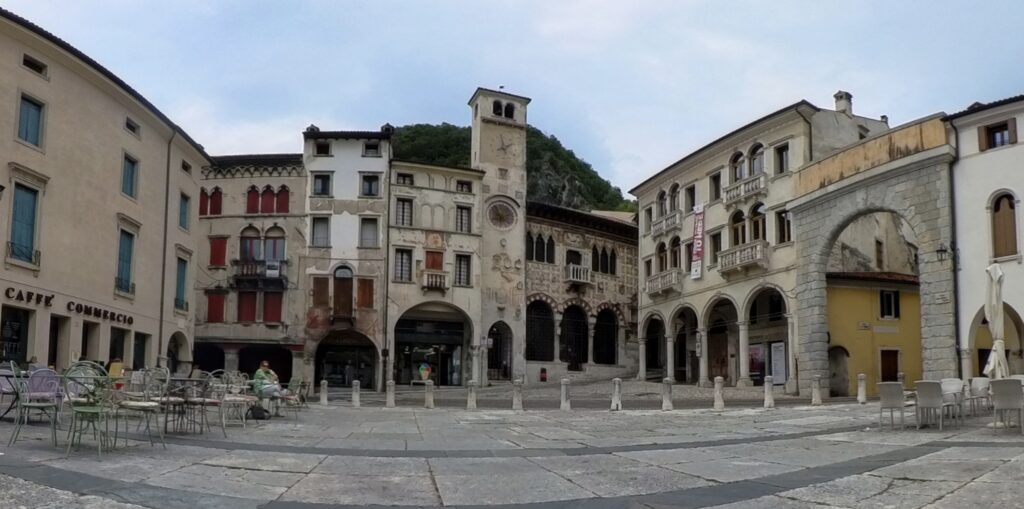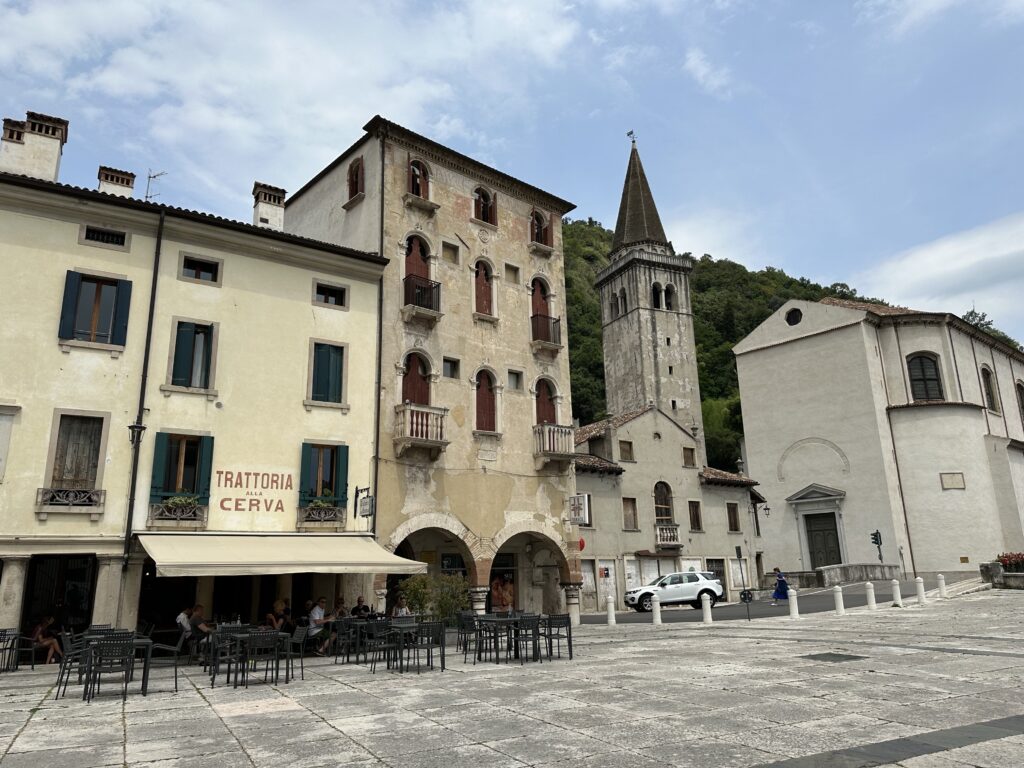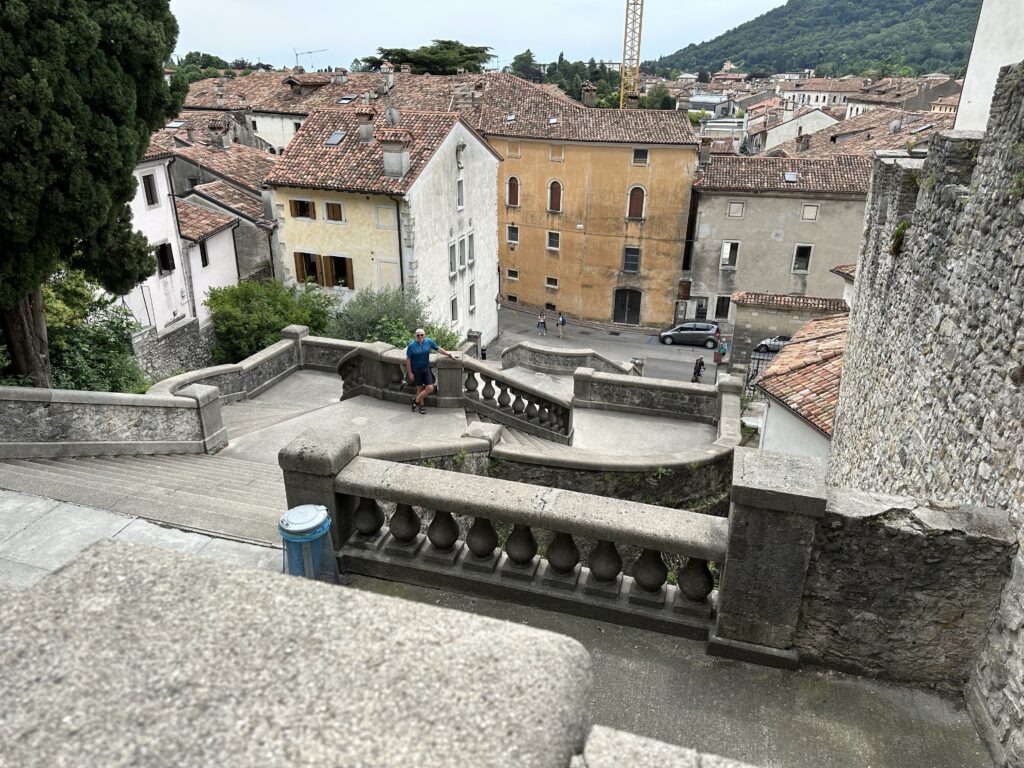 Tomorrow we head to Bassano del Grappa. It is extremely likely that we will sample some Grappa. For tonight, though, we will enjoy a glass or two of Prosecco!
Here's today's route and a short video