Distance: 26.3 km
Time: 2 hours 5 minutes
Speed: 12.7 km/h
Ascent: 539 metres
Total distance: 1255.8 km
Total time: 67 hours 24 minutes
Wordle scores: Captain 4 and 3, Stoker 4 and 5
Word of the day: "stanchissimo/stanchissima" (stan-kiss-e-mo, stan-kiss-e-mah) – really tired!
The Stoker writes:
Vieste is stunning. Sitting at the eastern edge of the Gargano peninsula, its old town is a labyrinth of tiny streets lined with ancient tall white buildings.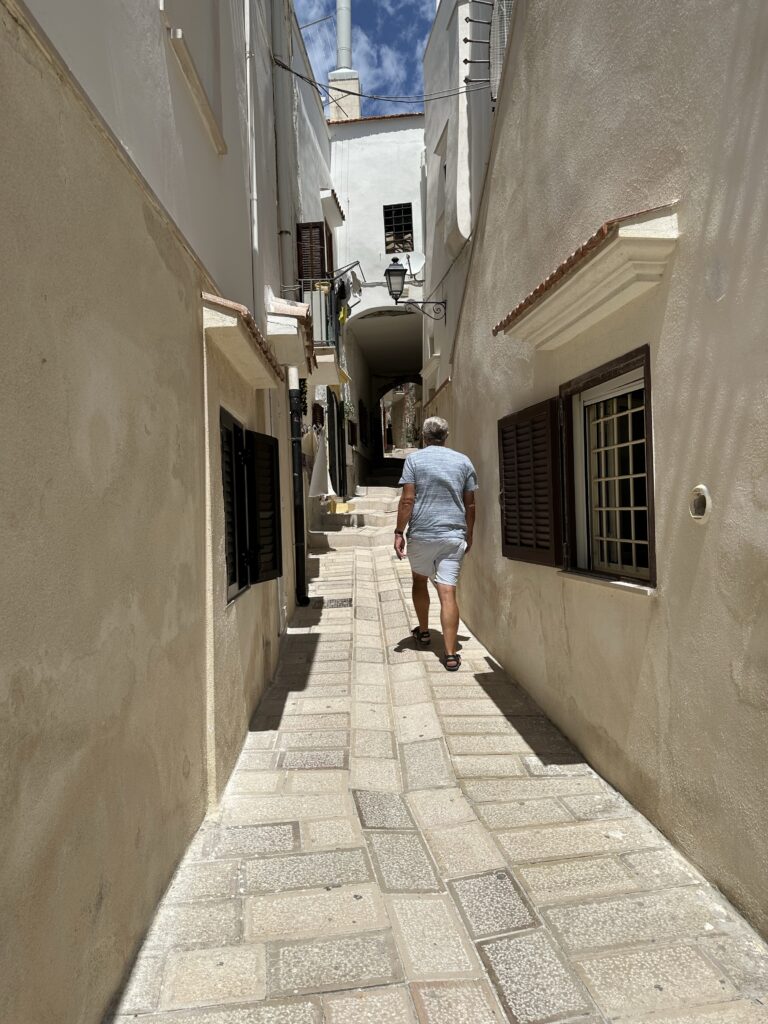 It's enclosed by more modern building which nicely echoes the 'centro storico', and the seafront on one side has a classy white piazza with palm trees and a tunnel of clasped hands.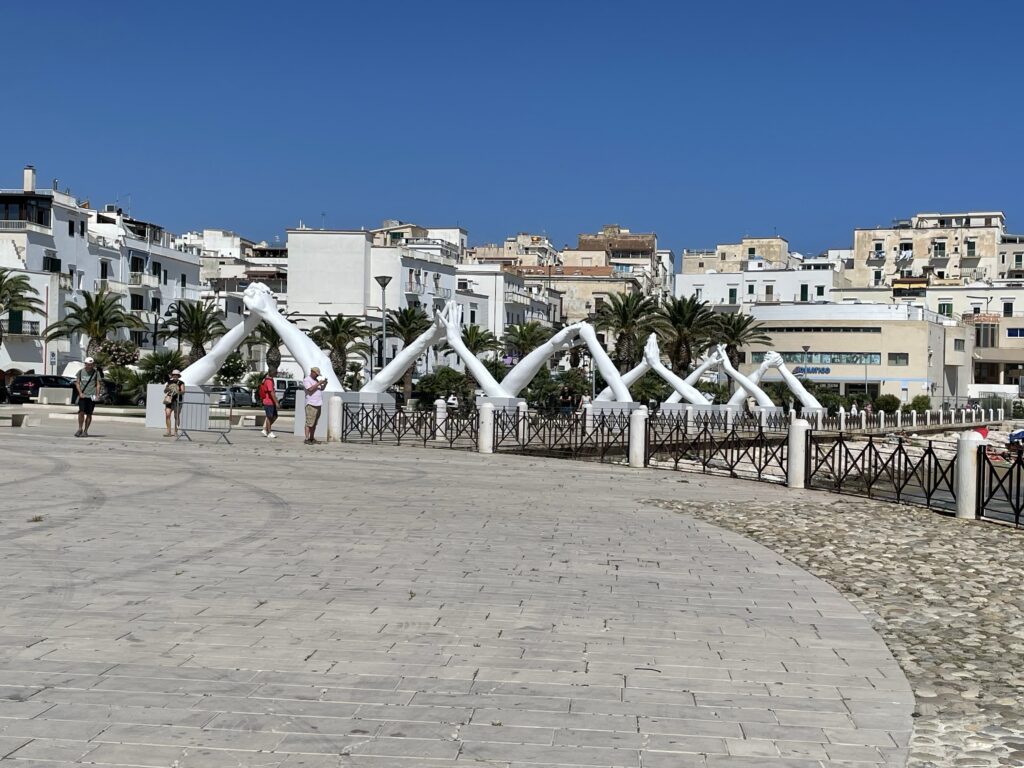 There's a trabucco at the San Francesco point, and great views from there to the part of town where our house is.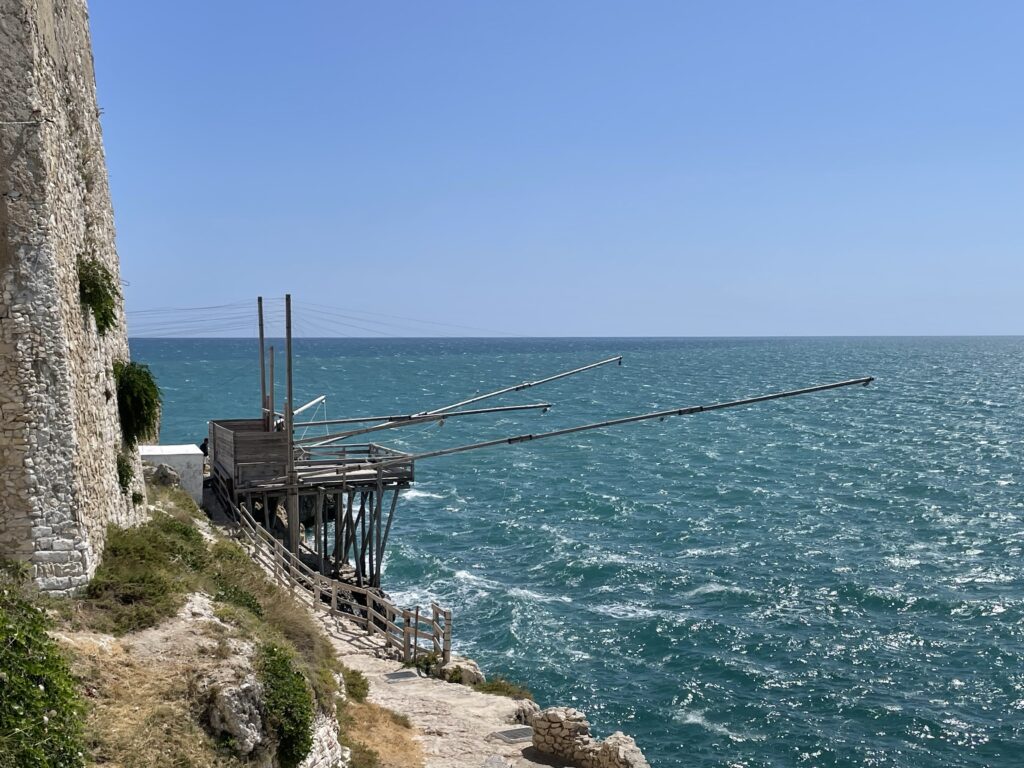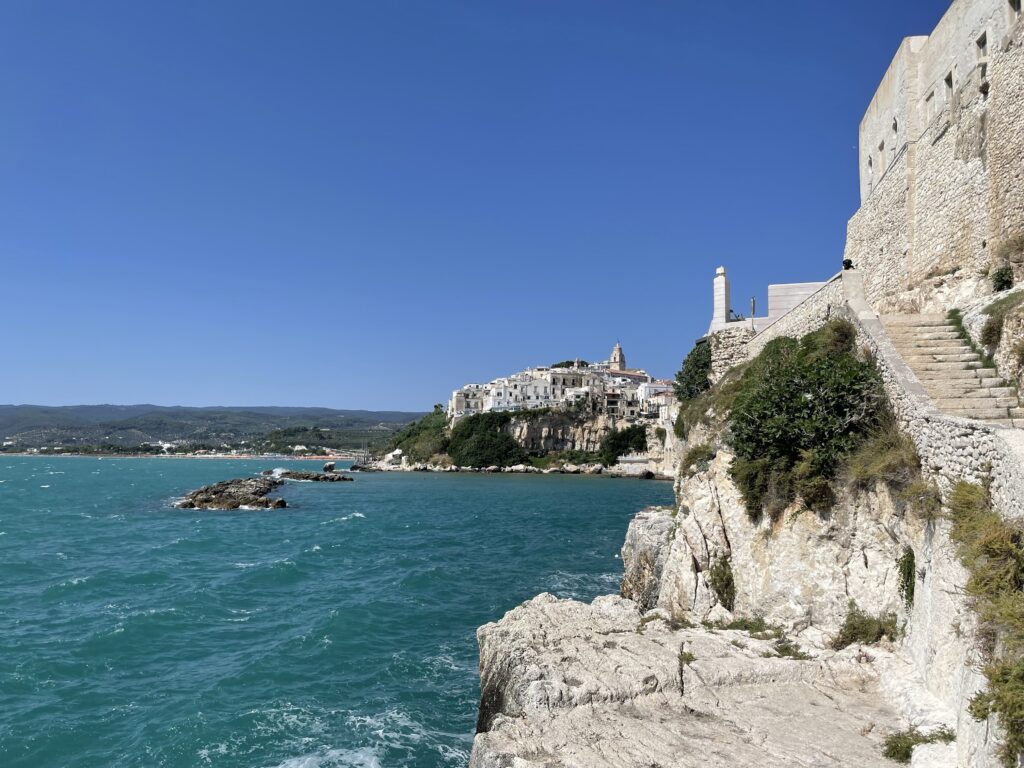 On the other side is the long beach, dominated at one end by 'the monolith'.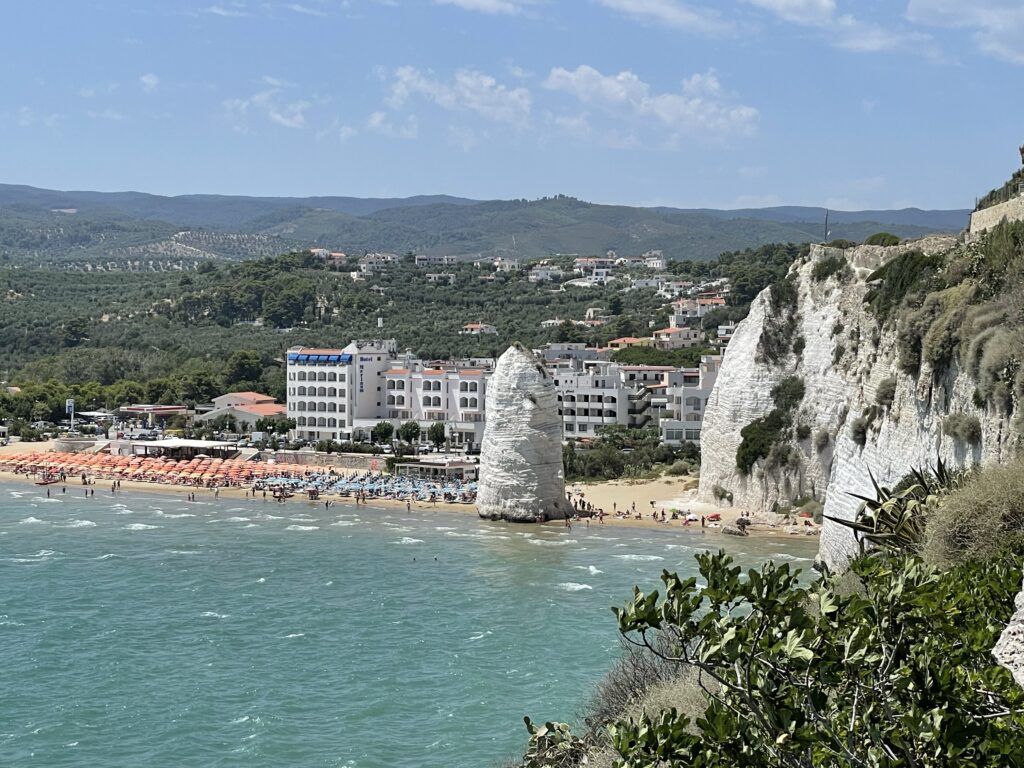 It must have been a full arch at some point in its history. There are legends of a petrified lover, of course, Pizzomunno the fisherman, whose lover Cristalda was kidnapped by jealous sirens. It is said that if you circumnavigate it you will be sure to return to Vieste.
We had a good wander round yesterday, and then lunch at Sapori di Mare overlooking the Punta San Francesco.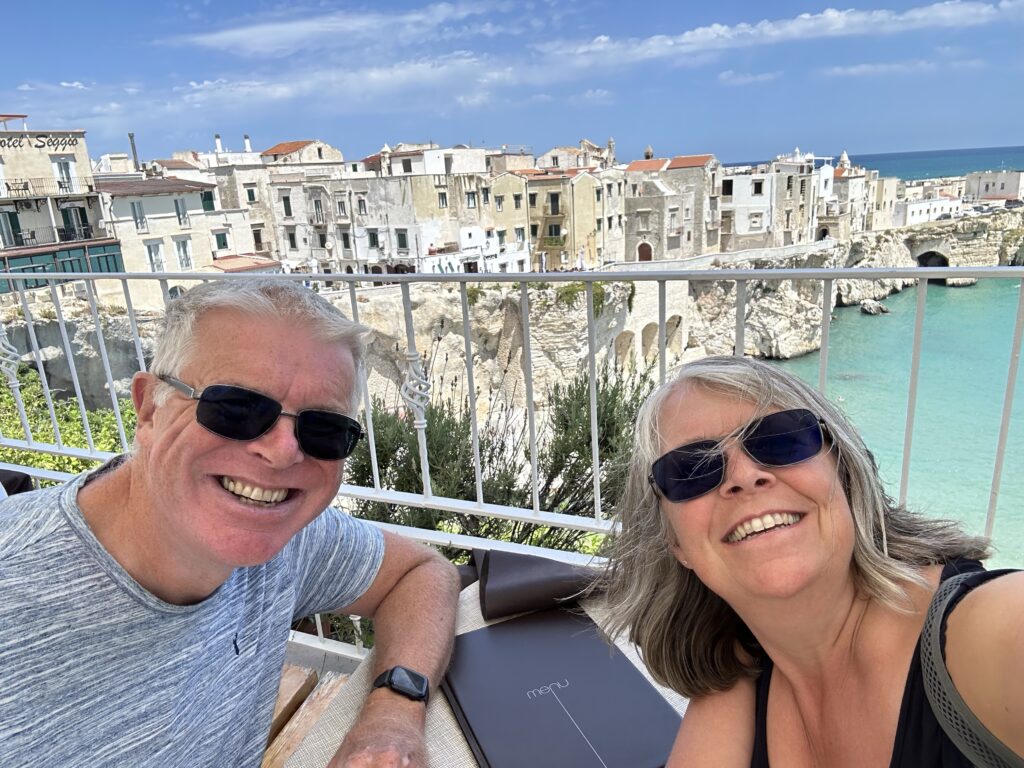 So many sights to show you. Here's a selection.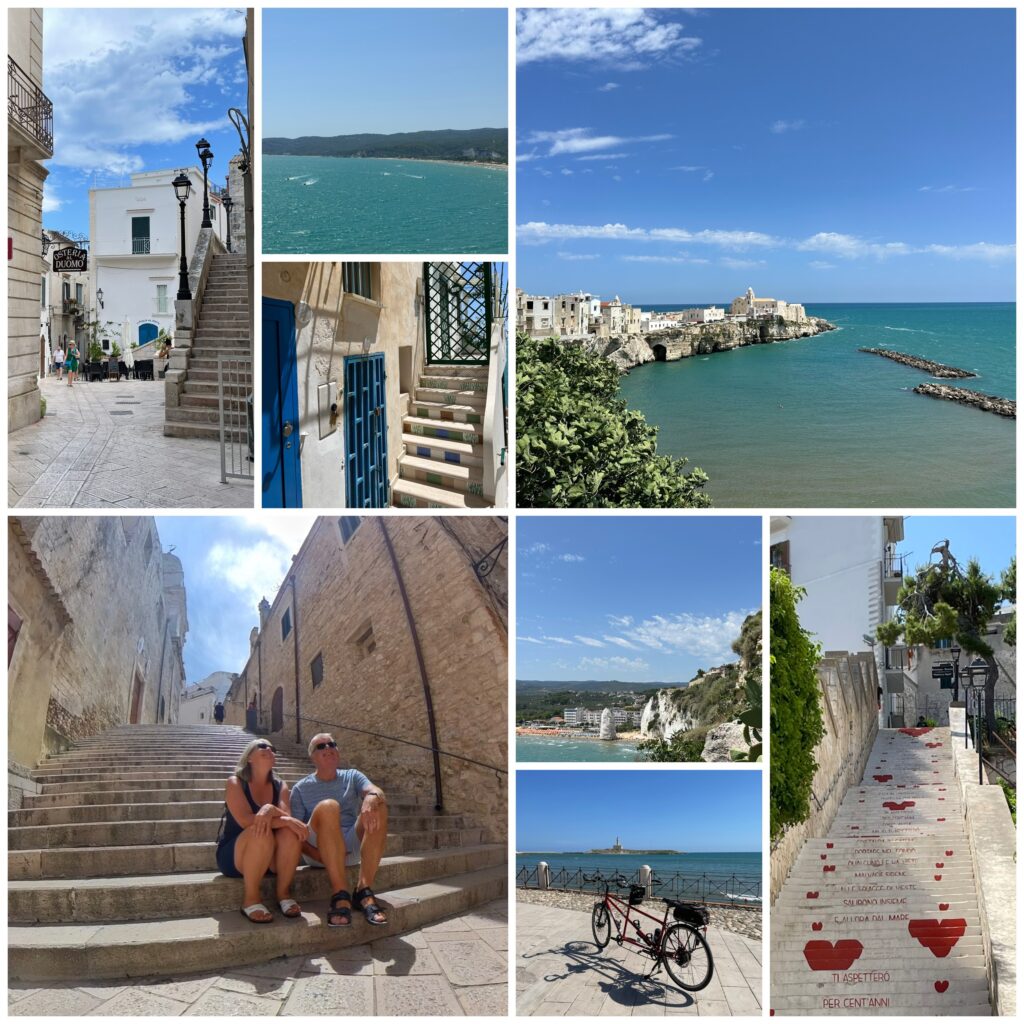 The Giro d'Italia cycle race came here in October 2020, and looking back, I think that was what put the germ of the idea for this trip in our heads. That was in the midst of the pandemic, of course, and it being a rainy October, we were exercising on turbo-trainers at home, watching highlights of Stage 8 of the race whilst we pedalled nowhere. Stage 8 – Giovinazzo to Vieste. "That looks lovely", I thought, followed by "What an amazing trip that was, cycling down Italy in 2018. I'll never do anything quite like that again", followed by "Hang on…. why not???!". The Captain was immediately taken with the idea, and suggested the east coast trip we are now on! Furthermore, that stage of the Giro raced on some of the actual roads on today's route, how cool is that?
We tootled down into town for breakfast this morning, and a closer look at the monolith.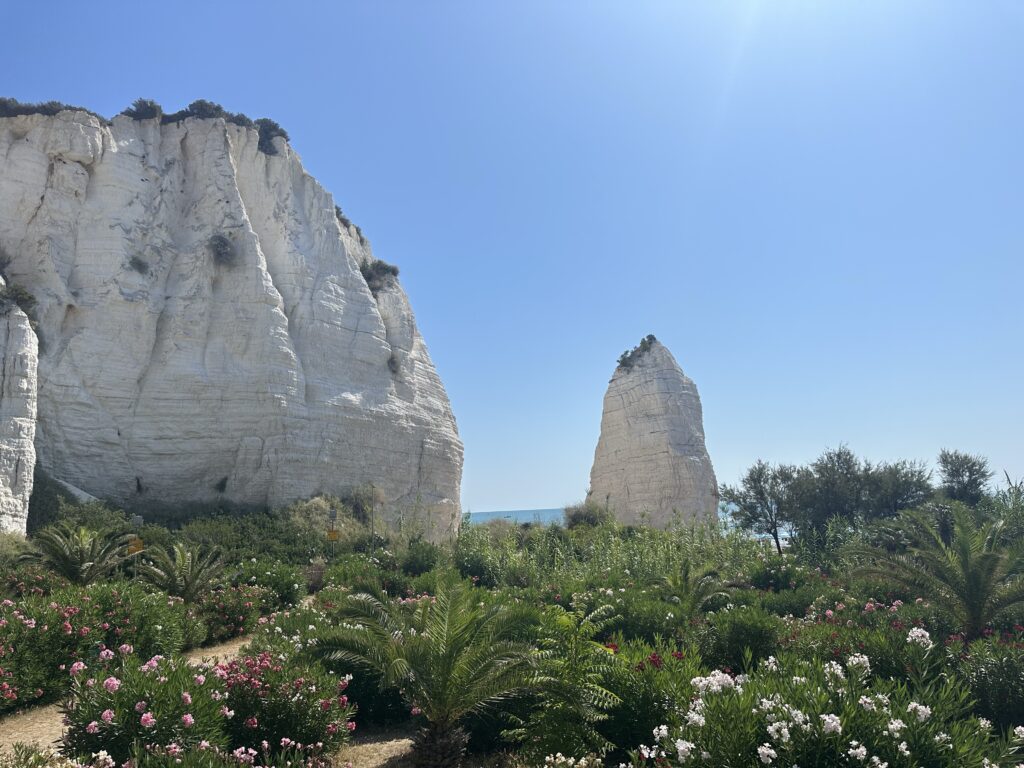 Only 26km to ride today, to Baia delle Zagare for a two day rest in a lovely posh hotel. Easy, right?
Four climbs popped up on Gilbert's screen as we got going. The first three were fairly benign, and we knew there were great viewpoints at the top of the first two. The first was a view back towards Vieste, along the many beaches, the town just still visible in the distance.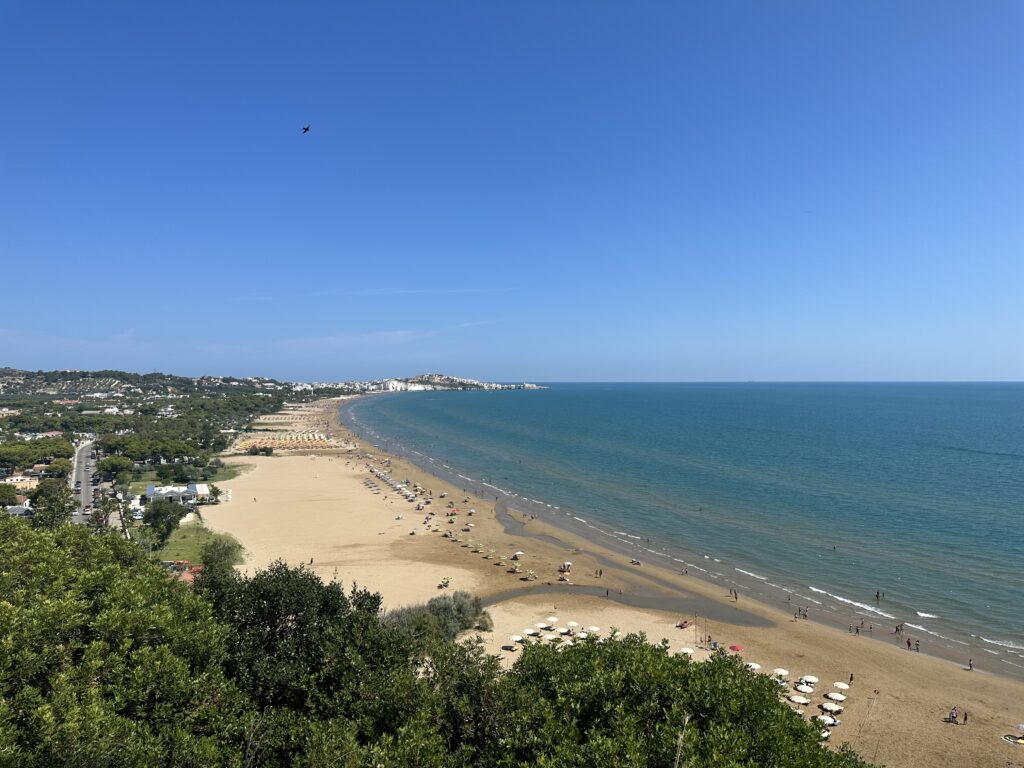 The second climb took us through an area devastated by a fire a few days ago. Our host, Giulio, had warned us about it, it was completely destroyed, and thought to be the work of an arsonist. All that remained of the beautiful forest was blackened limbs, such a shame. So much of it was destroyed before they could get it under control, and it will take perhaps fifteen years to regenerate.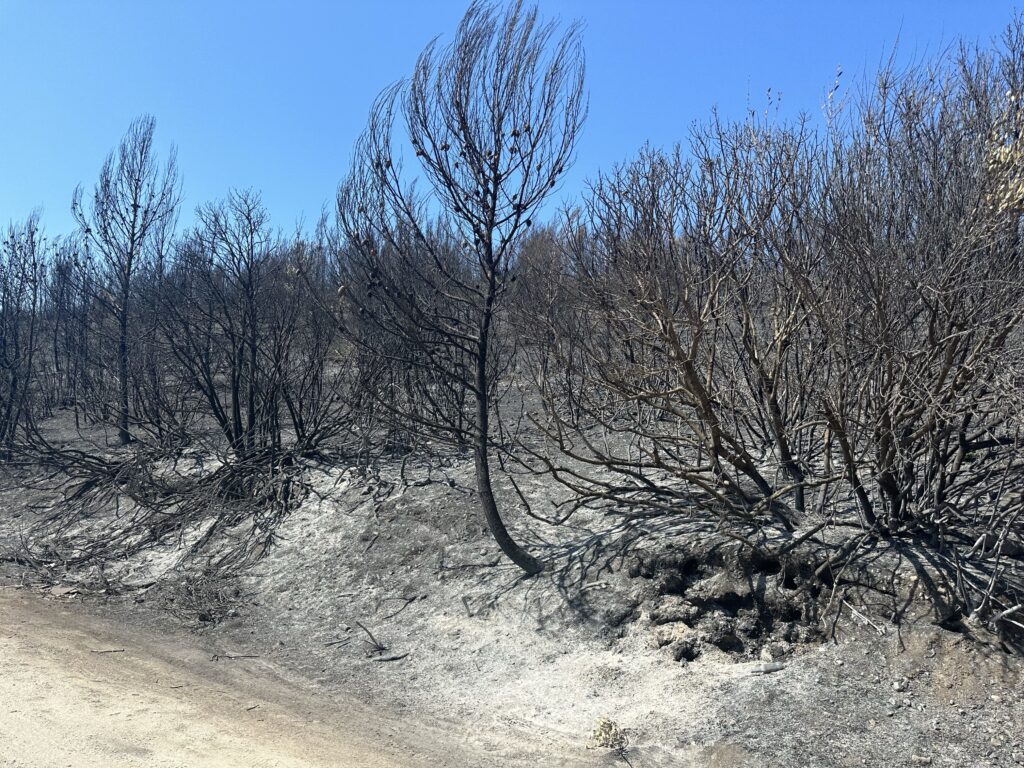 We stopped at another of Frederic II's defensive towers, this one undergoing renovation and looking very sharp.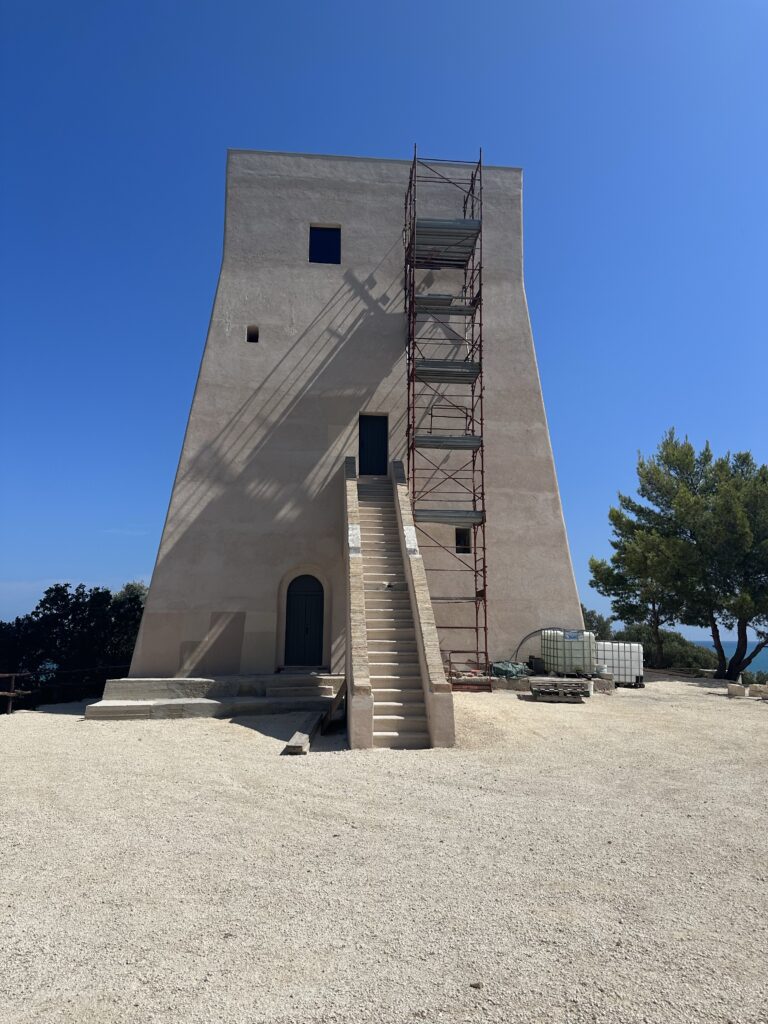 There was also a great view of the beautiful Arco di San Felipe.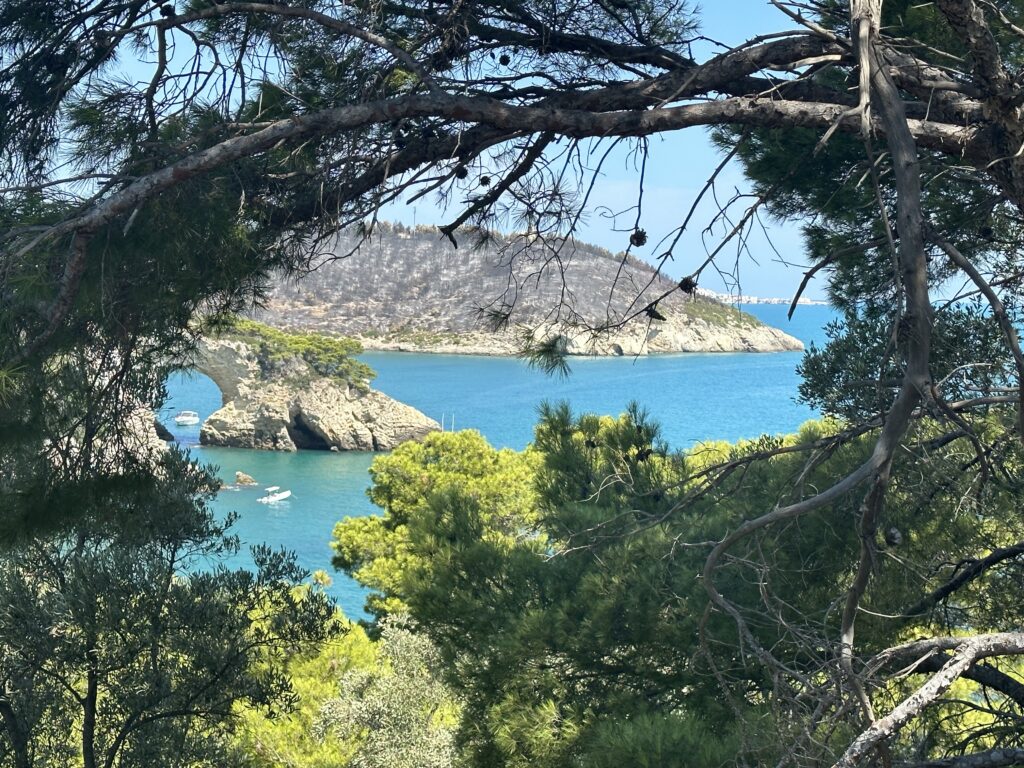 After the third benign climb, and a couple of kilometres of recovery, here it was, the monster climb of the day. 375 metres of vertical ascent over 6.5km, with two extensive steep sections, the biggest climb we've tackled in one go on this trip so far.
It was hard, really hard. The first kilometre went by, but I couldn't seem to get into a rhythm, or get any decent push out of my legs. Sometimes you just have a day like that, but it's pretty inconvenient on a day with such a lot of work to do. We stopped several times for a break and a drink, and the Captain took on a lion's share of the effort, but it was really a case of gritting our teeth and getting through it.
After about three weeks (!) we finally made the top, and started down the other side. The descent was glorious, not too steep, but quite winding, so there was a lot of my shouting 'HARD LEFT', 'SOFT RIGHT' and so on as we sailed down, so the Captain was forewarned about how a corner was going to develop.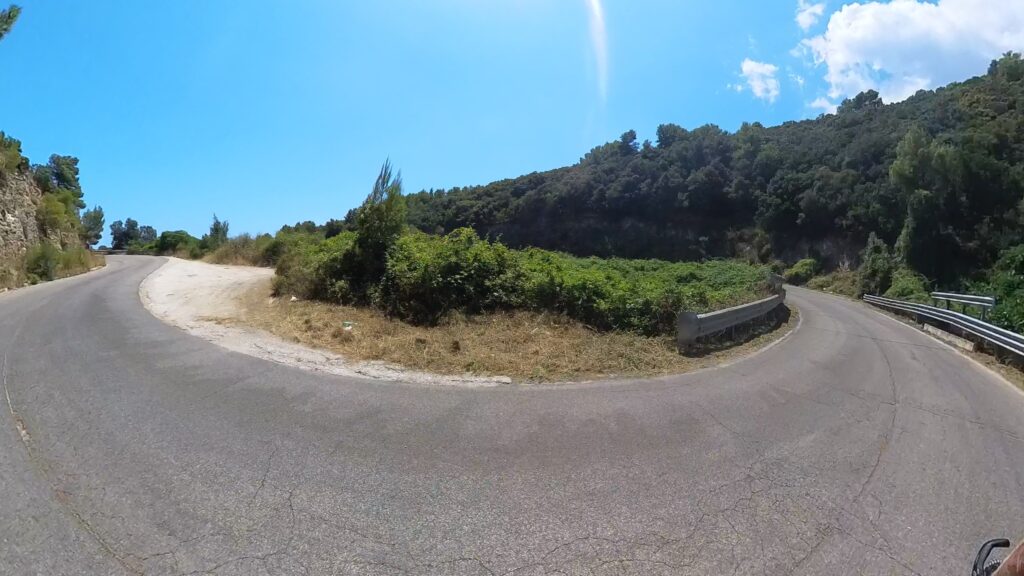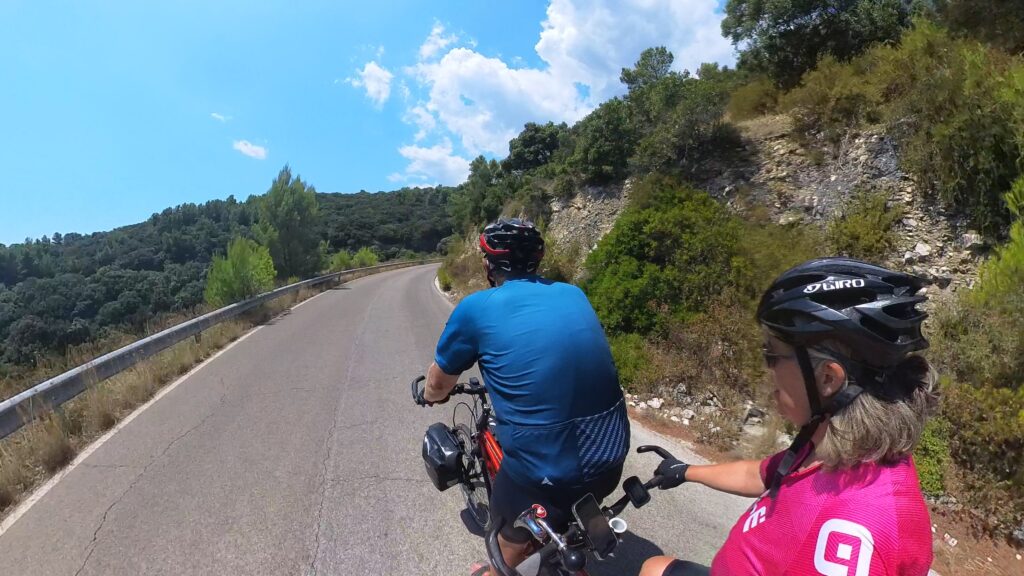 There were occasional tantalising views of the gorgeous coastline, and at one point a valley full of olive groves opened up to our right.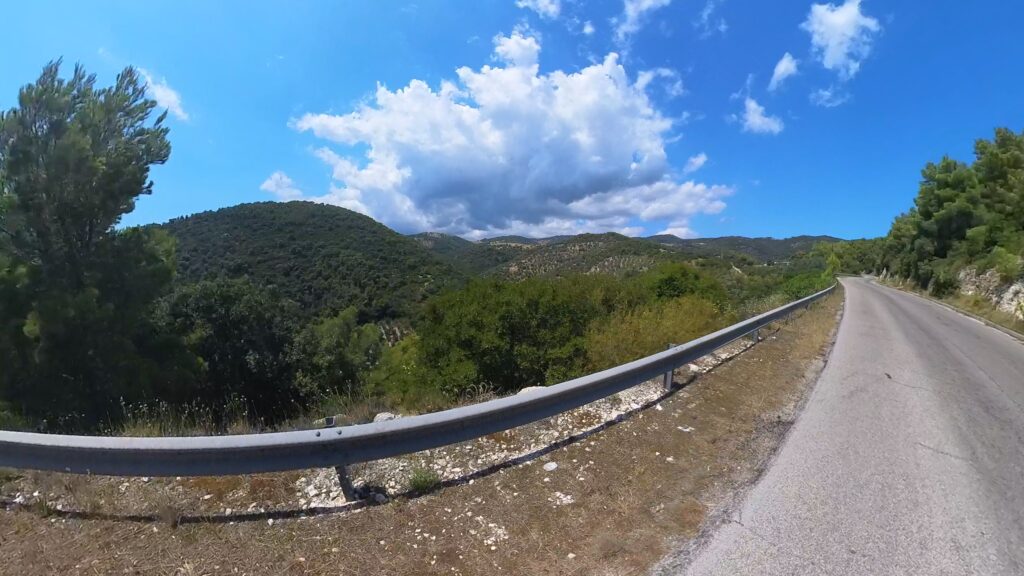 Suddenly I realised I could see buildings below in in the bay, and a distinctive rock arch – it was our hotel!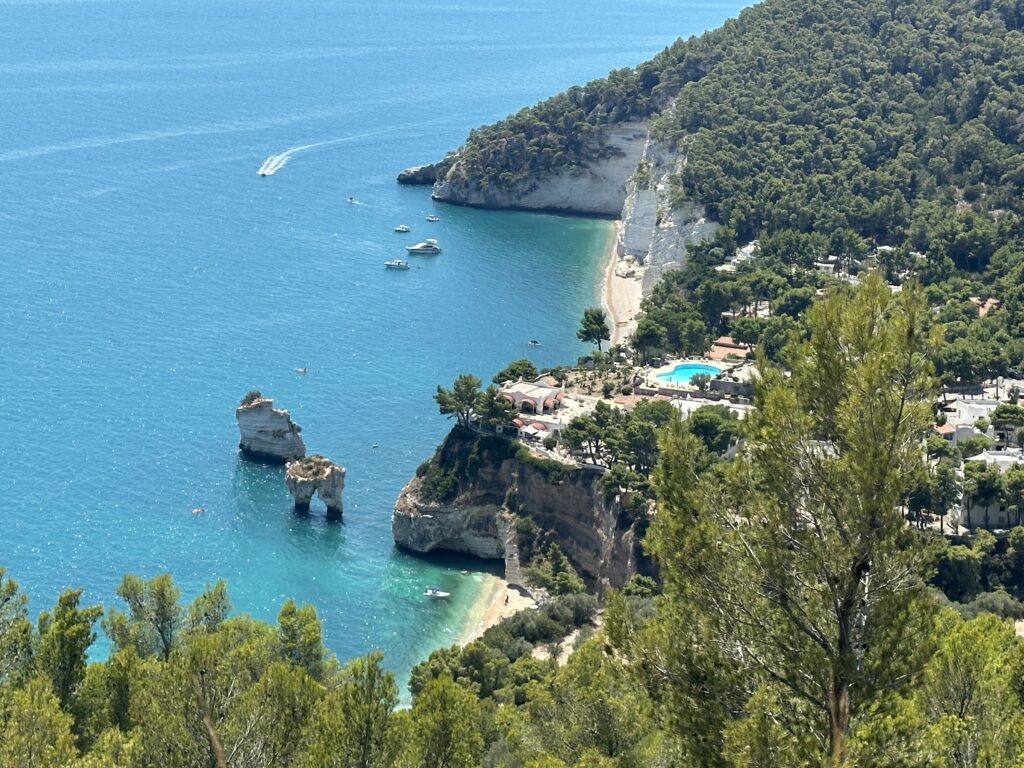 It looked amazing, it made all the effort of getting here seem worth it, and the staff couldn't have been nicer or more welcoming on our arrival. There's even a lift to take you down several stories to the beach! I'm writing this entry from my front row lounger, with a cracking view of the arch. The sea looks very inviting. So I think it's time we soothed our aching limbs in it.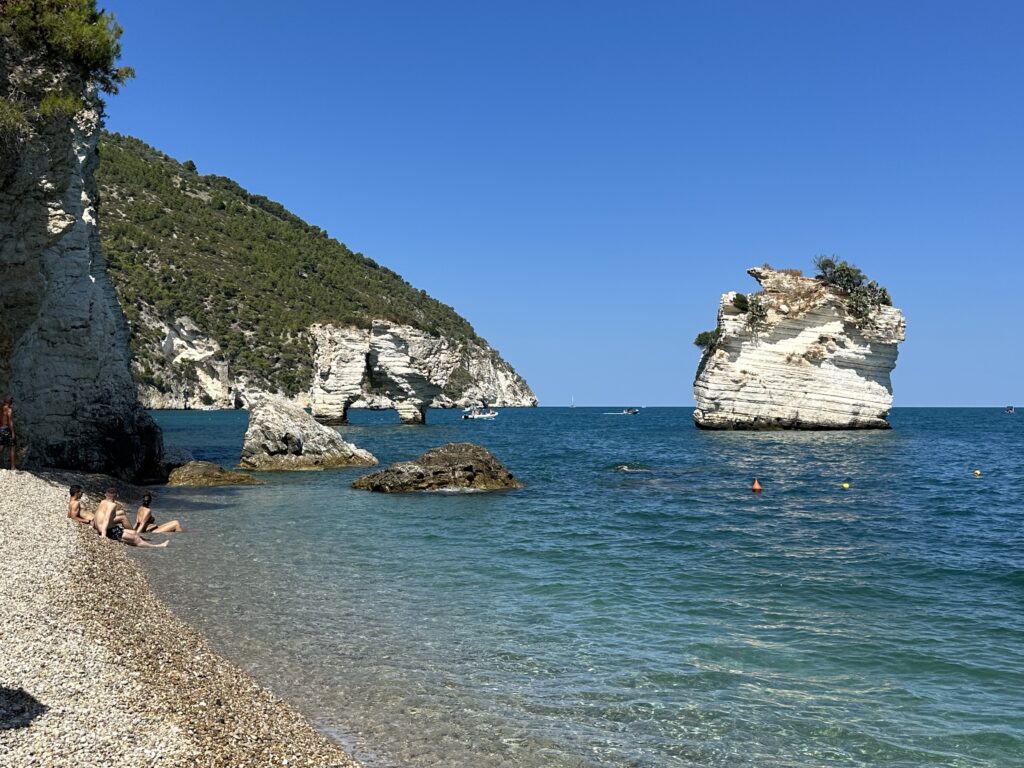 We'll take two days here, resting and recuperating, before tackling one final day of climbing on the Gargano peninsula, to Manfredonia.
Here's today's route and a short video