Distance: 49.33 km
Time: 2 hours 57 minutes
Speed: 16.7 km/h
Ascent: 419 metres
Total distance: 2610.8 km (1622.3 miles)
Total ascent: 15922 metres (52,238 feet)
Total time: 141 hours 57 minutes
Wordle scores: Captain 4, 4 Stoker 5, 5
Word of the day: "arrivati" (ah-ree-vah-tee) – arrived
The Captain writes:
Our plan to have one final swim in the Ionian Sea at Giardini Naxos was thwarted by the weather – we did manage to visit the beach for a while but there were big waves and cloudy skies, so we weren't tempted. The clouds were photogenic in the evening.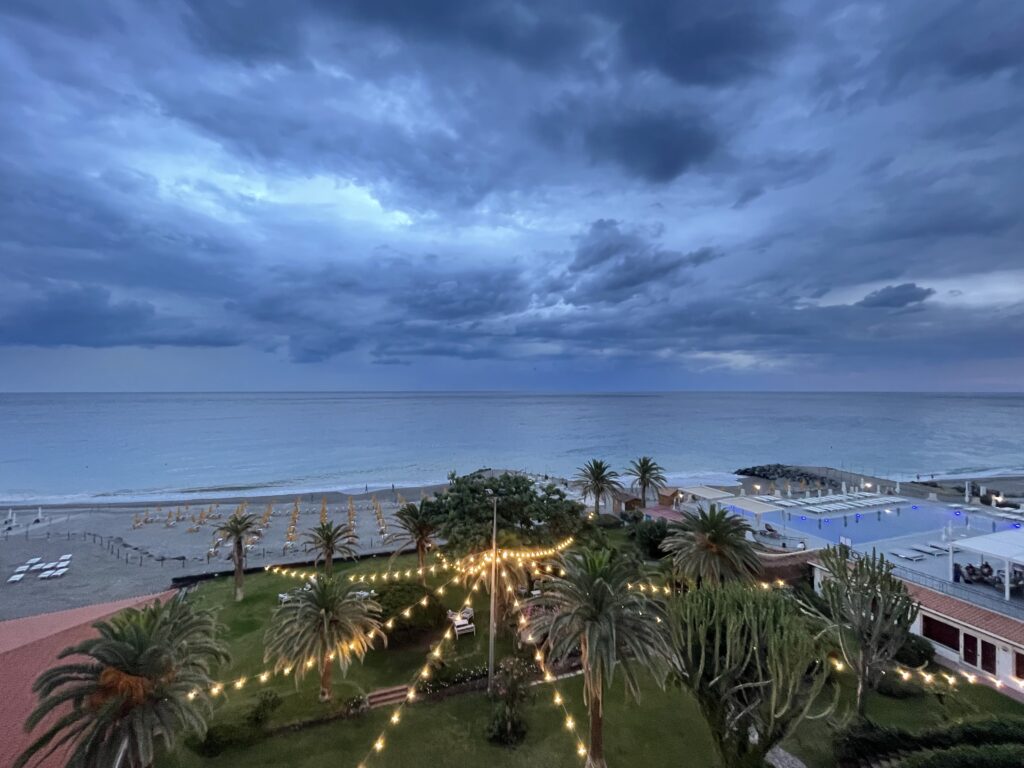 We did enjoy our stay, and there were a couple of good restaurants opposite the hotel where we dined and took lunch. The waiter at one of the restaurants claimed to be good at identifying the nationality of the diners, but failed with us, when he tried speaking to us in Dutch! We did look somewhat confused when he said "Alsjeblieft"!
One stage left to complete, then, and it threw a lot of already familiar experiences our way – our trip in microcosm, you might say. We set off inland, joined the SS road for a little while and then, once over a river, returned to the lungomare. To begin with this was very pleasant, and then we saw a warning sign saying "deep sand". Now our route planner software, Komoot, had warned us of 1.5 kilometres of "compacted gravel", which would have been fine. The sand was completely unrideable, though, so we ended up pushing the tandem (past a couple in their car, stuck fast, waiting for their rescue service) for pretty much the entire 1.5 kilometres. Our muscles were certainly warmed up after that experience, and our feet were, well, sandy!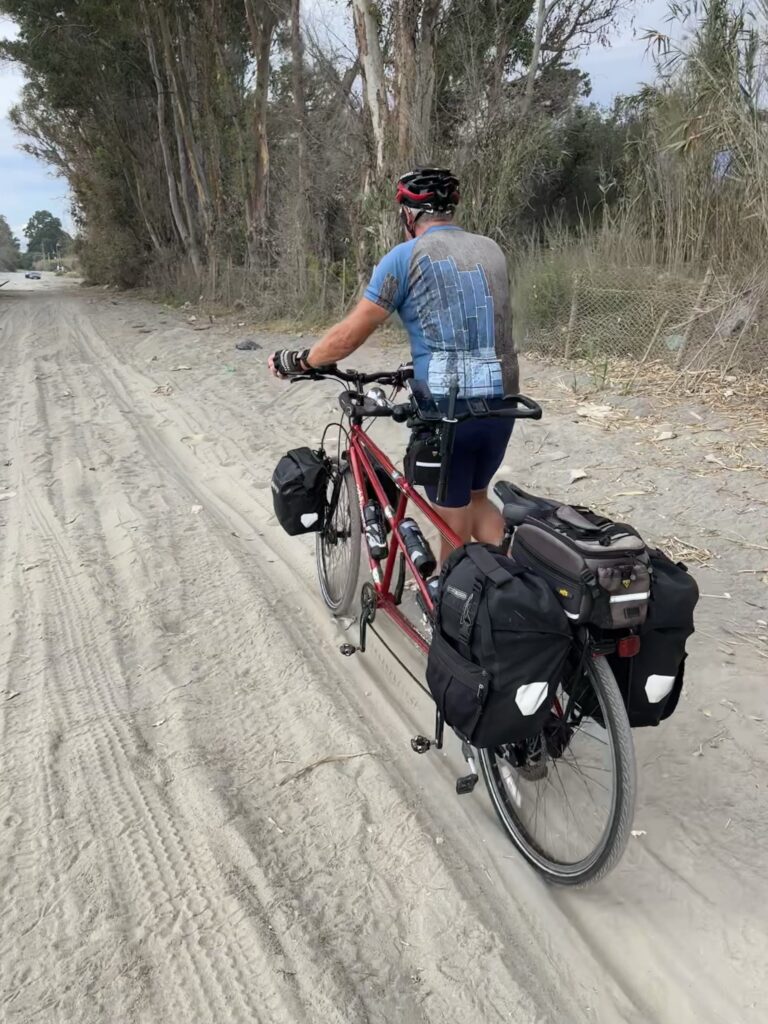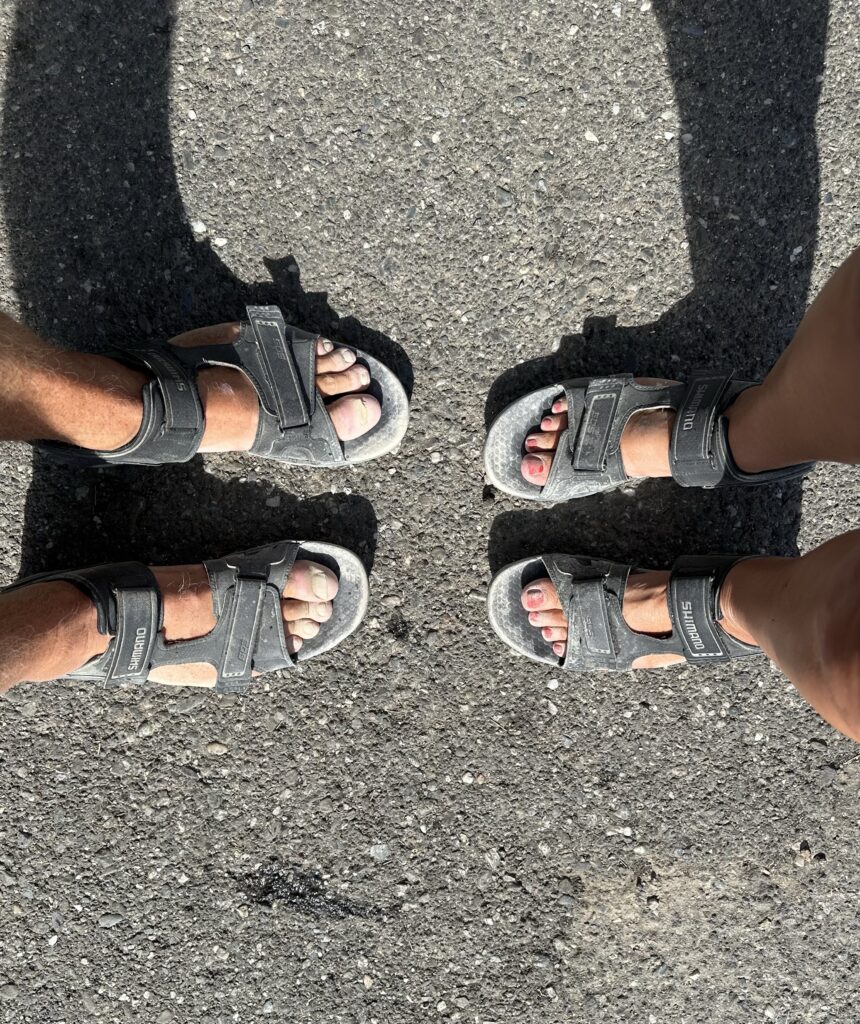 We kept seeing signs by the side of the road, warning that bicycles were forbidden when the roads were covered in volcanic ash. That's not something we deal with every time we go out in Yorkshire.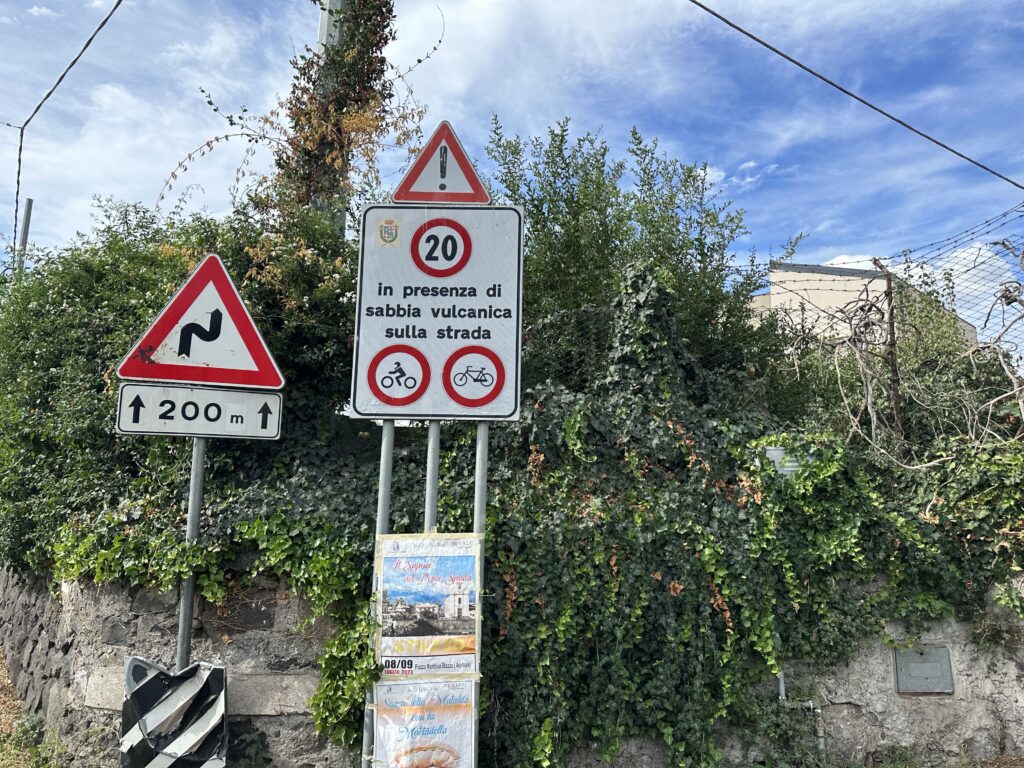 There was none on the roads, but when we stopped for a drink we noticed that the walls at the side of the road had a thin layer of ash from the recent volcanic activity – the last time the roads were closed to bikes was only three or four weeks ago.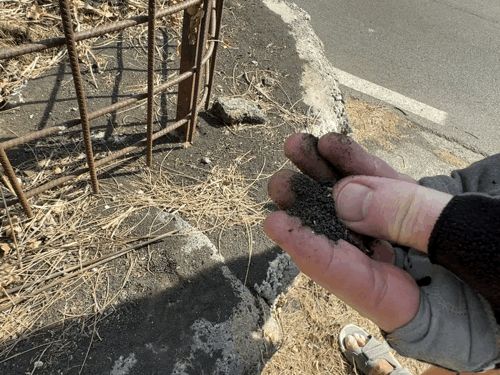 Our second experience involved a careless pedestrian – another familiar trope from this trip. We were bowling along in a wide cycle-lane, when I spotted a man, only a few feet ahead, walking out into the lane without looking in either direction. I alerted him with a bellow, and he stepped back right at the last minute, offering curses in our direction. I replied with a very loud "Idiota!" and we cycled on…
To our right, throughout the day, the huge bulk of Mount Etna dominated. We were never able to see all of the summit, because of the cloudy weather, although we could see a couple of volcanic cones on the flank of the mountain representing previous eruptions.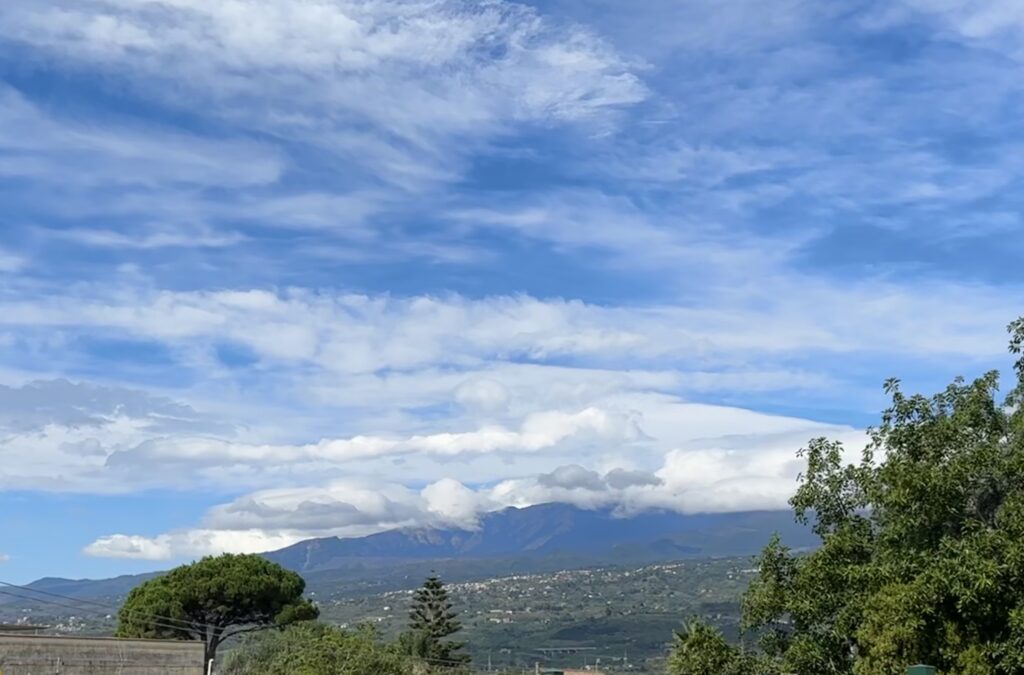 We knew our route today involved a couple of climbs – the first of them being the toughest. It was about two kilometres long and fairly steep, so it kept us occupied for a while, and offered good views of the coast to the north.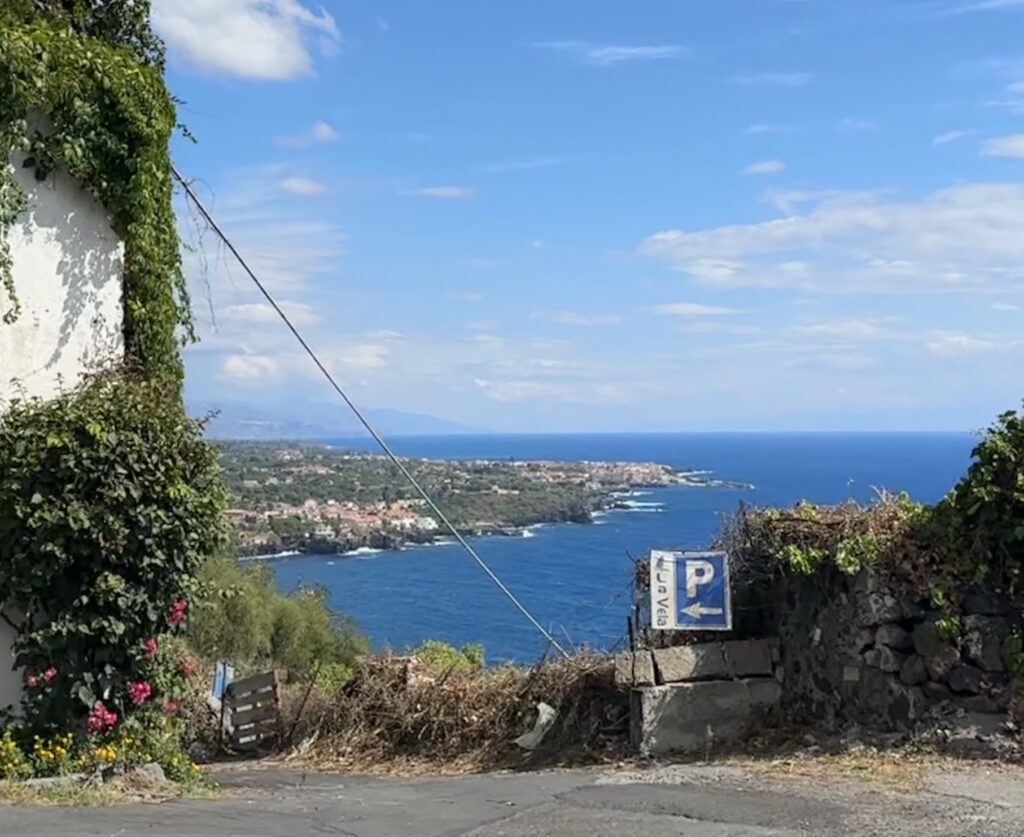 Then we turned onto a coastal road which I think I recognised from last time, remembering that it brought us almost all the way into Catania. This, and a sharp turn onto a steep uphill road inland, made us stop and re-evaluate our route for today, which involved a second steep climb. By following our 2018 route we would able to eliminate the second climb altogether. Easy decision!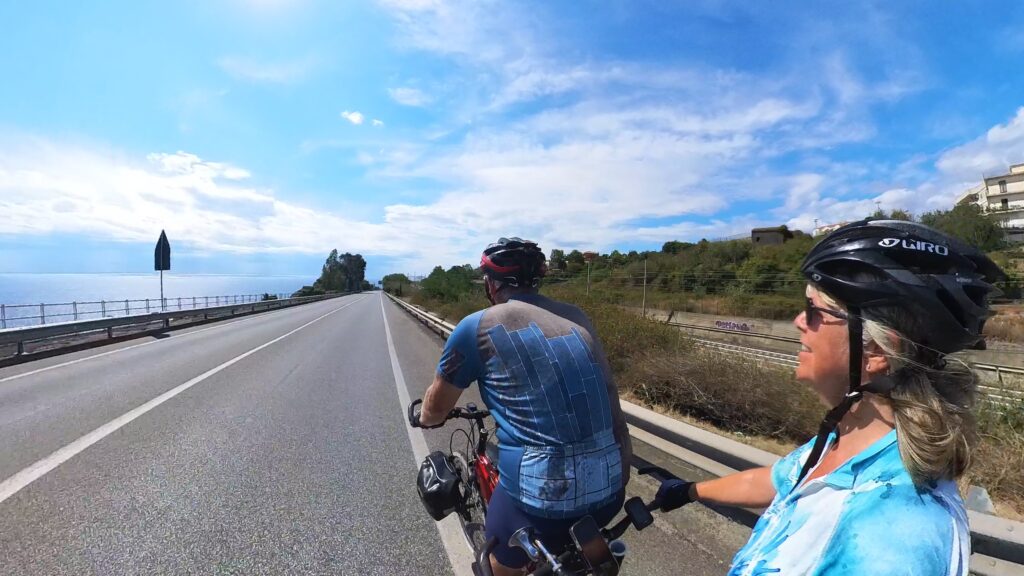 As well as avoiding the climb, our amended route took as alongside some remarkable sea stacks, and a castle constructed from black lava.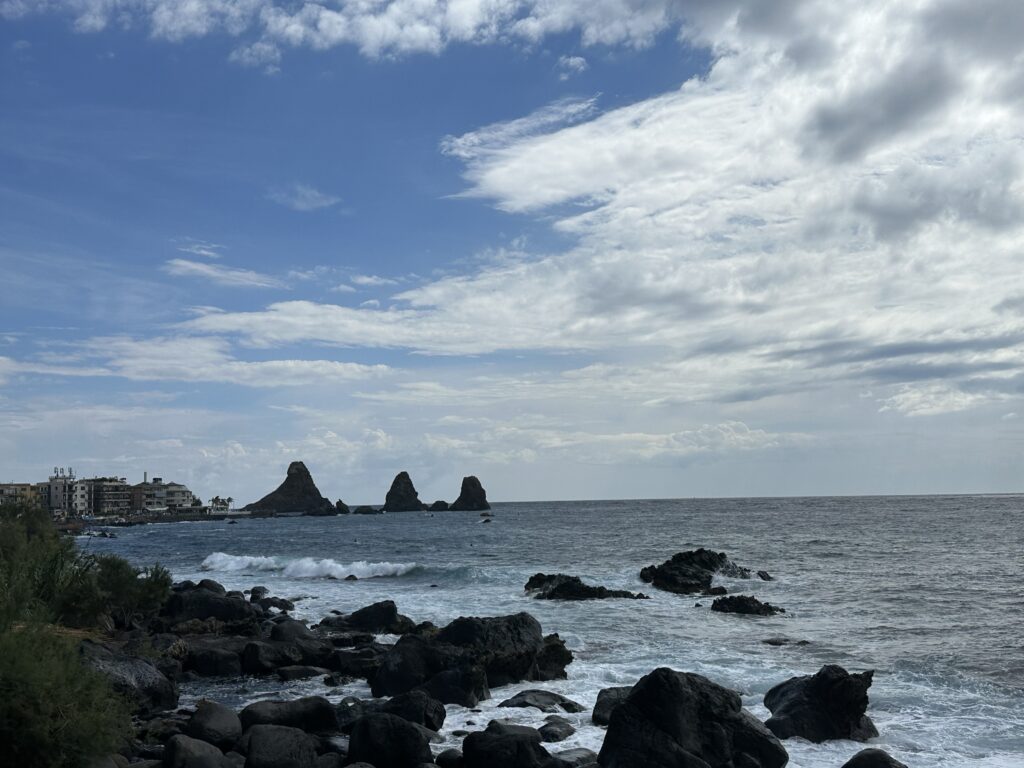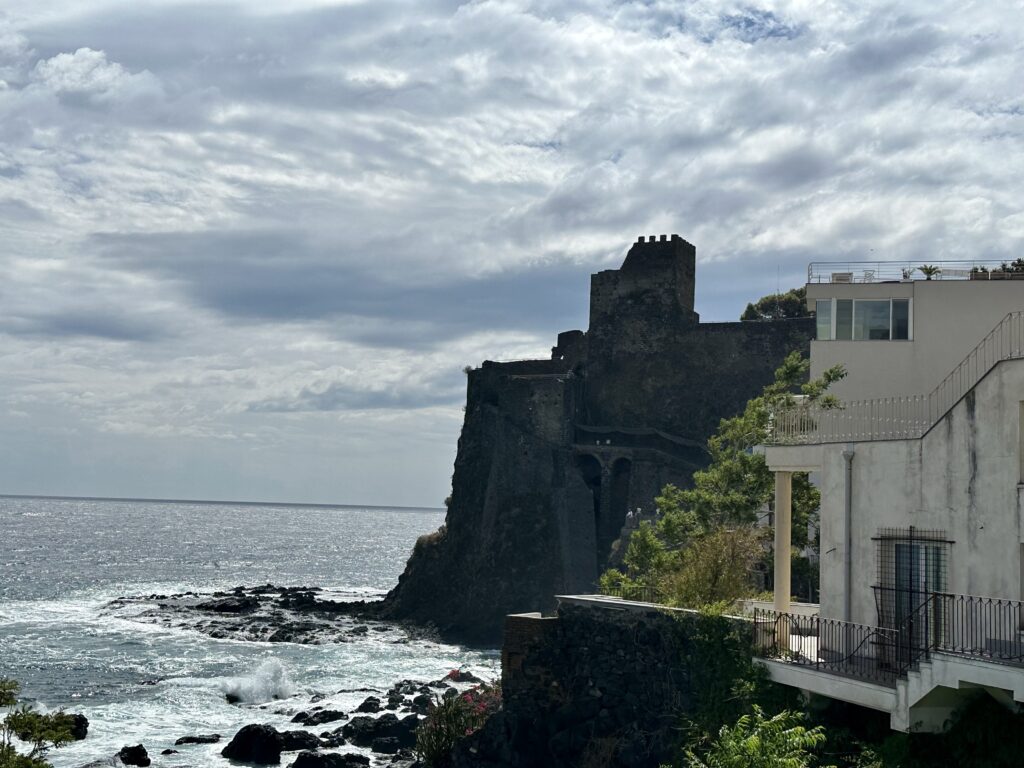 As we approached Catania the traffic grew in intensity, and when we turned onto one of the familiar blocky cobbled lava streets we bounced our way along in heavy traffic, eyes in all directions at once, concentrating fiercely. Eventually we reached our target – we had decided that this journey would end at the Fontana dell'Elefante in Piazza Duomo, a favourite spot from our last trip.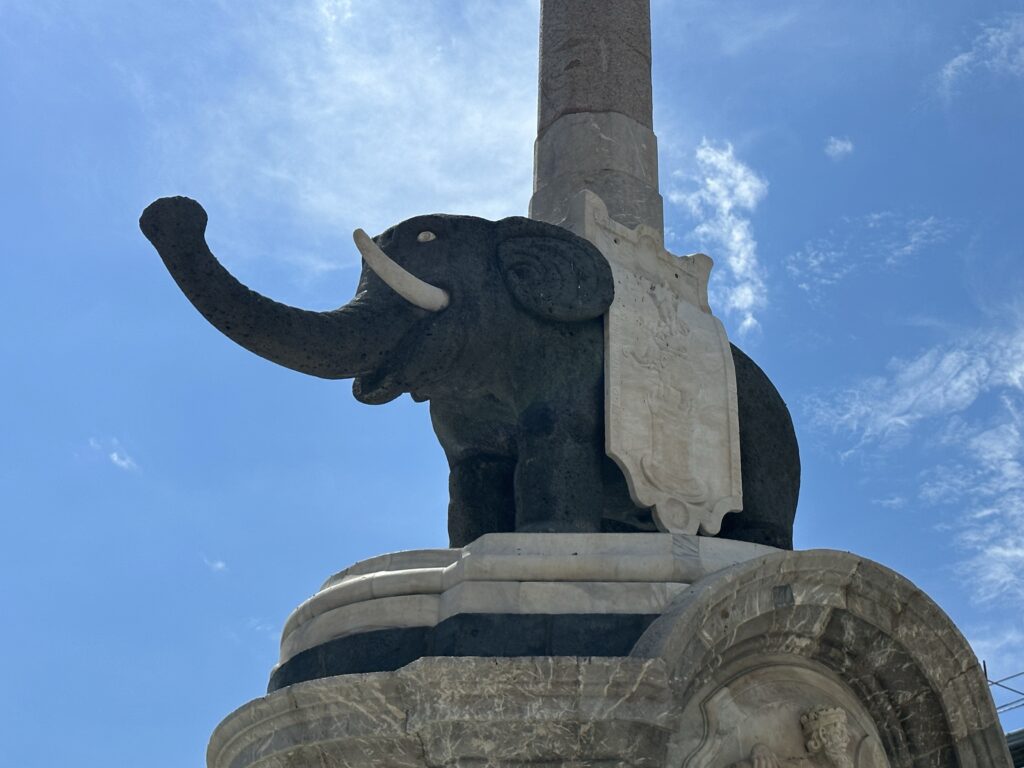 We dismounted, declared our journey over, embraced sweatily (nice!) and took photographs, before heading off for lunch at a nearby café.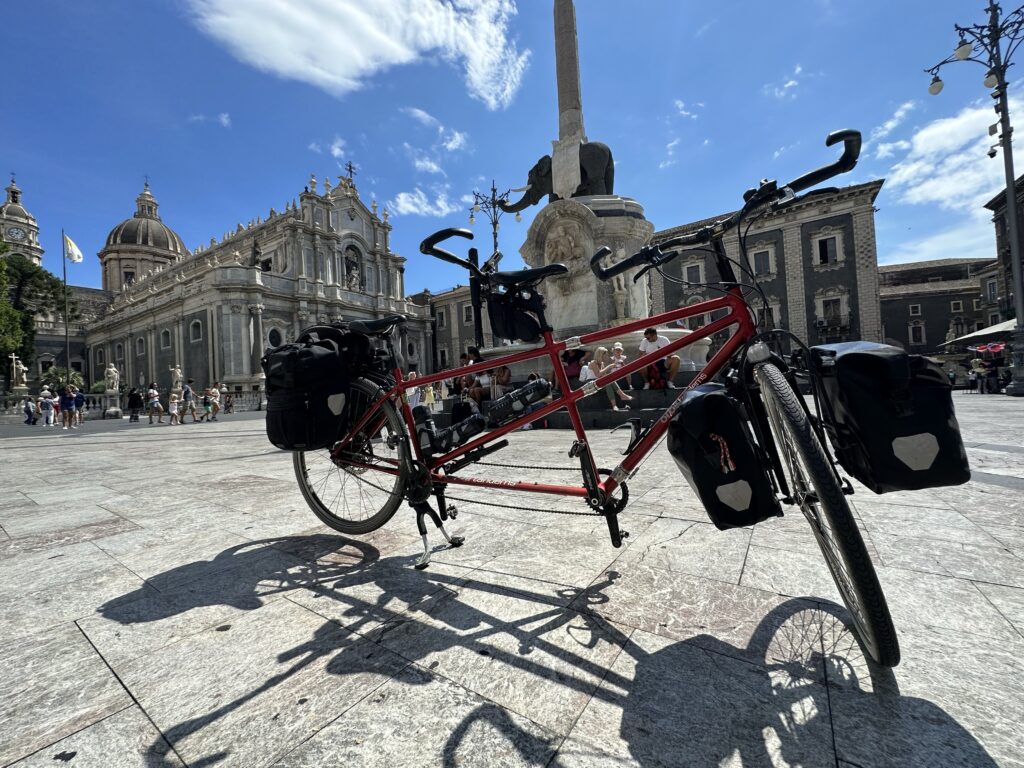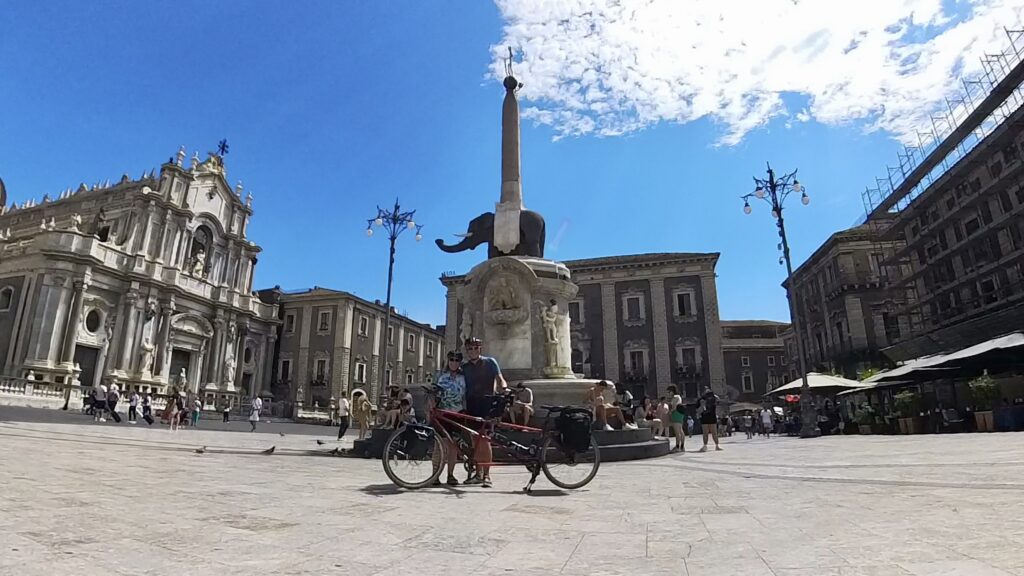 So all that remains now is to obtain the materials (cardboard, packing tape and bubble-wrap) which will allow us to pack the tandem for our flight home. We've allowed two full days for this, which should be sufficient, though there are flights to the UK almost daily from Catania Airport.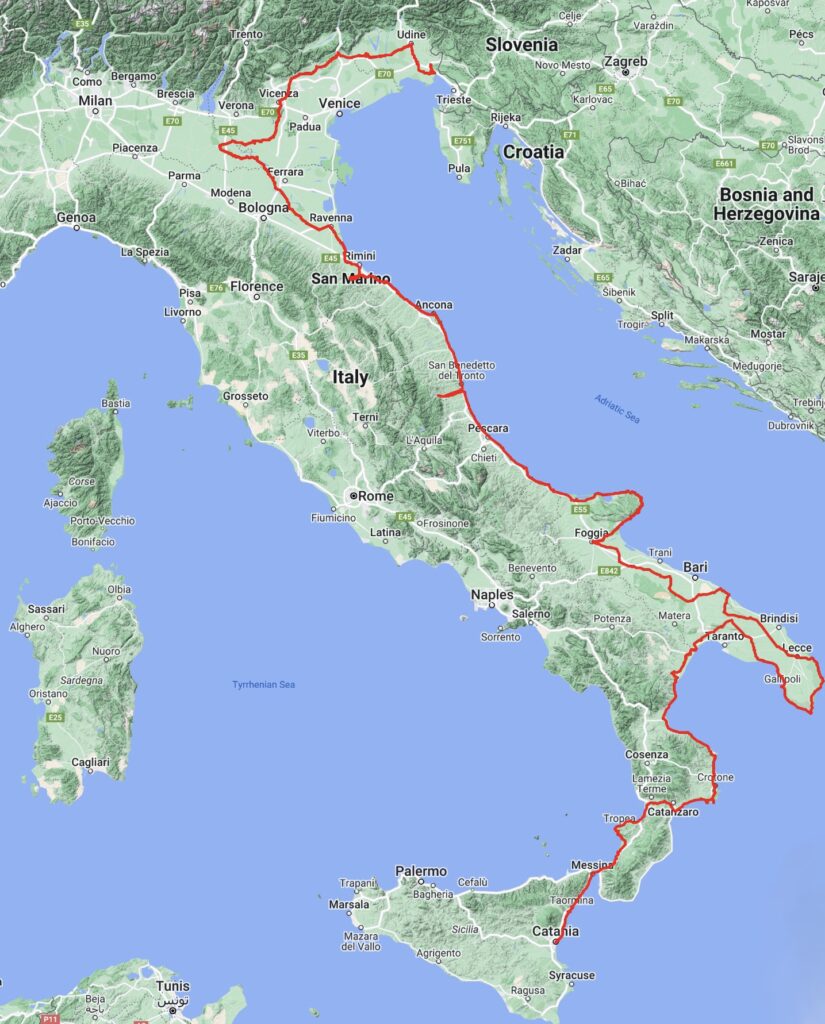 Some final thoughts: It's been a fabulous trip. In my ignorance, before we started, I thought that there was a risk that the east coast would be dominated by beaches with striped umbrellas. Well we did see plenty of those, but my worries were laid to rest by a seemingly endless succession of wonderful towns and fantastic scenery. There have been many, many highlights, far too many to list here, and it has been every bit as enjoyable as our 2018 trip. Writing these posts every day is really for our own benefit – if we didn't write it all down we'd forget so much – and I'm really looking forward to reading them again in the depths of winter.
Some final thoughts from the Stoker:
What a journey it's been. We've seen the changes in Italy's landscape from the verdant north to the arid south, and heard the accents change as our own language skills have improved. We've seen the grapes grow from tiny green beads to plump black clusters ready for harvest, and watched our limbs turn bronze in the sun. We've eaten things in the north that they'd never contemplate in the south, and vice versa. We've ridden on everything from a motorway-grade dual carriageway (!) to the roughest of tracks. We've been chased by dogs and out-run them, sweated up the hills and sailed down them, crossed one mountain range and swum in three seas. We've experienced enormous warmth and kindness from strangers, and received countless toots and waves of encouragement on the road. The memories of this trip are so varied and so many, it's going to take a while to process it all. It's been an amazing adventure, and whilst I'm looking forward to being home, and to seeing family and friends again after so long, part of me will still be pedalling happily through the olive groves for a while…!
Here's today's route and a short video.