Distance: 79 km
Time: 3 hours 40 minutes
Average speed: 21.5 kph
Ascent: 93 m
Descent: 96 m
Total distance: 1,075.7 km
Total time: 57 hours 24 minutes
It was about a fifteen minute walk from our rented apartment to Cathédrale Saint-Gatien, on very busy streets thronged with people. We didn't get a glimpse of it until we were almost there, but once we did it was an impressive sight – extremely tall, with a very high vaulted roof inside. In the evening light the honey-coloured stone stood out beautifully against the blue sky.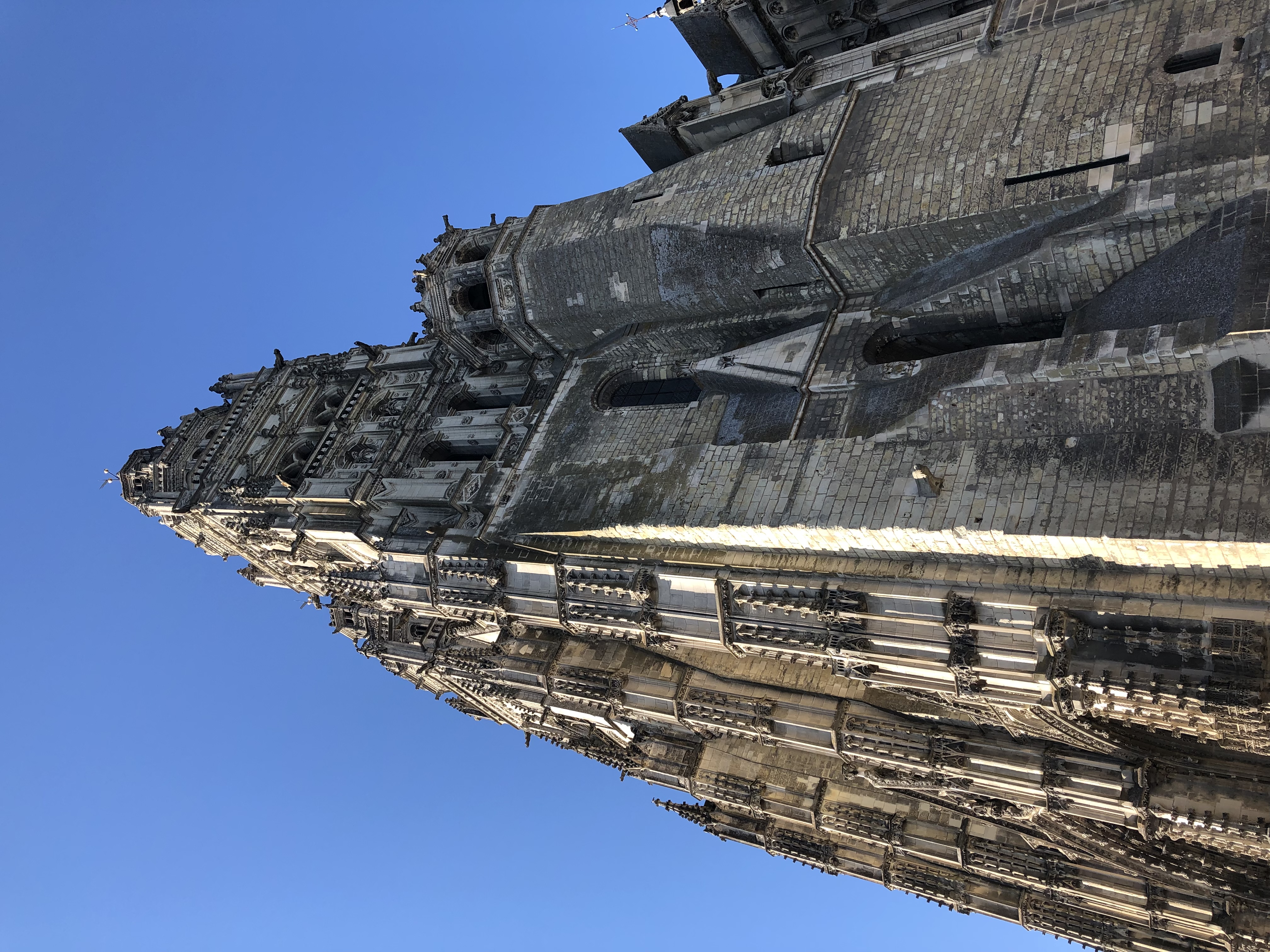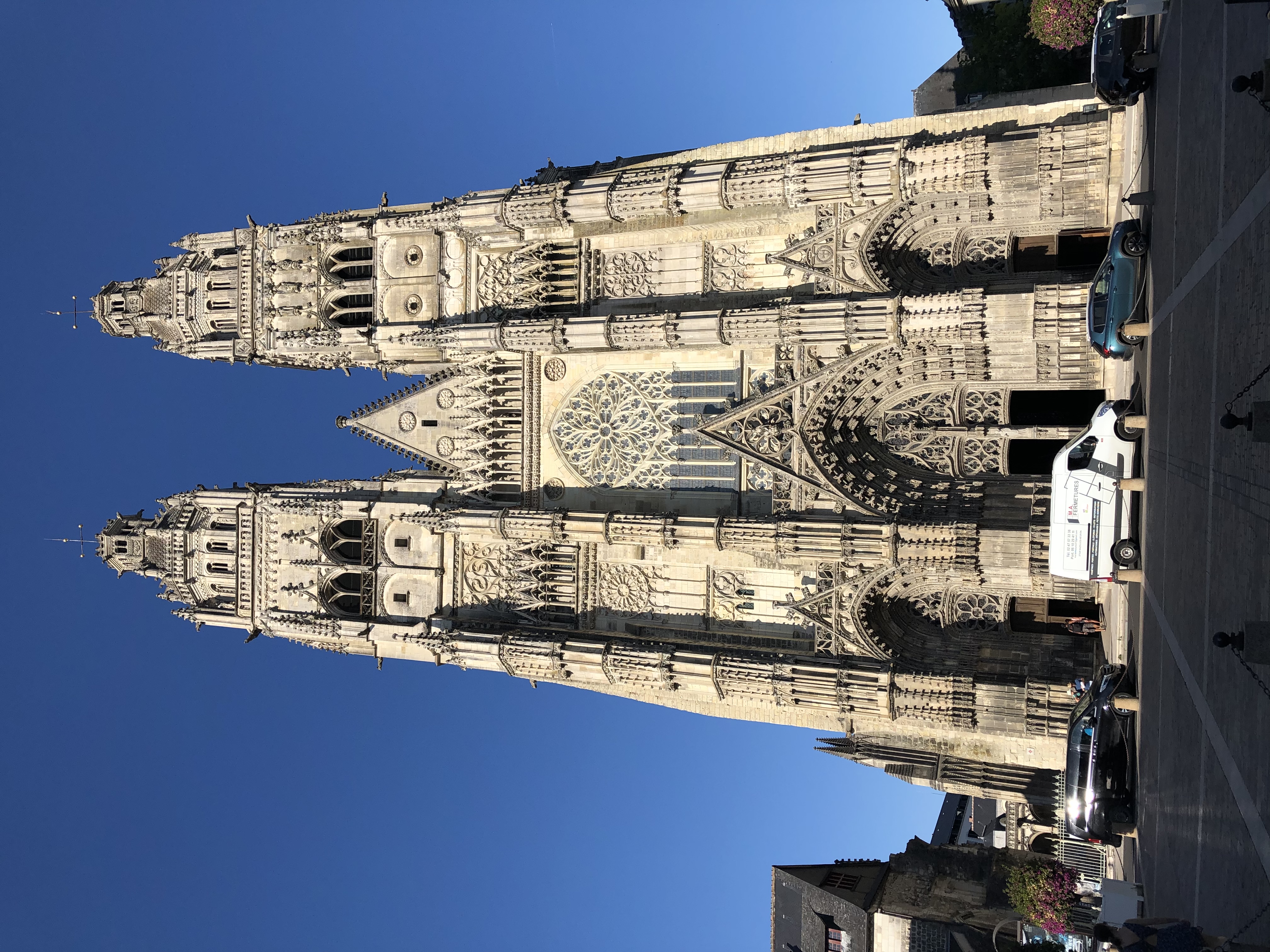 From there we walked towards the Basilique Saint-Martin and the Tour de Charlemagne, both of which are on the edge of the mediaeval quarter of the city. They served as helpful and rather beautiful navigational aids while we searched for all the restaurants.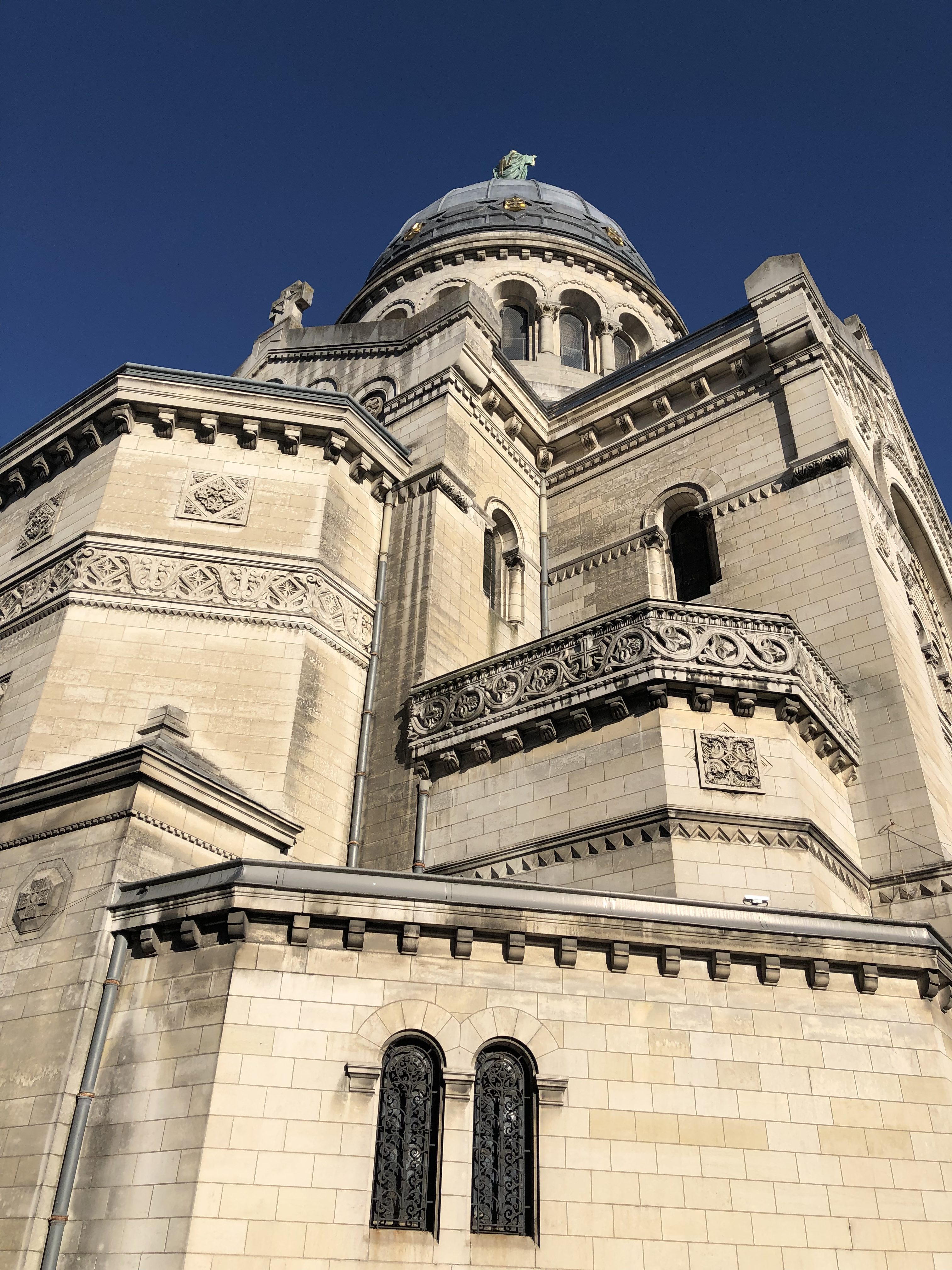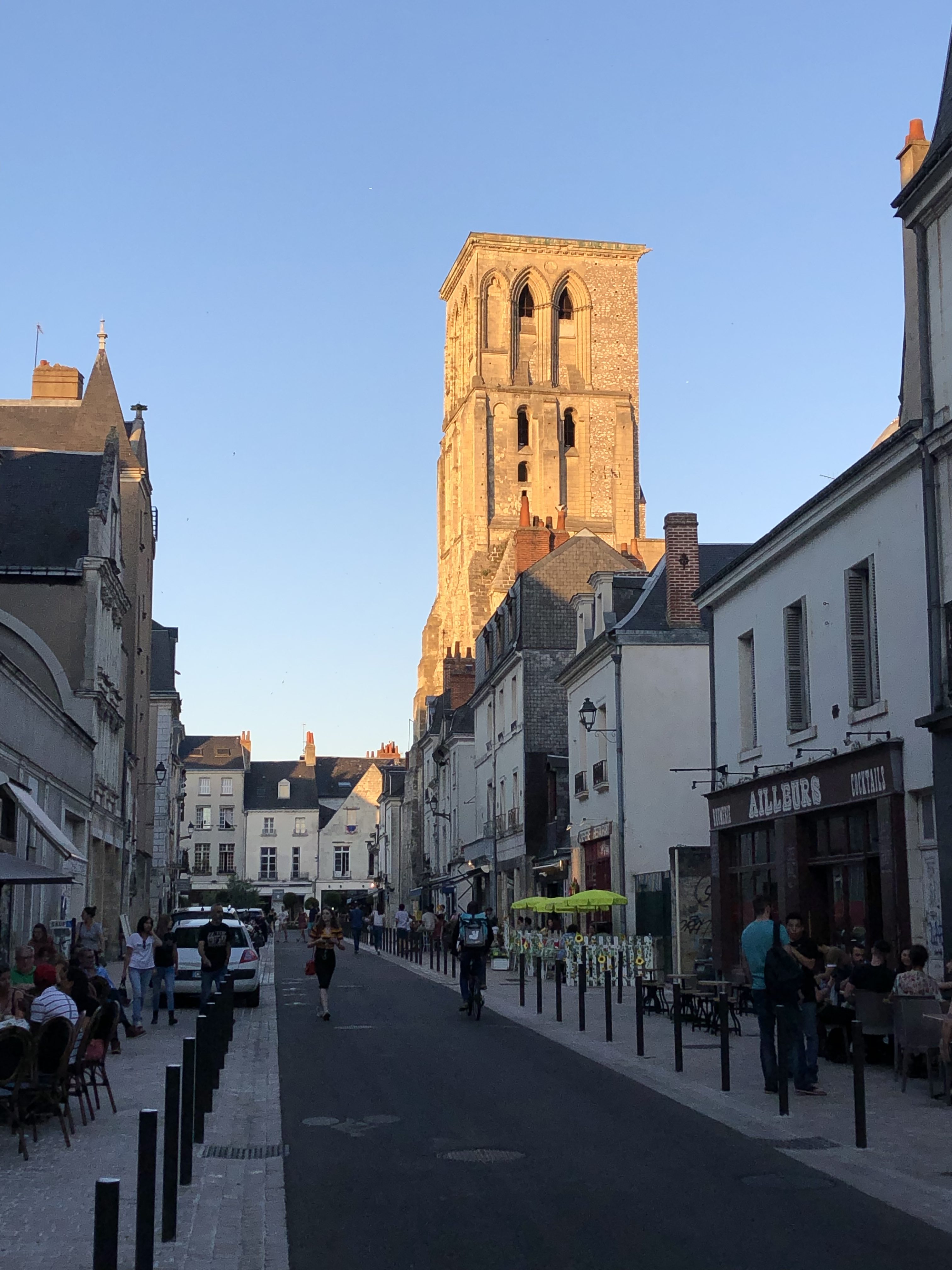 There turned out to be plenty of those on the narrow streets, and we opted for an Italian restaurant called Léonard de Vinci, where we sat outside in the shade and enjoyed our meal. Coincidentally we discovered that we were sitting next to a couple from Leeds. Small world…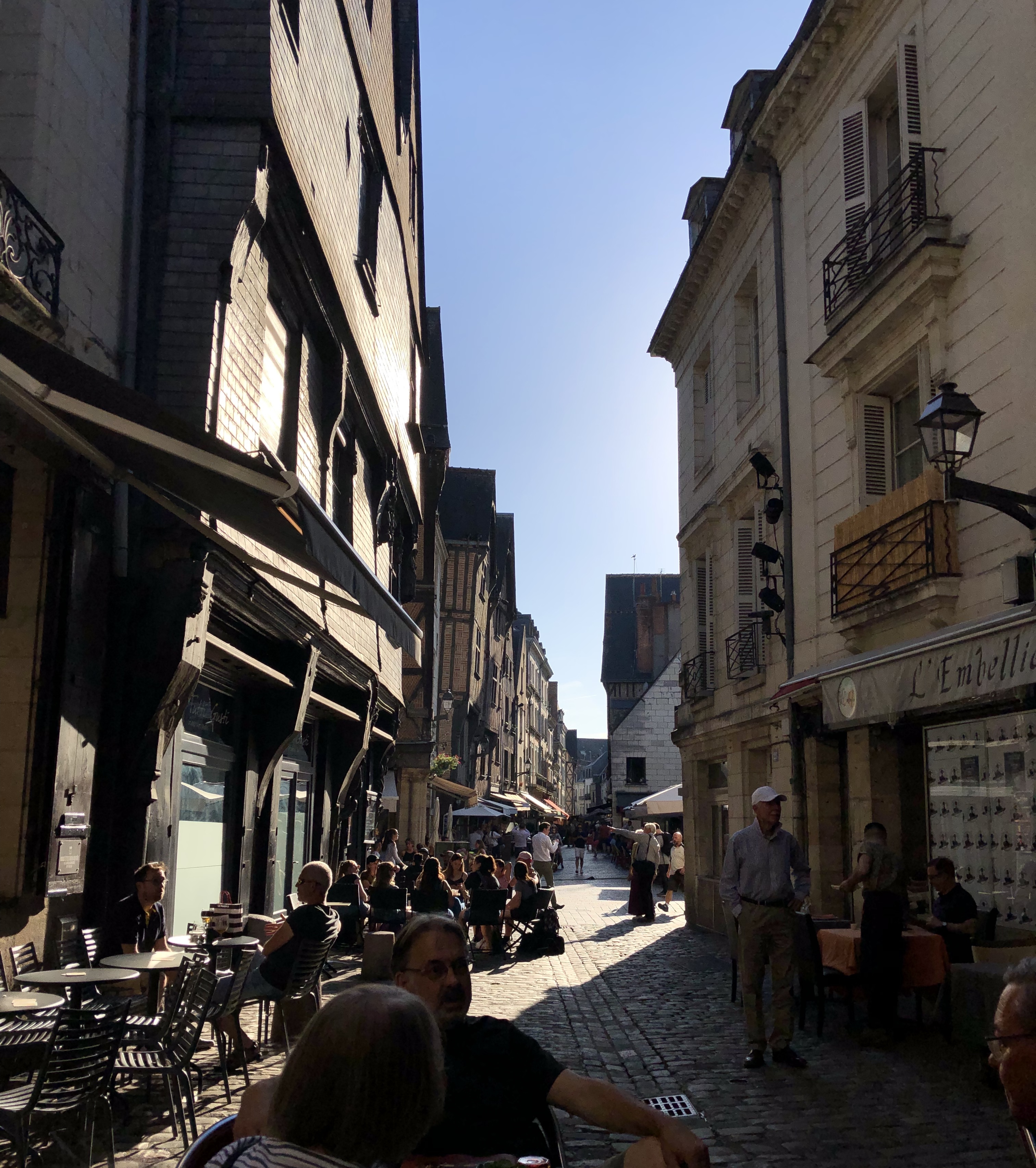 Up betimes this morning (as the Stoker likes to say!) as we faced a long day in challengingly warm conditions. I retrieved the tandem, which had a parking space all to itself in the underground car park, and we set off down a wide avenue in a southerly direction, carefully avoiding the tram tracks. It was already warm, but a pleasant breeze helped to keep us feeling cool.
Our southerly exit from Tours had taken us away from the Loire and towards the Cher, which we followed for the next hour or so to its confluence with the Loire. It was a delightful sight to our right throughout that hour – much narrower than the Loire but beautiful. Near the confluence we saw some paddle-boarders making their way downstream.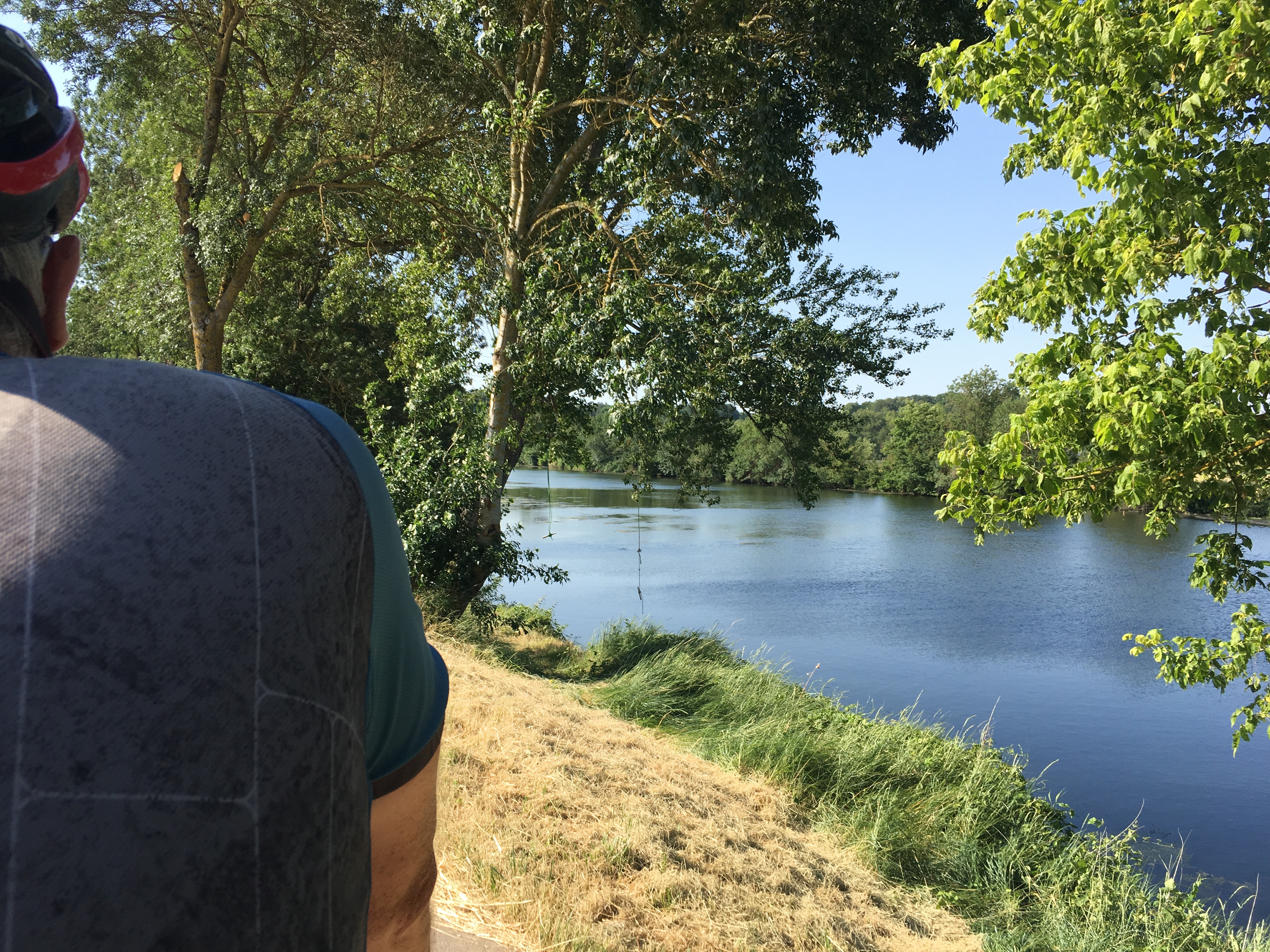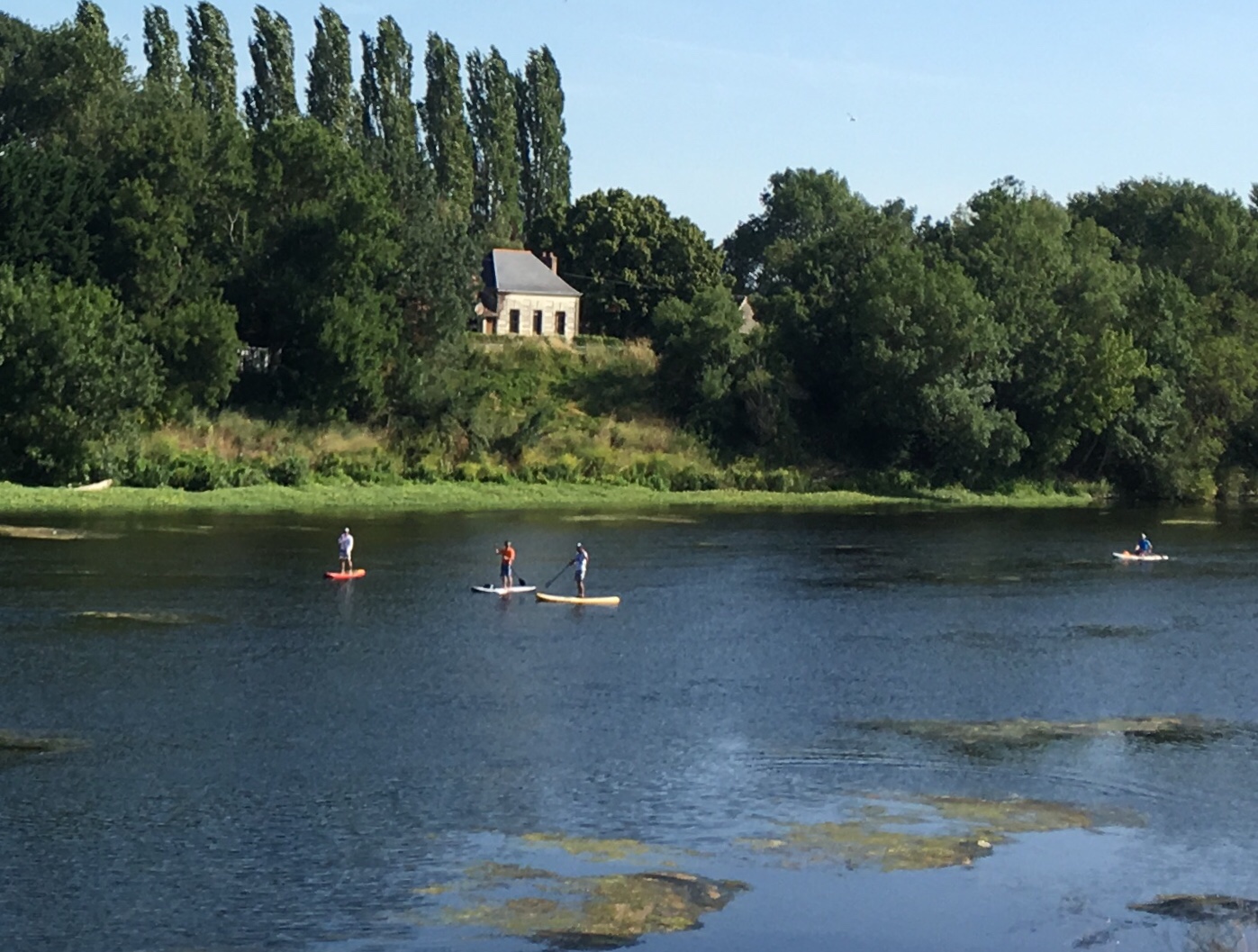 As we approached Villandry we could see the impressive château off to our left, but it was frustratingly impossible to photograph because of the dense foliage at the side of the road.
Shortly afterwards we rejoined the Loire, on a cycle path with a fantastically smooth surface. This enabled us to up our pace – for a while we were motoring along at more than thirty kilometres an hour, seemingly without expending too much effort. At Rigny-Ussé, once again, we spotted a most impressive château, again though our route didn't take us very close by.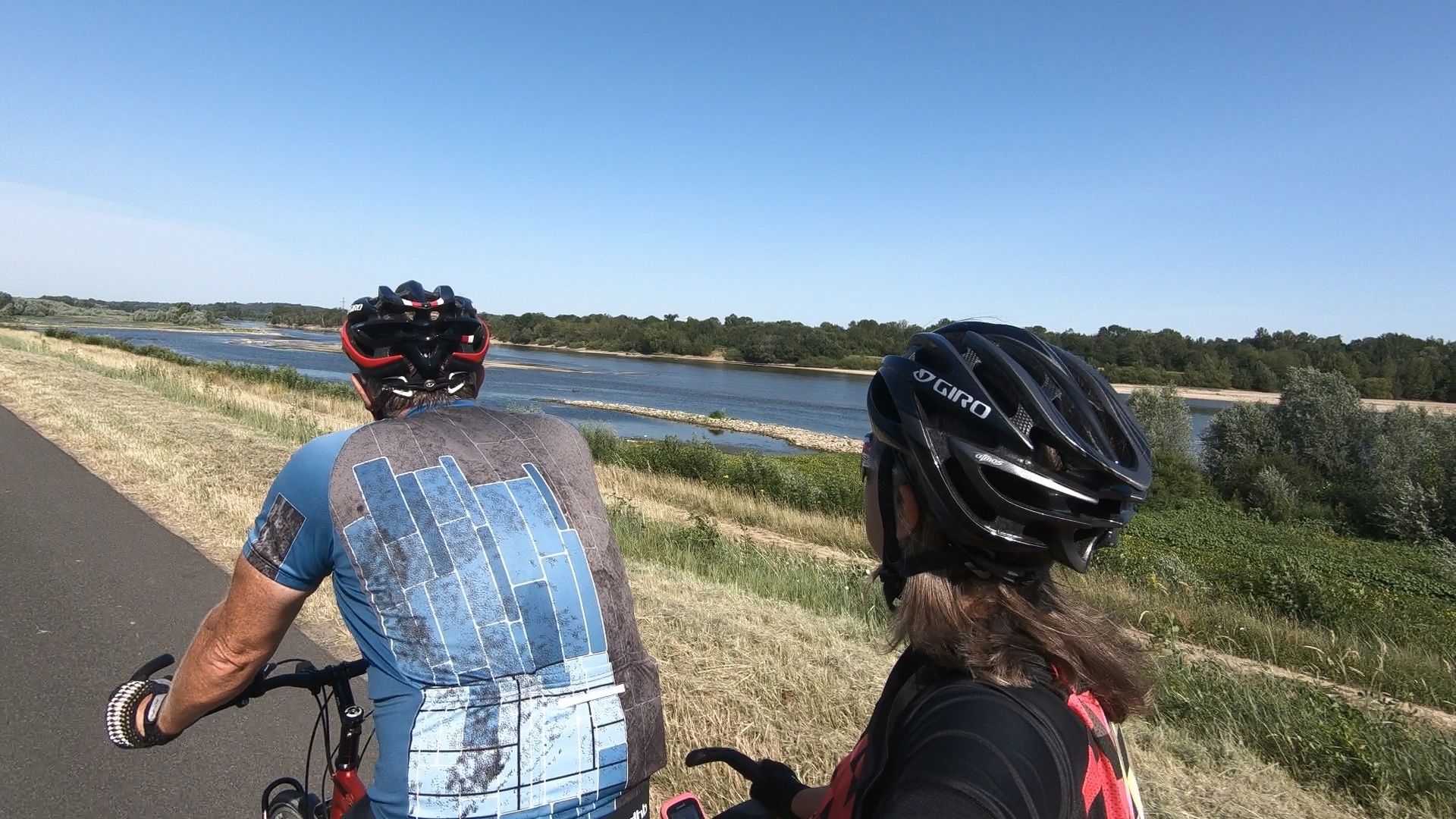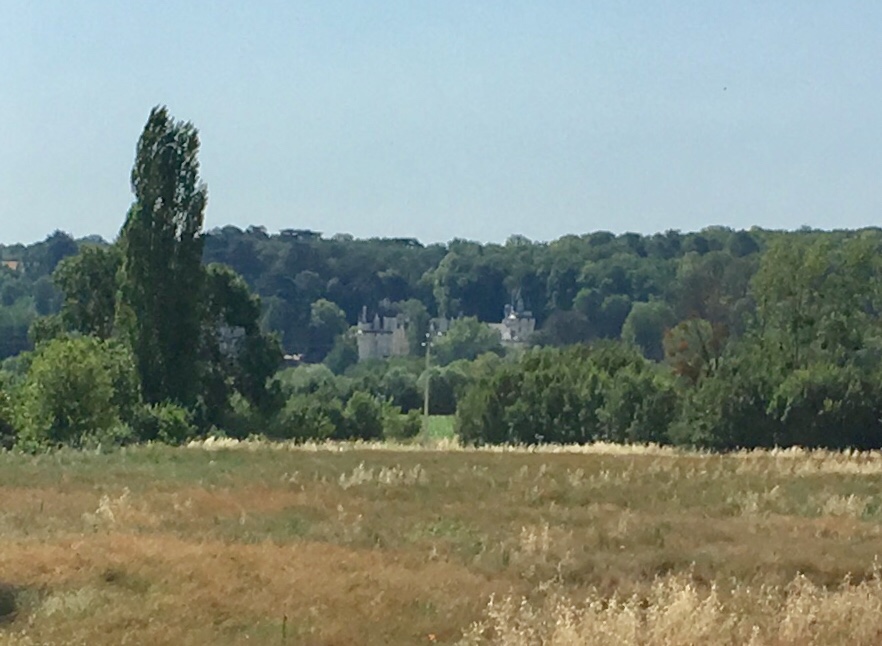 We were still making excellent progress, but getting pretty hungry, so rather than pushing on to Saumur for lunch we decided to stop at the next opportunity, there was no point in running out of fuel. At Candes-Saint-Martin we spotted a restaurant in the main square, with shaded tables outside. "Perfect", we thought. Unfortunately not, though, as after we had been seated for a while we discovered that it was an "all-or-nothing" menu du jour. Eating all of that food would have rendered us unable to pedal for several hours, so we packed up and moved on.
Fortunately we didn't have to continue for very long before we spotted an attractive boat-restaurant moored permanently to the rive gauche of the Loire. This time we were far more successful. While we were eating we could hear some unusual animal noises from the grassy bank, although we were unable to spot the source. We speculated that they might be coypu. Whatever they were, they were loud and persistent.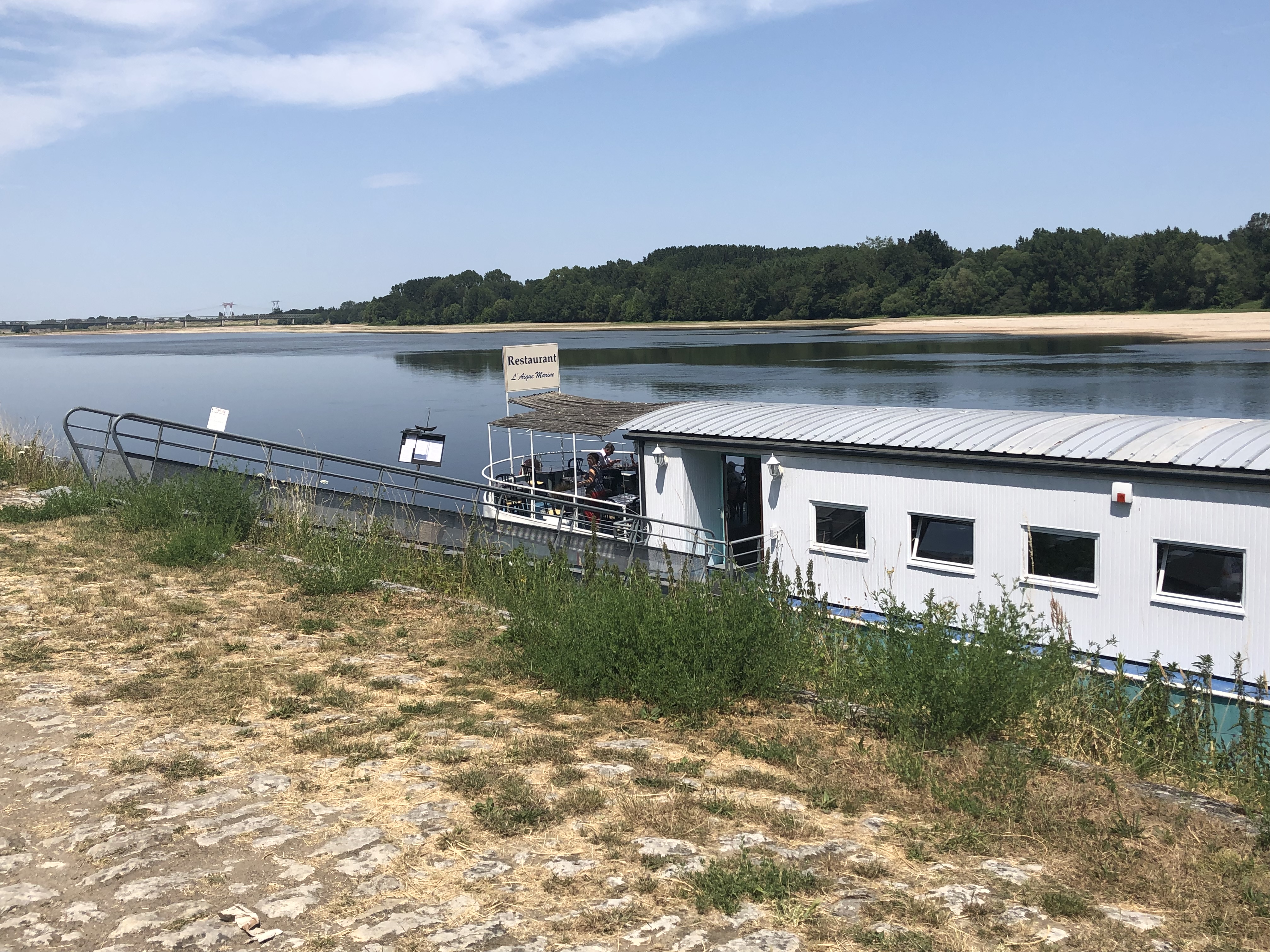 We pedalled off again, switching between the road and the cycle path periodically as the latter zig-zags around somewhat in this area. We began to see the wineries of Saumur to our left – many of which were sort of semi-troglodyte buildings carved into the sandy chalk cliffs above the river. At Parnay we passed a sign indicating that we were crossing the zero meridian.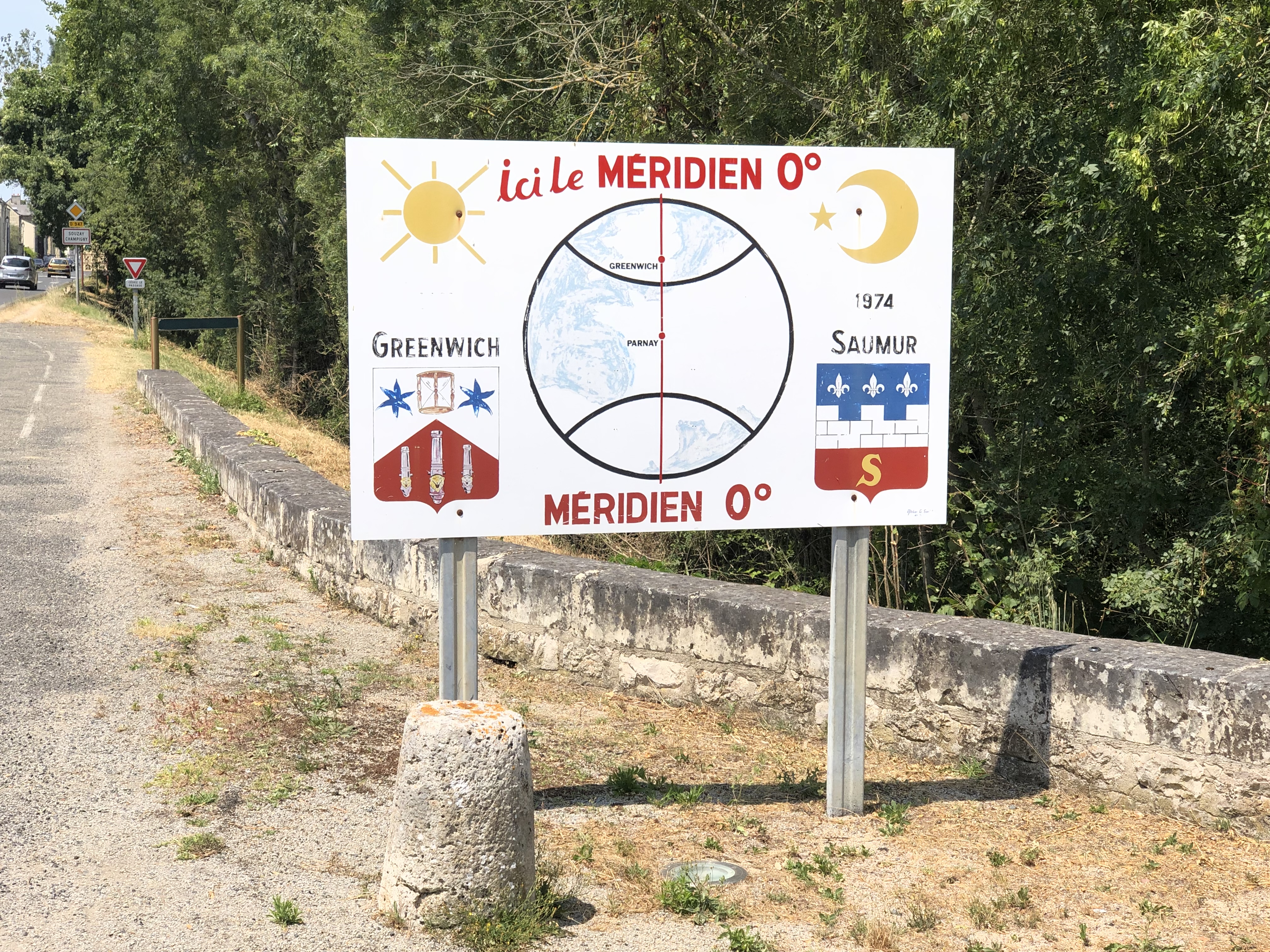 Before long we could see distant views of Saumur's château and the multiple bridges across the river. Across the river is the hotel at which we stayed on our last visit.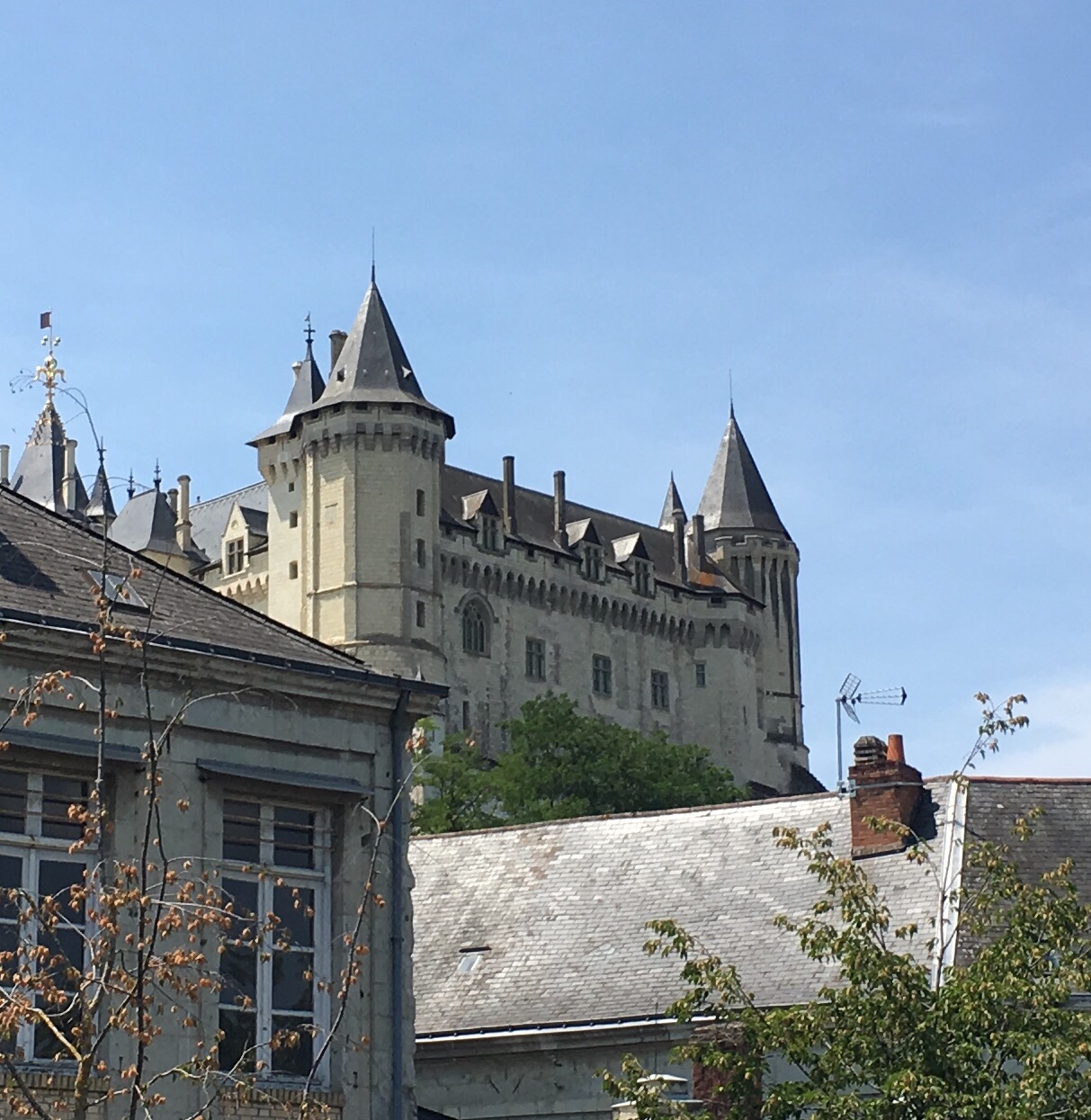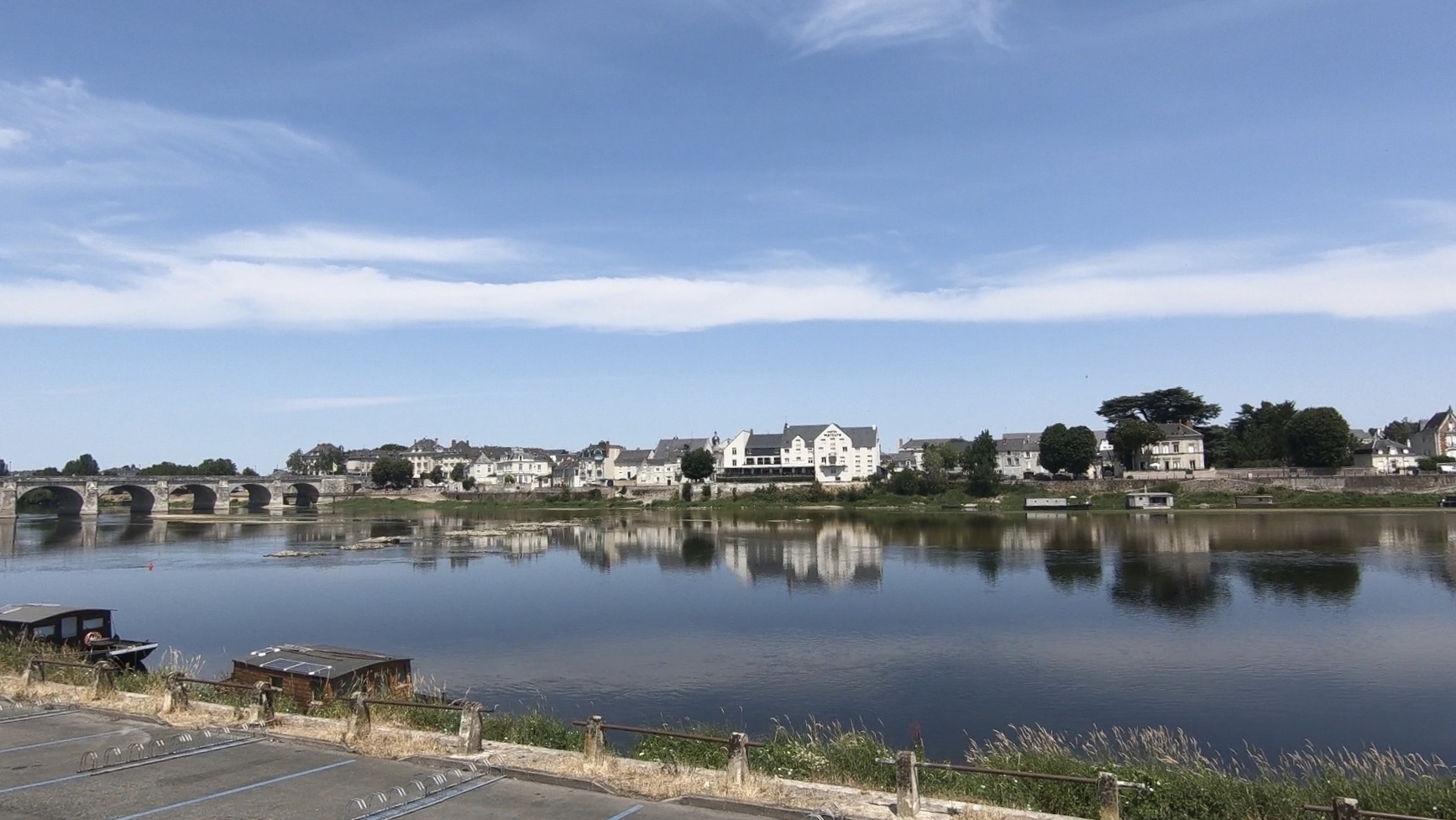 Our apartment, built from the same "tuffeau" as the cliffs, is very close to the centre of town. This church is virtually next door.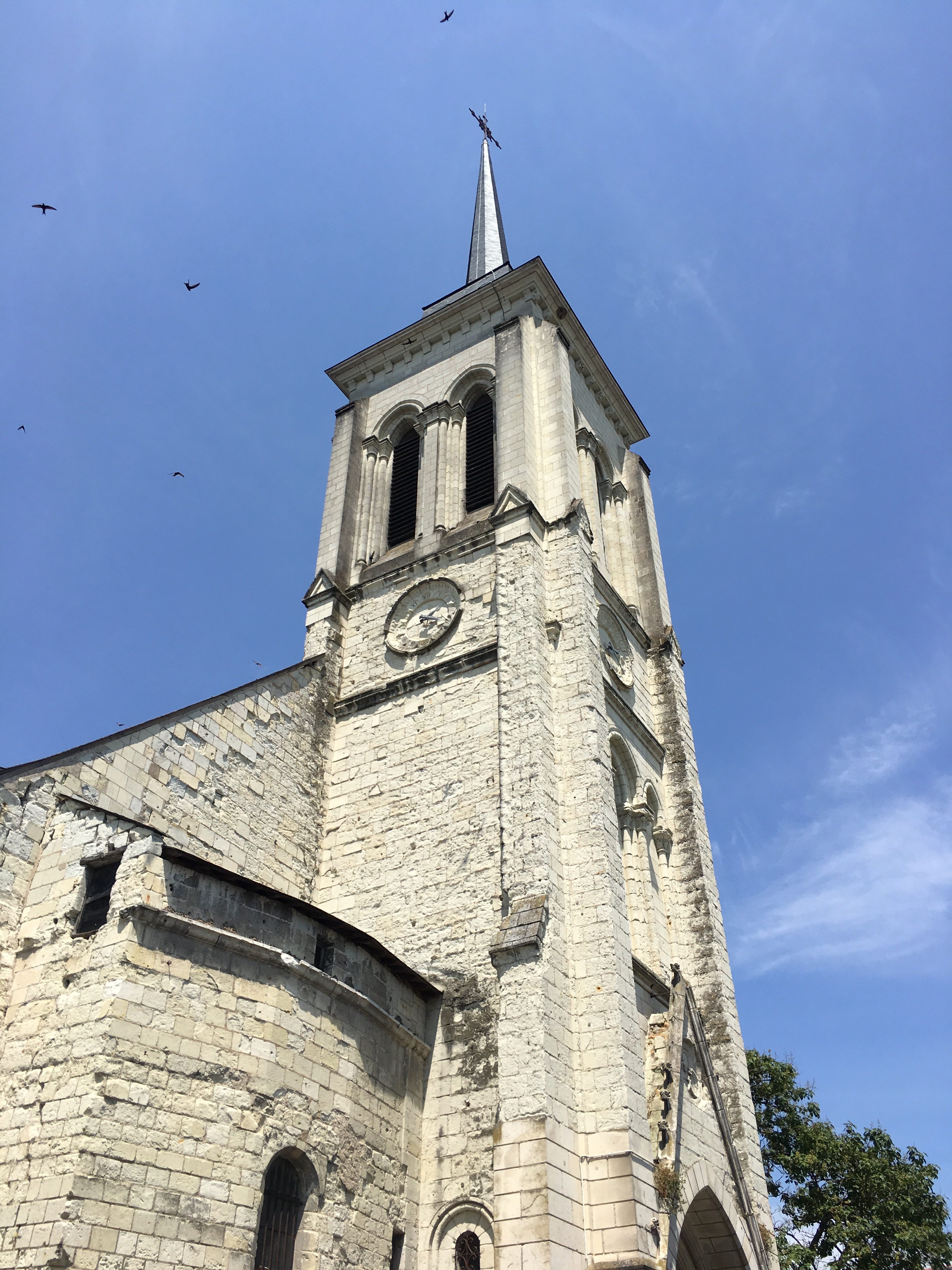 Here we will take our last day off (all being well). No blog tomorrow, then, and only another four days of cycling left until we reach the Atlantic at Saint-Brevin-les-Pins, west of Nantes.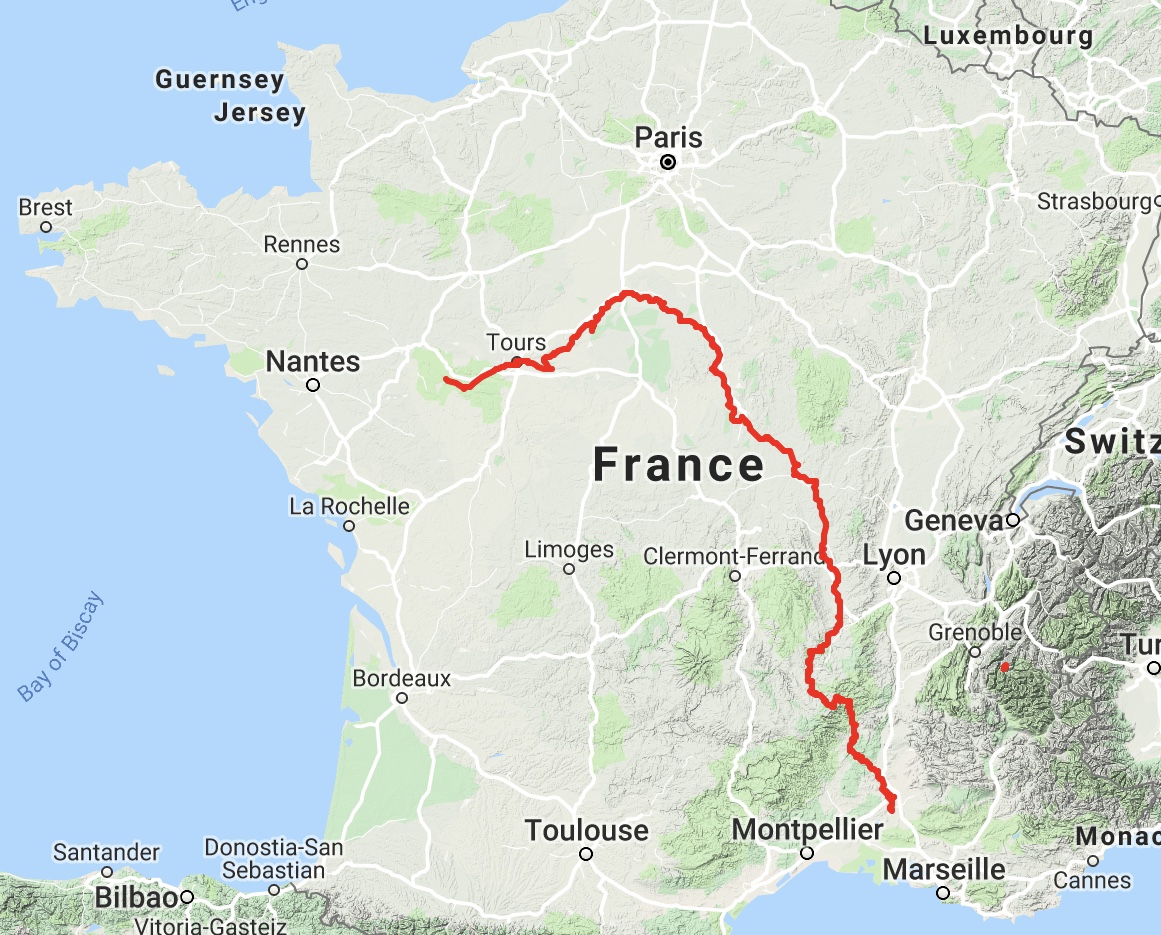 Here's a video of today's route, and today's track.