Distance: 61.4 km
Time: 3 hours 1 minute
Average speed: 20.3 kph
Ascent: 120m
Descent: 125m
Total distance: 853.4 km
Total time: 46 hours 48 minutes
After two days cycling in the highest temperatures we've ever encountered we were pretty drained, and the Captain was feeling a little unwell, probably as a result of slight dehydration. An almost sleepless night in the heat followed, and with two even hotter days to come we had a decision to make. We concluded that it would be foolhardy to continue cycling until the heat abated. Instead we opted (with the kind permission of our host Sylvie) to leave our tandem in the garage at Châteauneuf-sur-Loire and take a taxi to Orléans, where we would stay for two days.
This worked brilliantly – by the afternoon of the following day the Captain had pretty much recovered his equilibrium. This left us with a whole day at leisure in Orléans, a place where, if we'd followed our original schedule, we'd have had very little time to explore. We already had an excellent view of the cathedral from our river-side hotel.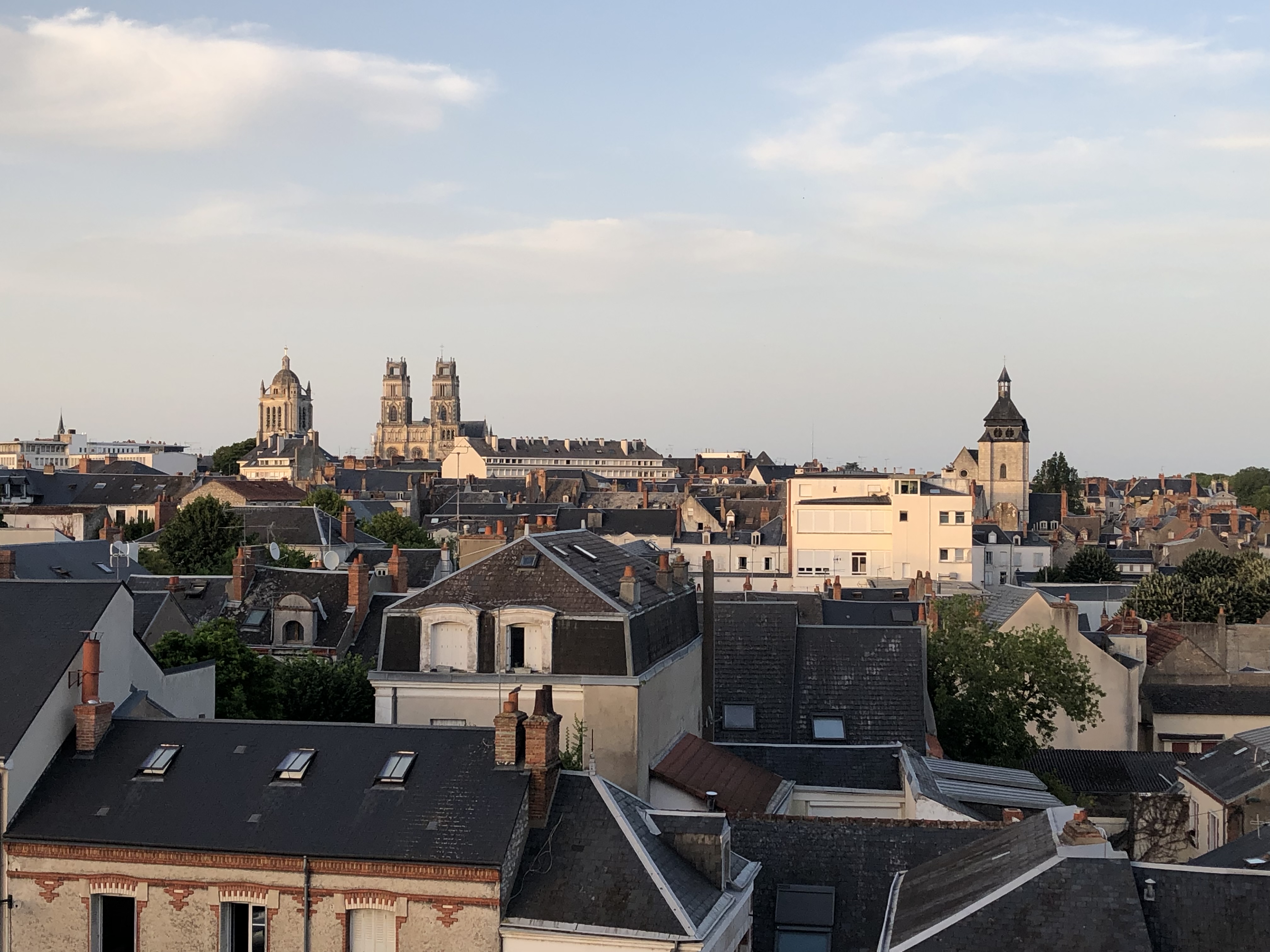 During our rest day we were able to visit the beautiful cathedral.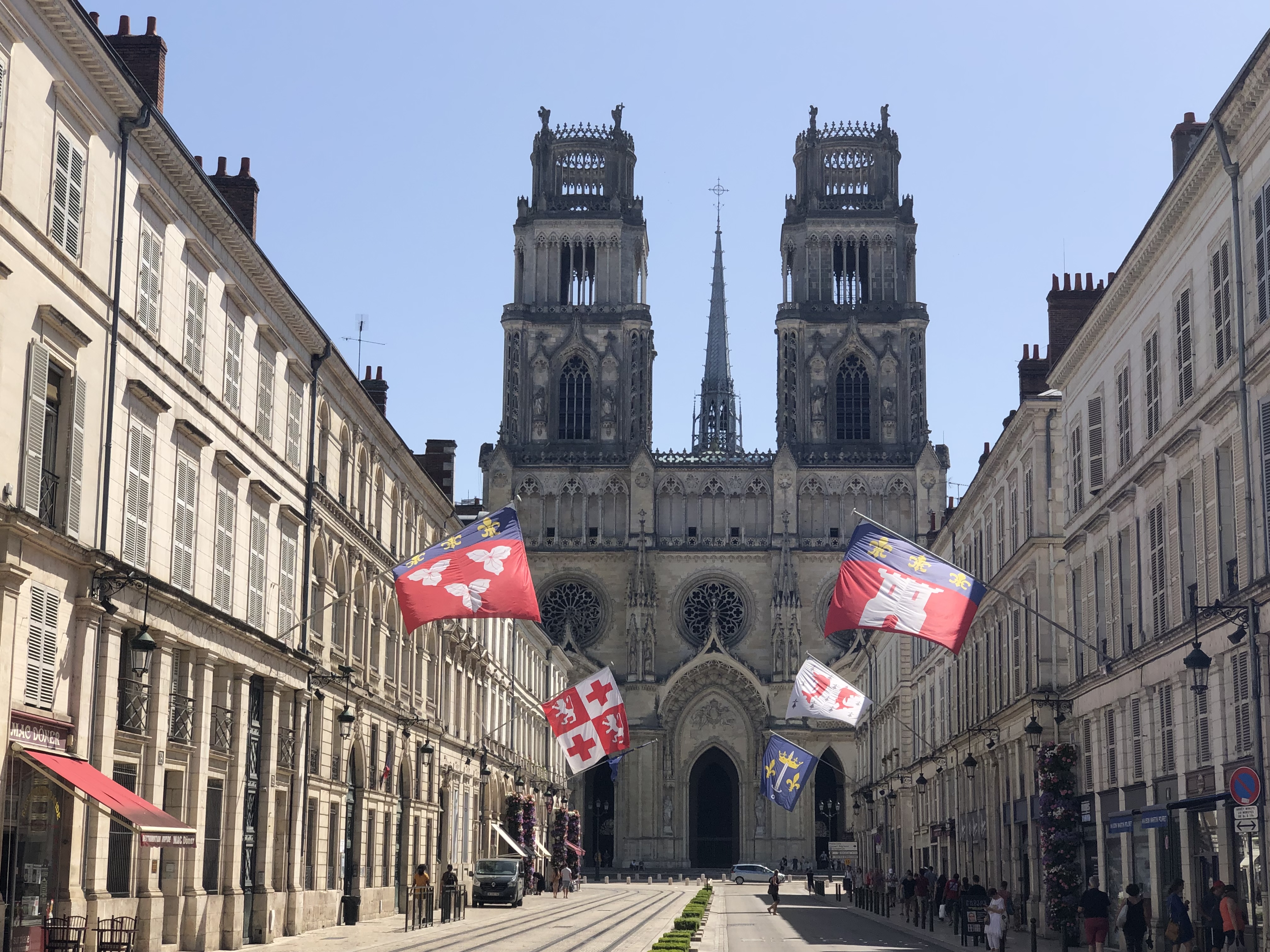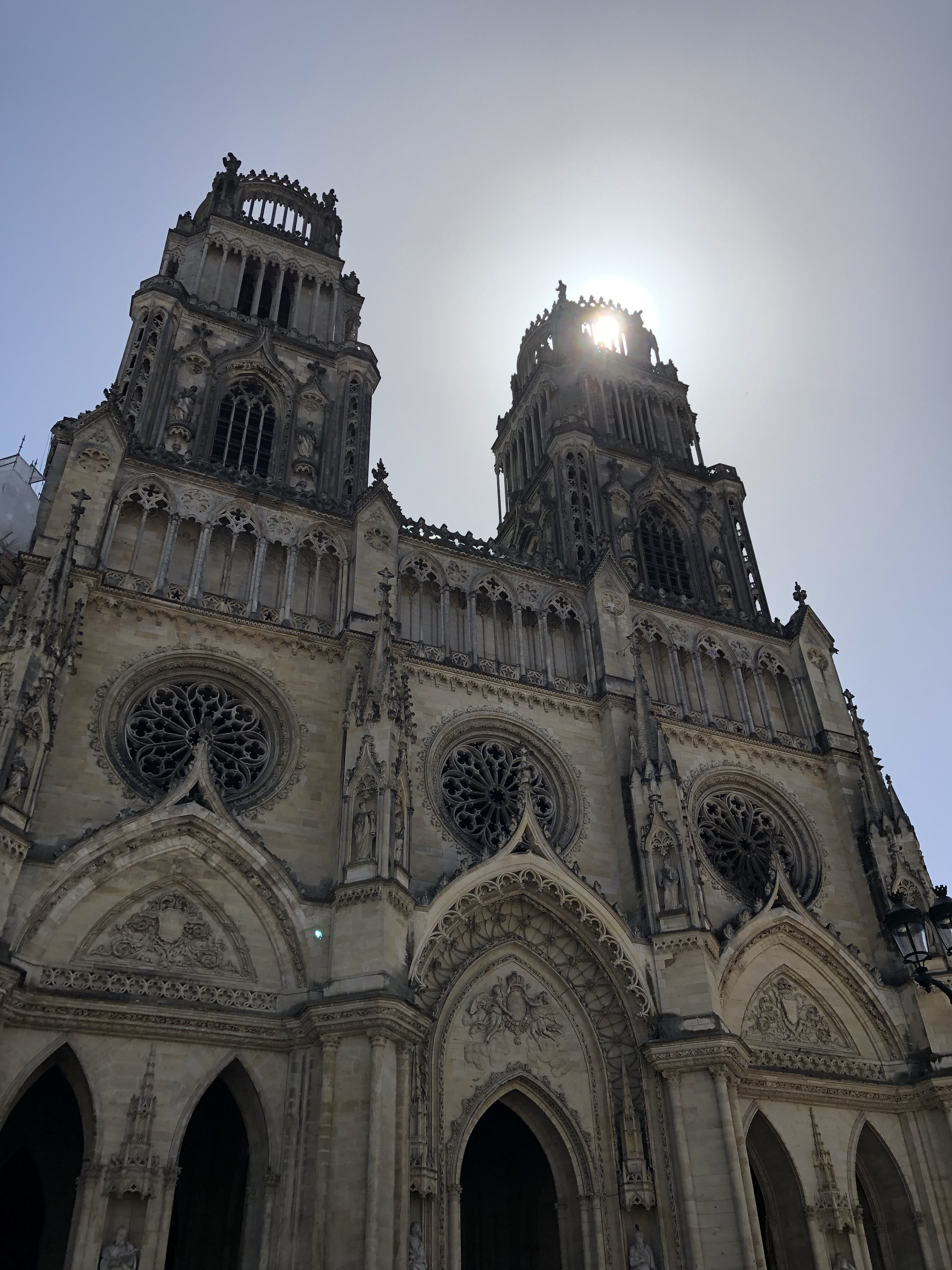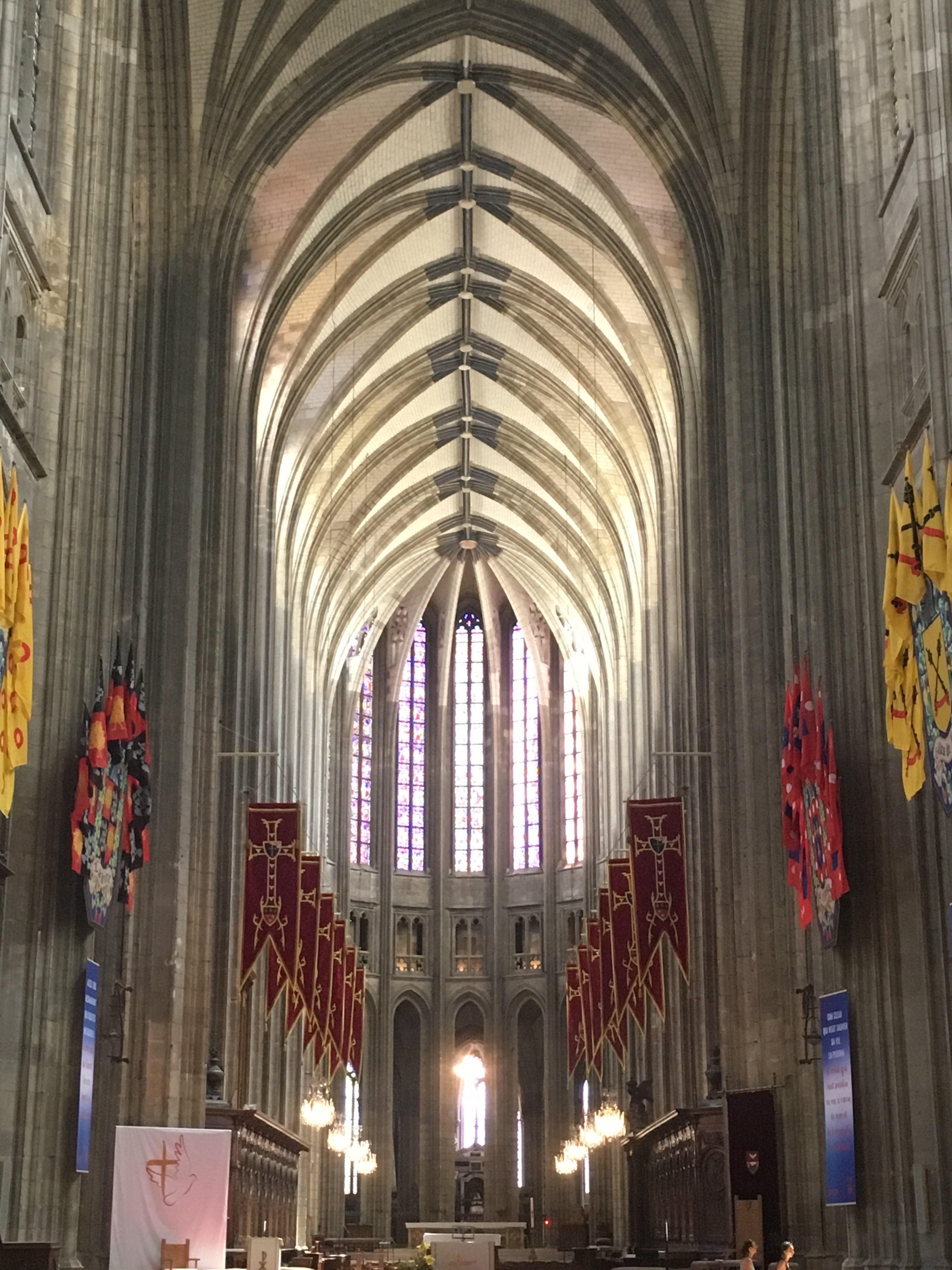 We also took the petit-train on a tour of the historic town (which has some very well-preserved half-timbered buildings), learned much more about Joan of Arc, admired the beautiful conservatoire and ate on a street which celebrates the auld alliance between Scotland and France!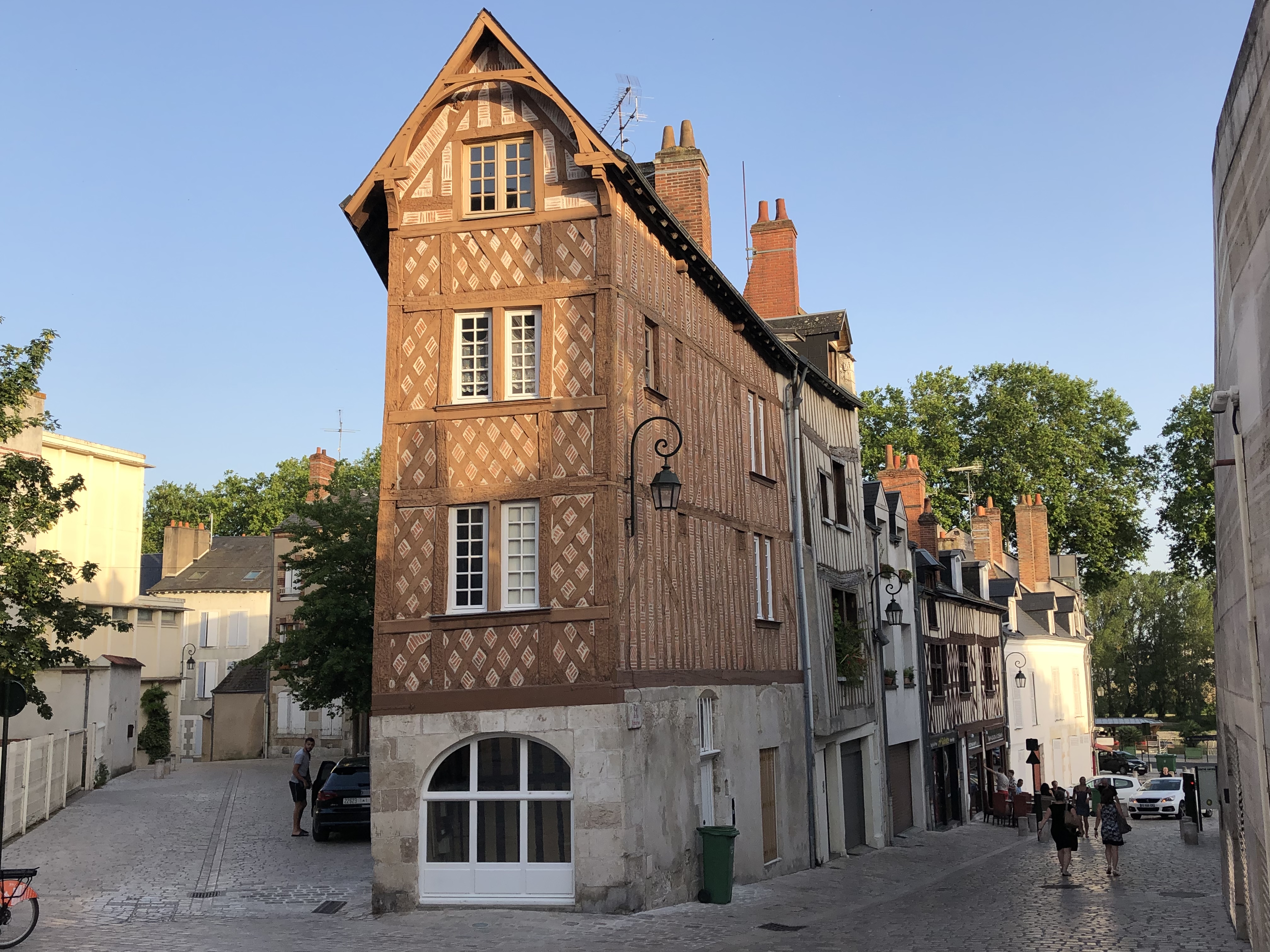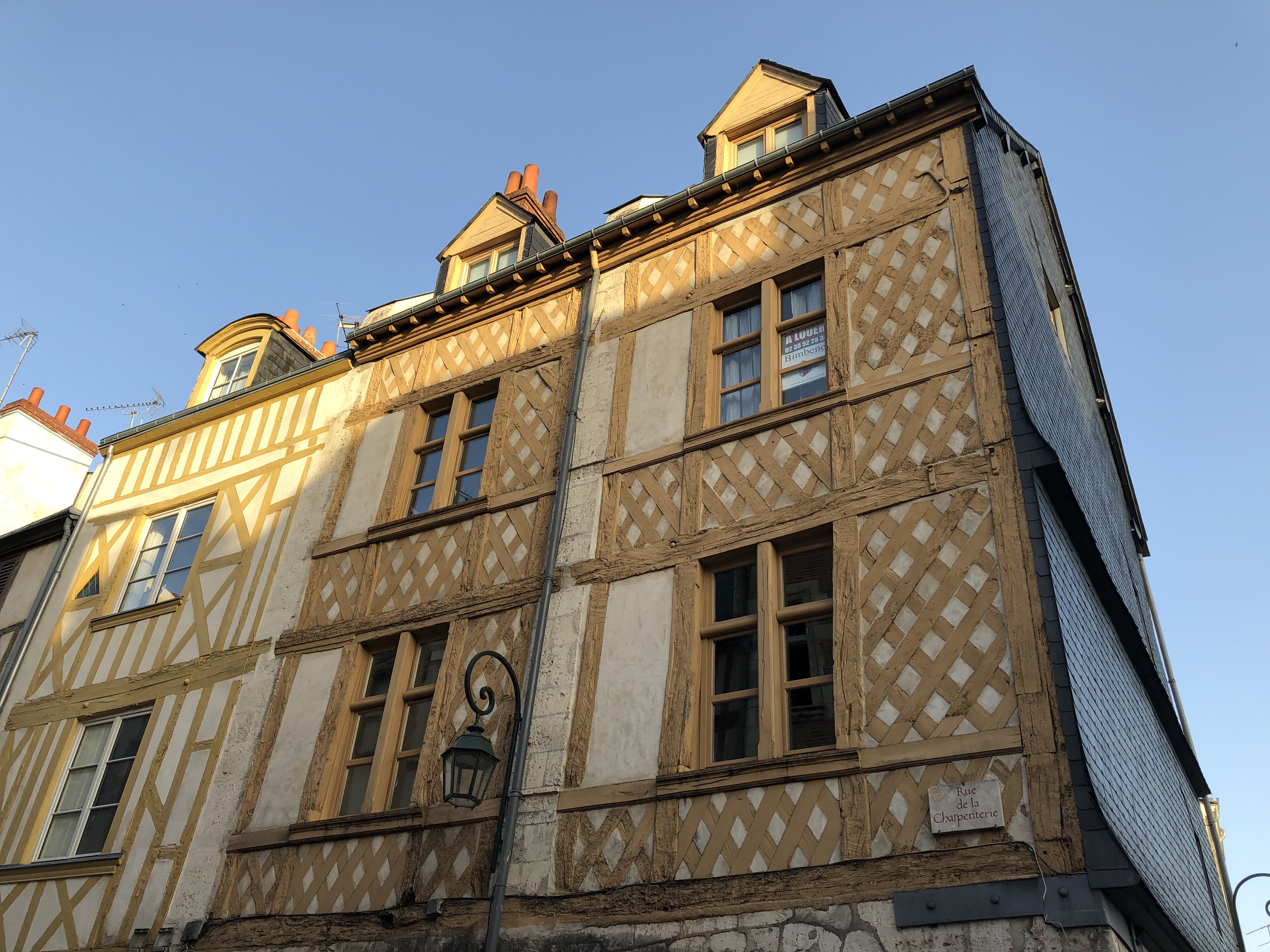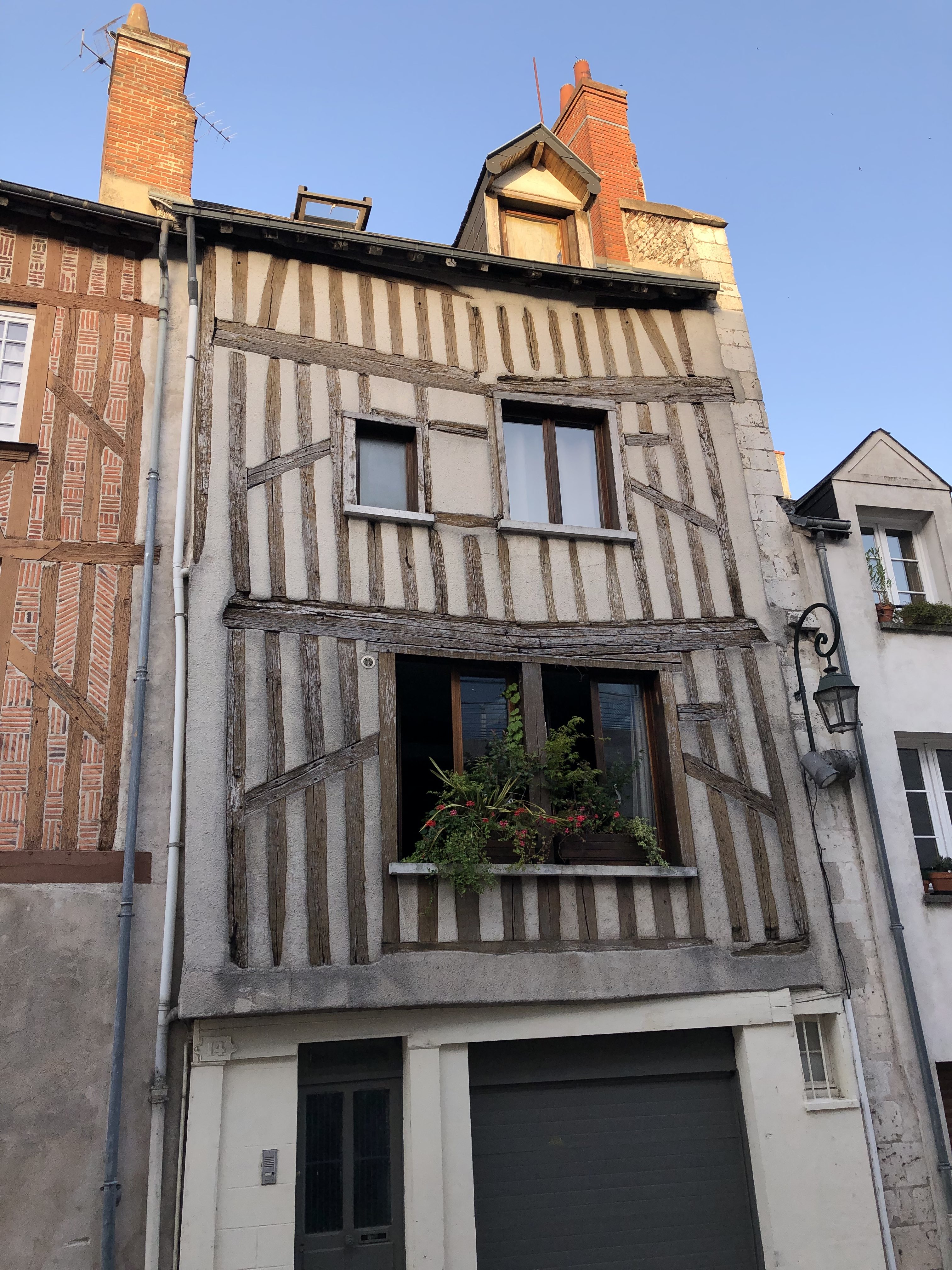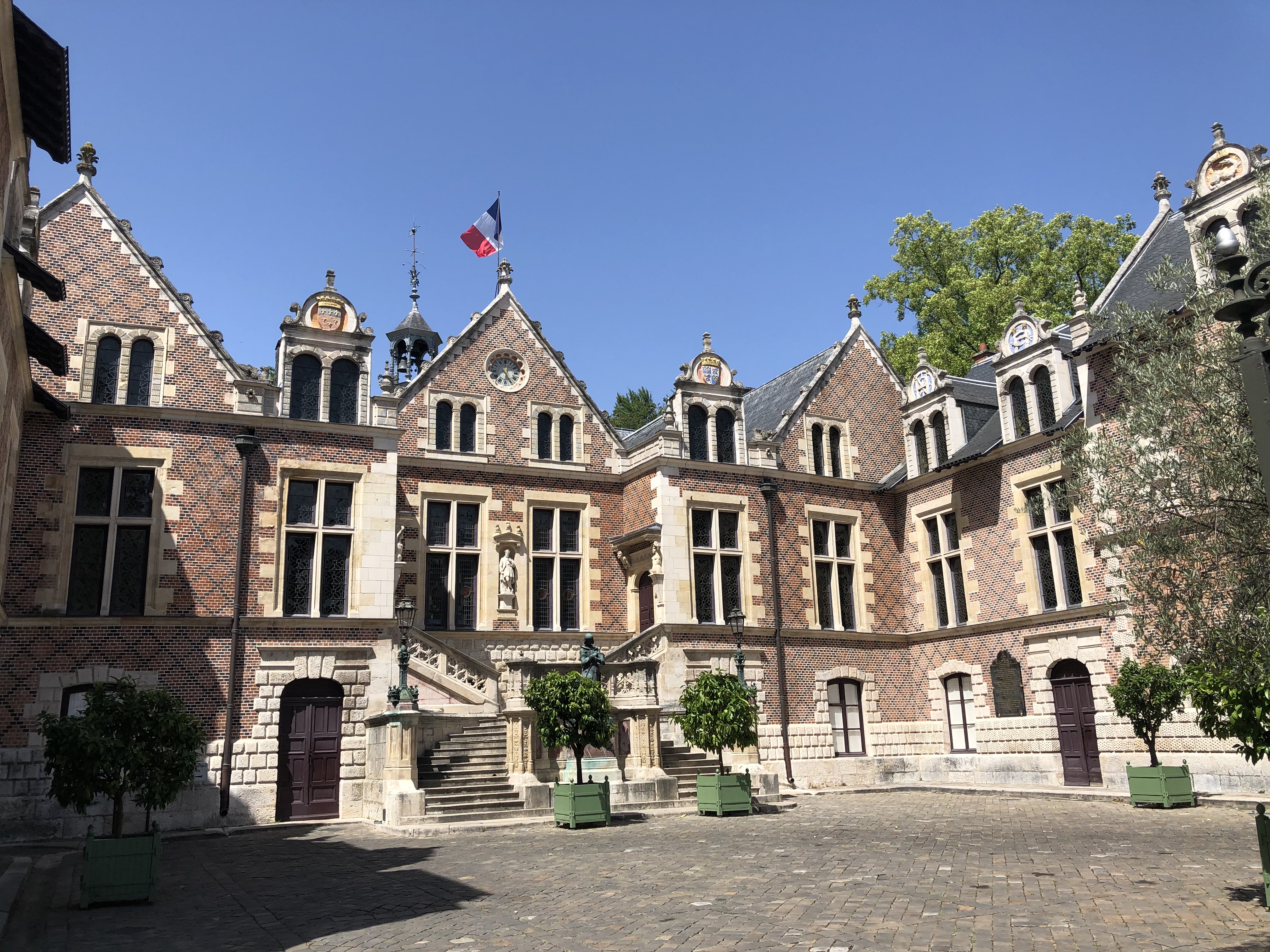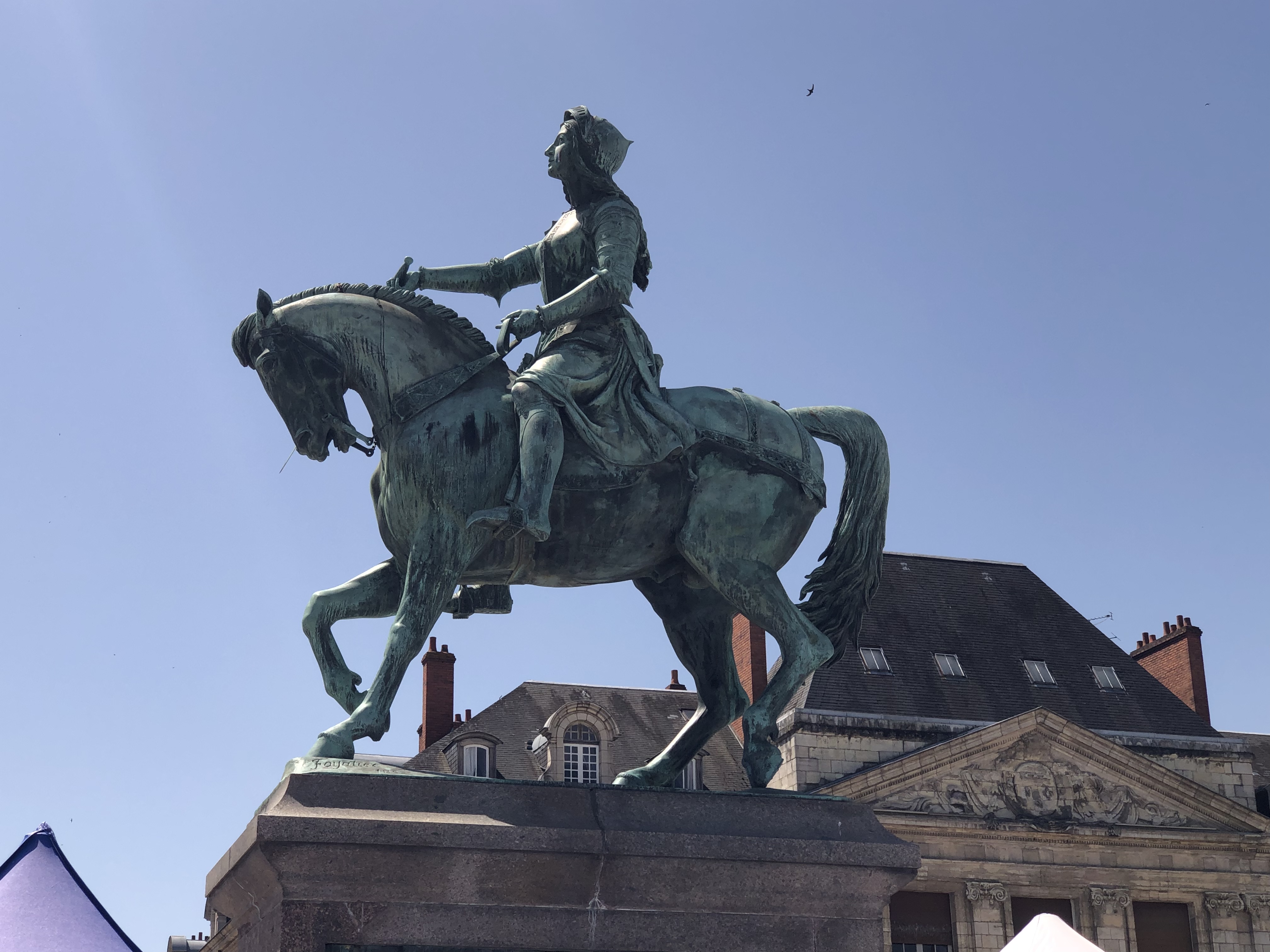 It was fearfully hot, though. We were glad of the swimming pool on the first day, and on the morning and evening of the second day we walked into town in stifling conditions. It was still a fabulous place to spend our unscheduled rest days, though.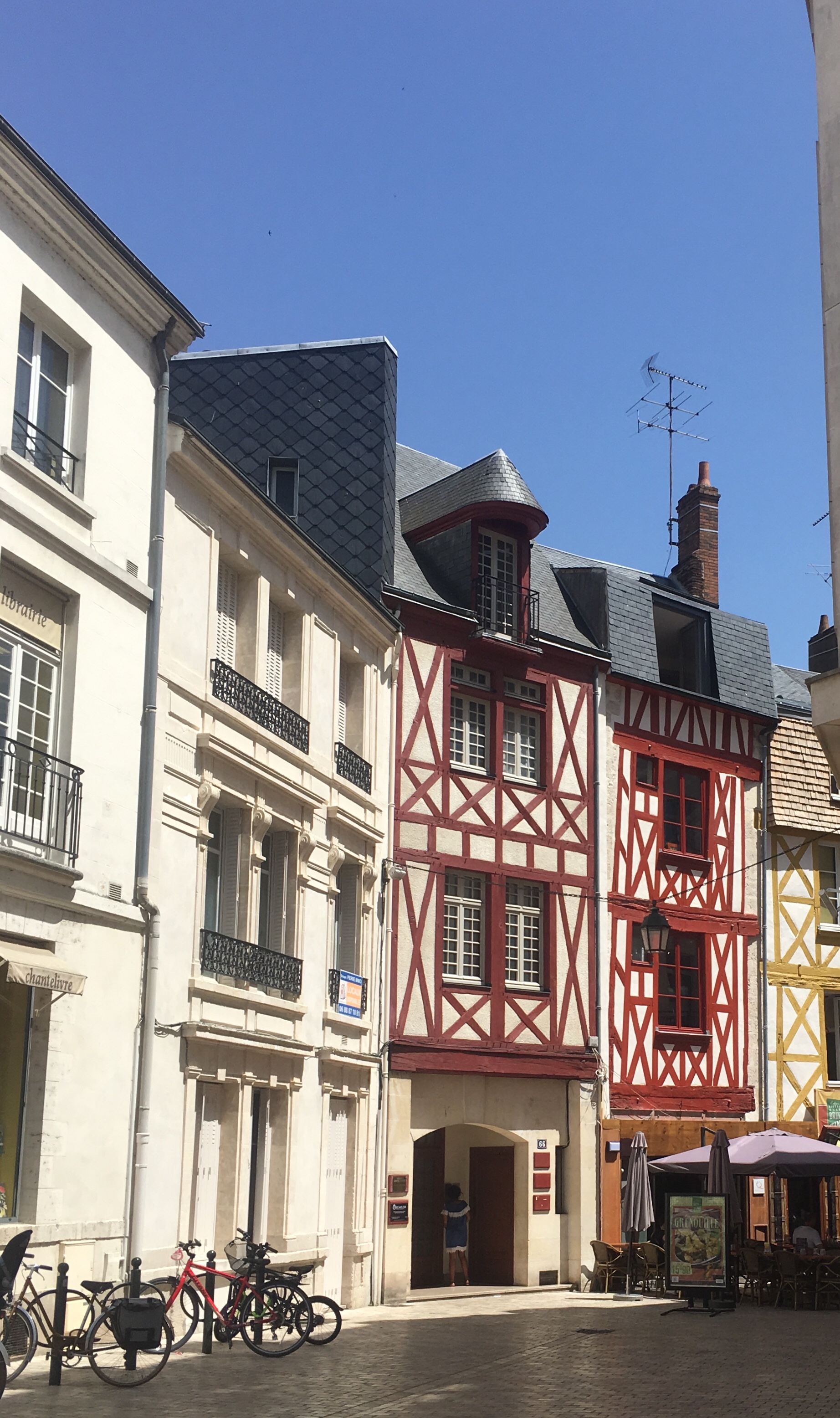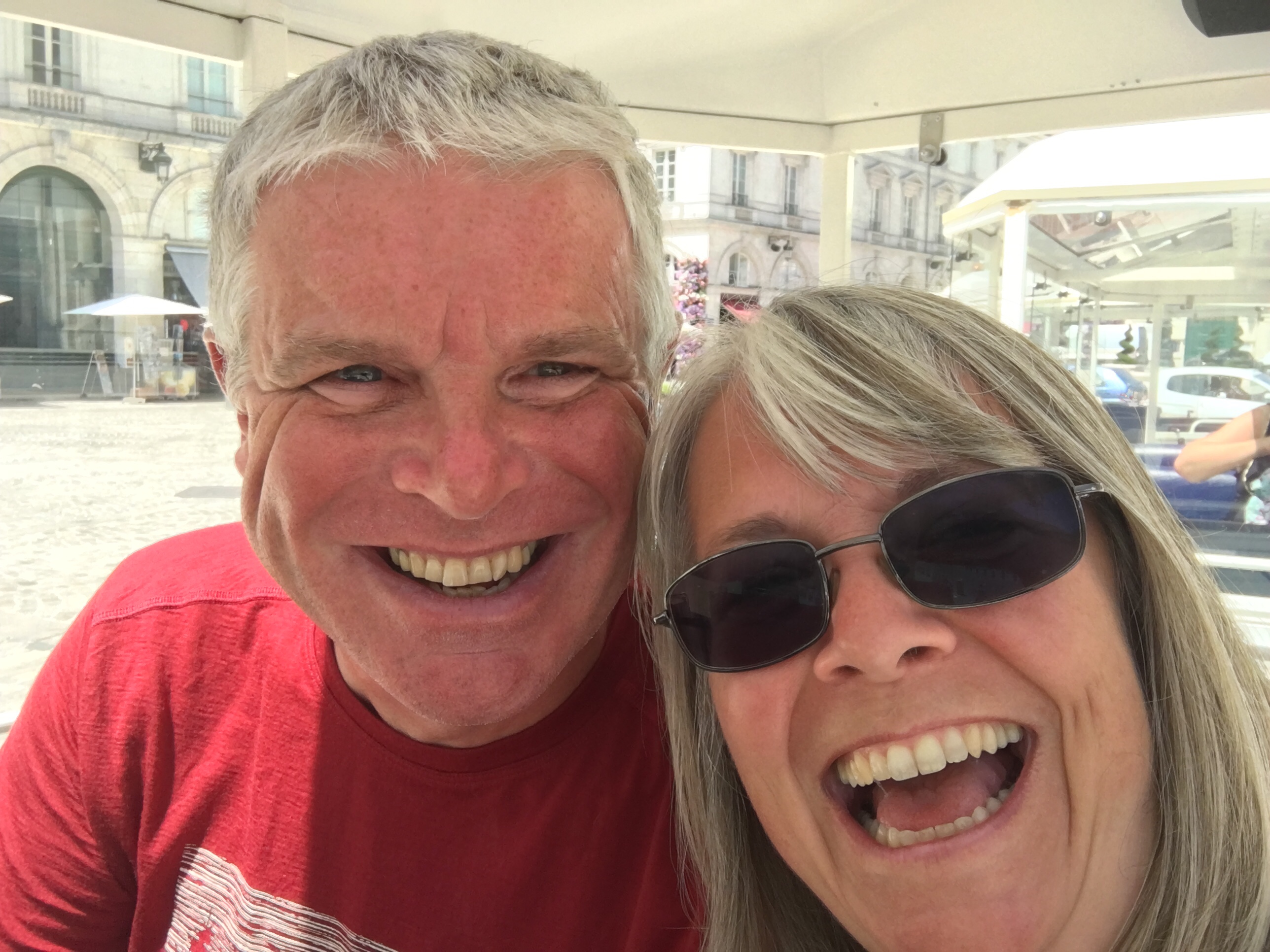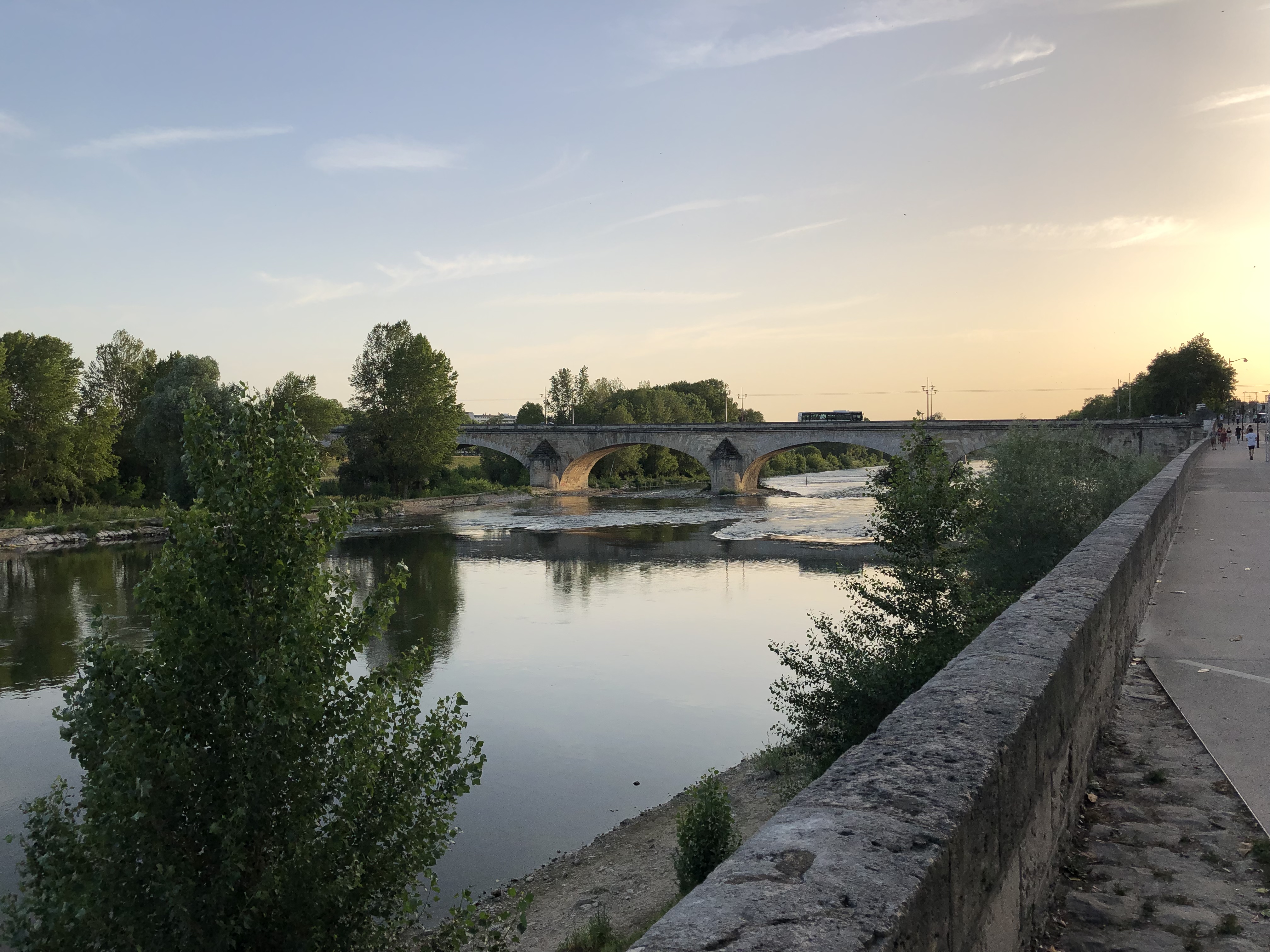 It says something, perhaps, that we celebrated seeing a cloudy sky when we opened the curtains this morning.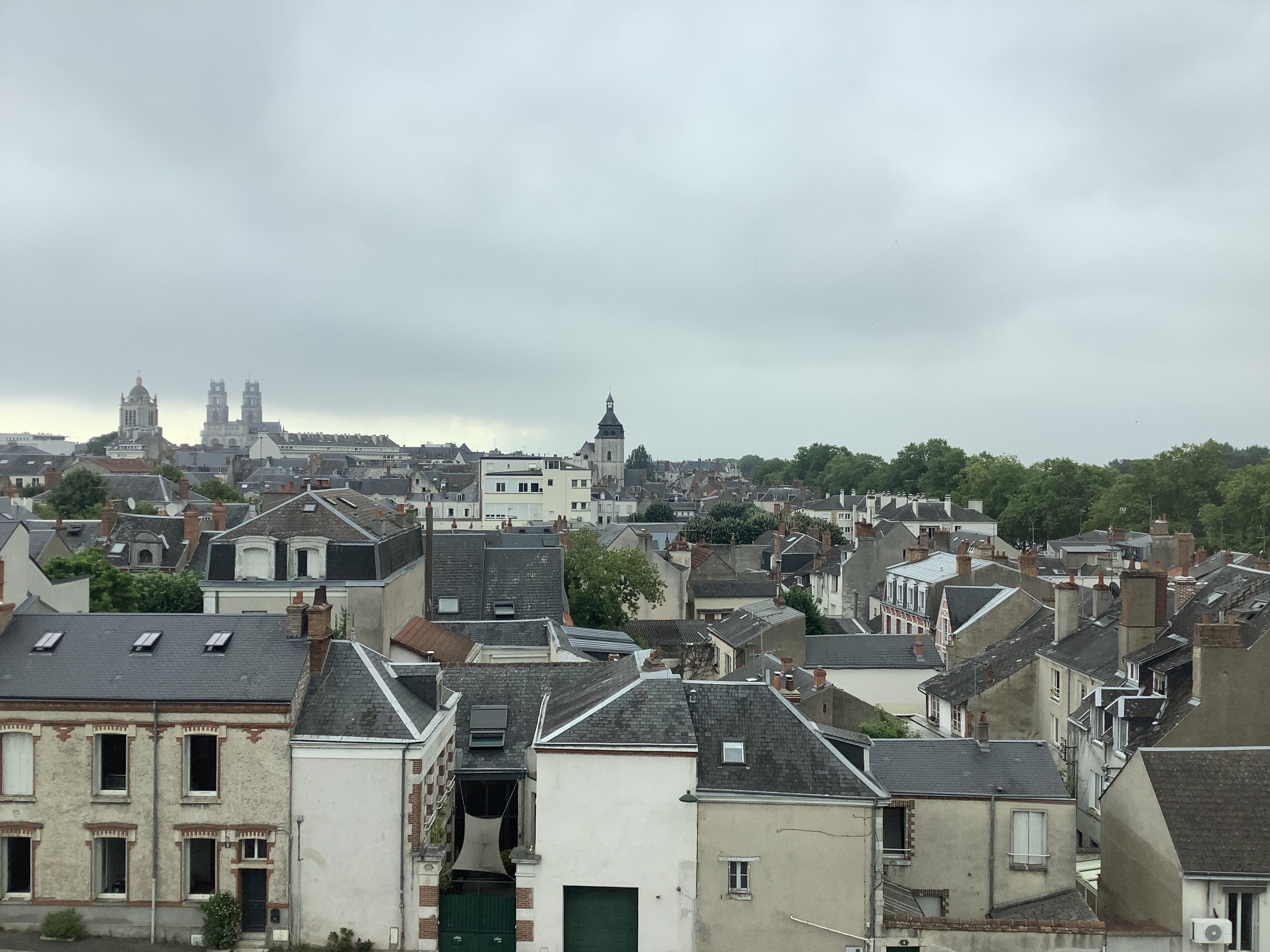 After breakfast we caught a taxi back to Châteauneuf-sur-Loire, retrieved the tandem from Sylvie's garage, loaded up and pedalled onwards.
Conditions were much more benign, especially for the first hour, during which it remained cloudy. A brisk headwind helped too; cycling felt much more comfortable. We had crossed over to the southern side of the Loire – I wonder how many times we have crossed it up to now. If I get bored (unlikely, I know!) I might work it out. We were soon into a familiar routine of cycling on small dedicated cycle paths and sometimes on the levée, with the ever-widening river off to our right.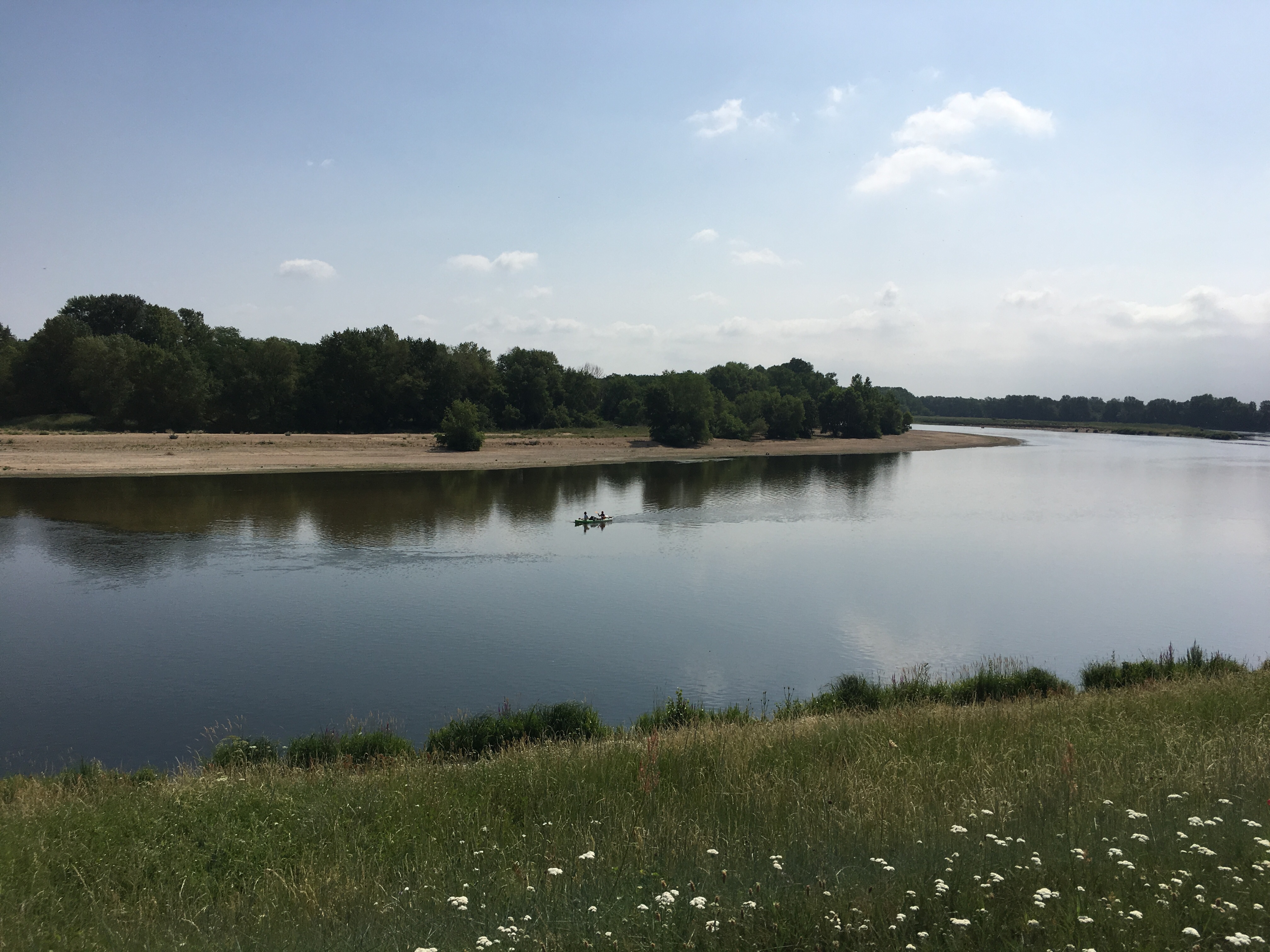 On the levée, a fox emerged from the bushes to our left, took one look at us and performed a swift reverse.
Today, the cycle path was as busy as we've seen it. There were plenty of fellow "Loire à Vélo" followers (identifiable by the quantity of luggage they were carrying), quite a few "road warriors" out for their Sunday cycle, many inline skaters and, strangely, about a hundred or so people dressed in vintage clothing, some of whom were riding very old bikes – we spotted an ancient tricycle, some boneshakers and even a penny-farthing. They all looked to be having a wonderful time.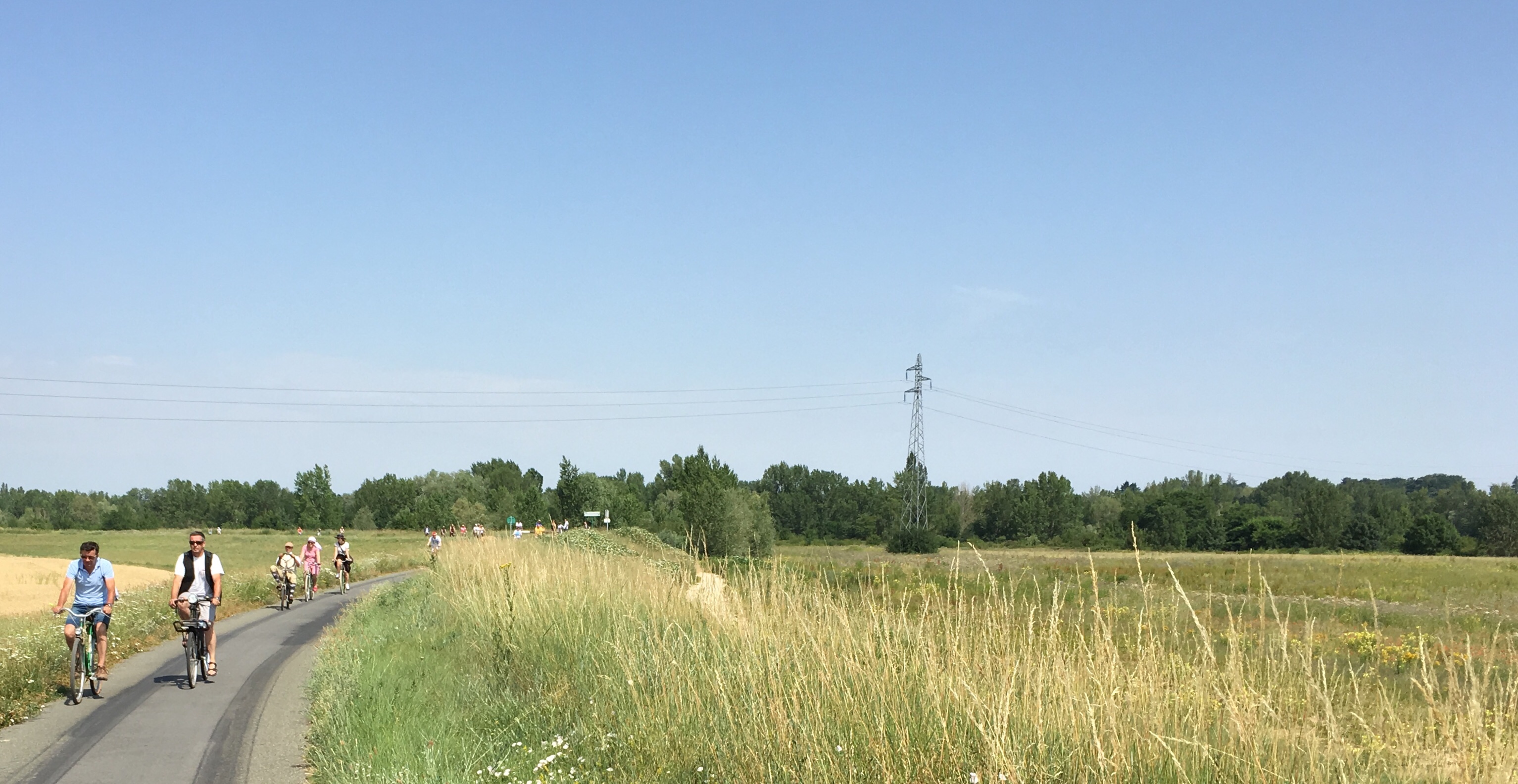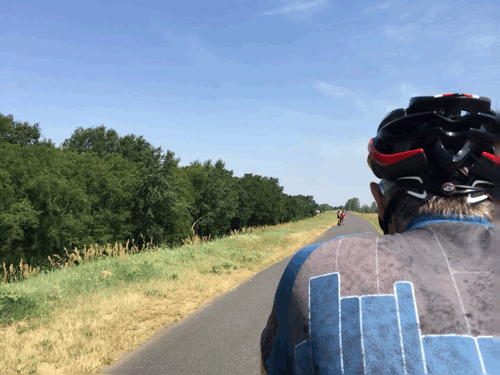 Our lunch destination, oddly enough, was Orléans. It was about halfway through today's journey, and we'd spotted a candidate lunching place whilst staying there. So, with the familiar towers and spire of the cathedral to our right we crossed back to the northern bank of the river, stopping near the cinema complex at a very pleasant river-side restaurant, where the Captain demolished a huge salad (there has most certainly been salad inflation on this side of the channel in recent years!) while the Stoker enjoyed a crêpe filled with caramel au beurre salé, just for a change!

After lunch we cycled along the northern bank for a couple of miles, passing our hotel, before crossing the river once again, on a bridge which resembles the Gateshead Millenium Bridge.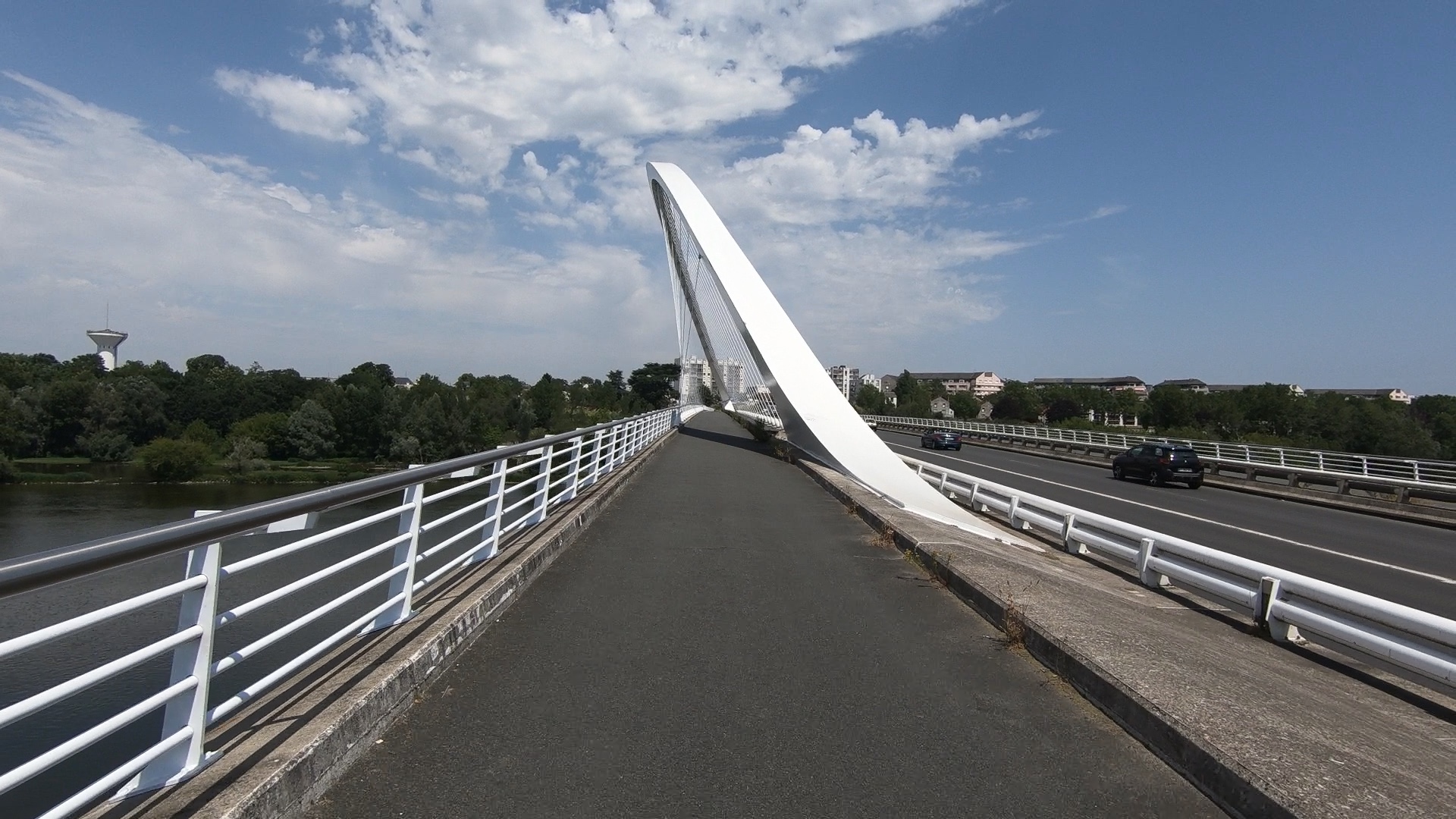 It is at Orléans that the Loire takes a marked turn to the west, forsaking its previous northerly direction.
In the afternoon the clouds cleared and the temperature rose – while never reaching the heights of the last four days it was still very warm.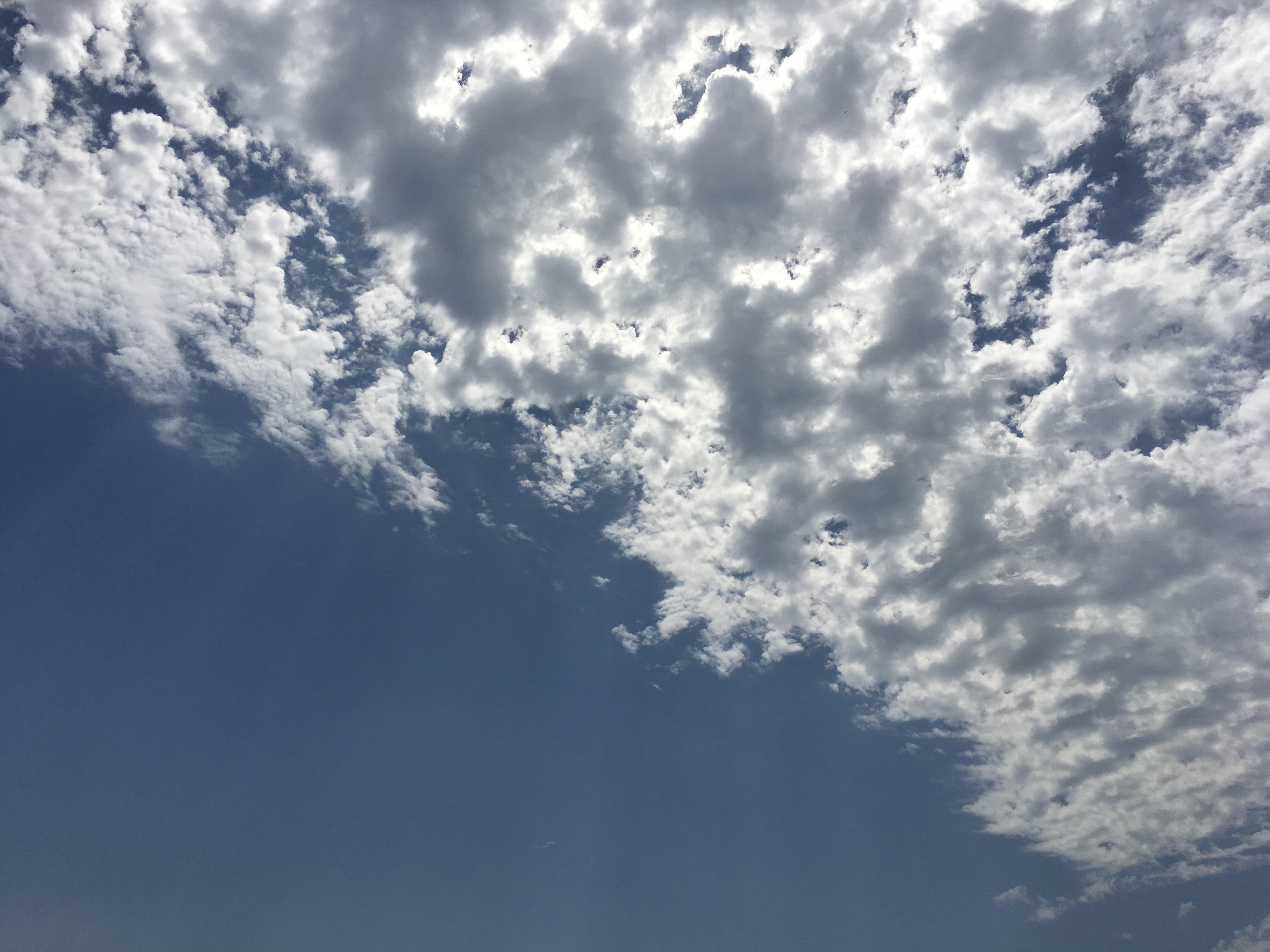 We made good progress, though, and with around ten kilometres to go we re-crossed the river to Meung-sur-Loire, whose château looks as though it is undergoing renovation. Thereafter we cycled along a dusty and gravelly path for most of the remainder of the journey. Our poor tandem looks in even more dire need of a wash as a consequence – it will get one very soon.
In the early afternoon we arrived at Beaugency, relieved to have been able to enjoy a cooler day.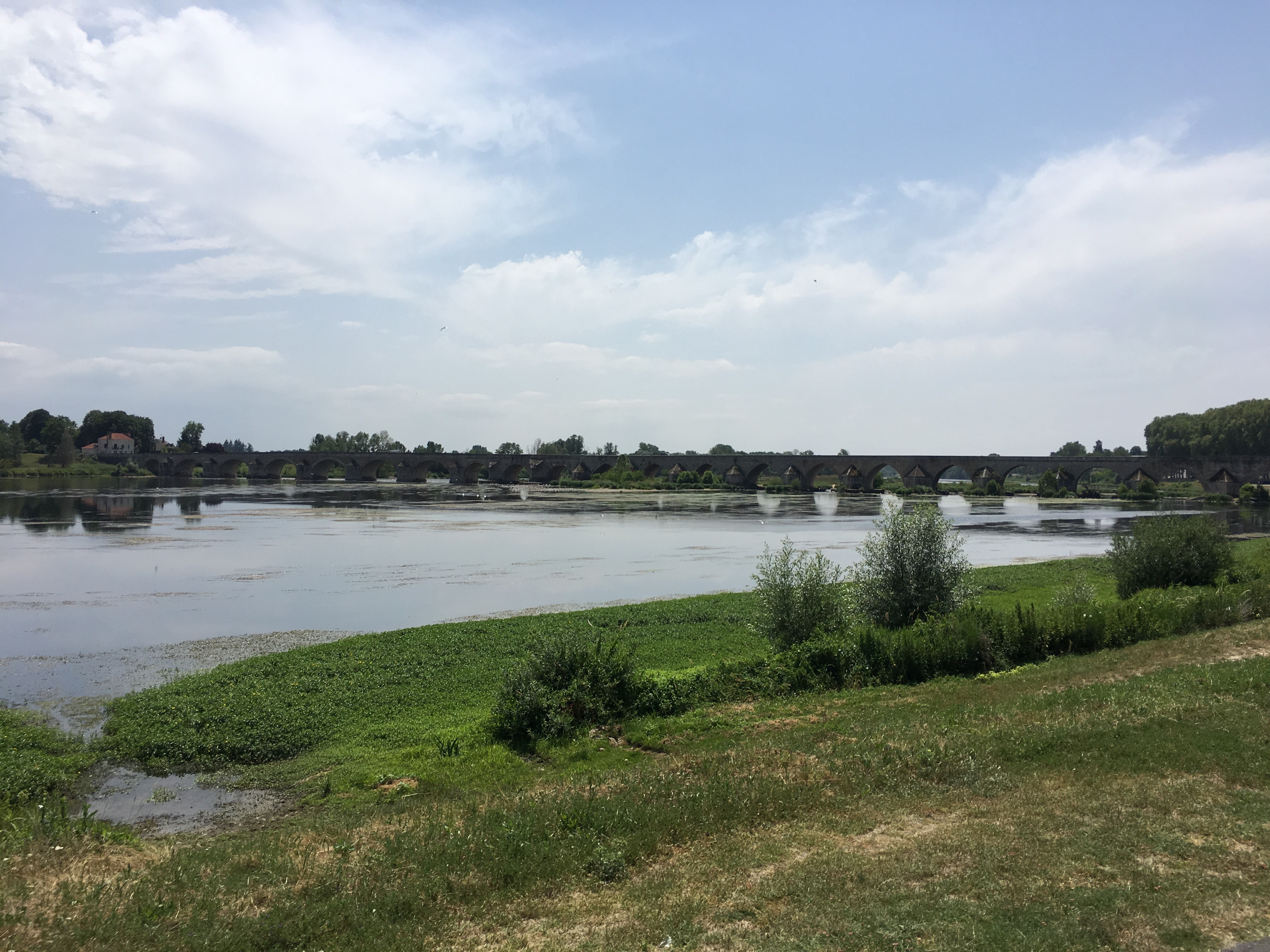 Our AirBnB house is outside the centre – we had planned to self-cater tonight but not a single supermarket or épicerie is open, so we will go out in search of a restaurant later.
Tomorrow we have a very short day planned, in order to allow for an extended tour of the Château de Chambord. Thereafter we will continue to Blois.
Here's today's video and today's track.