Distance: 75.3 km
Time: 3 hours 39 minutes
Average speed: 20.7 kph
Cumulative distance: 2647.42 km
Cumulative time: 134 hours 5 minutes
Word of the day: 'dimenticati' (dee-men-tee-kah-tee) – forgotten (adjective, plural)
We walked down into Scalea last night and bought some goodies for tea – burrata from a 'mozzarelleria', and some tomatoes, sausages, salad, and bread from the Spar, a proper big supermarket chain in Italy, although even the small 'convenience'-size ones always have really good stuff. We ate outside in the little garden of our AirBnB, marvelling at the range of plants in the garden which are strictly indoors only in our colder climate in the U.K.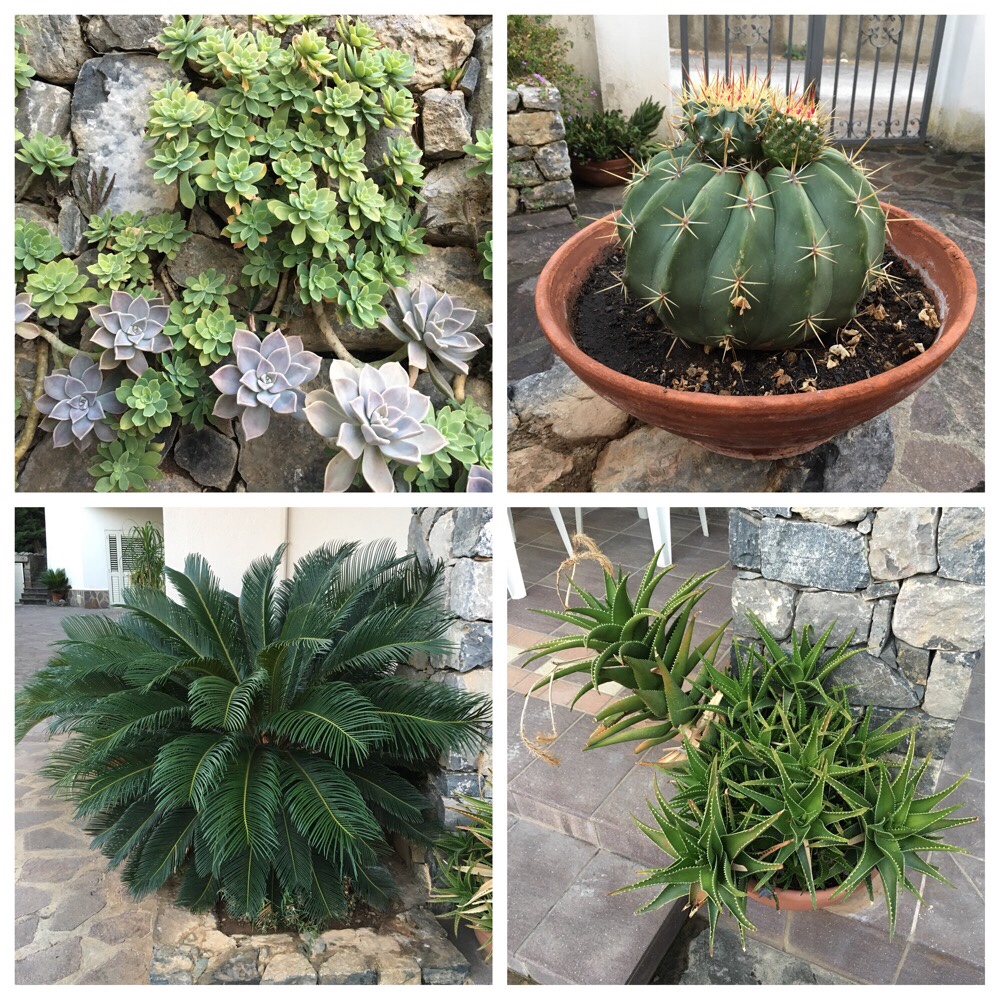 This morning we were up and about promptly, with around sixty kilometres to ride to Paola, mostly on the flat. We packed up, waved goodbye to our cheerful host and set off, pausing only to pick up some new brake pads at the bike shop in town. We didn't spot a breakfast cafe until we were a little way along the road, at Santa Maria del Cedro.
At this point the Captain picked up the message from our AirBnB host to say that we'd left all our bidons in the fridge! Damn – only one thing for it, to retrace our steps and collect them. It was annoying, but there was no point gnashing teeth or wailing, so we got on with it, and nearly an hour later we re-passed our breakfast stop with all bidons in place, and an extra 14km on the clock.
Our route took us along the coast, partly on the famously dull SS18, and partly on smaller roads nearer to the sea, where there were a string of seaside towns, each with their collection of beaches sporting coordinated umbrellas, little cafes and restaurants, shops selling lilos and so on. Popular this year are lilos in the shape of a slice of pizza!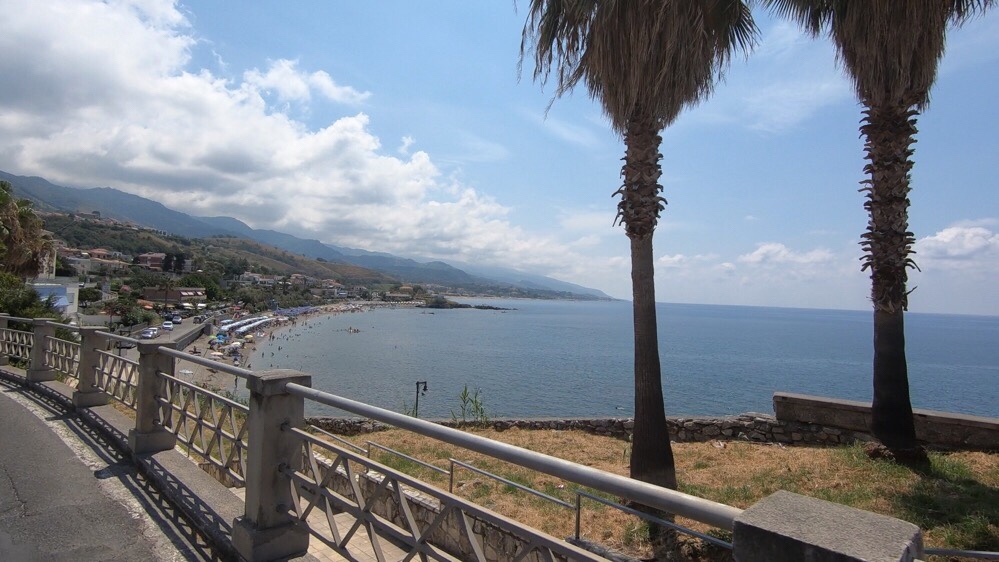 We also passed some little marinas, some boats still moored, but lots of spaces presumably indicating that their owners were out on the water enjoying the sunshine.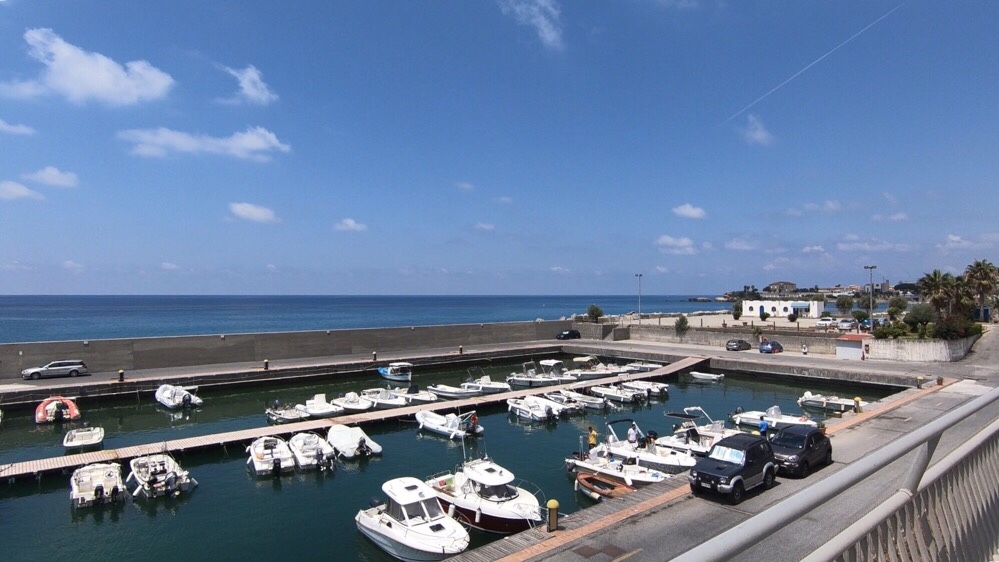 At one point we reached a scheduled rejoining of the SS18, only to find that bicycles were not permitted on the stretch we'd planned to ride. It's the tunnels – we're quite happy with the small ones where you can already see the end as you enter, but some of the longer tunnels would not be a good idea, and they can be kilometres long. We thought we'd planned a route to avoid the worst ones, but maybe we'd missed one. We diverted along the parallel road, which was perfectly fine, although it did involve some hairpin bend climbing to get back up to the SS18 after the tunnelled section.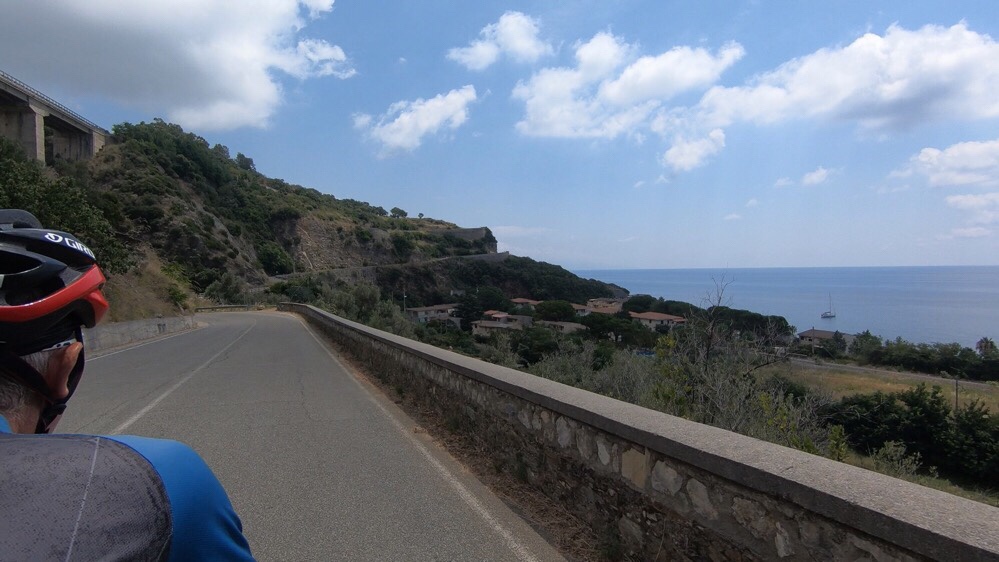 Still, good views from up there, as ever, and then a fabulous long, fast descent to enjoy as a reward.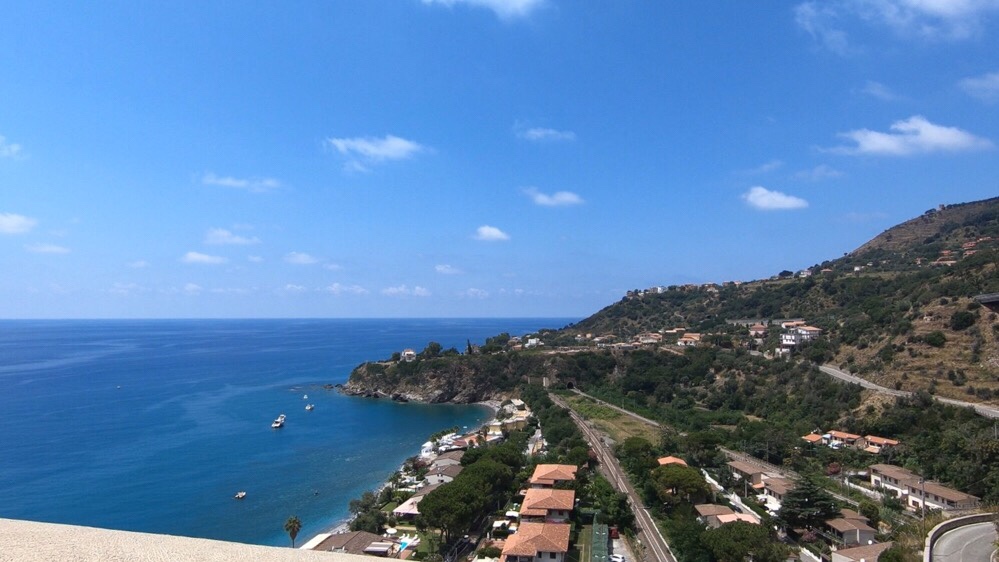 It was starting to get a little late for lunch, and we were running rapidly out of water, so we rode down into Acquappesa and found a little restaurant right by the beach for a quick lunch, a concerted rehydration and a refill of the bidons. The beach looked lovely, very uncommercial, probably a 'spiaggia publica' but very clean, the water sparkling and little tiny waves breaking on the rocks.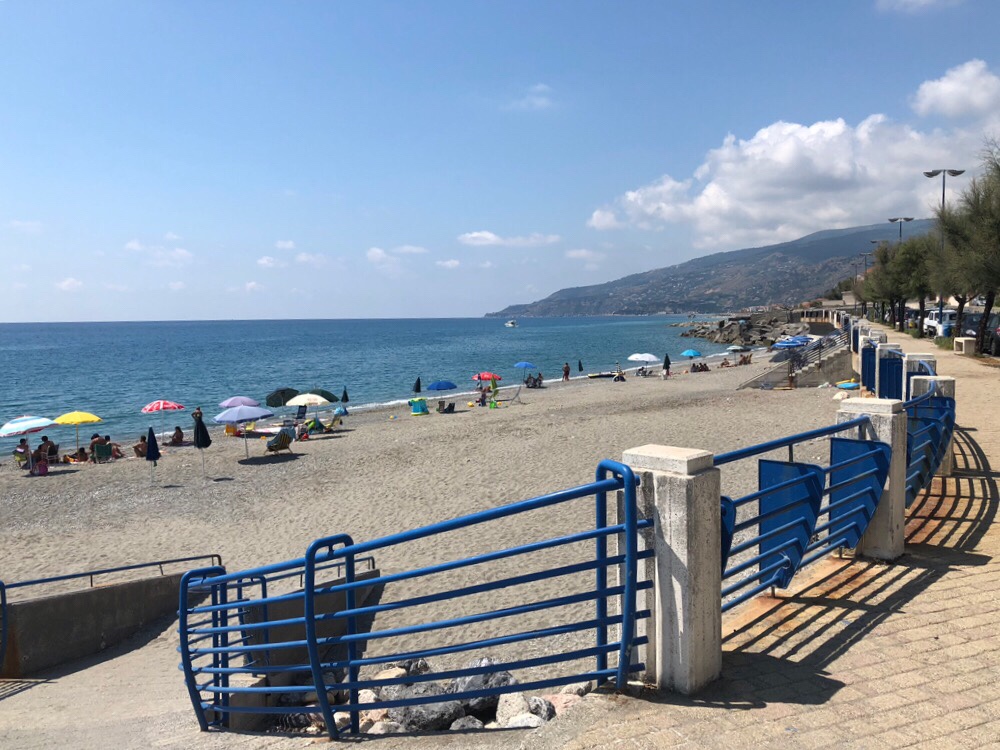 After lunch it was back up to the SS18, and the last few kilometres towards Paola. It hadn't been as dull as people had said it was, although we have a few more days on it yet as we make our way down towards the ferry crossing to Sicily – maybe we'll become very bored by it like everyone else.
At Paola we had a short climb up to tonight's apartment – a lovely newly renovated place in what was once the town's bakery. Our friendly host showed us in, and then left us to drink lots more water and watch Geraint Thomas pull off a great time trial to cement his place as Tour de France winner (provided he doesn't fall off tomorrow….). That's the second time we've seen a Brit win a Grand Tour this year, the first time was in Cervinia the day before we set off on our epic adventure.
Finally, now that we're safely done with our hilly but beautiful days in the Cilento, it has been calculated that we've climbed 2963 metres over the last five days. That's a Ben Nevis, plus a Snowdon and a Simon's Seat.
Here's today's track.