Distance: 46.97 km
Time: 1 hour 48 minutes
Average speed: 26 kph
Cumulative distance: 2694.39 km
Cumulative time: 135 hours 53 minutes
Word of the day: 'piccante' (pee-cahn-tay) – spicy
Paola clings to a steep declivity on the western flank of Calabria's Catena Costiera (coastal chain). Walking through the streets, therefore, often involves navigating long flights of steps and steep inclines. It's picturesque, though, with narrow streets and a distant view of the sea. The evening sun added some lovely colour to the buildings.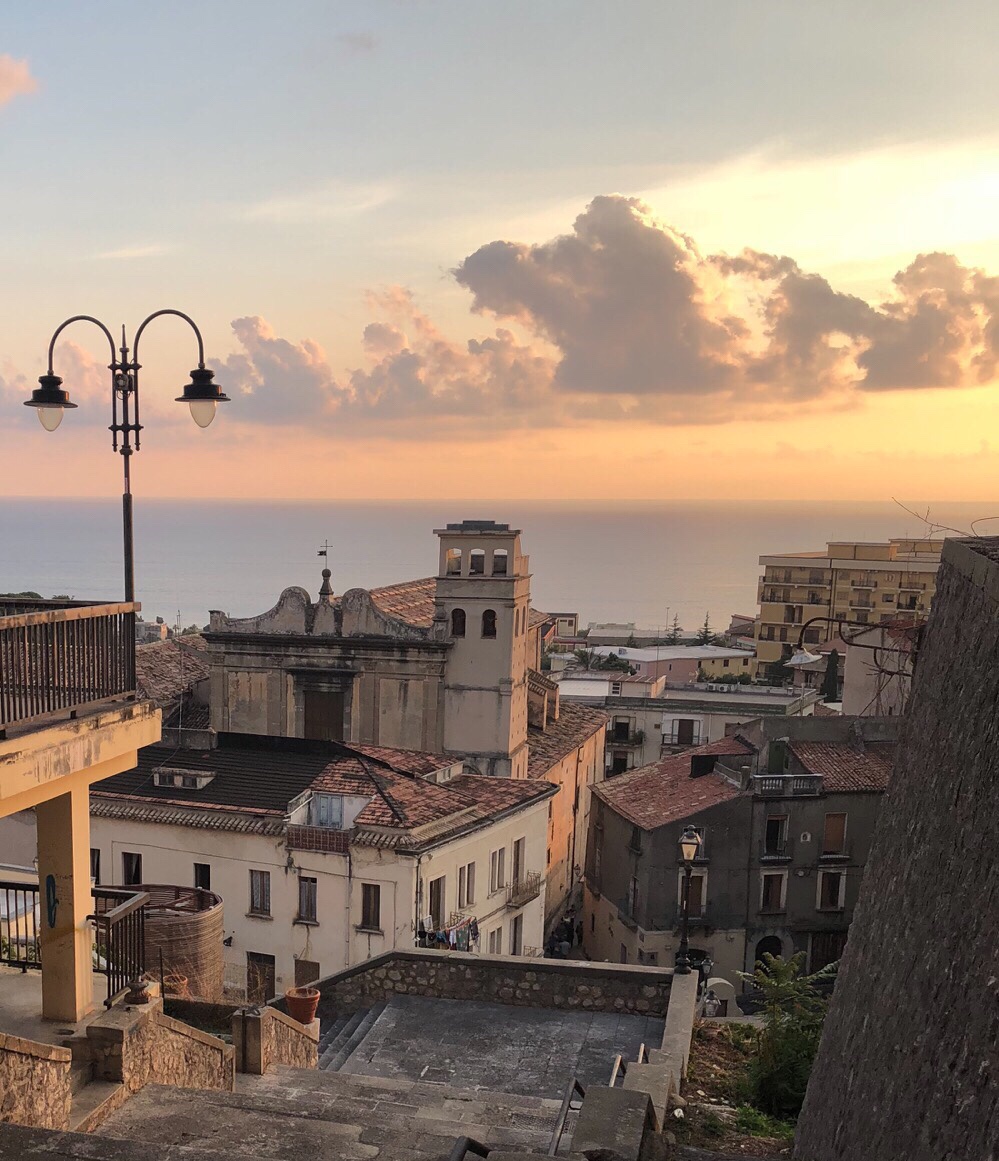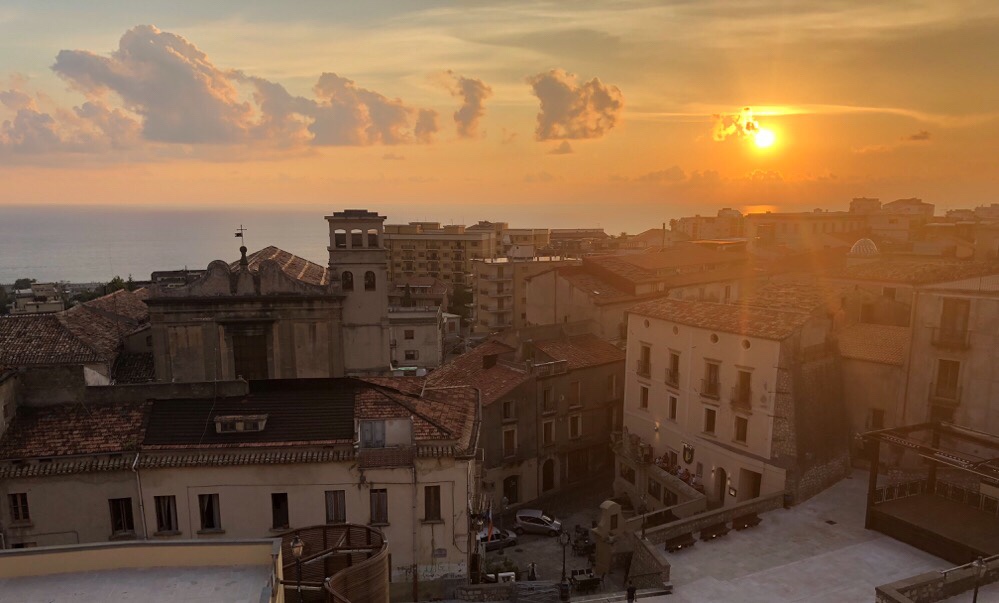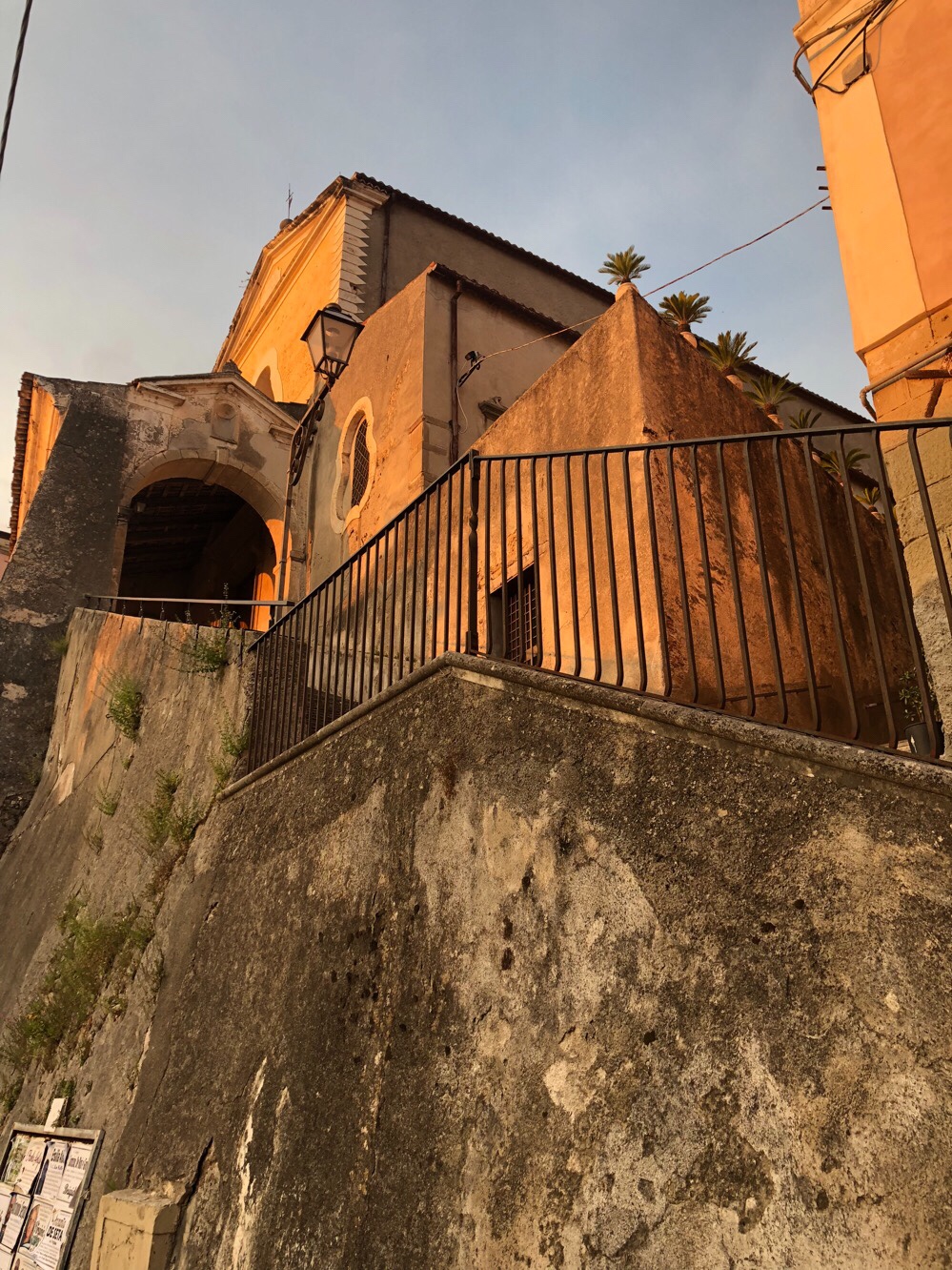 We picked our way through to the restaurant "Vecchia Paola", feeling duty bound, now that we're in Calabria, to eat Pizza Calabrese. This features melanzane (aubergines) and the fiercely spicy sausage called nduja. A good job, then, that we had ordered plenty of water to accompany our meal. It was delicious, naturally!
Our host, Mario, scored extra points this morning for leaving lovely fresh cornetti on our doorstep at seven-thirty. Not that we were awake until an hour later, but they were extremely welcome. Before leaving we checked every corner of the apartment several times over, not wishing to repeat yesterday's mistake. When we were satisfied that we had left nothing behind we pedalled off in a southerly direction, heading towards the SS18. It being Sunday, the roads were quiet, and we enjoyed a twenty minute descent towards sea level.
The scenery, whilst not nearly as spectacular as that of the Cilento, was still to be admired. To the east were the high mountains of the coastal chain, sometimes terraced, sometimes with "relic" terraces, overgrown and abandoned. To the west was the azure sea, and the ever-present railway line, occupying the narrow space between mountains and sea.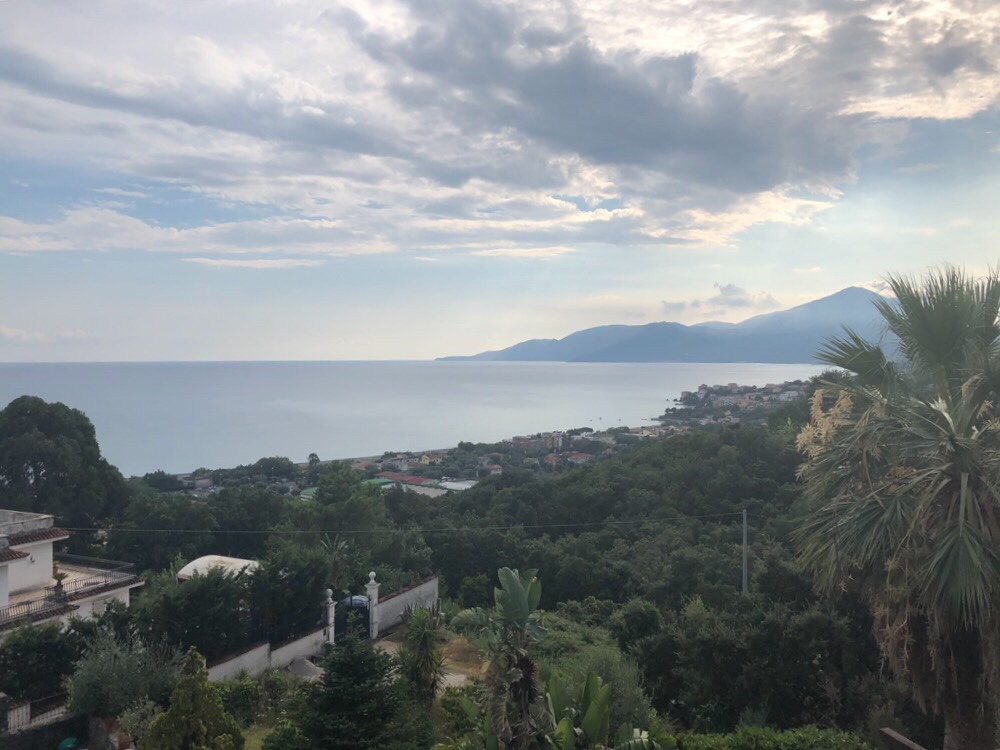 Once down at sea level we alternated between long fast stretches on the SS18 and short slower diversions into nearby villages, in order to avoid the long tunnels on the main road. Our rule of thumb when planning the route is that we must be able to see the far end of the tunnel if we're going to cycle through it. Google StreetView proves invaluable in this regard, as we can look at the tunnel and assess its viability.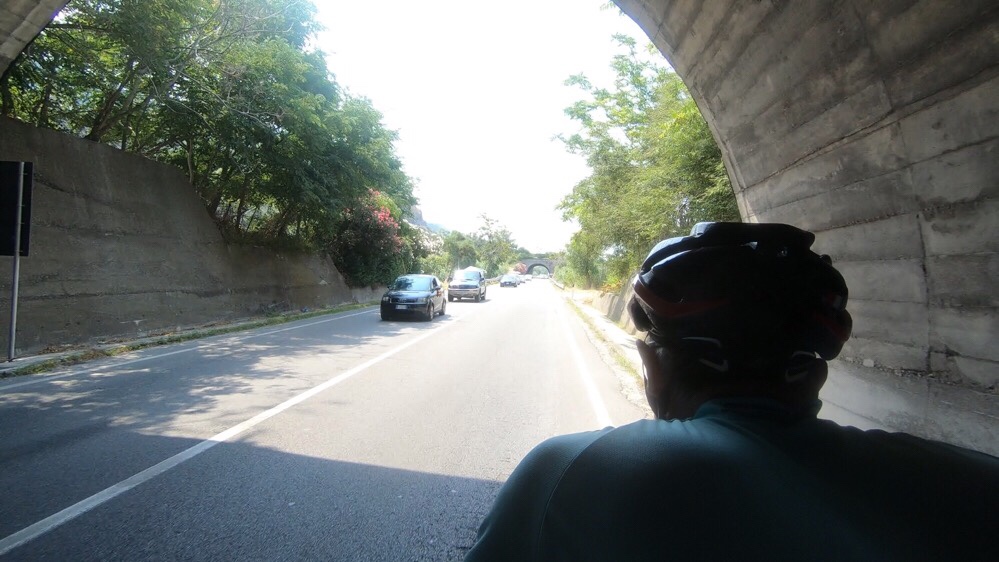 We enjoyed the diversions, of course – it being Sunday the streets were bustling. Unlike the north, though, there doesn't seem to be the tradition of drinking an Aperol spritz after church. The people do seem to be very friendly in Calabria – we've received many cheery waves and toots of the horn in the last couple of days. In fact yesterday we were overtaken by two policemen on motorbikes, the first of whom tooted the horn. I feared briefly that we were about to be pulled over for some unknown offence, but after a cheery wave they vanished into the distance.
We stopped in Amantea to drink some water and admire the Norman castle in the hills to the east.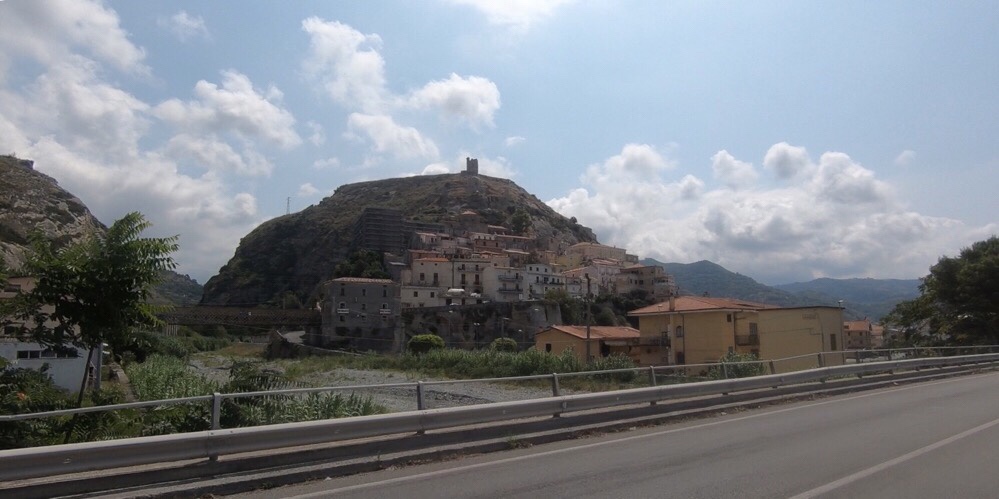 By this time we'd already completed more than half of today's planned distance, and in very good time. We set off again, pondering on a lunchtime stop, but soon realised we only had ten kilometres remaining, so we carried on until arriving at the beachfront of Falerna Marina. After a leisurely lunch we cycled the short distance to our lodgings.
Here we were met by Laura, our host, her mother and the family dog, Simba. In the fridge are some fresh figs and they insisted on giving us lemon cake and some very good homemade limoncello. It's a tough life…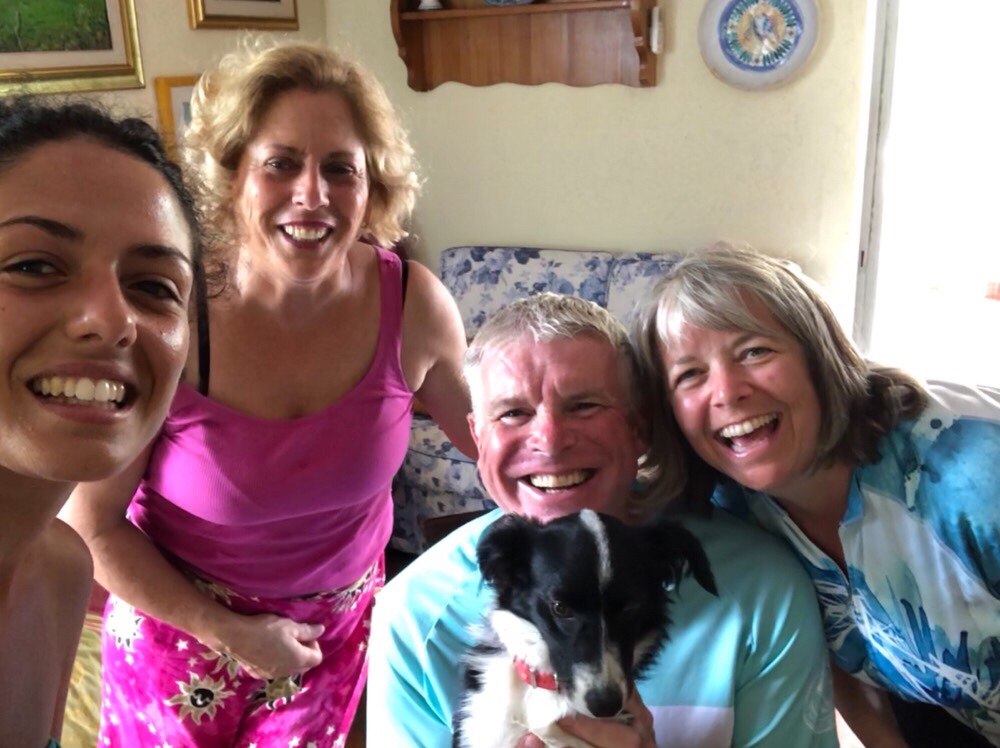 Tomorrow we are cycling to Tropea, which we visited some years ago. There we shall take a couple of days at rest and enjoy the views towards Stromboli.
Here's today's track.