Distance: 49.2km
Average speed: 23.4 kph
Time:  2 hours 6 minutes.
Word of the day: 'discesa' (dee-shay-zah) – descent.
So, finally, we're off. After breakfast we packed up the apartment, drove the car down to the garage, retrieved the tandem, squeezed the car into the garage, loaded the panniers onto the bike, helmets on, gloves on…
Oh. The captain has two left gloves!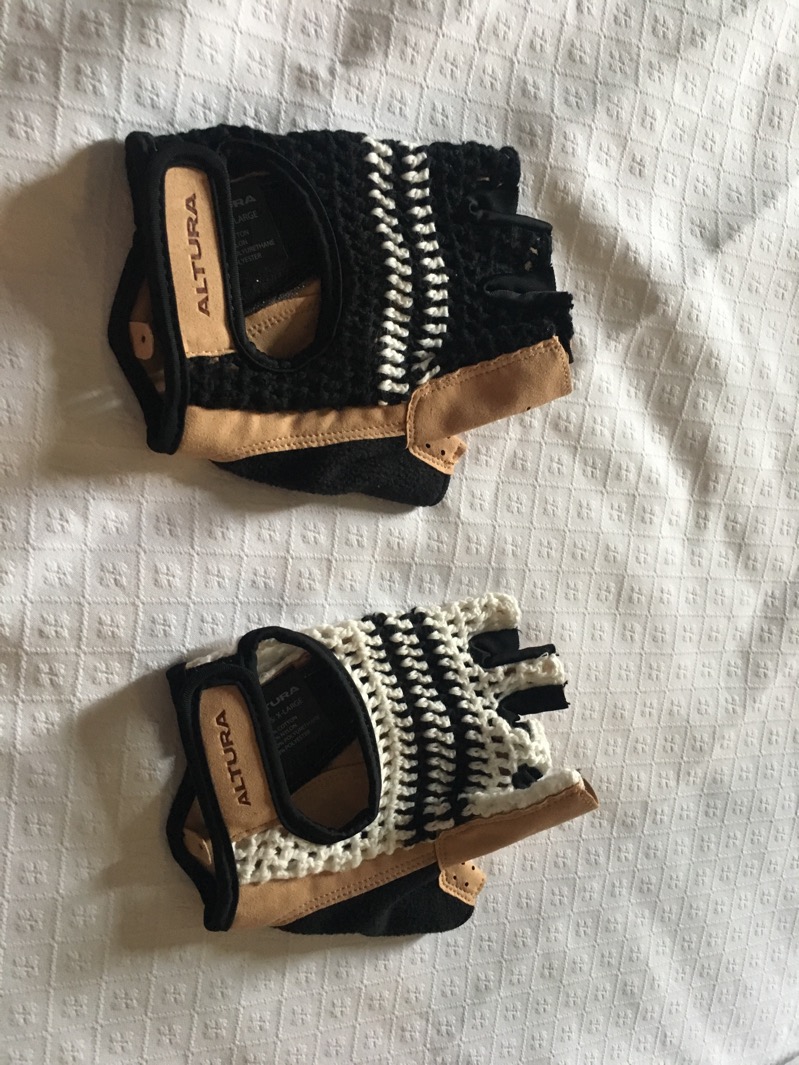 Disregarding this minor packing error, we climbed on, turned our backs to Il Cervino (the Italian side of the Matterhorn) and set off downhill.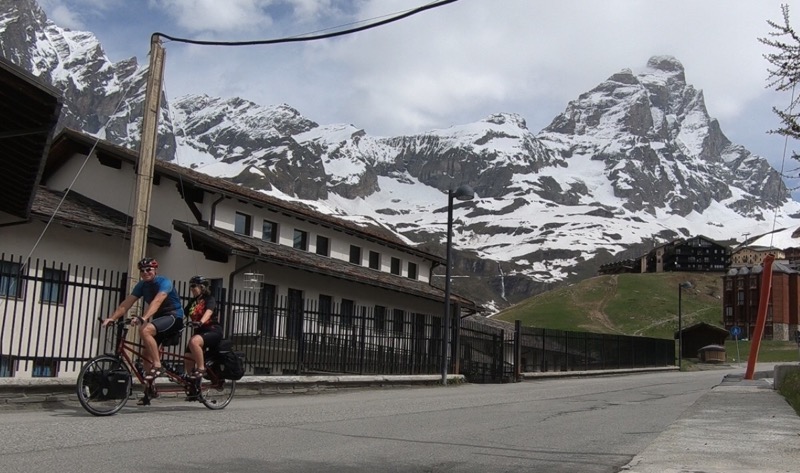 The Giro d'Italia finished here yesterday, the place was heaving, and we saw Chris Froome take the penultimate pink jersey, on the last contested stage. It's been a fantastic race, Simon Yates was doing so well until he faded, but he's young, he'll be back. Today, though, everything was back to normal, all the race infrastructure had disappeared as if by magic overnight. We coasted slowly, slightly nervously through town, getting used to the laden weight of the tandem. The road descends for more than 22km, with several sets of hairpin bends, so we took it very steadily, noting the 'road art' from the race.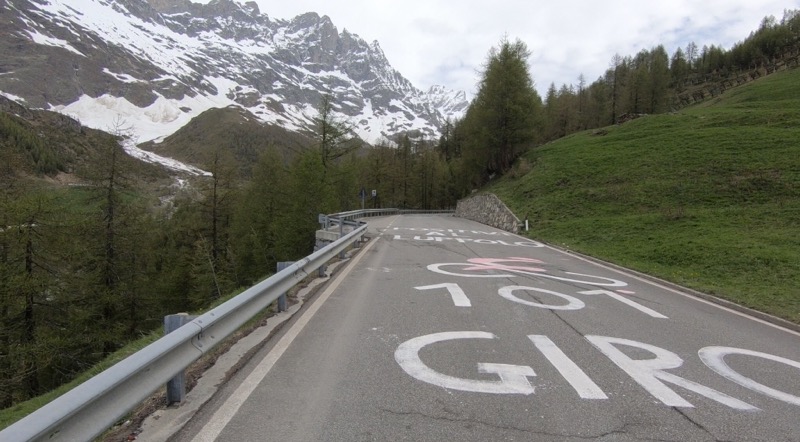 There are several tunnels – wow, they were cold. Mostly, we felt the air thickening (Cervinia is at over 2000m in altitude) and the temperature rising, the tandem felt good and it was wonderful to be on our way at last after all the build-up. As we reached lower altitudes the valley became greener, meadows on either side and the trees in full leaf.
Eventually we arrived at the bottom of the descent, marked by a scale replica of the Matterhorn in the middle of the roundabout. We headed west first, towards Fénis, for lunch and a look at the castello, a slightly foreboding thing, lovely crenellations.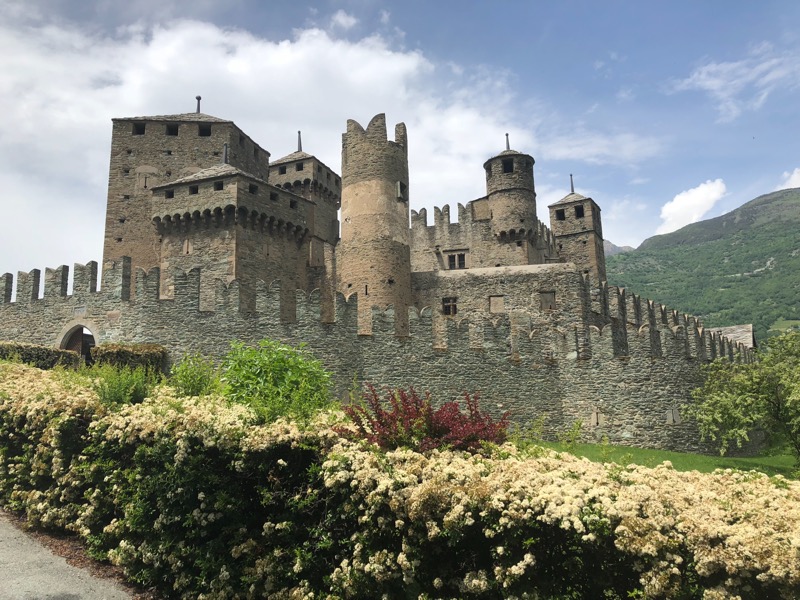 After lunch it was back to the Matterhorn roundabout, past several noisy, rushing waterways taking the winter meltwater down to the valley flow. The colour is amazing – opaquely green with all the minerals it carries. Through Chatillon, past the entrance to the autoroute and onto the Saint Vincent road. We found the hotel, parked the tandem, checked in and, after a quick shower, headed straight up the funicular to the Terme, a lovely spa complex with thermal pools. It was fabulous, especially the outside pool, in the fresh air, wildly forested slopes on either side and a view right down the valley.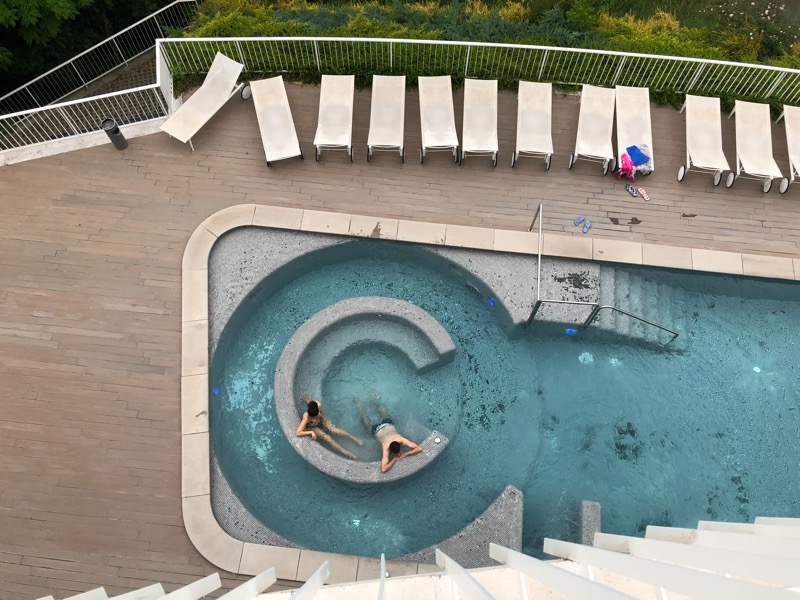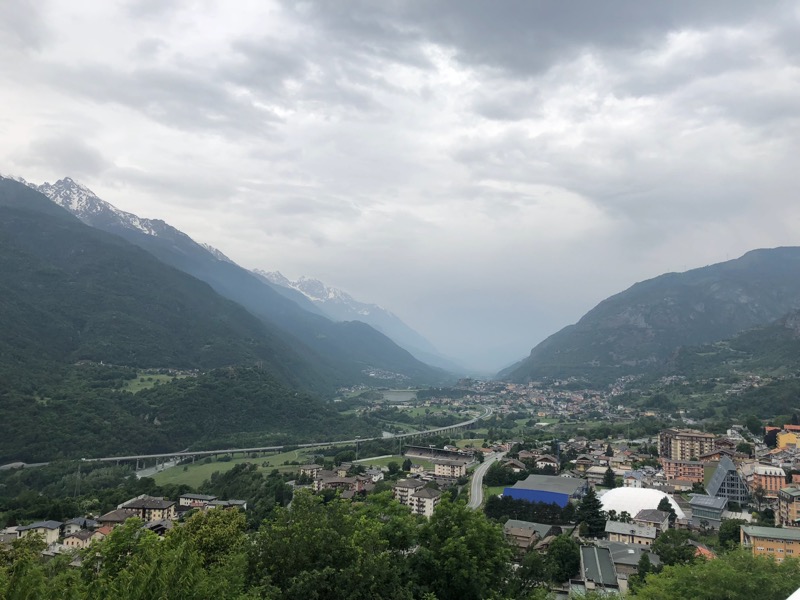 It wasn't a great distance today, although more 'up and down' than we'd expected after the initial plummet from Cervinia. Good to get the legs moving, though, and to get some kilometres recorded.
Here's today's track.