Motorhome day thirty-three: Fairlie to Akaroa
Once again it was foggy when we awoke, but it burned away even more quickly this morning; it was sunny before we left the site. Walking in the dew on the campsite grass reminded me of childhood caravan holidays.
Today we struck out for the east coast, for the first time since Mount Maunganui. So we left the Southern Alps behind us and set off through another round-hilled, yellow-brown, arid landscape in the direction of the town of Geraldine. I like to think it was named after the sweetheart of an early explorer, and I haven't checked, as I don't want to be disappointed.
Once we'd descended from the hills we were on an extensive plain, with agriculture and agro-industries in all directions. There wasn't much to see, to be honest, but the roads were long and straight and we could make quick progress. Once we turned off State Highway 1 towards Akaroa the vista improved rapidly. In the distance, straight ahead of us, we could see the hills of the Banks Peninsula, hills which are the remnants of two extinct volcanoes: Lyttleton and Akaroa. They last erupted in the Miocene epoch, so I think we're safe here for the night.
We drove up to Lake Ellesmere, on the western edge of the peninsula, and then onto Lake Forsyth before we found a suitable spot for lunch by the water. There were black swans swimming there, but as we approached we saw that the water was a strange green colour. I spotted a notice nearby warning of toxic blue-green algae in the lake. Ah well, we weren't planning to swim anyway!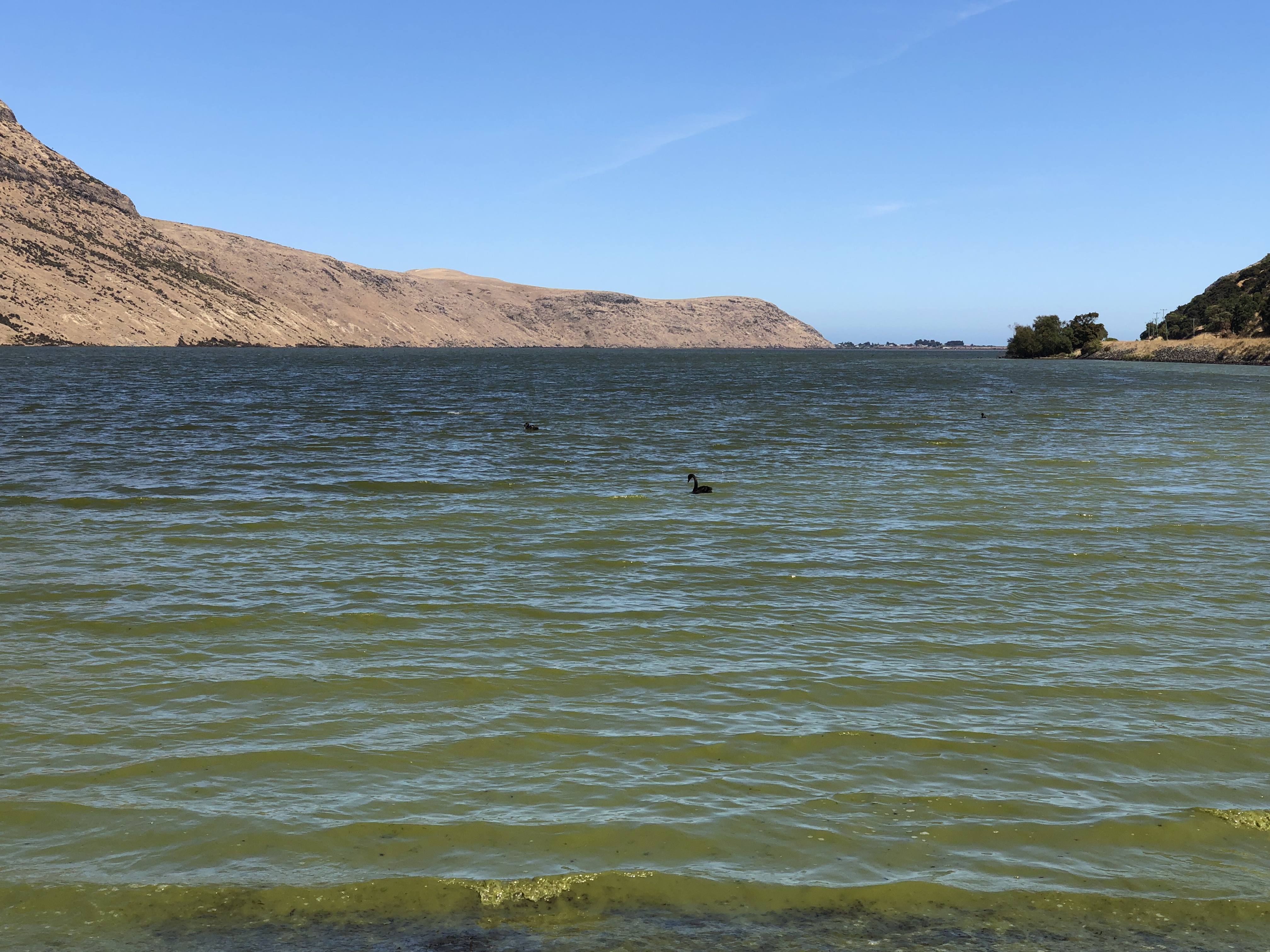 After lunch we headed up into the volcanic hills. It was a steep, twisty road, and I concentrated on driving while Clare took scores of pictures out of the motorhome window. It's a dramatic landscape – distinctively volcanic, and as we overtopped the summit it became more dramatic still. There below us were the sparkling blue waters of the Akaroa inlet, coruscating in the afternoon sun.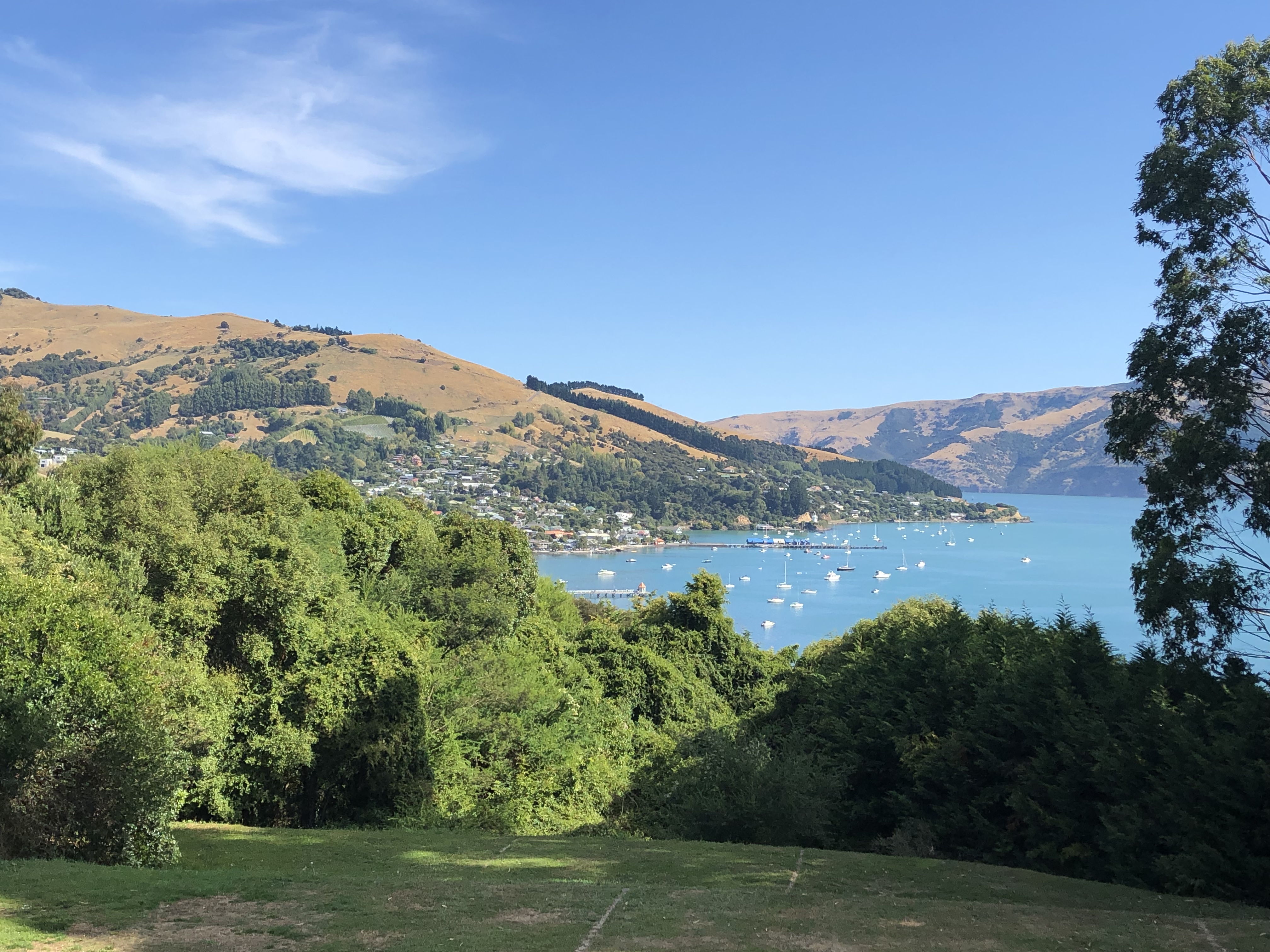 The descent was equally steep and twisty, with views at every corner. Soon enough we arrived at the town of Akaroa (meaning Long Harbour in Māori). The supermarket there enabled us to stock up for the next few days, after which we ambled along the seafront enjoying the atmosphere. Akaroa is a very French town, with 'Rues' instead of roads, and a high proportion of Francophone visitors.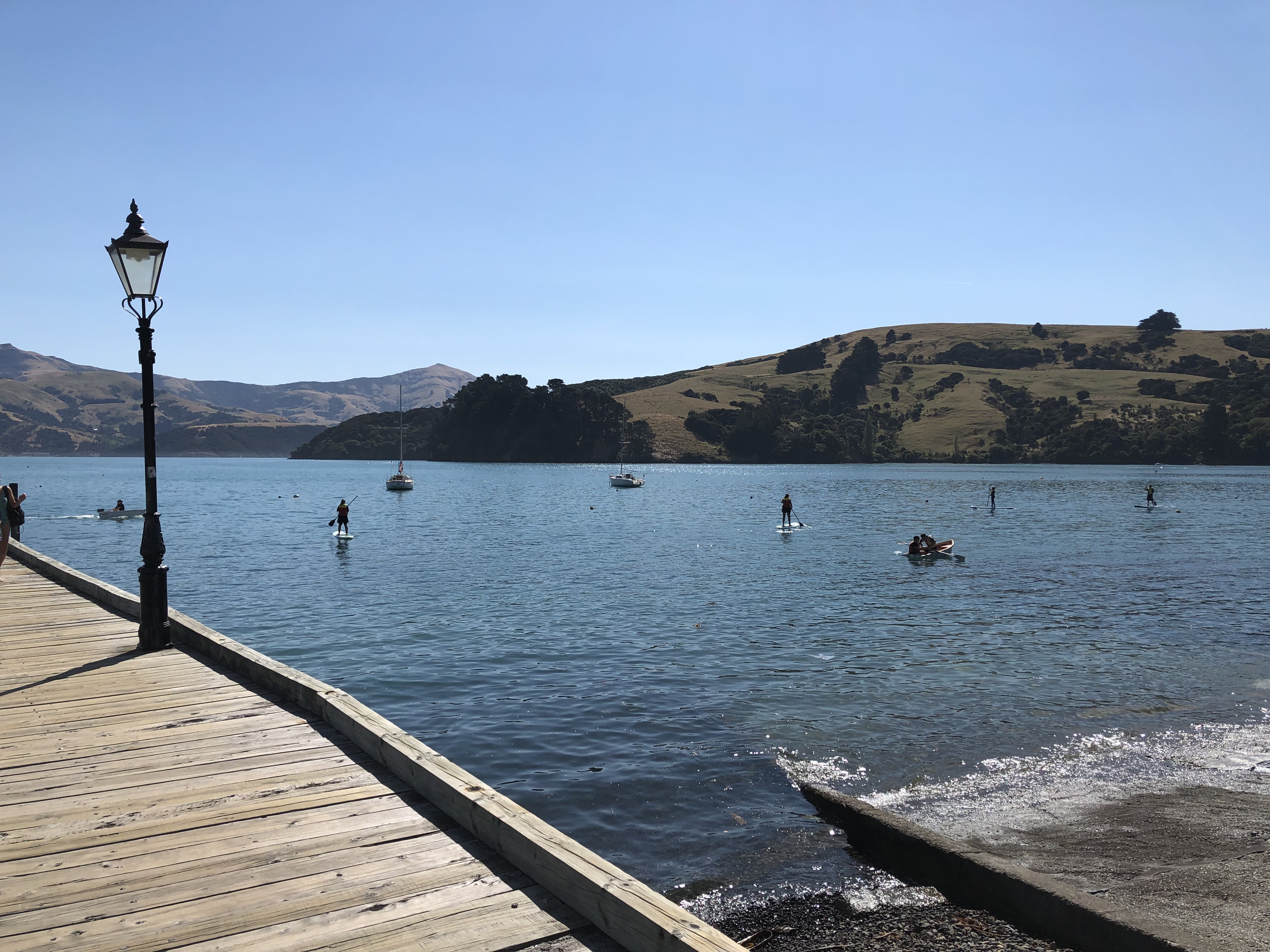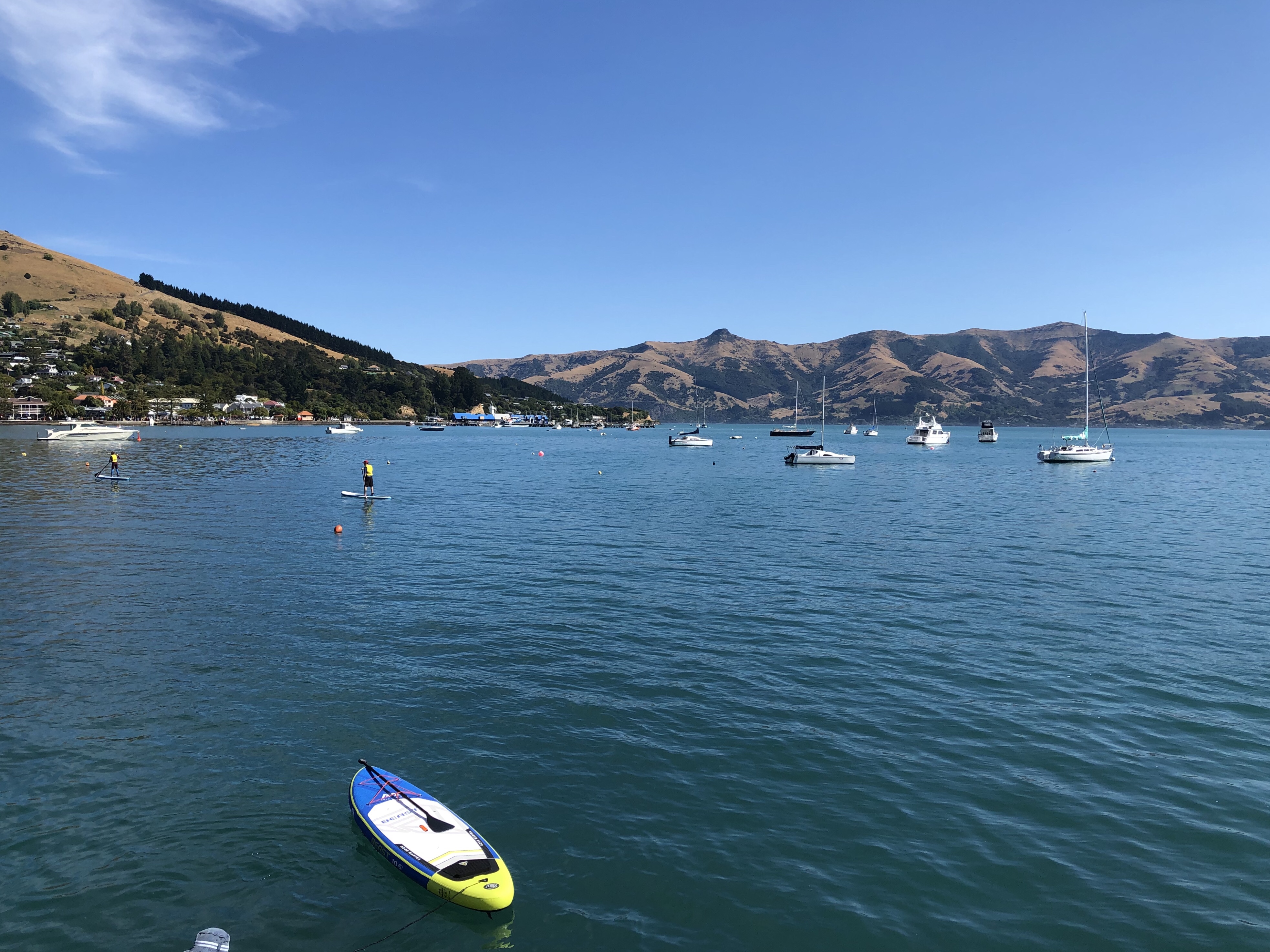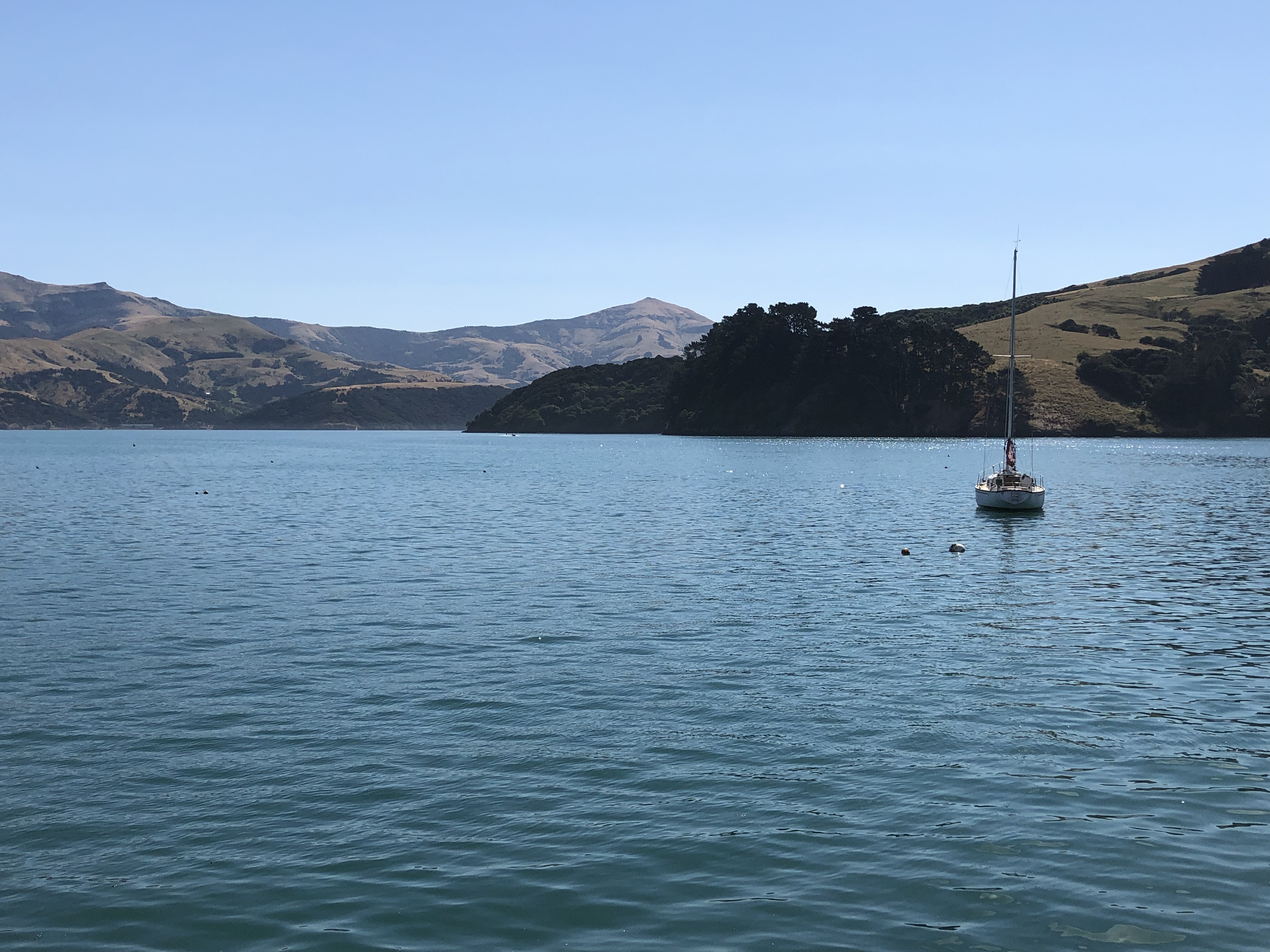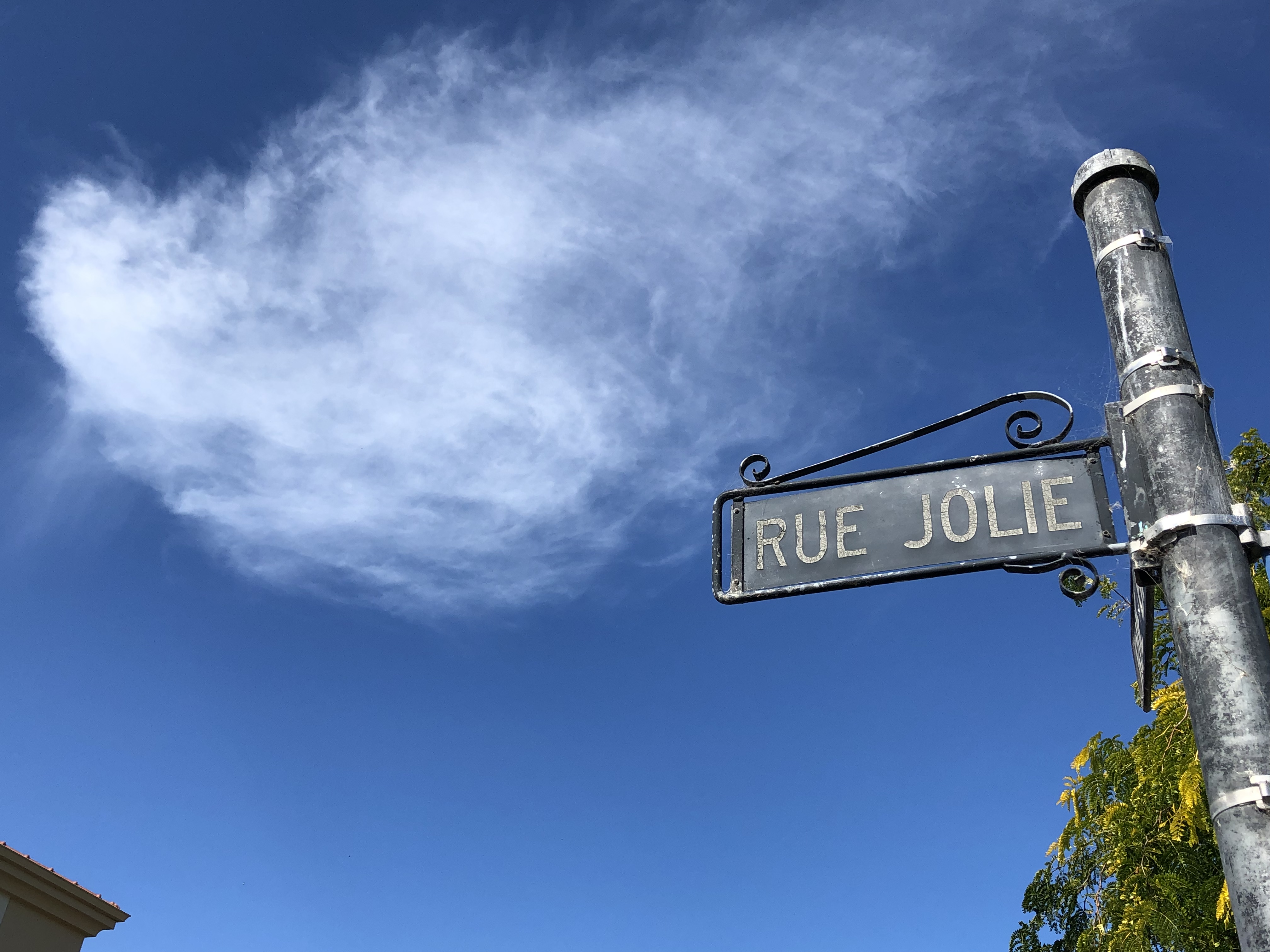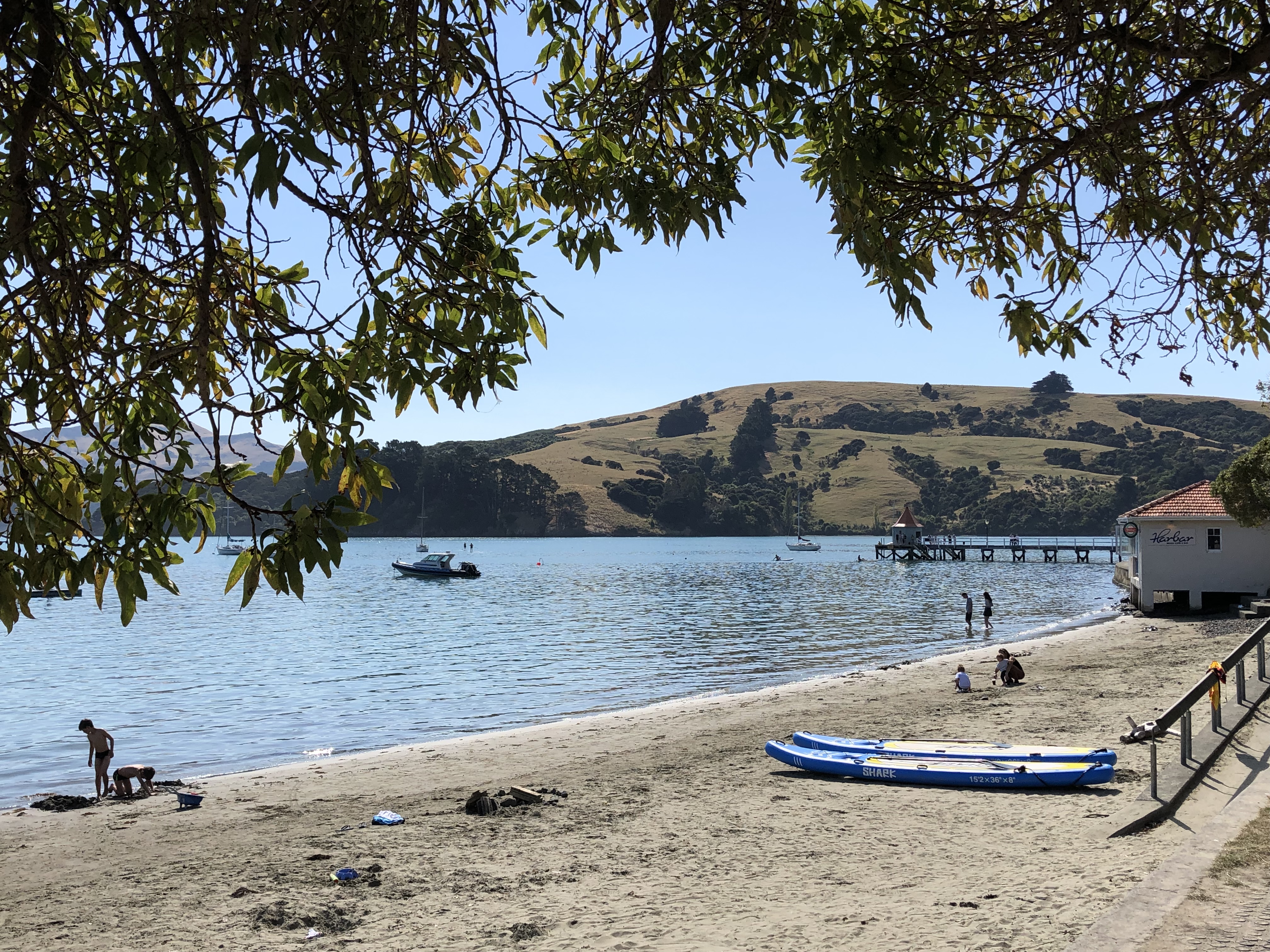 Apparently in 1838 a French whaler called Captain Langlois decided that Akaroa was an ideal location for a town that could service the whaling ships. He subsequently acquired the peninsula in a dubious land deal with the local Māori. He then returned to France and arranged for a group of French and German families to sail to New Zealand, with the intention of forming a French colony. Unfortunately for him the British had just concluded the Waitangi treaty with the Māori and his cunning plan came to nought. Oh, perfidious Albion!
Enough history. It's a beautiful town set in a magnificent natural harbour, and from our campsite up in the hills we can look over it and enjoy the vista.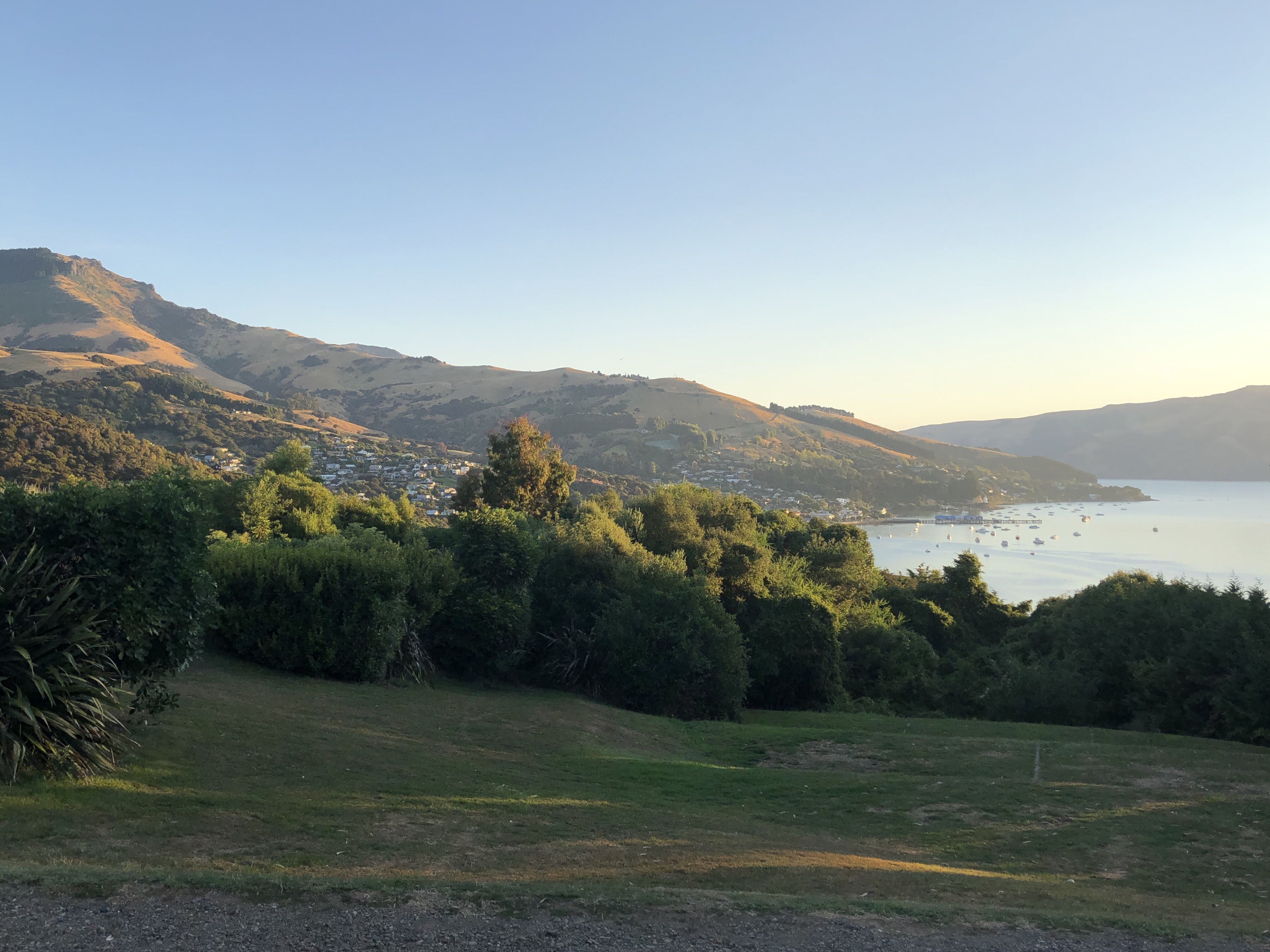 Sadly we're only here for one night, as Christchurch beckons tomorrow, but we're glad we came.
Motorhome day thirty-four: Akaroa to Christchurch
We got up in the middle of the night last night, to look at the stars. Once again, we had a magnificent view of the Milky Way, and I tried various means to capture what we could see on my iPhone. Sadly it didn't work, so you'll just have to imagine that bit. Anyway, I wanted to go back to bed.
Another blue sky day greeted us this morning, and we enjoyed a lazy start, as our journey to Christchurch was a short one. Whilst checking the route, though, we noticed something called the "Tourist Drive" marked on the map. Having checked with campsite reception that it would be suitable for a motorhome we decided we should give it a try.
It turned out to be a good decision, at least once we'd unglued my hands from the steering wheel. We'd been told at the start of our trip that New Zealand has a very laissez-faire attitude to personal safety. In other words (somebody said) if you do anything stupid then it's your own fault. I tried to bear this in mind as we drove our motorhome around the rim of an extinct volcano, with a huge precipice on one side and no barriers. It's probably unnecessary to say that my driving was ultra-cautious, especially when a vehicle was coming in the opposite direction on the narrow road.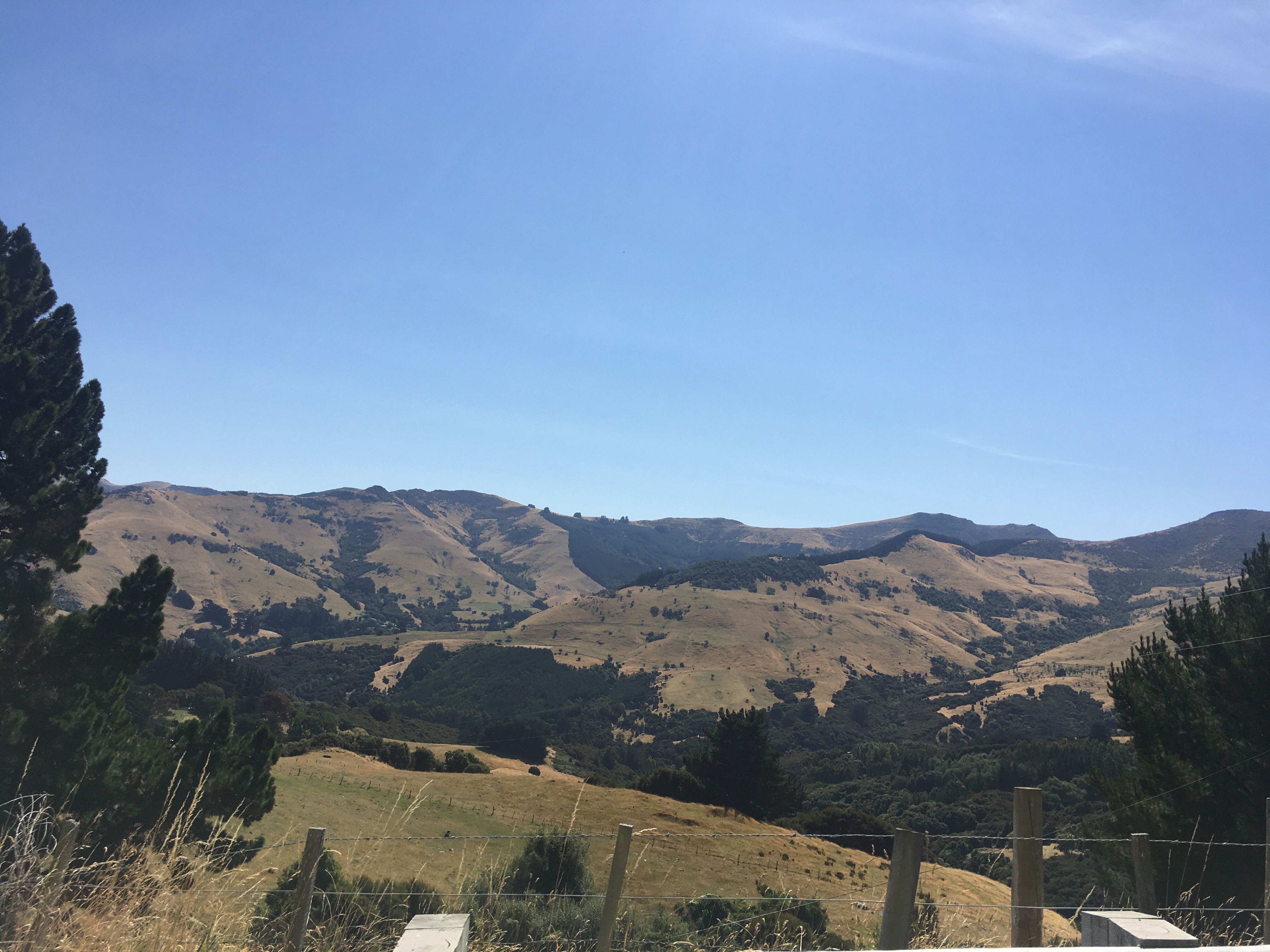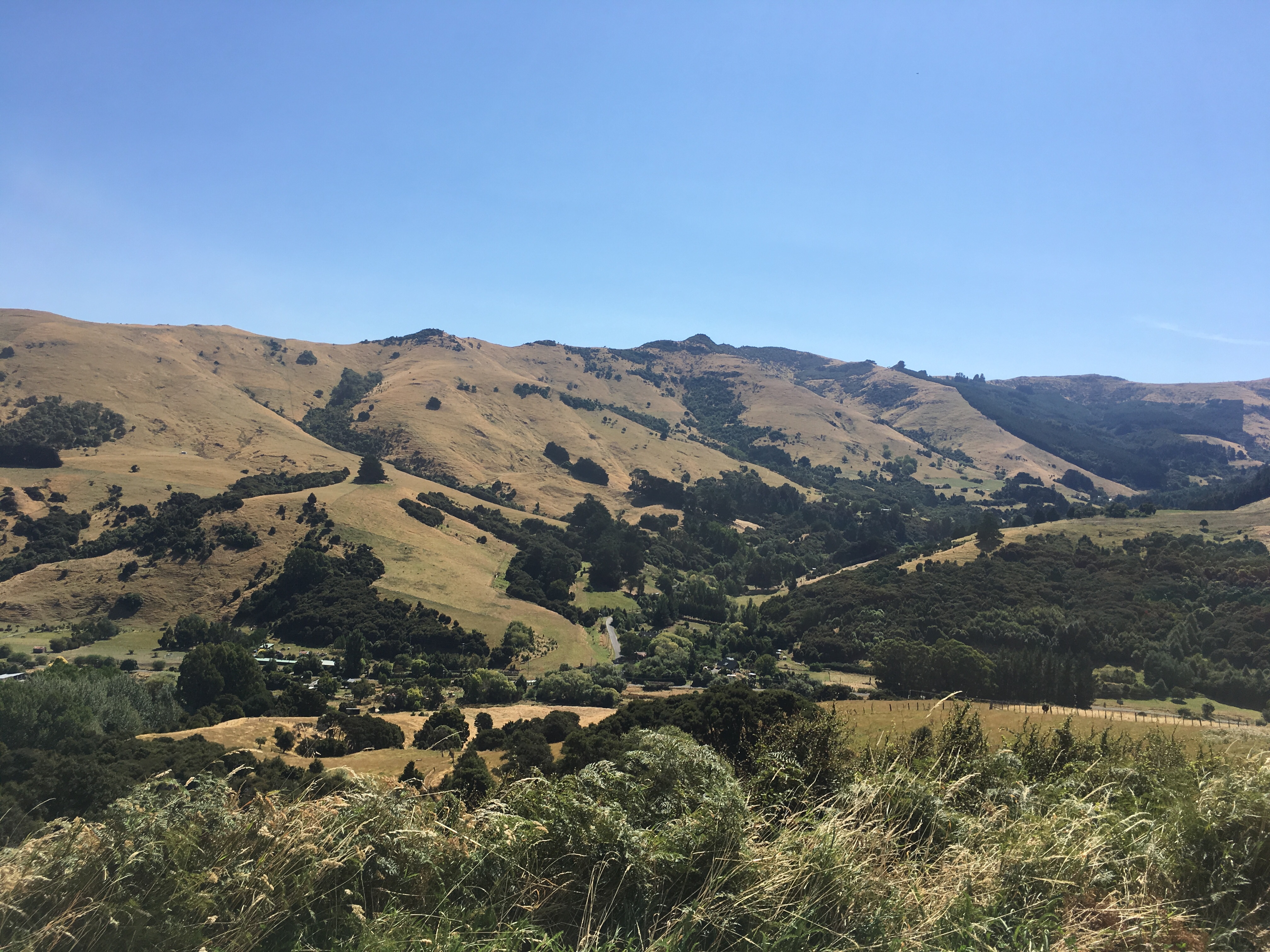 The plus side of all this, of course, was the amazing view. We really had a sense of being on the edge of the volcano's crater, looking down on Akaroa harbour below.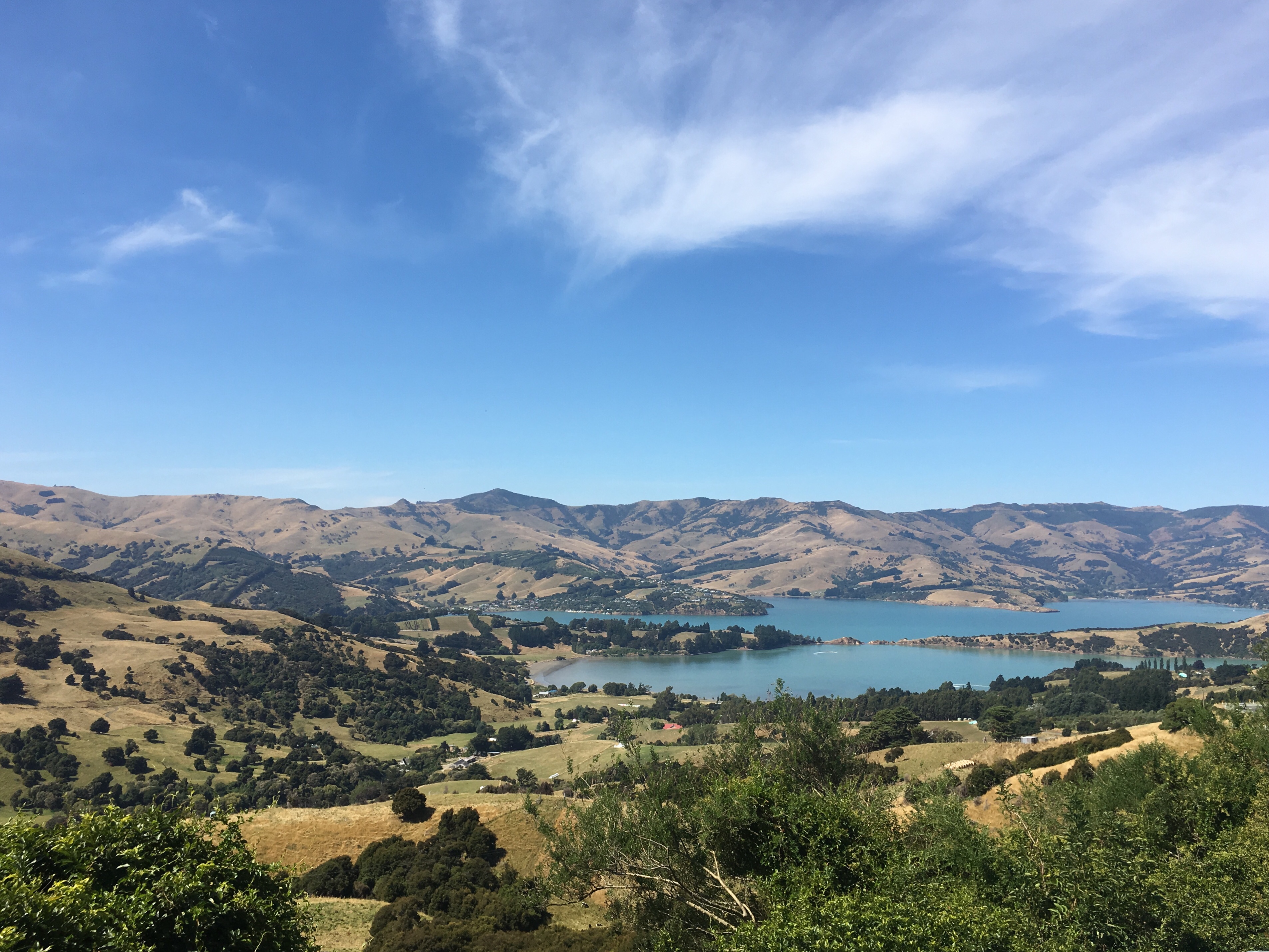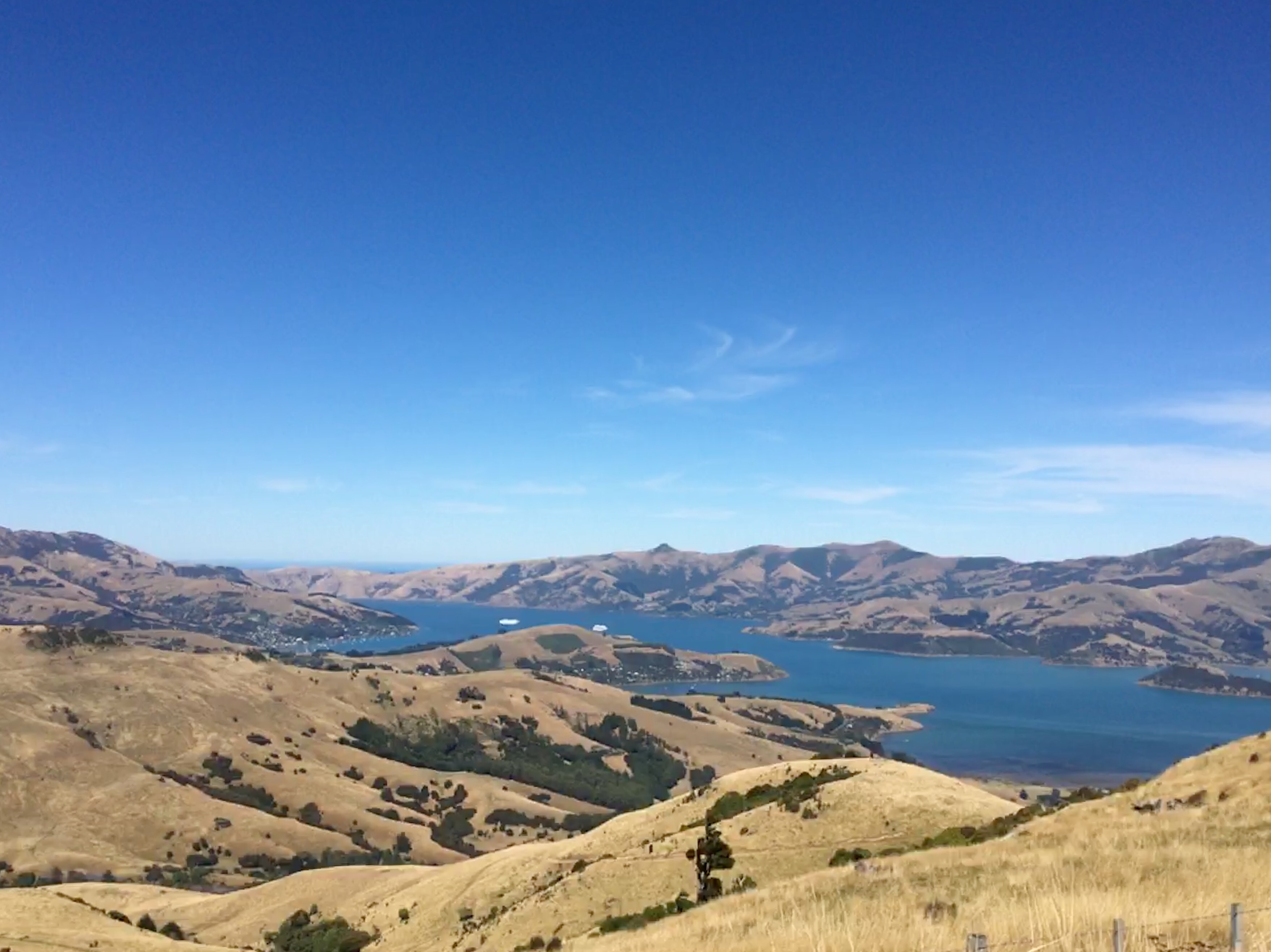 Once we reached the actual rim of the volcano we could see down to the other side – Okains Bay, Little Akaloa Bay and Pigeon Bay were each visible, but there was a huge bank of white cloud hovering over them.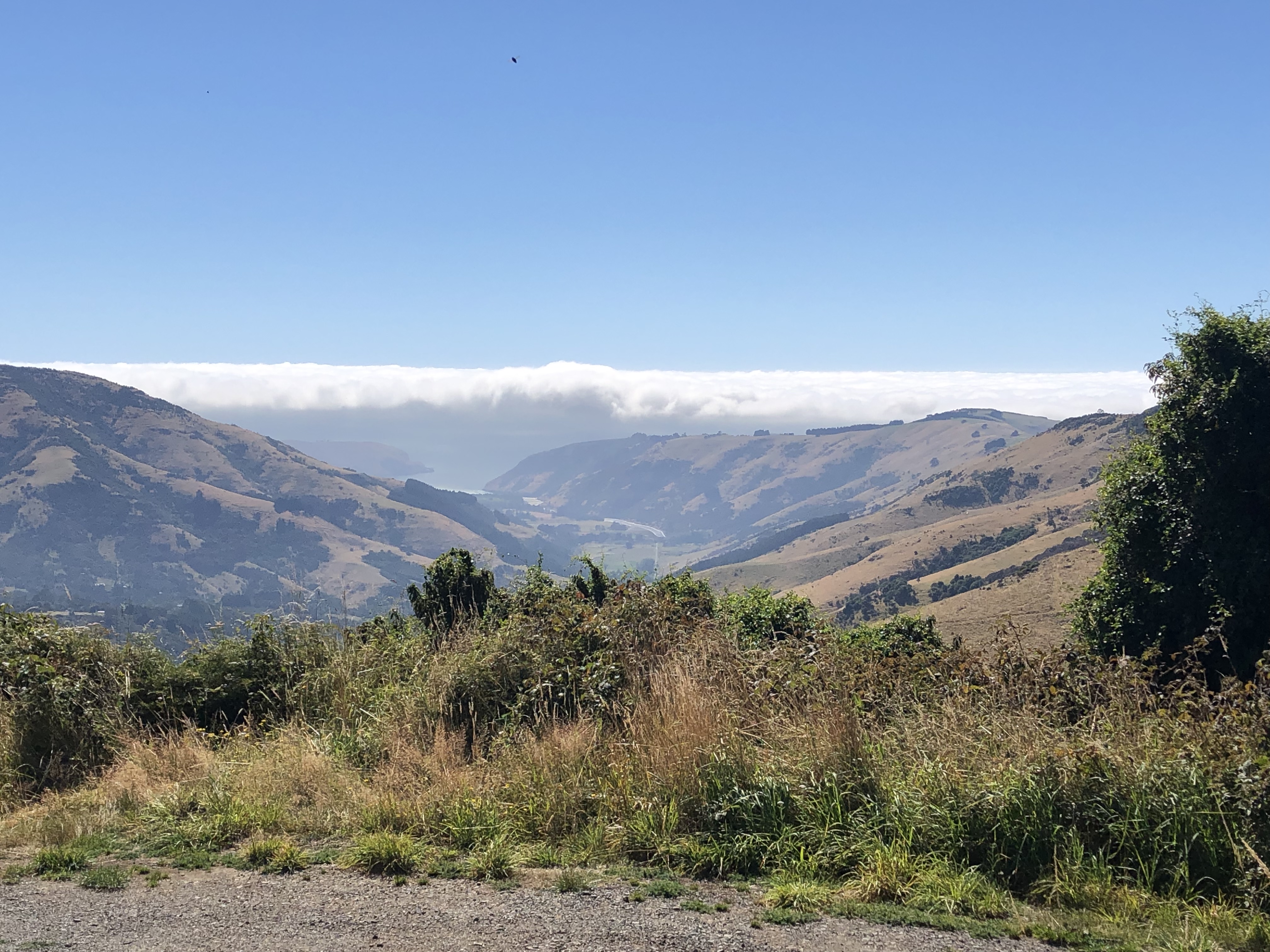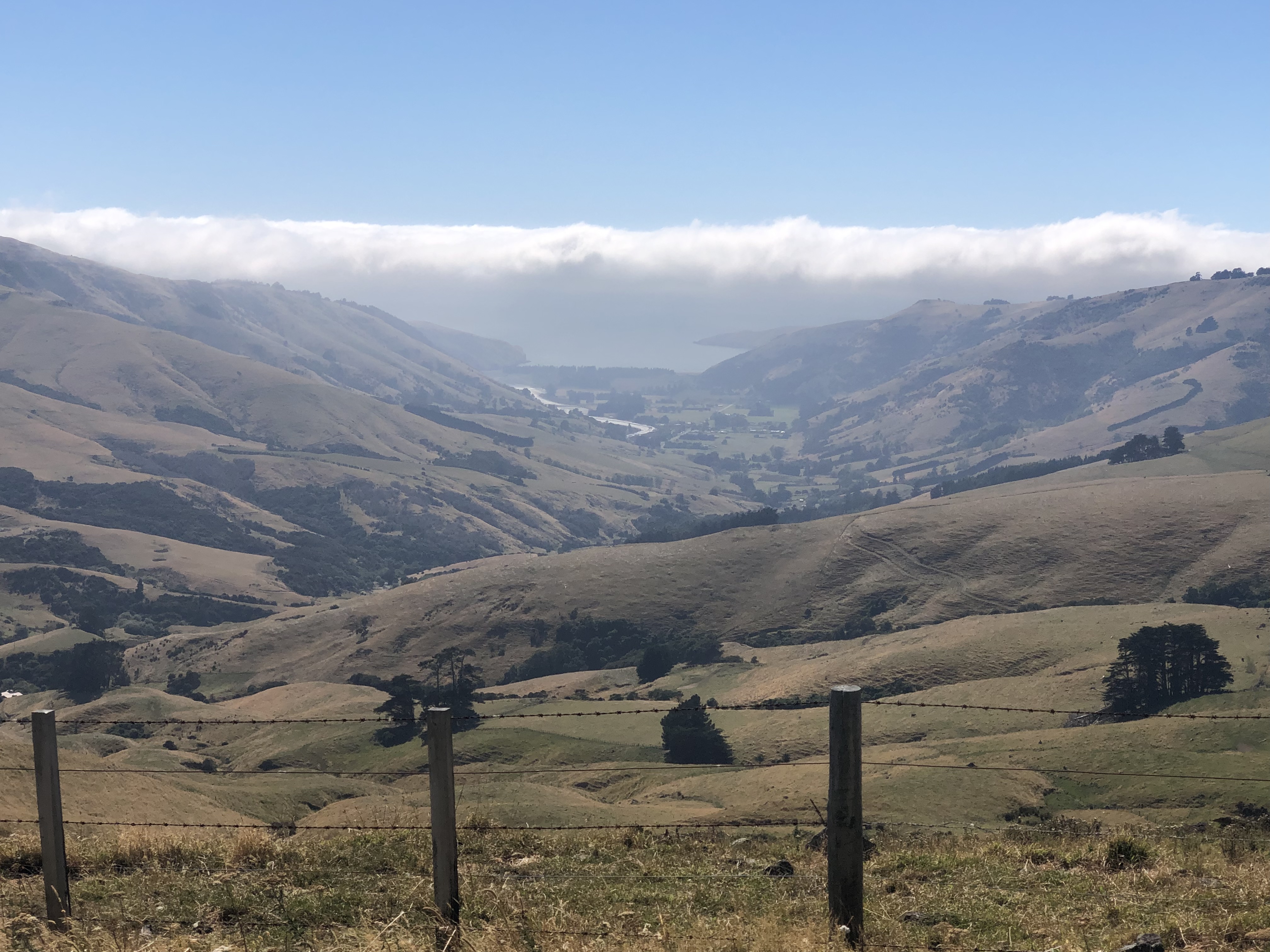 At one point we climbed above the cloud layer and were able to look down on it.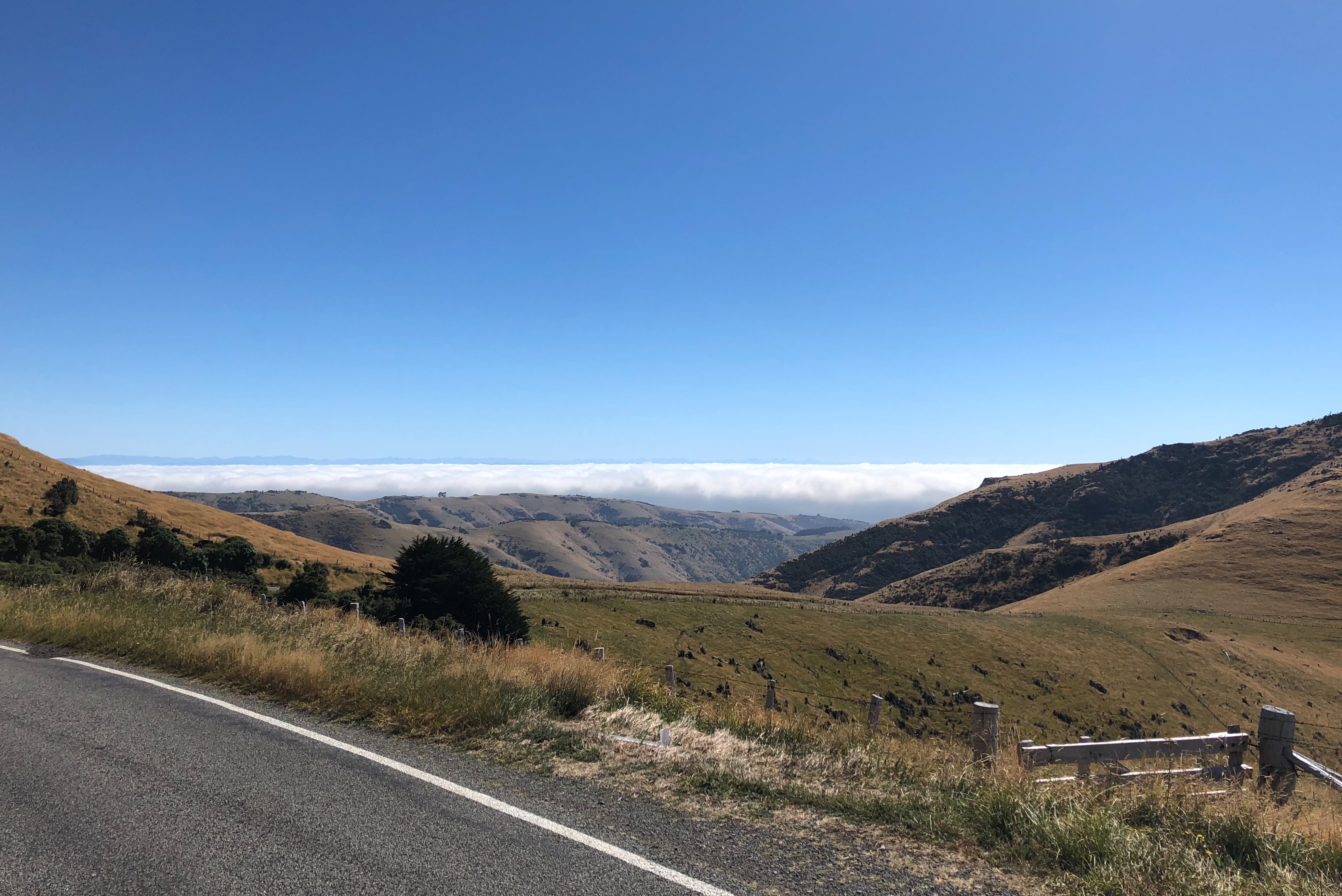 Eventually, near Duvauchelle, we rejoined the road on which we arrived yesterday, and descended gradually to sea level, back past Lake Forsyth and Lake Ellesmere.
This all took some time, of course, so our original projection of one and a half hours for our transfer to Christchurch proved to be wildly inaccurate. Before too much longer we were approaching the outskirts of the city. At least in this area there were no signs of the devastation caused by the earthquake. No doubt we'll see more when we head into the city tomorrow.
Today we were content to find the Amber Kiwi campsite, settle in for a belated lunch (Insalata Caprese) and relax in the sun for the afternoon. We have two more full days here – tomorrow we will explore Christchurch itself, then a day later we will be taking the Tranz-Alpine railway to Moana and back.
Motorhome day thirty-five: Christchurch
We woke early, mainly because of the noise from construction work outside site. Not to worry, as there was plenty to do today. So after breakfast we hopped onto the number 80 bus. This brought us to the bus interchange in central Christchurch. The nearer we got to the centre, the more evidence there was of construction work, and of gaps where buildings had been demolished.
In fact there were two earthquakes – one on September 4, 2010, with a magnitude of 7.1, and one on February 22nd, 2011, with a magnitude of 6.2 (both measurements on the moment magnitude scale). Whilst the more recent one (technically an aftershock) was of a lower magnitude, it occurred at a much shallower depth of about 3 kilometres. The aftershock's depth and close proximity to Christchurch caused substantial shaking, surface cracking, and soil liquefaction in the city and surrounding area. There were one hundred and eighty five deaths.
We walked from the bus terminus to the main tram stop. We'd purchased a package giving us access to the tram, the botanic gardens, a punt trip on the River Avon (yes, really!) and a return journey on the Christchurch gondola. On to the tram, then, which was a marvellous old wooden model, built in the U.S, with seats that flipped over to allow for changes in the direction of travel (I remember these from Blackpool).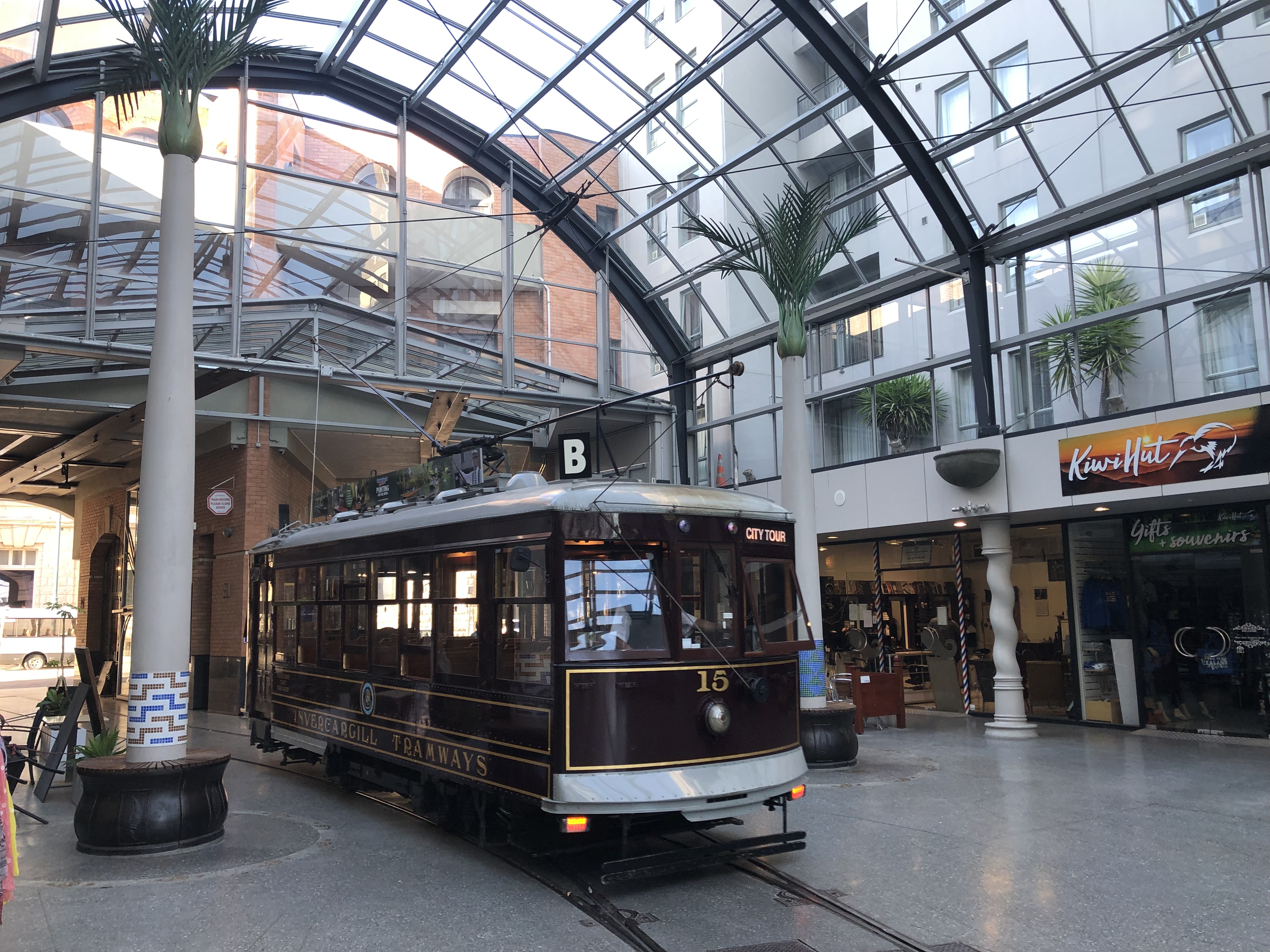 Our driver gave us a running commentary as we headed through the streets of the Central Business District. It was only really as a result of this commentary that we became aware of the sheer extent of the damage to the centre of Christchurch. Almost all of the buildings were either new or under construction. Those which had survived often did so as a façade, with modern construction behind. There were cranes and building sites everywhere.
Early in the journey we passed the (now deconsecrated) cathedral (designed by Sir Gilbert Scott), which lost its spire and much of its structural integrity. It still lies in ruins, although the city has now decided on full restoration.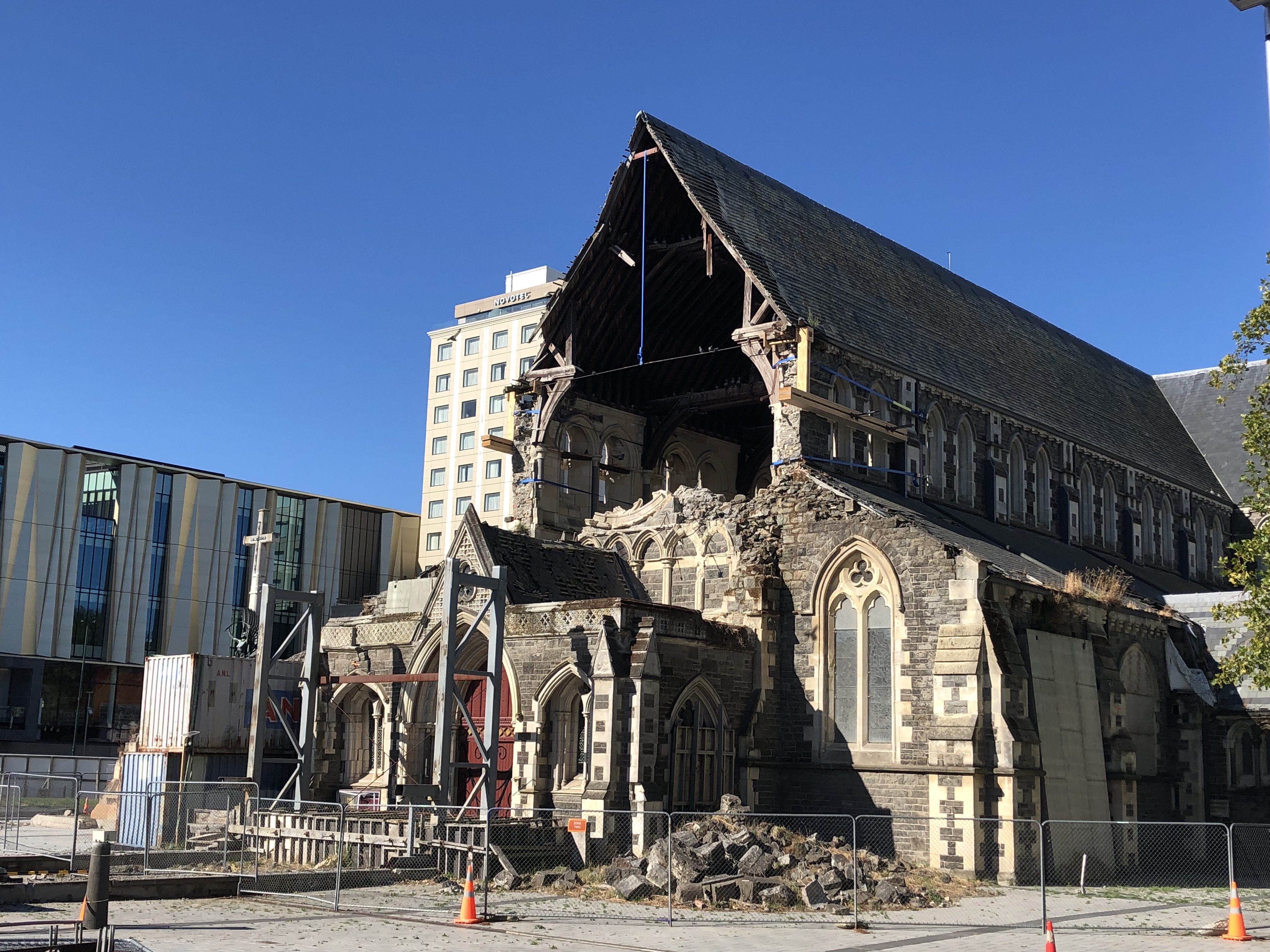 In the meantime there is a transitional cathedral, known as the "cardboard cathedral" by locals – it is indeed partly constructed from large cardboard tubes.
In due course we arrived at the museum, and disembarked for a tour of the botanical gardens, on a sort of "petit train". Our guide was Faye, full of knowledge about the contents of the gardens, with a dry sense of humour and a killer chuckle. After an excellent tour we headed briefly into the museum, to see various artefacts from Amundsen and Scott's expeditions to the South Pole, both of which departed from Christchurch. Nearby, a "magnetic observatory" was the place in which they calibrated their compasses before departure. Fascinating stuff.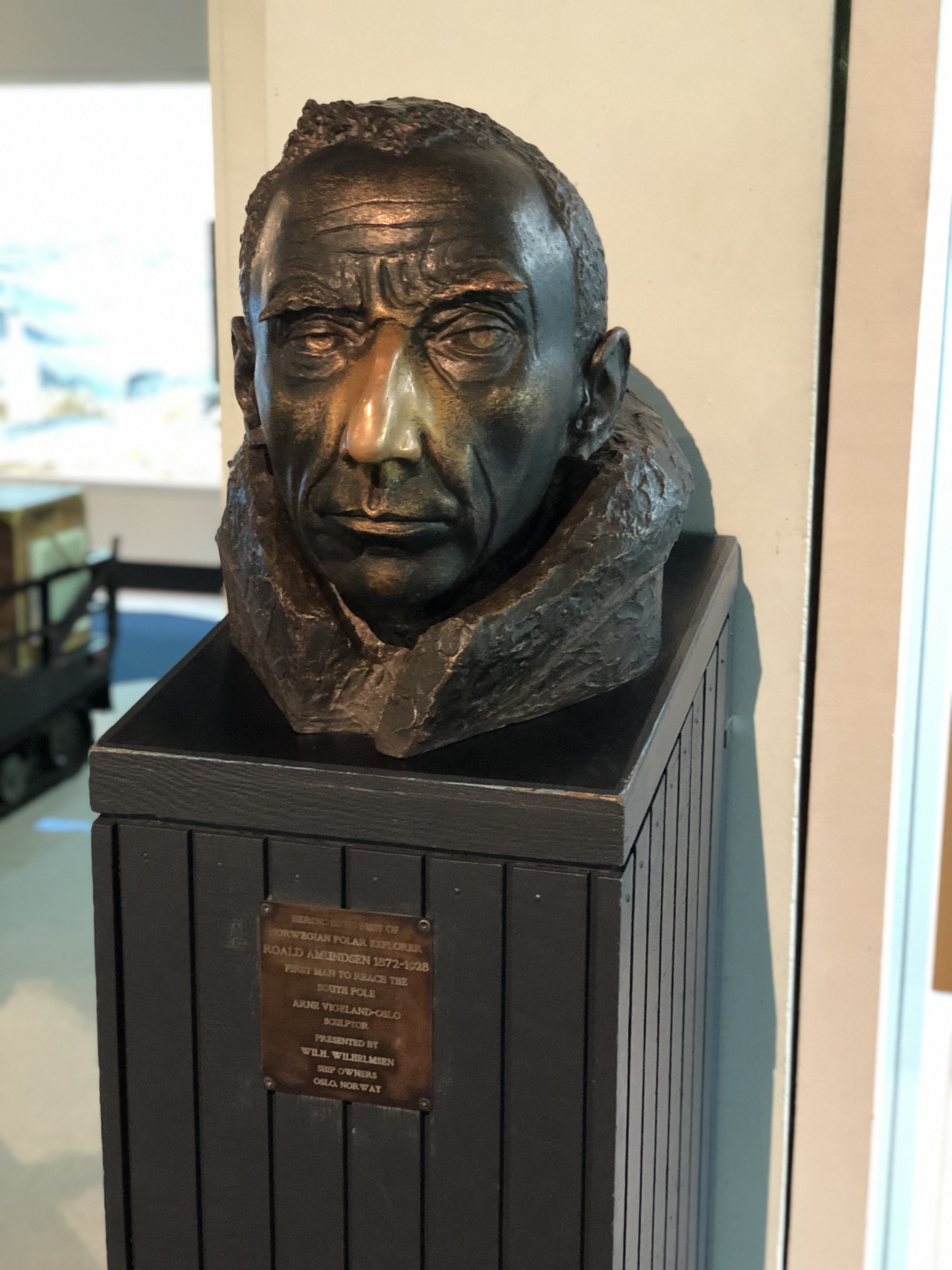 We grabbed a quick drink in the Arts Centre, housed in the building where Ernest Rutherford studied, long before the research which led to the splitting of the atom. We were also delighted to spot an Antony Gormley sculpture in there – "Stay", one of a pair, the counterpart to which looks over the river.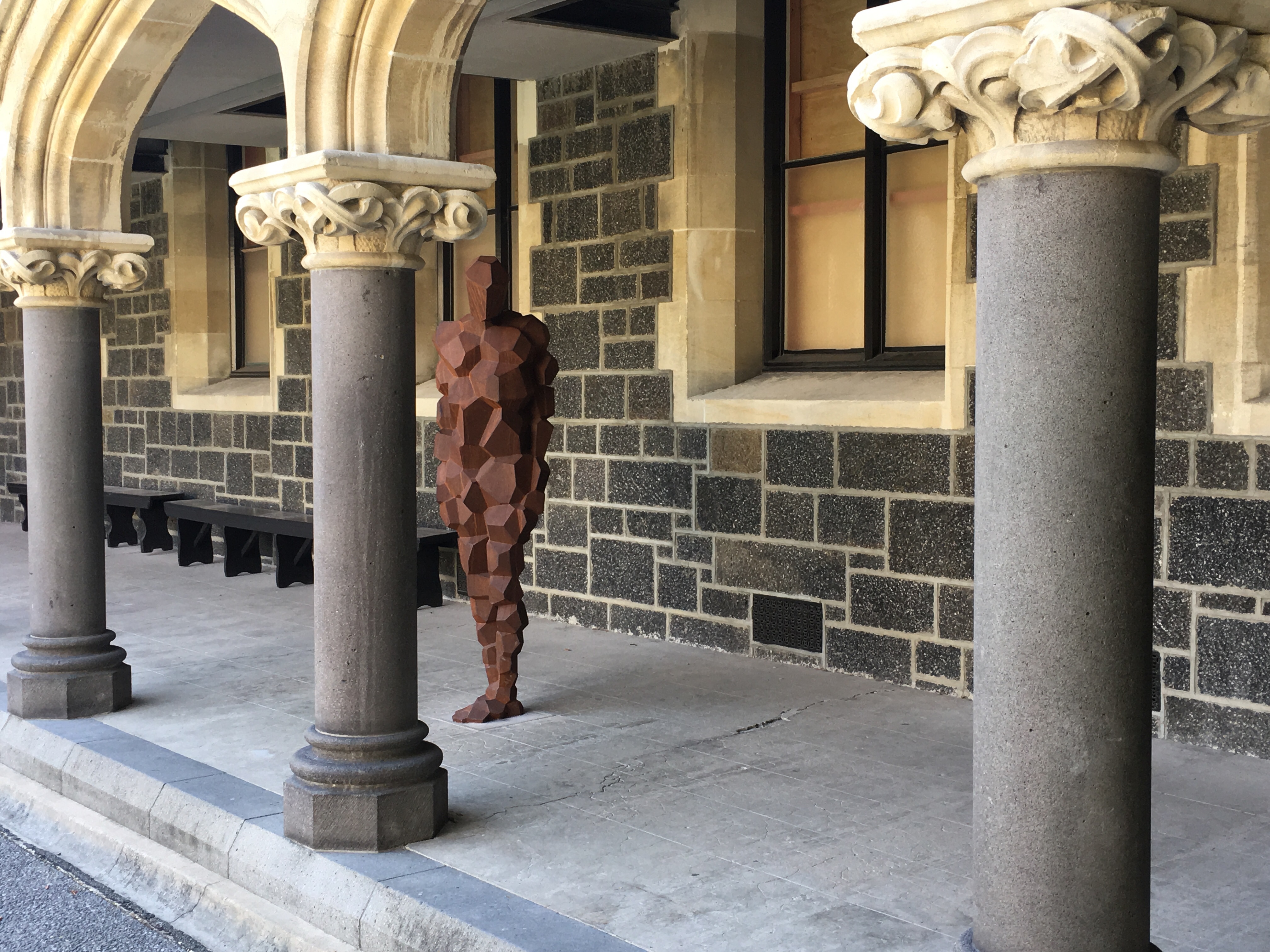 Time for the punting trip! Originally we weren't too bothered about this part of the package, but it turned out to be a lot of fun. The punts were steered by students, dressed in Edwardian outfits. This was made more incongruous as our punt captain was French. Danny (for it was he) steered us slightly erratically but crucially without falling in, and we had a diverting half hour or so going up and down the Avon.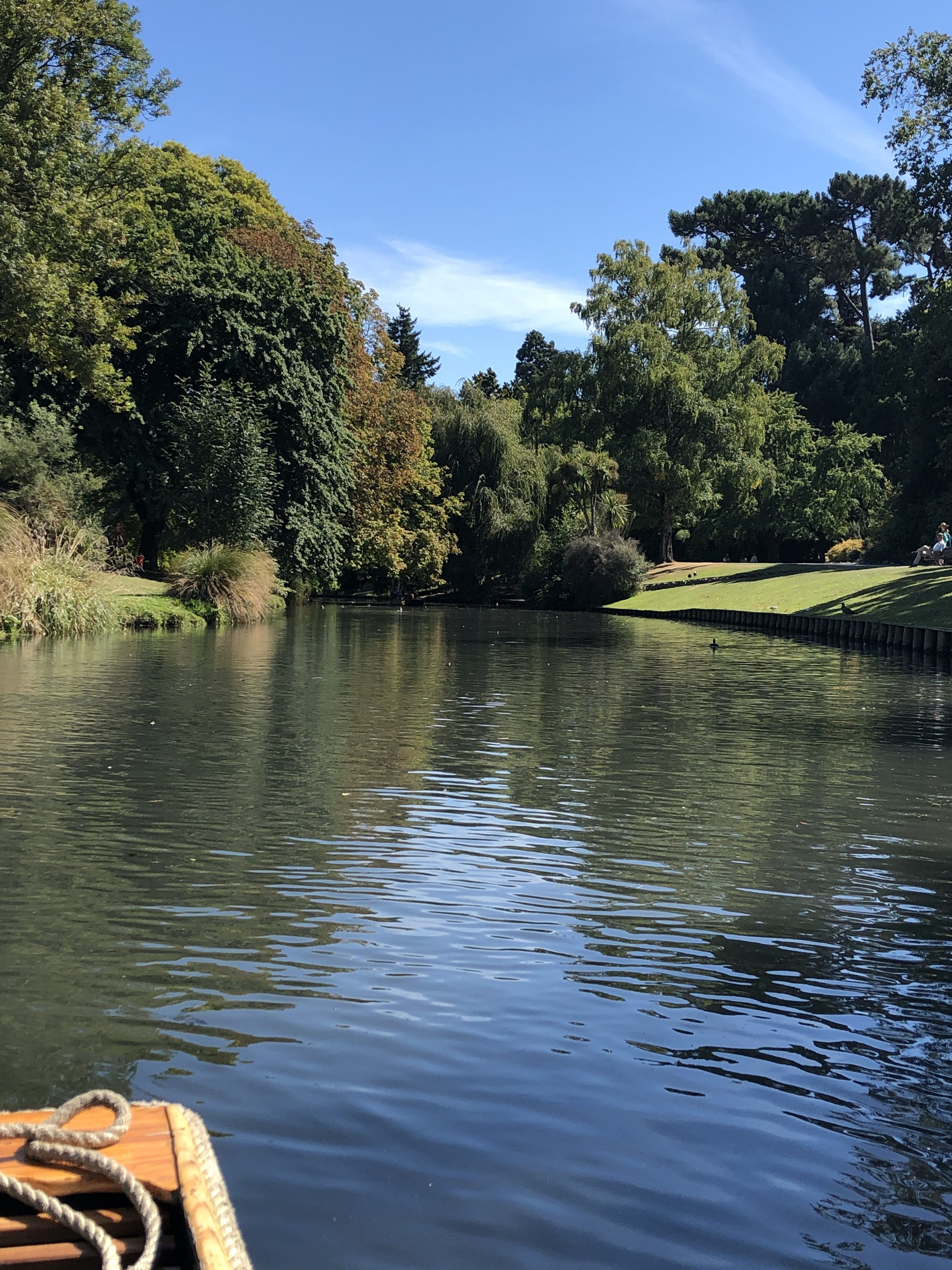 Parts of Christchurch (particularly around the museum and arts centre, and the river) bear a strong resemblance to Oxford, but with slightly less familiar plants and trees.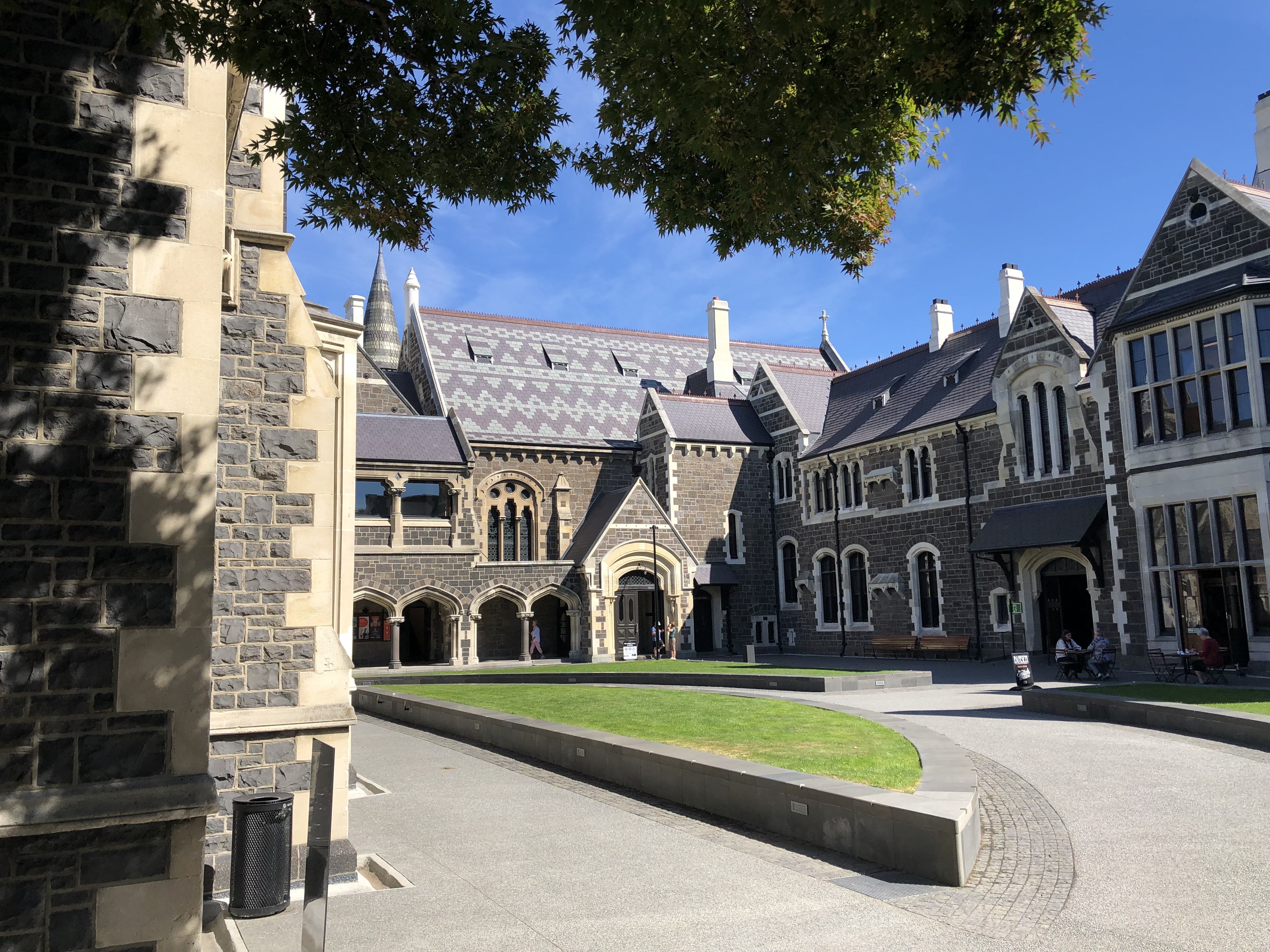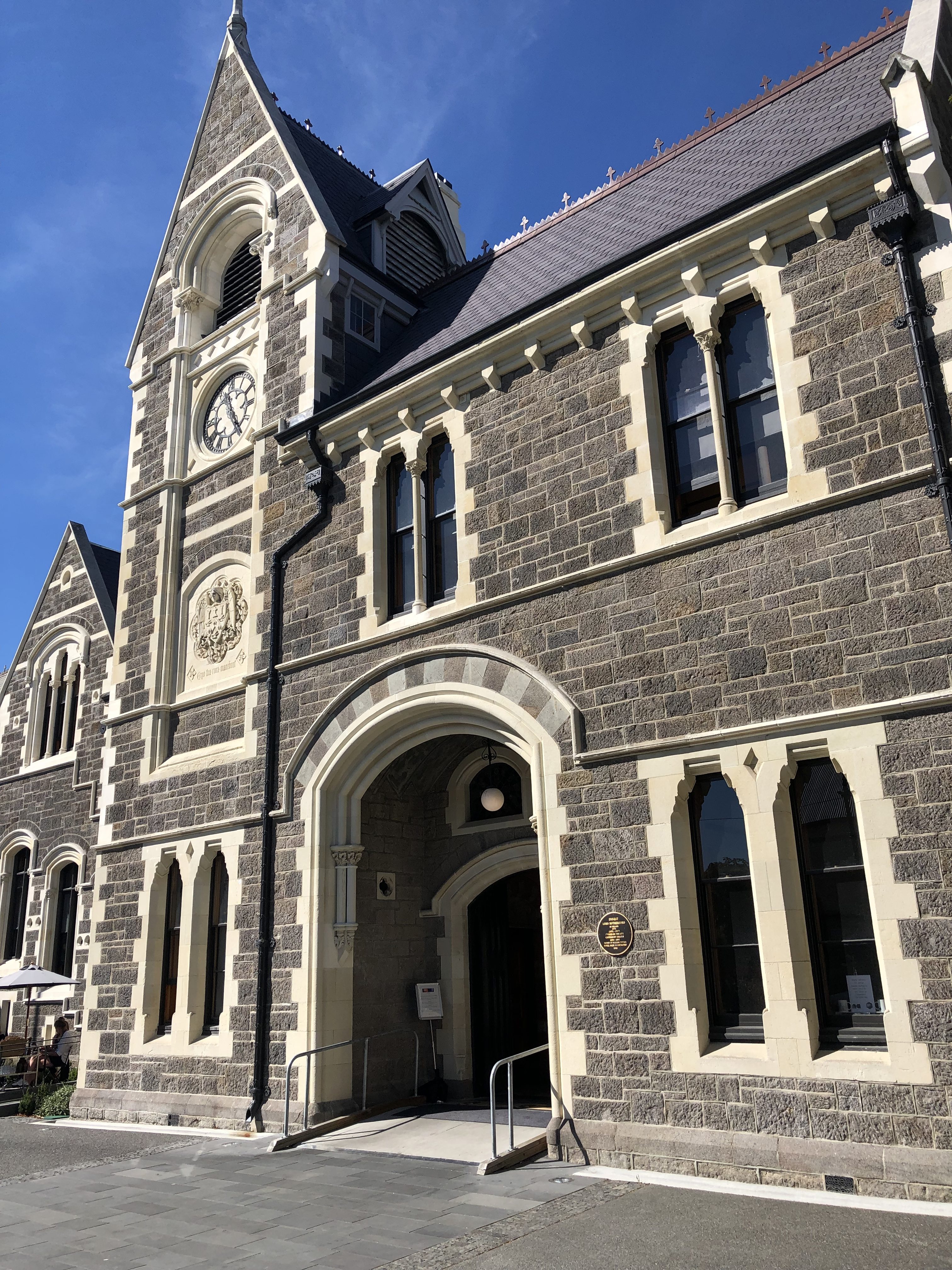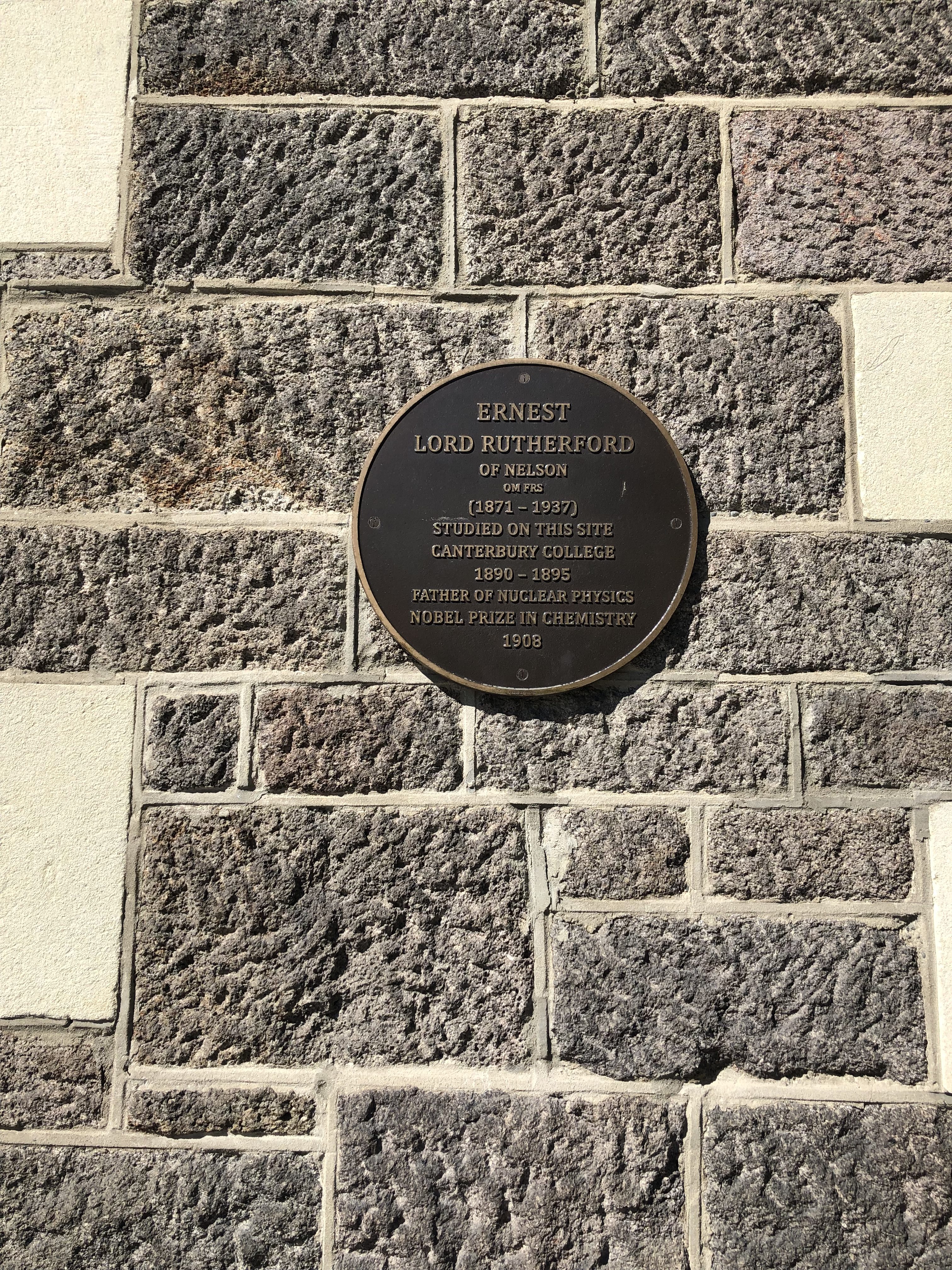 We just had time for a good lunch and a bottle of Chardonnay in the old botanic garden Curator's House, now an excellent Tapas restaurant, before catching a shuttle bus to the base of the Christchurch Gondola. This took us back up into the volcanic hills we visited yesterday (although a different part), for a fine 360 degree view, overlooking Christchurch to the north, and Lyttleton Harbour, which sits inside an old volcanic crater, to the south.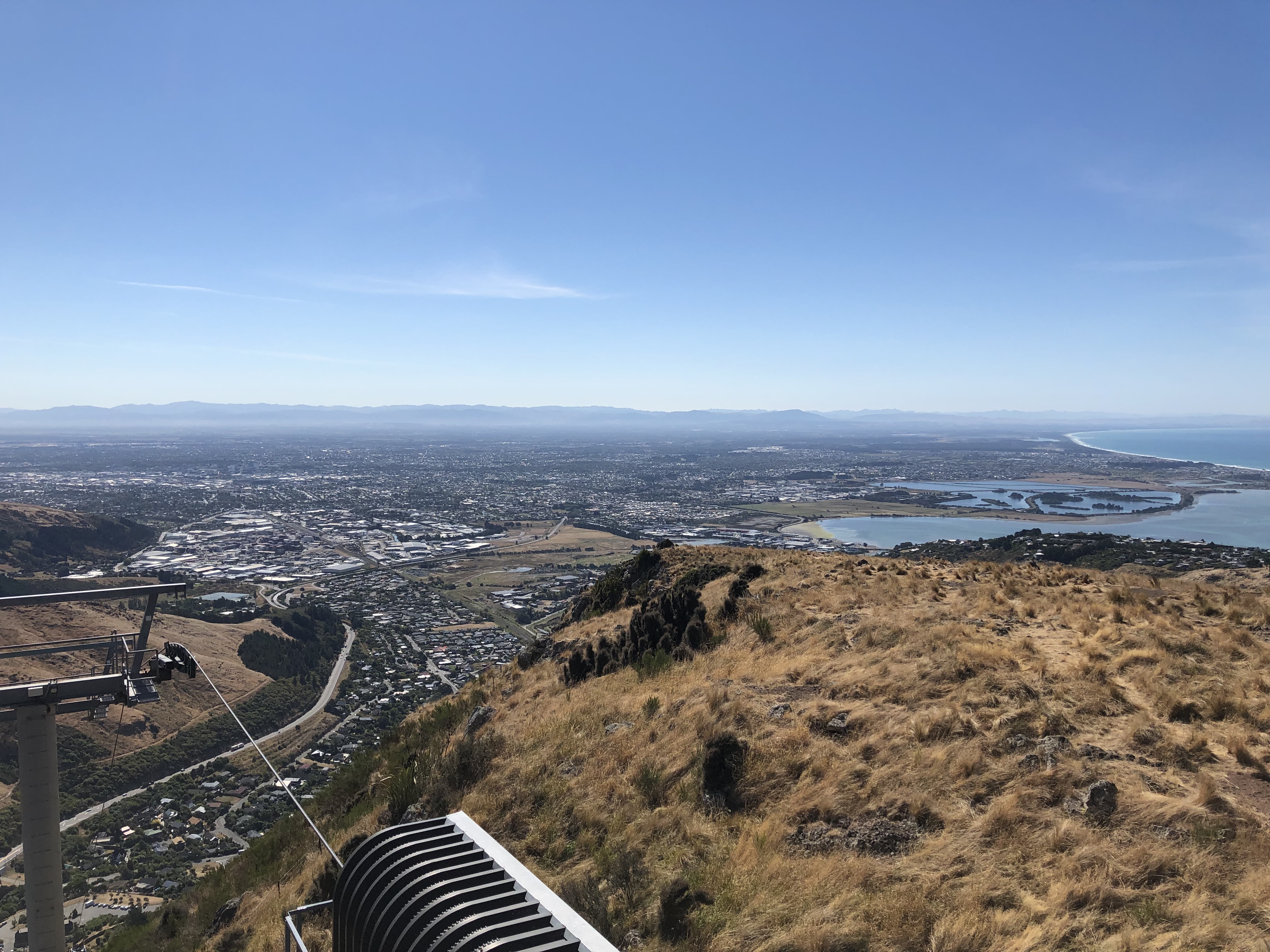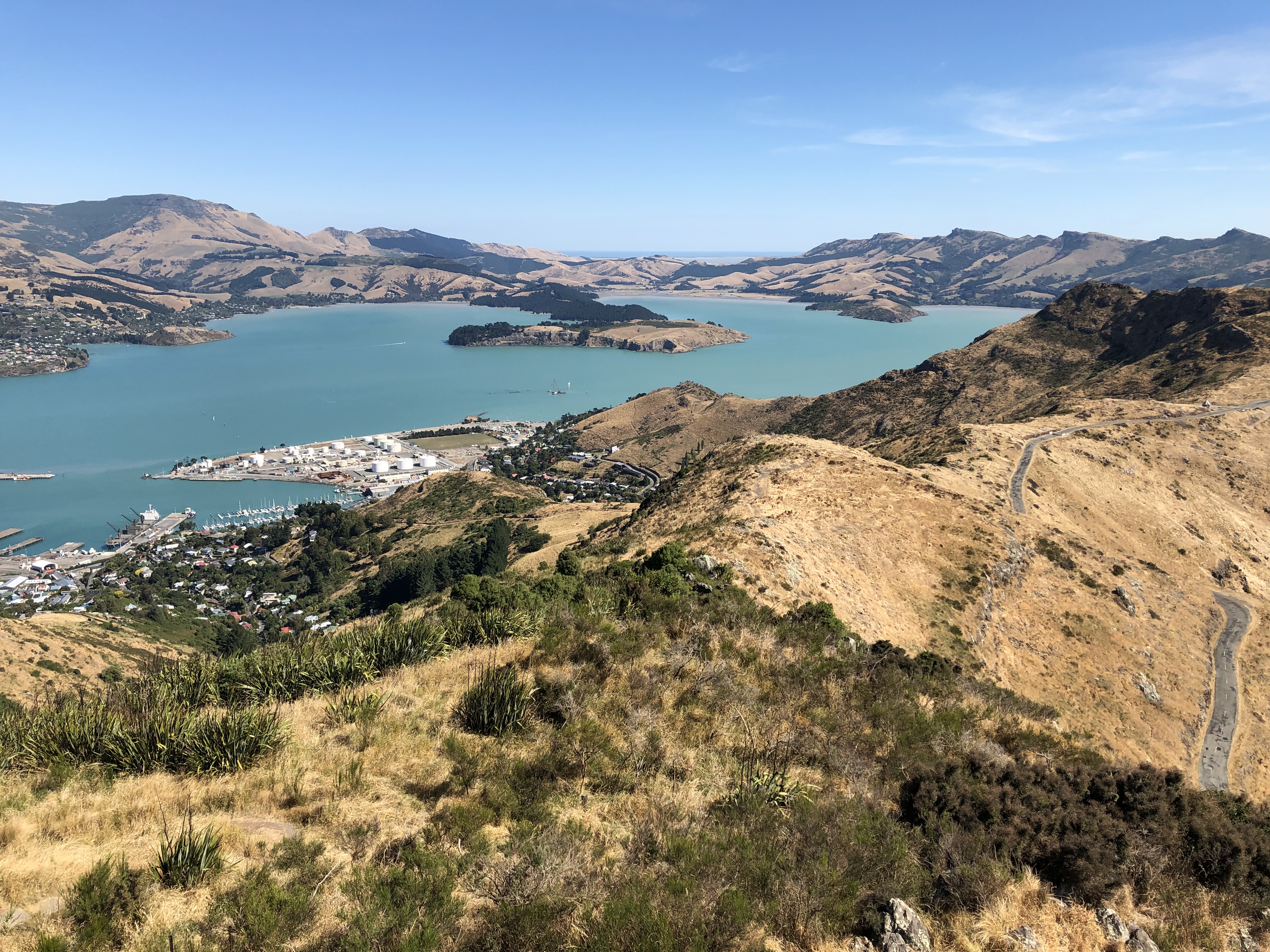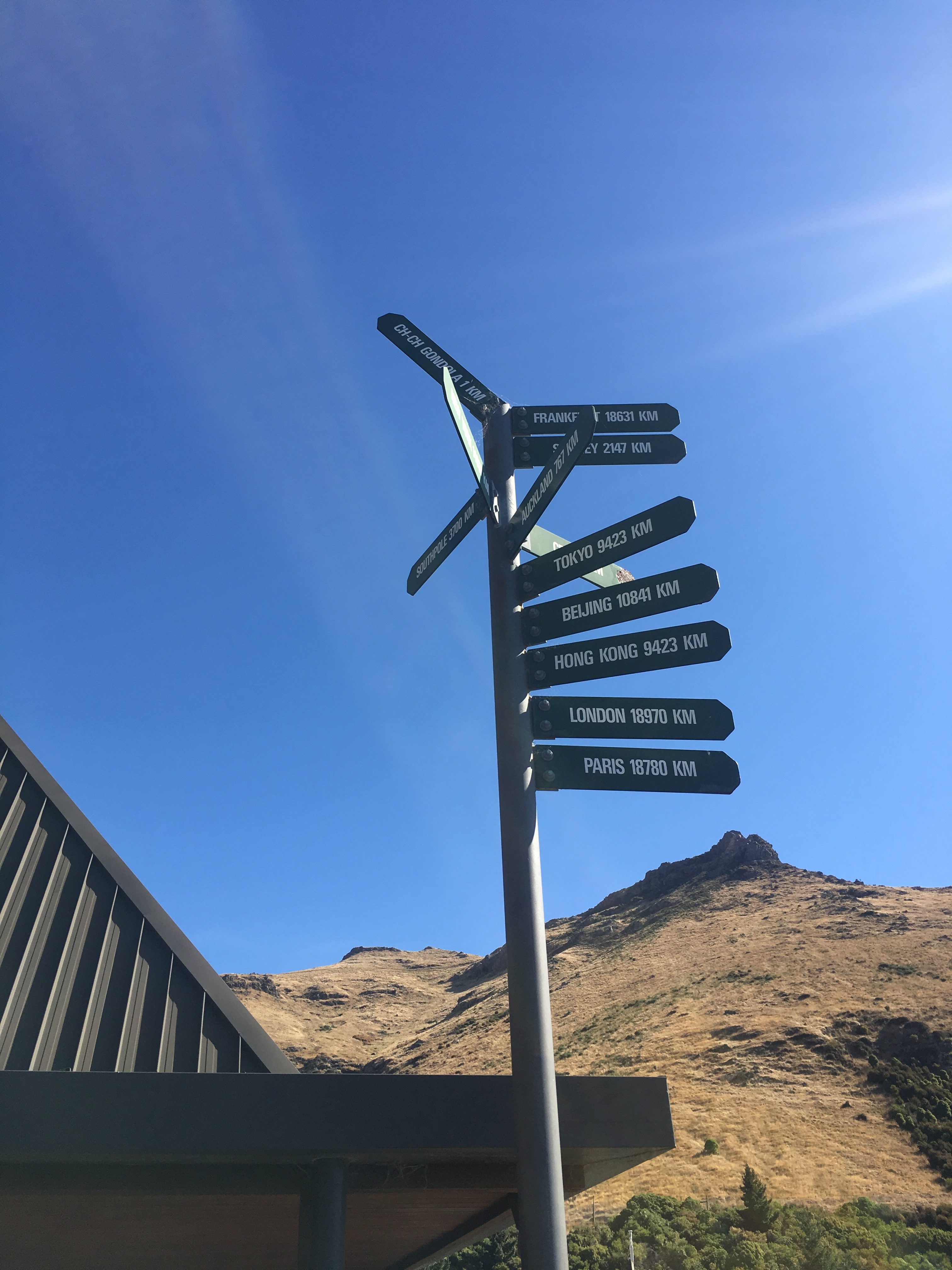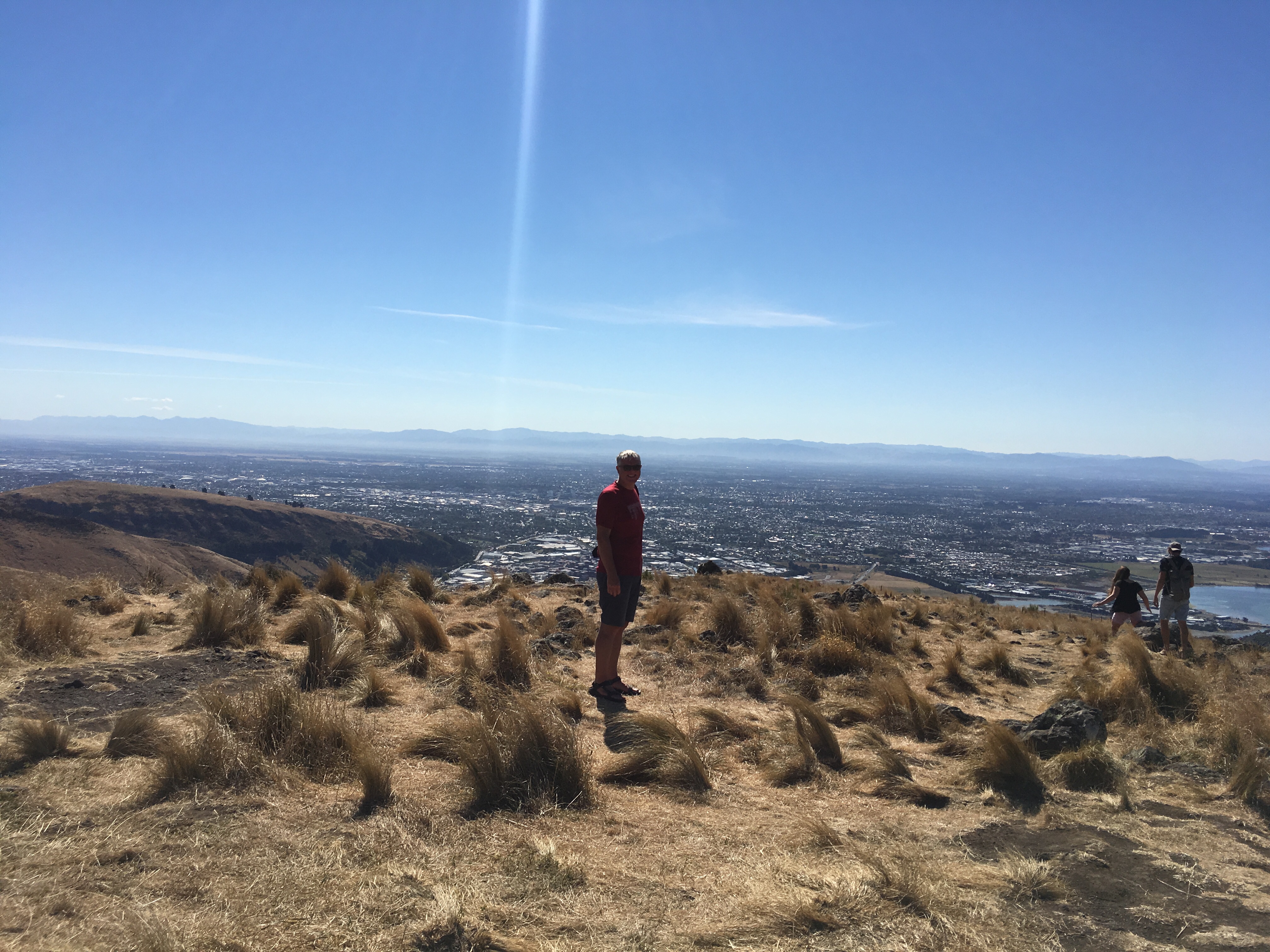 By now we were thoroughly tired, and after a quick visit back to the Cathedral to take better pictures we hopped back on the bus and returned to the campsite.
Motorhome day thirty-six: Christchurch – Moana – Christchurch
Our original plan for today was to take the TranzAlpine train from Christchurch to Greymouth, and then stay over there for the night before returning the following day. This would have meant, however, that we were effectively doing the same thing for two days, the only difference being the direction of travel. Instead we realised we could catch the train to Moana, a few miles short of Greymouth, spend some time there and then return on the same day, thus gaining an extra day to do something else.
An early start, then, and a taxi journey to the station, where plenty of other passengers were waiting. This journey is said to be one of the greatest rail journeys in the world, and is a standard fixture for visitors. Our carriage was clean and spacious, with large picture windows, and plug-in headphones allowed for a running commentary. We set off in bright sunshine across the Canterbury plain – all agricultural, but with hills rising in the distance.
Soon we were climbing steadily on the steep sides of the Waimakariri river, crossing occasionally on high viaducts above the valley floor. The river is of the "braided" variety, small streams meandering on a wide gravel-covered river bed. We were on the wrong side of the train to see this properly, a situation to be rectified, we learned, on the return journey.
The hills (at least initially) were reminiscent of those we saw between Queenstown and the east coast – rolling, rounded summits, with long tufts of grass and large quantities of gorse and broom, both of which are now regarded as noxious European invaders. Raptors flew alongside the train from time to time, keeping up with our pace and giving us an excellent demonstration of their flying skills.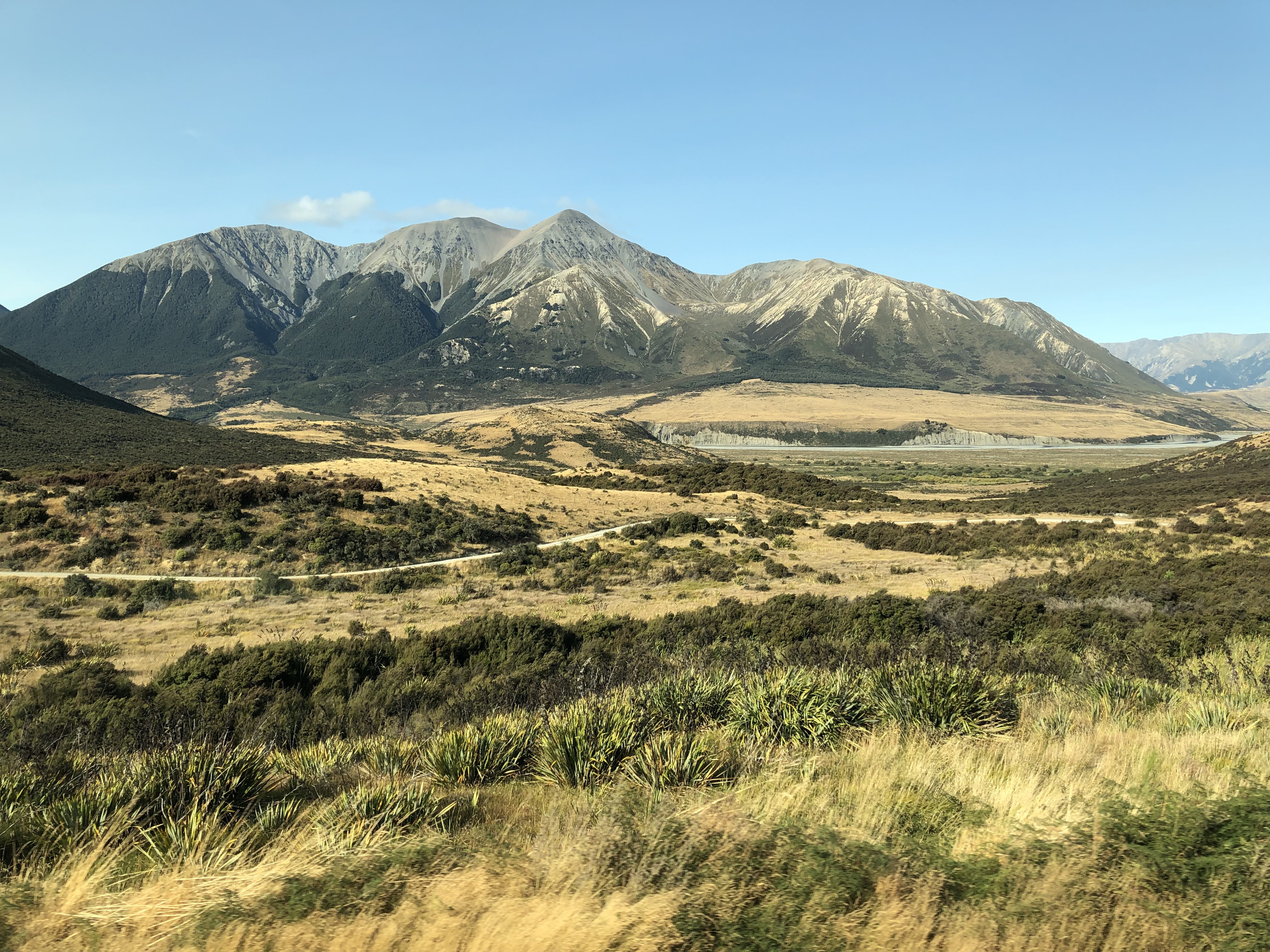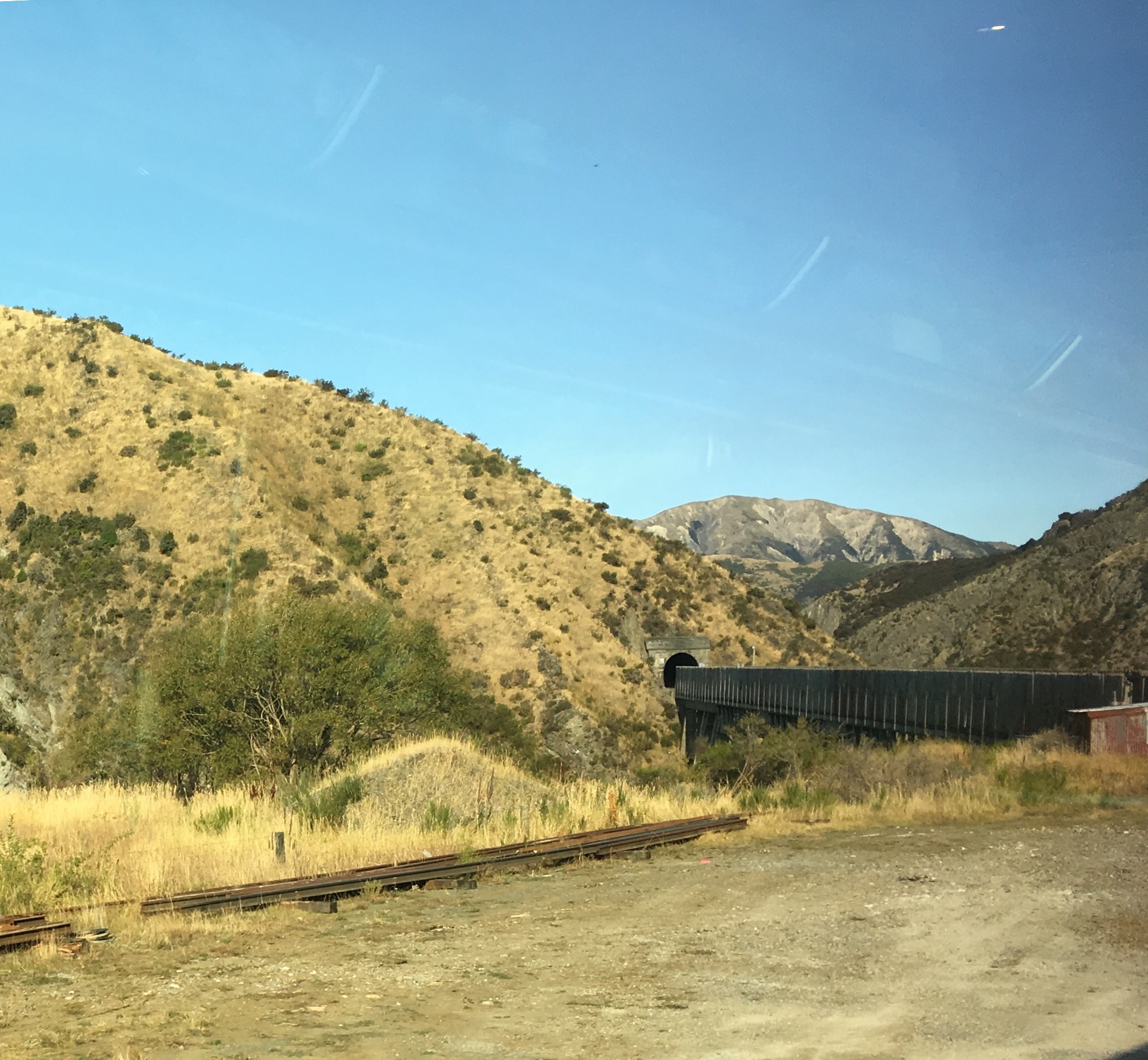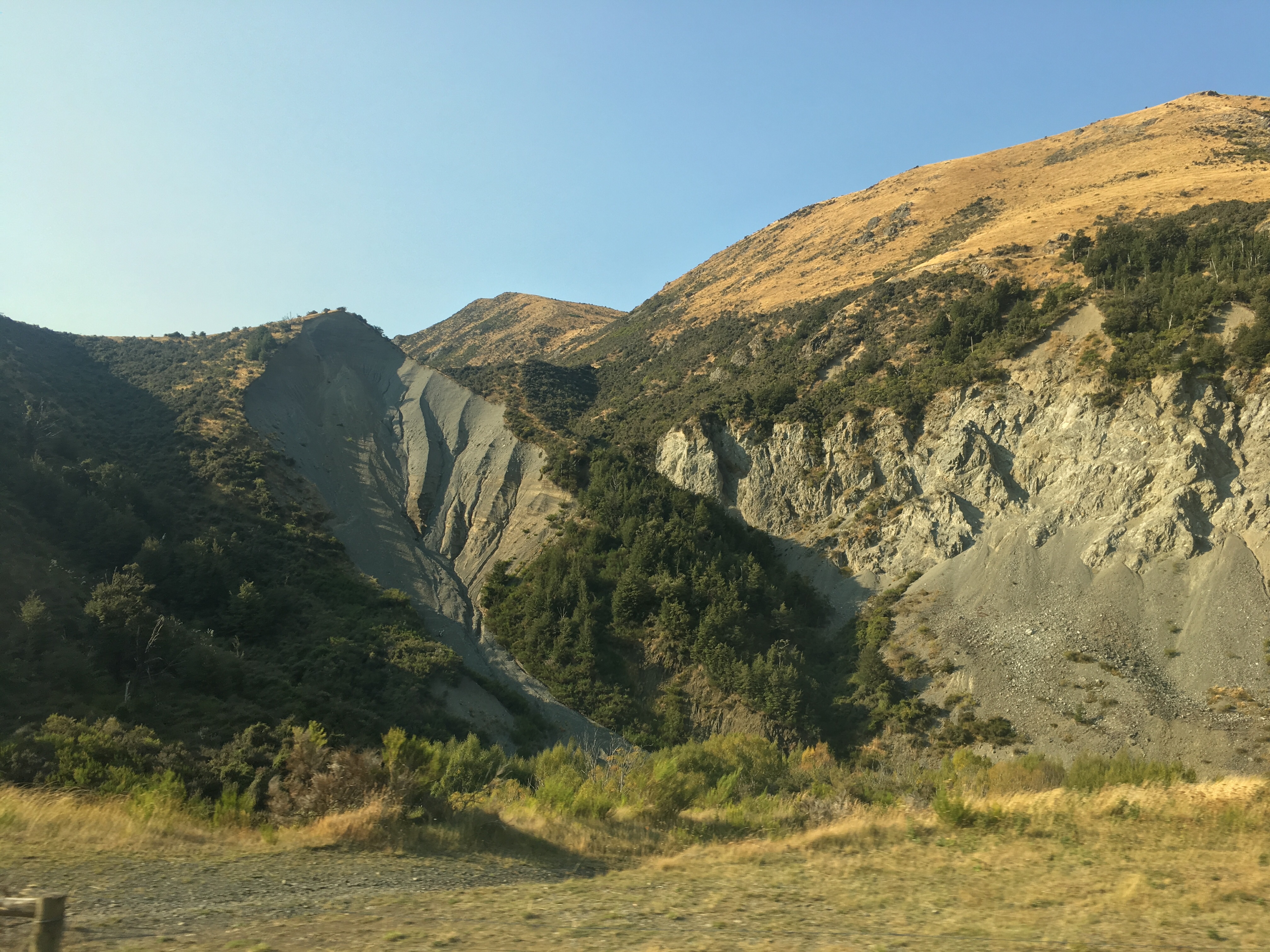 As the hills grew in stature they became more classically alpine, and distant glaciers could be spotted. It was still arid, a situation explained by the rain shadow effect. Our next station was Arthur's Pass, at the summit of our journey and at the "Great Divide": the watershed between east and west flowing rivers. Here a few people disembarked to do who knows what – a long hike, perhaps, or some mountain climbing. We were awarded five minutes to stretch our legs and take photographs before the journey continued.
The next section was an eight and a half kilometre tunnel, once the seventh longest rail tunnel in the world. It was narrow and single-track, and the distance took a good twenty minutes as it involved a steep descent (at least in train terms). When we emerged, everything had changed! The bright blue day had given way to low clouds and intermittent rain. Proof positive of the rain shadow effect, perhaps, and certainly illustrative of the fact that east of the mountains the annual rainfall is one and a half metres each year, and to the west it is six and a half metres.
We descended gingerly (it seemed to us) towards Otira, and then along the valley floor heading west, until we turned north along the line of the Alpine fault. We've talked of this before, but found out only today that the line of the fault is visible from space. It is very much an active fault, with frequent earthquakes.
After skirting Lake Brunner we arrived at Moana station. We were the only two people to disembark – most people were continuing to Greymouth. We debated whether to have a walk before lunch or after. Seeing the Station House Café nearby we decided to lunch first. This proved to be a good decision. As we tucked into a good lunch and washed it down with a very good Marlborough Sauvignon Blanc the heavens opened outside. Fortunately the café was a very friendly place, and they didn't mind us lingering over our wine until the rain ceased. They did ask, before we left, if we would place a pin in their world map to indicate our home. There was a large cluster of pins covering the United Kingdom, but I could just make out the word "Bradford" beneath a tiny gap, so I placed our pin there.
Rain was still threatening (and we were ill-prepared for it, to be honest), but we walked along the lake edge, enjoying the reflections and watching out for sand-flies. About a kilometre away was a swing-bridge over the Arnold river. It swung, and it bounced! At least it did until we stopped marching in unison and broke step. Over the other side was a small beach and a dense white pine forest, where we took photographs before setting off back.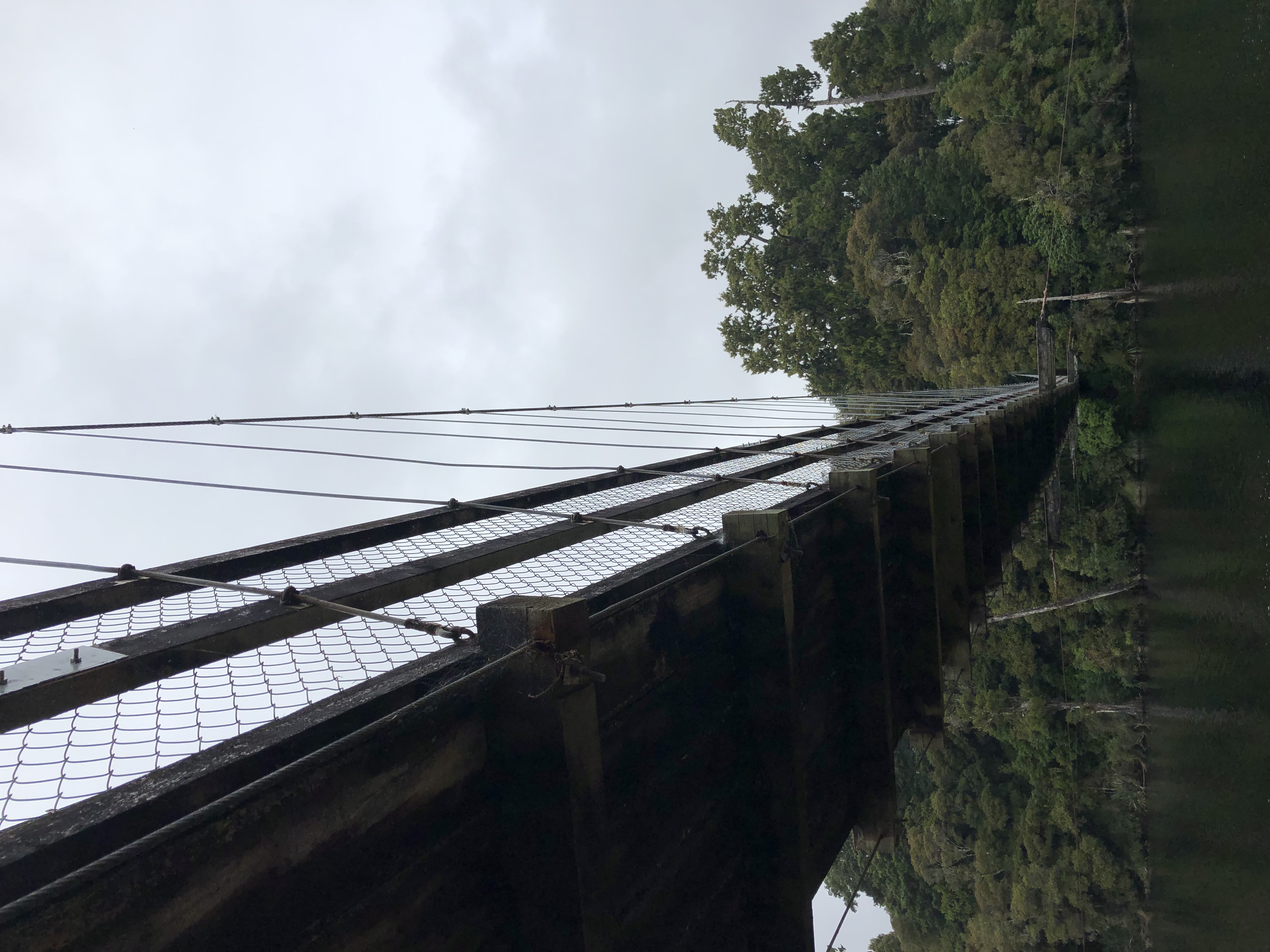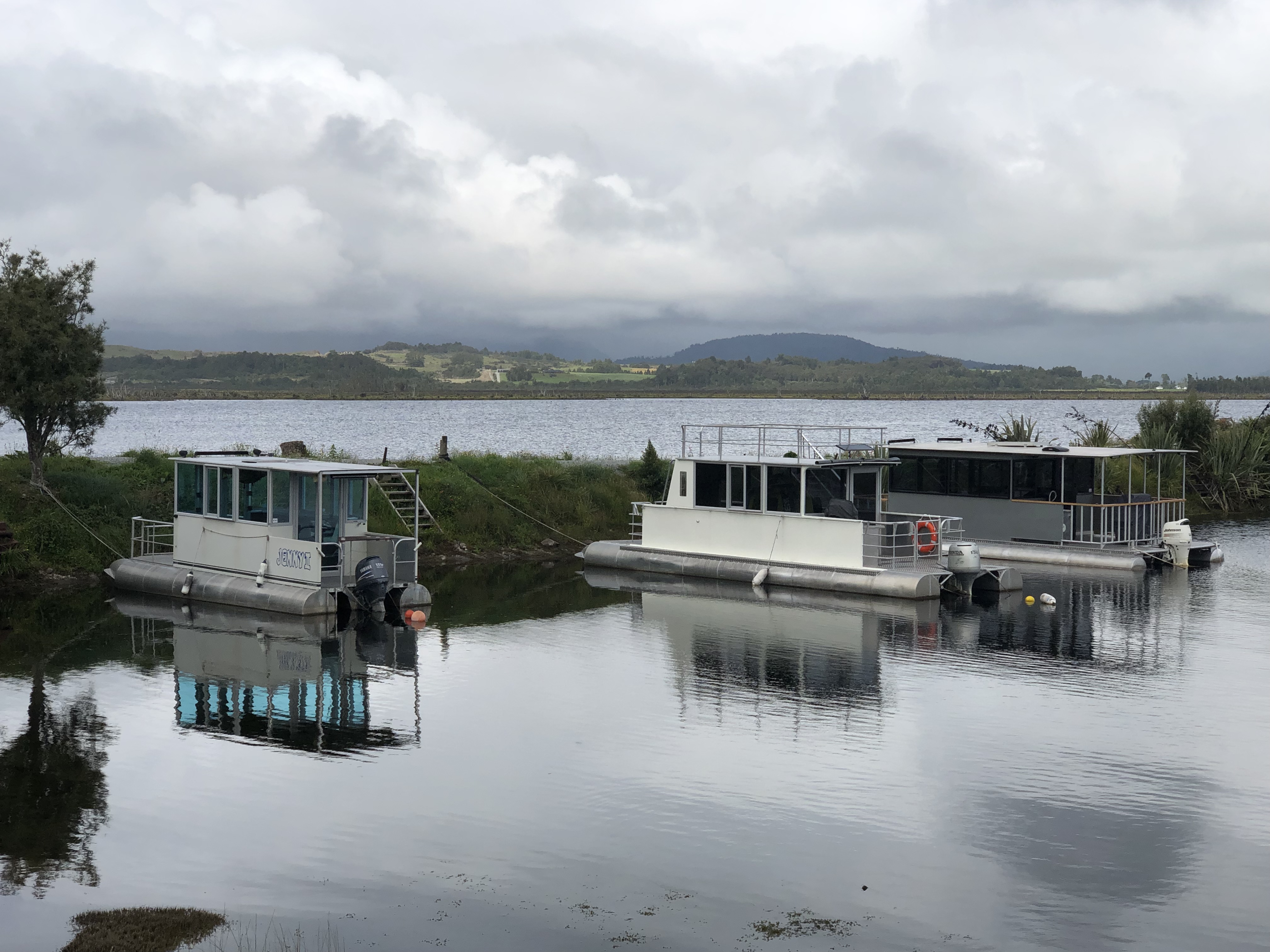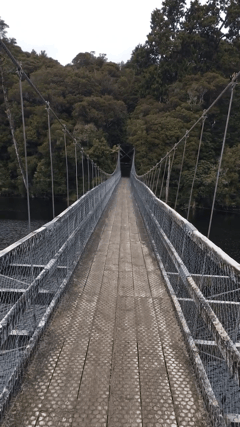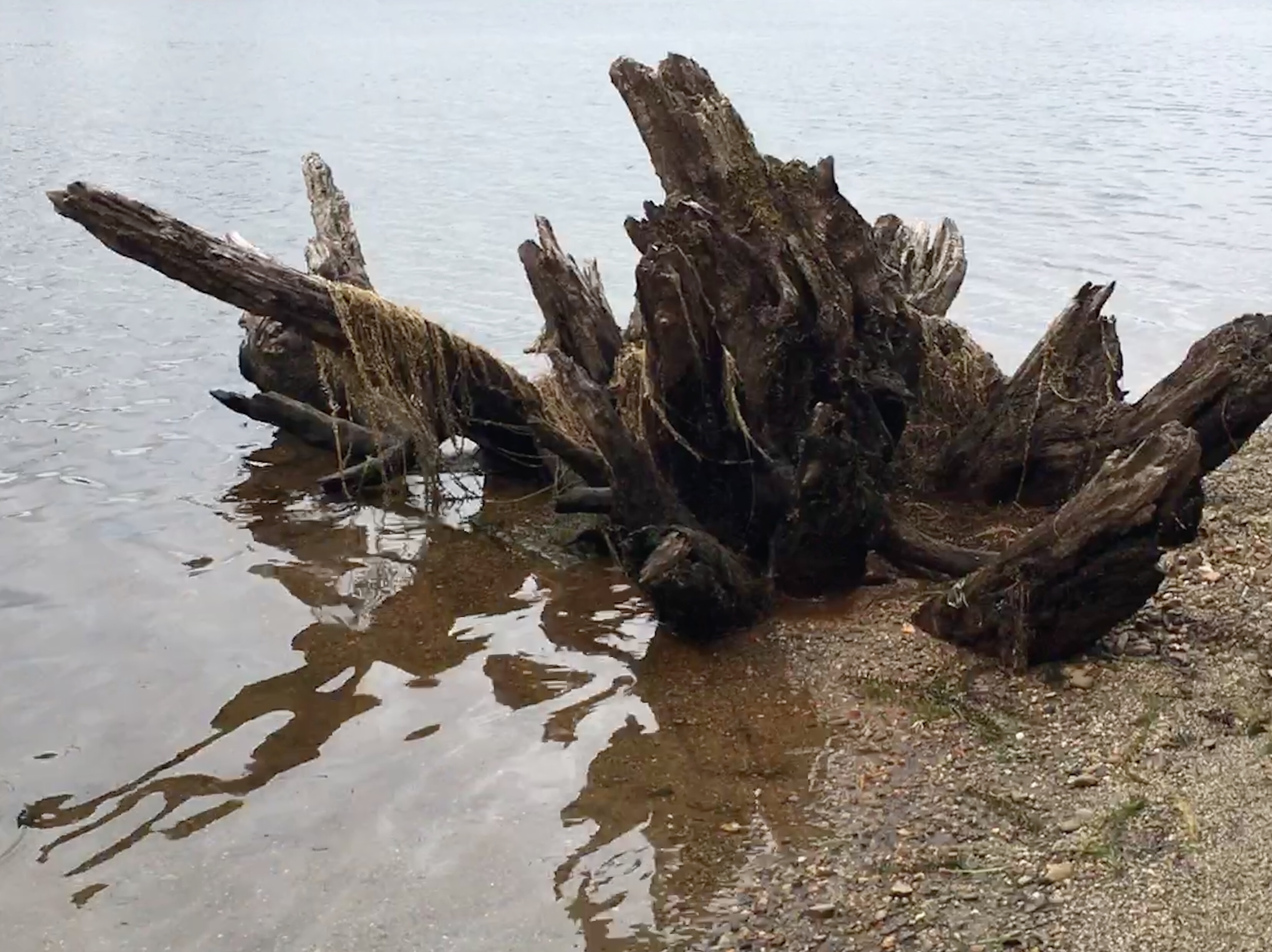 The train was a little late and much emptier, and this time we were awarded a table seat on the other side of the train.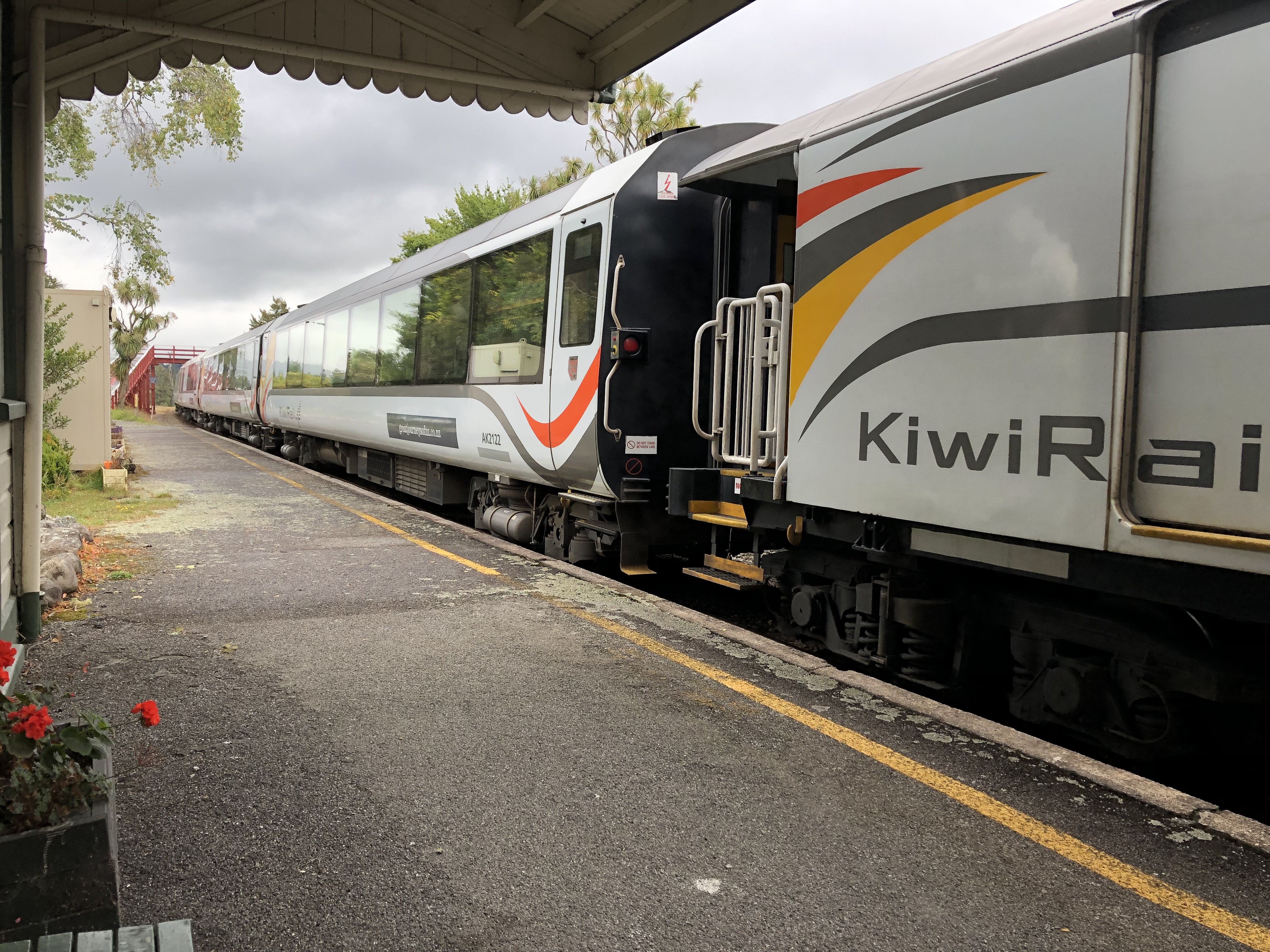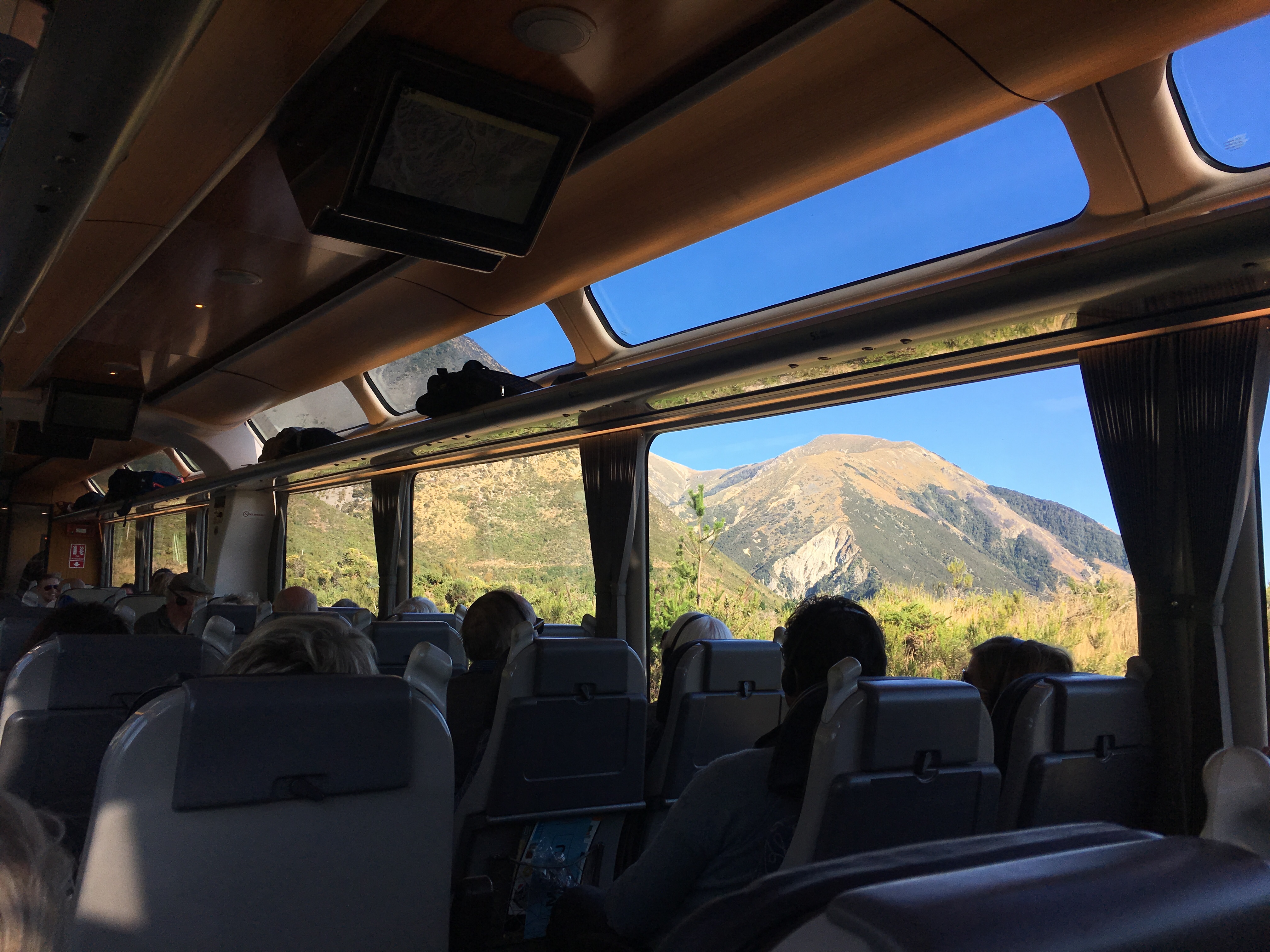 For the first part of the journey, through Otira and as far as the tunnel, the miserable weather prevailed.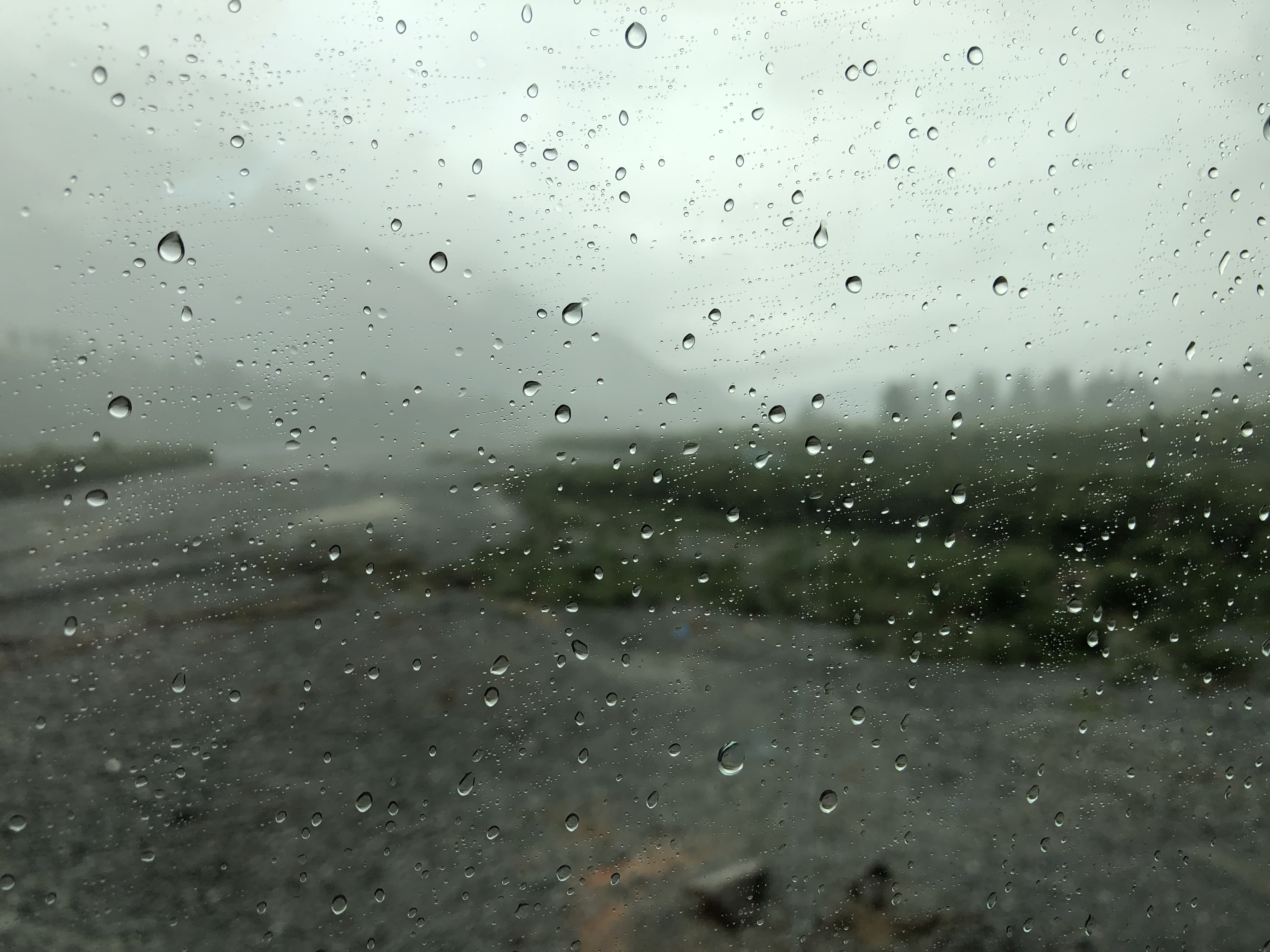 Immediately on emerging from the tunnel the skies were clear blue once again. From the other side of the train we were able to enjoy ever-changing views, which became more impressive when we reached the Waimakariri gorge, and crossed its four viaducts.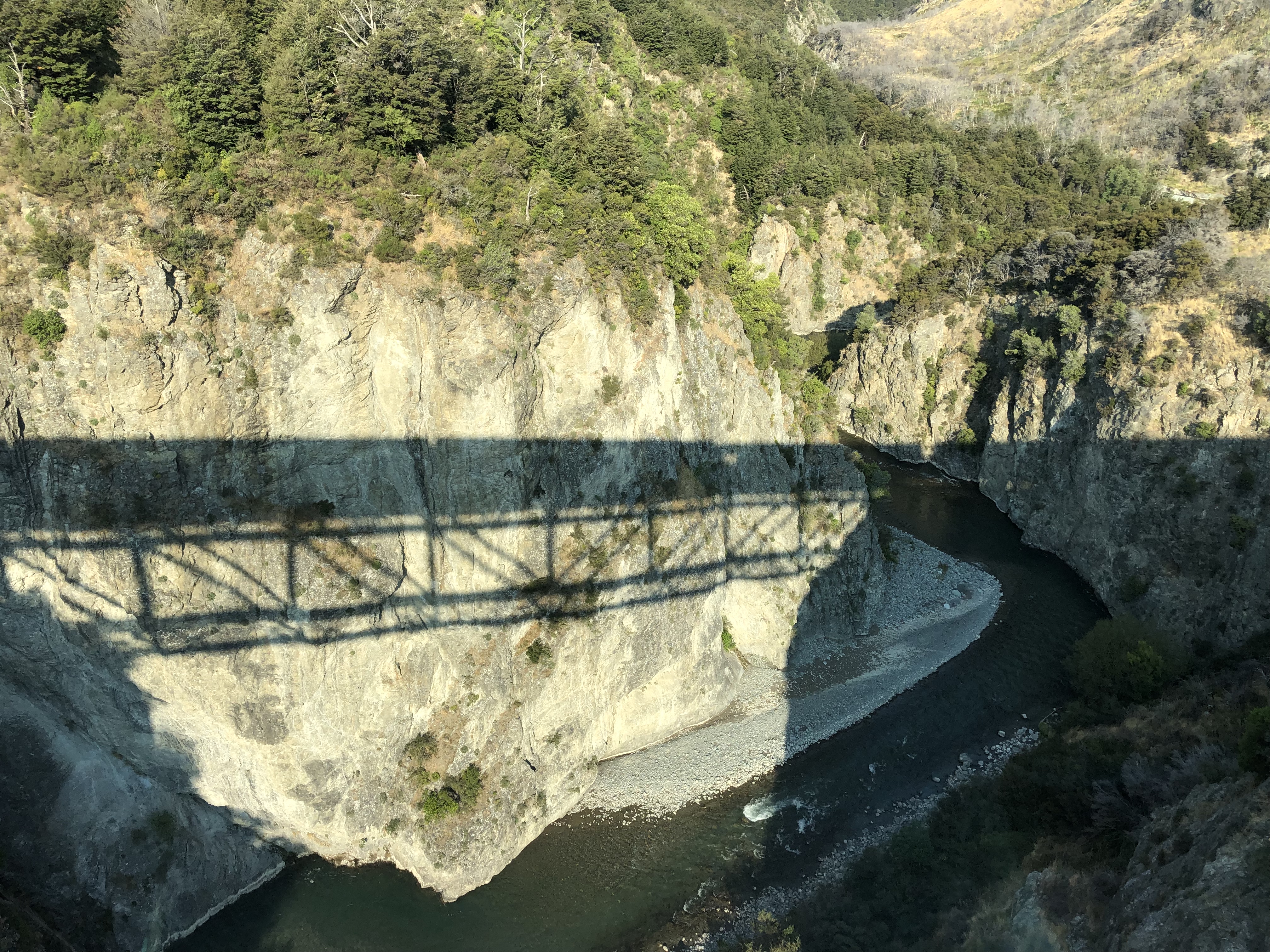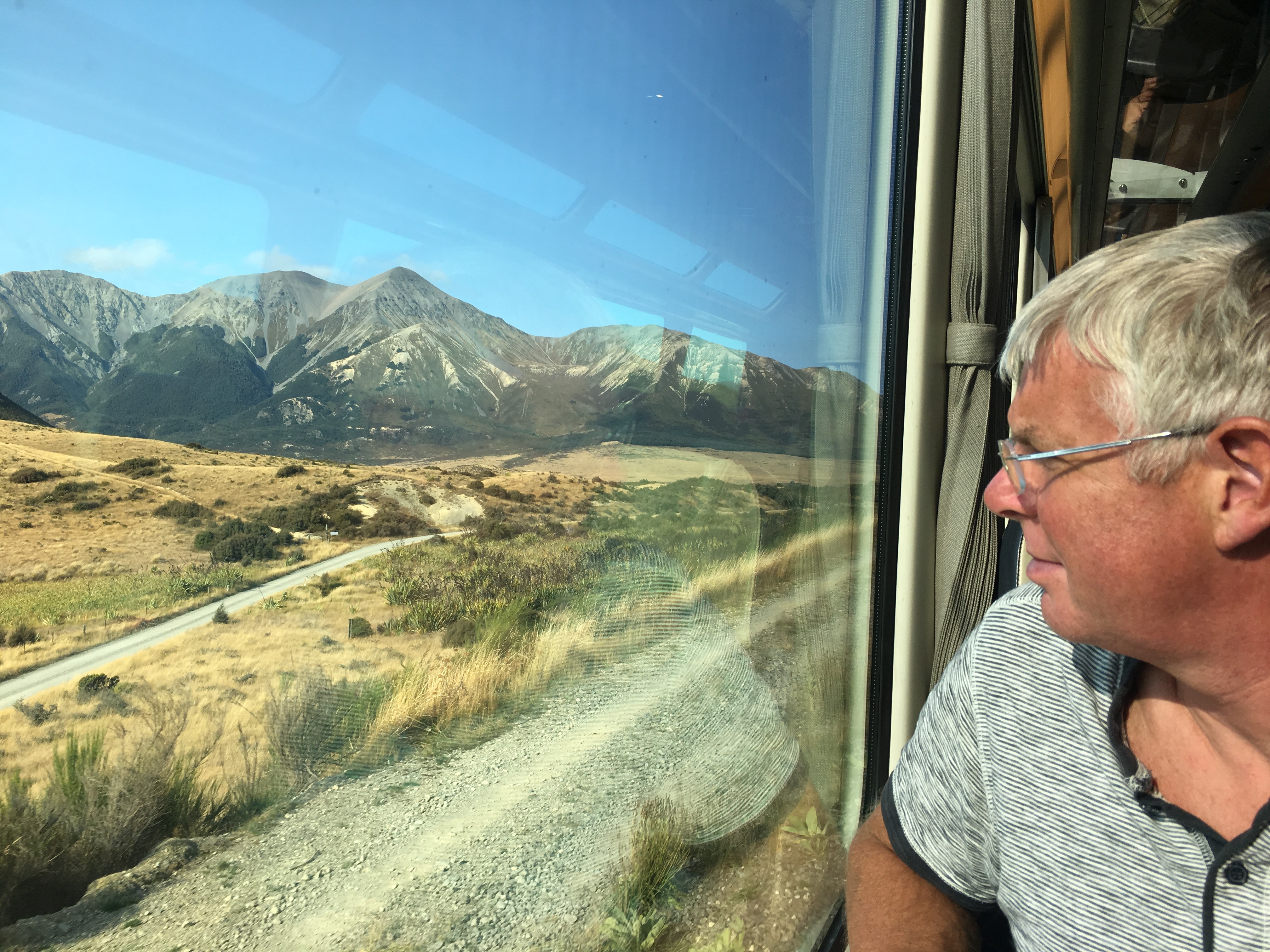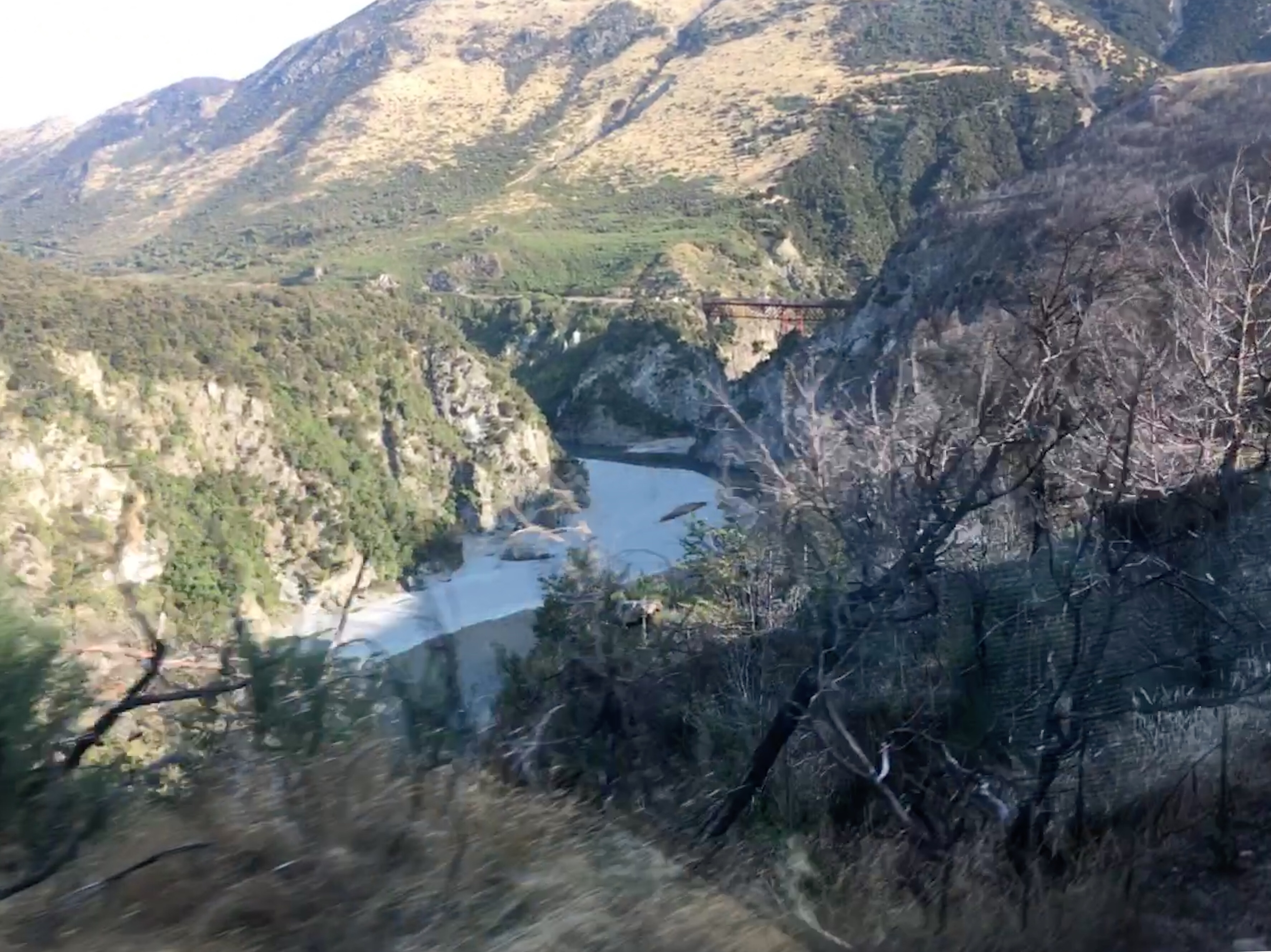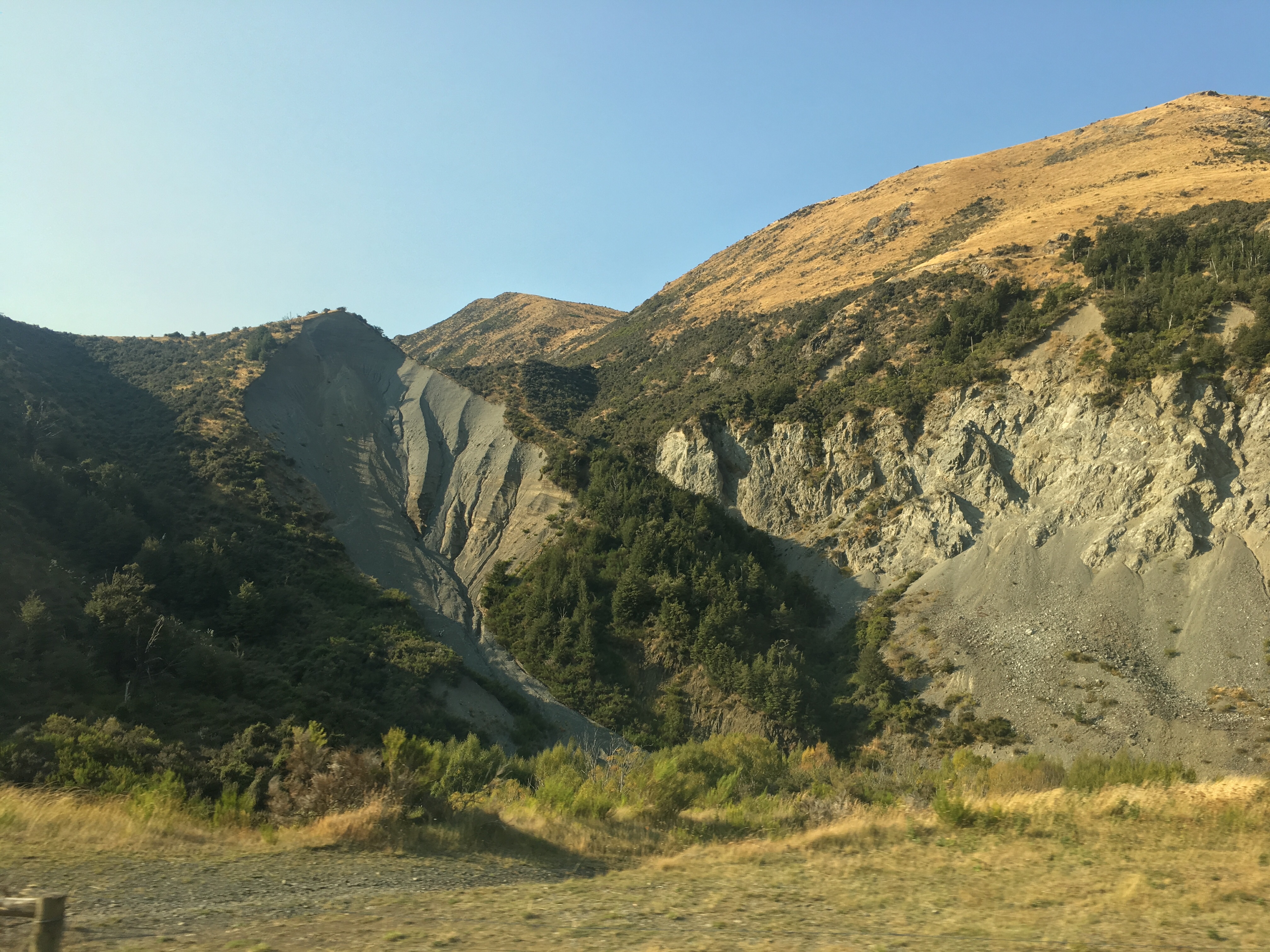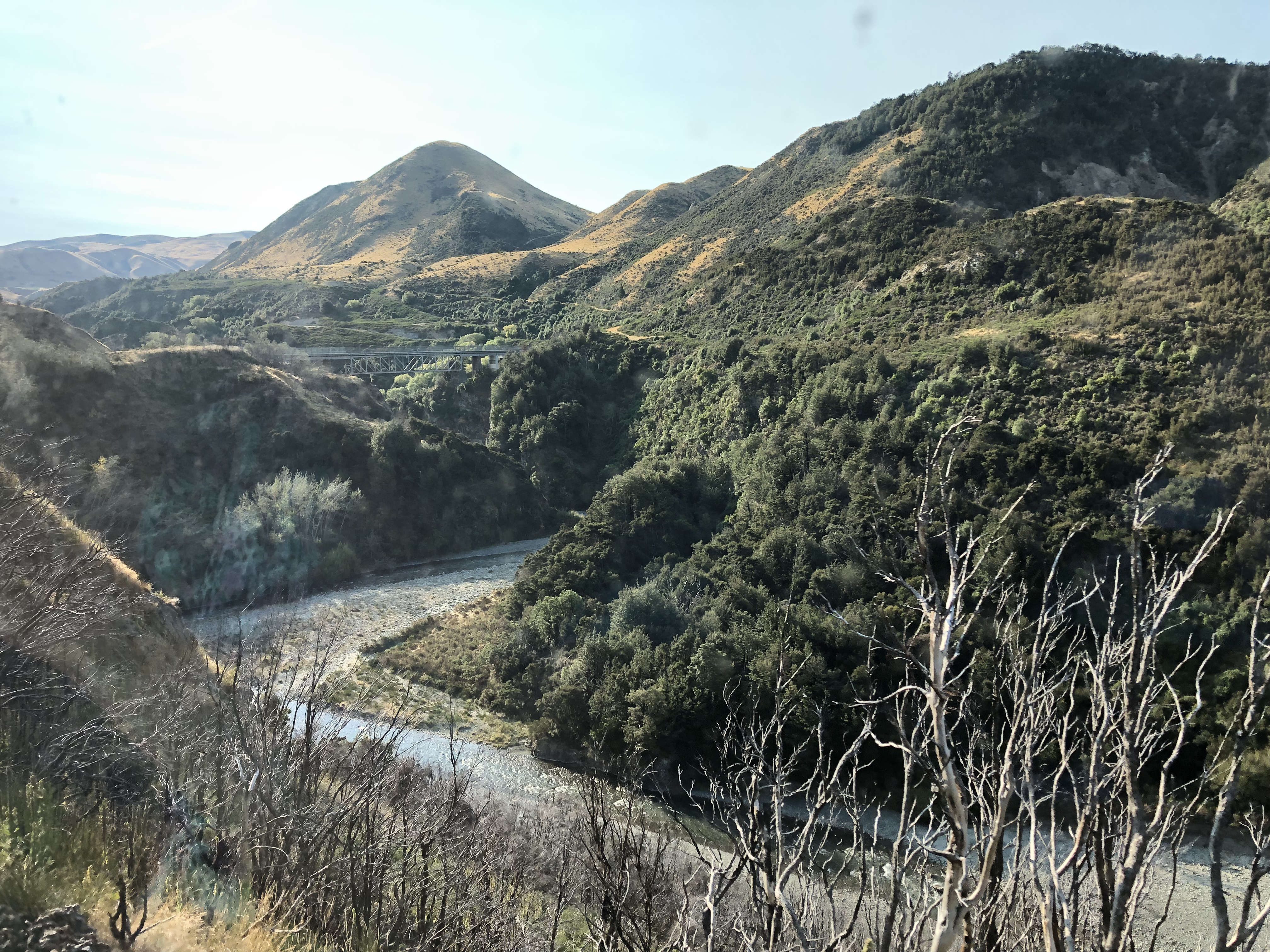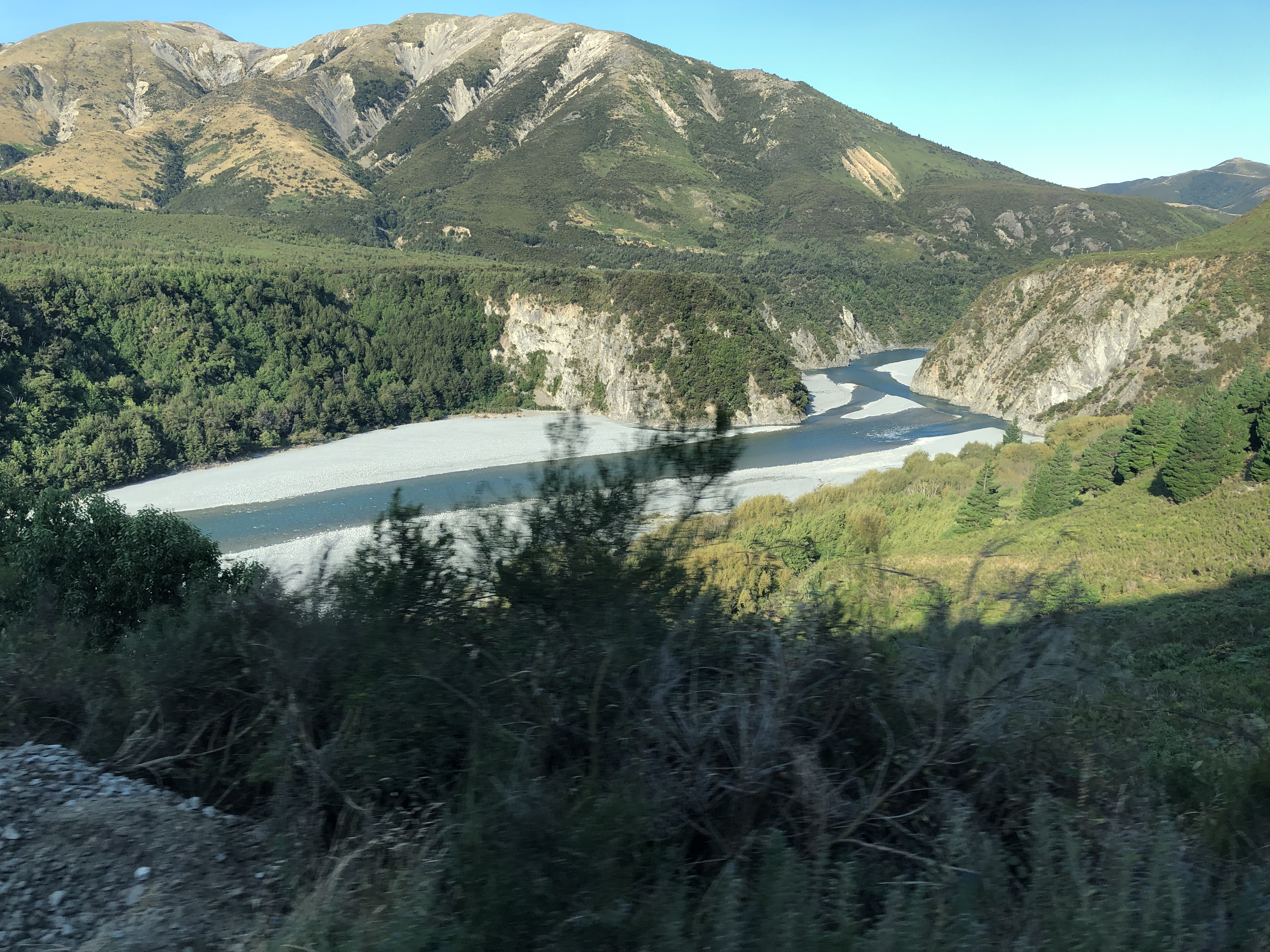 It's been a very good day. Again! Forgive us if we're running out of superlatives – this is such a gorgeous country. Tomorrow, we leave Christchurch for Kaikoura, in our last full day on the South Island.
Motorhome day thirty-seven: Christchurch – Kaikoura
We enjoyed something of a lie-in this morning, waking without need of an alarm. Bliss… Eventually we got ourselves into gear and left Christchurch on State Highway One, heading north. The motorway allowed for fast driving, and before too long we were in the rolling hills of Waipara's wine country. There were plenty of vineyards, including Muddy Water Fine Wines – we enjoyed their Sauvignon Blanc just yesterday at Moana. After that we wound up into the hills again, lush green valleys all the way, partly native bush, partly managed forest. In any other country it would be visited by hordes of people, but there's so much of it here that it's just another beautiful valley.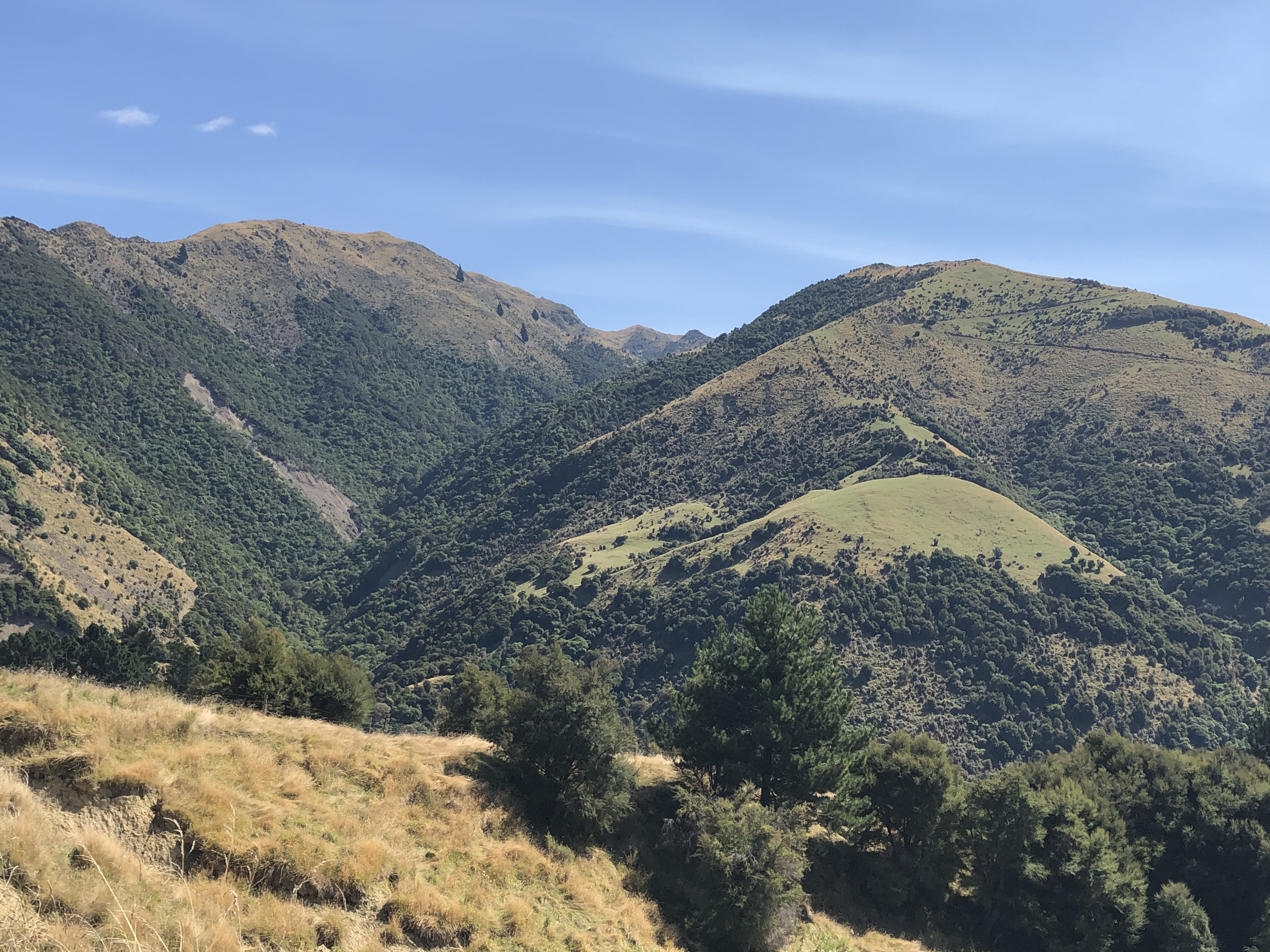 In the far distance we began to see snow-capped peaks and glaciers. Strictly speaking the Southern Alps are well to the south of us here, but the range extends in north-easterly direction, abutting the coast between Kaikoura and Blenheim. We crossed one pass, between Ferniehurst and Oaro, before reaching the coast.
The sea was a bright blue, sparkling in the sunshine, and in the distance we could see the Kaikoura peninsula. A series of roadworks held us up, but we didn't mind – we could spent the waiting time looking for dolphins, seals and whales – this area is famous for all three. We did spot a single seal, very close to shore, swimming towards us.
On arrival in Kaikoura we headed straight for the esplanade and the northern coast of the peninsula. The sight was compelling – to the left were the snow-capped mountains immediately adjoining the coast, and in front of us were stark white reefs heading out to sea.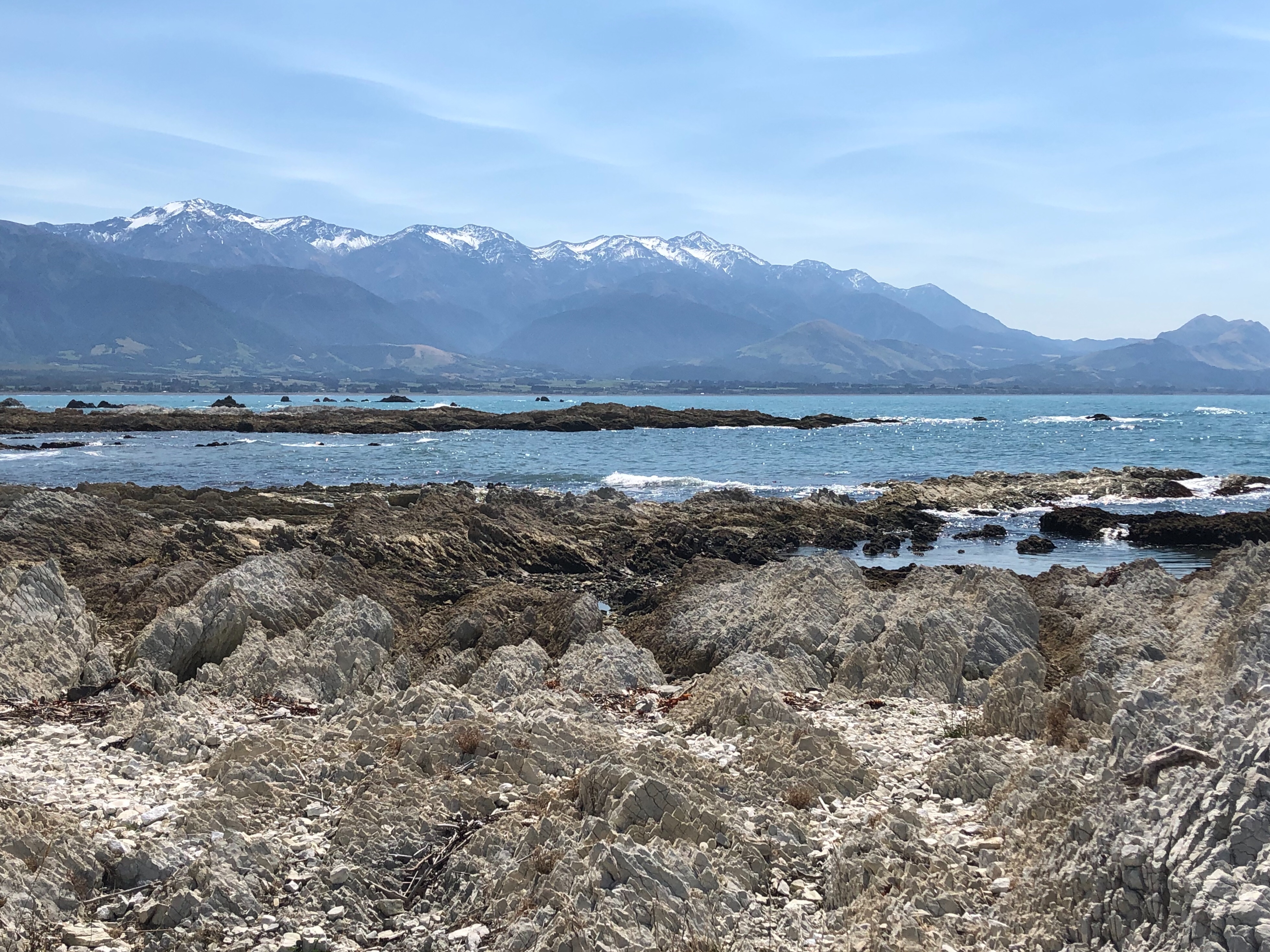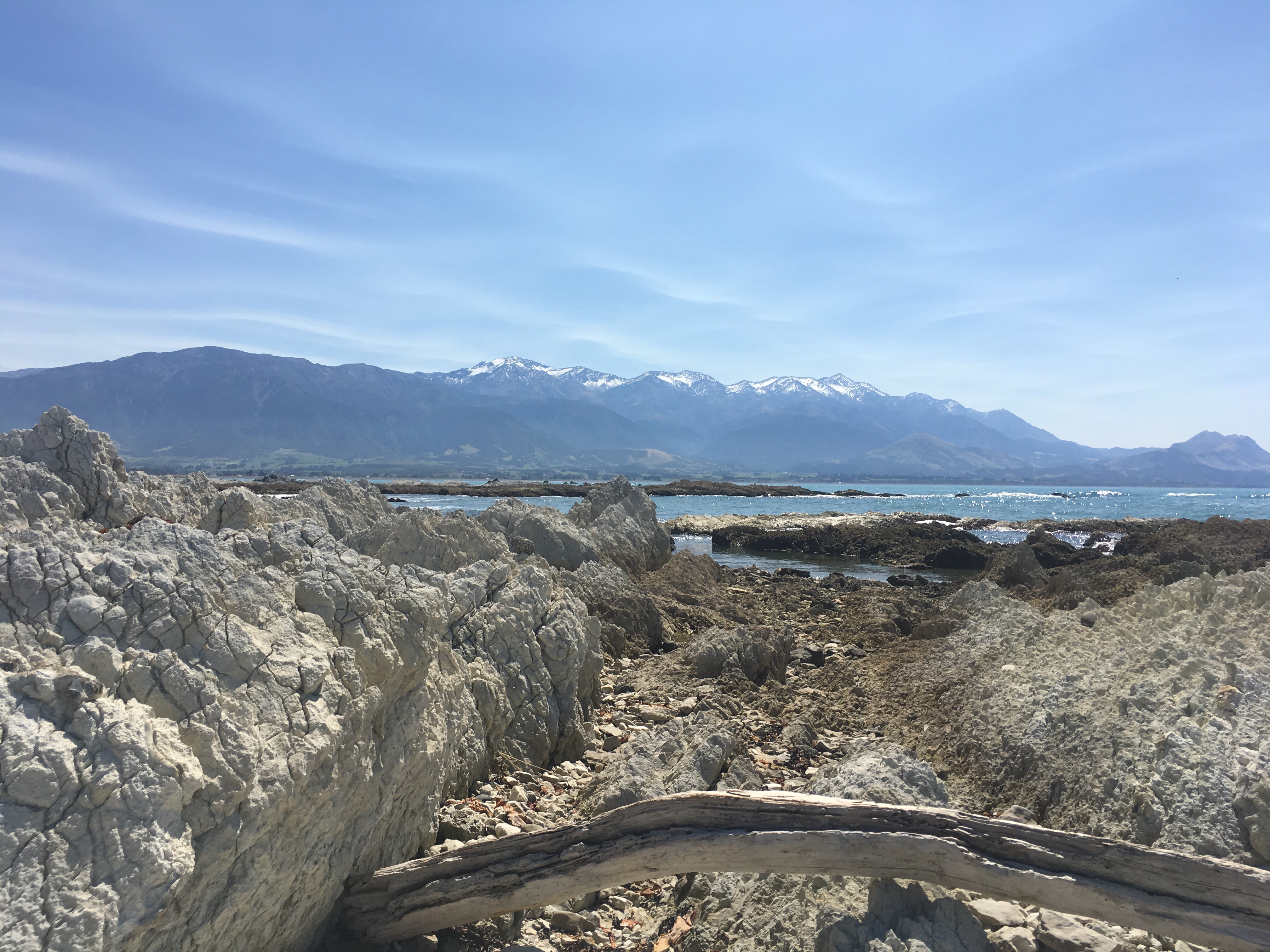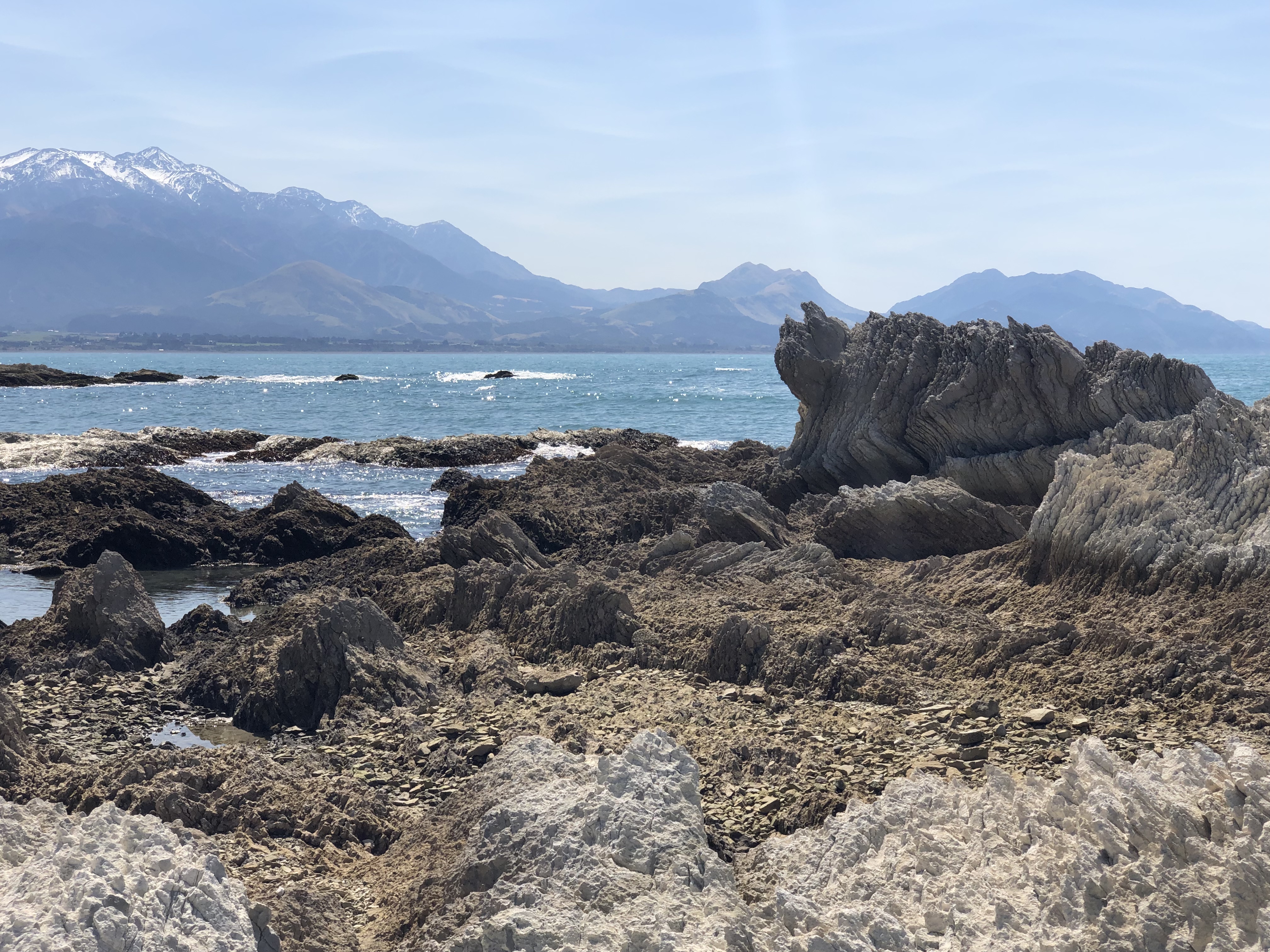 These are the result of coastal uplift, in the 2016 earthquake (7.8 in magnitude). All around the peninsula rocks which were previously underwater were thrust to the surface, rising by between one and six metres. Their stark white colour is attributable to their not yet having been colonised by algae.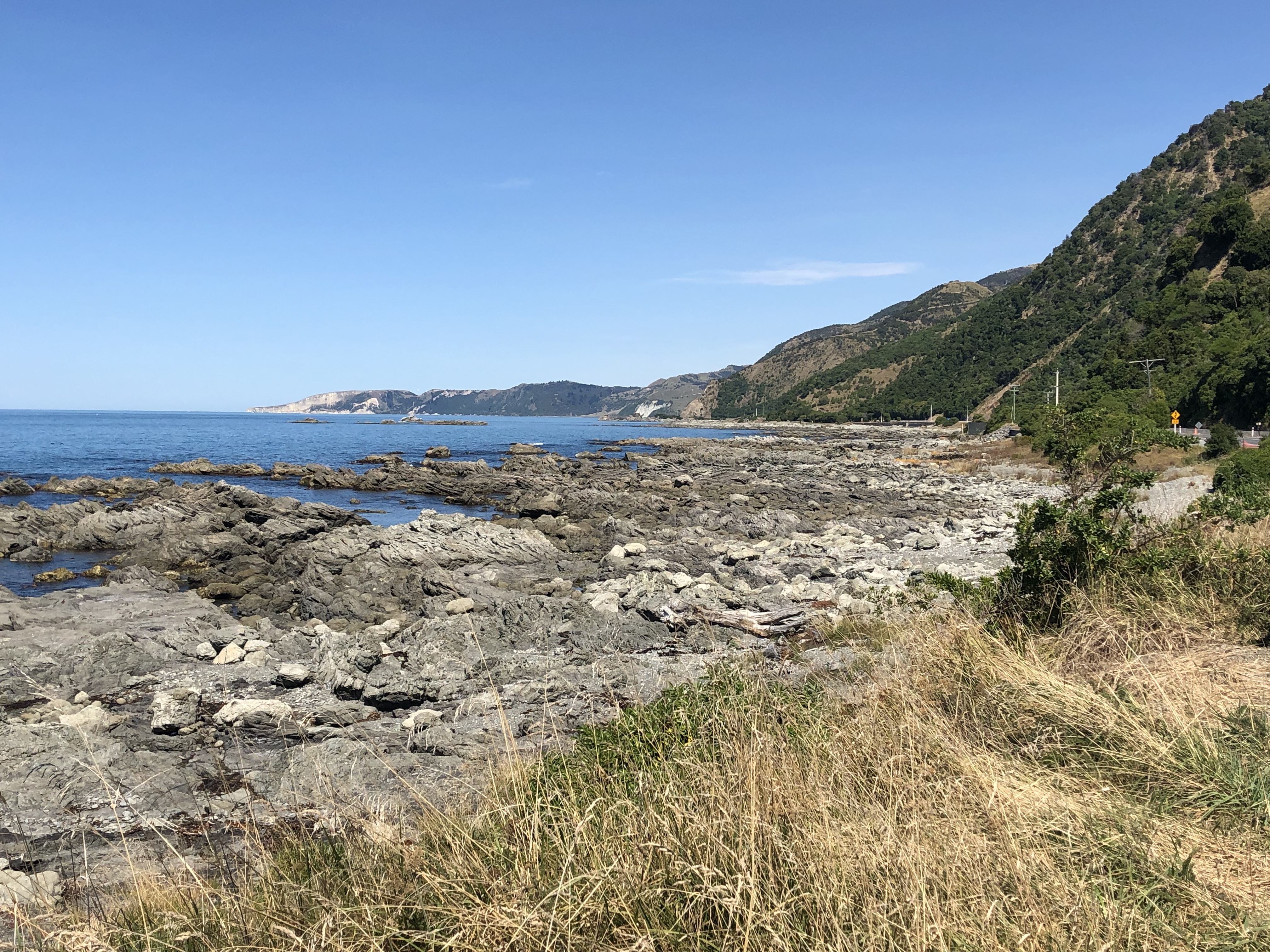 After checking in at the campsite we decided that because it was so hot we should have a swim. I asked the receptionist about swimming immediately next to the campsite but he warned of a strong undertow, and advised that we headed back into town where there were more suitable conditions. The beach we found was almost completely deserted, with striking rock formations offshore. It was shingle, of various grades from very coarse to fine, and a dark charcoal grey in colour. The water was, well, perhaps a little cool! We acclimatised quite quickly and enjoyed half-an-hour or so of peaceful swimming. Looming on the horizon were dark clouds – a foretaste perhaps of tomorrow's weather, which doesn't look too great. In the morning we will drive to Picton, to catch the lunchtime ferry to Wellington. There are forecasts of four metre high waves, so it could be fun.
Motorhome day thirty-eight: Kaikoura to Wellington
As the forecast had predicted, it rained heavily through the night – good news, perhaps, for the residents of nearby Christchurch who were long overdue some rainfall. This morning dawned cloudy and wet, and after a quick shopping trip we set off north towards our rendezvous with the ferry at Picton.
All along the coastal section there were repair works going on to the main road – it seems that the earthquake's legacy has lasted a long time. New Zealand's road repair crews are uniquely cheerful, giving a smile and wave to each passing vehicle (that must be wearing after a while, but they keep doing it). There wasn't much to see from the cab, unfortunately – slate grey seas to our right and green-clad cliffs to our left. We did spot some seals, basking, seemingly unperturbed by the incessant rain.
After a while we turned inland towards Blenheim, through rolling brown hills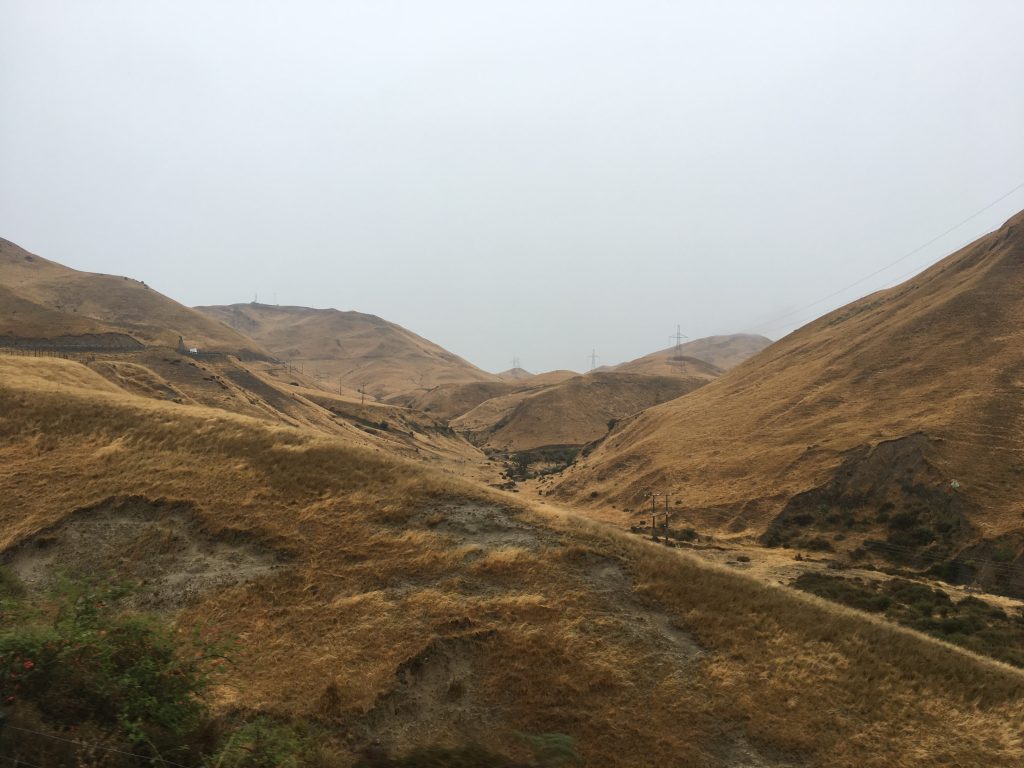 Then almost immediately there were vineyards everywhere. It was just like driving through Burgundy. A few names we recognised from our travels. One attracted our attention immediately: Cloudy Bay. As our wine cellar is now looking depleted, we decided to call in – it had to be a quick visit so that we didn't miss the ferry, but we managed a quick tasting and departed with three bottles. We've had the famous Sauvignon Blanc before (and it was delicious), but today we needed red wines, so we opted for the Marlborough Pinot Noir and another from their new Central Otago vineyard.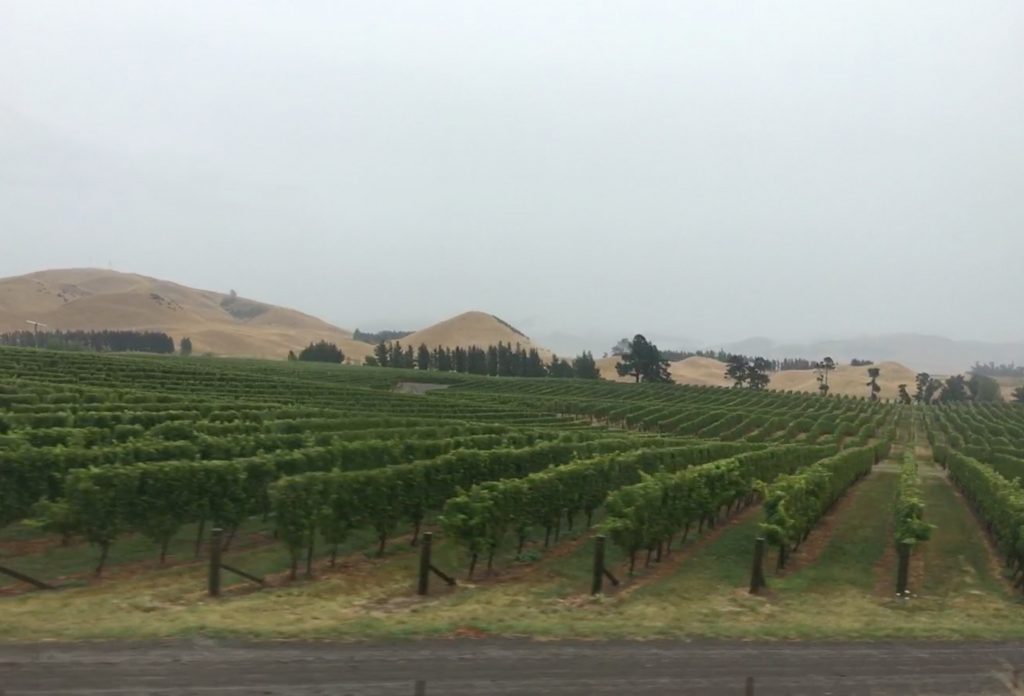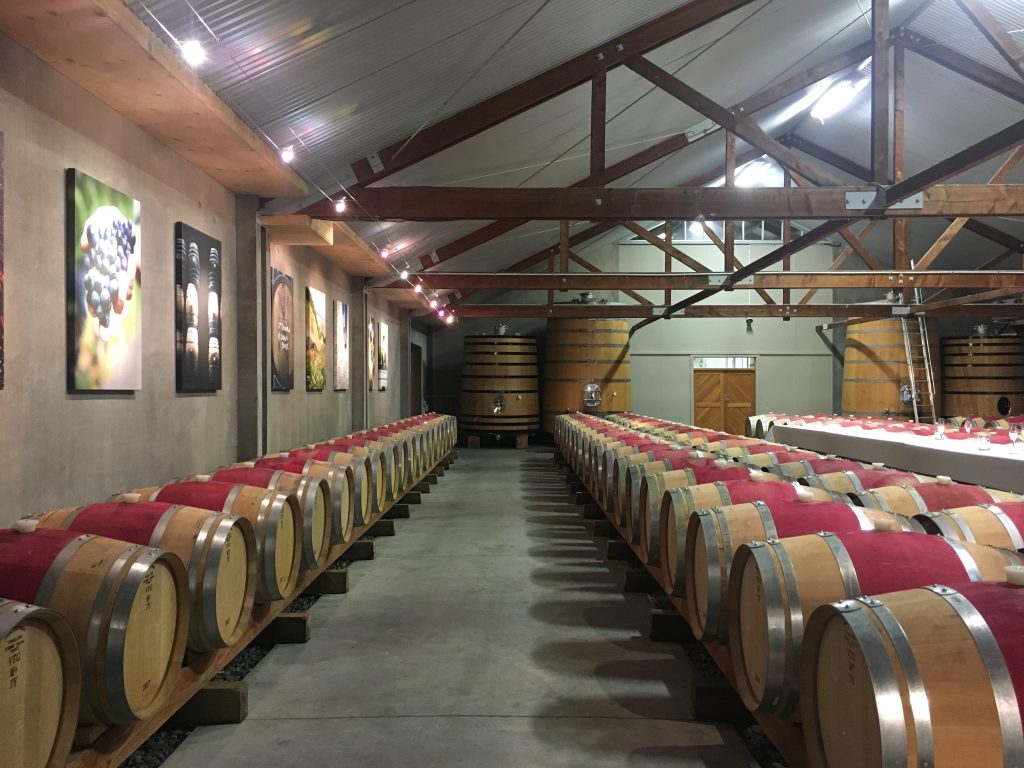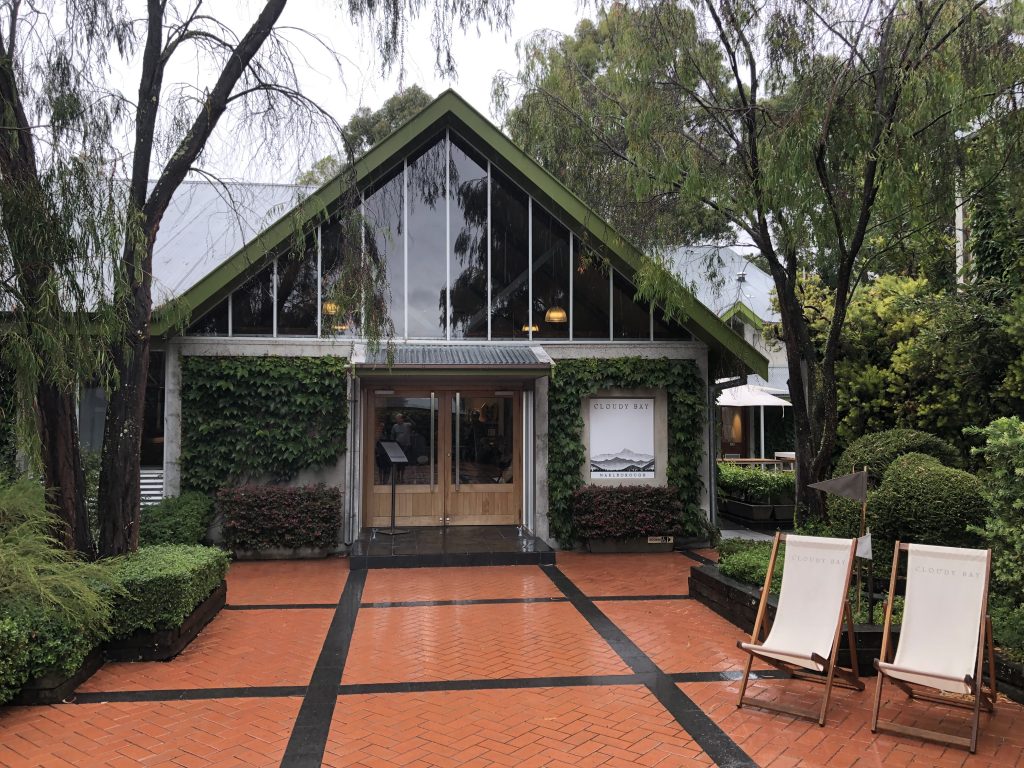 The weather started to brighten up as we crossed over the final mountain summit and descended into Picton. Soon we were on the ferry, enjoying lunch and hoping that it didn't get too rough – the forecast wasn't great. While we were in the shelter of Picton's long natural harbour it was calm, but once out into the Cook Strait it was pretty choppy, and there were several wan green faces visible among the other passengers. Clare (who is not fond of maritime travel) coped womanfully, and once we were in the lee of the North Island things improved markedly.
A short, damp drive later we were back in the familiar surroundings of the Top 10 site at Lower Hutt, Wellington. Tomorrow, weather permitting, we plan to go to the New Zealand vs Bangladesh test match. If the weather doesn't play ball, we shall strike out north. Somewhere!