Motorhome day twenty-six: Queenstown to Manipouri.
Today was always going to be one of those "transitional" days. We needed to get to Manipouri in order to ready ourselves for an early start tomorrow on our overnight cruise on Doubtful Sound.
Still, transitional days can be fun days. It was cold, though, when we awoke – given the preponderance of hot countries in our trip we haven't packed many pullovers, but today was definitely a pullover day. Waves of rain had passed over in the night, and this pattern was to continue throughout the day.
We left Queenstown via Frankton, to do a small amount of shopping. Picking up a strange spiky yellow fruit called a "Kiwano" in the fruit section, we decided we should try it, so bought one. We'll keep you posted – if you don't hear from us, assume the worst!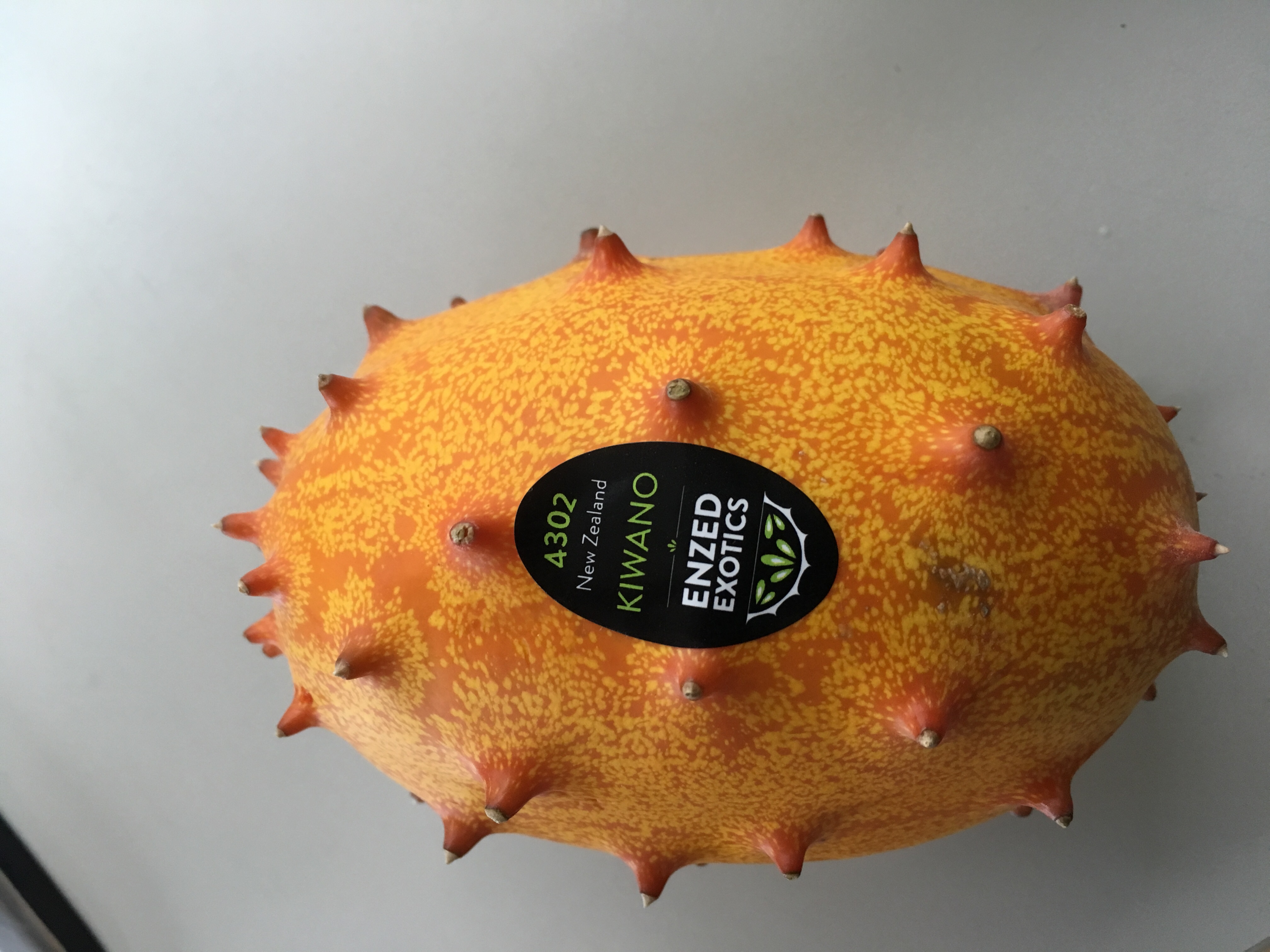 (Later note – we tried it, and it tasted similar to melon, but was much harder to eat because of the number of seeds present inside).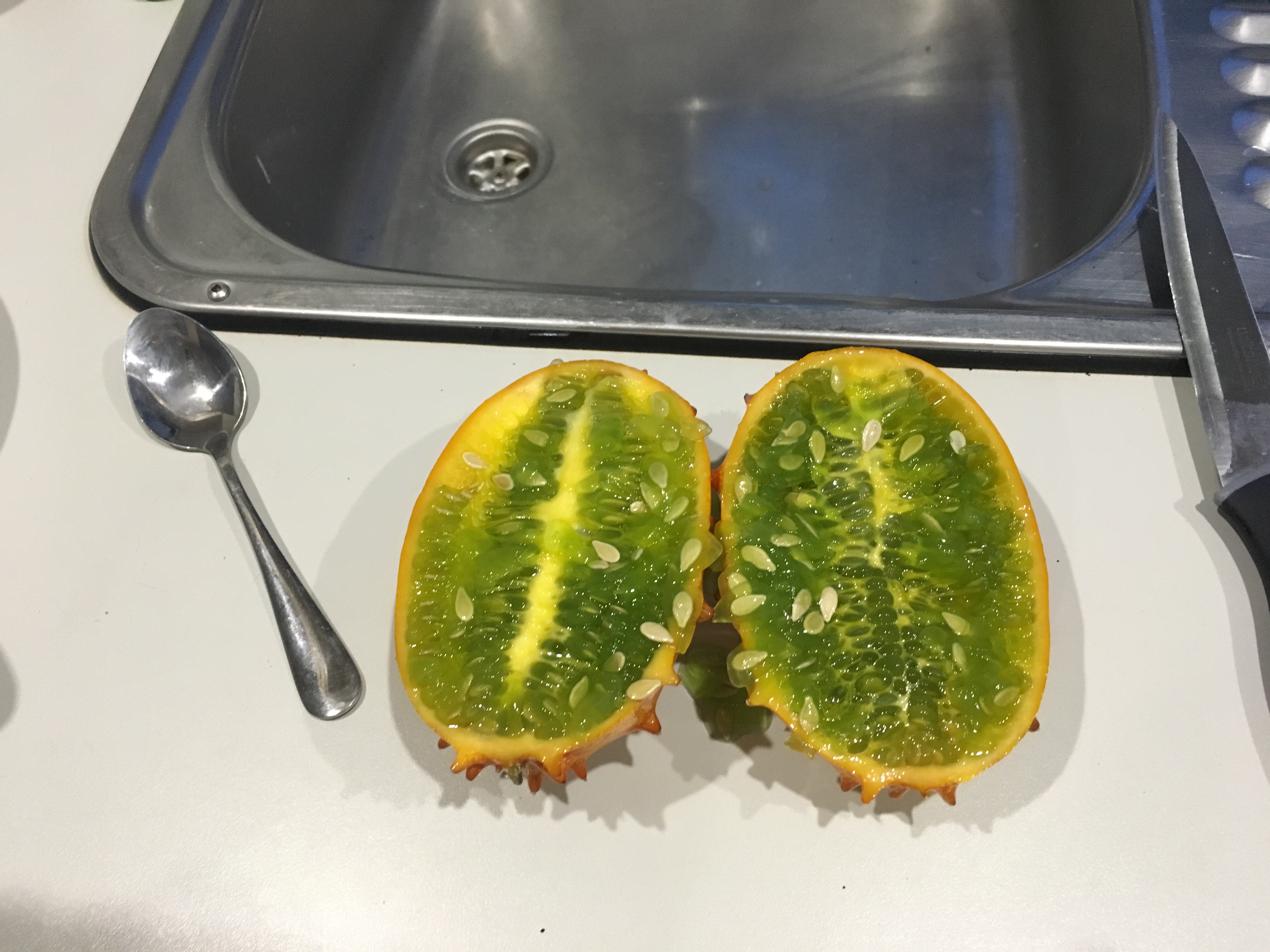 After that we skirted the other side of the Remarkables in an unremarkable fashion – there were views of the other "arm" of Lake Wakatipu, but the cloudy wet weather certainly didn't encourage us to stop and take pictures. We did, though, pass enormous numbers of sheep. So this is where they've been hiding. We could see them in small clusters all the way up the steep mountain slopes at the side of the road – the sheepdogs must be fit in New Zealand in order to round them all up.
Later on, along with the sheep, we saw fields full of deer as we reached the relatively flat lands at the end of the lake. It was only in the last twenty-five kilometres of our journey that the mountains reappeared, higher than ever, and with copious amounts of snow cover. A volcanic plug loomed through the cloud, and then our arrival at Lake Manapouri was heralded by a downpour we could see from some distance away.
The site is a lovely one, right on the lakeshore. We did go out to take photographs, but managed only this one before we were driven back inside by a rainstorm.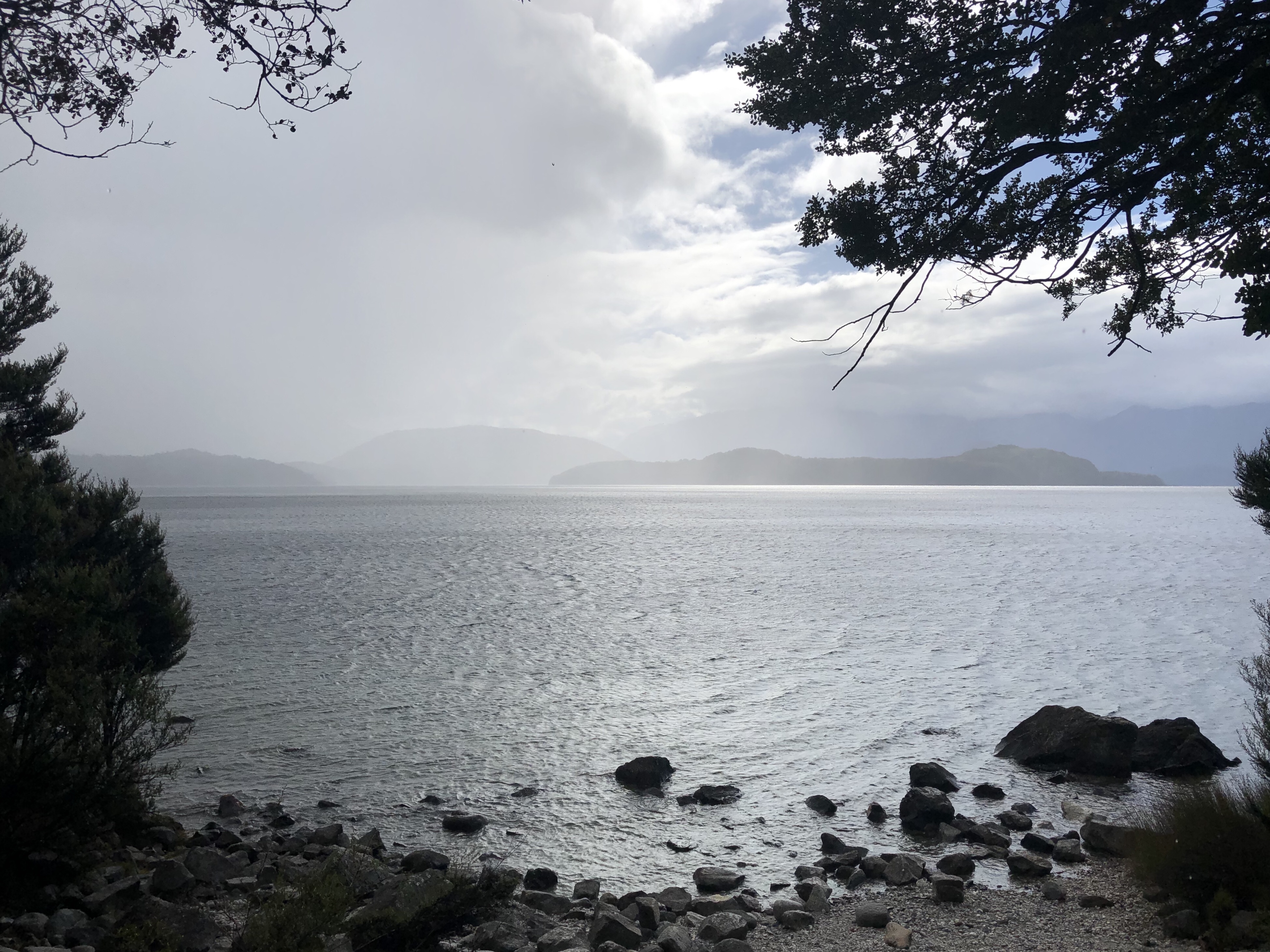 The forecast for tomorrow is dry. We're excited about this cruise – I say cruise, but this perhaps gives the wrong impression, as it will be on a small boat with the capacity for twelve guests. We are promised stunning views, waterfalls, albatrosses, seals, and for dinner freshly caught crayfish.
Motorhome day twenty-seven: Manipouri to Doubtful Sound
Warning – this is going to be a long one!
Last night, for the first time on this trip, we had to turn on the heating in the motorhome. This morning too, after we awoke to a cold crisp morning. The forecast was good, so we weren't too worried. It was an early start, by our standards (!) and we ate a quick breakfast before setting off on the ten minute walk to the wharf. Several groups were already waiting for the ferry, and after a little initial confusion we found our group and hopped onto the ferry for the initial part of the journey across Lake Manipouri. This took about an hour, and as we approached the western shore the mountains became progressively higher; some were topped with significant amounts of snow.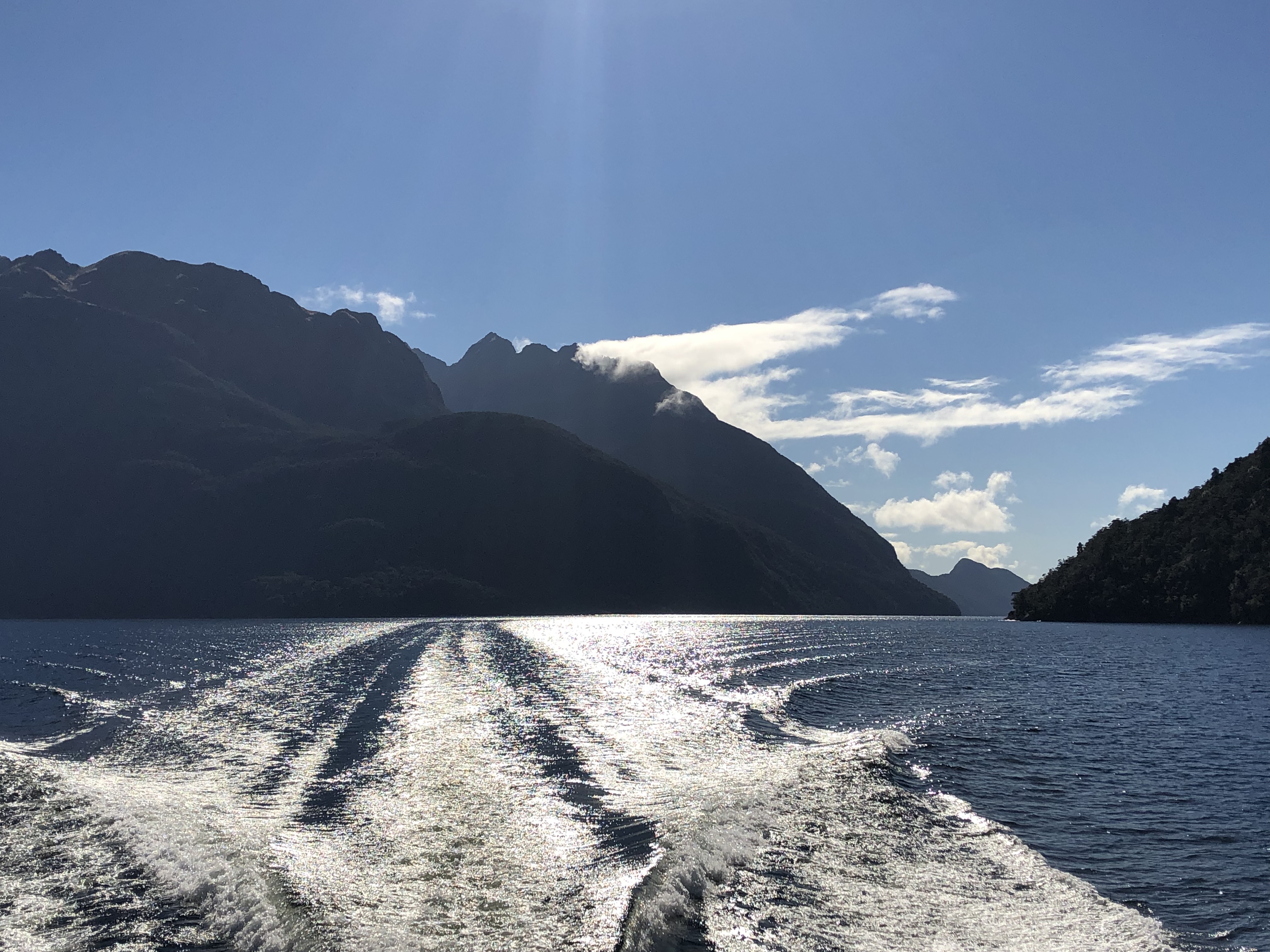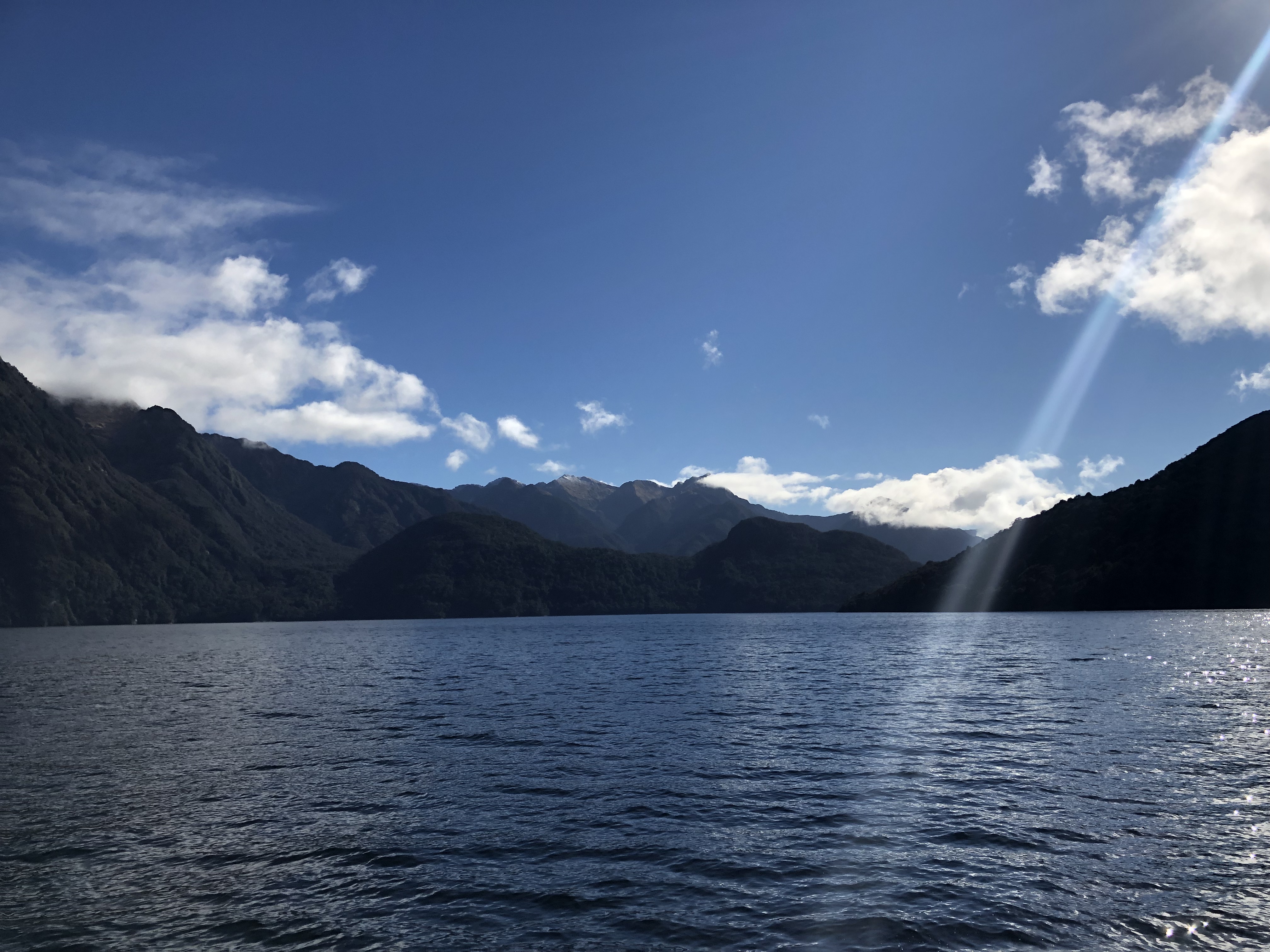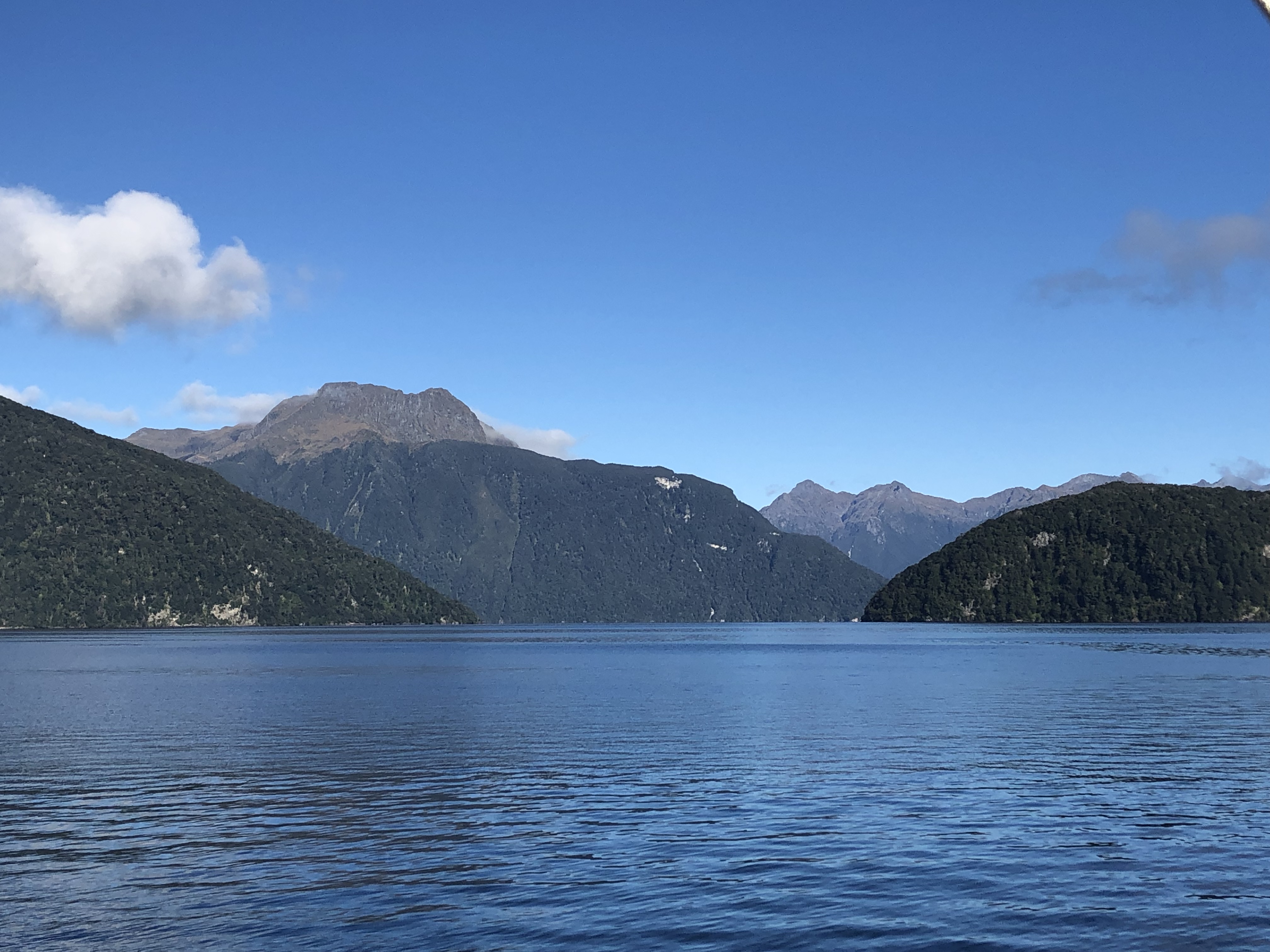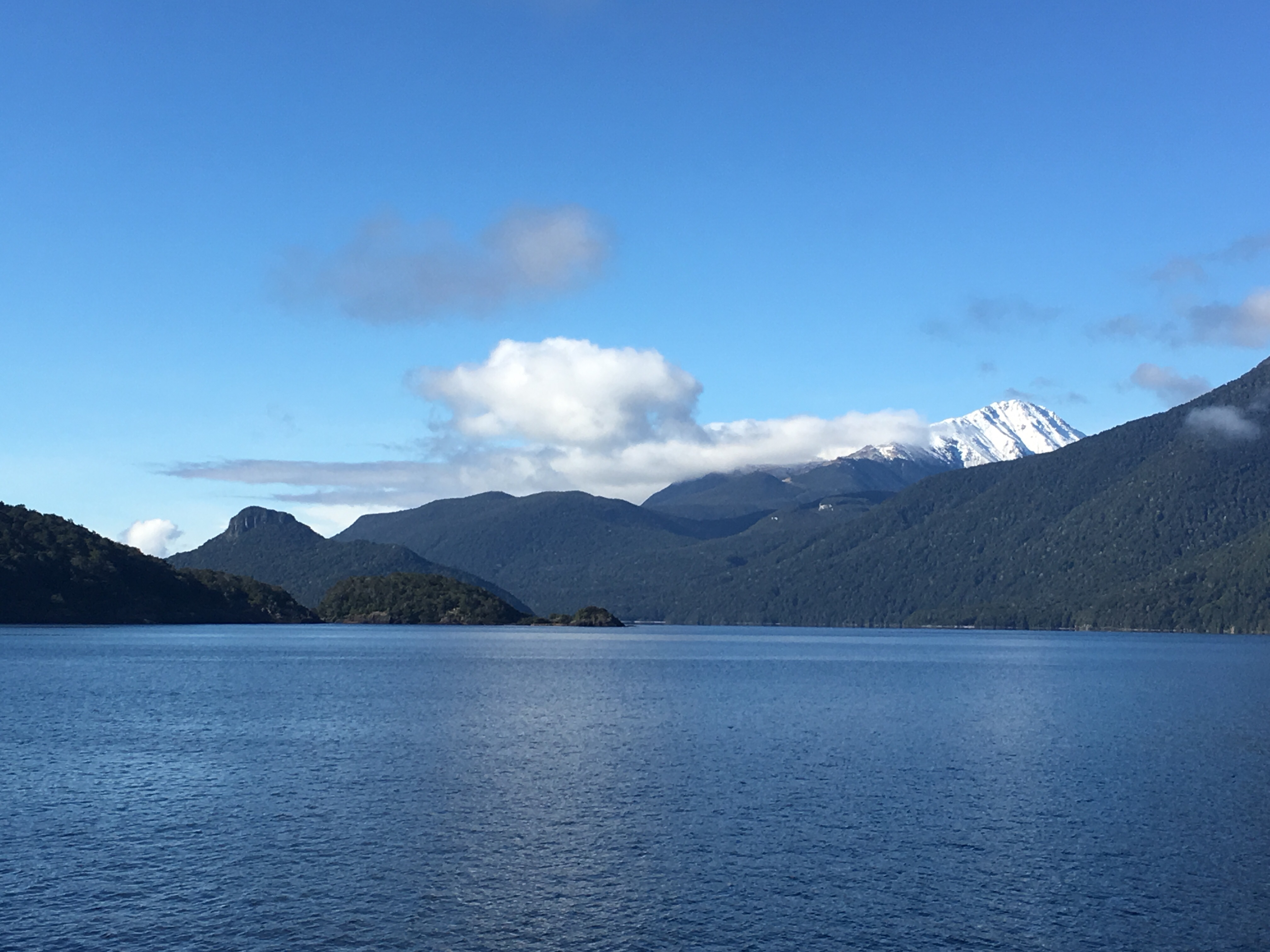 On arrival at Lake Manipouri's hydroelectric power station our minibus was waiting for the short journey to Deep Cove, our entrance to Doubtful Sound. The driver announced himself as Jens – a young, energetic and cheerful German who, as well as being our driver, would also turn out to be the chef on board.
The gravel track over Wilmot Pass (constructed to facilitate the building of the hydroelectric power station) took us up to six hundred metres above sea level and at intervals gave us some tantalising glimpses of the sound below. Jens provided a very funny and entertaining commentary throughout, and after about half an hour we arrived at our boat, Tutoko II. Jens transitioned from driver to chef and set about preparing lunch, while we met Dave (Captain) and Franzi (Steward and Jens' girlfriend) and had a glass of champagne. The other guests were two Brits, two Aussies and four Americans.
Almost immediately we departed into the magically beautiful fjord. We could see no other boats, and no other sign of human habitation whatsoever, just still waters, clear blue skies and steep sphagnum moss-coated cliffs, with trees clinging to the almost vertical rock. It was difficult to wrench ourselves away and go inside for lunch – fresh fish pasta in a cheese and white wine sauce, delicious.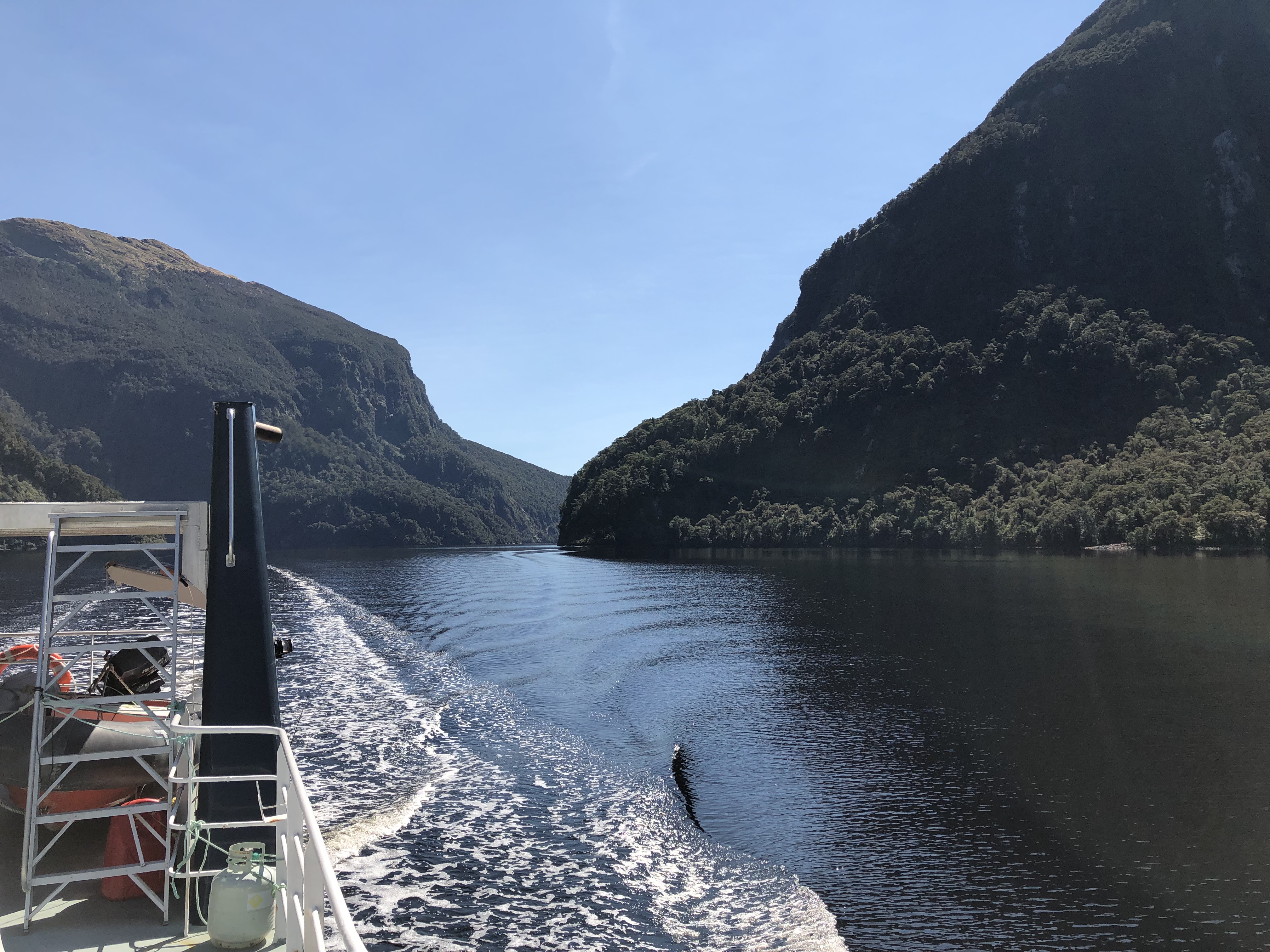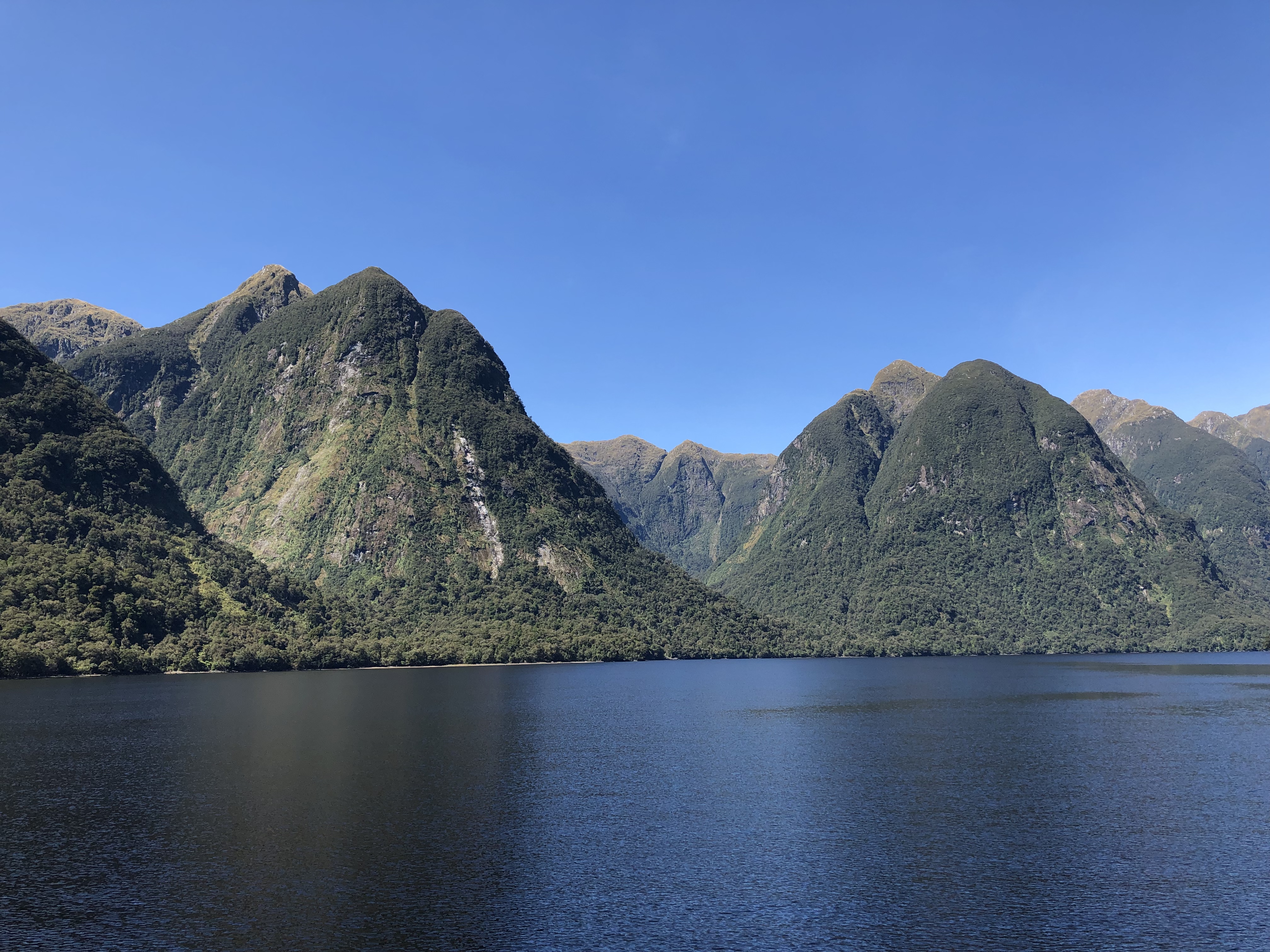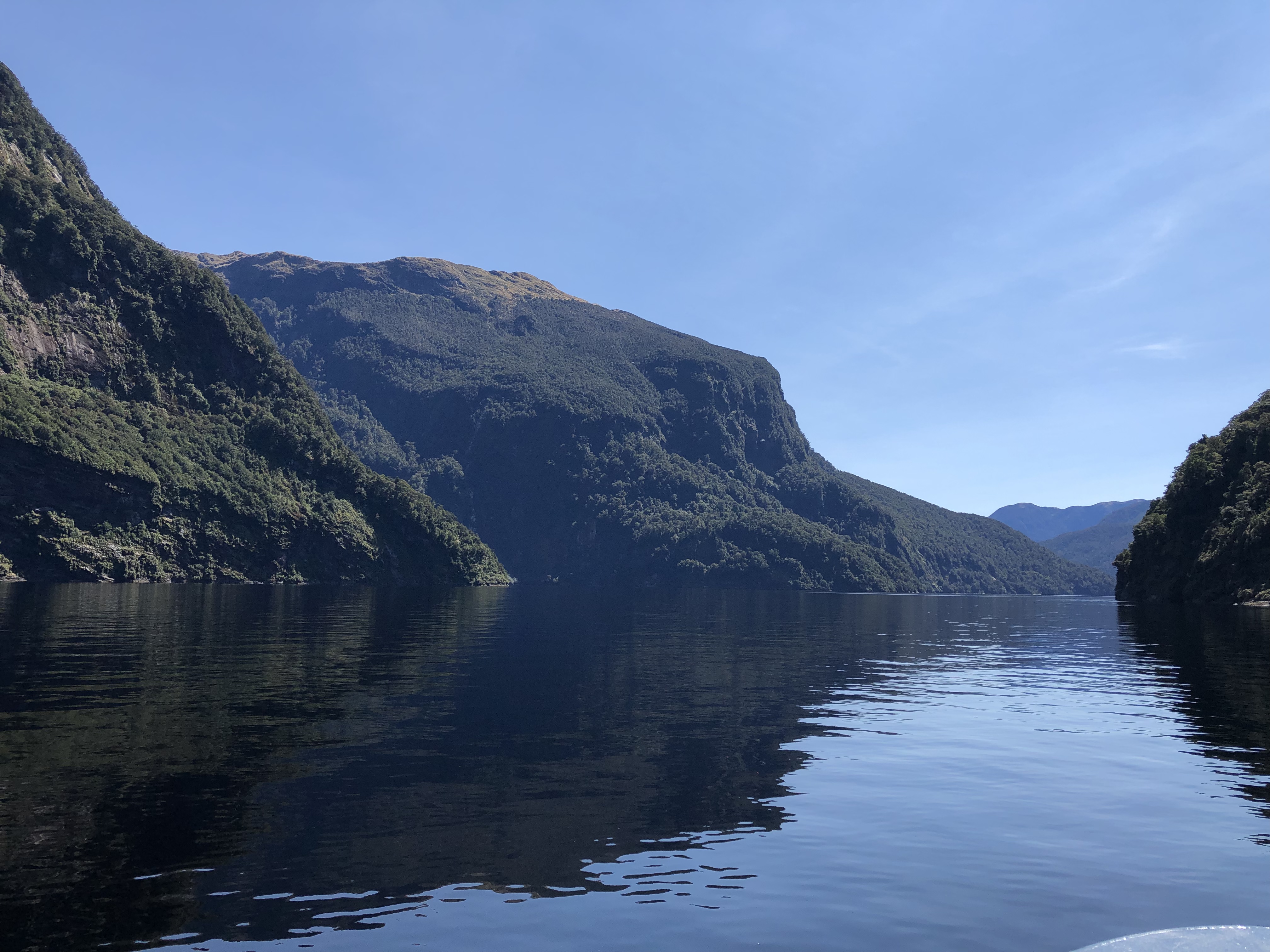 As we headed down towards the sea we took countless photographs and got to know the other passengers. I recall discussing the travel books of Paul Theroux with one of the American couples, exchanging light banter over the Marmite/Vegemite schism with the Aussies, and trying to avoid talking about Brexit with the Brits, because it's such a depressing subject (although they were of a similar mind to us). It gradually became apparent (mainly because they told this to everybody with great pride) that the other American couple were proud, loud, fervent Trump supporters, well away from their natural habitat. Gadzooks! More on that later…
Dave navigated Tutoko II towards the sea, sometimes diverting into one of the side arms of the Fjord if he knew of a particularly fine spot. He, Franzi and Jens do this journey seven times a week, then get the following week off. Despite the repetitive nature of this they were all sparky, enthusiastic and energetic, and worked incredibly hard to ensure we had an amazing time. Occasionally the boat would slow as Dave spotted some fauna or flora. We caught a very brief glimpse of a Fjordland penguin, and saw several albatrosses (or perhaps the same one many times!) swooping around over the surface of the water.
Then it was time to fish! We headed almost out to sea, into choppier waters, and then into a slightly more sheltered bay. I've never really fished in my life before, but volunteered to try, expecting to stand there for a while and then let somebody else have a go.
Following the instructions of Franzi, I let the reel run slowly until the bait reached the bottom (about thirty metres), then brought it back up a couple of turns. Within two minutes I could feel sharp downward pressure on the fishing rod, so I struck it sharply upwards once, as instructed, then started to reel in. It was clear that something was on the line, and reeling in was quite hard work. I doubted there were any old Wellington boots down there for me to reel in, and it soon became apparent that there was indeed a fish on the line. I brought it on board as competently as possible (that is, not very competently!) and Franzi unhooked it, announcing that it was a Tarakihi, and put it in the bucket. First strike to me, hurrah!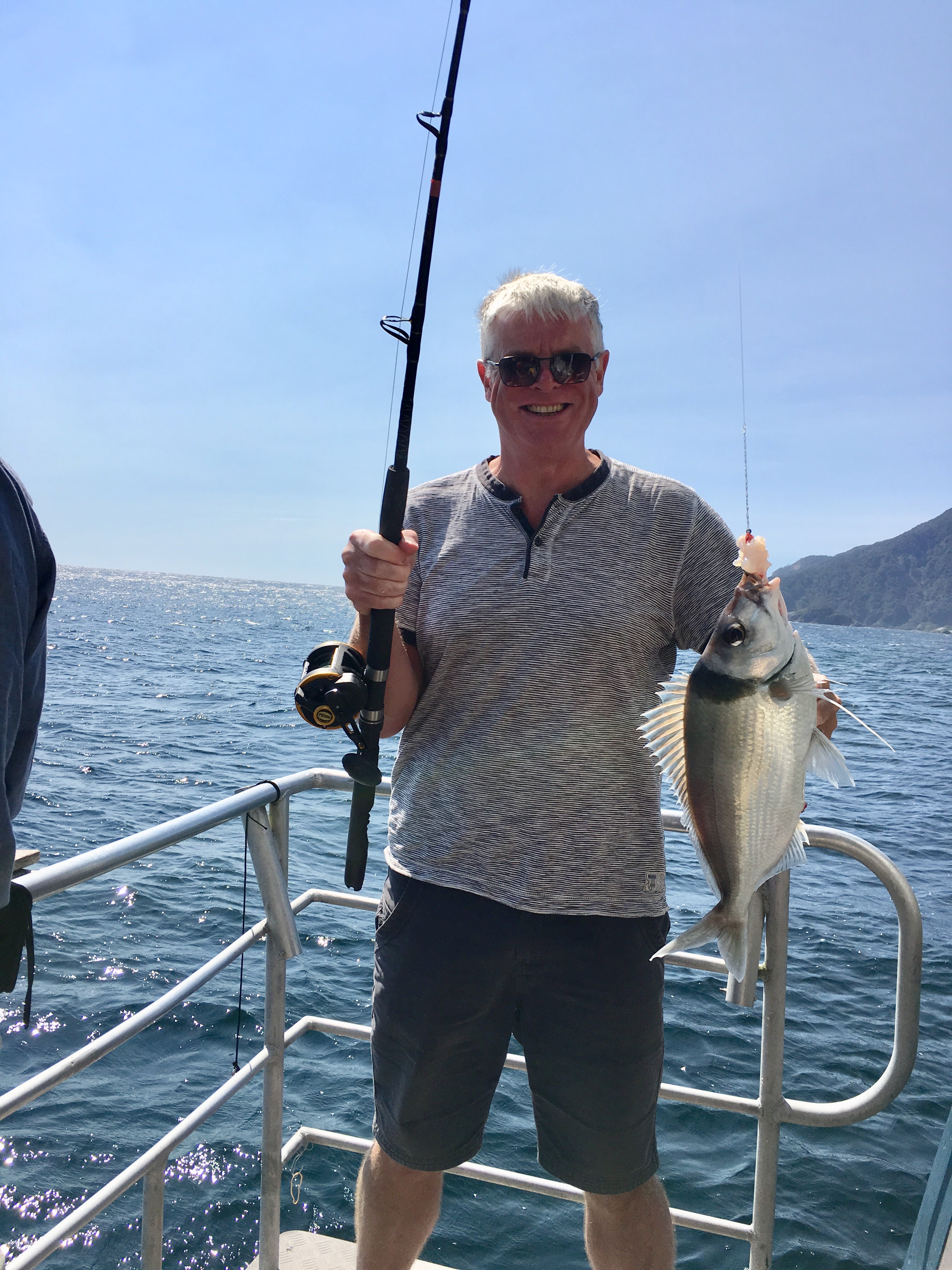 Soon it became apparent that others were having similar success. I decided to have another go, and after one false alarm succeeded in landing a second Tarahiki. Too easy, as they say down here! In all we must've caught about ten Tarakihi and one blue cod between us, certainly enough for tonight's dinner.
Just as we were about to set off again Dave decided we should wait while a huge cruise ship emerged from the sound. Wouldn't you know it, the cruise ship was our old 'friend' the Majestic Princess, our sightings of which include Sydney, Auckland, Wellington and now Doubtful Sound.
We returned into the fjord, and rounded the northern side of Bauza Island, in search of fur seals.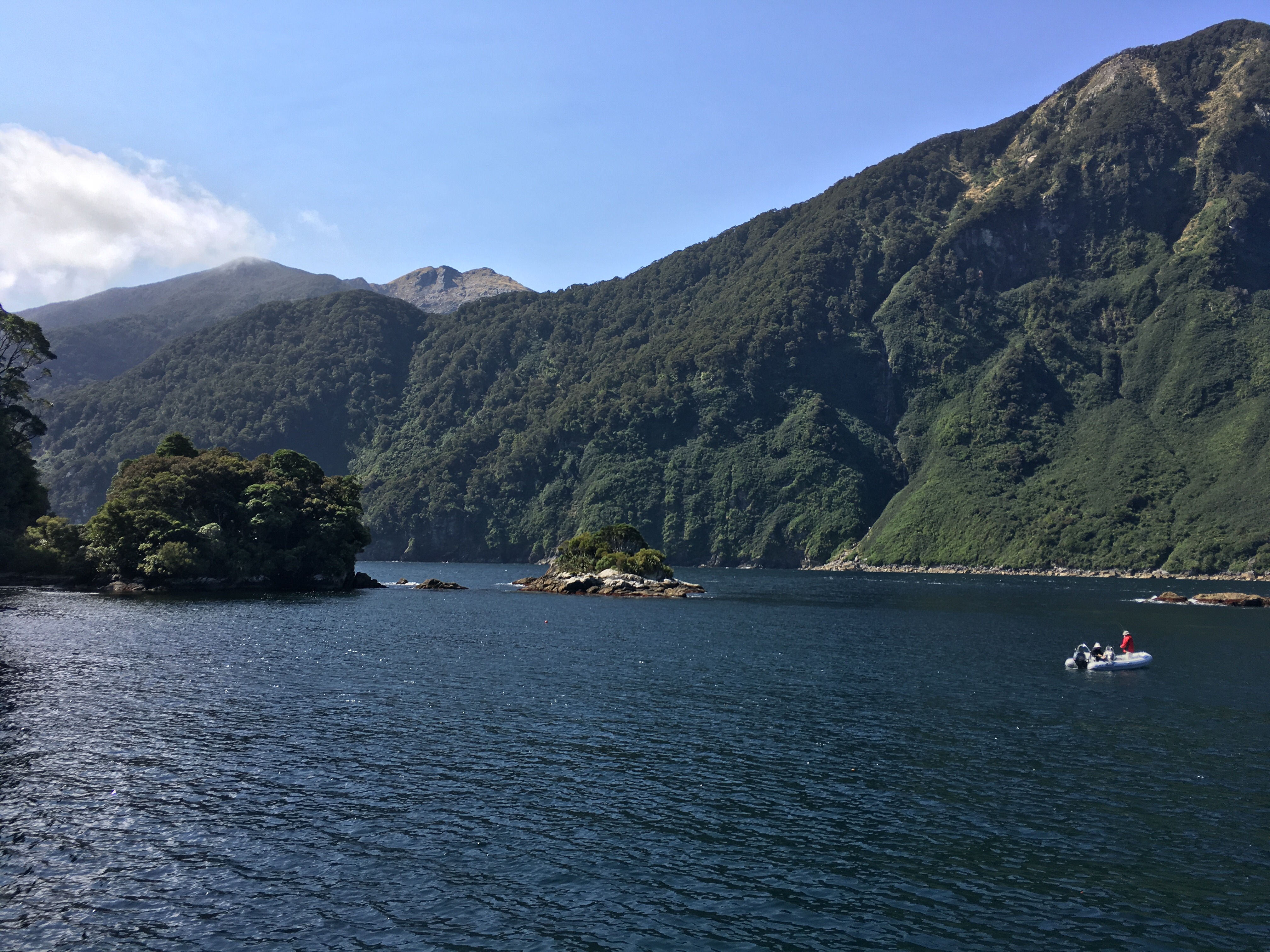 As we approached some rounded rocks Dave announced that he could see one, and then shortly afterwards several more. I confess that initially we couldn't see them at all, but once we got our eyes in we spotted them basking up on the rocks, some fully grown, some pups.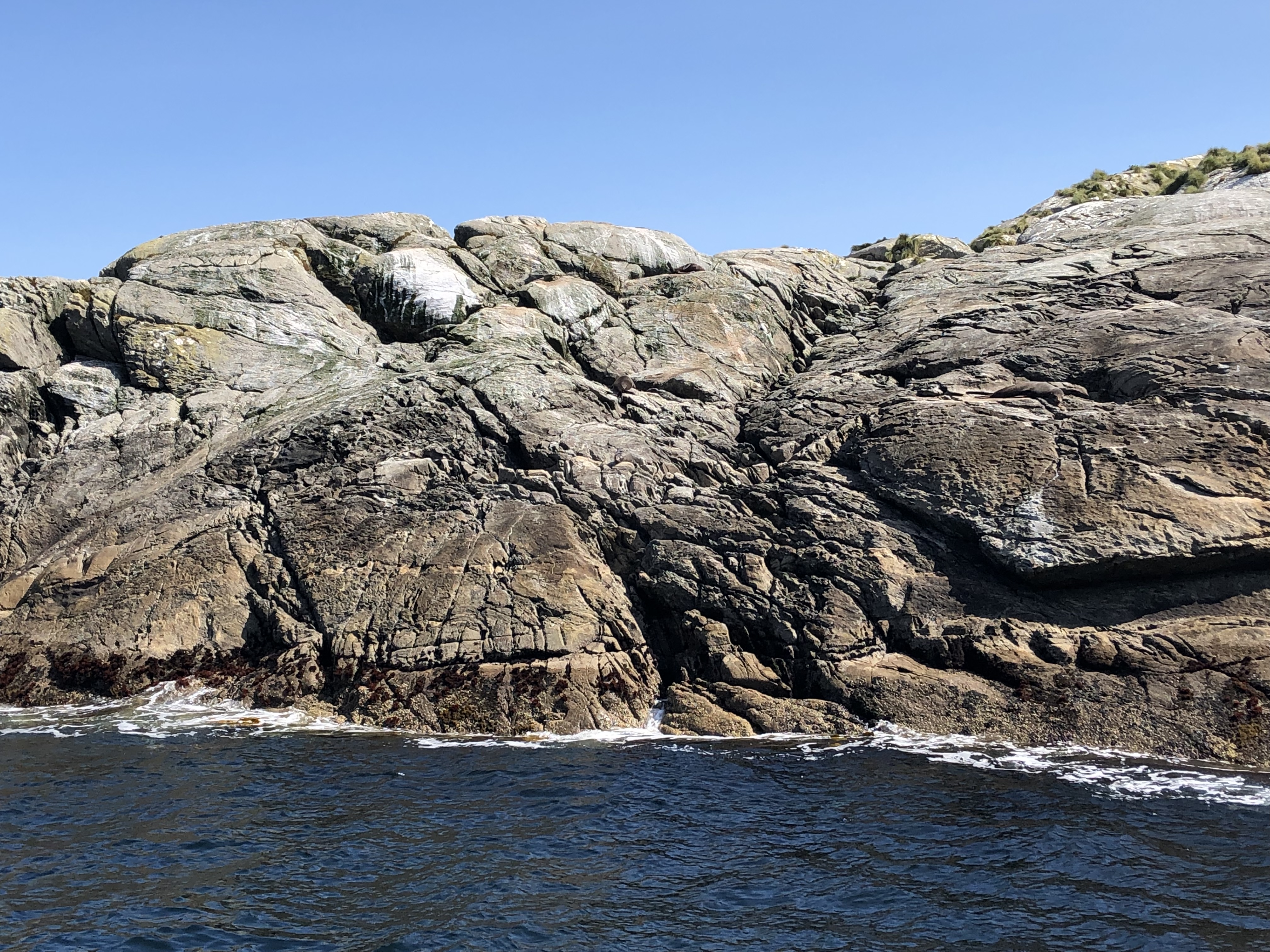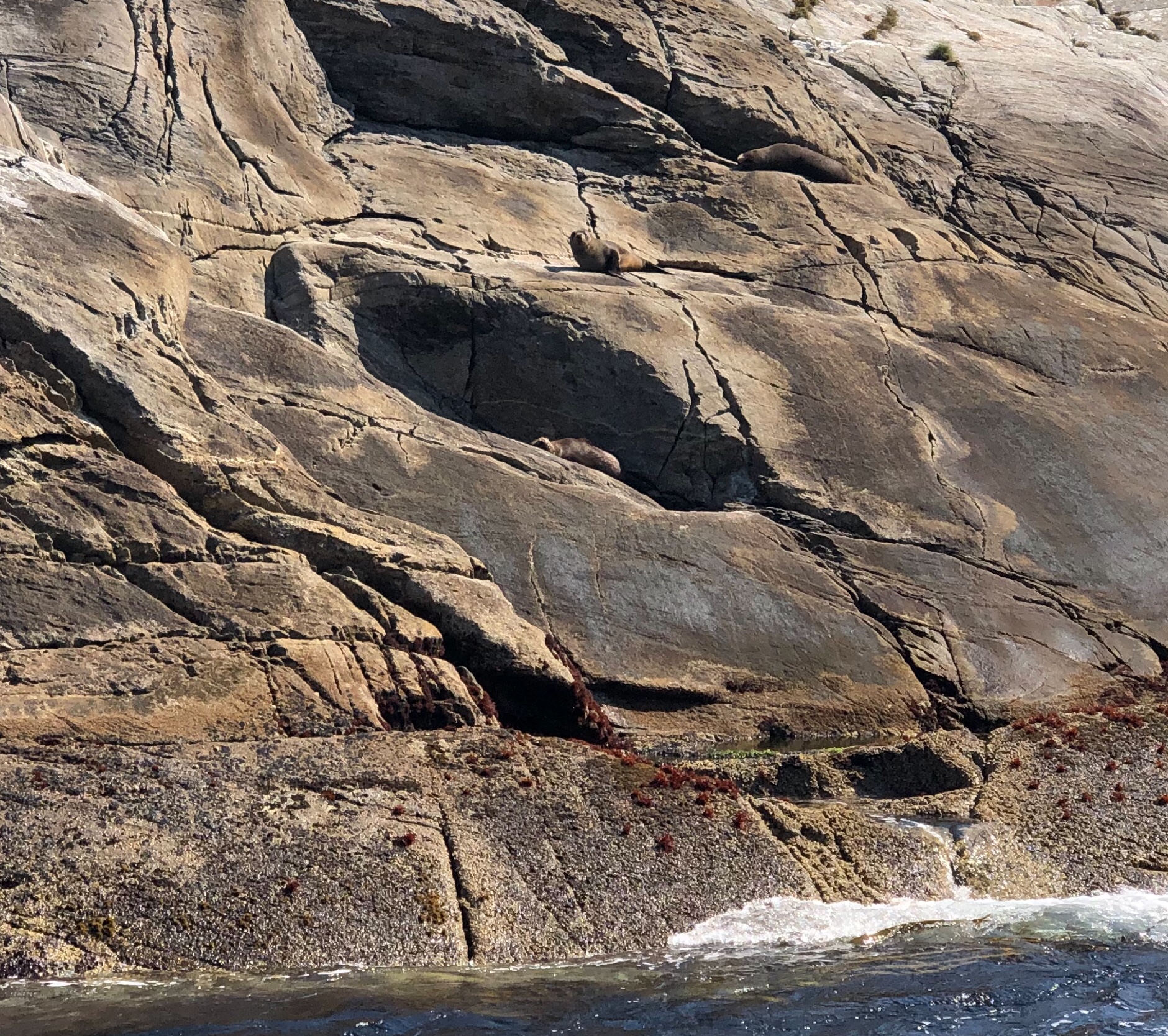 Next on the agenda were lobsters (or crayfish, as they are called in New Zealand). Jens and Franzi donned wetsuits while we moored in a small bay, then went scuba-diving to hand-fish for the lobsters.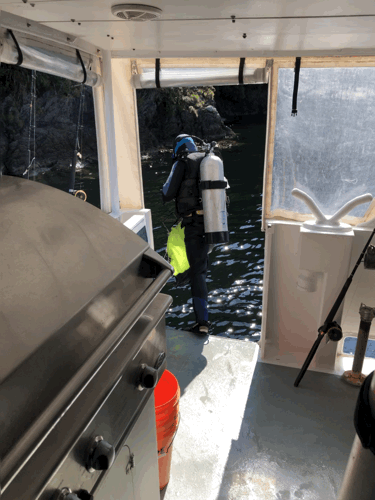 They were both carrying large mesh bags, and Jens had a waterproof GoPro. We watched for around half-an-hour as the bubbles from their scuba gear showed us their location near the shore. We were all slapping away sand-flies periodically – these evil little blighters are prevalent in large numbers here on the west coast, and can deliver a mean bite. They were only really a problem when close to the shore, fortunately. Then Jens and Franzi returned, declaring success – six large lobsters, certainly enough for all of us. Apparently they had several more until checking them – there are strict rules on the size of lobsters which can be taken, and on not catching females with eggs, or those which have recently shed their shells in order to grow a new, larger one.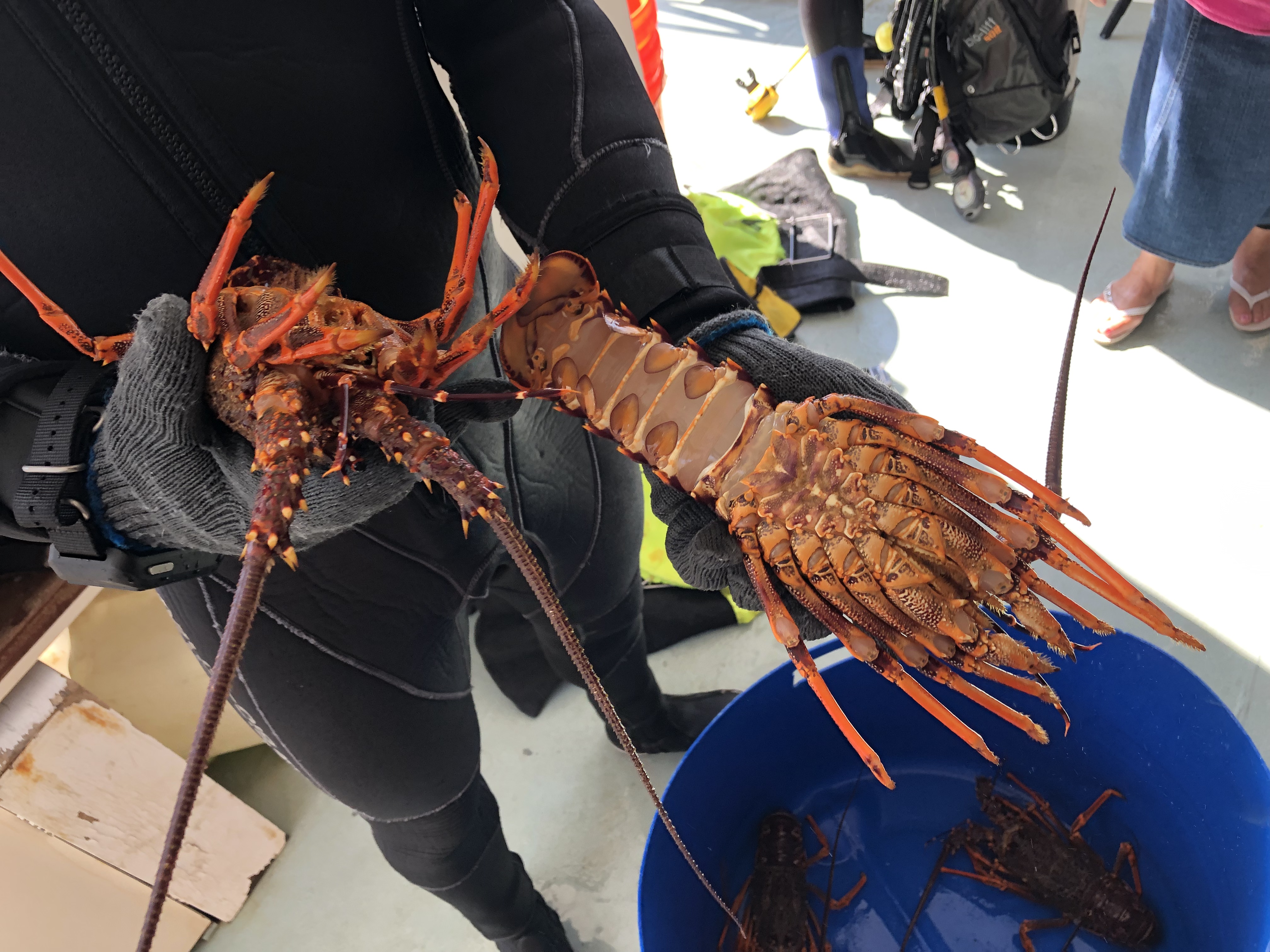 On chatting with Jens later he told me that the top four or five metres of the fjord were fresh water (rising up to eleven metres in flood), and that when underwater he could see the point of transition from fresh to salt water – fascinating. He showed us the video footage he had recorded from the dive, with scores of lobsters sitting on the rocks below the surface.
Dave asked if anyone wanted to go kayaking. Of course we did (well, four of us did). We sailed up a long side arm of the fjord to a lovely quiet bay and moored up. Franzi set about filleting all the Tarakihi, while Dave and Jens lowered the dinghy and kayaks from the upper deck. We managed to get into our kayaks without sacrificing too much dignity and then spent a blissful forty minutes circumnavigating the bay. It was a serene experience, as long as one stayed far enough from shore to avoid the sand-flies. From a distance we could see the gulls hovering around the stern of Tutoko II waiting to hoover up the discards from the fish-filleting process.
It was blissfully relaxing, and we managed to re-board without disaster. Shortly afterwards Dave came hurtling back from the bridge and hopped into the dinghy, fishing rod in hand. Jens laughingly explained that since they had started working together in October, Dave had become increasingly obsessed with catching a Kingfish, and clearly he had spotted one. We all watched from the upper deck, and sure enough after a couple of casts it became clear that Dave had something on the hook. It took some considerable time and effort for him to reel it in, but the pride on his face became evident as he returned in the dinghy – he had indeed finally caught a Kingfish.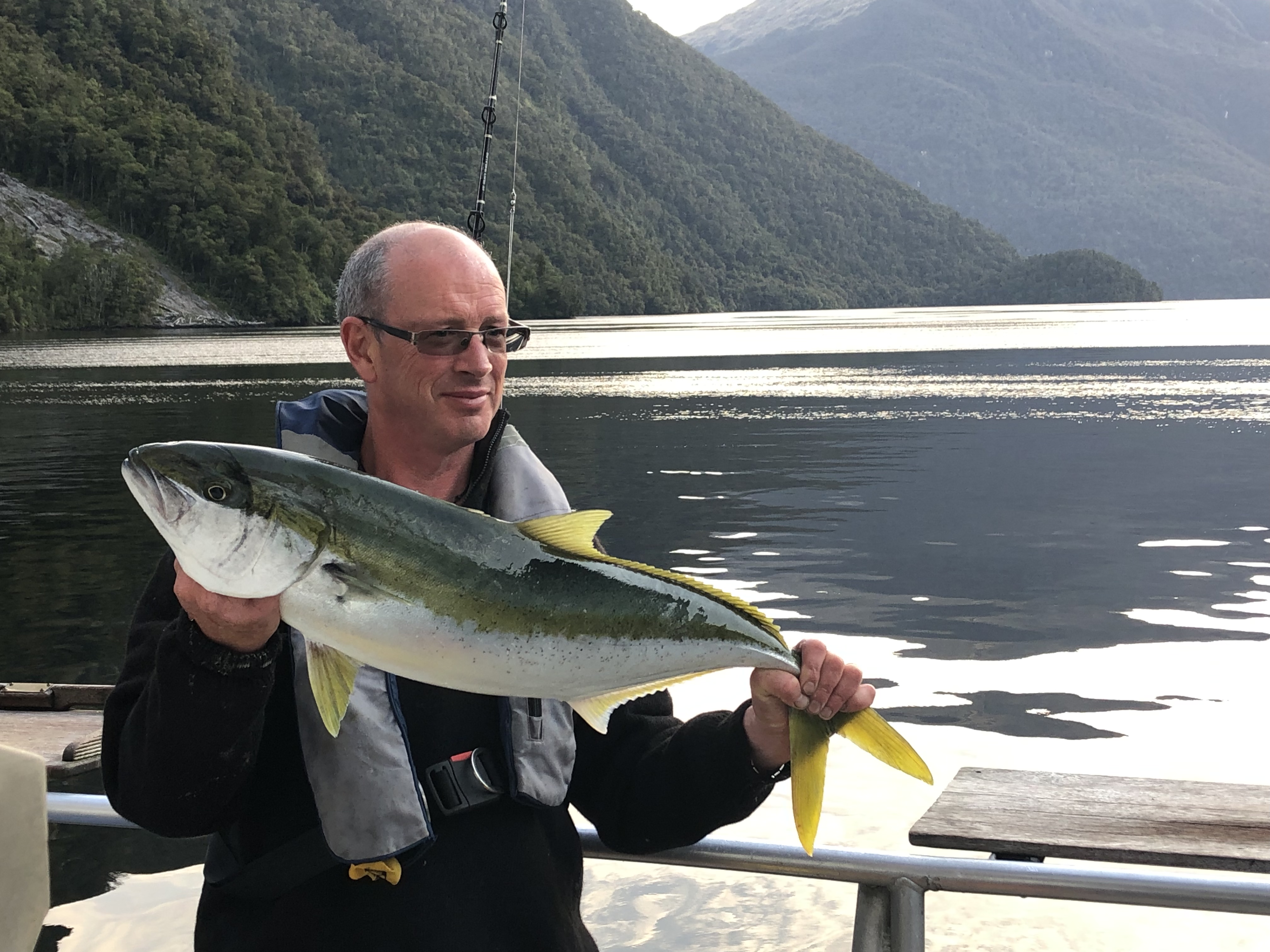 We had some catching up to do after the kayaking, as the rest of the passengers had already switched to 'aperitif' mode. So we opened a bottle of Esk Valley Pinot Gris and joined in. Before too long dinner was announced, and we all settled round a large table for a superb four course dinner. The second course was lobster, naturally, and Jens gave a tutorial on lobster eating to ensure we didn't waste any of the good bits. Then we ate the Tarakihi, which was sublime. Normally I'm not a big fan of fish, but this was wonderful, and I'm really not saying that because I caught it myself… ????
After dinner, and more wine, we all sat around the table and chatted. Over time a lively and wide-ranging conversation developed, and bounced across the table back and forth, only to founder with a resounding "clunk" each time it reached the Trumpian corner of the table. These two seemed to lack any sense of humour whatsoever, and didn't want to engage in any conversation that didn't cover the all-round superiority of the USA and the triumphs of capitalism. Out of politeness we all tried to start conversations with them, but they really didn't want to know, and sat there in sullen silence almost throughout. The other couple from the USA (Dick and Jann) were clearly horrified by this, and took time to tell us so later on. They were delightful, well-educated, well-travelled citizens of the world, and could not have been more amiable companions.
We transferred to the upper deck for a few minutes before turning in, to take advantage of the complete absence of light pollution. What greeted us was a spectacular sky, chock-full of stars, with the Milky Way as bright as we've ever seen it.
And so to bed.
Motorhome day twenty-eight: Doubtful Sound to Te Anau
Dave had warned us of an early start this morning. I slept fairly fitfully, as the bed wasn't quite long enough to accommodate me, and when the engines were started at just before six in the morning I decided to get up and watch the dawn. I was still slightly too early, though, and downed two cups of coffee in the galley until Clare joined me, not wanting to miss anything. We were already under way, and went up onto the top deck just as the light started to break through the clouds.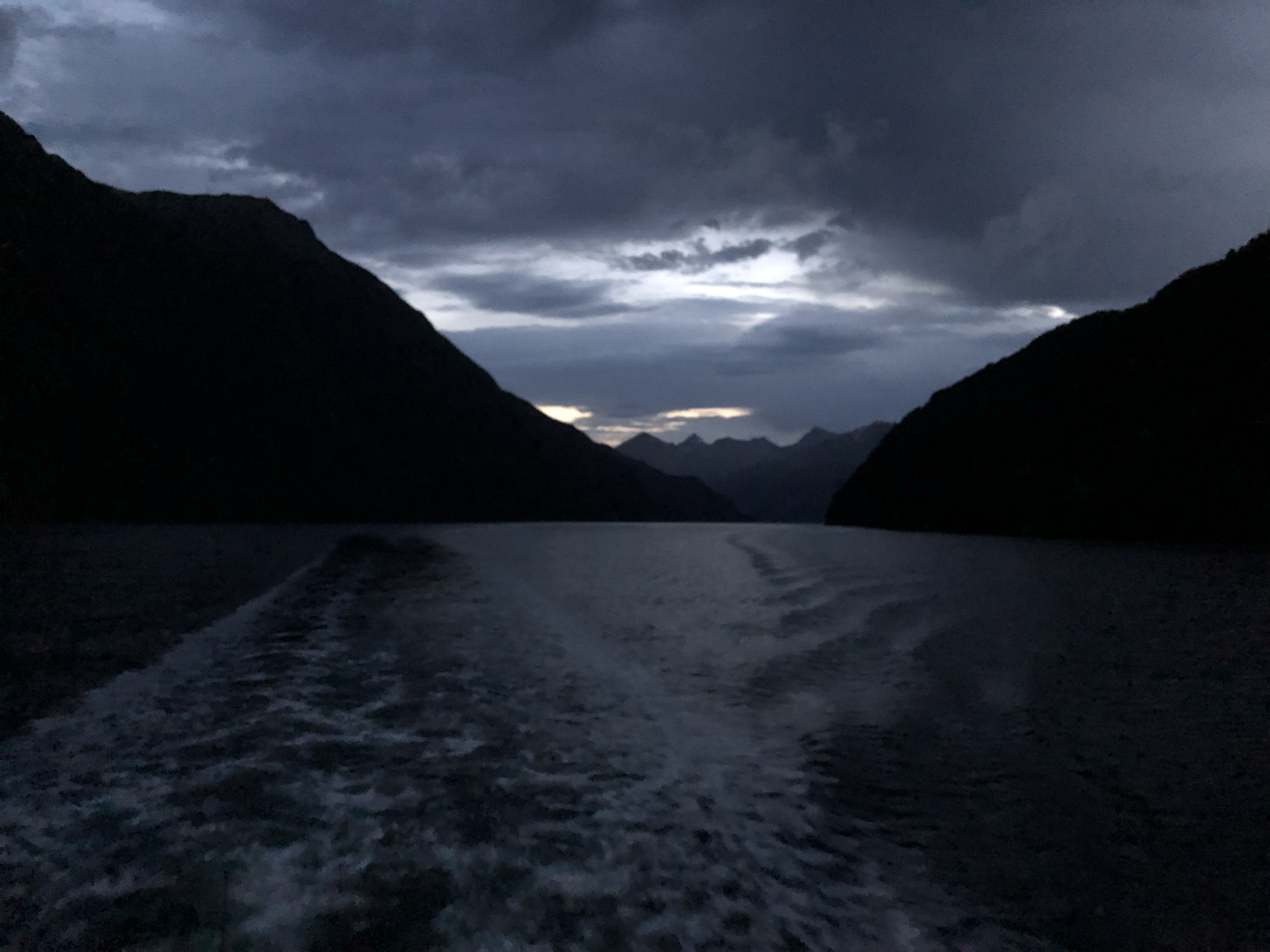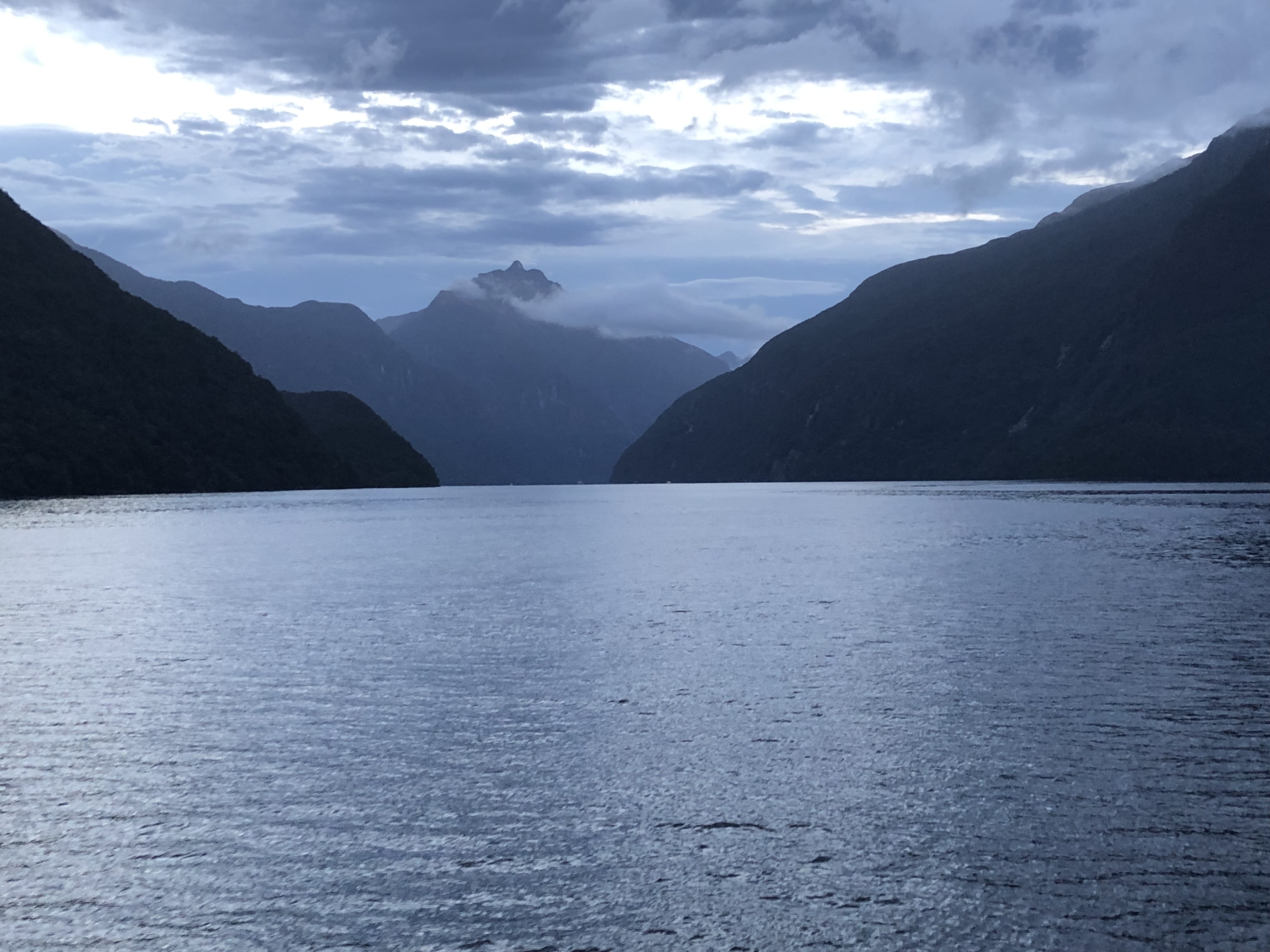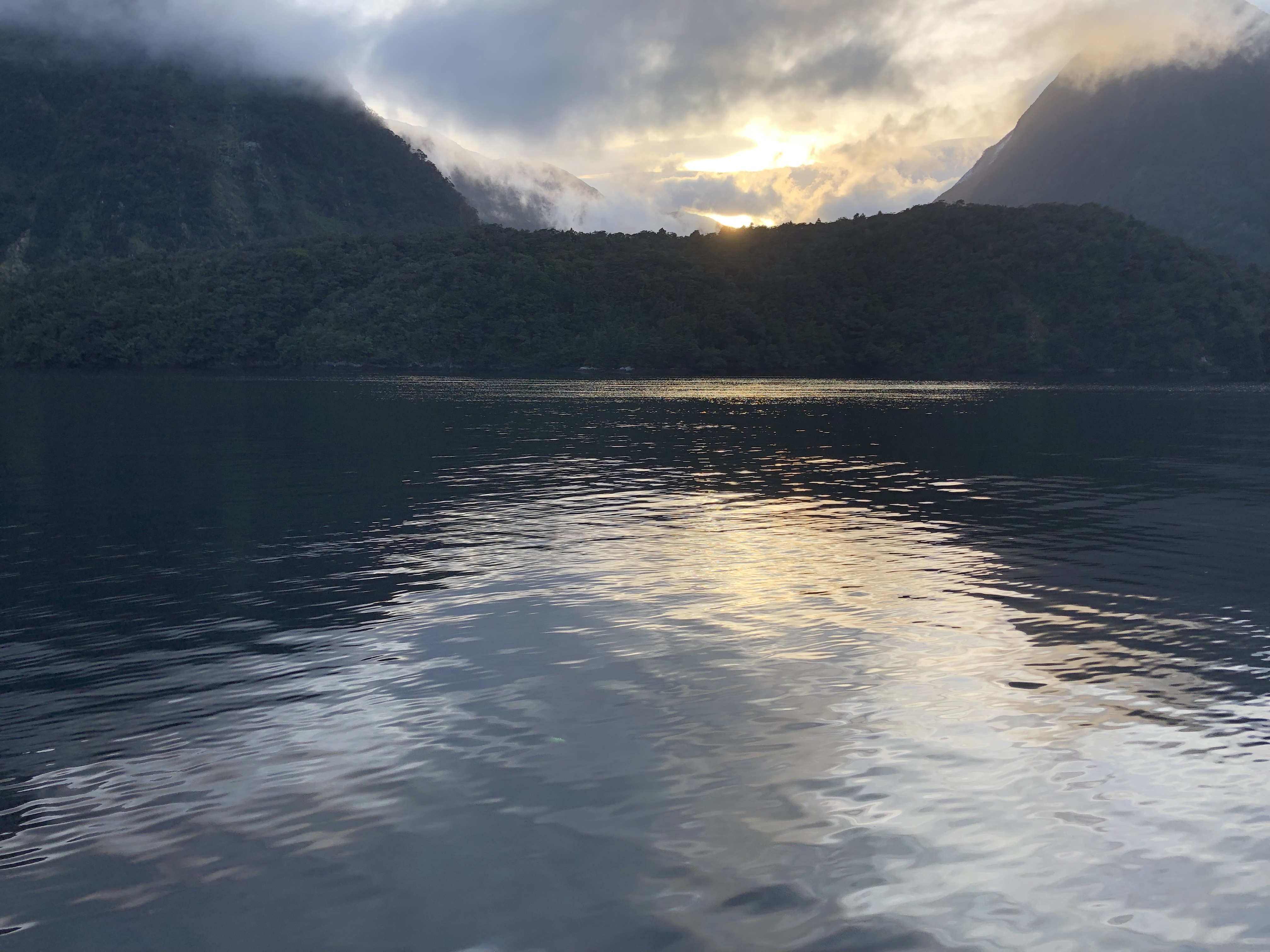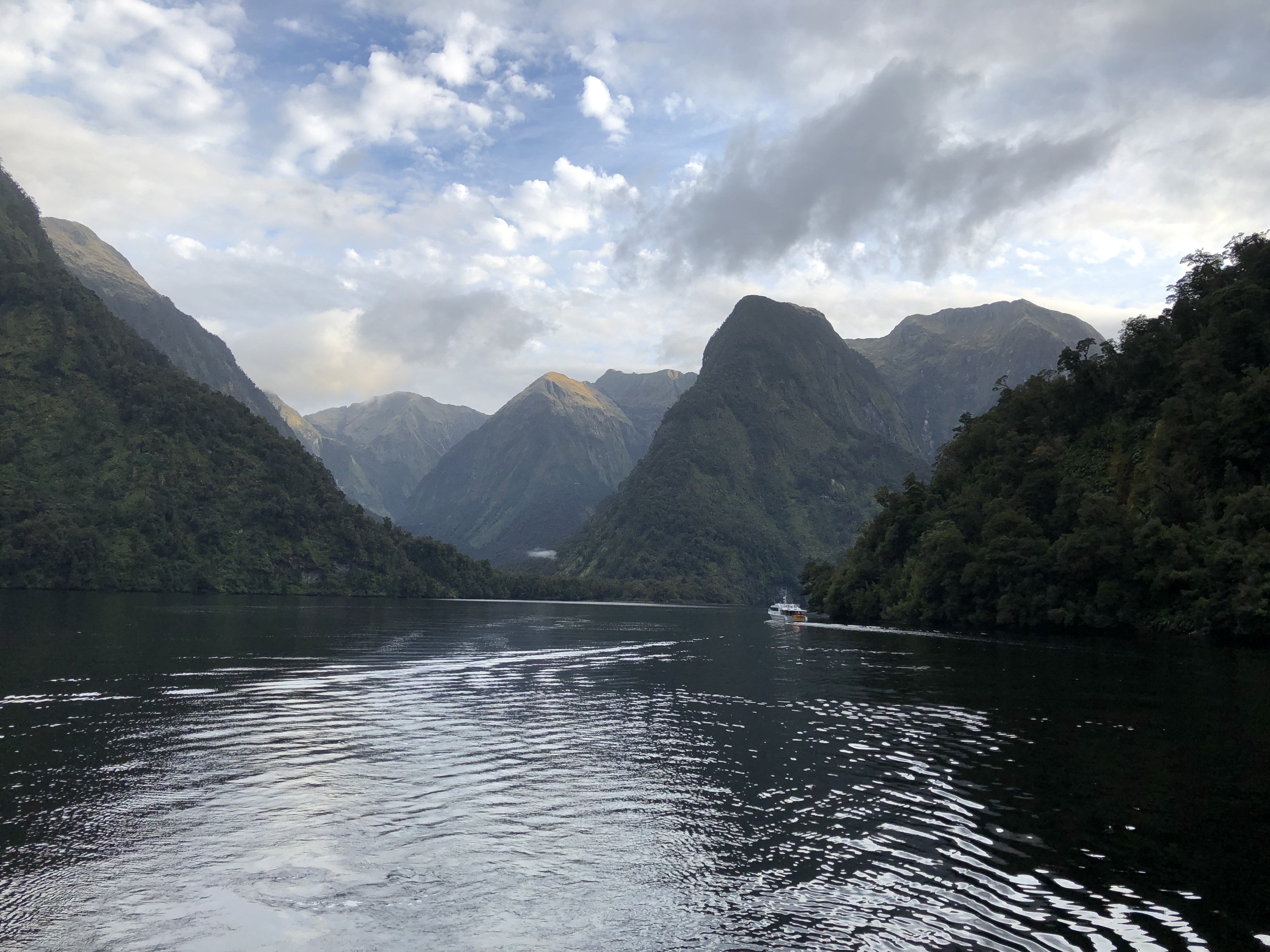 There was considerably more cloud than yesterday, but it made the lighting even more interesting for photography purposes.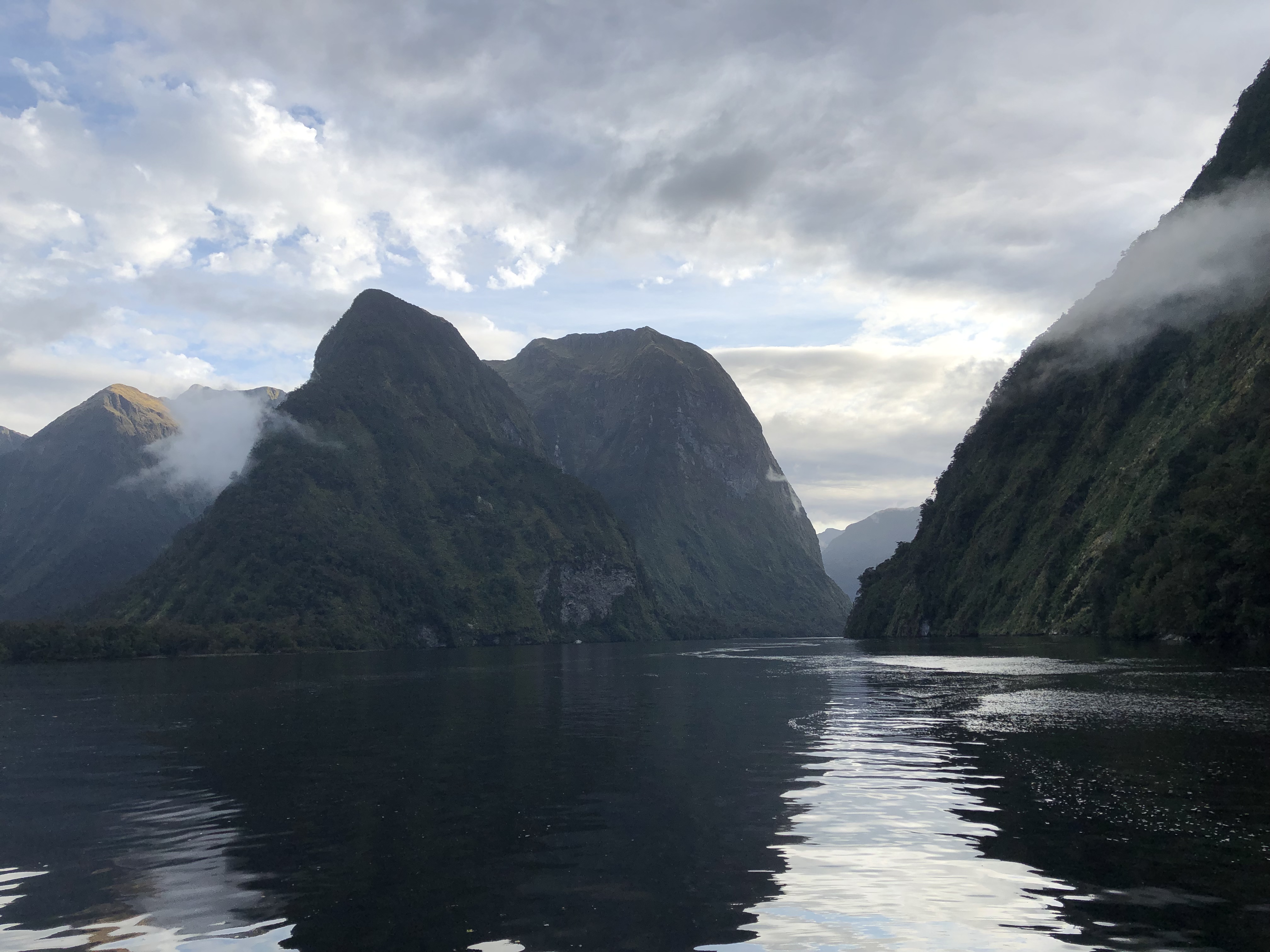 Soon we were joined by the Aussie couple, Craig and Kerry. He was taking photographs at the stern of the boat, then shouted that he had seen a dolphin. Almost contemporaneously Dave announced the same thing over the tannoy, and before long we were all crammed into the bow looking over the sides. What greeted us was the glorious sight of about six to eight large bottlenose dolphins, some on each side of the bow, swimming directly beneath. For ten minutes we were glued to their every move – they seemed very much to be enjoying jumping and rolling in the water next to the bow. The light was still fairly low, so the pictures were not ideal, but these will give an impression.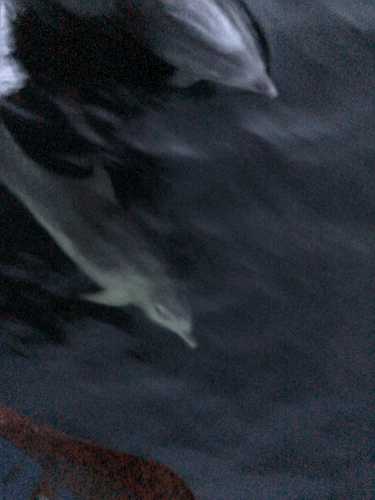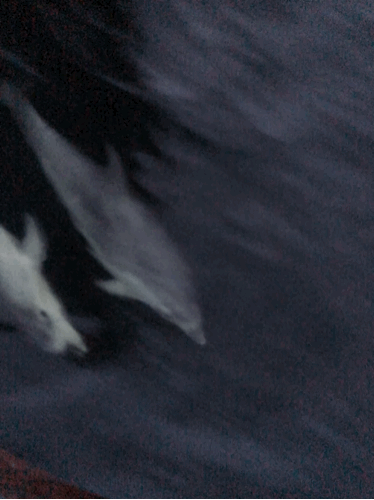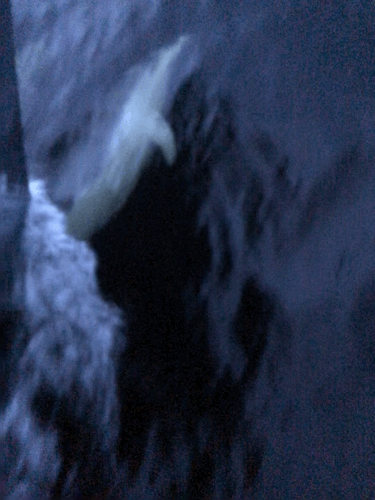 Meanwhile Jens had prepared a full breakfast (lobster scrambled egg, anyone?). We sat down around the large table and ate every scrap, together with toast and Vegemite, and lots of tea and coffee. Almost as soon as he had prepared breakfast, Jens was busy with early preparations for lunch for the next group of passengers. We spent the remaining time up on deck, enjoying a succession of stunning vistas, which were ever-changing as the sun came up.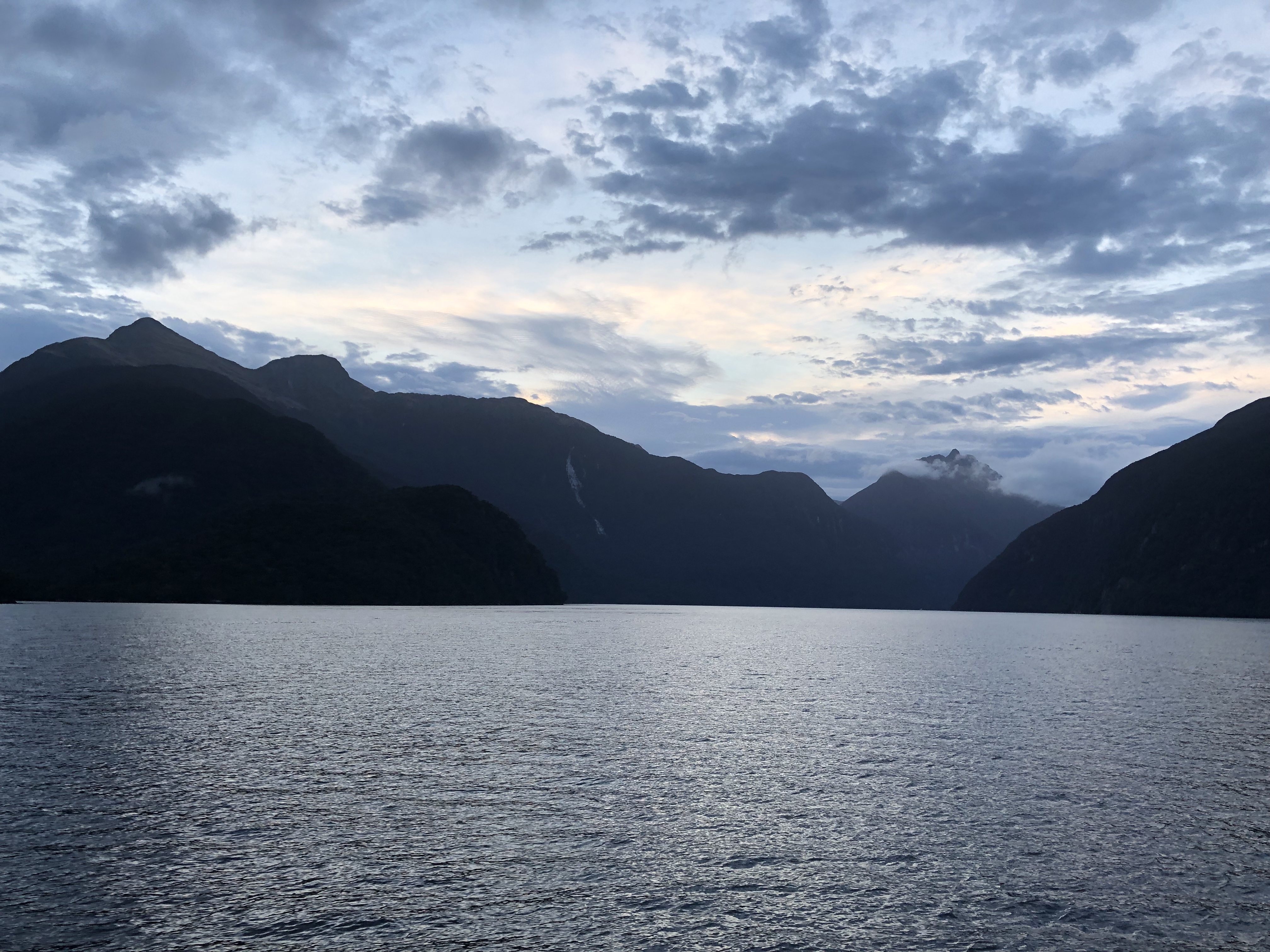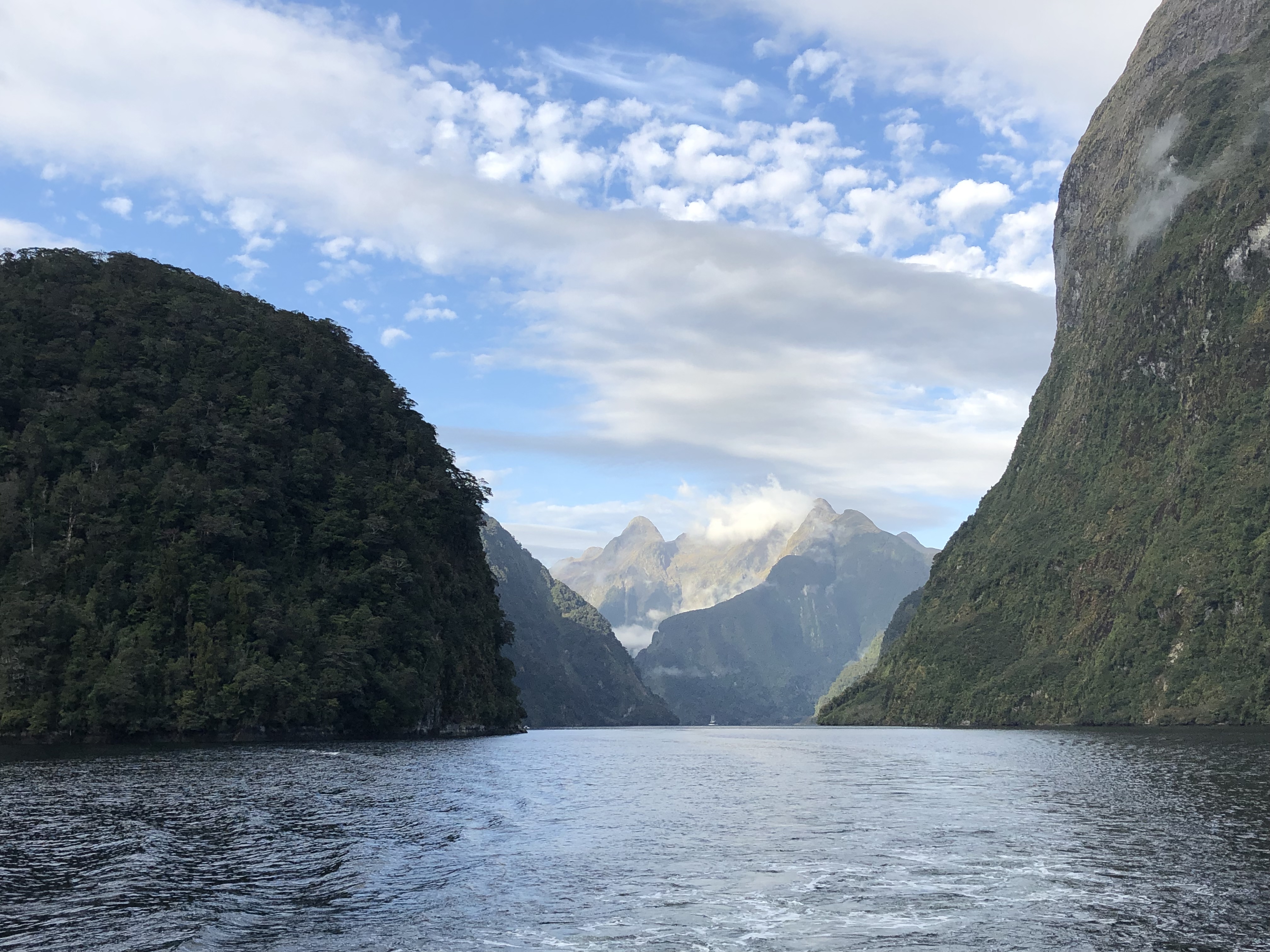 All too soon we were approaching Deep Cove. Jens switched roles once again and drove us up over Wilmot Pass once more, stopping a couple of times on the way at a lookout point and at the exit tunnels from the hydroelectric power station.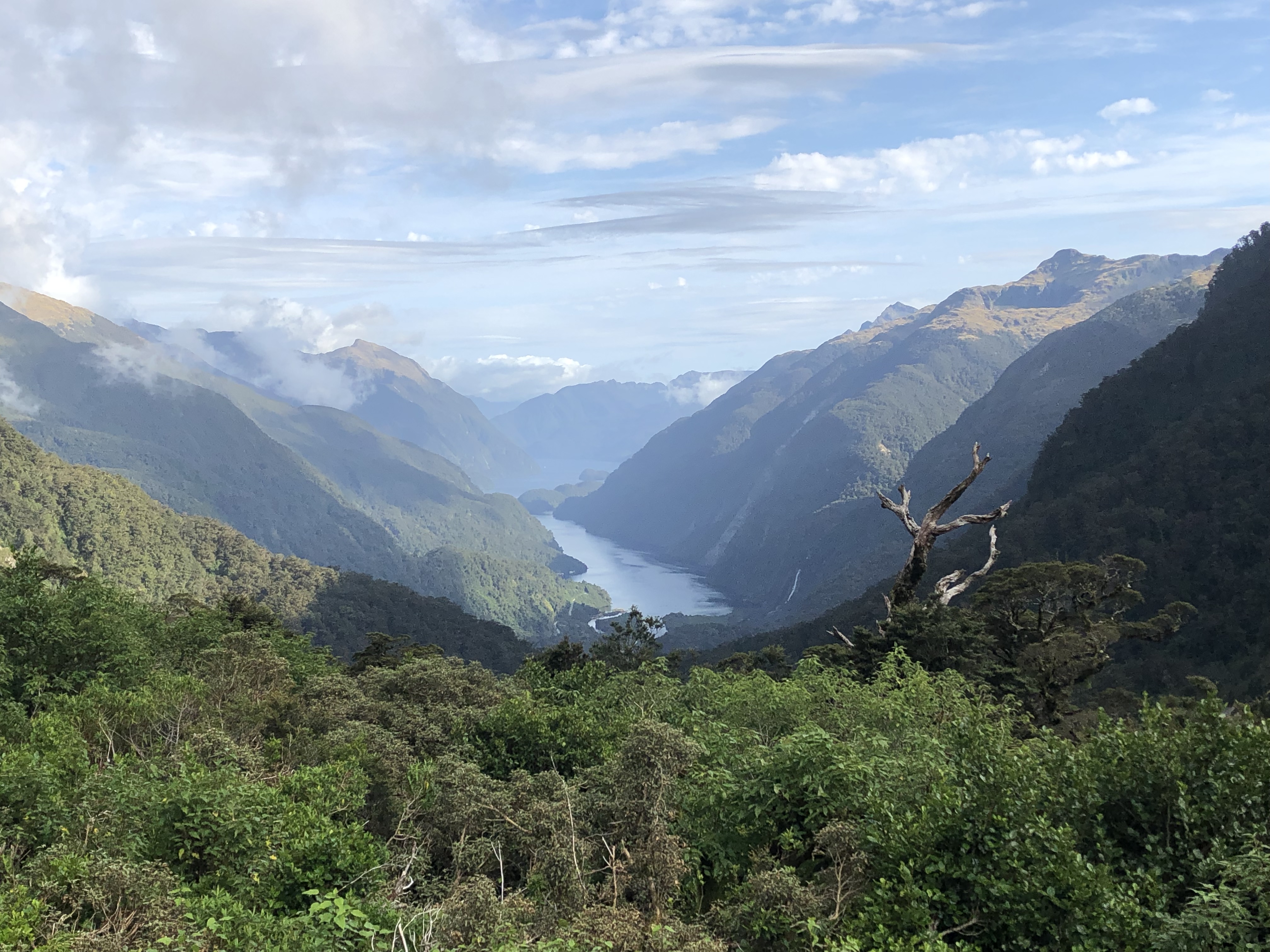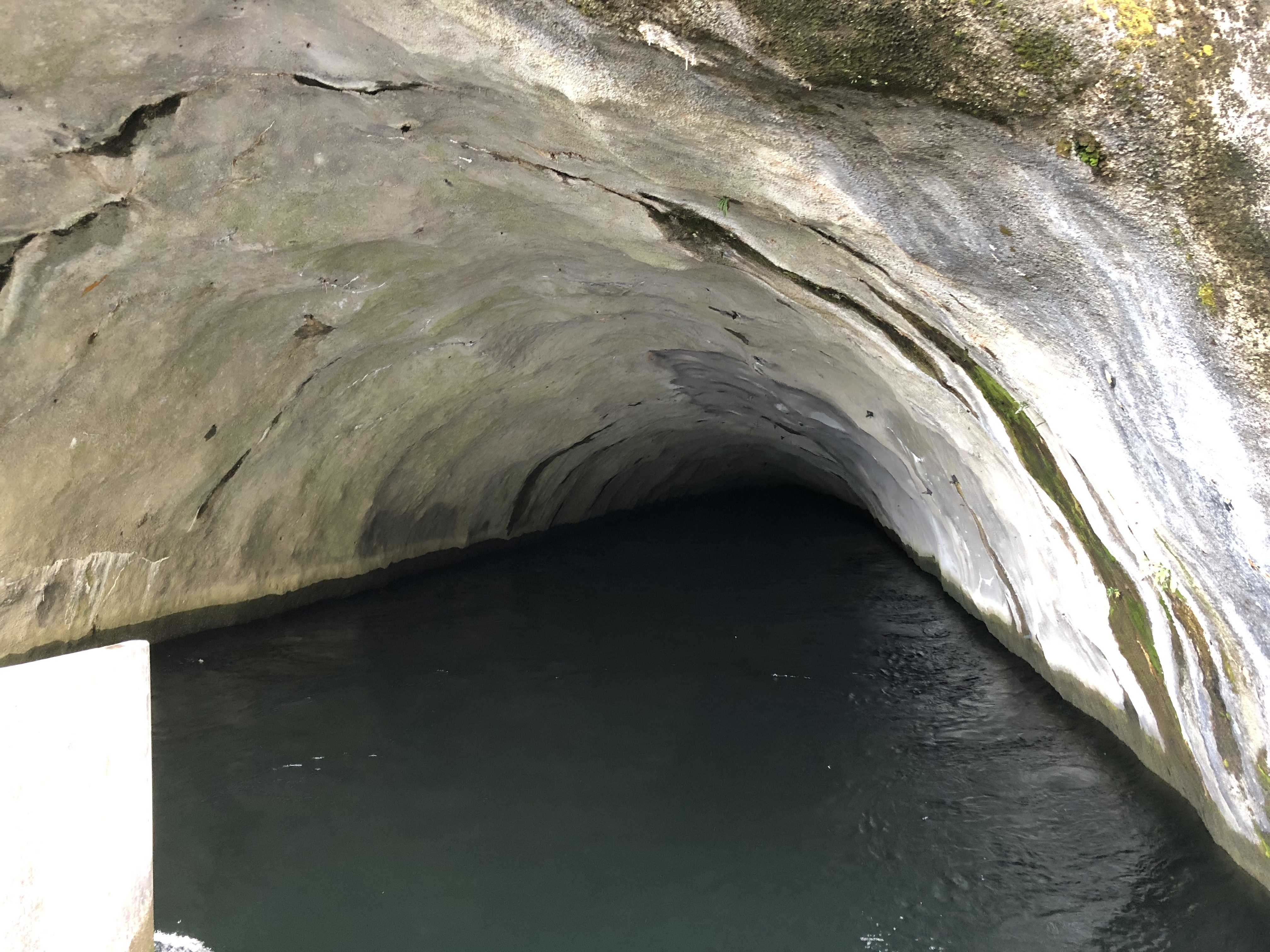 He dropped us off at Lake Manapouri, and we returned on the ferry to the eastern side of the lake.
What a magical experience it was, from start to finish. We had a wonderful two days, and looking at the GPS tracker, realised just how much of Doubtful Sound and its various side arms we had seen.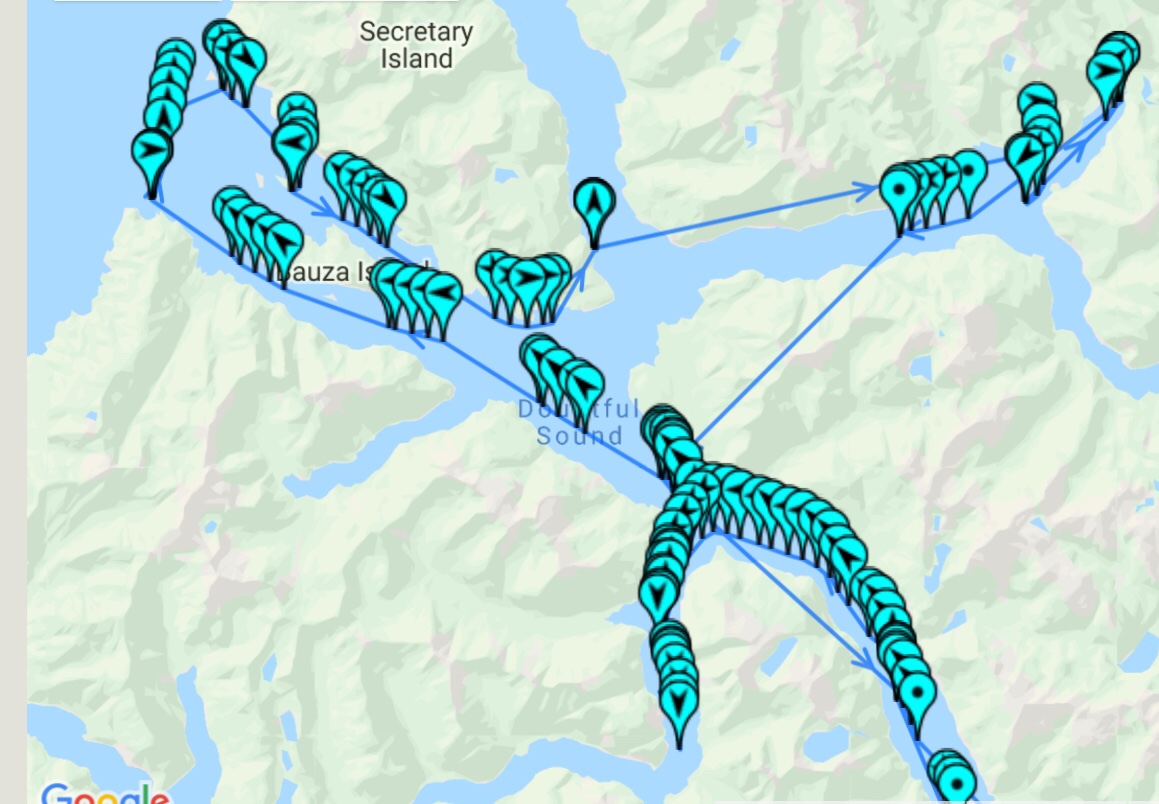 We were tired after such a short night's sleep. Fortunately we only had a short distance to drive, to the town of Te Anau, where we did some shopping before checking into our campsite. Unsurprisingly we were in bed and asleep by about nine thirty.