Distance: 65.4 km
Time: 3 hours 33 minutes
Average speed: 18.4 kph
Ascent: 293 m
Descent: 338 m
Total distance: 1,274.4 km
Total time: 67 hours 47 minutes
Our accommodation in Champtoceaux was small but perfectly formed – a converted workshop, or similar, with a pull-down double bed. It was airy and cool, by virtue of the thick walls – for once the fan was a luxury rather than an absolute necessity. It looked out over the owner's garden, and we had a visit from their cat who, after a single visit, decided that we were of little interest. Charming!
Unfortunately the Stoker's illness was showing no sign of receding – a long sleep in the afternoon failed to yield any improvement. After a quick negotiation with Françoise, our hostess, we agreed to stay two nights instead of one, to allow for some recovery time. After that we would have to move on, as the apartment was booked up.
So yesterday was spent sleeping (Stoker) and reading (Captain)! This generated sufficient improvement that we were able to set off again this morning, even if the Stoker wasn't yet at full recovery.
We set off back down the long-ish climb we did on our last cycling day, pausing to admire the view over Oudon before climbing steeply up the other side of the valley.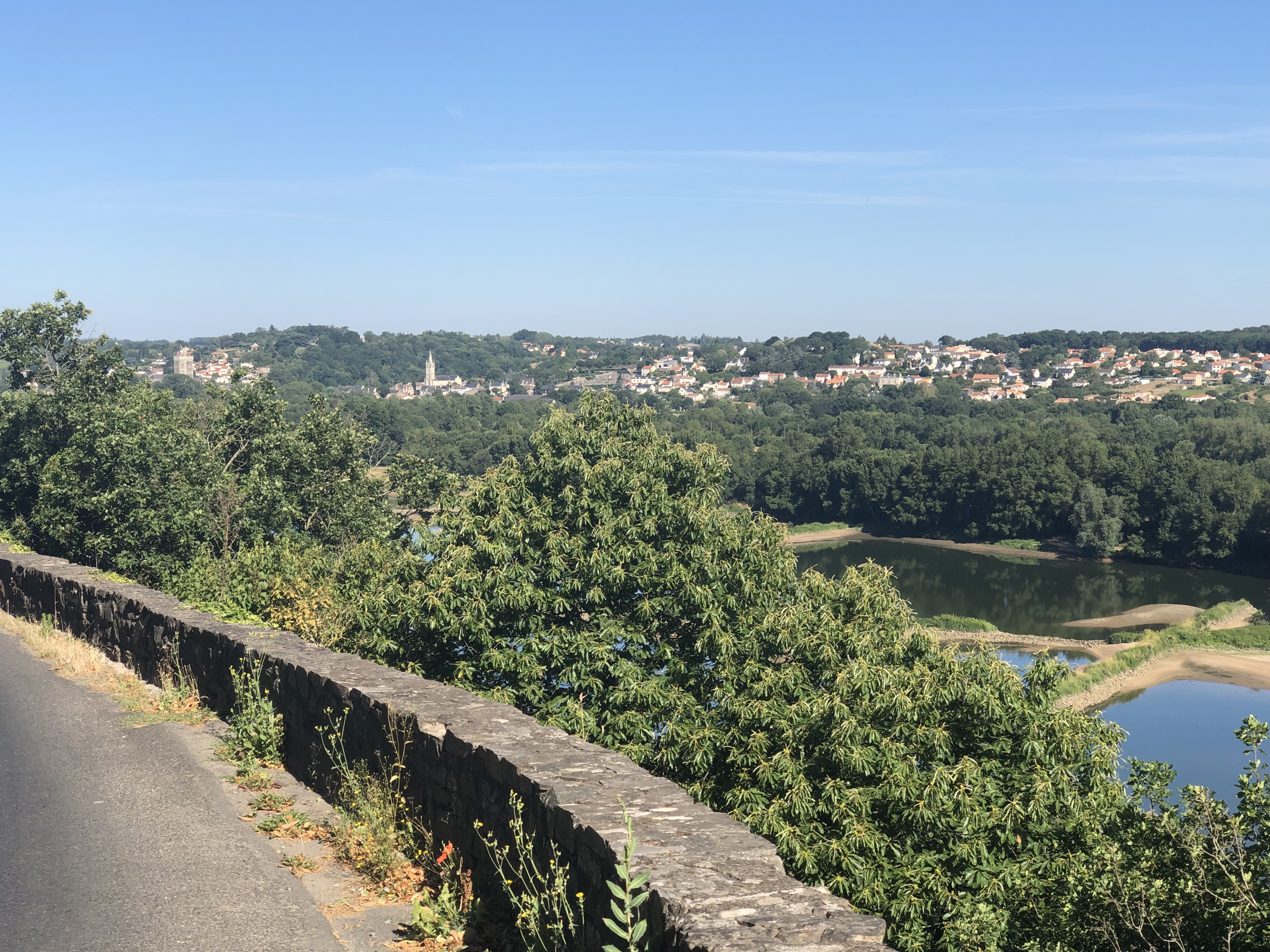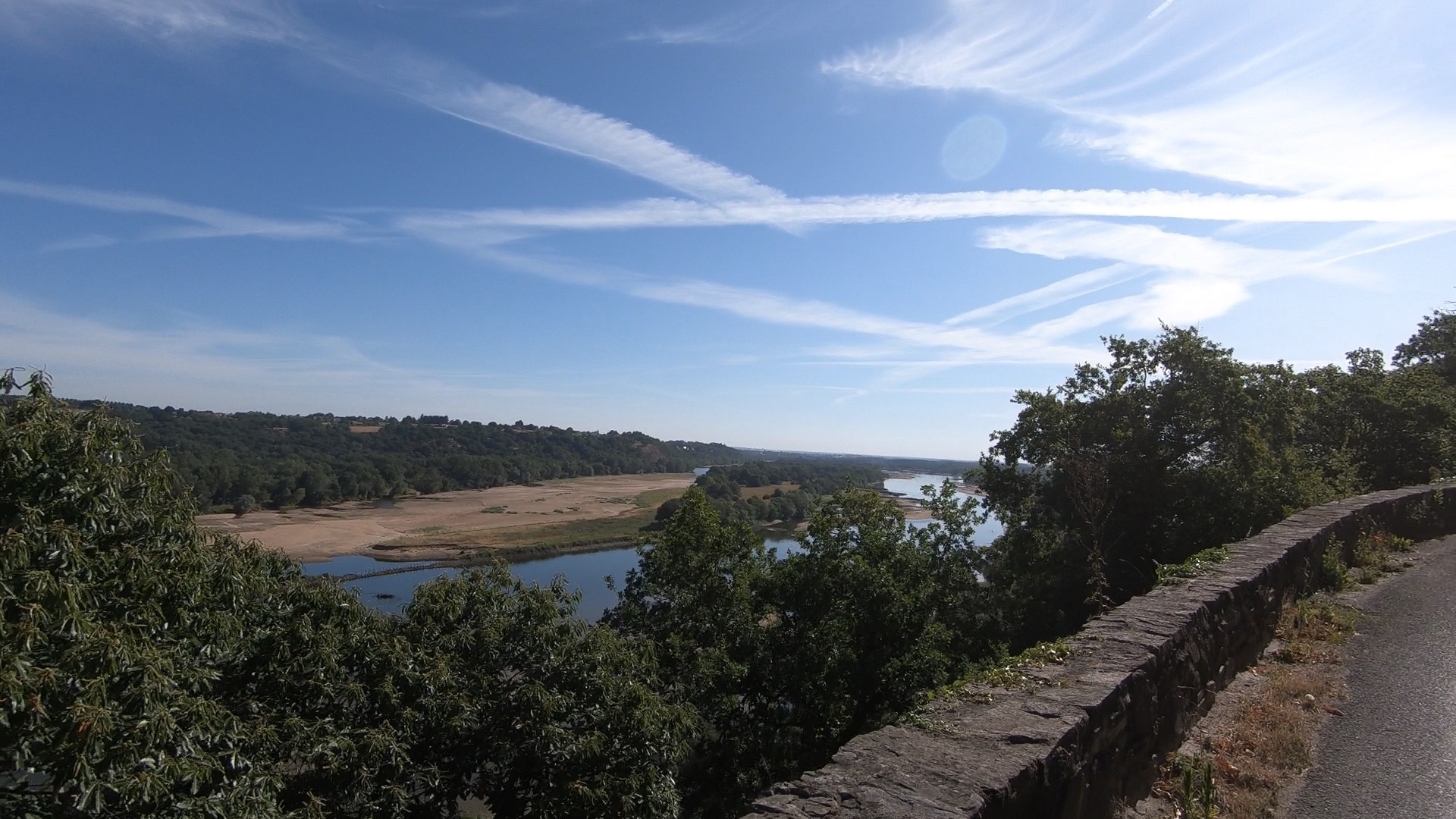 This proved to be a case of bad planning, as a later examination of the route showed that we could have stayed down by the riverside, avoiding the second climb. Still, it got the muscles warmed up. We dropped back down to river level, wondering whether it was tidal yet. I checked later, and indeed it was – the tidal extent of the Loire goes as far as the bridge at Oudon.
We continued along the rive gauche, in woodland and dappled sunlight, and on ever-changing surfaces. At Mauve-sur-Loire we crossed to the other bank, marvelling at the increase in the river's width.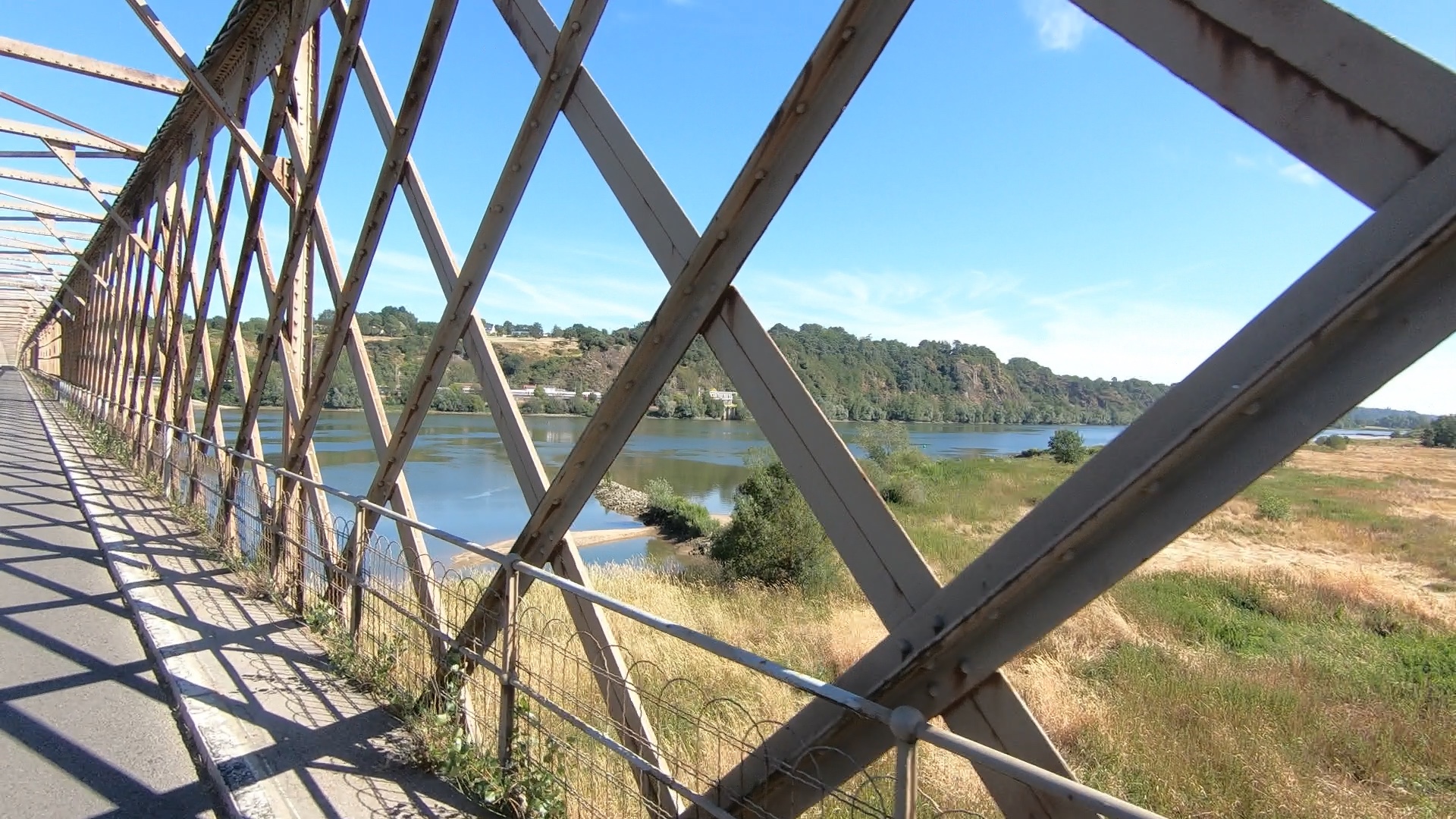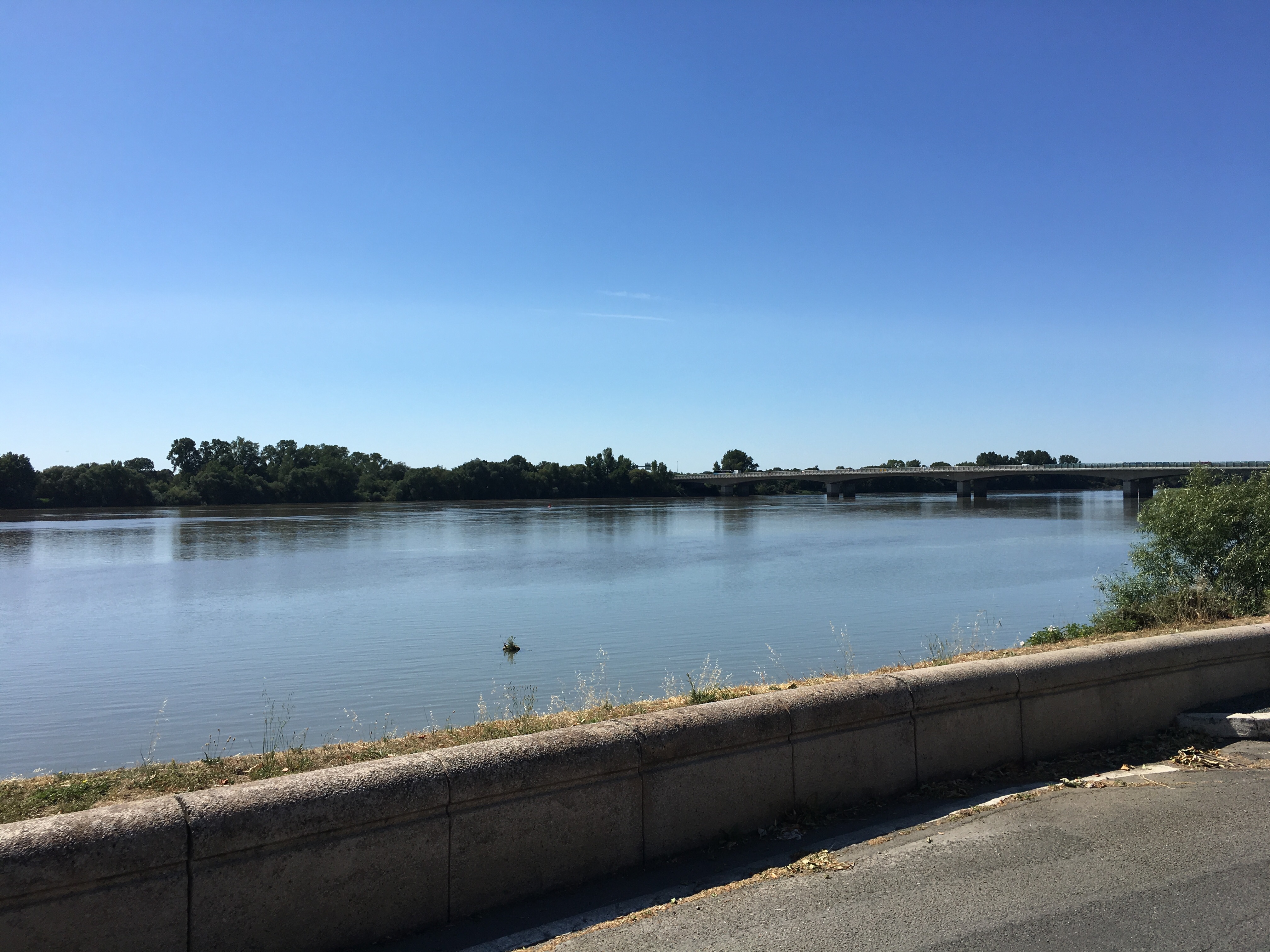 We were approaching the outskirts of Nantes, and as usual when approaching a large city, were conscious that there may be a lot of traffic. To our surprise, though, the river-side promenade continued almost to the very centre of the city. It was well-signposted and almost completely separate from traffic.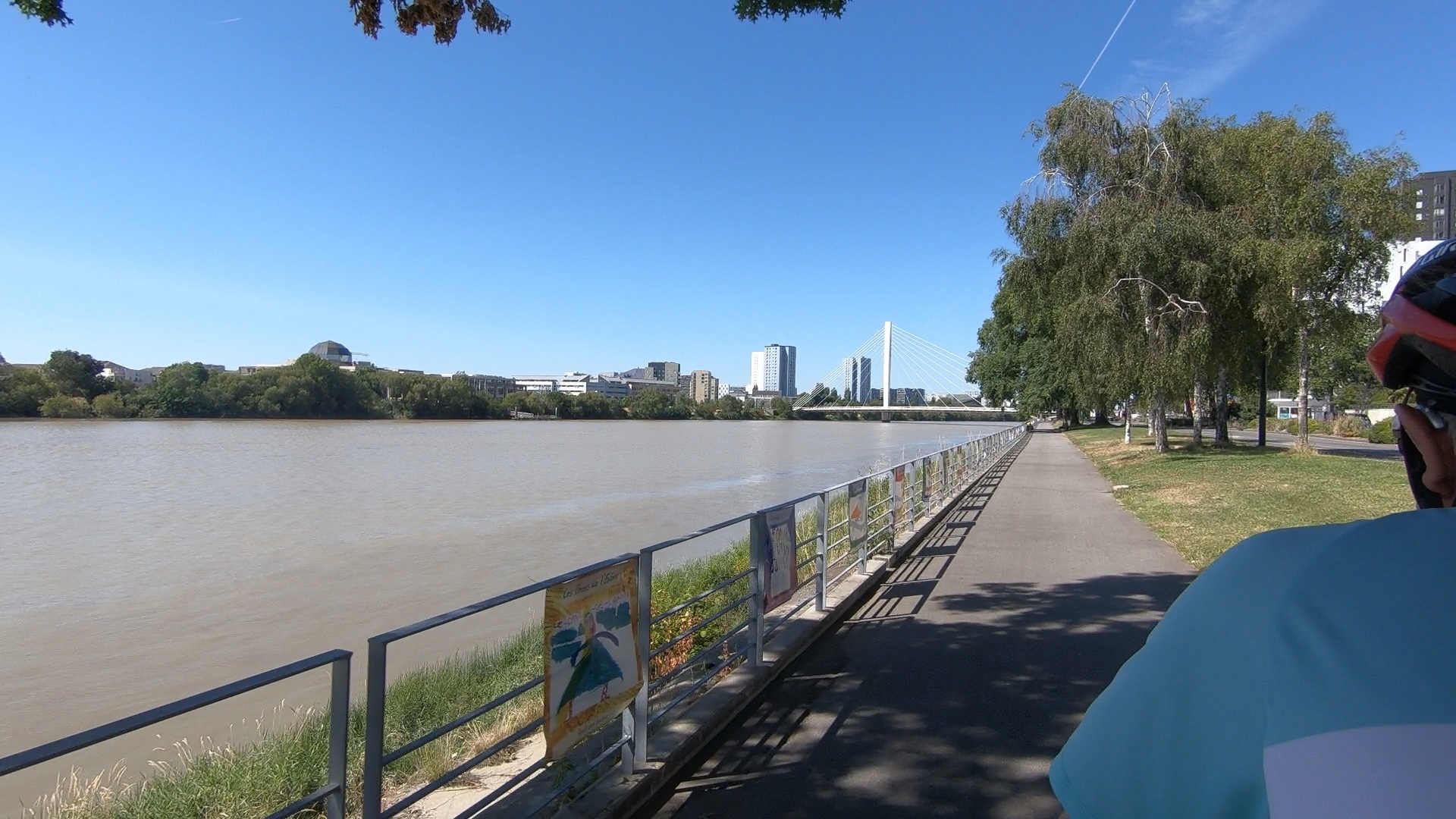 At Nantes we re-crossed the river, at least as far as the central "Île de Nantes". At this point all the helpful signposts disappeared, and we had a tricky twenty minutes or so weaving our way through pedestrianised areas, avoiding those pedestrians who were so riveted by their mobile phones that they didn't seem to care if we ran them over. Grrrr! We did spot a rather beautiful ship moored alongside the quay.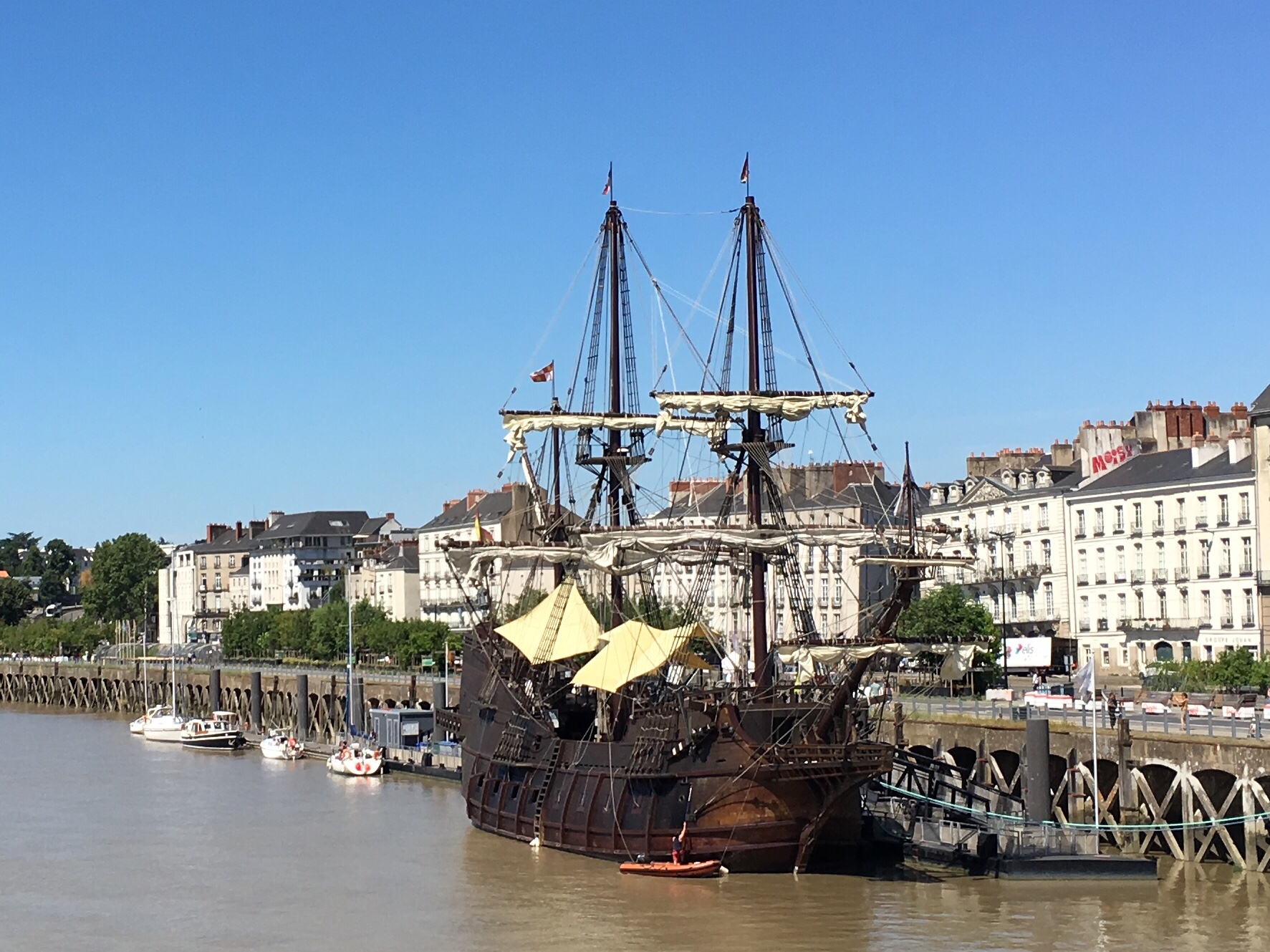 On, then, through what appeared to be disused docklands, to the bridge which took us back over to the rive gauche. An intricate navigation followed, as we tried to avoid as much traffic as possible, largely successfully. It was at this point that we started to see signs for our final destination.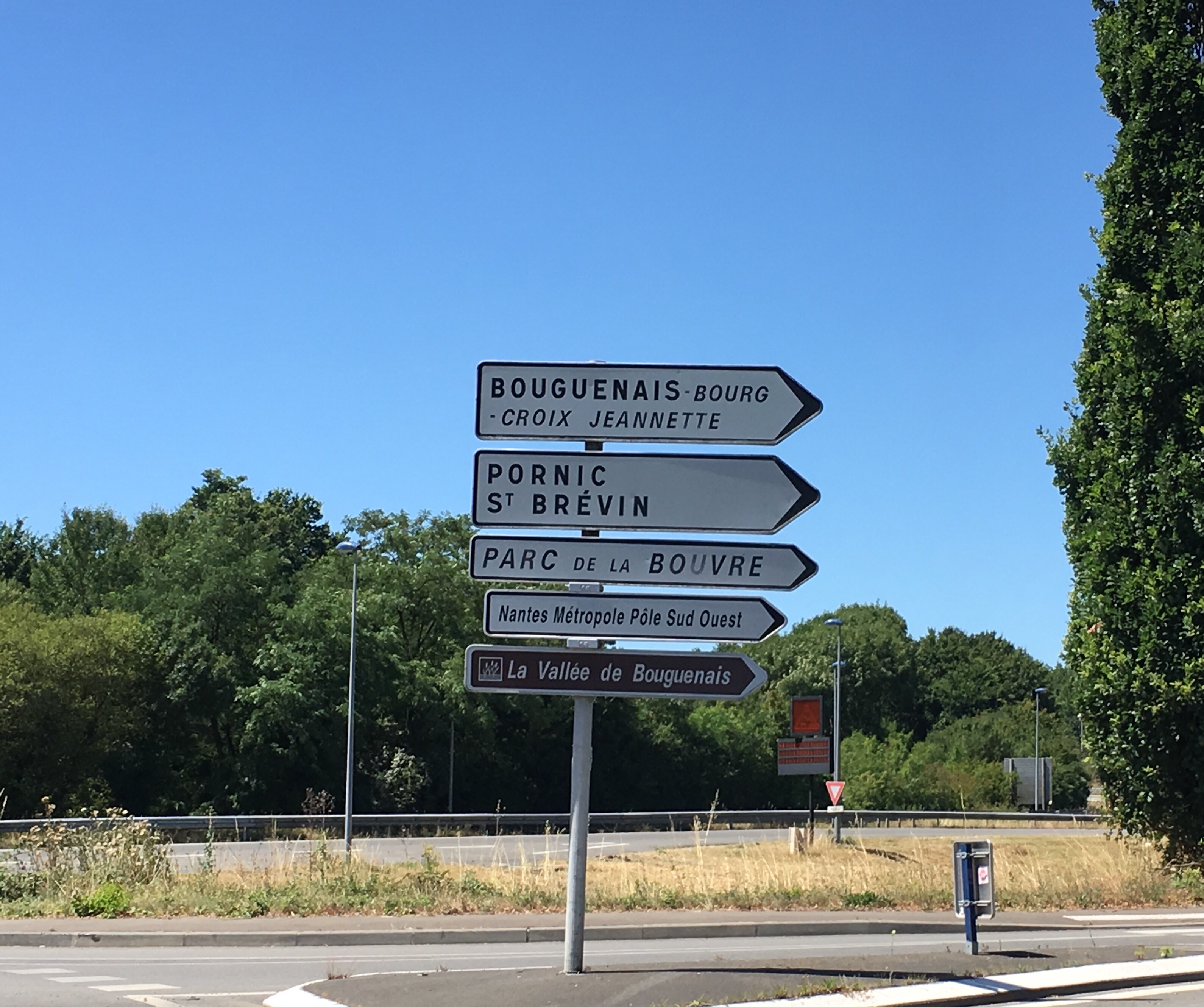 It was slow going, though, so we decided to seek lunch opportunities. The best we could find was a boulangerie in the town of La Montagne. It was about to close, but we negotiated a microwaved Croque Monsieur (which proved floppy and extremely difficult to eat!), some cakes and large quantities of Orangina. This we consumed sitting in the shade of the shop window, as there were no benches nearby.
We had only about twenty kilometres remaining but were tiring – it's difficult to achieve the same momentum when one of us is feeling compromised by illness or lack of nourishment. The route took us around the houses before dropping back towards the riverside. When we reached the town of Le Pellerin we watched the large ferry crossing the river (this being the last crossing point before the huge bridge at Saint-Nazaire) before striking off at a tangent towards our lodgings at Rouans.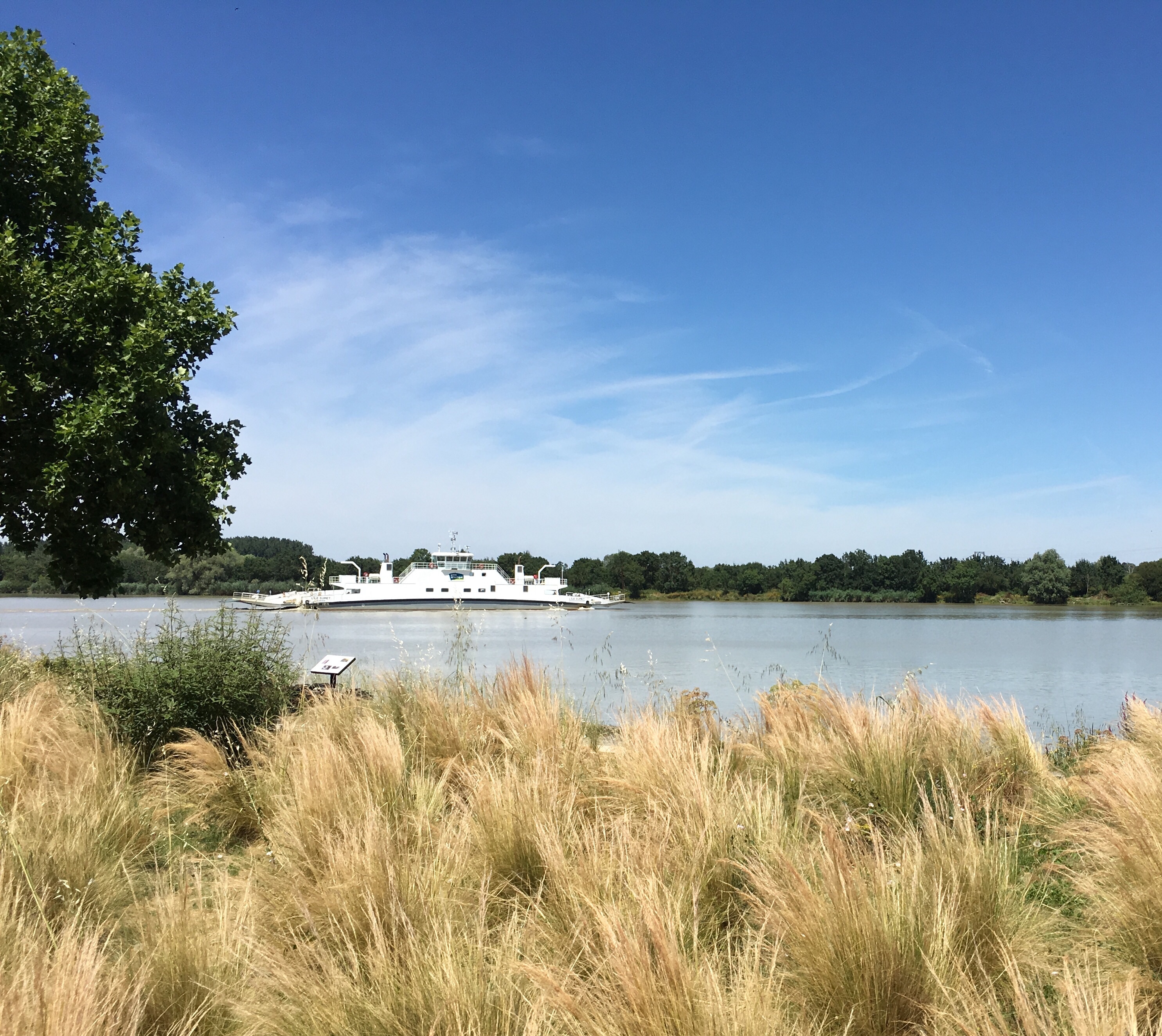 On entering Rouans we passed an elegant church, in a quite different style to those we have yet encountered.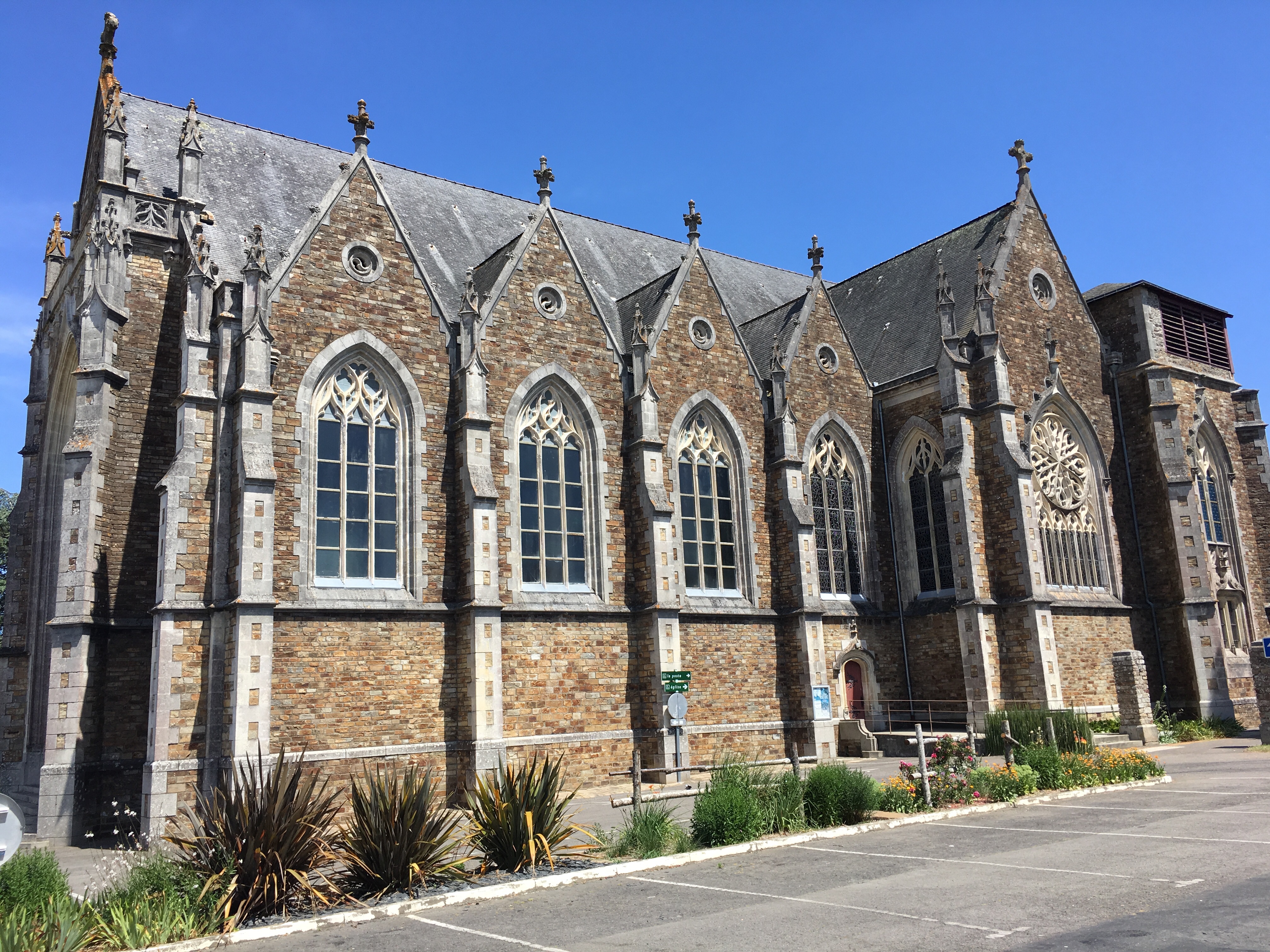 We were greeted by our host, Eudes, plus Claire and her aunt who was visiting her family here and offered to translate. To be honest, by now we've experienced most of the conversations one is likely to have with one's AirBnB host, and know how to ask the right questions, but it was most helpful of her anyway!
Tomorrow is our last cycling day. We'll head back down to join the Canal de la Martinière at Buzy, which runs parallel to the river. After passing through Paimboeuf we will continue to Saint-Brevin-les-Pins, which marks the official end of "La Loire à Velo". Finally we plan to cycle to Pornic.
Here's a video of today's route, and today's track.