Distance: 60 km
Time: 3 hours 01 minutes
Average speed: 19.9 kph
Ascent: 194m
Descent: 202m
Total distance: 537.7 km
Total time: 31 hours 41 minutes
Our lodgings in Marcigny last night were absolutely lovely, a very new AirBnB, we were only the second guests! It occupied half the ground floor of a beautiful sixteenth century building which had been renovated by the owners, who hallooed us from the third floor when we arrived and showed us in. After a visit to the supermarket round the corner we were all set for the evening, and much enjoyed our night in the very chateau-like surroundings.
The voie verte we'd ridden in on yesterday continued in exactly the direction we wanted to go today, but before we rode out to find it we took a quick turn around Marcigny itself, mainly to have a peek at its famous Tour du Moulin. Very picturesque.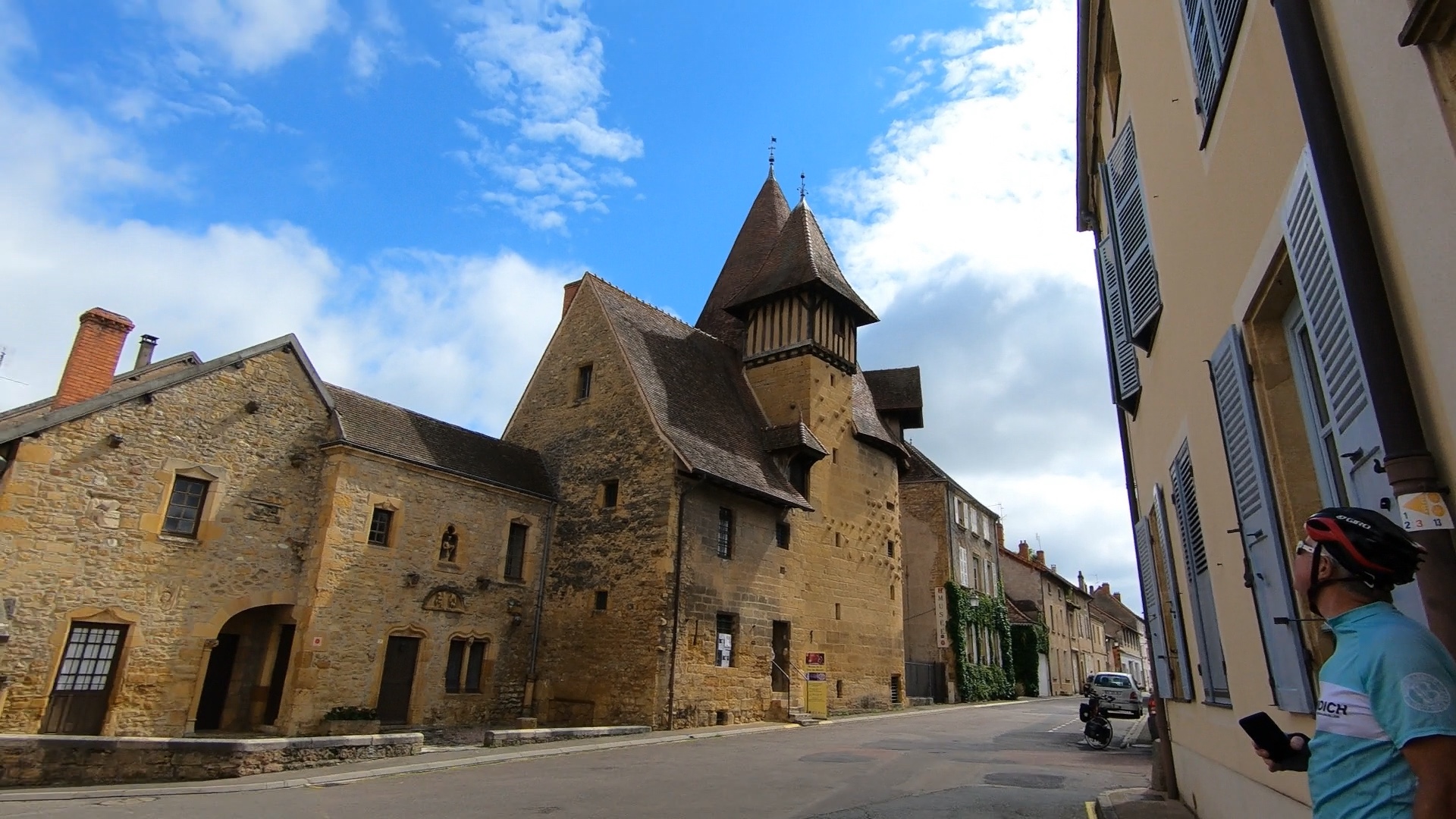 Once onto the wooded cycle path we gradually accelerated to cruising speed, slowed down only by occasional junctions like these, which were a little tricky to negotiate: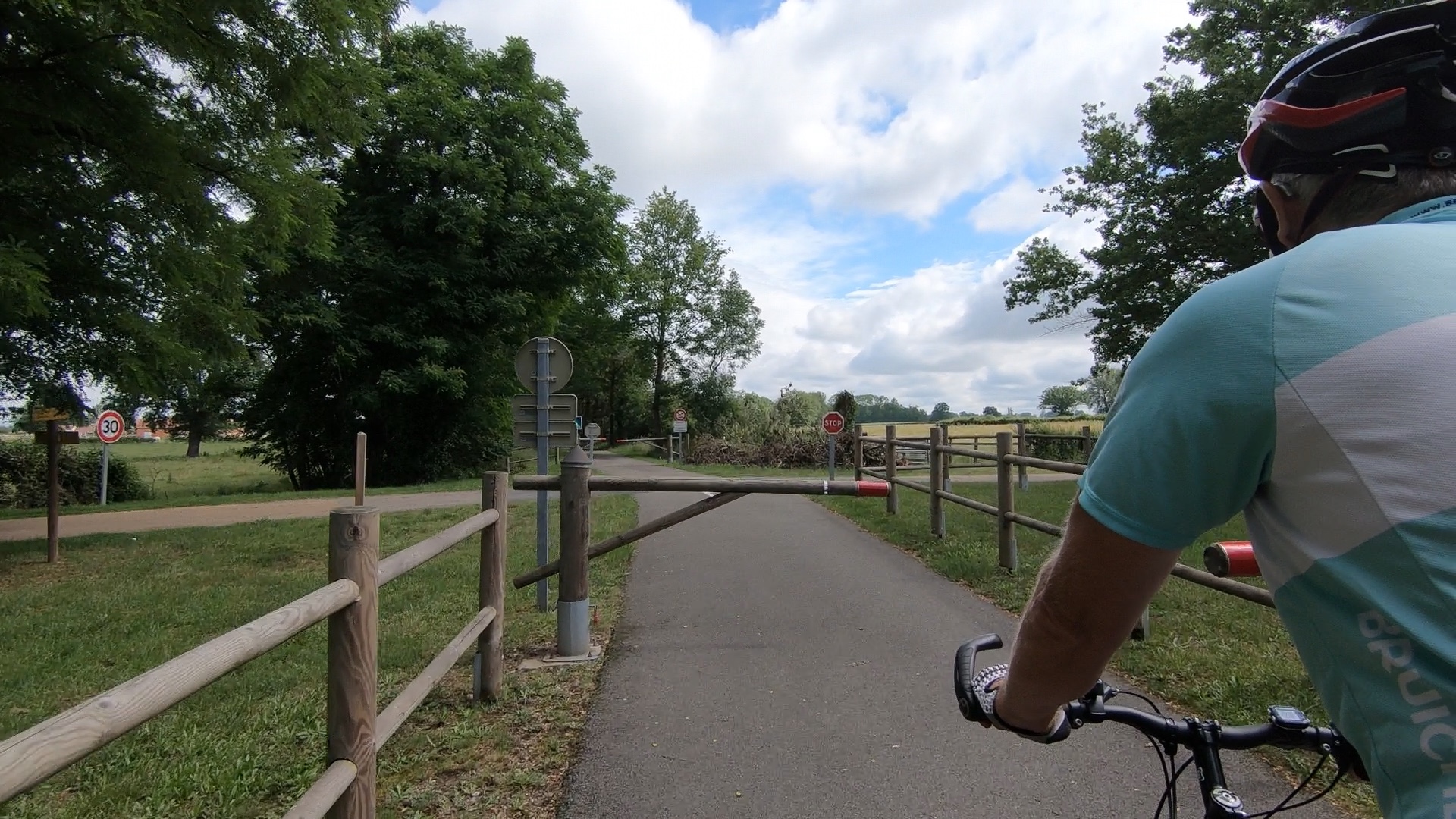 The ten kilometres of excellent cycle path passed in a flash, and then we headed east on a little road for a while, towards the canal. The Loire is accompanied for some of its journey by the Canal Lateral a la Loire, and some of the guides we had read recommended cycling along the canal for this stretch of our route. We'd spotted a towpath track on the map that we thought might be pleasant, but on arriving at the canal it looked horribly grassy and uneven, so we stayed on the road.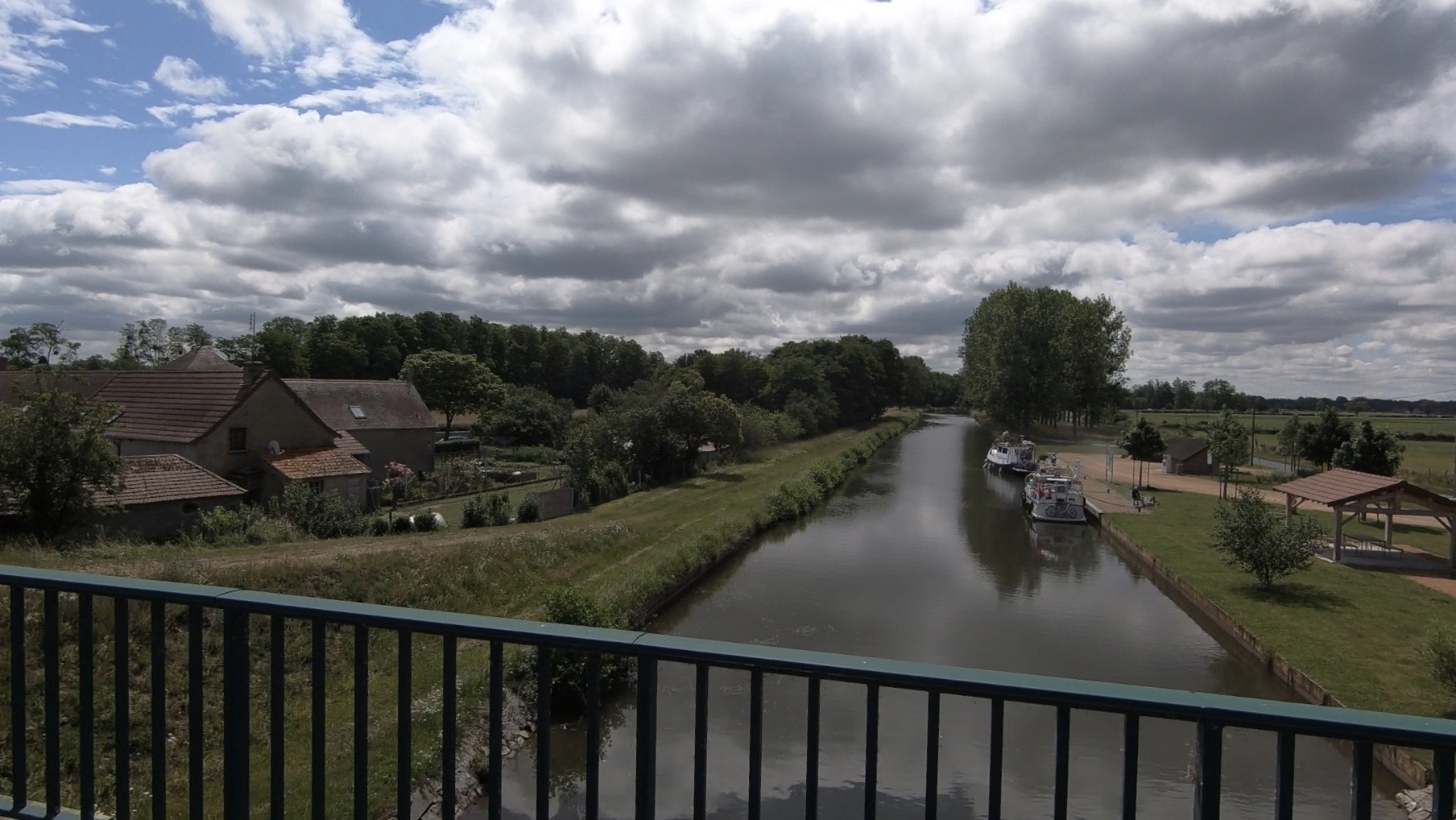 It was very enjoyable, whizzing along at a good speed beside the canal and pondering whether a future houseboat holiday might be taken here. And it wasn't raining! There were a lot of farmers taking advantage of this to cut crops, and a lot of birds enjoying the opportunities for hunting that this provided.
We planned to deviate from our route to have a look at Digoin, where the canal crosses the river by means of a viaduct. We stumbled across another voie verte which indicated it was going into Digoin, so we dropped down onto it and messed about taking pictures of ourselves with the GoPro whilst we cycled along.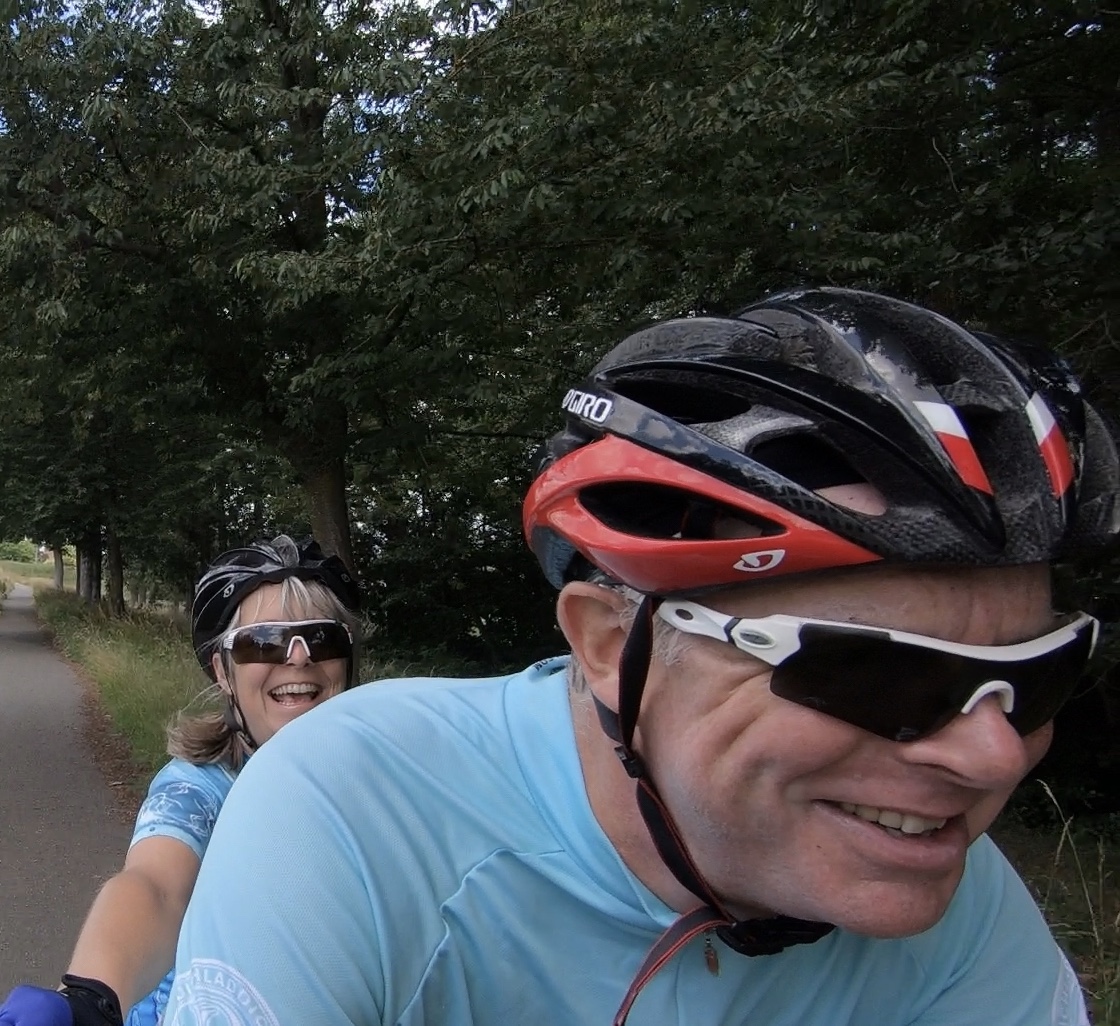 We were passed by a couple obviously cycle-touring, with panniers and even a trailer.
When we arrived at the viaduct, it was a little tricky to get the tandem onto the walkway next to the canal, but it was a remarkable sight, the calm, steady canal way above the wilder river.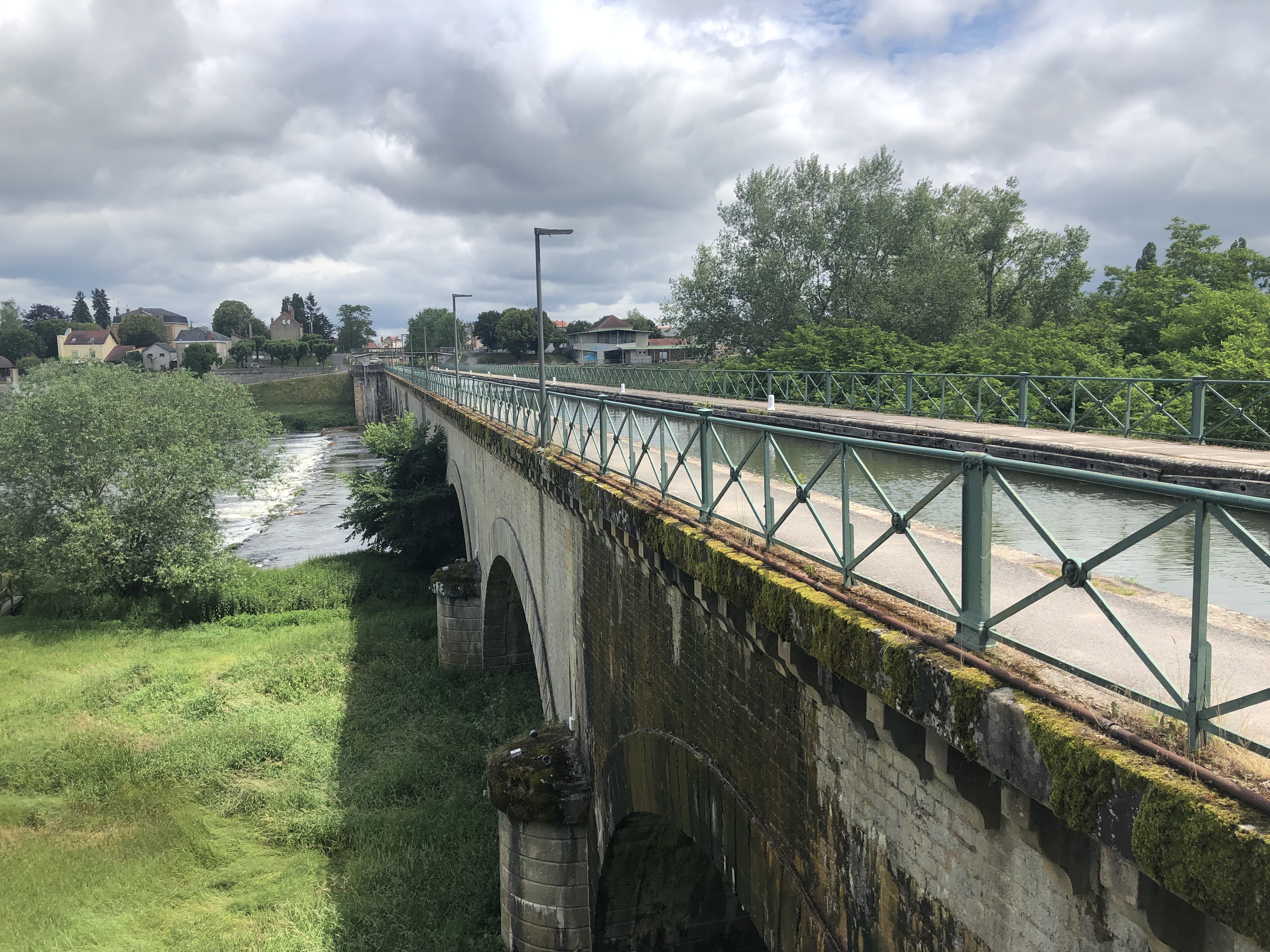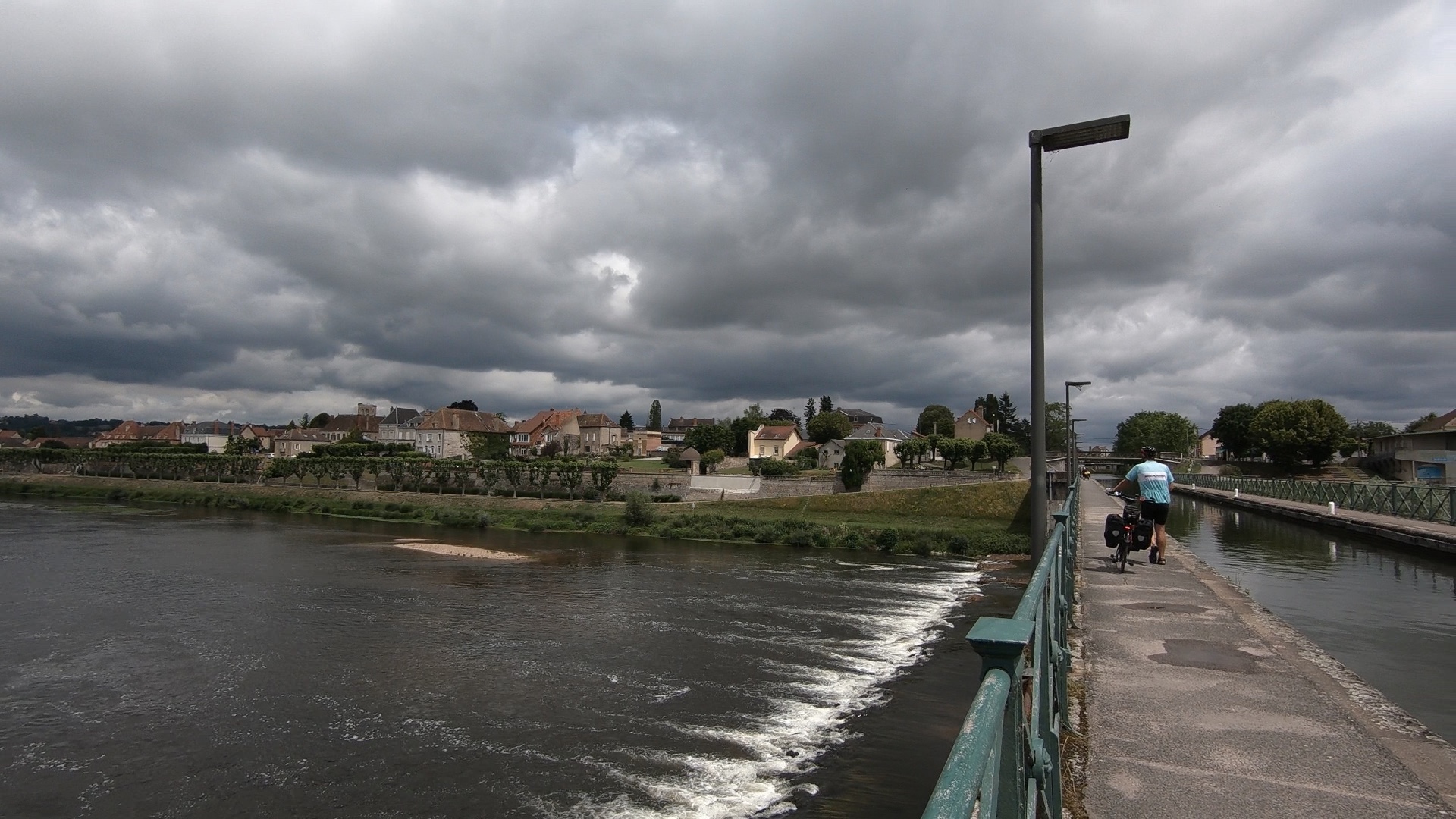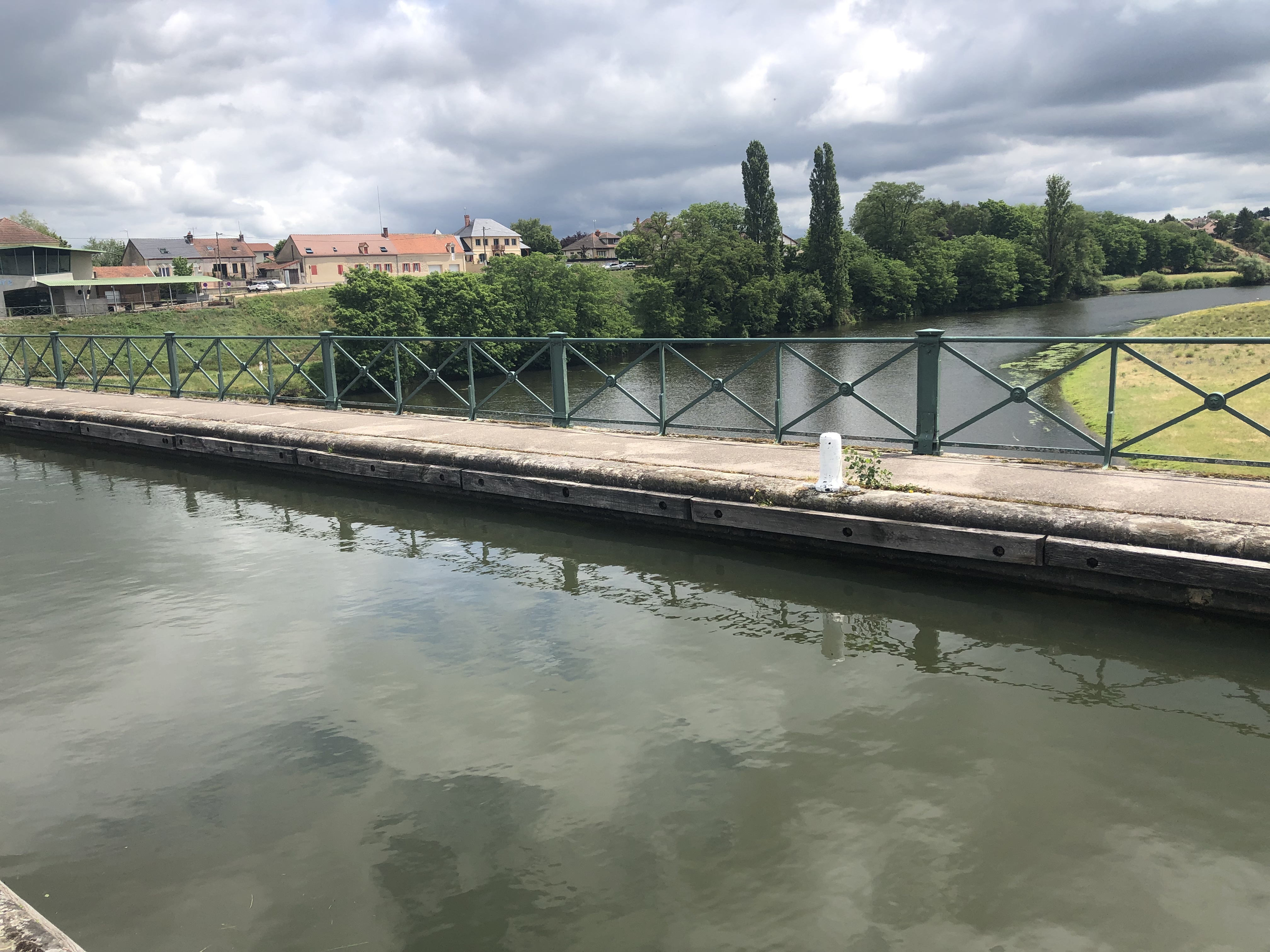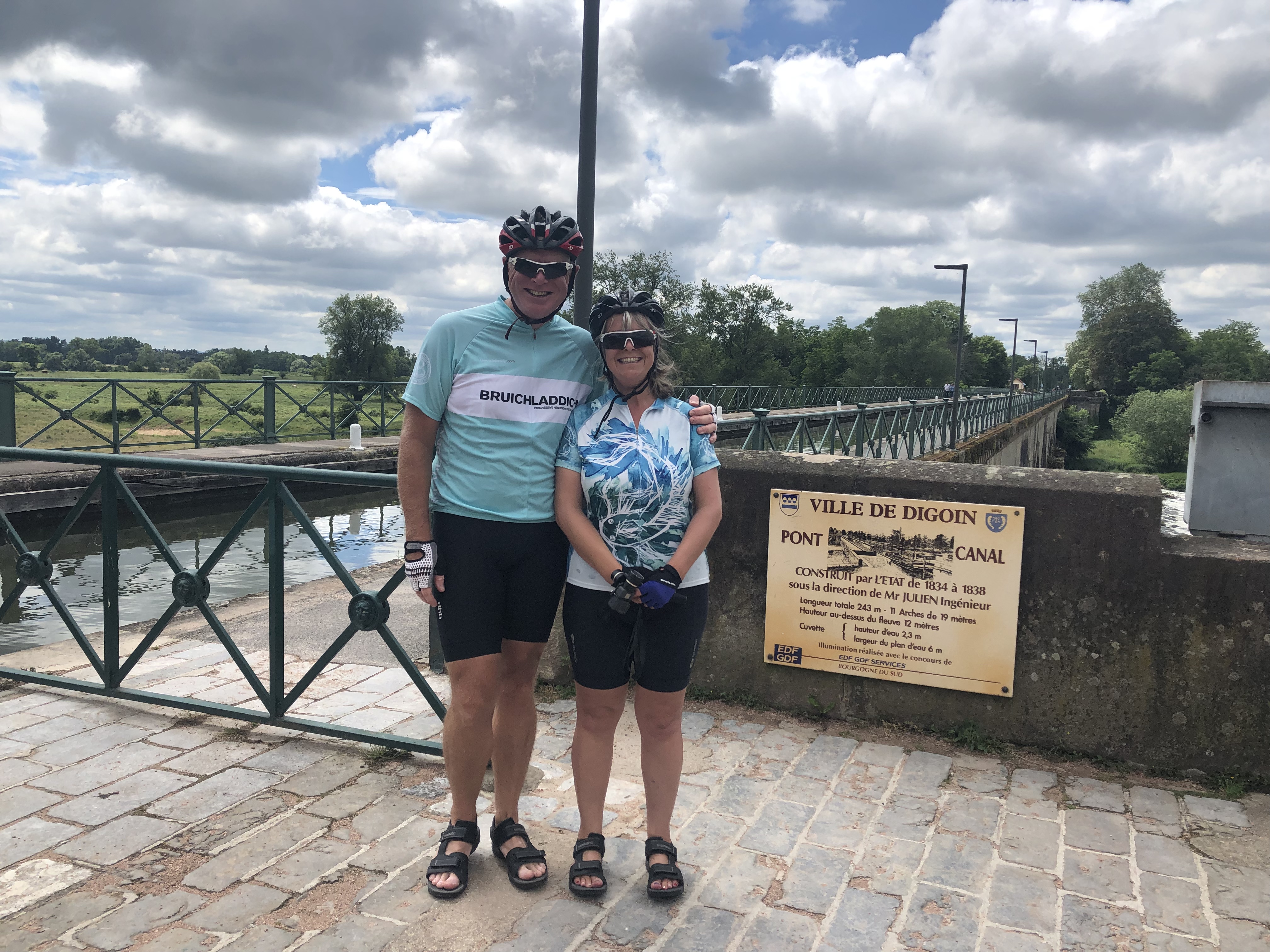 We arrived at the other side to find the touring cyclists had also stopped to take pictures, and we swapped notes about where we'd been and where we were going. They had started in Saint-Nazaire, our ultimate destination, and were following the Eurovelo 6 route all the way to Basel. They gave us some great information about Saint-Nazaire, where there's a huge windy road bridge we really don't want to have to cycle on, including some ideas for how to avoid doing so, which was fantastically useful.
After the excitement of seeing a canal going over a river, the day went downhill a little, both literally and figuratively.
We circled around for a while looking for somewhere to have lunch, eventually settling on a little café. We arrived not long after 1pm, put in our orders about 1:30, and finally got to eat at nearly 2:30! It was quite annoying, eating into our sightseeing time at today's destination of Bourbon-Lancy. We tried not to get cross, the place was clearly very short-staffed, and as the Captain noted France can just be like this – hugely sublime or hugely irritating, or sometimes both on the same day.
After lunch we set off, with 30km to go, and whether it was pedalling hard to work off our annoyance, or the fact that we seemed to be going downhill a lot, we were covering the ground very fast. In fact we descended only around 10m in more than 20km, just enough for the assistance of gravity, but this incredibly shallow gradient does explain why we are at only around 200m above sea-level now, but with 750km still to go before we actually get to the sea!
At the 10km to go mark we jumped onto another voie verte to take us to Bourbon-Lancy, and pedalled along hoping against hope that we would be able to finish with an average speed of over 20km on the day. It seemed unlikely because we knew that the very last part of the day was a stiff climb up to the old town, which we would be doing very slowly! As it turned out we started it up it, but it quickly became unrideable, it must have been more than 25% at the top. We pushed the last bit, took some pictures and wheeled along to our gorgeous hotel.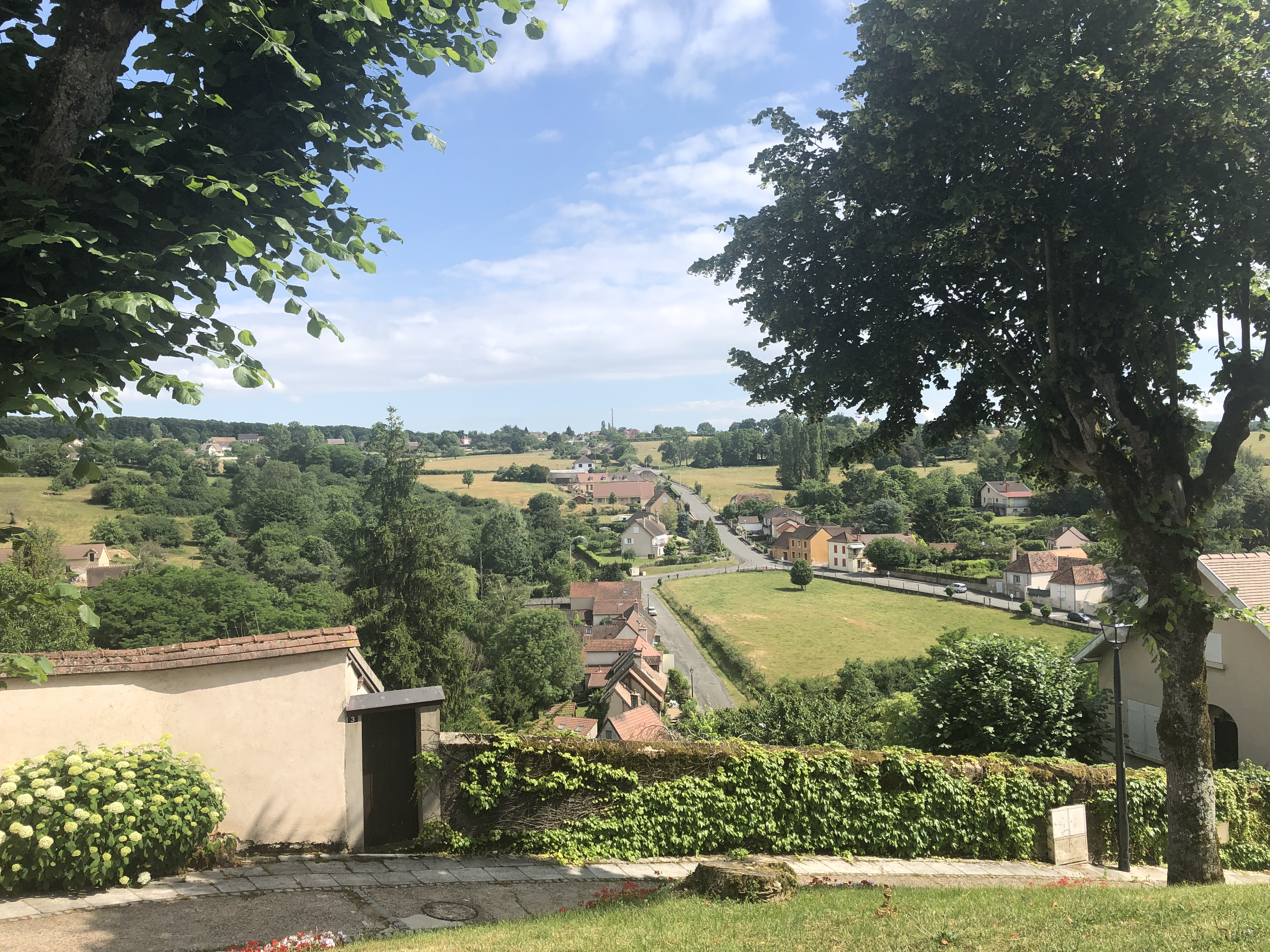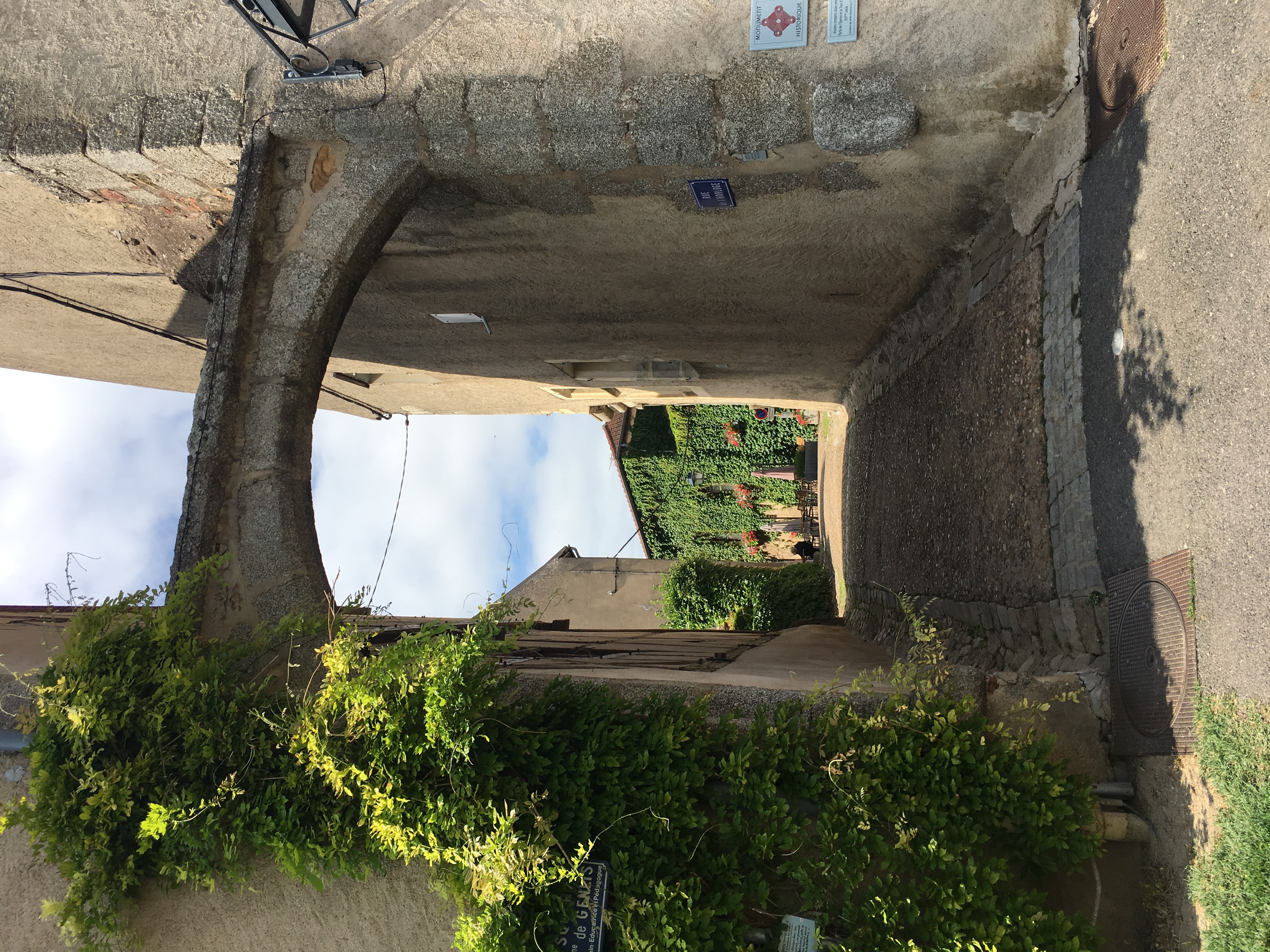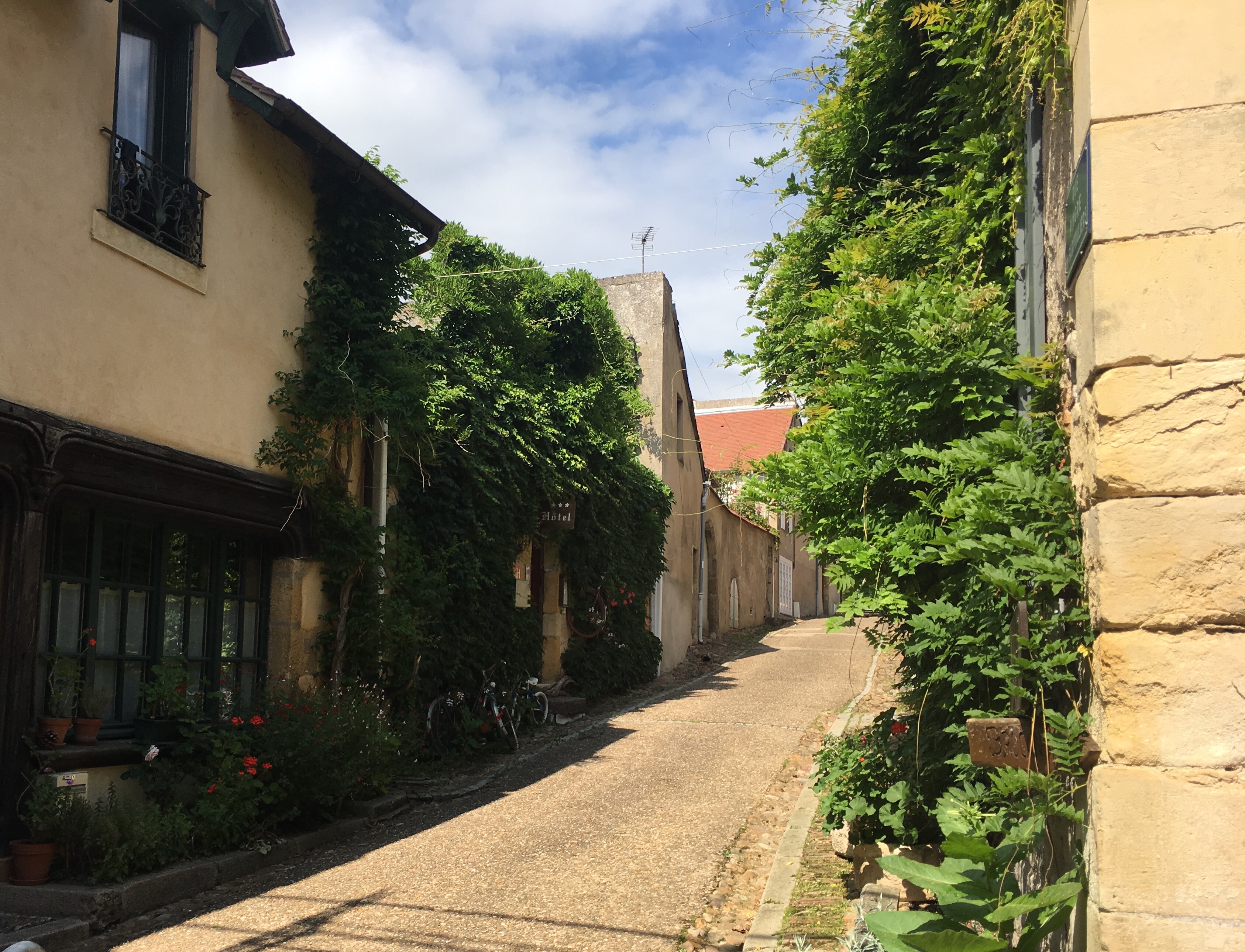 It's very beautiful up here, and we've booked a table in one of the impossibly picturesque restaurants for tonight. Well, outside it. The weather is turning, apparently, no more risk of rain, and the next week looks fearfully hot. Good job it's all downhill, then!
Here's a video of today's route and today's track.