Distance: 75.6 km
Time: 4 hours 54 minutes
Average speed: 15.4kph
Ascent: 1081 m
Total distance: 273.7 km
Total time: 17 hours 48 minutes
Our lodgings in Sainte-Eulalie were right on the Loire, although it was still not much more than a babbling brook. We could see it from our window, and if the window was open, we could hear it babbling. We went downstairs to the restaurant for dinner and enjoyed some local charcuterie, followed by pizza and lasagne (which were less local, obviously!). The restaurant was full of locals, and when we went to pay, amidst various problems with the card reading machine, fell into a conversation in Italian with a man from Albania who also spoke French and Greek, but not English because it's too hard 😁.
When we awoke in the morning our breakfast bread and pastries had been delivered to our door, along with our clean cycling clothes from yesterday, which was excellent service!
We didn't hang around long, knowing that we had nearly eighty kilometres to cover in today's first 'non-neutralised' stage along the Loire, and five big hills to conquer.
First, though, a lovely descent in the morning sunshine down to the valley where the river was trickling along, gathering pace but not much yet.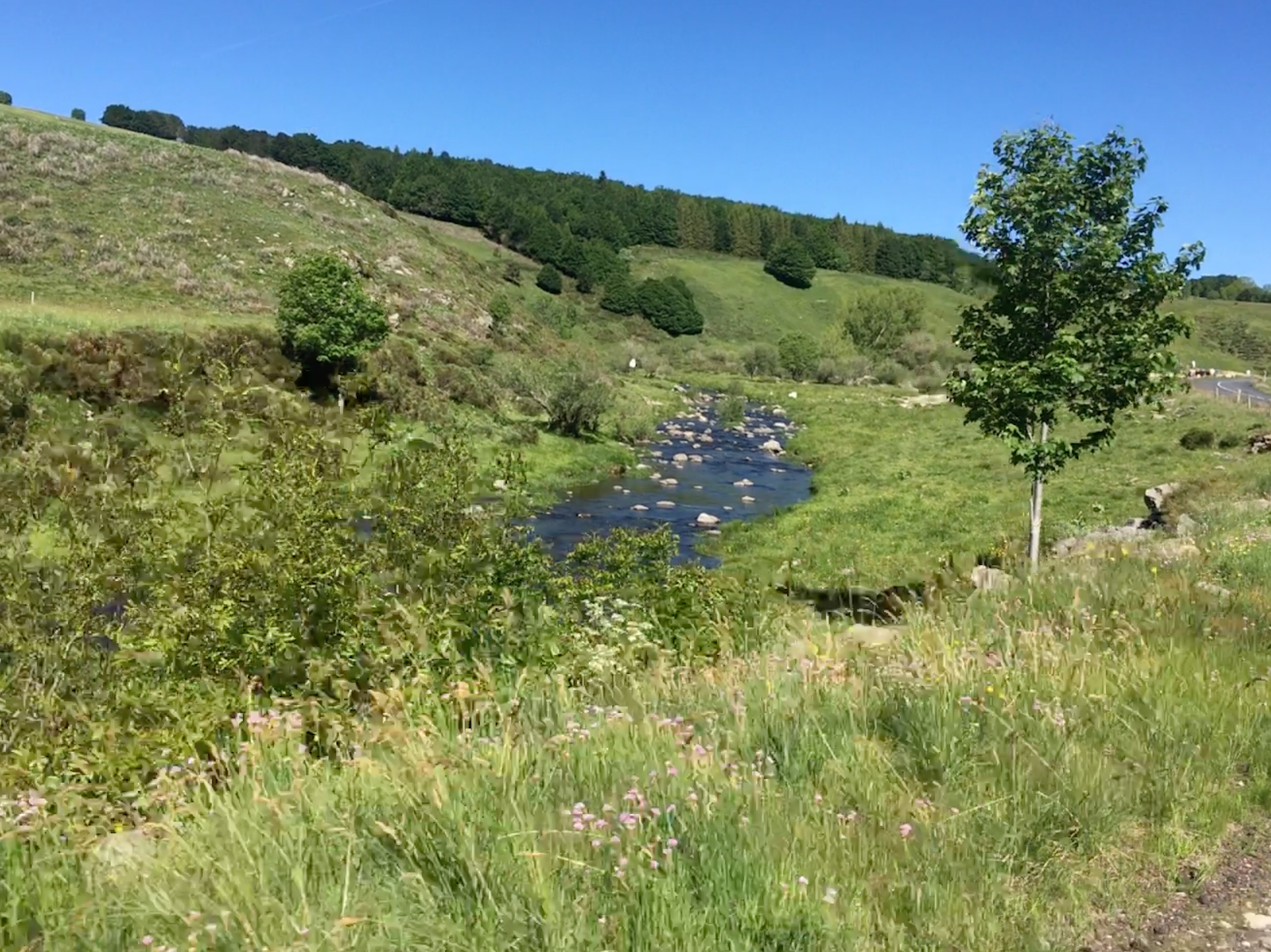 The first hill came up quite soon, but it was gentle, and we were both feeling quite surprisingly fine after yesterday's exertions. We twiddled up in a pretty respectable gear, chatting about this and that, and enjoying the views of flowery meadows and the sound of birds and crickets. There was even the occasional 'ding' of a bell around the neck of a grazing cow – it felt almost like being in Alpine territory in the summer. Looking down at Jack the Garmin it was odd to see that we were still up at over 1200m.

We passed a couple of quiet villages, no-one to be seen at all. At La Palisse we encountered a large reservoir where the Loire had been dammed, very peaceful but no swimming or canotage allowed. It took us both a while to realise that meant no canoeing! There were cranes and construction vehicles everywhere, they seemed to be raising the height of the dam, there was a huge curved piece waiting below to be craned into position.
As we descended below the dam we caught sight of the second big hill. It looked very steep! We started up it, noting the sign saying that it was a maximum of 10%, and although we were doing fine it was hard work. A chap on foot wished us 'Bon courage' as we ground past. We stopped half-way up for a snack bar and some water (yes, it was that bad!), but the refuelling helped and we managed the top section in good style.
There was a nice descent then to Lac d'Issarles…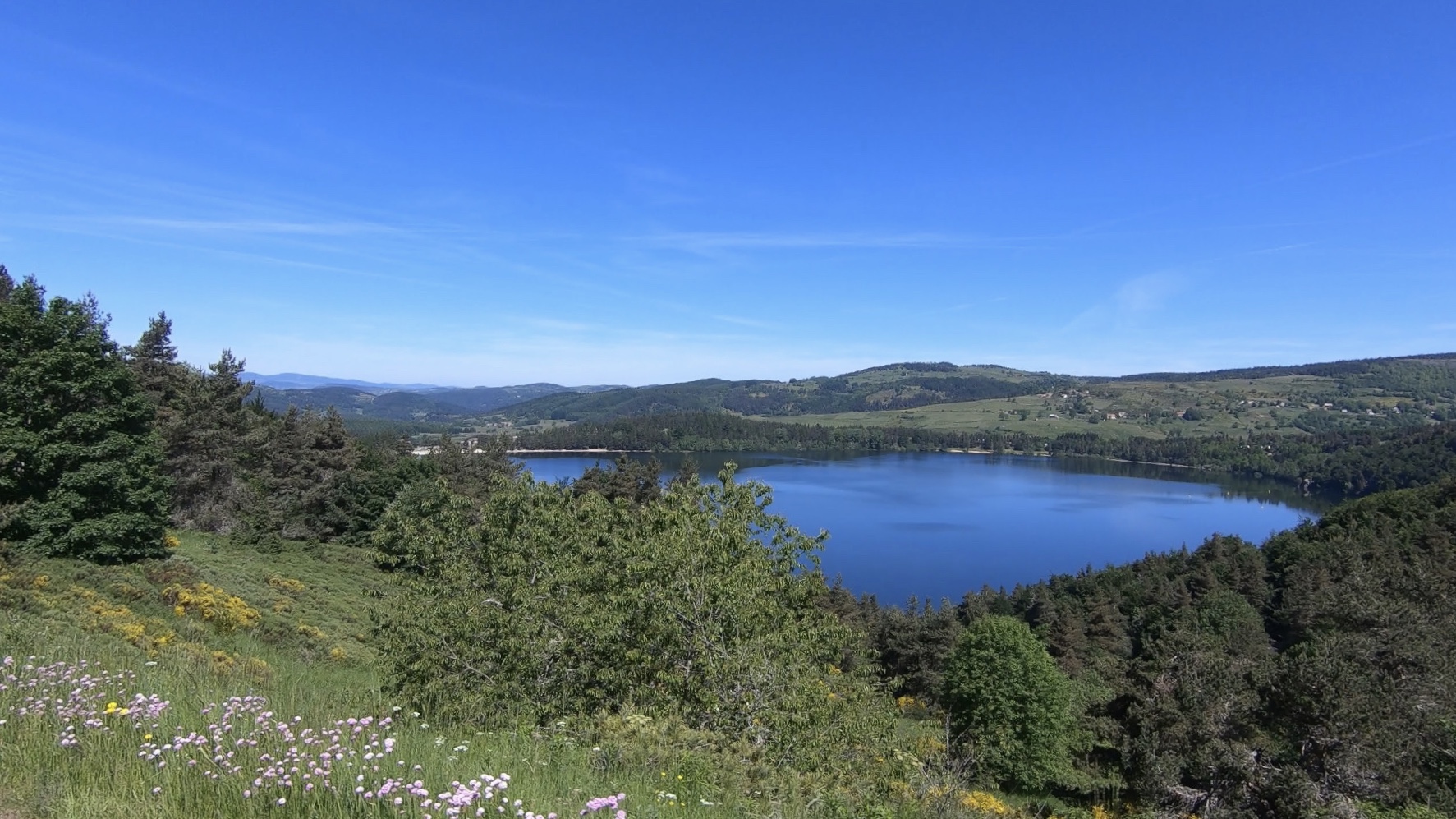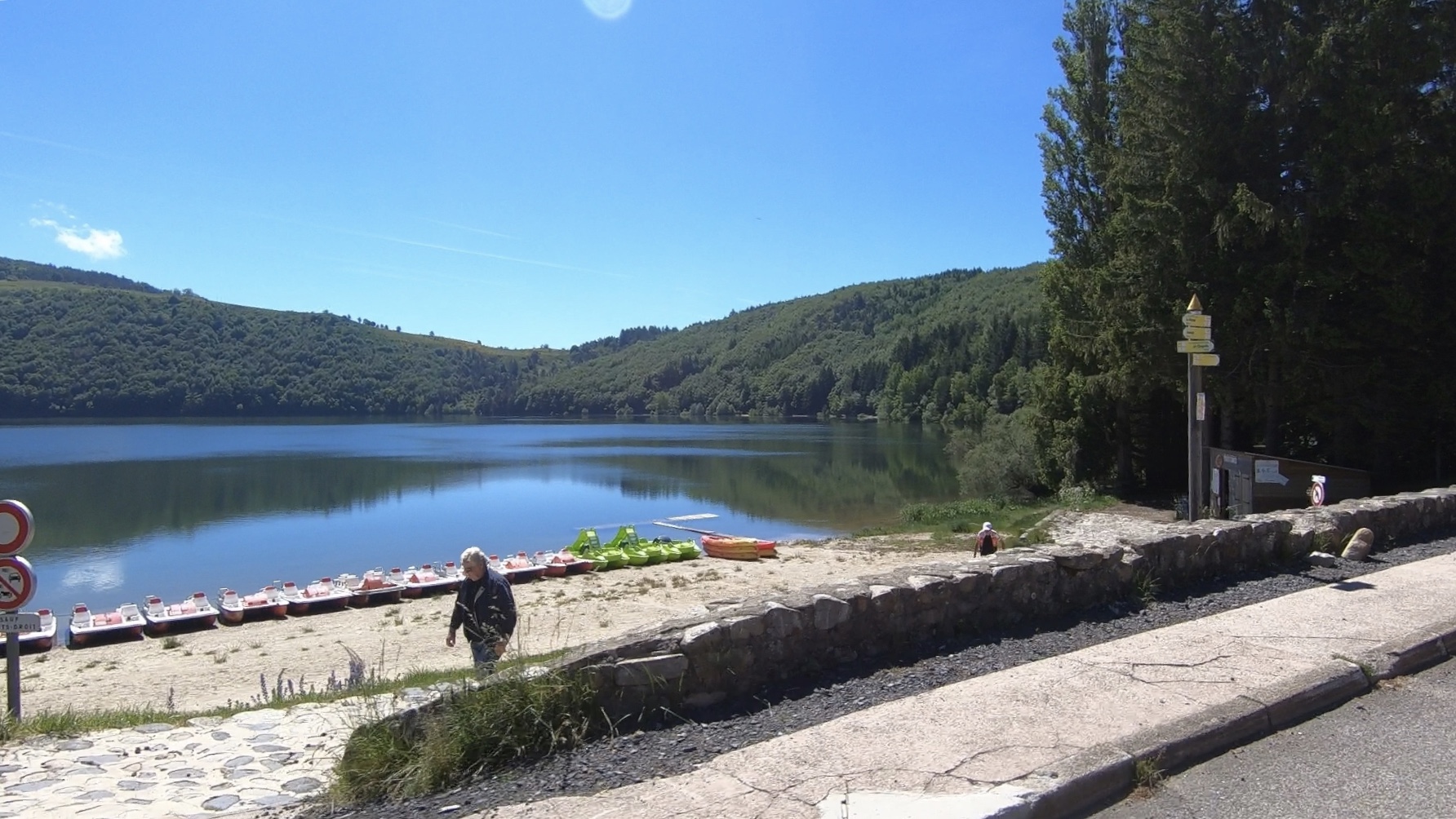 … and further on down the valley. There was the odd uphill section, but mostly we were gently gliding through forested landscapes on minor roads, or into and out of small villages. We pretty much had the road to ourselves, it was fantastically quiet.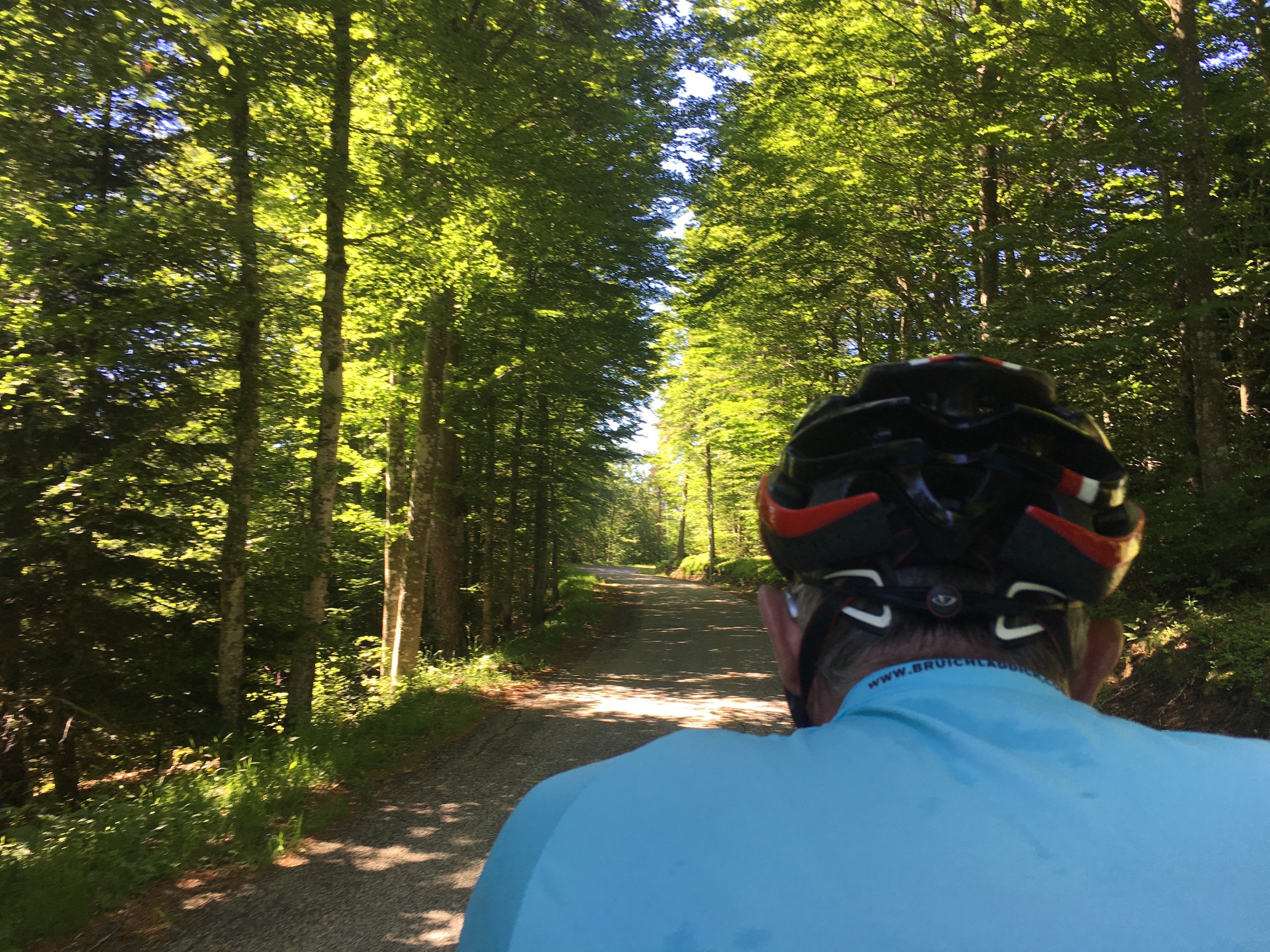 At the turn-off to Salettes we decided we had to eat before tacking the biggest of the day's climbs, a leg-burning 3.5 km out of Goudet up to Saint-Martin-de-Fugères at nearly 10%. We weren't looking forward to that one. Salettes came and went with a lazy looking cat lying in the shade of a house the only signs of life, let alone lunch. So it was Goudet or bust.
We flashed past Goudet's castle ruins high on a volcanic outcrop on the descent into the village…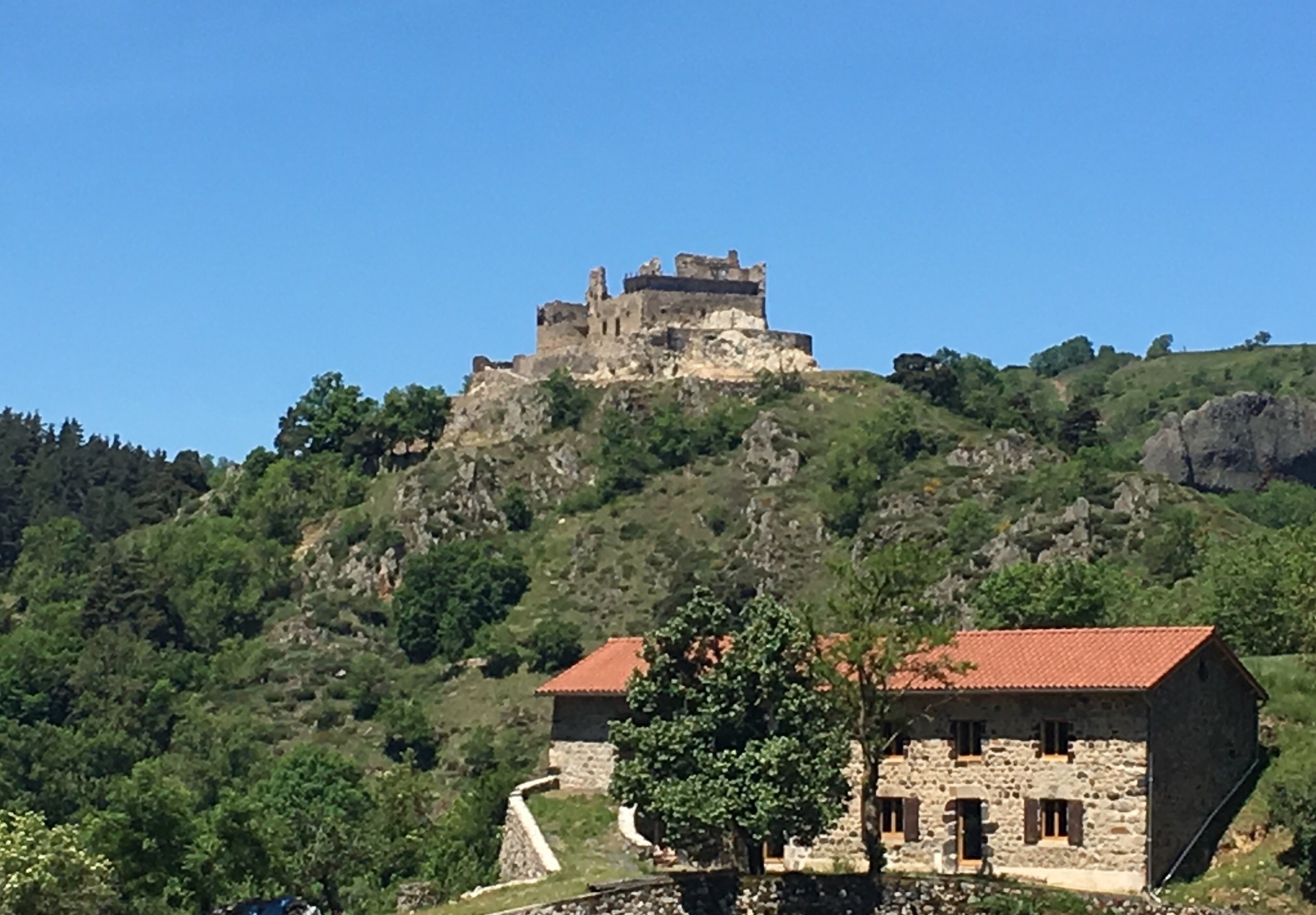 …and on to the Hotel de la Loire, on the banks of the river…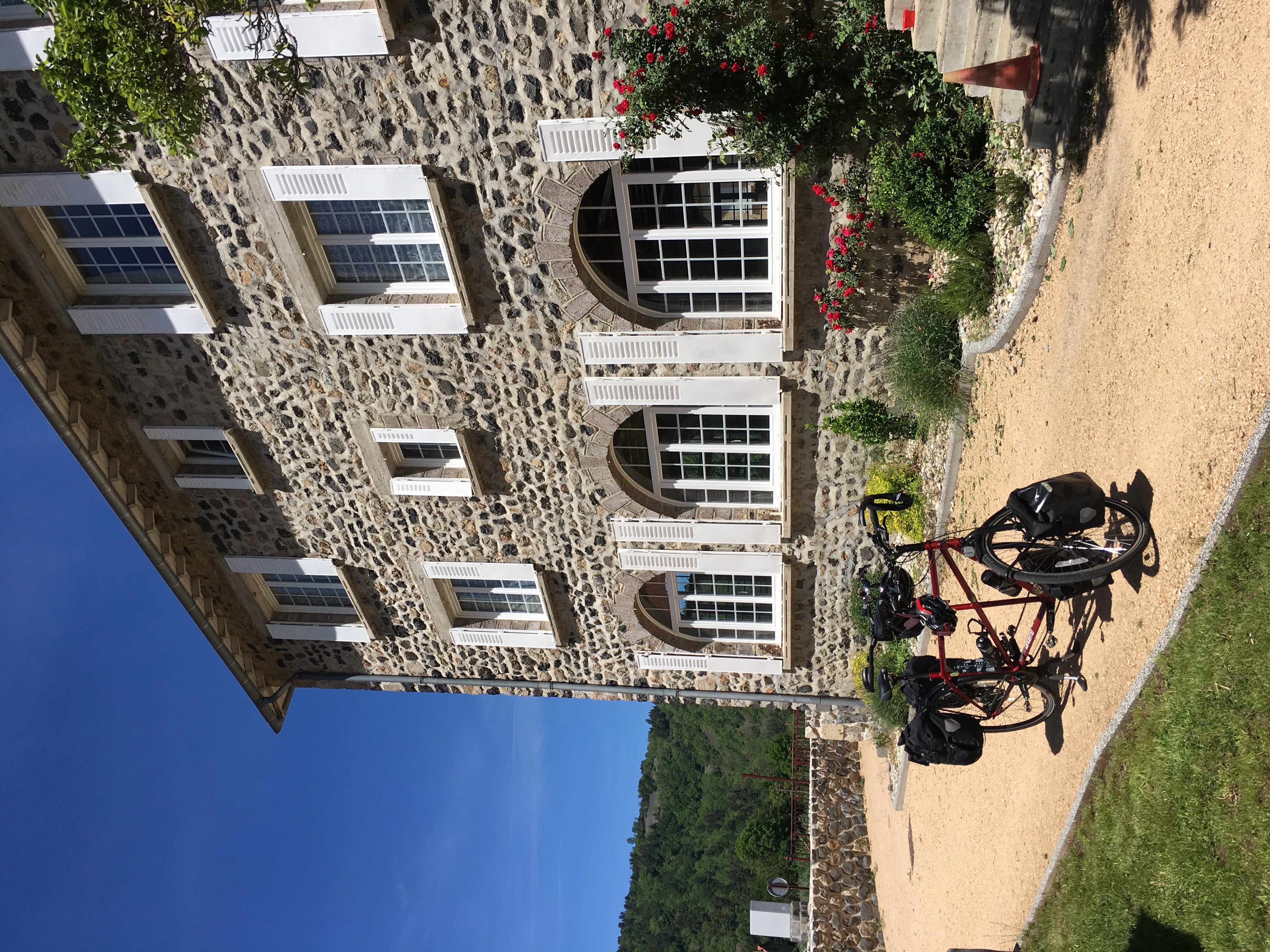 …where we were informed that there was insufficient bread for a sandwich. That didn't seem a promising start, but we were offered quiche and charcuterie, which arrived with a basket of bread, and it was all very delicious. We opted for two boules each of ice-cream to follow, thinking that the sugar would give us some much-needed energy for the big climb.
When we couldn't put it off any longer we climbed back on to the tandem and set off up the climb. Whether it was the ice-cream, the quiche or the charcuterie, something had given us a new lease of life, and we topped out in Saint-Martin-de-Fugères in about 35 minutes. The views from up there were spectacular, extraordinary volcanic features.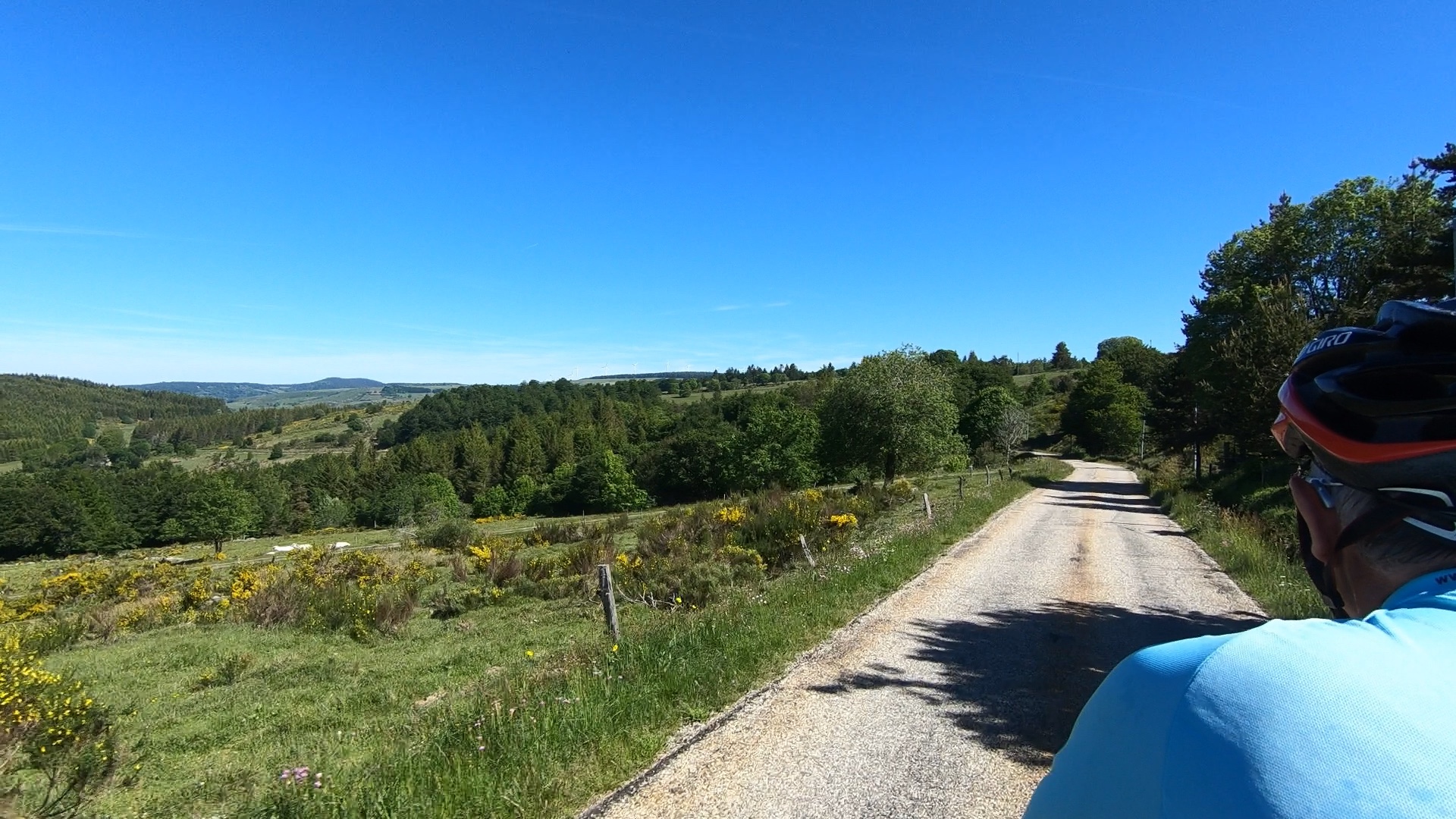 As we took the long, long descent which followed, the Captain spotted another snake eagle wheeling about in the sky. We'd seen quite a few already today, but their sheer size and grace make it impossible to take your eyes off them when they appear. This one was hunting, eyes on the ground, holding position by skilled but tiny movements in its tail. Fascinating to watch.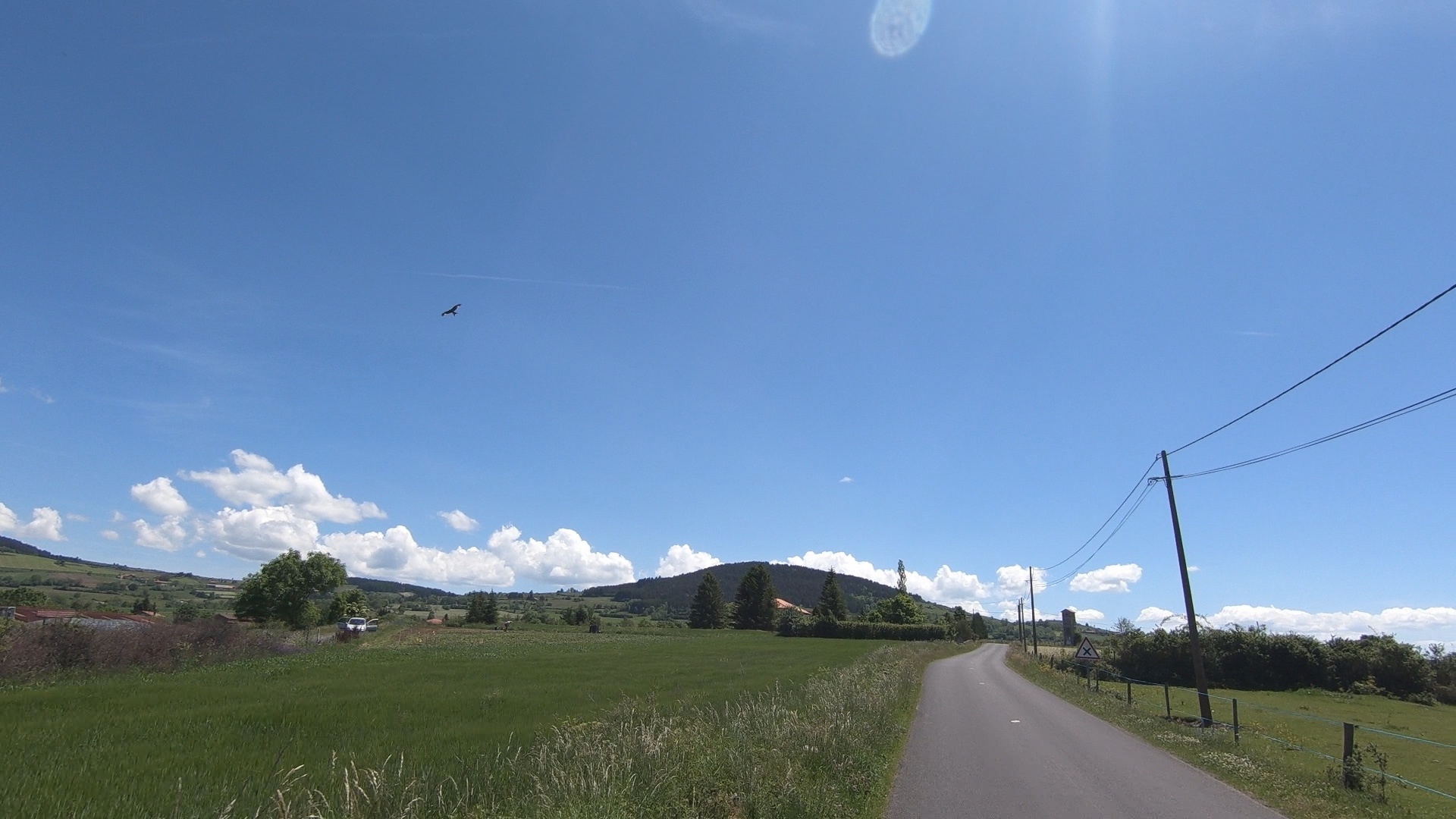 Two hills to go, then, and the first one, although not very steep,seemed to go on forever. We ground up past a horrible-smelling tarmac production facility, the legs really starting to feel the effects of two long days' climbing now. A short descent and then the last hill arrived on the Garmin's 'pain' profile. We both reckoned to have one last hill in us, and so it proved. We stopped at the top to text our AirBnB host that we were arriving imminently, and then flew down into Le Puy-en-Velay and wiggled round the one-way system to the apartment. It's absolutely gorgeous, this is the view from the window: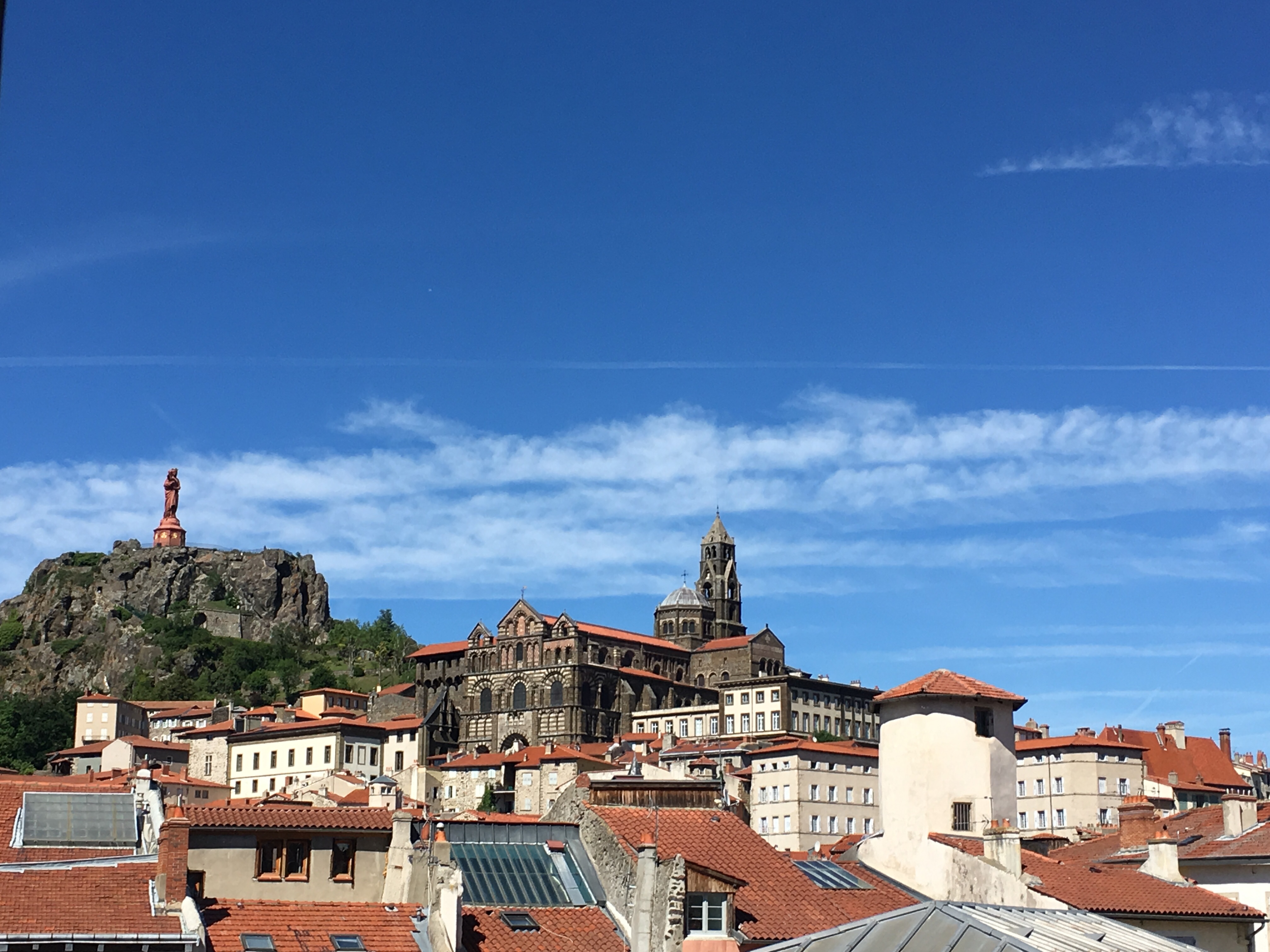 It's even got a bath. An actual bath. There will be much soaking of tired limbs tonight…!
Here's a video of today's route and today's track.
No blog tomorrow as it's a rest day. Probably spent in the bath.