Distance: 40.46 km
Time: 2 hours 38 minutes
Average speed: 15.3 kph
Cumulative distance: 2520.75 km
Cumulative time: 127 hours 21 minutes
Word of the day: 'tornante' (tore-nant-eh) – hairpin bend
Once we got over our surprise, yesterday's holiday village was great fun. We enjoyed the pool, and were officially excused the aqua gym session and group dancing on the grounds that we'd come over a stupidly big hill on a bike to get there. The staff were all lovely, very welcoming and enthusiastic, and we had a good meal in the restaurant, escaping before the cabaret really got going.
We fortified ourselves this morning with cornetti from a cornetteria near the harbour in Marina di Camerota.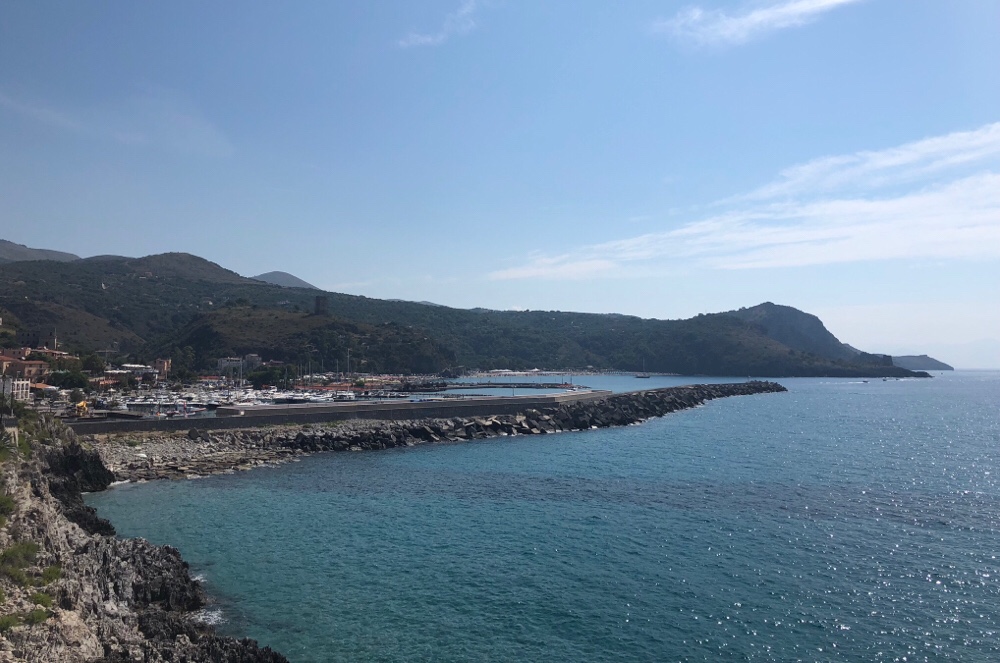 Not many kilometres on the planned route today, but we knew it did start like this: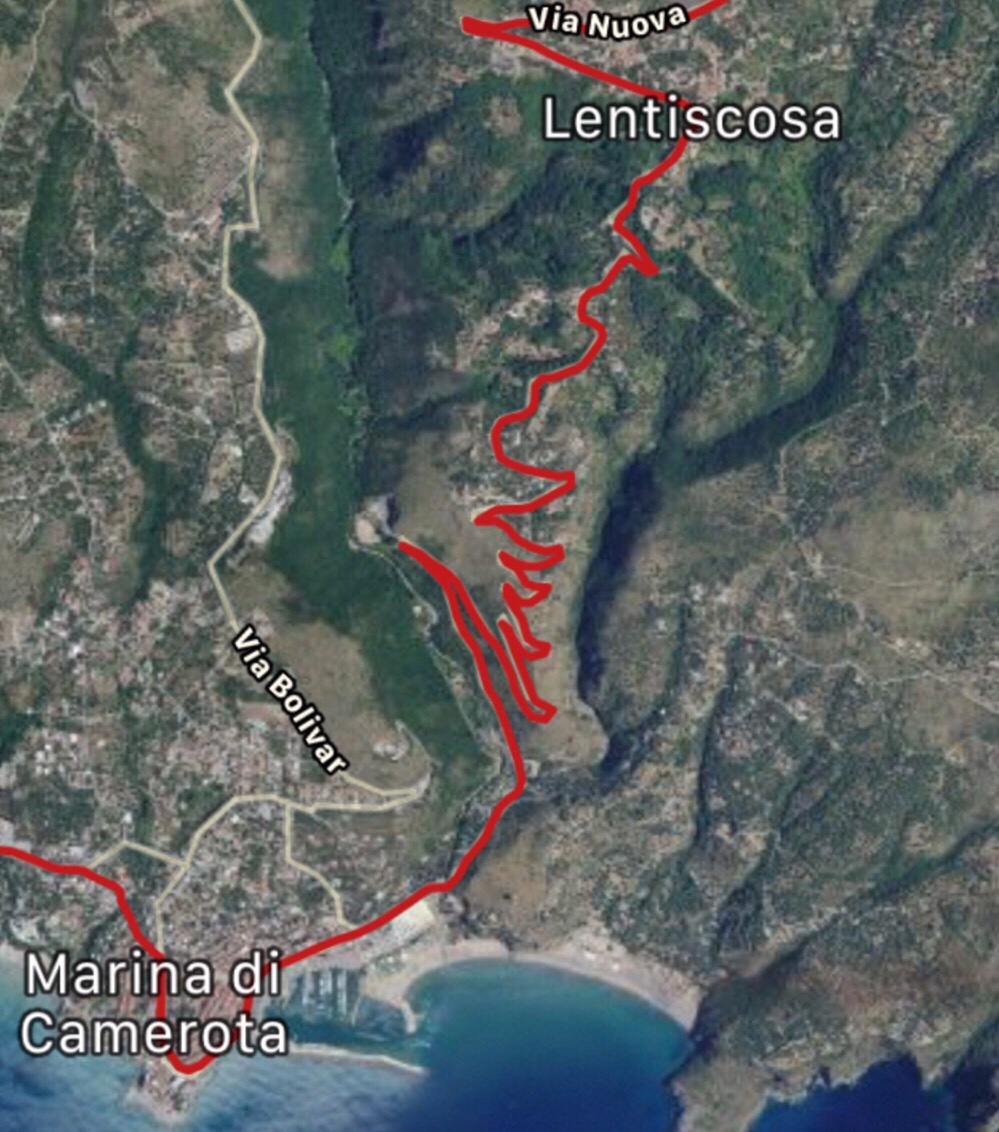 After a nice chat with the smiley girl at the bakery, we set off, and it began, with the first hairpin bend of a set of ten. Hairpins are great, a fantastically efficient way to climb a mountain. They work with the gradient, not against it, so for most of the time you're just twiddling up with not much requirement for puffing and panting. This is interspersed with the actual bends themselves, where you have maybe a dozen pedal strokes of harder effort to get around the corner, after which the twiddling resumes but you're somehow much higher up and you have something different to look at.
After what seemed like no time at all, we were suddenly right up here: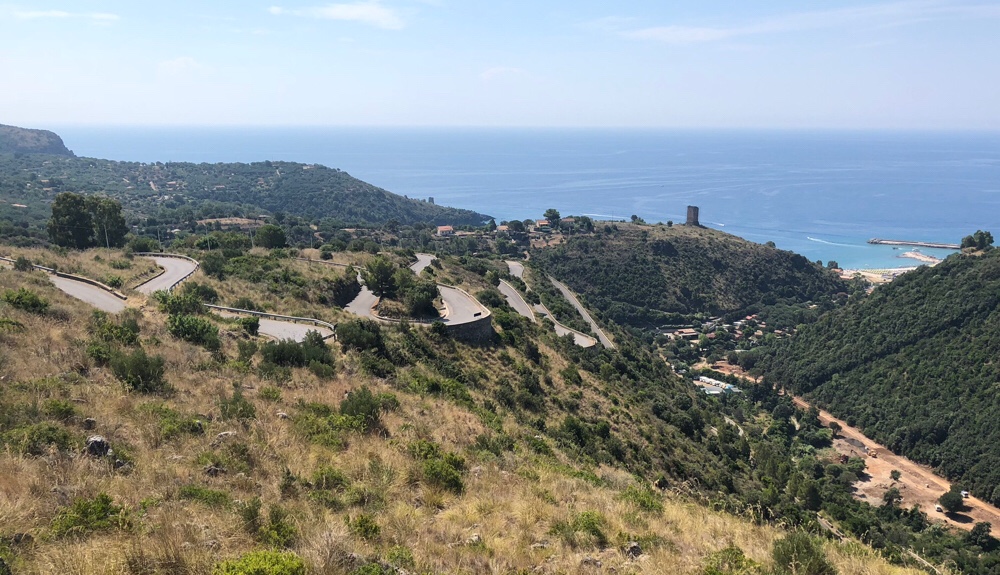 After the hairpins, we climbed some more into Lentiscosa, stopping briefly at a water fountain to drink and refill a bidon. Lenticosa's church had an interesting tiled dome.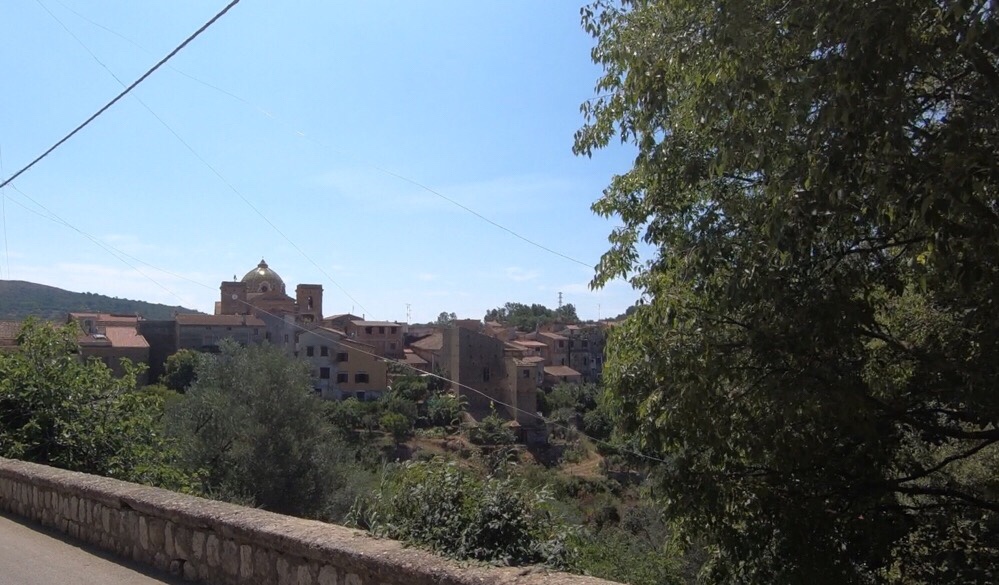 As we climbed on, we saw the dome again, getting smaller and smaller as we got higher.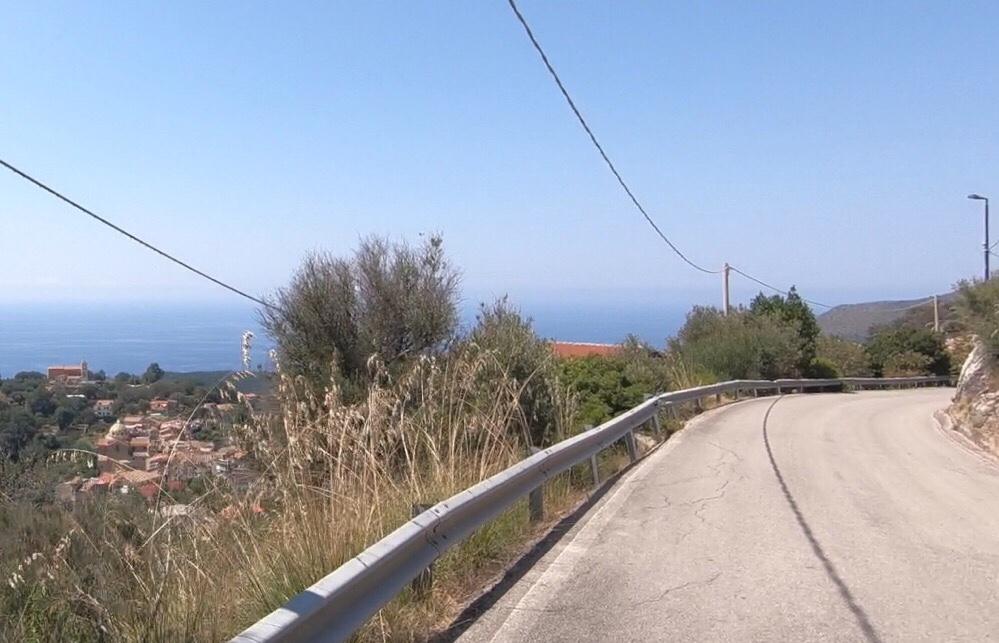 It is even in this picture, honestly!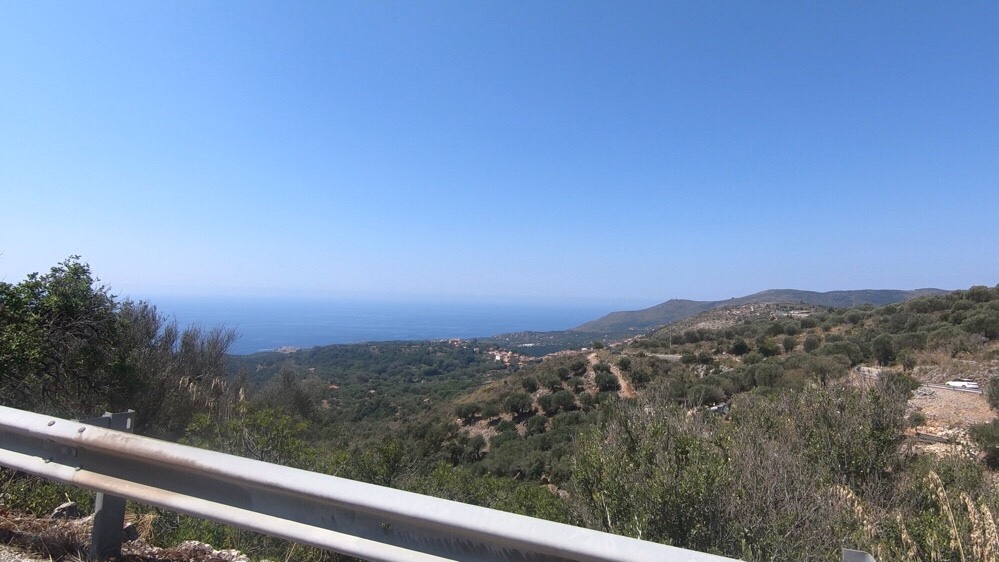 The climb was steady, not too steep, and we pedalled on, knowing the top would eventually be within reach. There were points when we couldn't see the sea at all, strange after our last couple of days on the peninsula.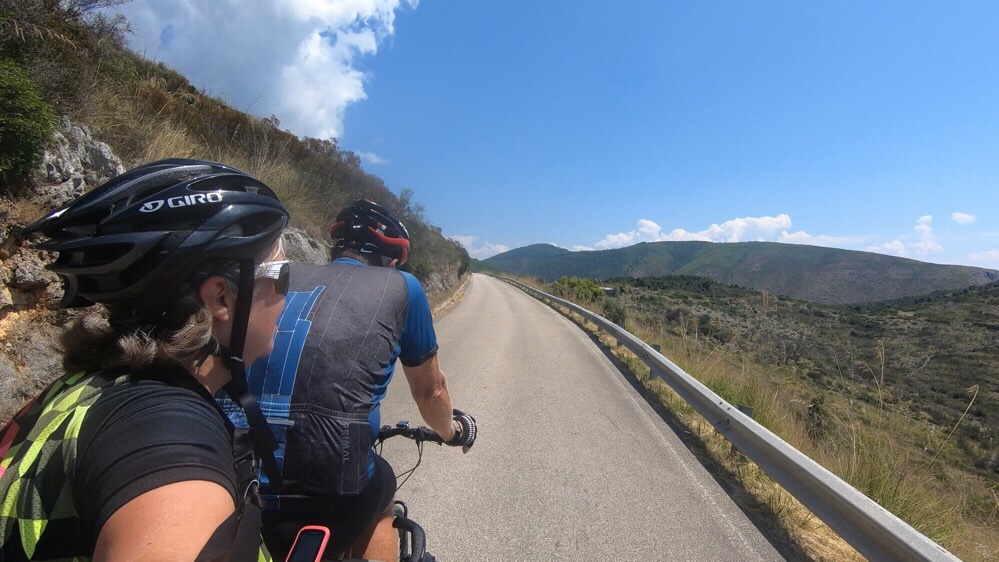 Eventually we rode over the top, and enjoyed a short descent into the next valley. One more ridge, and we'd be descending for pretty much the rest of the day!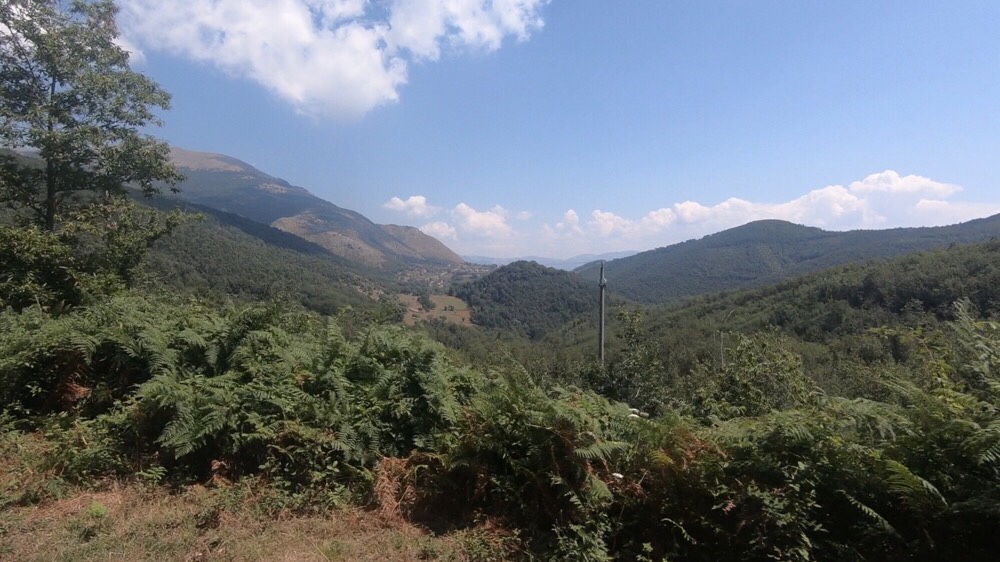 What a view there was when we put the last ridge behind us, past San Giovanni a Piro in the foreground, down to Capitello beach, with Sapri, our final destination just around the next headland.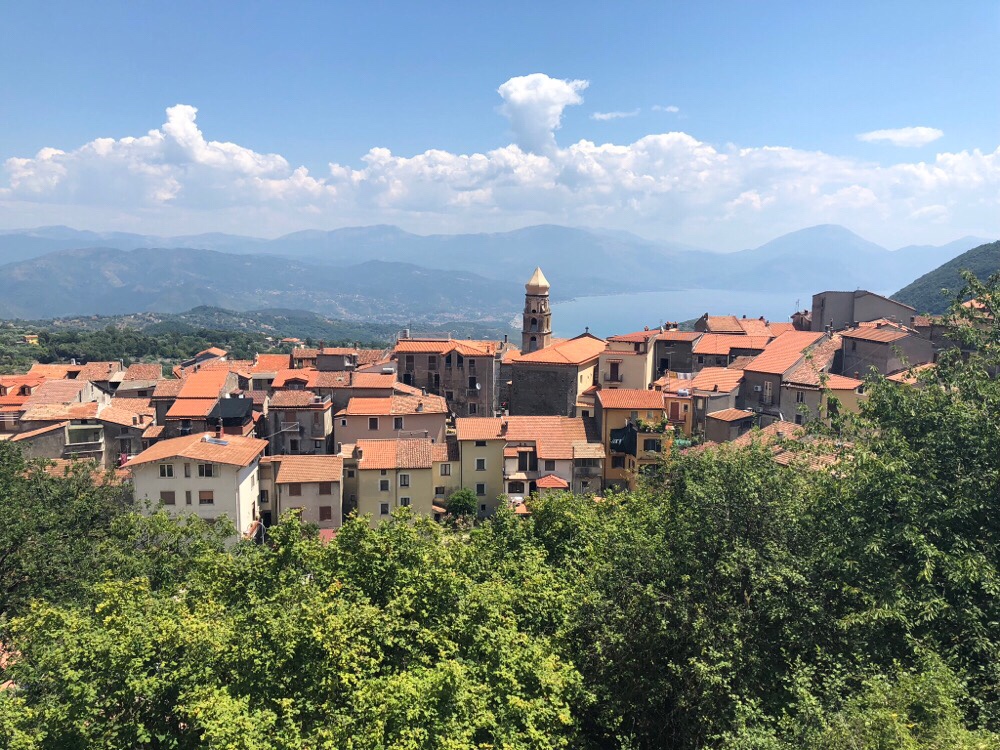 It was a twisty descent, lots of curves, and much careful steering and brake work by the Captain. There were shouts of 'hard left!', 'soft right!' and so on from the Stoker who had the benefit of Jack the Garmin's map to see what was coming up, but it required much focus from both motive units.
We took lunch in Policastro Bussentino (which sounds like a medical condition), and then pedalled on, along the lungomare in the sunshine. We knew our lodgings tonight were up a short hill, so decided to go shopping before checking in, and then tackled the last climb to the apartment.
It's fabulous! What a view from the balcony.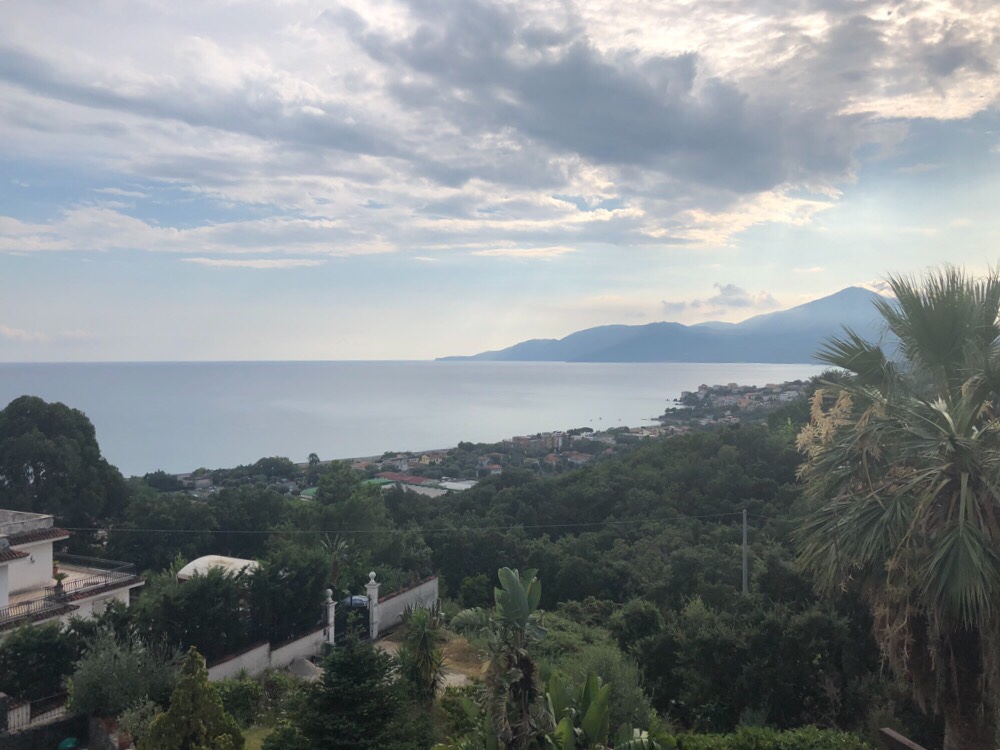 It was briefly interrupted by torrential rain and a huge thunderstorm right overhead, but it's passed over now, so we should be able to enjoy the sunset over dinner out there later.
Here's today's track.