Distance: 80.29 km
Time: 3 hours 59 minutes
Average speed: 20.1 kph
Cumulative distance: 2267.14 km
Cumulative time: 113 hours 28 minutes
Word of the day: 'bufala' (boo-fa-la) – buffalo
After loading up the tandem this morning we cycled to a nearby café for our usual cappuccini and cornetti. It isn't the done thing in Italy to drink cappuccino after about ten in the morning, so we usually just squeak in before the deadline. We were quizzed at length by a friendly Italian gentleman about our activities, plans and general outlook on life. So much at length, in fact, that we eventually had to make our excuses and leave, otherwise we'd never have completed all of our kilometres today!
We needed to thread our way through various mountain ranges today en-route to Caserta.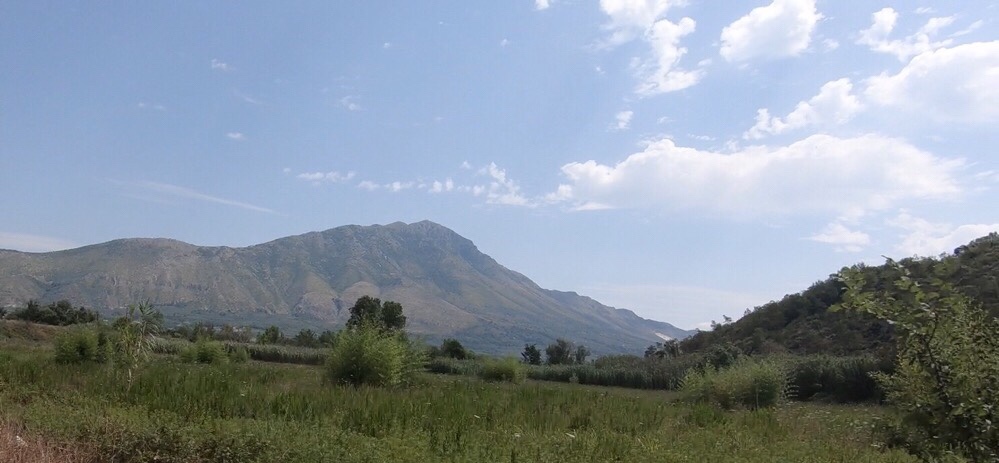 To our left, initially, were the Apennines. Immediately ahead was Monte Trocchia. Seeking to avoid the busy roads we set off on a very minor one, which almost immediately took us up a steep ramp at the edge of Monte Trocchia. Some warm-up! It did provide, though, a good retrospective view of Cassino.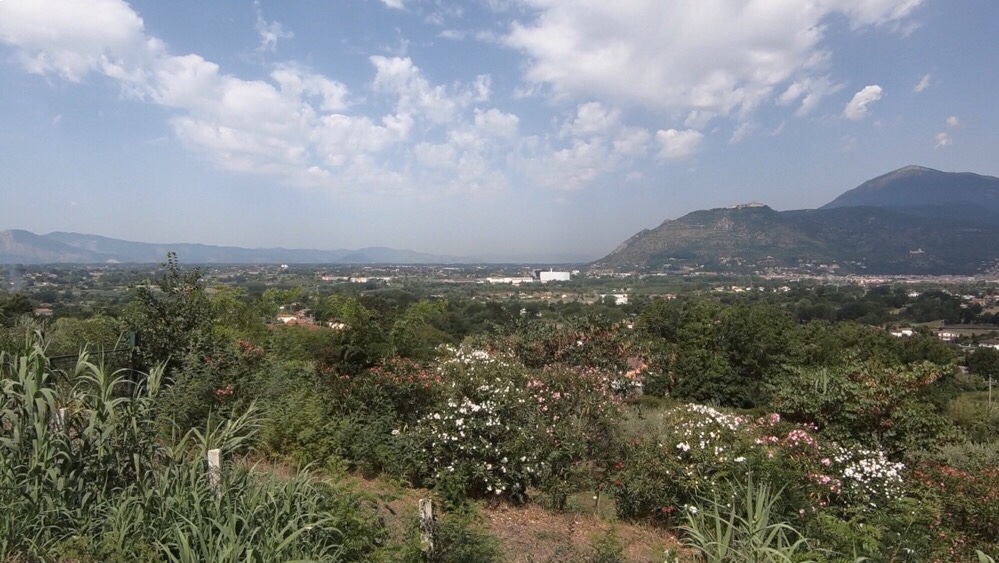 Inevitably, while trying to avoid the big roads, we ended up on a rough gravel track. The Stoker was very patient, but eventually it turned into an extremely rough gravel track, and we both decided that it was worth re-tracing part of our route to pick up a bigger road. Later on we dropped steeply down one side of a valley, with a sinking feeling that we would then have to climb steeply back up the other side. So it turned out, and we were relieved to rejoin a larger road close to the ruins of a small castle.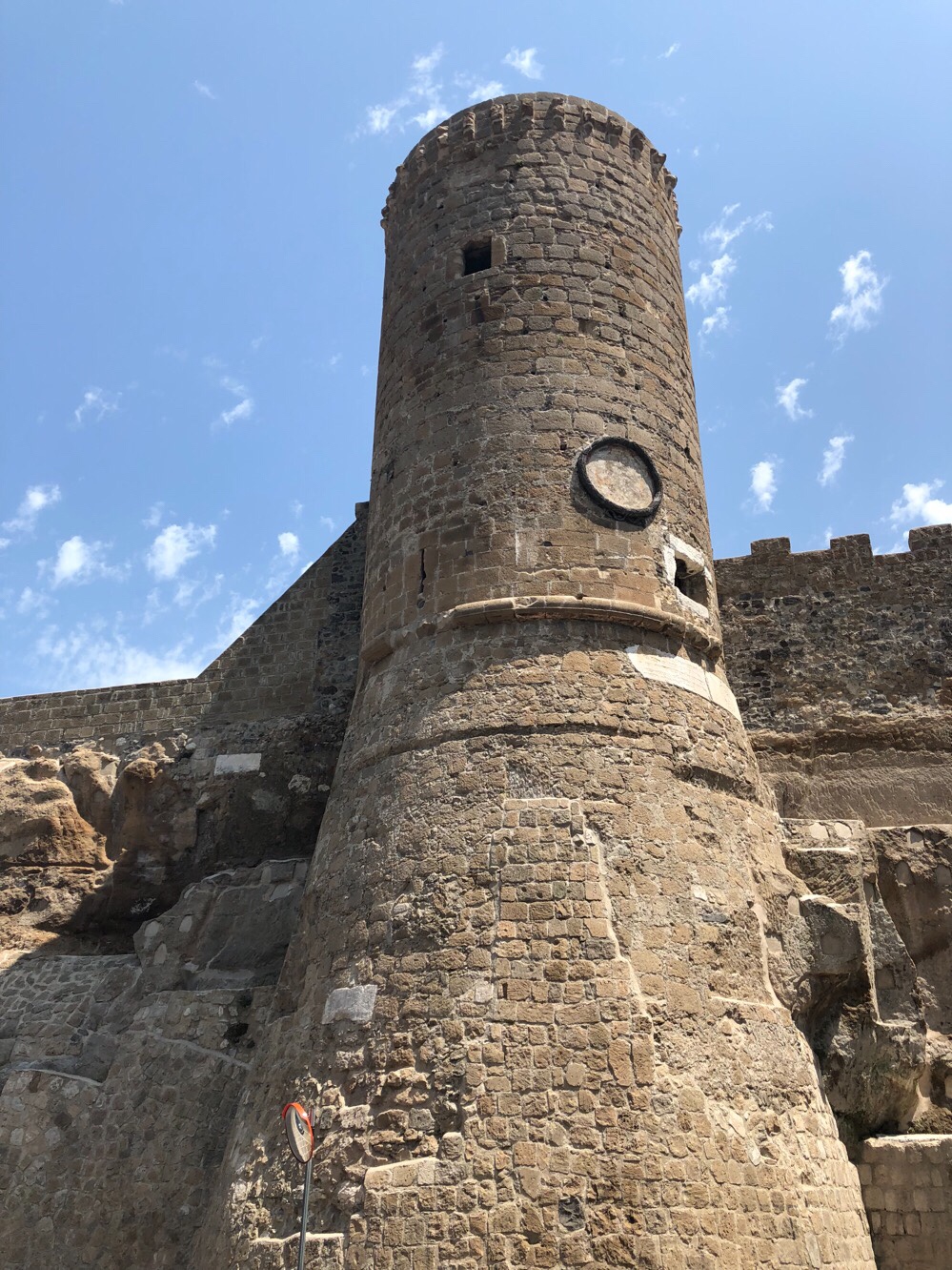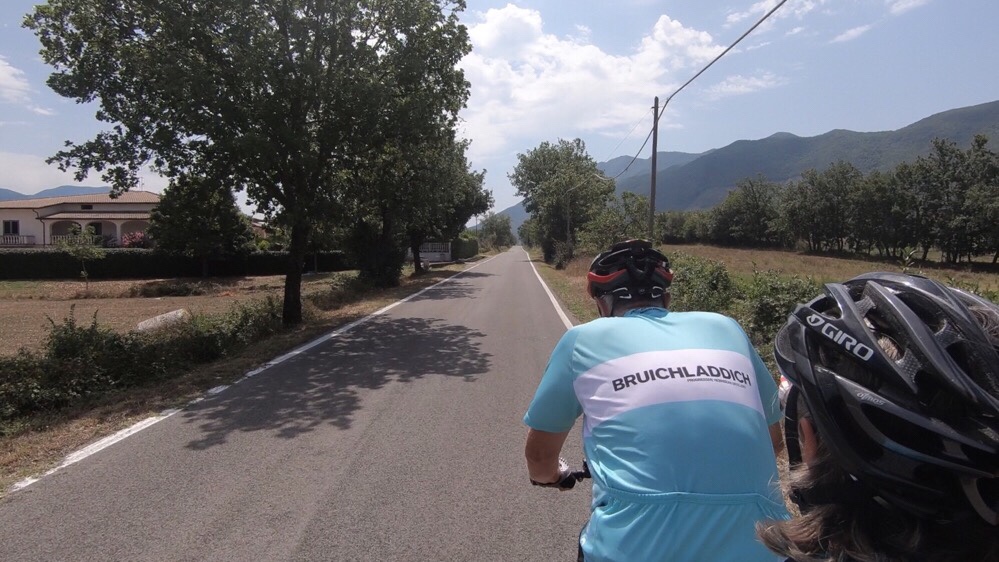 To our right, now, was a massive extinct volcano, about the same circumference as Vesuvius. Our maps show it as Roccamonfina and apparently it was active between 630,000 and 50,000 years ago.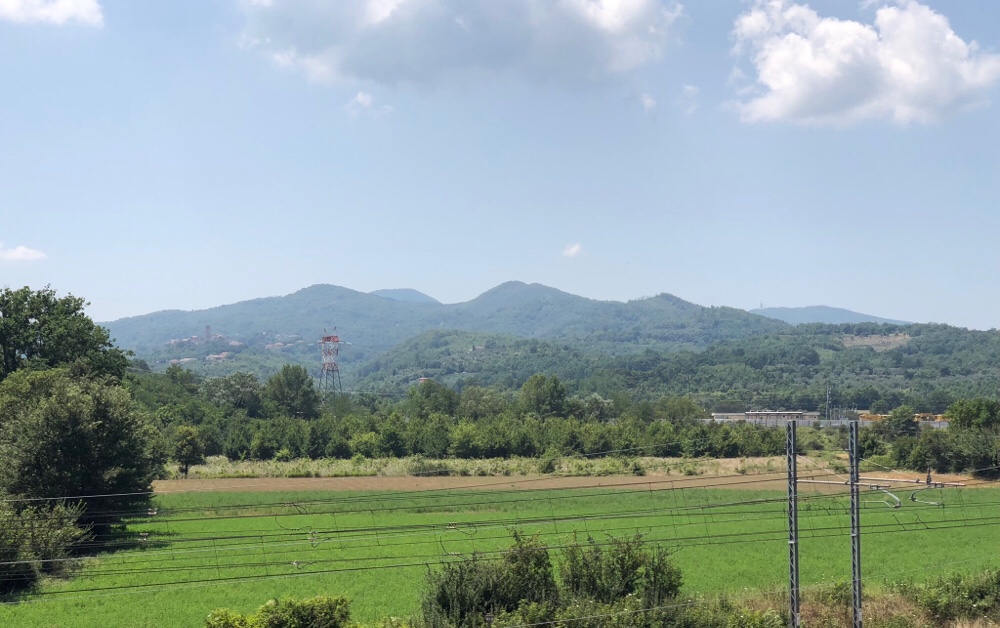 All of this climbing and (limited) descending takes time, of course, and by the time we reached Marzano we were hot and hungry, and running much later than we had planned. The first Osteria we spotted specialised in baccalà (salt cod). In fact, every dish on the menu involved baccalà! We ducked out and found a place which sold pizza slices instead!
When we looked at the profile of our ride at lunchtime we could see that we had been climbing for most of the morning, but our route for the afternoon would provide some relief. We set off on a more major road, and to start with each short downhill stretch was followed by an uphill stretch. Eventually, though, we were able to enjoy a lengthy shallow descent from the high point reached at lunchtime.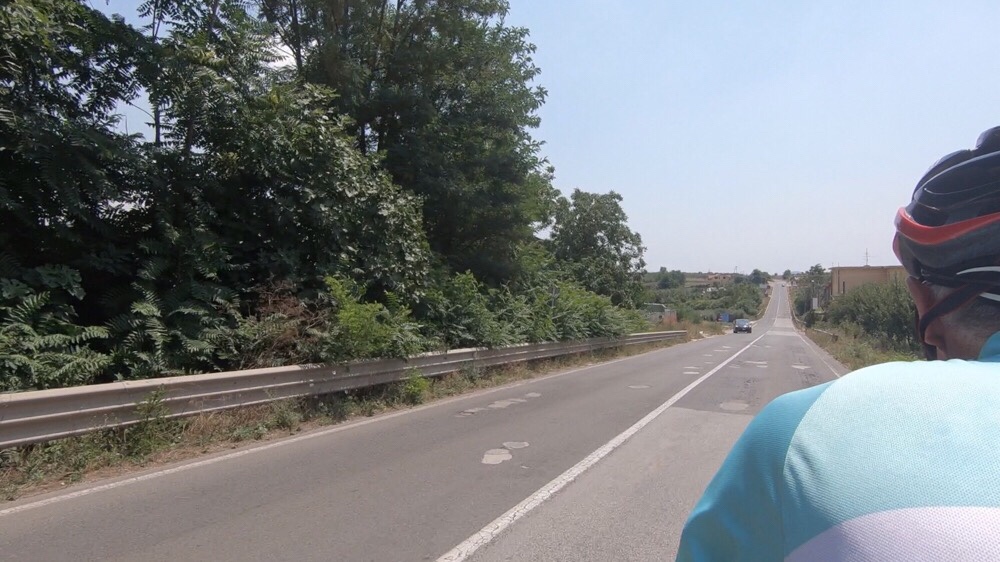 Tantalisingly, ahead, we could just make out the hazy outline of Vesuvius. Tomorrow's route takes us much closer – we've never seen it from the eastern side before, it should be fascinating. We also began to notice plenty of roadside farms selling fresh Mozzarella di Bufala, a speciality of the region of Campania, which we entered this morning. Frustratingly there were no buffaloes to be seen!
With the easier cycling came a diminution in beautiful landscapes. Gradually, as we approached Capua, the urban sprawl took over. For the last ten kilometres we climbed gently towards Caserta on a busy road. All the drivers were respectful, though, and it was still mostly relaxing. On entering Caserta we left the main road to cycle through the grounds of the Reggia di Caserta (the Royal palace of Caserta).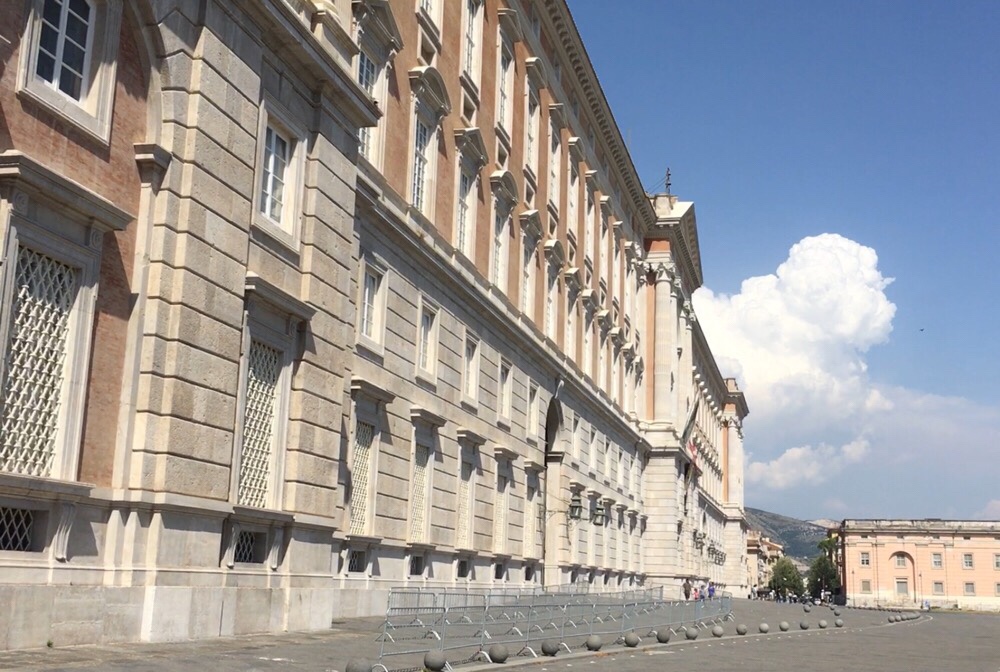 Our AirBnB host, Emy, was waiting for us, and showed us into a lovely large apartment, where glasses of chilled water were provided immediately. Never has water tasted so good as on this journey.
Our aim over the next two days is to get to Paestum, where we plan to take a couple of days to enjoy the archeological treasures and to laze around in a pool! Tomorrow we're heading for San Marzano sul Sarno, south east of Vesuvius. What a trip this is!
Here's today's track.