Distance: 75.2km
Time: 4h
Average speed: 18.73
Song of the day: Bleecker Straat
Click here to see today's route.
Utrecht is lovely. In particular, the street on which our hotel is located, Oudegracht, is delightful. It is fairly narrow, bisected by the canal, but the street is on a higher level. Lower down, on the banks of the canal, there is a terrace on either side, which provides room for plenty of water-side restaurants.
We tried to dine in one of these, recommended by Mary K at the hotel, but sadly it was closed. Instead, we headed for Drieharingstraat and found her alternative recommendation, Spekuk, a simple Indonesian restaurant where we thoroughly enjoyed our meal and a couple of glasses of wine.
Utrecht bustles with activity, and there are bicycles everywhere – the lot of a pedestrian is an hazardous one, forced to dodge between cars, buses and bikes. We took a stroll to see the Dom Tower too – very striking. To be honest, we tend to flake out in the evenings after putting in a lot of effort on the tandem, so our enthusiasm for sightseeing is limited. Besides, we've been sightseeing all day, albeit at a marginally higher speed. And so to bed.
The weather forecast for today wasn't great, although the winds were supposed to be weaker (and still behind us, fortunately). We don't mind getting wet too much – it is preferable to slogging all day into a headwind. The forecast notwithstanding, we emerged from the hotel into blue skies and sunshine. It couldn't possibly last, but it was a pleasing way to start the day. Exiting Utrecht in an easterly direction we soon found ourselves in green field territory – the suburbs didn't seem to extend very far. There were fewer canals and drainage ditches, more fields – some containing arable crops, some with cattle, including some Belted Galloways at one point. It was still sunny, and we could see our shadows.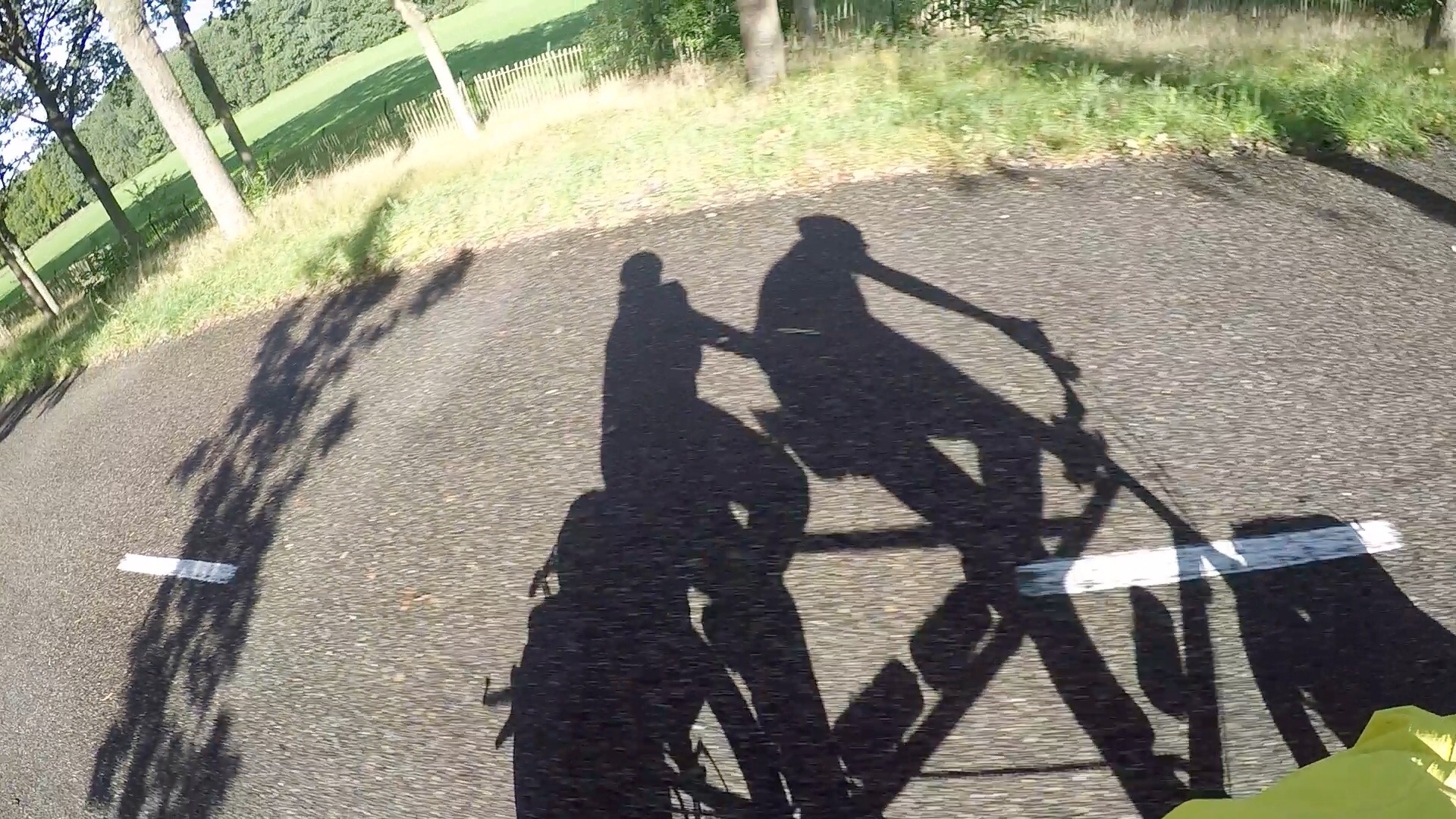 Occasionally we crossed major roads. When we did so, we had our own special fietsers traffic lights. At these one has to press a button, or sometimes to cycle past a sensor. A digital sign indicates that waiting is appropriate, and shows a Countdown style clock, which extinguishes lights in an anti-clockwise manner until it is time to cross the road.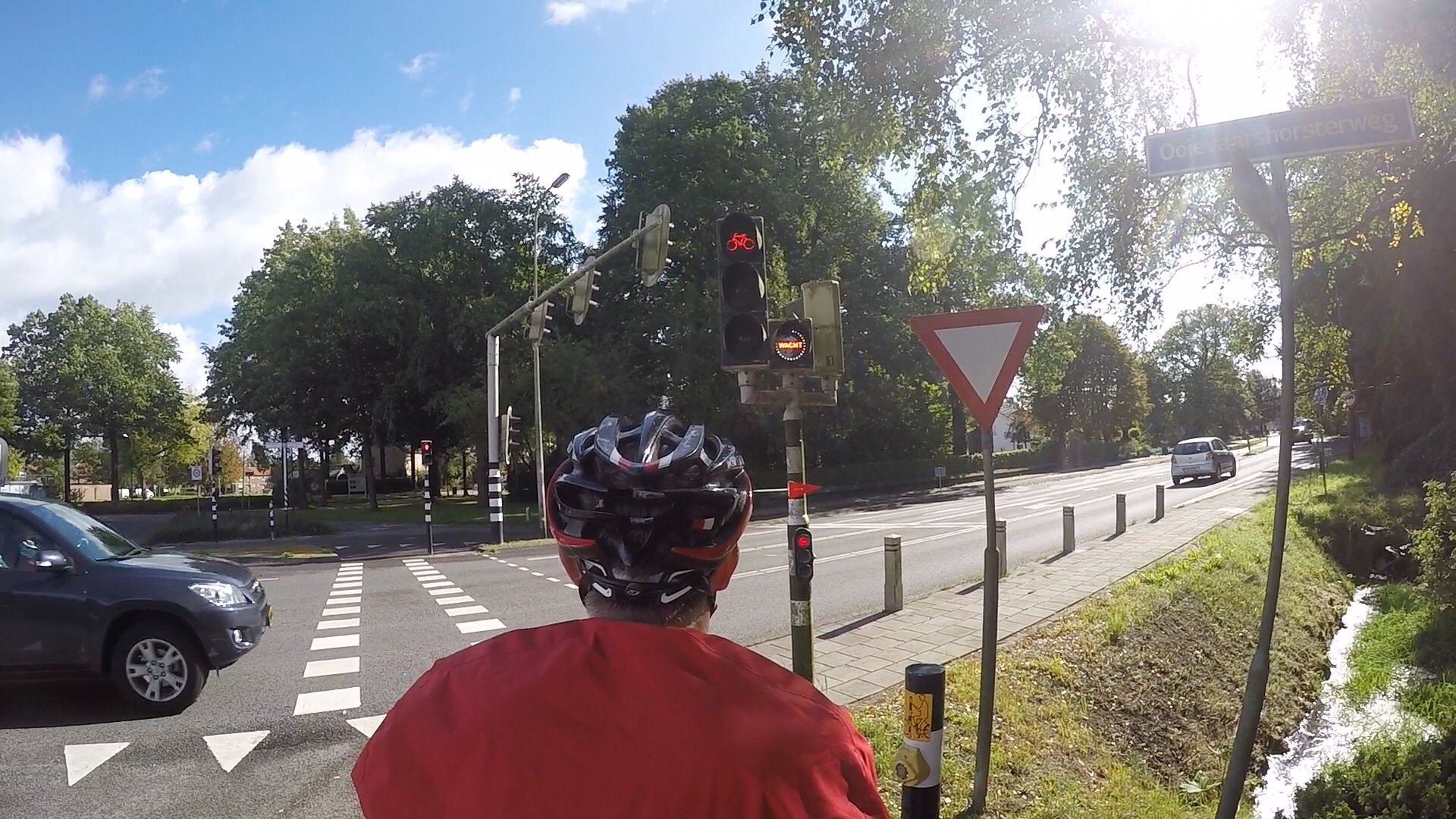 It is obligatory at this point to hum the Countdown theme tune.
The stoker decided to take advantage of the sunny conditions and unpack the GoPro pole. Selfie stick, if you must. 😉 After a few false starts a suitable film was taken, from which this frame has been extracted. Apologies for the gormless expression on the Captain's face – he is concentrating on pedalling!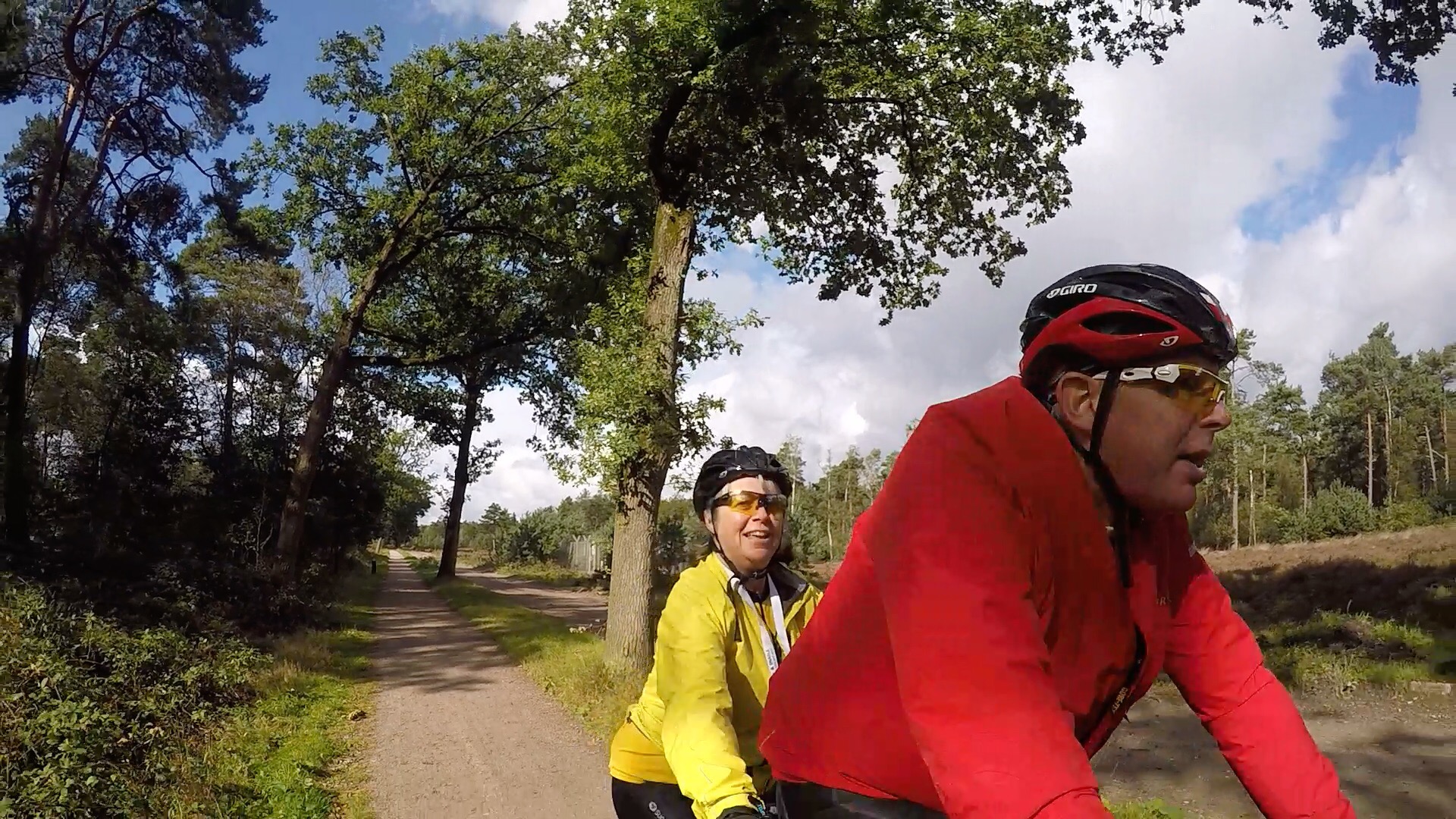 For reasons which will become apparent, our photography was limited to the morning. Here's the last one for today, featuring a friendly horse: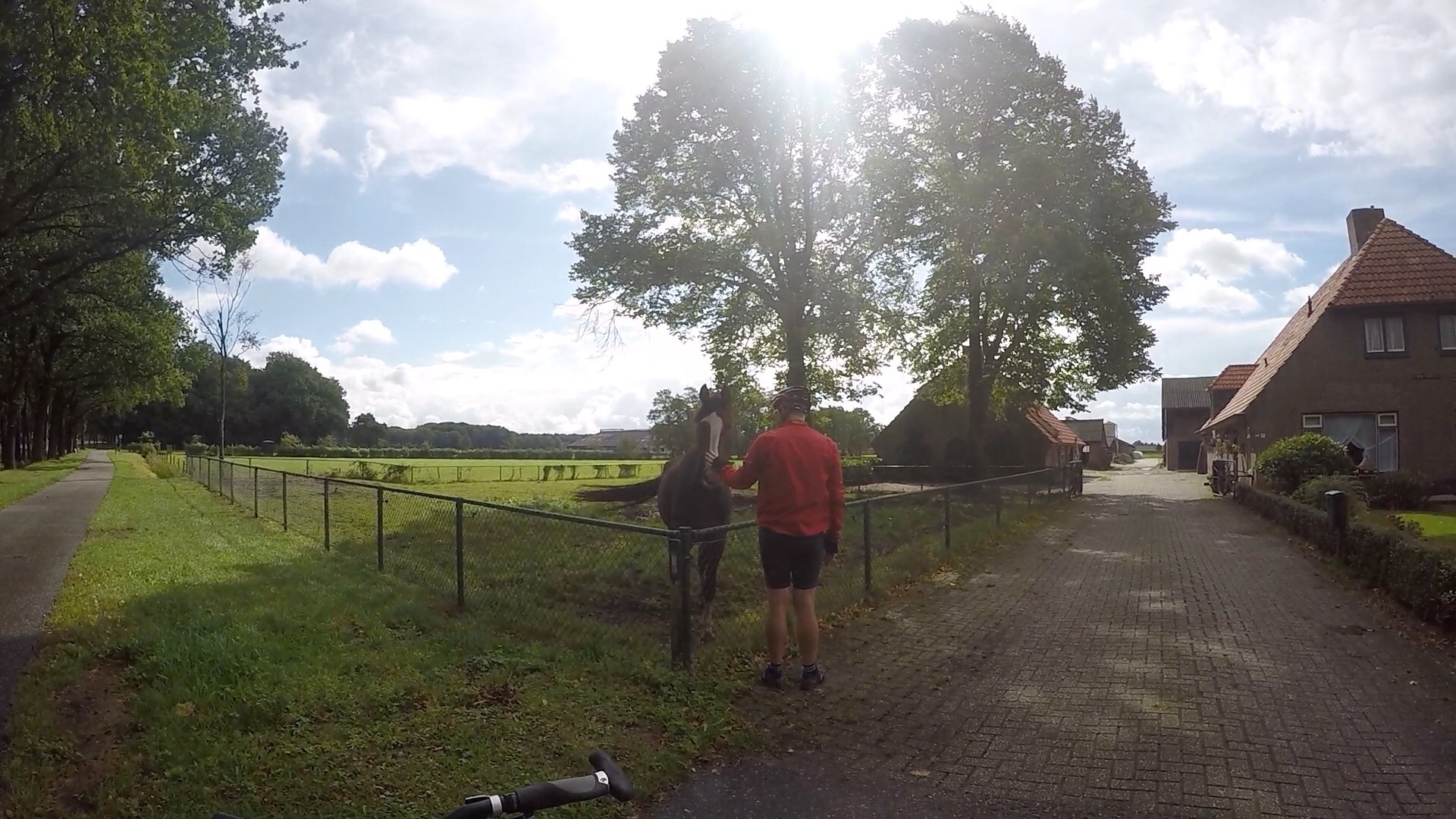 After covering about two thirds of the planned mileage we diverted into the town of Veenendaal for lunch, featuring a ham and cheese broodje for the Stoker, and Bratwurst and fritjes for the Captain. It started raining while we were eating. When we had finished eating it started to rain more heavily. We postponed our exit briefly with a double espresso each, but eventually we had to go out and face the elements.
The rain wasn't too heavy at first. It took us a little while to retrace our way onto the route, but we found it more or less where we left it. The tracks this afternoon were rougher, often through heavily wooded areas. We were shocked to find out that this part of the Netherlands has hills. They are gentle rolling hills, to be fair, but on at least one occasion we had to change gear down into the "granny ring" – this was unexpected.
As we approached the outskirts of Arnhem the rain started lashing down. Although our rain jackets provided some relief from this, we were soaked through by the time we arrived at our accommodation on Koningstraat. Pausing to check the tandem in at another bike garage, we then checked into our apartment for the evening, and cranked the heating up to eleven. I don't think we'll be doing too much sightseeing again tonight, it is cold and wet out there…!