Distance: 54.51 miles
Time: 5 hours 10 minutes
Average speed: 10.5 m.p.h.
Distance from Lands End: 1003.37 miles
Distance to John o'Groats: 28.09 miles
Number of deer we've seen today, with antlers and everything: lots
Number of punctures: 1
If there was one day on this trip after which we needed a bit of luxury, it was yesterday, after slogging our way nearly 70 miles from Beauly into the wind. And if there was anywhere in Helmsdale better than the Bridge Hotel, we'd be astonished. What a fantastic place, a really lovely hotel, with beautifully decorated rooms, wonderful lounges and a great restaurant. It was admittedly a bit more expensive than we'd been used to, but since we'd walked in on spec at 5pm we got a generous discount. And it had a bath, which was wonderful for soaking tired muscles.
The restaurant had a really good menu, including lots of game and seafood from the surrounding hills and shores, and it was all beautifully presented and served. Our hostess, originally from Iran but a long-time resident in Scotland and very passionate about its wonderful resources and ingredients, told us that they had refurbished the hotel, upgrading it from a forty room hotel with just two bathrooms. The queues must have been quite something in the mornings!
After an excellent meal, we retired with a dram of Clynelish whisky each, from a local distillery we'd passed during the day. Gary hadn't been bothered about visiting that one, but it was a good dram, very light but enjoyable.
Breakfast the following morning was very convivial, taken around a big communal table with other guests of the hotel. What an interesting set of people, including a couple whose nineteenth-century ancestors had once owned the hotel, a lady whose grandmother had honeymooned there, and two very entertaining Belgian couples, one of whom owned the oldest antique shop in Bruges. In fact in the hunting lodge setting and surrounded by people with such tales to tell, we started to feel like characters in an Agatha Christie plot. Fortunately though there was no sign of Hercule Poirot, and at no point were we all summoned to the library by the police.
We'd successfully patched the inner tube with the split last night, and also discovered that the first inner tube to fail was punctured in pretty much the same spot, so we patched that too. That's usually an indication that there's still something sharp caught in the tyre, or a problem with the wheel rim. Although we'd checked carefully when putting in the most recent tube, we decided to take the opportunity to have the tyre off for a recheck in the calm sheltered courtyard of the hotel, but still found nothing significant. That successfully done, we left around 10am, with a generous donation for Macmillan from our hostess and very good memories of our stay.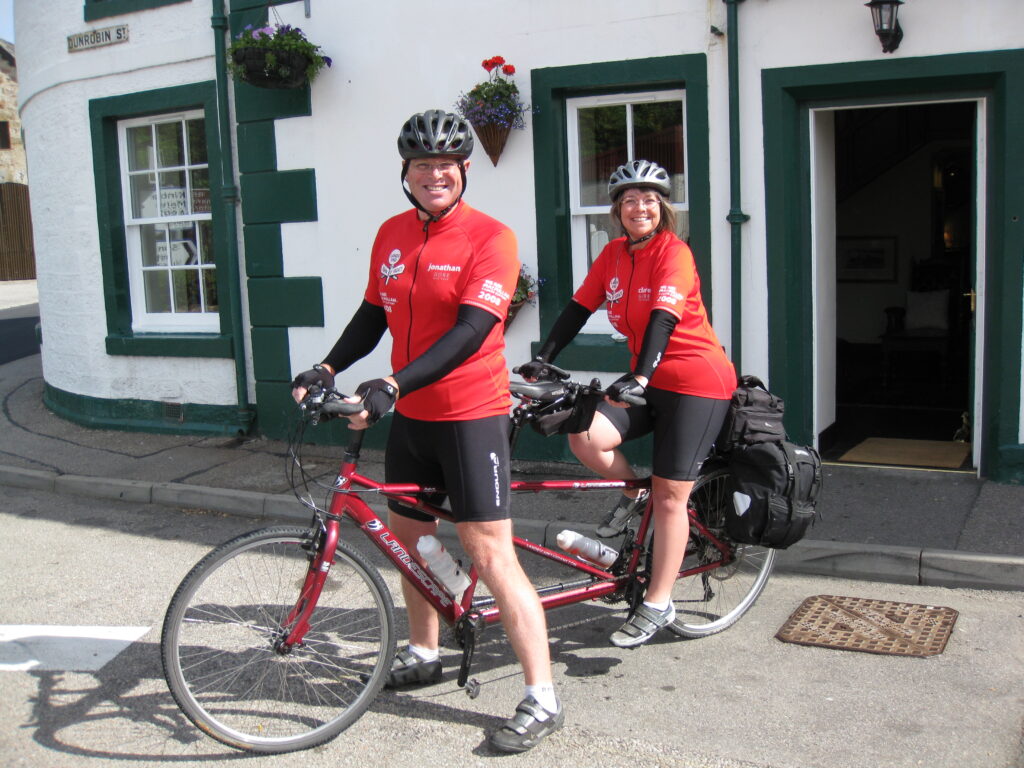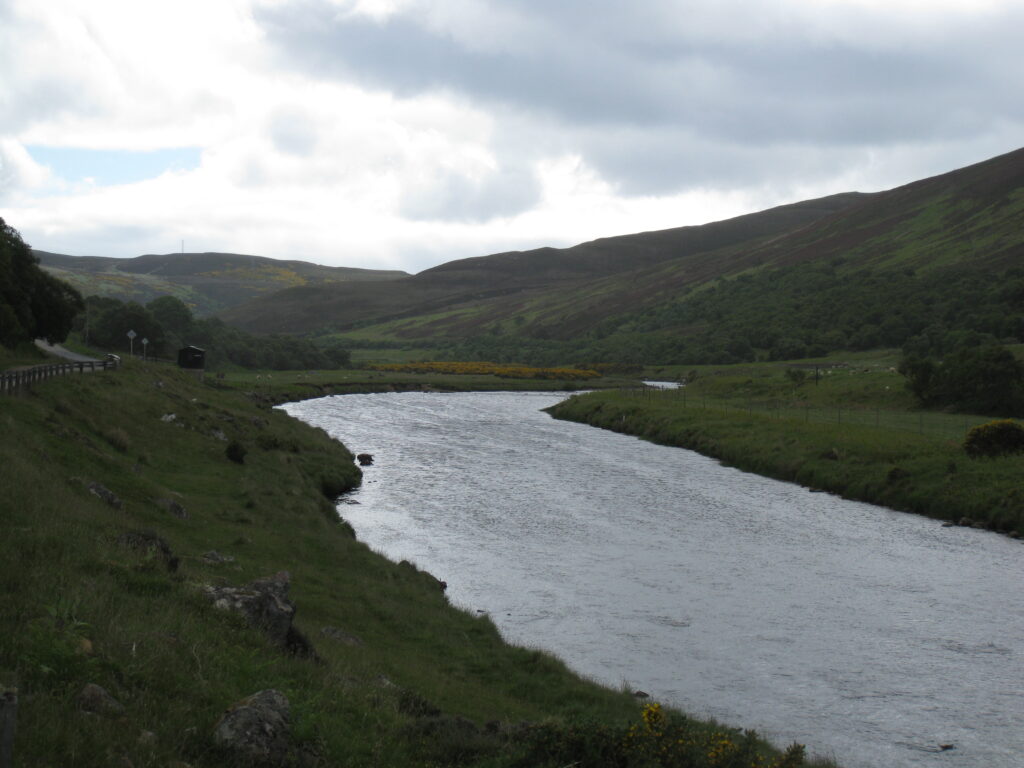 It was cool but sunny as we left on the Forsinard road which would take us through the 'Flow Country', and it was so good to be riding through quiet countryside on a single-track road – so much of the Scottish leg of the trip so far had necessarily been on A-roads. Up ahead, though, after only a few miles, we saw sheets of rain heading in our direction, and we just managed to get our rain-jackets on before the shower hit us. The wind had got up too, and once again we found ourselves battling against a strong headwind. We knew that the day began with a long steady climb to 600 feet at Forsinard, which was 24 miles away, and with the fierce wind directly in our faces it was really hard graft. After about 12 miles there was an ominous rhythmic thumping from the back wheel – another puncture.
This was starting to get serious – we just couldn't understand why it kept happening, we were still well in excess of 40 miles from the nearest bike shop at Thurso, and those 40 miles were over some of the remotest and most uninhabited terrain we'd faced so far. It was also so cold in the wind and the rain, and there was nowhere in sight we could get to shelter to sort out the problem.
So with Scotland throwing everything it could at us, we levered the tyre off again by the side of the road, and found that the puncture was unrelated to the previous problem. This time the problem had been caused by some shredding of the inner wall of the tyre itself, which had obviously rubbed the inner tube and holed it. The tyre had done in excess of 1500 miles, almost 1000 of those fully laden on this trip alone, and had clearly had enough. But what to do?
Fortunately the Captain had posed just this question on a Cycle touring web forum before we left, and had been advised to carry "tyre boots" – strong smooth adhesive patches which can be stuck over the failed inner part of a tyre to allow you to make it to somewhere where you can get a replacement tyre. Some respondents said that they had continued for hundreds of miles with a boot in place. Fantastic advice, and we were glad we'd followed it as we dug out a boot, fixed it in place and reinflated the tyre.
It was still pretty worrying, though – would it hold until Thurso? With some anxiety, we pushed on in the wilderness, into the wind, and up the hill. If it sounds like we weren't having fun at this point, it's because we really weren't. We were barely averaging 9 mph into the wind, and there were still 12 miles to Forsinard, the end of the climb and the only place where we thought there was a chance we could get lunch.
Sometimes you just have to focus on keeping the legs moving and the wheels turning, and that's what we did, and sure enough the miles passed, we crested the climb, and Forsinard appeared, complete with a hotel from which food smells were emitting. We were offered soup and a sandwich, which were perfect for warming us up, and after just half an hour in the warm dining room we were feeling warm and a little more cheerful. The tyre seemed to be holding too.
After lunch we set off down towards the very northern coast of Scotland, where we would turn east towards Reay and Thurso (and the bike shop). It was cold, and we had to pedal hard even to descend into the wind, but that was probably a good thing as it kept us warm. We kept seeing signs for Thurso which showed it as being about 7 miles further than Gary thought it was, which was a little worrying. After 13 long miles we spotted the sea and reached the turn onto the Thurso road. Still 16 miles to Thurso according to the sign, and then also according to Gary too, once he'd come to his senses, which was annoying. It was turning out to be a 'just get through it' day.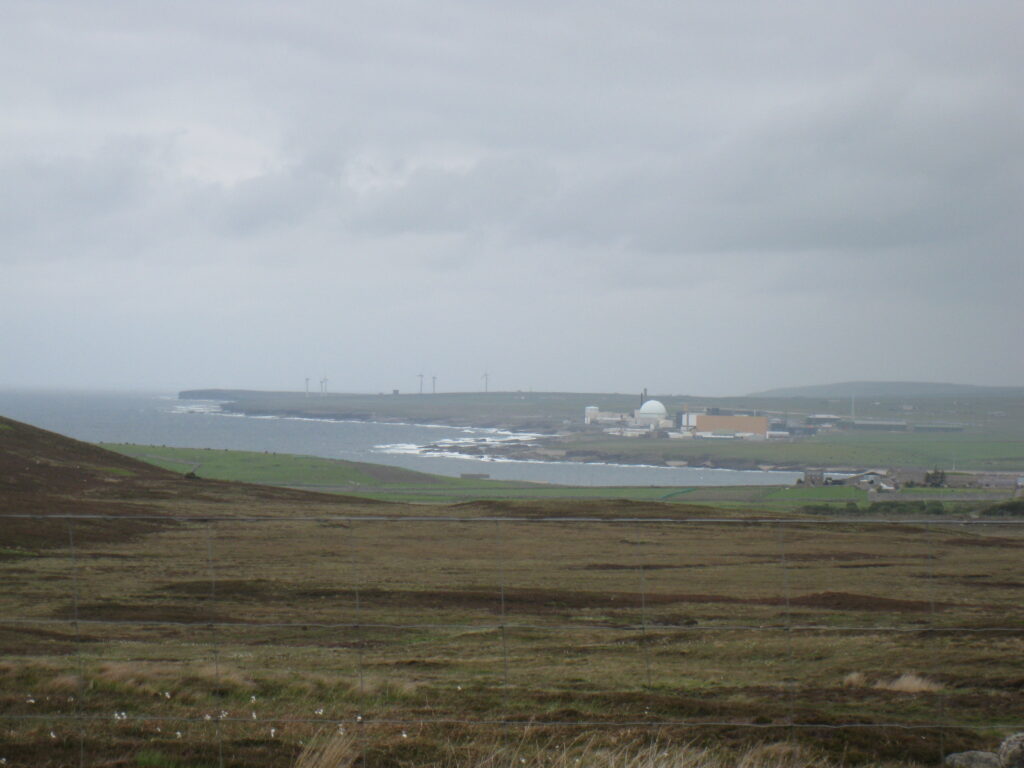 The miles to Thurso gradually reduced, and there were things to see, including the faint outline of the Orkneys, and the site of the decommissioned Dounreay nuclear establishment. We also started to get lots of encouraging hoots and waves from passing motorists – although our shirts were covered by our rain jackets and so our destination wasn't being advertised, there can't be many other reasons than the 'End-to-End' to be on a fully laden bike around here. That was morale-lifting, and the sight of Thurso appearing at the end of a long easy glide, out of the wind now, lifted our spirits. We sailed through to the bike shop on our mega-list, the aptly-named "The Bike Shop", where they replaced the booted tyre, supplied a new inner tube, and pumped up both tyres to full pressure. What a relief. The shop owner told us he'd stay open for another ten minutes, just in case we found any more problems when we got back on the bike, and even recommended a B&B for us, which saved a lot of time.
So after a very long, very hot shower (each!), we are now restored to normality, and ready to face the final day tomorrow. From Thurso we will go to Dunnet Head, then on to Duncansby Head and John o'Groats itself. We'll have everything crossed though – fingers, toes, eyes…