Distance: 107 km
Time: 5 hours 12 minutes
Average speed: 20.5 kph
Total distance: 656.7 km
Total time: 31 hours 20 minutes
Wordle scores: Captain 6, Stoker 2
We had absolutely no idea what to expect of Bremen. A little historical research confirmed my suspicions that it was the target of the first '1,000 bomber raid' in 1942, and of many subsequent attacks thereafter. So it wasn't very surprising that there were plenty of modern buildings in the city centre. What was surprising was that some splendid historical buildings can still be found – whether in their original form or after reconstruction I'm not sure.
We wandered along the river Weser first – the city's nightlife was getting into its swing, and the waterfront area was lively. Then we cut into the Markplatz to be greeted by some strikingly lovely architecture.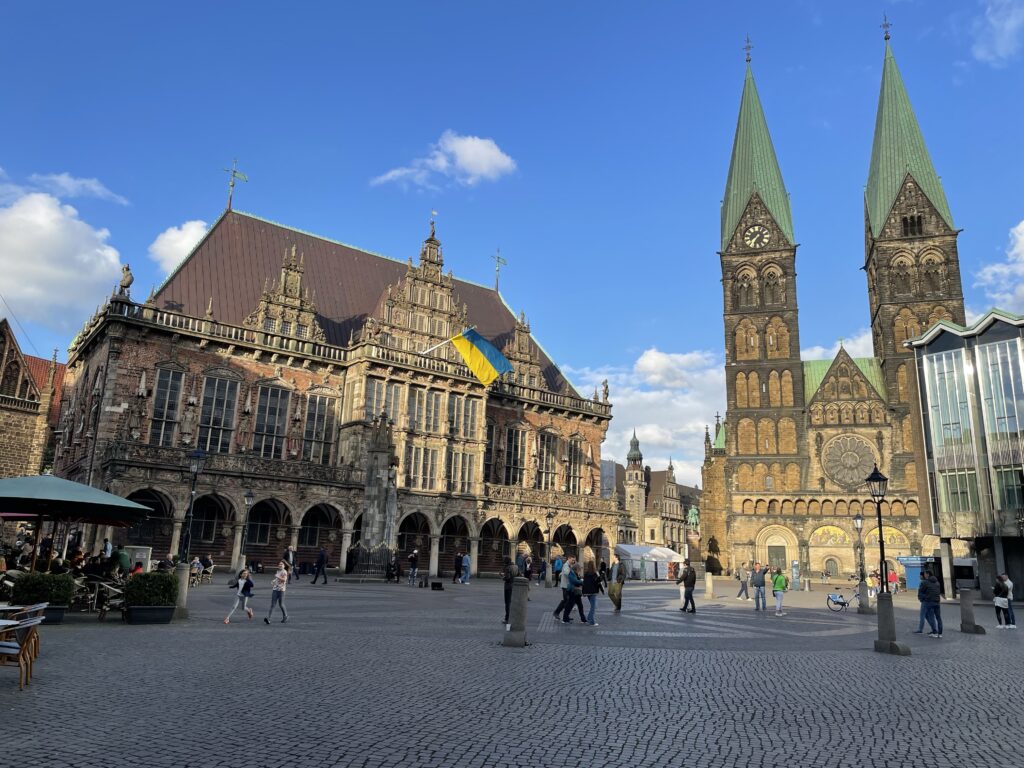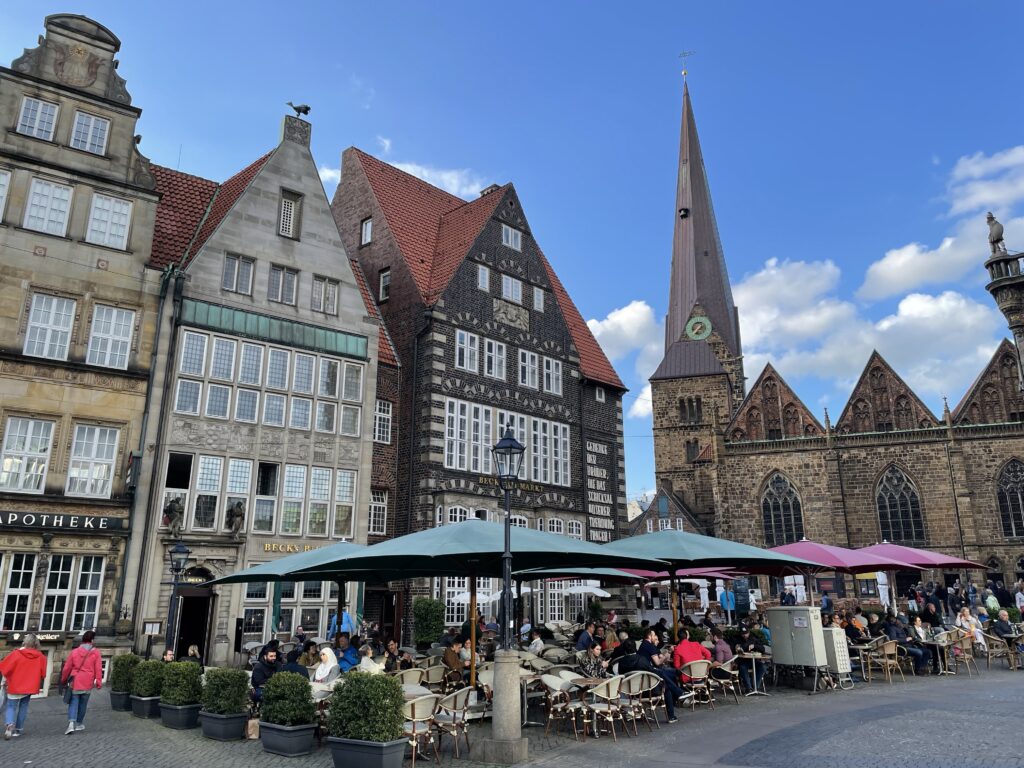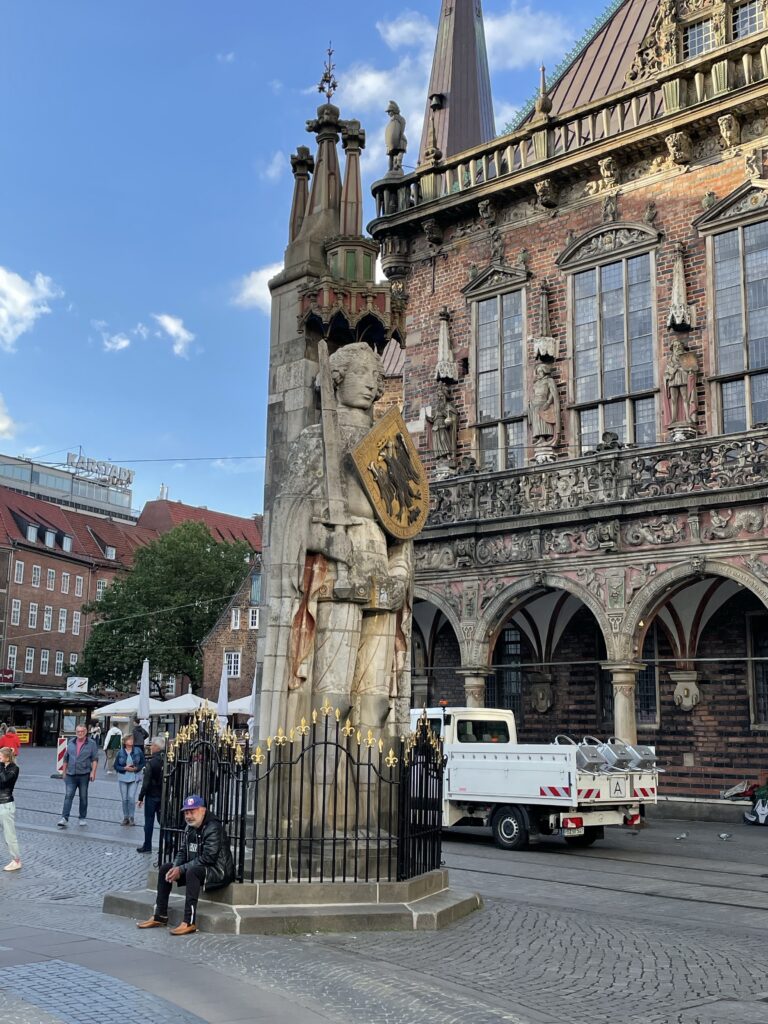 Around the back of the Rathaus we found "The Town Musicians of Bremen". This bronze statue depicts the four ageing domestic animals described by the Brothers Grimm in the eponymous tale. Parts of each animal were bright and shiny from being rubbed by residents and tourists in search of good fortune.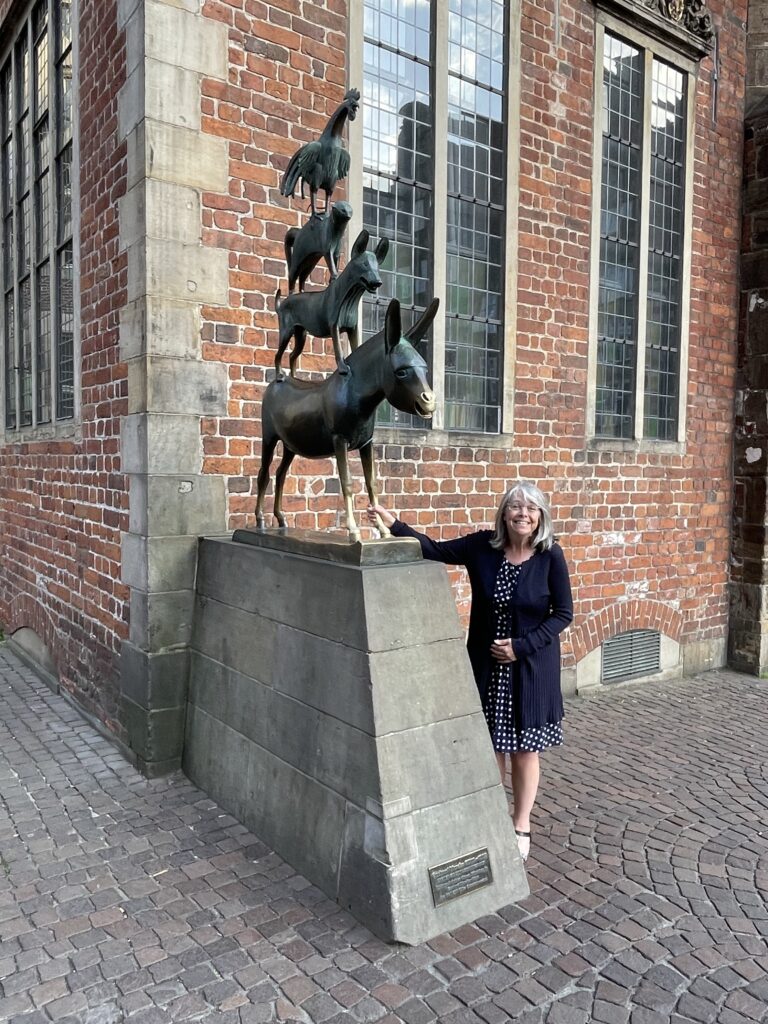 Judging by the Stoker's excellent score in Wordle this morning, it clearly works!
We dined simply at an Italian restaurant, our eyes already closing from the effort of the day as we finished a very good bottle of Aglianico.
When we awoke this morning the gloomier skies of yesterday had vanished, and we saw plenty of clear blue sky out of our window overlooking the river. After an excellent breakfast (including some chilled rice pudding which later proved to be excellent cycling food!) we loaded up the tandem and headed off. Today was the last of several long days in the saddle since our rest day in Groningen, and we wanted to make a good fist of it.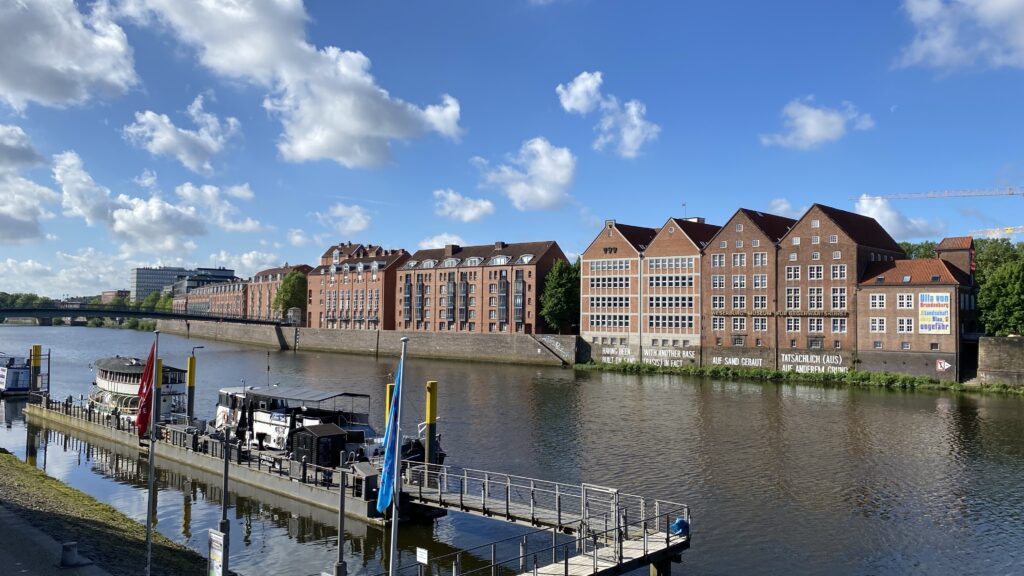 So it was all too predictable that our exit from Bremen was error-strewn and chaotic. It wasn't quite as bad as our departure from Piacenza in 2018, but it was close. After about twenty minutes of doubling back, consulting maps and scratching our heads we finally settled onto the correct route and headed out of town on the riverside track, which was heavily populated with the joggers, cyclists and roller-bladers of Bremen, taking their morning exercise. Oh, and a very competent paddle-boarder was heading downstream on the river.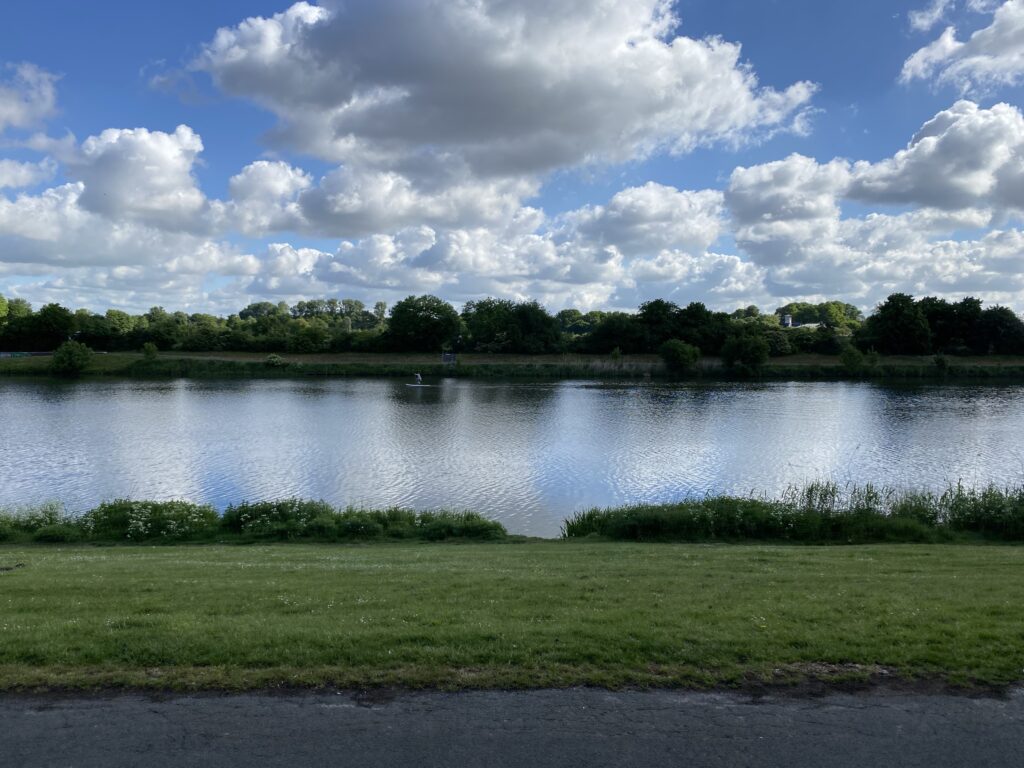 Immediately the industrial grot seemed to vanish, and the riverside was all green pastoral loveliness. The cycle paths were wide and smooth, with far-reaching views in all directions, and we settled into 'cruise mode". Our bodies have once again become accustomed to long-distance cycling (apart from our bums, more on that later!) and we're feeling considerably stronger than when we left Apeldoorn.
As the morning wore on the cycle paths took us on long excursions away from the river, with more variable, sometimes uncomfortable surfaces. These slow us down considerably, and it's always a relief to encounter a smoother section. Just occasionally we were presented with Belgian-style cobbles which, if we weren't so genteel and refined, would have provoked repeated swearing!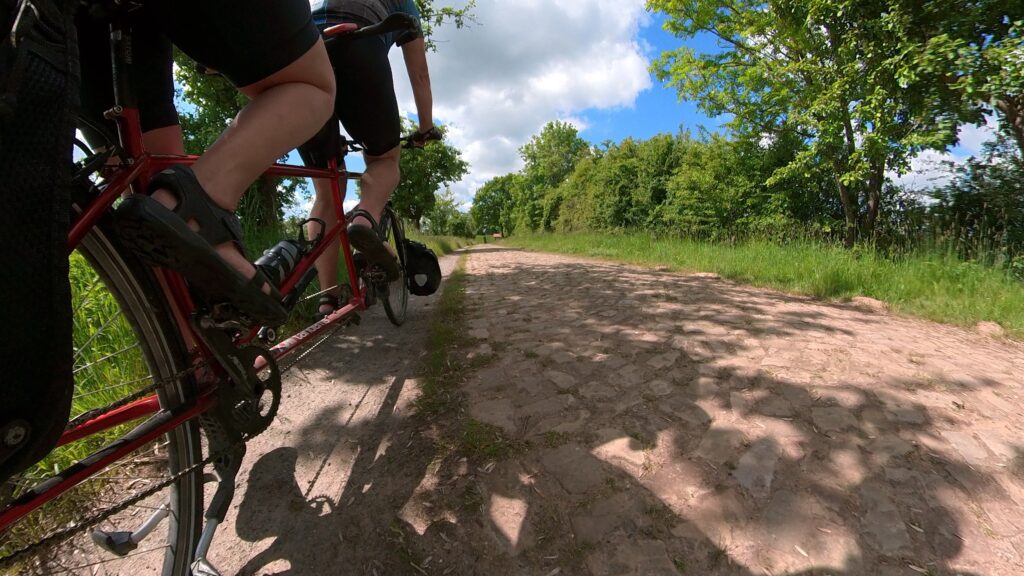 We thought we'd spotted a cheeky shortcut, near the town of Langwedel, which would cut a few kilometres from an already long day. On a whim, just before we took the diversion, I checked Google Maps, only to see that a crucial bridge was completely closed until the end of July. Curses! Still, those parts of the route that hugged the riverbank made it all worthwhile.
Lunch was taken at an excellent bakery / café in the town of Hoya. As well as the usual sandwiches we awarded ourselves some delicious strawberry tart, reasoning that we still had almost forty kilometres to complete in the afternoon.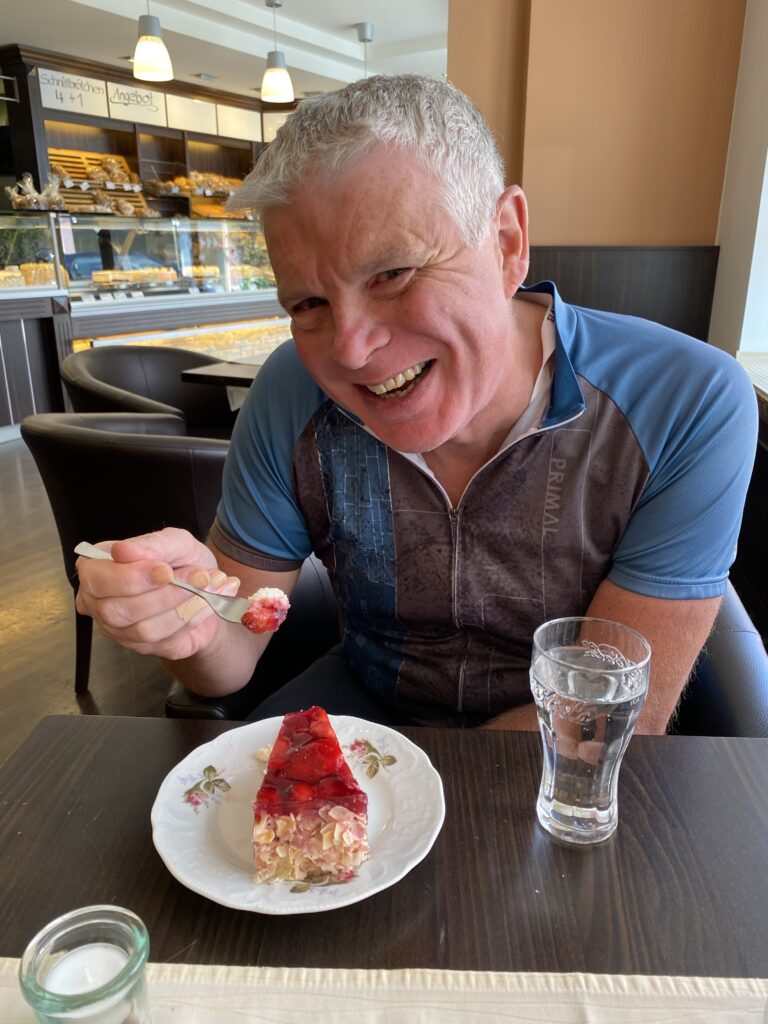 The stocker wrote about the customary greetings in The Netherlands (hé, hoi and moi). Over the border into Germany, at least in Lower Saxony the greeting has transmogrified into 'Moin'. Almost everyone we encountered would greet us in this way (the others with a simple 'hallo'). Curiously, towards the end of today, 'Moin' seemed to fade away. Perhaps we have crossed an important linguistic border.
I had carefully researched today's ferry. I had confirmed, using translation software, that it was definitely open. So it was with some delight that I found my research to be correct on this occasion, and a modern, automated chain ferry took us across the river at Schweringen, to commence the last few kilometres of the day.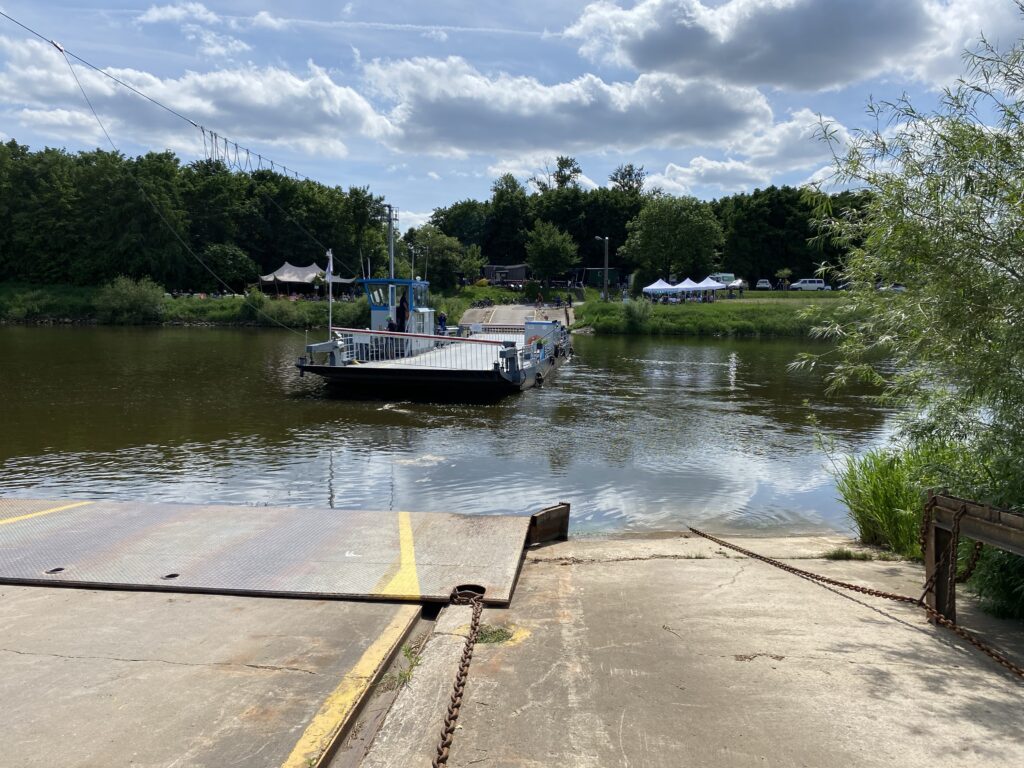 We were rounding a corner not long afterwards when the Stoker shouted 'Stop!'. Being the responsive type that I am, I complied, not knowing the reason why! Anyway, she had spotted a large, well-populated Stork nest on top of a nearby tree: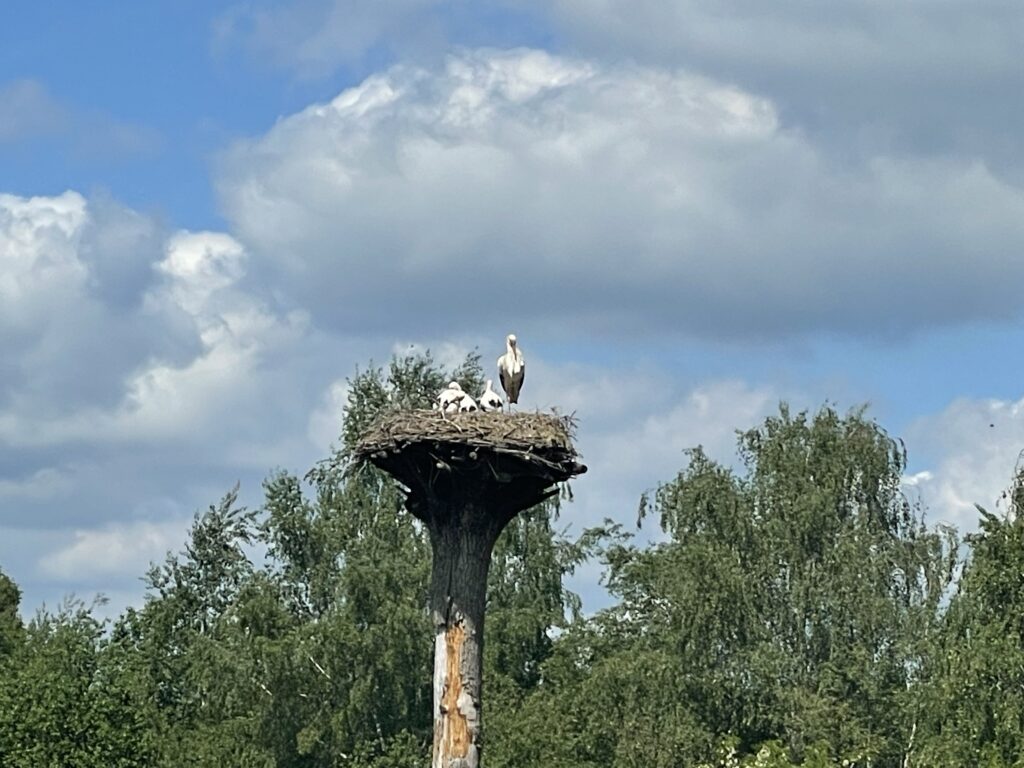 Cycling on the flat (as we have been doing so far) is fast and efficient – there are no really slow sections (which are typical of hillier areas). Consequently we can cycle long distances (at least by our standards) each day. There is, however, a downside. When cycling in hilly areas there are opportunities to get out of the saddle on the downhill sections, to rest the nether parts! On flat routes these opportunities don't exist. This becomes particularly important on a long tour, as you might imagine.
Over time we have evolved a protocol. One of us will decide it is time to stand up to relieve the pressure (and, later in the day, the pain). If it's the Stoker needing a rest, she will typically shout 'Bum Rest?', and I will level the pedals so that we can stand up for a few seconds. On this trip she has decided to make the call in German. So every so often I will hear 'Arschpause?!' from the rear motive unit. This provokes pain-relieving giggles!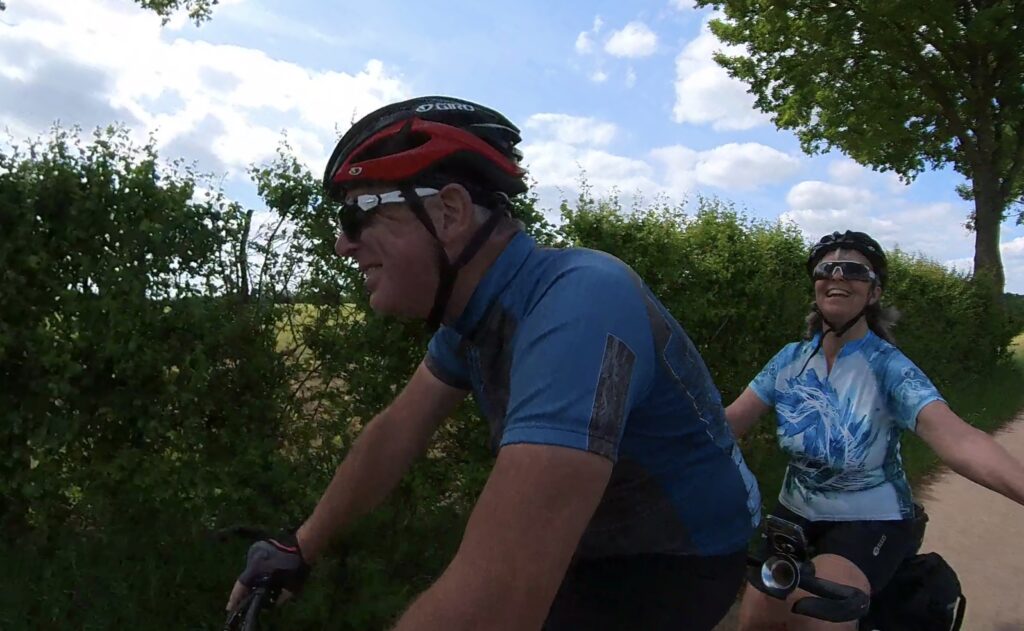 Enough about bottoms! The last few kilometres were painful, indeed, but also beautiful.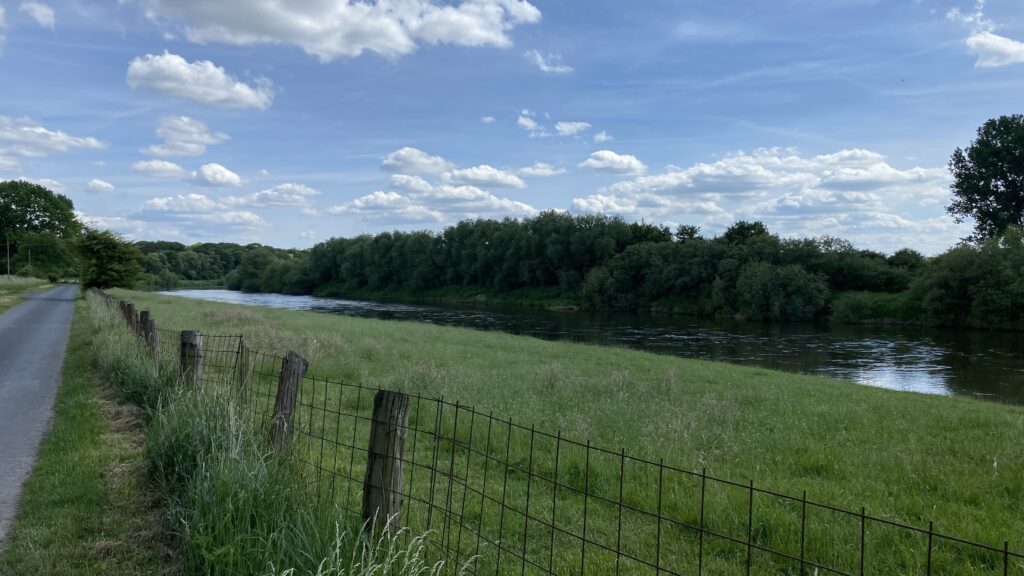 Eventually we crossed a bridge, past some lovely looking restaurants, and found our AirBnB for the night, in the town of Nienburg. It looks very promising.
Tomorrow is a much shorter day, of only 52 kilometres, to Hanover. We're going to cycle it all in the morning, so we can spend the afternoon exploring the city.
Here's today's route and a short video