Distance: 74.83 miles
Time: 6 hours 23 minutes (ouch!)
Average speed: 11.7 m.p.h.
Distance from Lands End: 398.63 miles
Distance to John o'Groats: 621.37 miles
Number of international (ish) borders we've crossed today: 2
Number of minutes spent in Wales: 38
Number of mechanical breakdowns: 1
Number of bike shops visited: 2
Number of bike shops which were any good: 1
Number of bike shops which had the part we needed:0
What a day! Mechanical problems, unscheduled trips into Shrewsbury, navigational errors… But more on that story later…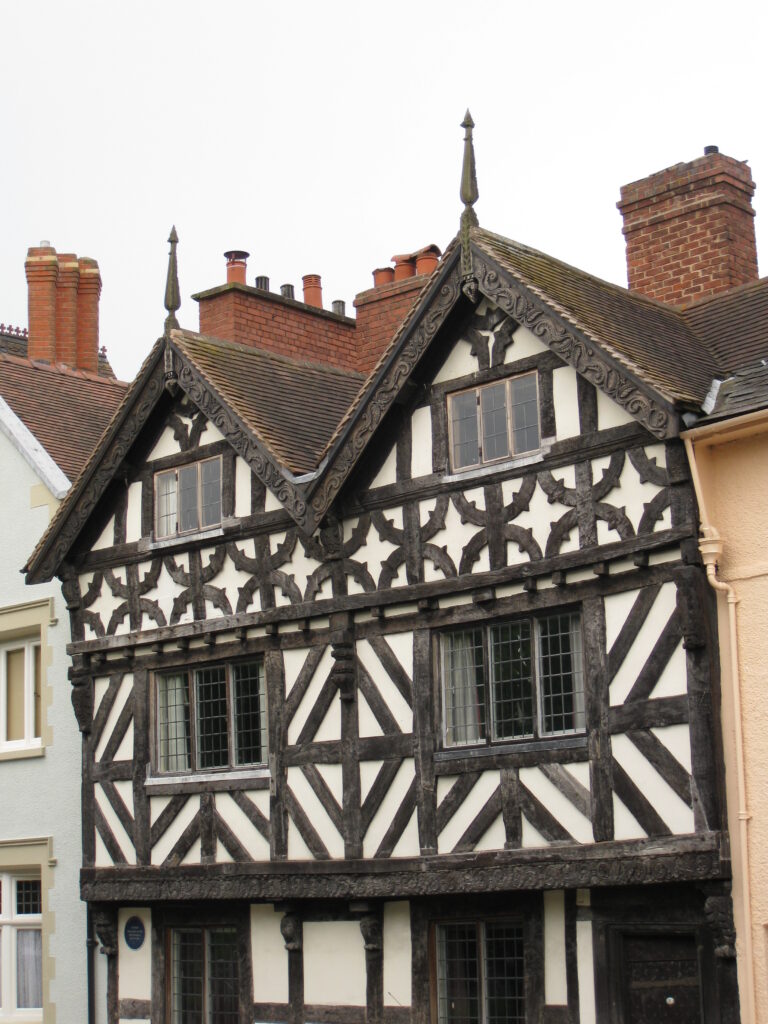 Ludlow was really lovely, and we enjoyed an early evening
walk around before dinner. The castle is very spectacular, surrounded by high walls and lime tree lined walks, and we had a great view of it from our apartment. Ludlow is very 'black and white', presumably Tudor, and reminded us a little of Stratford, but without all the American tourists.
We had dinner at a Thai restaurant, which was very good, and we decided we must now be in 'Archers' country – a man telling off his slightly over-excited son sounded exactly like Will. Or is it Ed? Can't remember which is which.
We slept well, and since the apartment was above a bakery, we were gently woken by wonderful smells of baking bread. We got away in good time to meet Steve, Ann and David in Church Stretton at 10, and we knew we had two climbs to get over first, one over 800 feet. Although they looked a little steep on the map, the lady at the Tourist Information Centre yesterday told us it was much gentler in the direction we were going, and she was right.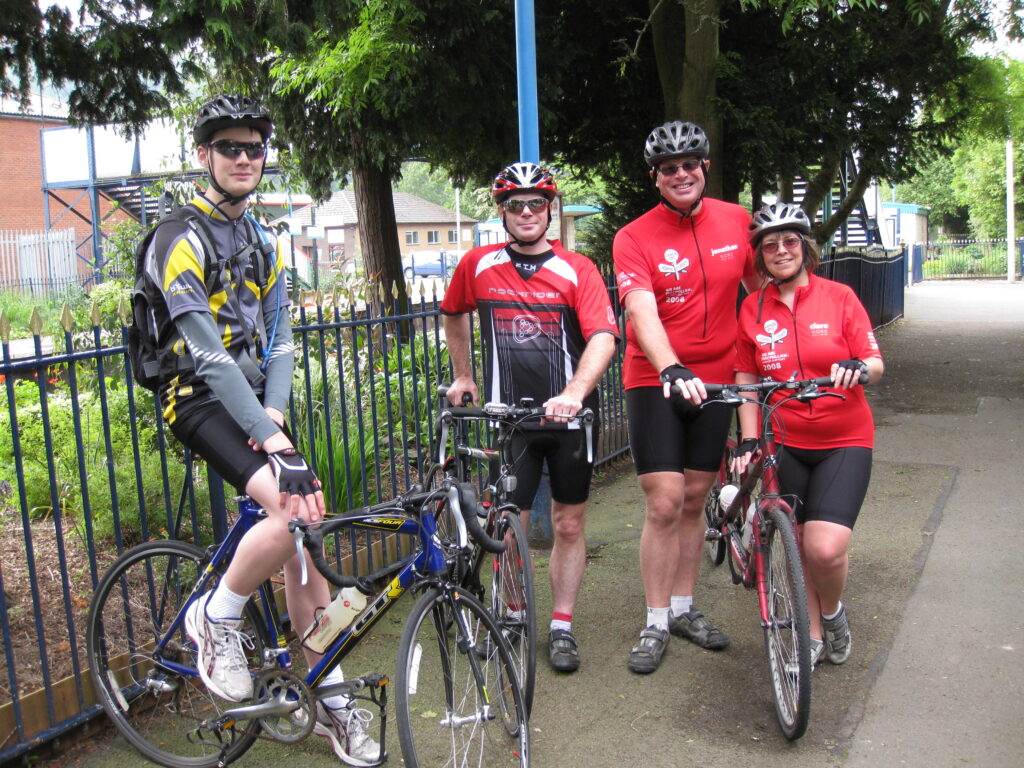 It was lovely, winding up through little lanes, a gentle climb in intermittent sunshine, and we crested the first climb and glided down through the forest. A quick water break, and we started up the second climb – a little steeper, but fine, and we arrived in the station car park at Church Stretton and shared a bit of malt loaf with Steve, Ann and David, before off-loading our panniers to Ann for an 'alpine-style' day.
We headed off all together, and we made great progress along the lanes, enjoying the sunshine and the quiet roads. We spotted a black cat up ahead, and hoped (superstitiously!) that it would cross our path for luck. This has happened for the past two days, strangely, and today made a third. What could possibly go wrong?
Well, as we set off across the first of a series of roundabouts around Shrewsbury, the gear change from the small to the middle chain ring just wouldn't go in. All the usual pedalling backwards techniques didn't help, and suddenly it was obvious that the middle chain ring was seriously bent out of shape.
No problem, we thought, we've planned for just such a situation, and dug out our list of bike shops. Gary flawlessly navigated us 2 miles into Shrewsbury to the nearest shop, who were USELESS – no ideas, except to direct us to another shop. The second shop obviously knew what they were doing, but just didn't have a replacement ring. What to do? We knew we could ride in the big ring, but that neither the middle nor the small ring would go into or stay in gear. For the uninitiated, the small ring is the one you use for climbing, whereas the big ring is good for bowling along on flat terrain or downhill. We also knew that there weren't any significant hills between Shrewsbury and Chester, so we reckoned we could make it to Chester in the big ring all the way, and hopefully sort it all out there.
We pushed on to Ellesmere for lunch, slightly further than we would all have liked, but it was the first place with a pub! It was interesting that the accents of the locals in the Red Lion had suddenly switched – after so long with south-western voices it was quite a contrast to pick up an increasingly scouse twang. The man behind the bar told us we were nearly in Cheshire, and we set off after lunch with 49 miles on the clock, and around 24 miles to go.
We had given Ann all the details of the part we needed (with the help of Ruth at JD Cycles in Ilkley, who gave us the exact part number), and a list of bike shops in Chester, and she soon had the part located and reserved for us. We knew it was unlikely that we would get there by 5 to have it fitted tonight, but just knowing that it was set aside for us was so good.
We crossed briefly into Wales, where Gary went bananas, and so we made a couple of navigational errors, but managed to get back on track with the help of our backup paper maps. We were really disappointed to have to walk up a couple of short uphill-ish sections we would normally have cruised up with a full set of gears, but at least we were still on the road, and making good progress towards Chester. We were all getting pretty weary, but David passing his previous personal best mileage gave us a boost, followed shortly after by Clare passing her previous tandem mileage record.
It was well after 5 when we met up with Ann on the outskirts of Chester, but we knew we had under 3 miles remaining. It had been really great to have Steve and David's company today, and it had really helped to get us through the long day. We collected the panniers, and headed into Chester, where we're now settled into a guest house opposite a tapas bar we might try later, if we can stay awake long enough!
The bike shop is expecting us at 9:30 tomorrow – fingers crossed for our repair!