Distance: 30.39 km
Time: 3 hours 8 minutes
Average speed: 9.7 kph
Ascent: 1126m
The aim of this trip was to cycle the Loire from source to sea. Pretty much all downhill, you'd have thought, at least once you arrive at the source of the river up in the Massif Centrale.
Looking at the map, though, it was clear that any route to the start point in Avignon would take us close to the famous Tour de France mountain climb of Alpe d'Huez. It seemed like an opportunity not to be missed, so we scheduled in two nights in Le Bourg d'Oisans at the foot of the mountain, with the intention of 'riding the Alpe', as they call it.
We arrived at our hotel in Le Bourg d'Oisans yesterday in cool, cloudy weather, just as a weary-looking cyclist was helping his rather cold-looking friend back to their room after their own attempt. We immediately rethought our clothing options, adding some layers to our kit for the following day! Our hotelier's first question was 'would you like to put your bicycles in the garage?'. Pretty much everyone here is a cyclist, it seems, there are so many of the iconic French cycling climbs here, people much fitter than us come for a couple of weeks to bag them all.
After a quick lunch we put the tandem together, gathered our kit, and settled in to the little apartment, trying to spot the hairpins of the ascent road from our balcony. We had a relaxing afternoon, and then a carb-heavy dinner to fuel us for the climb.
I'd love to say that today dawned fine and clear, but it didn't. The forecast was pretty grim, getting worse and worse as the day went on, so we decided to head straight out after more carb-loading at breakfast, in the hope of beating the weather. After resetting our saddle heights three times (note to self: a little test ride after assemblage might have been a good idea!), we were off.
Everyone we know who's ridden the Alpe told us it's really steep at the bottom, and there would be little or no warm-up, since it starts in Le Bourg d'Oisans. The first ramp came up really fast, suddenly we were climbing at a gradient of about 10%. "This feels OK", I thought, followed a little later by "actually, can I keep this up for two hours?". The Captain later confessed that he had the opposite experience, thinking "This is really hard!", followed later by "actually, this is really OK". So much of cycling is in your head.
We passed the first hairpin bend, numbered 21. Each of the twenty-two hairpins is numbered, counting down from turn 21 to turn 0, and each is dedicated to one or more of the cyclists who has won the Alpe d'Huez stage of a Tour de France. We took it very steadily, getting into a climbing rhythm, in our heads and in our legs.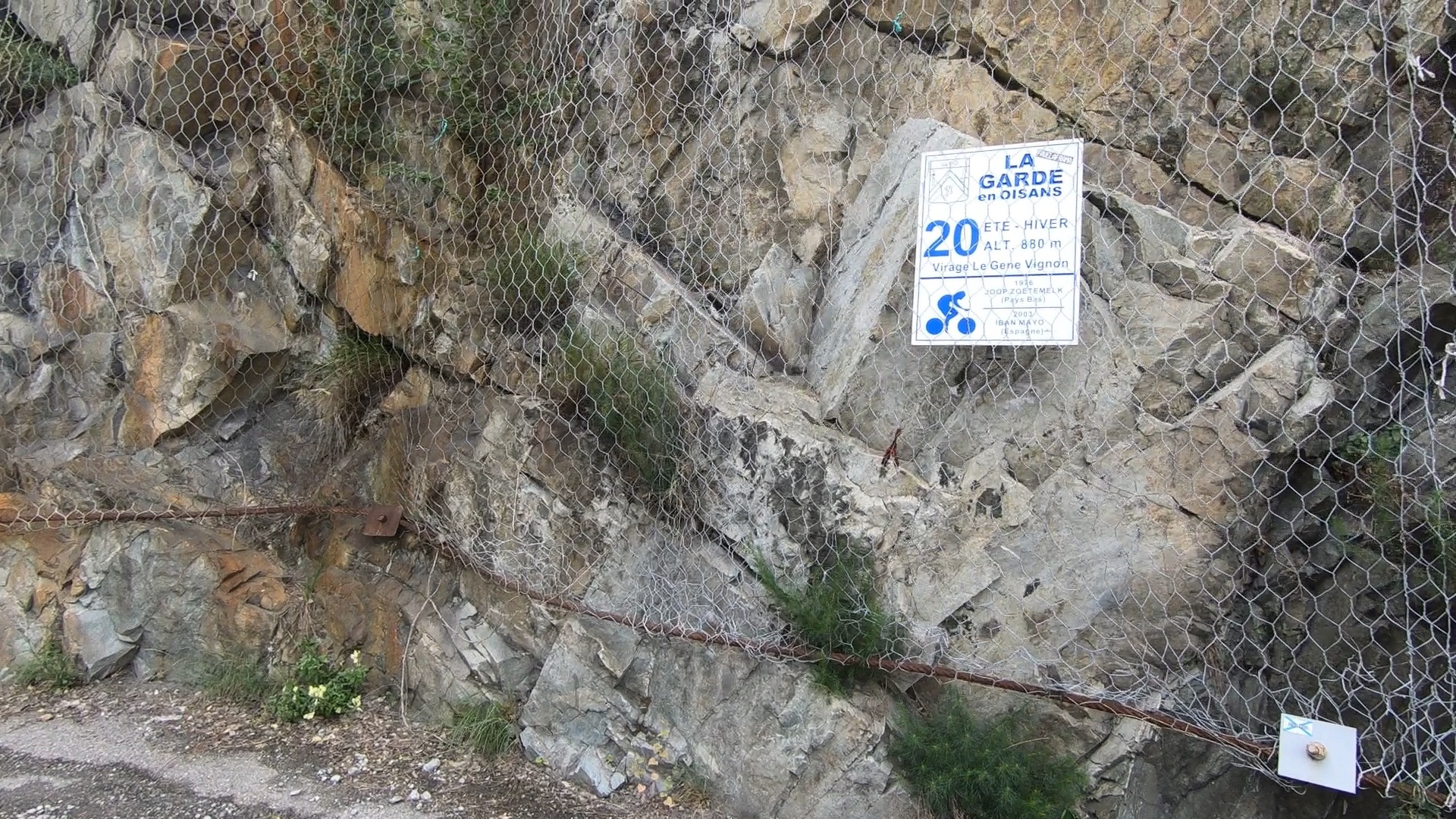 At turn 16, after an especially steep bit, the gradient slackened off a bit, which was a relief. We were gaining height pretty rapidly, and getting occasional views back down to the town. Up above us was a much thicker cloud layer, and we knew we'd have to go up through it soon.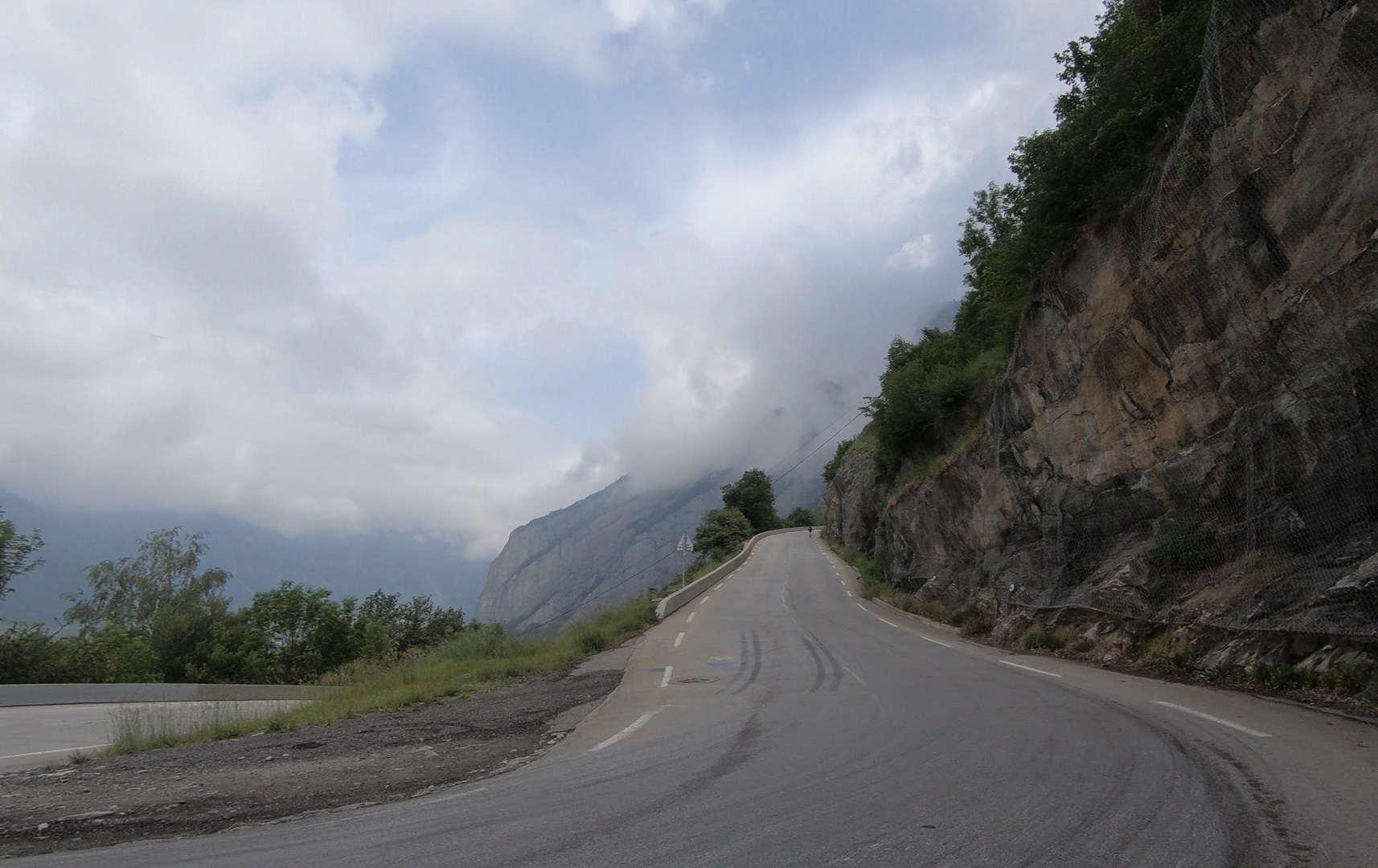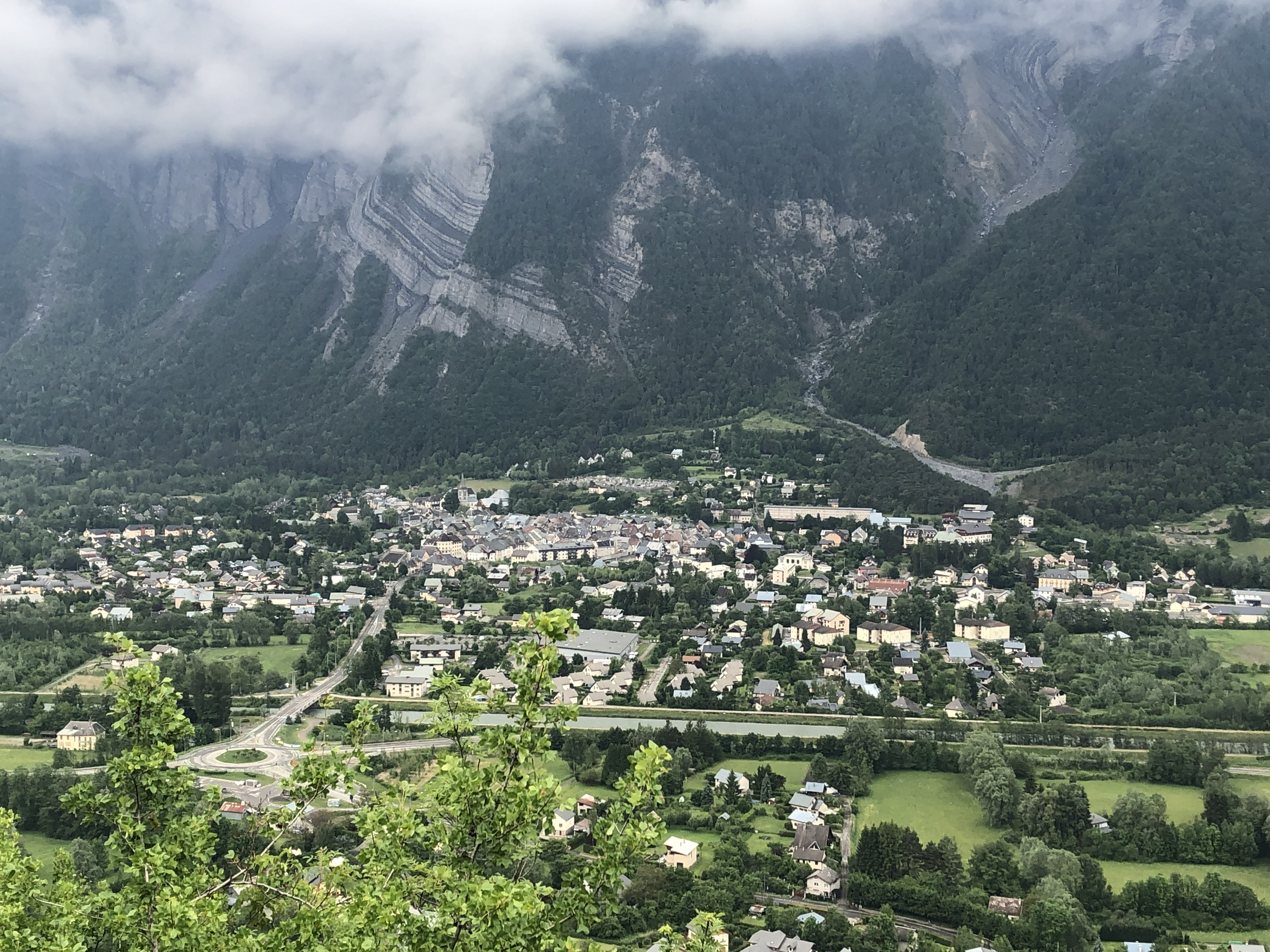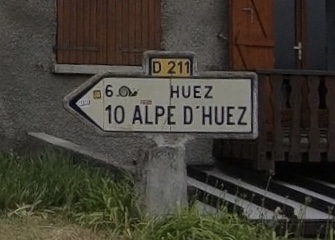 After turns 14 and 13, we saw the absolutely classic view of the Alpe d'Huez road in front of us. Six hairpins taking the road quickly up what looked like a completely vertical wall. Looking at it from the bottom, it seemed a huge vertical distance, but it was very doable, and we did it! By the time we got to the top, at turn 8, we were well into the cloud and it was raining.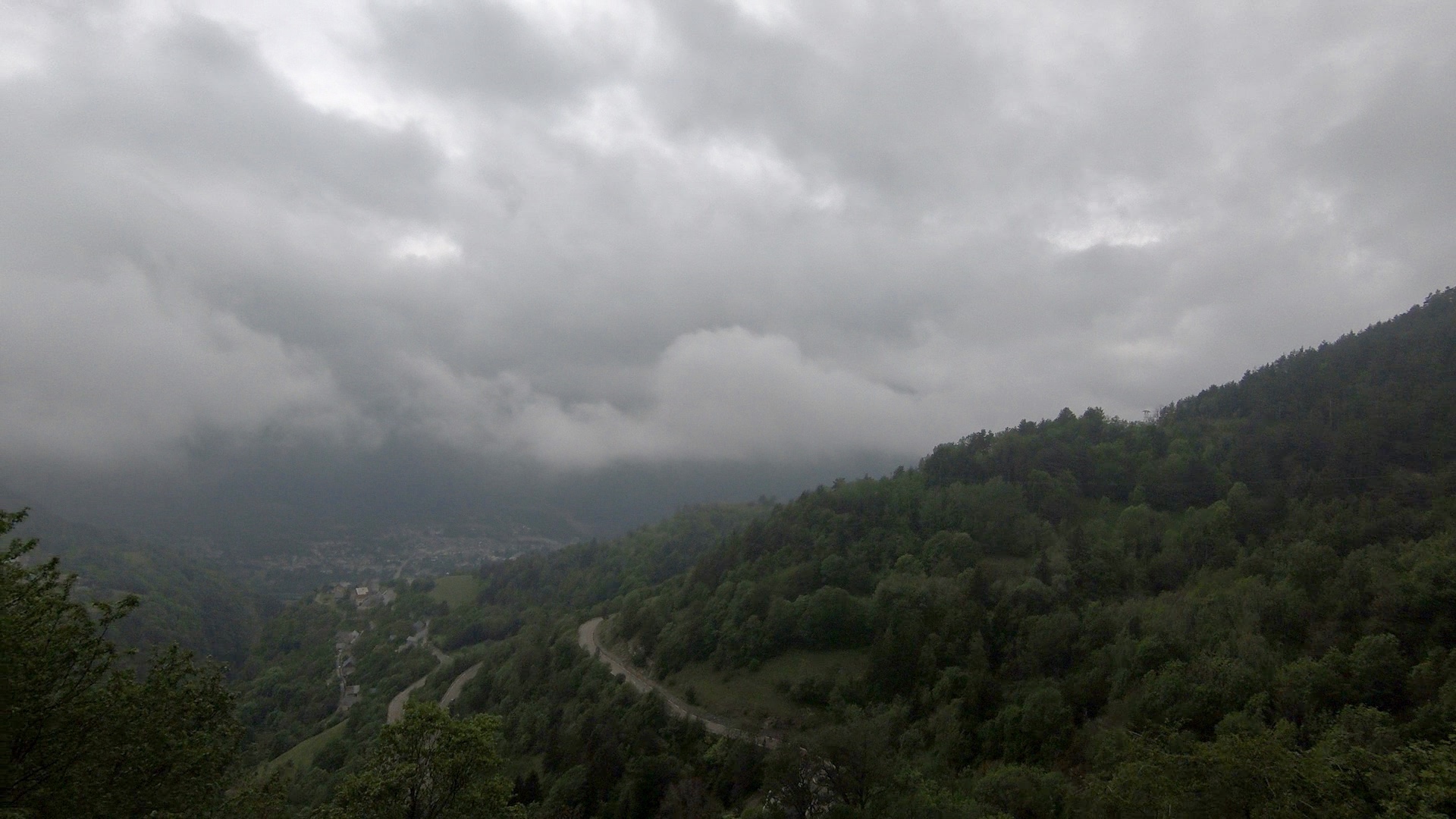 We rode through the lower Huez village, and on through the next four turns, getting tantalisingly close to completing the ride. Or so I thought – the last part just went on forever! Steeper gradients, and longer ramps, as we got into the ski resort proper, the turns were really far apart, and it was becoming quite a slog.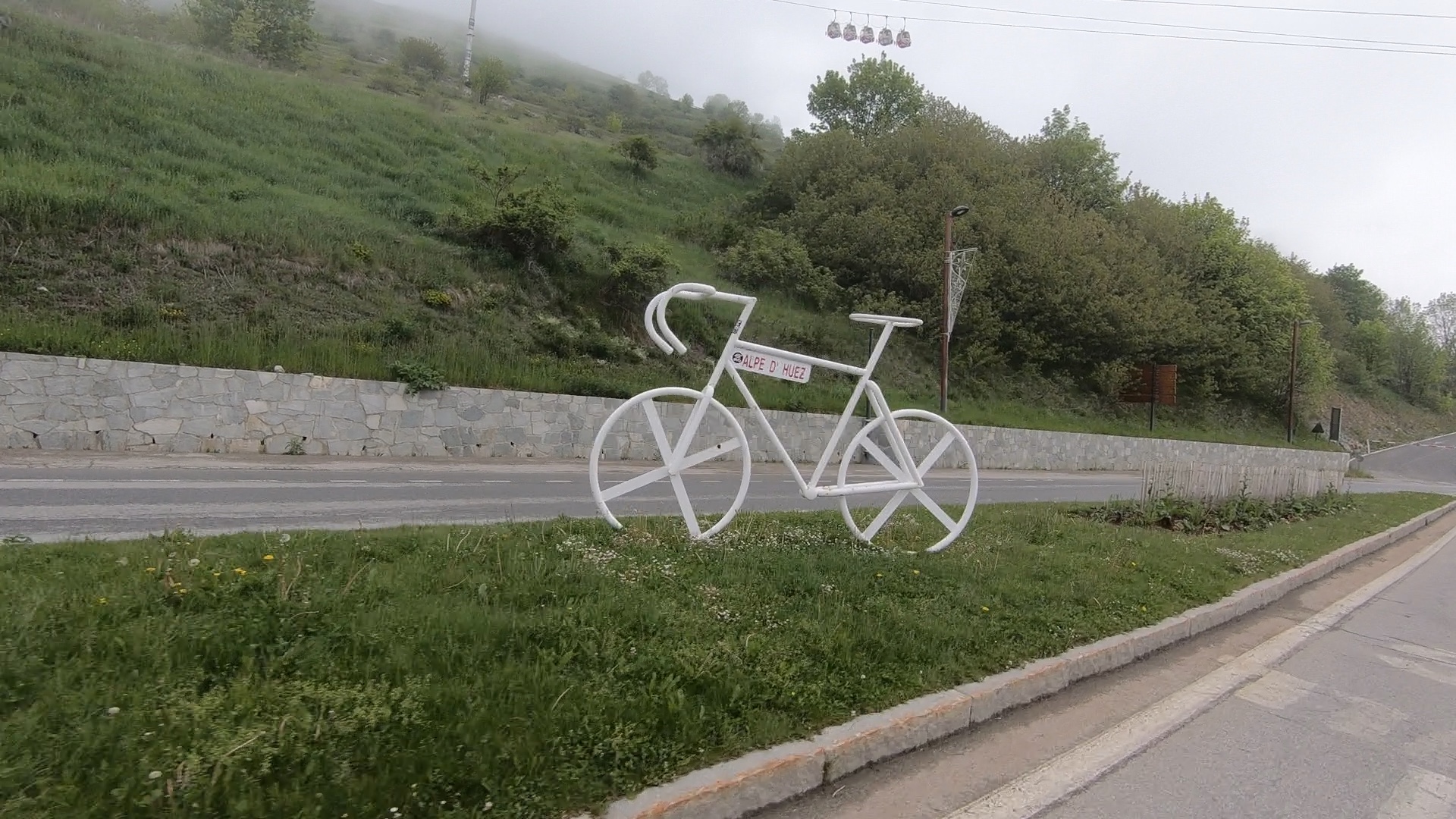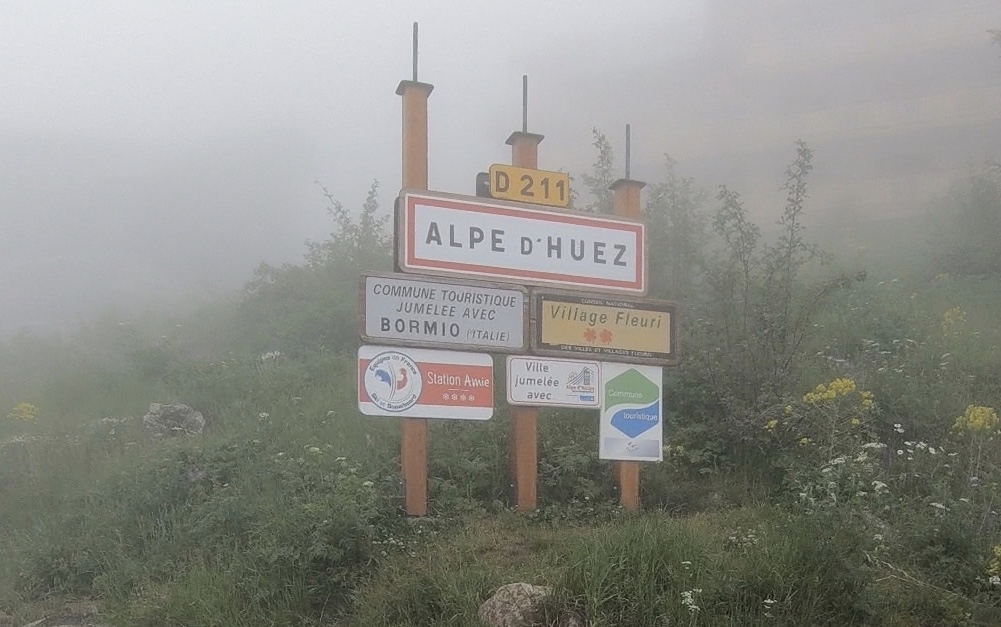 At last, turn 0, and then a slightly unnecessary turn around a car park at the top of town, and we were crossing the finish line, the 'arrivée', admittedly in the wrong direction, downhill from above, but it still counts! We got a nice round of applause from a couple of Québécois cyclists and a bunch of people of one of the hotel balconies!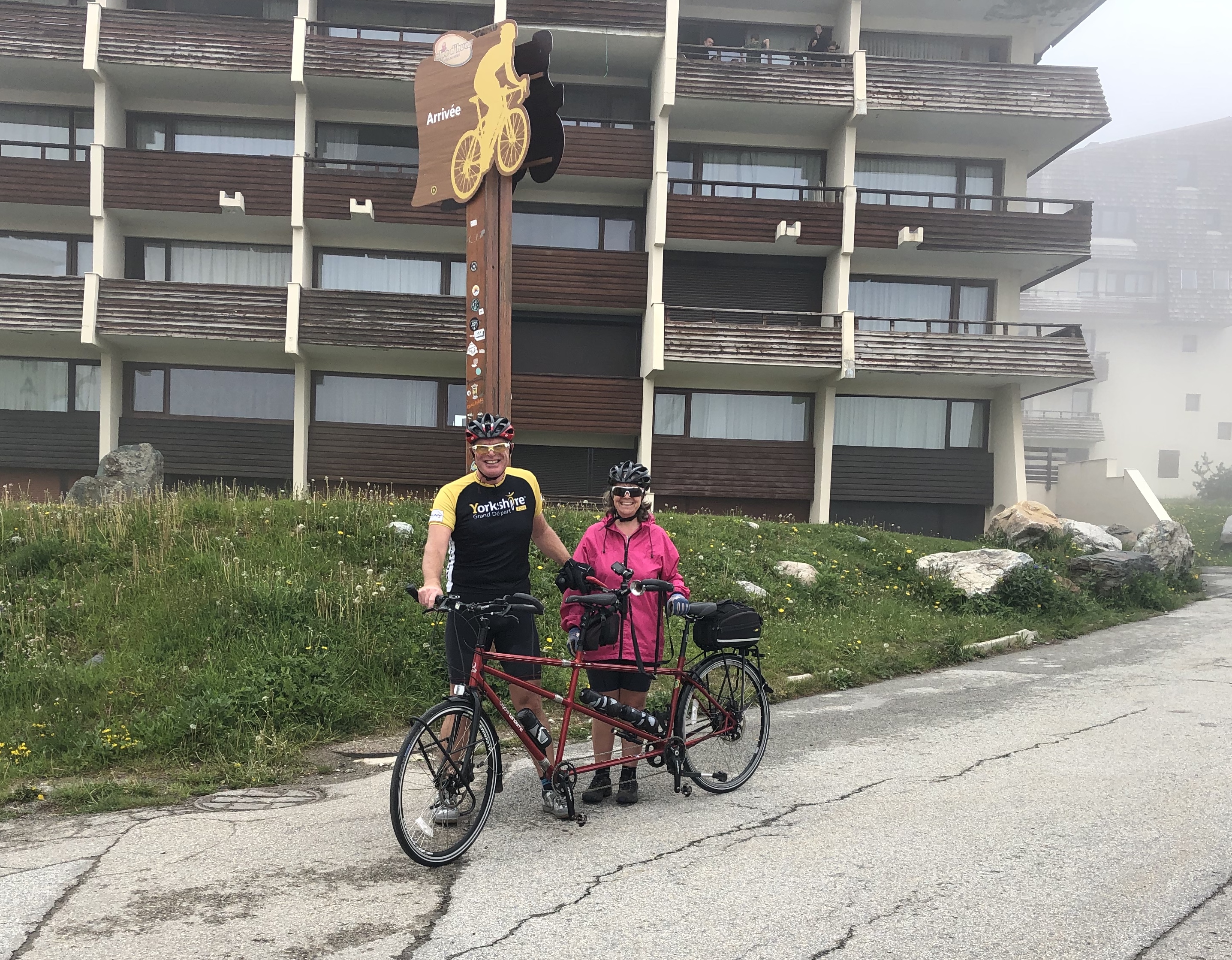 Obligatory pictures followed, and then it was back down below turn 0 to a café we'd spotted on the way up for lunch and a warm-through. We donned our 'summit faces' and our extra layers for the descent, and it was a wise move, it was quite chilly on the way down!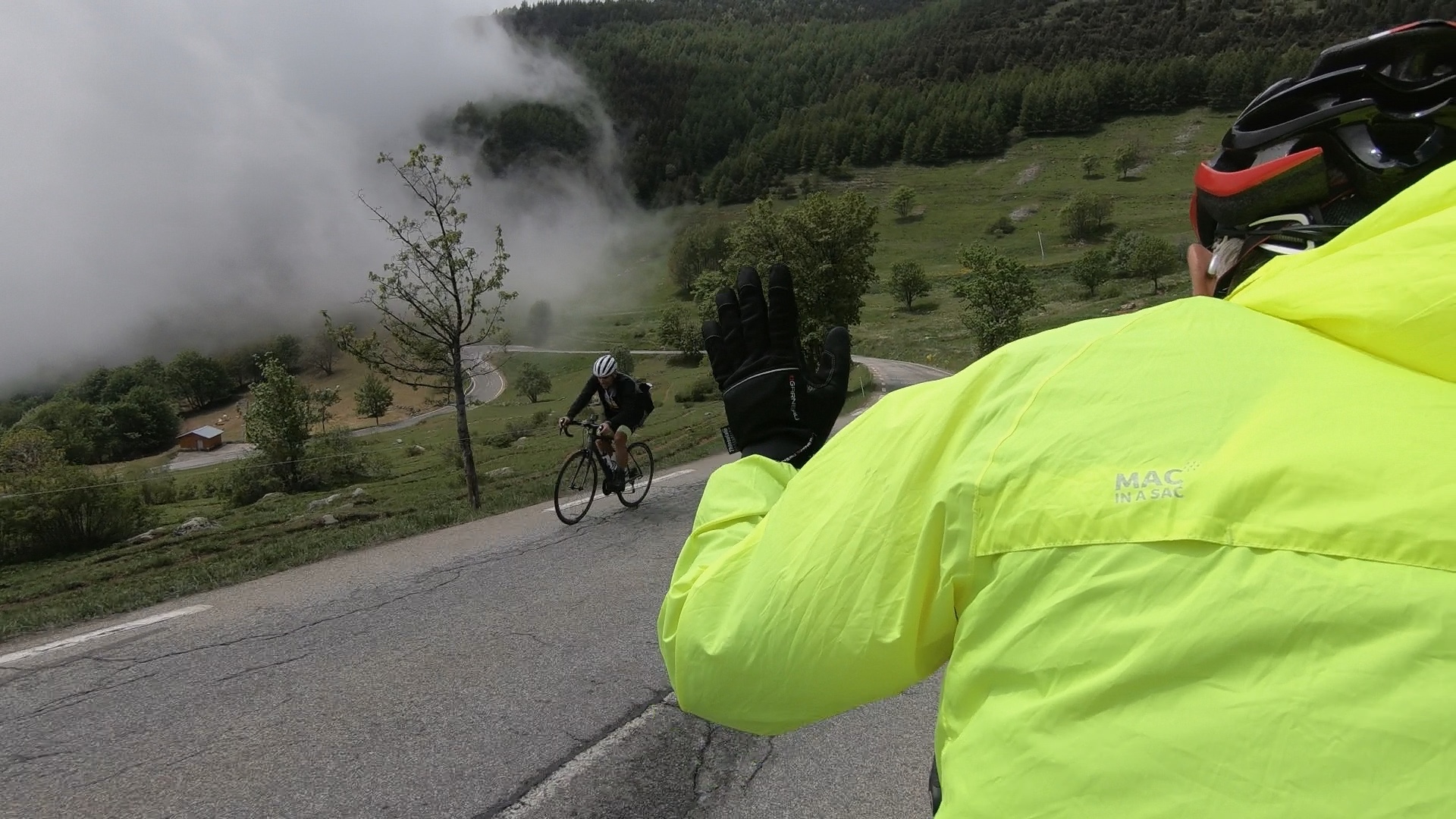 We stopped a few times to let the brakes cool, but it was remarkable how soon we were back down on the valley floor, with big silly grins on our faces after our successful ride.
So, OK, not really a gentle warm-up after all. But a great ride, a good climb to bag, and it's all going to be easy after that, surely?!
Here's a video of today's route (with summit photo!) and today's track.