Distance: 52.64 km
Time: 2 hours 45 minutes
Average speed: 19.1 kph
Cumulative distance: 1794.41 km
Cumulative time: 88 hours 59 minutes
Word of the day: 'fiume' (fee-oom-eh) – river
Last night's barbecue was very successful, a chance to determine the difference between the sausages we'd had in Tuscany (large, more coarsely minced) and Umbrian sausages (small, finely minced), thankfully without setting the neighbourhood on fire.
We set off this morning, via a cappuccino and a cornetto at a bar just inside the walls of Assisi, and then a lovely downward start, descending the hill we'd ground up yesterday afternoon.
In fact we retraced our steps exactly for a while, before crossing the Chiasco river and turning towards Torgiano.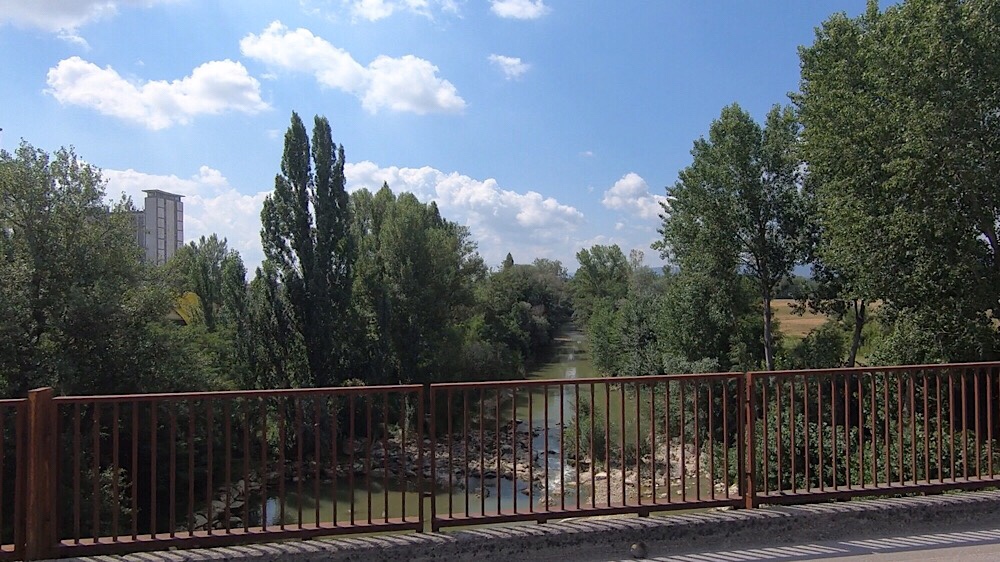 It was unremarkable cycling, but very pleasant, just sailing along the valley floor, eating up the kilometres and admiring all the little hilltop towns alongside.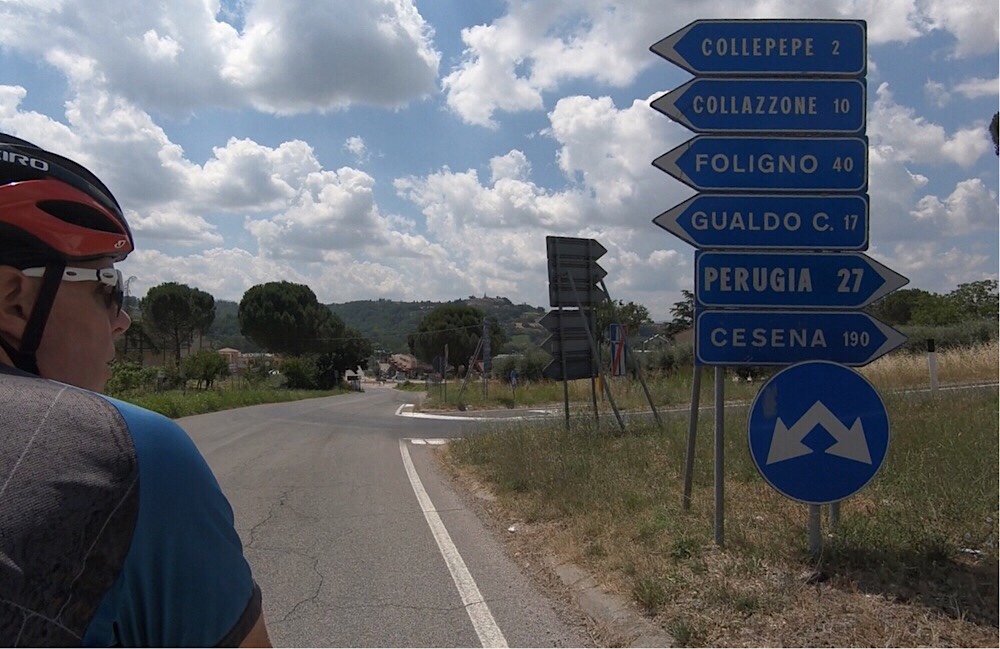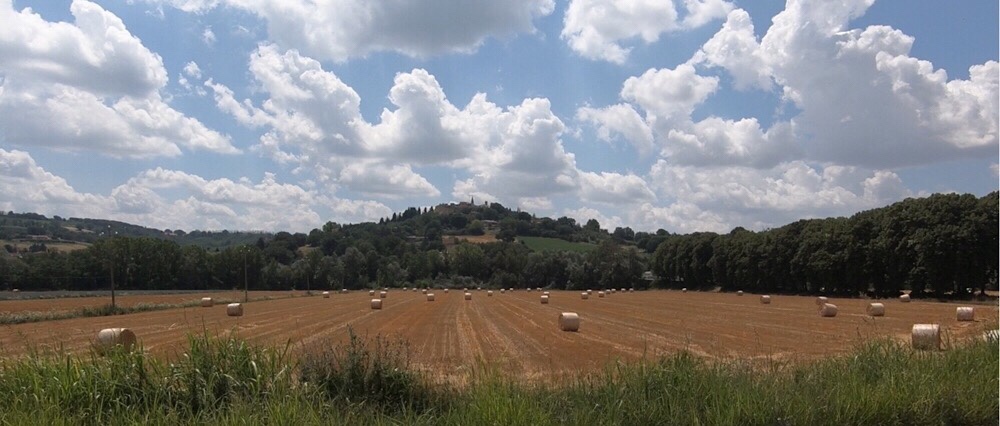 At Ponte Nuovo we met the E45, the autostrada which runs north-south through Umbria. It was to be our companion for the rest of the day, sometimes right alongside our smaller and much more peaceful road. And the other side of the autostrada, although we couldn't see it, was the Tiber. We were following its path south towards Rome, where we hope to land in a few days' time for a resupply and an extended rest.
We stopped for lunch at a little cafe just off the road, and remarked on the fact that no-one seems to offer to heat your panino up for you this far south. Further north, it's expected that you will want your panino hot, with the cheese inside it melted, but it doesn't really appeal so much the hotter the temperatures get.
Refuelled, and with just 8km remaining, we climbed back on the tandem and pedalled off. Our destination today was Todi, another hilltop town, so we knew there would be an uphill finish again today. It started fairly gently, and we got into a good rhythm, gradually gaining height round a series of long curvy bends. With just 400m to go to tonight's lodgings we had to climb off and push the tandem up a fantastically steep bit, but that done we could ride the rest, and arrived to be greeted by our Australian host with "You didn't just ride up the really steep road?". We confessed that we hadn't, quite!
Todi is small, but beautiful – we have Jan and Nick to thank for this one.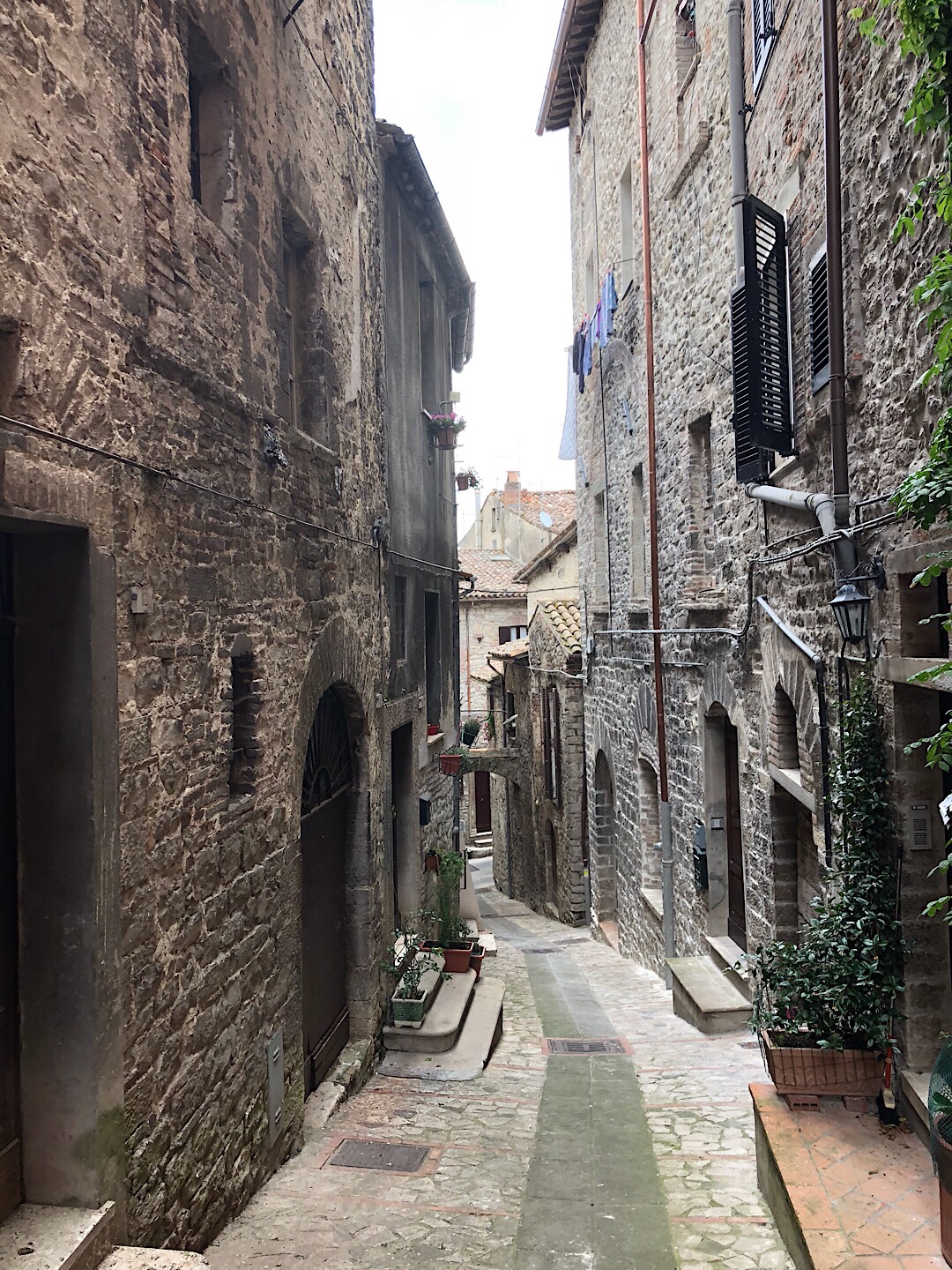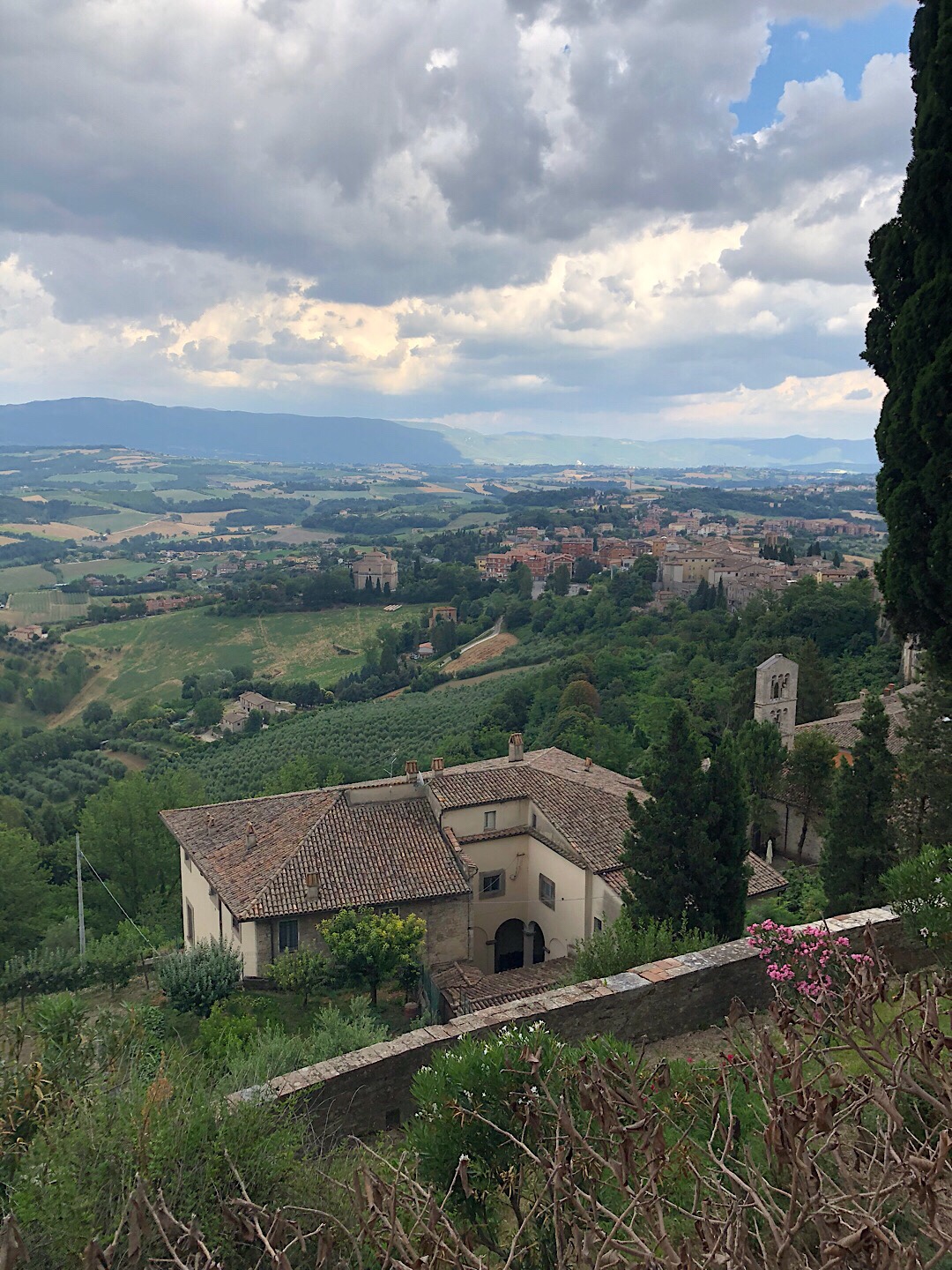 The main square is gearing up for a Blues Brothers evening tonight!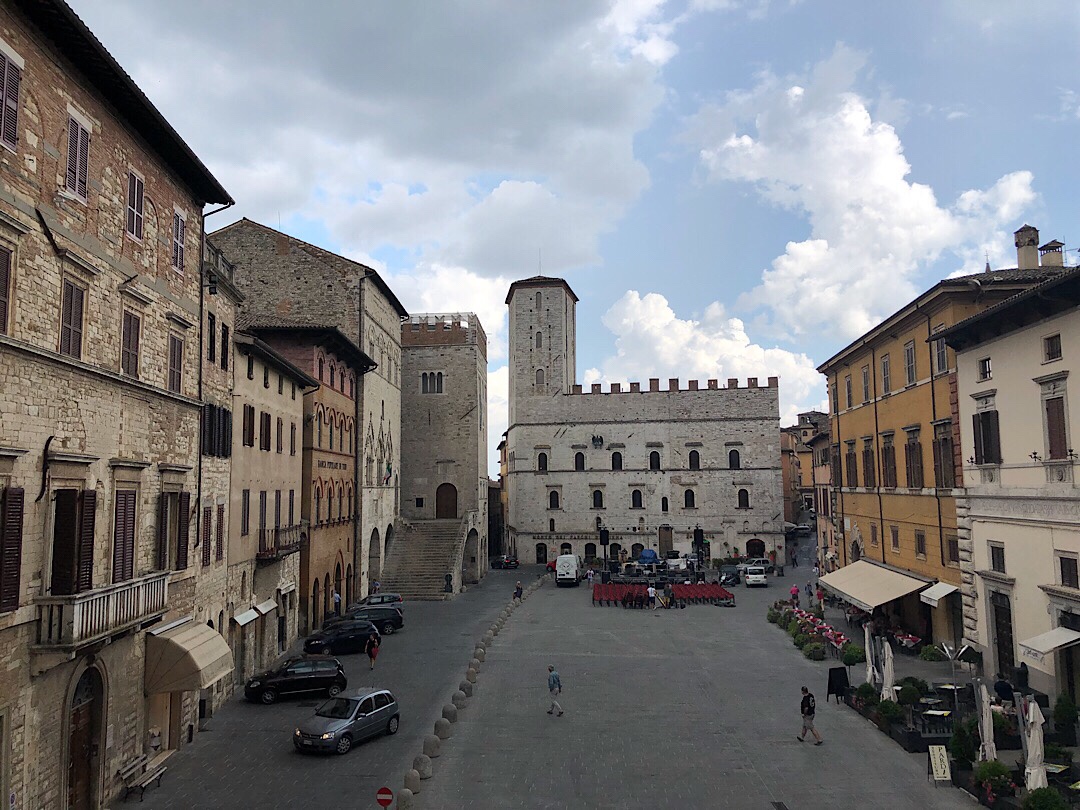 The duomo is one of those where the architecture and the stone stand largely unadorned inside.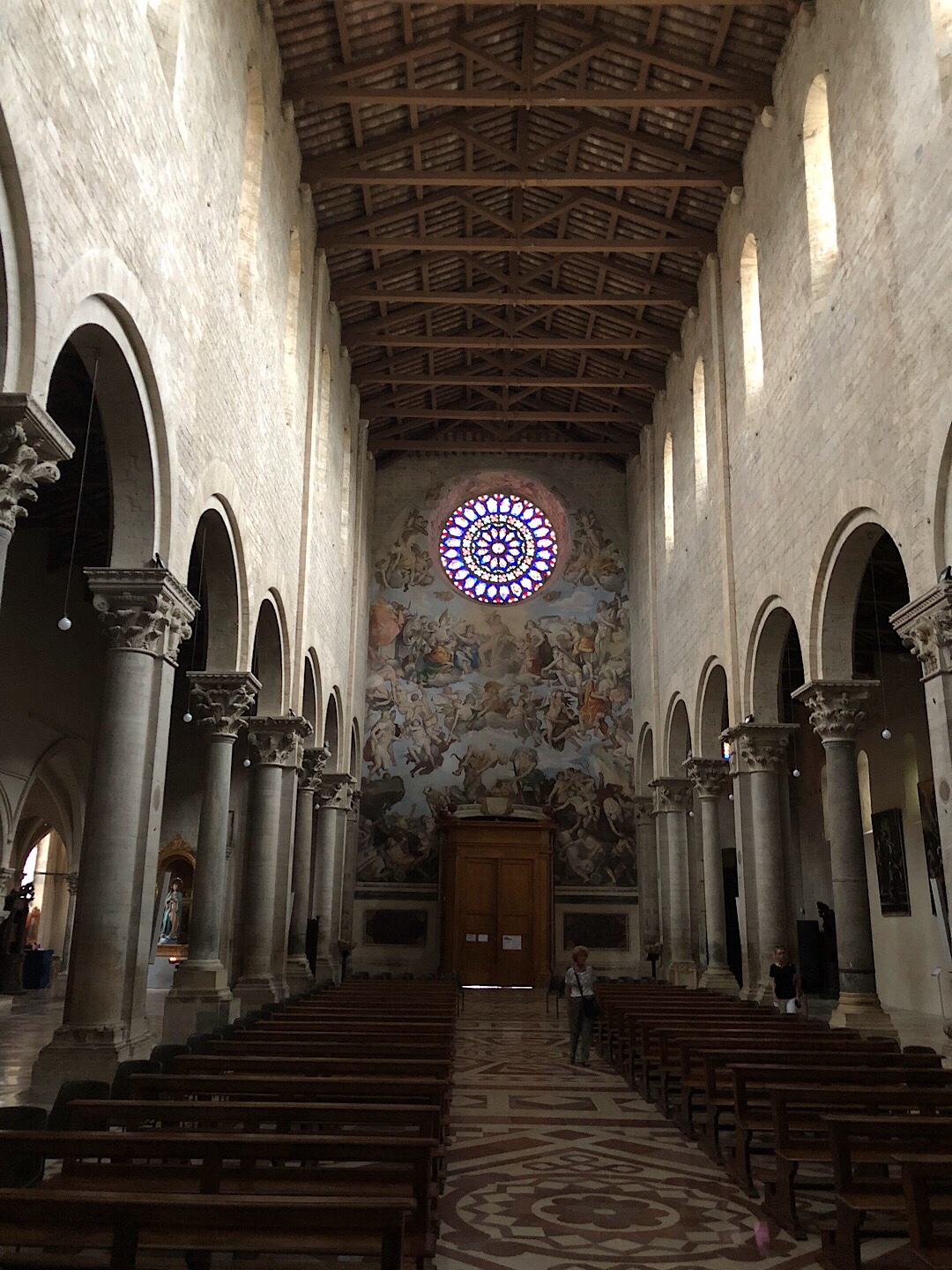 We also visited the cisterns under Piazza del Popolo, where the city's water supply was once housed, all 2500 cubic metres of it.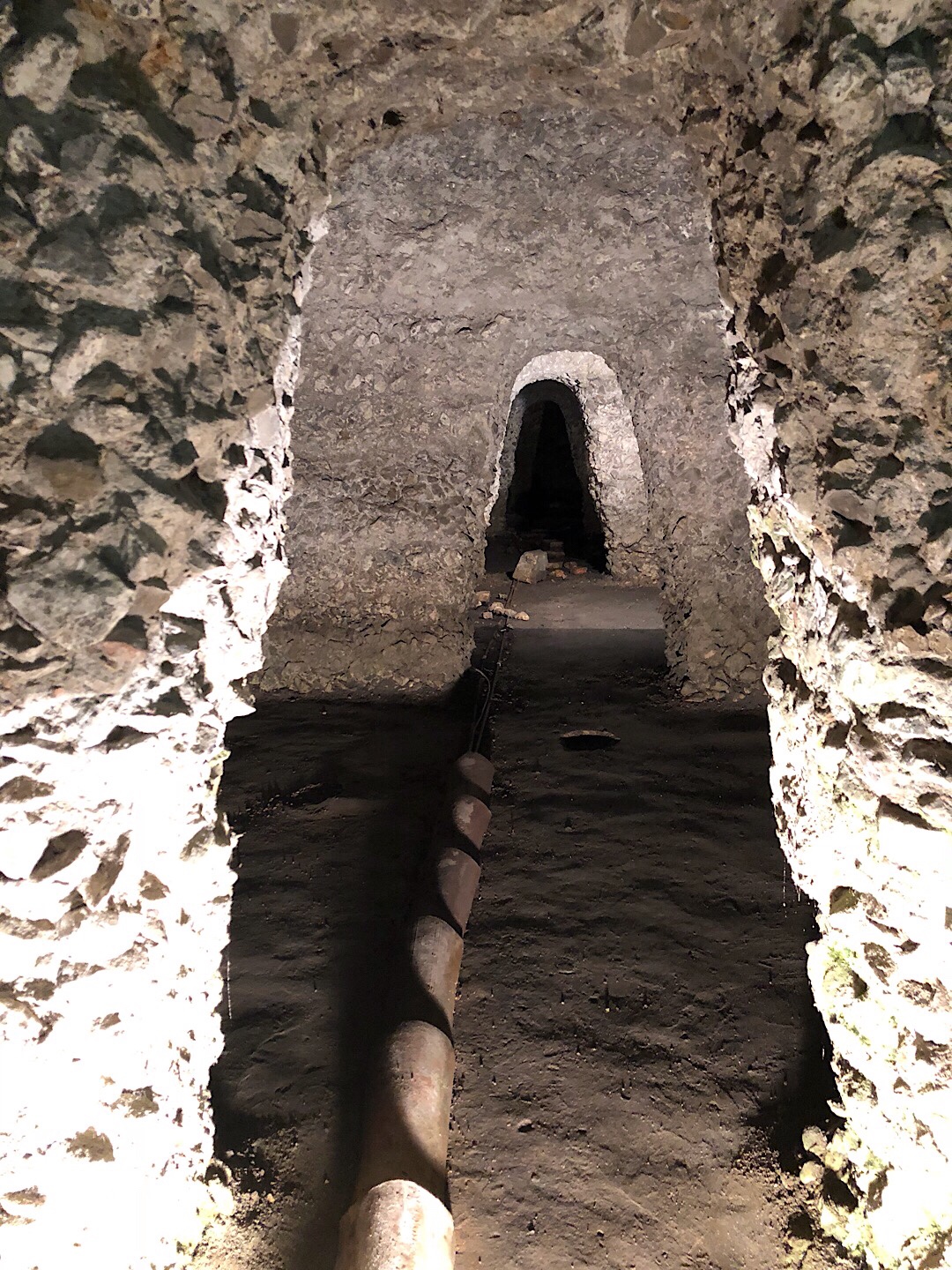 Two notes for today. Firstly, we are, in theory, over halfway now. That's based on a vaguely planned total of 3500km, which might change, of course. And secondly, it rained today. Actual rain! We were in the duomo, and then suddenly, water was coming from the sky. First time for a fortnight. Rather refreshing…
Tomorrow we head for Orvieto, where we'll take a rest day. It's another hilltop town, our fourth in a row!
Here's today's track.