Distance: 67.56 km
Time: 3 hours 33 minutes
Average speed: 19 kph
Cumulative distance: 893.75 km
Cumulative time: 42 hours 6 minutes
Word of the day: 'argine' (ah-gin-eh) – embankment
We had a very relaxed evening in Este, a bit of pasta, a bottle of the local Colli Euganei red wine, some forward planning, and a good night's sleep. The tandem spent the night at the local cinema! There was no way to get it into our third floor apartment, but our host had kindly arranged with her friend who owned the cinema in Este that it could be stored there.
After a small breakfast in the little cafe next door we set off, knowing that our first hill (in days!) would be coming up very early on. I'd like to say that it was great to be climbing again, that we sprinted up it, that we felt good, but actually… It turned out we were both a bit underpowered for some reason, a 'jour sans' as the pro-cyclists call it. The breakfast had perhaps been a little too small, and we'd not eaten all that much last night. Or maybe we'd just pushed it a bit hard yesterday. Who knows why it happens, but when it does, all you can do is ride within yourself, take it steadily, and conserve what energy you have.
That said, we made it up all the hills without stopping, and the views were lovely.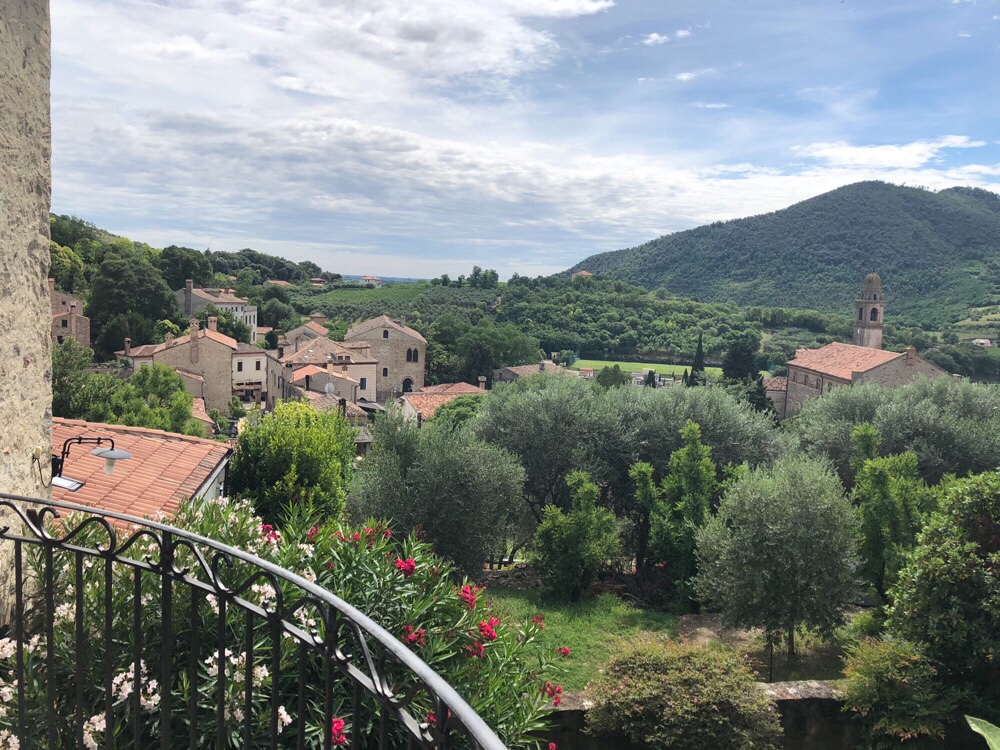 We enjoyed a short break in Acquà Petrarca, a lovely little town known for having been the chosen home of Petrarch, a scholar and poet, discoverer of a collection of Cicero's letters, and generally considered to have been the founder of Humanism. He also climbed Mont Ventoux, apparently, just because he wanted to.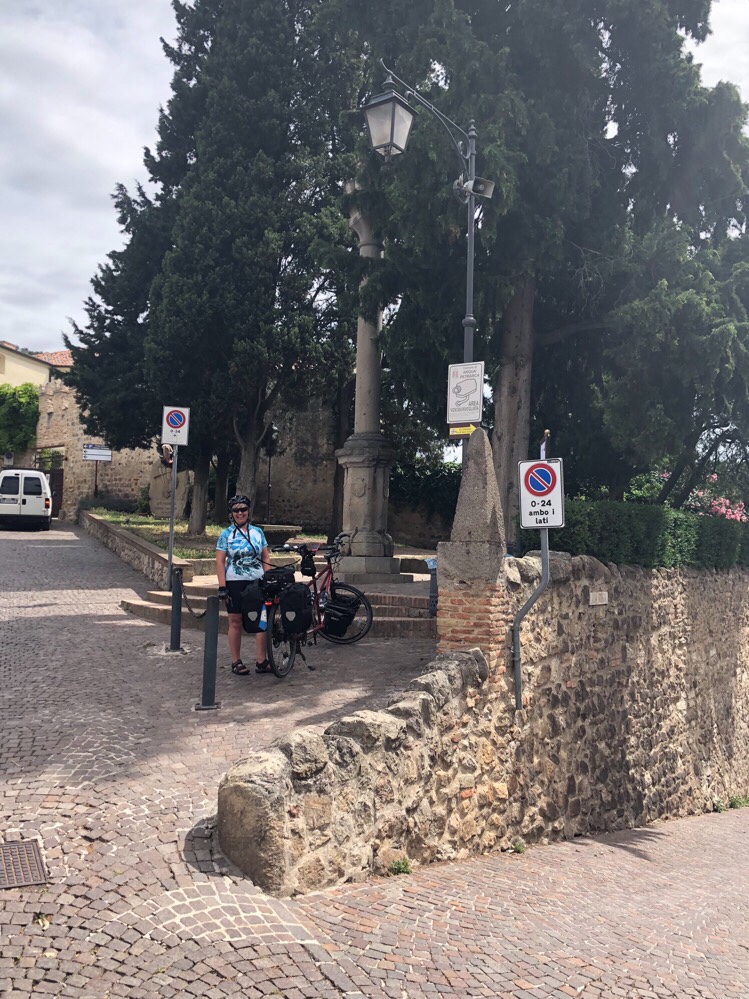 A bit more up and down, and then we were back on the valley floor, and suddenly on our first 'argine', an embankment usually next to a canal, on which there was a cycle path. We'd heard of the Po cycle paths which are all on the argine (one on each side, known as sinistra and destra), we hope to find them tomorrow, but hadn't expected to get any argine practice in today!
It was pretty idyllic and just what we needed, traffic-free, easy cycling, opportunities to spot herons and a couple more crops to tick off in the I-Spy book of food sources we've cycled past. It was mostly tarmac, with just the odd stretch of hard-packed gravel, so not too much moaning from the back.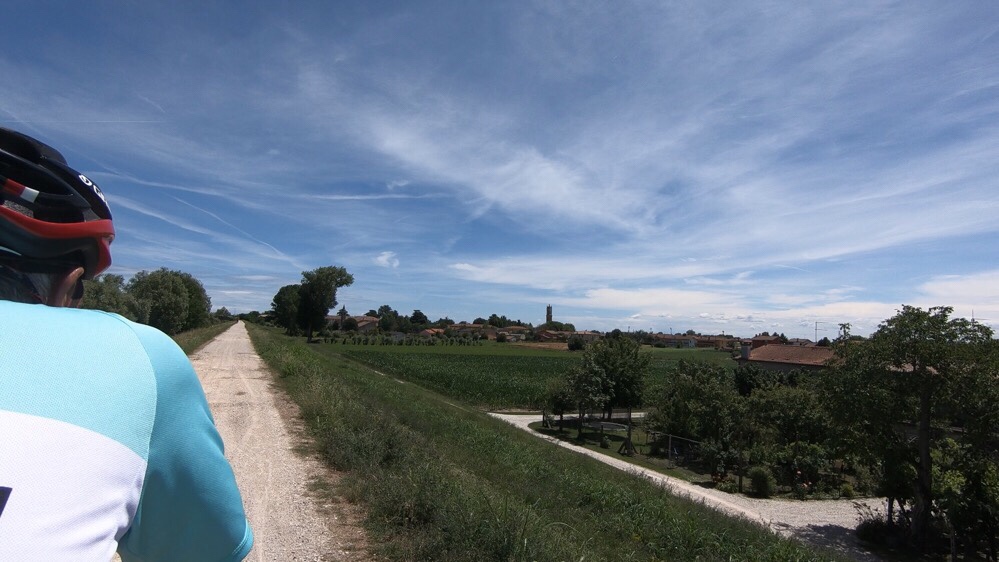 At Pontelongo we stopped for a quick lunch, scoffed some panini, and then headed back up onto the argine for the last section to Chioggia.
Unfortunately no-one had told our route planning system of choice that this bit of the cycle path was not really finished! It had a name and everything, the 'I2', part of the Itinerario del Sale system of cycle paths, but when it split into two directions we took the cycle path less travelled, clearly!
It started as gravel, which was reasonably OK, but then we got to a stretch of about two kilometres of much rougher surface, with tufts of grass. By this stage we were fairly committed, we could have gone back and found a route round, probably, but it was a straight line, the Captain was pretty confident we could ride it safely, and we could see it was leading to where we would have to rejoin the road in any case. Here's the Captain, looking confident, as we decide to keep going.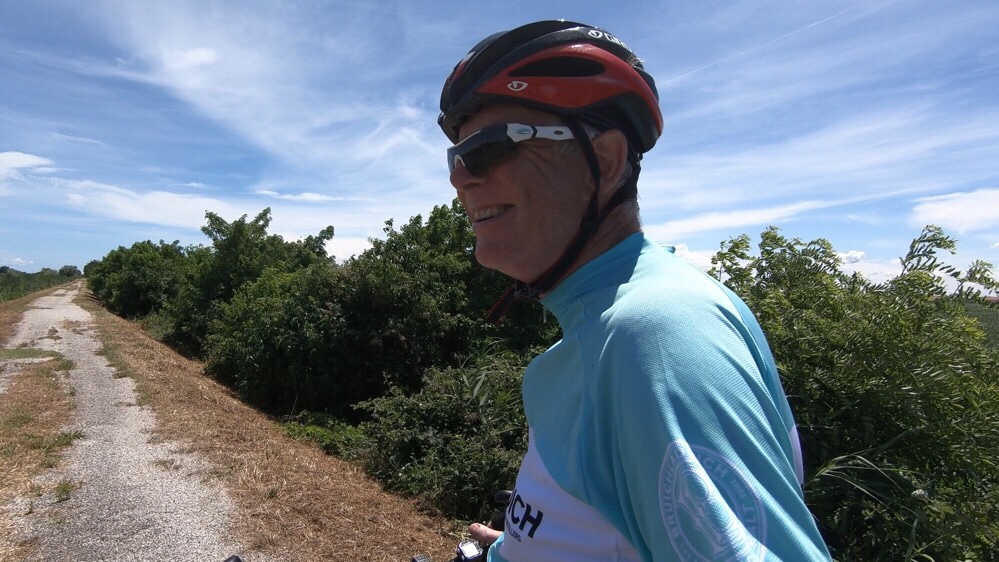 And he was right, it was fine. Eventually it became tarmac, and then the main road into Chioggia, and we knew it would all work out. We detoured slightly to Sottomarina, and found the public beach so we could dip our toes into the Adriatic.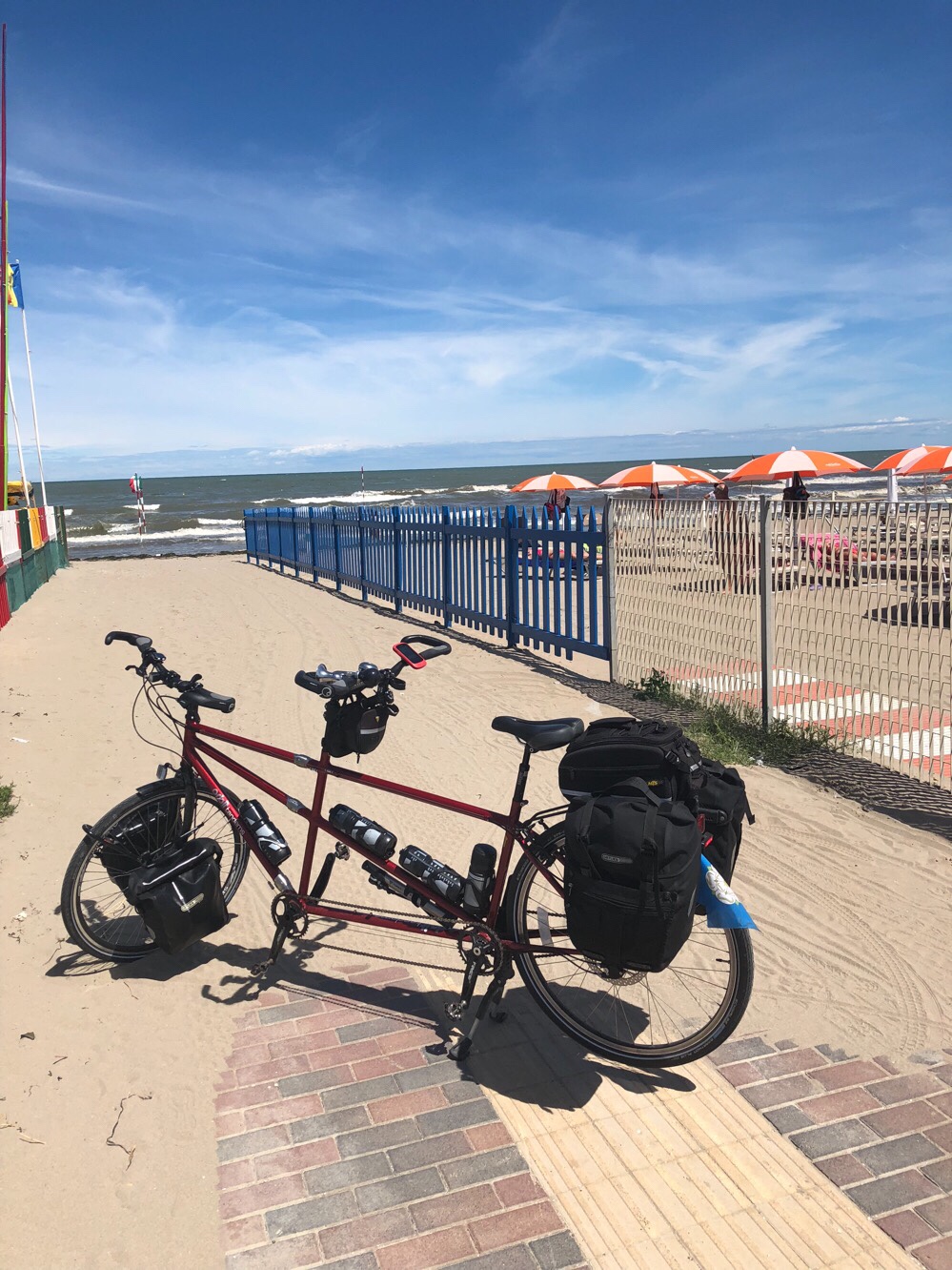 And then we crossed onto Chioggia, fondly remembered from a boating holiday in this area, quite a few years ago now.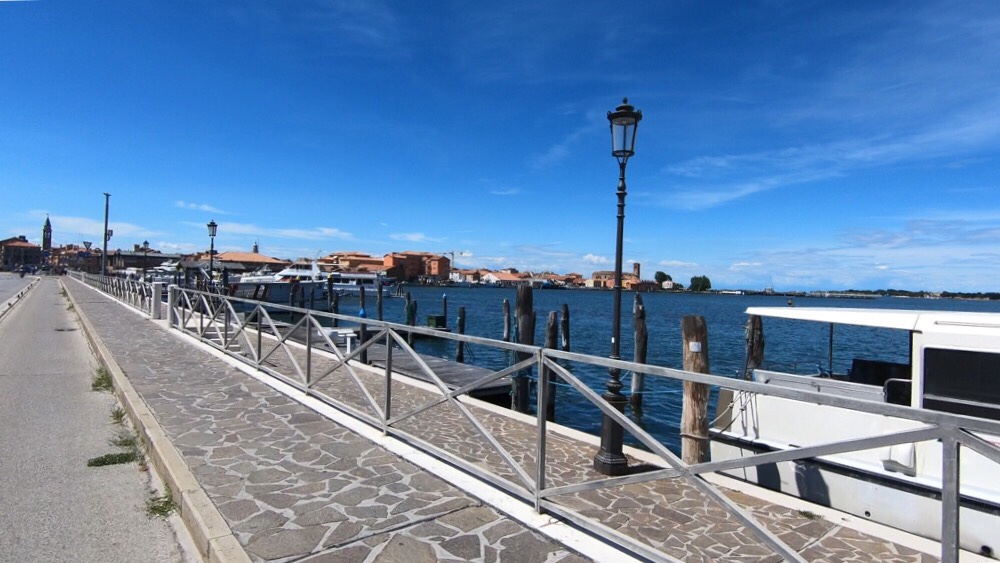 It feels like the end of the first phase, arriving here at the east coast. Effectively we've crossed Italy from west to east at this widest part. Tomorrow we'll turn south, and find the Po Sinistra cycle path to a tiny place called Crespino.
Tonight, though, we've earned an ice-cream, I reckon.
Here's today's track.