Distance: 63.6km
Time: 3h 20m
Average speed: 19 kph
Song of the day: You can go your own weg
Click here to see today's route
Our hotel last night was interesting, a 'boutique' hotel modelled, it seemed, on the Crystal Maze 'industrial zone', but very comfortable none the less, and the receptionist helped us slot the tandem into the bike rack and pointed out lots of interesting things to see in the old part of town on a map she gave us. We decided to go out early and have a pre-dinner stroll around the sights, including the house where Rembrandt was born in 1606, the Pieterskerk and the Burcht, a round fort on a little hill used for defensive purposes. It was reached by climbing lots of steps. For some reason, climbing steps is really painful after a long day's cycling (and descending them even more so), but we gritted our teeth and winced up and down them, and the view from the walls around the top was striking in the evening sunlight.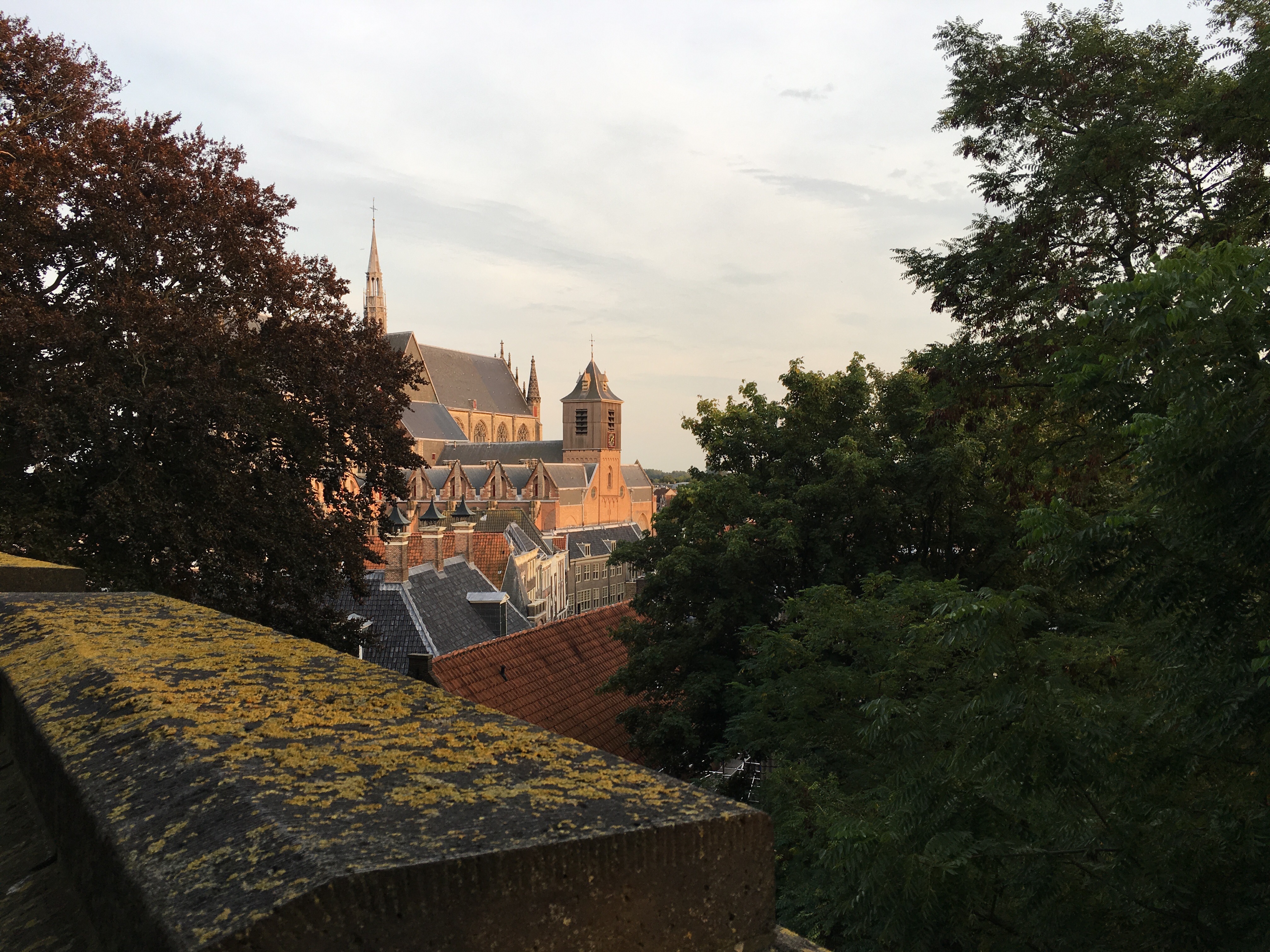 It was a lovely evening, and we completed our short walking tour in the last of the light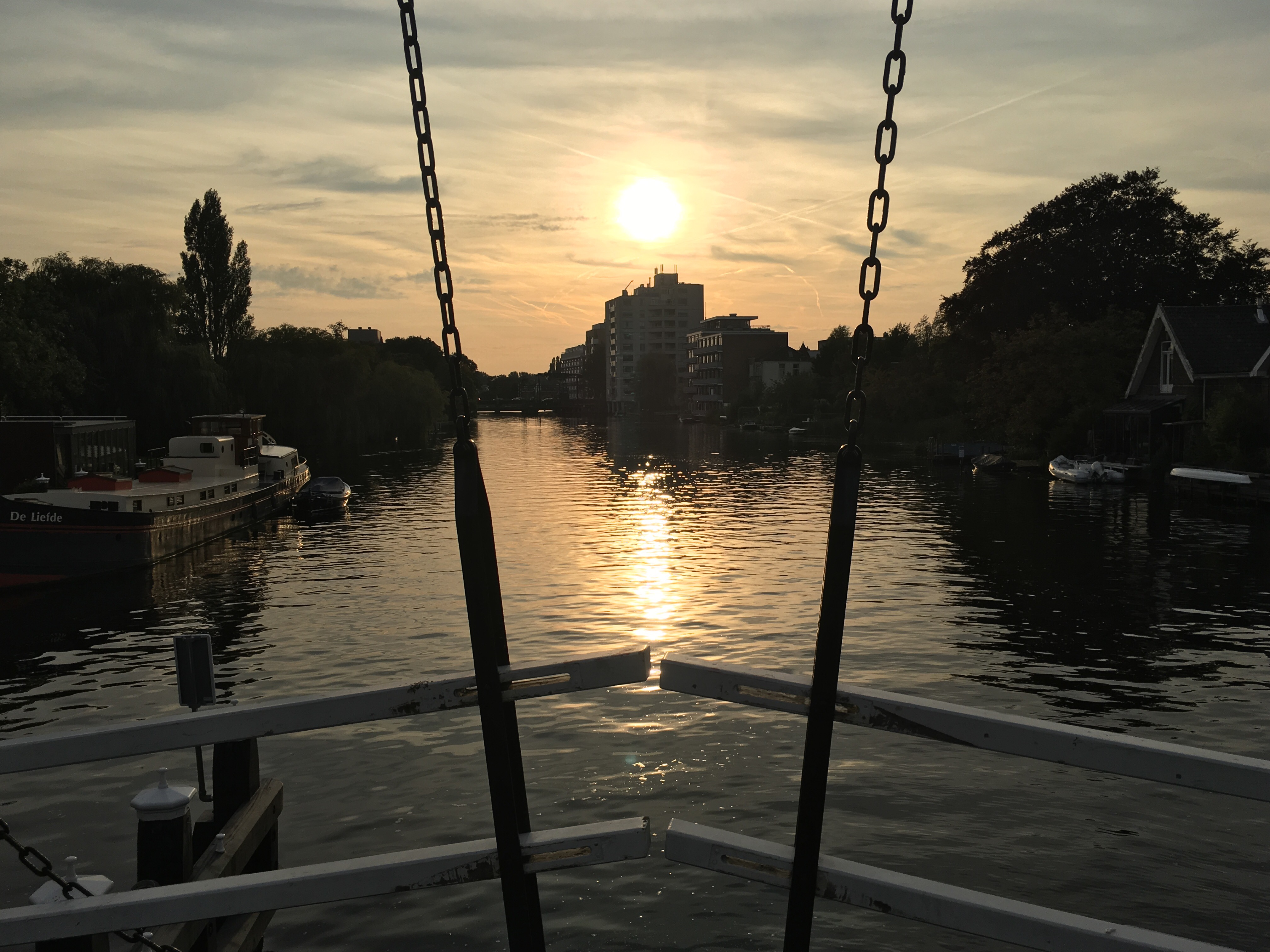 A good Indonesian meal, and we were snoring by 10pm as usual. This morning was very overcast, and after exiting Leiden more or less efficiently we were quickly out onto cycle paths ('fietspads'), and rolling towards Gouda, pronounced 'How-dah', with a guttural 'h' at the beginning, like you're clearing your throat. A bit of drizzle started to fall, and the captain donned his new raincoat for the first time since its purchase in Leeuwarden. They are called 'Mac in a sac', so the mac had to come out of the sac and onto his bac.
We successfully negotiated two enormous cows standing gormlessly on the cycle path, the captain weaving expertly around the inevitable cowpats (the cows had evidently been there for some time), and in no time at all we were arriving in Gouda. What a disappointment. In the centre is a very striking church, in a large open space surrounded by beautiful little houses and cafes, one side straight, the other side a semi-circle. Gorgeous. Probably. It was hard to tell, because every available square foot was filled by a funfair.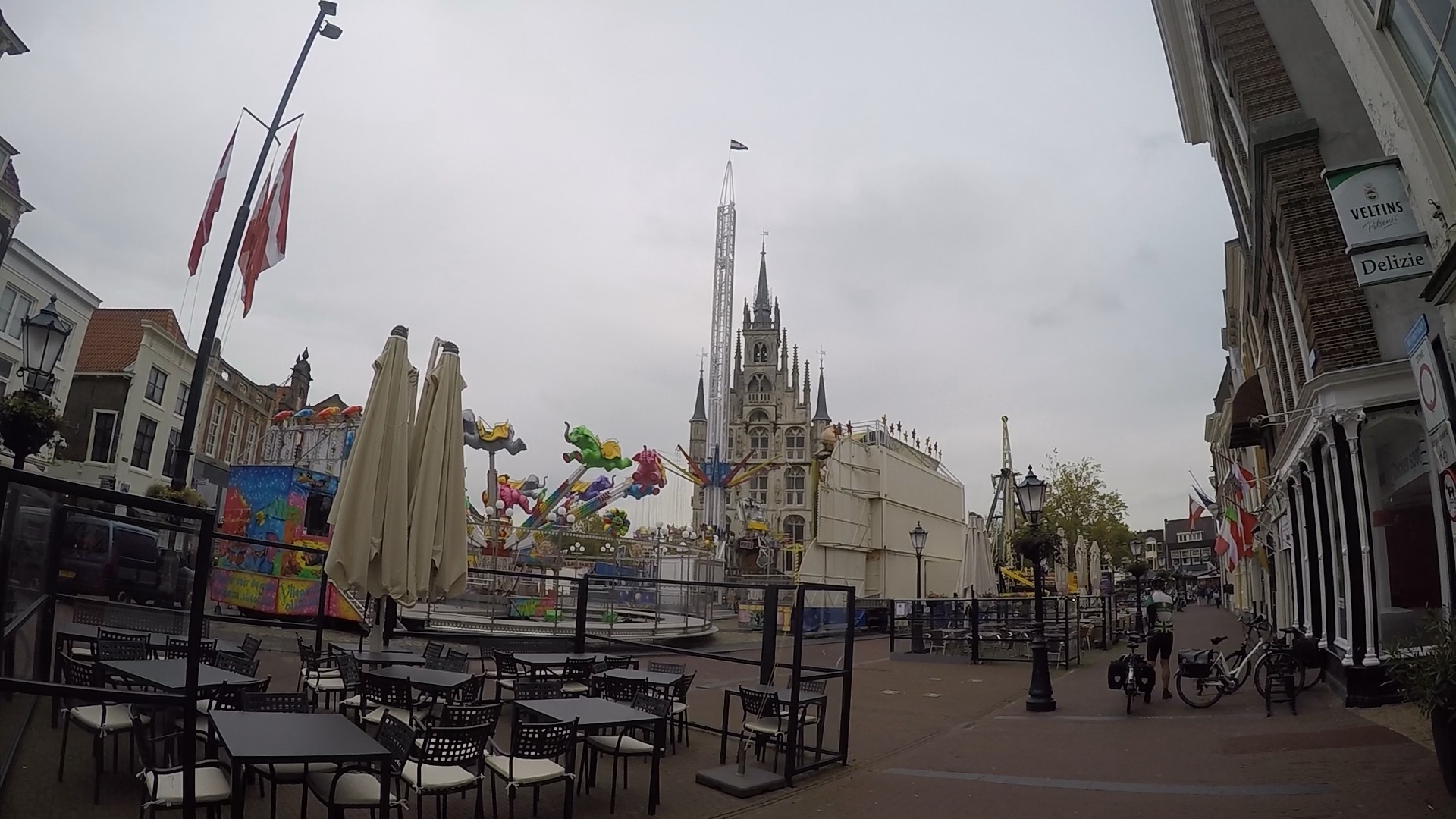 It was too early for lunch, so we had a coffee and a 'bum rest', and then headed back out. Like Edam, there didn't seem much made of the cheese connection, except that spare cheeses appear to be used as bunting!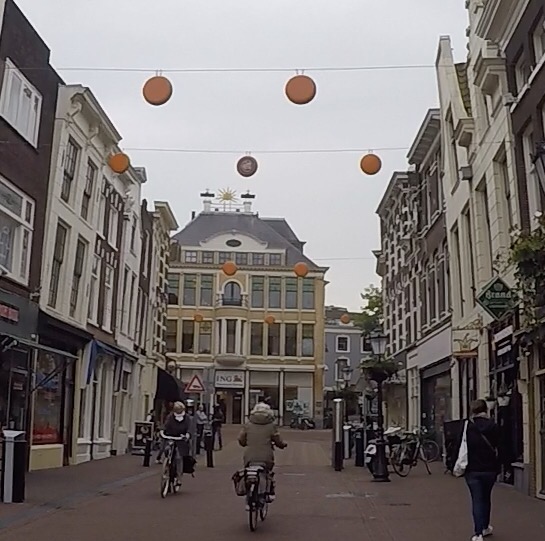 Dry now, but still fairly overcast, we struck out west towards Delft, today's destination. At the 50km mark we stopped for lunch in Zoetermeer, in a little delicatessen place full of Italian food products, and then it was back on the bike for the final 12km to Delft. At one point we passed a school at 'home-time', absolutely terrifying as hundreds of teenagers left all at once on their bikes, four abreast, casual as you like. They ride as if they have been born on a bike, quite often texting as they go, and not a one wearing a helmet. Cars naturally defer to bicycles here, quite often with a cheery wave even when the road markings show that the priority is with the car, so everyone obviously feels very safe.
Into Delft, then, a lovely hotel right on the canal, and we quickly changed out of our Lycra and headed down to where the boat tours start. As in Giethoorn, it was great to have a tour on the water, and the boatman was simultaneously describing the surroundings and their history in three languages whilst steering the long craft around tight corners and under low bridges.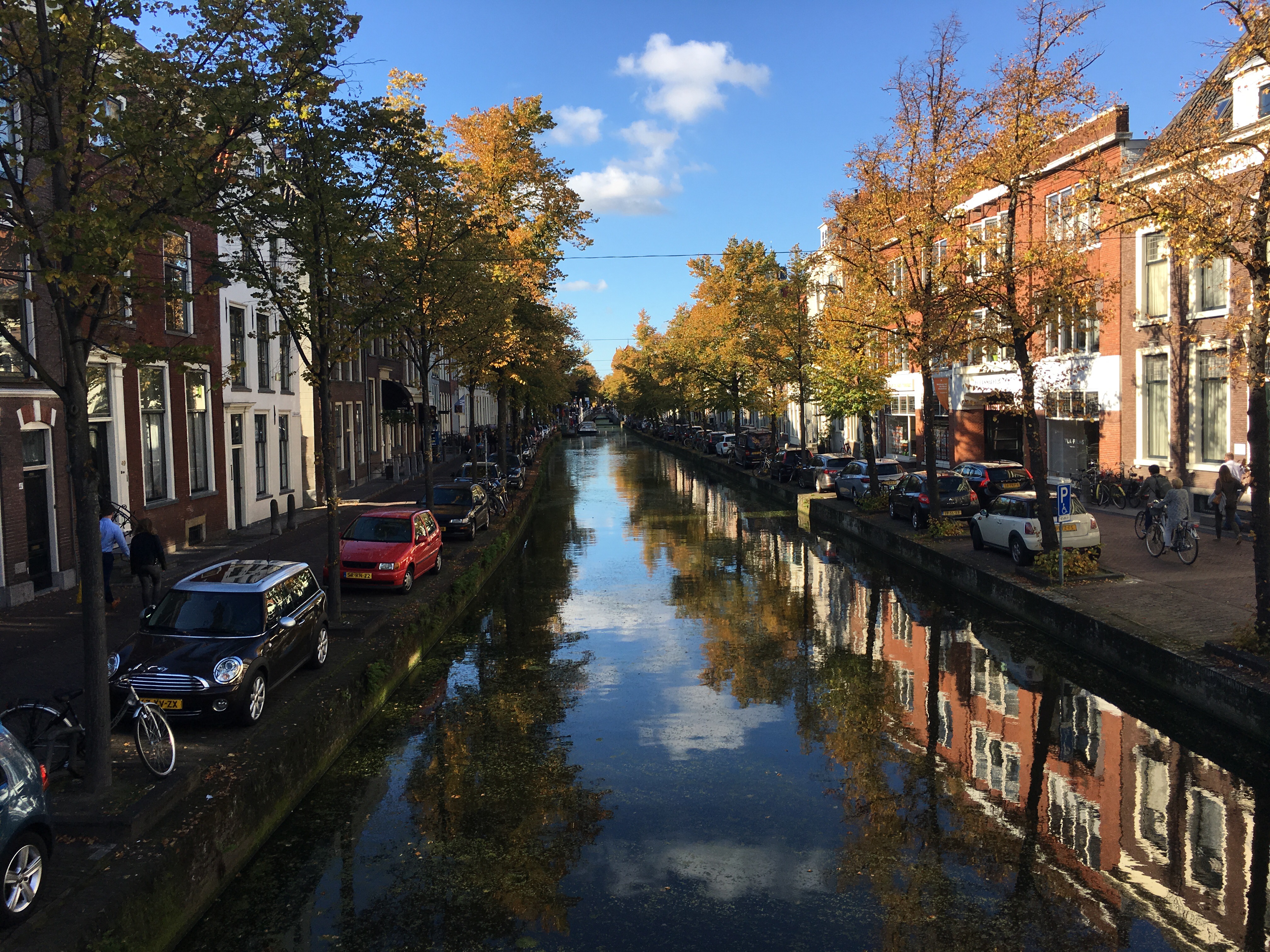 It's very beautiful, some parts are 1200 years old, and as you can see, it's turned into a lovely evening!
One of the things the guide pointed out was that the cars all park with the driver's side nearest the water. Apparently around four a year end up actually in the water. Far more frequently, though, a driver forgets that he or she has parked right next to the canal, opens the door to get out and falls straight into the water!