Distance: 56.9 miles
Time: 4 hours 19 minutes
Average speed: 13.1 m.p.h.
Distance from Lands End: 823.65 miles
Distance to John o'Groats: 207.81 miles
Number of minutes for which we had a tail-wind: 5
Number of minutes we cycled without rainwear: 15
Yesterday evening was sunny with clear blue skies, and the evening sun bathed the hillsides around Tyndrum. The midges were out in battalions, and we spotted a family of four wearing matching full-head midge nets. Our B&B for the night was at Dalkell Cottages, it was very comfortable and set back from the busy main road. Tyndrum is a strange place, more of a railway halt and shopping stop than a genuine village. That said, the surrounding hills are magnificent and we enjoyed our evening.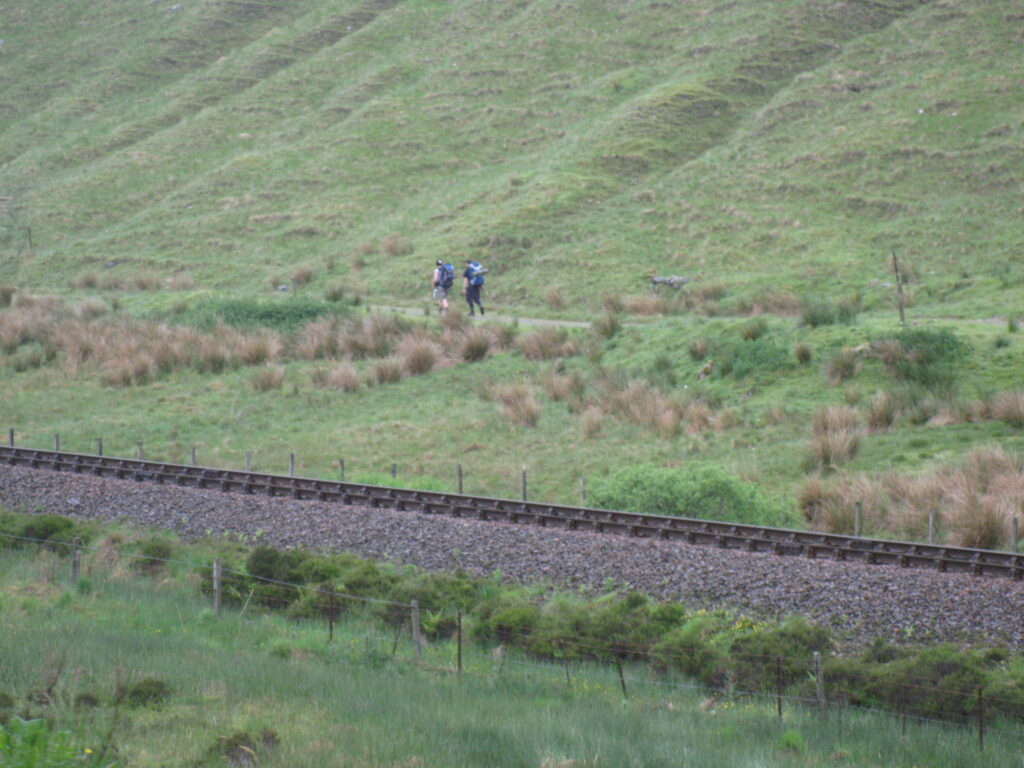 "Afternoon rain" was the forecast for today. Well, all we have to say about that is that the afternoon must begin very early in Scotland. We set off at about 9am, arm-warmers already on. Within minutes we stopped to don our rainwear. The rain was fairly gentle, at least to begin with, and we climbed swiftly to the top of the first 1000 foot hill of the day. Parallel to the road we spotted a series of walkers on the West Highland Way, already starting to look somewhat bedraggled. After the climb came a long gentle descent towards Bridge of Orchy. The road was fairly busy, with quite a few coaches, but we were given plenty of room.
A word about wind (oh stop sniggering at the back Tomkins)! Conventional wisdom based on centuries of weather observations is that the prevailing wind in this country is a south-westerly. It is for this reason that most people choose to do this journey from South West to North East, because having the wind at your back as a cyclist is hugely helpful. Number of times we've encountered a south-westerly wind so far: 0. To be fair, on most days the wind has been relatively light, even when it has been blowing straight into our faces. Today, however, as we started the second 1000 foot hill of the day at Am Monadh Dubh the wind started to increase. From a northerly direction… The ascent itself was steady and relatively painless, and as we emerged onto Rannoch Moor the weather was still tolerable, even if the visibility was dreadful.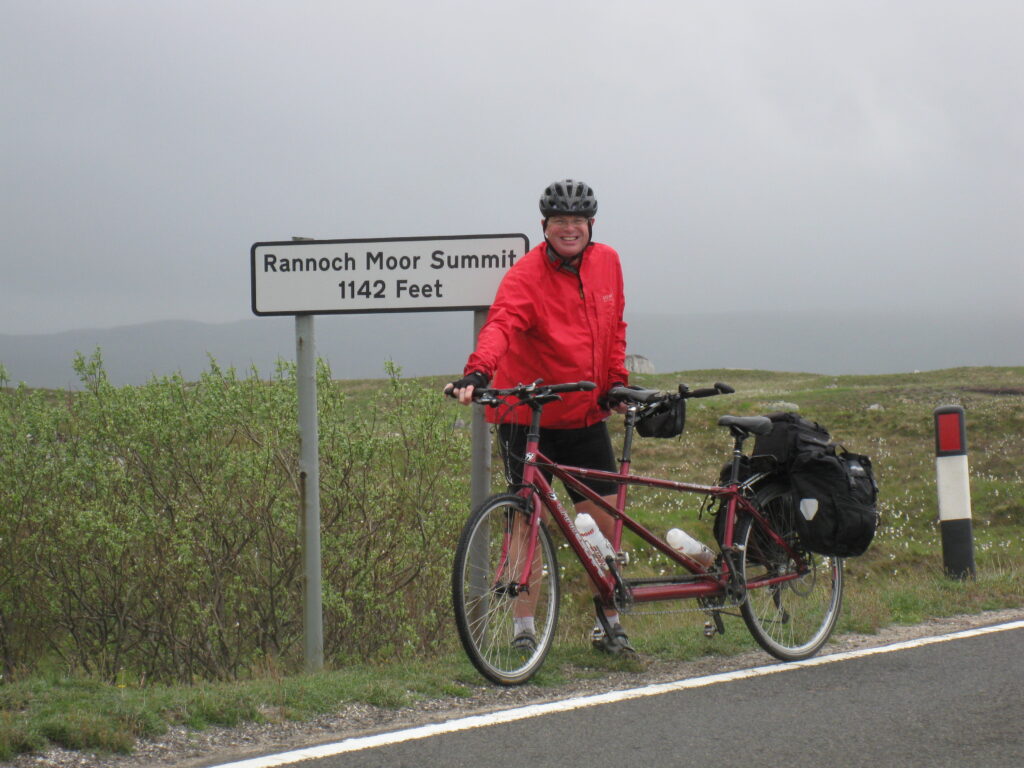 The appearance of Rannoch Moor has often been described as a moonscape. That would be accurate if the moon were wet and boggy. It's a curious landscape, certainly, boulder strewn and wind-blasted, we half expected an appearance from the weird sisters described in Macbeth. Cotton grass and gorse were growing everywhere, the former being a particularly reliable indicator of soggy ground. We reached the summit at 1142 feet and turned towards Glencoe, and directly into the wind and rain. We descended gently, and once past the incredibly remote Kings House Hotel we had to climb once more to 1000 feet. It was a painful process, not on account of the gradient, which once again was perfectly manageable. No, it was the sand-blasting we were receiving from the wind and rain which made the climb seem endless.
Eventually we dropped into the top of Glencoe. Glencoe is magnificent, we're told. We're unable to confirm this as we couldn't see very much, although occasionally the clouds lifted briefly to reveal a shapely crag or two. We passed the Glencoe ski-lift, indeed there was still some snow on the upper slopes of the surrounding hills. It must be a fairly bleak ski-destination, perhaps we'll stick to Cervinia.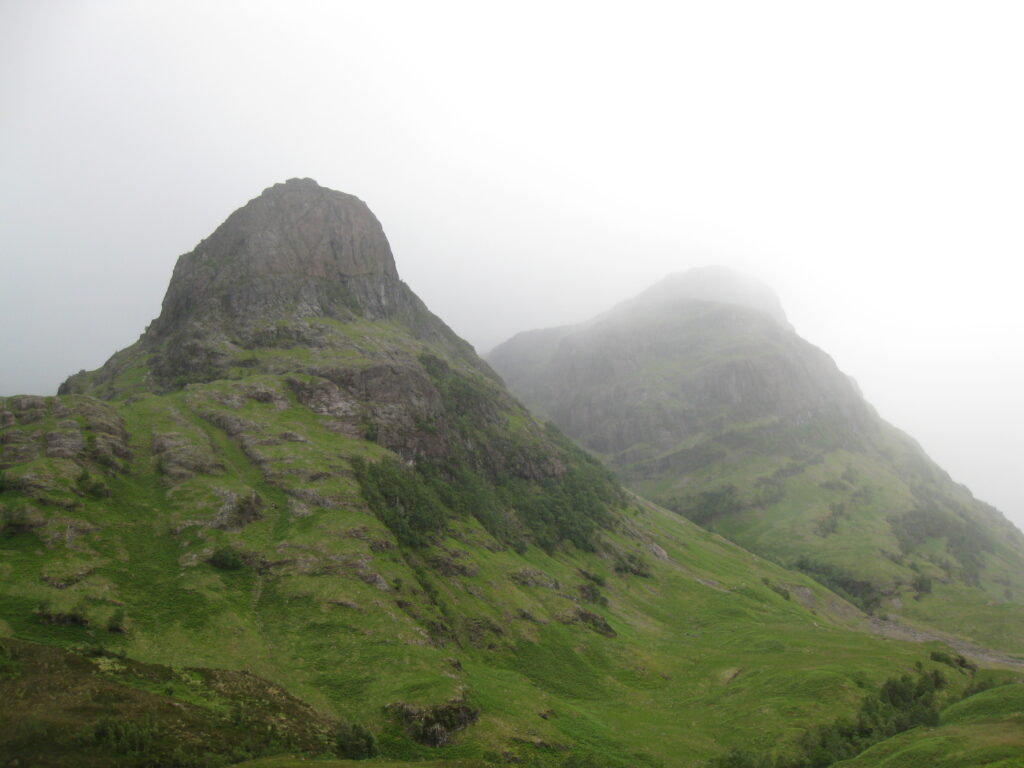 There was a perverse pleasure to be had in fighting the elements – the wind was by now blowing straight up the valley, and though we were descending we had to pedal hard to maintain any momentum. We passed a couple of cyclists coming up the other way – at least they had the wind behind them, but they were as wet and wind-blown as we were. We stopped a couple of times to take photographs but didn't linger as there was no shelter. Eventually we spotted signs for the Glencoe Visitor Centre, and decided to stop for coffee and cake.
Glencoe Visitor Centre was busy, despite the weather. We sat, dripping gently, and drank coffee and tea. The chocolate caramel tray-bake looked calorific in the extreme, but we were sure we'd earned it. Soon we decided it was time to move on – we knew that after Ballachulish we would turn east and out of the wind. Passing Loch Leven to our right, and with increasingly beautiful vistas across Loch Linnhe to our left, we crossed the Ballachulish Bridge and cycled on towards Corran Narrows.
We're not sure what they put in the tray-bake, but we seemed to step up several gears at this point. By now it was approaching 1pm, and there were 13 miles to go before we would reach Fort William. We decided that if we pushed hard we could be there in time for lunch. With the wind no longer in our faces and the climbing now behind us we averaged more than 16mph en-route to Fort William, and thus arrived in plenty of time for lunch.
Knowing that we only had ten miles remaining to our destination at Spean Bridge we had a leisurely lunch at the Drover's Inn, overlooking Loch Linnhe. Once again we set a cracking pace, and were only slowed by the convoy system through the resurfacing works just a couple of miles before Spean Bridge. As we cycled in the convoy through the partially resurfaced road we hit a section of newly laid tarmac, and could feel the heat coming up off it in waves. We soon arrived at Spean Bridge, a quiet spot where we secured very pleasant accommodation for the night and booked ourselves into the Old Station Restaurant for our evening meal. It is still raining, though the forecast for tomorrow is better.
Tomorrow we continue along the Great Glen, and pass Loch Ness (we will report any sightings of Nessie) before turning North at Drumnadrochit, where we will encounter a steep 800 foot climb. We're heading for Beauly, about which we know nothing, but we're told it's a lovely place.