Santiago to Manaus
It was an early start for our flight to São Paulo. Before leaving we met our AirBnB host Francisco in the lobby before 8am, and thanked him for all his recommendations. The apartment had been lovely, and his tips for restaurants and areas to visit in Santiago had been spot on. We jumped in a Cabify taxi (legal!) and we're soon at the airport and checked in.
A strange flight – it left after 10am and the food service didn't start until 11:30 (once we were safely across the Andes), and yet what we were given was the breakfast menu! No matter, it was all nice. No 'breakfast wine', though, of course ☹️
We had an excellent view of the mountains as we flew across, a narrow range but very high. We were glad we had not chosen to go across the Andes by frog. A long haul across the continent had us circling São Paulo to land, and it looked huge from the air. When we got off the plane, it also felt incredibly warm.
We negotiated an early bag drop for our late night onward flight to Manaus, in Amazonas, and settled ourselves in the lounge, where there was WiFi, food, wine, and a burble of Portuguese. After the excitable Spanish of Chile, the soft lilting of the Brazilian tongue sounded really laid back. We looked up a few useful phrases. Good morning, good night, hello, goodbye, thank you and sorry. I had started DuoLingo Portuguese a week or so ago, but only got as far as "I am a woman", and (less usefully) "I am a man". Small steps…
Manaus is the capital Amazonas state of Brazil, and sits right in the middle of the Amazonian rainforest, at the confluence of the Amazon river and the Rio Negro, although the Amazon river above Manaus is called Solimões in Brazil. Colin had been working in Amazonas for a couple of weeks, and we had arranged to meet there for some adventures in the rain forest together.
We boarded our flight, waited, listening to banging from the underside of the plane. A lot of banging. And then they made us all get off whilst they sorted out whatever it was. We finally arrived in Manaus at about 3am, really tired, but massively happy to meet up with Colin.
Manaus to Novo Airão
An early start was necessary even after our very short night, so we could make our rendezvous with Miguel, who would be transporting us up the Rio Negro to Novo Airão in his boat. Colin first met Miguel sixteen years ago, and had been working (amongst other things) on a film about a local project in Novo Airão started by Miguel.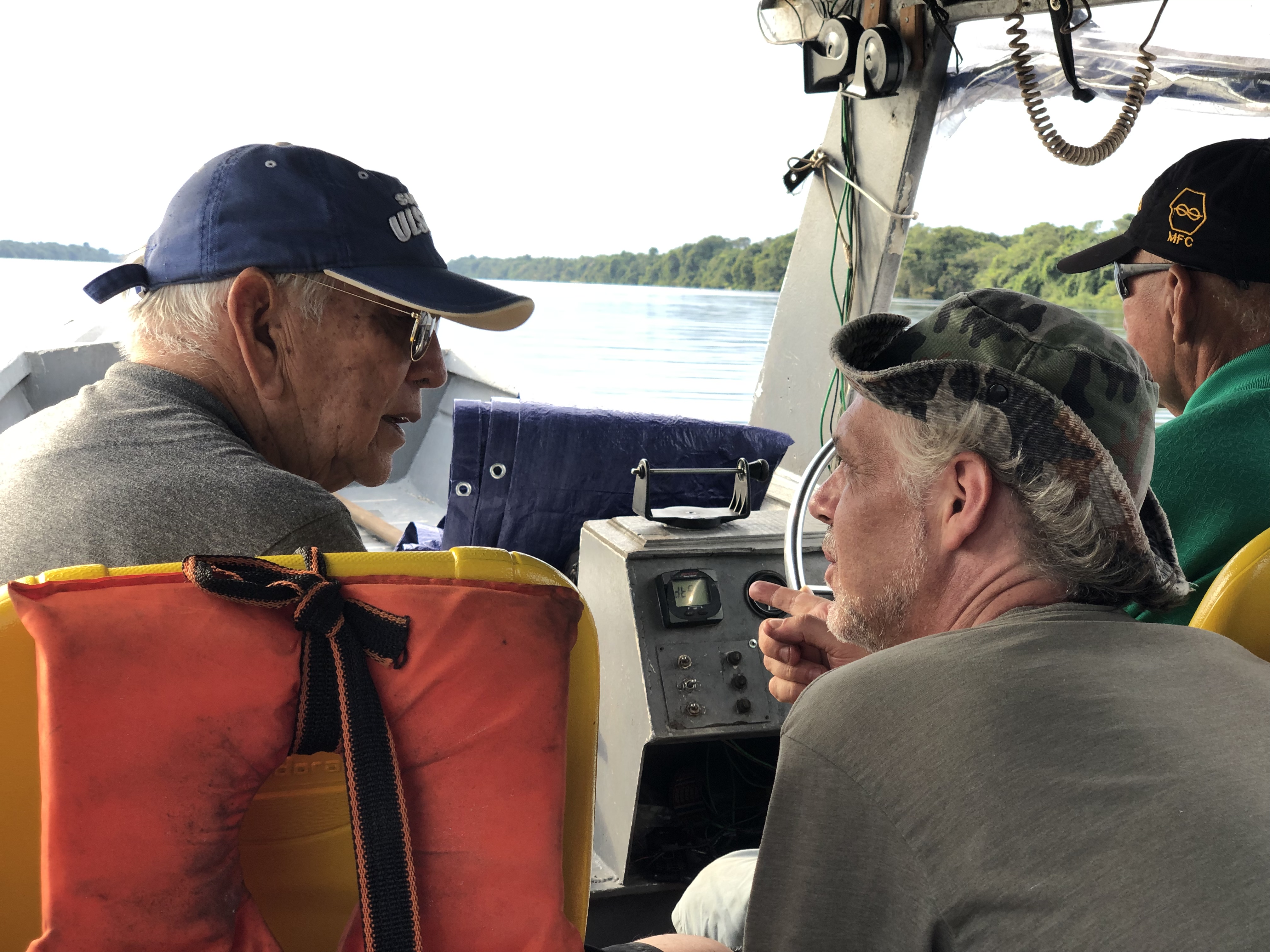 We climbed onto the boat to meet Miguel and our pilot Nunes, and set off into the river.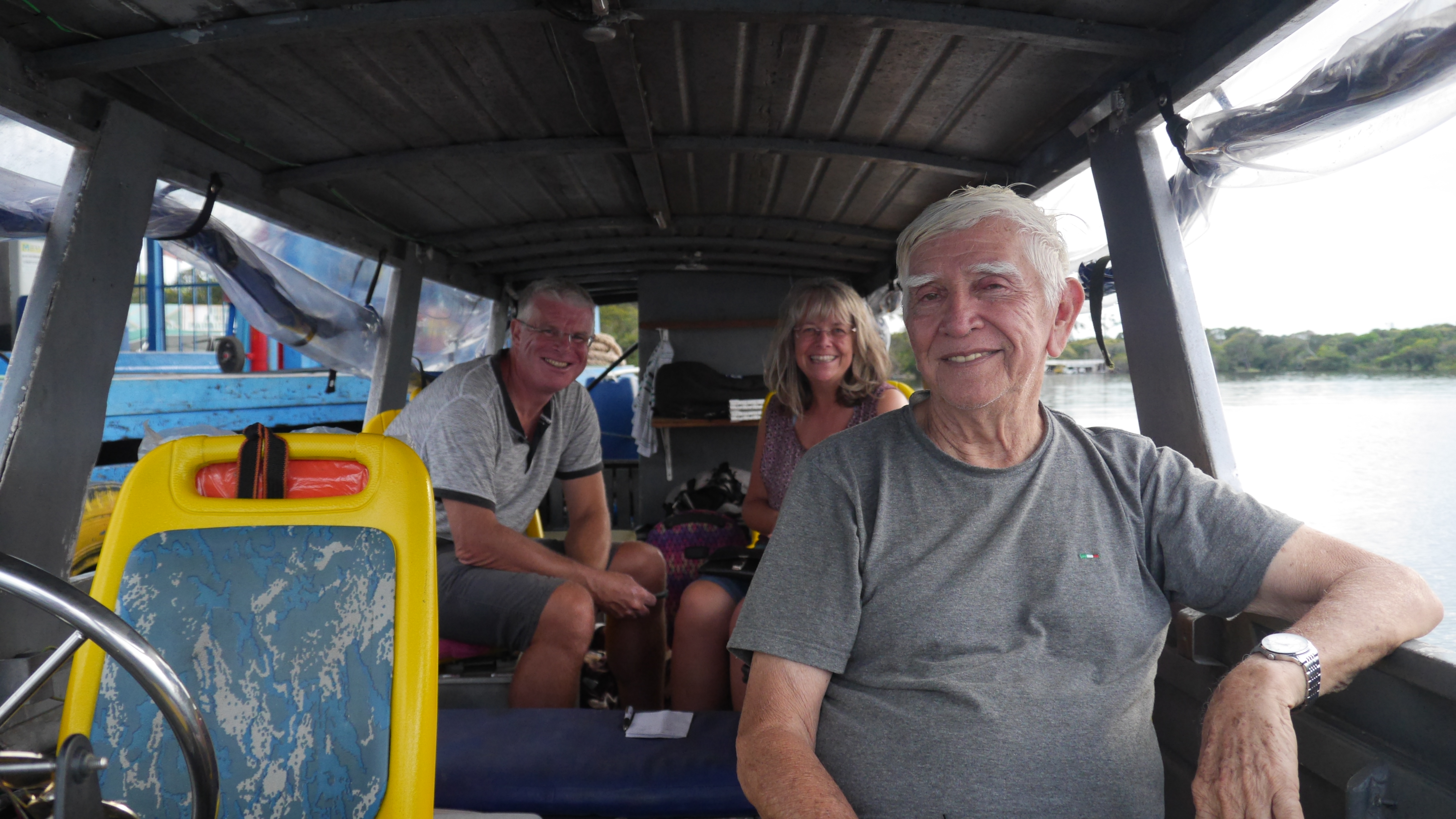 It was our first sight of the Rio Negro ('black river'), and it was huge! As we motored along, Miguel told us a little about it. It rises in Colombia, passes through Venezuela, but most of its length it is in Brazil. At some points it is more than 20km wide. The water is very dark, because of tannins which develop from rotting tree detritus slipping in from the forest on either side. That also makes the water very acidic, which has the benefit of deterring mosquitos. I was surprised to find that it was also really warm to the touch.
Miguel suggested we stop in a small lagoon for a swim, and Nunes piloted us into a ridiculously idyllic scene, a white sand beach, palm trees, tiny shelters. And water the colour of tea!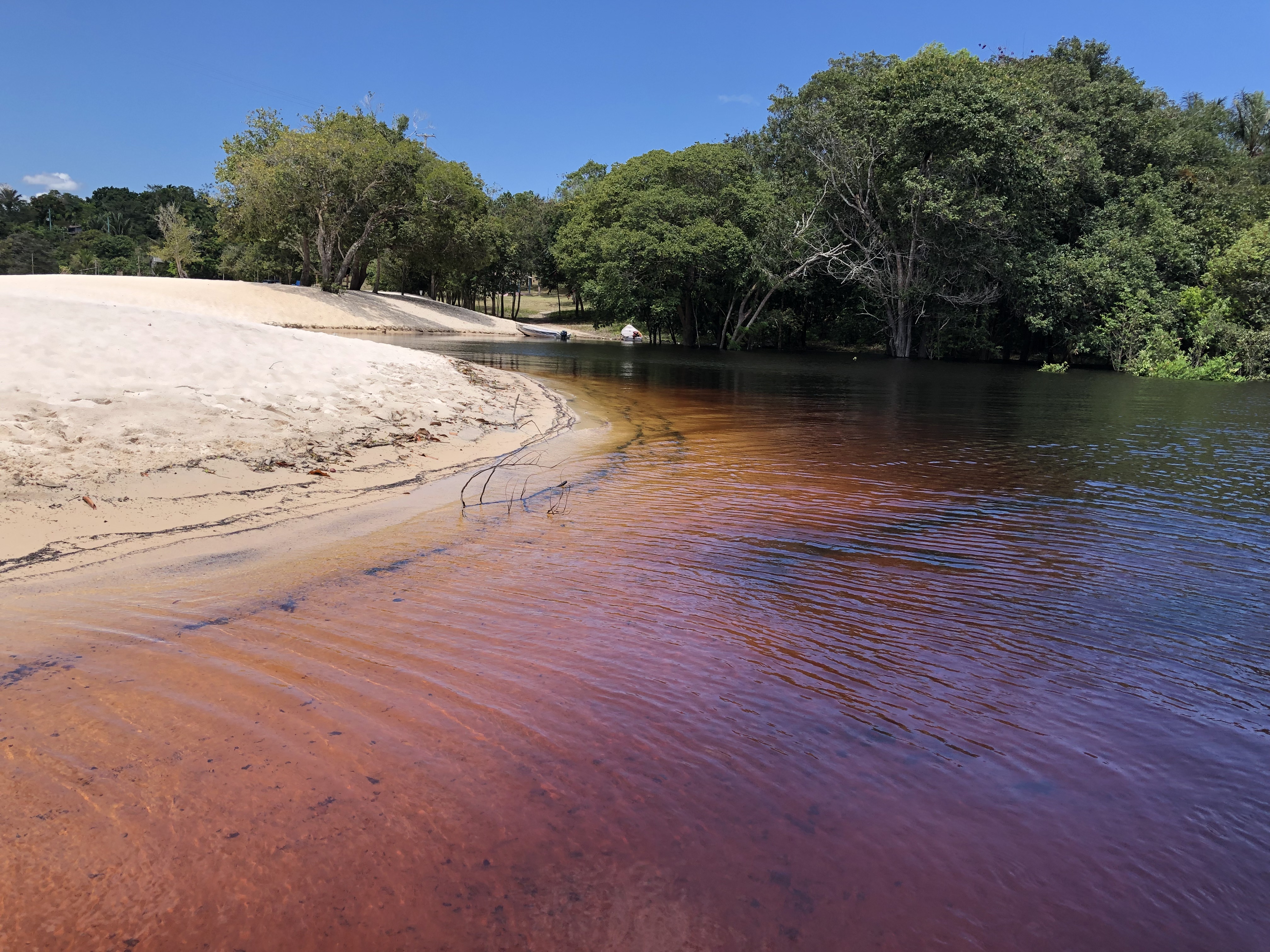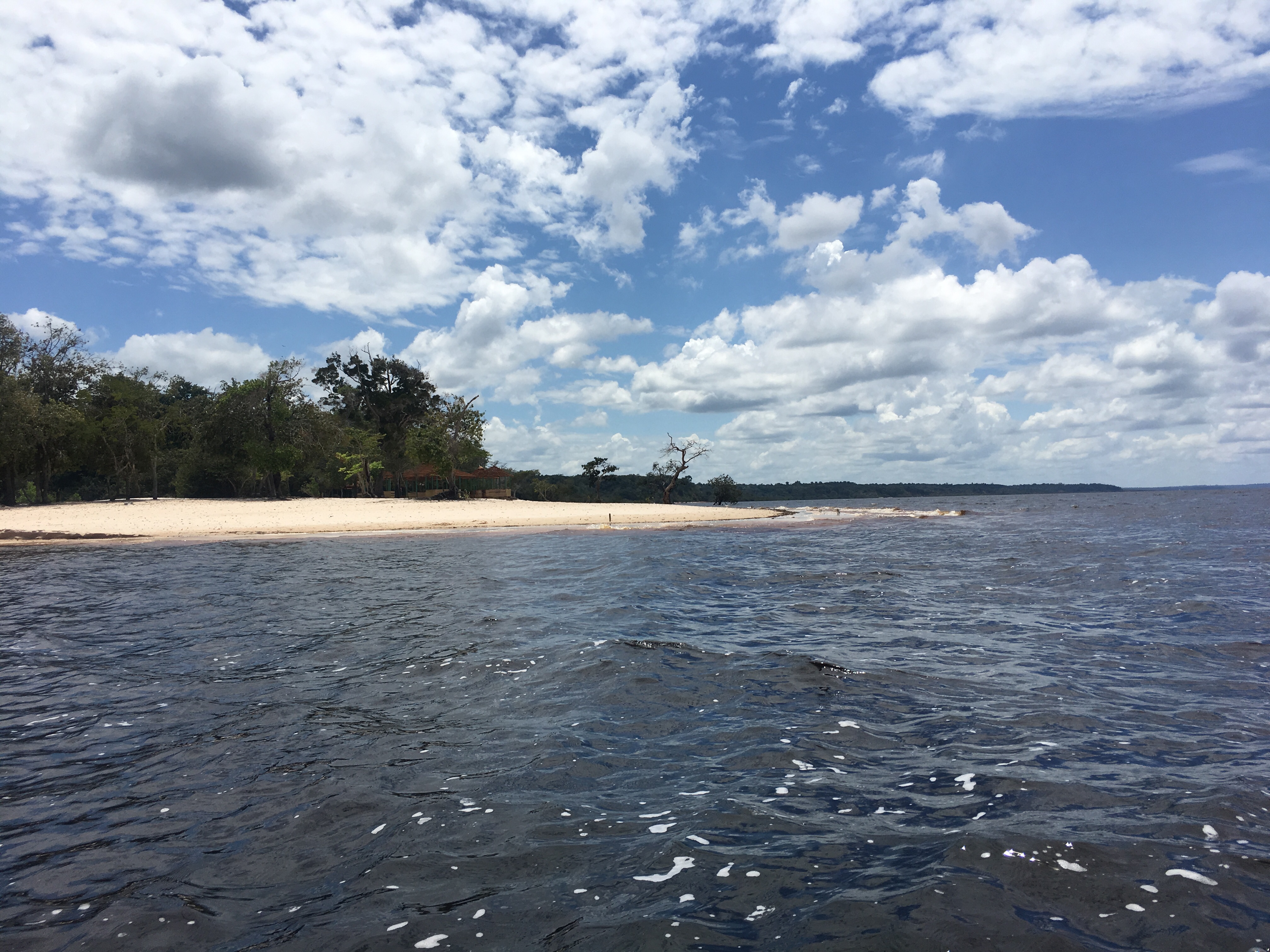 We floated about for quite a while, marvelling at our mahogany limbs in the warm water. At more than eighteen inches you couldn't really see your feet any more!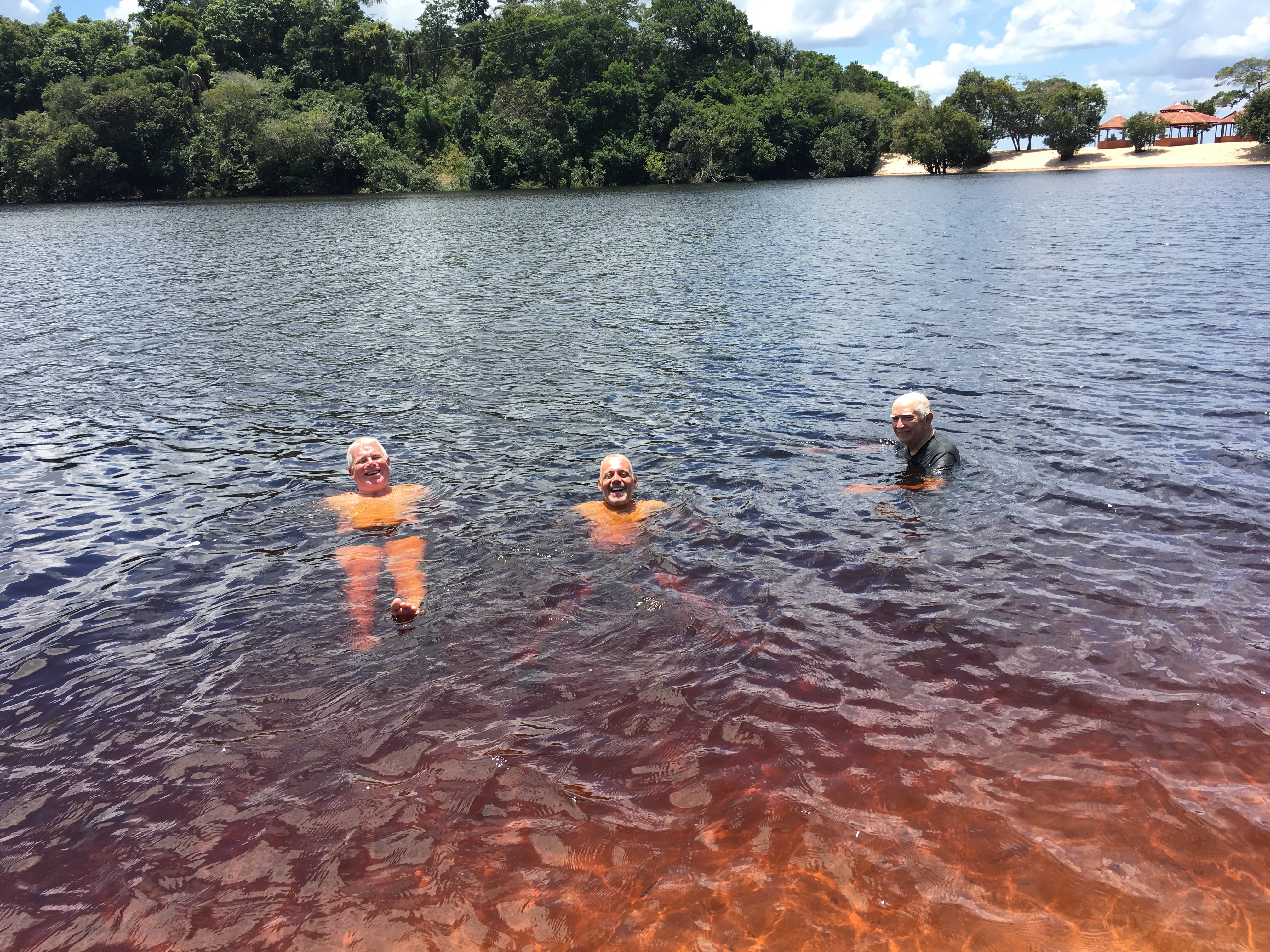 Back on the boat, we motored on past an indigenous village which Miguel explained was a bit 'flamenco for foreigners' (see blogs passim), so we didn't stop. Our next port of call was to be a lunch stop, and we turned inland down a tiny tributary, where Miguel discussed our options with a family in a small dwelling by the side of the water. We moored the boat up where they instructed, and Miguel and the father of the family laid and lit a fire so Miguel could cook the fish he'd brought.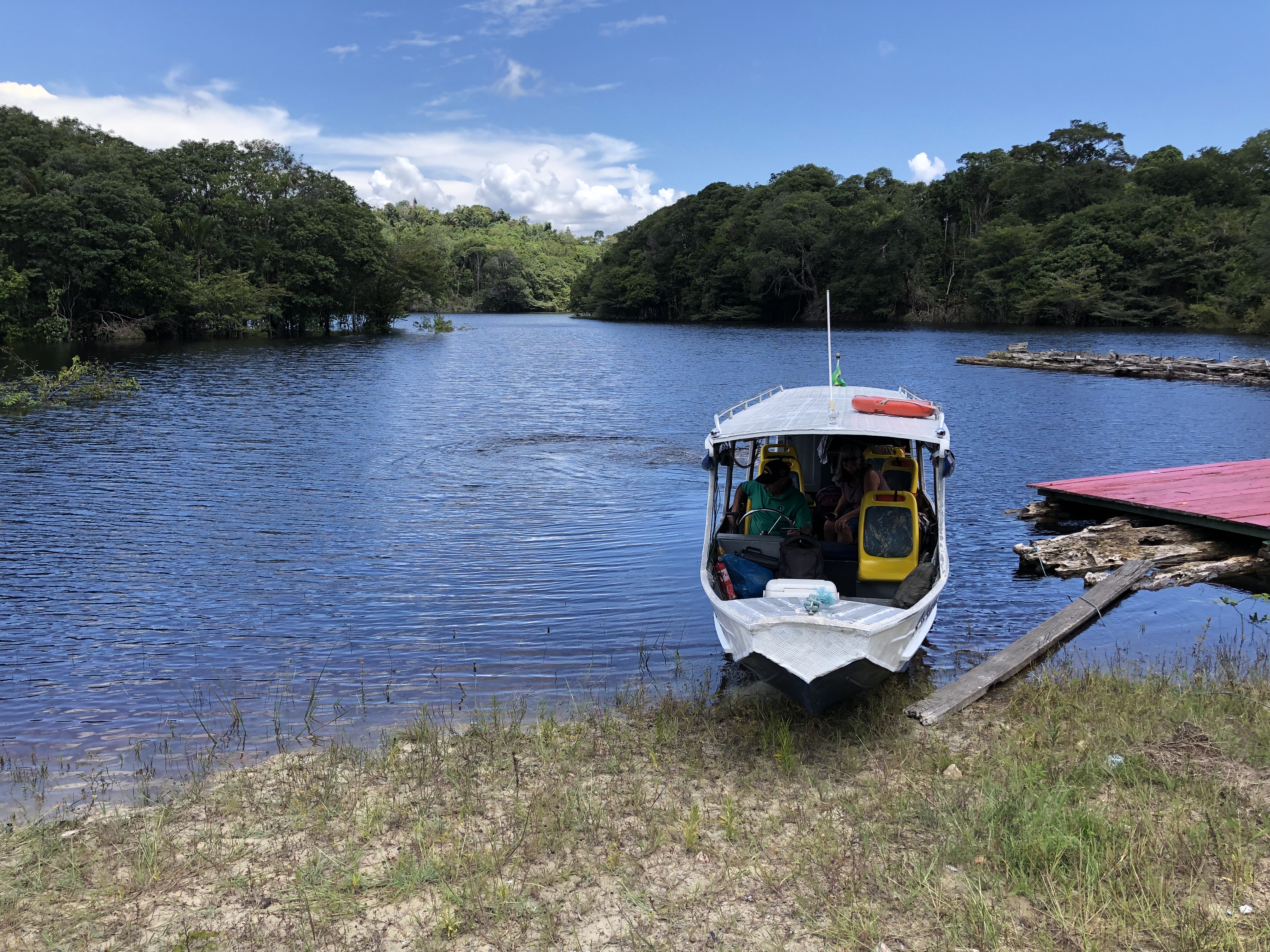 The family had followed us around in a small canoe, complete with their little dog Romero (pronounced 'Hom-air-oh'), and once the fire was going the father asked if we would like to explore the tributary in the canoe. It was an igarapé, a canoe waterway, strictly speaking a cul-de-sac, in an inundated forest. The forest is dry at other times of the year, but was now under a few feet of water, and would be inundated further as the rainy season progressed.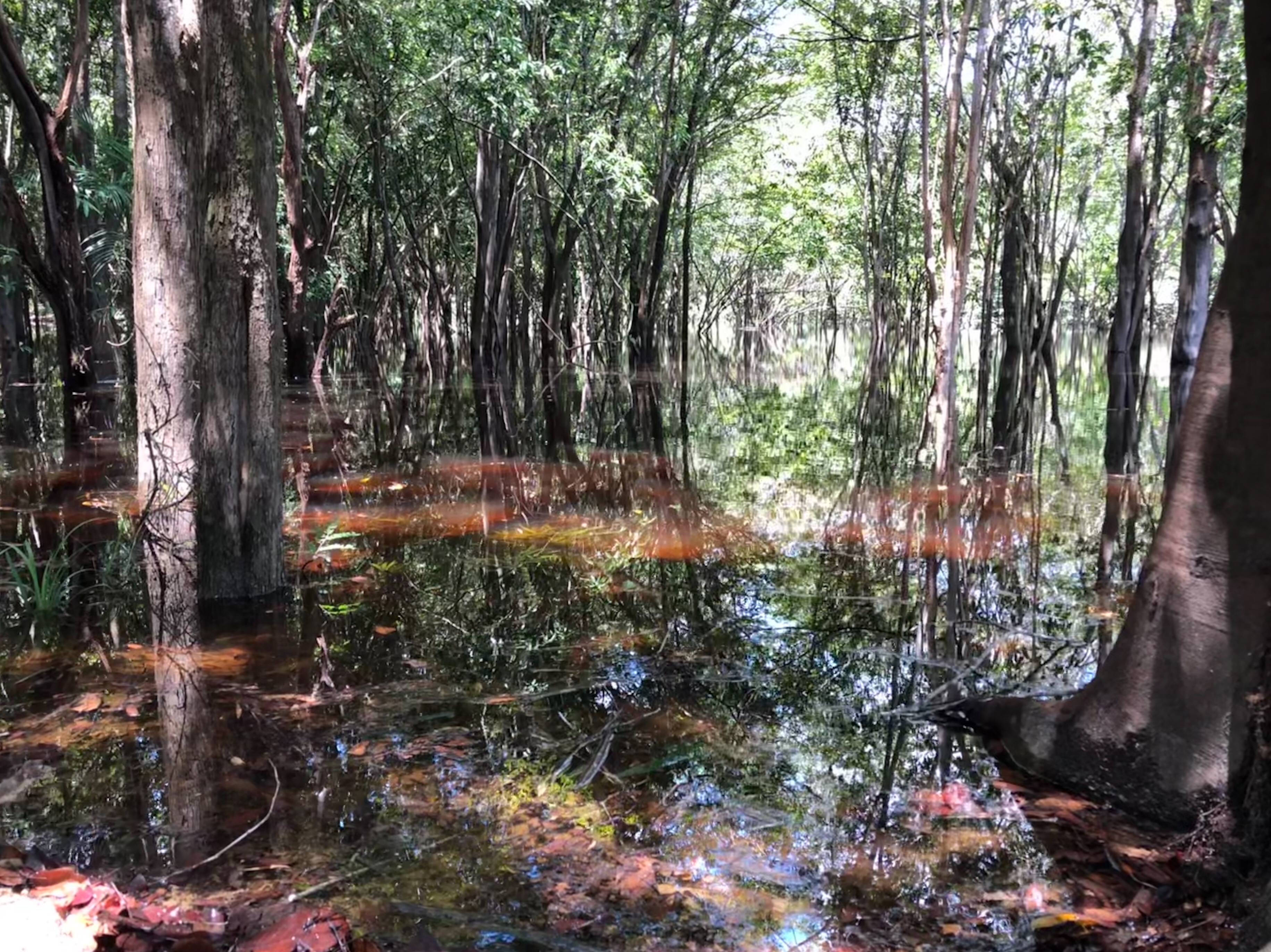 Colin, Jonathan and I clambered aboard the canoe, with our host and Romero, and he paddled us through the igarapé.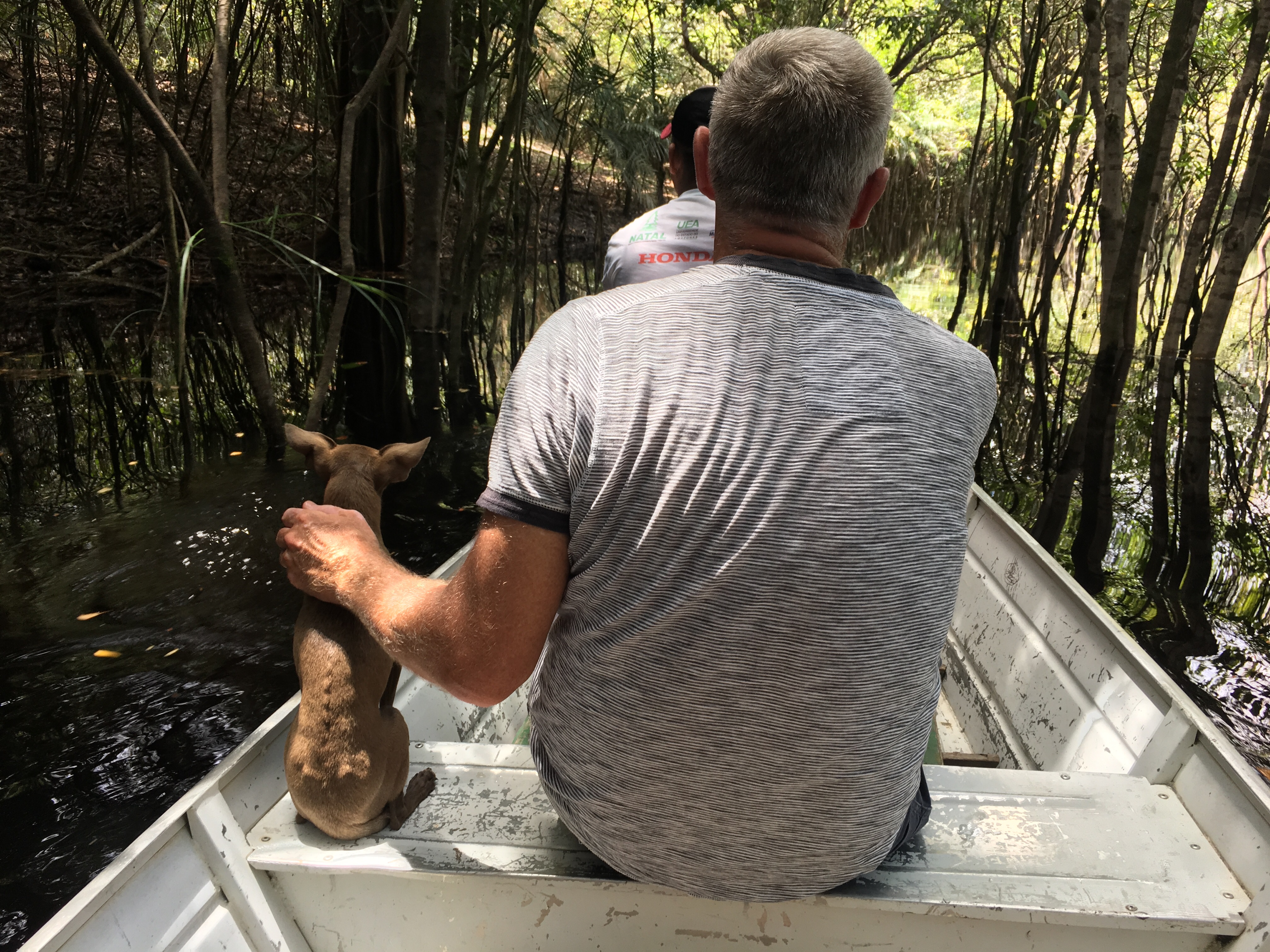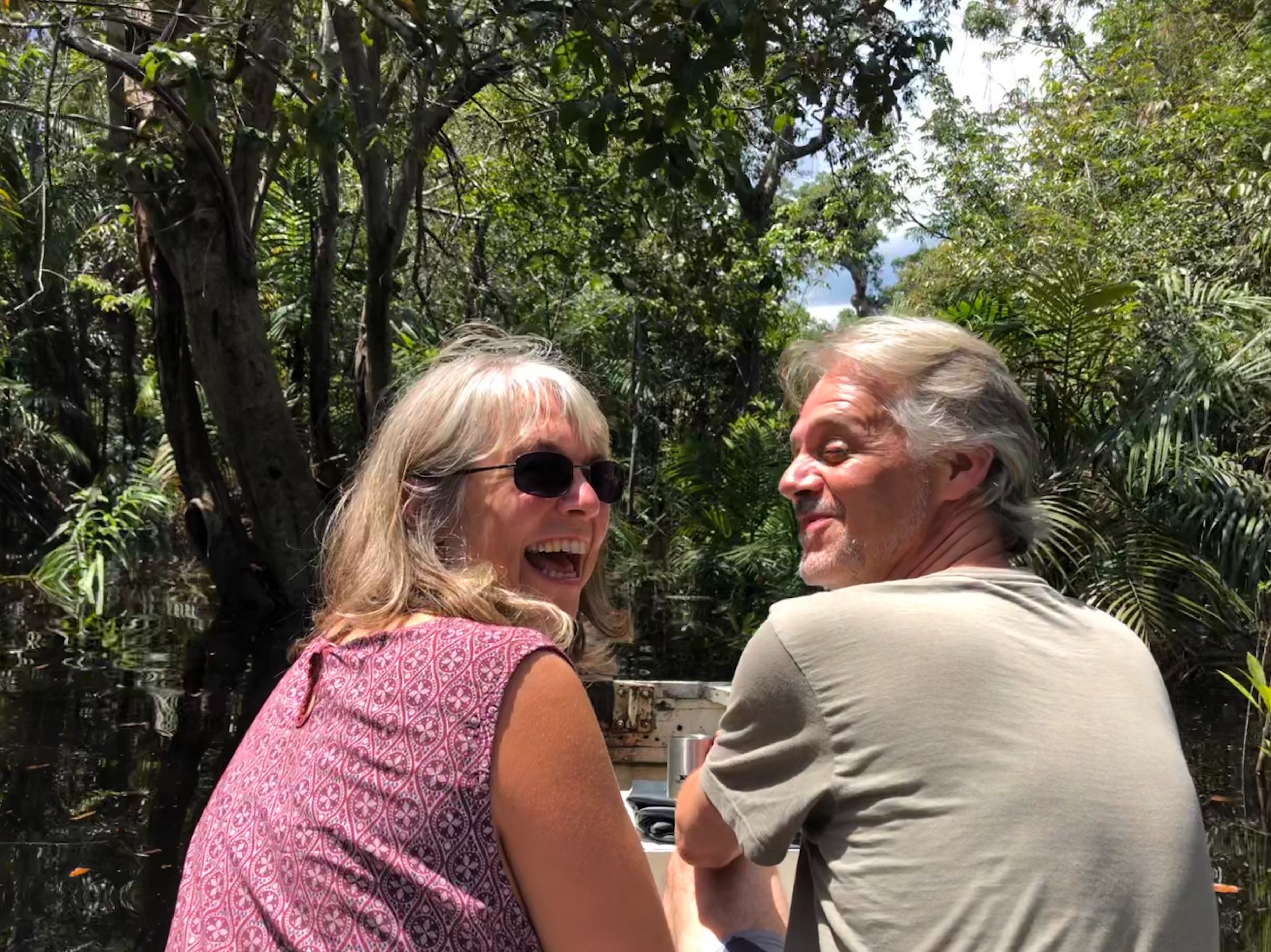 We were all stunned by what we were seeing, it was unlike anything I'd seen before. The water was clear, but with the red tinge of the tannins, and the surface was utterly still. The optical illusion was quite disconcerting – where the trees were vertical you just could not see where each tree met its reflection, it seemed that you were hovering above the forest floor somehow. It was only when a tree emerged from the water at an angle that your brain could suddenly make sense of what your eyes were seeing.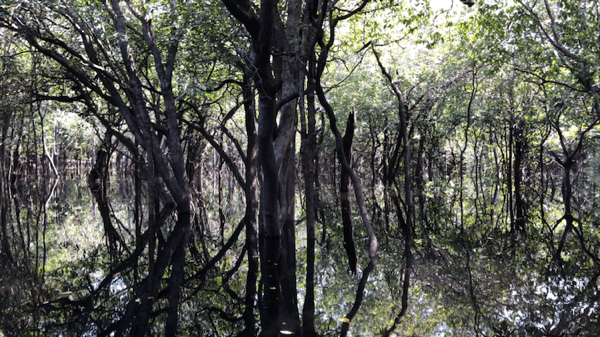 We were instructed to keep away from some razor-like dangling vines, but it was otherwise an otherworldly, tranquil scene. We could hear Capitão do Mato birds calling 'free, free oh' above us, but they are very difficult to see. Romero kept a sharp eye out for anacondas from the bow.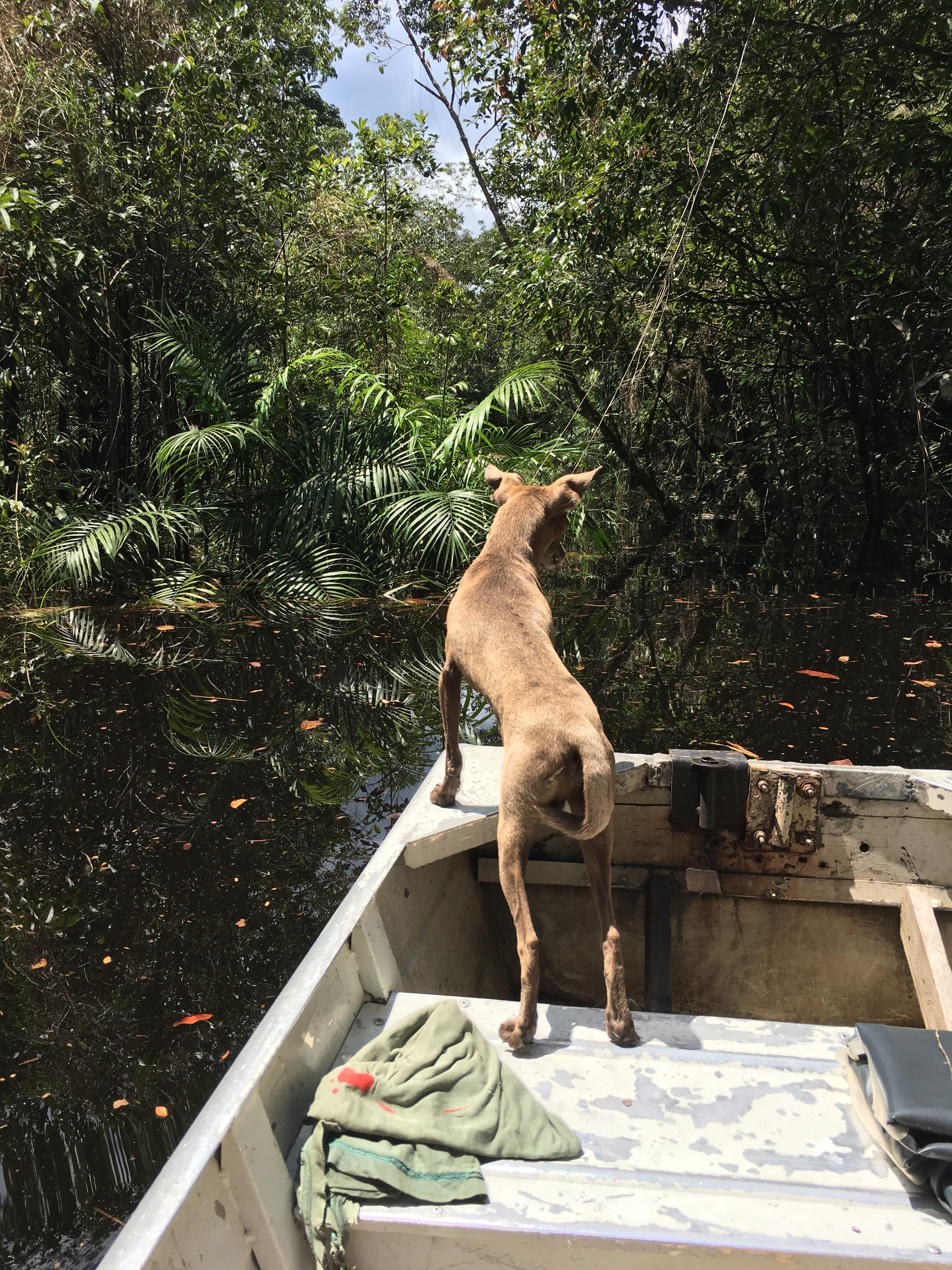 We turned round and glided back towards our mooring place, where Miguel had cooked up a gorgeous lunch.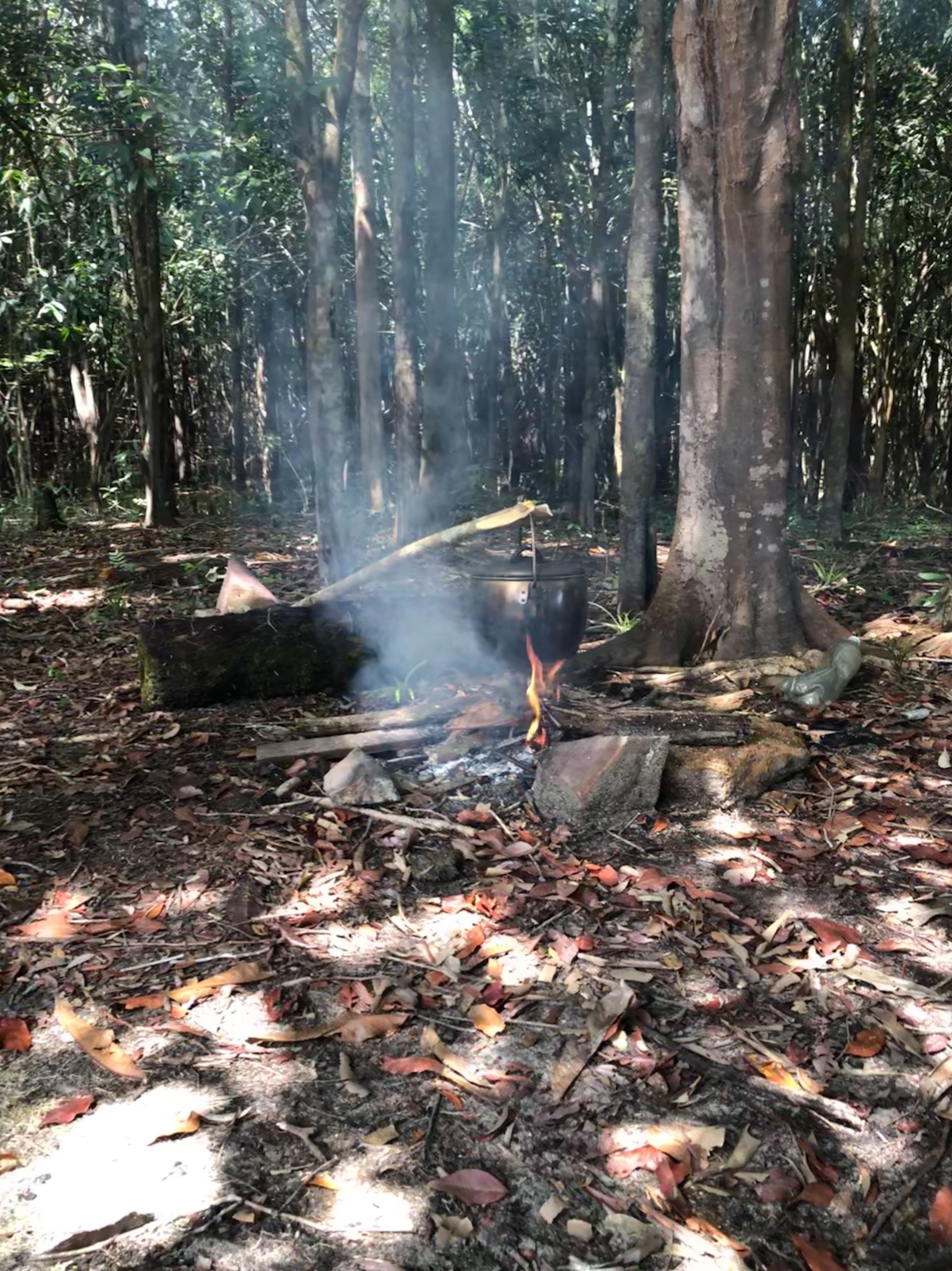 In the pot over the fire he had gently simmered pieces of fish in a simple stock, and he served it with rice, and manioc flour, a coarse grain a little like polenta which soaked up the stock and thickened the soup. He squeezed in slices of lime and some 'tucupi', a sour juice also obtained from manioc, which must be boiled in order to remove its poison. From such simple ingredients, the flavours were amazing, and of course eaten in the fresh air, all this was an incredible introduction to Amazonian food. Miguel had bought the fish from a friend who had caught it the day before, a 234kg whopper. We didn't eat all 234kg, of course. We finished with fresh pineapple, dismantled our temporary camp and headed off for Novo Airão.
The sky had darkened, and suddenly we were plunged into epic rainfall. It was bouncing off the surface of the river. There's a reason why the rainforest is called a rainforest…. Nunes steered us around the worst of the rain, but it was pretty wet. No-one minded, our luggage was safely stowed in the dry, we were having a fantastic day, and the rain was warm. There was even a rainbow.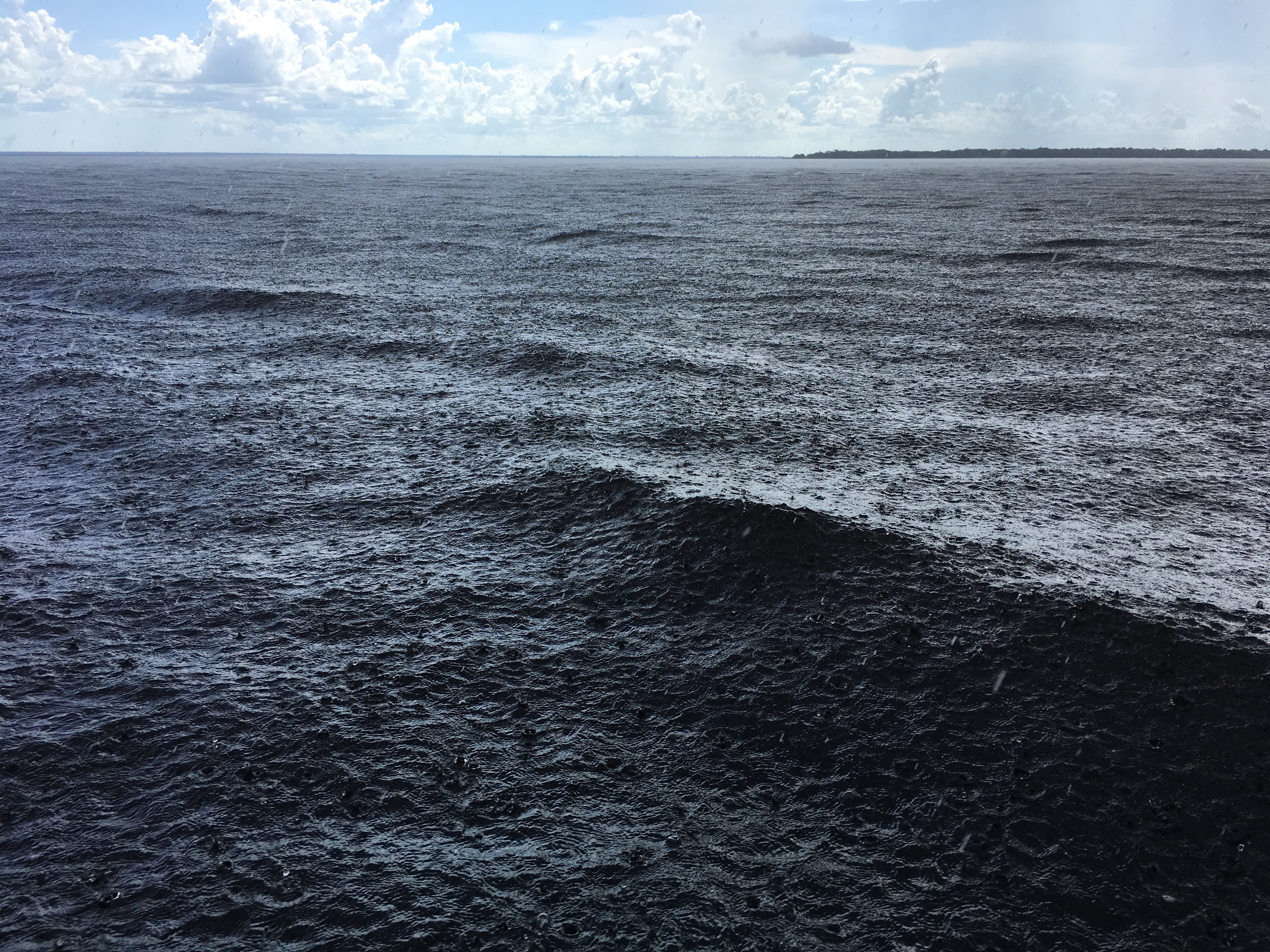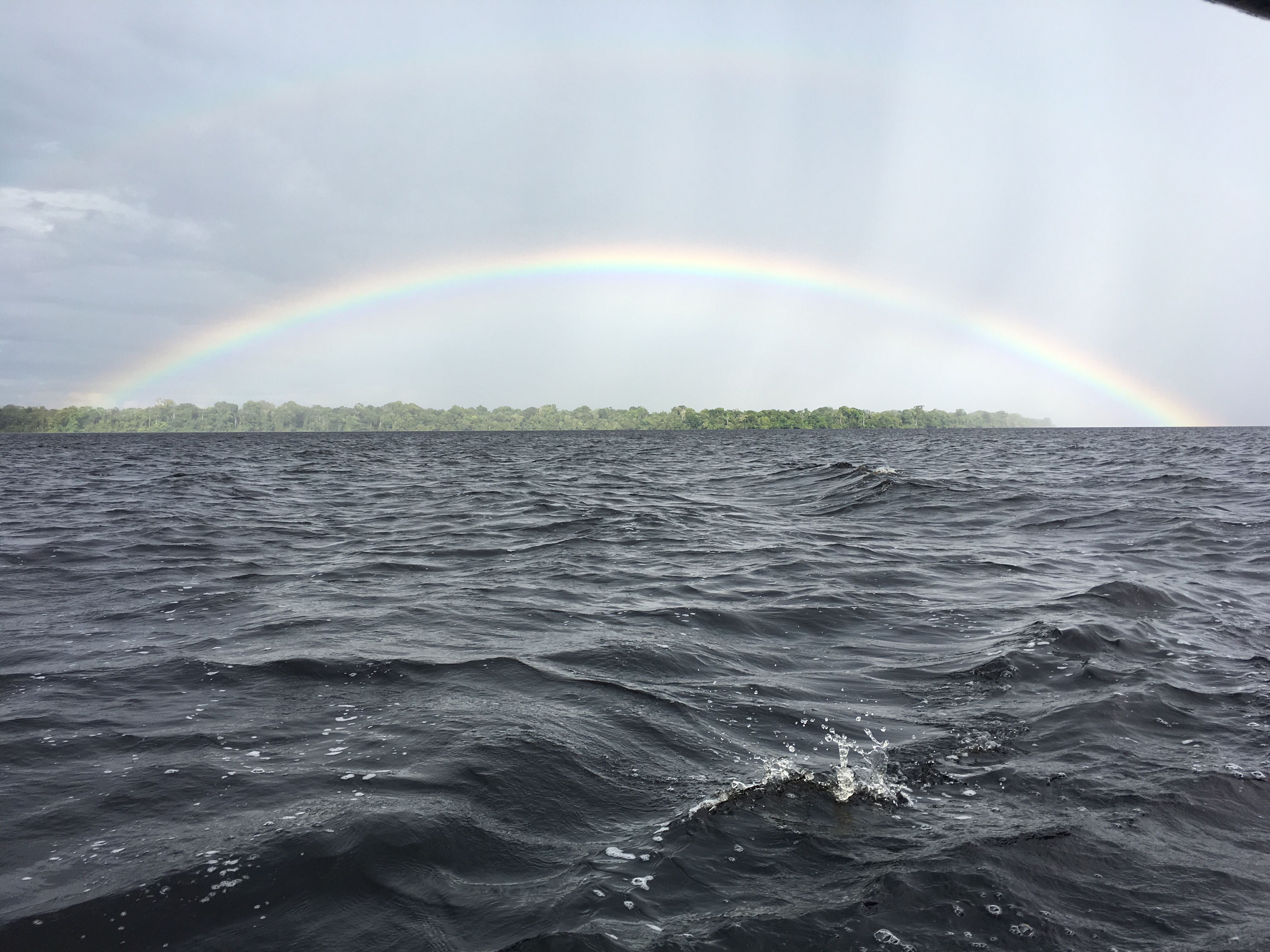 Just before sunset we arrived at Novo Airão, visited the floating fuel station to refuel the boat for Miguel's return trip the following morning, and he dropped us at the steps of our pousada. Door to door service!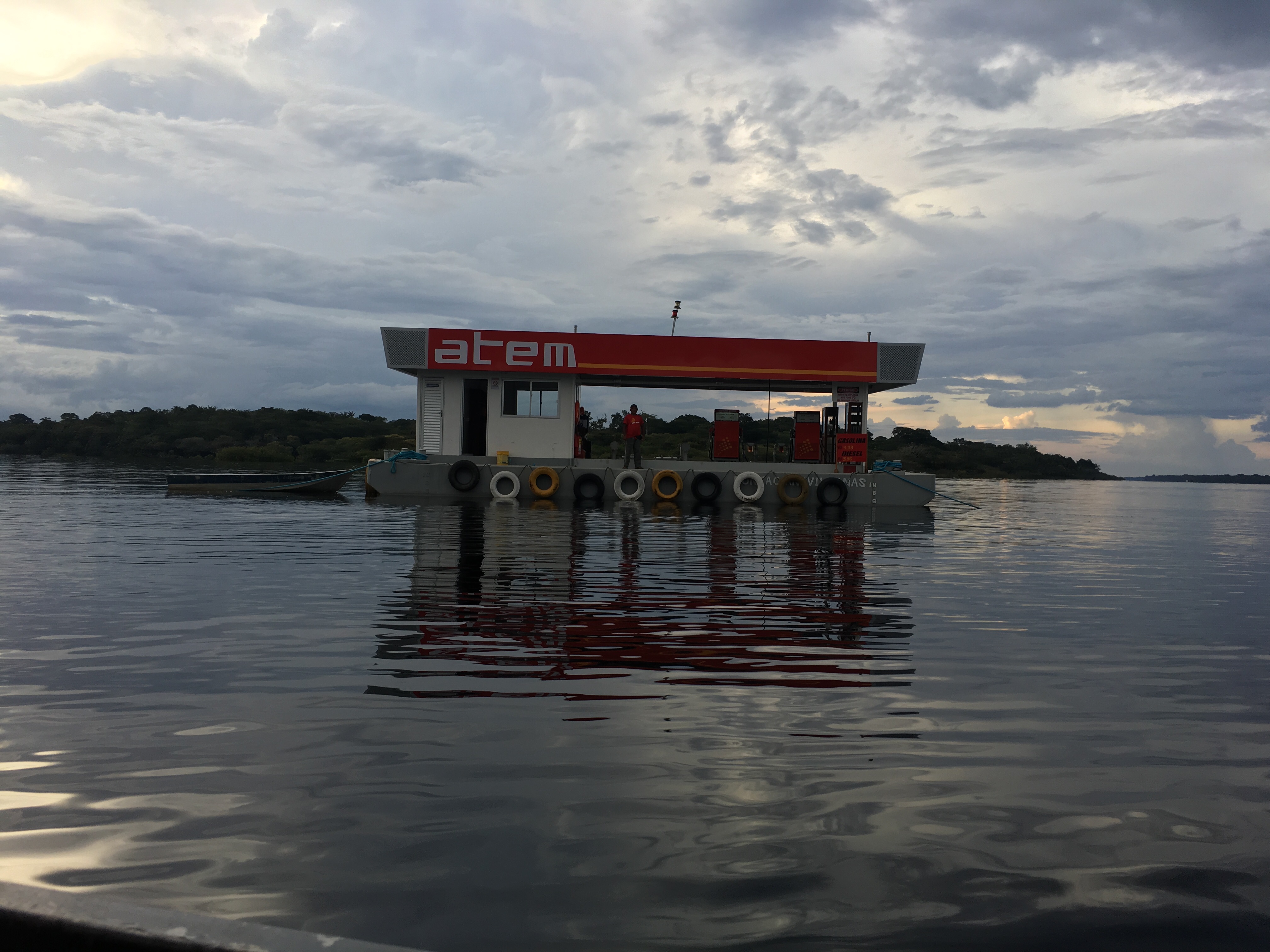 Colin was welcomed back (having stayed here during his work in the area), and we were installed in our rooms before a short walk out to Alex's bar for burgers, manioc chips and wine. It had been a long couple of days, with some late nights and early mornings, but the journey from Manaus to Novo Airão had been a wonderful experience, and it was brilliant to have arrived for our rainforest days.
Novo Airão and Anavilhanas
We met for breakfast on the pousada's stilted deck, where iguanas were clacking along the wooden planks looking for fruit peelings and other treats.
There were several in the trees alongside the deck, and they joined us for breakfast in increasing numbers. Their faces were like tiny dragons, and their skin made up of hundreds of 'pixels'.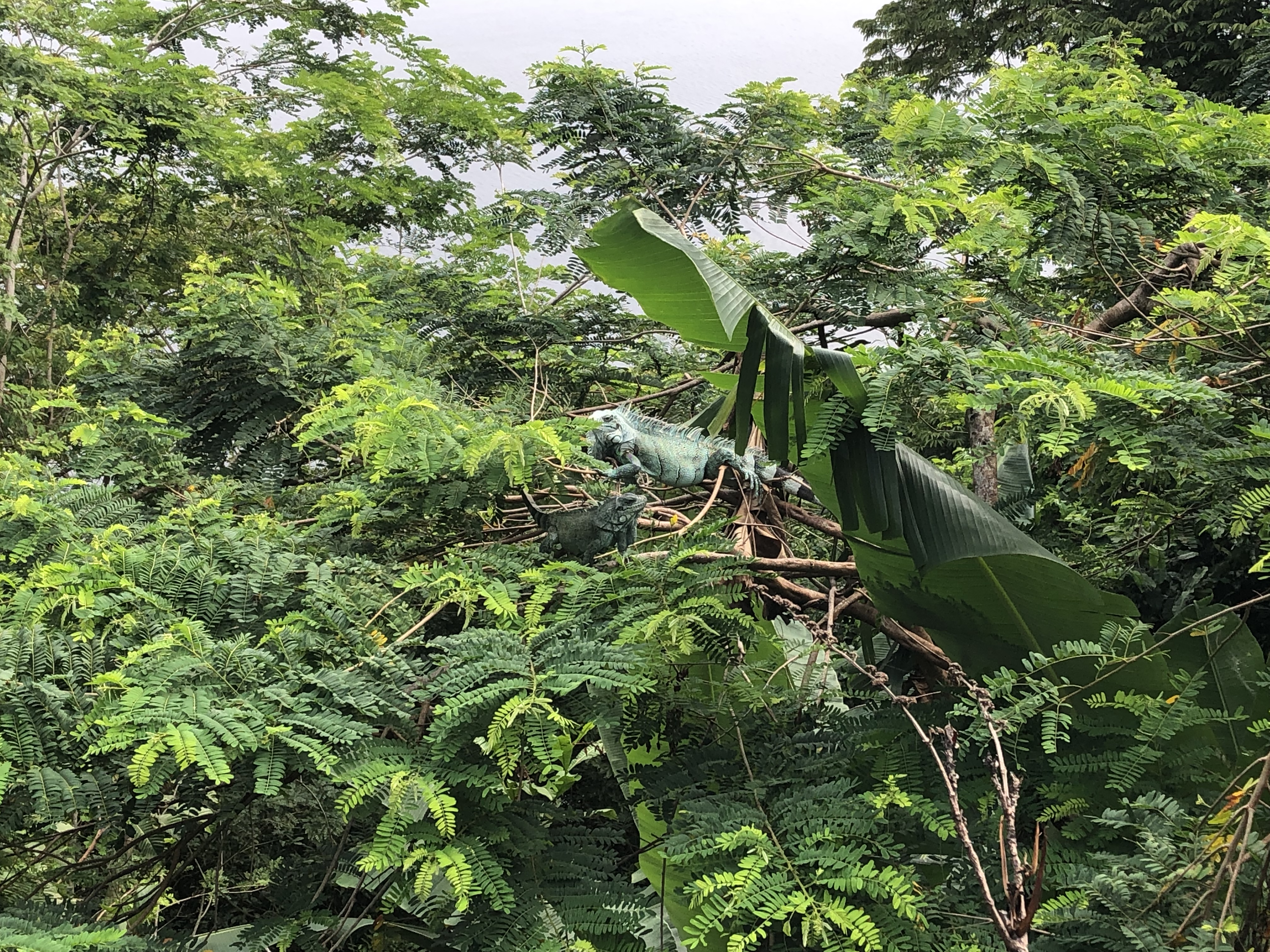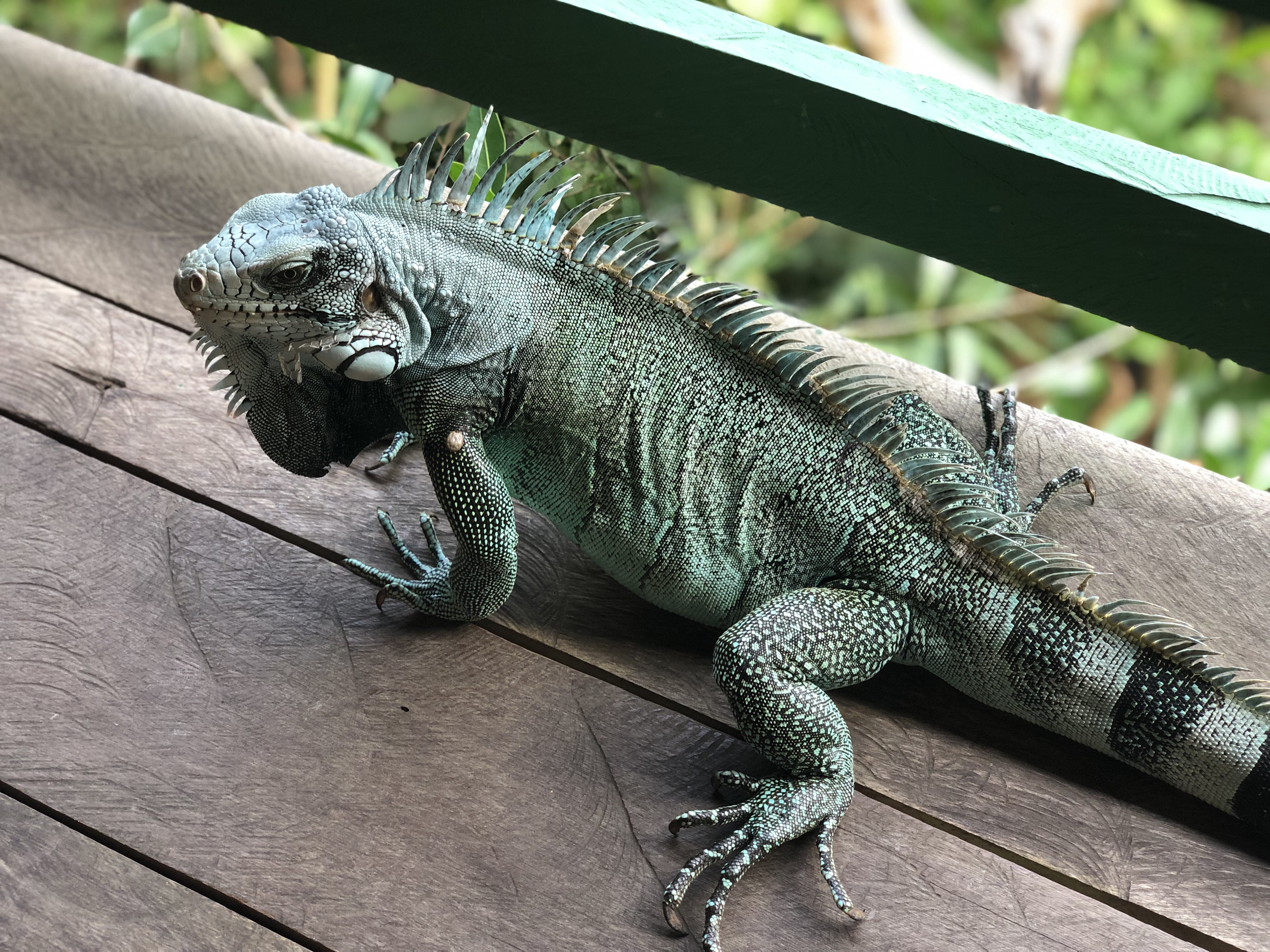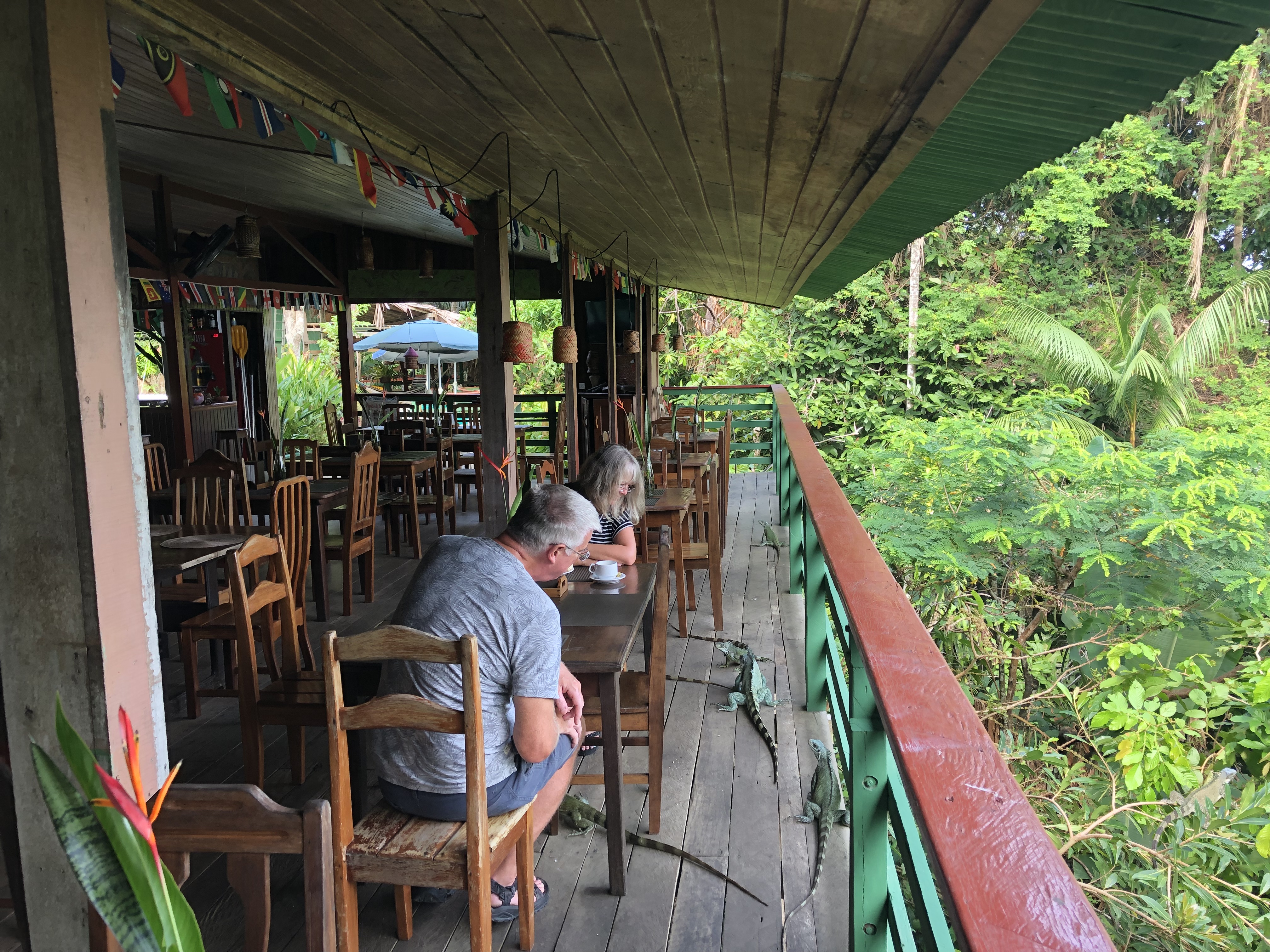 Vermelhinho was waiting for us in his boat, to take us on a tour of the Anavilhanas national park, on a hunt for a rare Amazon bird, the wire-tailed manakin. First, though, a visit to the dolphin project next door to the pousada.
Marisa has been working with the local river dolphin species for more than twenty years in this area, safeguarding and observing them. She works as an educator, improving their chances by teaching local people and tourists about the dolphins and inspiring the next generation to continue the work. She told us the rules for interacting with the animals, including an instruction not to touch their bulbous heads, because that's where their sonar 'equipment' is, their mechanism for forming a mental picture of the terrain around them and their place in it.
We went down to the platform over the river's edge, and already we could see dolphins under the water. They are a particular species, 'boto', slightly pink in colour, but appearing almost red in the Rio Negro's tannic waters.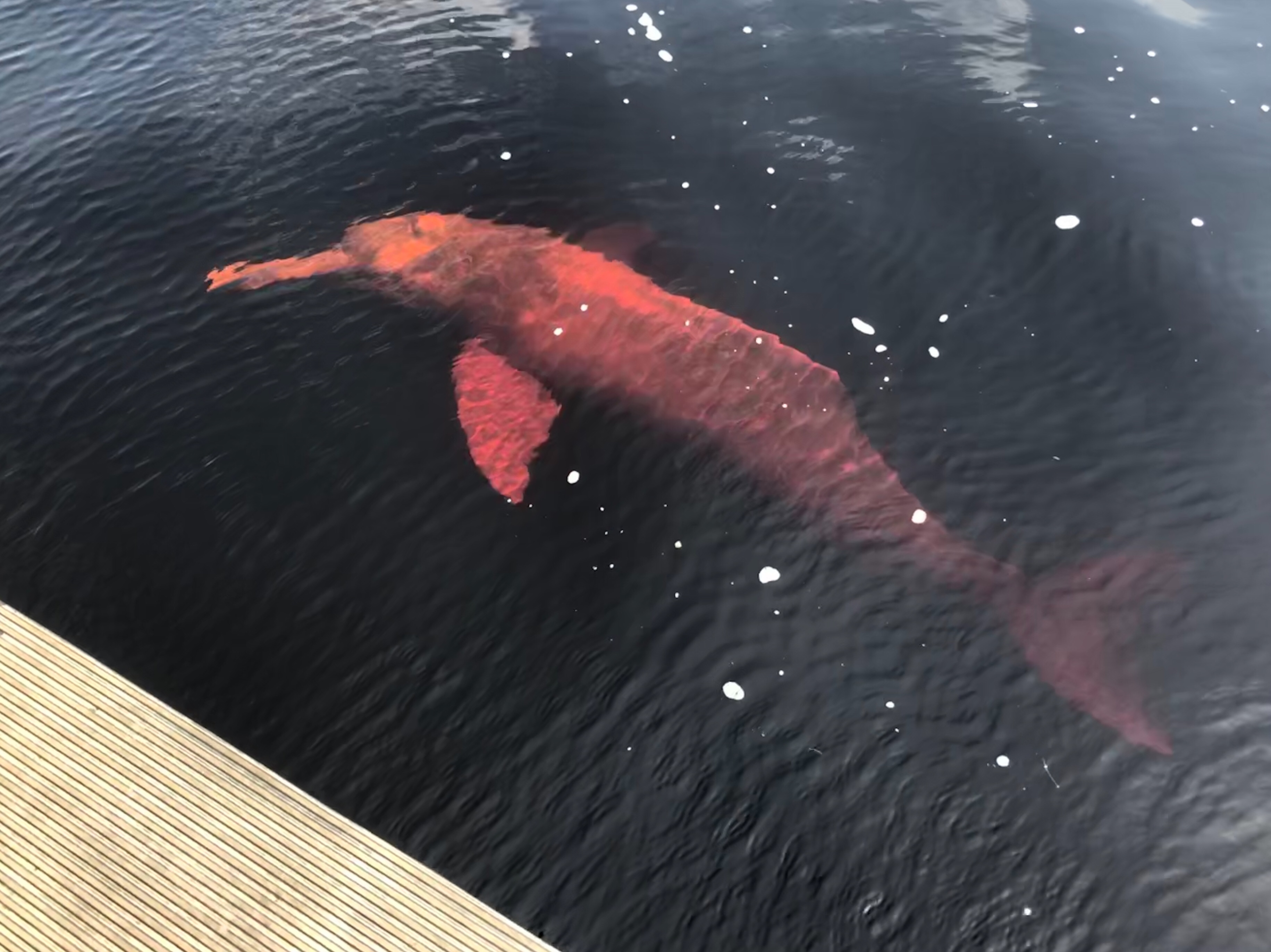 Marisa provides small amounts of fish to the dolphins to help in building relationships with them, and can recognise more than fifteen individuals. They only receive a fraction of their daily nutritional requirements, though, so that they do not become dependent on the project. Our first visitor was Curumim, the first dolphin Marisa met, before the project was established. He is recognisable by his twisted beak, a result of being harpooned. He struggled to eat, but Marisa observed that his pod of dolphins managed to pull out the harpoon and helped him to feed until he was healed. His beak gives him a very cheeky grin.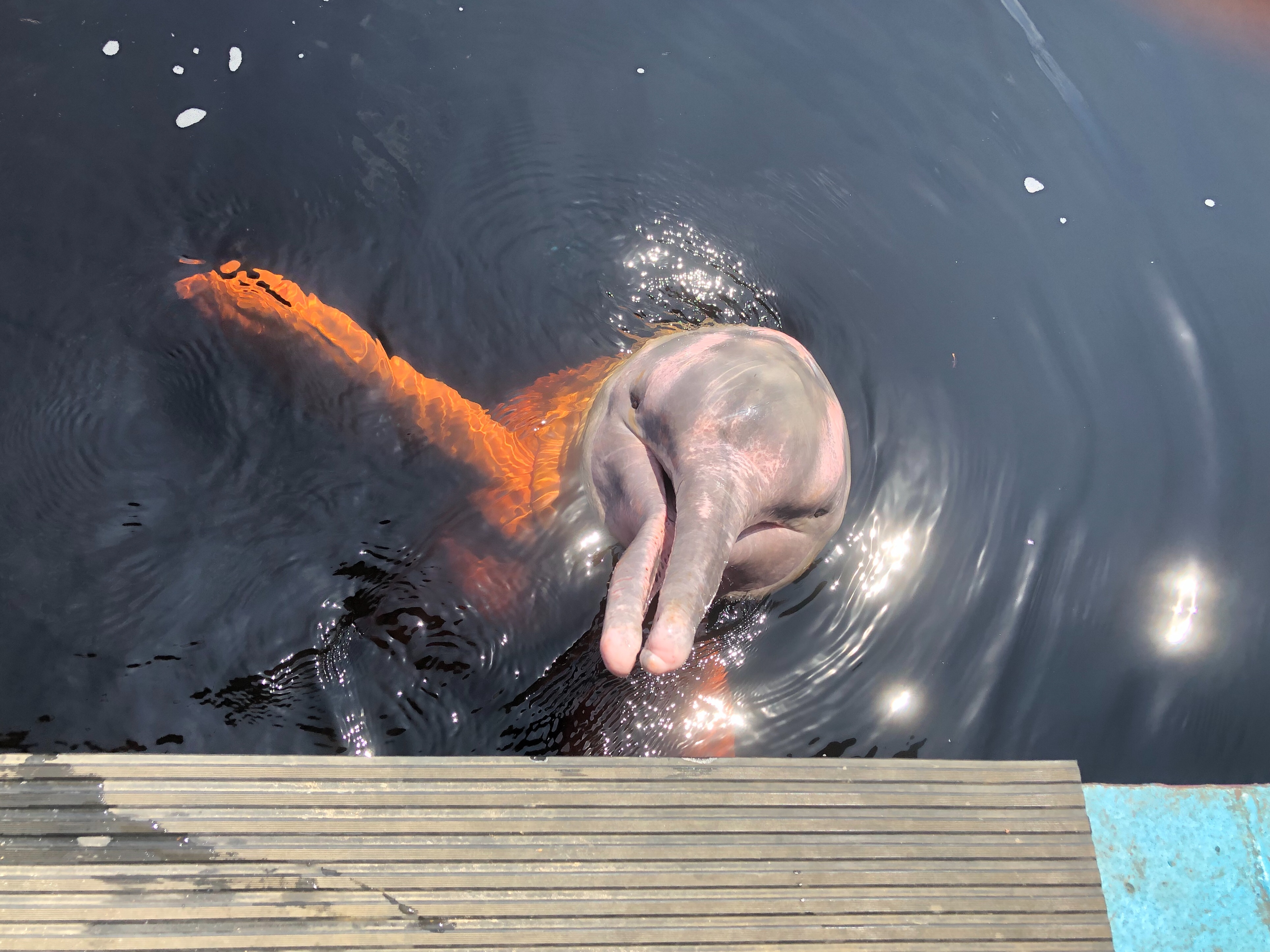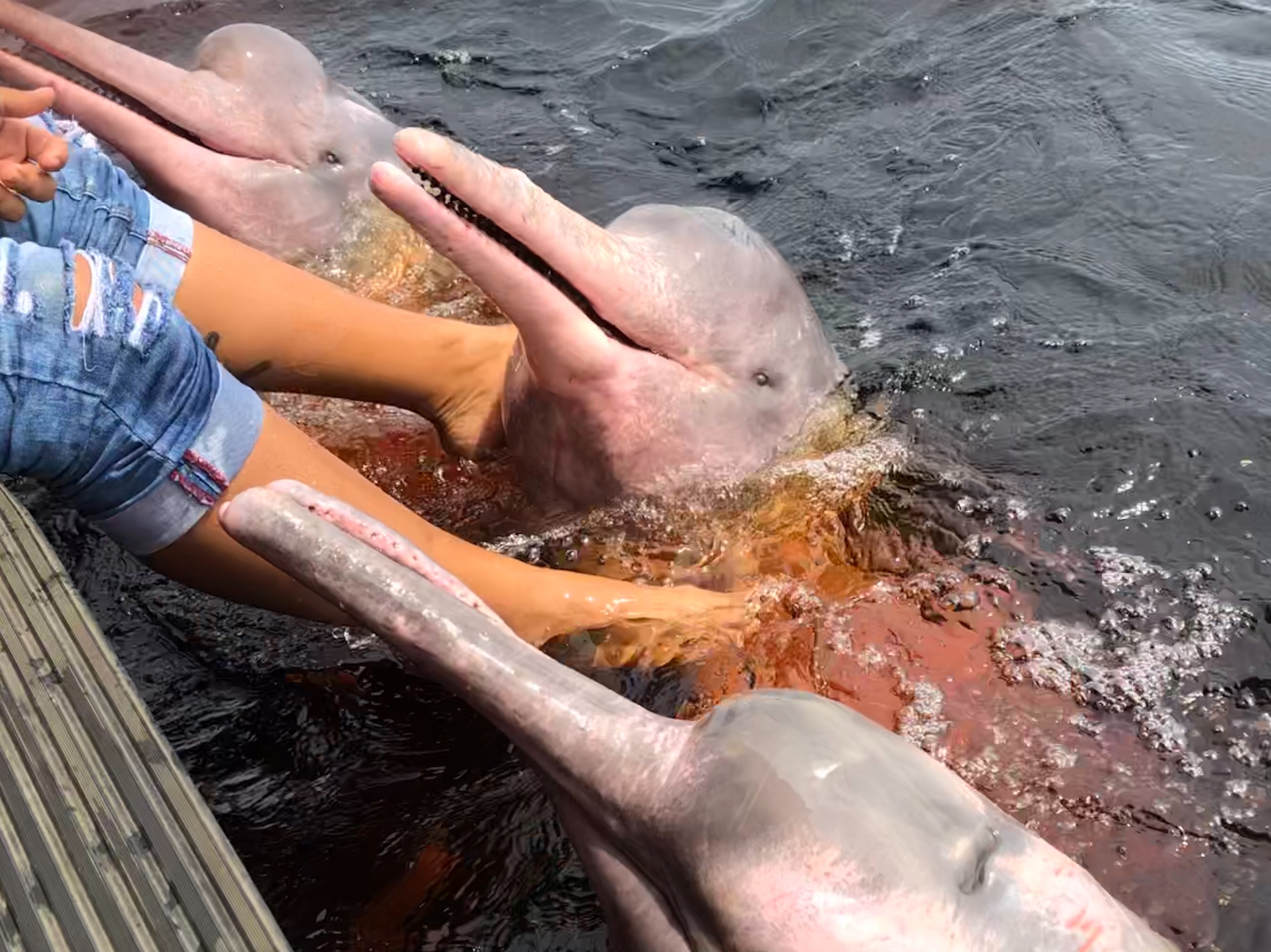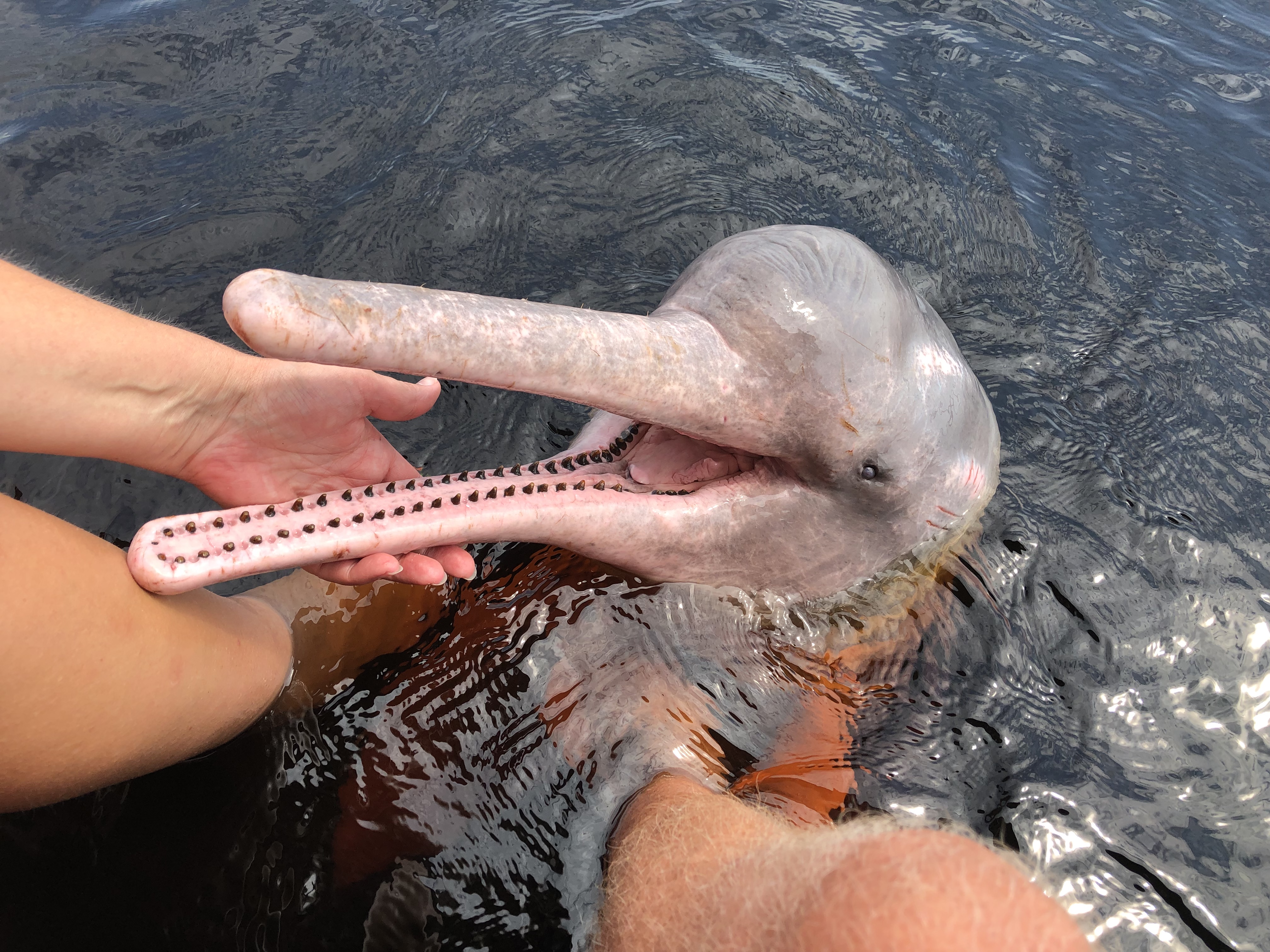 We dangled our feet in the water, and four or five different dolphins arrived and took pieces of fish from Marisa. Even after the fish was eaten they stayed for half an hour, playing around our feet, looking at us, popping up to peer over the edge of the platform. When they pushed past your feet you could feel the muscular power of their bodies. Their blowholes were amazing, exhaling at the surface and then taking an audible breath before closing as they slid back under the water.
One dolphin, Moacir, was a big tease. He gently closed his beak over my toes, which was a little alarming at first! He didn't squeeze, but he obviously enjoyed the reaction to this play. Another, Josãfá, was a big guy, and quite boisterous with the other dolphins.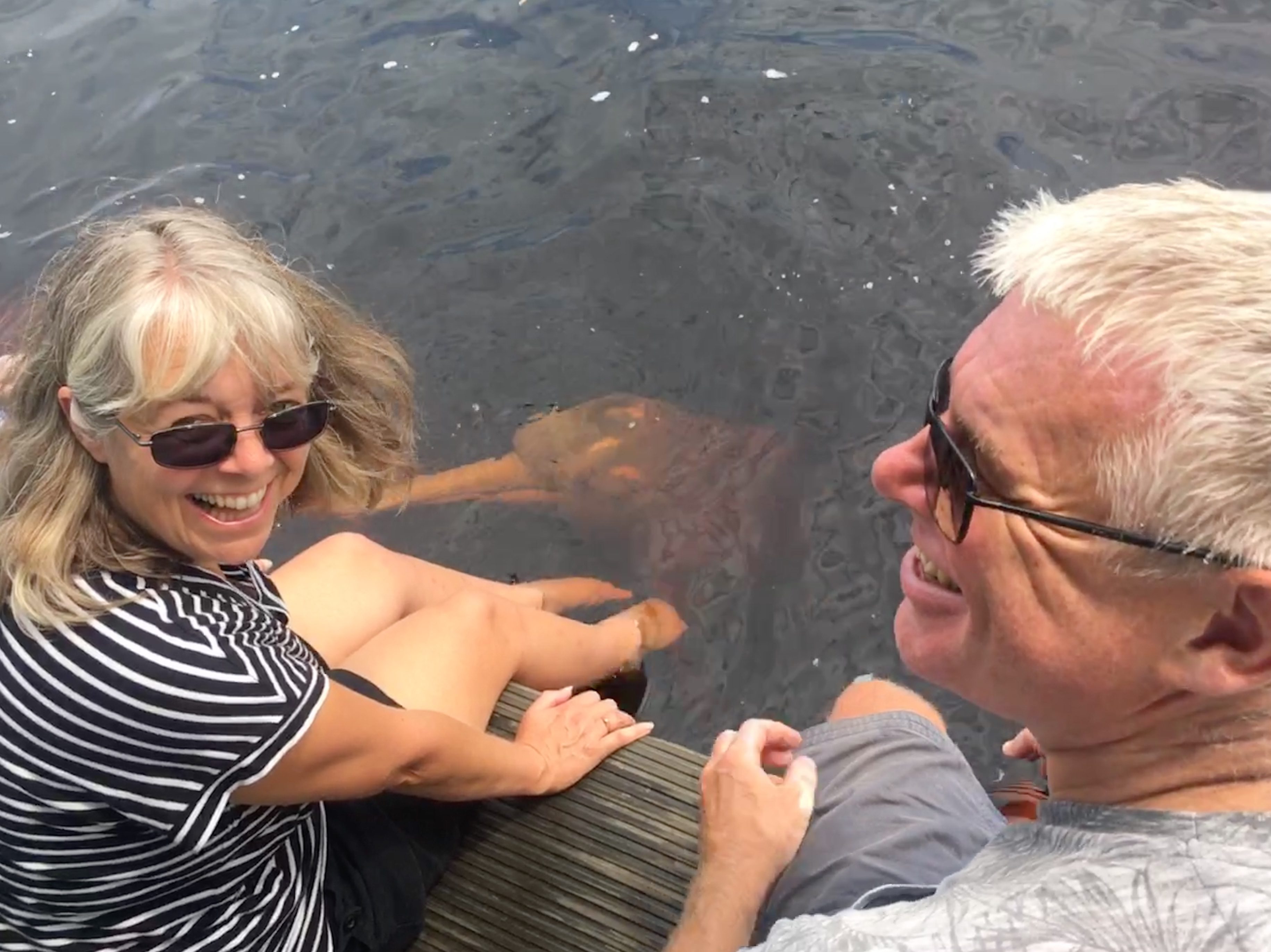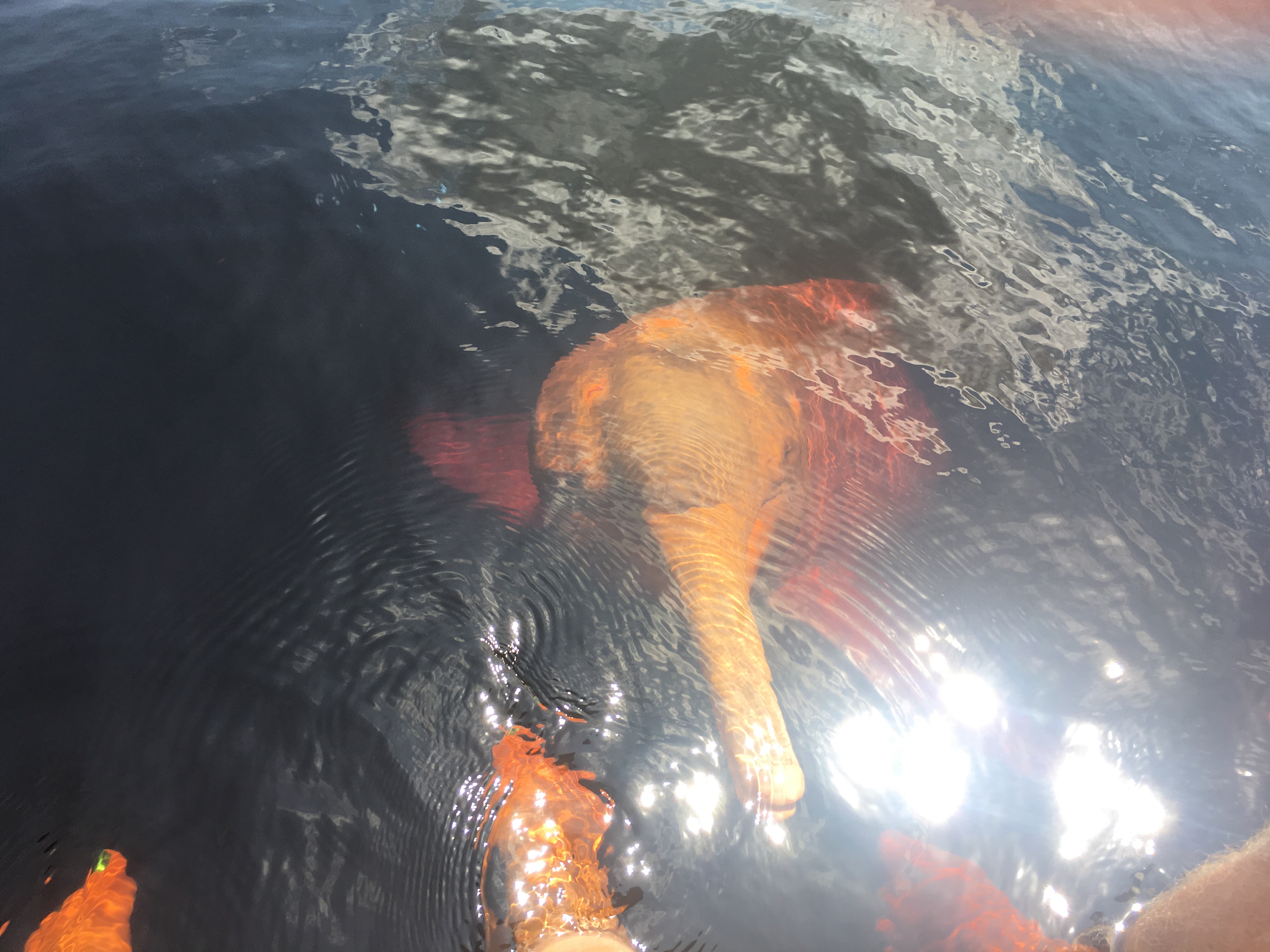 Marisa had a small tattoo of a dolphin's tail on one wrist, above a vertical white scar. She explained that the dolphins would often bring their young to visit the project, and that she'd been bitten once by a baby who was still learning his way around. (I was glad I hadn't heard this story before Moacir nibbled my toes!) She told us that when dolphins give birth they do it with the assistance of a midwife. When the baby emerges underwater it needs to be taken as quickly as possible to the surface to take its first breath. The mother may well be exhausted from the effort of giving birth, and so the midwife dolphin helps lift the baby to the surface.
Eventually we dragged ourselves away, but sadly not quickly enough to avoid the photo opportunity…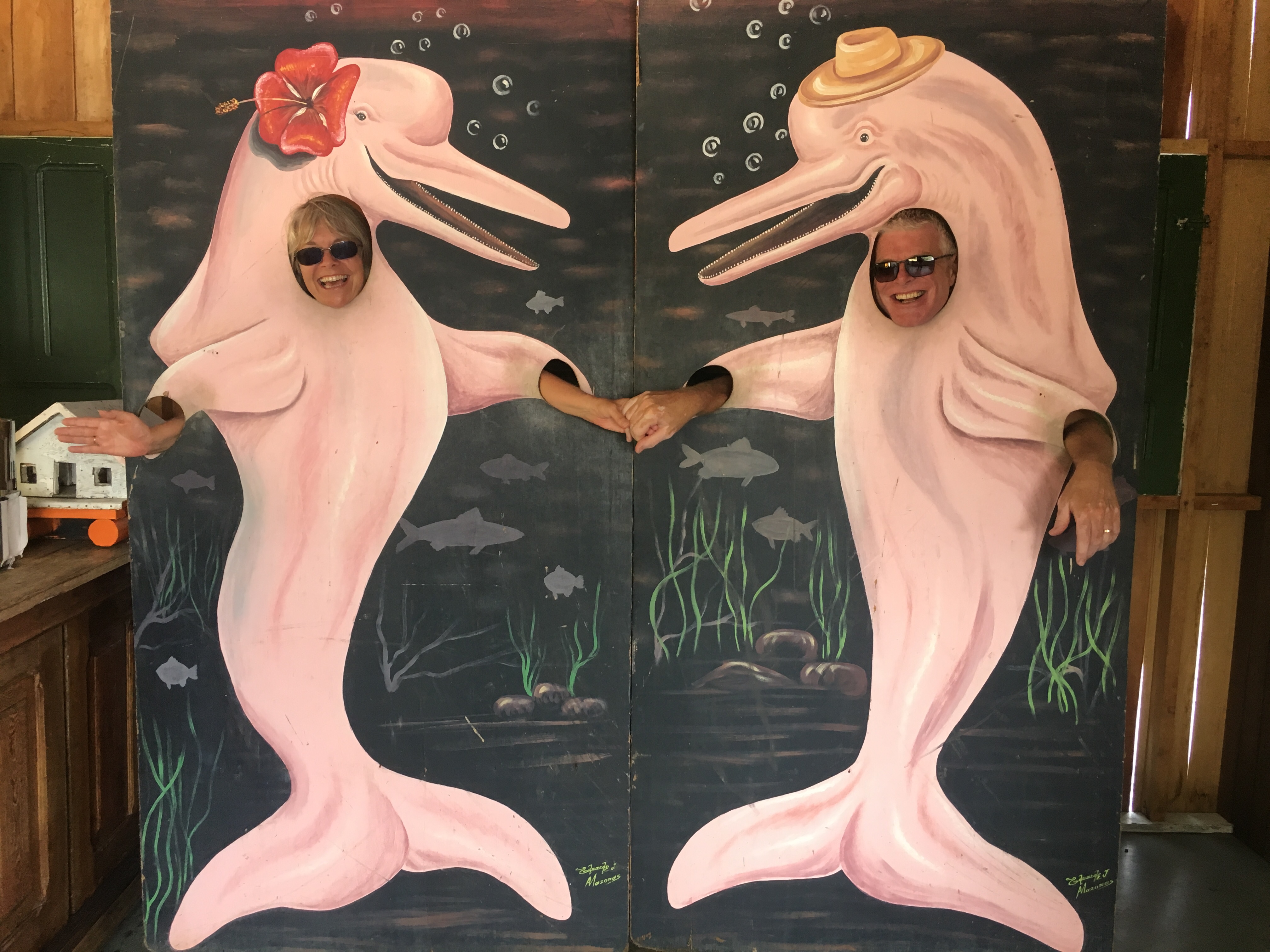 Vermelhinho's mission for the day was to find us the wire-tailed manikin, a tiny bird living in the rainforest, but notoriously difficult to find. He had some ideas, and drove us across the river to one of the panamas, small canals which thread through the Anavilhanas national park, dividing the forest areas into small islands and peninsulas. He drove the boat into what appeared to be impenetrable thicket, and cut the engine. Almost immediately, he said he could hear the call of the male, and then pointed. And there it was! Mission accomplished at the first attempt! You can just make out the manakin in this picture if you zoom in: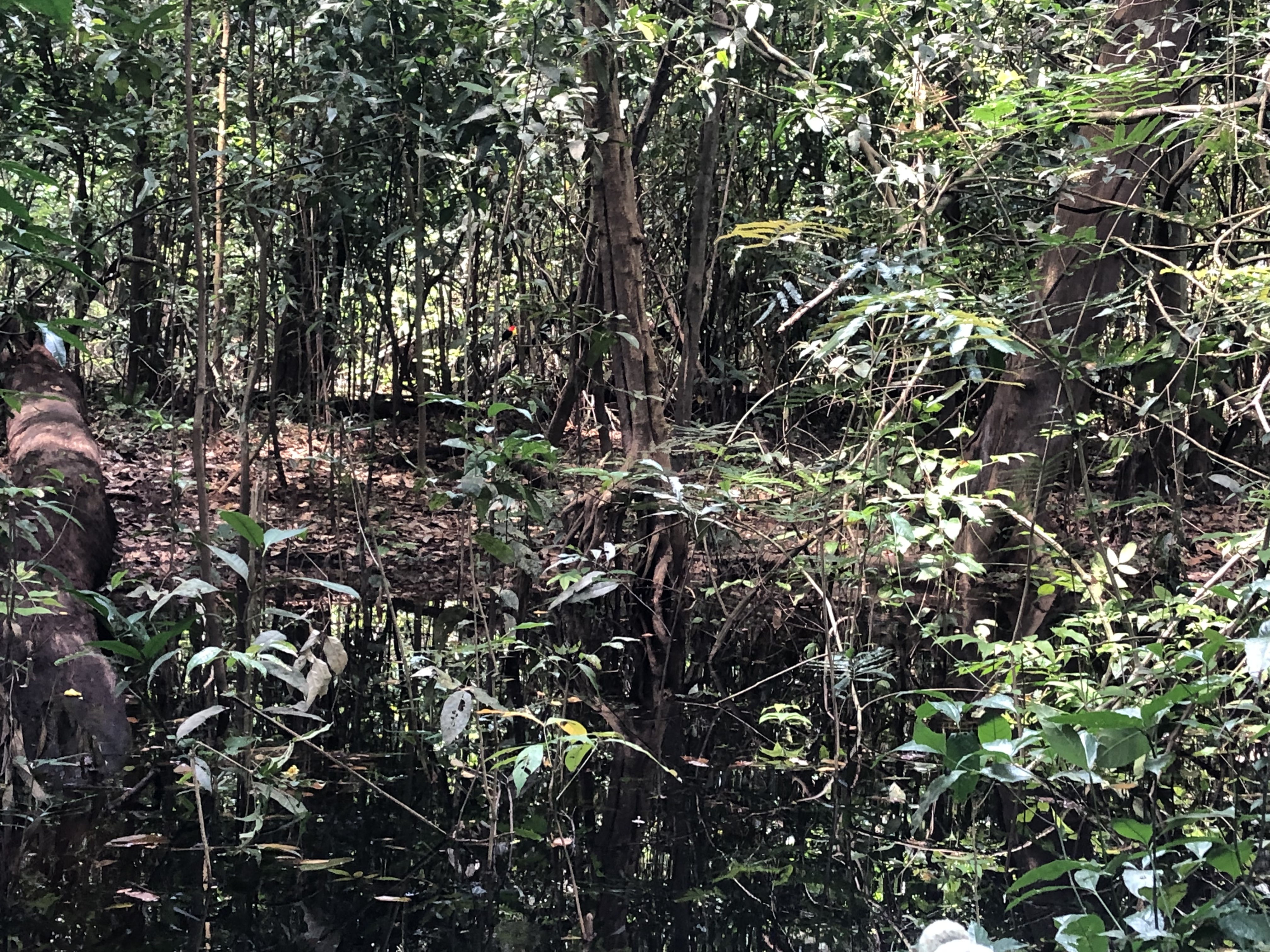 It was difficult to follow Vermelhinho's pointing, but once you'd seen the manakin with the naked eye you could find him with the binoculars, and he was beautiful. Black, with a red cap and a yellow breast, the manakin is famous for his dancing.
We climbed off the boat and edged along a log to get onto solid ground, and before long we were spotting manakins everywhere! There was a little dancing, but mainly it's something they do for display to females, and there were only males around at this point. Colin got the 'shot of the day' award: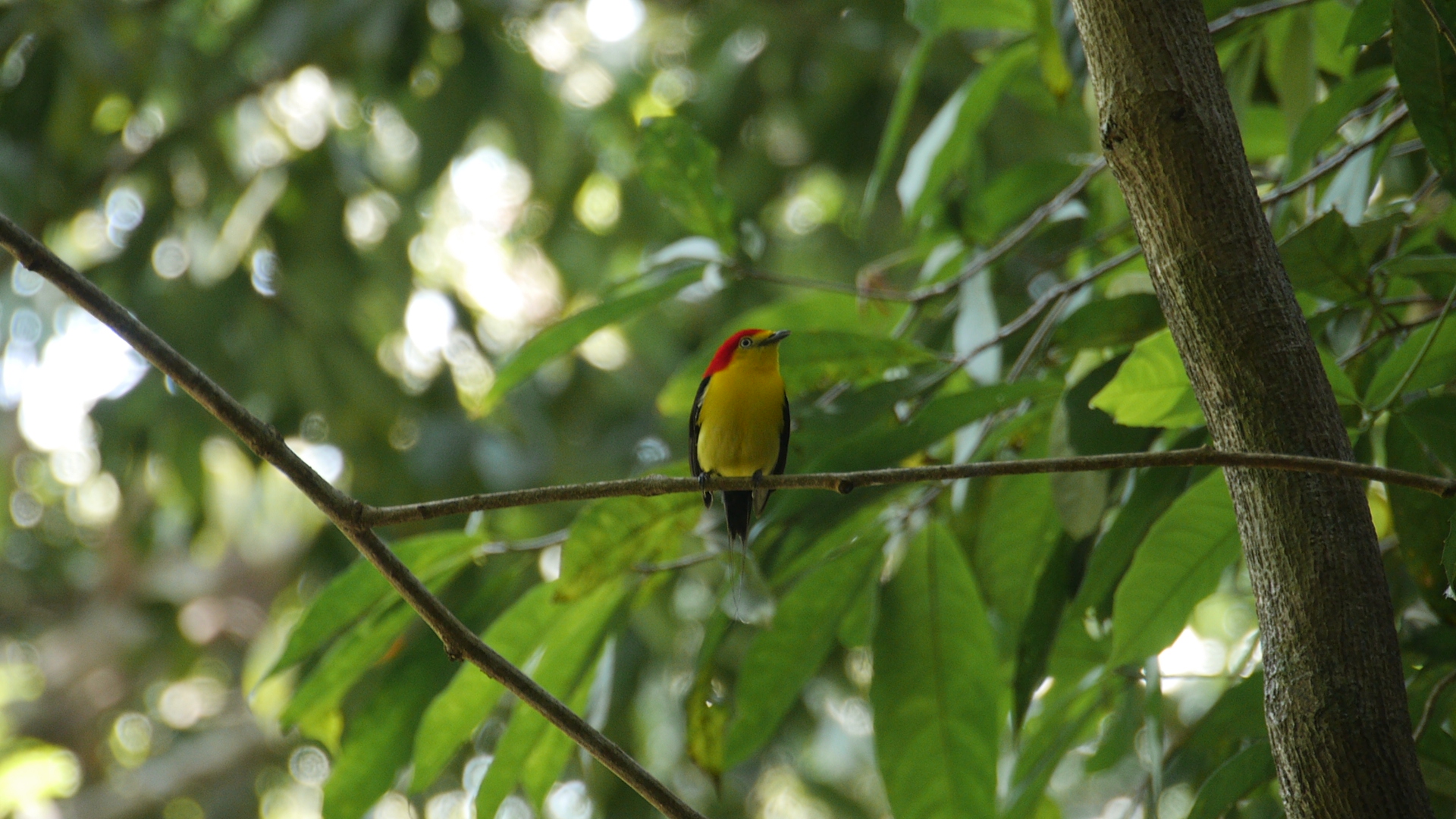 At one point there was a terrific crash from further into the forest. Vermelhinho calmly announced that it was a crocodile entering the water. "Yeah, right", I said. "Er, no, really…", Colin said. Cue slightly nervous grins.
As I walked back towards the rest of the group, there was a rapid burst of Portuguese and an urgent instruction to stop. Jonathan very calmly told me to move to my right, and unusually, rather than blundering on saying "what?", I did as I was told. Good job, I was just about to walk right into an enormous spider's web. Well, it looked enormous to me. Vermelhinho said it was only a baby.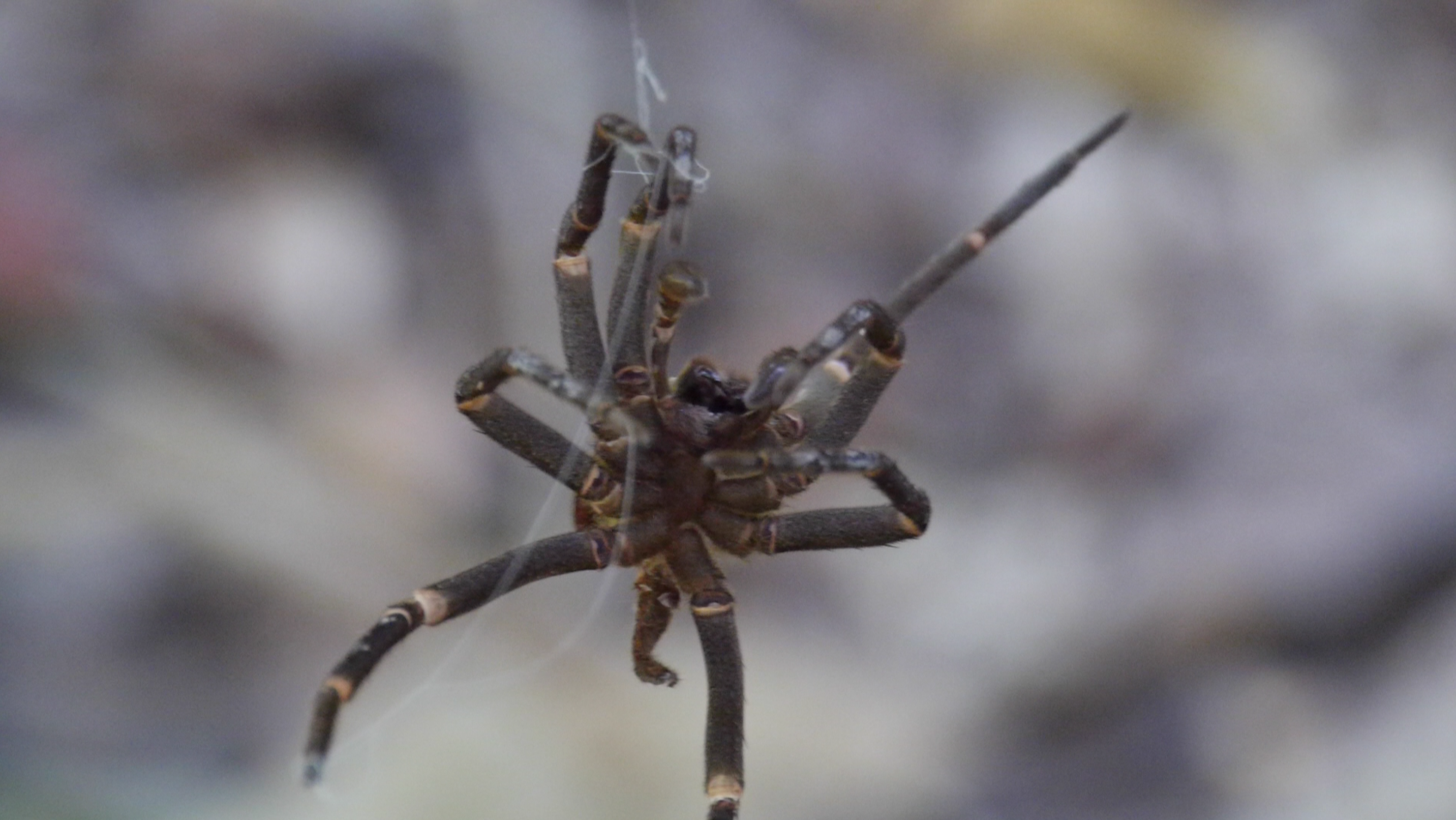 We all got back on the boat without falling in, and headed off to see an enormous fig tree at the next island. With only a shallow depth of soil to use, the tree has to put out great folds of horizontal growth to build a sort of tripod for stability. We were able to use our New Zealand 'vertical panorama' techniques to capture the height of the tree.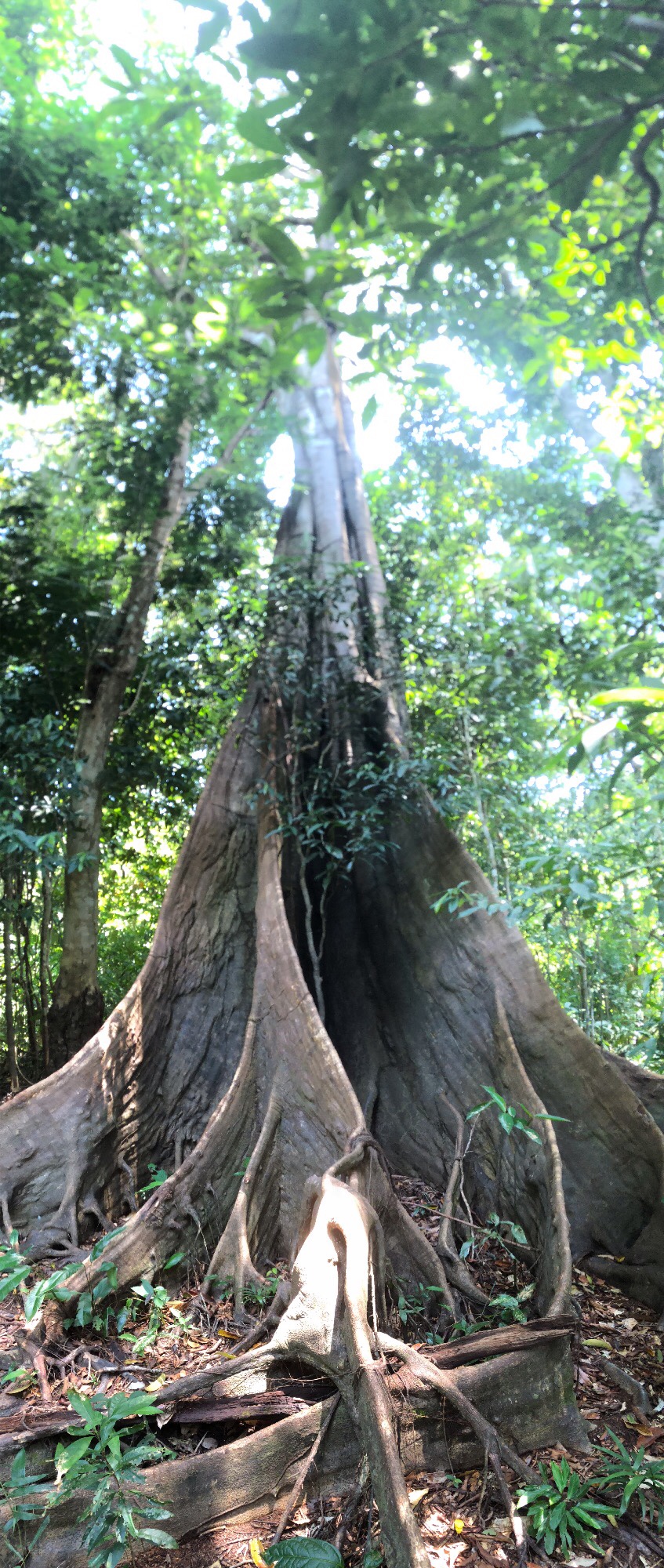 On the next stretch of river we encountered some of the other species of river dolphin, smaller grey dolphins, around four or five, curving over at the surface as they took a breath.
Vermelhinho had planned to take us to his 'situ' for lunch, his land in an area of inundated forest where he is building a lodge to host overnight guests. He navigated flawlessly (and mysteriously) to the entrance, and then threaded the boat through the trees and pulled up at the shoreline. There was a little dining shelter, and his friend Cristiano appeared to help prepare lunch. They barbecued some Tambaque whilst we prepared the salad items and refreshed ourselves with some beer and wine from the icebox.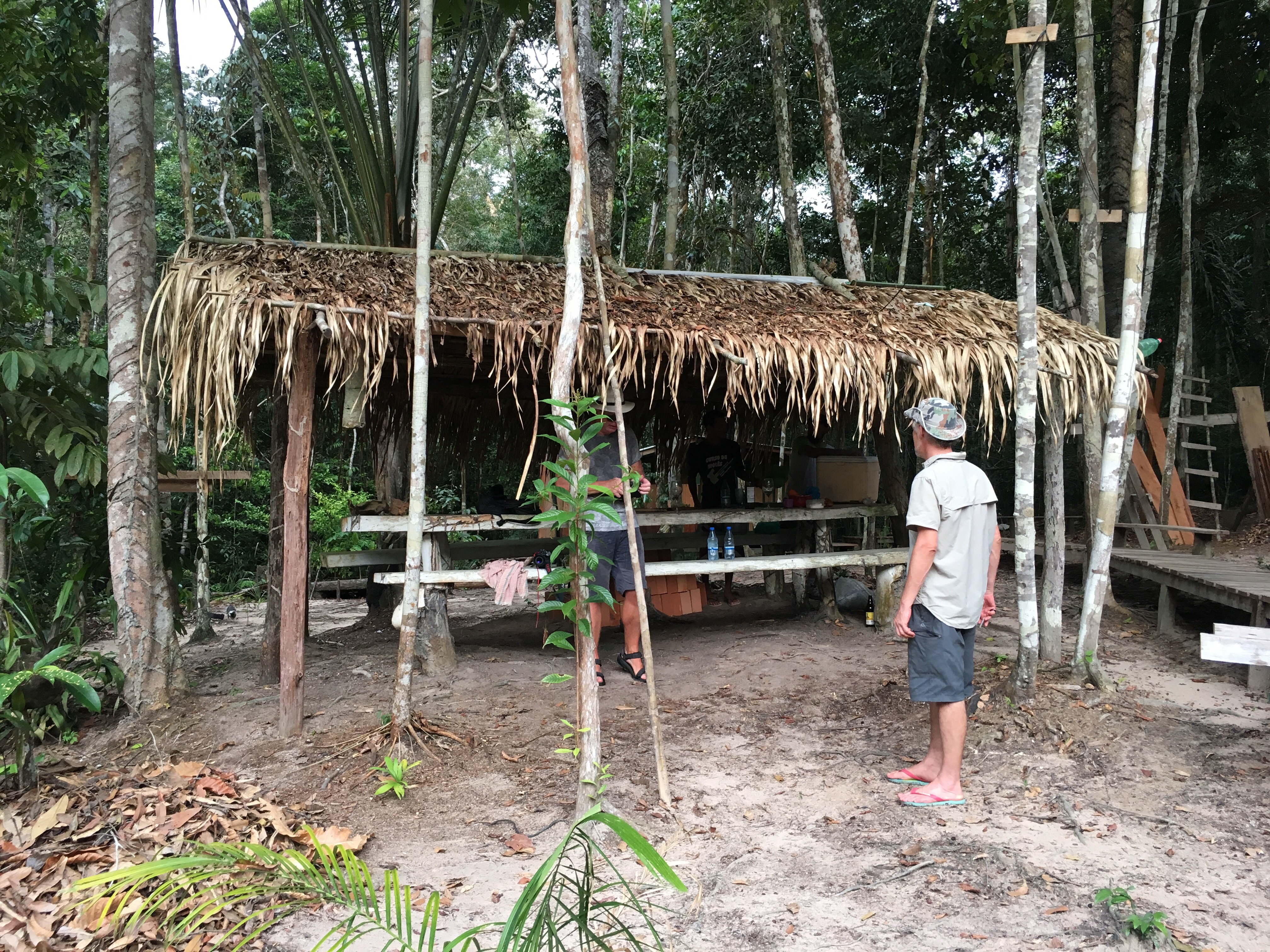 The fish was beautifully cooked…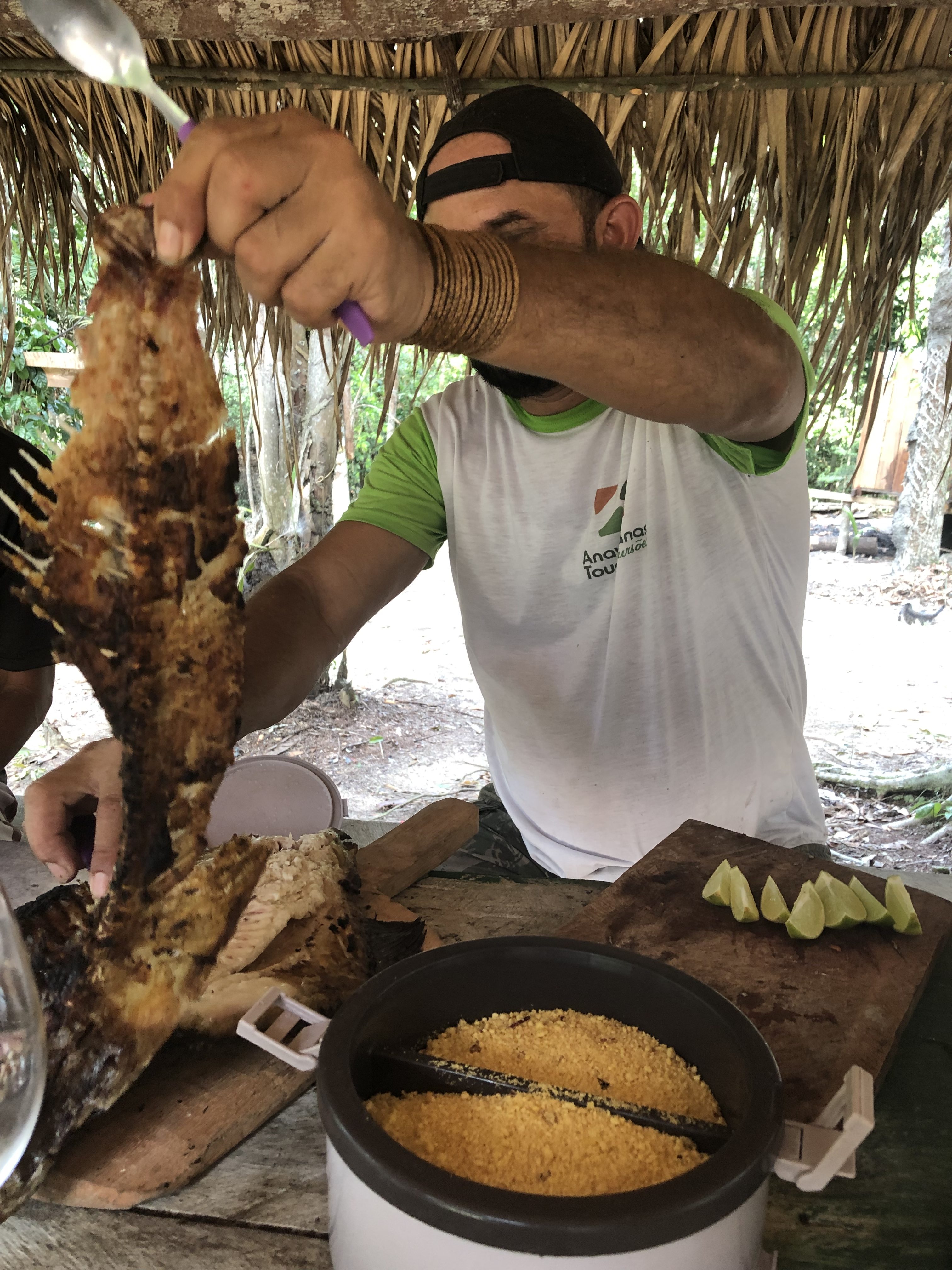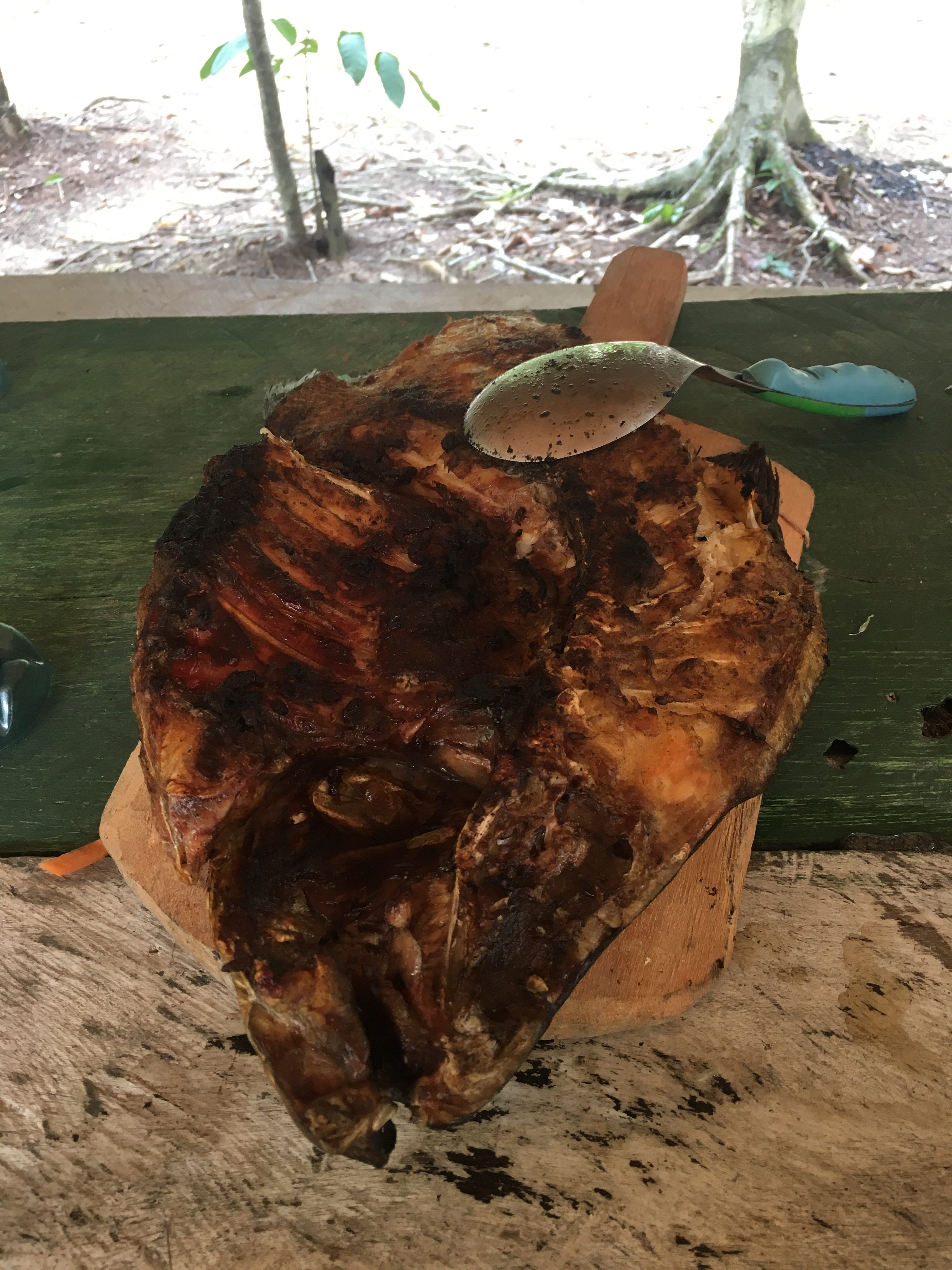 … and efficiently demolished!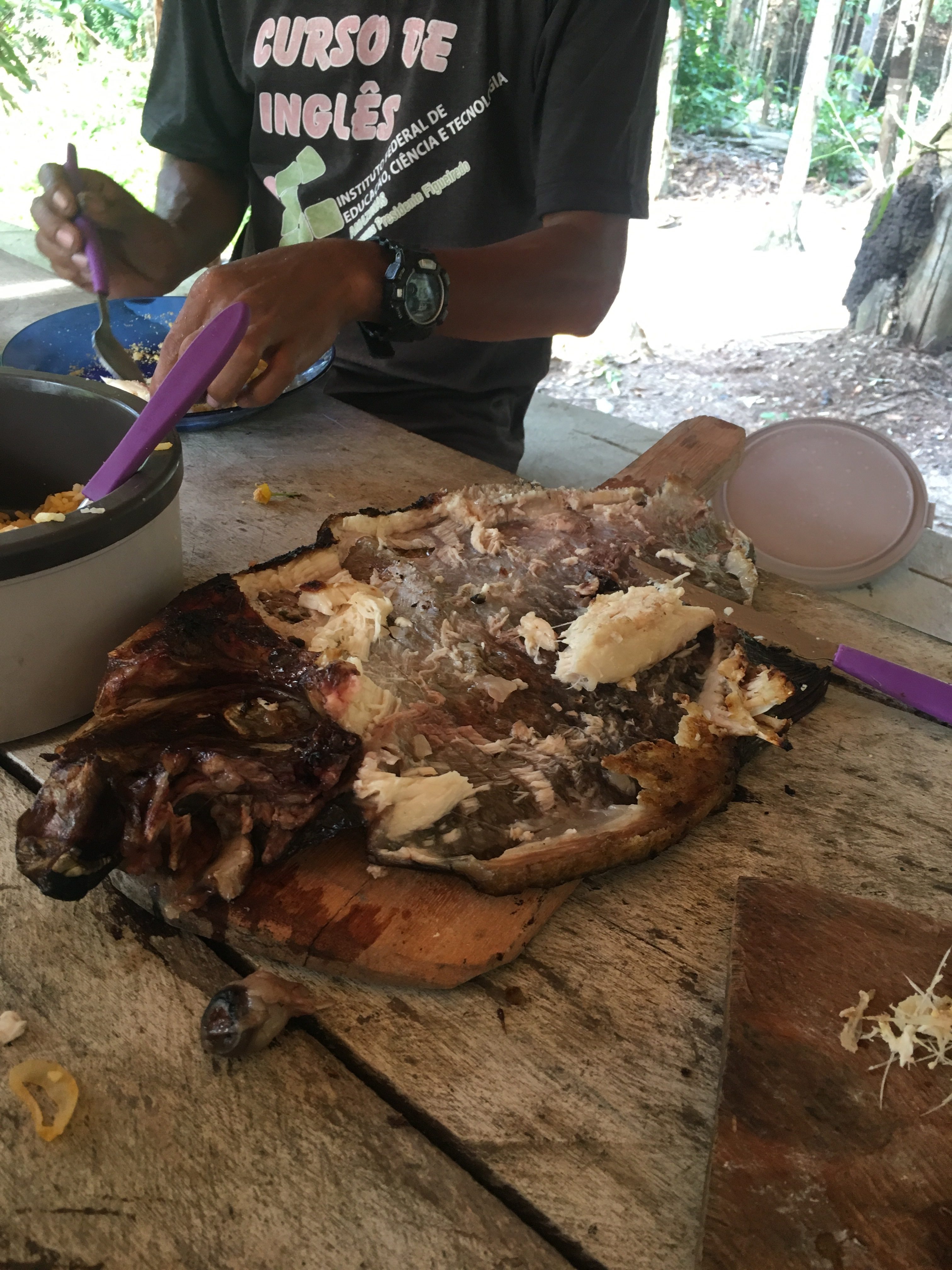 We chatted (with Colin translating) about how Vermelhinho had acquired the land, and his hopes for his lodge. It will be an incredible place to spend time when it's ready, and I felt very envious of those who will be able to spend the night there.
After lunch we were allotted canoes and paddled off into the inundated forest in convoy, Colin and Vermelhinho leading the way, and Jonathan and I cutting a rather more zigzagging course behind. It was such a serene experience (leaving aside the odd "damn, back it up a bit, we're stuck on a log", or "blast, can't get through that gap"). Following the other canoe was very weird, the water was so still and the surface so hard to spot, that it often looked as though Colin and Vermelhinho were about to drop off over a precipice.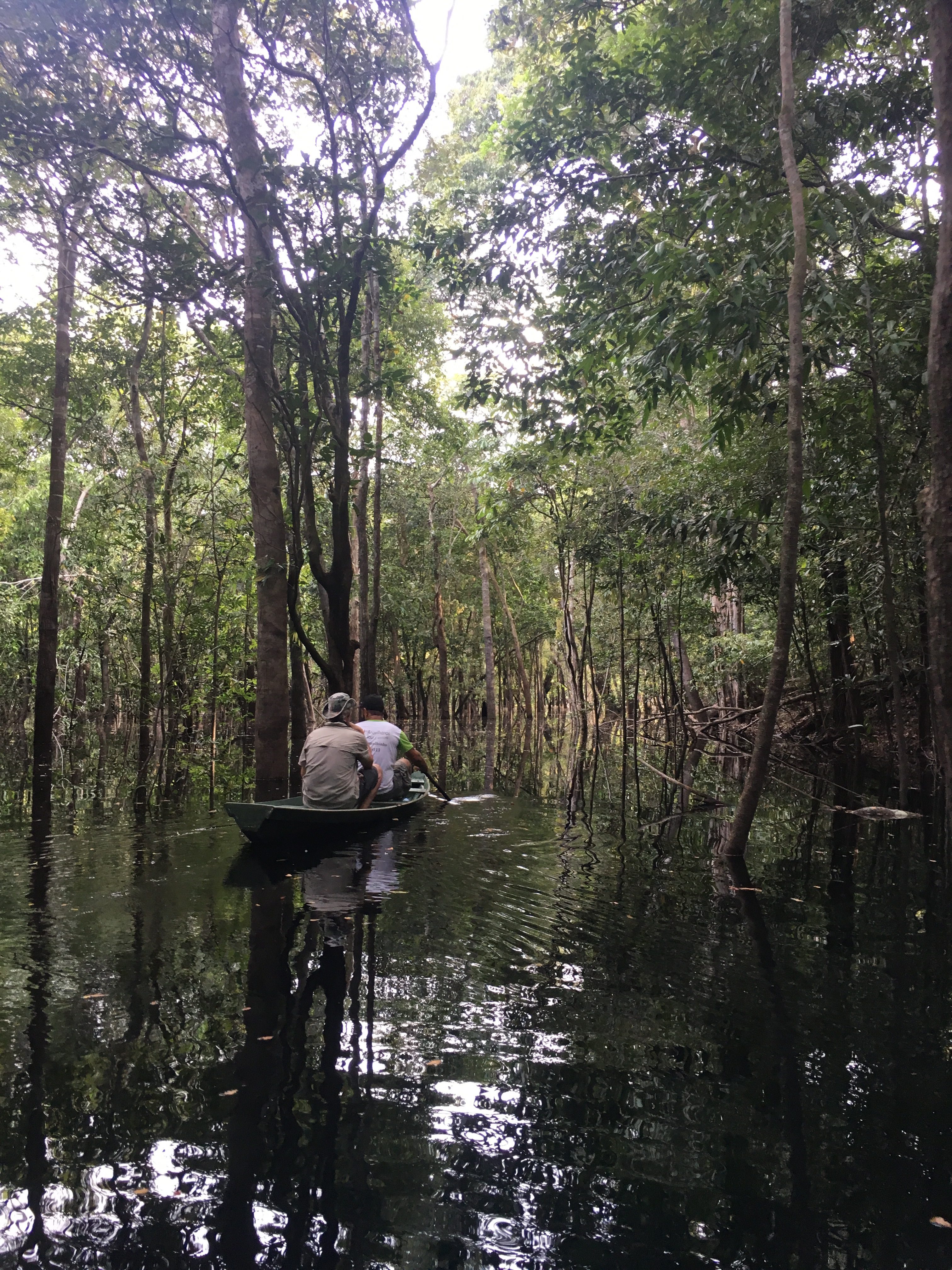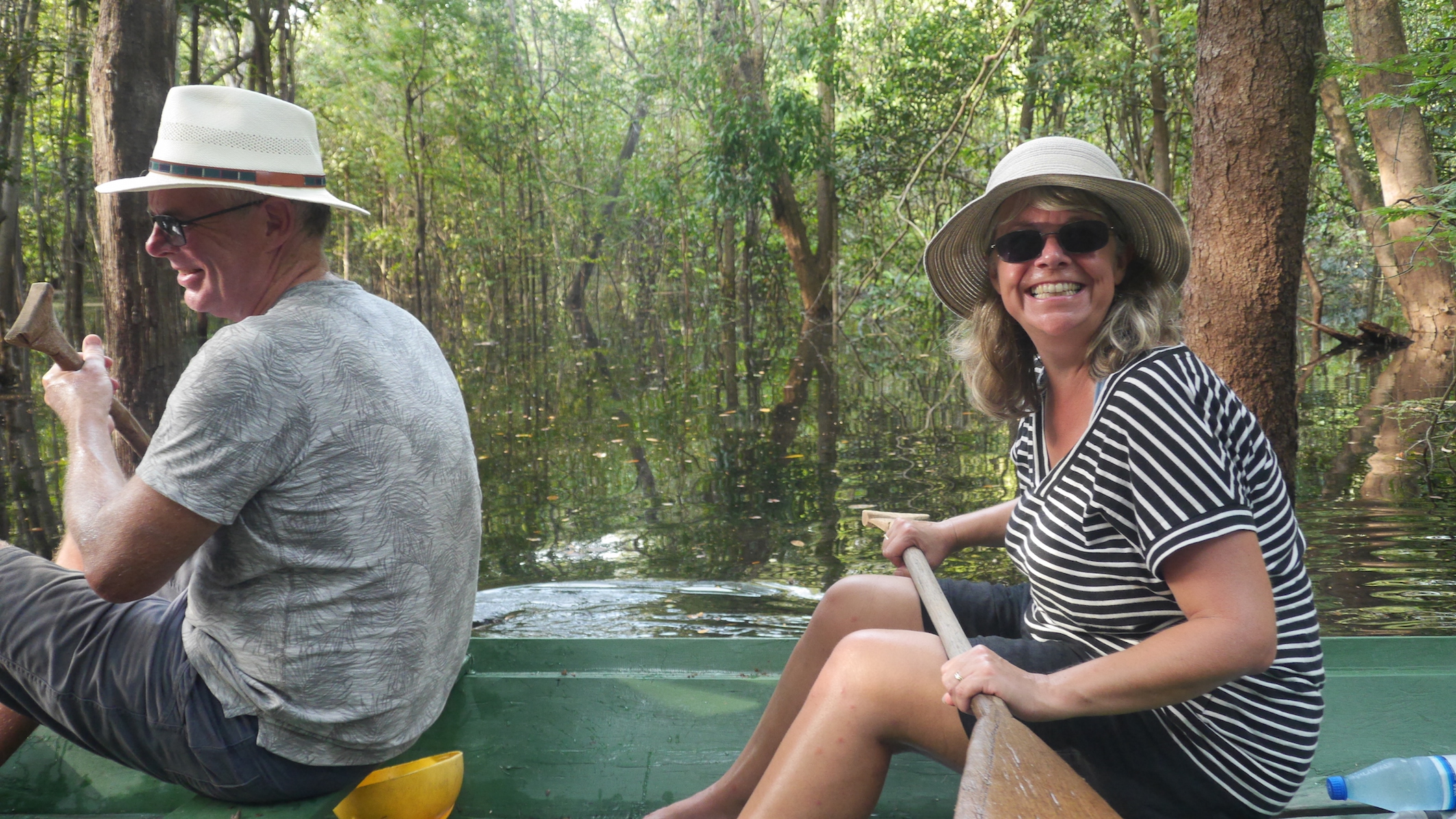 Vermelhinho told us that he and Cristiano had seen a huge anaconda in these waters recently on a night trip. He added something and grinned, and Colin laughed. "He says they don't eat tourists at this time of year, though".
We circled back around to the situ, packed up and reboarded the boat for our return to Novo Airão. Once again, the heavens opened, and we raced back to the pousada's pontoon in driving, stinging rain. It must have been only twenty minutes in the storm, but by the time we got there we were all completely soaked through.
It had been another fabulous day, and we went back to Alex's bar from caipirinhas and chicken, and to talk about everything we'd seen and done.
Novo Airão to Manaus
Up betimes, and another breakfast with the chameleons. Our first destination was the local Fundação Almerinda Malaquias project (FAM), run now by Miguel's daughter and her Swiss husband. It began after the demise of the boat-building industry, initially as a location where local artists produced carved goods from discarded wood. It grew to provide training and employment for more local people, nature education for their children, and now even has a small section of its own rainforest. We rode the short distance to the project on three mototaxis. Each pilot wears a jacket with handles on the side for you to hang onto. No helmets, of course (sorry, Mums…!).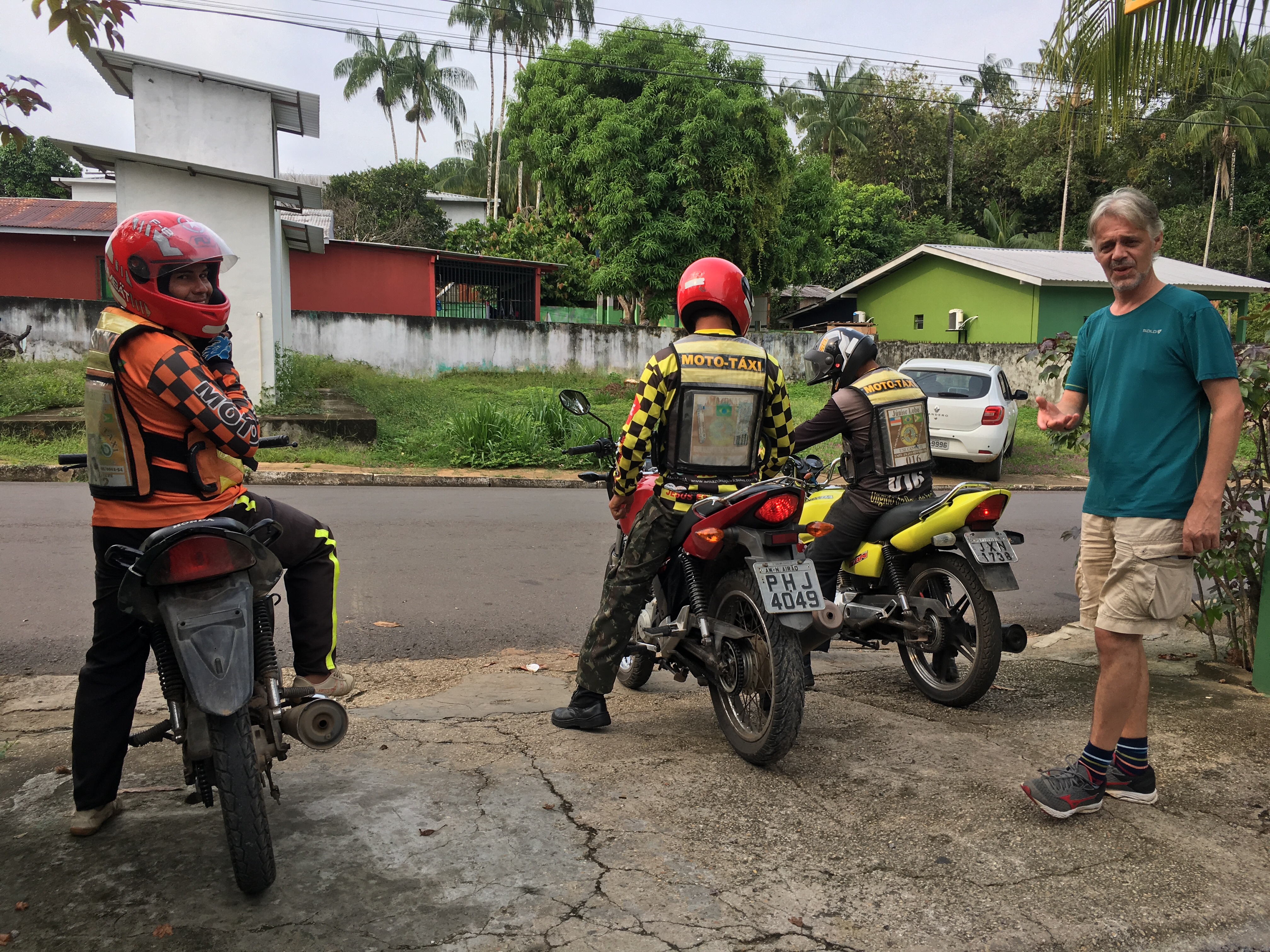 At the project the craftsmen were working away in a small room and a larger workshop, and we saw some incredibly skilled work going on. It was the absolute antithesis of the 'pretend' workshops we saw in India at the start of this trip. The various wooden objects were extremely beautiful, and are sold all over Brazil now. We chose some items for ourselves and for gifts.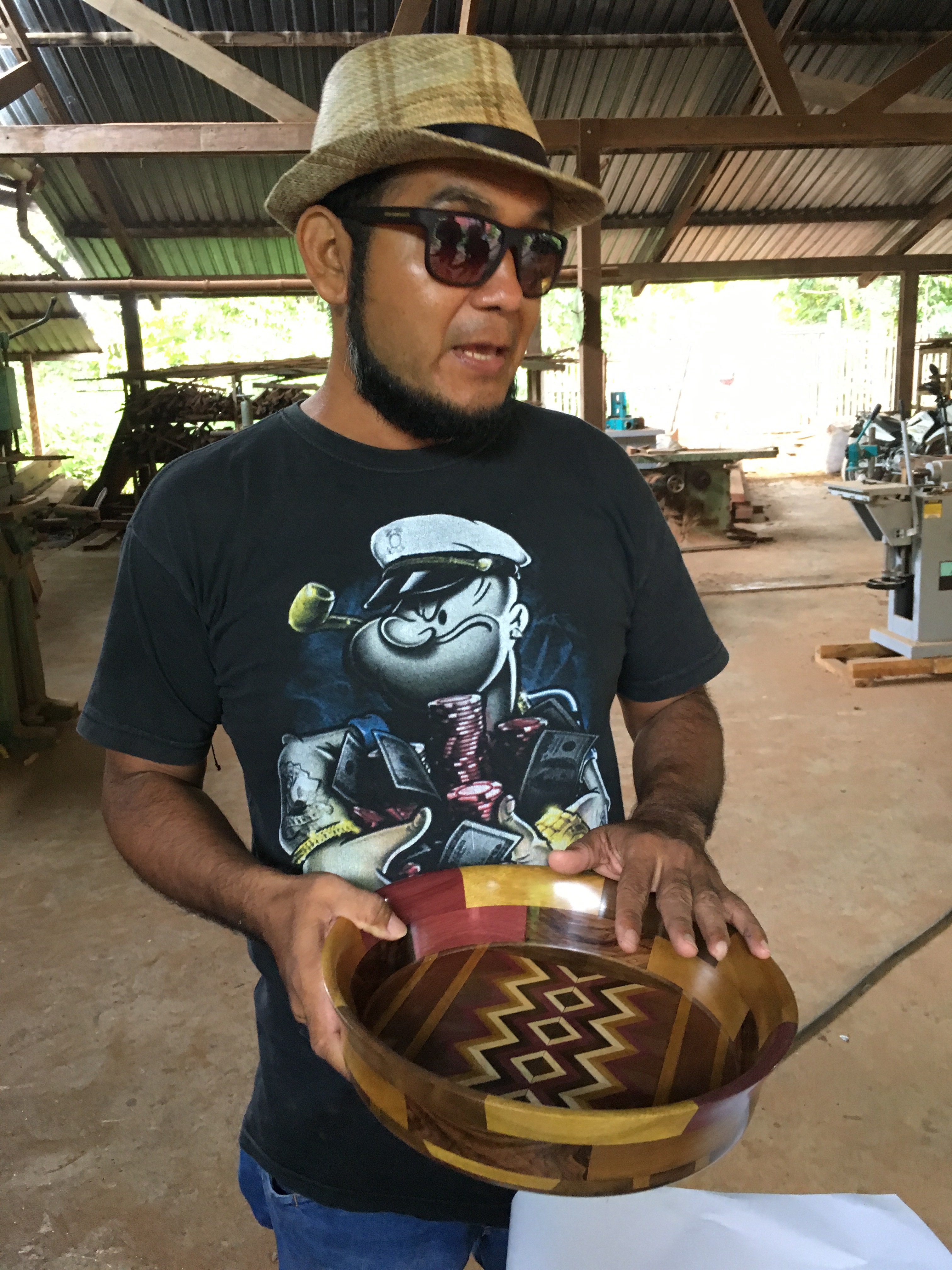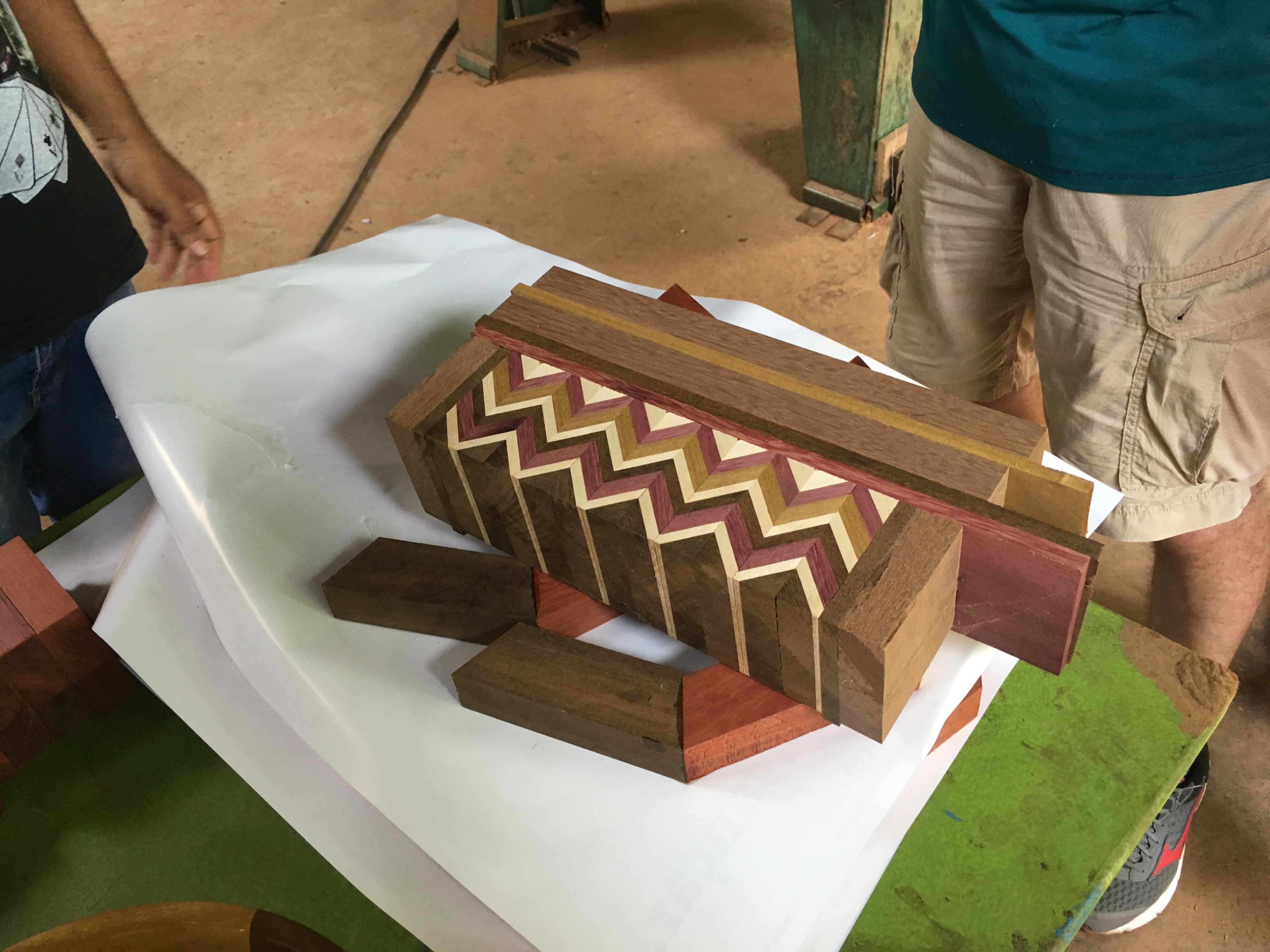 It was a longish taxi ride back to Manaus, our return journey by road so we'd be back in time for further adventures. We checked back into the Hotel Tropical, and then went back down to the jetty to take a boat out to see the 'meeting of the waters', the place where the Amazon and the Rio Negro meet. It's a really weird phenomenon – the Rio Negro is clear, acidic, dark and warm, and when it meets the brown, silty, cooler Amazon it takes them a while to mix, so there is an actual line where the two are first flowing together.
It had been explained that our boat needed to call at the floating fuel station before we headed out, so when the engine cut out, I assumed we'd run out of gas! Our pilot said it was some fuel feeding issue, but didn't seem worried, so we just carried on, although he couldn't go very quickly.
We passed Manaus' various ports, with huge container ships being loaded by even huger cranes, but even there its Belle Époque past was evident in some of the old port buildings.
We refuelled as planned, and for some reason the subject of Jonathan's former career as a Royal Naval officer came up, and Colin told our pilot that he'd manoeuvred 6000 tonne destroyers during that time. After about forty minutes we arrived at the meeting of the waters. You could see it from a way off – an opaque brown section of water, it looked all the world like a beach. When we got to it, it was really odd, a proper separation of the two waters. I put my hand down, and you could feel the difference in the temperature between the two rivers.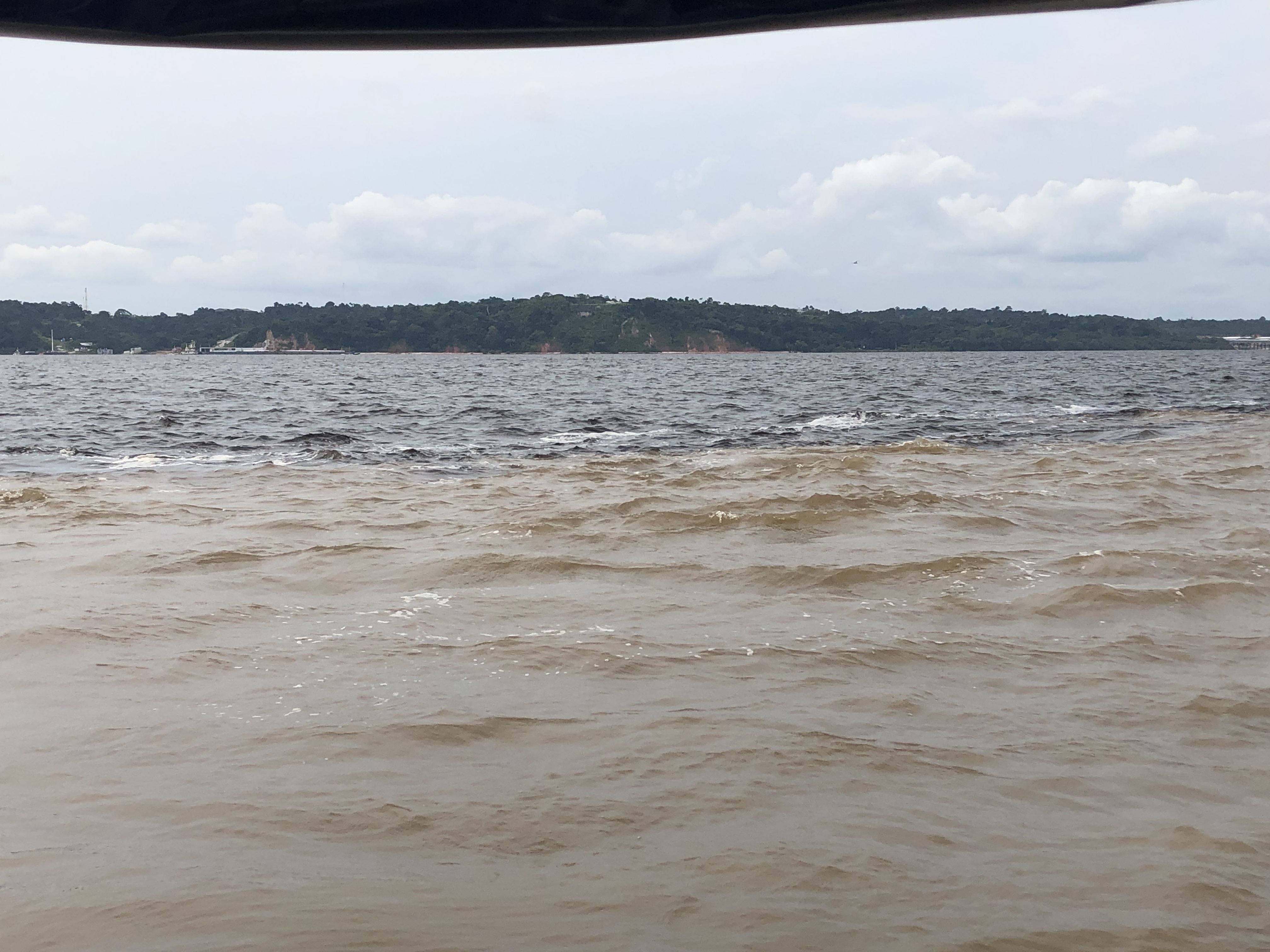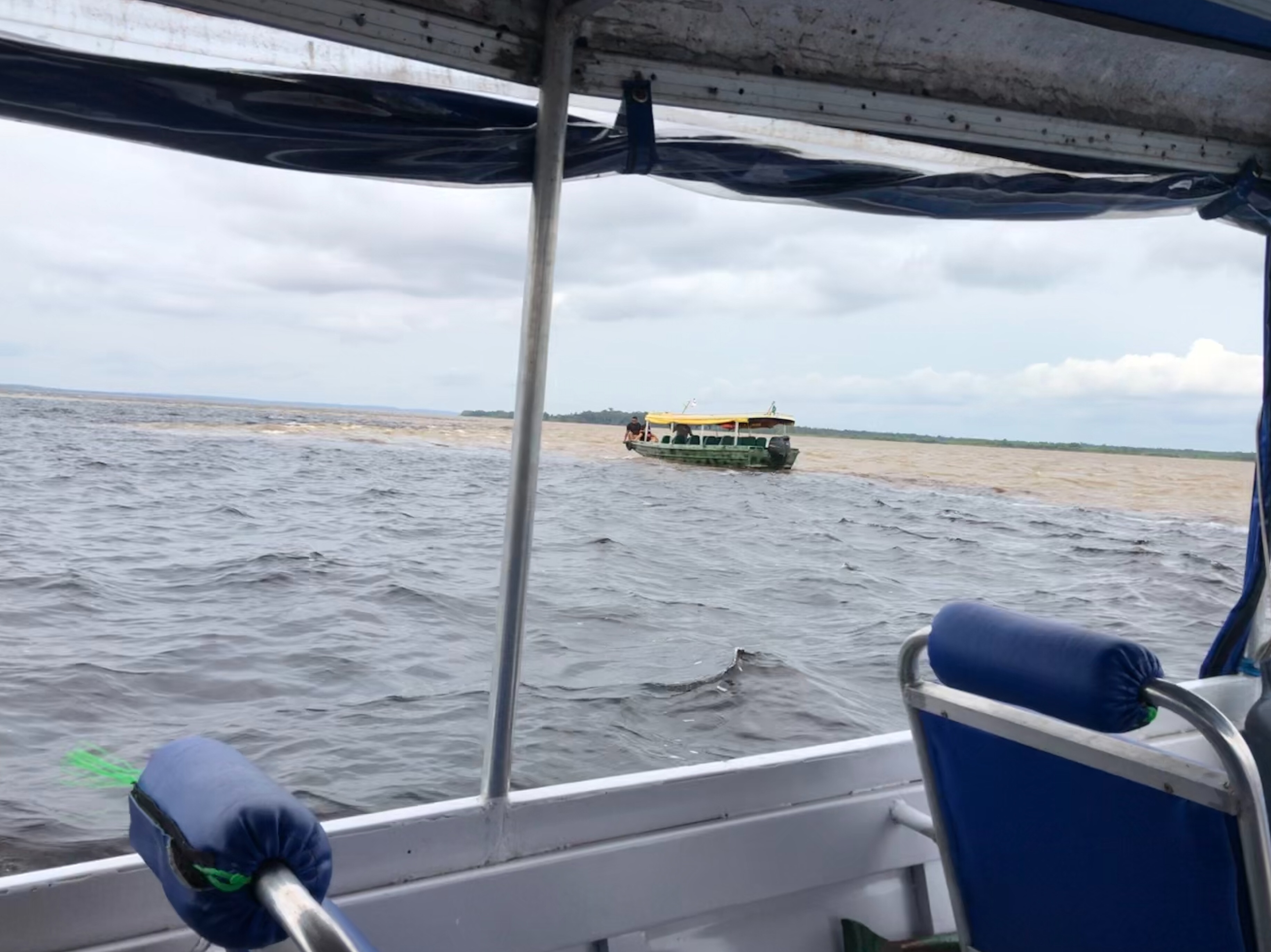 We pootled about for a while, crossing and recrossing the line. As Colin said at the time, the brown silty Amazon felt quite 'other' to us, we'd spent so much time on the Rio Negro in the previous two days that it felt much more like home!
We called into Iranduba, an entirely water-based village. There was a church, lots of houses, and even a school, where the school kids were just being picked up by the school bus. Which, of course, was a boat!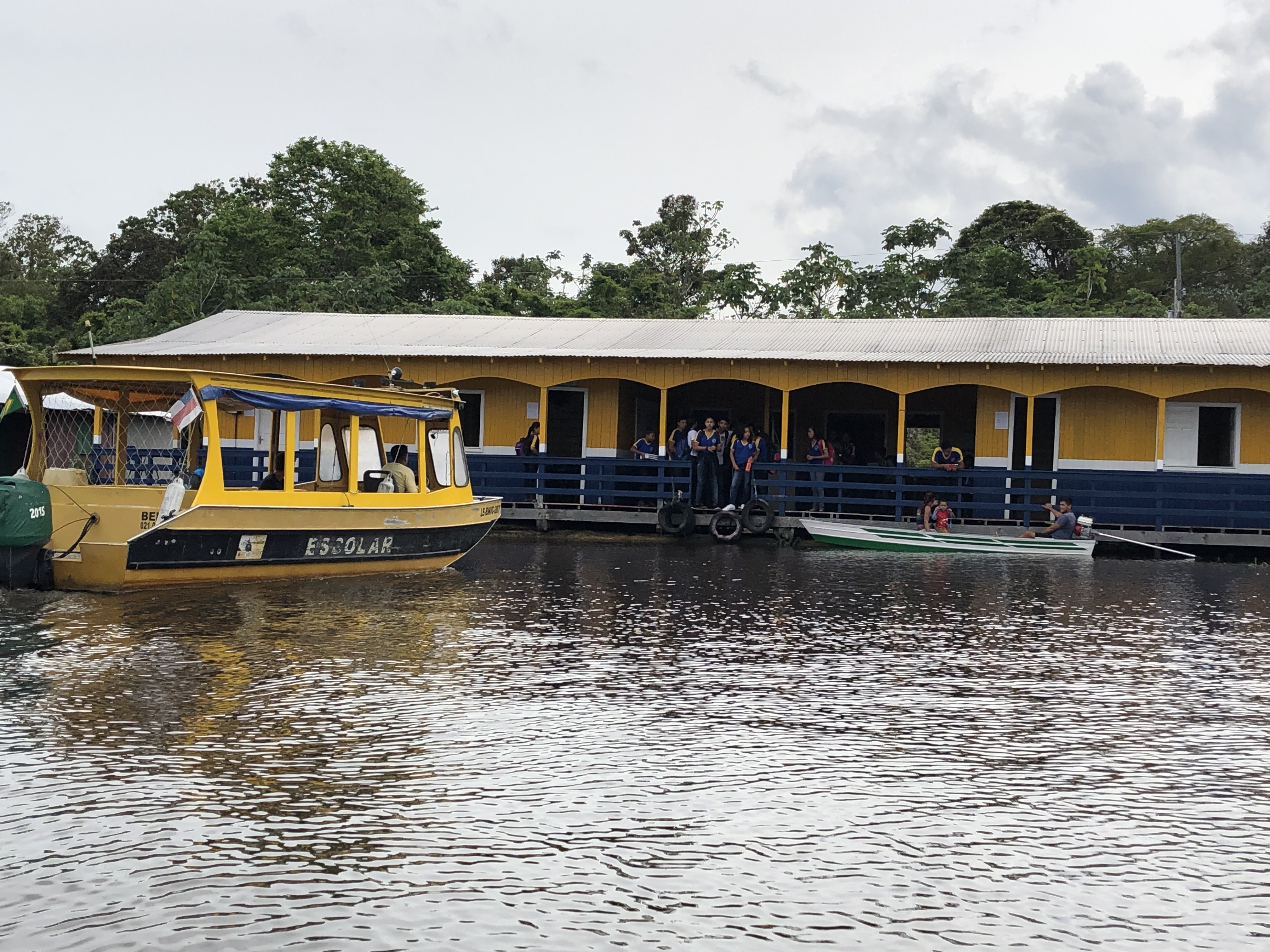 We needed to be back in the hotel by 4pm for our next scheduled adventure, a scenic flight up the river to see Anavilhanas from the air. When we turned back in that direction, then, we were hoping for a smooth passage back. The boat's engine was still playing up, though, and our pilot, perhaps after hearing of Jonathan's previous maritime career, asked if he could go to the stern and pump the fuel through to the engine with the little squeezy ball thing which was there for the purpose. It was very effective, and we kept up a good speed for twenty minutes or so. It was a tiring task, and when Jonathan's hands got too crampy to pump effectively he asked Colin to take over. The pilot asked Colin something, and looking rather surprised, Colin relayed the question: "Will you drive?". "Sure", said Jonathan, veteran of many a boating holiday, swapped places with the pilot, and gunned the engine while the pilot took over pumping duties. Colin's face was quite something!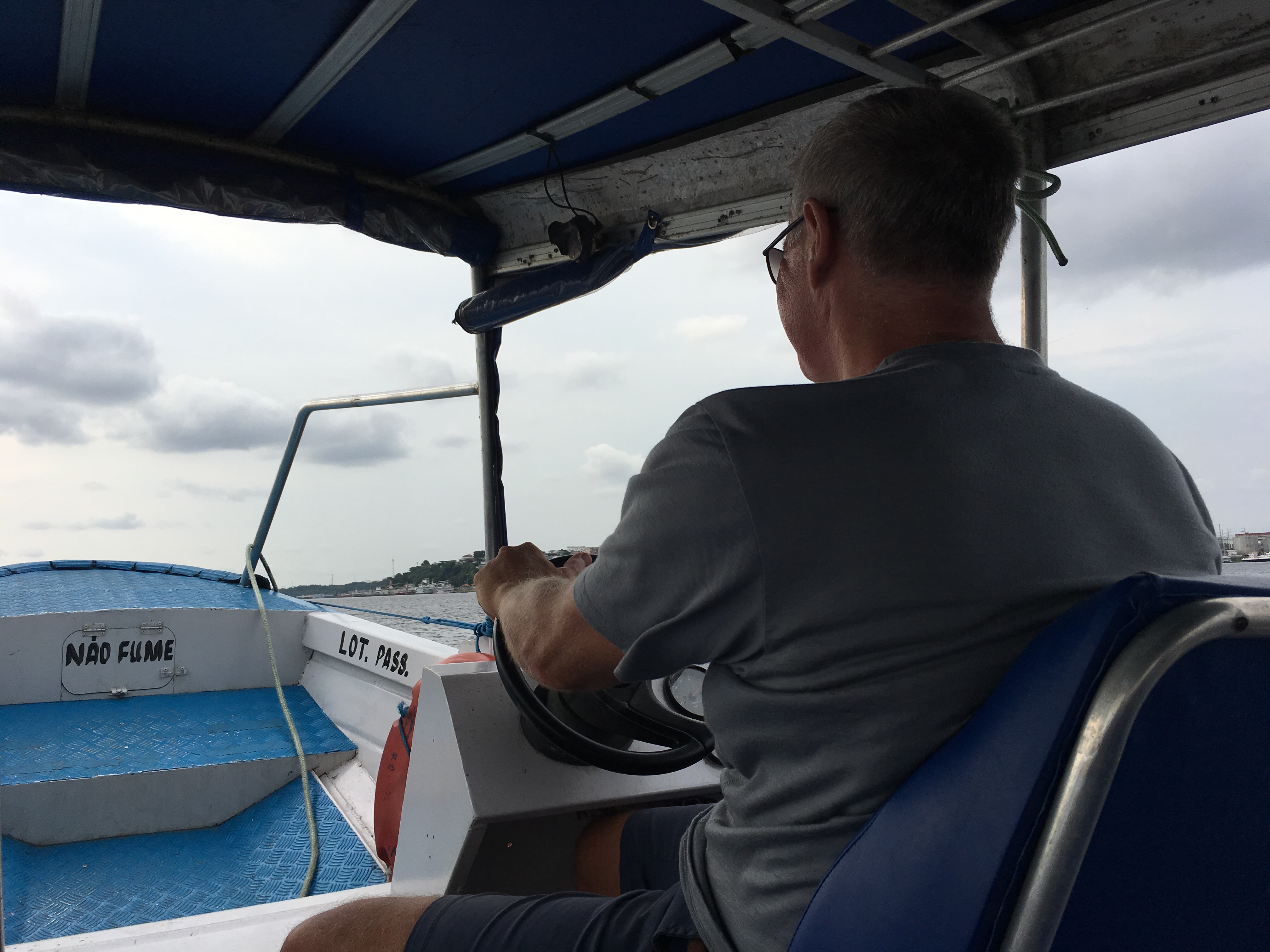 And so it came to pass that Jonathan drove the boat all the way back to the hotel ????
We had to go back under the enormous Manaus bridge, but as on the River Lot in France, the mandated arch was marked with a green square, so we crossed underneath without incident. The pilot was grinning and taking photos on his phone! Jonathan relinquished the helm at the jetty, and we got off with huge grins after a quick pilot to pilot handshake.
Jonathan's parting shot as we left the boat: "Just so we're clear, if this happens on the plane, I'm not flying it!".
We'd just made it back in time thanks to Captain Lynas, so we hopped straight into our taxi and drove to the airfield. A little Cessna four-seater plane was waiting for us, with our incredibly young-looking pilot, Raoul. We climbed aboard, Colin and I in the back and Jonathan in the front. It was really hot, and the door was not shut after Jonathan got in, which was quite disconcerting as we were taxiing down the little runway! This was just to keep us cool, though, til take-off. We were in the air in seconds, and soon up at around a thousand feet.
We did a quick loop out to see the meeting of the waters from the air, and to look at the Rio Negro bridge which Jonathan had just expertly navigated through in the boat.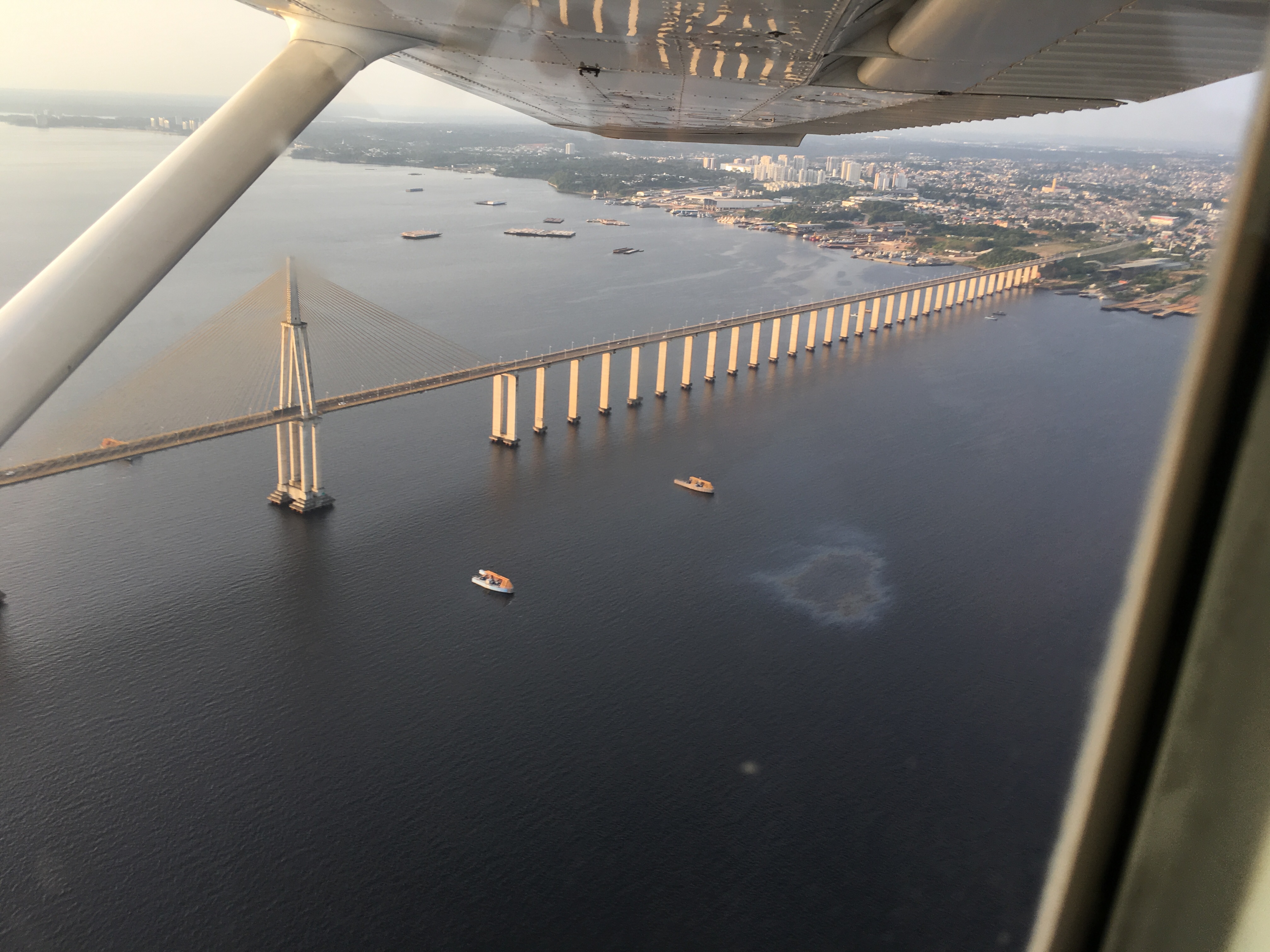 We flew over the city and spotted various landmarks, including the Opera House, one of Manaus' most famous buildings.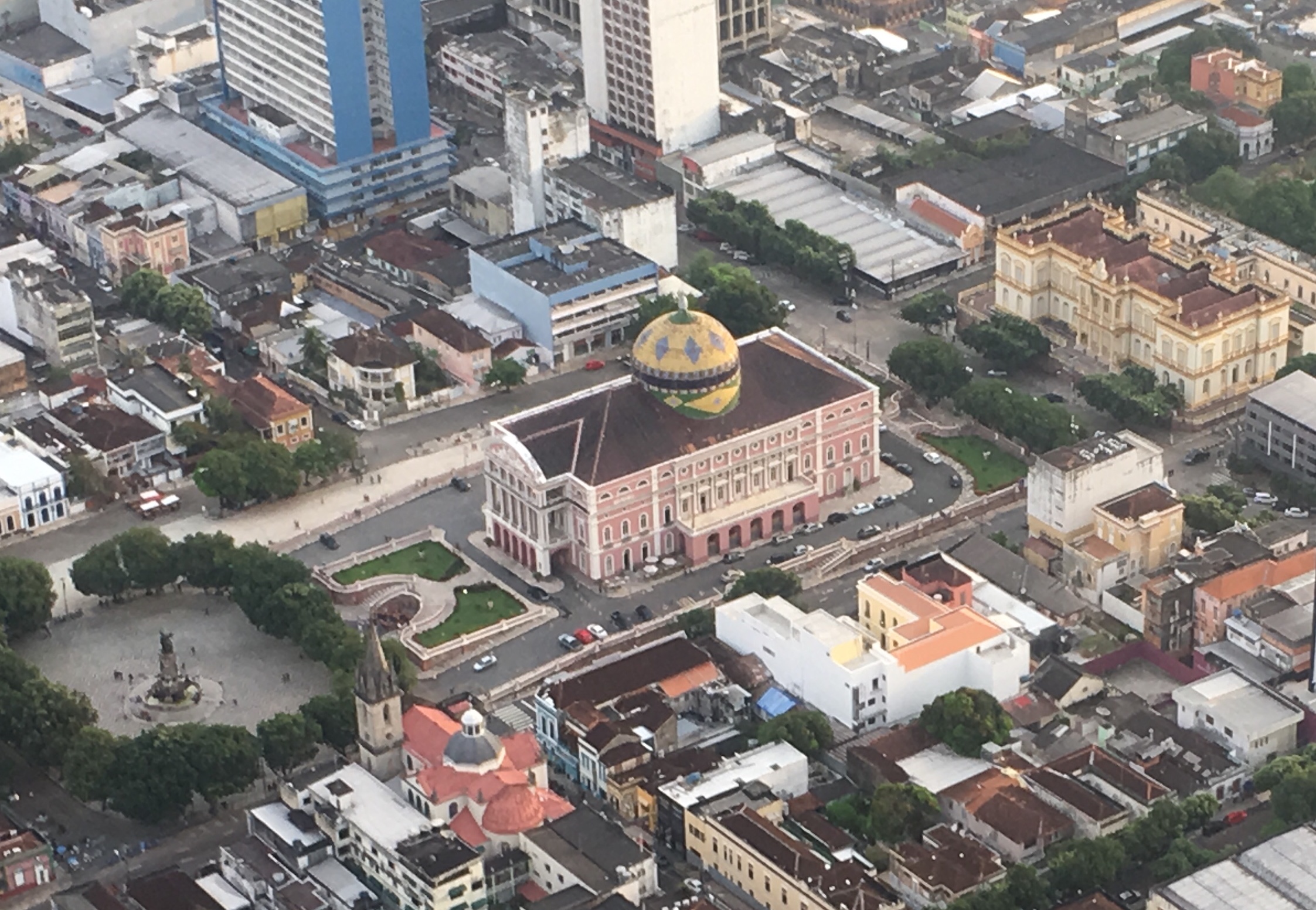 And then the pilot asked Jonathan if he wanted to fly the plane. So he did!
Colin didn't see the conversation, so when I tapped him on the shoulder and said "Look, Jonathan's flying the plane", there was another "Yeah right", "Er, no, really…" moment. Because there he was, hands on the, er, steering column (?!), cool as you like.
We flew up the river, and almost immediately spotted the place where we swam with Miguel two days earlier.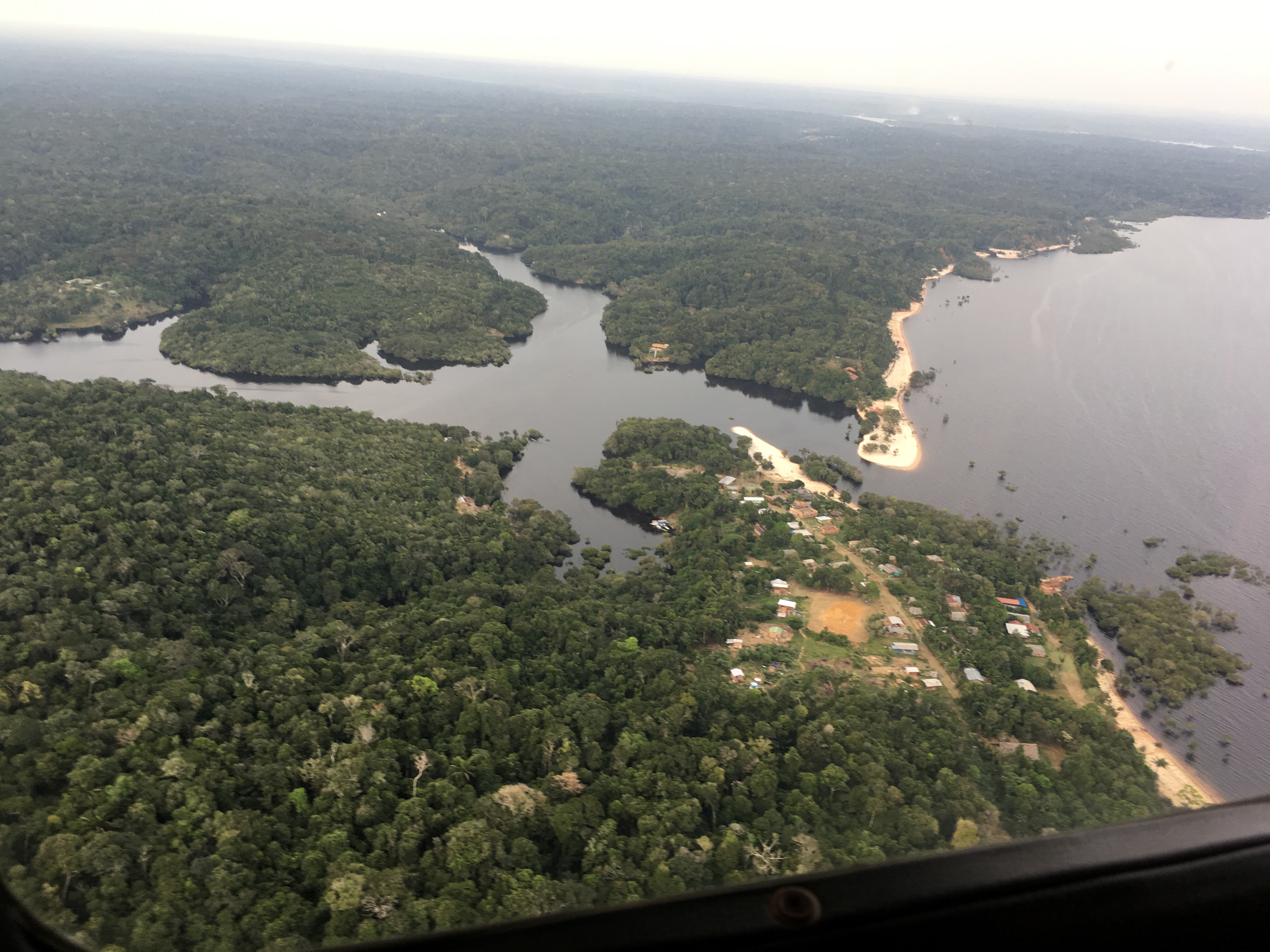 The views were incredible, and we all just grinned inanely at each other at what we were doing. It was absolutely the tiniest plane I've ever been in. This is all there was:

It gave us all a new perspective on the river, the scale of it, the way the little tributaries went off in threads in the Anavilhanas, the rain forest stretching inland as far as the eye could see. It was incredibly beautiful.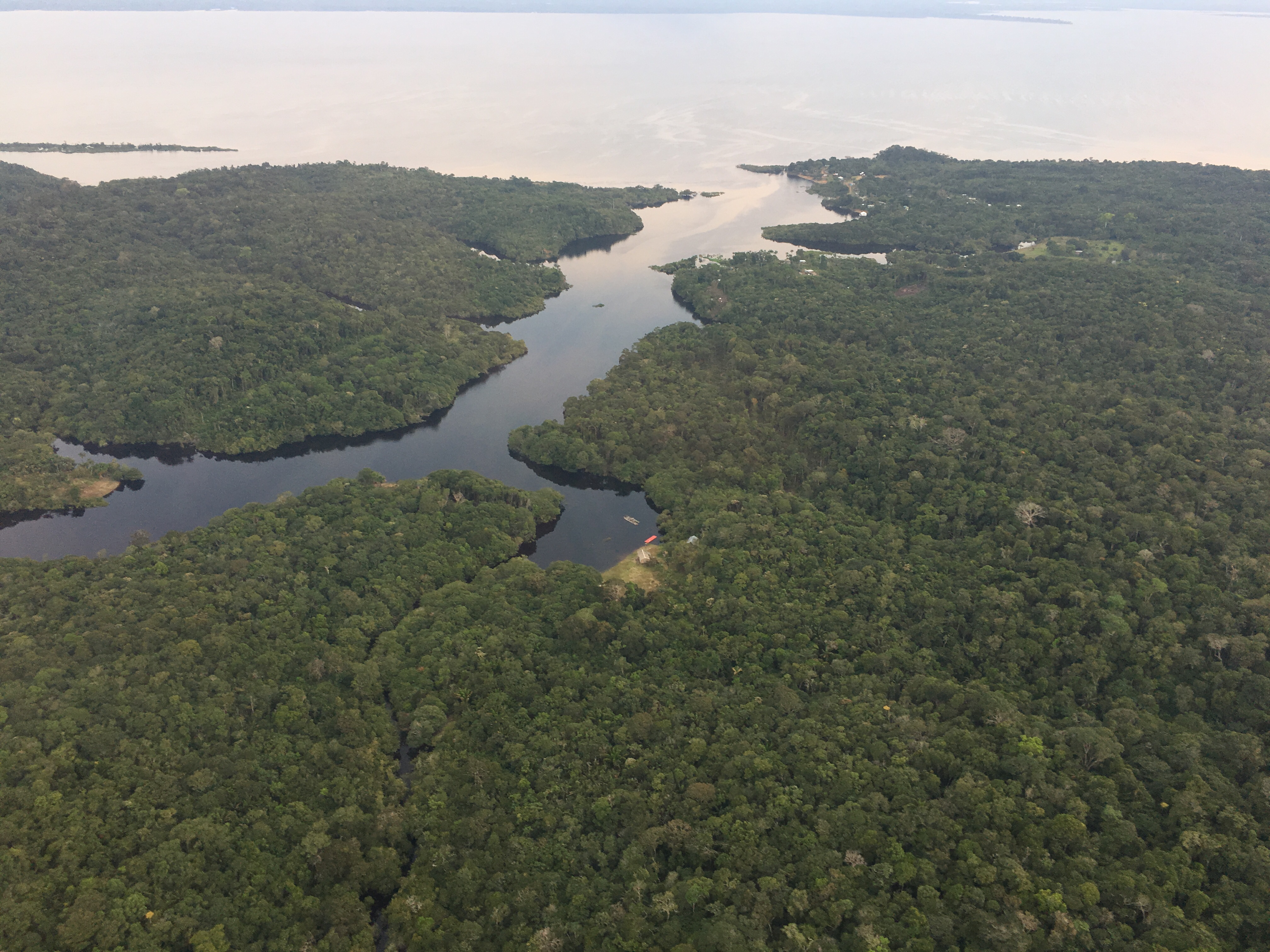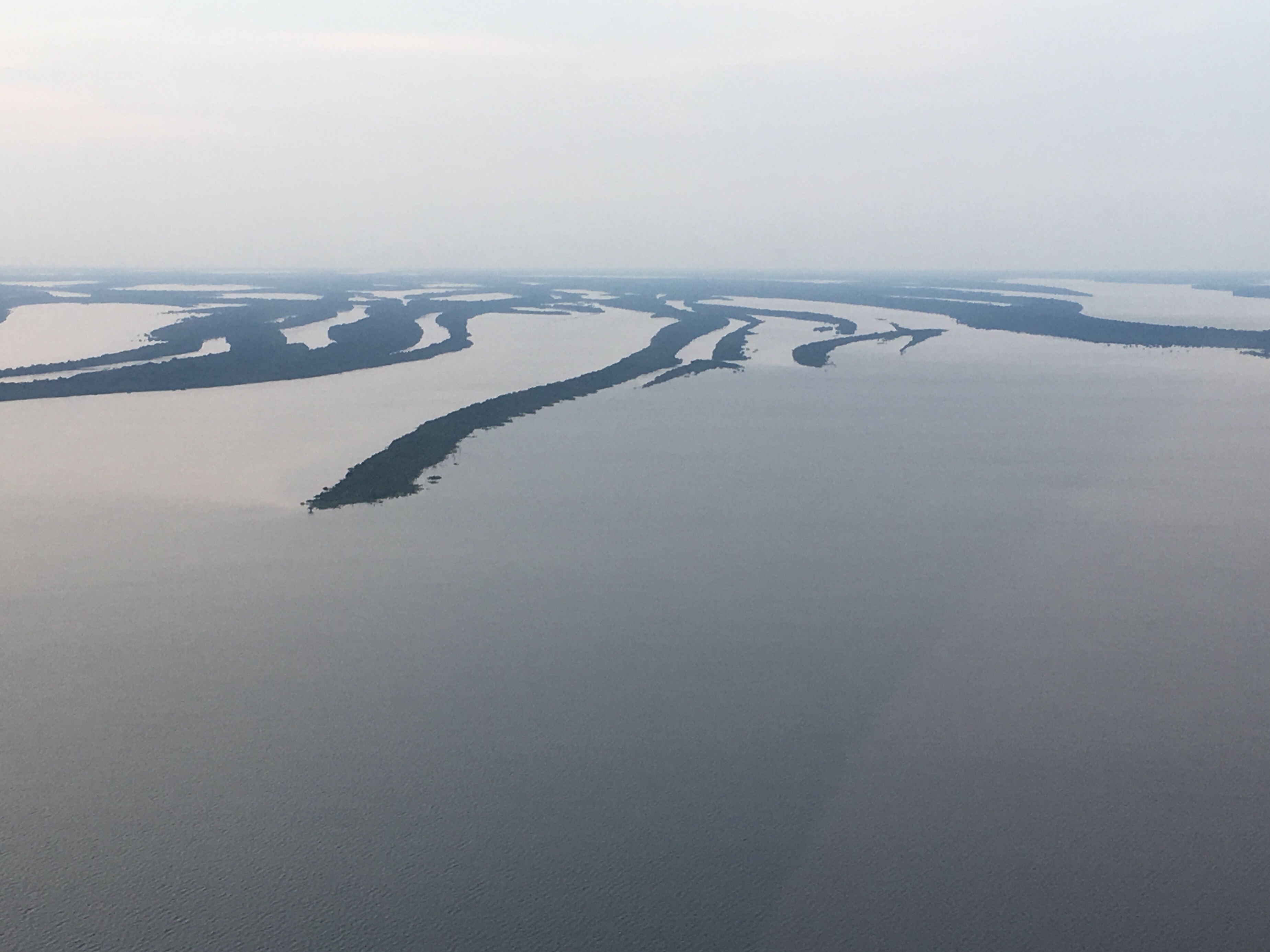 The sun was setting, and the light on the islands, waterways and peninsulas was gorgeous.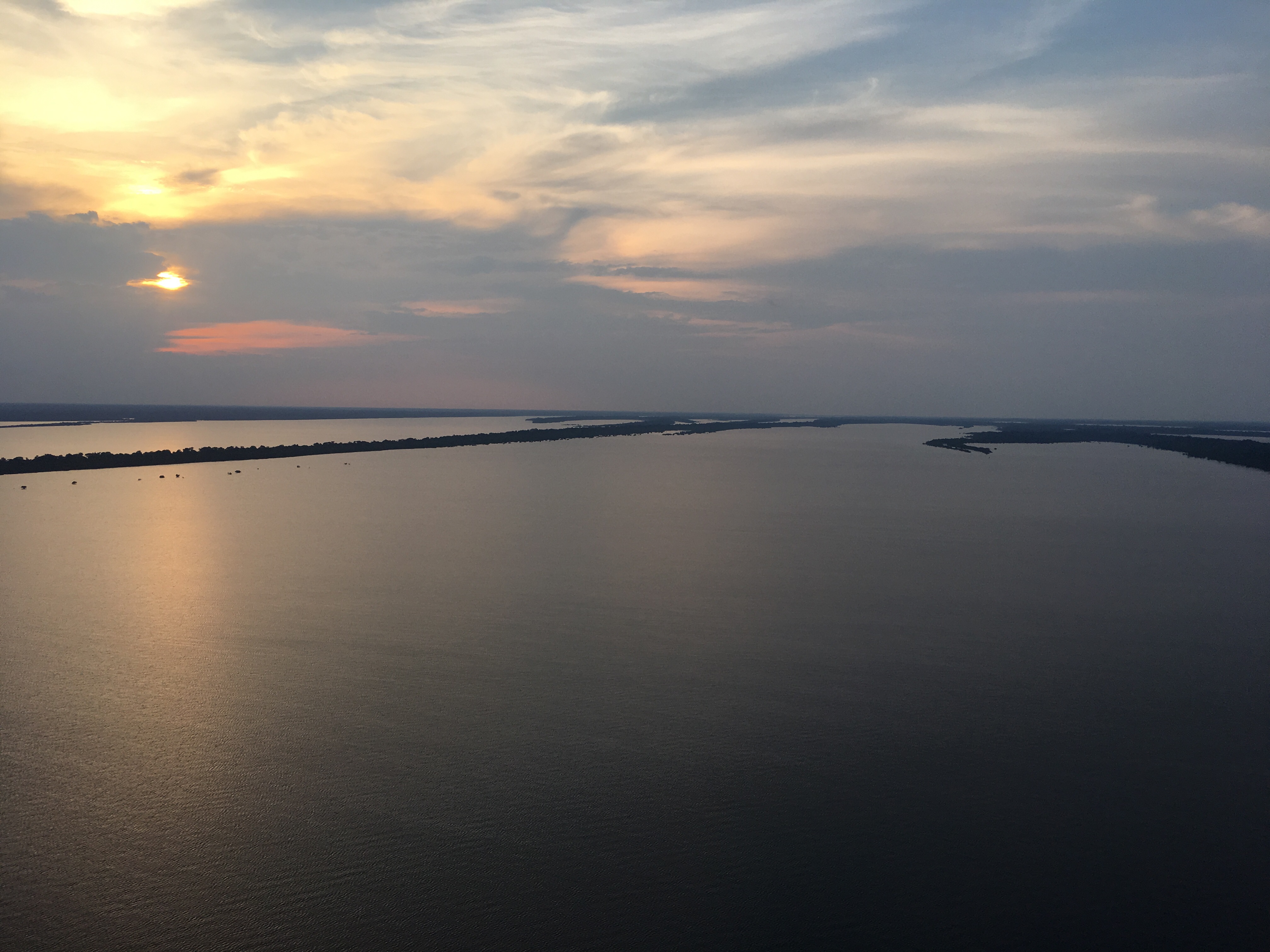 All too soon, we were turning back towards the airfield, an hour had passed in a flash. Our pilot took over for the landing (phew!) and we made the runway just before sunset, exactly as planned.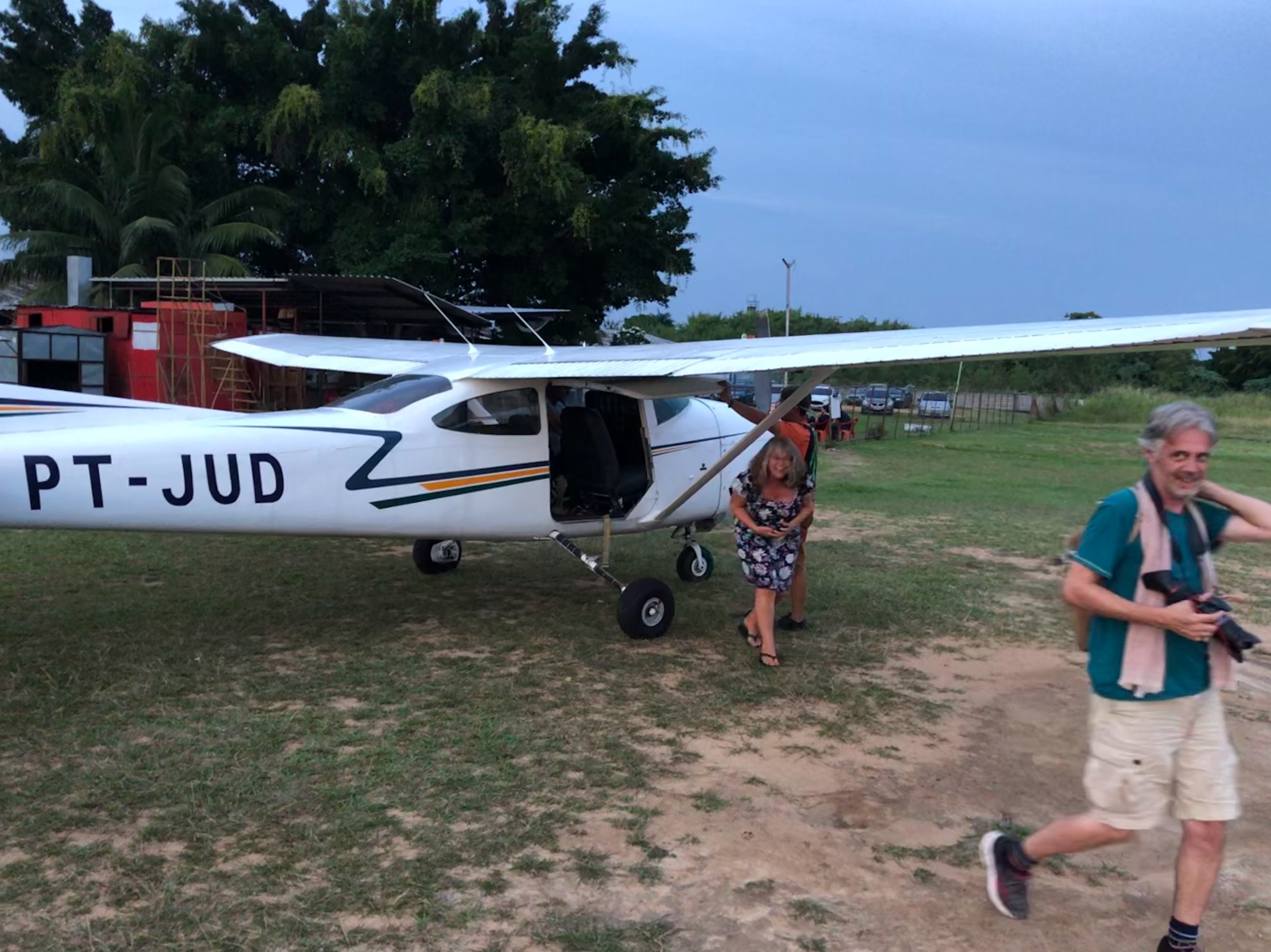 A quick taxi back to the hotel, and there was just time for a quick shower and a change into our opera gear for a visit to the Opera House. A tight schedule, but there was a free event on that night beginning at 8pm, and if we could get there on time it would give us an opportunity to see the inside of this iconic building.
We just made it!
It turned out to be not the contemporary dance event we'd expected (!), but the Manaus Guitar Orchestra, who played an hour of really lovely interpretations of Stravinsky, Glass and Debussy. Jonathan was relieved not to have been asked to conduct the orchestra…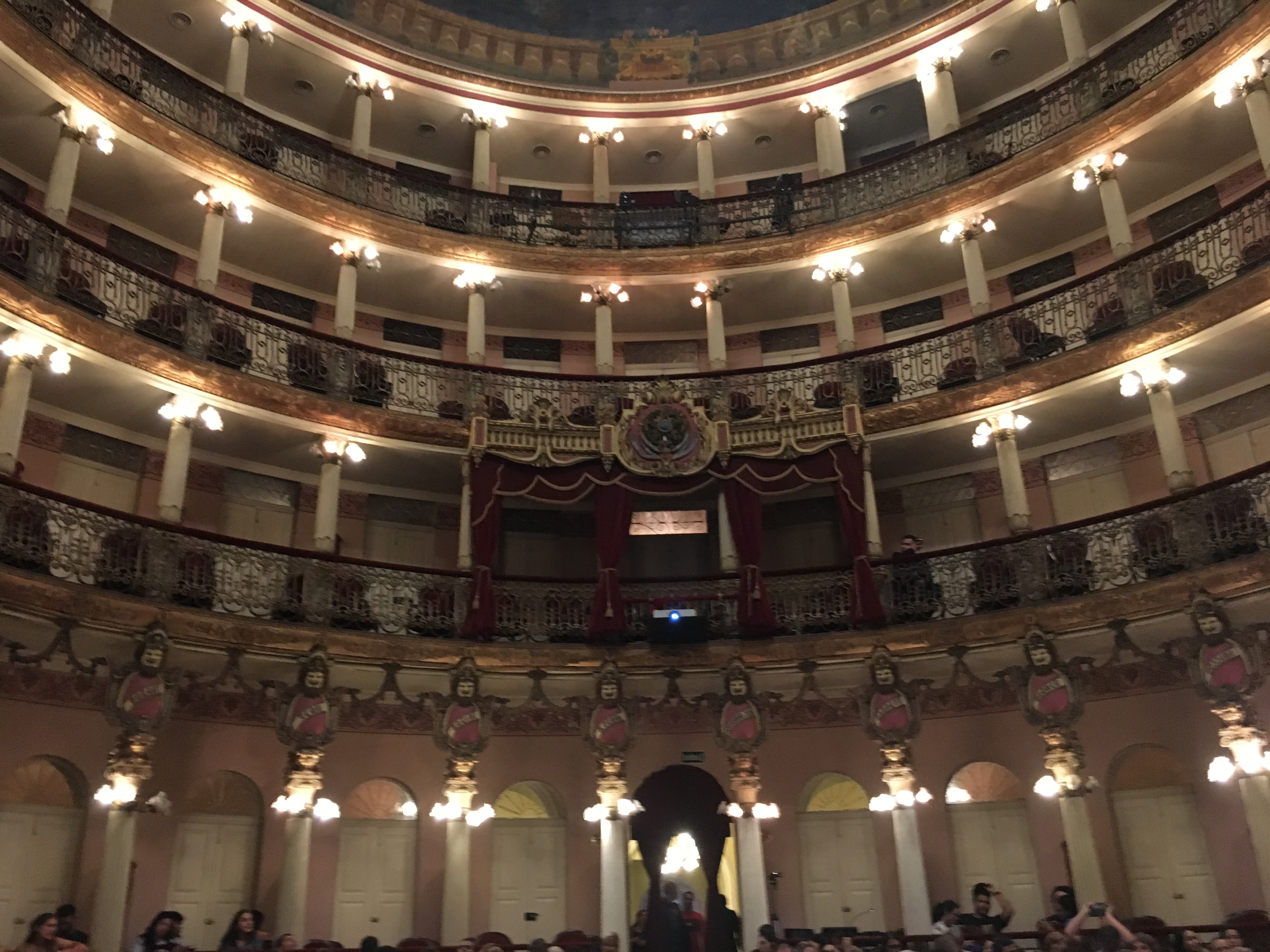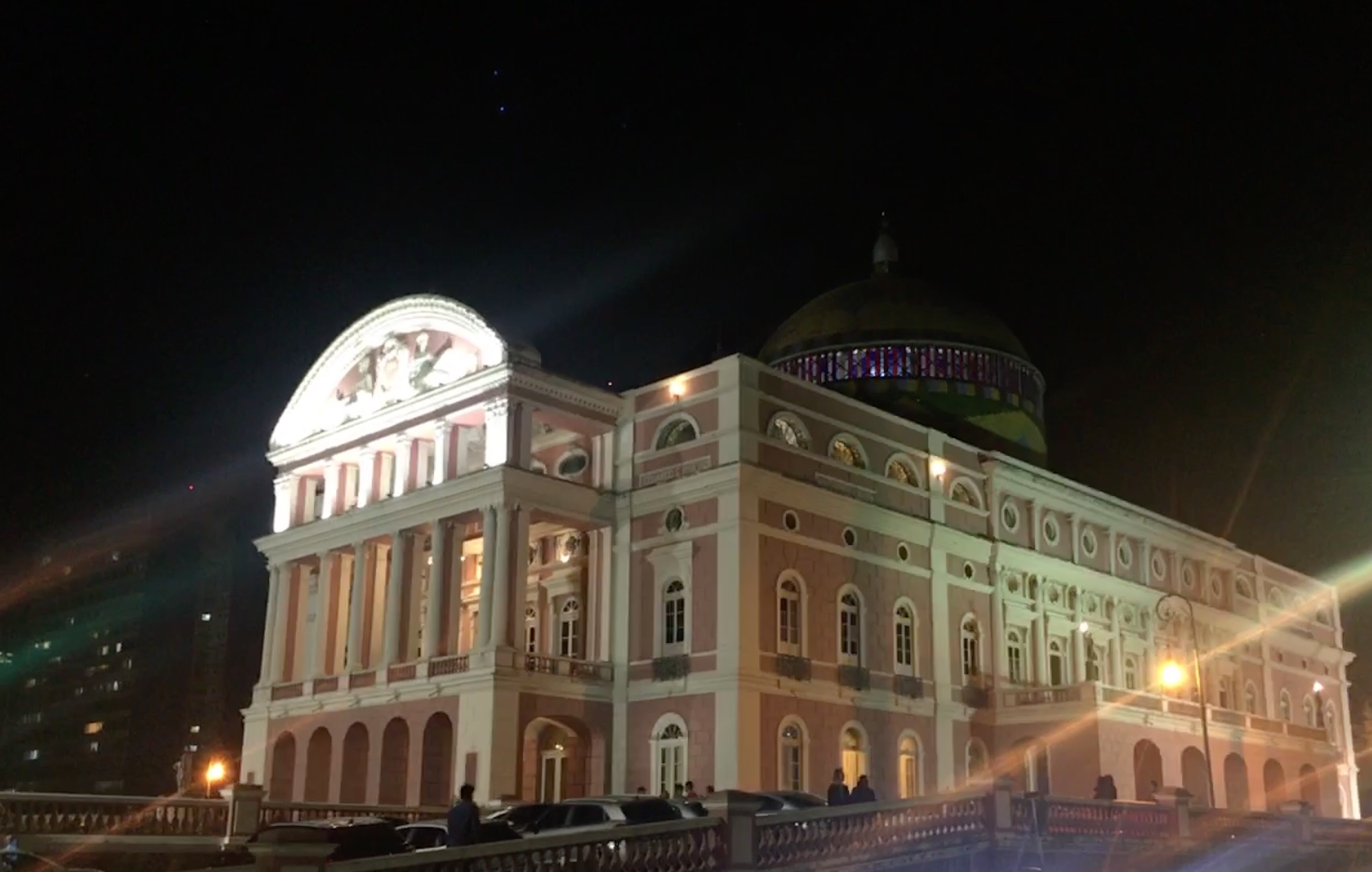 After the event, we had a fabulous meal just across the road, with a great view back to the Opera House, served by a lovely smiley waitress who patiently explained the unusual menu.
One last taxi back to the hotel, and our day was done. What a day, definitely one of the highlights of the whole trip. The project, the boat, the plane, the Opera House. We were all quite tired, but everything had worked out so well, it had been a day of amazing and unexpected adventures, and none of us could quite believe everything we'd done and seen.
Manaus to São Paulo
Got up. Got a plane to São Paulo. ** Had a lovely dinner.
Nothing else happened.
Thank goodness for that!
** Jonathan did not fly this plane…