Motorhome Day One: Auckland to Whangerei
The least said about the motorhome pick-up the better! We finally headed out at 2:30, having arrived at the pick-up at 10am. Sigh. Anyway…
A big motorway sped us north out of Auckland, then a good two-lane road. We were both very amused to hear the sat-nav lady's first utterances – she had a New Zealand accent! "Nick's lift". Well, of course she did, but it cheered us up no end after an annoying morning.
It was great to be on the road under our own steam, and we enjoyed trundling north, looking for sheep. There were no sheep. Isn't New Zealand supposed to be full of sheep? Then, on the horizon, 'Sheepworld', a (I kid you not) sheep-themed visitor attraction. There were some strange red sheep out the front. We didn't stop! There then followed more kilometres of sheep-less green, with beautiful tree ferns everywhere. We hit the coast at Ruakaka, and it was lovely to see the shining sea. We arrived at our 'Top10' campsite at Whangerei (pronounced 'Fangaray') and got set up, plugged in and unpacked.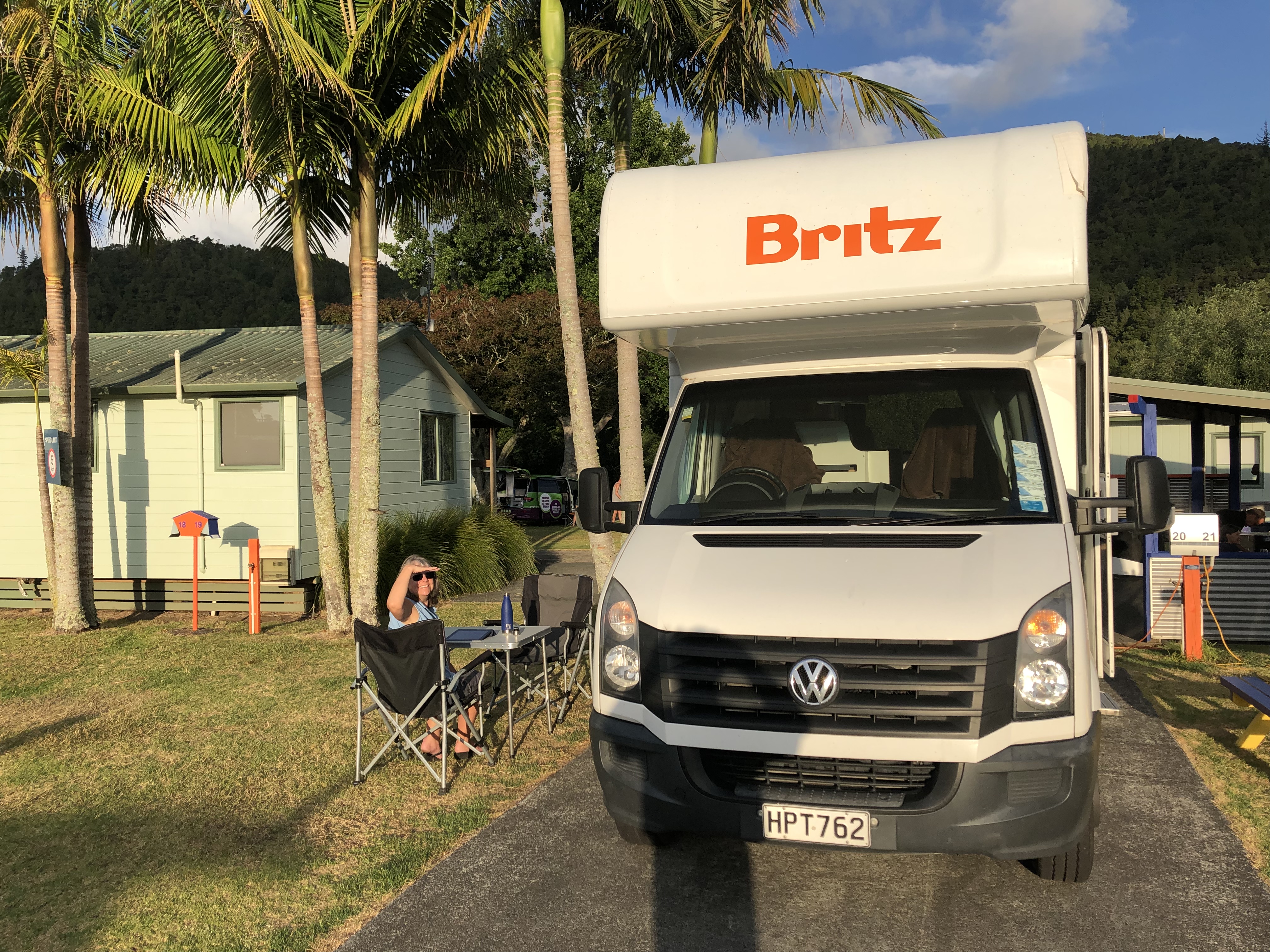 It was wonderful to be in the countryside again, after what we realised had been four weeks of city living. Eating fettuccine and prawns outside and then watching the stars appear over a bottle of wine was peaceful and relaxing. As we expected from our advance research, Orion was upside-down! It's one of the few constellations to be visible in both the northern and southern hemispheres but down under it appears the other way up.
Motorhome Day Two: Whangerei to Paihia
The very friendly receptionist at the campsite had told us lots of things to see and do in the local area, and it was to be only a short drive to Paihia, so after breakfast we had a short walk in the local kauri forest. The path went out directly from the back of the campsite down to a little river, and then wound up through a forest of kauri trees and tree ferns. It was lovely, with gorgeous shadows, the wind gently flexing the trees and the odd bird calling.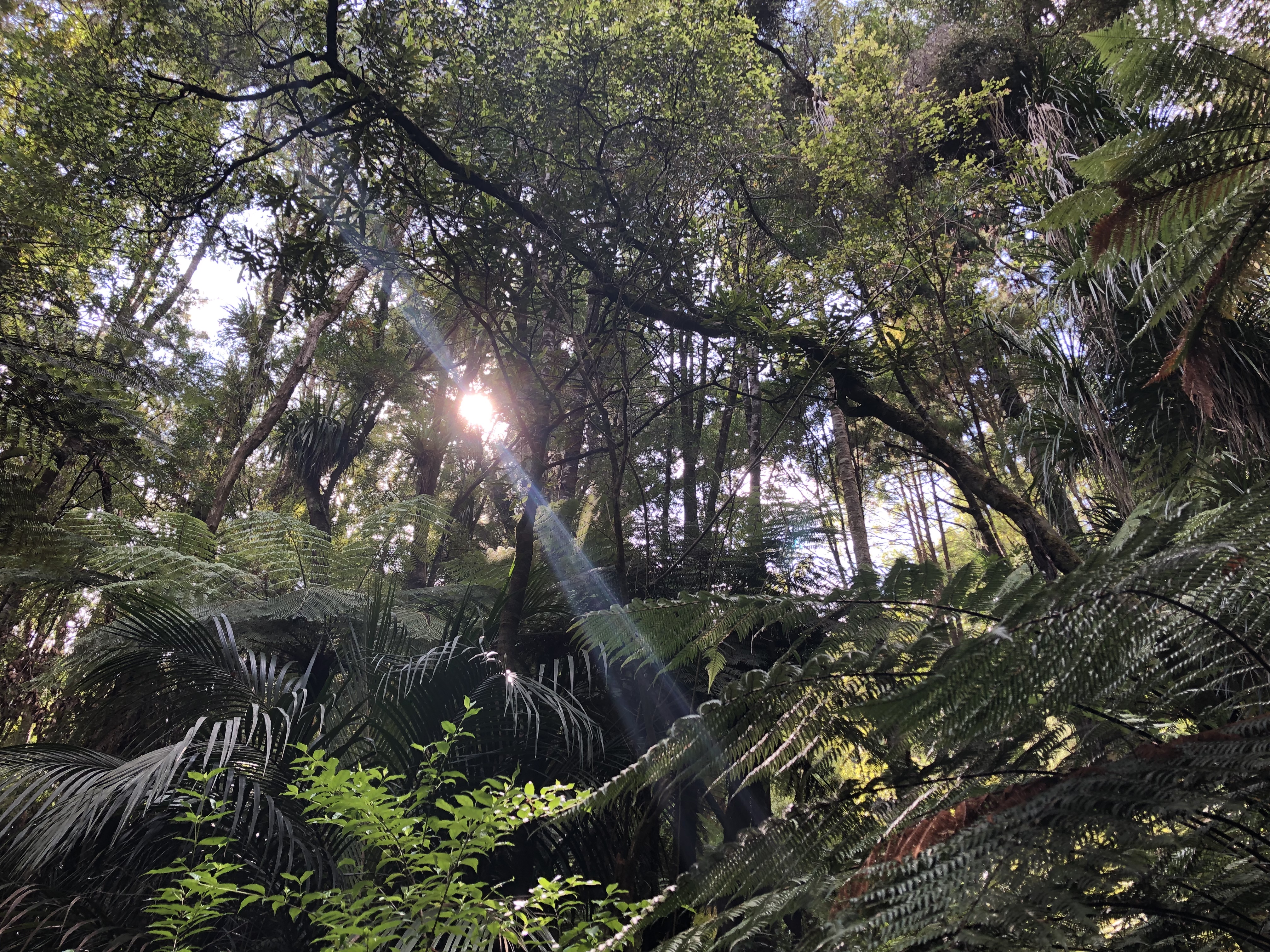 I was 'attacked' at one point by a stick insect, which seemed very attracted by my shoes. We saw stick insects in the Habitat in Penang, and they were green, but this one was sort of variegated. You camouflage for where you live, I suppose.
After our walk, we packed up and drove to the A. H. Reed park, for a canopy walk amongst some more kauris. I shan't say more about these amazing trees, as the main kauri forest was yet to come in our itinerary, and it was well worth waiting for.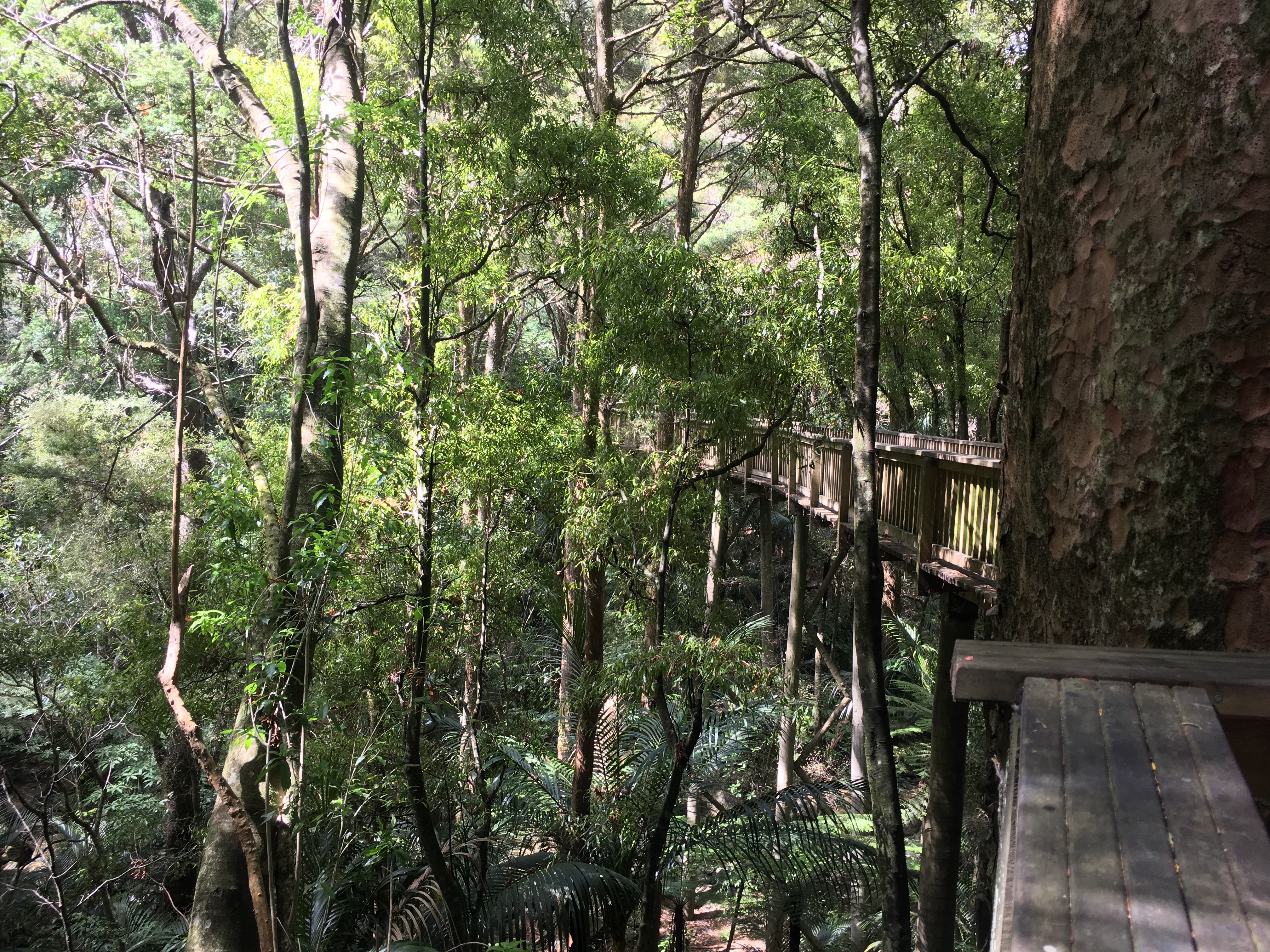 Our next port of call was Whangerei Falls, quite reminiscent of Hardraw Falls at home in Yorkshire. We kept seeing a German family who were picking up their motorhome at the same time we were. They stayed at the same campsite as us on our joint first nights, and then there they were at the Falls. The receptionist obviously gave them the same list!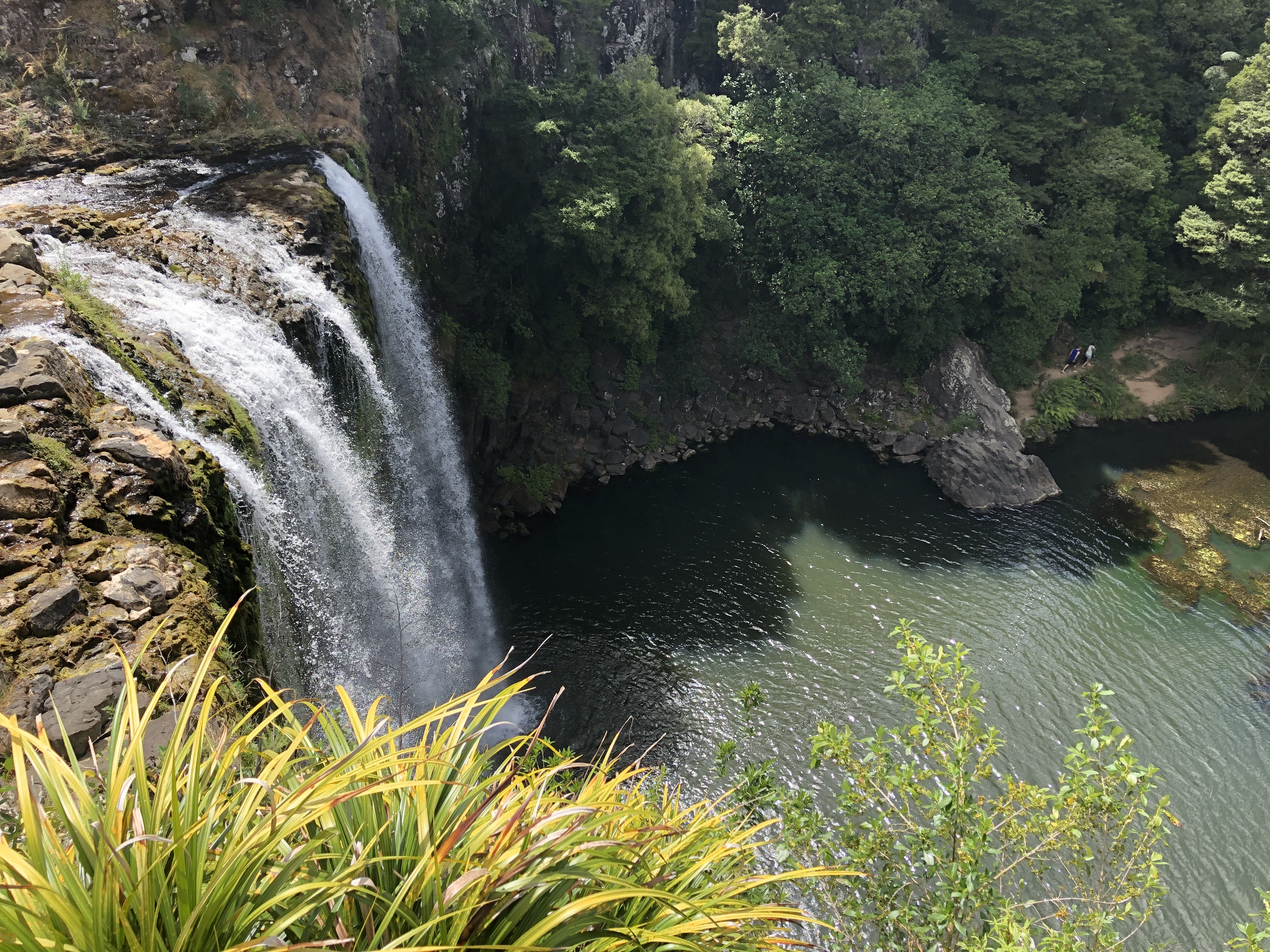 Her list also included the drive along the coast to Tutukaka, where the views were gorgeous. Everywhere was very green, but with still a tiny bit of spring yellow. Still, it was only January, and apparently it hasn't rained since before Christmas. The roads were small, with very little traffic, and driving the motorhome was not proving difficult so far. It all felt a bit like rural England, but with utterly different vegetation. There were still loads of tree ferns, and very few sheep. We motored north along the coast to Woolley's Bay, just north of Matapouri. It was stunning, a real jaw-drop moment.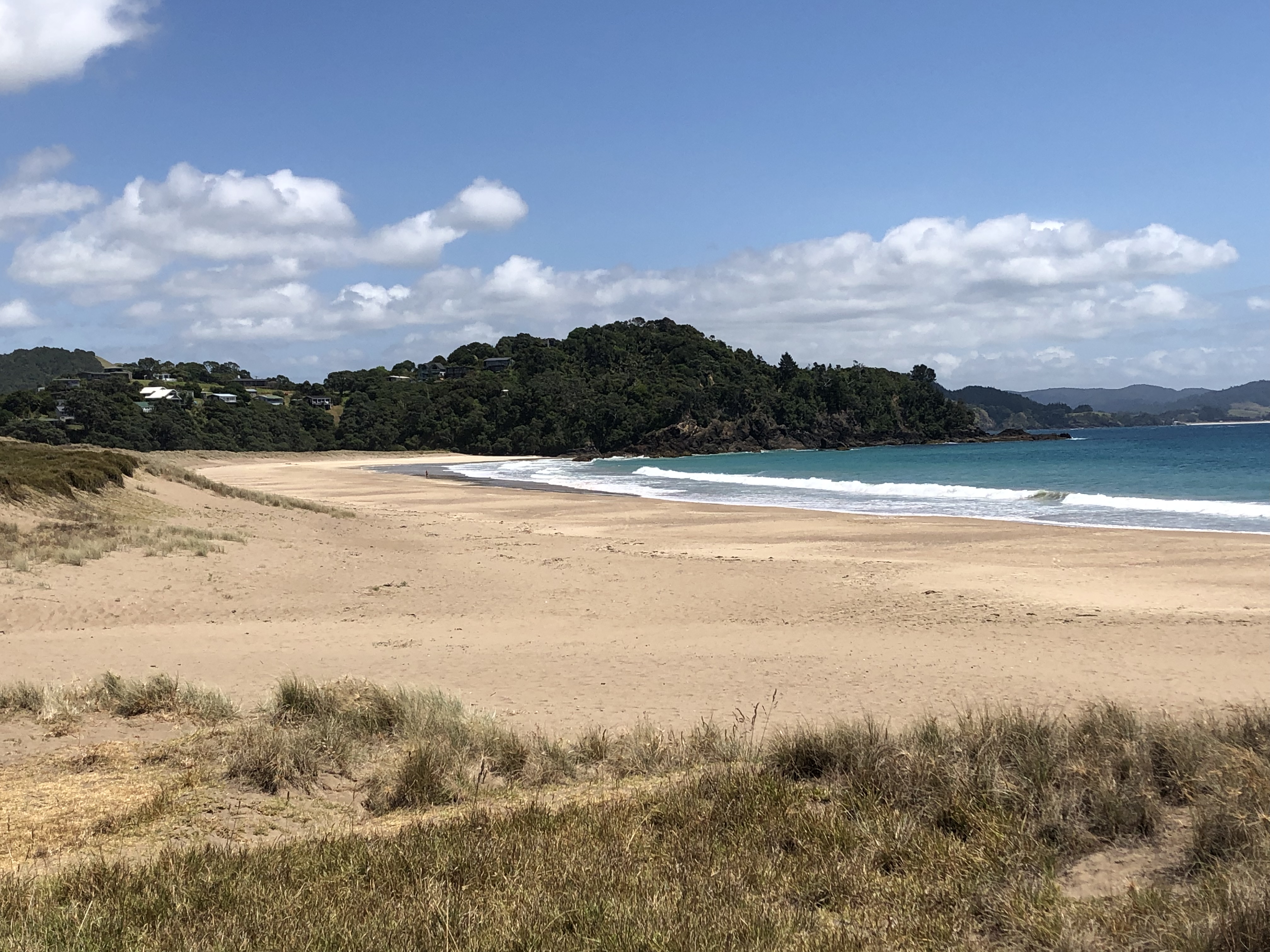 It was lunchtime, so we stopped by the huge beach, practically deserted, with maybe five people on it. Two guys arrived and did a Reggie Perrin (well, down to their swimmers), left their clothes on the beach and jumped in. We watched from our picnic table, munching our avocado bagels.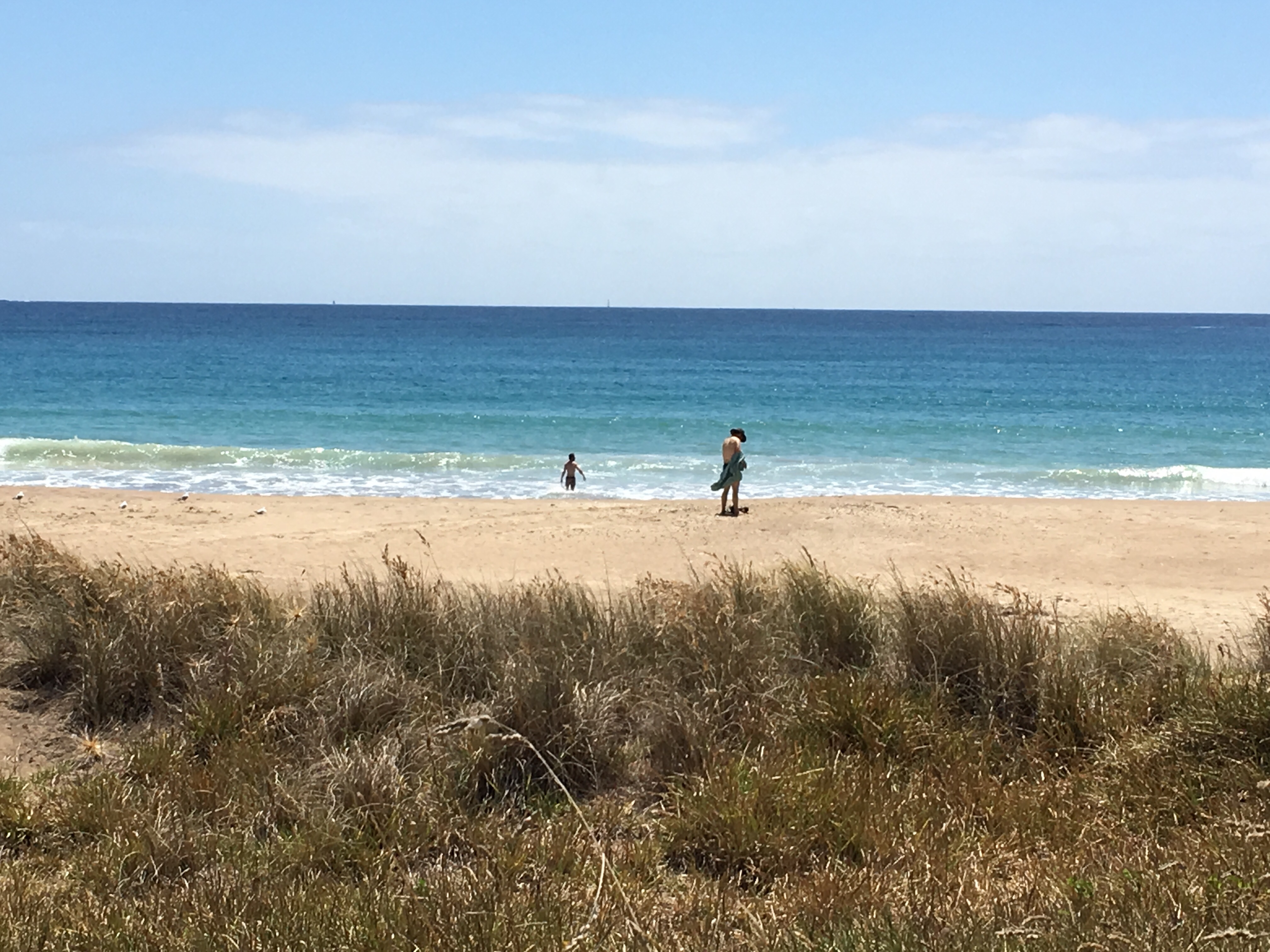 After lunch, we did our own Reggie Perrin impressions, and braved the rollers. The sea was lovely, not too cold, so hardly any squealing. A bit of a dry off, then it was back on the road to our destination, Paihia in the Bay of Islands. We'd heard so much about this place, and it didn't disappoint. A huge bay, full of islands. That's a rubbish description of a very striking location, but we'll come back to that… we provisioned at the supermarket in Paihia, and then found our campsite, right by the water, just south of the town.
Motorhome Day Three: Paihia
We awoke to sunny skies, and sparkling water.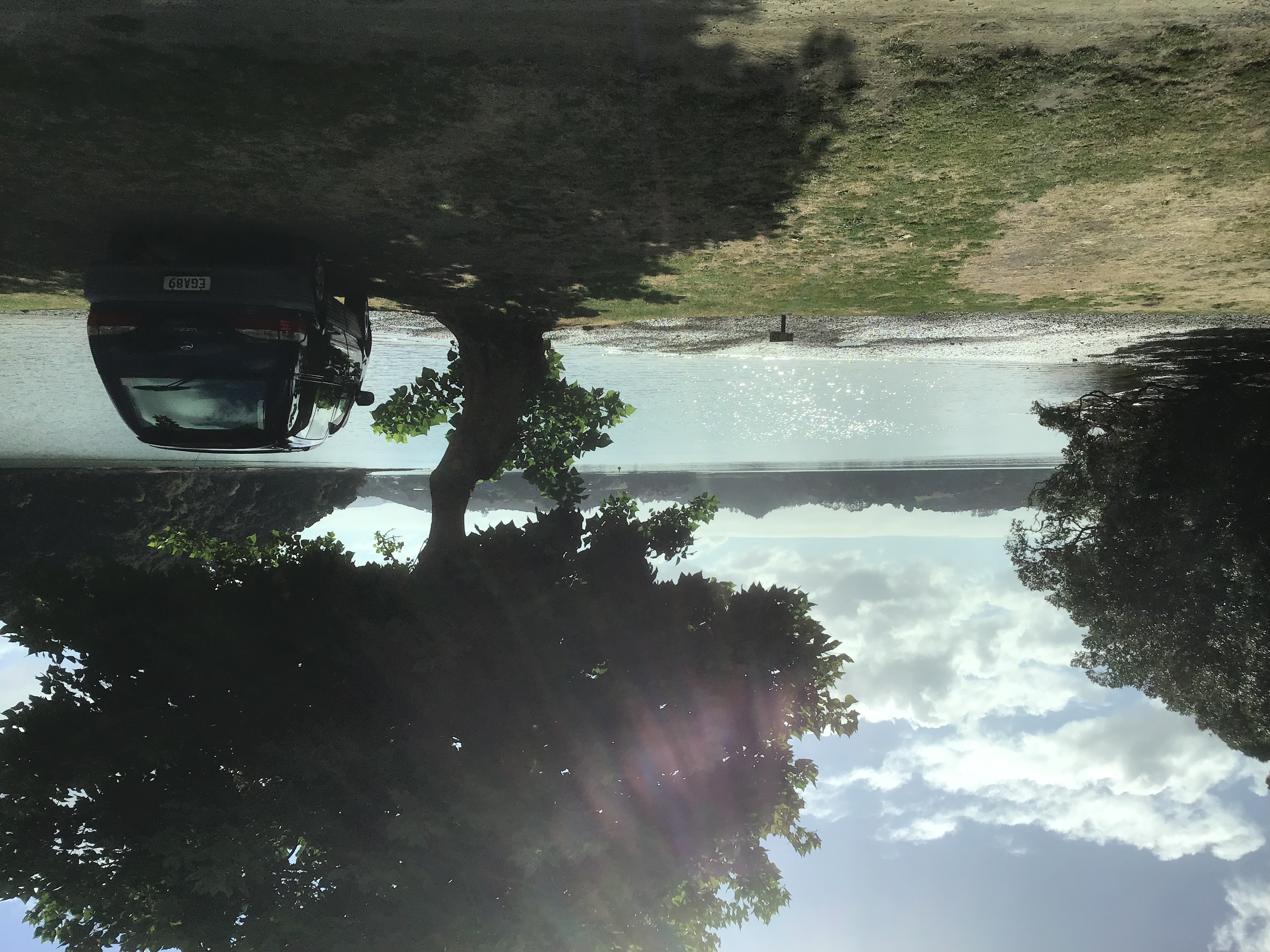 We didn't rush on our first Bay of Islands morning – a bit of admin (buying theatre tickets, work stuff, forward choosing of campsites), and then we booked a boat trip for the afternoon. It was quickly cancelled (by the operator) and rebooked for the following day which left us with the afternoon free for whatever we fancied. We had a long (alcohol-free) picnic lunch under a shady tree (yes, yes, I know it's been snowing at home, but it was entirely too hot in the sun!) including repeated trips back to the van for things we'd forgotten – gubbins bowl, kitchen roll, sharp knife… how quickly we forget the routine. After lunch, we listened to lots of recordings of NZ bird calls, in an attempt to understand the birdsong we were hearing. This was partially successful. We had been particularly enjoying the 'R2D2 bird', and the research indicated that it is a tui. You can see and hear it here.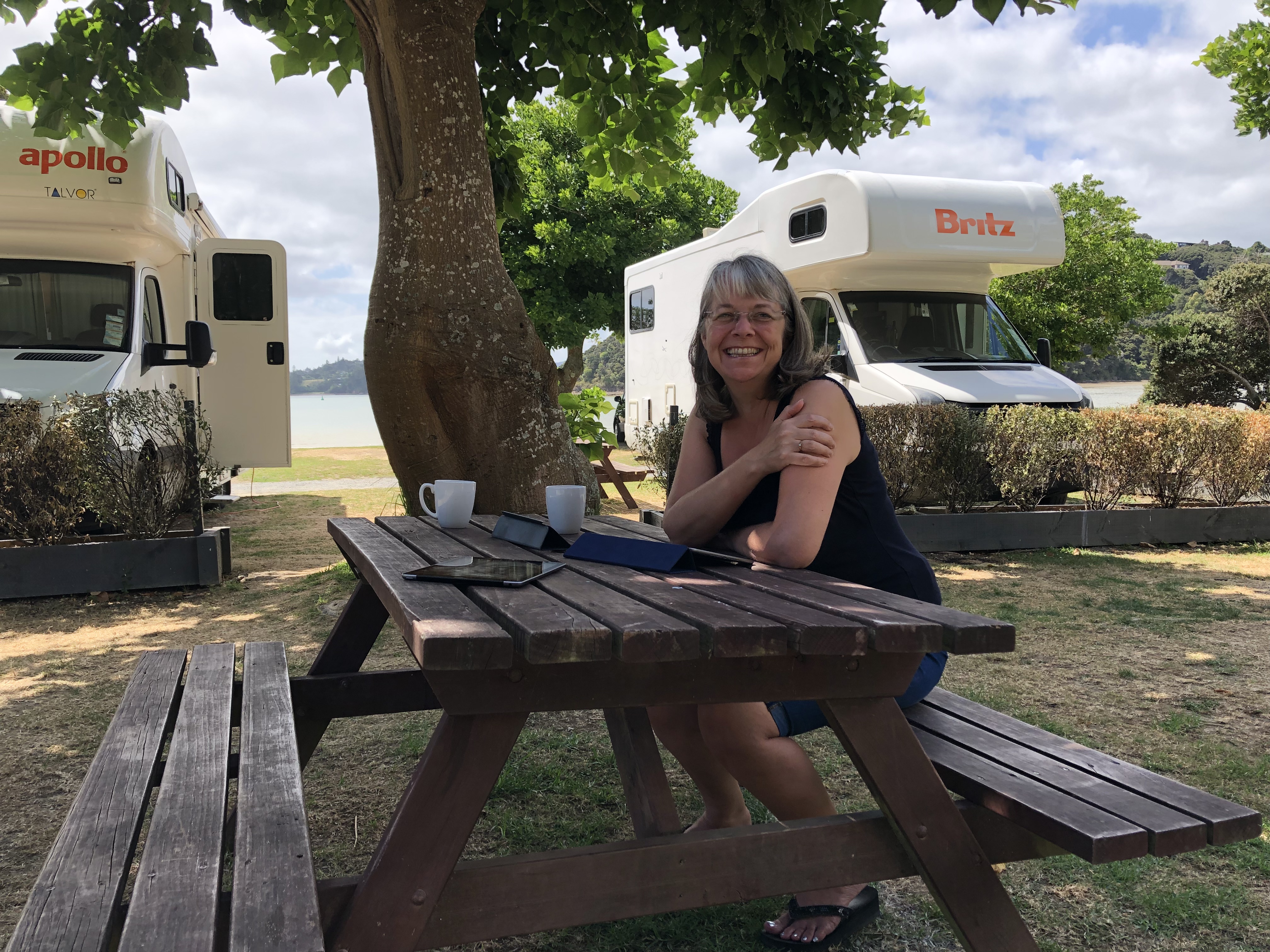 After lunch we drove to see Haruru Falls, and had a walk in the nearby forest, a kiwi habitat, hoping to see kiwi.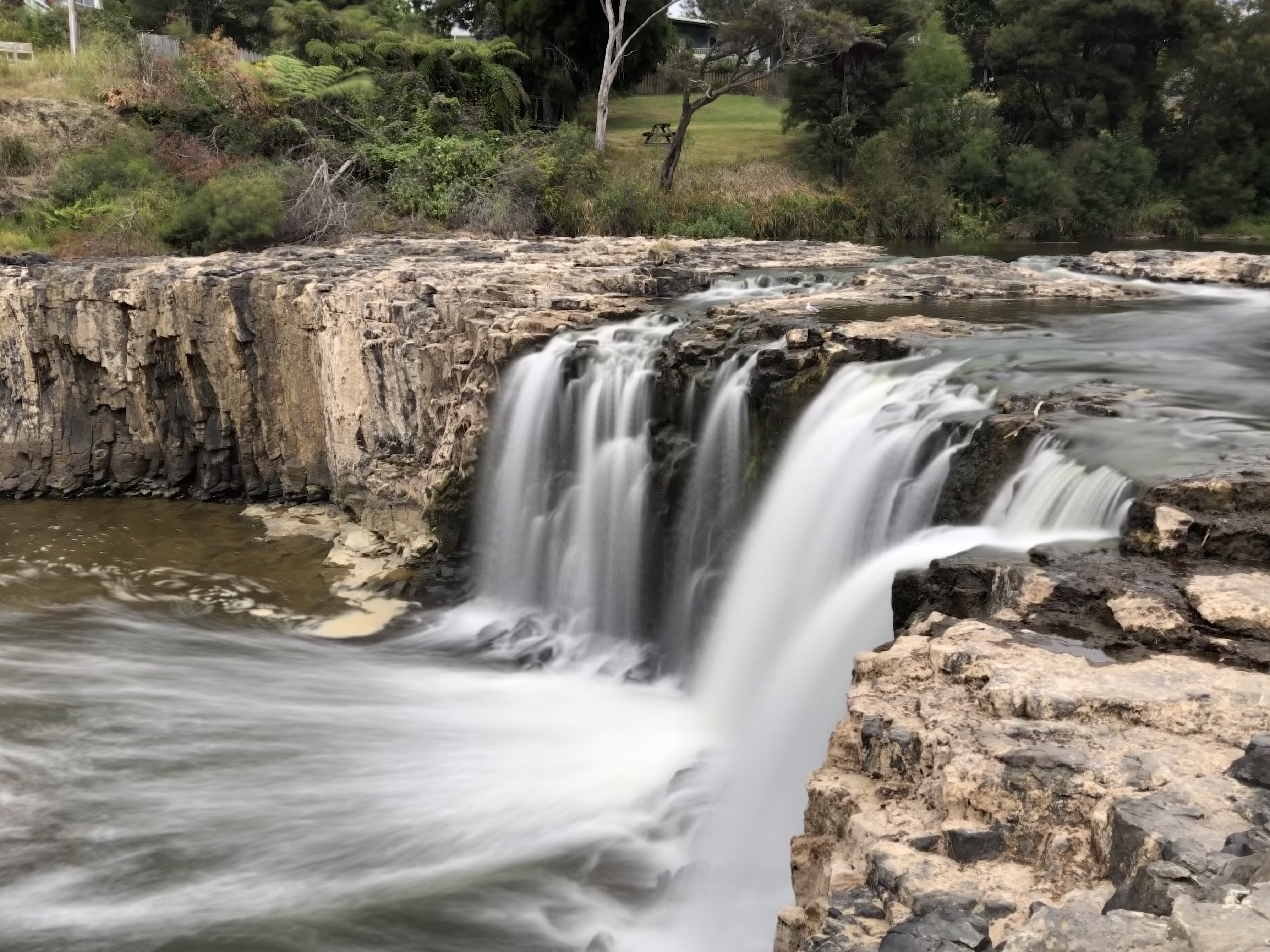 There were no kiwi. Later research indicated they are nocturnal, so not surprising, really. They are diminishing in number and hence protected, so our best option may be to see them at a breeding project.
After the Falls it was on to the Waitangi Treaty Grounds to see where the founding document of New Zealand was signed. The Maori tribal leaders agreed in 1840 to give sovereignty to Queen Victoria. Except 'sovereignty' was translated as 'governance' in the Maori language version, amongst other dubious clauses. It all seemed a bit "do you have a flag?" (if you know your Eddie Izzard), but it resulted in the country that is New Zealand today, and in the protection and support for the Maori culture and people, so not too embarrassingly colonial, but still quite embarrassingly colonial.
The Treaty Grounds were beautiful, with wonderful views over the Bay of Islands.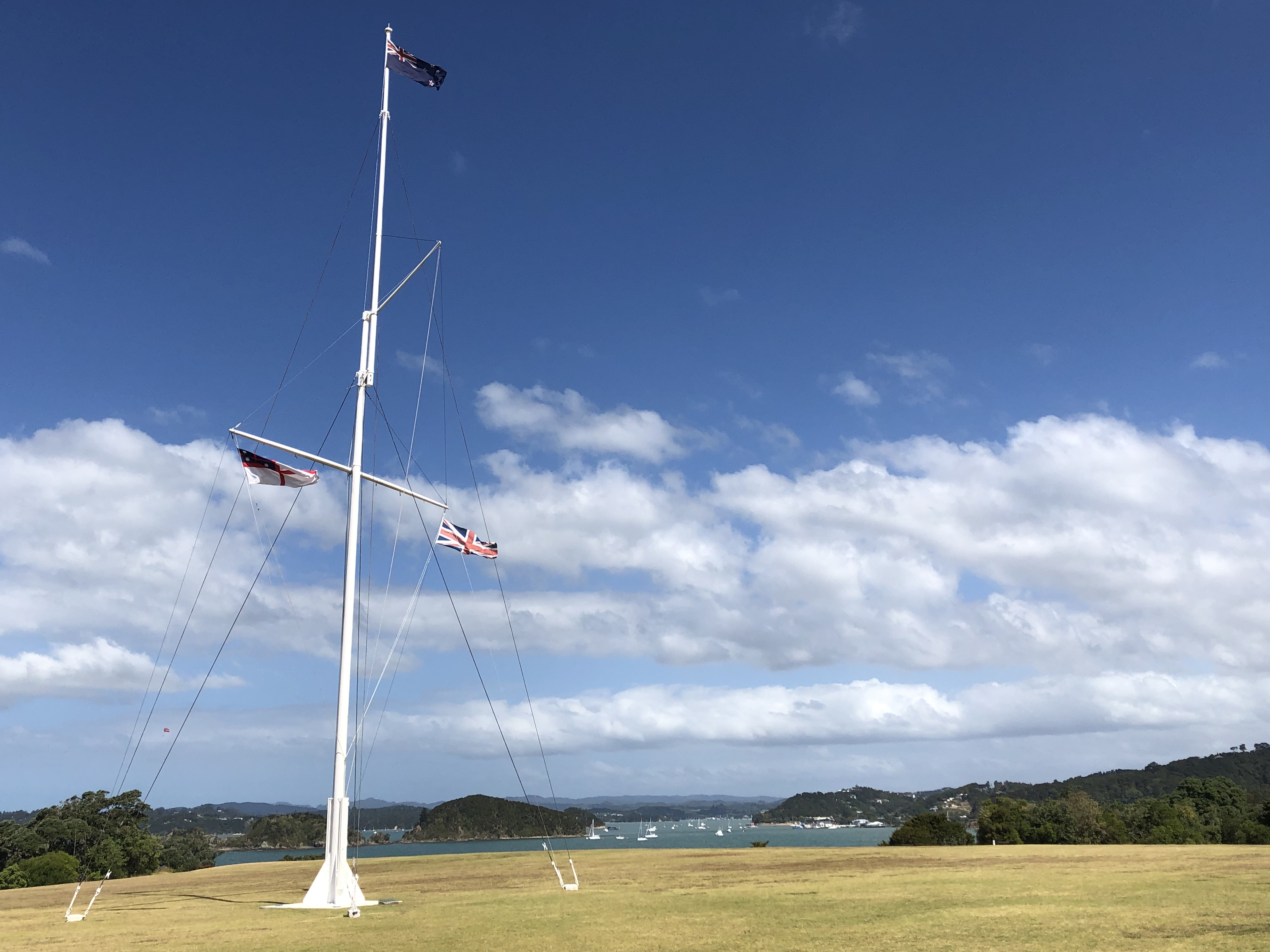 There was a huge war canoe named Ngātokimatawhaorua, which was built to celebrate the signing of the treaty. It still goes out most years on Waitangi Day, February 6th, although it's not clear whether it will go this year. It takes at least seventy-six men to paddle it.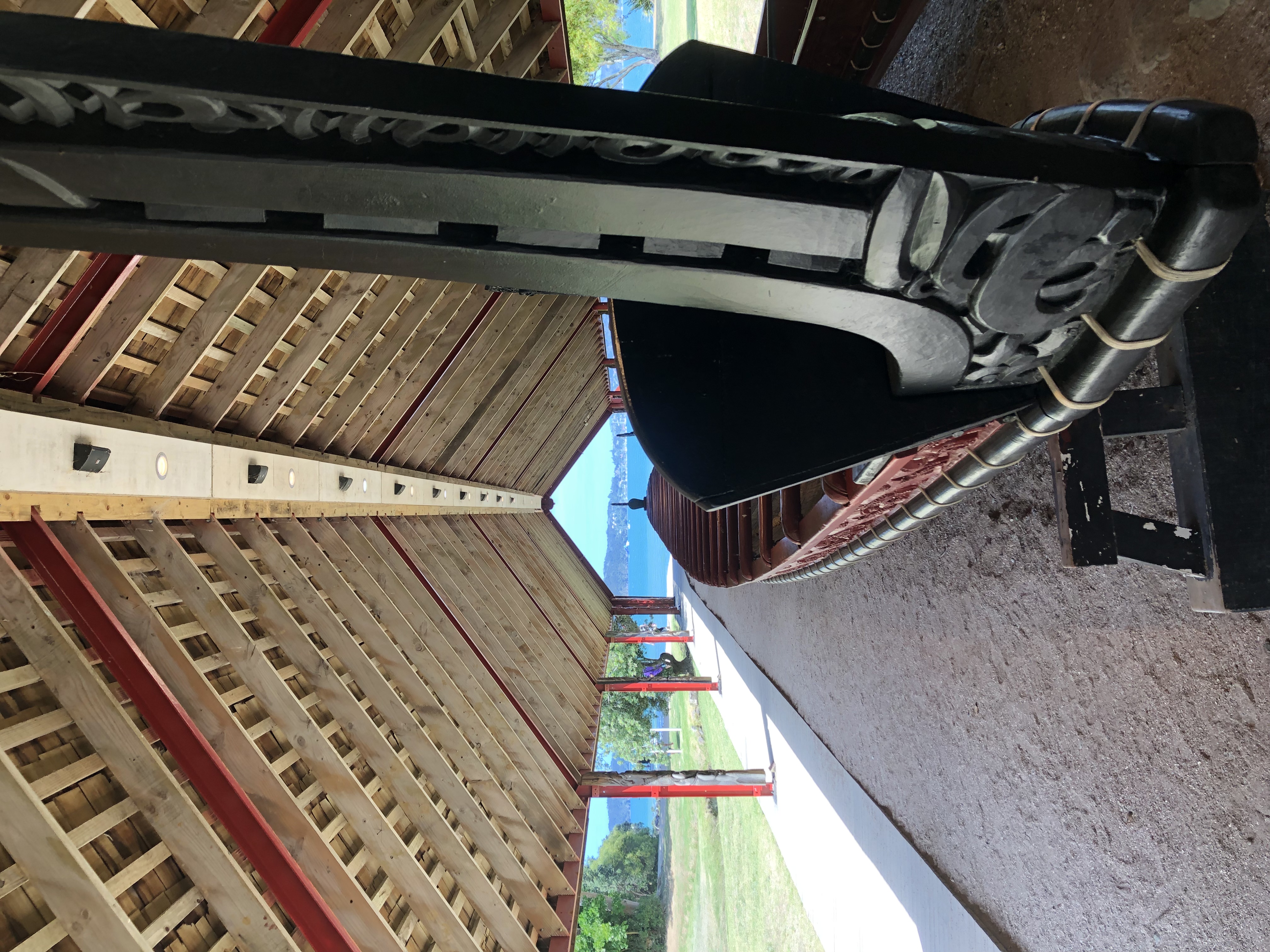 After the tour, we were expected at a 'cultural experience' in the carved Maori meeting house on the Treaty Grounds. We had worried about this in advance, again not wanting the 'flamenco for foreigners' experience, or to feel that native people were demeaned for our entertainment, but Joshua had said that it was important to see their reverence for the culture, their history and traditions, and that it would be fine, basically. And it was. It was a spirited performance, beginning with a haka, and the female equivalent, a hakama.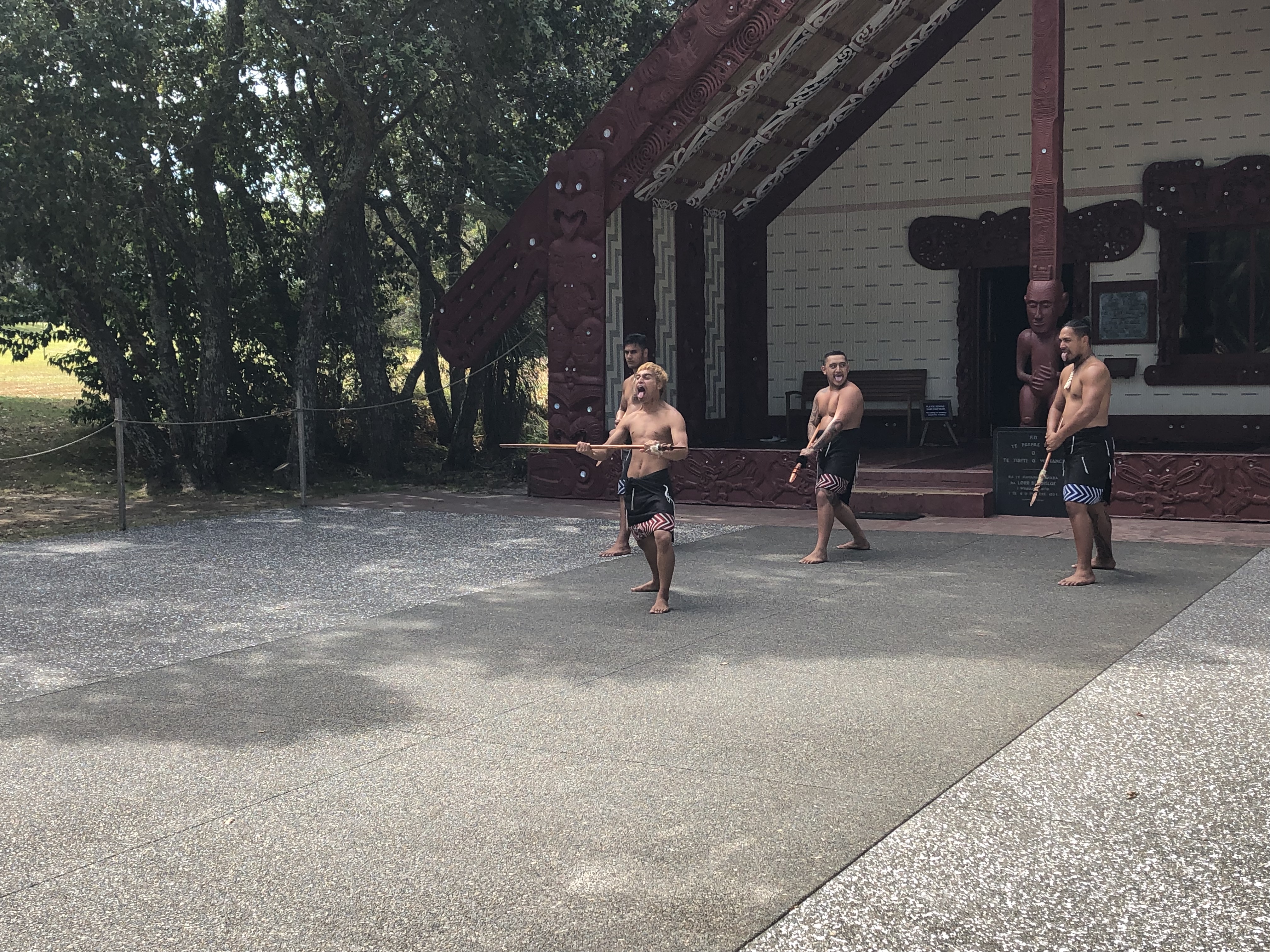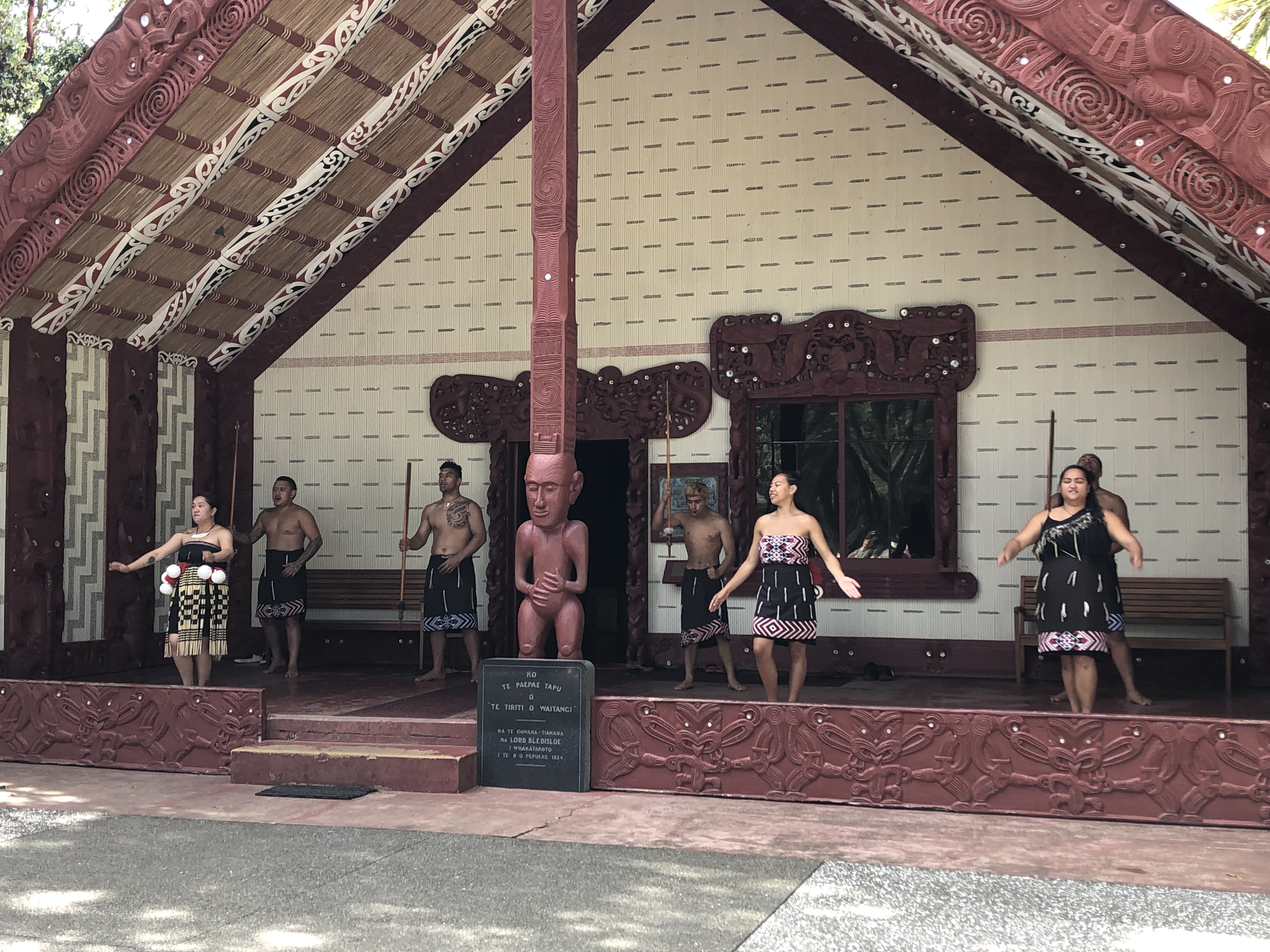 There was much dancing and singing, and some amazing quick-fire stick throwing.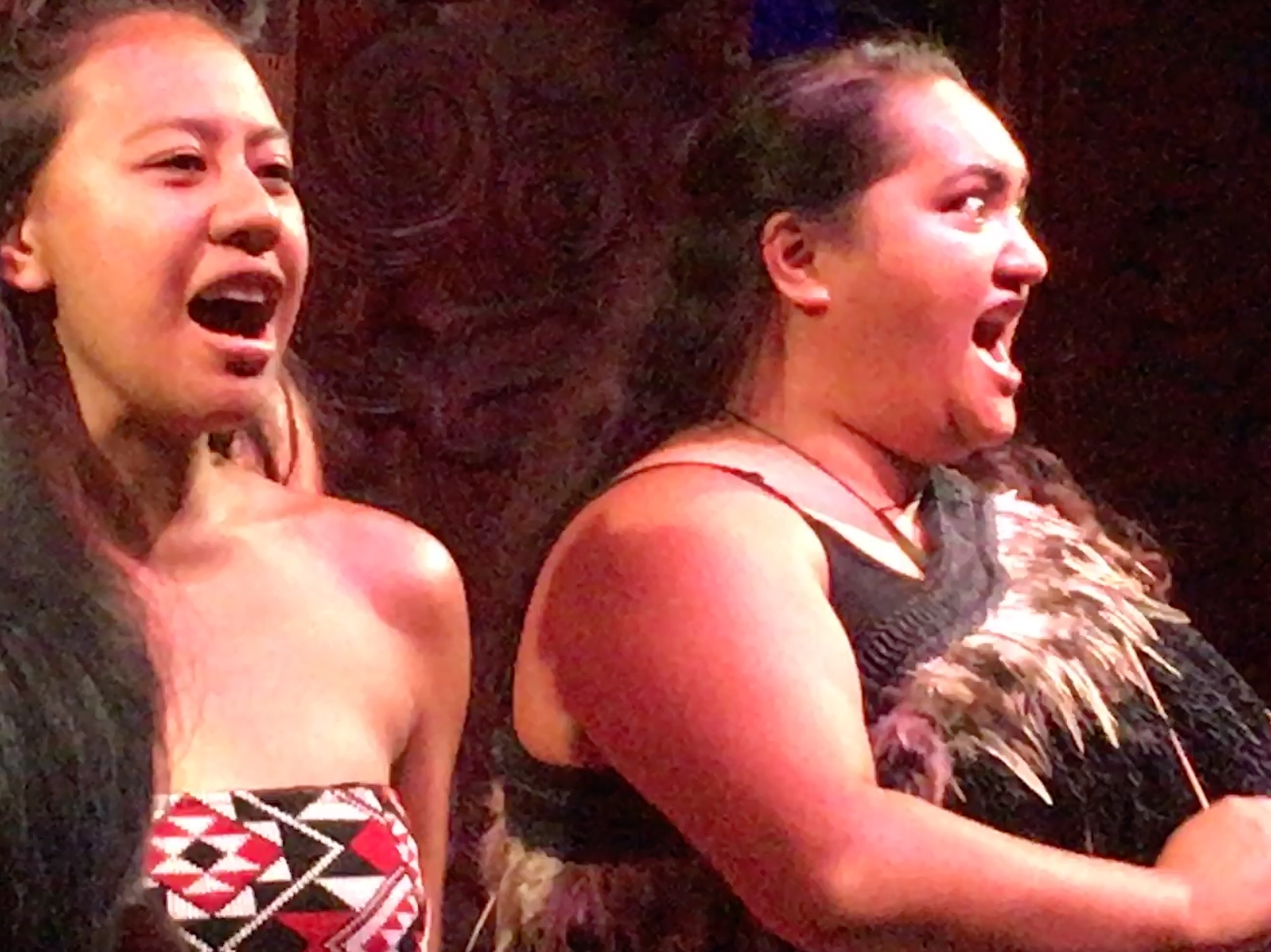 We left the Treaty Grounds feeling that we had understood much more about the beginnings of modern New Zealand, and also about Aotearoa, as named by the Polynesian incomers who became the Maori 'first nation'. We barbecued for dinner at the campsite, and it was delicious. As we scoffed, we were gifted some blue cheese, garlic, rosemary and kiwi fruit by our departing French campsite neighbours who were giving back their van the next day. What a good idea. We should definitely pay that forward when our time comes.
Motorhome Day Four: Paihia
We had a lazy morning, and chatted with some new neighbours, who recommended Havelock and Akaroa in the South Island, when we get there. This was the day of the postponed boat trip around the islands and caves. It was a tiny boat, everyone provided with a life-jacket, and a general instruction to raise your hand if you're not coping with the speed, bumps etc in the swell, eek, what have we booked? But it was brilliant. We had a float past the Black Rocks, comprised of hexagonal basalt columns and guano, and then had a look in a cave (probably a lava tube) which rumbles as though it's clearing its throat.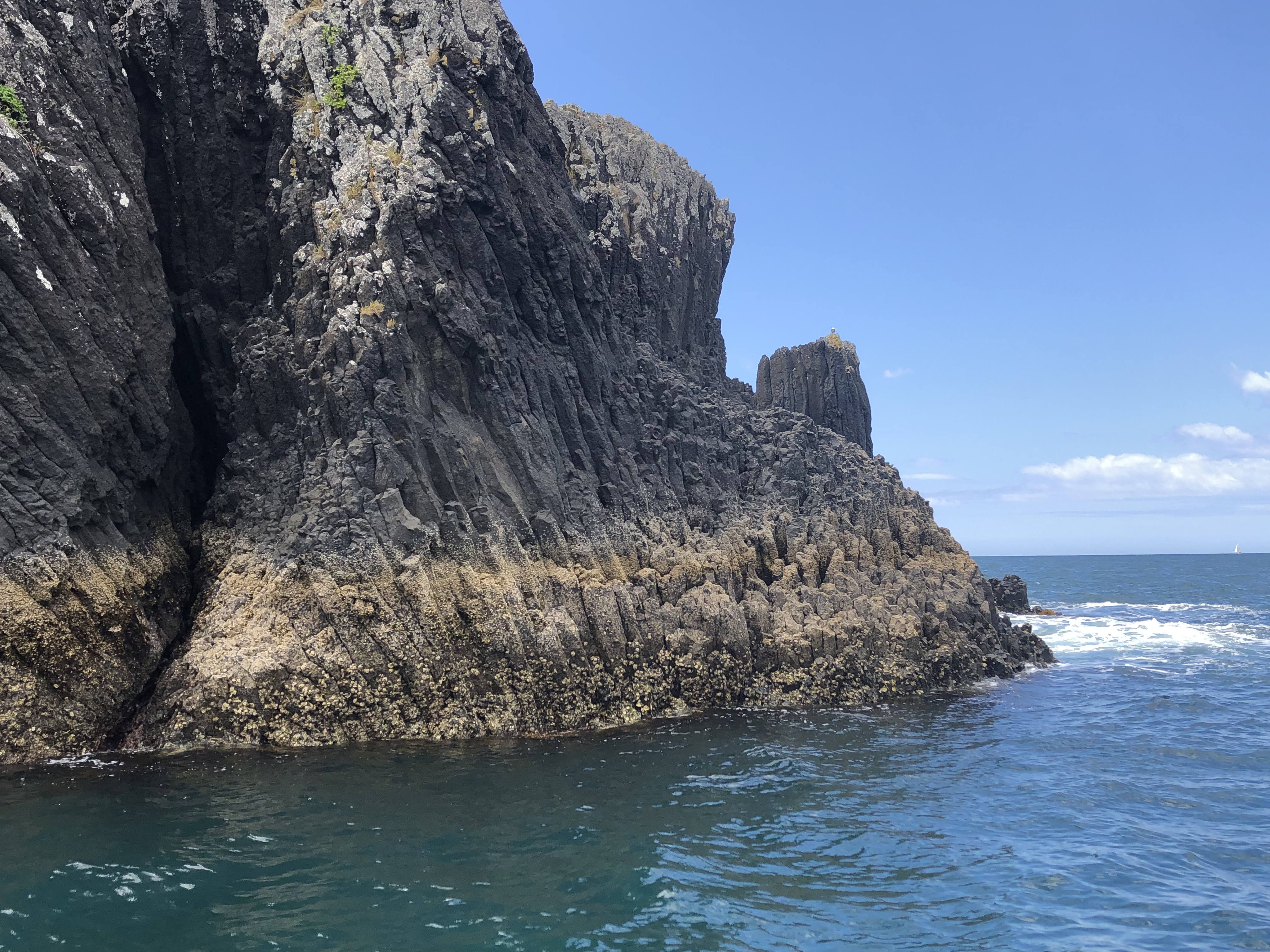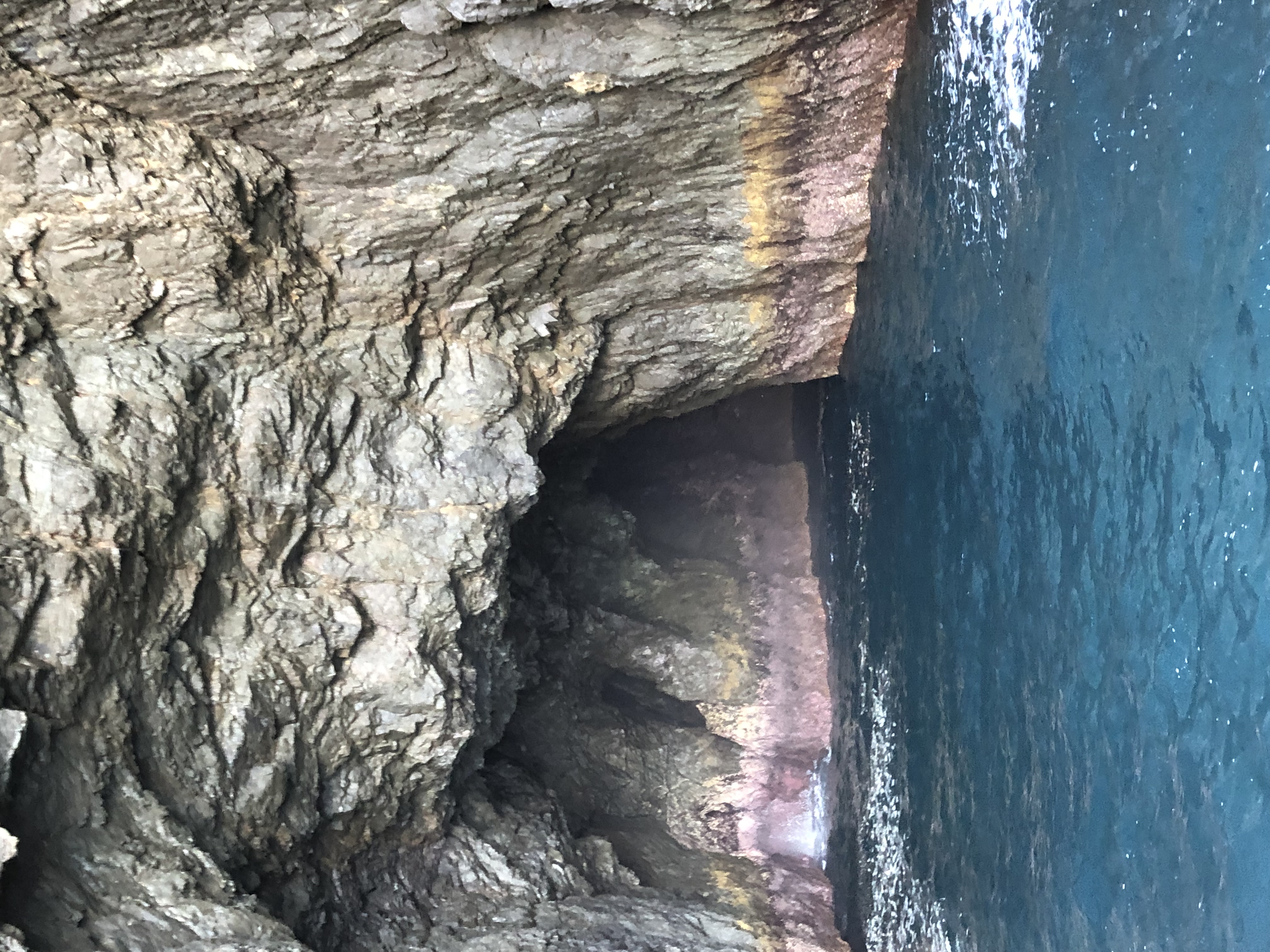 We were let ashore on a gorgeous sandy beach on Waewaetorea for half an hour. We had come equipped to swim in the sea, but a recommendation that there was a spectacular view from the top of the little hill was too tempting, so we did that instead. It was well worth the scramble up and down.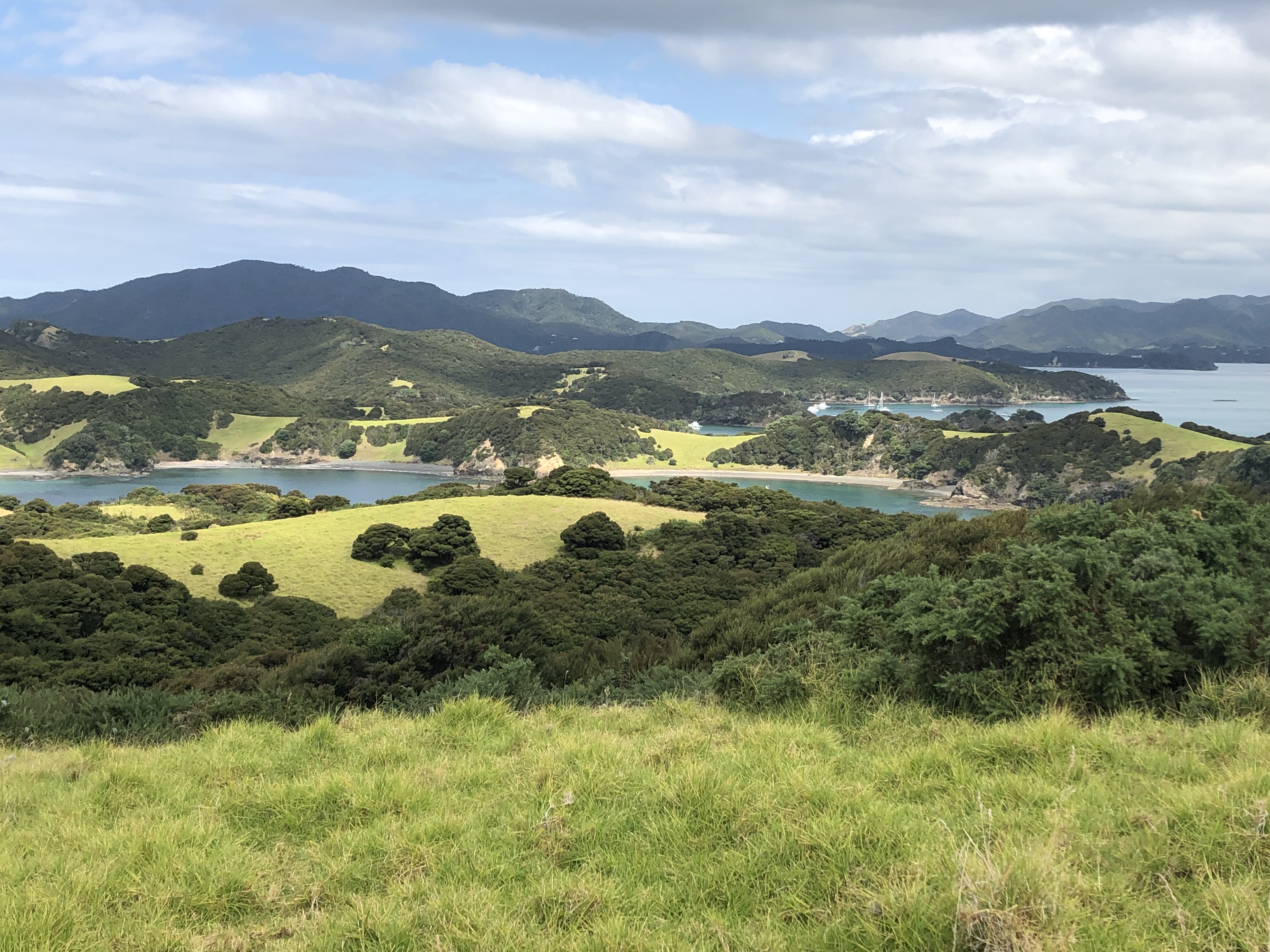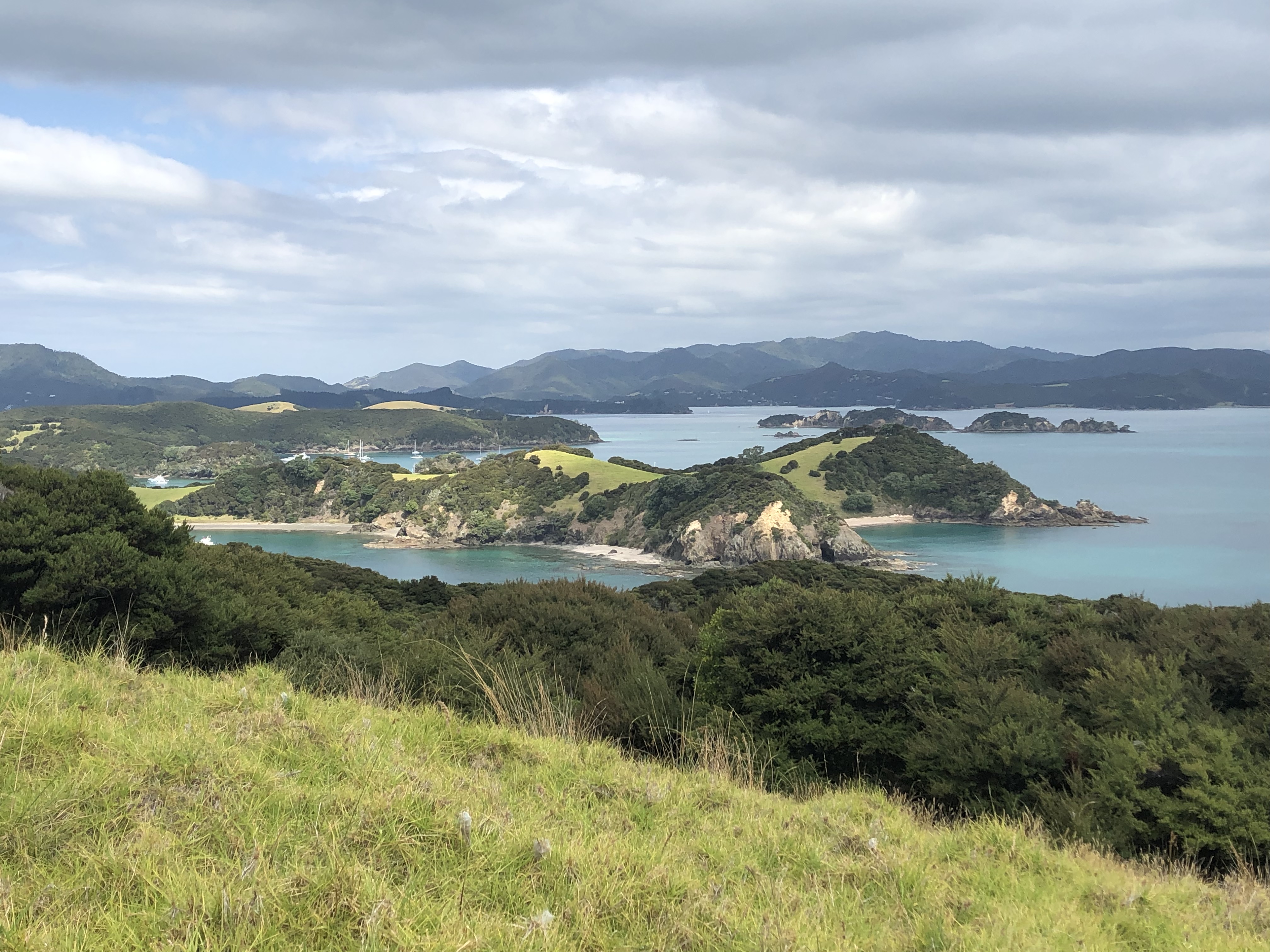 And then we saw dolphins! Our trip wasn't one with dolphin-spotting included, let alone swimming with dolphins which neither of us really wanted to do. But as we approached the sandy beach, and again as we left, a pod of dolphins was playing near by, leaping in unison out of the sea and curving back in again, and one particularly energetic dolphin leaping right out to twist vertically in the air and crash back into the water. A great bonus.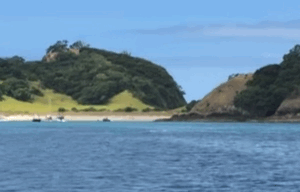 Our captain, Emma (or as she pronounced it 'Imma') and her co-crew Jenna ('Jinna') was delighted at having spotted the dolphins and having got us close enough to see them. We picked up a lady who'd been dropped off at one end of the next island in the morning in order to walk across it, and then motored back to Paihia, past Motuarohia, where James Cook moored Endeavour. A great trip.
We had dinner at the little campsite cafe, and a lovely chat with a lady from Jersey here visiting her daughter, who was working with the endangered species breeding programs, including the kakapo. The rain started, and it rained all night, very heavily. The farmers will be grateful. Like Yorkshire and Ireland, there's a reason these places are so wonderfully green, and we were cozy inside our motorhome, so we didn't mind at all.